Tiles certainly can give cooking areas different looks. Furthermore, they're currently available in numerous finishes, shapes, sizes, and shades. Here, I've assembled some brilliant tile ideas for kitchen floors so you don't get overwhelmed.
Undoubtedly, tile is one of the most excellent kitchen flooring options. It has better durability than laminate, vinyl, and hardwood. Aside from typically being waterproof, the unit also provides easier cleanup.
The design possibilities of tiles are limitless. Natural stones infuse rusticity or glamor, while the colored porcelain tiling lends the space personalization. Keep reading to find your ultimate favorite.
1. Granada Tile Patterns for Kitchen Floors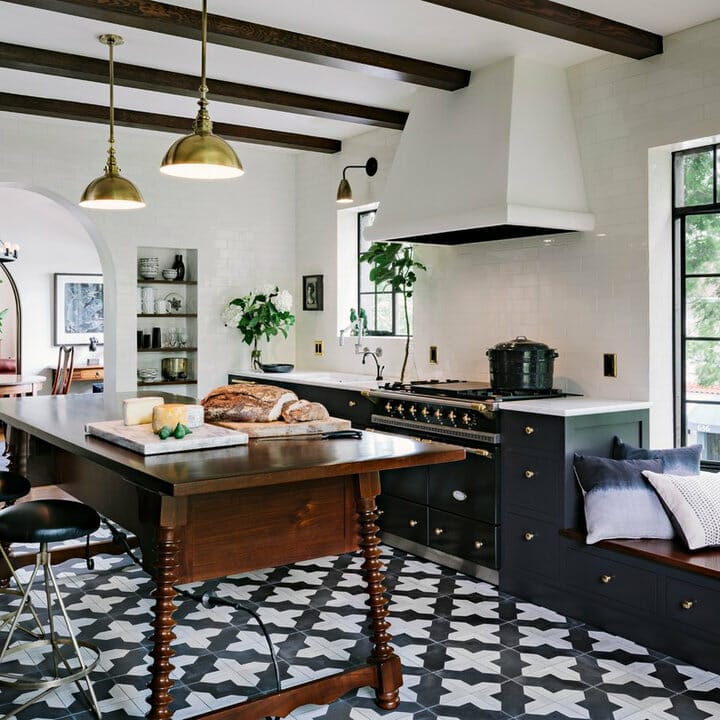 If you're crazy about patterns, try installing Granada encaustic cement tiles. They're more long-lasting than painted ceramic ones.
The patterns won't wear away since manufacturers press them into the tiles. Moreover, you can treasure such tiles for generations.
Here, the airy kitchen boasts Granada floor tiles that display bold repeating patterns. Furthermore, they draw attention to the wooden dining table with twisted legs.
2. Black Tile Ideas for Kitchen Floors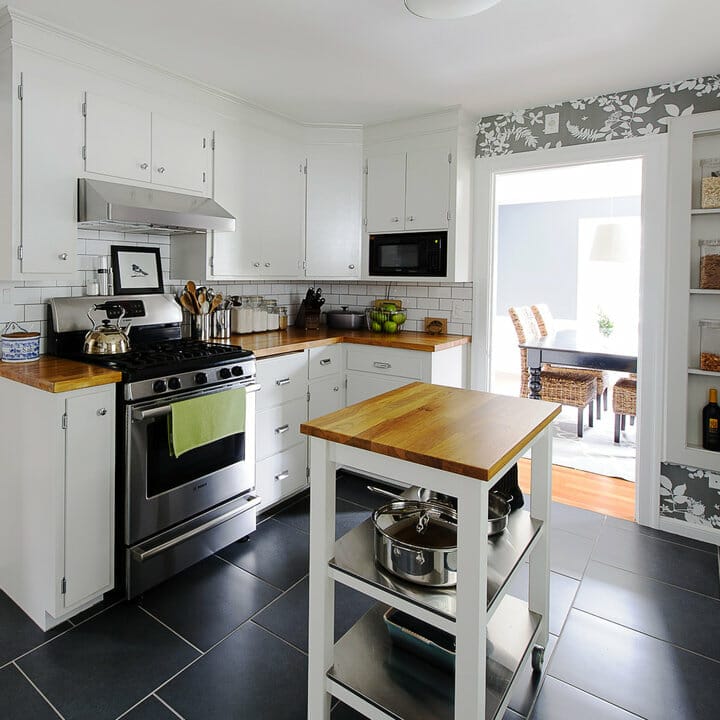 Need porcelain tile ideas for kitchen floors? If so, replicate this look. Matte black porcelain tiles inject drama and elegance. Meanwhile, white grout lines accentuate them.
Black porcelain floor tiles let the tiny two-tone island be noticeable. Moreover, the crisp white backsplash and built-in cabinets balance their dark tone out.
Porcelain tiles are non-porous. That means they aren't hard to clean, so they're appropriate for families with young kids.
3. Victorian-Style Ceramic Tile Kitchen Floor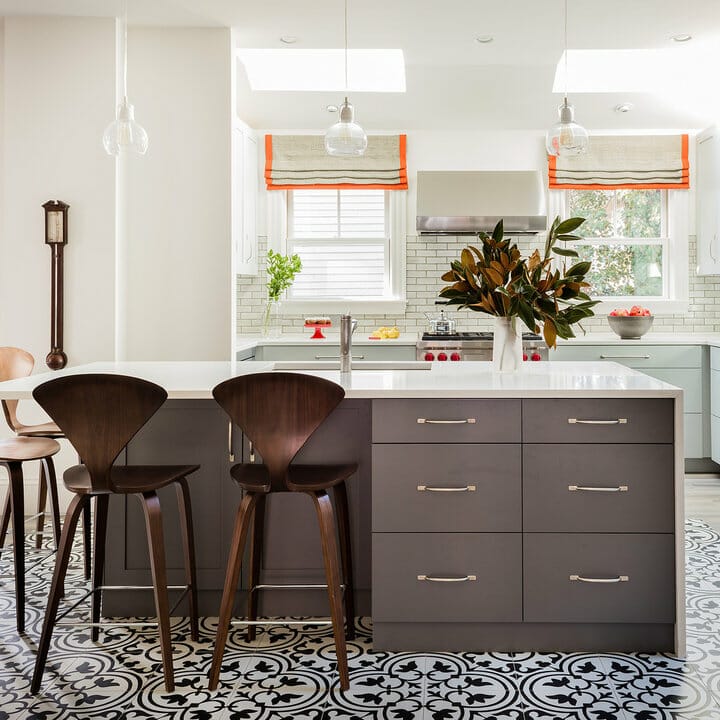 Can't get enough of patterns? If so, I recommend installing these Victorian royal patterned floor tiles in your kitchen.
Victorian floor tiles develop a bold impression instantly. Furthermore, they effortlessly evoke grandeur and luxury. Indistinct grouts make the visual contrast slightly more subtle.
The gray island and sleek wooden dining chairs create a balanced look. Meanwhile, a riot of greens, reds, and oranges brightens the kitchen up.
4. Kitchen Floor Ideas to Demarcate Areas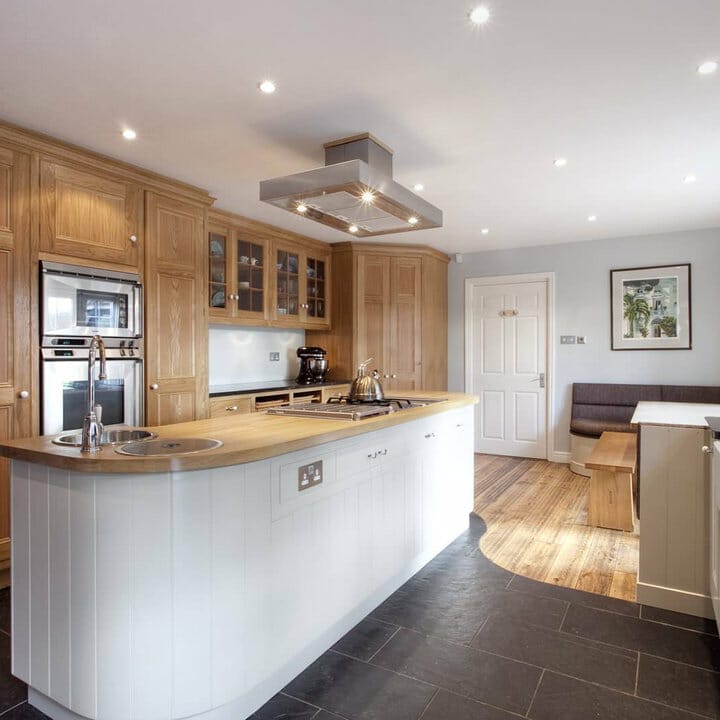 If you have an open-plan cooking space, try dividing the area into two functional zones. Here, the kitchen employs slate floor tiles. In addition to delivering depth, they carry a touch of nature to the indoor room.
Wooden floorboards adorn the rest of the culinary space. Moreover, they make the dining nook seem more inviting.
Furthermore, the wood-top white island and custom cabinets visually tie the modern country kitchen together.
5. Terracotta Floor Tiles for Kitchens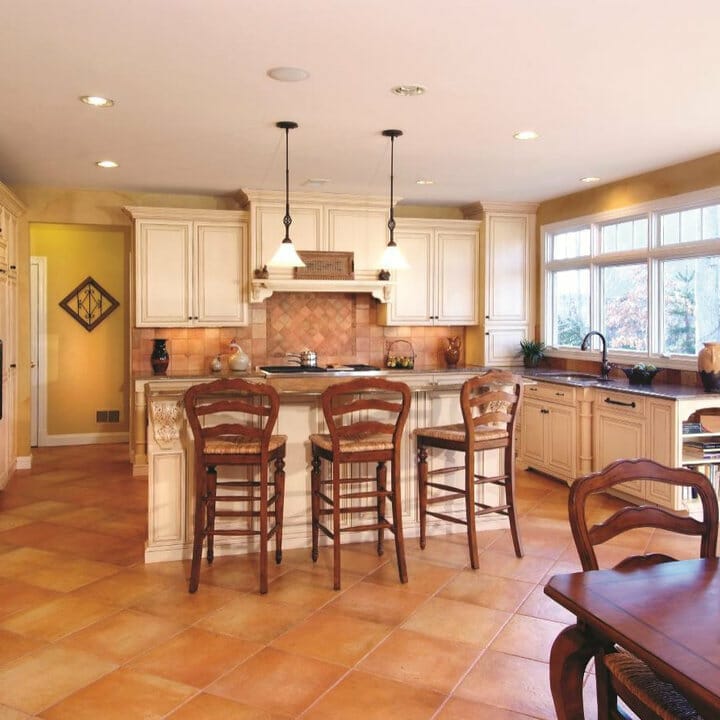 Speaking of the best flooring for kitchens, consider laying your terracotta tiles diagonally. This option will lend the cooking space more character. Furthermore, the diagonal layout helps loosen visual rigidity.
Terracotta floor tiles blend with wooden furniture pieces easily due to their earthy tones. In addition, they keep things inviting.
The homeowner incorporated a bright white island into the space. As you see, it clashes dramatically with the terracotta flooring.
6. Stone Tile Ideas for Kitchen Floors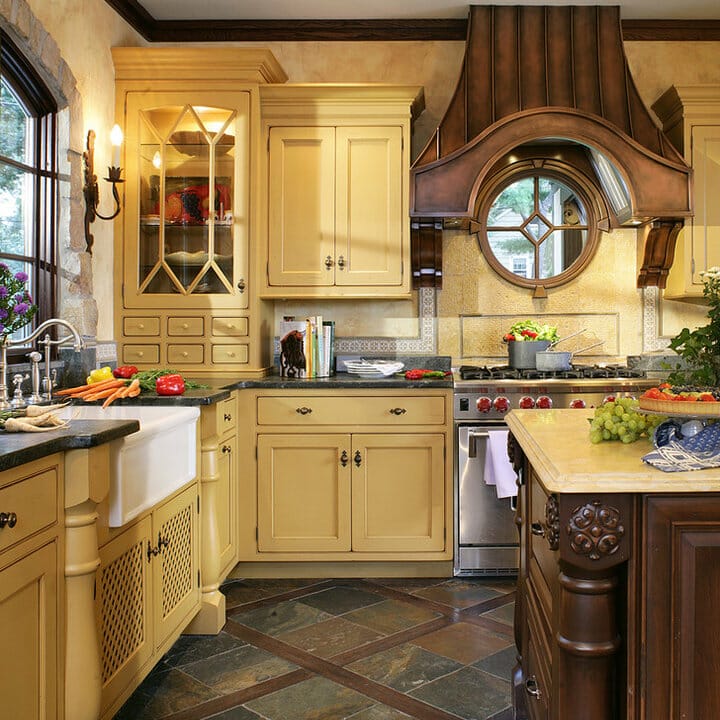 No natural stone tiles are alike. This is why you should refrain from concealing their gorgeous tonal variations in your tiling. I suggest making an excellent feature of them.
Natural stone tiles infuse this French Normandy kitchen with rusticity and splendor. Additionally, they balance yellow cabinets out. Such units withstand active family lifestyles, too.
The diagonal tile layout keeps the cooking space from looking too basic. Meanwhile, dark-toned wooden planks highlight natural stone tiles.
7. Kitchen Floor Tile Ideas with White Cabinets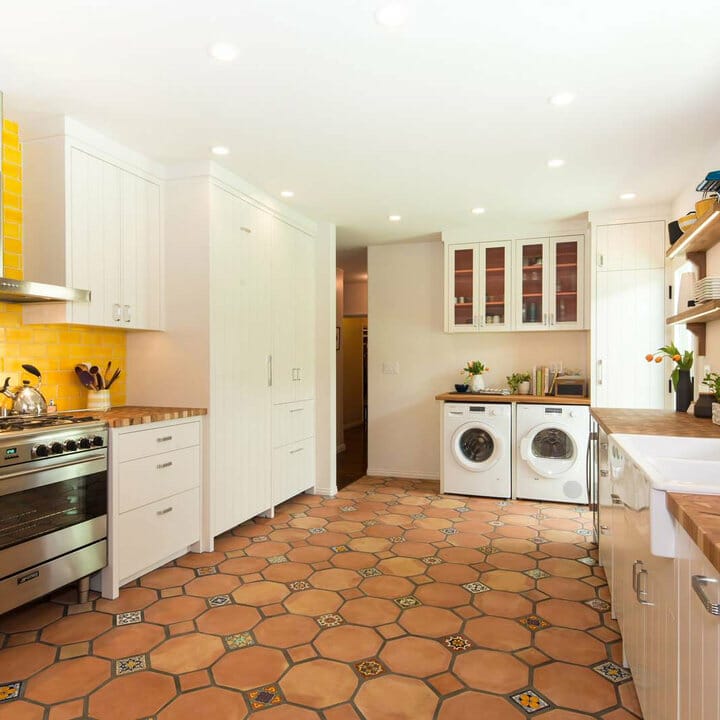 Need tile ideas for kitchen floors? If yes, try swapping rectangular tiles for hexagonal ones. Of course, they'll work for flooring in various sizes, from ceramic mosaics to terracotta units.
In this example, square and hexagon terracotta tiles grab the attention. Furthermore, they're a marvelous contrast to pure white cabinets. Also, their subtle tonal differences develop a sense of movement.
Spanish tiles boast delightful patterns and produce Mediterranean vibes. In addition to giving off a fun ambiance, they pair with the terracotta flooring. Meanwhile, white cabinets ensure airiness and openness.
8. Modern Kitchen Floor Tiles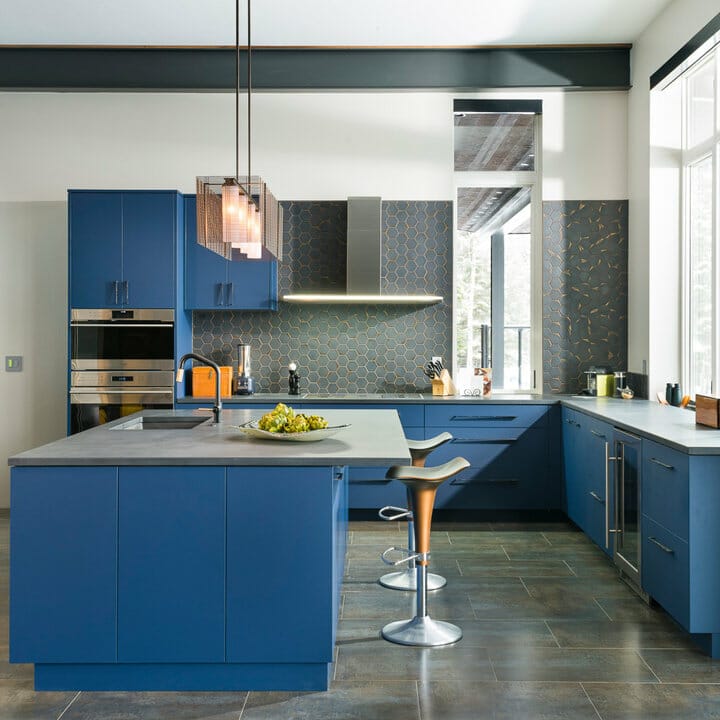 Talking about tile ideas for kitchen floors, you can forget natural stone tiles. Not only do they offer unpredictable patterns but also promote tranquility.
Here, high-shine natural stone tiles showcase mesmerizing tonal variations. In addition, they allow the bold blue island and cabinets to draw the eye.
Two metallic chairs and concrete counters introduce a modern aesthetic. Meanwhile, hexagon backsplash tiles pick up the muted blue shade in the flooring for a cohesive feel.
9. Creative Tile Ideas for Kitchen Floors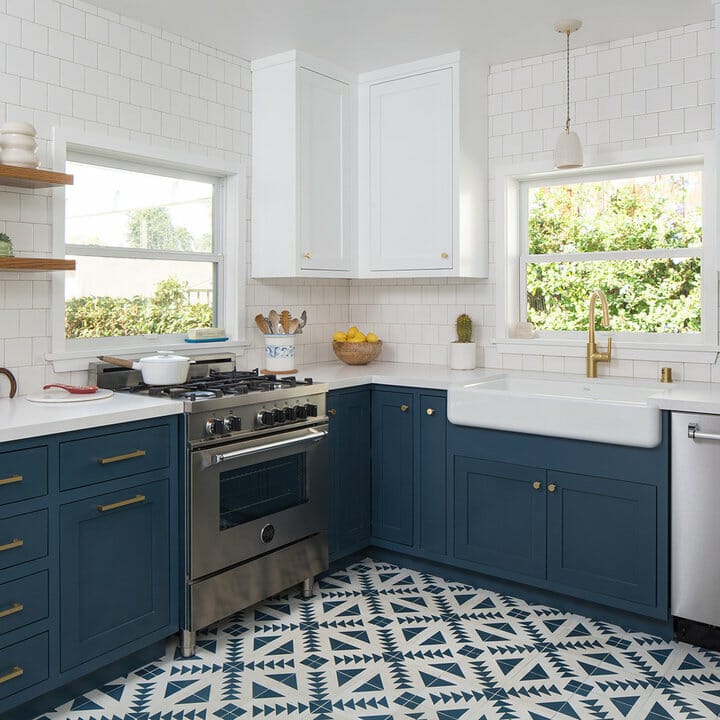 Here, navy blue lower cabinets embolden the otherwise neutral kitchen. Moreover, the white farmhouse sink and upper cabinetry open up the cooking space.
To make the kitchen seem more exciting, the homeowner installed navy and white patterned floor tiles. As the image shows, they feature different geometric shapes.
The geometric tiles make a unique flooring in this kitchen. In addition to representing modernity, they keep things cohesive.
10. There's No Rulebook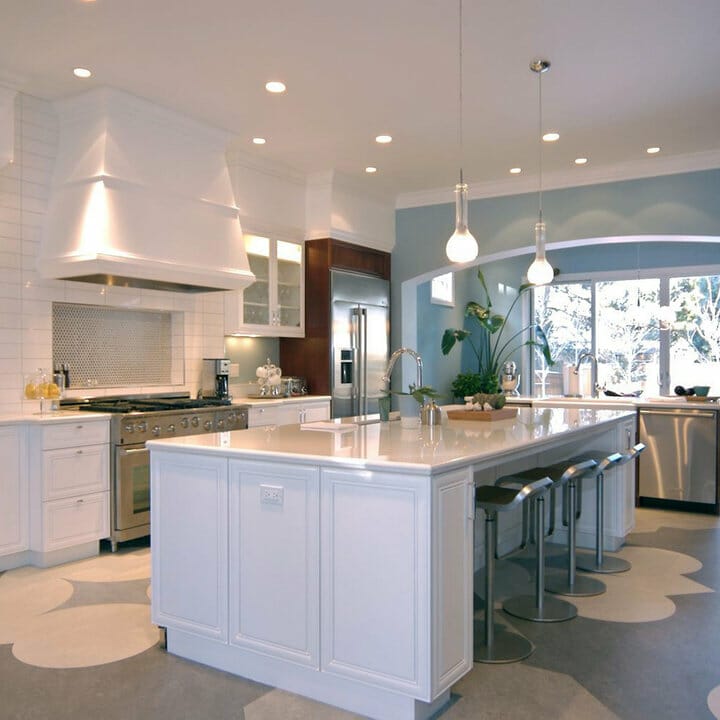 Who says the kitchen floor has to be one color? If you opt for a few colors, try unleashing your creativity by installing tiles of different shades and shapes.
Here, the kitchen boasts a selection of different shaped floor tiles. Furthermore, they lend the room relaxing shades of muted blue-gray and soft white.
The irregular geometric pattern infuses a modern aesthetic into the room. Also, they carry a touch of fun effortlessly.
11. Small Kitchen Floor Tile Ideas
If patterned walls or cabinets feel too much, take the focal point below eye level. This cooking space, for example, employs Merola twenties crest encaustic tiles. They grab the attention and evoke visual cohesion.
Matte black base cabinets ooze serious drama. Furthermore, they accentuate vintage encaustic floor tiles perfectly.
The white top cabinetry and walls keep things airy, while touches of gold deliver glamor.
12. Contemporary Slate Tile Ideas for Kitchen Floors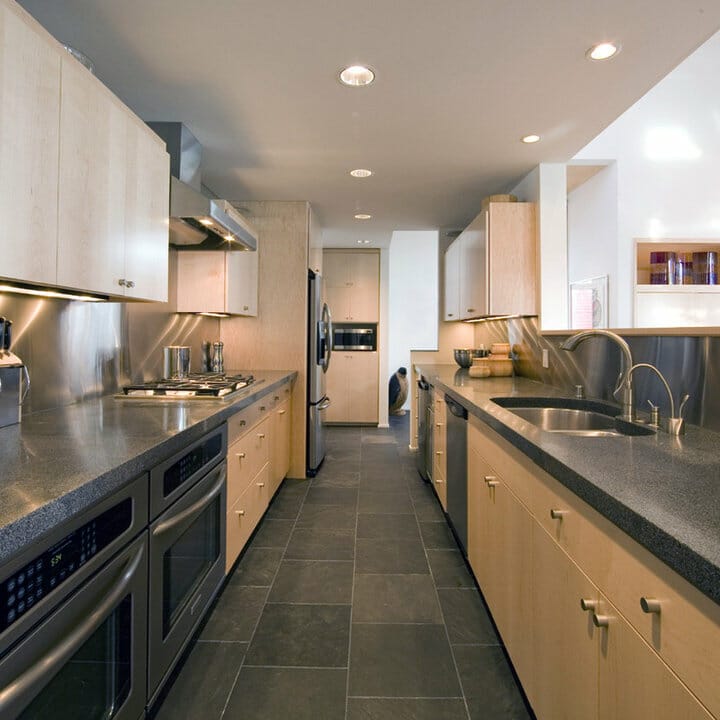 Speaking of tile ideas for kitchen floors, you can go wrong with gray slate tiles. For a contemporary cooking space, I recommend keeping their edges sharp.
Varying gray slate floor tiles lend the kitchen personality and texture. Furthermore, they complement granite counters excellently. Meanwhile, blonde wooden cabinets balance their dark tones.
13. Modern Urban Kitchen Floor Tiles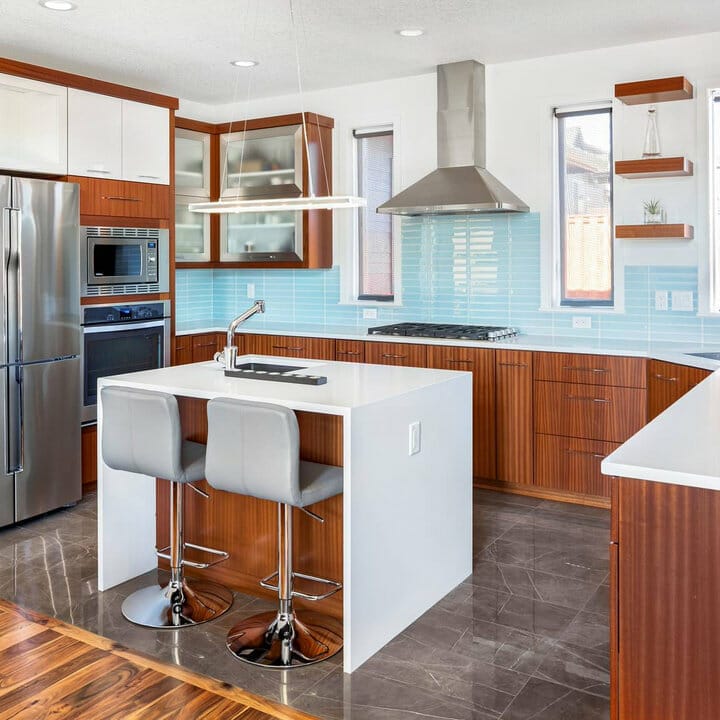 Need the best tiles for kitchen floors? If yes, you should replicate the look of this cooking space. It employs drool-worthy marble flooring.
In this kitchen, gray marble floor tiles feature white veins. Moreover, they pull in the white from the adjacent island and countertops.
Gorgeous wood grains of the island, cabinets, and shelves accompany marble tiles. Lastly, light blue backsplash tiles infuse a fresh splash of color.
14. Pale Stone Tile Ideas for Kitchen Floors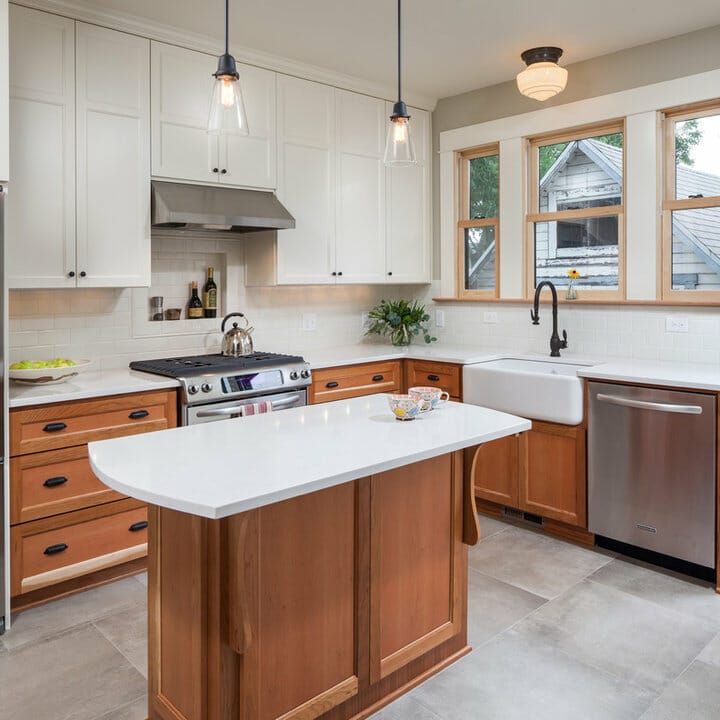 If you're into an airy and light kitchen, opt for pale stone tiles. In this elegant cooking space, the flooring blends visual depth with freshness. Furthermore, they showcase subtle natural markings.
Light gray polished natural stone floor tiles evoke serenity. Also, they lend the space a moderate shine. In addition, they produce a seamless impression due to their subtle grout lines.
15. Wood-Look Ceramic Tile Kitchen Floor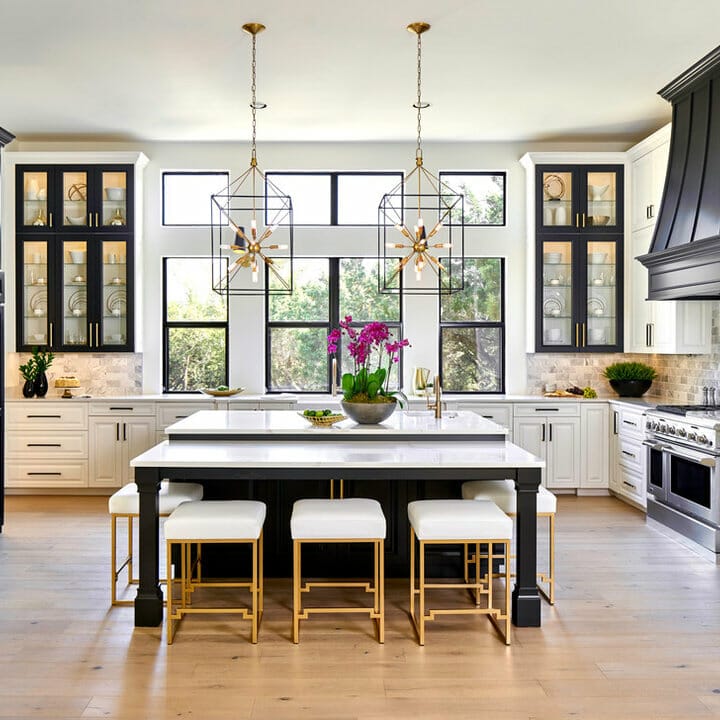 Here, the kitchen is both expansive and enchanting. Also, it boasts blonde wood-look ceramic tiles on the flooring.
Moreover, they lighten the cooking area because of their neutral tones. The matching grouts produce a seamless look.
Light-toned, wood-look floor tiles effortlessly bring tranquility to this luxurious cooking space. They contrast drastically with the black two-tier island, too.
16. Polished Stone Tile Ideas for Kitchen Floors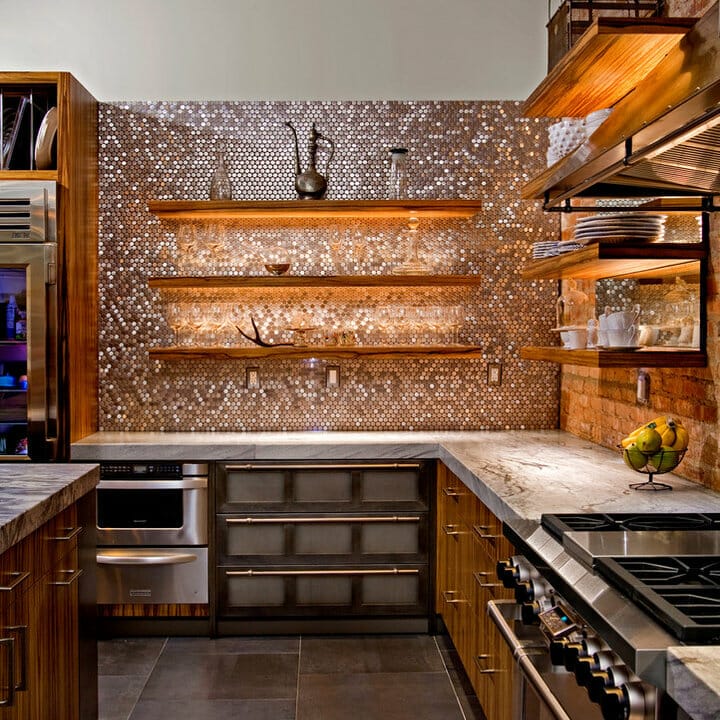 In this example, rectangular stone tiles lend the kitchen a natural ambiance. Furthermore, their polished finish delivers timeless grandeur to the room.
Natural stone tiles bring some depth to this kitchen while offering unpredictable patterns. In addition, they're a fabulous contrast to the wooden island and base cabinets.
The feature wall seems glamorous due to shiny hexagon mosaic tiles. Since the flooring employs rectangular tiles, they provide a visual surprise while adding personality.
17. Elegant Tile Ideas for Kitchen Floors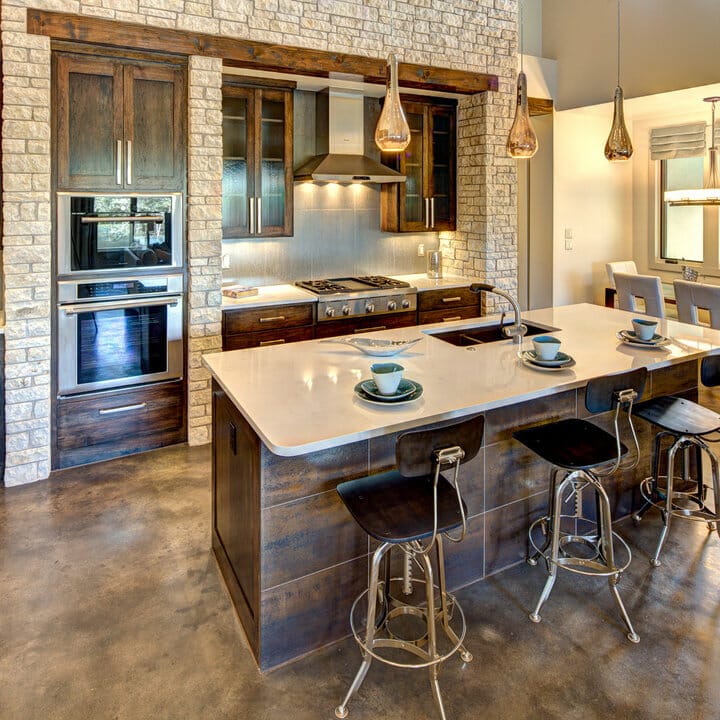 Tonal variations in natural stone tiles are an excellent thing. So why not showcase them? I believe they'll get your guests amazed.
Here, polished natural stone floor tiles bring sophistication and comfort to the space. Furthermore, they inject the kitchen with tons of personality.
As you see, grout lines are of a similar shade for a seamless feel. Lastly, rugged white natural stone tiles on the wall deliver rusticity.
18. Parallelogram Tile Ideas for Kitchen Floors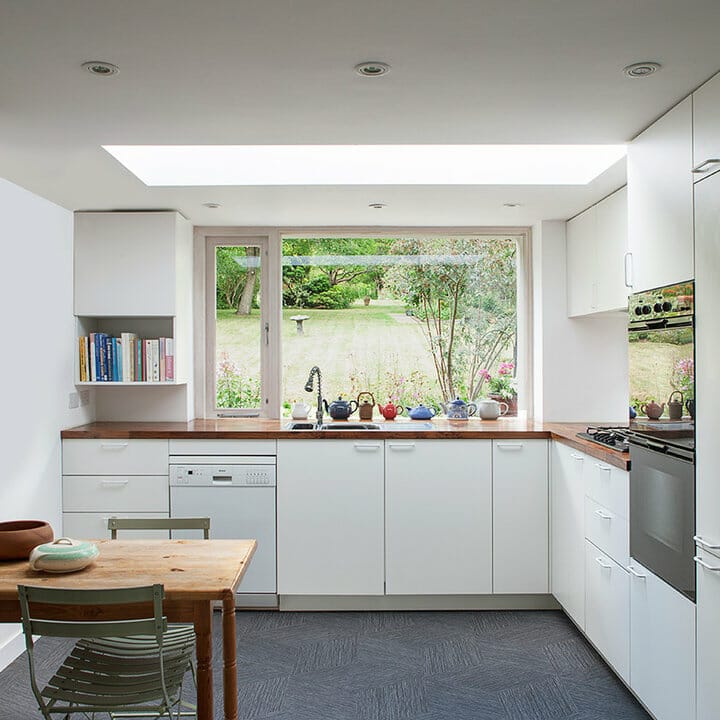 Get sick of square and rectangular tiles? If yes, consider installing the parallelogram ones in your kitchen. They prevent modern cooking space from looking boring.
As you see, dark gray parallelogram floor tiles give this kitchen visual interest. In addition, they lend the cooking area character due to their subtle details.
The parallelogram kitchen flooring anchors the wooden table and muted green chairs. Also, it allows pure white raised cabinets to be more visible.
19. Limestone Tile Ideas for Kitchen Floors
Here, limestone floor tiles lighten the cooking area. Moreover, they showcase their exquisitely subtle organic markings while infusing peaceful vibes.
As you can see, the limestone flooring clashes with the marble-top black island. Since grouts are of a similar tone, they evoke seamlessness.
20. Retro Tile Ideas for Kitchen Floors
If you aren't into bright kitchen cabinets or walls, then try this idea out. The homeowner worked with several colors on the flooring. Here, terrazzo tiles lend the room a vintage aesthetic.
Colorful square tiles deliver a fun ambiance while producing visual cohesion. Moreover, the diagonal tiling updates the retro cooking space.
21. Light Brown Tile Ideas for Kitchen Floors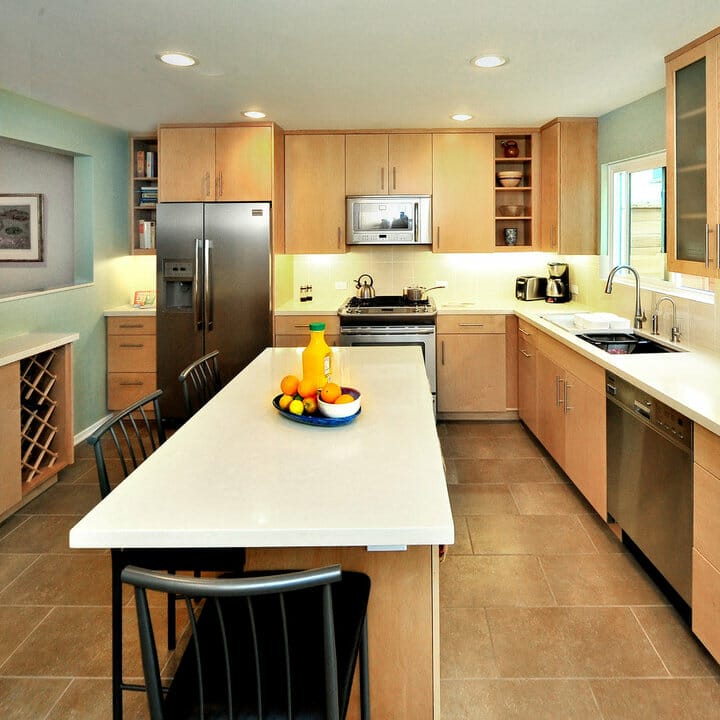 Light brown natural stone floor tiles give this elegant kitchen an air of tranquility. Furthermore, they harmonize perfectly with the wooden island and lower cabinets.
The natural stone flooring displays stunning natural markings. Meanwhile, white grout lines accentuate the tiles excellently.
22. Transitional Kitchen Floor Tiles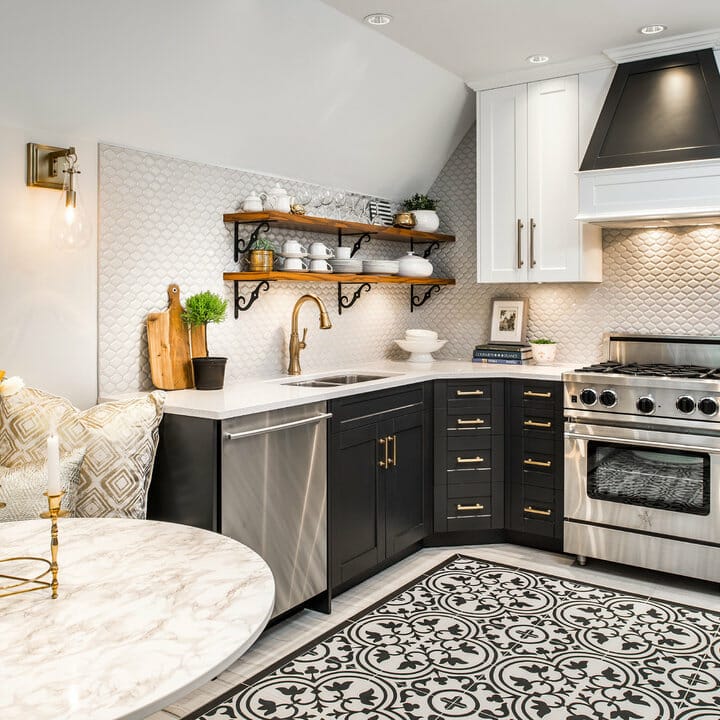 Underfoot are Victorian-style patterned floor tiles. Although the units only come in black and white, they generate a marvelous statement.
The Victorian floor tiles tie the transitional kitchen together. Meanwhile, stainless steel appliances and two-tone cabinets make the space more up-to-date.
23. Kitchen with Dark Floor Tiles
If you get bored of square tiles, this idea deserves a chance. Here, slim rectangular floor tiles deliver a contemporary aesthetic to the transitional kitchen.
The dark gray wood-look tiles feature similar-toned grout lines for a stylish look. Lastly, soft white cabinets balance them out well.
24. Gray Tile Ideas for Kitchen Floors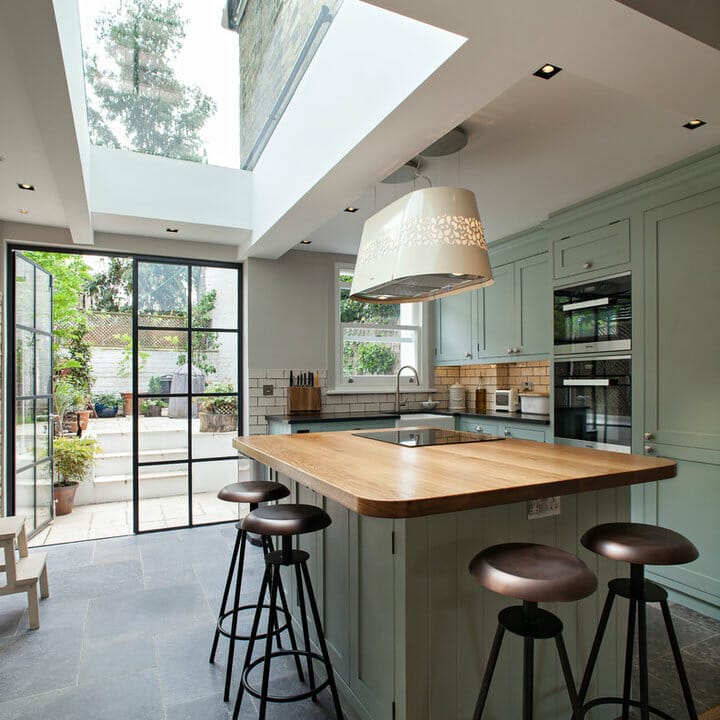 Gray natural stone tiles cover the flooring of this tiny kitchen. Moreover, they carry a sense of calm to the entire cooking space.
Since neutral-toned stone tiles come in different shapes, they loosen rigidity. In addition, they harmonize with the pastel gray island and metallic stools.
25. Kitchen with Concrete Floor Tiles
Speaking of tile ideas for kitchen floors, don't forget polished concrete tiles. Undoubtedly, they bring a touch of modernity to any cooking space.
Here, concrete floor tiles do not feature sharp edges. They complement rustic ceiling beams and unpainted wooden furniture pieces.
26. Octagon Floor Tiles for Kitchens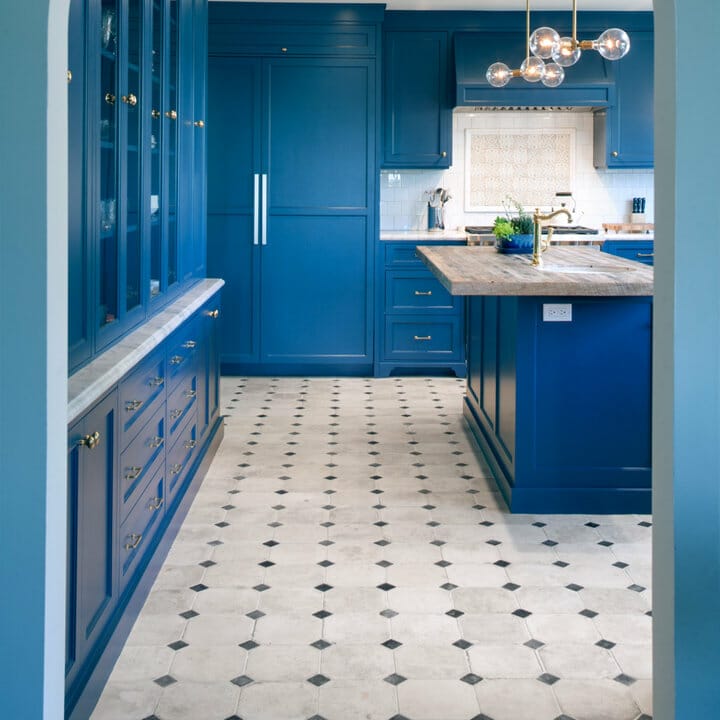 Here is another transitional kitchen. The homeowner swapped four-sided tiles with octagon-shaped ones. They offer a visual surprise since the backsplash boasts rectangular tiles.
The tiny black square tiles introduce a classic appeal. Meanwhile, the bold blue furniture pieces lend the interior a pop of color.
27. Neutral Tile Ideas for Kitchen Floors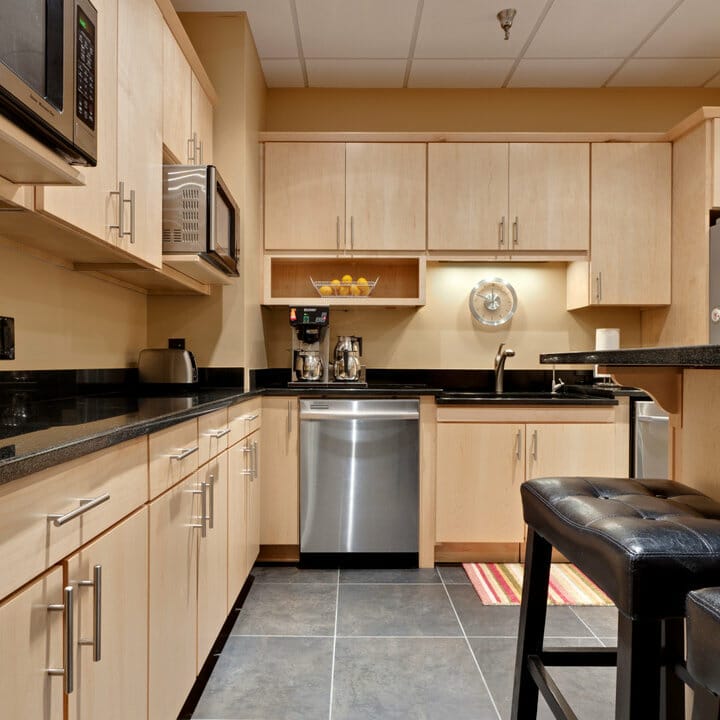 Searching for the best color for kitchen floor tiles? Replicate this idea. The gray stone flooring gives the cooking space pure serenity.
Gray stone floor tiles and beige cabinets create a balanced look. Meanwhile, the cheerful striped rug makes the kitchen seem terrific.
28. Deep Gray Stone Floor Tiles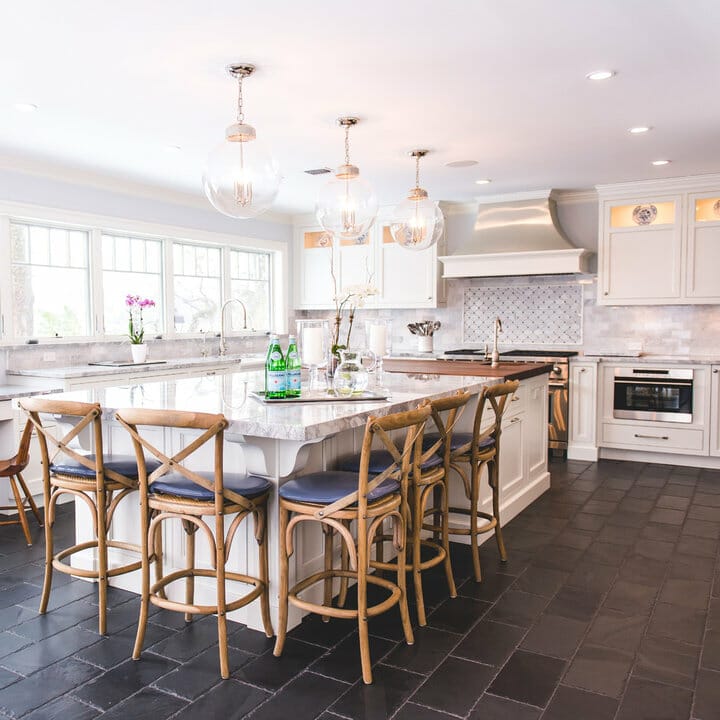 If you love all things natural, consider installing these gray stone floor tiles. They lend the kitchen underfoot texture and drama.
Blonde wooden dining chairs boast medium-toned gray upholstered cushions. Moreover, they keep things balanced.
Furthermore, due to the white island and cabinetry, the cooking space doesn't feel dark.
29. Deep Brown Wood-Look Tiles for Kitchen Floors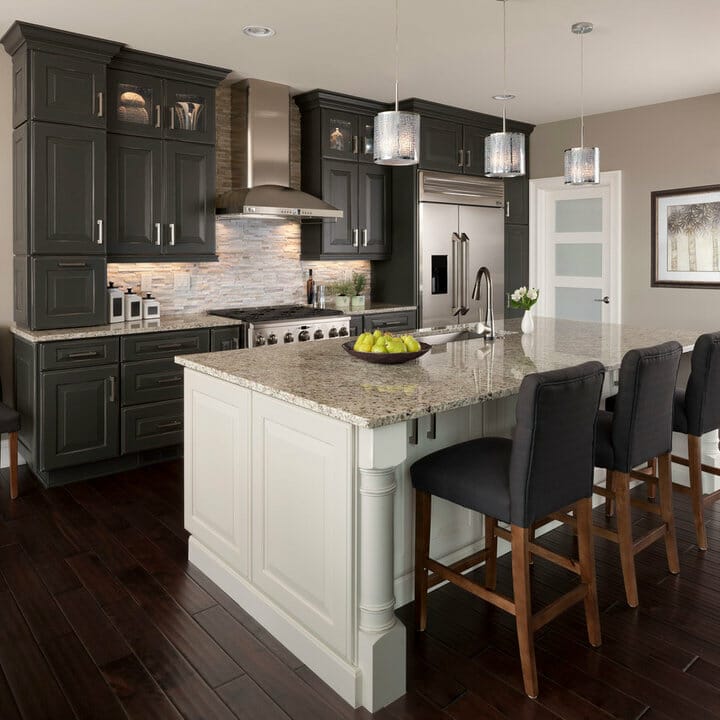 This kitchen employs dark brown wood-look tiles. Moreover, they elegantly cover the floor while injecting warmth and texture. They clash with the granite-top white island, too.
Here, the medium-toned wooden legs of dining chairs blend with the wood-look flooring. Furthermore, gray cabinets and chair cushions introduce a visual balance.
Those are my tile ideas for kitchen floors. When picking the best material for the flooring, put your priorities into consideration. In addition, you must decide on how you will use the cooking space. Happy decorating!