Your existing cooking space seems dull and stuffy. If you plan on updating it, consider swapping top cabinets for shelves. They will increase both display and storage space. Luck is yours! I've had 30 spectacular shelf ideas for kitchens here.
Installing shelves is one of the budget-friendly and practical ways to modernize a cooking area. Furthermore, the units optimize every inch of your space.
Whether you want a simple update or plan a large remodeling project, I've got you covered. So let's browse through my kitchen shelving ideas!
1. Shelf Ideas for Small Kitchens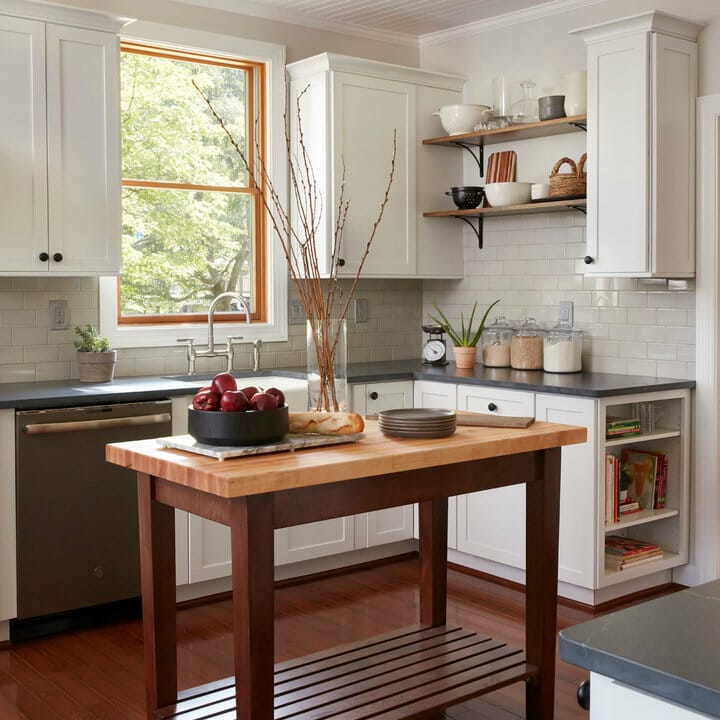 Many homeowners think that they have to include lots of shelving in their kitchens. That's a wrong assumption for sure. A pair of shelves can surely go a long way.
Here, a couple of wooden shelves only occupy one cabinet's space. However, they generate a notable visual impact.
Also, the units keep things welcoming while displaying kitchen essentials and ornaments.
These wooden shelves don't require you to style as well as clean them often. Meanwhile, black metal brackets deliver drama. Lastly, lower cabinets feature open shelving that houses cookbooks.
2. Custom Shelf Ideas for Kitchens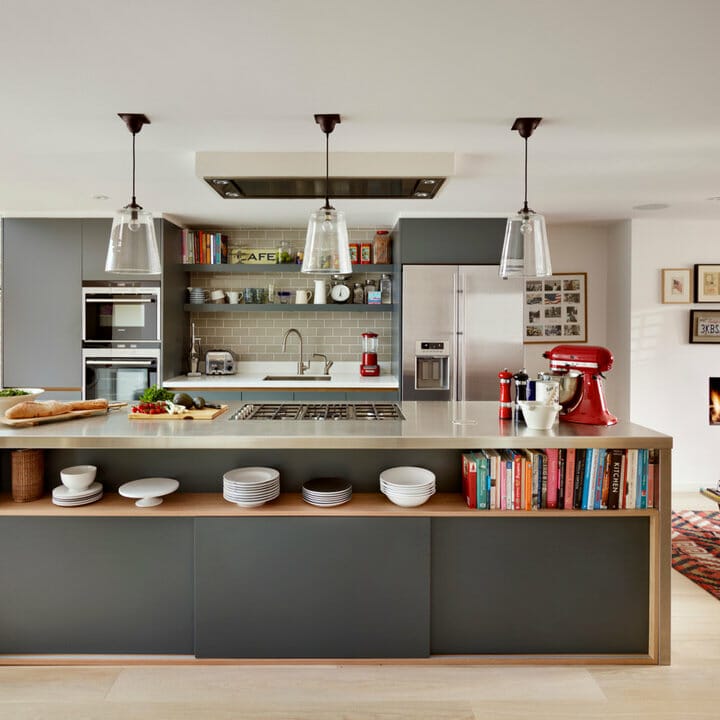 Need shelf ideas for kitchen walls? Consider duplicating this look. I guarantee your cooking space feels more airy and appealing.
Typically, cooking spaces employ shorter cabinets over the sink. Here, the homeowner chose to nix them. She replaced the units with open shelves.
The open shelves surround gray built-ins on both sides. Moreover, they keep cookbooks and vintage decorations organized.
The gray island features a blonde wood shelf. As you see, it becomes a home for cookbooks, plates, and bowls.
3. Farmhouse Shelf Ideas for Kitchens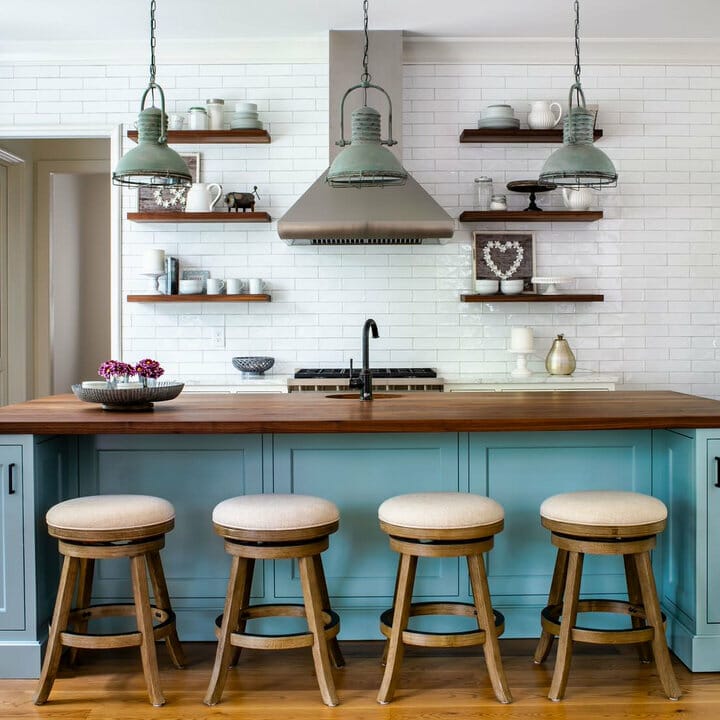 Most cooking spaces feature upper cabinets over the counter. Here, the homeowner removed them and installed stained wood shelves instead.
The wooden shelves fabulously flank the metal range hood. In addition, they make the cooking area seem balanced.
Bright white subway tiles highlight the dinnerware, decorations, and wooden shelves. The island infuses a cheerful splash of color. Meanwhile, gray vintage pendants produce another visual symmetry.
4. Small Kitchens with Open Shelving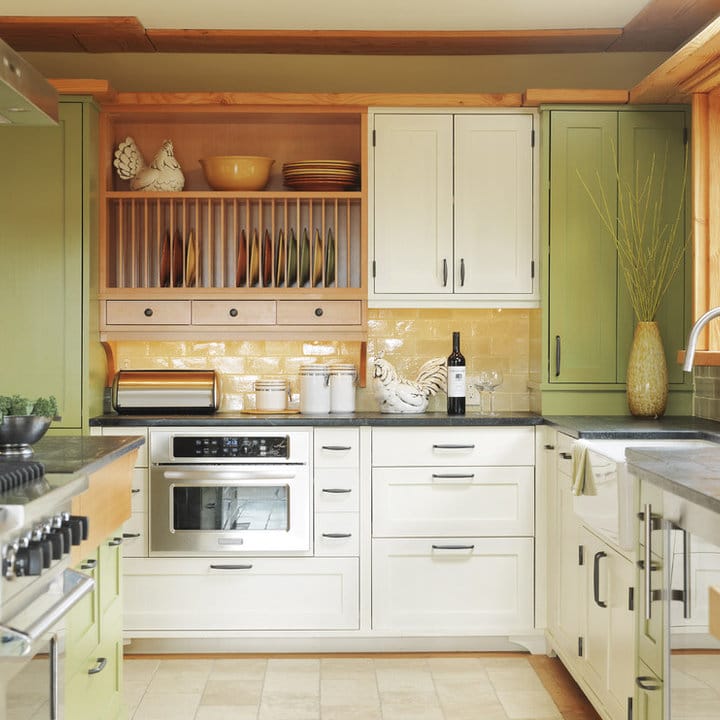 This modern farmhouse kitchen appears inviting. Due to muted green cabinets and high-shine yellow backsplash tiles, it doesn't look lackluster.
The blonde wood open shelf cabinet comes with a shelf, slots, and tiny drawers. Also, it contrasts with the white top cabinet drastically.
Although the open shelf cabinet isn't large, it can accommodate a rooster, a bowl, and plates. Meanwhile, drawers keep odds and ends from cluttering the kitchen.
5. Kitchen with Open Shelves and Cabinets
Floating shelf ideas for kitchens aren't limited to farmhouse-style ones. Of course, you can design the open shelving that meets your specific preference.
This modern cooking area, for example, features white upper cabinets. Moreover, they include built-in open shelves on top.
The interior of open shelves showcases marvelous wood grains that offer a wow factor. Meanwhile, mini LED downlights accentuate the decorative dinnerware. Lastly, a riot of yellows, reds, and lime greens enlivens the cooking area.
6. Open Shelving Kitchen Ideas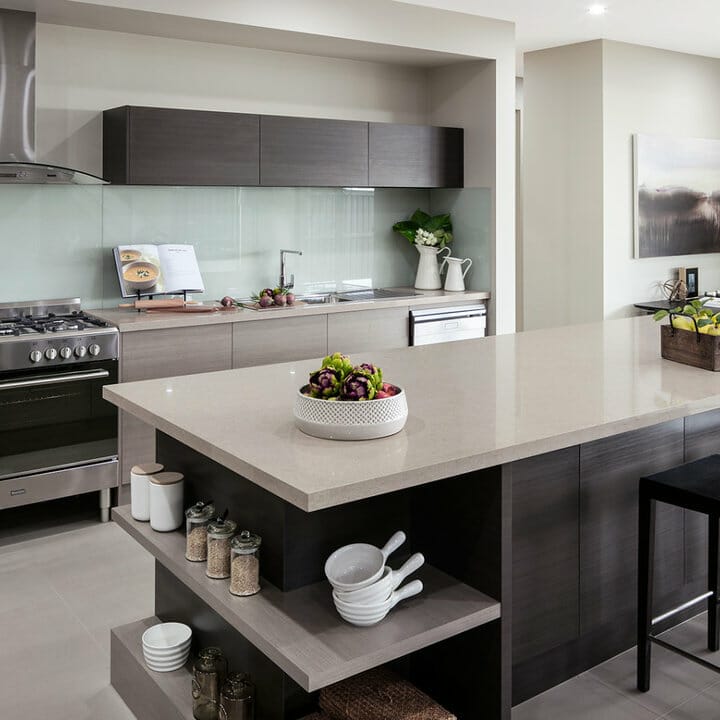 Talking about shelf ideas for kitchens, implement this brilliant option. The cooking space has streamlined cabinets in light and dark grays. Furthermore, they give off a super trendy look while loosening design rigidity.
The expansive kitchen island carries sophistication and depth to the kitchen. Moreover, it employs light gray built-in open shelves.
They boost the storage space and promote visual cohesion. The units hold a wicker basket, dinnerware, bottles, and jars of dry goods.
7. Creative Shelf Ideas
This urban kitchen is worth replicating. Both concrete counters and stainless steel appliances keep it looking stylish. Meanwhile, white walls lighten the cooking space up.
The suspended metal and wood shelves produce a balanced look. Furthermore, they showcase glass jars, bottles, and jugs excellently.
Wooden cabinets come with built-in shelves. As you see, they deliver texture and warmth to the kitchen. In addition, they house cookbooks, blackbird statues, and artworks.
8. Contemporary Shelf Ideas for Kitchens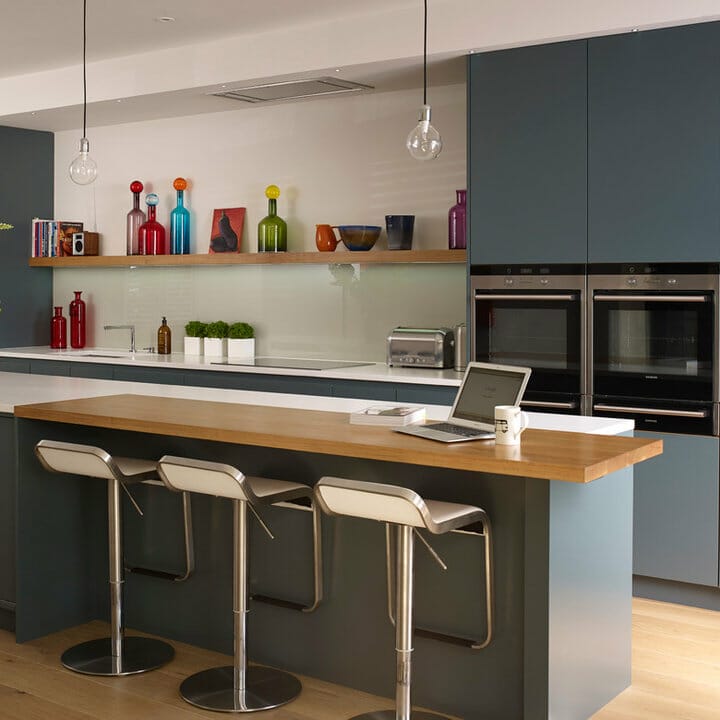 Unlike most classic kitchen arrangements, this layout doesn't feature a shorter cabinet over the sink. The homeowner swapped it for a long wooden shelf.
In this kitchen, the wooden open shelf gives off an outdoorsy feel. Moreover, it subtly clashes with the light gray glass backsplash.
Here, the wooden shelf lets colorful decorative pieces catch the eye with ease. There are houseplants underneath it, too.
9. Simple Kitchen Shelf Design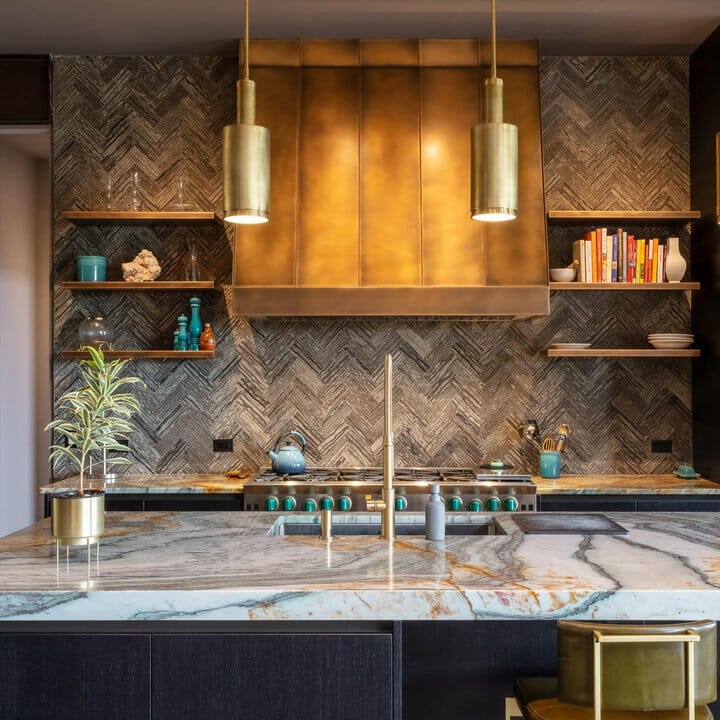 As you see, there's no upper cabinet in this cooking space. The homeowner replaced bulky top cabinets with six wooden open shelves.
Here, wooden shelves flank the range hood over the stove. Furthermore, they develop visual symmetry while displaying cookbooks and decorations.
The homeowner installed wood-look tiles in a herringbone pattern. They carry a visual surprise and double as a backdrop for wooden shelves.
Moreover, golden pieces infuse an air of opulence. Meanwhile, bursts of turquoise and blue keep things lively.
10. Open Kitchen Cabinets No Doors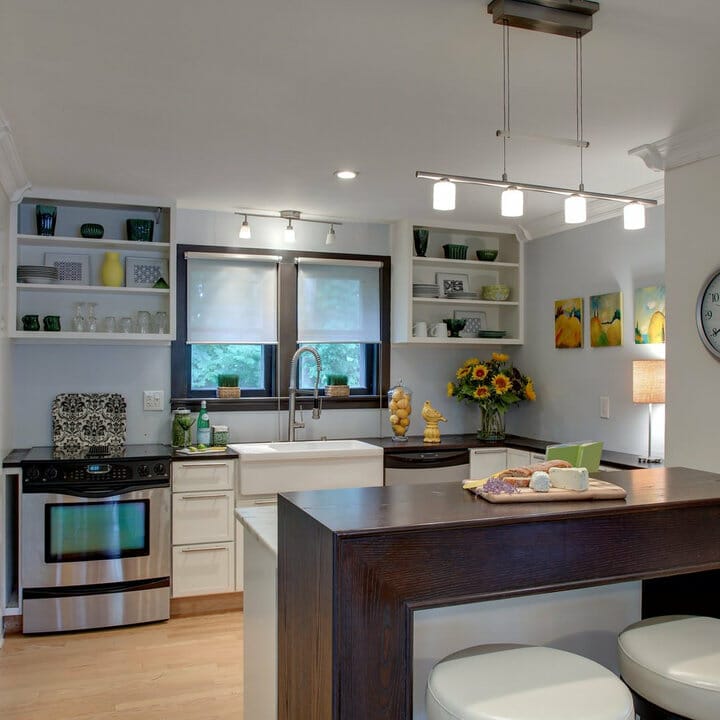 Need shelf ideas for kitchen cabinets? If yes, just create open shelves with the existing top cabinetry in your cooking space. Of course, they'll update the room without requiring any extra cost.
First, remove doors of upper cabinets. Then, paint their interior a different color to generate a cool factor. Lastly, style open shelves with dinnerware and small decorations.
11. Corner Shelf Ideas for Kitchens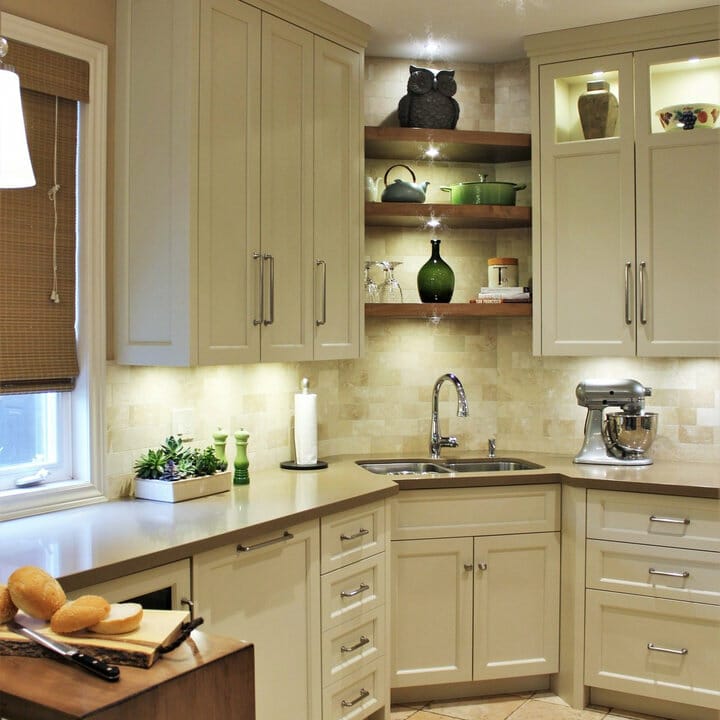 Don't let your valuable corner space go useless. Since the space isn't expansive, you should make clever use of it by installing open shelves.
Here, the homeowner created a right angle first. Then, he installed a few reclaimed wood shelves. As you see, they work fantastically in the kitchen's corner space.
These corner shelves showcase statement pieces like a green vase and an owl statue. Moreover, they complement glass upper cabinets.
12. Eclectic Kitchen with Open Shelves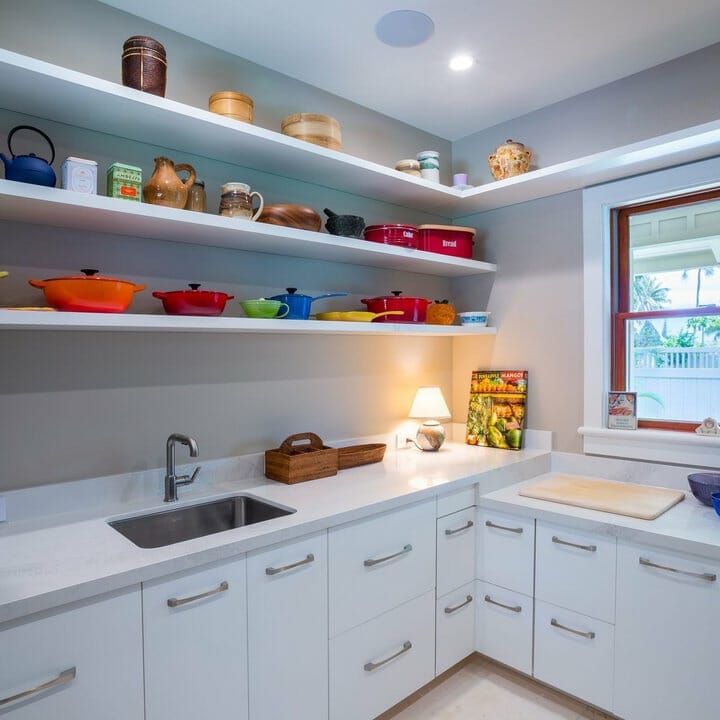 I admire this eclectic cooking area. The white counter and base cabinets keep the space looking bright, inviting, and airy.
The homeowner hung a couple of white open shelves on the warm gray wall. Also, she mounted a long corner shelf above them. Furthermore, vibrant kitchen essentials and ornaments produce an eclectic feel.
13. Kitchen with Hanging Storage and Shelves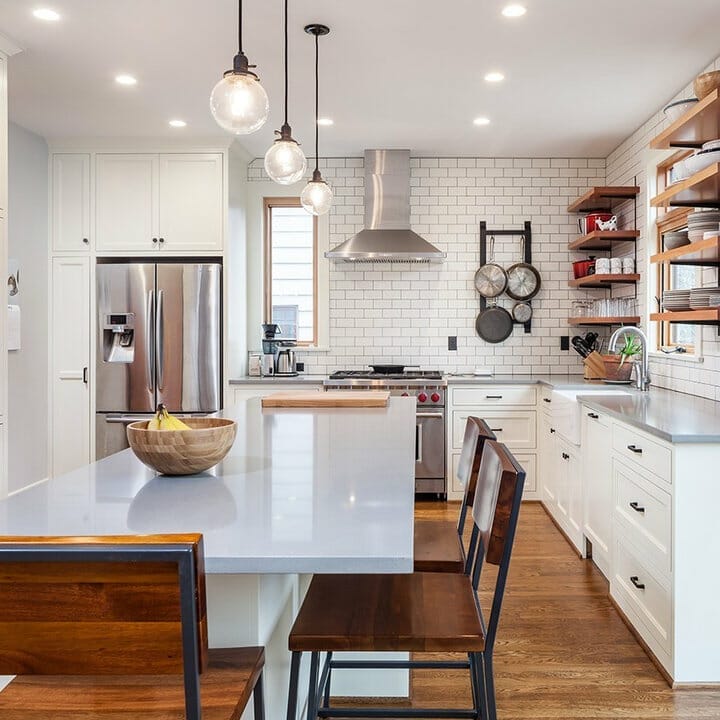 Wooden shelves flank the window over the sink. Additionally, they make the culinary space feel balanced.
The open shelves hold glasses, jars, bowls, and plates. Also, they highlight red kitchen essentials for a slightly dynamic look.
White subway tiles pose as a charming backdrop for shelves. Meanwhile, the black metal rack displays cooking pans of different sizes.
14. Sleek Modern Shelf Ideas for Kitchens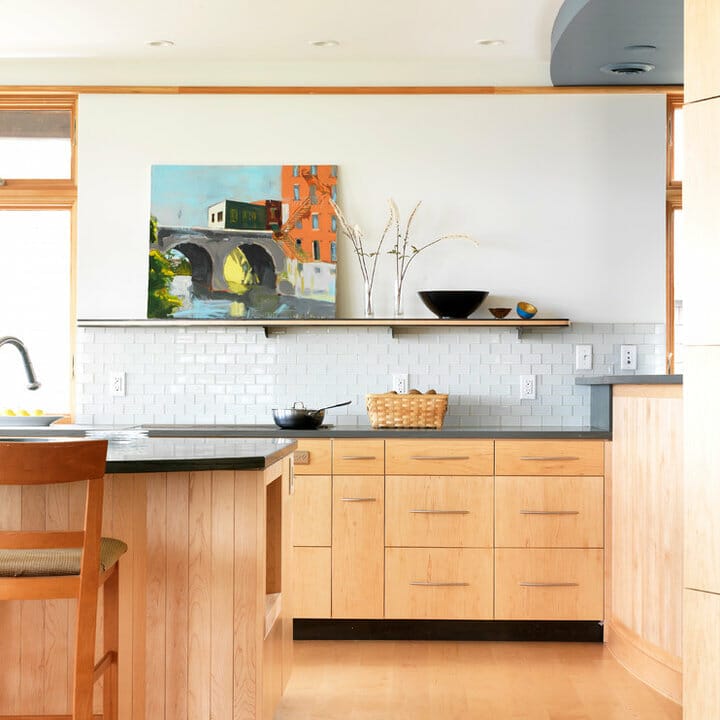 This cooking space boasts a sleek two-tone open shelf. Furthermore, it evokes cohesion while showcasing the painting, slim vases, and decorative bowls.
White subway tiles carve an airy scene and draw attention to the stylish shelf. Meanwhile, the gray-top blonde wood island comes with a shelf that provides extra display space.
15. Kitchen Cabinet with Corner Shelves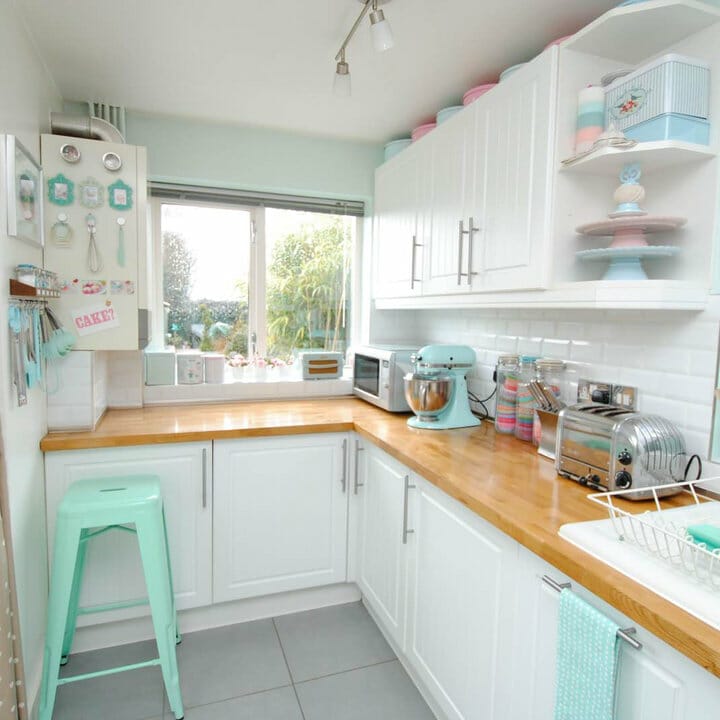 If you have a cottage cooking space, replicate this look. Undoubtedly, it's one of the fabulous shelf ideas for kitchens.
The upper cabinets include a few open shelves. Moreover, they hold a cute dessert stand, food containers, and bowls.
Here, the top of the upper cabinets offers display space for light blue and pink containers. Lastly, metallic and wooden racks keep the kitchen organized.
16. Stylish Metal Shelves for Kitchens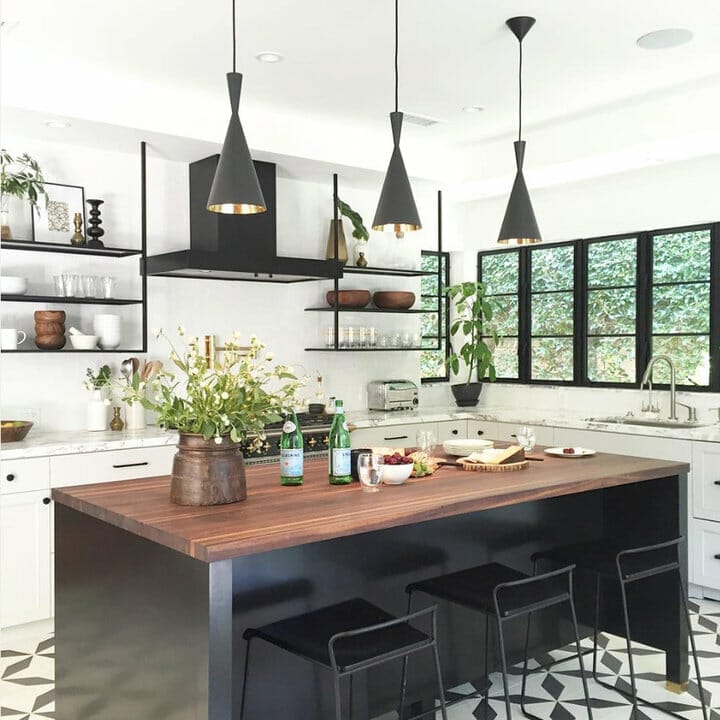 The homeowner chose to suspend his wrought-iron shelves from the ceiling. Furthermore, they flank the black range hood over the marble counter.
As you see, wrought-iron open shelves lend the interior visual balance. In addition to clashing with the white backdrop, they hold dinnerware, plants, and decorations.
The black open shelving fits in delightfully with the existing decor. Moreover, it ties the modern cooking space together while radiating drama.
17. Mid-Century Modern Kitchen with a Shelf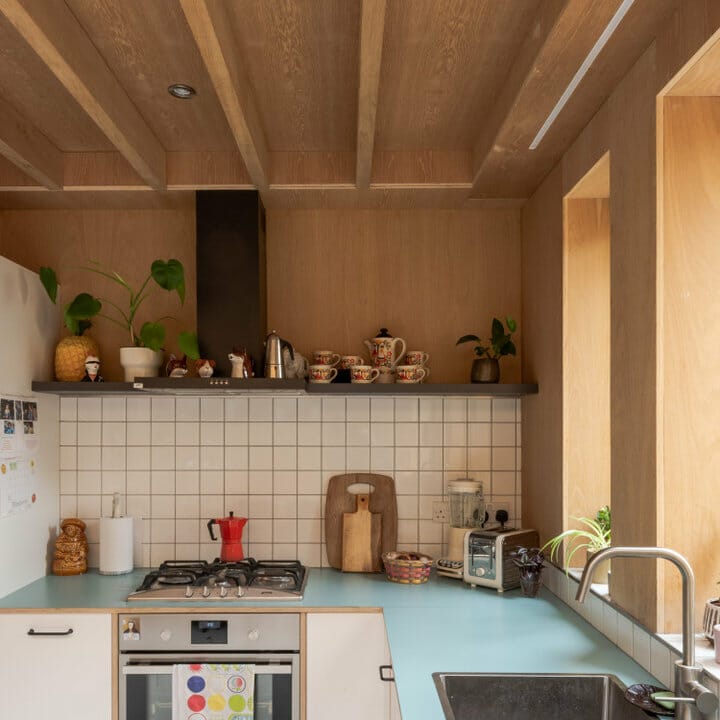 Tiny cooking space? No worries. This is one of the remarkable shelf ideas for kitchens to try. The gray shelves exactly flank the slim range hood. Moreover, they house ceramic figurines, teacups, and jugs.
A few potted plants sit on the shelf. Furthermore, the wooden backdrop harmoniously blends with them. Lastly, square tiles and splashes of colors make this mid-century modern kitchen more appealing.
18. Kitchen Shelf Rack Ideas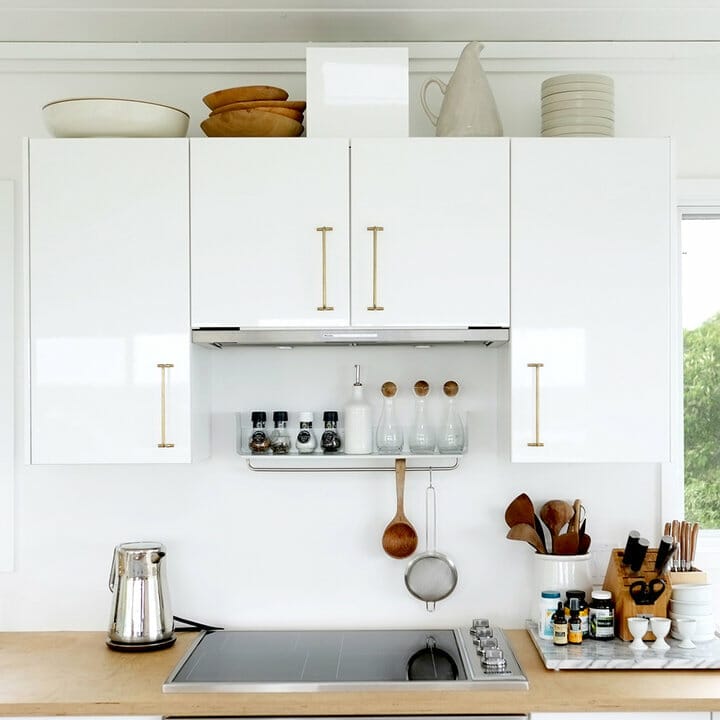 Speaking of shelf ideas for kitchens, find the design that meets your aesthetic. This room employs a small shelf that holds spice jars and bottles.
There's a metallic rack underneath the shelf. Moreover, it accommodates kitchen gadgets. Lastly, the upper cabinets' top doubles as a shelf for the gorgeous jug and bowls.
19. Wooden Cabinets without Doors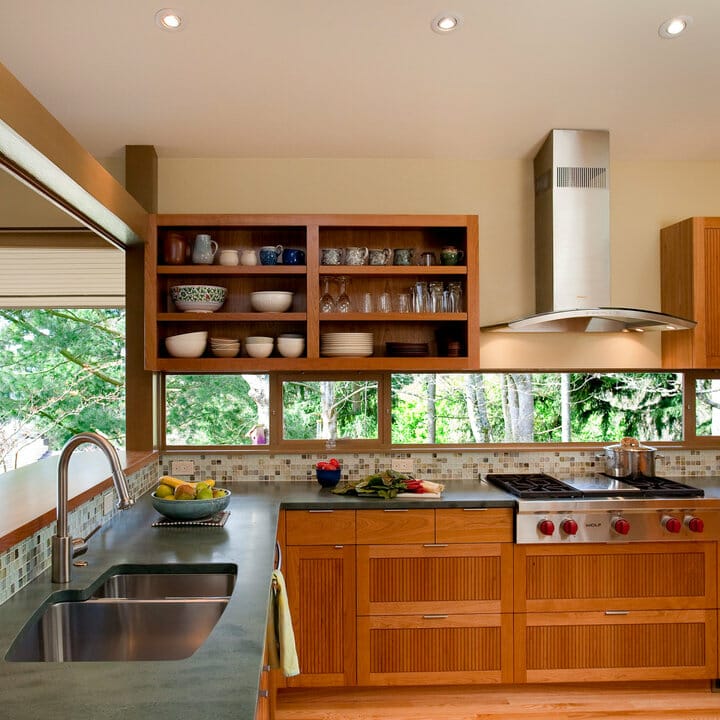 If you aren't into an entire makeover, try this option out. The homeowner got rid of the upper cabinet doors, so the kitchen seems airier.
The doorless cabinet boasts shelves that display a splendid collection of dinnerware. It clashes with the cold-toned range hood, too.
20. Stained Wood Shelf Ideas for Kitchens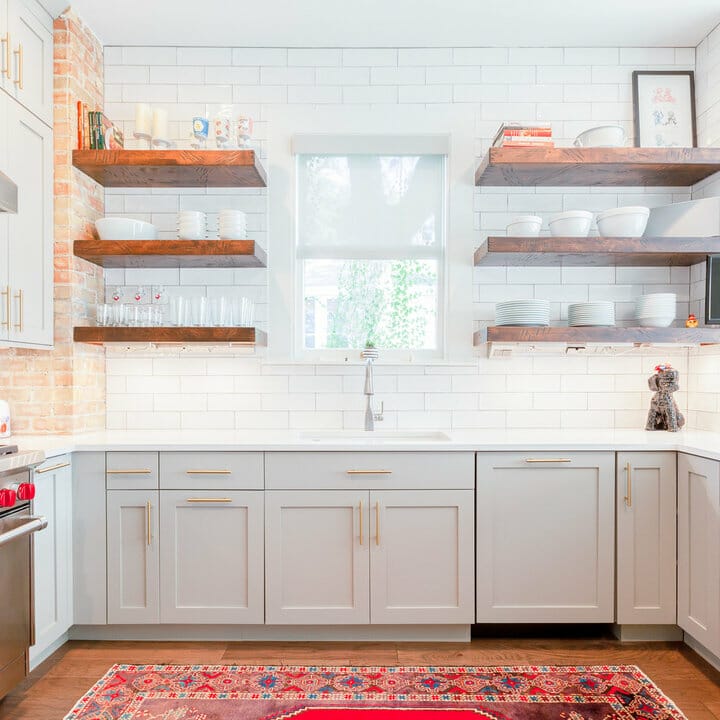 This kitchen has pale gray lower cabinets. Moreover, the homeowner brilliantly nixed the upper ones. Also, he replaced them with stained wood shelves.
The wooden shelves elegantly flank the sink and window for visual asymmetry. In addition, they keep things very organized while exuding warmth.
21. Kitchen with Stainless Steel Shelves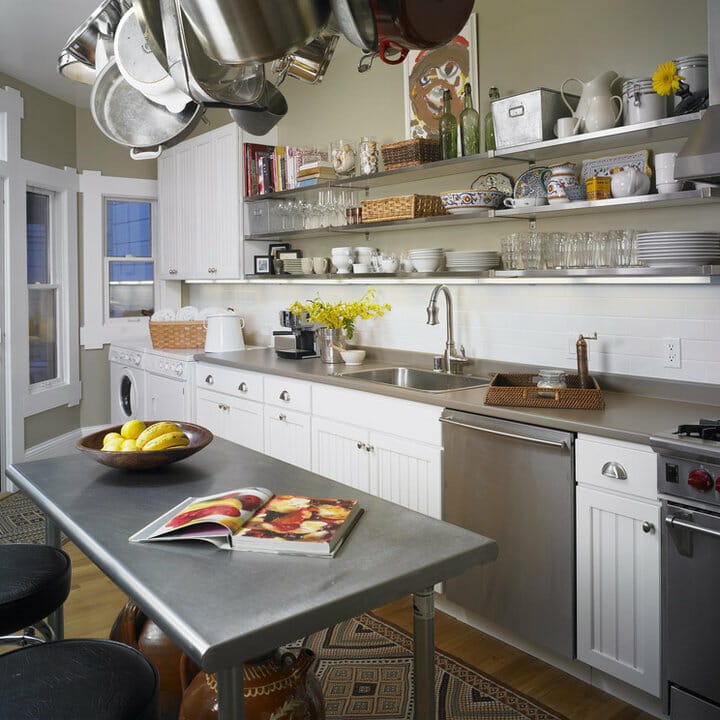 If farmhouse-style shelving isn't your thing, consider applying this idea. There are long stainless steel shelves right over the sink. Furthermore, they deliver an urban feel.
The open shelves complement the metallic table, counter, and appliances. In addition, they house a wide selection of things, from wicker baskets to cookbooks.
22. Tiny Shelf Ideas for Kitchens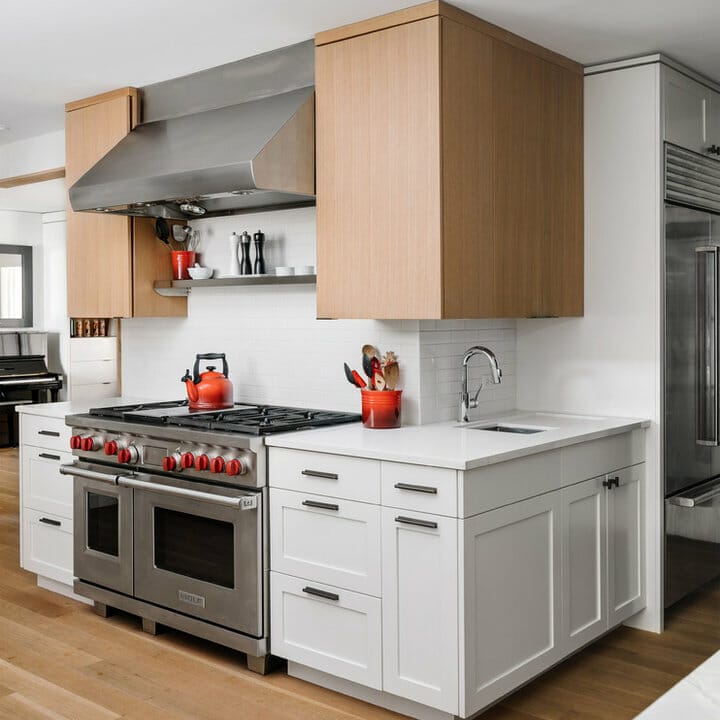 This kitchen isn't spacious. However, the bright white backsplash, walls, and lower cabinets make it feel more inviting and bigger.
The tiny shelf under the range hood provides extra display storage. It harmonizes with unpainted wooden cabinets, while touches of red enliven the interior.
23. Modern Moroccan Kitchen with Open Shelving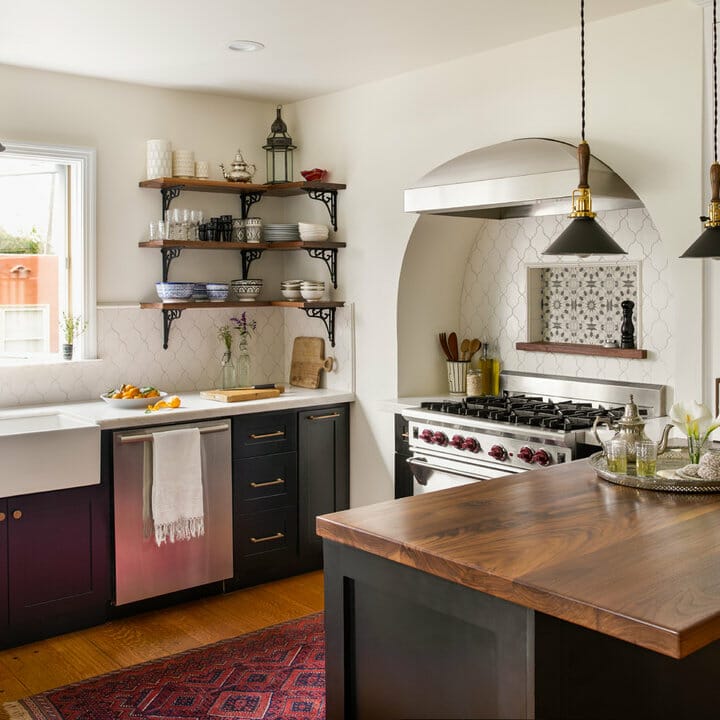 The stunning arch and tiles give the kitchen modern Moroccan vibes. Moreover, black furniture units carry some drama, while gold accents represent opulence.
Wooden corner shelves feature ornate metal brackets. In addition, they gracefully accommodate a Moroccan teapot, lanterns, bowls, and vases.
24. Kitchen with a Long Corner Shelf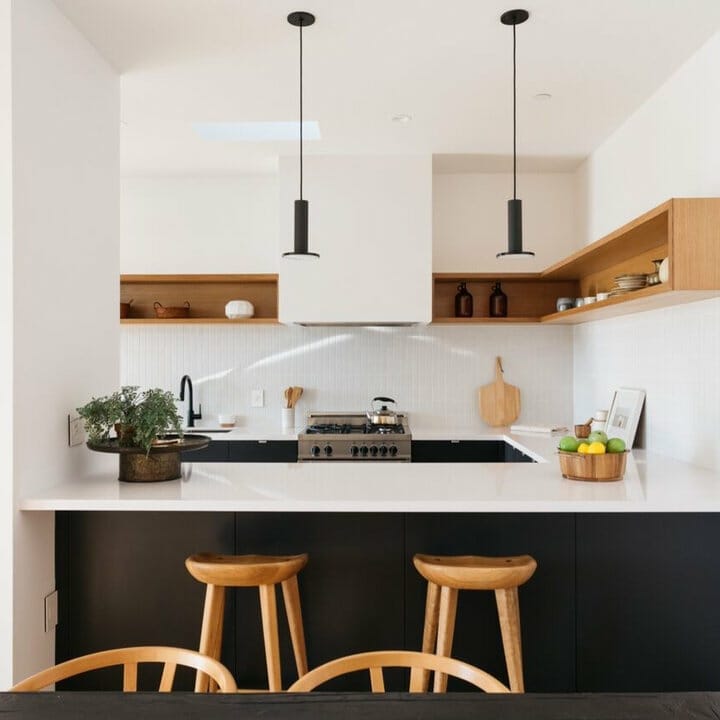 This is one of the captivating shelf ideas for kitchen corners. Due to the blonde wood shelf, the corner space doesn't go to waste.
The wooden corner shelf contrasts with the beadboard paneling. Moreover, they allow decorations to be centerpieces while offering visual cohesion.
25. White Shelf Ideas for Kitchens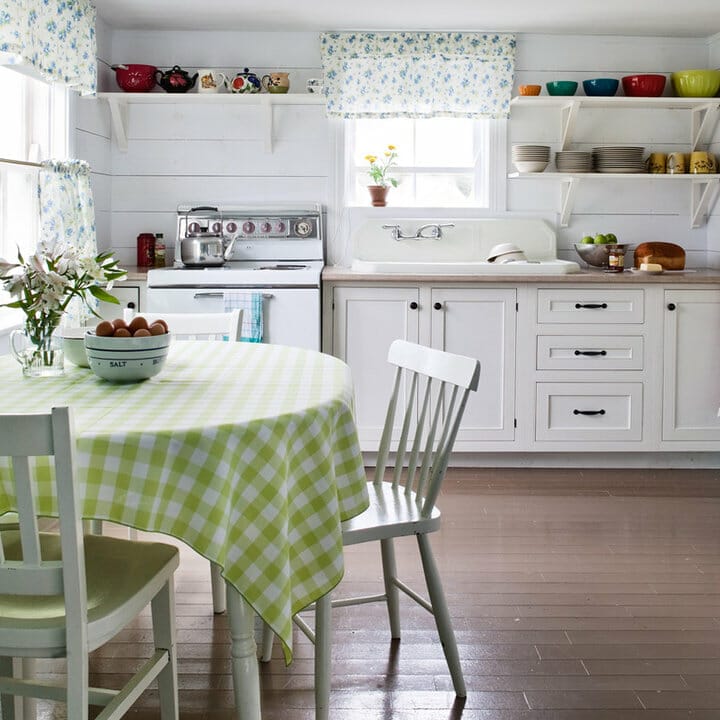 In this cottage kitchen, there are white-painted open shelves over the high back sink. They blend seamlessly with the existing shiplap wall.
The open shelves house both neutral and vibrant dinnerware pieces. Furthermore, they balance floral window shades out.
26. Kitchen Shelves with Traditional Styling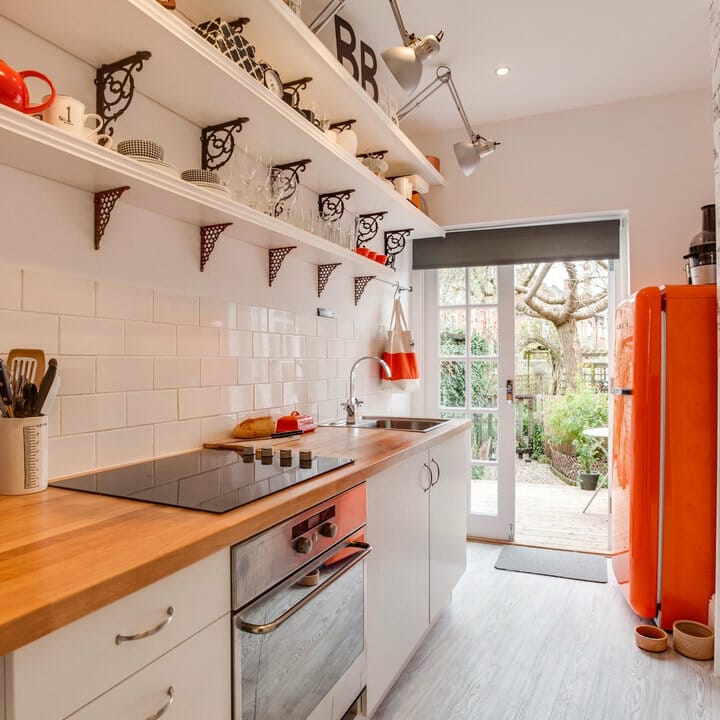 Although this cooking space is small, it looks strikingly spectacular. Vintage units and pops of orange keep it from being lackluster.
The homeowner gave her shelves a classic styling by using intricate metal brackets. Moreover, they catch the eye since there's a variation of heights.
27. Blonde Wood Shelves for Kitchens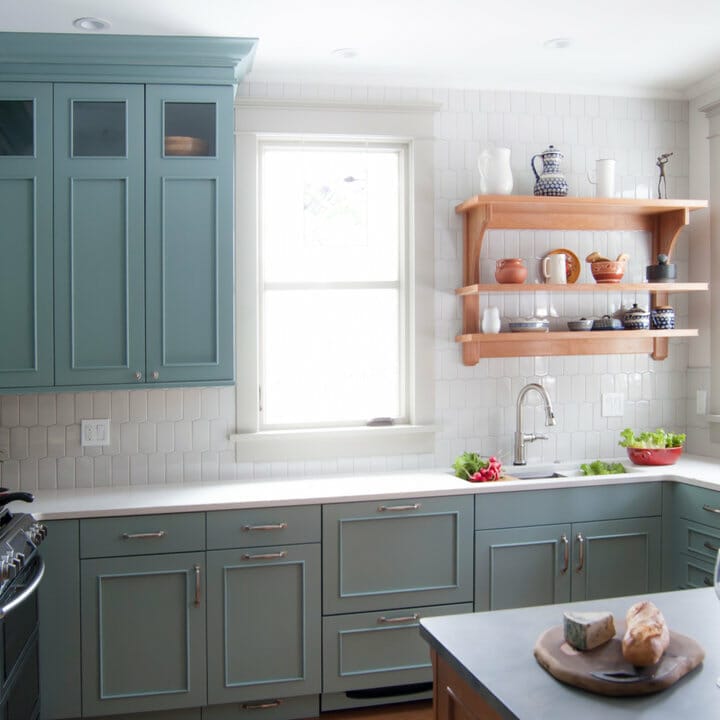 This kitchen employs muted gray and blue cabinets. Moreover, they carry a contemporary aesthetic to the cooking space.
The homeowner nixed a few upper cabinets. Then, she installed vintage wooden wall shelves. Here, they balance out the coldness of white picket tiles.
28. Wood and Metal Shelves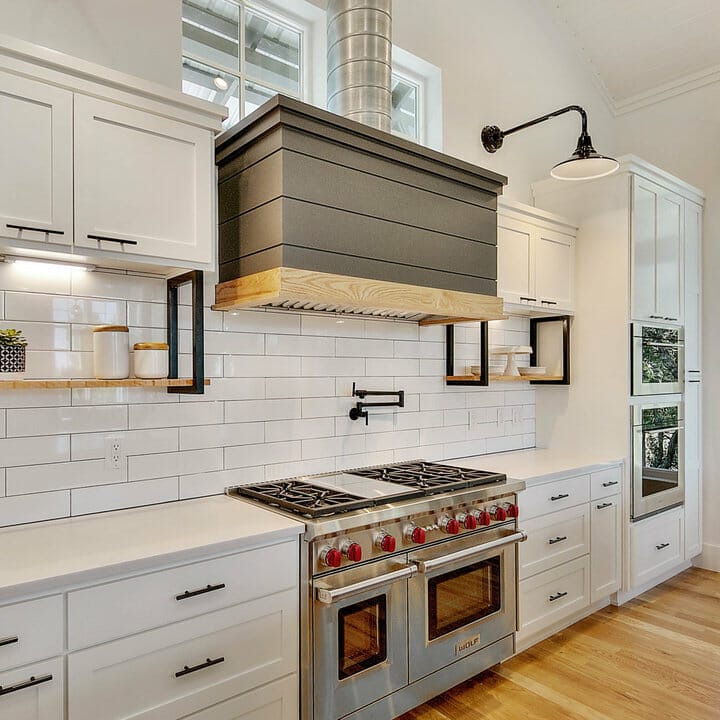 If you aren't ready for a dramatic remodel, no worries. Just hang a couple of wood and metal shelves underneath your upper cabinets.
Wood and metal open shelves generate an urban look. Apart from adding visual symmetry, they offer display space for the houseplant, dinnerware, and canisters.
29. Asymmetrical Shelf Ideas for Kitchens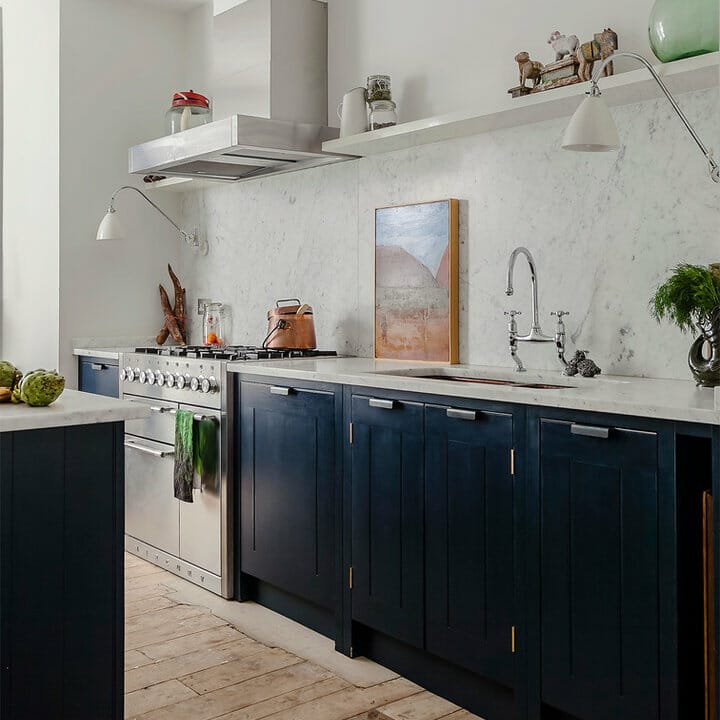 Here, the kitchen has a black island and lower cabinets. Not only do they evoke drama but also lend the cooking area tons of storage space.
Open shelves of two different lengths hang on the wall above lamps. They lighten the kitchen up and produce an asymmetrical yet appealing look.
30. Asian-Inspired Kitchen with Shelves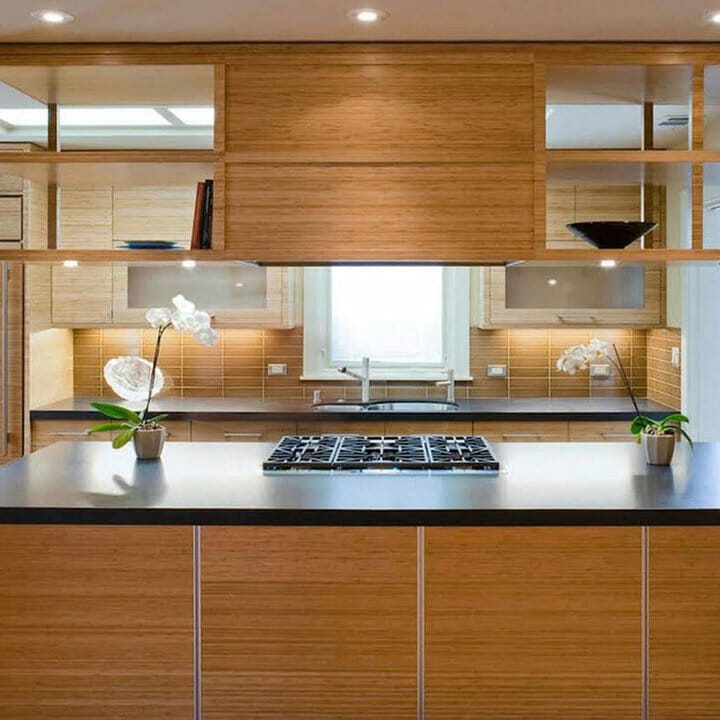 This cooking space is undoubtedly drool-worthy. The sleek wooden upper cabinets come with open shelves. Furthermore, they only display a few cookbooks and dinnerware pieces.
Potted orchids under the upper cabinetry titivate the kitchen. Meanwhile, brown tiles and light-toned wooden cabinets carve a tranquil scene.
Hopefully, those shelf ideas for kitchens can convince you to incorporate open shelving. Furthermore, they let you cost-effectively upgrade a cooking area. Just opt for the design that satisfies your specific needs.