Fireplaces are not a mere source of heat. Moreover, they surely can lend the wow factor to your dwelling. Regardless of where you installed yours, the hearth forever will be the room's heart. Here, I'll show you a selection of remarkable fireplace tile ideas.
Tiles for fireplaces come in various prints as well as finishes. In addition, there are numerous material options available. They're not limited to wet areas like kitchens and bathrooms. Those units also complement your fireplace.
Let's dive deep into my ideas below!
1. Floor-to-Ceiling Fireplace Tile Ideas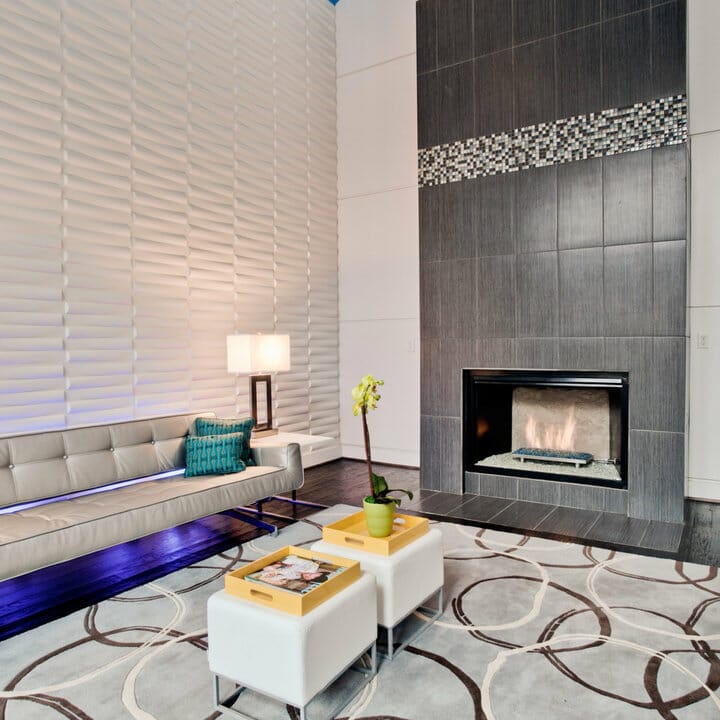 Do you have high ceilings? If yes, try implementing this kind of tile installation. The idea will showcase your fireplace's true potential by elongating its structure.
Here, gray rectangular wood-look tiles adorn the fireplace. Furthermore, the vertical tiling makes the living room appear more stylish and taller.
Square mosaic tiles come in varying gray shades. Additionally, they accompany the rectangular ones while providing visual interest.
2. Stone Tile Fireplace Ideas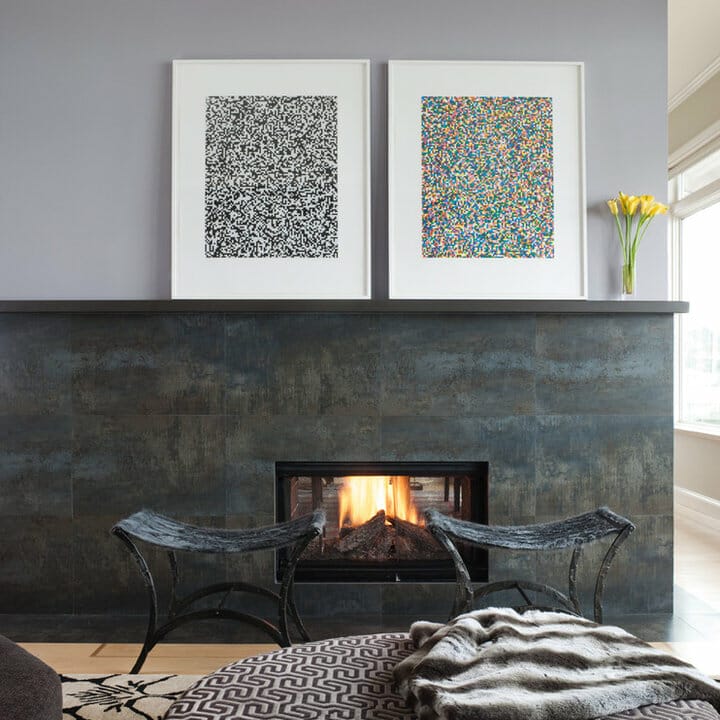 Need modern fireplace tile ideas? If yes, implement this option. The slate tiles display their mesmerizing markings. Moreover, they frame the trendy fireplace excellently.
Slate fireplace tiles bring the outdoors inside. Furthermore, they pull in different shades from brown to gray for a unified look.
Two curved gray stools complement slate fireplace tiles. Meanwhile, the sleek mantel houses different kinds of artworks in a tidy manner.
3. Bright Fireplace Tile Ideas with Mantel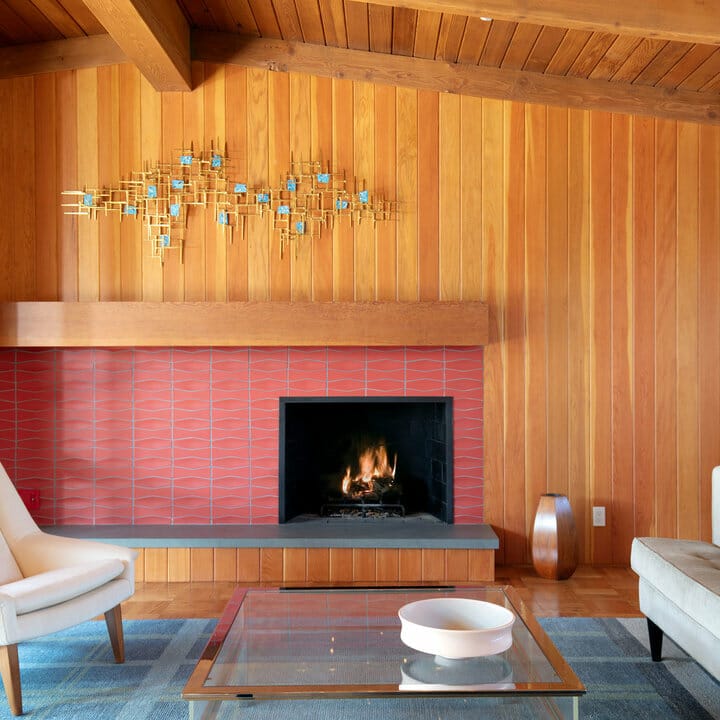 If you love all things cheerful, consider replicating this look. The pastel coral tiles boast uncommon shapes. Since they carry a splash of color, the living room seems more eye-catching and welcoming.
The homeowner installed a slab of concrete at the striking fireplace's foot. Moreover, gray grout lines pick up the shade in it for visual cohesion.
The wooden mantel hangs on the wall right over coral fireplace tiles. It also blends seamlessly with existing wood planks. Furthermore, the unit calls attention to accessories with bright blue accents.
4. Mediterranean Fireplace Tiles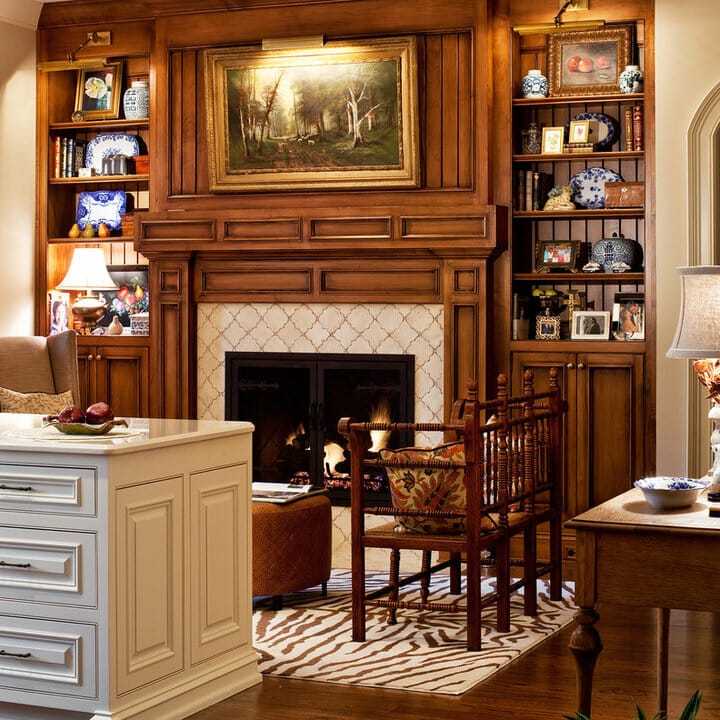 The facade of this marvelous fireplace boasts soft white Arabesque tiles. Not only do they complement the eclectic living room but also ooze exotic vibes.
As you see, white Arabesque tiles contrast with the black interior of the fireplace. Moreover, glass doors keep things feeling fresh.
Mediterranean-style tiles produce visual interest in no time. Meanwhile, the elegant wooden fireplace surround accentuates them nicely.
5. Gray Fireplace Tiles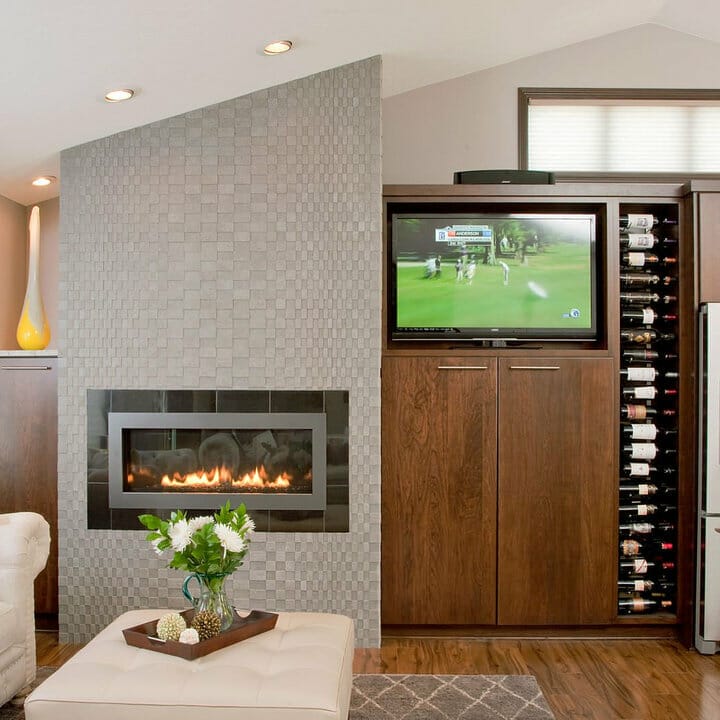 Need contemporary fireplace tile ideas for attic family rooms? Simply duplicate this look. The sky-high installation of the tiles makes the space feel taller.
The stylish fireplace employs matte gray ceramic tiles. They set a serene ambiance while adding texture and keeping things balanced.
Since the gray tiles are of different shades and shapes, they loosen rigidity. Meanwhile, the high-shine black fireplace tiling brings some depth to the family room.
6. Slate Fireplace Tile Ideas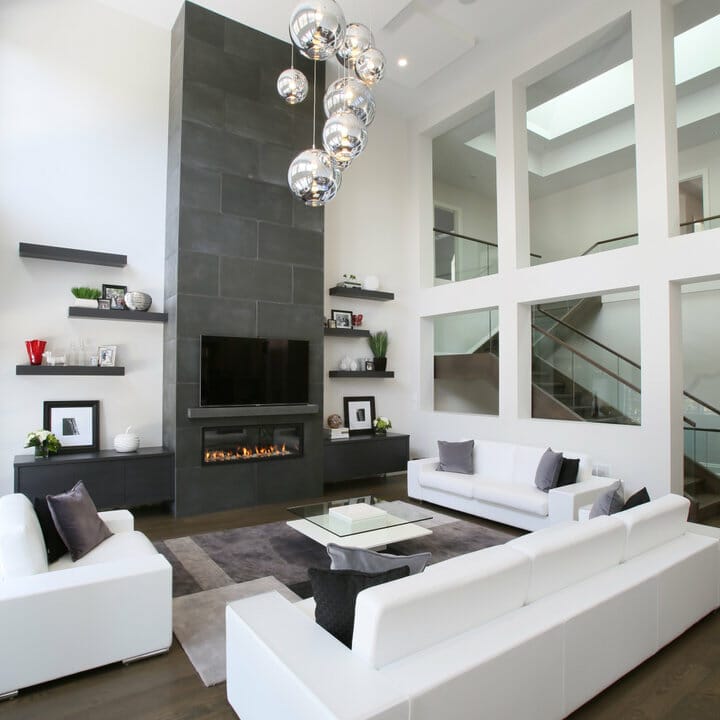 If your living area features high ceilings, apply this brilliant idea. Here, the ceiling-to-floor installation of fireplace tiles elongates the room's structure. In addition, it makes the interior seem more trendy.
Oversized dark gray slate tiles lend the predominantly white space some drama. Furthermore, the tiling complements the minimalist fireplace with a coordinating mantel.
Also, it draws attention to metallic cluster pendant lights.
7. Fireplace with Spanish Tiles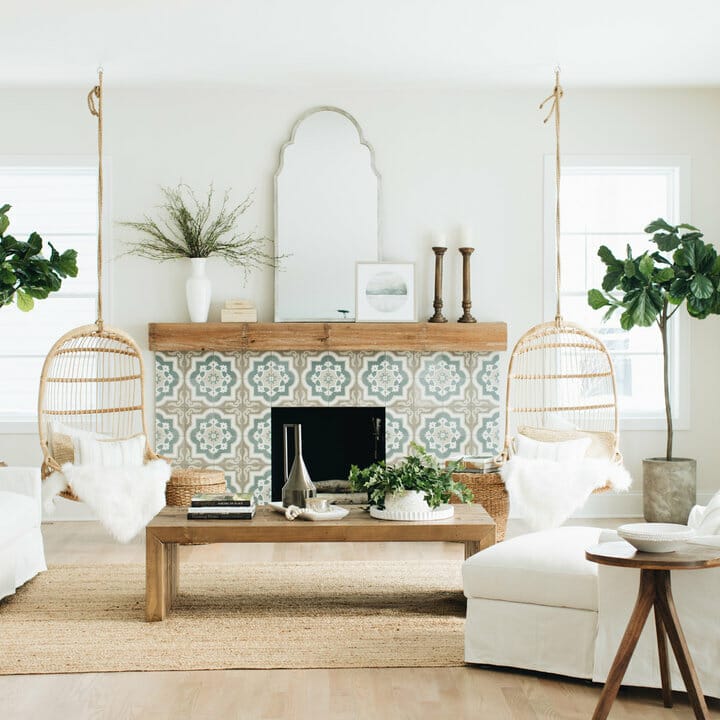 Speaking of the best tile for fireplaces, you can't forget Spanish tiles. Here, they make the fireplace facade appear gorgeous and charming at once.
As you see, Spanish tiles bring the beachy decor together. Moreover, they boast shades of sand, white, and muted sky blue for a cohesive feel.
There's a rustic wood fireplace mantel right above Spanish tiles. Meanwhile, the rug, wicker baskets, and rattan swing chairs heighten the coastal atmosphere.
8. Heat-Resistant Tile for Fireplace Ideas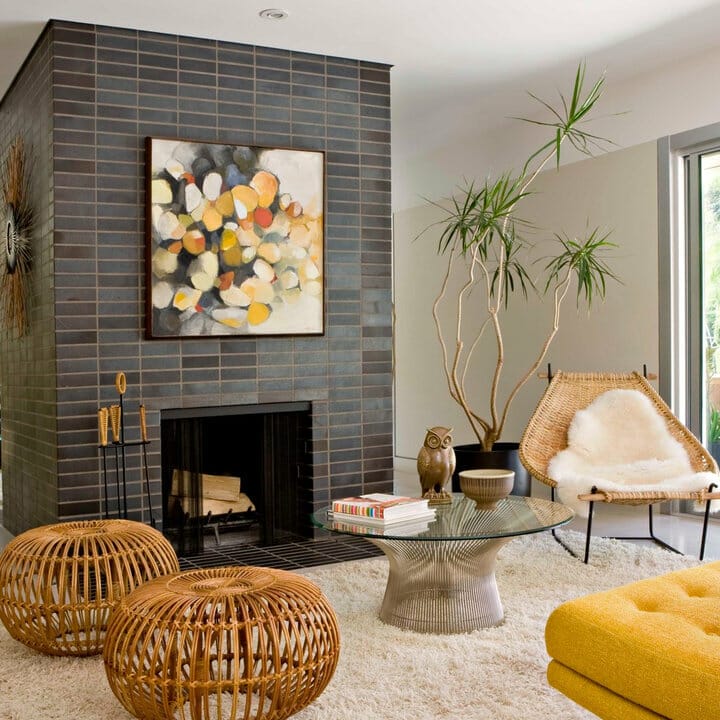 Some homeowners have high ceilings in their houses. If you're one of them, refrain from cutting the fireplace's potential short. Opt for a sky-high tile installation, so it seems taller.
Here, the ceiling-to-floor fireplace employs natural stone tiles. Apart from showcasing delightful organic markings, they bring the outside in.
Natural stone tiles aren't susceptible to heat. This is why they're appropriate for fireplaces. Moreover, matte black subway tiles with white grout lines offer an extra design element.
9. Tile for Fireplace Hearth Ideas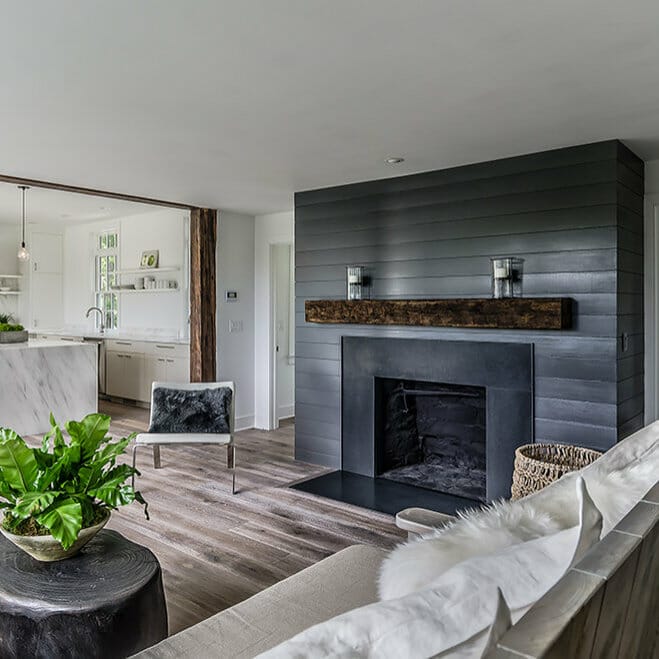 The fireplace facade features deep gray-painted wooden planks. The units heighten the living room because they extend from the floor to the ceiling.
Here, the slate surround lends the space drama as well as natural texture. In addition to being fire-safe, it complements rugged stone tiles that adorn the fireplace's interior.
The fireplace hearth employs a slab of slate. Not only does it represent visual cohesion but also contrasts with brown wood-look floor tiles.
10. Spanish and Subway Tiles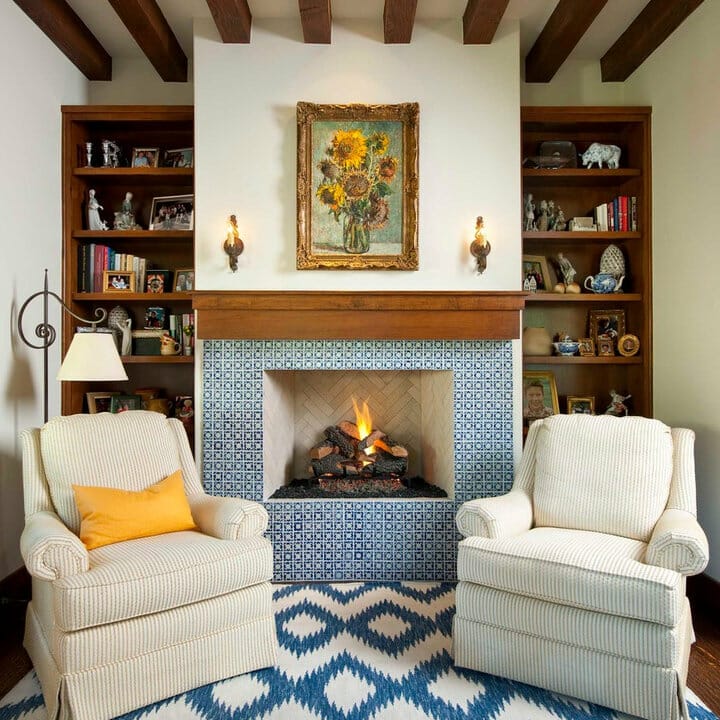 Blue and white patterned tiles decorate the fireplace facade. In addition, they deliver a classic Spanish aesthetic to the living area in no time.
In this photo, Spanish-style prints are charming and eye-catching. Also, they pick up white and blue shades in the room delightfully.
The interior of the fireplace displays white subway tiles in a herringbone pattern. Moreover, they balance out the boldness and intricacy of Spanish tiles.
11. Mosaic Tile Fireplace Ideas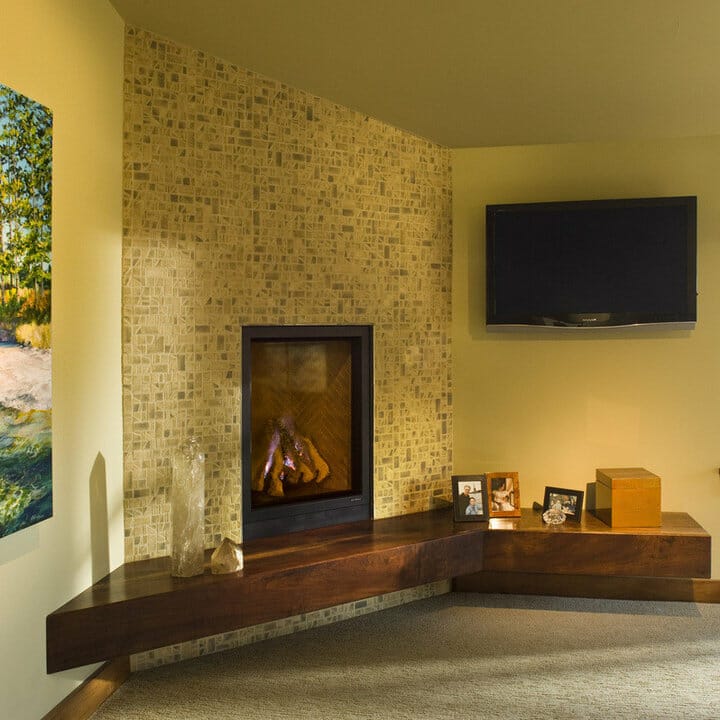 This is another attic room. The ceiling-to-floor modern fireplace boasts marble mosaic tiles. They carry luxury and sophistication to the interior.
Due to the sky-high tile installation, the room appears taller. Furthermore, mini tiles of different shapes and shades develop visual interest.
The interior of this stylish fireplace showcases long subway tiles. Moreover, the herringbone pattern introduces a fabulous visual surprise. Lastly, the wooden floating corner shelf generates a balanced look.
12. Beige Fireplace Tile Ideas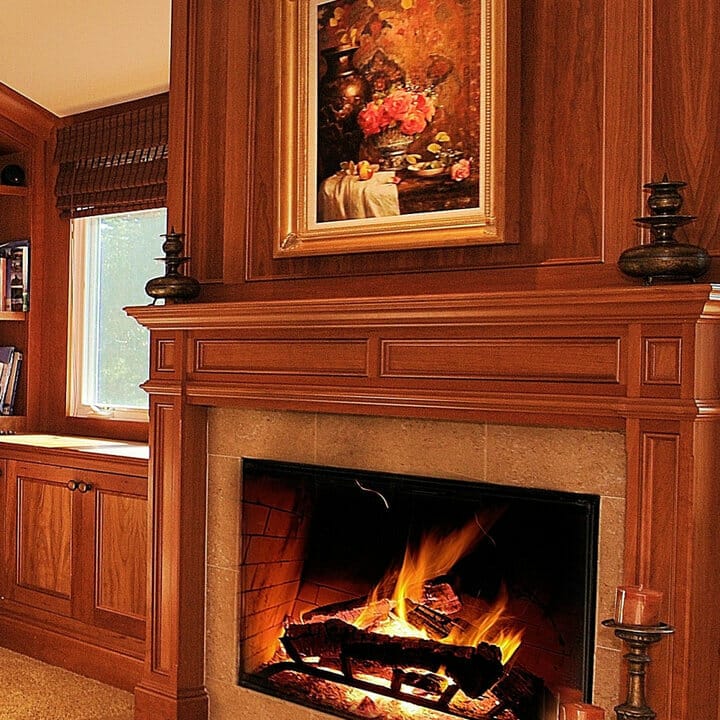 Speaking of fireplace tile ideas, you can't forget granite tiles. Here, they adorn the fireplace surround it magnificently while adding texture. The indistinct grouts allow them to carve a tranquil scene in the living room.
The mantel offers a touch of old-world craftsmanship. Moreover, it accentuates the beige granite tiles while letting decorative pieces shine.
The fireplace's interior looks excellent because of subway tiles. Lastly, black grout lines effortlessly provide a bit of drama.
13. Blue and White Tile Fireplace Ideas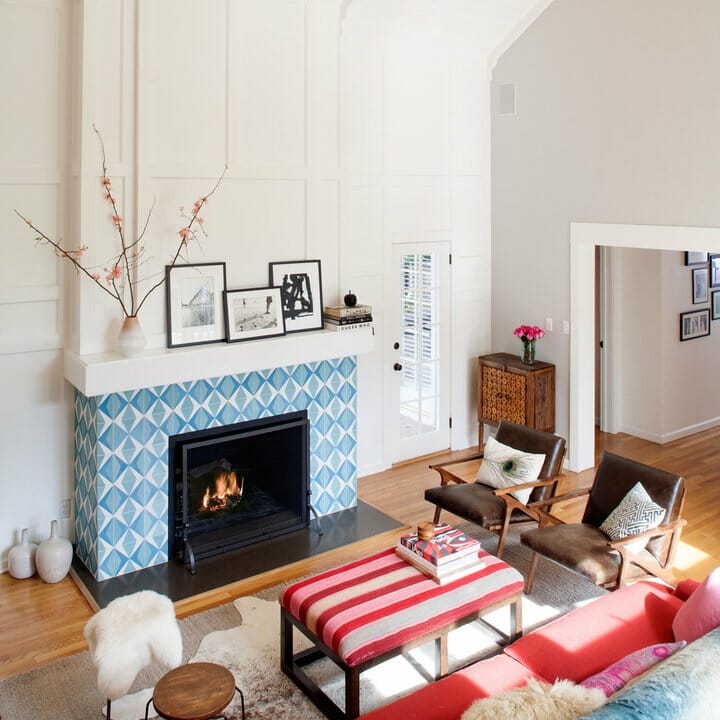 Here, white and blue geometric tiles modernize the look of the fireplace. In addition to turning guests' heads, they produce a fresh ambiance.
The patterned tiles allow the homeowner to create art in his living room. Moreover, they fit in excellently with the eclectic decor. Meanwhile, the crisp white mantel and black hearth balance them out brilliantly.
14. Fantastic Fireplace Tile Ideas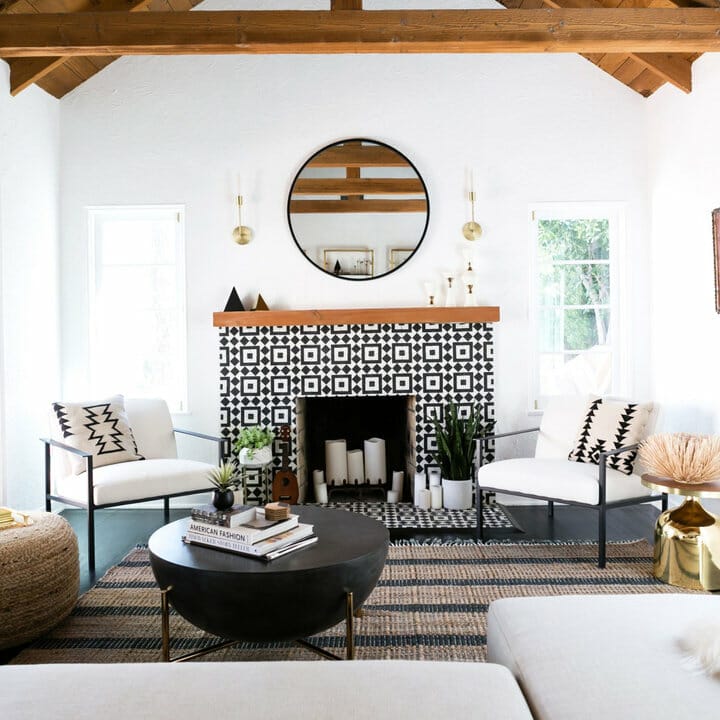 Need decorative fireplace tile ideas? In this photo, geometric black and white tiles make the sitting area more stylish and visually pleasing. They complement printed throw pillows while serving as a centerpiece.
The hearth uses the same tiling for a seamless look. Moreover, the wooden mantel, greenery, and candles adorn the fireplace. Lastly, the black round mirror balances shard edges out.
15. Minimalist Fireplace with Concrete Tiles
This is one of the incredible minimalist fireplace tile ideas. Gray rectangular tiles with indistinct grouts keep things looking trendy and serene. Also, they carry a cool element to the modern living area.
As you see, the fireplace tiles boast varying gray shades. They pick up gray tones from the ceiling, cushions, and furniture pieces. Meanwhile, the wooden flooring ensures that they don't make the interior seem chilly.
16. Mini Tiles for Fireplaces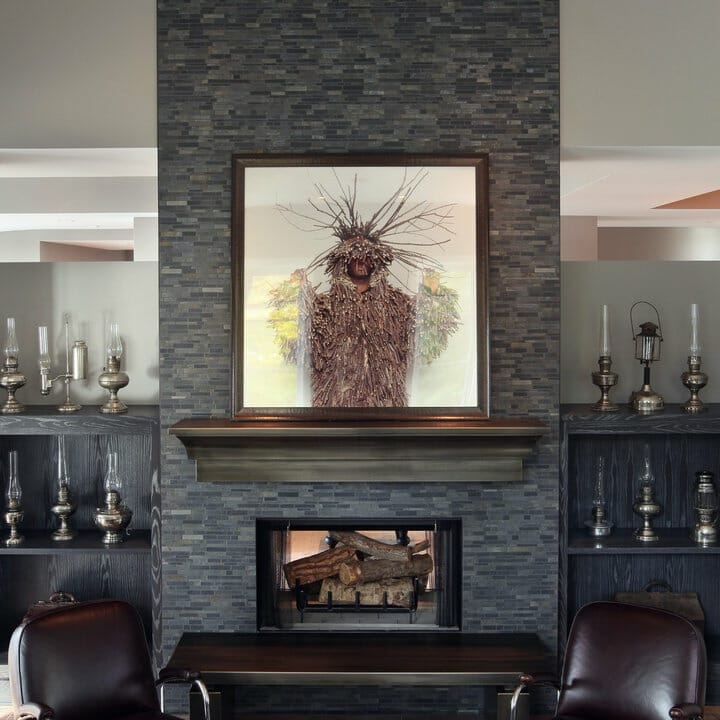 Here, mini natural stone tiles lend the fireplace a modern appeal. Furthermore, they showcase gorgeous tonal variations, from pale gray to medium-toned brown.
Because of the sky-high tile installation, the living area's ceiling appears taller.
Gray-painted built-ins display wood grains to accompany the natural beauty of fireplace tiles. Meanwhile, the artwork and vintage mantel complete the look.
17. White Tile Fireplace
I can't stop adoring the facade of this fireplace. The hexagon mosaic tiles come in warm white. They emanate a serene vibe while updating the living room's look, too.
Delicate mosaic tiles develop a visual impact. They also offer texture, airiness, and freshness. Furthermore, the homeowner paired them with white grout lines for a seamless feel.
This is one of the terrific herringbone fireplace tile ideas. Have a look at those white subway tiles with gray grouts.
Lastly, the white ceramic tiling on the hearth opens up the room.
18. Modern Farmhouse Fireplace Tile Ideas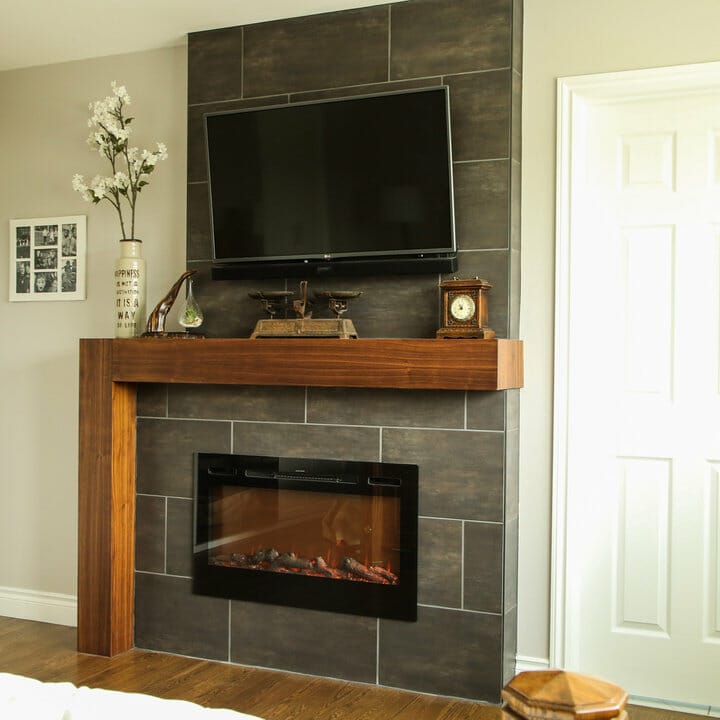 Stone-look ceramic tiles decorate the floor-to-ceiling fireplace. Moreover, crisp white grout lines allow them to fabulously blend with the existing decor.
The fireplace visually elongates the living room's structure. Additionally, the sleek wooden mantel carves a balanced look, while farmhouse accessories deliver a vintage appeal.
19. Vintage Fireplace Tile Ideas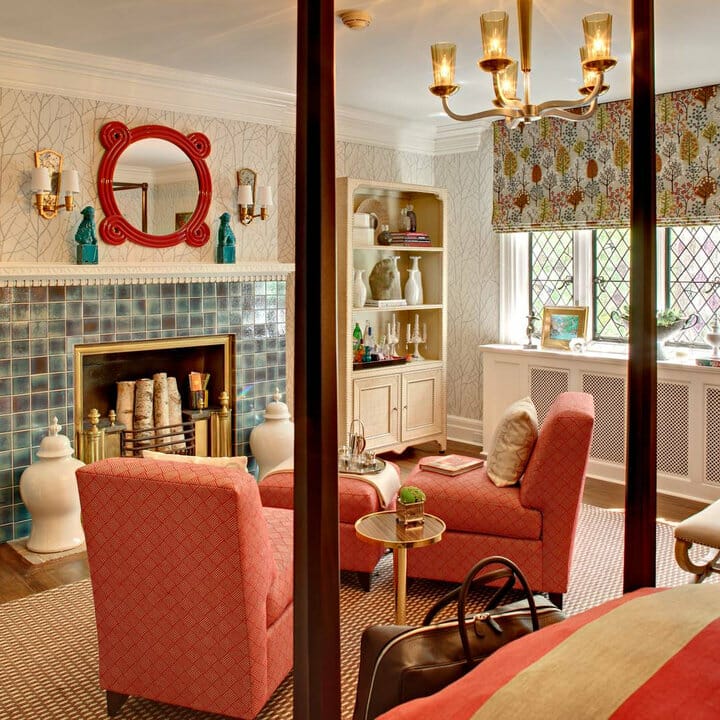 Here, vintage square tiles frame the decorative fireplace. In addition, they reflect natural light excellently due to their glossy finish.
As the photo shows, square fireplace tiles offer gorgeous tonal variations. Moreover, they clash impressively with the white vintage mantel and jars.
20. Printed Fireplace Tiles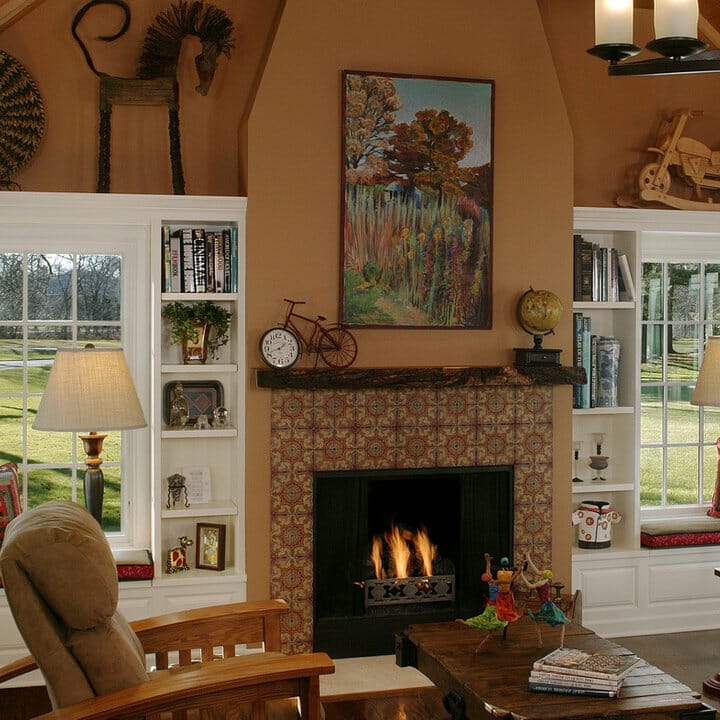 Talking about fireplace tile ideas for bedrooms, try applying this option. Spanish-inspired tiles make an outstanding facade while offering old-world charm.
Here, Spanish patterned tiles tie in all the warm shades excellently. Furthermore, they harmonize with the rustic wooden mantel that holds vintage ornaments.
21. Coastal-Style Fireplace Tiles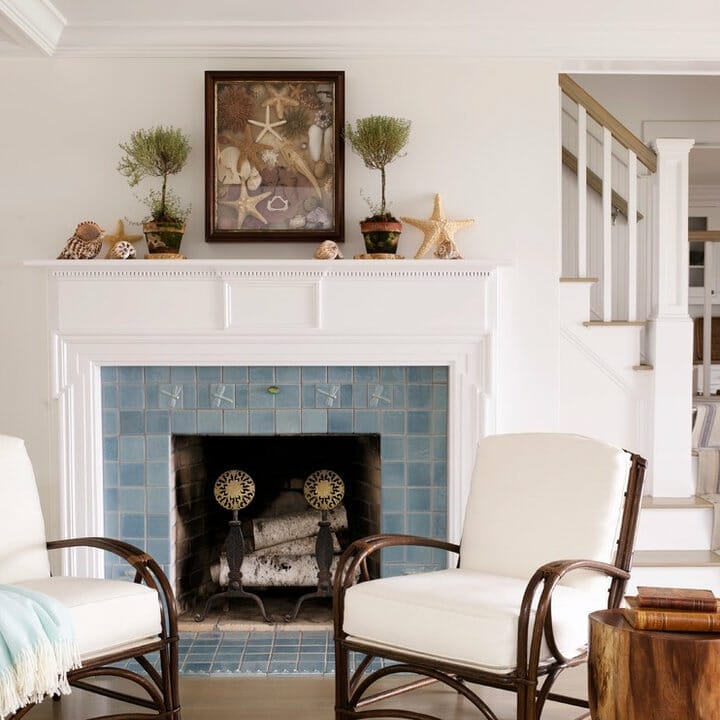 The fireplace facade and hearth boast vintage square tiles. Moreover, their varying blue shades exude carefree vibes while creating a fresh look.
Here, the crisp white traditional mantel contrasts with the blue vintage tiles. Also, it lets coastal ornaments catch the eye.
22. Matte Ceramic Fireplace Tiles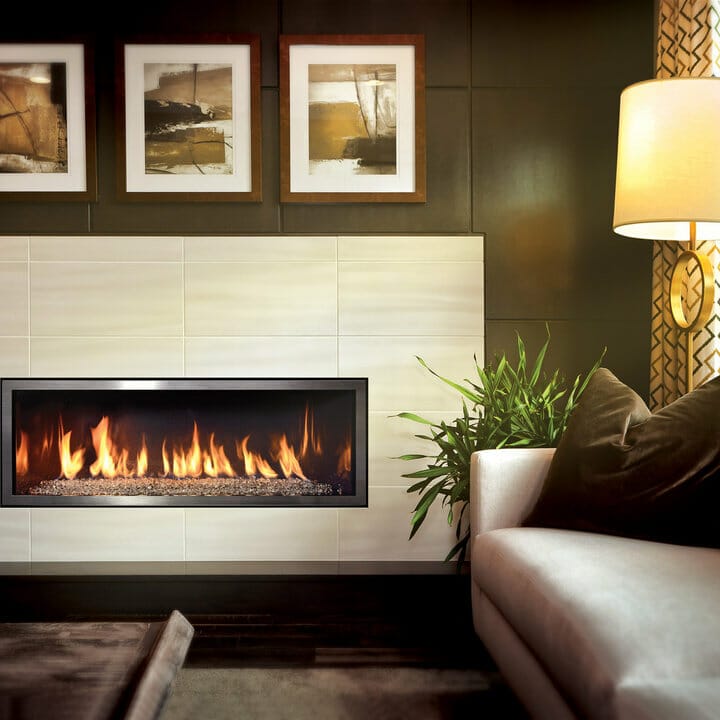 In this picture, oversized matte soft white ceramic tiles titivate the fireplace facade. Furthermore, they feature similar grouts that promote seamlessness.
The neutral rectangular fireplace tiles set a peaceful scene. Also, they heighten modern vibes, while dark brown wall panels accentuate them.
23. Pearlescent Tiles for Fireplaces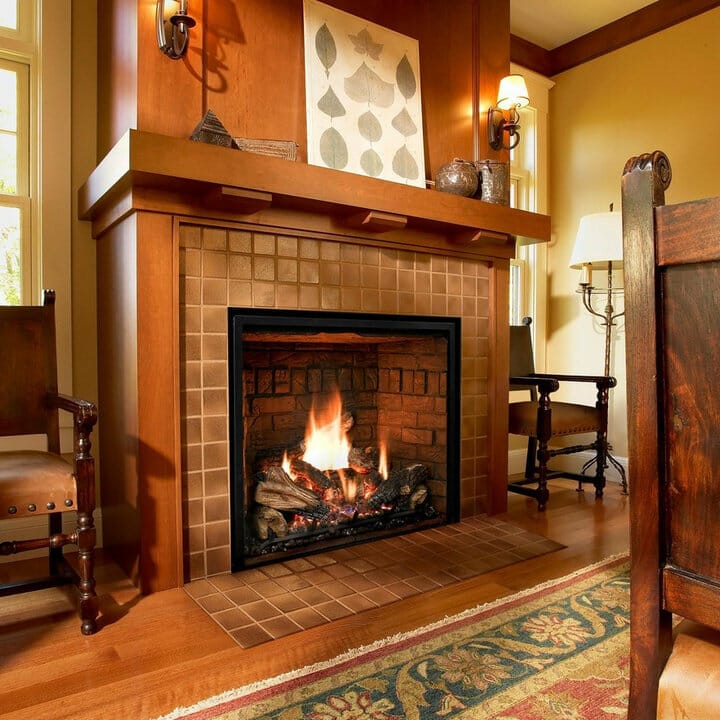 Brand-new tiles aren't your only choice. Consider installing vintage square tiles. In this example, they beautify the hearth and facade of the fireplace.
These pearlescent ceramic tiles come in beige. Not only do they infuse a stunning shine but also harmonize with the wooden mantel and flooring. Meanwhile, rough stone tiles give the fireplace interior texture.
24. Gray Fireplace Tile Ideas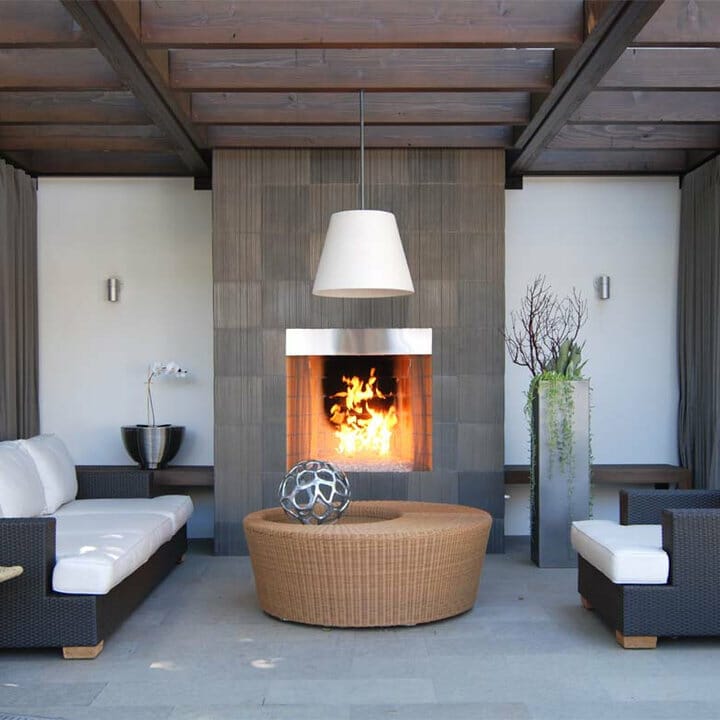 Here, the fireplace occupies a contemporary living room. Furthermore, it boasts gray stone-look tiles that provide a subtle but splendid gradient.
The stone look-tiles terrifically frame the electric fireplac. In addition, they generate a sophisticated backdrop for the white pendant and wicker table.
25. Fireplace with Metallic Tiles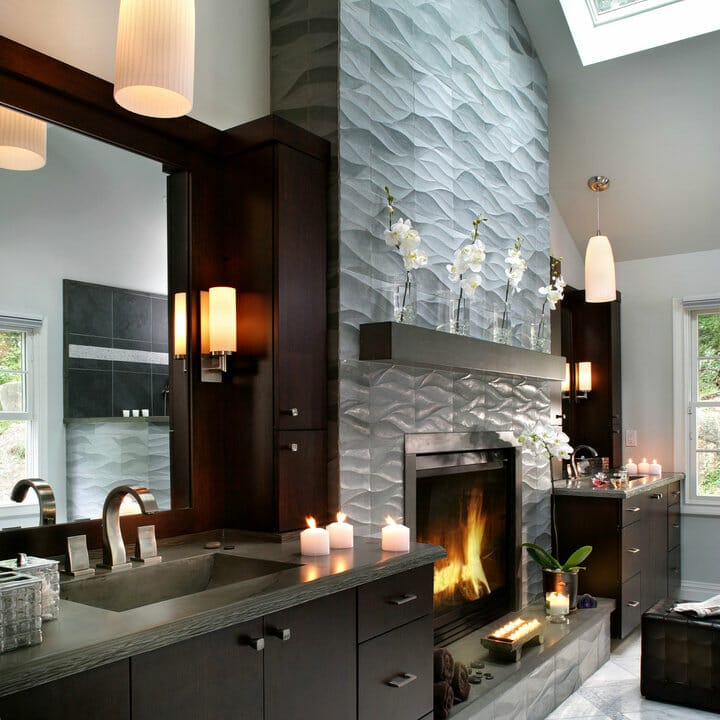 If your ceiling is high, try elongating its majestic structure. When building a fireplace, you can choose a sky-high tile installation. That way, the room becomes visually taller.
These metallic tiles do not only infuse some shine but also offer texture. Furthermore, they clash with matte black furniture units. Meanwhile, the concrete slab at the fireplace's foot complements them excellently.
26. Eclectic Fireplace Tiles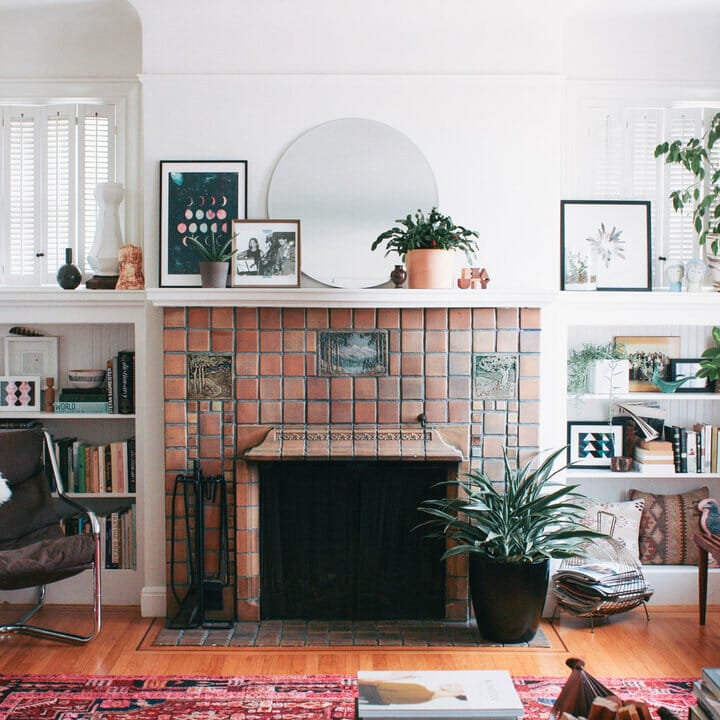 Talking about fireplace tile ideas, you can't go wrong with square tiles. In addition to lending the interior vintage charm, they add visual details.
This sitting room, for example, employs square tiles in varying coral shades. They deliver a pop of color while keeping things homey. Lastly, scenery-inspired embossed tiles call attention to the potted greenery.
27. Fireplace Tiles for Cottage Living Rooms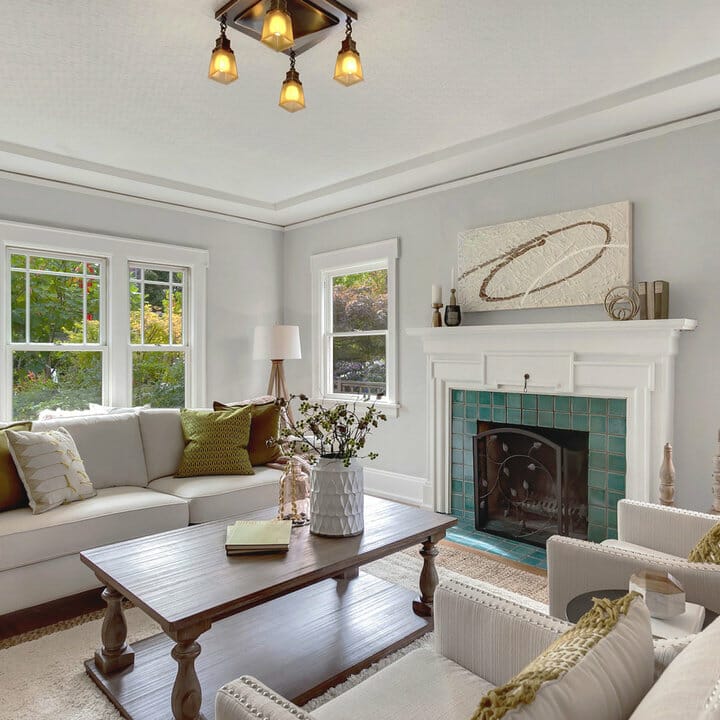 In this modern cottage living area, turquoise square tiles take center stage. Moreover, they carry both freshness and vintage charm to the interior.
The turquoise fireplace tiles vividly clash with the pure white vintage mantel. Meanwhile, the hearth boasts similar tiling for a seamless appearance.
28. Striking Stone Fireplace Tile Ideas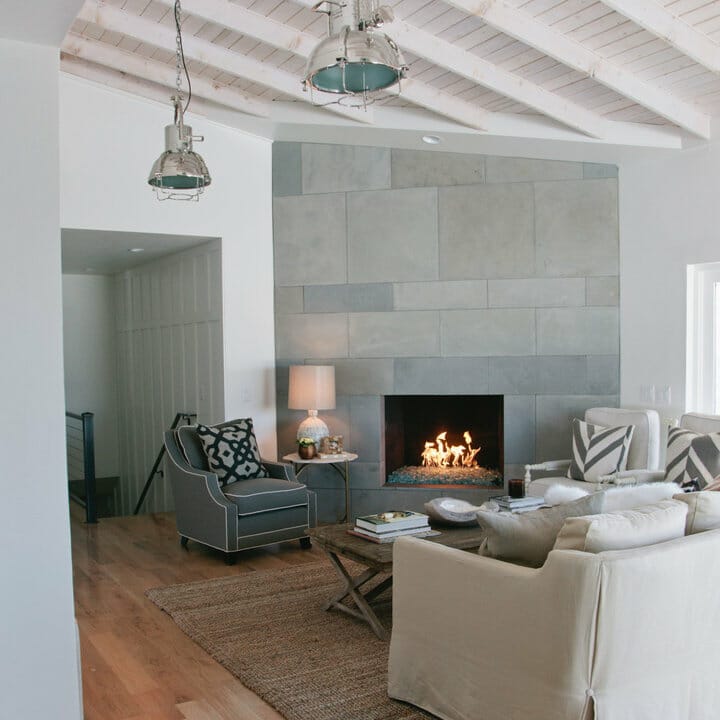 If you can't get enough of gray, implement this idea. The fireplace tiles lend the rustic modern living room varying gray shades.
Since the fireplace displays stone tiles of different shapes, it doesn't look flat. Furthermore, the gray tiling subtly contrasts with distressed white beams.
29. Earthy-Toned Fireplace Tiles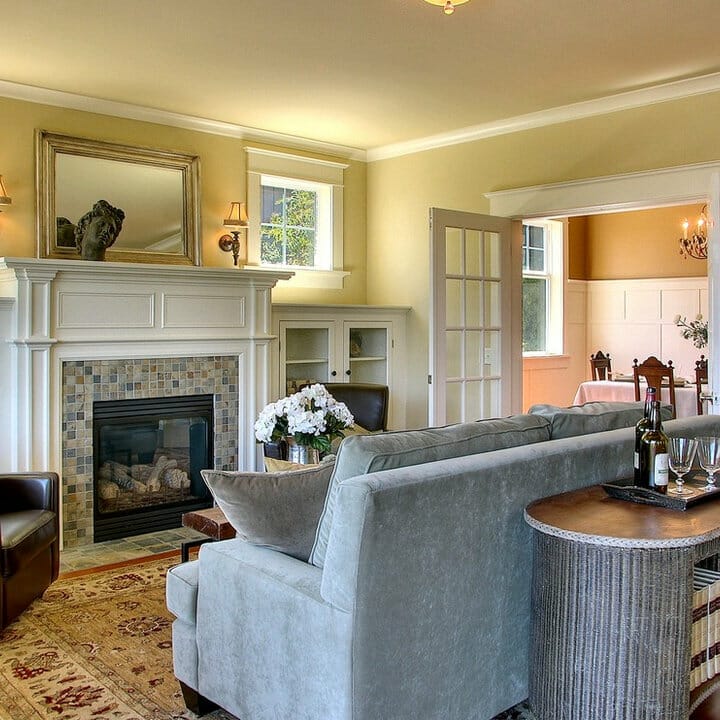 This family room boasts a fireplace with mini square tiles. Moreover, they accompany the existing flooring that showcases stone tiles beautifully.
Fireplace tiles pull in all the earthy tones in the room for a cohesive look. Meanwhile, the white mantel highlights them while adding old-world craftsmanship.
30. Fireplace Tiles for Modern Beach Houses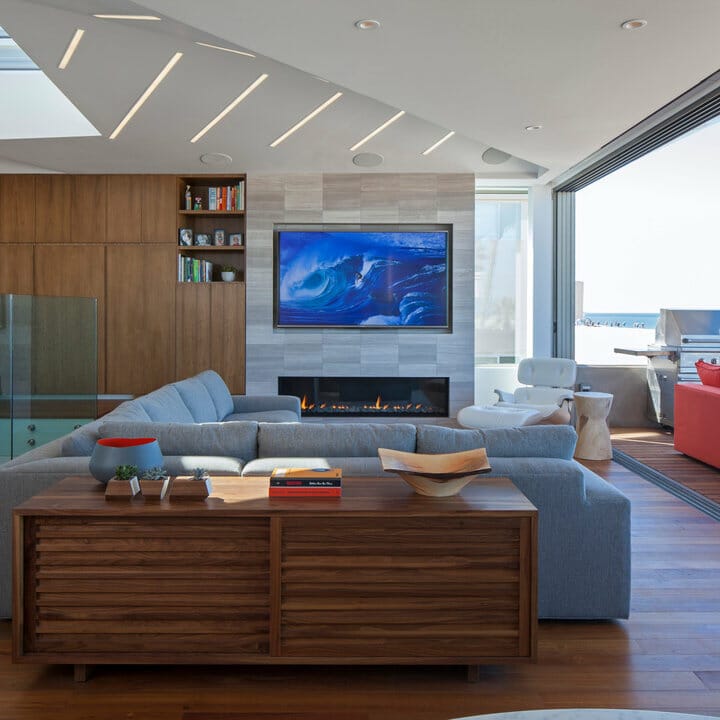 The ceiling-to-floor fireplace visually makes the ceiling of this seating area higher. Furthermore, it's a cool contrast to the wooden built-ins and flooring.
Gray wood-look tiles showcase terrific tonal differences. In addition to highlighting the electric fireplace, they allow the coastal painting to shine.
After reading those fireplace tile ideas, I hope you feel inspired. Also, don't treat the fireplace as a heat source anymore. Convert it into a centerpiece by installing the right tiles. Pick the design that feels right at your home.