Regardless of the size, islands are a crucial part of cooking areas. Furthermore, they let people prepare meals quickly while providing useful storage. If your space is compact, dive into my terrific island for small kitchen ideas below.
A tiny island brings functionality to a small kitchen. In this article, we show you a huge range of examples, from repurposed units to movable carts. They'll surely make preparing meals and entertaining more exciting.
1. Kitchen Island Ideas with Seating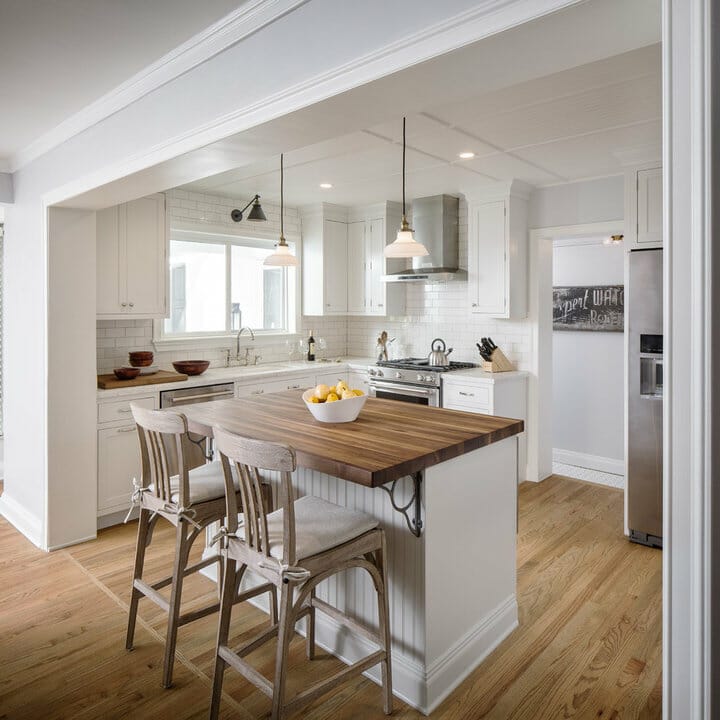 This modern kitchen employs a tiny custom island. Moreover, it perfectly amplifies the area's limited square footage by offering clever solutions.
Here, the bright white beadboard island emanates modern farmhouse vibes. It makes the kitchen way more functional since it comes with a base cabinet.
The island boasts a butcher block countertop that provides additional elbow room for cooking. Meanwhile, the overhang accommodates two dining chairs with upholstered cushions.
2. Rustic Island for Small Kitchen Ideas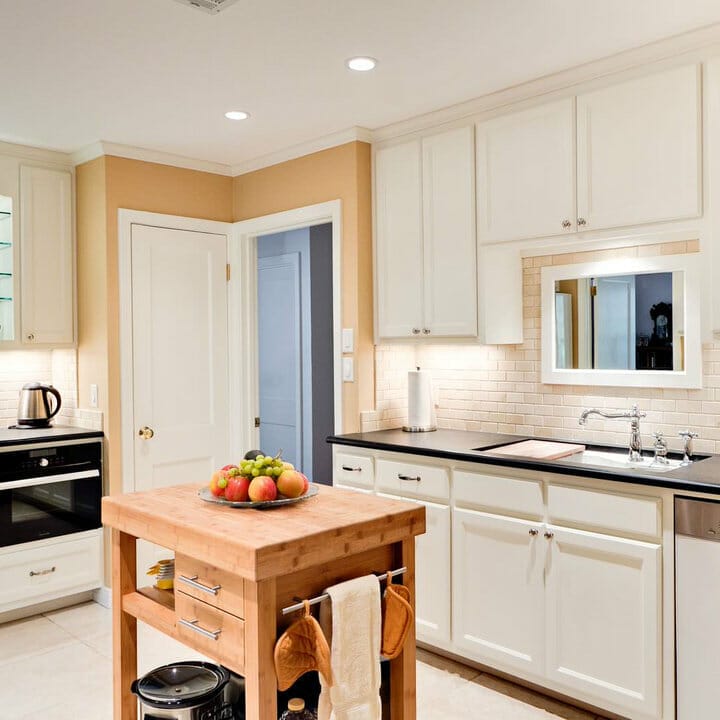 Limited floor space? No worries. Say no to the bulky island and construct this furniture instead. First, you need to find the building plans for the unit.
This DIY kitchen island only requires a butcher block countertop and wood boards. They're available at department stores. For tools, you should prepare a circular saw as well as a drill.
The island offers practical shelf storage and small drawers. Moreover, its exterior has a metallic rail for kitchen linens. Lastly, the butcher block countertop gives home chefs extra workspace.
3. Historic Farmhouse Kitchen Island Ideas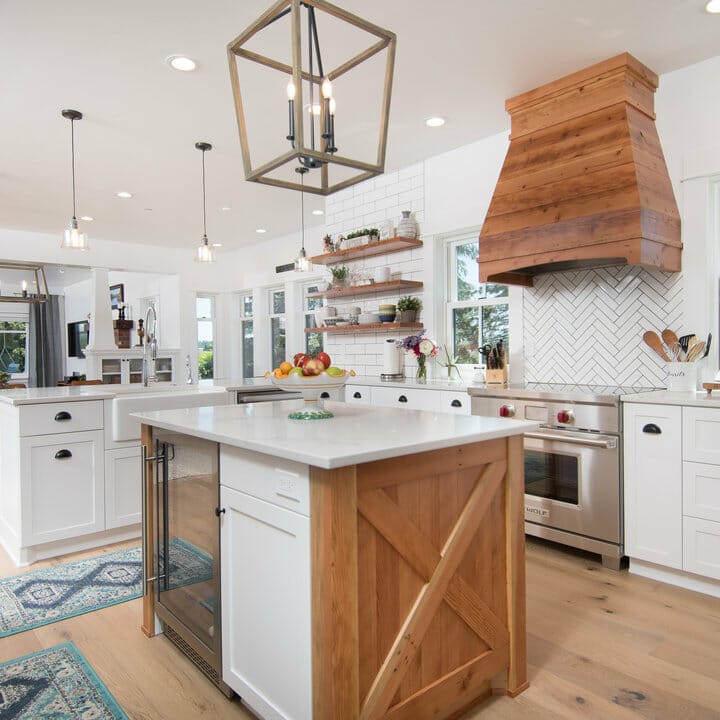 The homeowner gave her small farmhouse kitchen a modern update. As you see, the reconstruction honors the abode's history while introducing a fresh twist. Here, the wooden range hood, flooring, and open shelving feel in sync with the home's exterior features.
This small kitchen island with storage employs wooden, white, and metallic surfaces. It ties the cooking space together.
The island lends the kitchen bonus workspace. Since the unit isn't built-in, you can move it to your living room for parties.
4. Loft Apartment Kitchen Island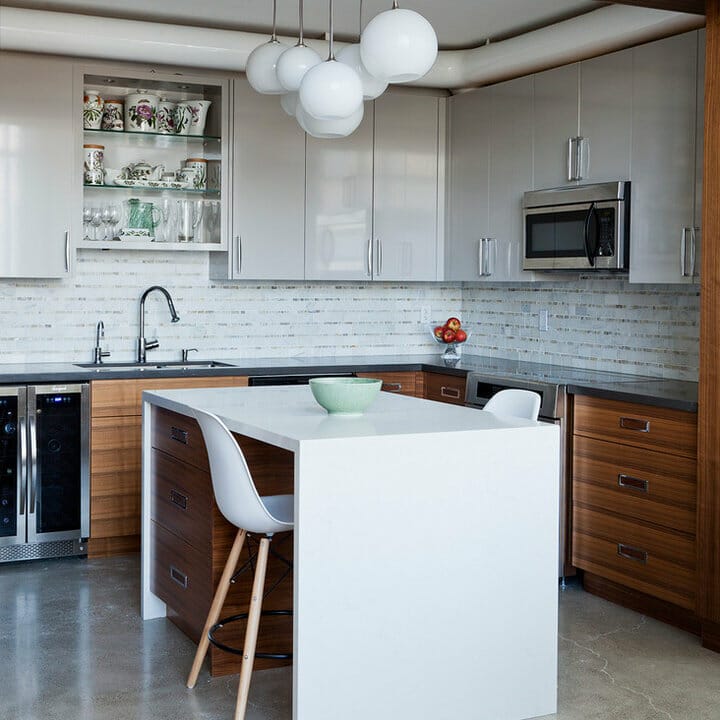 Need island for small kitchen ideas? Consider replicating this fresh, white-and-wood cooking space in your loft apartment.
The mid-century modern kitchen has a stylish built-in island. As the picture shows, it matches with existing upper and lower cabinets.
Here, the crisp white countertop of the small island adds bonus elbow room for chopping. Furthermore, the design offers enough space for two to enjoy meals. In addition, wooden drawers underneath keep things organized.
5. Multifunctional Island for Small Kitchen Ideas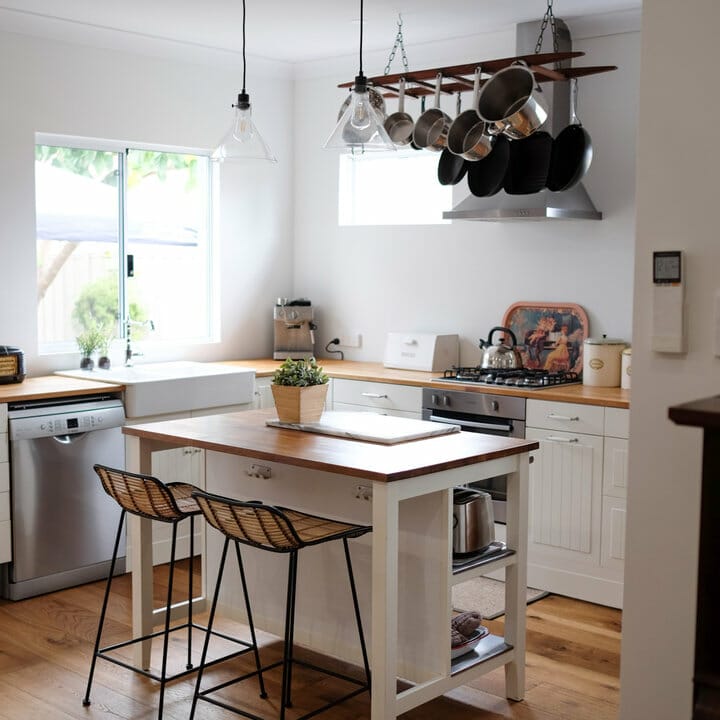 The homeowner modernized her small cottage kitchen without sacrificing its true character. Here, the tiny white island opens up the room. Moreover, the countertop is a durable butcher block that provides extra workspace.
The small two-tone island boasts shelf storage for kitchen appliances and linens. Furthermore, it can seat two persons to enjoy their meals.
As you see, wicker high chairs fit under the tiny kitchen island. Furthermore, the pot rack and glass pendant lamps hang from the ceiling.
6. Mini But Mighty Kitchen Island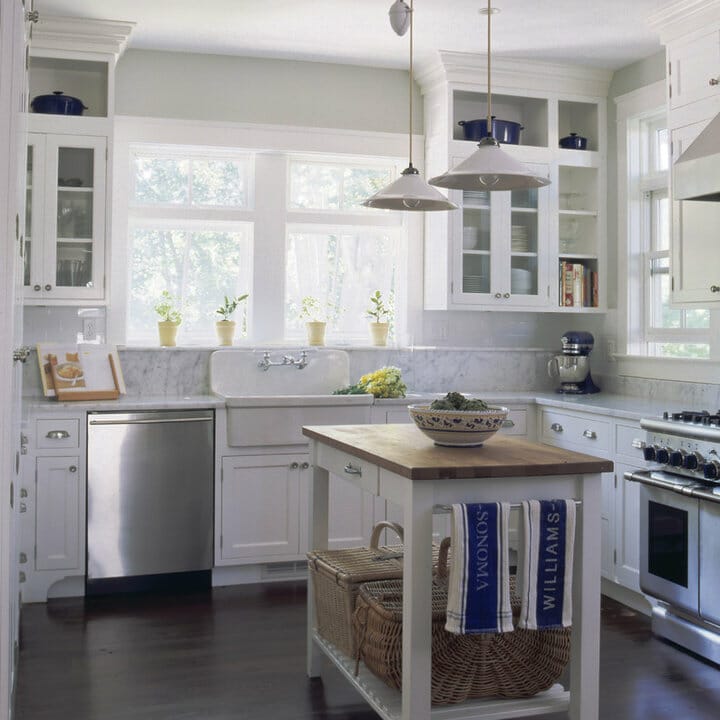 If your kitchen cannot contain a regular-sized island, no worries. Just create one out of salvaged parts to save some cash.
This tiny white island carves a modern farmhouse aesthetic. Furthermore, it gives the kitchen both lower shelf and drawer storage.
The butcher block countertop provides a bonus workspace to prepare food. Of course, it's significant for home chefs.
Additionally, the shelf holds two wicker baskets. Meanwhile, the unit's exterior employs a rail to hang personalized kitchen towels.
7. Space-Saving Kitchen Island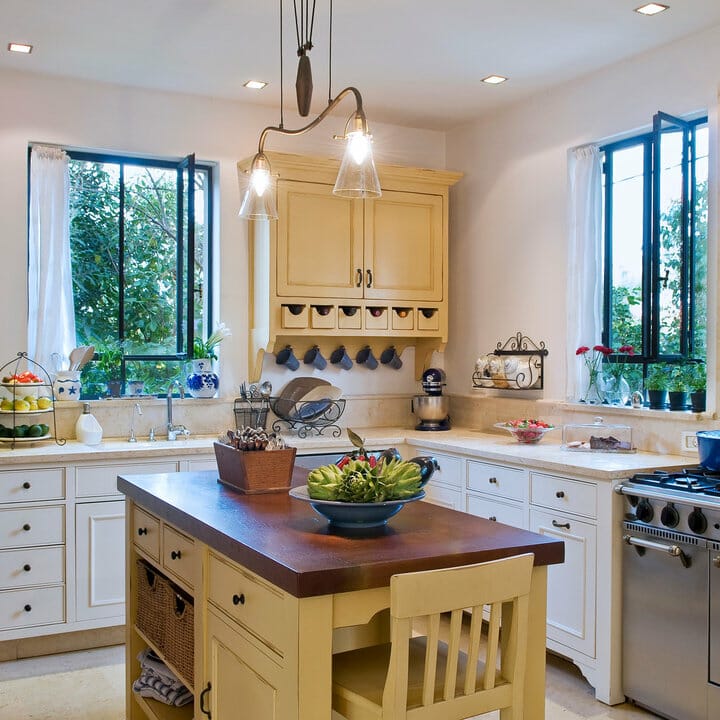 The homeowner painted her custom, eat-in island pastel yellow. Not only does it inject a bit of color but also develops visual cohesion. Moreover, the unit makes the culinary space more functional.
This small island suits the traditional kitchen well. Additionally, the butcher block counter allows home chefs to prepare food comfortably.
Despite its tiny size, the island features a cabinet with shelves and drawers. Furthermore, the matching dining chair fits perfectly under it. On the ceiling are a couple of glass-and-brass pendant lights.
8. Edwardian Island for Small Kitchen Ideas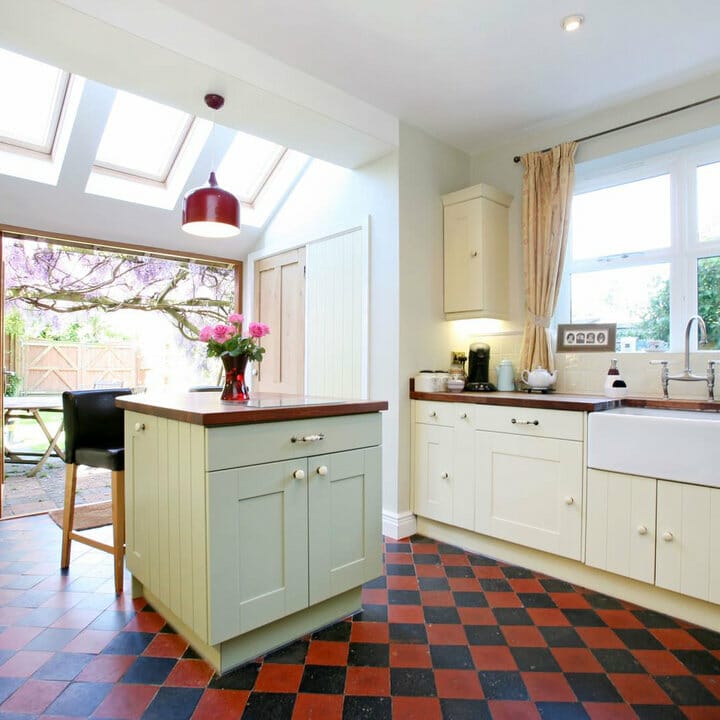 Do you need an island for small kitchen ideas? If so, try copying this look. Here, the homeowner remodeled his cooking space in an Edwardian style. Apart from feeling elegant, it seems super welcoming and calm.
The custom, raised island accompanies pale yellow cabinets in the eclectic Edwardian kitchen. Furthermore, the butcher block countertop lets two home chefs prepare meals together.
The base cabinet of the island houses kitchen essentials. In addition to providing useful storage, it brings the cooking space together. Also, two black leather chairs deliver bold contrast to the room.
9. Island for Small Kitchen Ideas with Cabinet Storage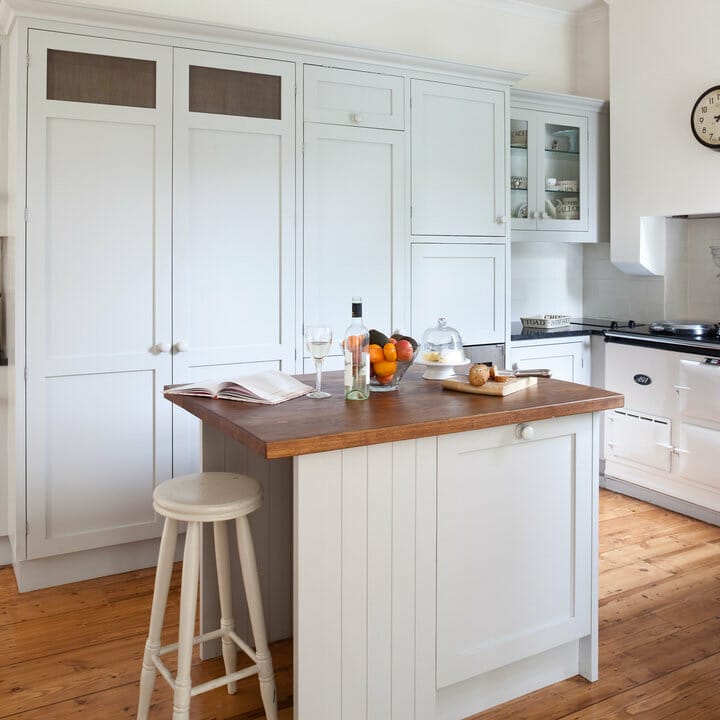 This is one of the fabulous small kitchen island images. As you see, the tiny custom unit offers several useful solutions.
The stained butcher block top of the island is ideal for cutting and chopping. Also, you can spot a soft white stool that fits underneath it. Meanwhile, the cabinet accommodates kitchen essentials.
10. Mobile Carts for Small Kitchens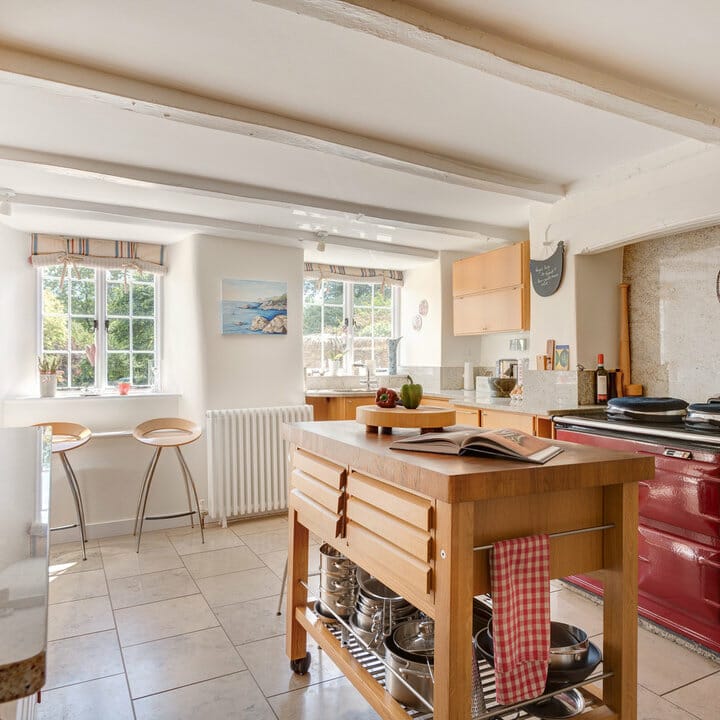 Talking about the island for small kitchen ideas, duplicate this wooden rolling cart. Due to its butcher block top, the homeowner has extra space for slicing and chopping.
The lower shelf displays cooking pans and pots. Meanwhile, hardware-free wooden drawers keep tiny things in place.
Since the island boasts wheels, it makes working in the kitchen much easier. Lastly, the metallic rail holds dish towels.
11. Narrow Island for Small Kitchen Ideas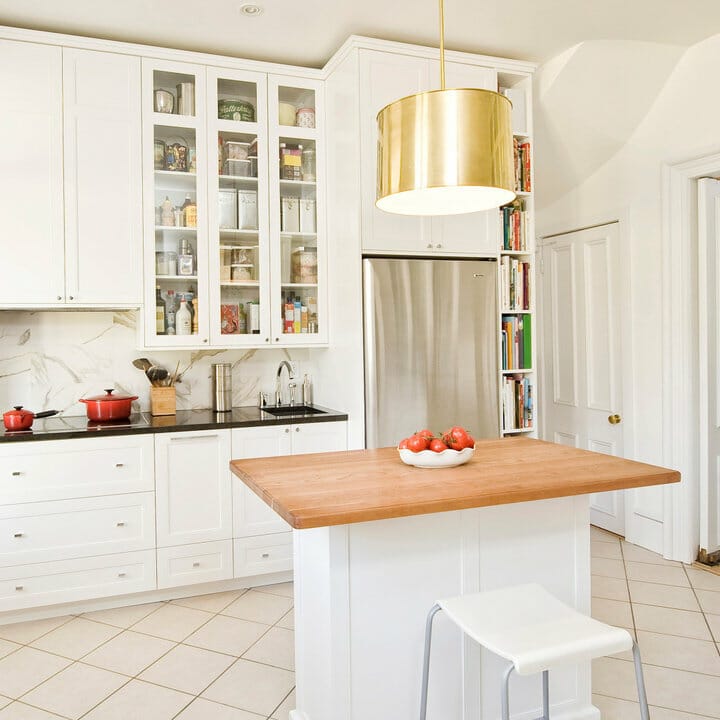 Although your kitchen isn't so tiny, it can benefit from featuring this compact island. The butcher block tops it off perfectly. Also, it offers additional elbow room to prepare meals.
The golden pendant lamp nicely punctuates the butcher block countertop. Furthermore, curved stools sit on the floor underneath the kitchen island.
12. Kitchen with a Portable Island
The stainless steel-and-wood island gives this contemporary kitchen a functional lift. Also, it boasts a butcher block top for extra workspace.
There's a metallic lower shelf that accommodates cooking pots. Meanwhile, stainless steel wheels make the kitchen island flexible.
13. Repurposed Island for Small Kitchen Ideas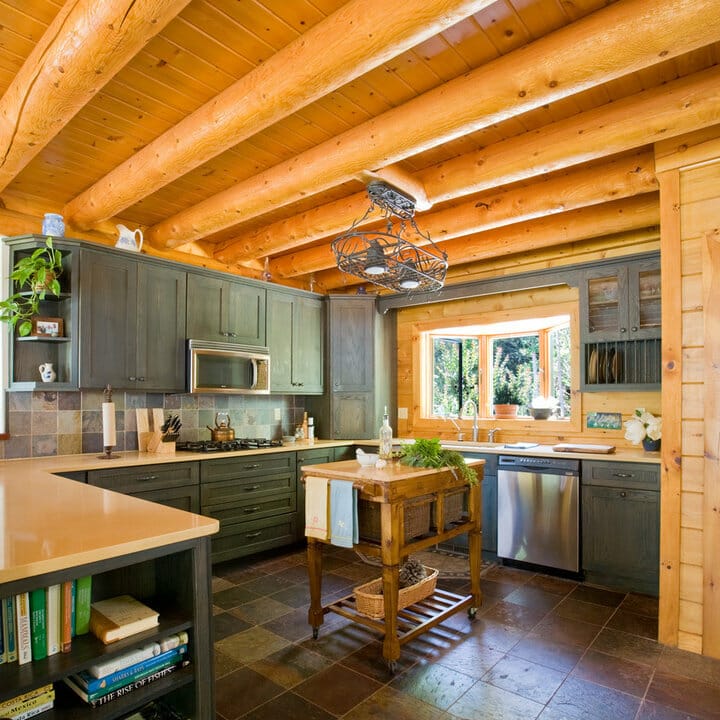 The rustic island complements existing log beams and wooden walls. In addition, it pairs with stone floor tiles marvelously.
This kitchen island features two open shelves. The upper shelf holds jute baskets, while the lower one houses a wicker basket.
The countertop of the island provides extra workspace. Meanwhile, the rail displays kitchen linens. Moreover, wheels ensure great portability.
14. Small Built-In Kitchen Island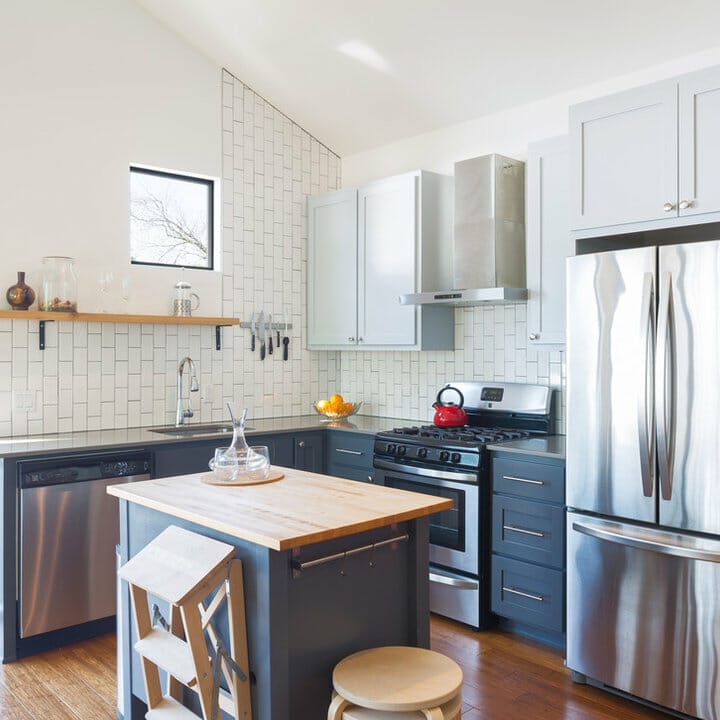 I admire this custom kitchen because it seems homey, trendy, and airy. The space features a coordinating island that includes a few practical solutions.
In addition to the cabinet, the island boasts a blonde butcher block top. It complements stacking stools while adding extra workspace. Also, there are a metallic rail and a step ladder hanger.
15. Island for Small Kitchen Ideas with Ovens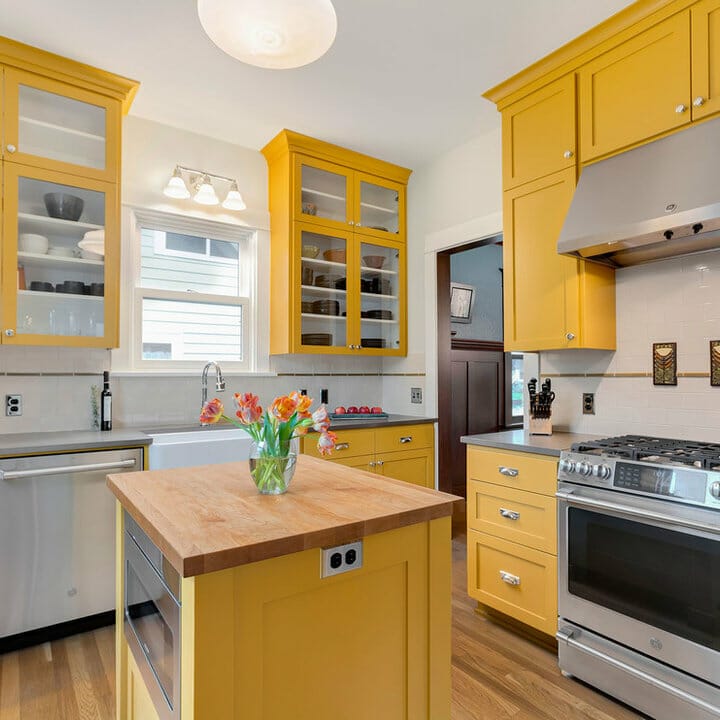 Do you love baking? If so, consider integrating this island into your cooking area. It does not only increase workspace but also storage space.
This compact but cheerful kitchen island features a built-in oven. In addition, power outlets make it more functional. Meanwhile, the butcher block top matches with the wooden flooring.
16. Small Freestanding Kitchen Island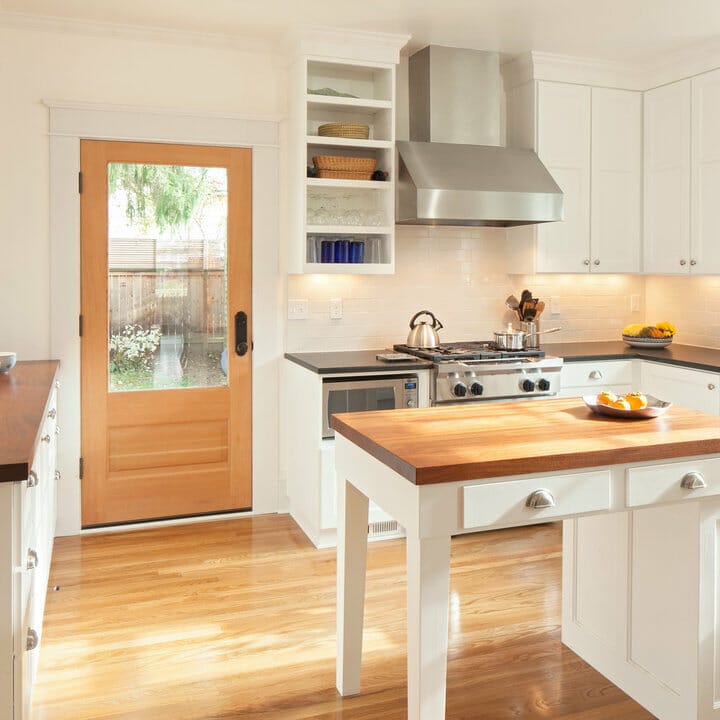 Whether your kitchen is tiny or somewhat large, this custom freestanding island design is worth duplicating. The unit has a butcher block counter. I believe any home chef will appreciate it.
As you see, the narrow island employs drawers underneath. They come with metallic pulls for a unified look.
Since the island has bright white-painted legs, it doesn't seem out of place. You can also tuck a couple of stools under it to bring extra functionality.
17. Small Kitchen Island with Sink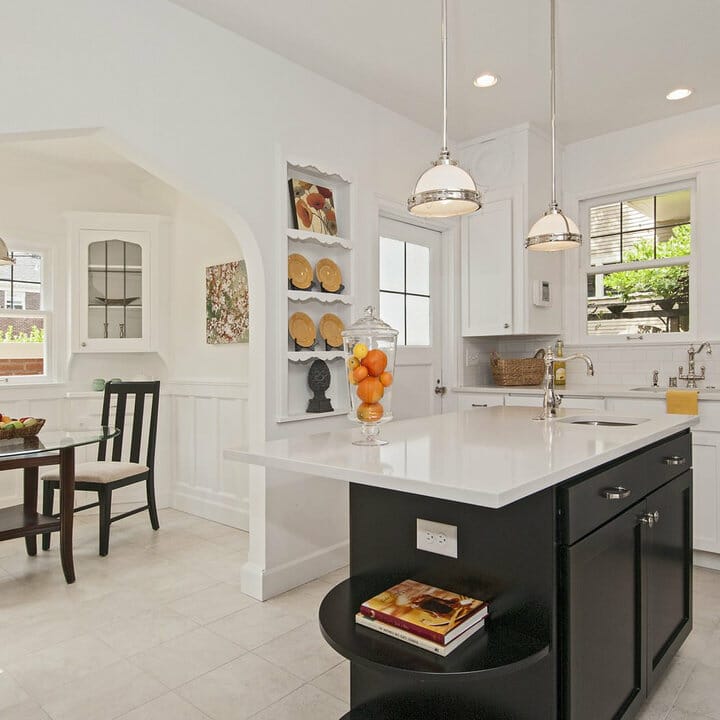 Need island for small kitchen ideas? If yes, you must incorporate this striking piece of furniture into your culinary space.
The black island picks up dominant colors in the kitchen. Furthermore, the shiny white countertop introduces a sharp juxtaposition.
Here, the island's top increases the counter space. Meanwhile, the base cabinet and semicircular open shelves add practical storage. Lastly, the sink and power outlets round out the unit.
18. Compact Island for Small Kitchen Ideas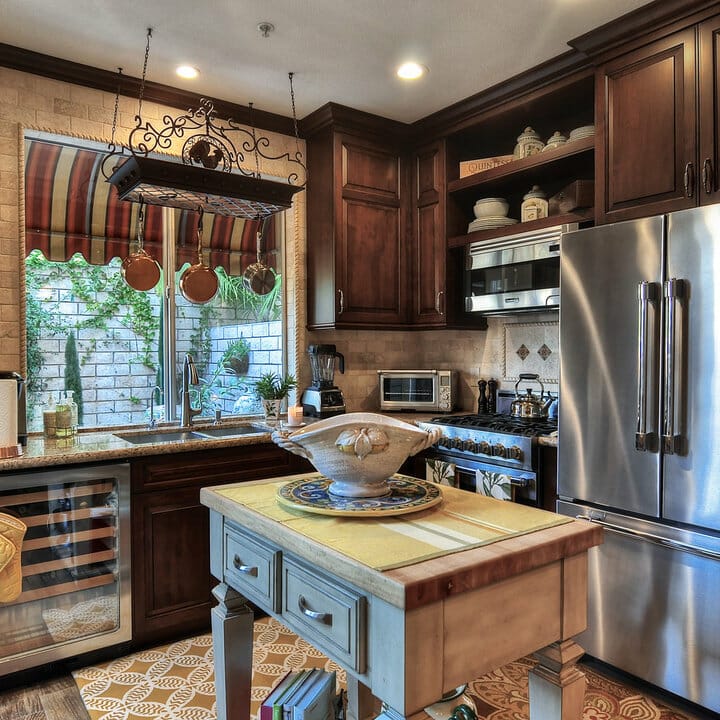 The homeowner repurposed his desk into an adorable kitchen island. Here, the butcher block top goes excellently with the granite counter and wooden cabinets.
This gray-painted kitchen island features an open shelf and drawers. It looks superb in an Italian-style cooking space. Moreover, the striped placemat and printed area rug complement the unit well.
19. Small Two-Tone Kitchen Island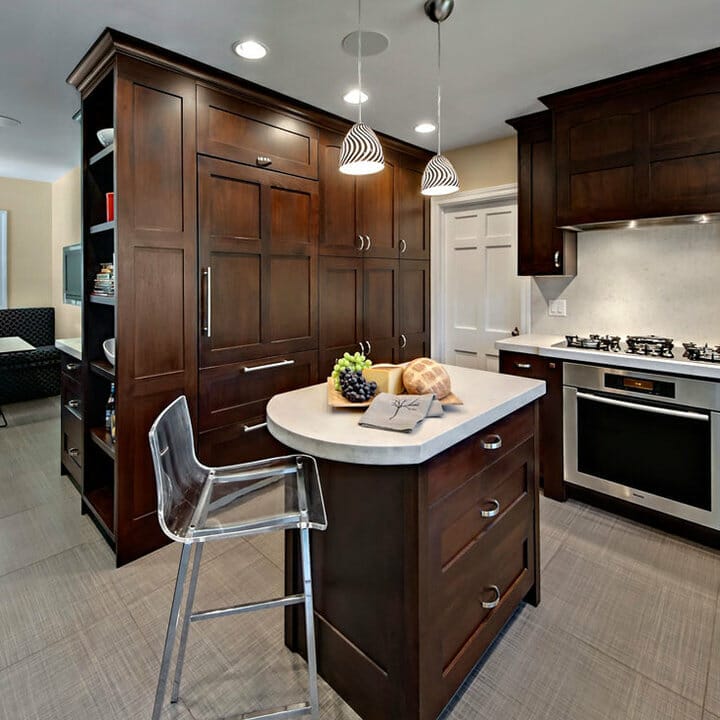 This attention-grabbing kitchen island is compact. That's why it suits the tiny cooking space. The bright white countertop is durable soapstone. It offers additional workspace, so the homeowner can prepare meals comfortably.
The dark-toned wooden base cabinet matches with the built-in cabinetry. Meanwhile, the semicircular overhang created bonus space for the homeowner to eat her meals.
20. Marble Island for Small Kitchen Ideas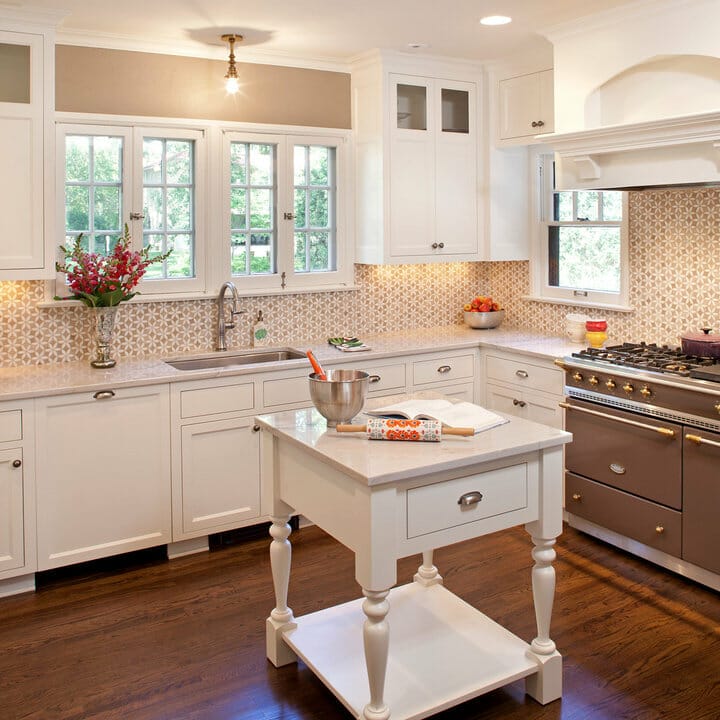 Even though your kitchen isn't so small, you won't go wrong with this narrow island. The white marble counter provides more elbow room for cooking. In addition, it sends out an upscale vibe while keeping things airy.
Aside from featuring a marble top, this freestanding island offers both shelf and drawer storage. Furthermore, the metallic hardware creates a cohesive feel. Meanwhile, the wooden flooring balances its coldness out.
21. Urban Industrial Island for Small Kitchen Ideas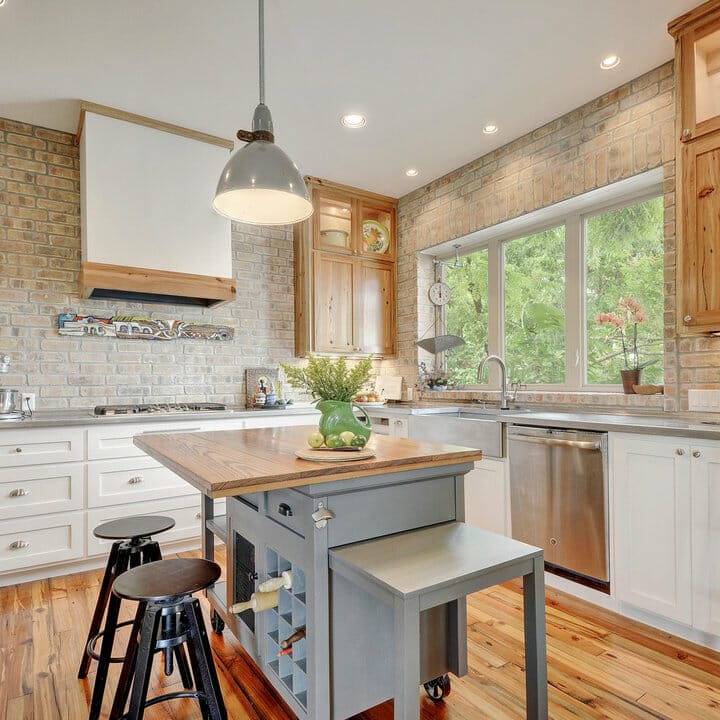 Metallic appliances and brick walls contribute to the kitchen's urban industrial look. Meanwhile, the multifunctional gray island makes the space more functional.
This eat-in island features an overhang that accommodates two black stools. Furthermore, the pull-out table adds extra workspace.
The butcher block top gives off a rustic vibe while offering bonus space. Moreover, shelves, cubbies, and drawers provide useful storage. Lastly, wheels ensure excellent mobility.
22. Small Khaki Kitchen Island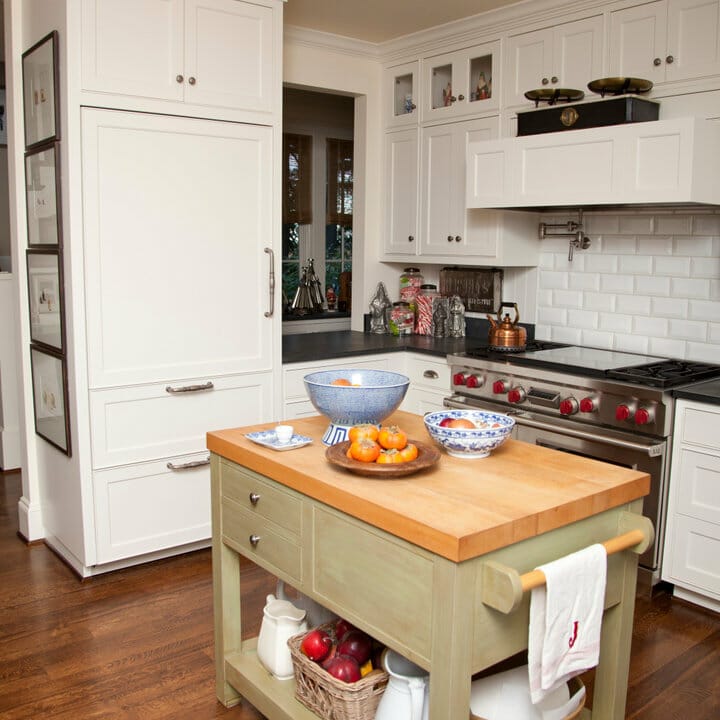 This khaki-painted island is compact yet functional. Moreover, the lower shelf features wicker baskets and vintage jugs. Also, there's a wooden rail for kitchen towels.
Here, the thick butcher block tops the narrow island off. Meanwhile, tiny drawers with metallic knobs keep odds and ends organized.
23. Shabby Chic Island for Small Kitchen Ideas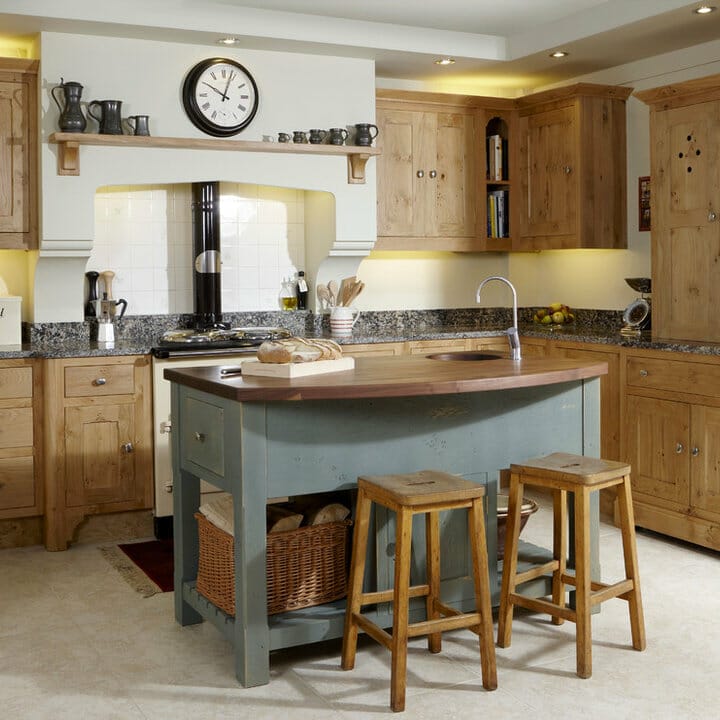 This gray-blue distressed island lends the kitchen a shabby chic flair. Since there are two lower shelves, it gives the room extra storage space.
The dine-in kitchen island boasts a wooden top with an overhang for a couple of stools. Moreover, the built-in sink makes the unit more useful.
24. Bright Kitchen with a Dine-In Island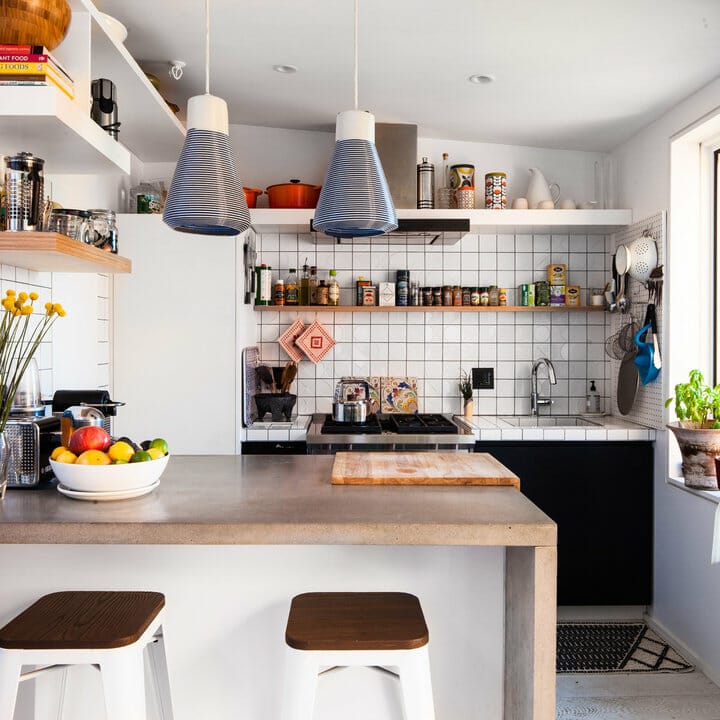 Here, the airy kitchen employs an eat-in island. As you see, it boasts an integrated butcher block that allows for easy food preparation.
The polished concrete countertop complements the modern grid backsplash. Meanwhile, crisp white stools underneath feature wooden tops for a unified look.
25. Practical Island for Small Kitchen Ideas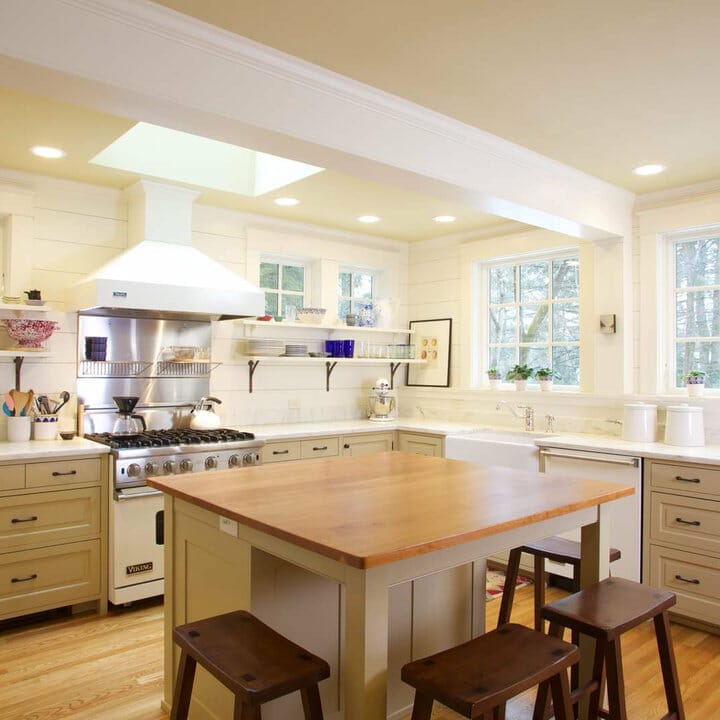 Who says you cannot fit extra seating into a small kitchen? Due to its somewhat large size, it can accommodate four wooden stools.
The cabinet of the island gives the culinary space practical storage. Moreover, the butcher block countertop offers more room for cutting.
26. Small Custom-Made Kitchen Island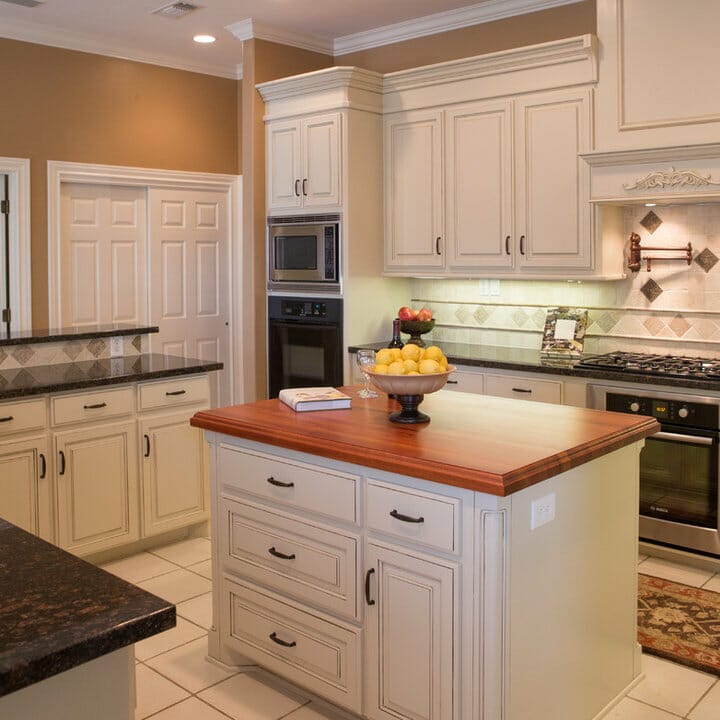 This light gray kitchen island accompanies existing built-in cabinets. Moreover, it carries a tranquil nuance to the whole cooking space.
On top of the island is a butcher block. Furthermore, it delightfully clashes with the pale gray-painted base cabinet. Lastly, the black drawer pulls bring the room together.
27. Slim Small Kitchen Island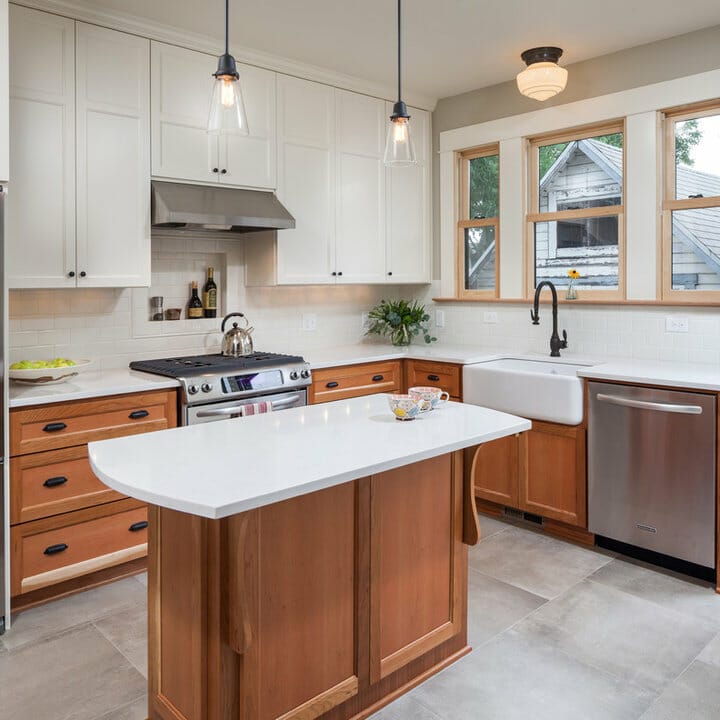 This contemporary cooking space appears airy and homey. It boasts wooden and bright white cabinets for a trendy look.
The tiny wooden island offers cabinet storage. Meanwhile, the pure white countertop develops a mesmerizing juxtaposition.
28. Island for Small Kitchen Ideas with a Tissue Holder
Here is another compact kitchen island. The homeowner painted it muted green since he wanted a tranquil cooking space.
The island employs a granite countertop for additional workspace. Furthermore, it comes with a tissue holder, drawers, and wheels.
29. Small Navy Kitchen Island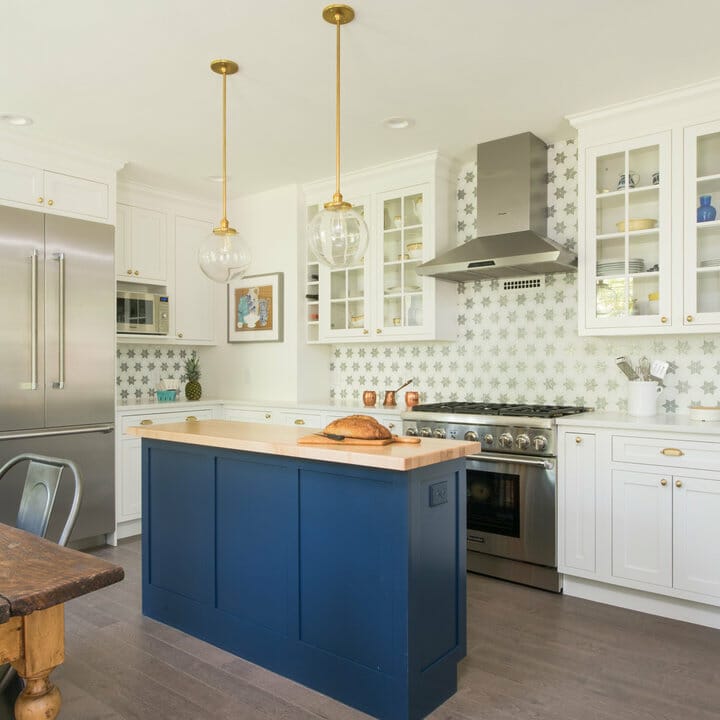 In this stunning kitchen, the narrow navy island introduces a bold statement. Moreover, it's a dramatic contrast to the gray hardwood flooring.
The butcher block top, base cabinet, and electrical outlets bring functionality. Furthermore, over the island are a couple of glamorous glass pendants.
That's a selection of my island for small kitchen ideas. Choose the one that suits your abode, budget, and needs. I guarantee it does not only add functionality but also makes preparing meals more enjoyable.