Having a clean and well-organized cooking spot is undoubtedly a dream for many people. Even better, if it also comes with eye-catching cabinetries. Thus, besides prioritizing a good arrangement, you have to pick painted kitchen cabinet ideas that perfectly match your interior decor and preferences.
Indeed, applying these painted kitchen cabinet ideas is not only for entertainment purposes. More than that, it can also boost your mood while spending time in your cooking area. That way, you will still get a pleasant impression while cooking without the need to feel bored all day long.
What's more, taking steps with painted kitchen cabinet ideas is an affordable way to give your cooking spot a refreshing look. And, of course, without needing to replace existing furniture with new ones every year.
Well, suppose you're currently looking for inspiration to redecorate. Try to see these 30 painted kitchen cabinet ideas to the end. And, get ready to steal it!
1. Cream Cabinetries and White Marble Countertop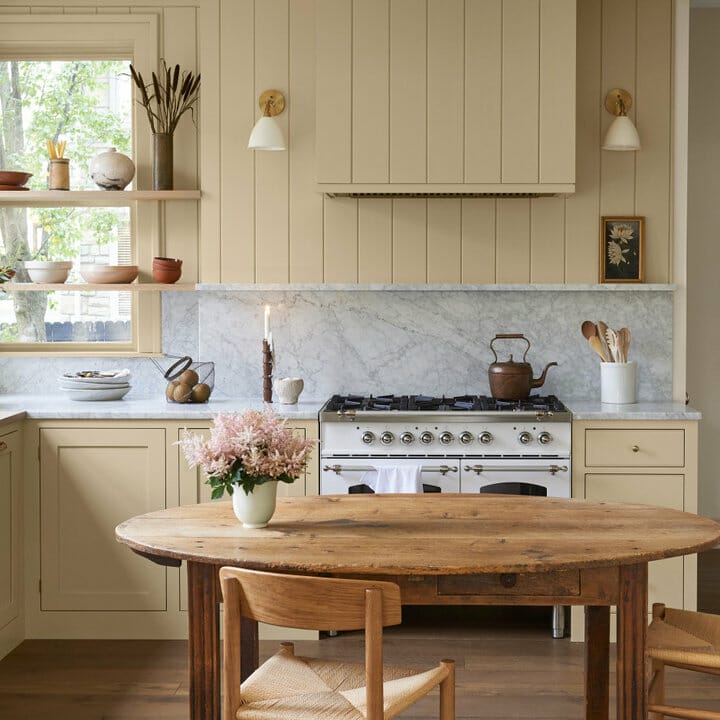 Bringing cohesive colors into your cooking area is a flawless move to making this space inviting.
For example, if you like the warmth of an earthy vibe, you can apply painted kitchen cabinet ideas that carry a cream theme.
As with all things, this requires the right balance. For that, you better add a marble countertop in white as in the design above.
2. Simple Painted Kitchen Cabinet Ideas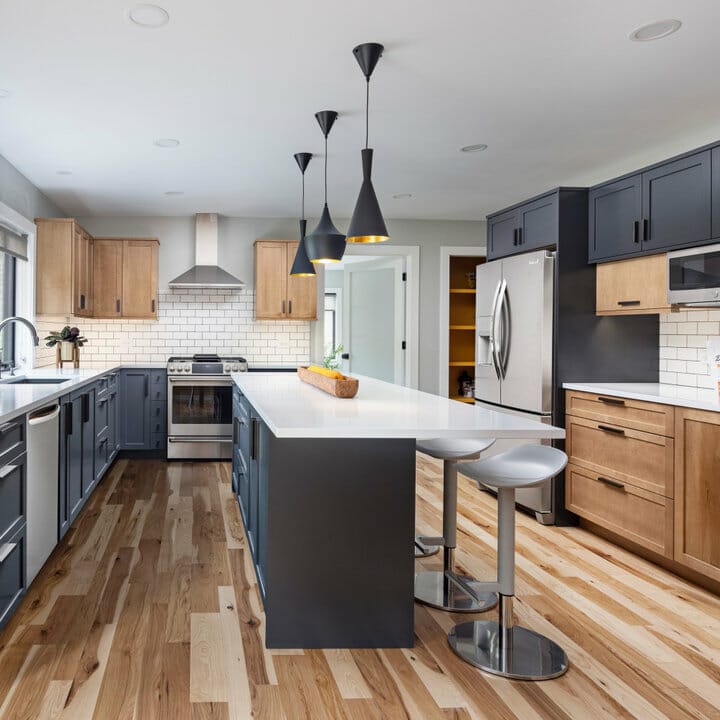 It is a contemporary design that you can adopt with a relatively simple style. That is by presenting two tones at once in your cabinetries system.
Therefore, you can start by combining the rough color of wood textures and black to give a balanced rustic and modern vibe.
3. Brighten the Space with Yellow Cabinets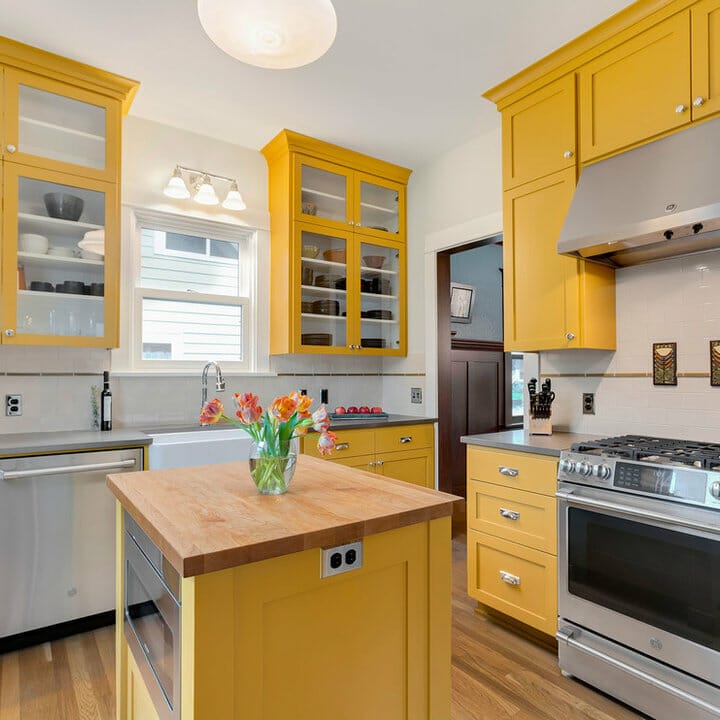 There's nothing wrong with presenting bright colors in your cooking area. And in these painted kitchen cabinet ideas, you can explore whatever color you like, including the mustard yellow color.
Of course, to prevent your decorations from hurting the eyes, you need to present items with more neutral colors such as white and silver.
4. Elegant Ash Grey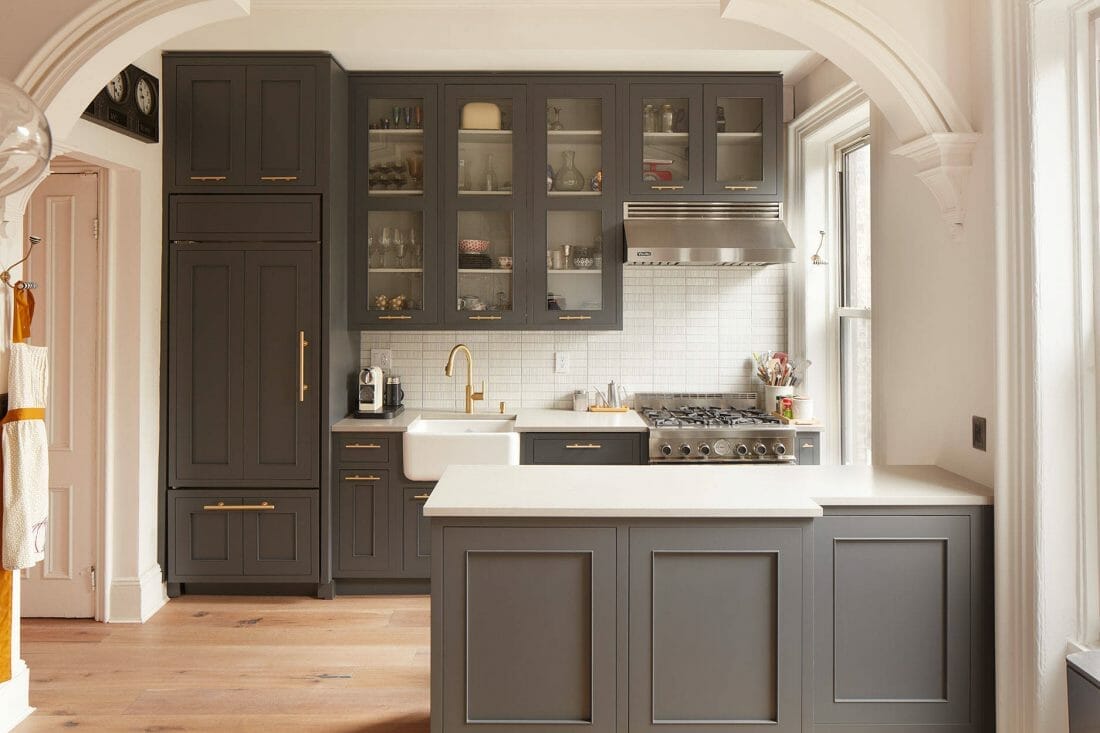 Gray is known as a subtle color. Therefore, this concept will be very suitable for those who don't want to make your cabinetries a conspicuous viewpoint.
Instead, you merely need to add a touch of gold to elevate your kitchen, so it's not too monotonous.
5. Luxurious Design in Blue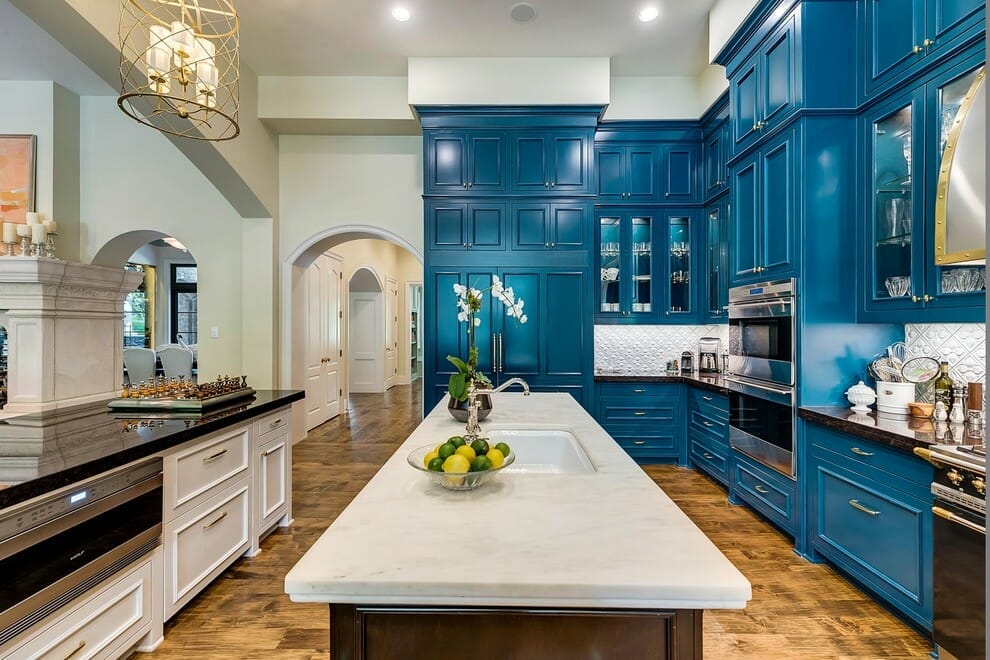 Suppose you are looking for the best colors for kitchen cabinets. In that case, blue can be an option worth trying.
As blue comes with many shades, it can also give off a different vibe. For those who want to create luxury, you can go with a light royal blue with a glossy finish for the cabinetries.
6. Classy Black with Marble Kitchen Island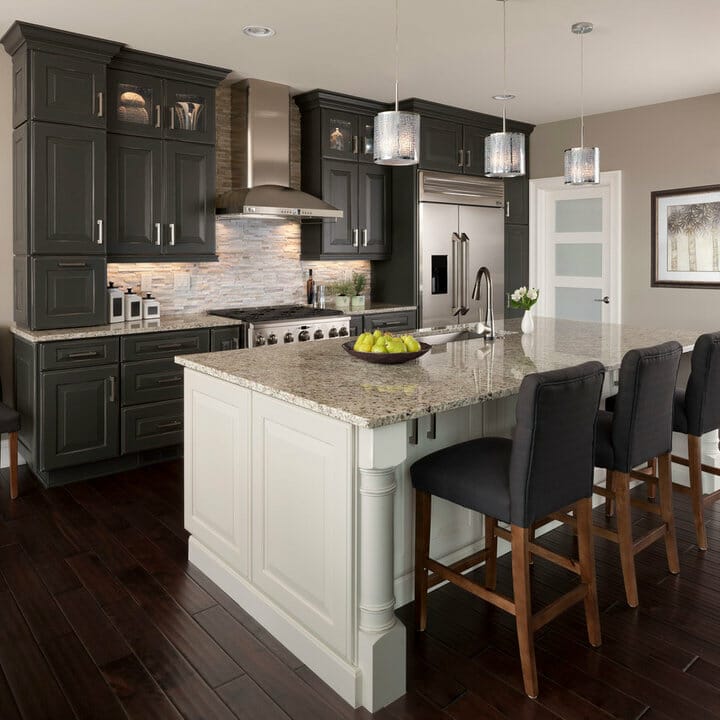 Black is considered the most neutral color to apply to painted kitchen cabinet ideas for some people. However, this will be risky and dull if it doesn't have a patterned spot as a focal point.
Therefore, installing white marble on your countertop and kitchen island as above would be good.
7. Light Blue and Warm White Subway Tiles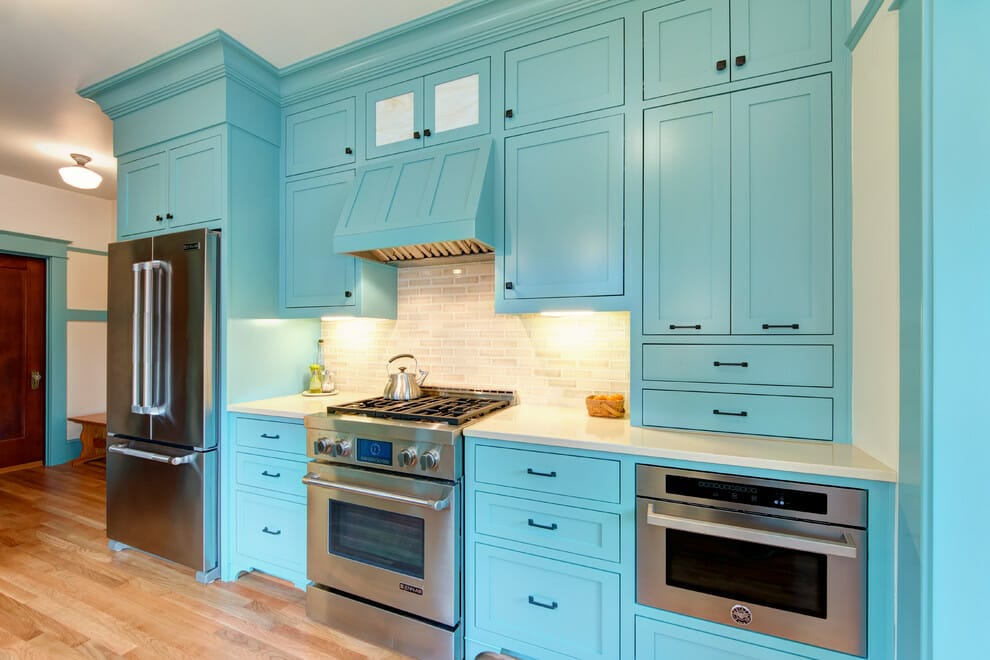 Painted kitchen cabinet ideas with a light blue and silky finish will give a little energy to anyone around it. Furthermore, it can also increase your productivity.
At first glance, this color choice is not for everyone because it comes in striking colors. However, you can balance it by presenting white subway tiles for your backsplash.
8. Green Army for More Refreshing Look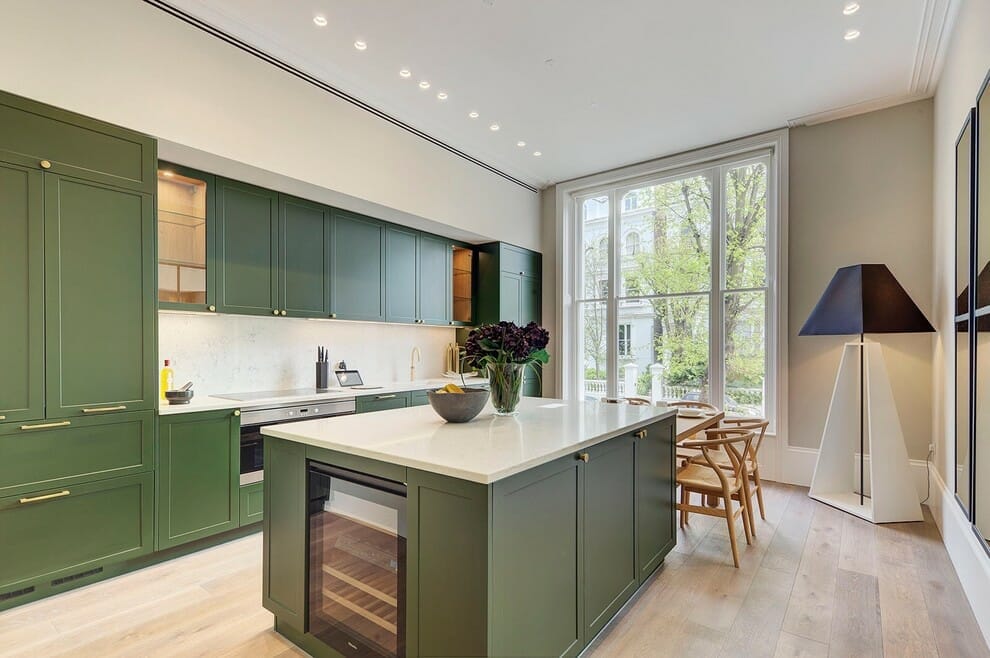 A green army in a matte finish and a bit of touch of gold on the cabinetries will turn your cooking space into an elegant and calming spot.
Without the need to present many decorative elements, this concept will still be successful with a floor lamp placed in the corner of the room. And with fresh flowers as centerpieces in your kitchen bar.
9. Best Paint for Kitchen Cabinets in Matte Finish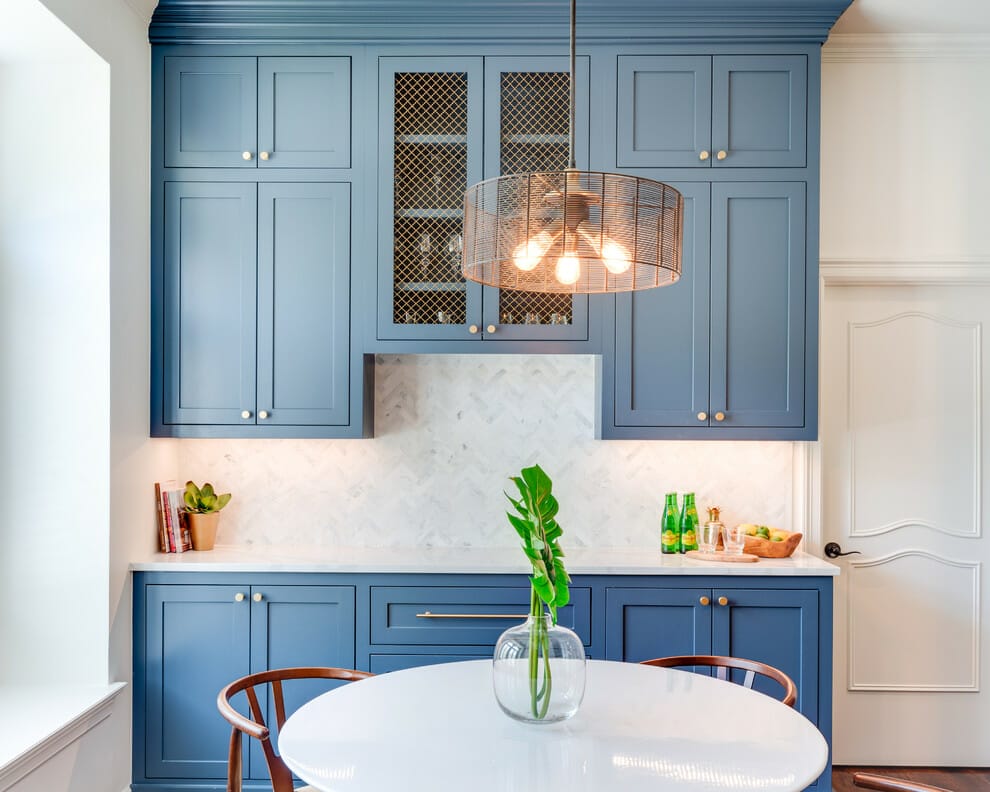 Among many ideas for refinishing kitchen cabinets, a matte finish is becoming the most popular option these days. This shade will make your cooking space more calming and inviting.
Whatever color you will go with, either bright or neutral, you will succeed in creating a simple but attractive kitchen according to your dreams.
10. Neon Green to Welcome the Summertime
Assuming you are looking for painted kitchen cabinet ideas that are eccentric and anti-mainstream. In that case, you can go with neon green as above.
However, you don't need to apply it to the entire cabinet to provide an attractive focal point. Alternatively, you can only give the cabinet doors and drawers a neon color. At the same time, you can leave the rest with a varnished wood finish.
11. Minty Green and Mosaic Tiles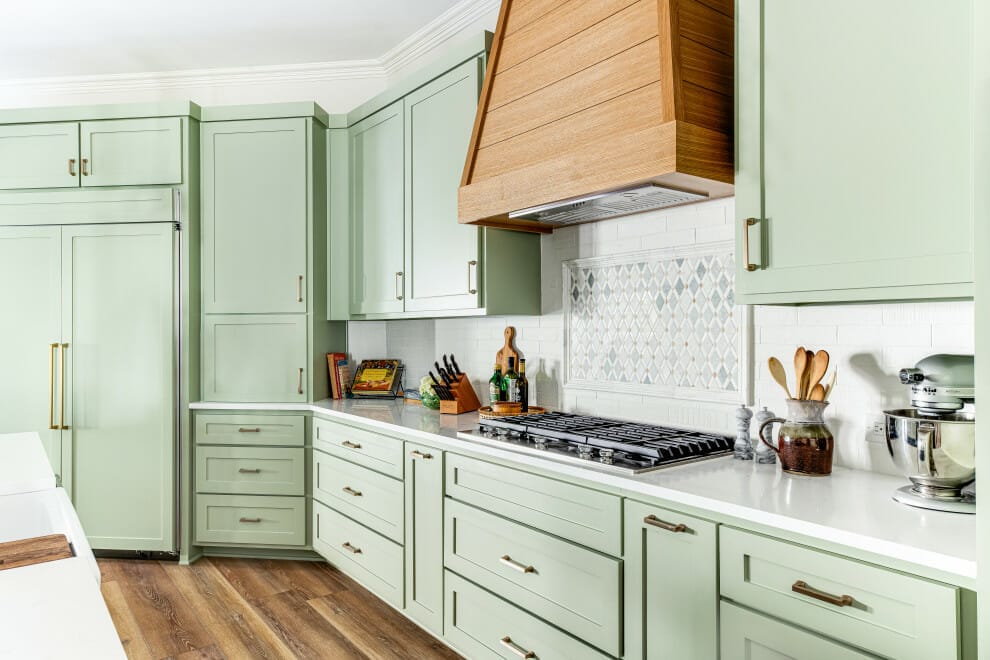 Painting your entire cabinet with minty green means bringing unparalleled freshness into your kitchen.
However, as this color comes in a bit of pale shade, you should consider providing a focal point for your backsplash. In that case, you can confidently start with mosaic tiling with a matching color.
12. Create Perfect Matching Color for Flooring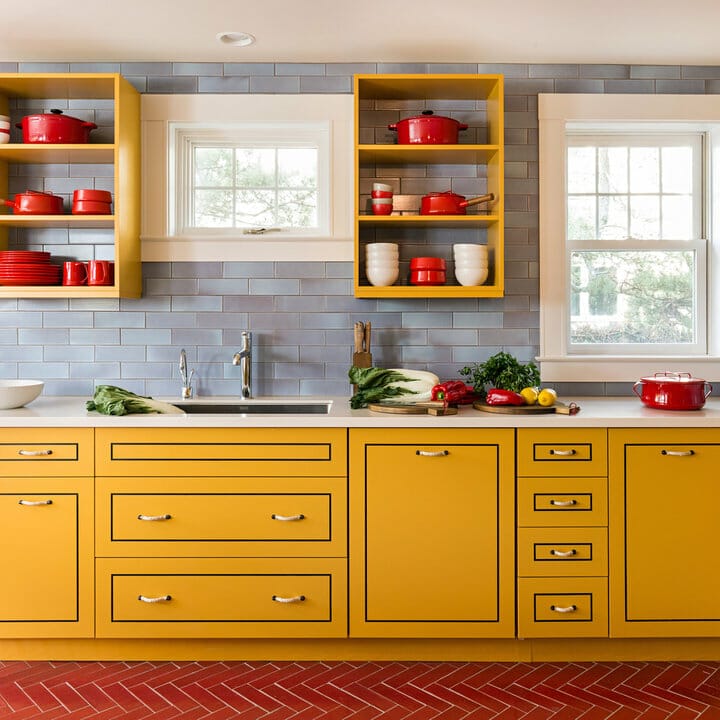 Suppose you already have a standout cabinet in yellow, but you still want to add more powerful energy to your kitchen.
Then you can install chevron flooring with red as above. Not enough with that, you can also display all your cooking utensils in the same colors to make your kitchen look more attractive.
13. Royal Blue in Minimalist Style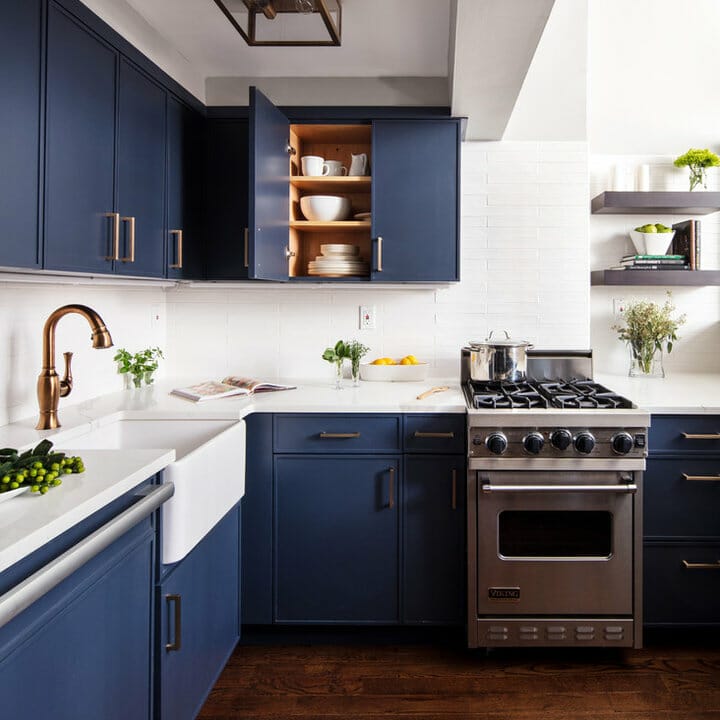 Most painted kitchen cabinet ideas that carry out the royal blue relate to all the existing luxury, especially with a glossy finish.
However, that doesn't mean this color doesn't go well with a minimalist theme. Instead, you have successfully upgraded your cooking area with a royal blue in a matte finish combined with white.
And, now, this spot comes to a new level without losing its simplicity.
14. Red to Add More Energy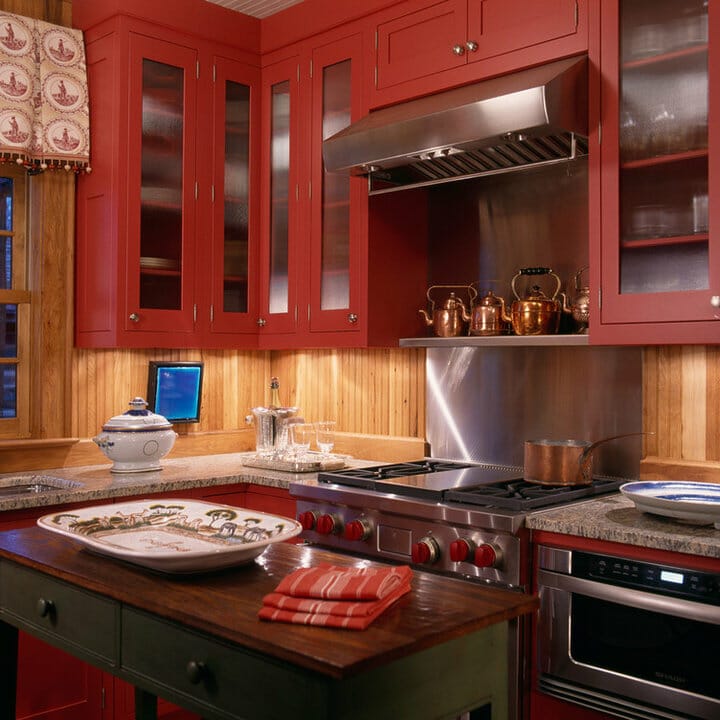 All right, there's nothing wrong with applying red to your kitchen cabinet. As long as it comes in the right portion and isn't overdone, then everything will be fine.
And of course, red is an attention-getting color that you need to adopt from now on. And be ready to give the cooking space more energy.
15. Point Out the Wooden Texture as Focal Point
One more step to state the existence of minty green cabinetries apart from mosaic tiles, you can let some units in your kitchen come in natural wooden textures.
Not only on the chimney, but you can also arrange stools made of wood to surround your kitchen bar further.
16. Soft Grey for Industrial Vibes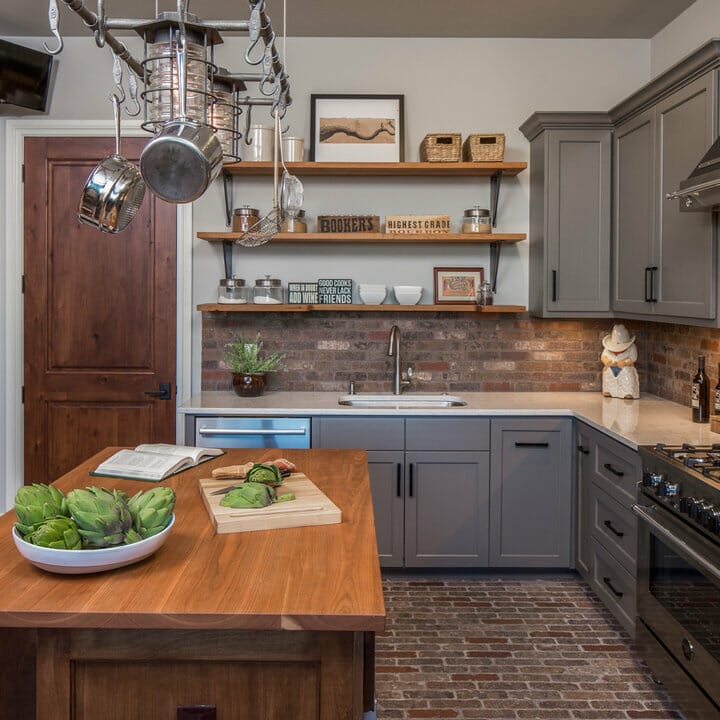 You can balance the rigid industrial theme in your cook room by presenting painted kitchen cabinet ideas with a soft gray color.
Additionally, applying white on the countertop and walls is also preferred. That way, your kitchen will still look clean and are not cramped.
17. Spotlight the Blue Bar with Unique Lamps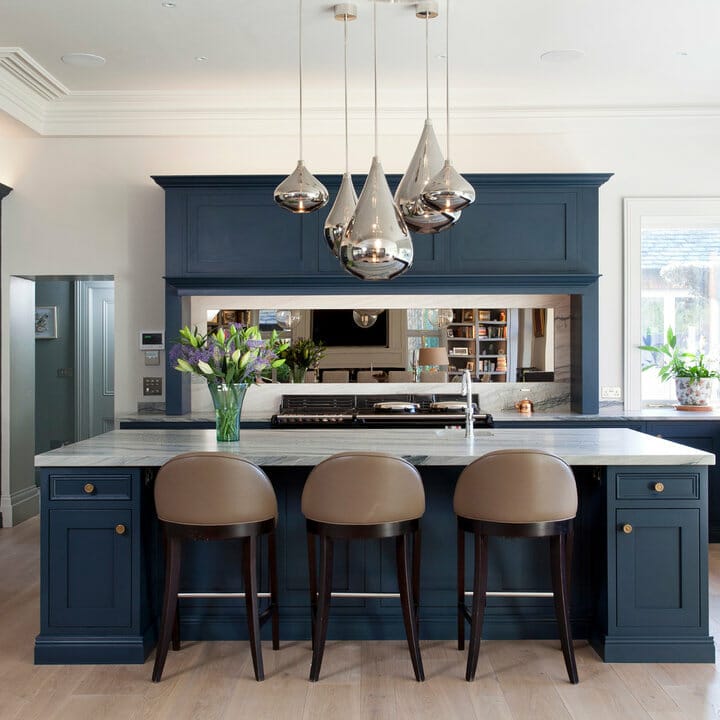 As if blue is the painted kitchen cabinets color ideas most loved by many people. So, to make your cook room look different from others, you can give it a stunning viewpoint by hanging this light fixture resembling the rain droplet.
Without the need for many other decorative elements, you can make this space have a strong personality for anyone who passes by.
18. Classic Painted Kitchen Cabinet Ideas in Pastel Blue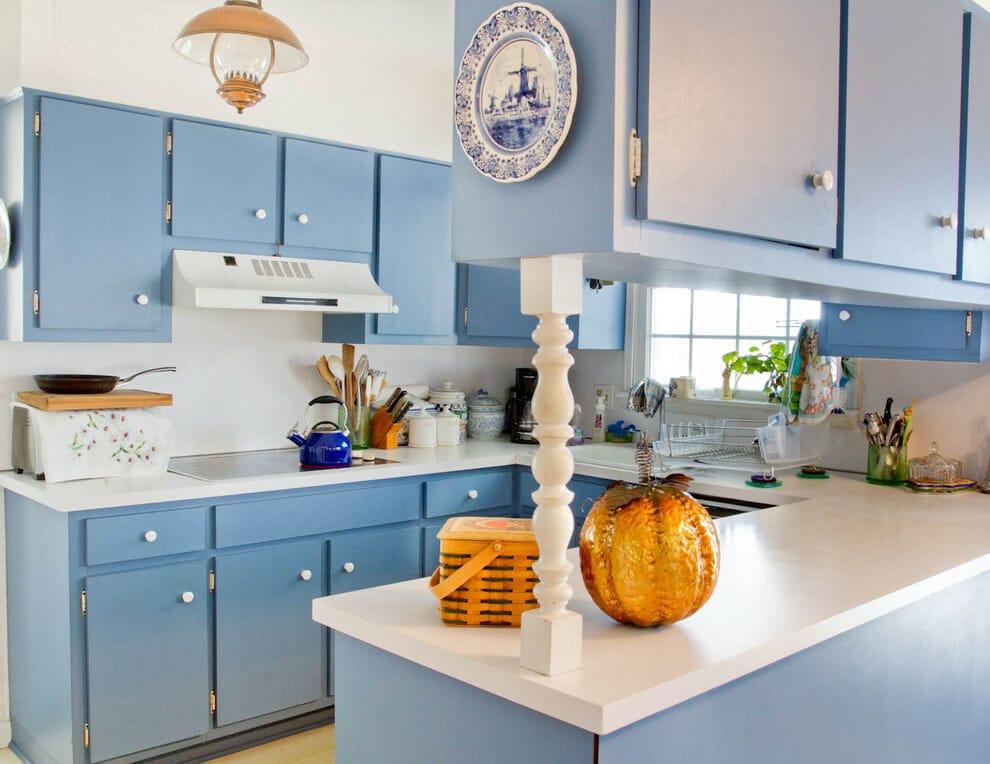 Maybe you've thought that classic shades would only come with neutral colors such as beige, brown, and the like. However, you can make a different one.
That is by applying painted kitchen cabinet ideas with pastel blue. With this bright color, you will be able to display your antiques, such as classic platers and lanterns, more cheerfully.
19. All-White is Also Perfect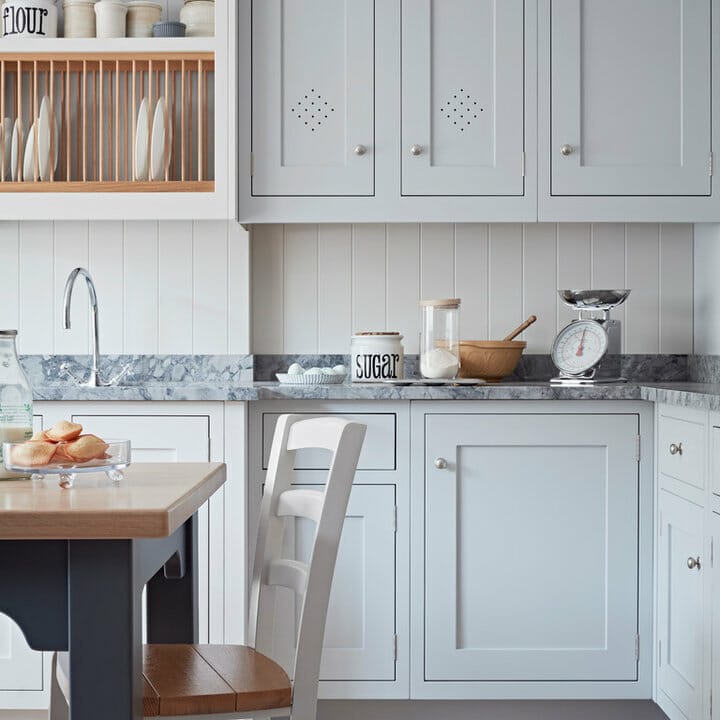 It is common knowledge that white symbolizes cleanliness and freshness. Moreover, this color can also make your kitchen look more spacious than ever.
However, you still need to present other elements, such as a wooden dining set and a gray marble countertop, to give more drama in your cook room.
20. Set One View Point in Neon Orange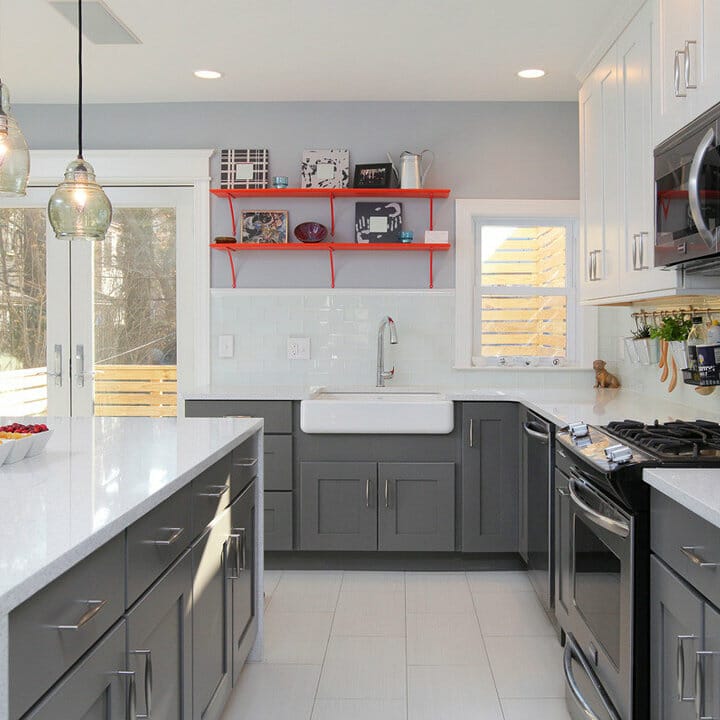 Each color has a different meaning and brings various feelings to boost tour mood. Thus, the painted kitchen cabinet ideas in this article also introduce you to the application of orange color.
Even though you only present this color at one point in your shelving system in the end. In contrast, it was enough to give intense energy to the entire kitchen.
21. Bring the Nature In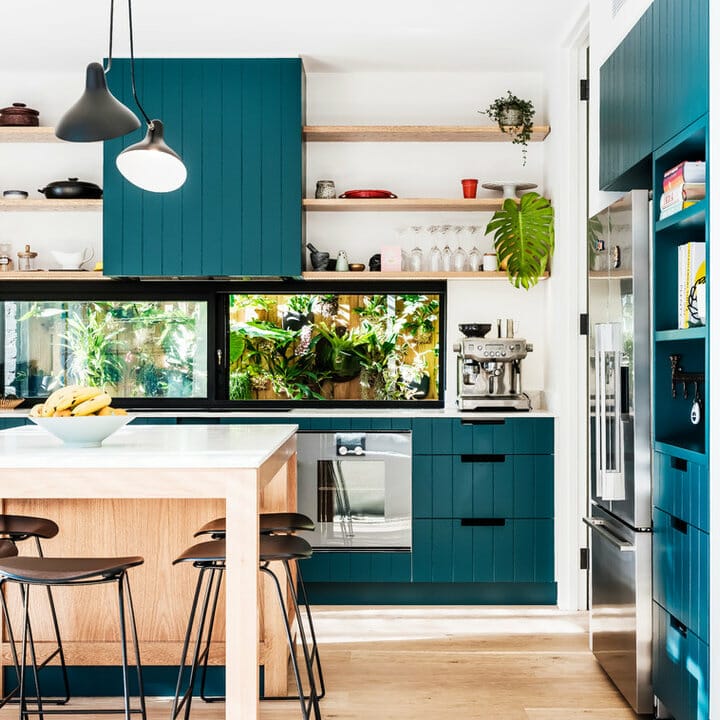 Turquoise cabinetries will be very suitable combined with white walls. Even without many decorations, this color combination already presents an attractive appearance.
However, if all that is not enough, it's good for you also to put some indoor plants in your kitchen. Or even better, to give green landscaping behind the windows. That way, you will get incomparable freshness and comfort you've never had before.
22. Cream and Red to Welcome the Fall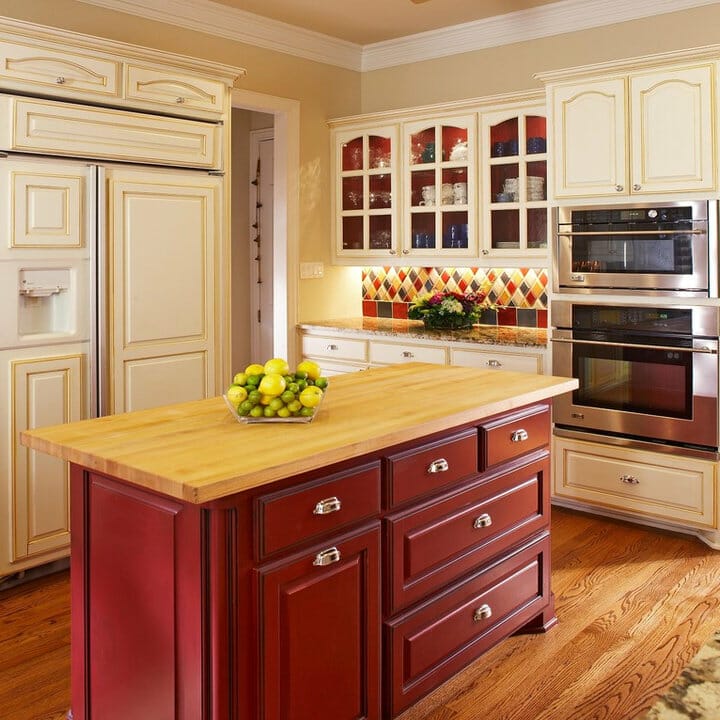 Some people agree that red, cream, brown, and orange are popular colors for their autumnal vibes. Therefore, apply these painted kitchen cabinet ideas in your cook room as soon as possible before autumn ends.
Try to paint your wall cabinet with cream to make it more attractive, then leave the kitchen island in red to become the focal point. And, don't forget the backsplash, which comes with multi-colored small rhombus tiles.
23. Dark Painted Kitchen Cabinet Ideas to Showcase the Stuff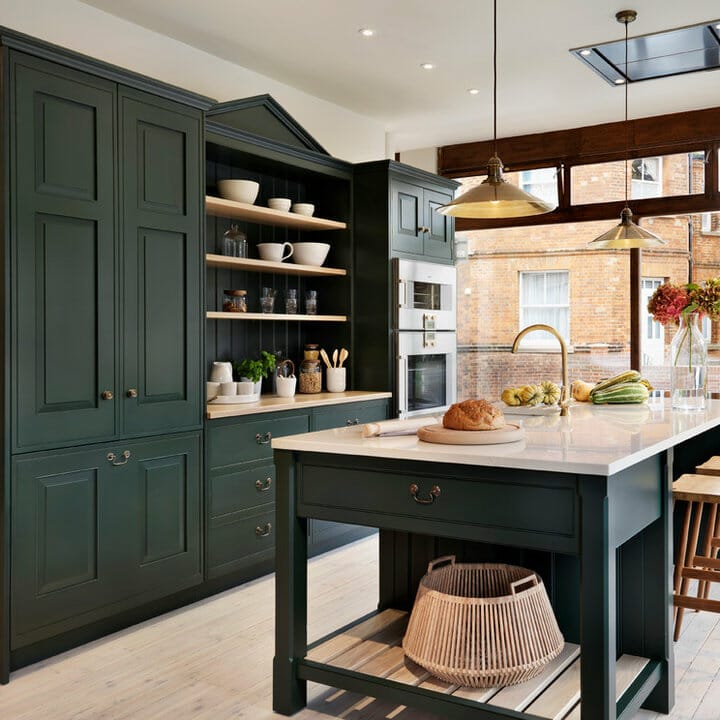 Besides being powerful, the dark shades are also suitable as a background in displaying all your decorative elements.
Especially if the stuff you display is like ceramic cups and bowls and glass jars above, your cook room has become an elegant and inviting space without the need to present striking elements.
24. Complete the Look with Pattern in Some Points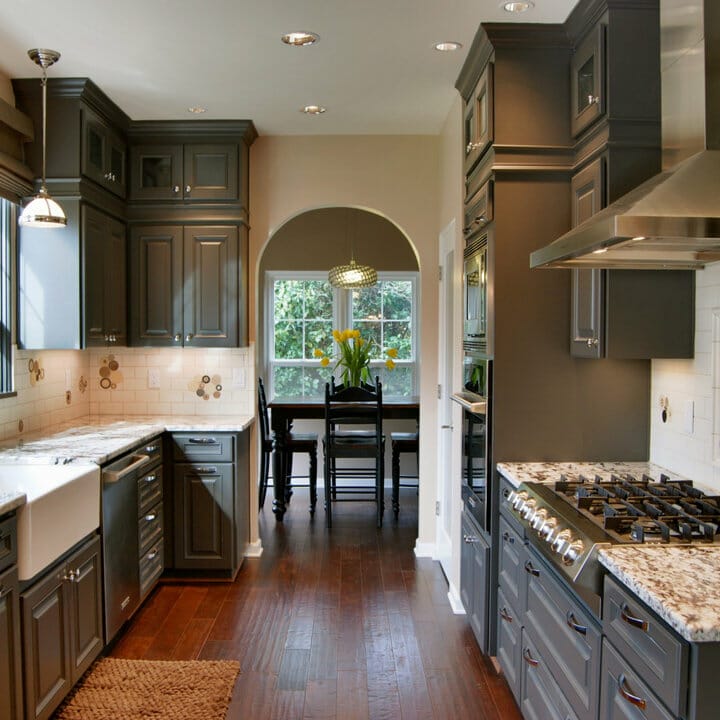 Painted kitchen cabinet ideas don't just come with the best color recommendations for you to adopt. However, it also comes with a trick to make your cooking spot more attractive by presenting several patterned sites.
Well, suppose you feel your cook room is still monotonous even though it comes with a painted cabinet in a silky finish. In that case, you can also add patterned tiles to fill the wall.
25. Rough Wooden Texture and Silky Blue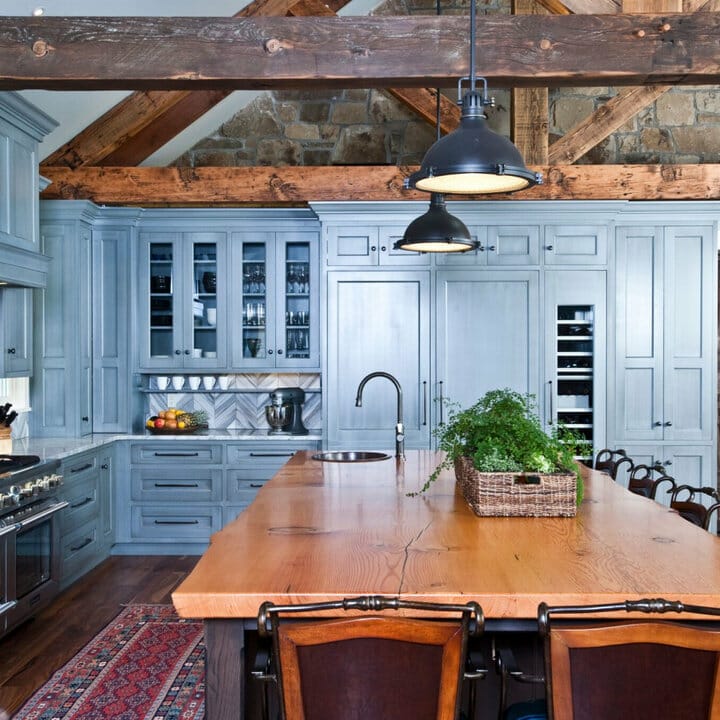 According to Feng Shui, combining blue with brown is a way to bring out the harmony of earth and water. But despite it all, it turns out that these color combinations are indeed amusing.
Especially if the other element comes with a silky finish, while the brown one comes with the original rough texture, everything will be perfect.
26. Painted Cabinets and Wallpaper Background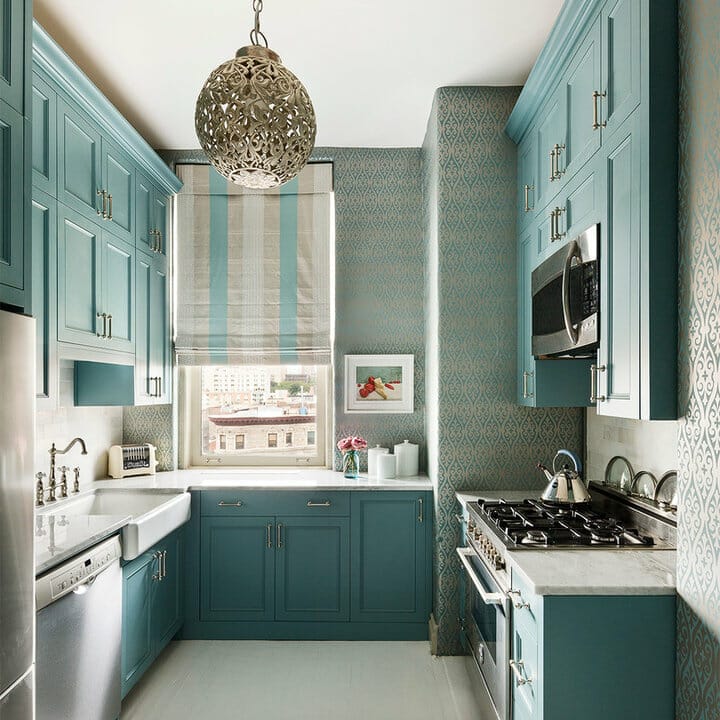 Painted kitchen cabinet ideas also encourage you to complement the walls with wallpaper. Whatever color you choose for your cabinet, it will be better if it is also in harmony with the background shades.
As in the design above, duck egg blue cabinetries will go well with patterned wallpaper in the same tone.
27. Tasteful Painted Kitchen Cabinet Ideas in Deep Green and Gold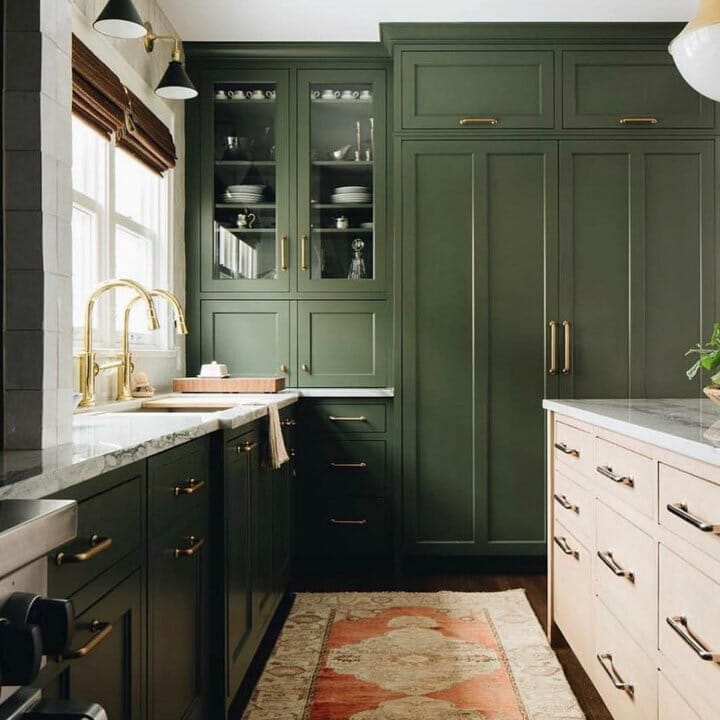 Green symbolizes the serenity of nature. Thus, you can bring it to your kitchen to refresh a previously dull look. Moreover, you can add a touch of gold to the cabinet pulls and faucets to state your cooking area.
Undeniable, this concept will soon attract everyone's eyes.
28. Timeless Decor in Silver Grey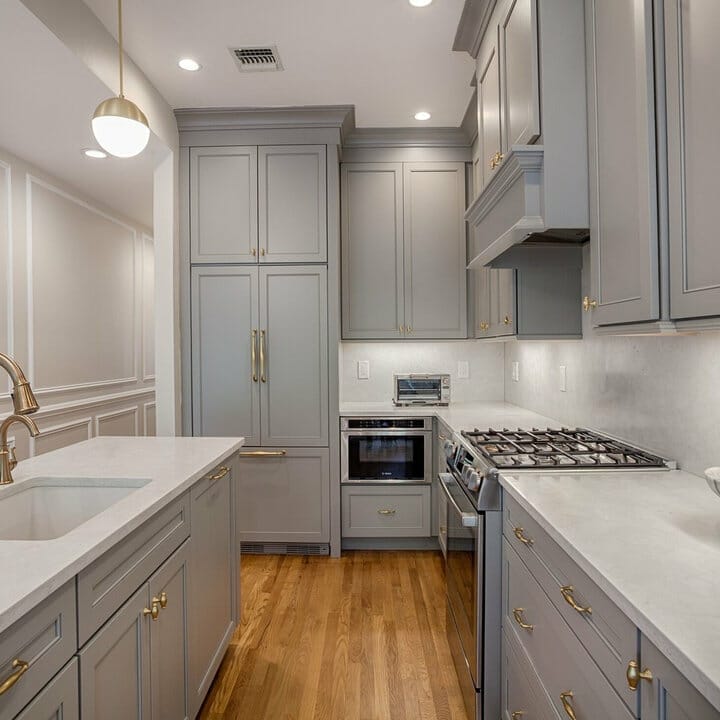 Suppose you want a timeless color. In that case, you can choose to go with silver-gray.
Not only is it able to highlight modernity, but this color will also turn your cook room into a luxurious one by giving gold as the final touch.
29. Sage Green for Warm and Inviting Ambiance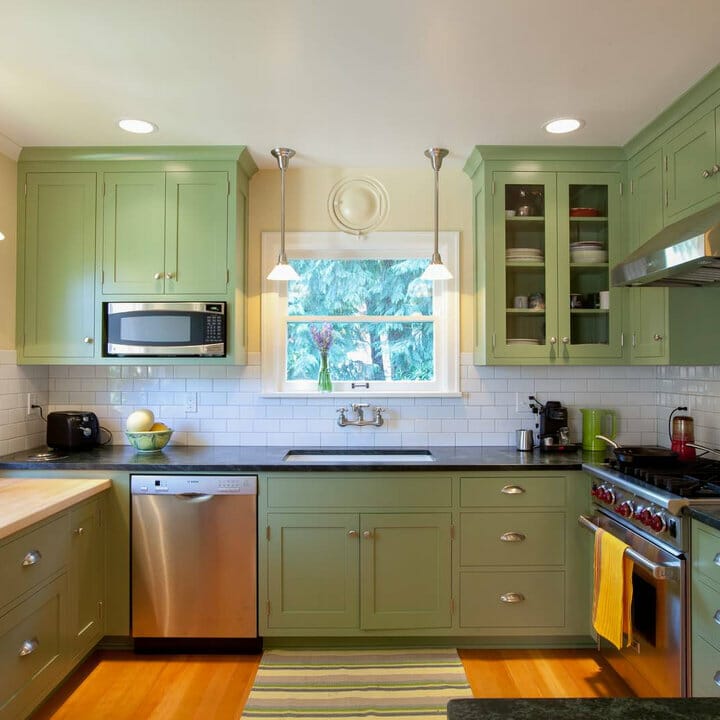 Sage green is a color that is in vogue these days. Not only in the world of fashion but also interior design. Choosing sage green to accompany your days in the kitchen is a step that is worth trying.
Furthermore, by combining it with broken white, you will get an unparalleled warmth feel.
30. White and Milky Choco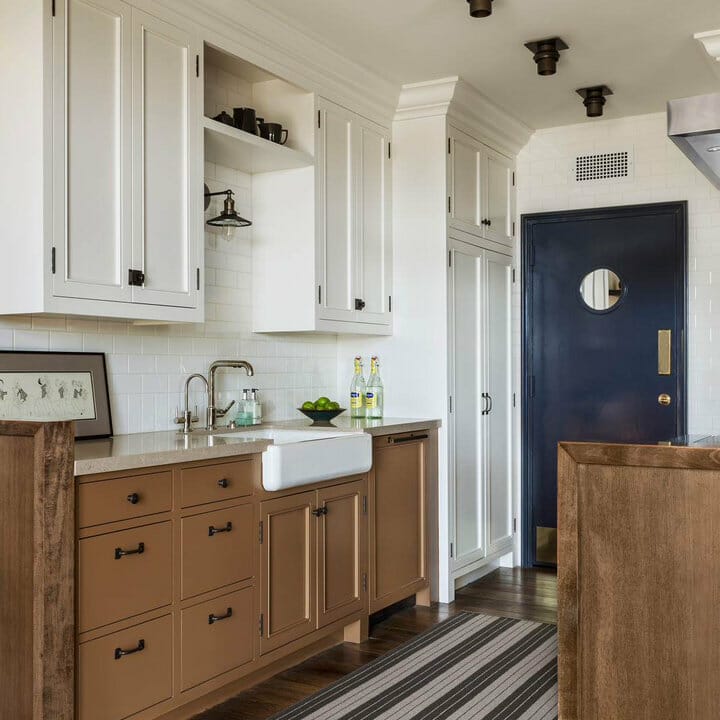 You can elevate your traditional kitchen to be more modern by changing the dark brown that previously filled the cabinet to a more subtle milky Choco.
Instead of applying it to all your cabinetries, it's a good idea to go with the bottom ones. As for the wall cabinets, you can leave them off-white.
Above all, it doesn't matter which design you will choose later. The most important thing is that these painted kitchen cabinet ideas match your wishes perfectly. That way, you become more comfortable spending your time in this area throughout the day.