Without a doubt, blankets provide so much comfort, especially on chilly nights. If you love accumulating them over the years, chances are your home becomes cluttered. No worries! These blanket storage ideas will keep any organizational nightmare at bay.
Storing the blankets right is surely crucial. By doing so, the living space will always look inviting and clutter-free.
This post covers a massive range of blanket storage solutions, from the wire basket to the wall rack. Also, they let you access blankets quickly. Just keep reading!
1. Wooden Quilt Stand for Blankets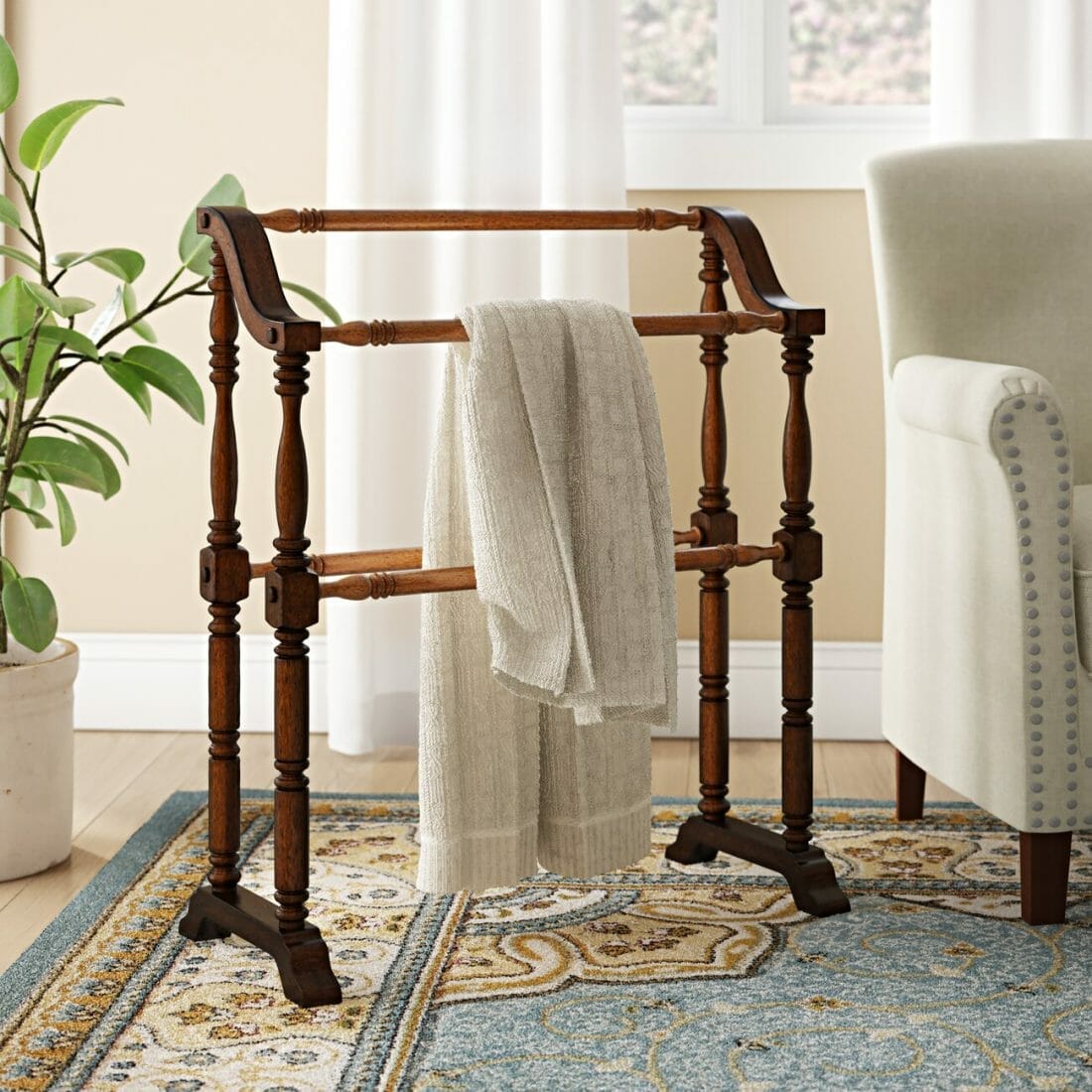 Need blanket storage ideas for living rooms? If yes, incorporate a quilt stand into your seating area. Furthermore, it's a superb complement to a tiny space.
This wooden quilt stand suits any traditional living room for sure. Not only does it come with stunning details but also emanates warmth.
As you see, the freestanding blanket rack can accommodate up to four blankets. Moreover, it keeps them well-aired and off the floor at once. The unit doubles as a decor piece, too.
2. Blanket Storage Ideas for Small Spaces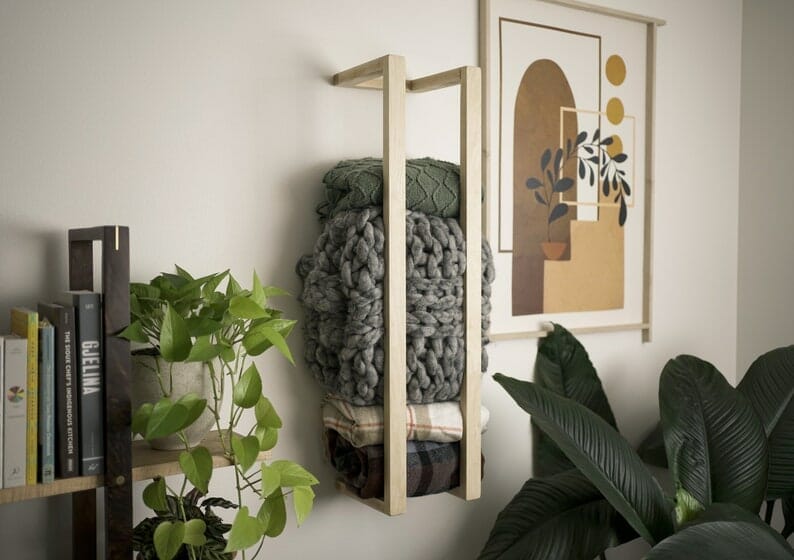 I admire how stylish this blanket wall rack is. Since the unit boasts a sleek appearance, it delivers a modern edge in seconds.
The simple wall rack enables you to update the blanket storage inexpensively. Also, it doesn't consume the floor space.
Here, the trendy wall rack holds folded blankets of different kinds. Furthermore, it mingles with the nearby artwork and open shelving excellently.
3. Bedroom Blanket Storage Ideas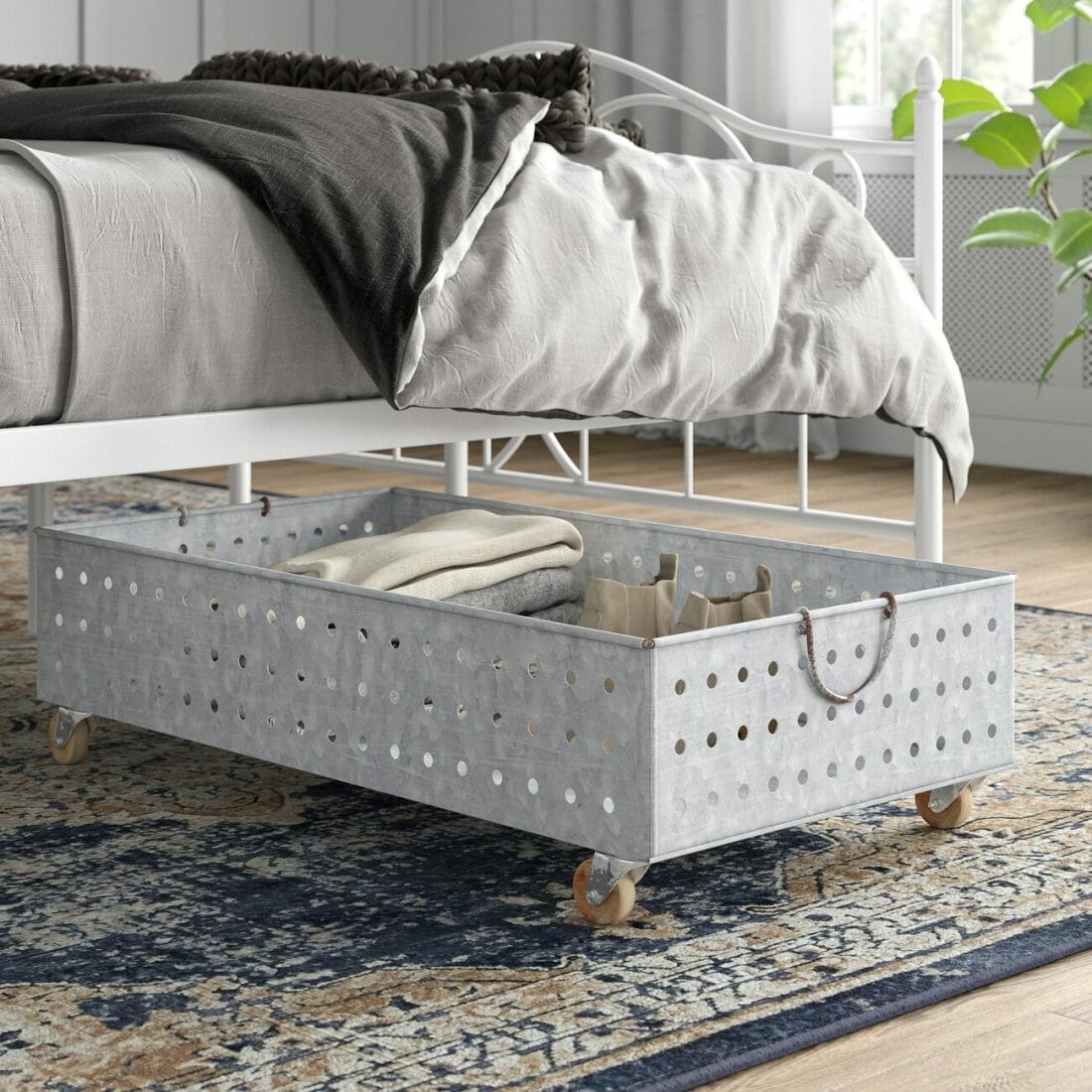 Need storage ideas for blankets and comforters? This one is worth trying. Due to the limited space, the homeowner incorporated a rectangular galvanized storage drawer. Moreover, it gives off a farmhouse aesthetic.
The farmhouse-style storage drawer features wheels for easy movement. Meanwhile, its tiny holes prevent unwanted mustiness.
You can put this galvanized metal storage drawer under your bed to save some space. The rug prevents it from causing damage to the precious hardwood floor.
4. Wire Basket for Blankets
Talking about large blanket storage ideas, consider wire baskets. Apart from keeping blankets in place, they can house throw pillows.
This massive wire basket lends the coastal living space a modern farmhouse feel. Furthermore, it fits in with the shiplap wall and upholstered bench. The unit lets you air the blankets out when not in use, too.
Due to the wire basket, you can take your blankets out easily and put them back. Also, there's a small weathered metal basket that displays artworks here.
Meanwhile, the wicker storage trunk and seagrass baskets give the coastal room extra storage space.
5. Wicker Blanket Basket
There are plenty of storage baskets to select from. Moreover, the options let you customize your decorating style.
This blanket storage idea brings back memories of beach vacations. Not only does the wicker basket evokes simplicity but also coziness.
In this mudroom, the wicker blanket basket underneath the bench introduces a beachy ambiance. Meanwhile, metal hooks provide display space for the hat, bag, and blankets.
6. Blanket Storage Ladder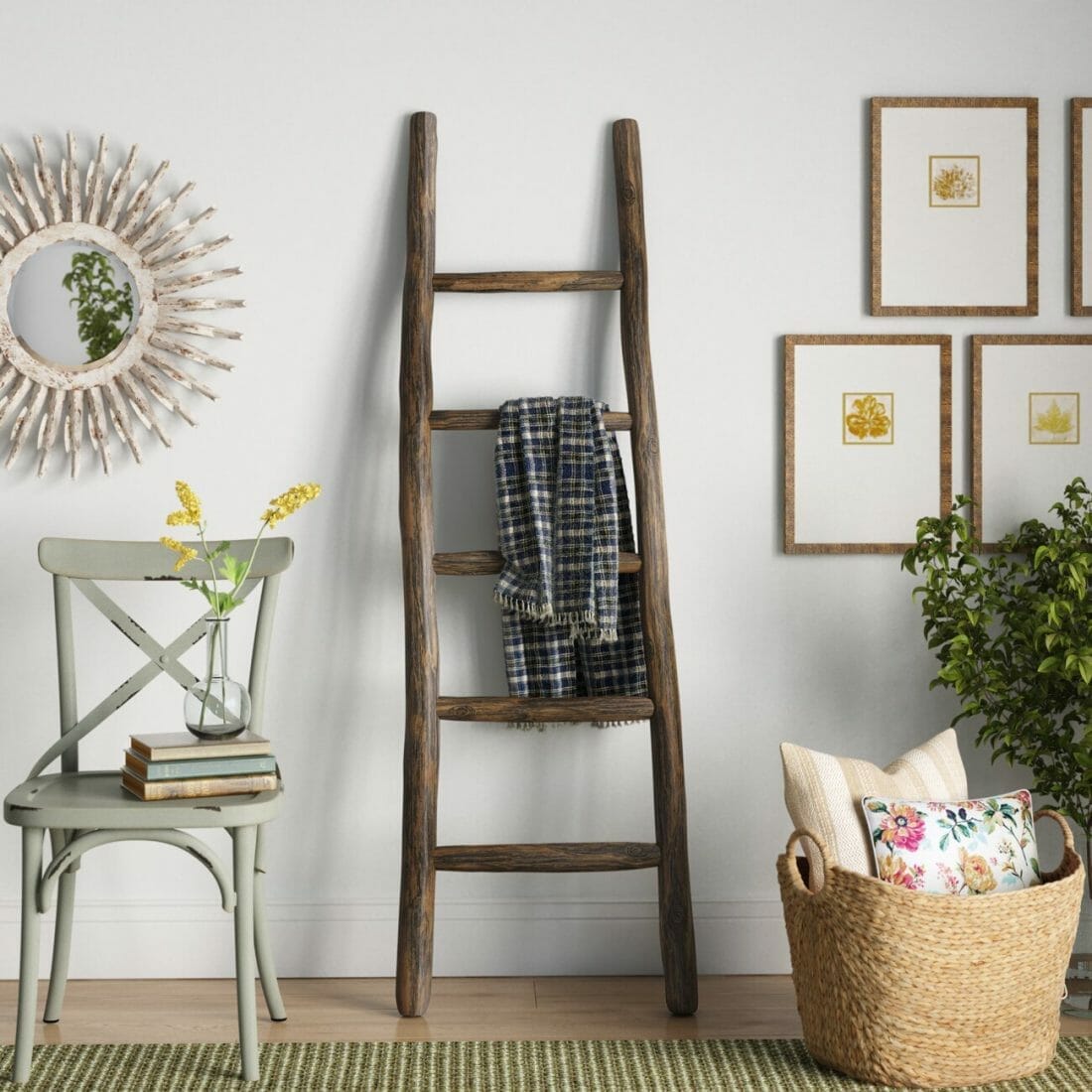 The ladder storage system isn't only for bathrooms. It works for any seating area, too. This farmhouse-style living room, for example, employs a wooden ladder. Not only does the unit keep blankets within arm's reach but also embraces rustic beauty.
Here, the warmth of the wooden ladder offsets the pure white wall's coldness. If you're into DIY blanket storage ideas, create it yourself with timber.
The water hyacinth basket complements the wooden ladder while housing throw pillows. Moreover, the glass vase and books on the shabby chic chair elevate the scene.
7. Wicker Storage Trunk for Blankets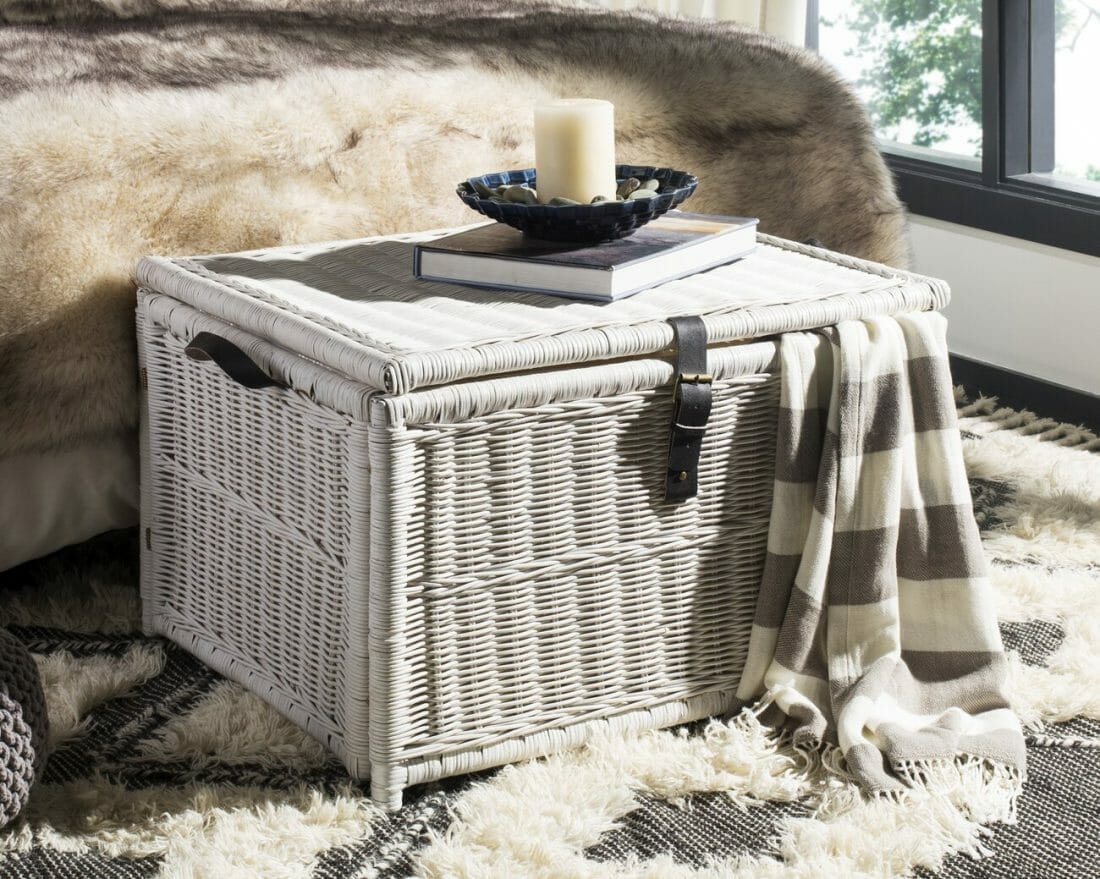 If you love all things monochromatic, duplicate this idea. In the living room, the white wicker storage trunk holds throw blankets in a matching palette.
This wicker storage trunk delivers a coastal flair. In addition, it lives harmoniously with the geometric rug underneath.
Because of its large size, the wicker storage trunk also can accommodate decorative pillows. Furthermore, the book turns it into a side table by offering a flat surface for the navy candleholder.
8. Boho Blanket Storage Ideas
The water hyacinth barrel basket keeps blankets and pillows in check. Furthermore, it embraces the bohemian vibe while blending with the wooden bench.
Due to this barrel basket, you can whip out your blankets in seconds. Meanwhile, wicker storage baskets on top of the bench house books and towels.
The chicken wire baskets lend this room extra storage space. Also, the contrast between the metal and the soft white linen is terrific.
9. Magazine Rack As a Blanket Holder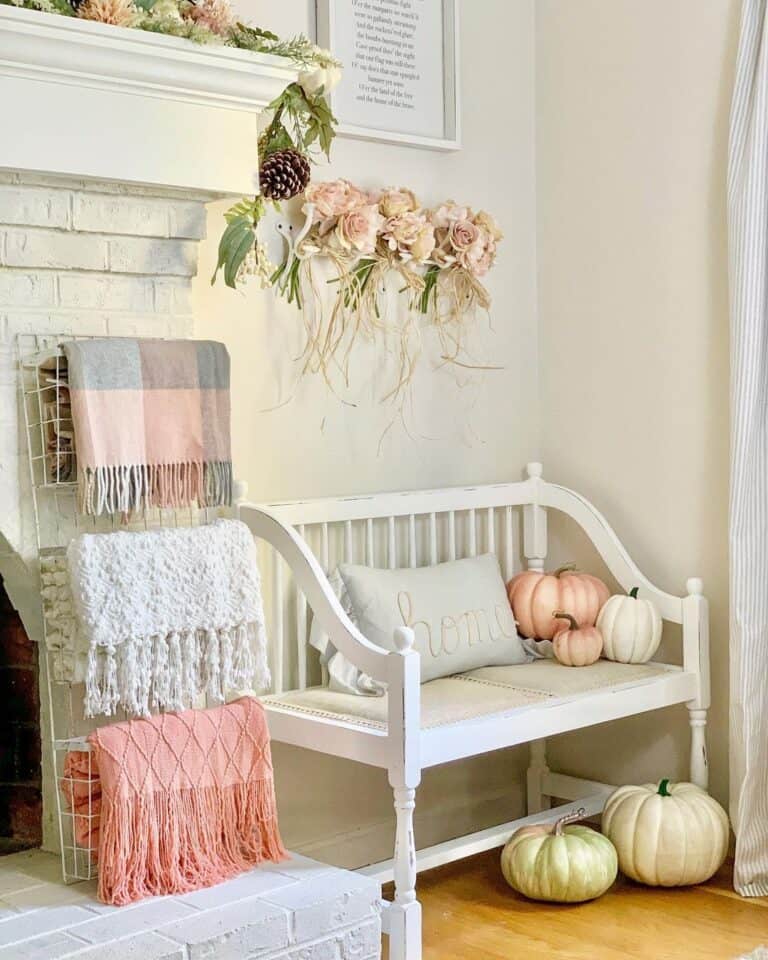 Who says magazine racks just fit for magazines? Consider using them in other brilliant ways. If you admire cheap blanket storage ideas, purchase the rack from the nearby local thrift store.
Here, the white three-tier magazine rack houses statement blankets that bring the space together. It blends seamlessly with the whitewashed fireplace, too.
Without a doubt, this magazine rack makes for an excellent towel holder in any compact room. Meanwhile, the throw pillow and fake pumpkins on the adjacent bench ensure the interior seems welcoming.
10. Vertical Blanket Holder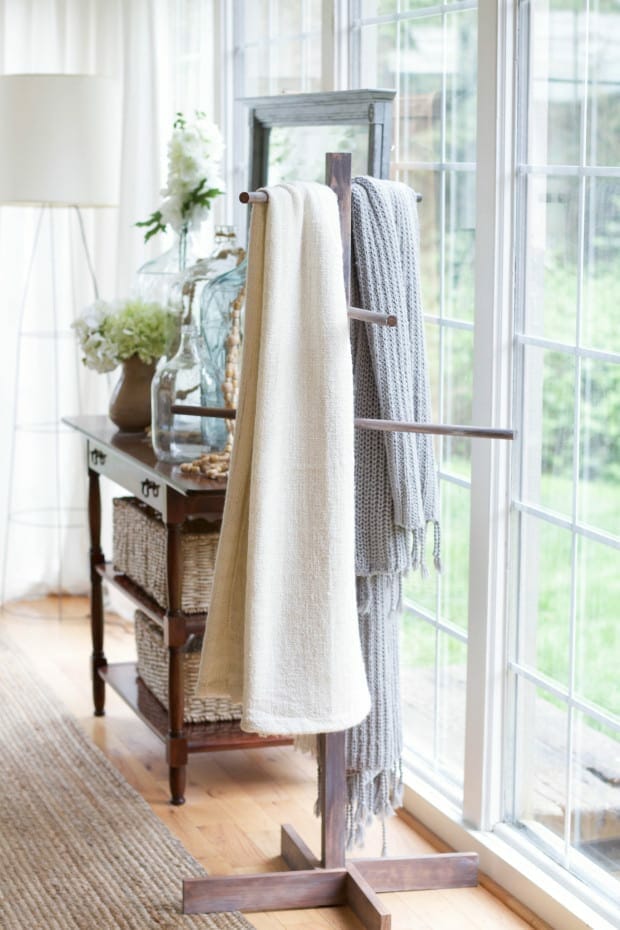 Short on space? This is one of the remarkable blanket storage ideas to duplicate. The vertical blanket holder consumes a small footprint.
The wooden blanket holder features bars of varying lengths. They generate visual interest while allowing you to display blankets at different heights.
This blanket rack keeps your blankets from becoming musty. In addition, it infuses an excellent dose of warmth into the airy room. Meanwhile, wicker baskets and elegant flowers complete the scene.
11. Plastic Storage Bins for Blankets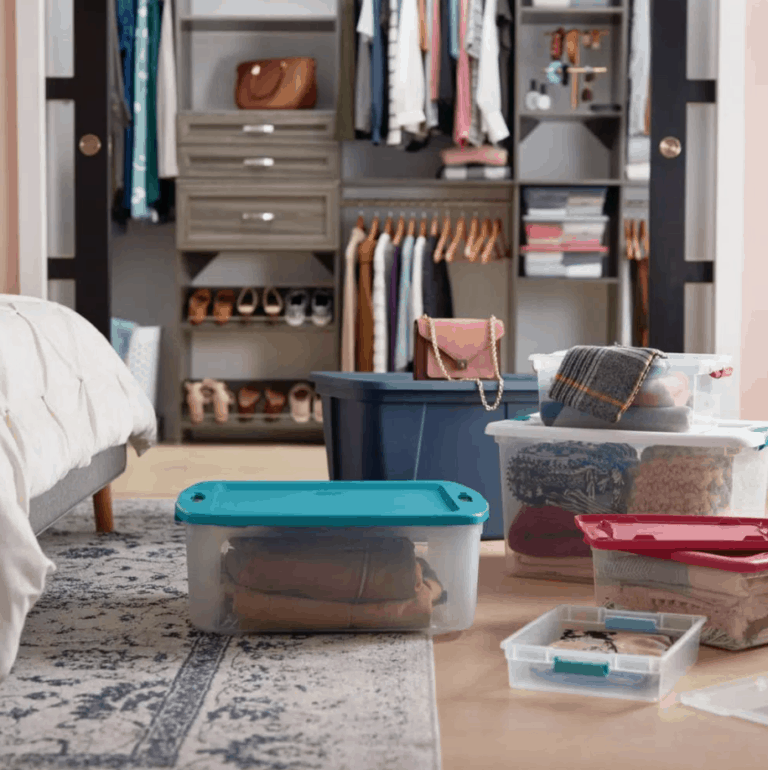 Love all things cost-effective and simple? If yes, integrate plastic storage bins into the bedroom. Apart from offering fantastic durability, they enable you to stash away your blankets.
As the photo shows, these plastic storage bins come in varying sizes. Due to them, the blankets won't become an eyesore in the sleeping area. Furthermore, their vibrant lids bring pops of color to any dull bedroom instantly.
If you rarely use your blankets, the plastic storage bins make outstanding blanket holders. To save some floor space, simply stack them neatly.
12. Under-Bed Blanket Storage Ideas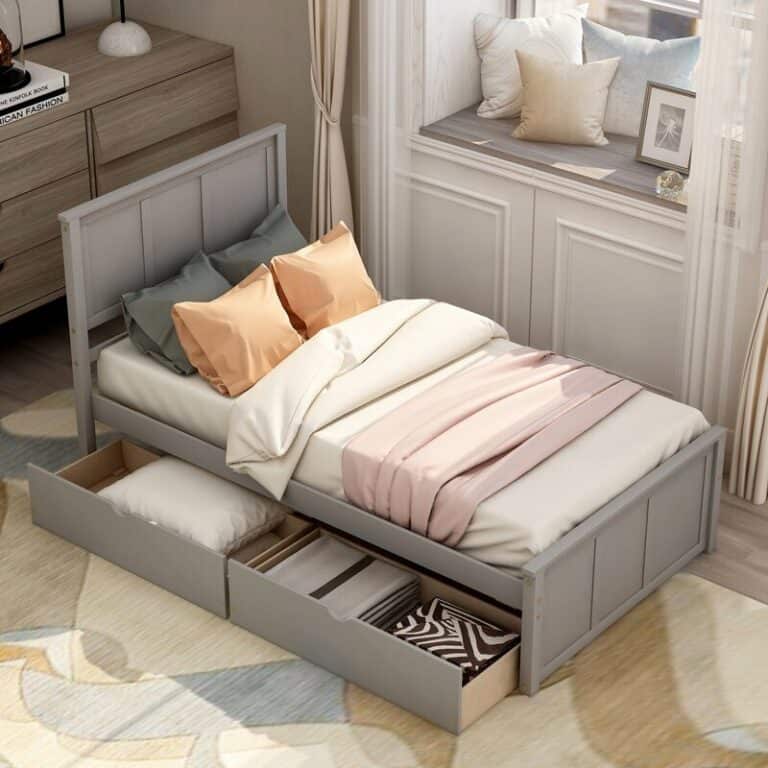 This tiny bedroom boasts a super cozy window seat. The sheer curtains filter out the daylight while separating it from the bed.
As you see, the modern gray bed has a secret. Moreover, it employs storage drawers underneath that accommodate the extra pillow and blankets.
These under-bed storage drawers keep spare blankets out of sight. Additionally, they let you create more space while ensuring the room stays organized.
13. Hidden Storage Ideas for Blankets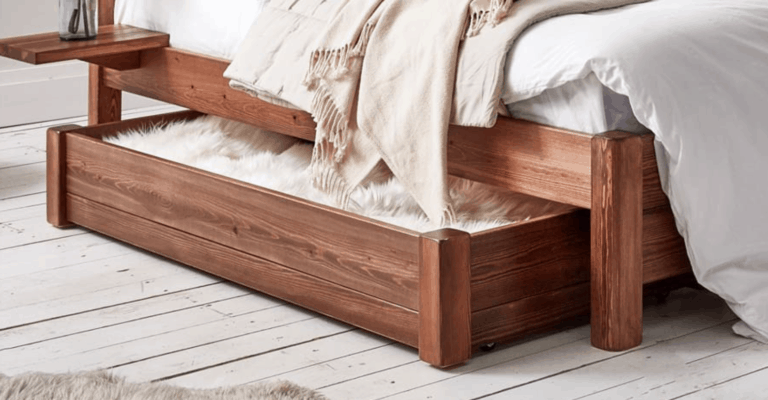 Some people don't have enormous living spaces. If you're one of them, there's a bunch of blanket storage ideas to try. Invest in a custom bed with a storage drawer.
Here, the massive wooden storage drawer hides underneath the bed. Moreover, it keeps plush blankets within easy reach.
The under-the-bed storage drawer lends the primarily white bedroom some unmatched warmth. Also, it suits the home's decorating style.
14. Cute Blanket Storage Ideas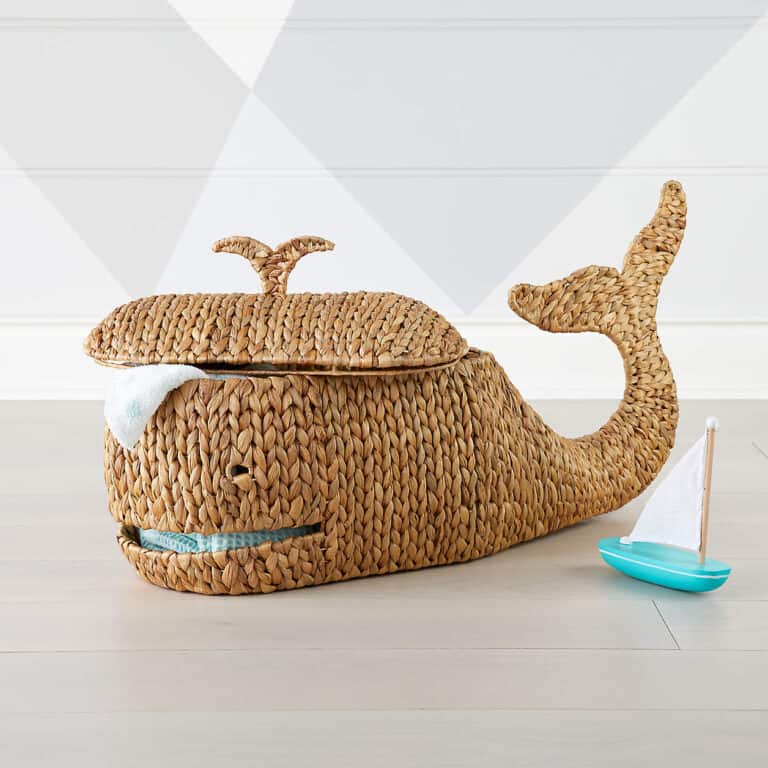 Blanket baskets don't have to be boring. This dolphin water hyacinth basket evokes playful vibes while offering practical storage. Furthermore, it's suited to coastal or boho living spaces.
The water hyacinth basket above can accommodate several blankets. Apart from being a blanket holder, it doubles as a decoration. Moreover, its design keeps mustiness at bay.
15. Coat Rack As a Blanket Holder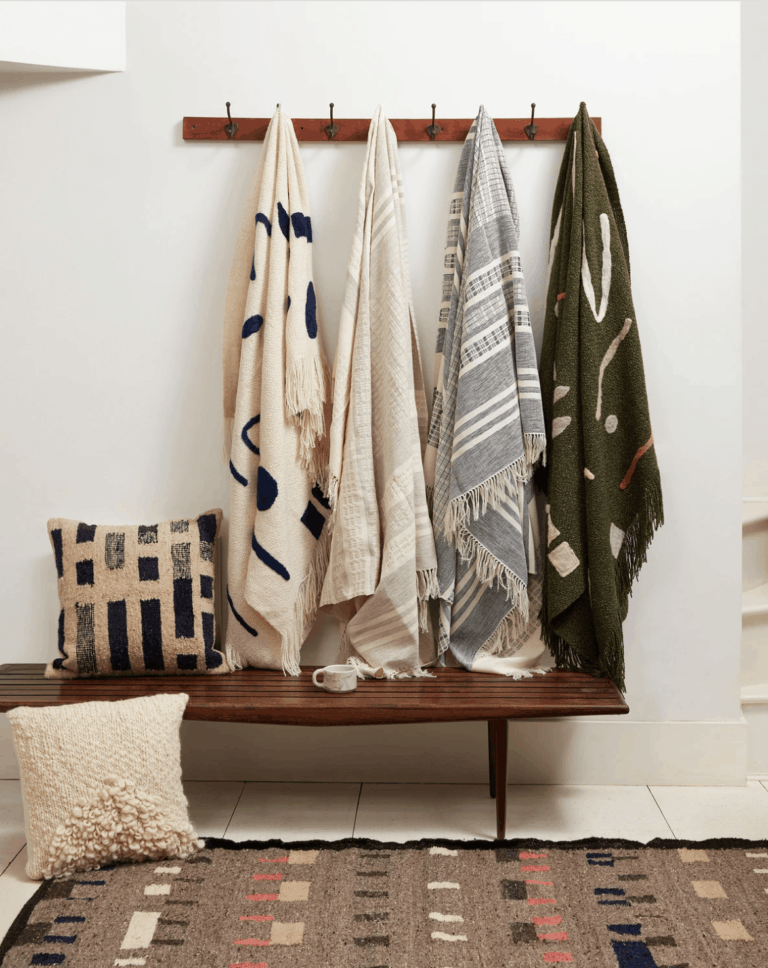 Since your home is tiny, you should get creative. Consider using the coat rack to display blankets. The unit doesn't clutter any floor space, but it keeps them organized.
This wooden coat rack gives the otherwise cold backdrop a touch of warmth. Additionally, it ensures blankets don't get moldy. Be sure to hang the unit high up the wall.
16. Blanket Storage Ideas for Closets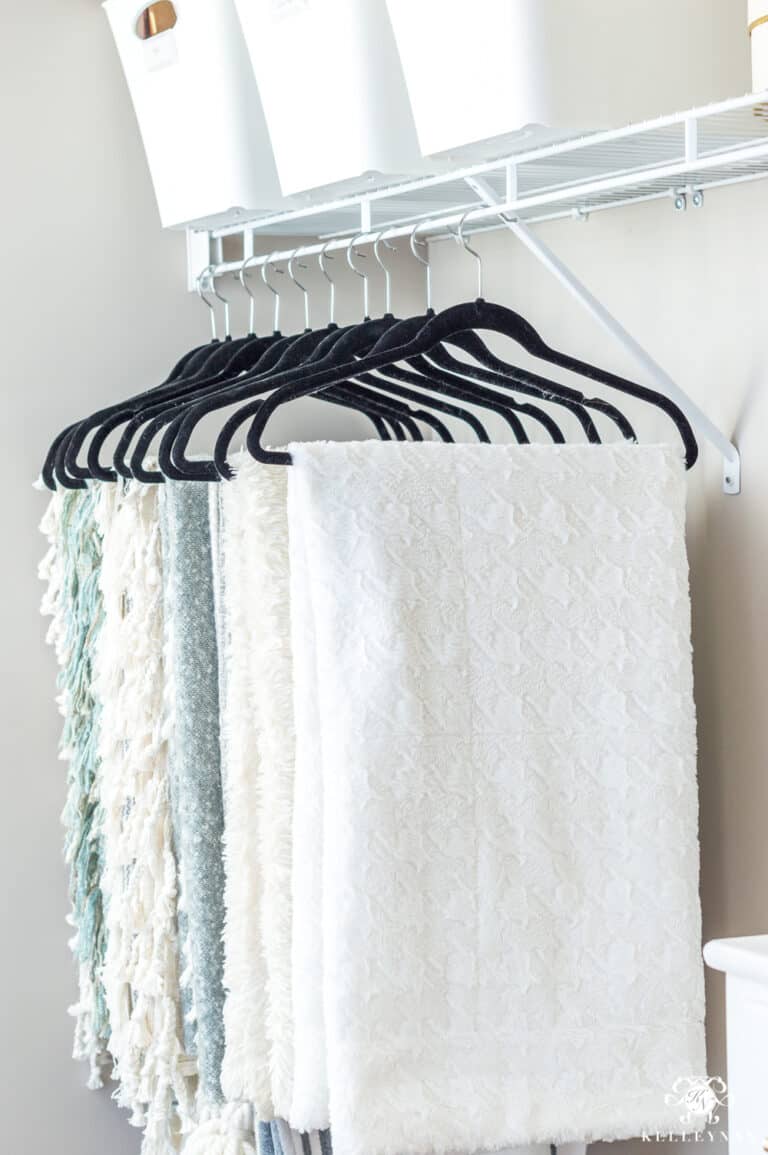 This idea is perfect for those who have massive collections of blankets. First, find a durable tension rod. Next, add some velvet hangers.
Here, the velvet hangers allow blankets to be on display and wrinkle-free. Thanks to them, you can access any blanket with ease.
17. Portable and Pretty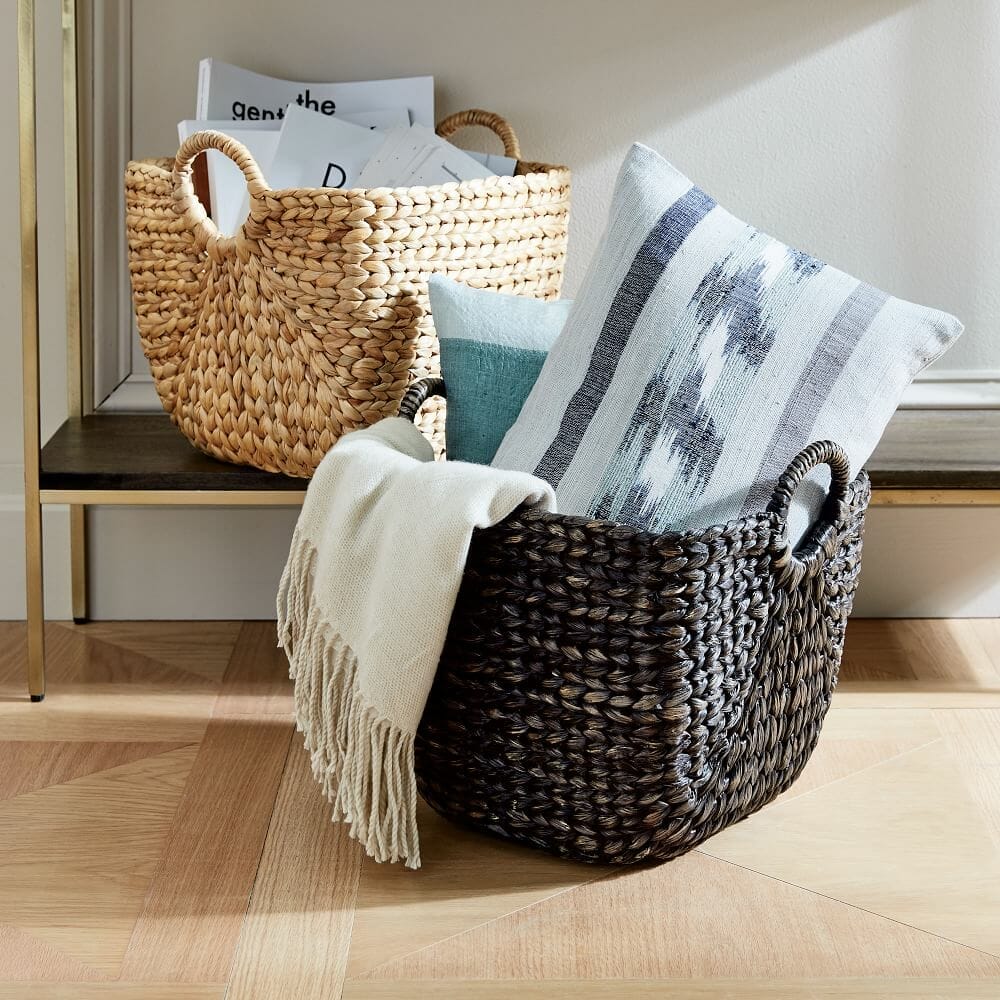 These water hyacinth baskets are a marvelous way of storing blankets. You can integrate them into either the sleeping area or the family room.
The black and neutral-colored water hyacinth storage baskets perfectly fit in with the modern boho decor. Moreover, their carrying handles offer excellent portability.
18. Fabric Cubbies for Blankets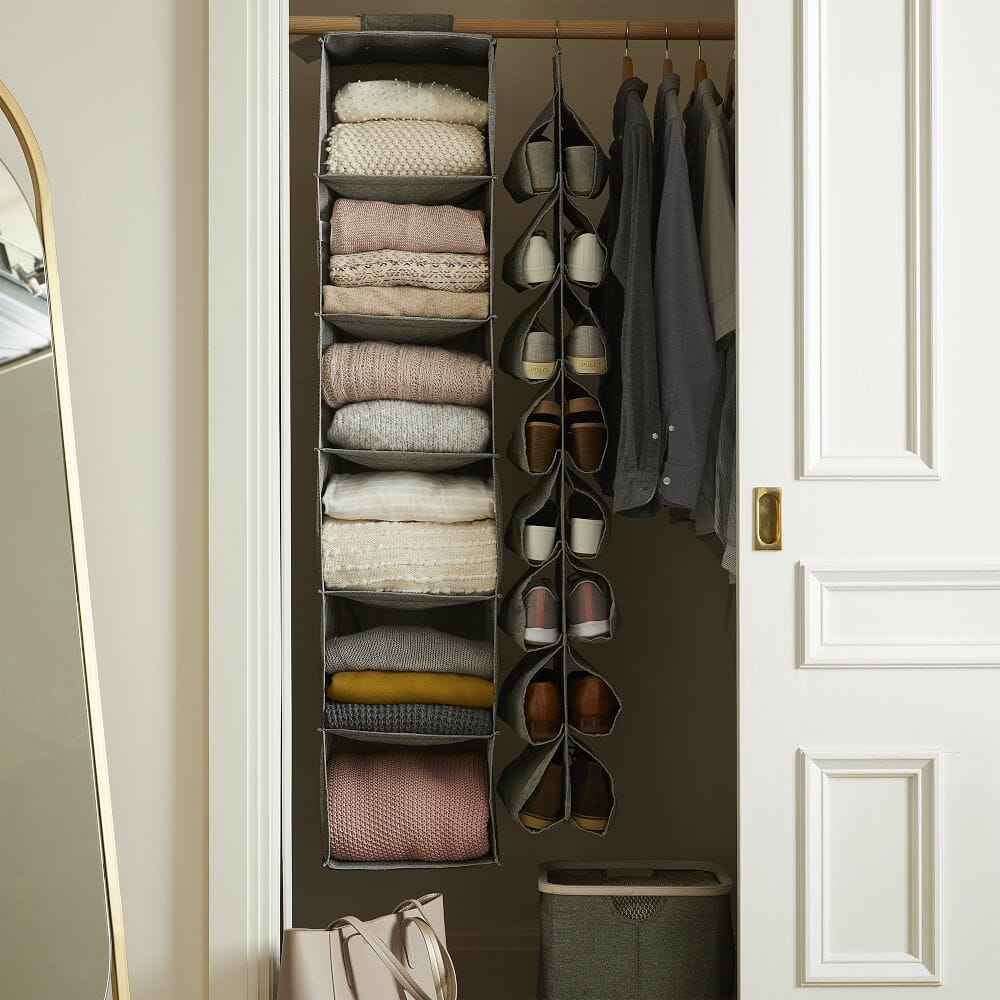 Here, the blonde wood tension rod holds fabric storage cubbies. As you see, they accommodate throw blankets of different tones and thicknesses.
These fabric cubbies deliver a mid-century modern edge. Furthermore, they live fabulously with the matching shoe rack and metallic hangers.
19. Casual Blanket Storage Ideas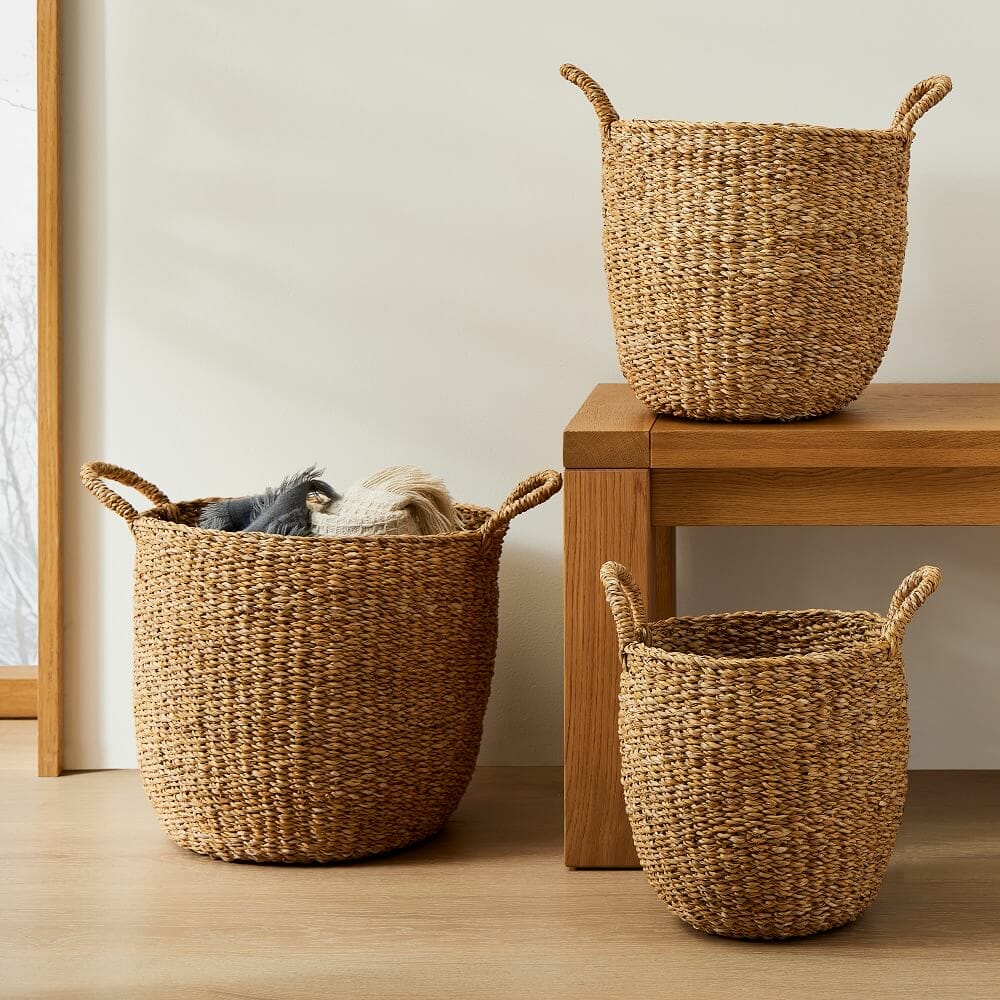 I can't help but adore all things boho. If you're like me, don't hesitate to include these gorgeous water hyacinth storage baskets in your home.
Undoubtedly, these blanket baskets carry casual vibes. They pair with the wooden bench, too. Due to their different sizes, the room will surely look more attractive.
20. Blanket Crate with Wheels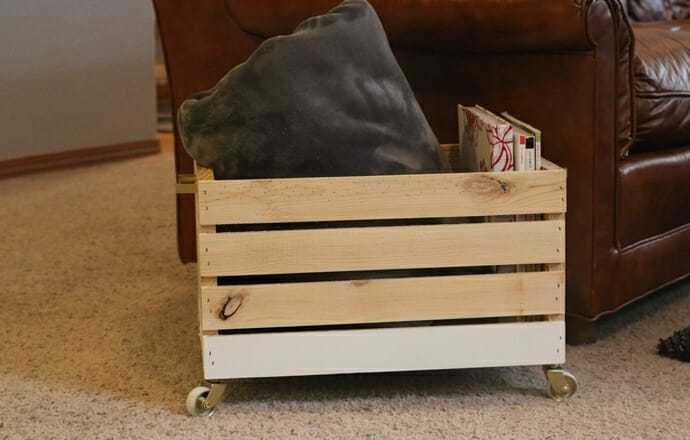 This white-and-wood crate is a charming home for throw blankets. Furthermore, it looks incredible in any mid-century modern living area.
As the picture shows, this crate emanates simplicity and modernity. Additionally, it can pose as a decorative piece. Furthermore, the matching wheels make the unit portable.
21. Arched Blanket Cabinet
Speaking of blanket storage ideas, I recommend upcycling the furniture. Here, the two-tone arched cabinet showcases stunning blankets, ornaments, and books.
The homeowner removed the glass panes from the arched storage cabinet. Moreover, the unit carries both function and form. Also, the golden knobs finish things off.
22. Jumbo Woven Blanket Basket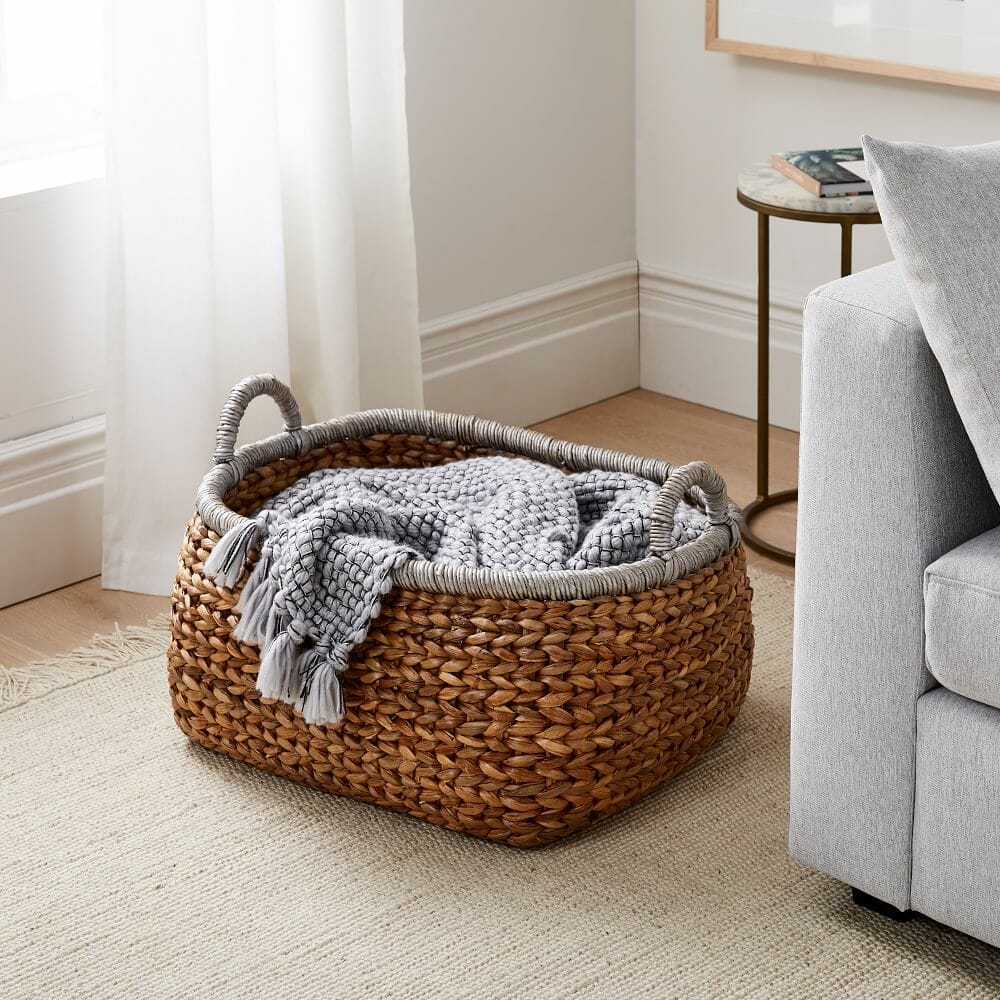 This huge woven basket makes for an astonishing blanket holder. It can house throw blankets without crowding the seating area.
As you see, the two-tone woven blanket basket unifies the living room. Meanwhile, the gray throw blankets fit in perfectly with the adjacent sofa.
23. Storage Box for Blankets
If you love hidden blanket storage ideas, try out this option. The minimalist bedroom boasts an under-the-bed wooden box with three compartments for spare blankets.
The whitewashed storage box harmonizes with the bedroom's color scheme. Moreover, the wheels allow you to access the blankets in seconds.
24. Rustic Blanket Storage Ideas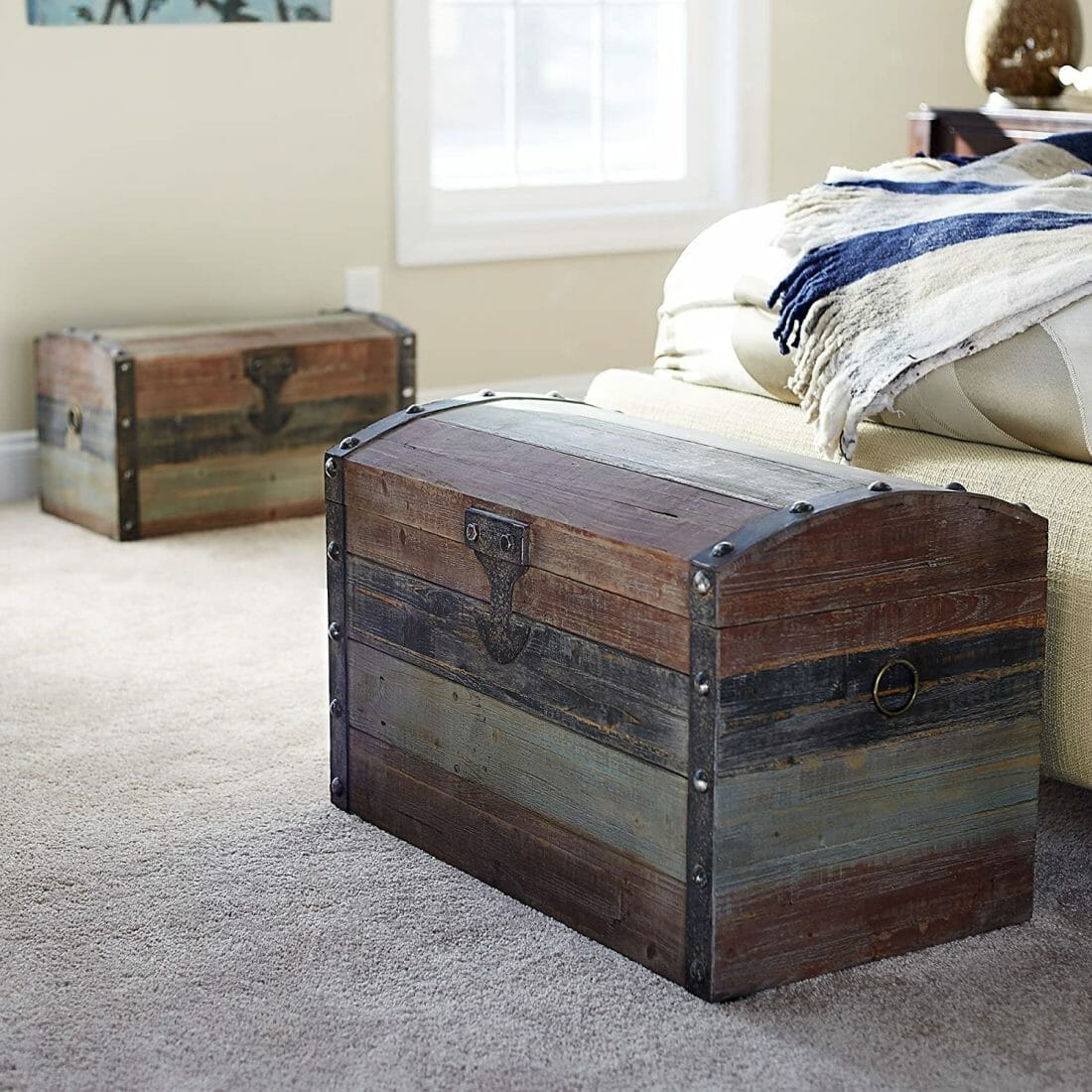 These weathered wood storage trunks lend any room a vintage flair for sure. Furthermore, they invite rustic charm into the seating area.
Without a doubt, the storage trunks let you stash away lots of blankets. Also, their multitone wooden stripes produce visual interest.
25. Blanket Basket Coffee Tables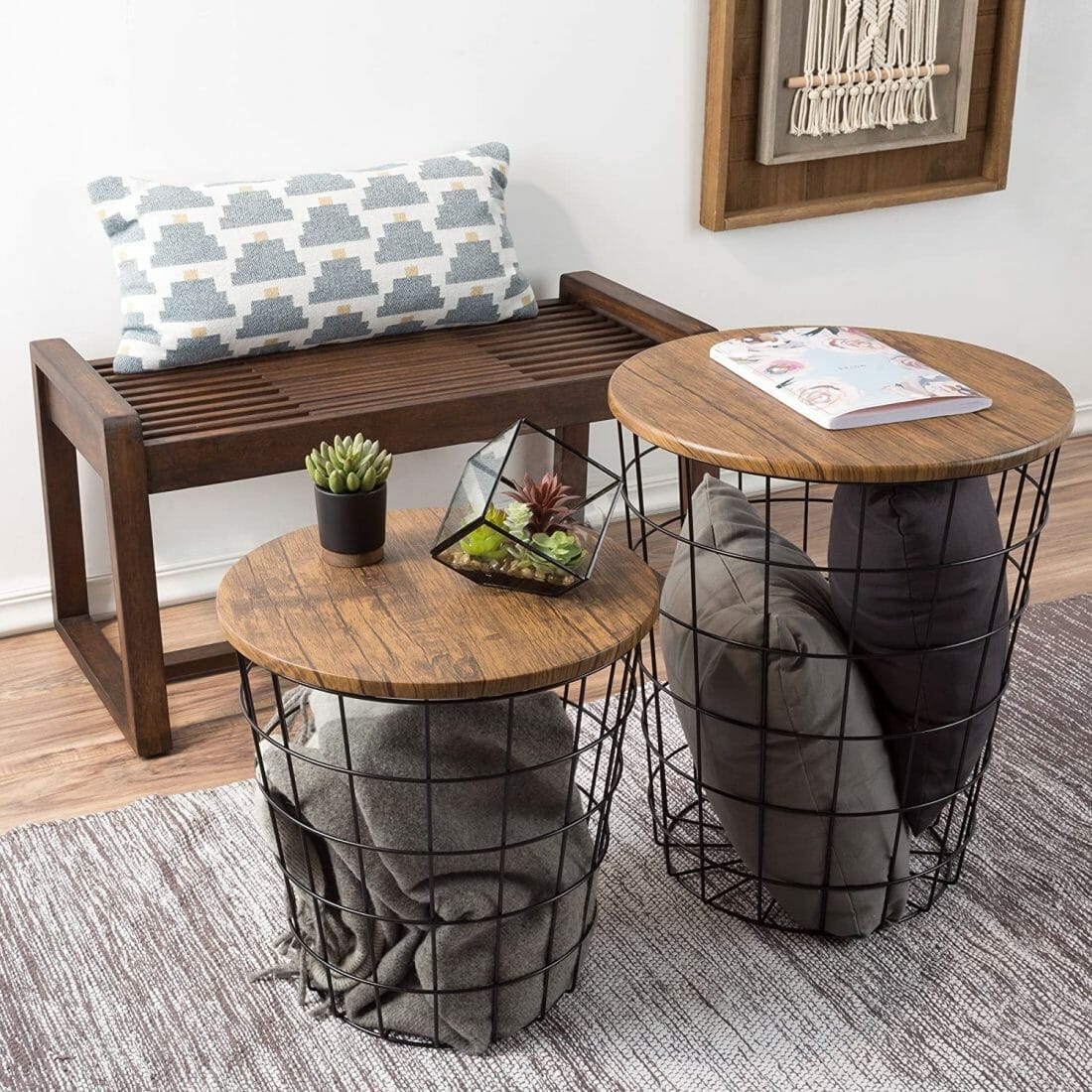 Don't you love these basket coffee tables? They make for spectacular blanket storage furniture units while imparting a modern industrial aesthetic.
These coffee tables keep blankets and spare throw pillows under control. Moreover, they display succulents in black and terrarium pots.
26. Wicker Blanket Chest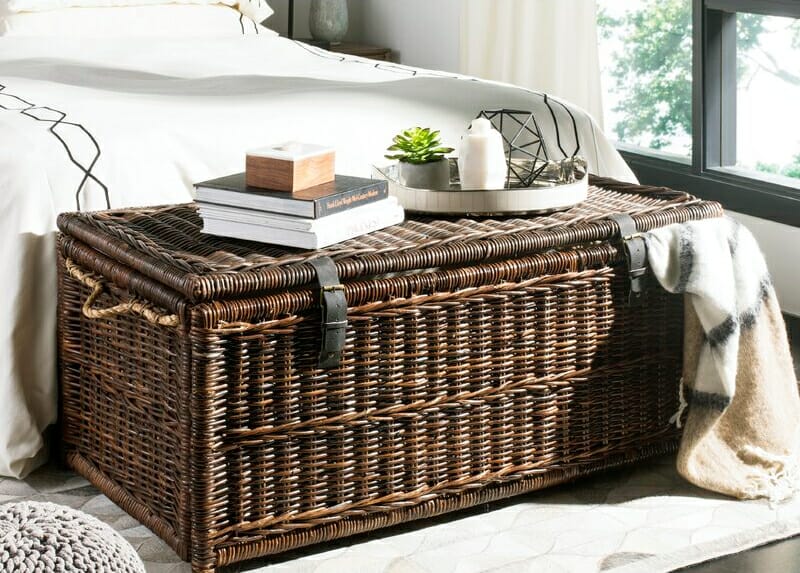 This wicker chest is such a fabulous, double-duty furniture piece. It lets you organize the otherwise messy blankets while adding a casual feel.
The top surface of the wicker storage chest accommodates books. With the help of the circular tray, it can house different kinds of ornaments.
27. Glam and Multifunctional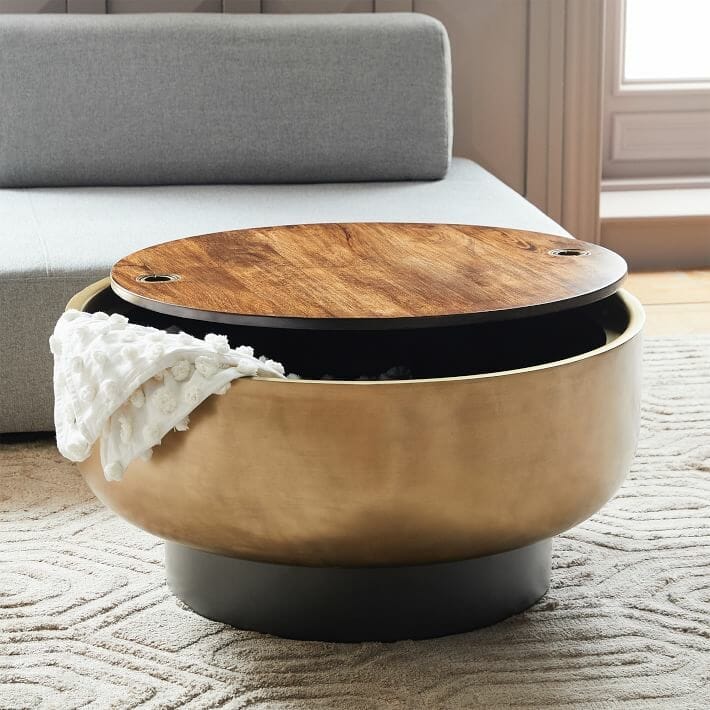 Here, the round coffee table offers interior storage space. Moreover, it keeps extra throw blankets out of sight, so the tiny living area feels more spacious.
This double-duty furniture is equal parts glam and trendy. In addition, the small cutout handles let you whip out blankets with ease.
28. Scandinavian-Inspired Blanket Ladder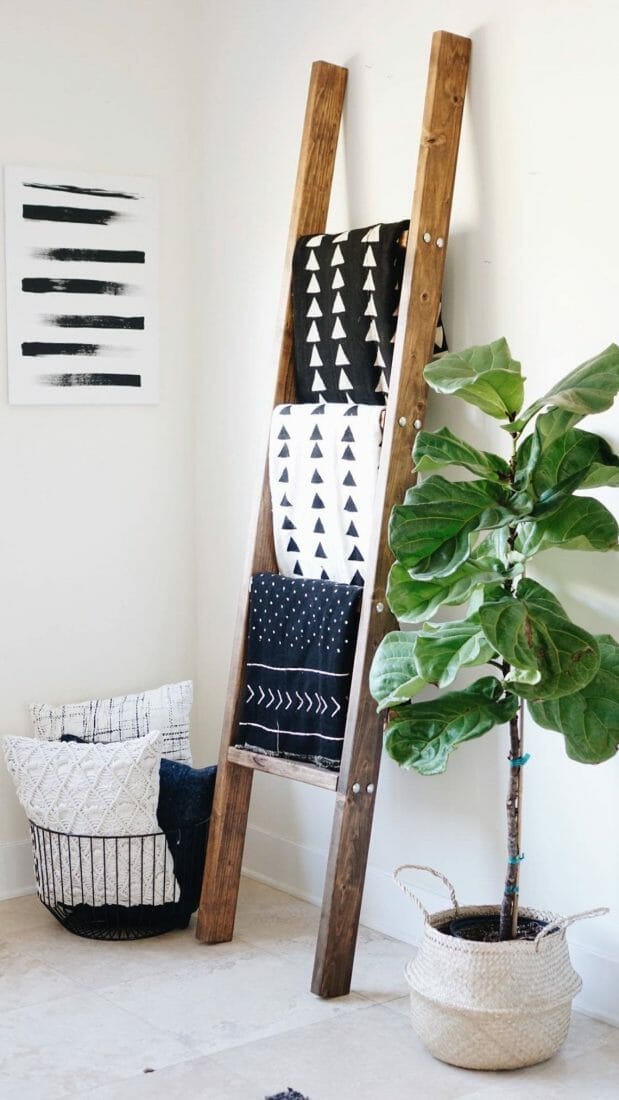 This wooden blanket ladder infuses a Scandinavian flair instantly. It invites a sense of warmth into the predominantly white room, too.
The artwork, geometric blankets, and throw pillows embrace a monochromatic palette. Meanwhile, the fiddle-leaf fig lends the space ultimate impact.
29. Rattan Blanket Storage Ideas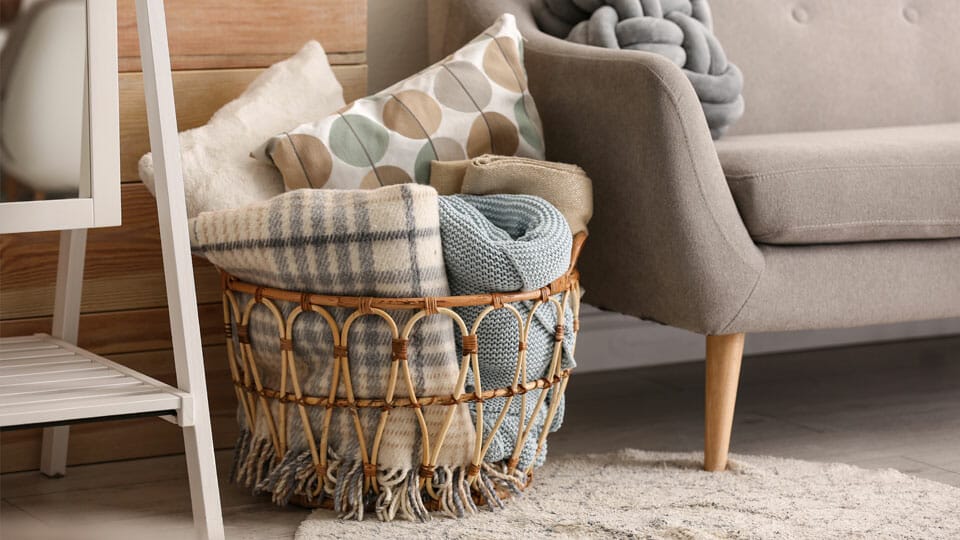 Here, the rattan blanket basket keeps spare pillows and blankets within easy reach. Also, it acts as a decor piece due to its attractive appearance.
This rattan basket is an excellent complement to any room, from bohemian to mid-century modern. Furthermore, it generates a casual look.
30. Cozy Blanket Ottoman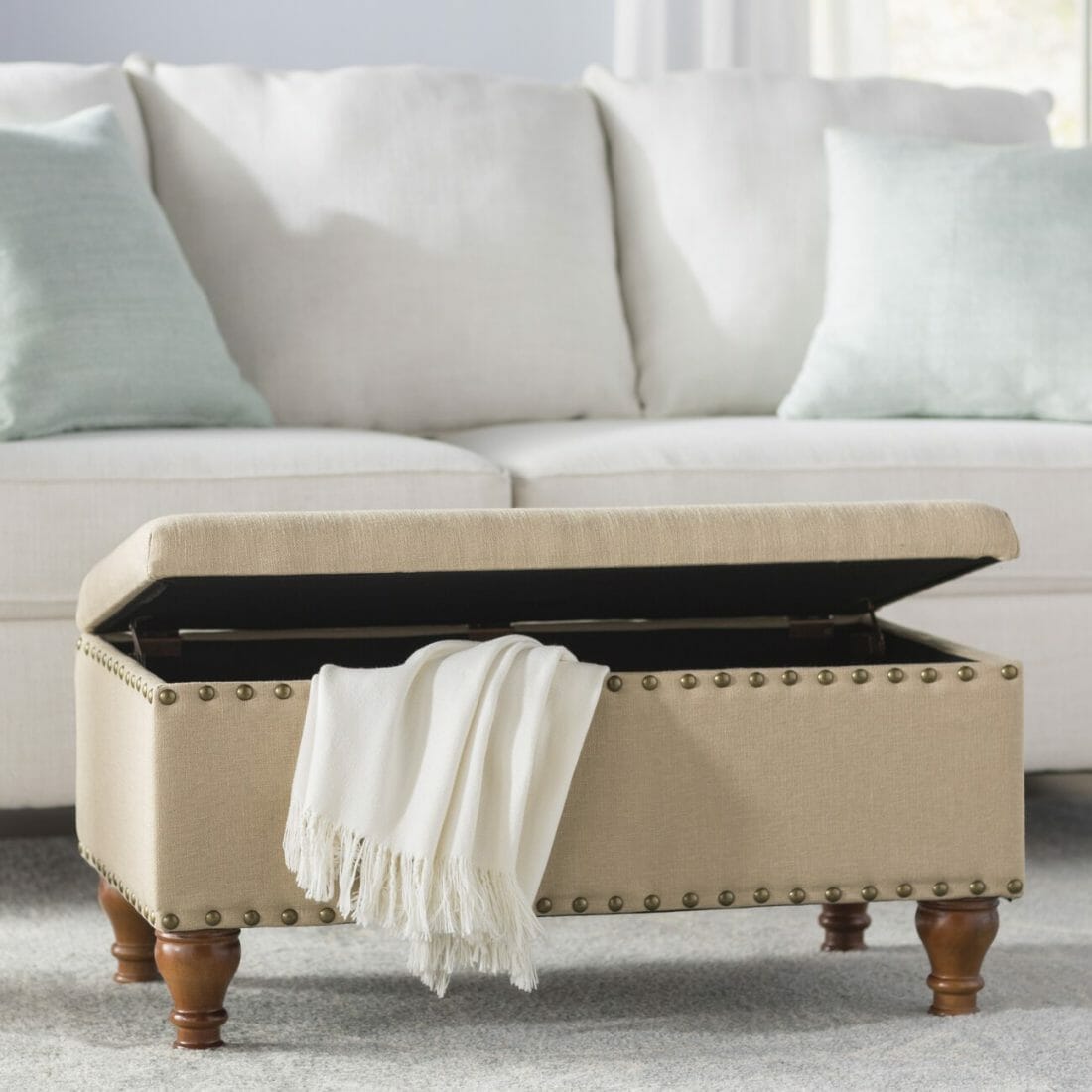 This beige storage ottoman soothes the soul. In addition, it hides extra throw blankets when not in use, so the interior stays organized.
Due to its soft surface, this ottoman can serve as a seat or footrest. Also, the remarkable details make it a statement furniture piece.
Those splendid blanket storage ideas are worth implementing. To find the right one, you should know whether you want to display or hide blankets. Also, choose the decor style that suits your preference.