When I mention a modern kitchen, a functional culinary space filled with minimal furniture and clean lines certainly comes to your mind. Probably, you also describe it as a cooking area that looks uninviting and plain.
In this article, I'm sharing some fantastic ideas to help you create your own modern cooking space. They will convince you that sleek aesthetic has a ton of personality too. Take a gander at these, and then start designing your dream kitchen.
1. Modern Kitchen Black and White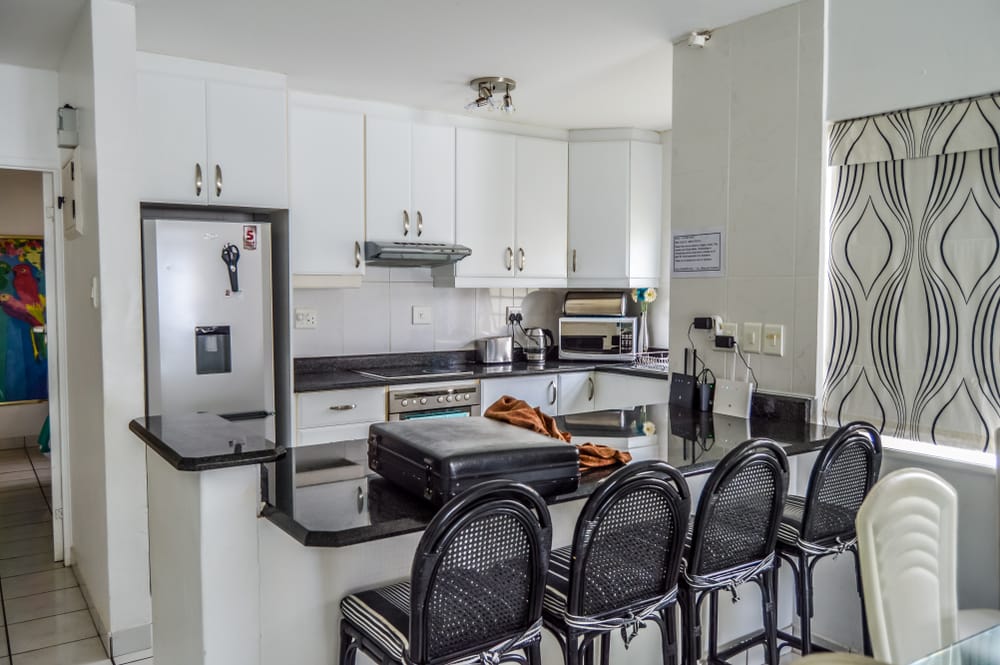 Black countertops and dining chairs bring drama to the kitchen. Meanwhile, pure and off whites keep the space bright.
The cabinets provide lots of storage for kitchen utensils and dishware. Metallic ceiling light and drawer handles lend the area a glamorous air.
2. Modern Kitchen Decor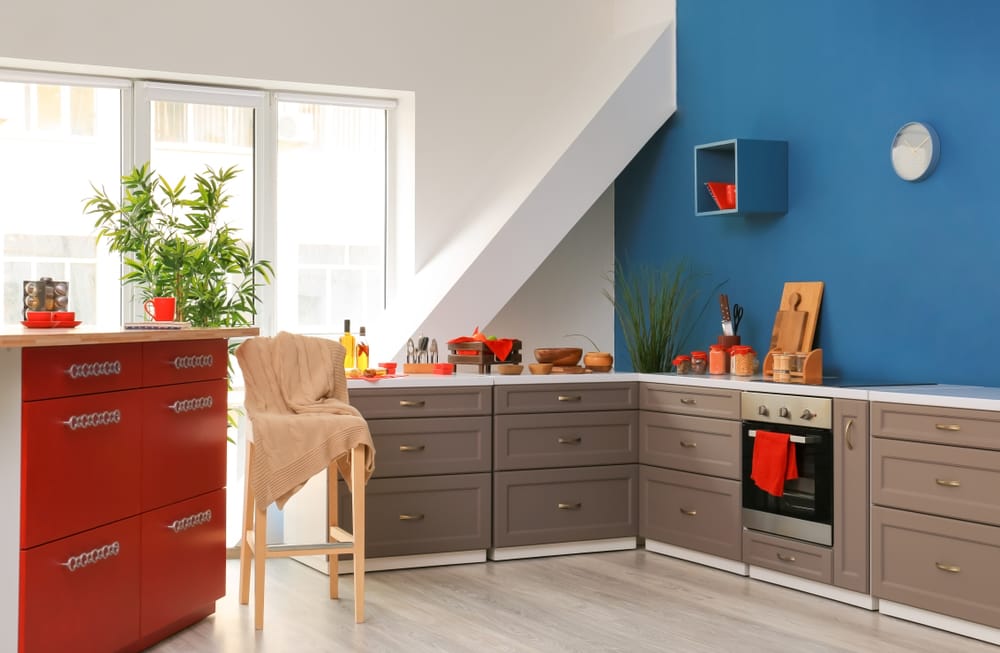 The contrast between blue and white walls is so captivating. Meanwhile, taupe cabinets and gray wooden floor set a serene ambiance.
Red kitchen island adds vivacious energy to the room. Orange accents raise the fun vibe, while raw wood chair tones them down. Potted plants refresh the room.
3. Modern Farmhouse Kitchen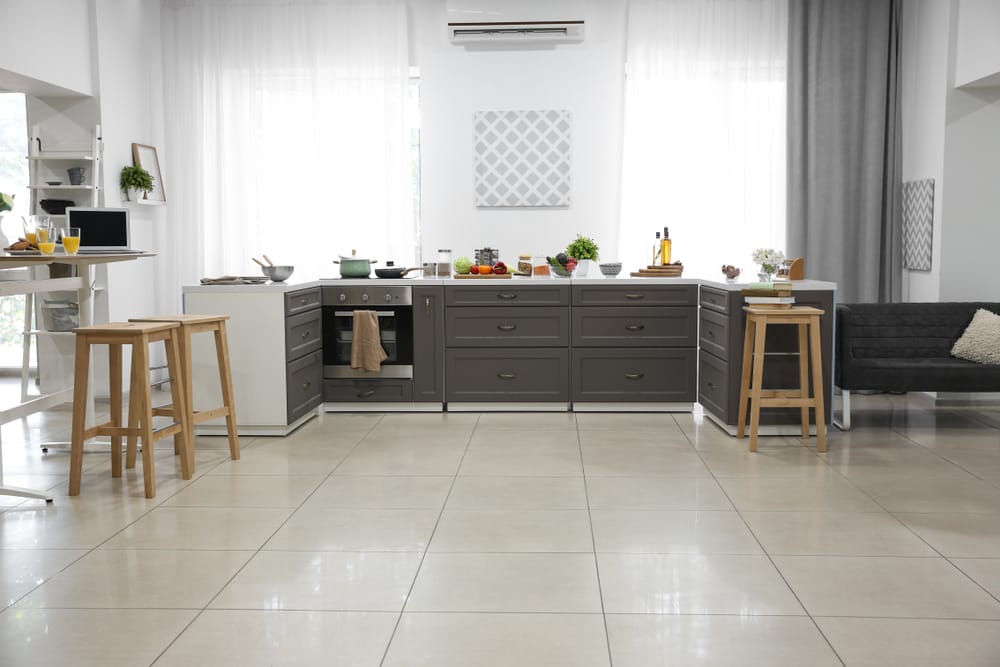 White and gray are dominant players in this culinary space. Those neutrals introduce a sophisticated atmosphere.
Cream floor tiles calm the senses. Unfinished wood stools evoke a farmhouse feel. Patterned wall hangings steal the spotlight.
4. Yellow Modern Kitchen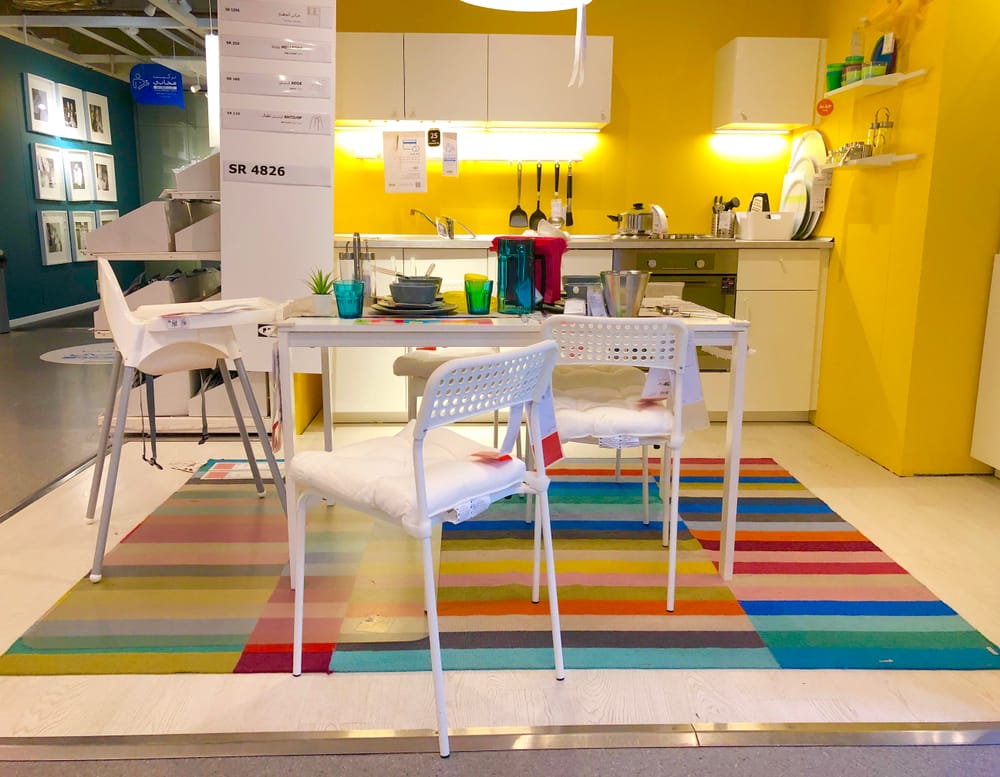 In this kitchen, yellow walls are juxtaposed with smooth surface white cabinets. Monochrome artworks adorn the deep teal accent wall.
Underfoot is a colorful area rug. It injects a playful vibe into the space. In addition, it allows the white dining set to be noticeable.
5. Natural Wood Modern Kitchen Cabinets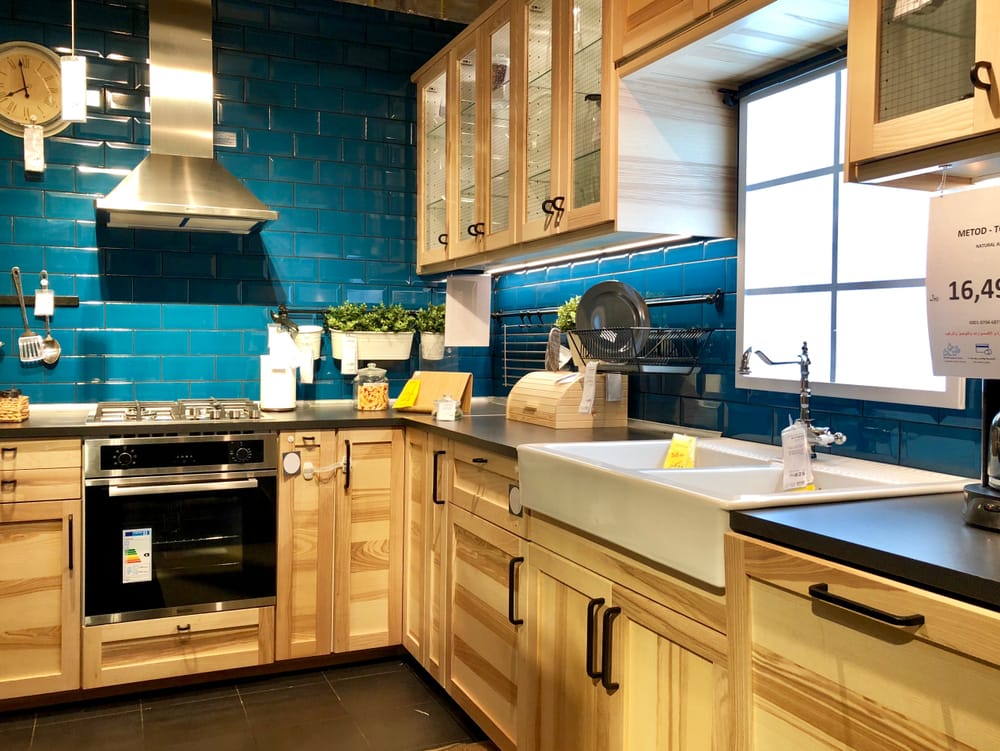 This kitchen is outfitted with raw wood cabinets. They undoubtedly embrace modernism and nature's beauty at once.
Gleaming blue subway tiles and houseplants keep the cooking space from feeling lifeless. Wrought iron and steel details give the room an industrial edge.
6. Modern Kitchen Ideas 2019
Sleek black and white cabinets result in a chic kitchen. Striped wooden floor and patterned backsplash catch the eye.
Sexy curves of dining chairs soften the straight lines. Two metallic pendant lights exude a luxurious air in a split second.
7. Ultra Modern Kitchen Designs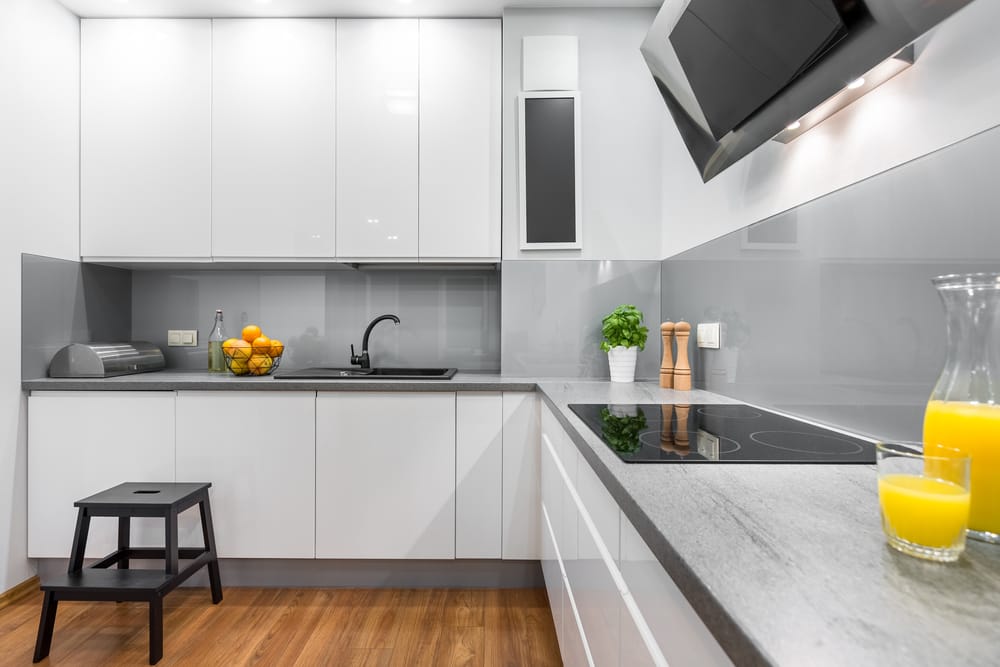 White flat-panel cabinets make the kitchen appear light and airy. Gray countertop and backsplash lend the space a relaxing ambiance.
Medium-toned wood floor delivers warmth to the space dominated by cool tones. Houseplant and oranges spruce up the scene.
8. White Industrial Modern Kitchen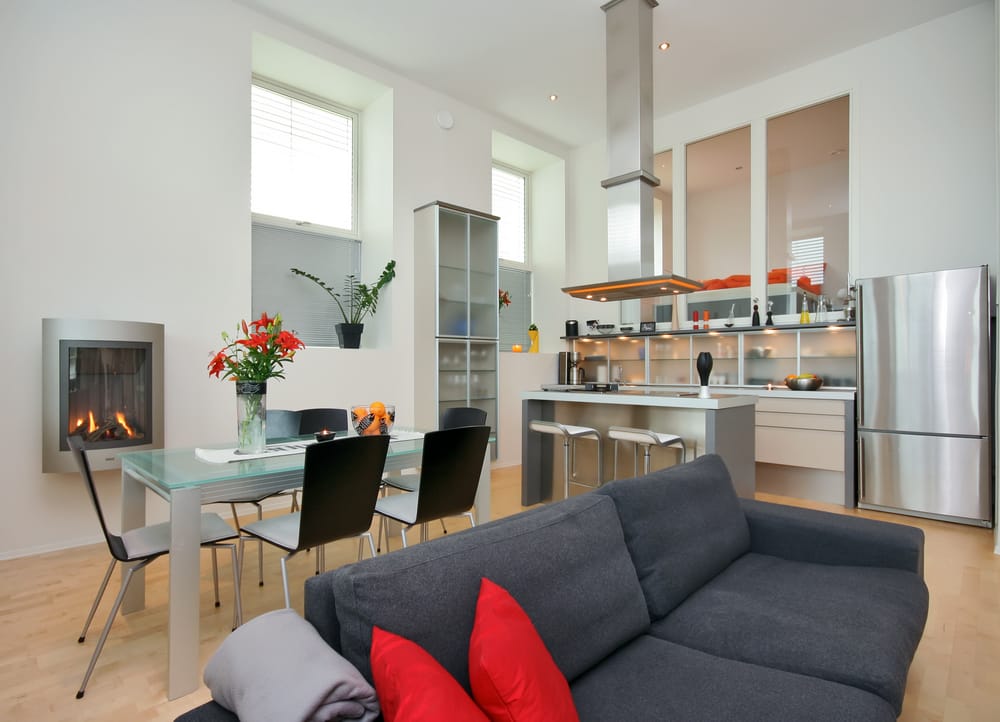 The large windows emit an abundance of sunlight. White ceiling and walls expand the kitchen visually.
Light-toned wood floor infuses a homey air into the modern industrial cooking space. Splashes of orange and red invigorate the area.
9. Mid Century Modern Kitchen White Cabinets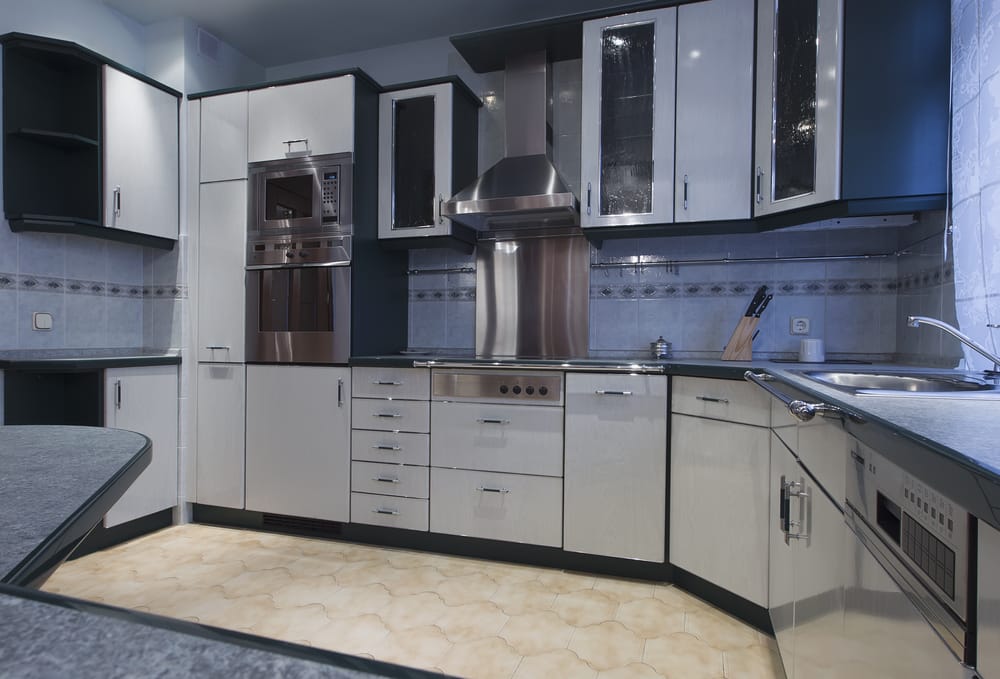 Black and white cabinets offer a sense of sophistication. Stainless-steel hardware and appliances generate industrial elegance.
Blue tiles on the backsplash keep the kitchen feeling fresh. The floor is covered in cream hexagon tiles. They set a peaceful mood.
10. Contemporary Kitchen Cabinets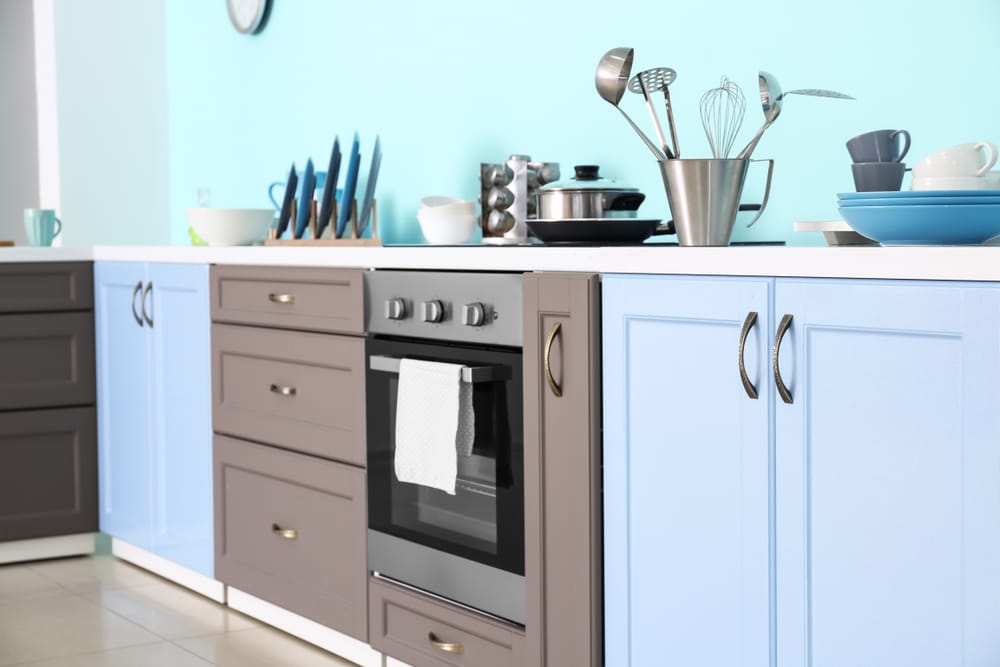 Here, the raised panel contemporary cabinets are coated in baby blue and ash gray shades. They exemplify a soothing yet cheery kitchen.
The electric blue backsplash adds more vibrancy to the space. Azure blue plates sing out, while stainless-steel kitchen utensils contribute to the kitchen's polished look.
11. Modern White Kitchen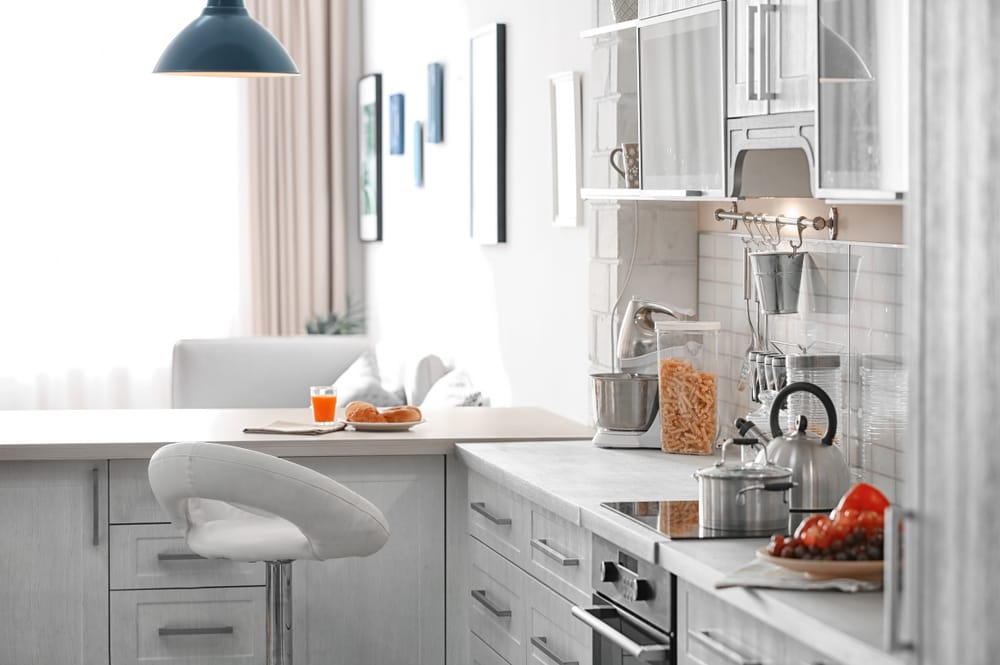 White wall, countertop, square backsplash tiles, and chairs wrap the kitchen in clean vibes. Metallic appliances and drawer pulls convey stylishness.
Blush pink curtain prevents the white cooking space from becoming too sterile. A black pendant light delivers a bit of drama. The fruits work as sources of vivid color.
12. Colorful Modern Kitchen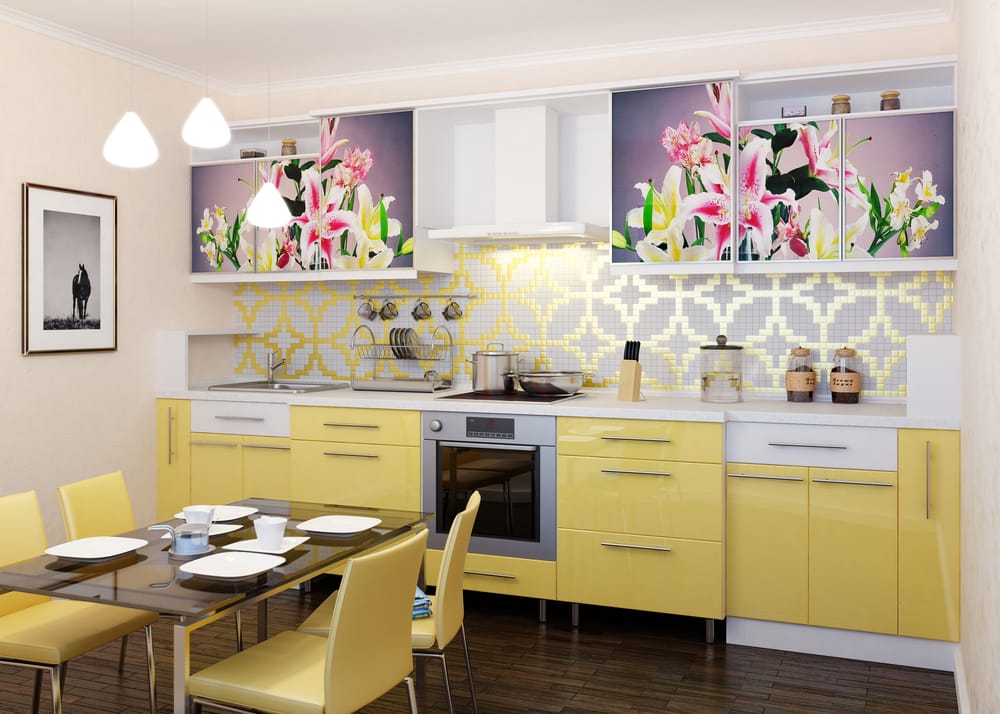 Pale pink walls and white ceiling offer a soft foundation to the kitchen. They let floral and yellow contemporary cabinets stand out even more.
The golden patterned backsplash acts as a focal point. The dark wooden floor brings a cozy nature-inspired texture to the scheme.
13. Small Modern Kitchen Ideas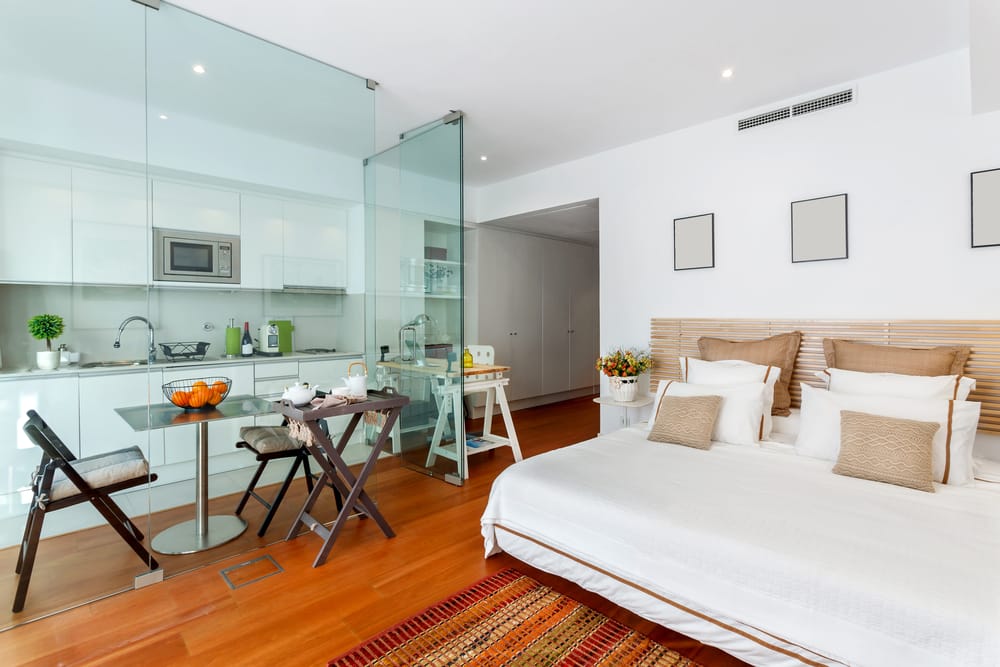 Glass walls separate small kitchen and dining area from the bedroom. The hardware-free white cabinets gracefully scream modern style.
Wooden floor works to counter-balance white cabinetry and stainless-steel units. Potted plant and fruits in the basket keep the starkness at bay.
14. Narrow Galley Kitchen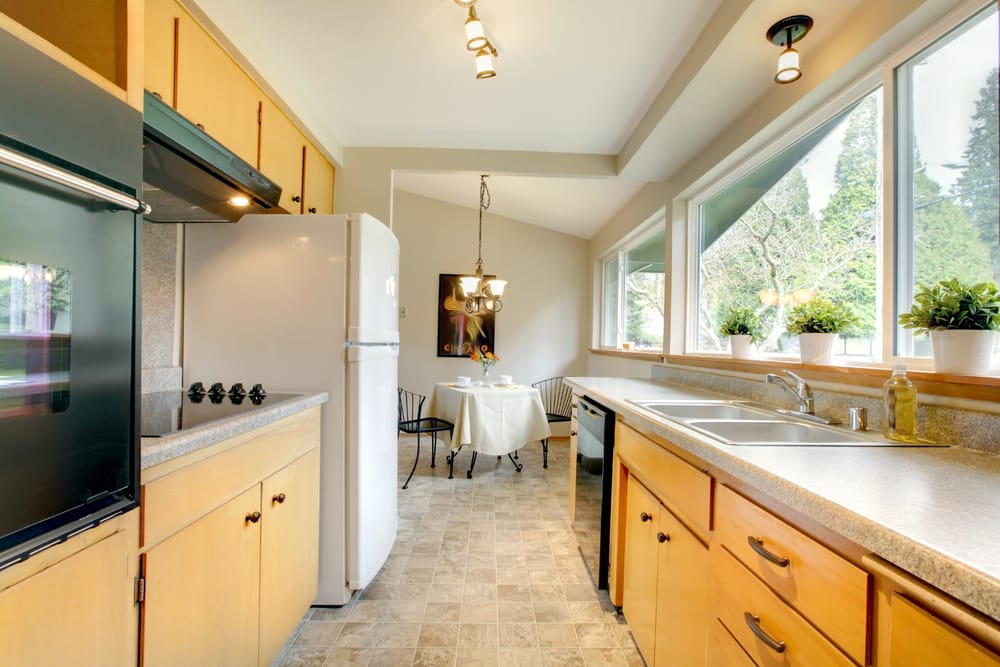 Even though this galley kitchen is small, it does not appear cramped, thanks to large windows and white color palette.
Wooden cabinetry and natural stone floor tiles produce the rustic grandeur. Pendant light and dining set pepper the space with a traditional flair.
15. Modern Kitchen Appliances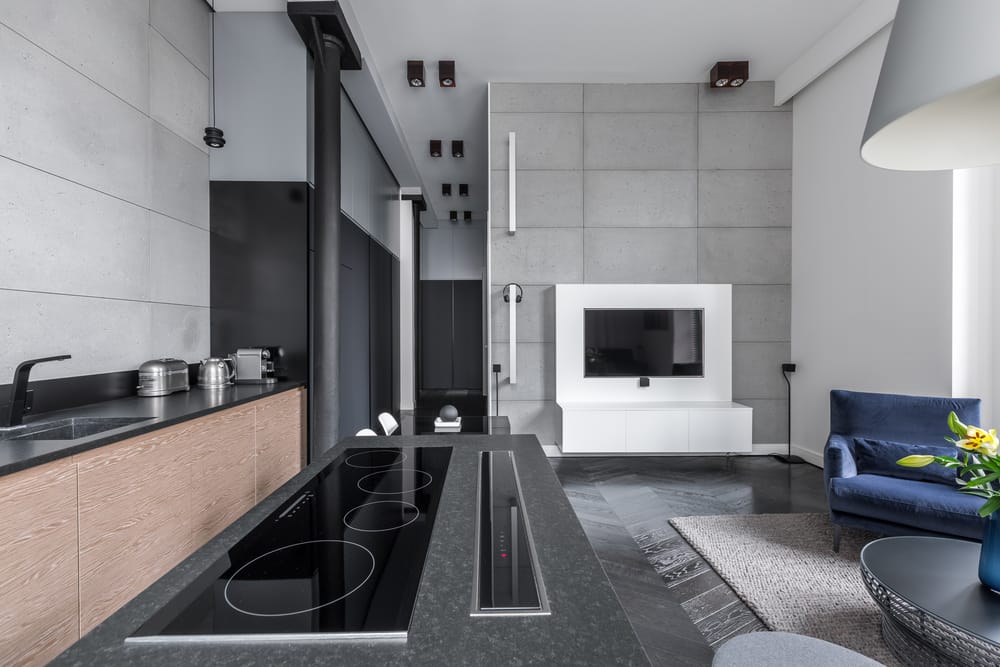 Polished concrete tiles and exposed stovepipe undeniably project industrial design. Raw wood cabinetry instills a snug atmosphere.
Moreover, this cooking space is low-maintenance with the presence of integrated modern appliances. Black countertops and floor tiles elicit masculinity.
16. Modern Kitchen Lighting Ideas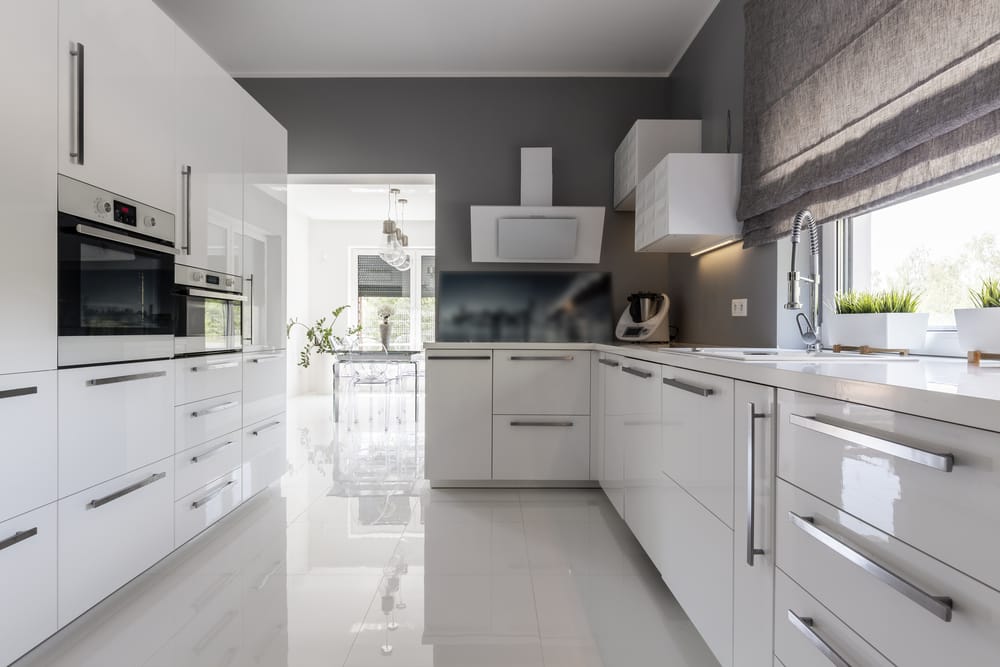 Gleaming floor tiles and white cabinets promote a sumptuous air. Shiny stainless-steel drawer pulls add extra luxe to the space.
Sharp edges and well-defined lines of the furniture pieces demonstrate a modern appeal. Burlap window blind and potted plants provide textural contrasts.
17. Best Paint for Modern Kitchen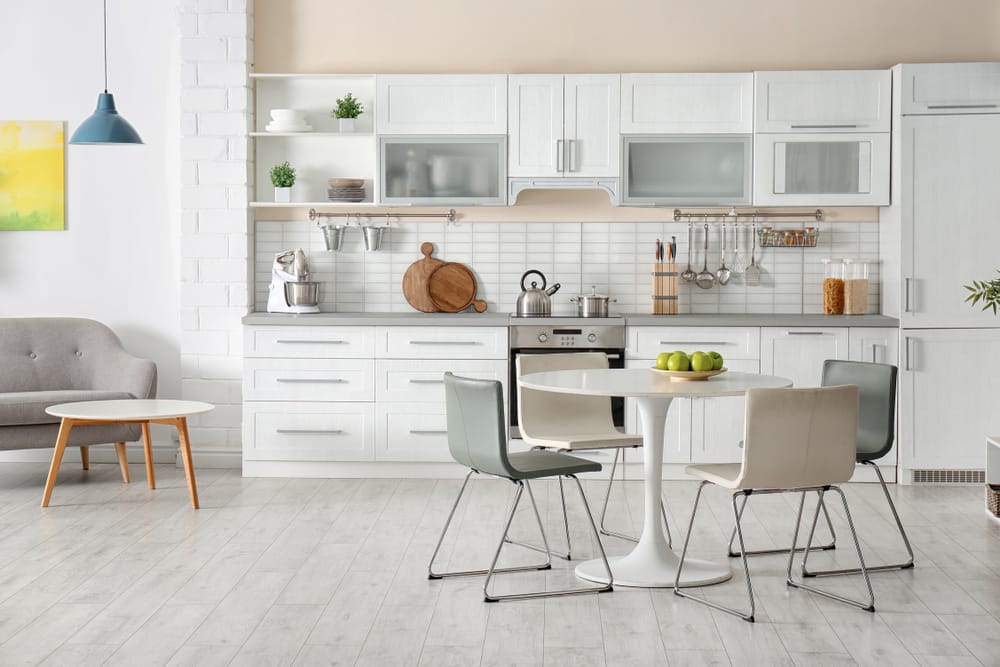 White-painted contemporary cabinets and open shelves offer ample storage options to this streamlined kitchen. Soft peach upper wall and blue pendant light infuse bursts of muted color.
Potted plants carry dimension to the area. Meanwhile, wooden table legs, cutting boards, and knife holder temper the coolness of metal pieces.
18. Mid Century Modern Kitchen Backsplash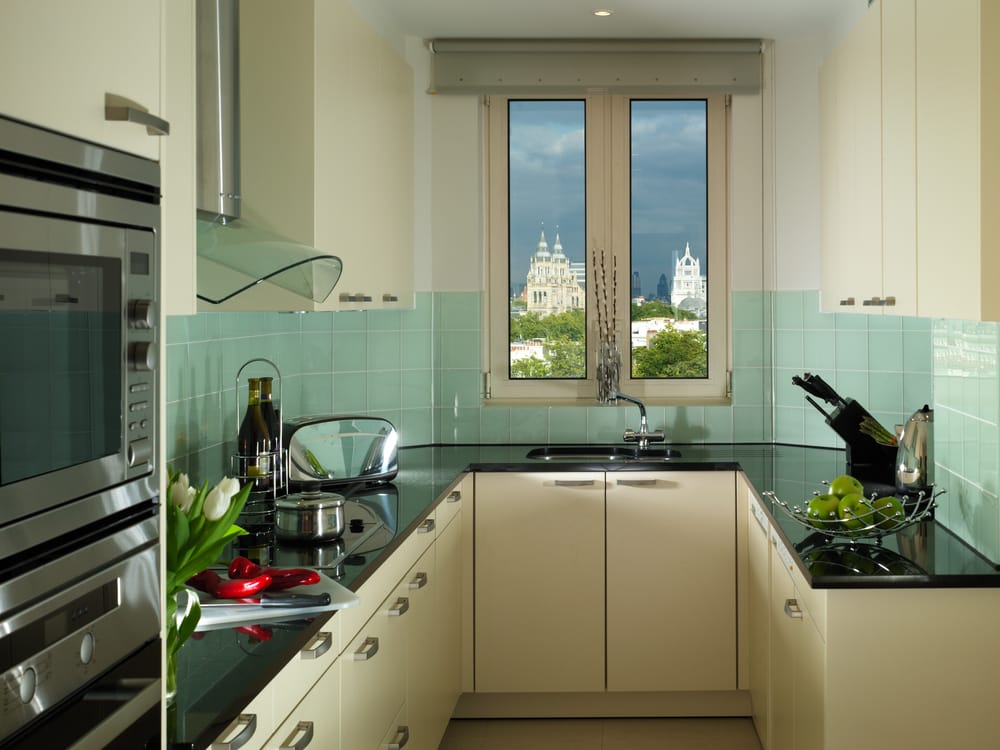 This kitchen is not spacious, but it looks charming, thanks to light pastel yellow cabinets. They also lend the area a dynamic touch.
The backsplash is clad in pastel green square tiles for a mid century modern chic. Glass windows flood the kitchen with sunlight.
19. Modern Kitchen Cabinets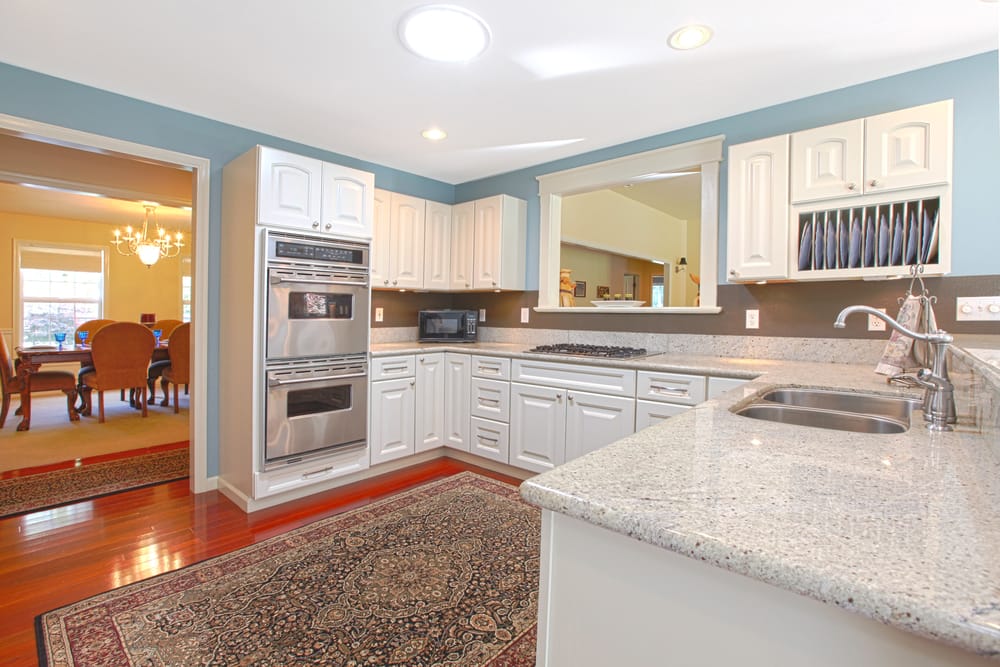 Above is modern kitchen with a traditional twist. Pristine white cabinets and light blue walls generate a fresh look.
Granite countertop enhances the room's beauty and elegance. A French country rug cements old world charm. Taupe backsplash and wooden floor preserve an intimate atmosphere.
20. Modern Kitchen Design 2018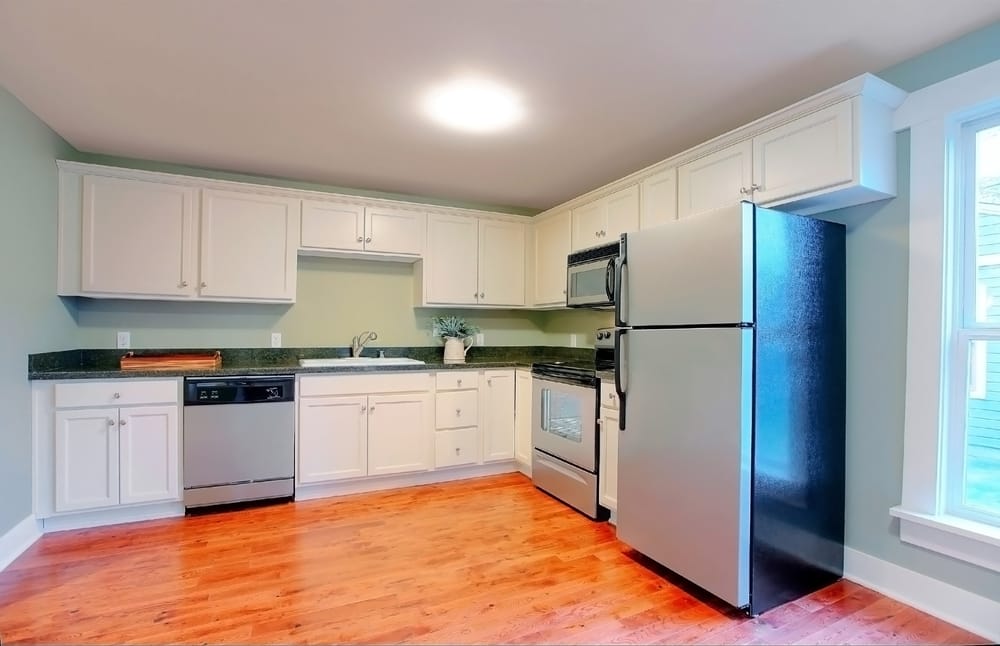 Duck egg blue walls and white ceiling impart a cottage feel. Meanwhile, white-painted cabinets stamp a mid-century modern flavor. Metallic knobs deliver pops of polish to the kitchen.
Wooden floor prevents the space from being bare. A flush mount ceiling light illuminates the entire area.
In essence, modern kitchen is about living an organized life without sacrificing the aesthetic value and your personal taste. So, are you ready to inject a stunning simplicity into your kitchen?