Firstly, it is paramount to know why your kitchen must be tiled. Not only do the tiles make the kitchen cleanup easier, but also provide extra safety. Moreover, kitchen tile adds beauty and functionality.
You would like to install tiles in your cooking area. However, you have no clue. Worry not. I'm sharing some outstanding tile ideas to help you get inspired. They widely range from modern to industrial. Check these out!
1. Best Stone Tile for Kitchen Floor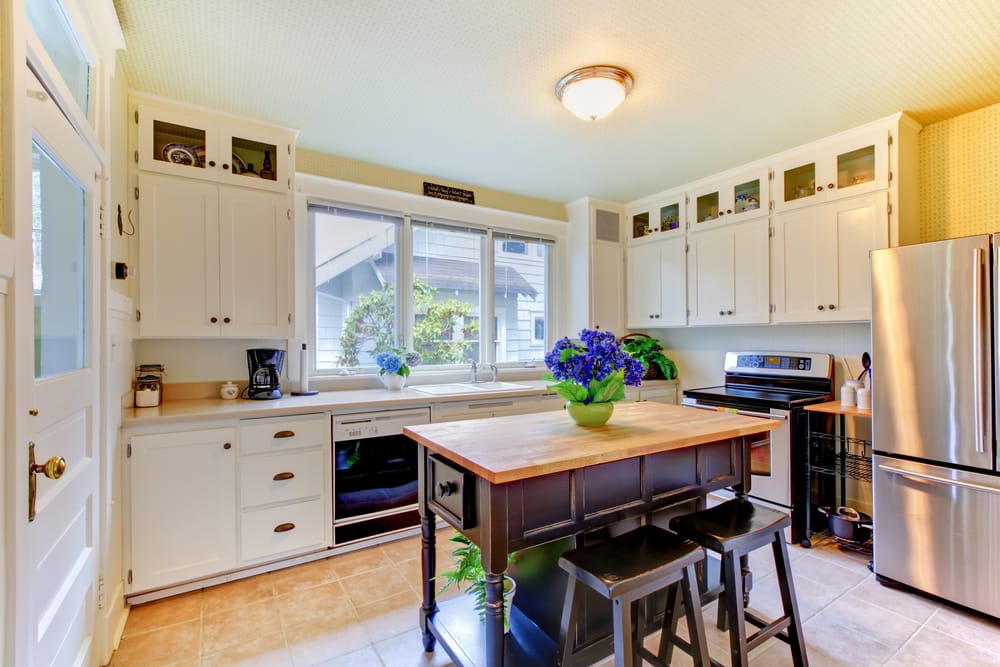 This kitchen boasts travertine floor tiles. Their muted earth tones exude an air of elegance and sophistication. Plus, they give the room enduring appeal and go nicely with the contemporary decor.
White cabinets and bead-board ceiling enlarge the area. Fresh blue flowers instantly titivate the space.
2. Kitchen Backsplash Ideas 2018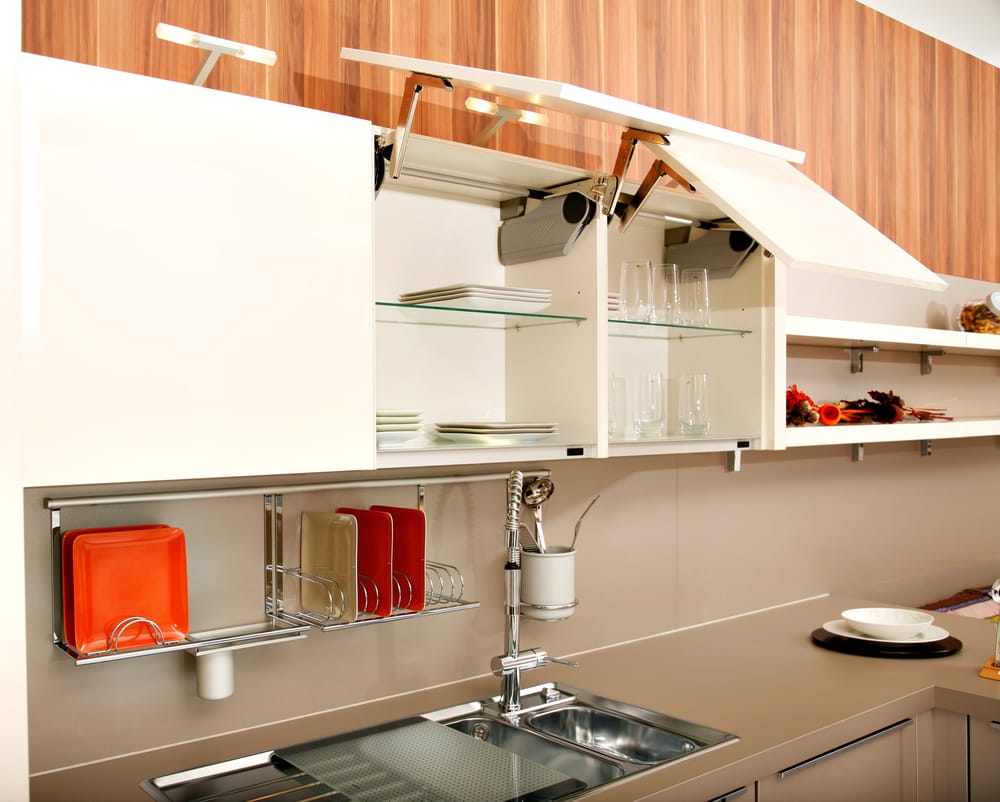 Mocha countertop, lower cabinetry, and backsplash produce a relaxing atmosphere. Meanwhile, white open shelves and cabinets lighten up the room.
The walls are covered in striking wood-look tiles. They are low-maintenance and withstand moisture. Not to mention, they warm up the entire area.
3. Wood Grain Porcelain Tile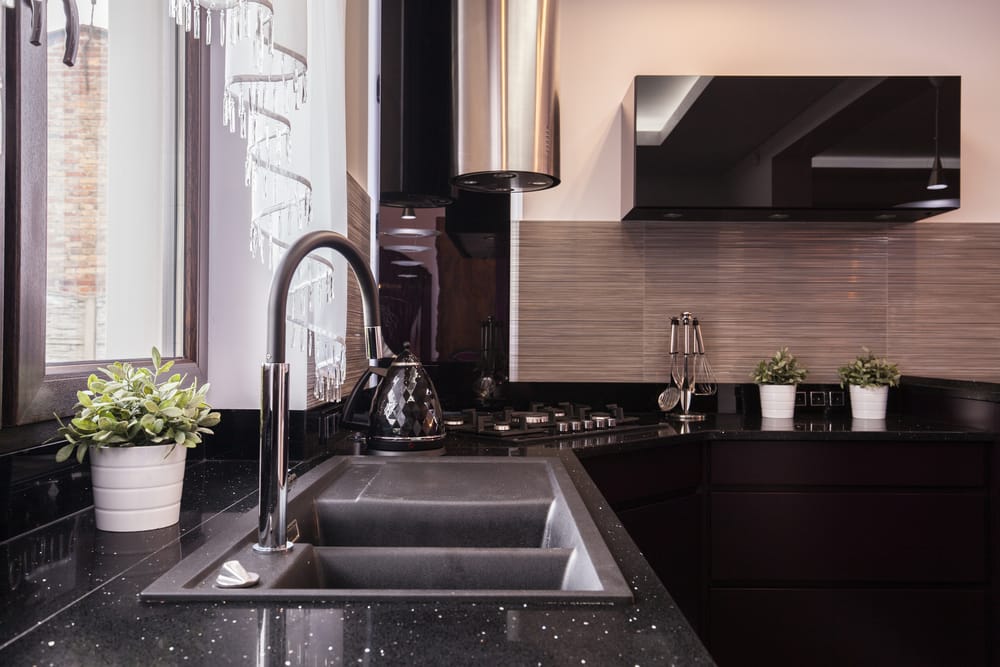 As you can see, tan porcelain tiles on backsplash lend the space wood grain look and smooth texture. They also look stand out compared to the rest of the room.
Sleek black cabinets and granite countertop create the perception of depth. Houseplants keep the area from becoming lifeless.
4. Kitchen Backsplash Ideas 2019

Well-defined lines and sharp edges undoubtedly scream a modern design. White and beige generate calm, inviting ambience.
Underfoot are beige matt porcelain floor tiles. They coordinate perfectly with wooden cabinetry and dining table. Lastly, indoor plants enliven the zone.
5. Kitchen Tiles Design Pictures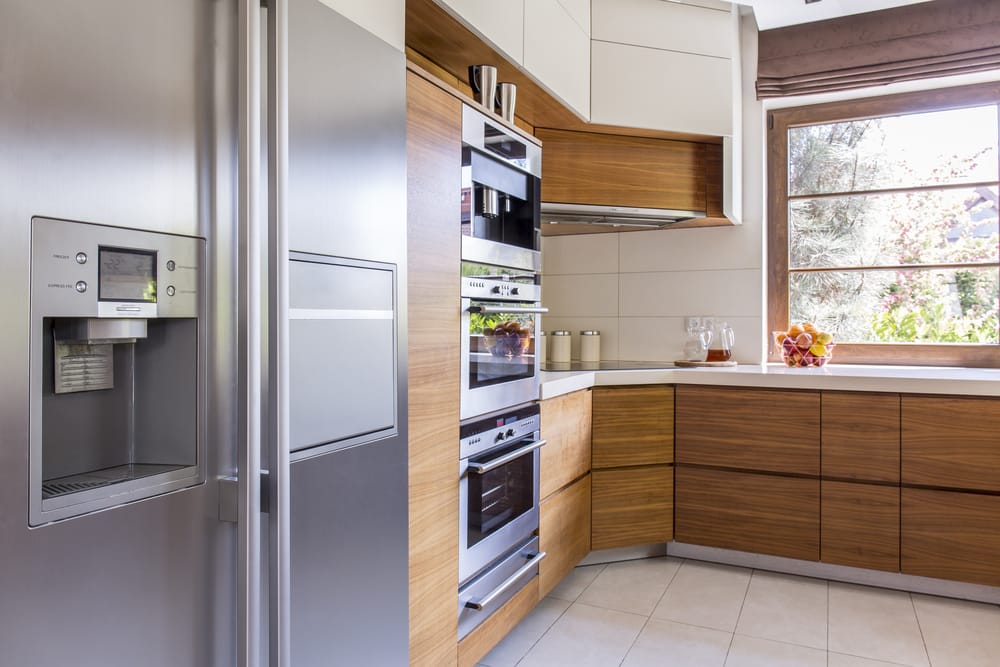 Do you want to style your kitchen? Lay white subway backsplash tiles horizontally. Then, install white ceramic floor tiles. They truly open up the space.
The window lets the natural light enter the cooking area. Textured wood cabinets catch the attention in a split second.
6. Farmhouse Tiles Kitchen
Here, the gleaming terracotta floor tiles come in rich brown shade. They offer intimate vibes to the farmhouse kitchen. Exposed brick accent wall adds color, rough texture, and rustic charm to the indoor space.
An antique metallic stove elicits a sense of heritage. Pink backsplash rivals black appliance and pipe. It delivers a feminine touch as well.
7. Modern Kitchen Tiles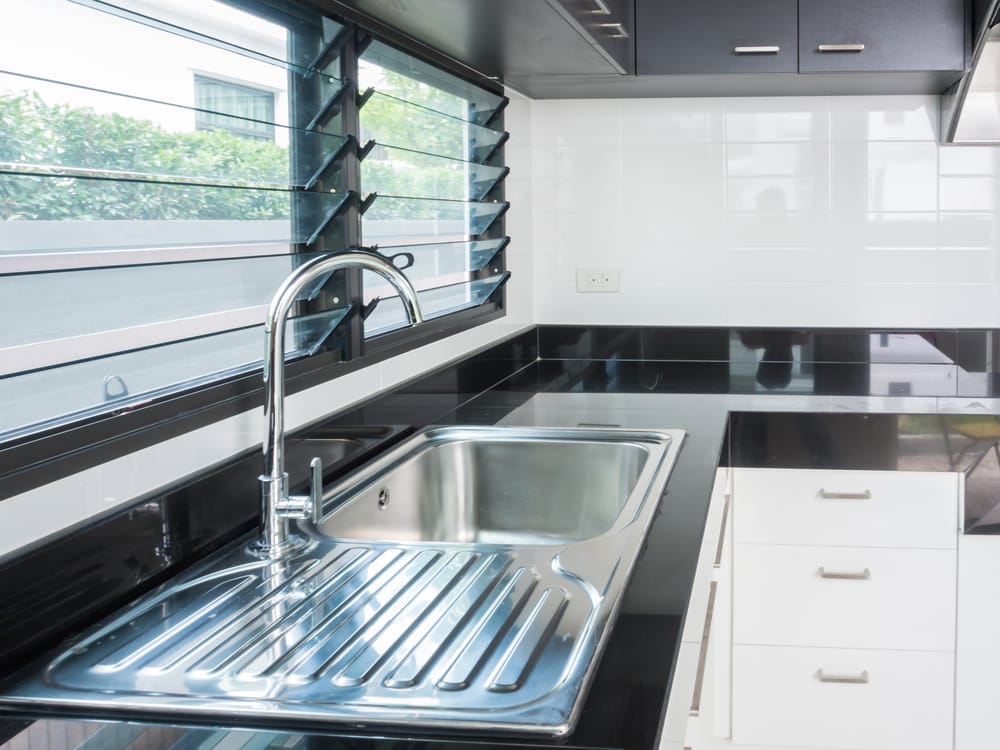 This culinary space is super stylish. It has shiny subway tiles in stack bond pattern as a backsplash. They contrast fabulously with dark gray upper cabinets and black countertop.
Windows bring plenty of sunlight into the area. Stainless-steel faucet, under-mount sink, and drawer pulls bounce the light back into the room.
8. Kitchen Tile Backsplash Ideas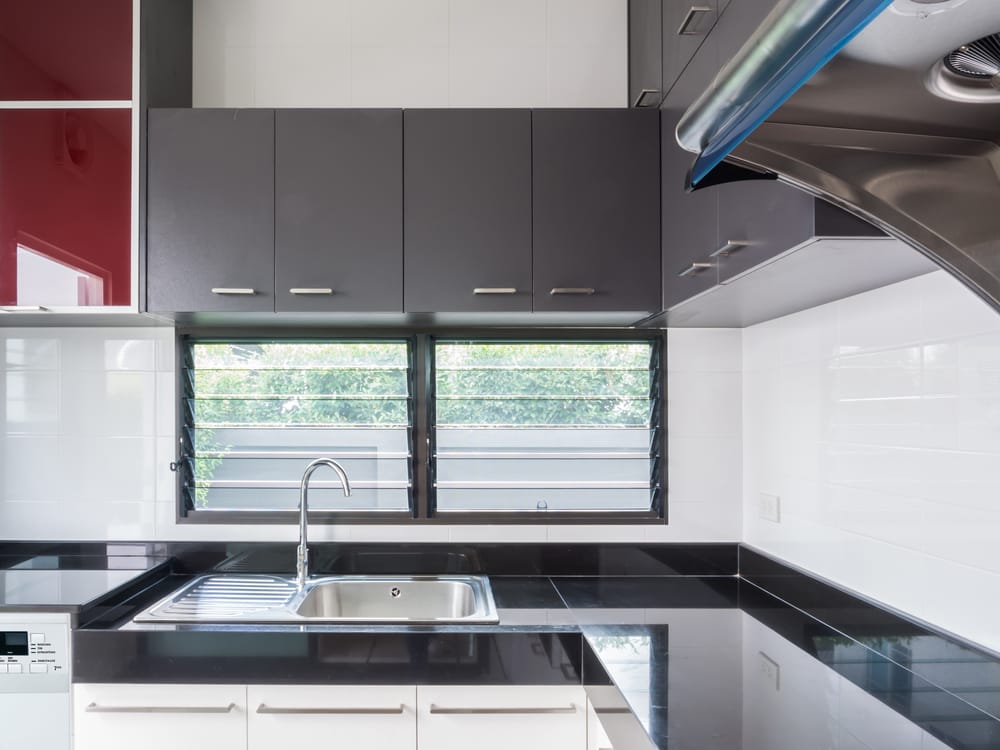 Black and white never goes out of trend. That's why I recommend you to go monochrome. For kitchen backsplash, look no further than white polished subway tiles.
You can also pair the backsplash with black countertop and deep gray cabinetry. Gleaming red cabinets energize the space.
9. Latest Kitchen Tiles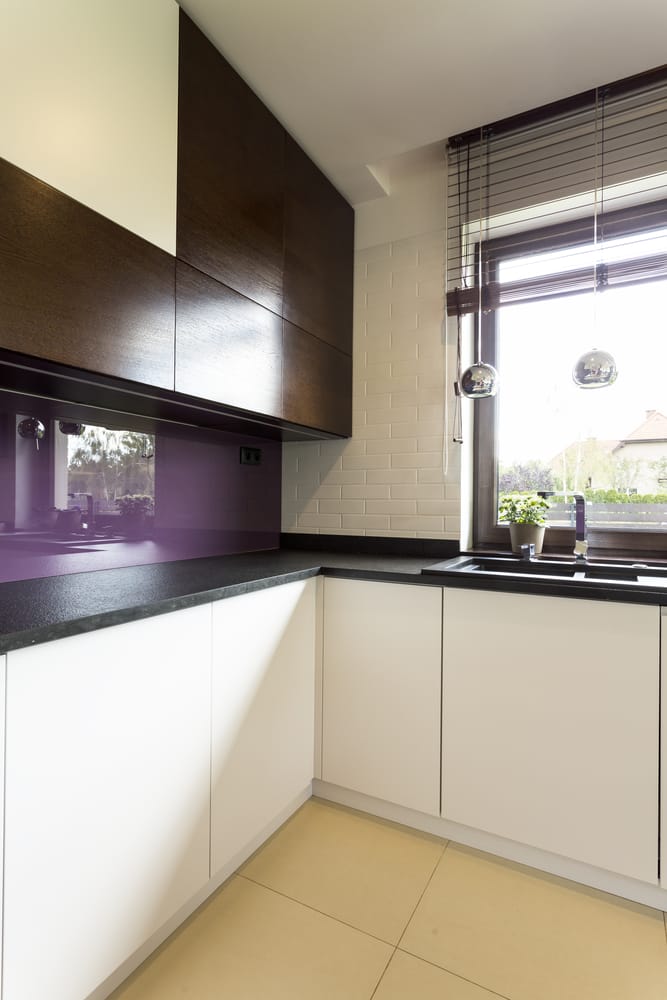 Raised white cabinets introduce an airy setting. Hardware-free dark wood cabinets take the chill off metallic pendant lights.
Cream matt porcelain floor tiles quiet down the room. The wall is clad in white subway tiles in running bond pattern. Purple backsplash brings the regal feel to the cooking area.
10. Kitchen Backsplash Ideas with White Cabinets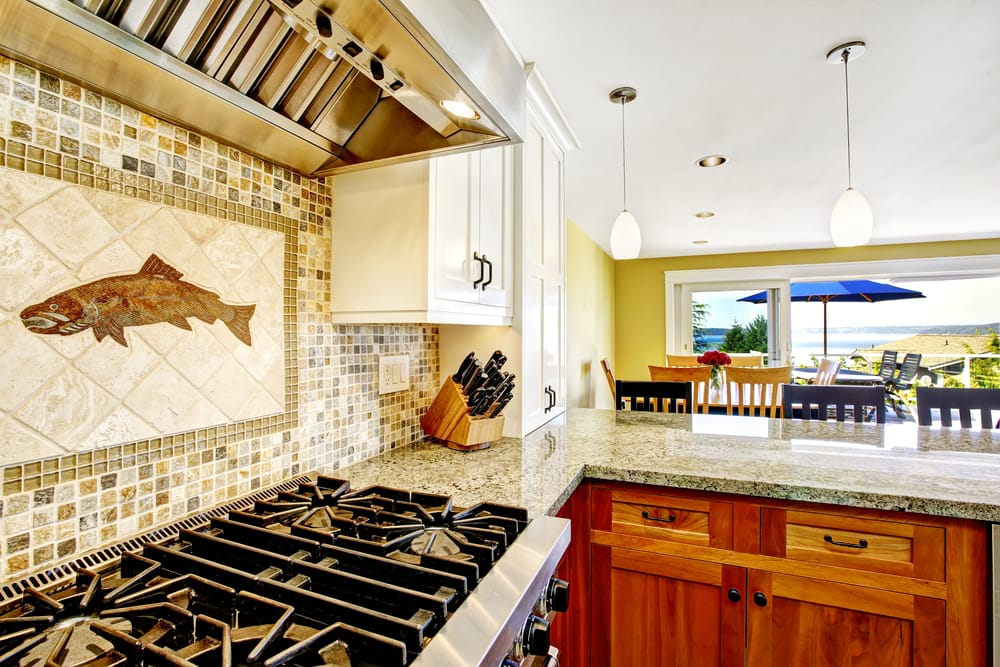 Here, I have a contemporary kitchen featuring an impressive fossilized fish backsplash. It is surrounded by brown mosaic and mini square tumbled marble tiles.
White upper cabinets and ceiling make the kitchen feel more spacious. Meanwhile, the warmth of wood lower cabinetry balances out the stainless steel range hood's coldness.
11. Kitchen Tiles Texture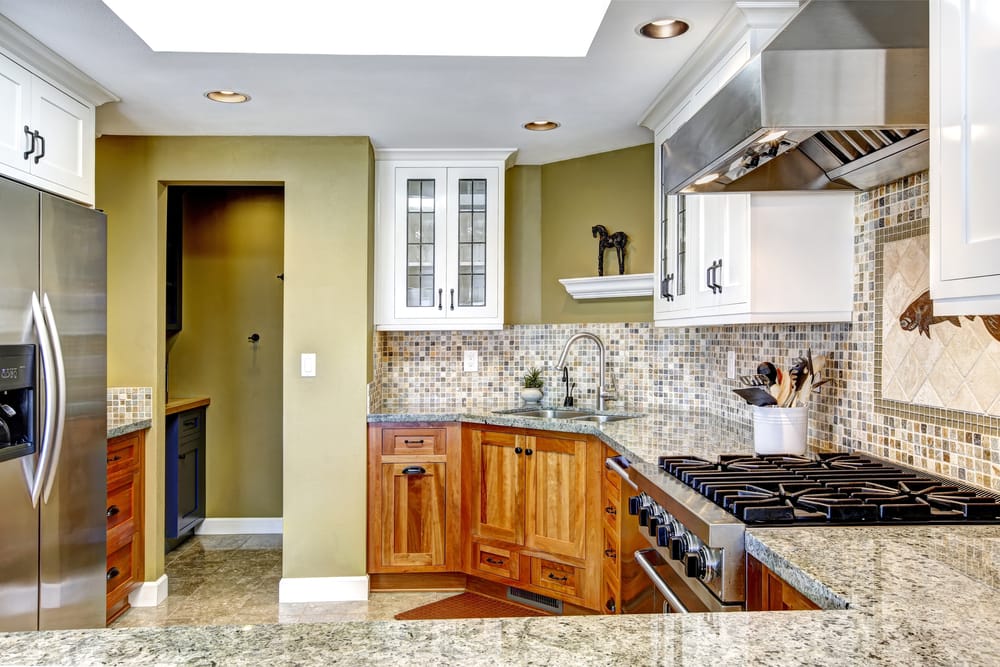 This culinary space employs an attractive backsplash made up of diagonal cut, fish and earth-toned mosaic tiles. They don't clash with granite countertop at all.
White shelf and cabinets against olive wall generate a crisp look. Brown marble floor tiles reveal timeless elegance and unmatched sophistication.
12. Kitchen Wall Tiles Design Ideas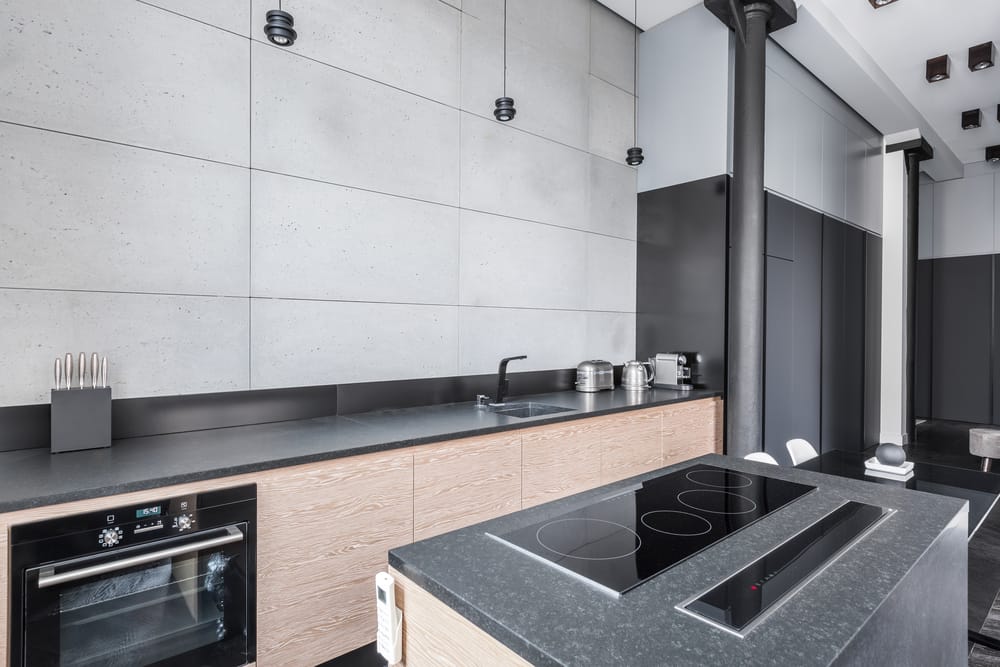 Well, this cooking area is so great to move in. Polished concrete tiles cover floor-to-ceiling backsplash. They lead to a stylish industrial interior space.
Black concrete countertop and worktop give the kitchen dimension. Unfinished wood cabinetry and island provide some rawness.
13. Kitchen Backsplash Pictures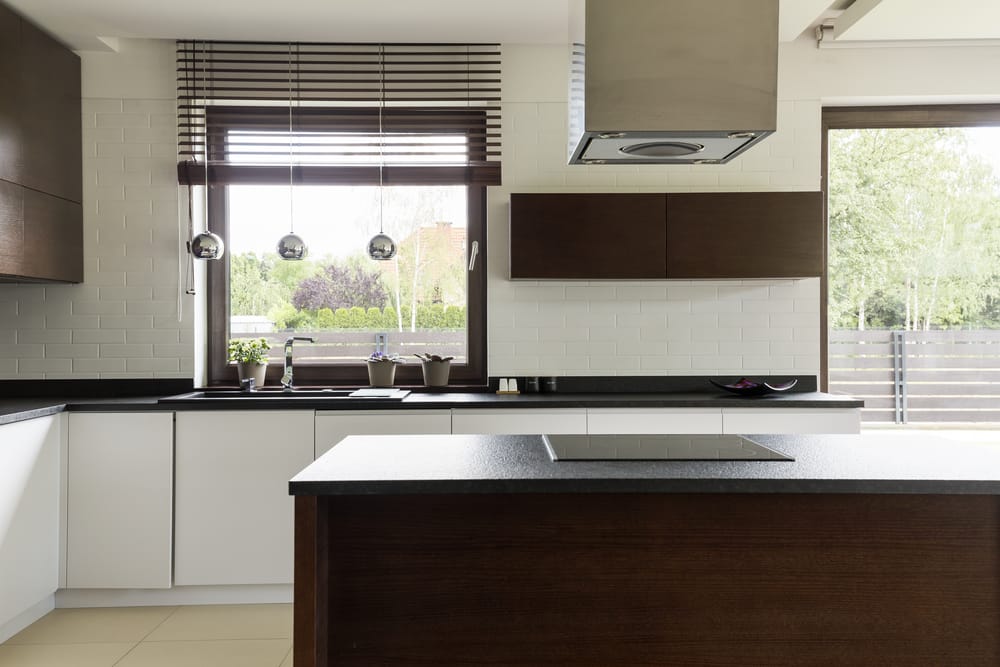 I really love the high contrast between sleek white cabinets and black concrete countertop. The windows allow the daylight to shine through.
White subway backsplash tiles are laid in running bond pattern. Cream porcelain floor tiles promote a serene atmosphere, while dark wood cabinets infuse an aura of classiness.
14. Kitchen Tile Ideas Floor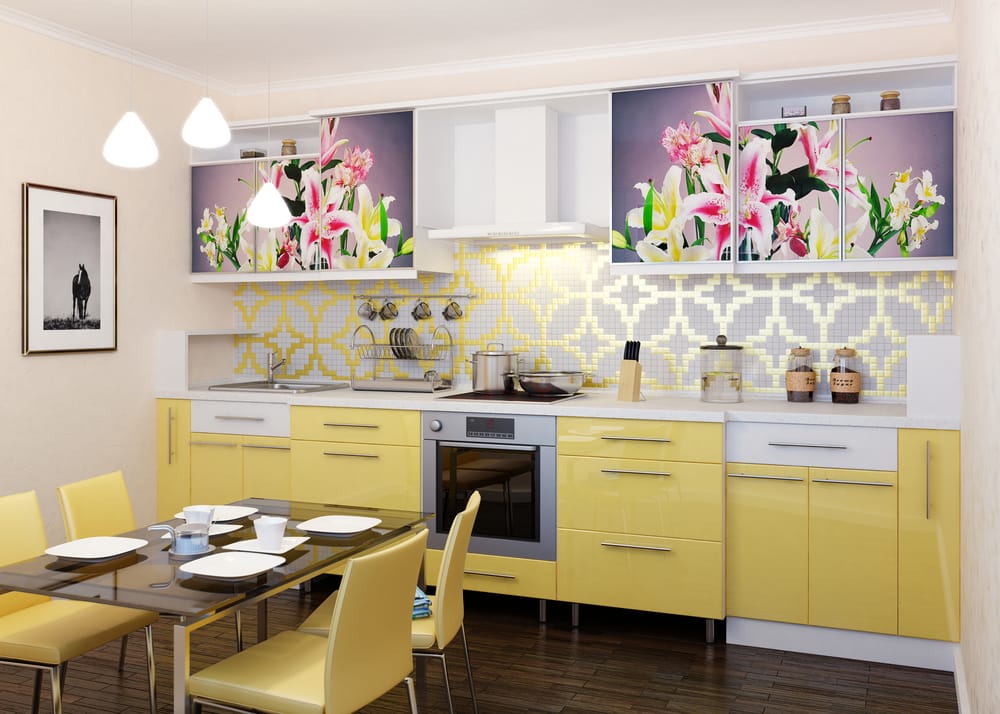 Neutral space scheme lets the bold units sing out. Stunning floral cabinets add a girly feel. Canary yellow lower cabinets and dining chairs exhibit a cheery atmosphere.
Wood-like floor tiles radiate warmth. Meanwhile, glass and golden mosaic tiles make for a lovely pattern.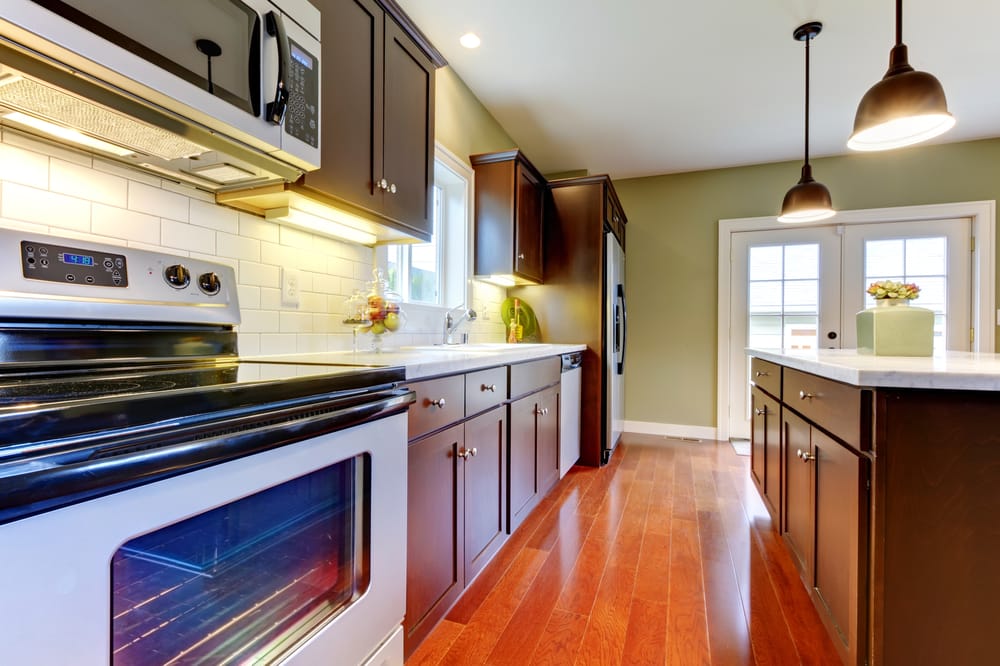 White concrete subway backsplash tiles are such a classic take on modern design. They wonderfully contrast with deep brown cabinets.
Moss green in this kitchen acts as a rich neutral. Cinnamon wood-effect floor tiles lend the space shine and elegance.
16. Traditional Kitchen Floor Tiles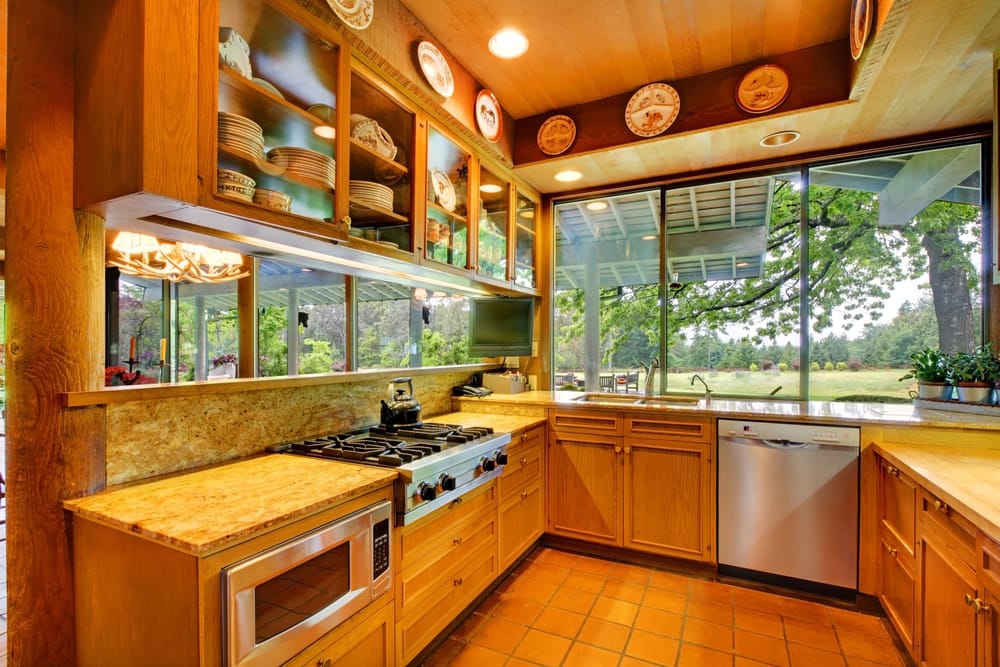 This kitchenette is so warm, thanks to terracotta tiles on a floor. Plus, they are the epitome of French country chic.
Wood countertop and ceiling develop a rustic edge. Glass-faced cabinets display a set of vintage dishes. Large windows allow you to enjoy the outdoors from inside.
17. Porcelain Kitchen Tile

In this cooking area, you can spot built in oven, white cabinets, and wooden pantry shelves. An oversized window provides a great distribution of sunlight.
Polished subway backsplash tiles contribute to kitchen's contemporary feel. Glossy lacquered porcelain floor tiles exhibit a glamorous air. Potted greenery imbues the room with life.
18. Small Kitchen Backsplash Tile Size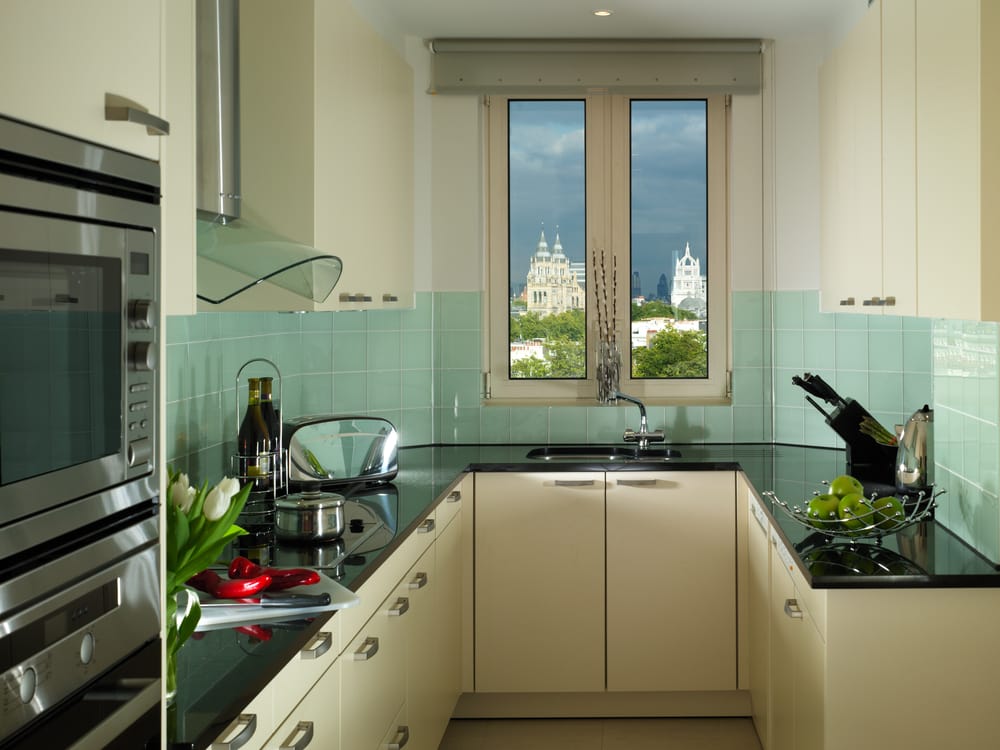 Short on space? Steal this idea. Cream cabinets and white ceiling generate a tranquil setting. They complement black countertop and metallic appliances.
Sage green square glass subway tiles on backsplash and black decorative pieces add pops of colors. Windows create a visual connection with the outdoors.
19. Large Concrete Floor Tiles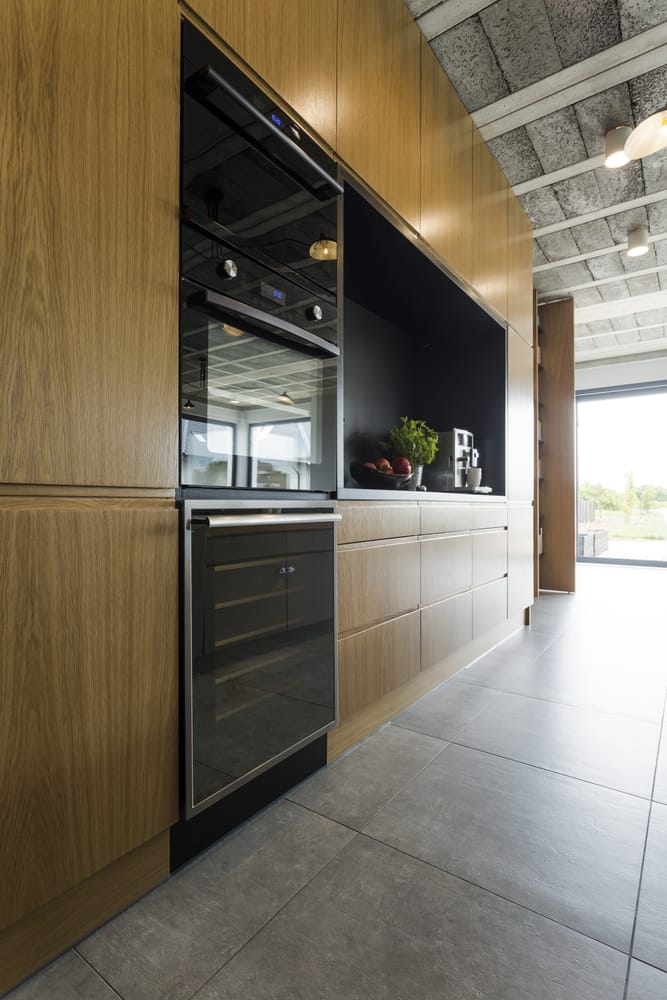 The dweller matched her sleek wood cabinets with black household appliances. Lots of natural light pass through the floor-to-ceiling windows.
Refined concrete floor tiles set an ultra-modern kitchen with an industrial twist. Ceiling light fixtures illuminate the space after dark.
When choosing the kitchen tile material and color, you have to consider the furniture units as well as environment. By doing so, I believe the heart of your home will impress everyone.