Many people think of attics as awkward spaces. Furthermore, attic rooms with low ceilings are surely hard to furnish. Luckily, this page has had low ceiling small attic room ideas to copy.
Furthermore, with extra care, attic rooms can appear more welcoming and larger.
However, decorating an attic can be a very tricky job due to its slanted ceilings. To convert it into a homey and stylish interior, you need to pick the perfect setup.
Moreover, these brilliant and space-saving ideas will help homeowners make the most of their otherwise neglected attics.
Here are the top picks.
1. Very Small Attic Bedroom Ideas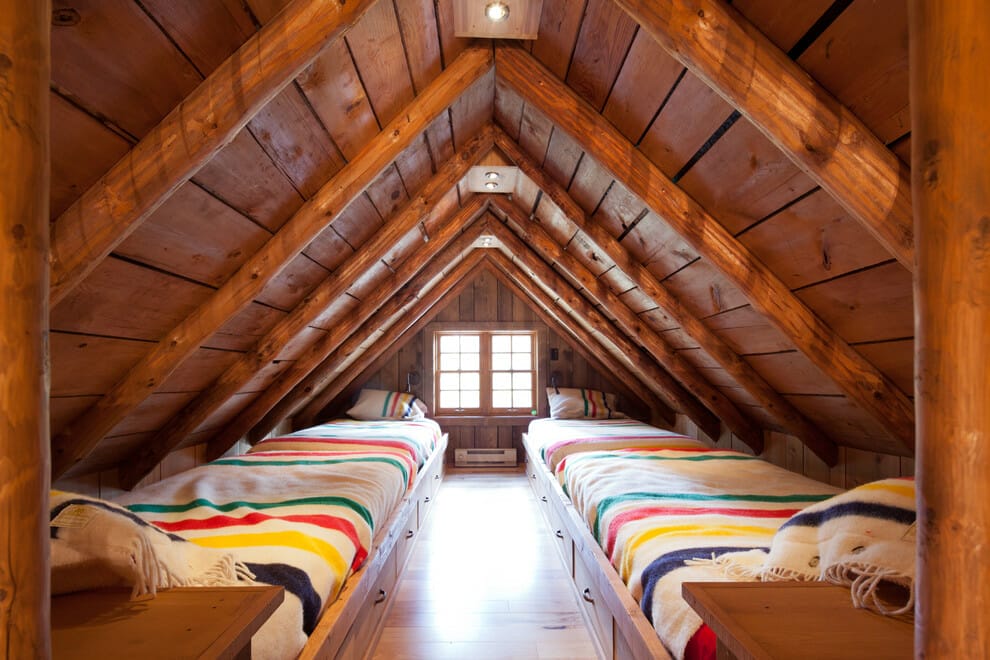 Speaking of low ceiling small attic room ideas, you can turn an attic into an inviting sleeping area. Likewise, this tiny attic bedroom can accommodate 4 tween kids.
Moreover, wooden planks and log beams epitomize coziness.
Raw wood beds boast pull-out drawers underneath. In addition, tween kids can use them to stash away their toys, books, and clothes.
Meanwhile, circular overhead lights illuminate this attic bedroom for tweens at night. The daylight enters through the windows, while colorful stripes convey cheerfulness.
2. Low Ceiling Small Attic Room Ideas with Stripes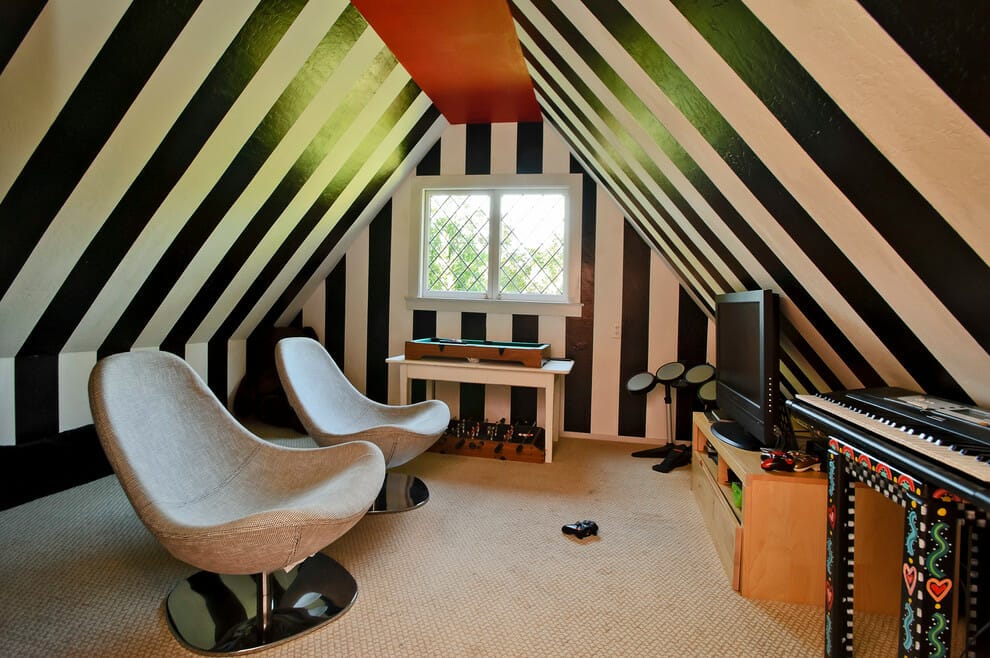 Need very small attic ideas? Just emulate this attic game room. Because of the diagonal window, the interior does not feel dingy.
Thick white and black stripes lend the small attic game room a fun atmosphere. Meanwhile, the orangish-brown ceiling carves a comfortable look.
Besides, the blonde wood media console, textured rug, and contemporary gray chairs open up the pocket-sized game room.
Also, there is a striking keyboard stand that adds visual appeal.
3. Small Attic Study Room Ideas for Teen Girls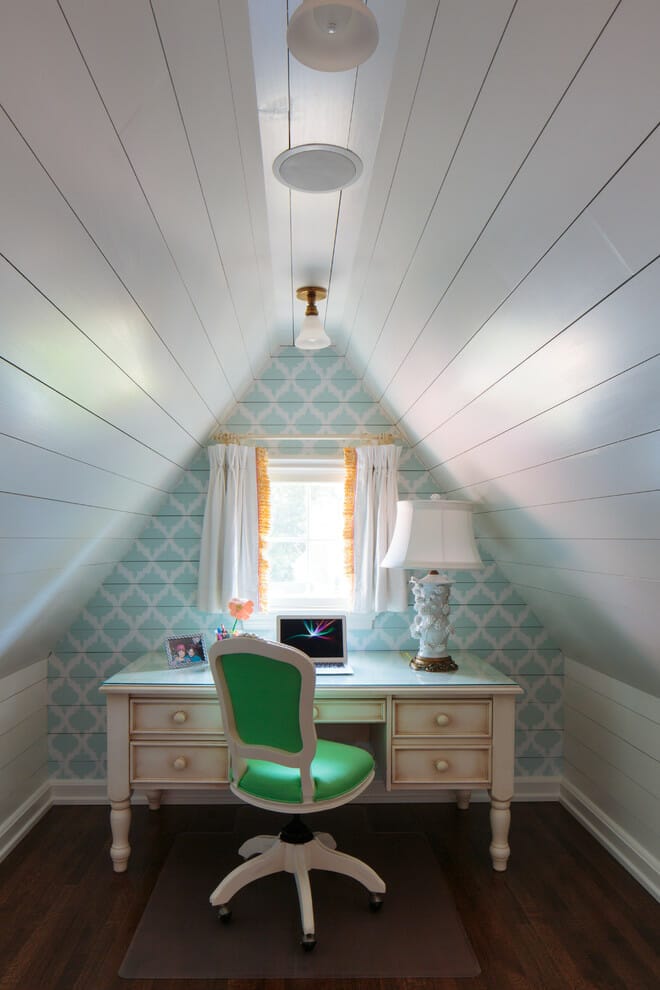 This elegant study room is admirable. The homeowner positioned the study desk close to the window for maximum daylight.
Furthermore, thanks to the whimsical desk lamp and mismatched overhead lights, they brighten the space during the nighttime.
To optimize the attic room ceiling height, use bright white paint. Since it helps reflect light, it provides a sense of spaciousness.
The white shiplap paneling makes the study room instantly feel lighter, too.
Additionally, the vintage white desk calls attention to the gorgeous accent wall and short curtains.
Hardwood flooring epitomizes warmth, whereas the kelly green desk chair and framed photo round out the study room nicely.
4. Attic Vintage Bedroom with Low Ceilings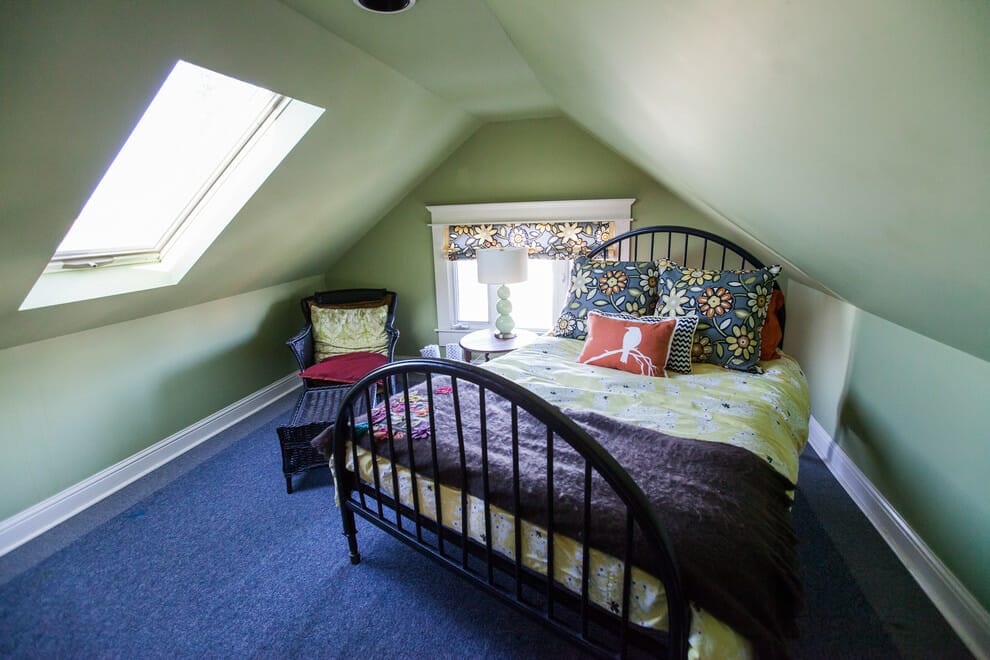 Low ceiling attic ideas offer endless inspiration. For instance, this vintage bedroom features floral pillows that completely match the nearby patterned blind.
The rug, dark gray blanket, and mismatched accent pillows generate a layered, cozy look in an instant. Additionally, the black bed frame, wicker armchair, and footstool bring drama.
Thanks to muted green and light gray paint colors, they make the tiny attic sleeping area tranquil. Meanwhile, the skylight and small window provide natural lighting.
This space is incredible since it lets you enjoy a book, sleep, and lounge around.
5. Low Ceiling Small Attic Room Ideas with Yellow Tiles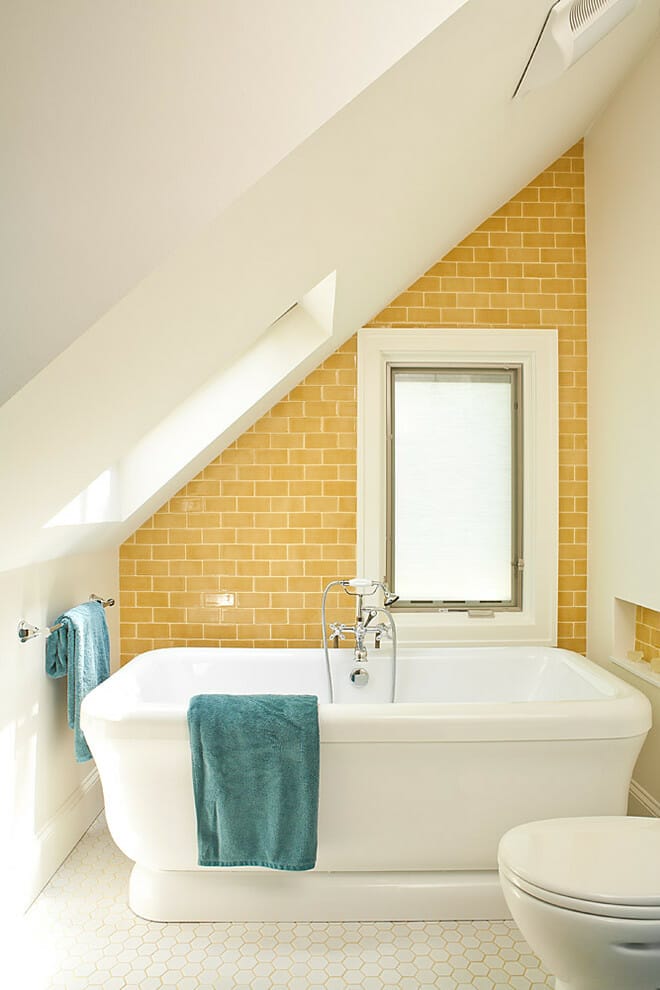 If low ceiling small attic room ideas wow you, try creating a bathroom. This space is confined but charming and cozy.
The skylight effortlessly boosts the attic's aesthetic appeal. It also brings a large proportion of daylight.
Besides, the window adjacent to the bathtub adds more sunlight. Furthermore, mustard yellow tiles give this attic bathroom some cheer.
Blue towels evoke serenity, while white walls visually widen the attic bathroom. Lastly, white hexagonal tiles with yellow grouting embody visual cohesion.
6. Low Ceiling Small Attic Room Ideas for Kids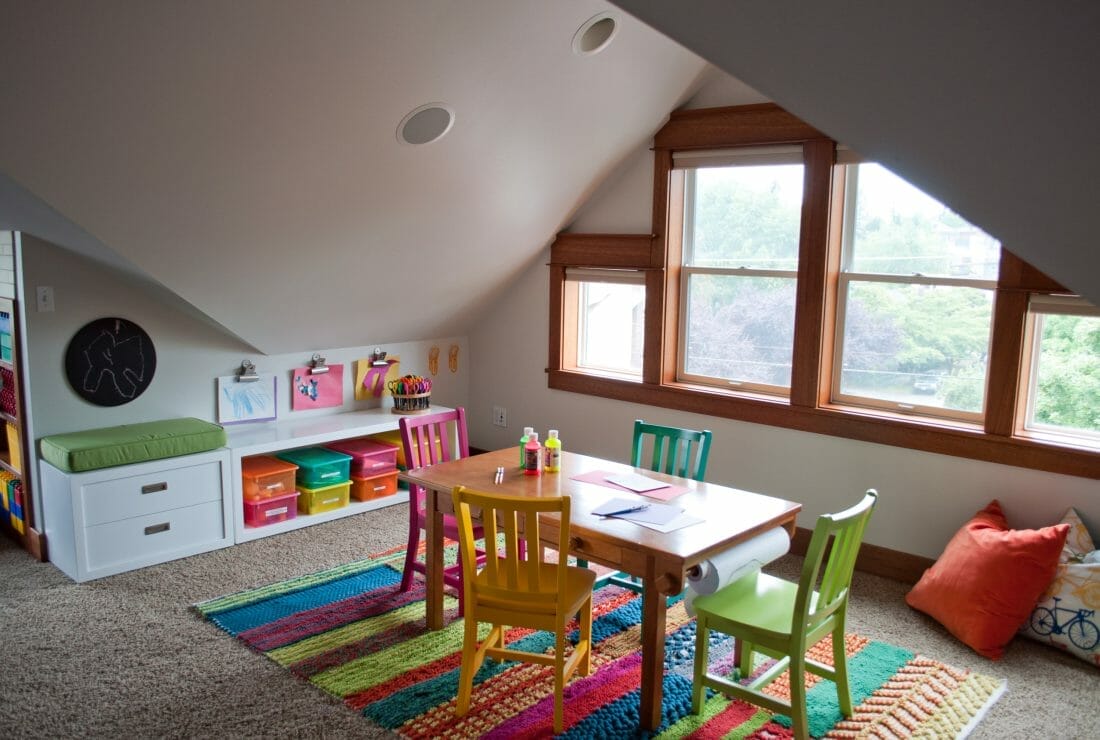 Here, homeowners cleverly deal with low ceilings in an attic playroom. They painted the slanted ceilings white to make them seem taller.
In addition, the wooden window frames create visual symmetry. Apart from imparting an inviting feel, they allow small kids to enjoy the surrounding views.
The gray carpet, colorful rug, and mismatched pillows improve the playroom's cozy factor.
Meanwhile, vibrant plastic storage boxes, drawing papers, art supplies, and kids' chairs represent playfulness.
7. Small Attic Sitting Room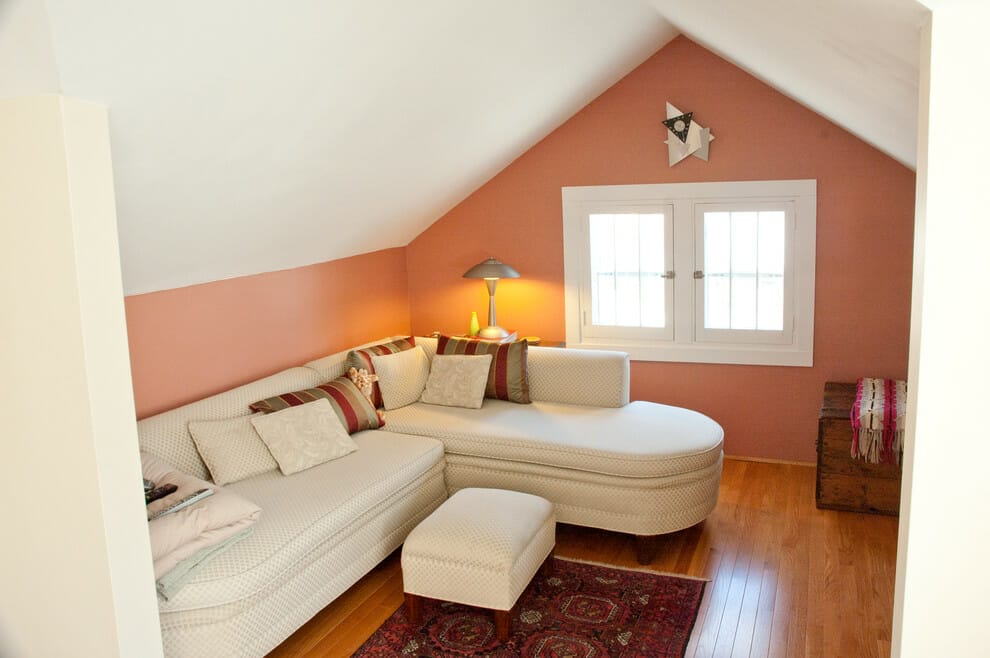 This tiny attic sitting area has white slanted ceilings. Due to them, the entire interior feels more spacious.
Meanwhile, the hardwood flooring and peach walls deliver a warm vibe.
The white-framed windows give the attic sitting room plenty of daylight. Furthermore, the contemporary couch and ottoman produce utmost comfort.
Accent pillows feature subtle patterns and multicolored stripes. They also complement the classic bold rug underneath the ottoman.
The gray lamp, antique trunk, and bright green vase complete the attic room.
8. Small Attic Closet with Reclaimed Wood Beams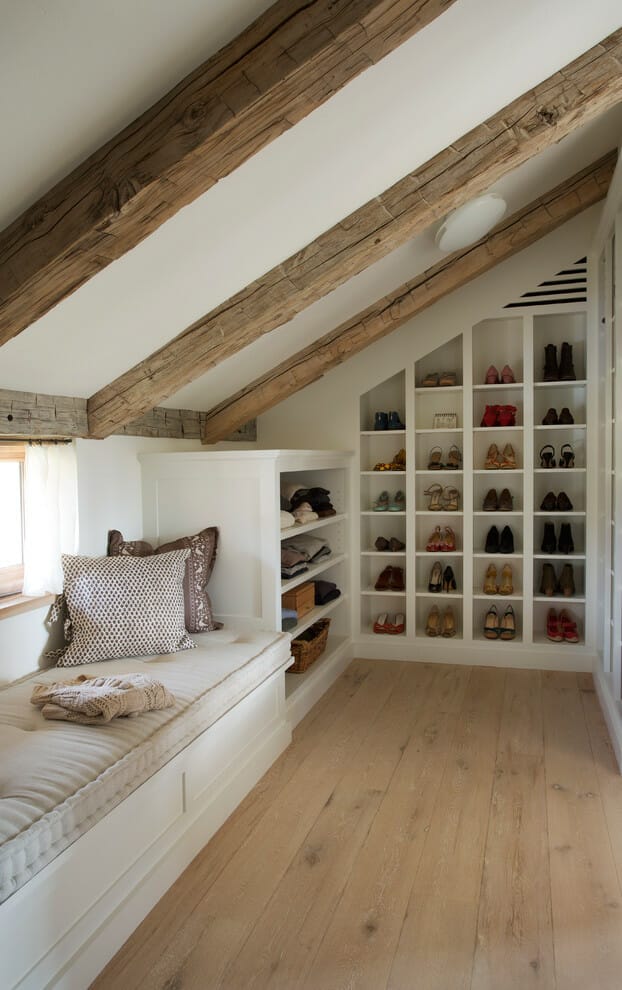 Speaking of low ceiling small attic room ideas for women, try transforming your unused attic into an elegant closet.
Here, shoe shelves make the most of the interior's low sloped ceiling. They keep the attic tidy, too.
Long, built-in shelves ensure folded clothes and storage boxes are within easy reach. Meanwhile, rustic wood beams provide warmth and plenty of personalities.
The light wood flooring retains the attic closet's airy feeling. Additionally, there is a window seat boasting a padded cushion and printed pillows.
9. Cozy Attic Hangout Space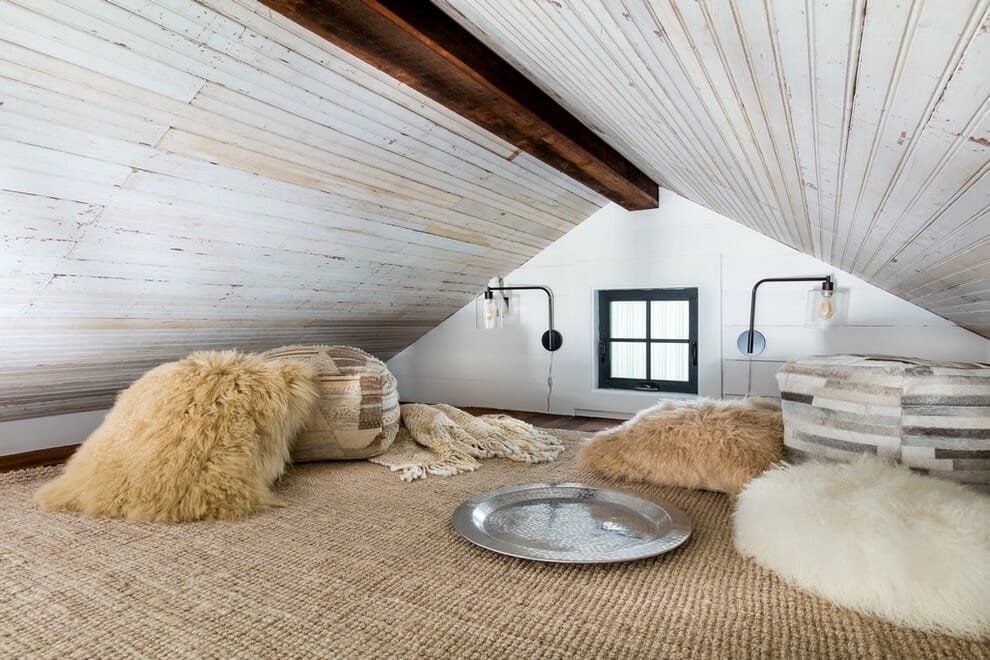 Searching for low ceiling loft ideas? You can turn a lusterless attic into an inviting hangout room.
The white distressed wood paneling lends sloped ceilings personality. They highlight the dark wood beam while carving a lived-in feel.
In addition, industrial wall lights match the black window frames. Also, they offer artificial lighting during the nighttime.
The boho blanket, woven rug, and plush beanbags keep the hangout space looking snuggly.
Furthermore, the round metal tray lets you serve drinks and snacks up.
10. Small Attic Playroom with a Bubble Chair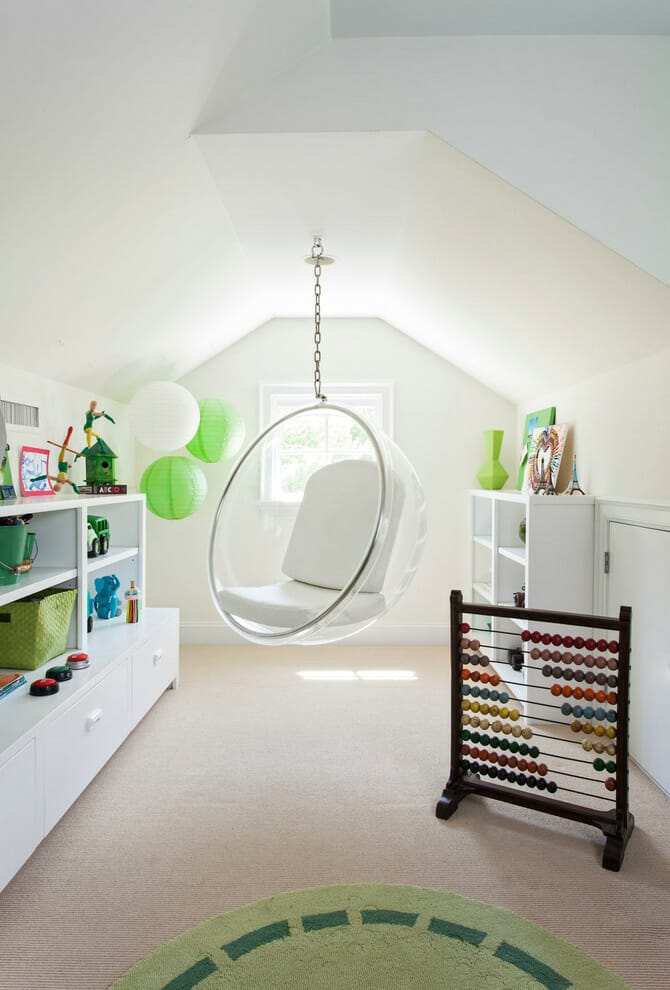 Low ceiling small attic room ideas for children are countless. For example, the white storage furniture, ceilings, and walls produce the illusion of more space.
The beige carpet lends the children's room a cozy atmosphere while making the space less bland. Also, it highlights the giant freestanding abacus and green round rug.
Besides, the bubble chair allows kids to take a nap, relax, or indulge in a book. Moreover, paper lantern lampshades and toys give the playroom a splendid look instantly.
11. Small Attic Guest Room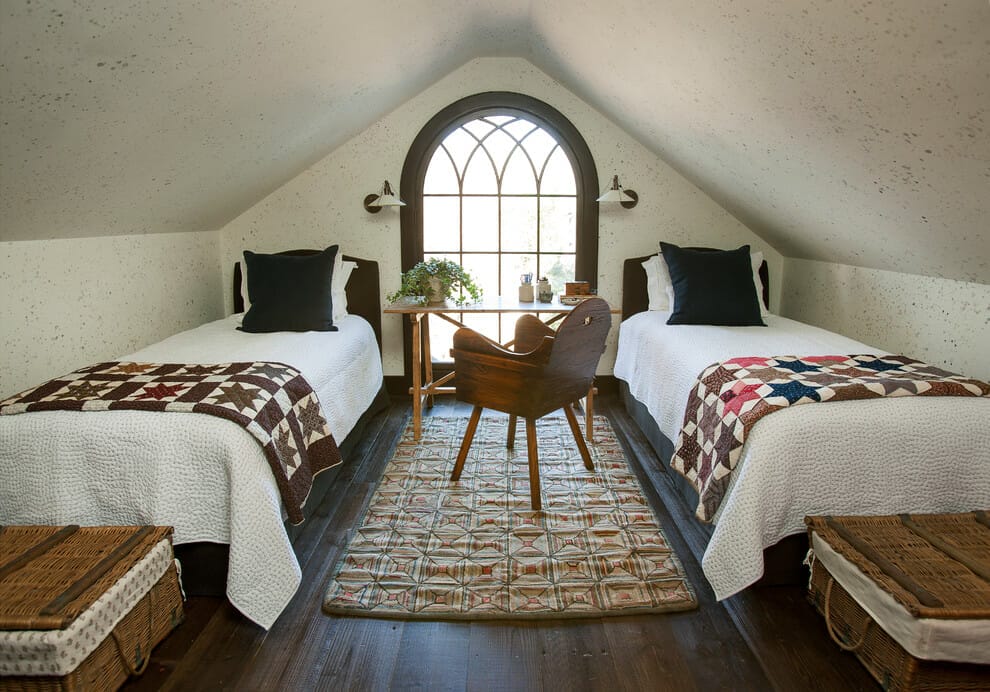 Undeniably, low ceiling small attic room ideas can spark your inspiration. This multifunctional attic room, for instance, lets you host two overnight guests.
The dark hardwood flooring lends the attic with terrazzo walls some depth. There's a minimalist workspace close to the classic arched window.
Large wicker storage baskets house the sleepover guests' belongings. Meanwhile, the retro rug and blankets showcase head-turning patterns.
12. Low Ceiling Small Attic Room Ideas with Daybeds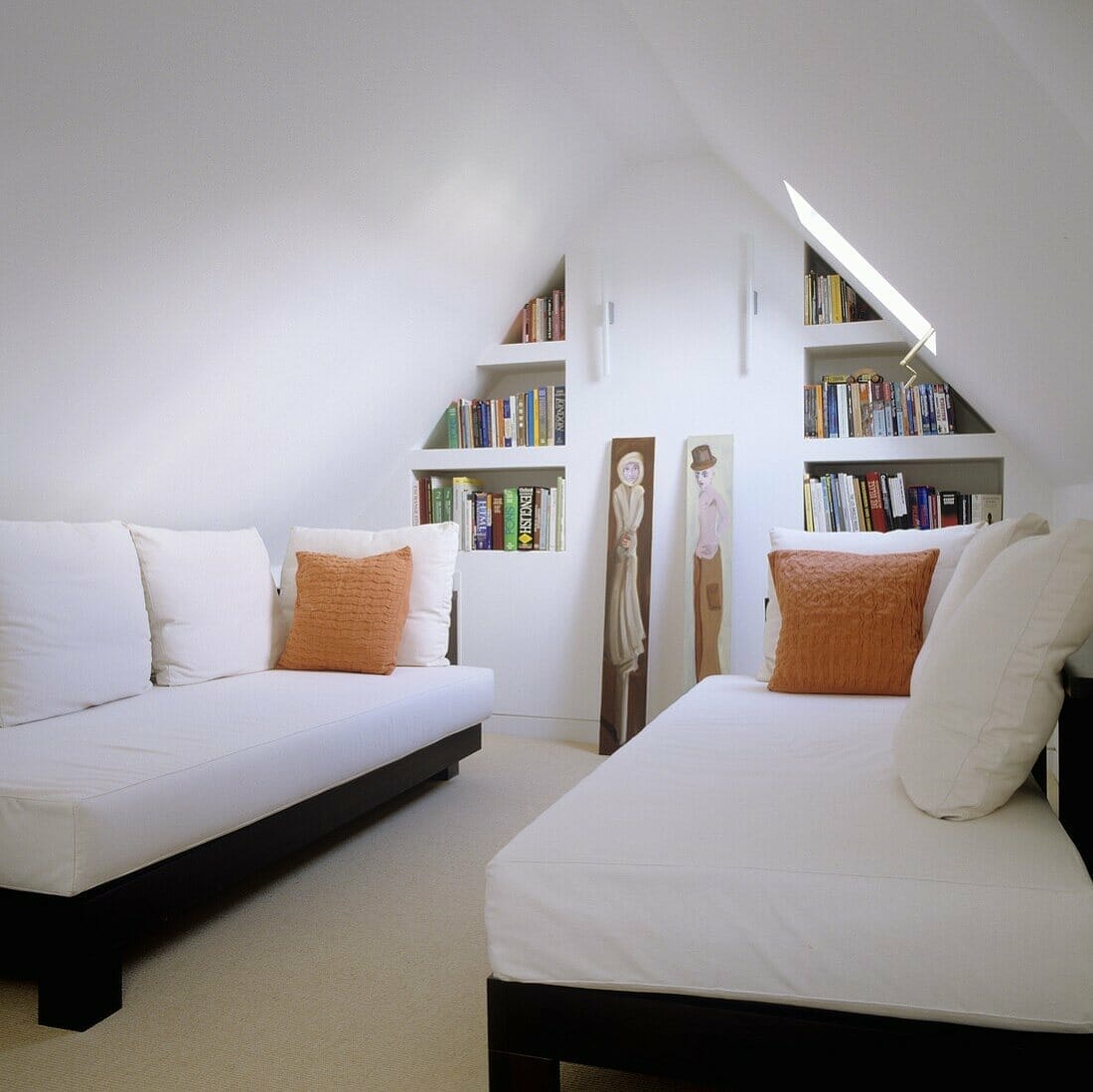 You can optimize your low loft ceiling height by applying this idea. The minimalist reading nook above belongs to a tiny attic.
It lets you reflect on your day or unwind with a book.
Not only does this attic reading nook feel light and airy, but also it looks cozy. Black daybeds and white cushions introduce some chic contrast.
Recessed shelves keep books of different genres organized. The white pitched roof and skylight open up the attic.
Further, skinny artworks and orange pillows round out the reading nook.
13. Multifunctional Low Ceiling Small Attic Room Ideas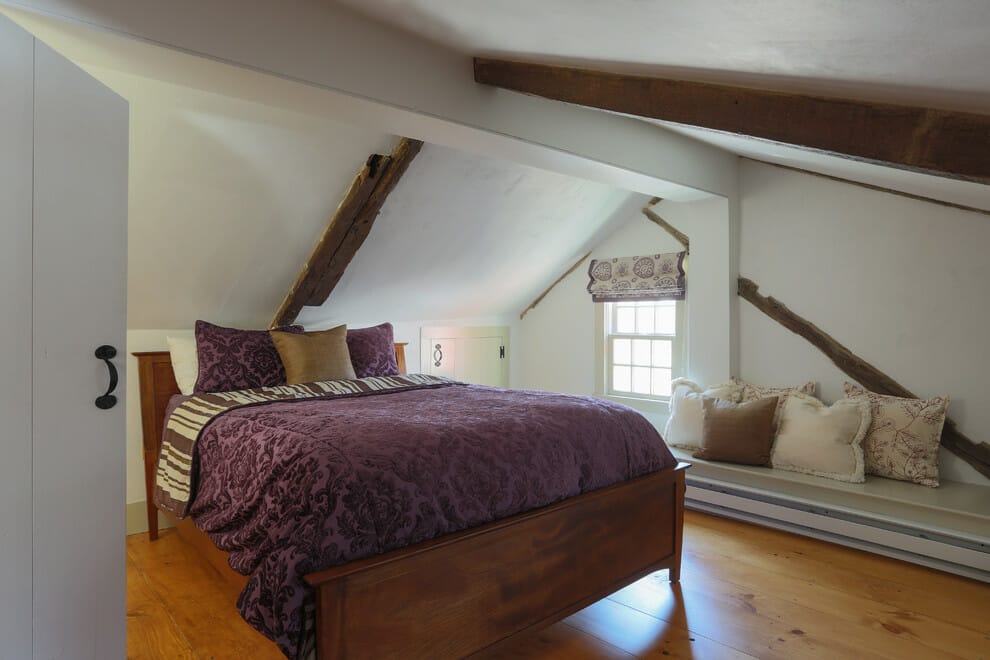 Here is another attic guest bedroom. Sloped ceilings and walls embrace the airiness of the crisp white paint while accentuating reclaimed wood accents.
Then, the wooden bed and hardwood floor let the plush purple bedding shine.
Moreover, the purple-printed blind and brown pillows unify the guest room. Lastly, the seat next to the window features multiple thick pillows.
14. Loft Study Room with Chalkboards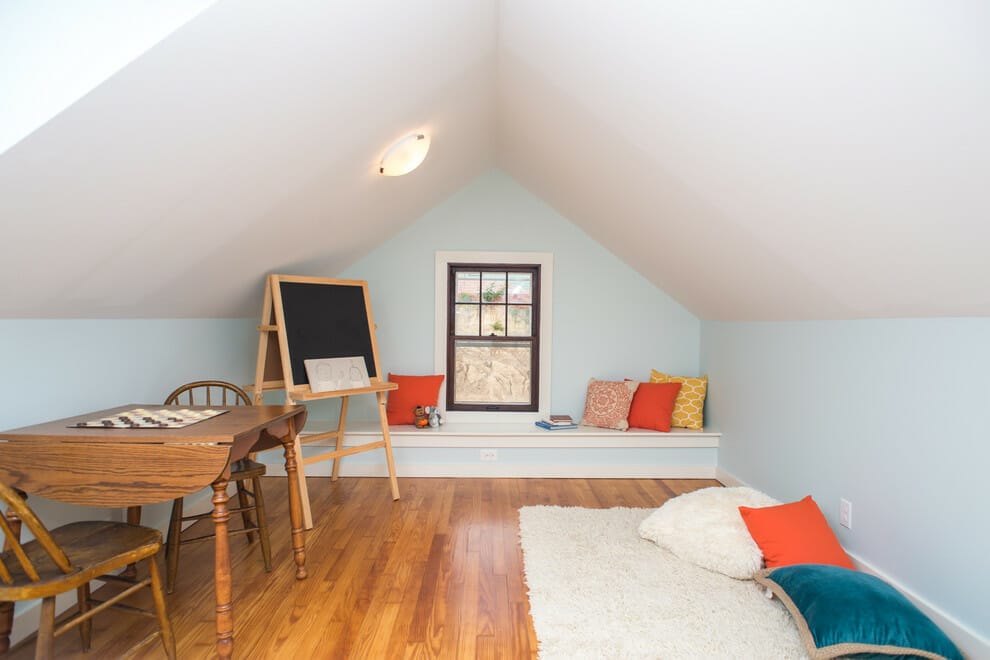 Need loft ceiling ideas? You can copy this tiny loft study room. Pure white slanted ceilings enlarge the space.
They go remarkably with adjacent light blue walls, too.
The space-saving wooden table, vintage chairs, and freestanding chalkboards blend pleasantly with the hardwood flooring.
Meanwhile, vivid accent pillows jazz up the furry rug and window seat.
15. Attic Shared Kids' Bedroom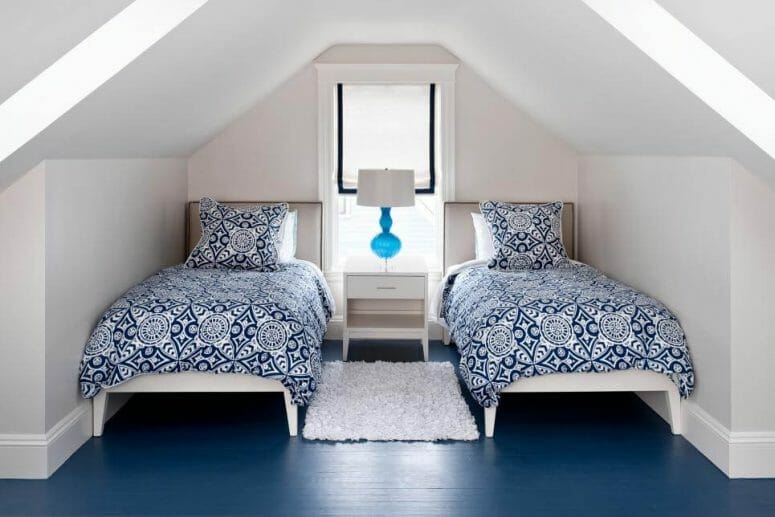 Treat your teen girls to this eye-catching attic bedroom. Moreover, it boasts dual white beds, blue-and-white patterned beddings, and gray headboards.
Although the bedroom does not lack sunlight, it still deserves white-painted ceilings. The navy flooring adds depth.
It draws attention to the white rug and side table, too.
16. Small Attic Boy's Nursery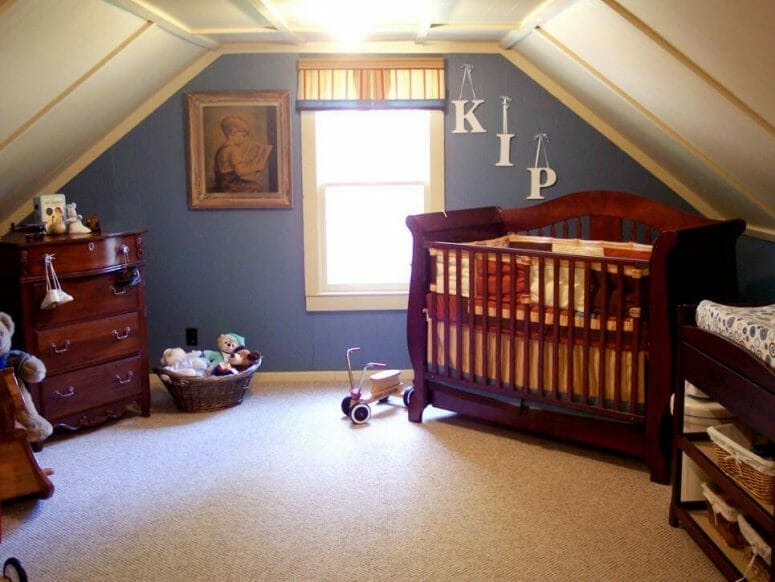 Drool over low ceiling small attic room ideas? Therefore, consider creating a dedicated boy's nursery in your otherwise unused attic. Here, it is quiet and cozy.
The baby changing table, wooden crib, and chest of drawers warm up blue walls. Meanwhile, toys and wall décor pieces complete the boy's nursery.
17. Low Ceiling Small Attic Room Ideas with Asian Vibes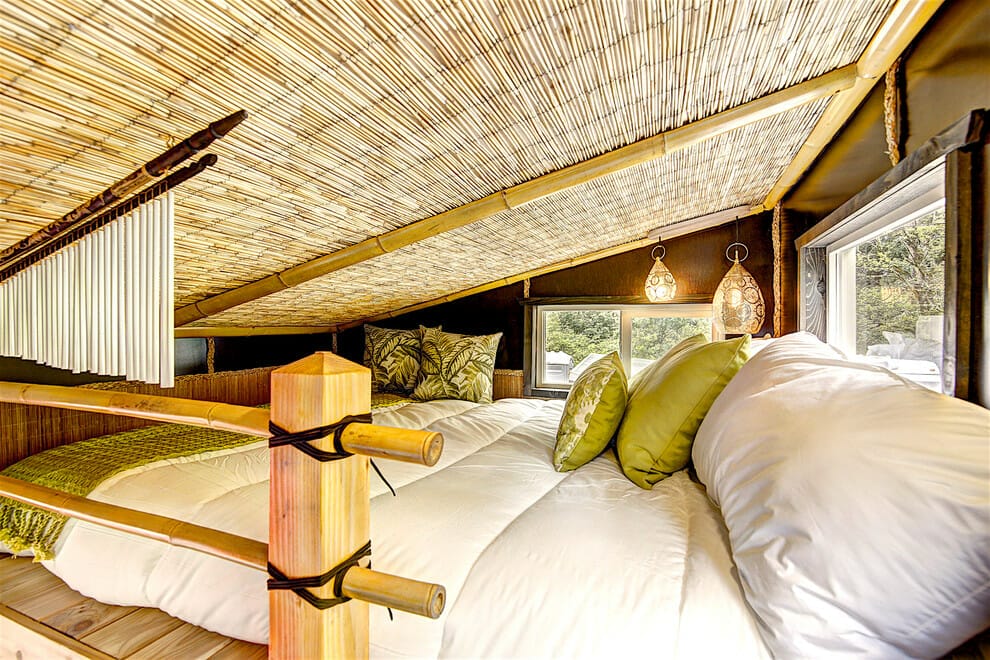 This attic bedroom belongs to a Japanese tiny house. Likewise, the bamboo ceiling, beams, and railing add a tranquil ambiance.
Meanwhile, black walls embody drama.
Exotic lamps illuminate this Asian-style attic bedroom at night. Furthermore, the warm green blanket and printed pillows up the sleeping area's cozy factor.
18. Bright Attic Teen's Room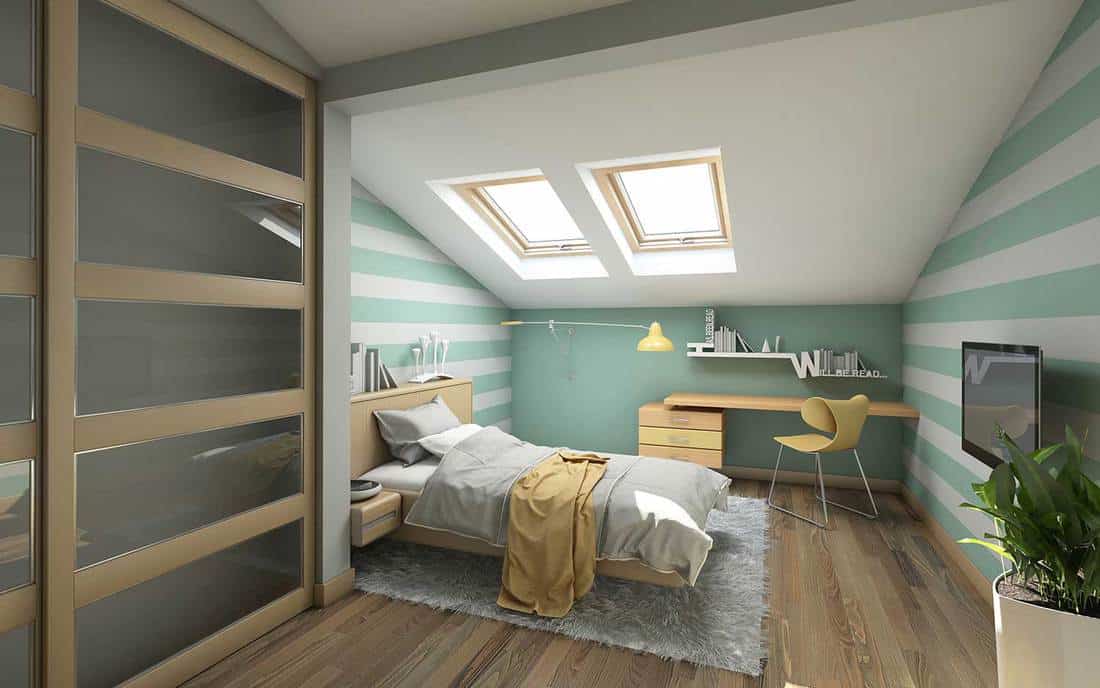 In this bedroom, your teen kid can watch TV, sleep, and study. Skylights enhance the attic's slanted ceiling while keeping things bright.
Mint green and white stripes make the teenage kid's room cohesive, whereas muted yellow and gray accents represent balance.
19. Open-Concept Attic Bedroom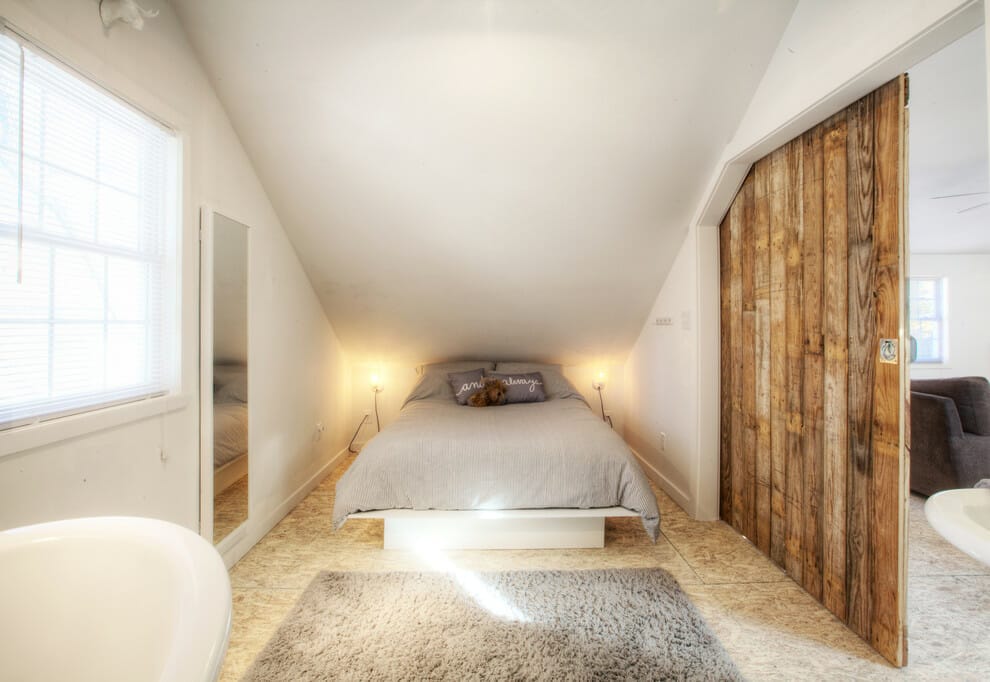 If you admire low ceiling small attic room ideas with open layouts, copy this space. The white platform bed, mirror frame, molding, and walls epitomize spaciousness.
Furthermore, the gray rug and bedding stop the open-plan attic room from appearing stark.
Additionally, with the reclaimed wood door and natural stone flooring, the space looks much more attractive.
20. Low Ceiling Attic Bedroom Paint Ideas
This loft bedroom is full of character. The dweller used white paint on the molding, window frame, sloped ceiling, and walls.
The decorative metal ladder and black flooring imbue drama. Also, the dweller added wood accents and different gray tones to visually balance the room.
21. Low Ceiling Small Attic Room Ideas for Farmhouses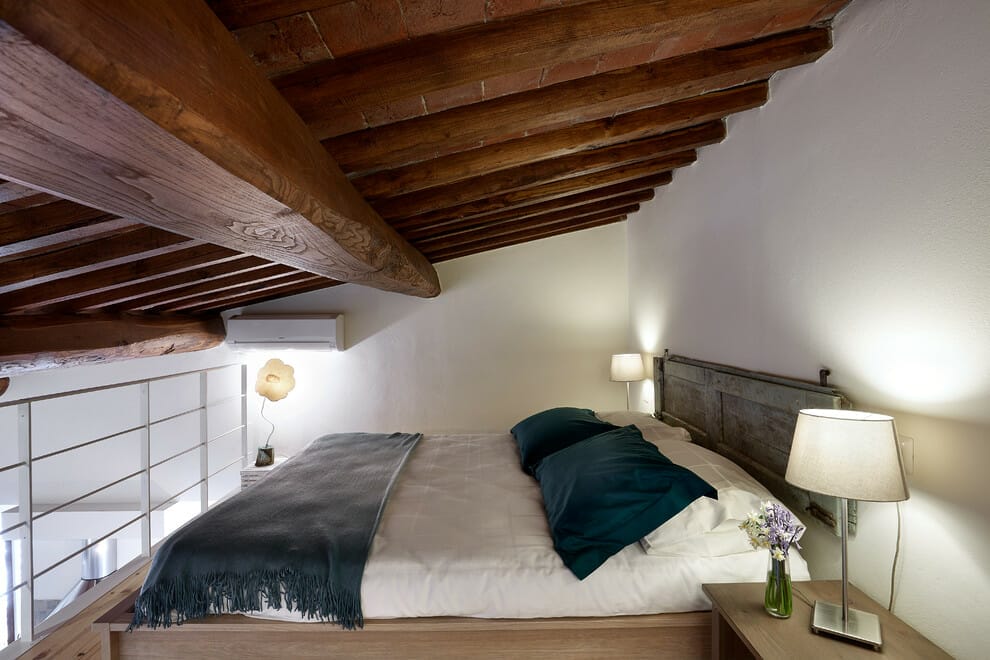 This small farmhouse bedroom is in the attic. It boasts a DIY headboard, wooden bed, and side tables. Moreover, multiple lamps illuminate otherwise dark corners.
White walls make the low ceiling with visible wooden beams taller. Meanwhile, the gray blanket, teal pillows, and flowers complete the farmhouse attic room.
22. Attic Bedroom with Blue Accents
The skylight lends this loft bedroom a dreamy, airy look. Also, it lets you enjoy stargazing at night since it is above the bed.
The gray tufted headboard guides the eye to marvelous pillows. Furthermore, the floral feature wall, photos, and bold blue accents spice up the attic.
23. Contemporary Attic Guest Room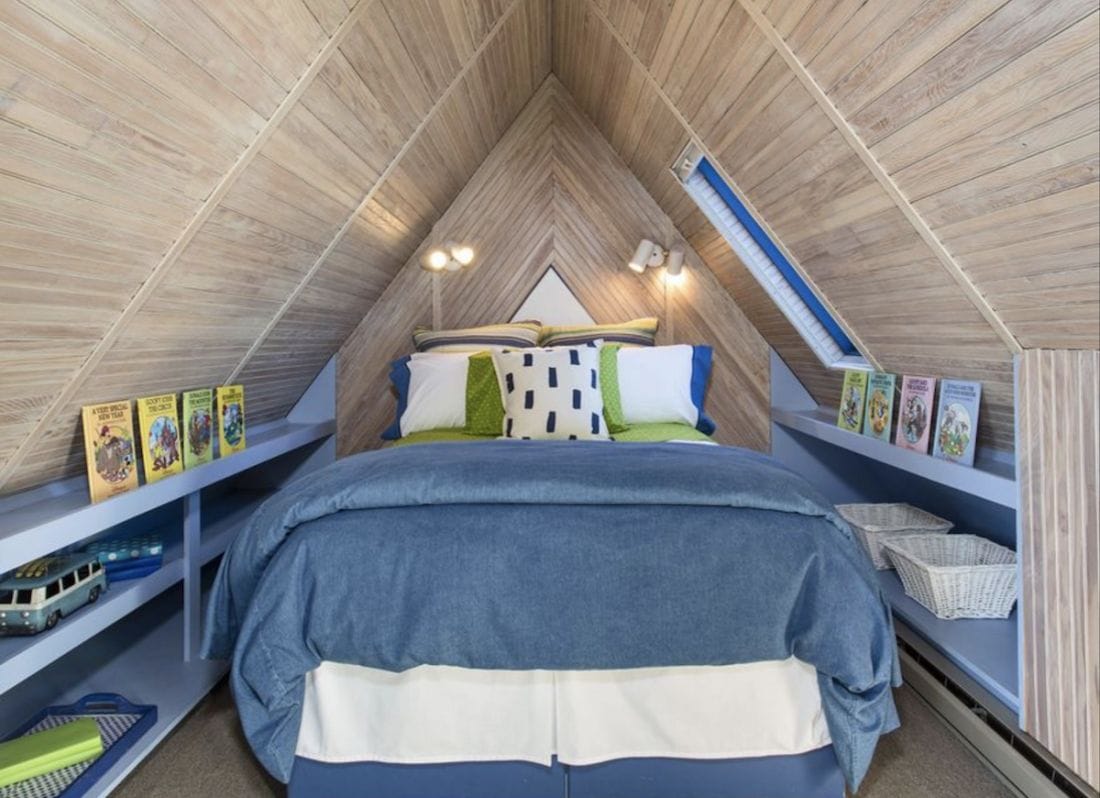 The skylight and wall lights keep this attic guest room bright. Meanwhile, the beadboard paneling offers aesthetically pleasing details.
Pops of blue and green make the attic bedroom wider and more appealing. Besides, wall shelves with kids' books and toys create a family-friendly space.
24. Gray Meets Glamor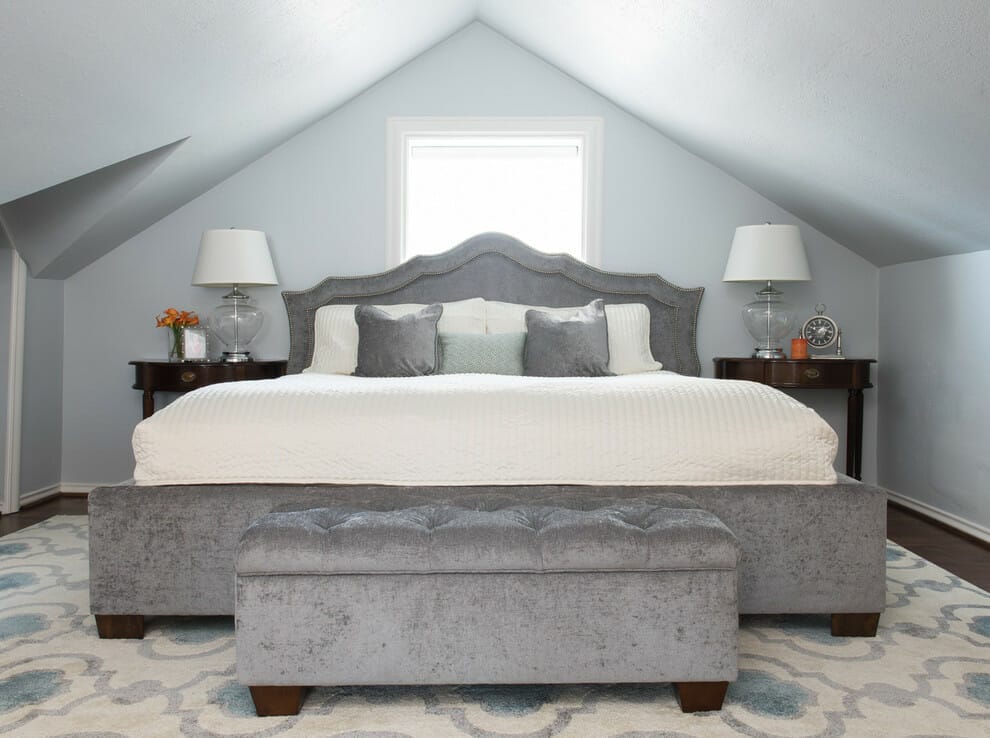 Low ceiling small attic room ideas encourage you to embrace slanted ceilings. Likewise, pale gray walls and sloped ceilings enlarge the space.
The custom bench and bed give off sumptuous vibes. Meanwhile, the rug, glass lamps, dark wood side tables, and orange items complete the attic.
25. Monochromatic Attic Bedroom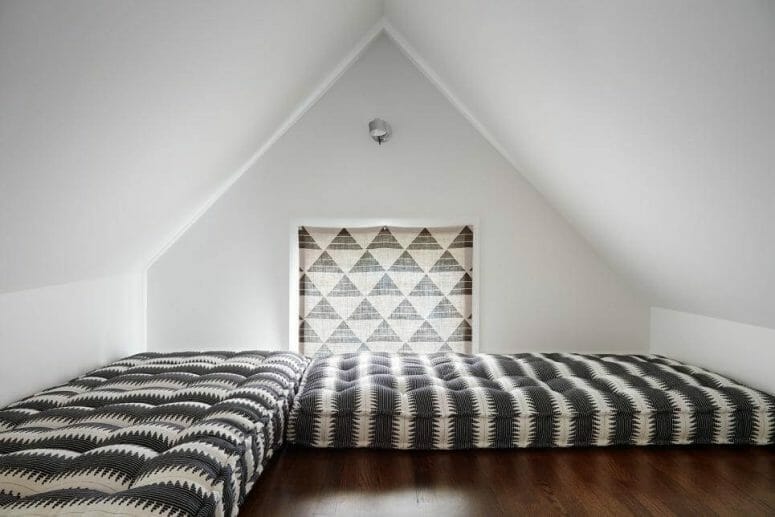 Since this attic is small, try applying simple low ceiling small attic room ideas. Thus, this attic bedroom lets the simplicity sing.
The dual bed mattresses match the geometric window covering. Furthermore, the polished wooden flooring provides warmth.
26. Vibrant Attic Teen Girl's Bedroom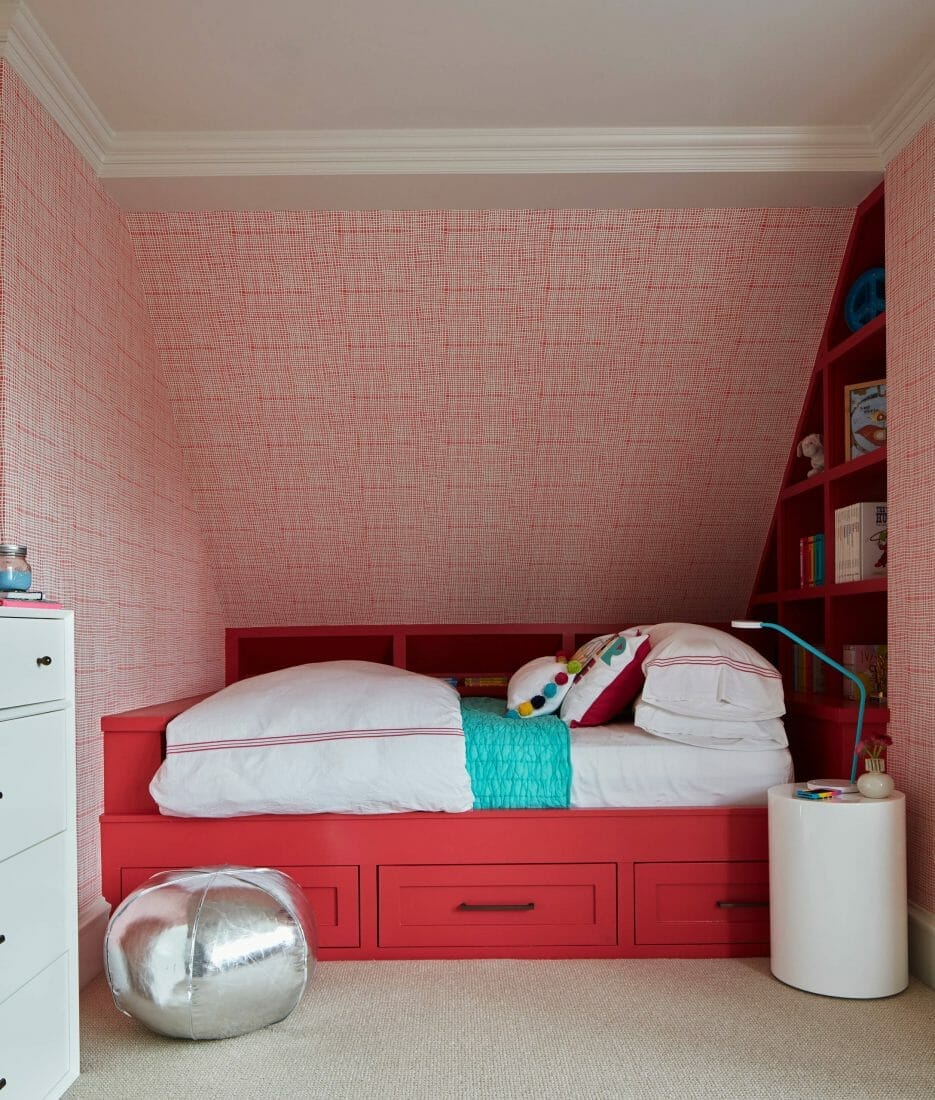 There is a red built-in daybed under the slanted ceiling here. It features small drawers to meet the teen girl's storage needs.
The lively wallpaper lets the white furniture and bedding stand out. Meanwhile, the silver pouf, red shelves, and turquoise accents carry instant interest.
27. Low Ceiling Small Attic Room Ideas for Beachfront Homes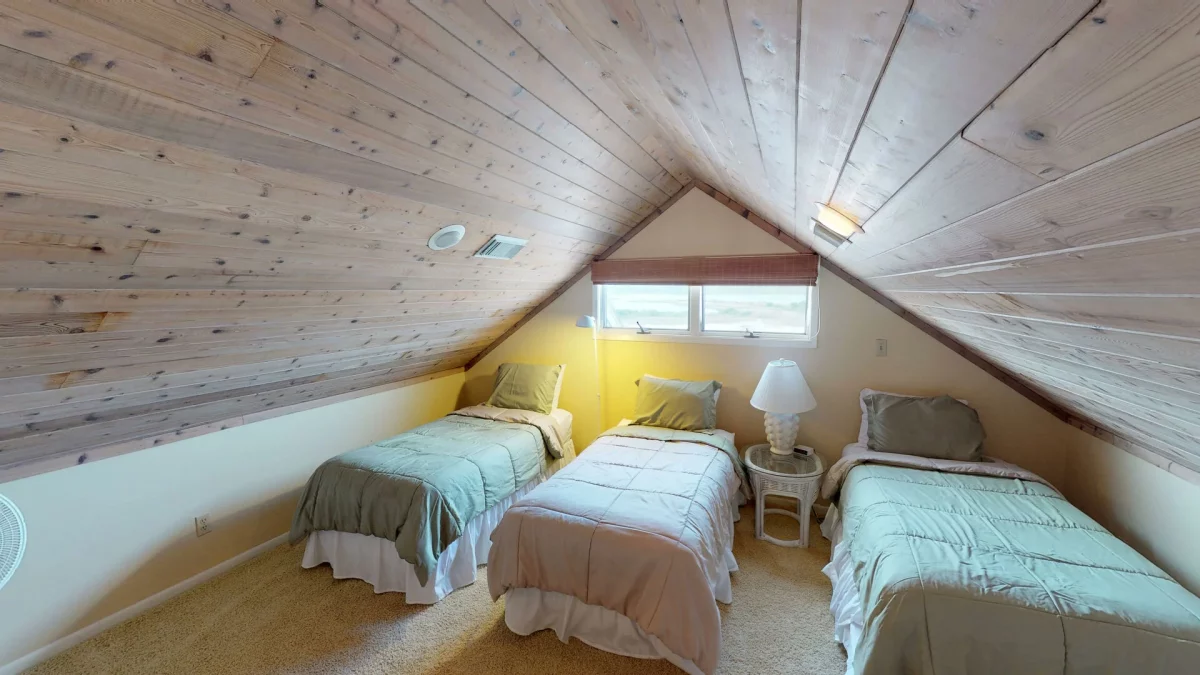 If your home embraces a coastal design, emulate this loft sleeping area. Moreover, it can accommodate 3 children.
Pastel beddings add tranquil and youthful vibes. Meanwhile, the light-colored carpet, raw wood planks, and windows brighten the loft bedroom.
28. Modern Attic Bedroom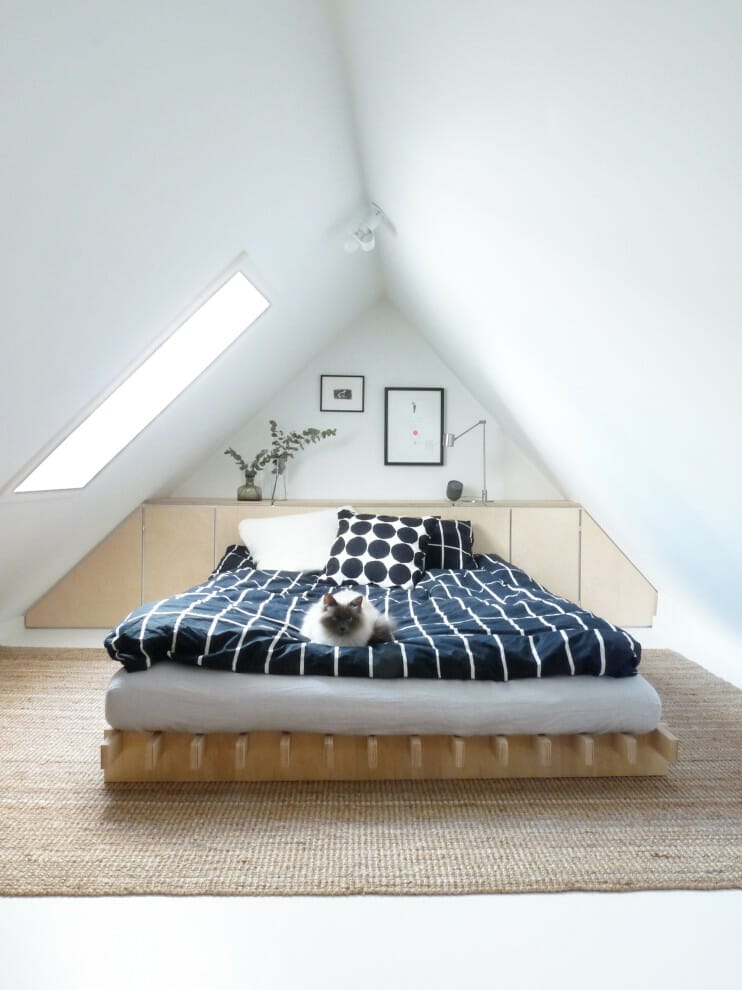 Attic rooms do not need to be cramped. Here, the skylight, white paint, and light neutrals make the interior immediately more open.
Thanks to blocks of color, this attic room seems eye-catching. The framed art, plants, and overhead lamps retain the bedroom's modern feel.
29. Heavenly Attic Bedroom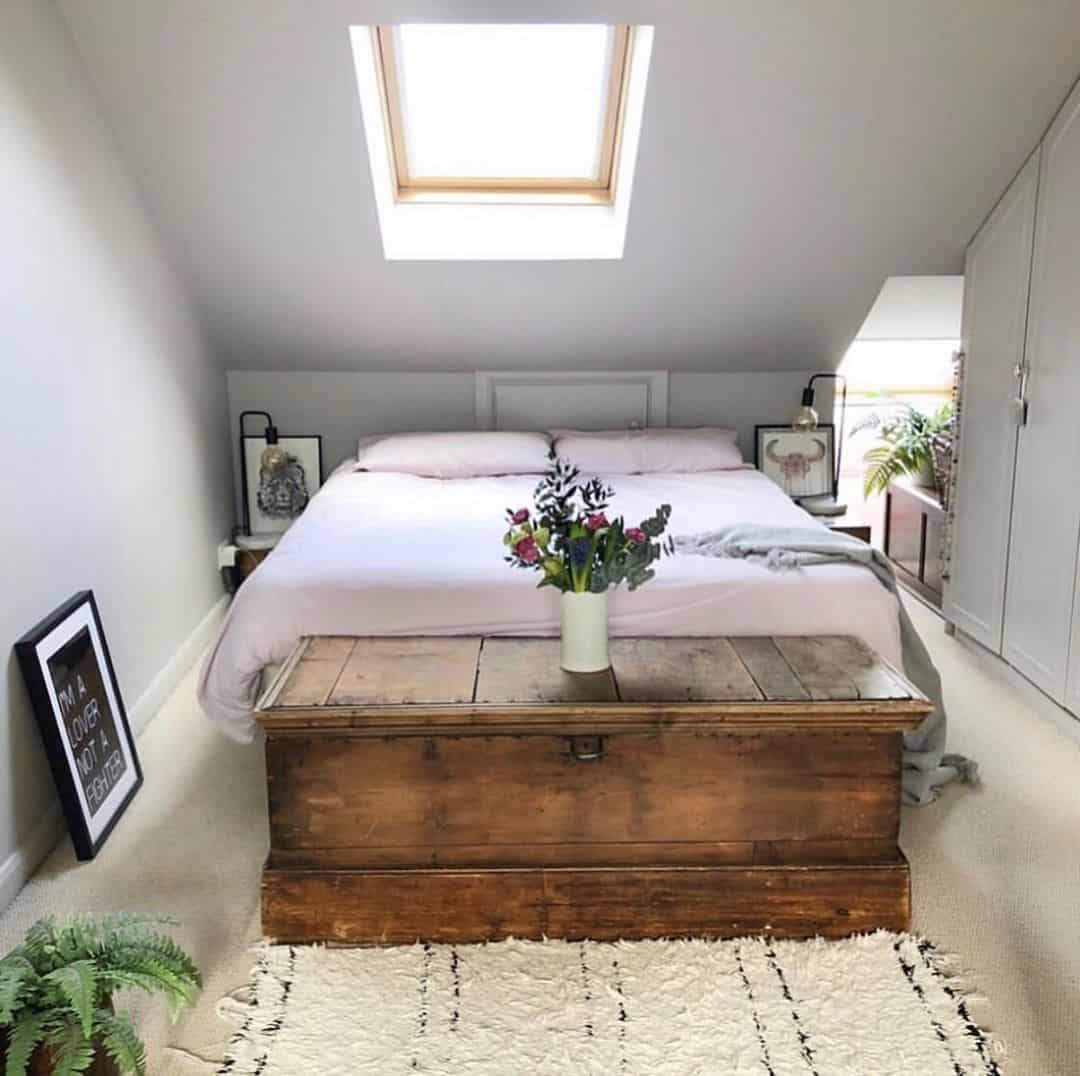 Although this attic sleeping area is confined, it still has room for storage and furniture pieces. The wooden bench conveys homeliness, whereas the sloped ceiling and walls exude intimacy.
Furthermore, industrial lights, flowers, and artworks help balance the attic bedroom.
Those low ceiling small attic room ideas let you see the good in everything. Despite slanted ceilings, attics provide an opportunity for tranquility and terrific interior design.