Some homeowners dress their walls with dated or boring decorations. Do not be like them, you should fashionably display the time. Today, we are serving up a selection of fabulous DIY wall clock ideas.
Back then, wall clocks were a household staple. Now, the accessories people own normally have a time function.
Nonetheless, they still become a vital part of home interior design. That's why you shouldn't overlook a well-made clock.
With our gallery of handmade wall clocks, you will certainly find the right timepiece to incorporate into your decor. Better still, they make fun DIY projects.
This list covers everything from wood slice clock design to a holographic look.
1. DIY Wall Clock Ideas with Thrifted Items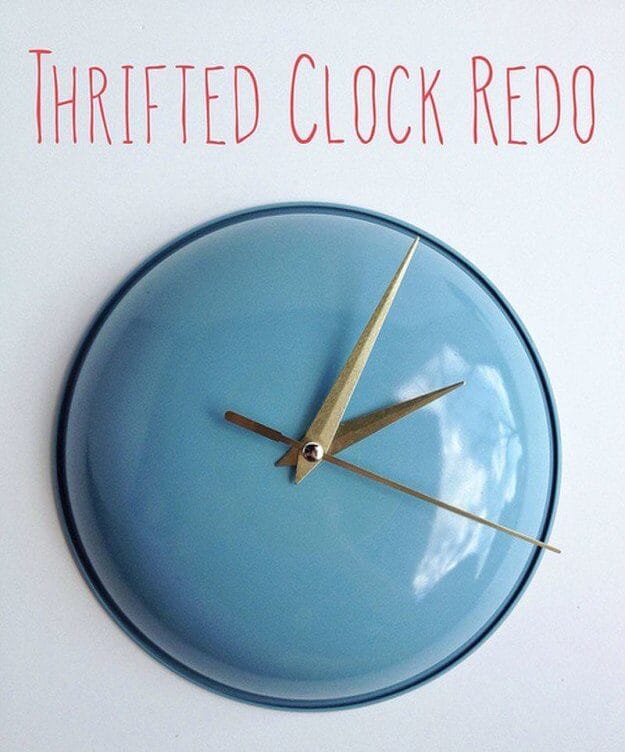 The next time you go to local thrift stores, consider purchasing an enamel pot lid. Here, it comes in baby blue. Transform the unit into a practical yet pretty wall clock.
Instead of buying a clock mechanism, we recommend giving your old timepiece new life. This is certainly a more eco-friendly option. Furthermore, the project itself only needs minimal time and supplies.
This enamelware wall clock utilizes thrifted pieces. However, it looks so lovely. Moreover, you can enjoy its relaxing little ticking.
2. 3D DIY Wall Clock Ideas

If you love seeing a full moon at night, then this is one of DIY wall clock ideas to try. As the picture shows, the design offers a three-dimensional effect. It is not only functional, but also fabulous.
Furthermore, this project requires round wood board, paint, and clock kit. Once you made the piece, hang it on the wall in your bedroom or living room. The unit will gracefully display the time.
3. DIY Concrete Wall Clock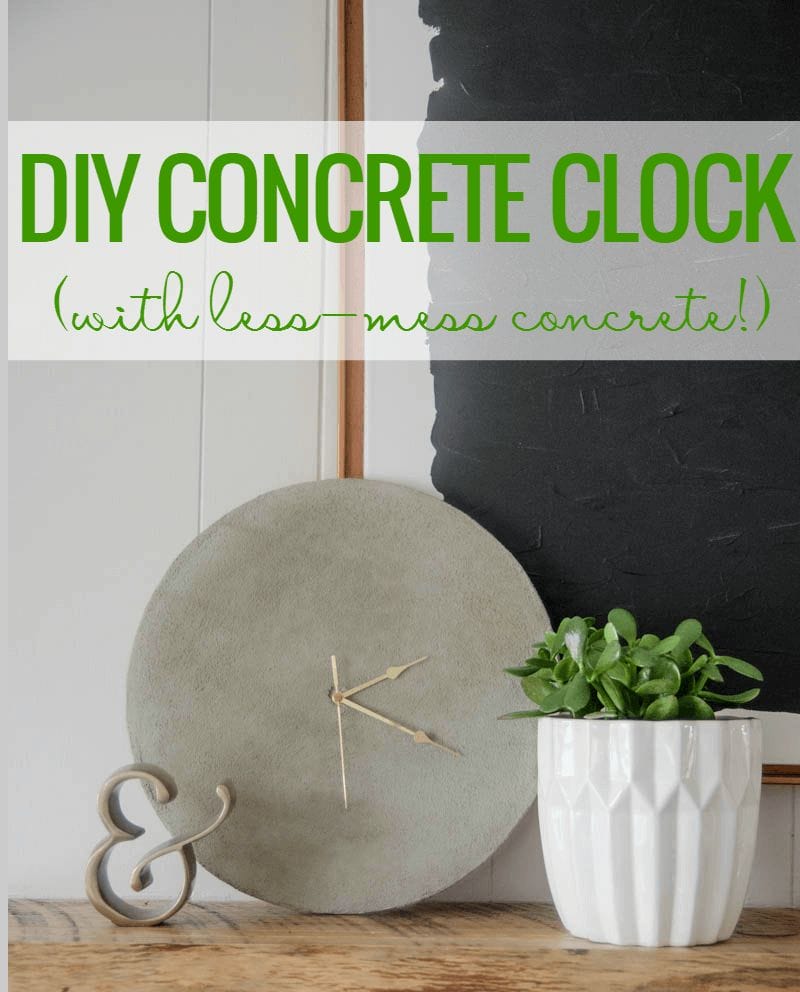 This homemade concrete clock is simple yet striking. Moreover, it lends an industrial charm to any home. We recommend adding the piece into your entryway.
Although the clock seems so heavy, it is actually sort of a hack. The project utilizes mortar or concrete mix. That means you can save some money.
First of all, mix up the mortar mix. Then, spread it all over the wood round using a spatula. Next, leave the unit overnight. Lastly, drill an opening in the board's center. Lastly, add the clock kit.
4. Shabby Chic DIY Wall Clock Ideas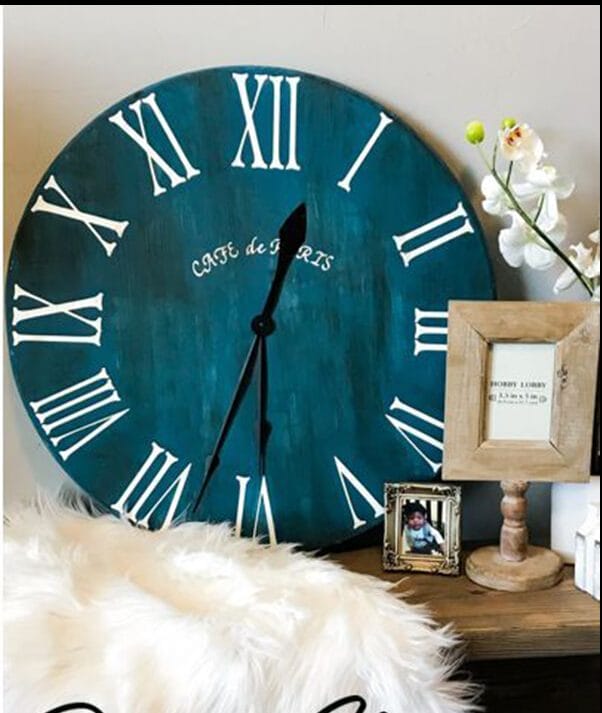 We really love this Roman numeral wall clock. In a jiffy, it will make living room wall shine. The unit delivers a shabby chic flair to the space. Moreover, the project is both easy and fun.
Paint your wooden round white first. Next, apply the numeral sticker decal and remove its top layer. After that, add some golden letter stickers for an extra pizzazz.
Furthermore, you need to paint the wooden round in deep blue. Then, peel the Roman numeral stickers and seal it with wood wax. Lastly, add black clock hands and your timepiece is done.
5. Handmade Holographic Wall Clock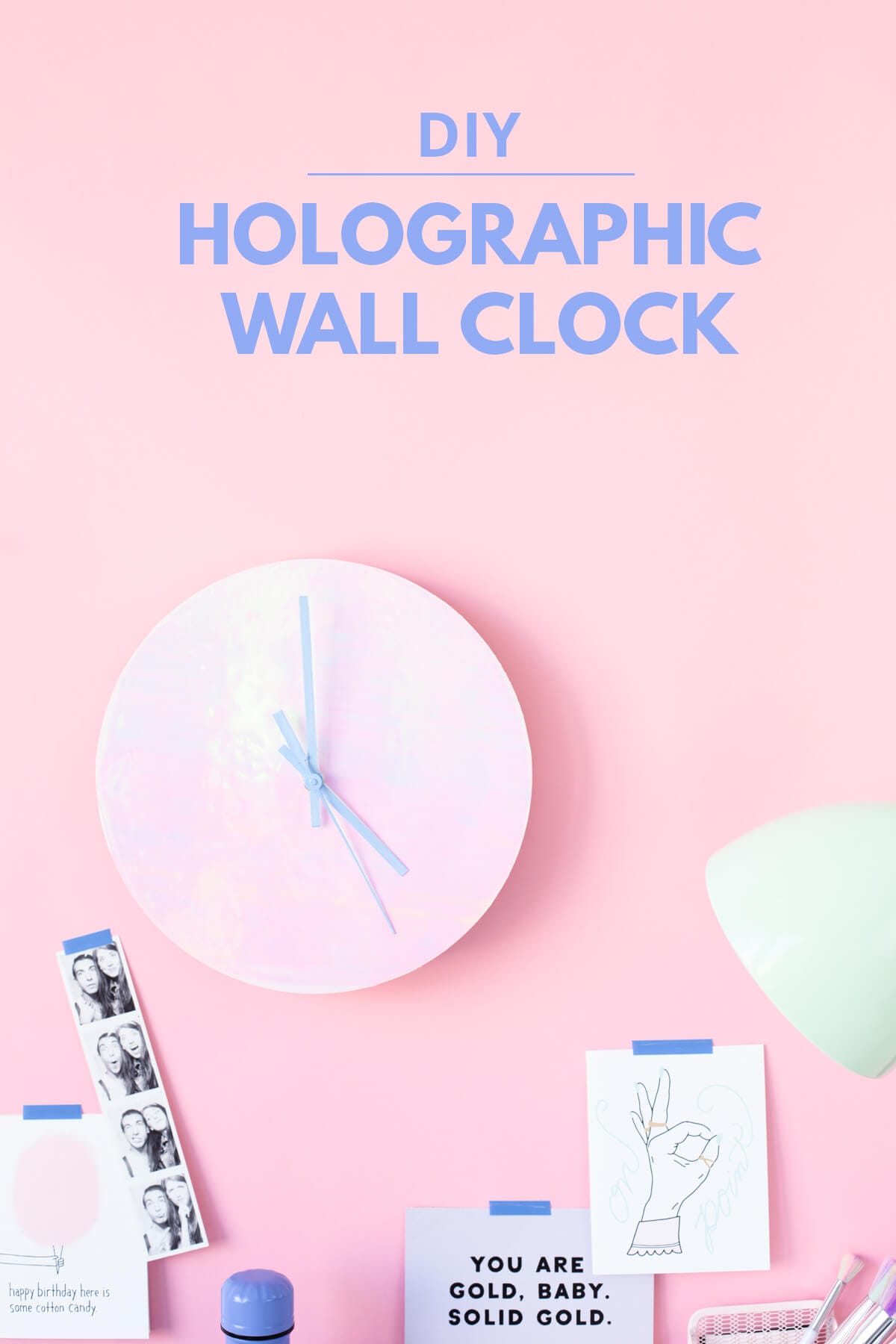 We find this wall clock super cool, don't you think the same? It offers a mesmerizing holographic effect as well. Furthermore, the decorative piece is not only budget-friendly, but also simple to assemble.
Moreover, this timepiece brings a sweet touch to any space. For the supplies, you need wood round, paint, sandpaper, ruler, holographic vinyl, decoupage glue, clock mechanism, brushes, and scissors.
6. DIY Wall Clock Ideas for the Minimalists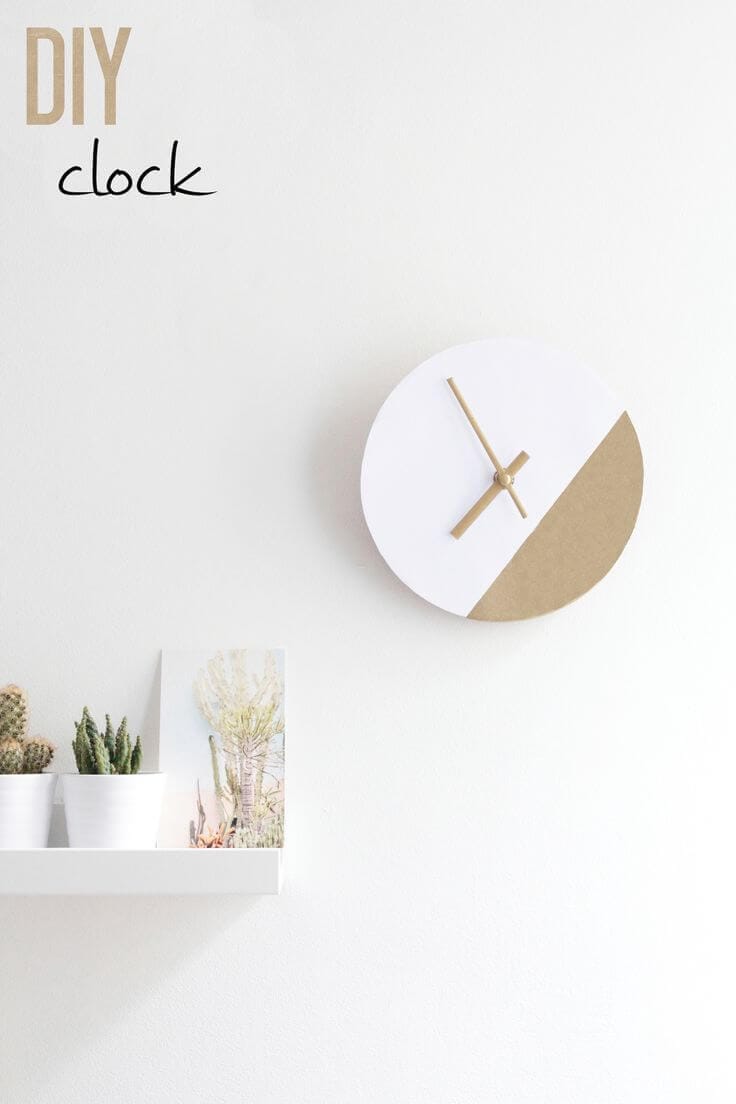 If you are a minimalist, this is one of DIY wall clock ideas to steal. It is not only functional, but also lends your space a modern vibe. Moreover, the two-tone unit is such a cool way for telling time.
Since this timepiece utilizes scrap wood, it is certainly low-budget. The wall clock delivers a unique touch to the room, too. Just paint the wood round different colors for a gorgeous two-tone look.
7. Honeycomb Inspired DIY Wall Clock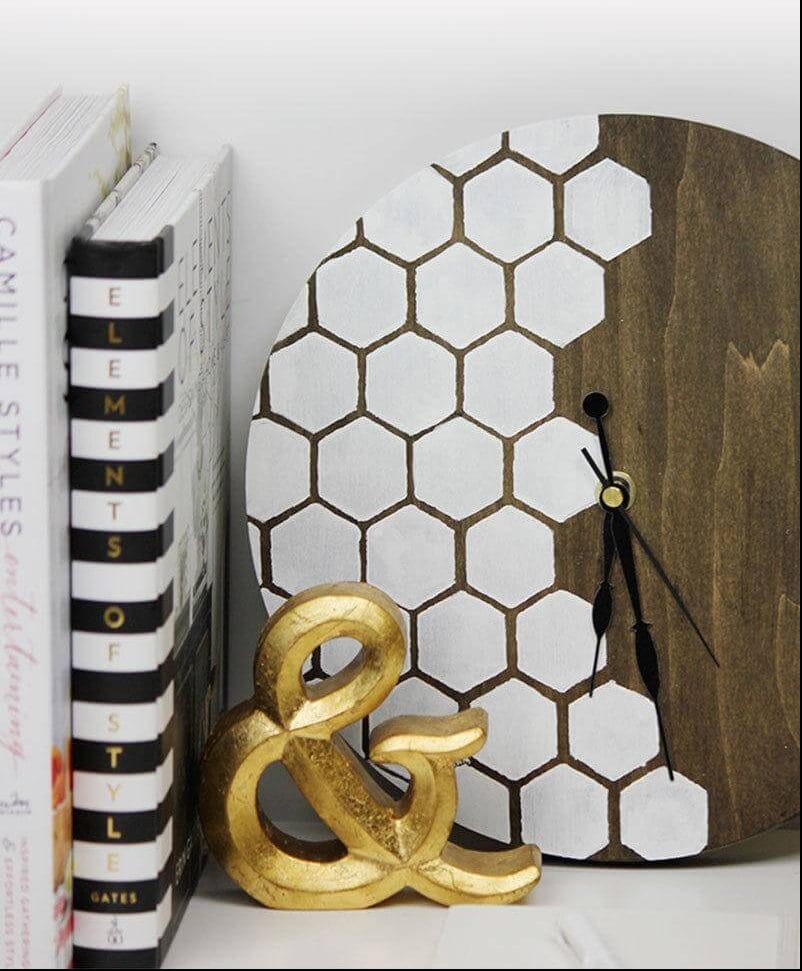 This wall clock combines white honeycomb with warm wood. It is such a timeless and soothing combo. Moreover, the unit keeps you from being late for very important meeting and date.
With this honeycomb wall clock, you don't have to rely on your phone for telling time. It gives any space a stylish look, too. Furthermore, the item will certainly be millenials' best friend.
Before crafting up this timepiece, prepare the materials first. All you need is unfinished wood round, timber stain, foam brush, clock kit, honeycomb stencil, and acrylic paint.
8. DIY Wall Clock Ideas with Cork Trivets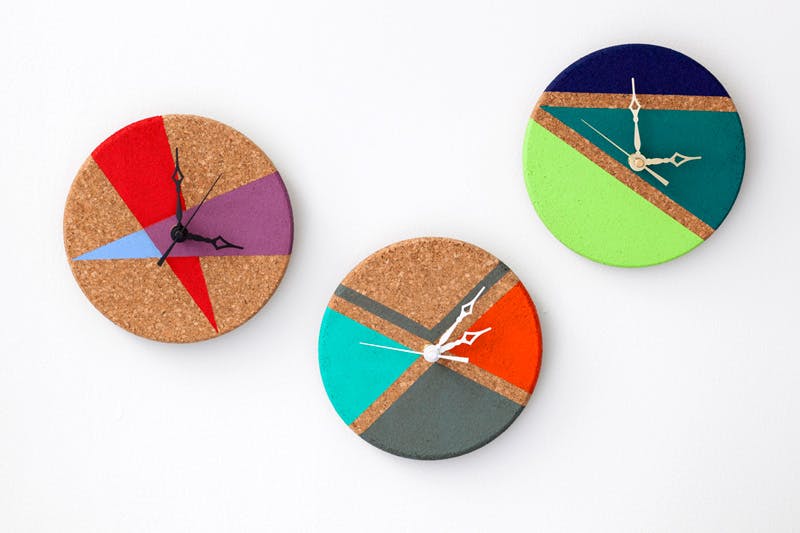 Do you have cork trivets? If so, transform them into color block wall clocks. They will instantly bring energizing blast of colors to your living space. Furthermore, these items give the room a modern feel in a flash.
Moreover, these geometric wall clocks are stunning. For each item, we suggest using two different paint colors. Then, mix them together to make a completely new and striking hue.
For materials, you need hanging clock mechanisms, cork trivets, and six different paints. In addition, prepare paper towels, mixing palette, scissors, brushes, water cup, painter's tape, and power drill.
9. Large DIY Wall Clock Ideas with Spindle Top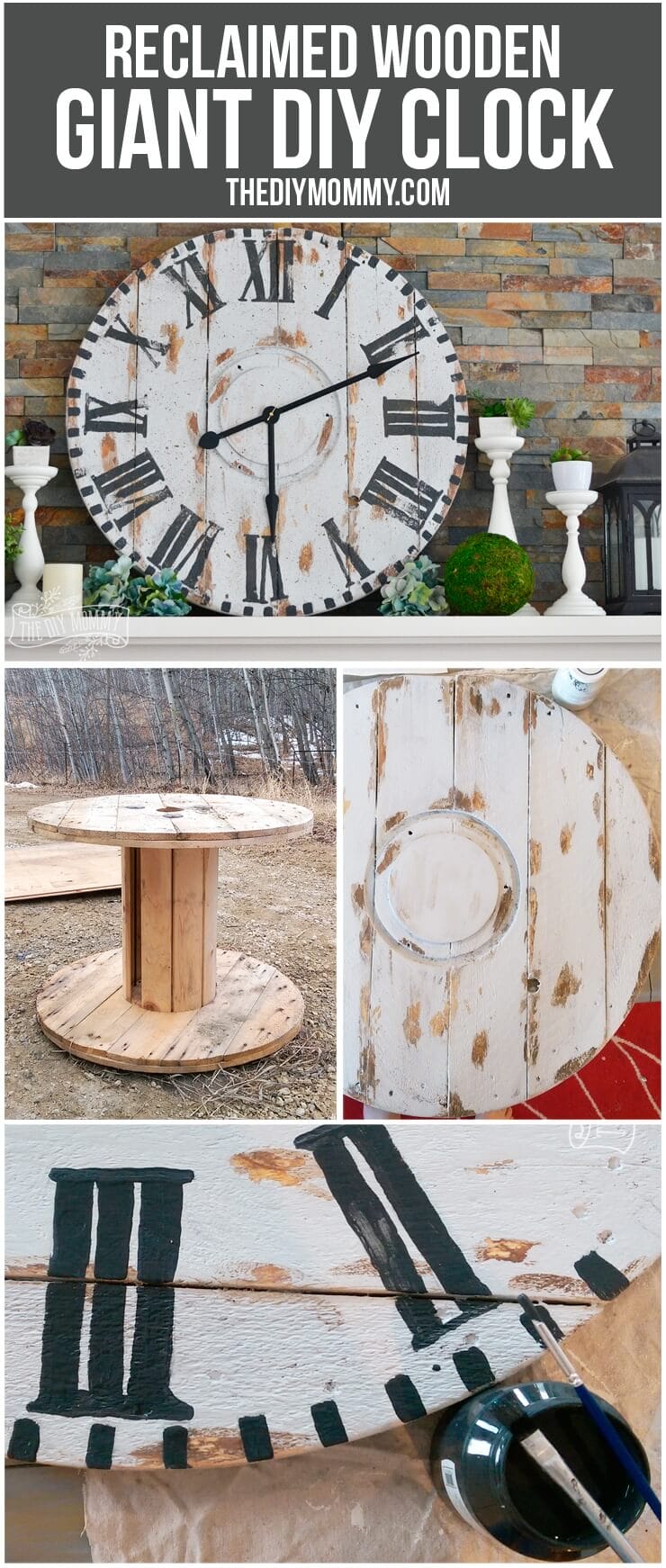 Do not throw your old electrical wire spool away. Turn the unit into a huge reclaimed wood wall clock instead. Moreover, the project normally takes a few days. However, it is seriously worth the effort and time.
Furthermore, this giant spindle top clock generates a vintage look. It delivers an industrial flavor to your space, as well. The hand-painted black Roman numerals contrast amazingly with the bright white background.
10. Paper Plate Wall Clock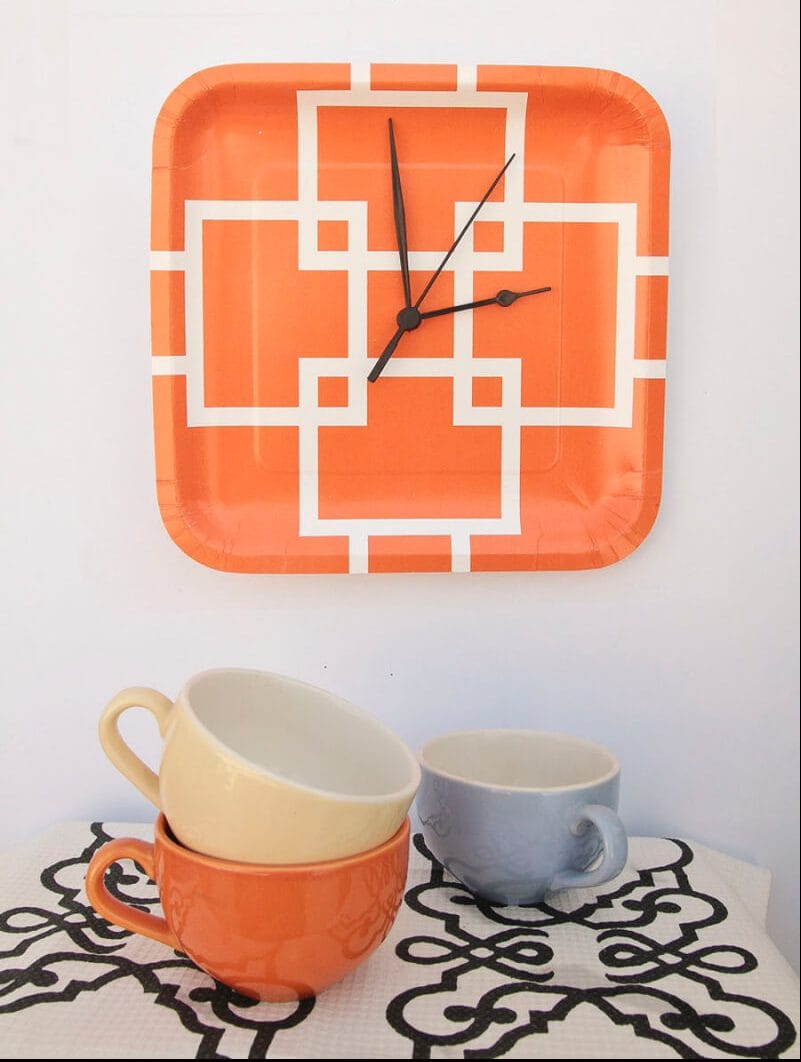 This DIY paper plate clock may look simple. However, it can steal the show quickly. The project costs less than $5 and takes about 5 minutes.
Furthermore, this homemade clock allows you to change the paper plate for a fresh design or pop of color. Additionally, it makes an impressive gift or wall art.
First of all, find the center of your dinner-sized paper plate. Then, create a hole in the middle using a nail or metal skewer. Next, insert the clock kit's shaft through it and add the hands.
We recommend securing your clock kit to paper plate's back. You can either use double stick tape or hot glue.
11. Homemade Embroidered Basketweave Clock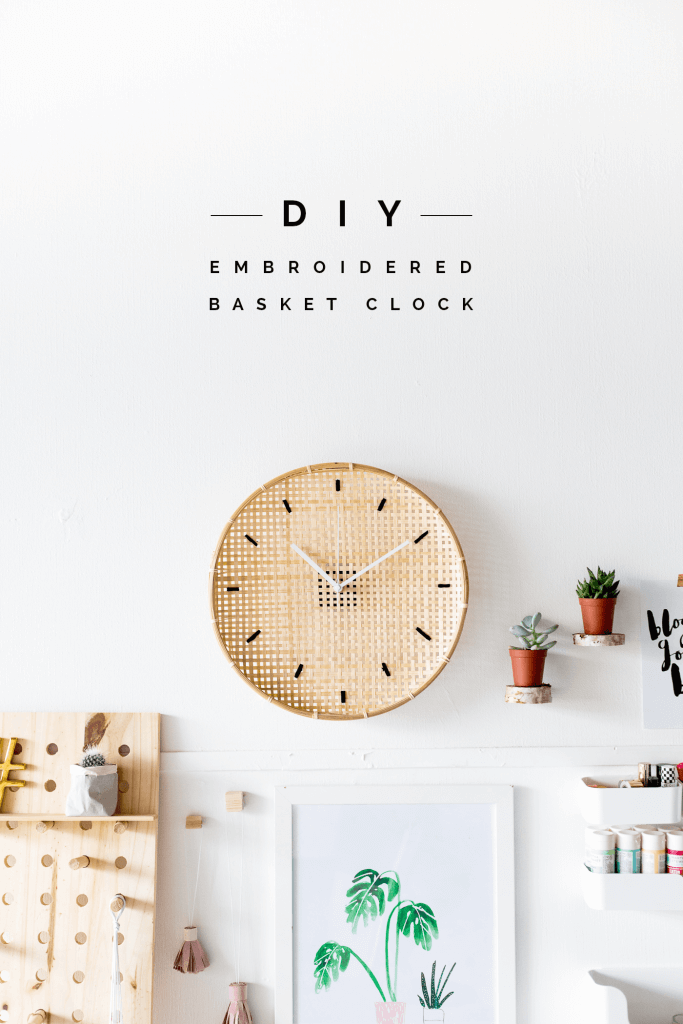 This is definitely one of the most brilliant DIY wall clock ideas. The timepiece beautifully combines embroidery with a pretty round basket.
The embroidered basket wall clock exudes a beachy atmosphere. It matches nicely with blonde wood peg board and floating shelf, too. This item also keeps you from using your phone to tell the time.
First, cut a hole in the basket's center. Then, push your clock mechanism through the opening. Next, use both the nut and washer to screw it into place. After that, add the hands.
Furthermore, use the needle and create dashes around your clock. They represent twelve hours. Next, fasten each dash off at the basket's back. Lastly, trim the excess and you're good to go.
12. DIY Book Wall Clock

This is one of creative DIY wall clock ideas that calls all the avid readers. As you see, it looks super lovely and elegant. Moreover, the unit lends your living room or bedroom a visual interest.
For this project, you have to prepare hardcover book. The item is certainly a safe bet because it can hang nicely on the wall. Moreover, since the timepiece is handmade, the decor will surely give your home a unique feel.
13. DIY Wall Clock Ideas with Wooden Blocks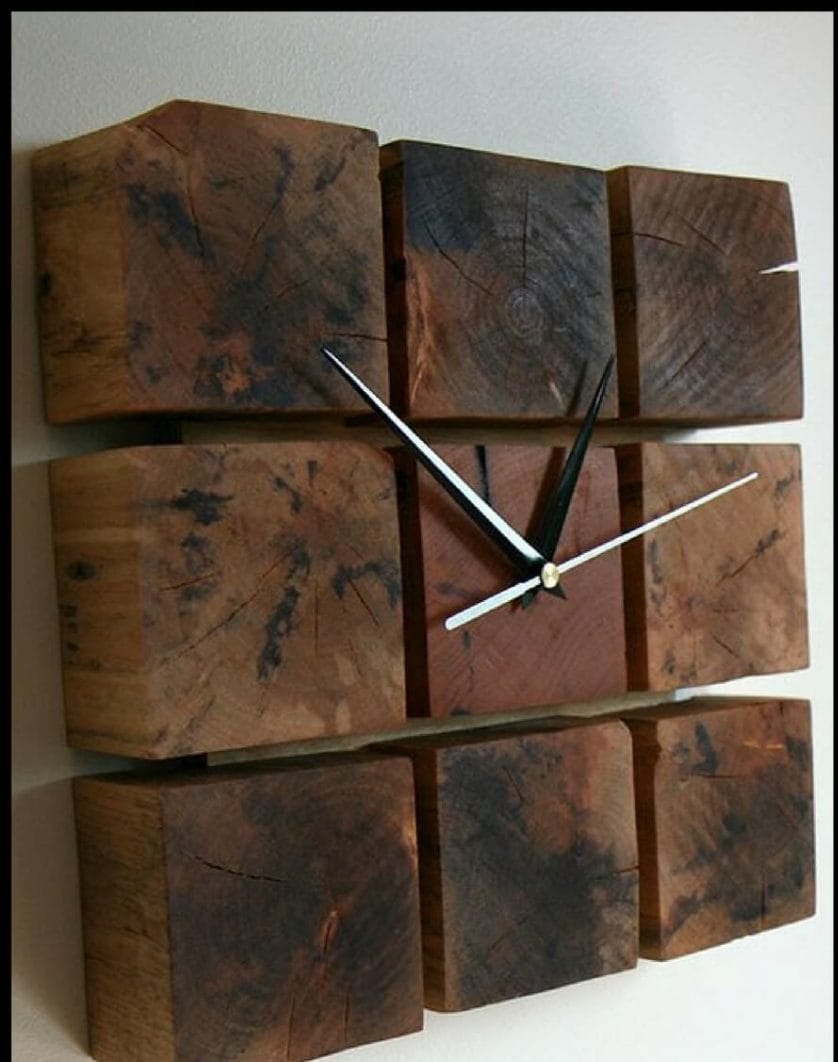 Do you like industrial style wall clock concept? If yes, apply this design. It also gives your room a touch of DIY. Furthermore, the timepiece is truly inventive. The item ensures that you are always on time.
You can craft this timepiece yourself using only a few materials. The pallet wood blocks lend it a rustic charm. They carve a warm ambiance, too. Meanwhile, the old clock kit adds a vintage flair to the unit.
14. Bicycle Wheel Wall Clock
Recycle your old bike wheel into an attractive wall clock. It will certainly reinsure the space with a vintage appeal. Furthermore, the unit is wonderful focal point of any room. The project is very easy, too.
The wall clock shows that the time wheel will always keep on turning. Meanwhile, the large hands make it more visually pleasing.
You could take the paint can lid. Then, create a hole exact in the middle. This helps screw the item together. It also keeps the unsightly time box from showing on the wall clock.
Moreover, you can use zip ties for attaching the clock mechanism to the wheel. Just wrap them around the bicycle spokes.
15. Coastal DIY Wall Clock Ideas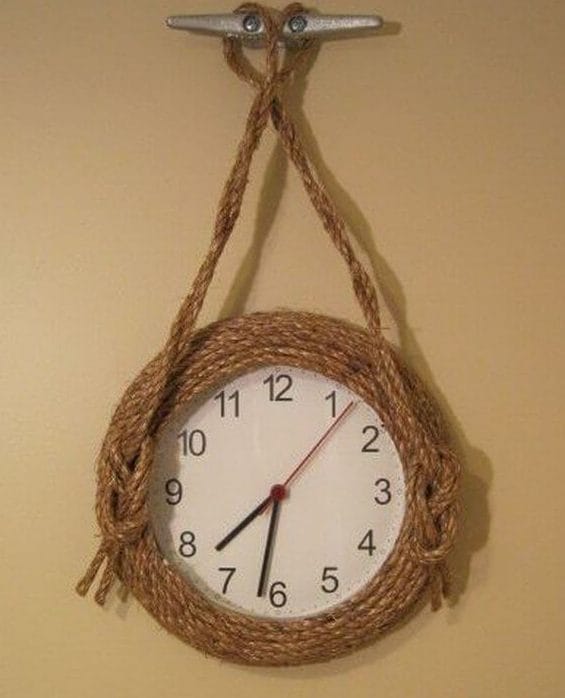 This is one of terrific DIY wall clock ideas on Pinterest. As you see, the timepiece features dock cleat and nautical twine. No surprise, it's such a delightful addition to the home.
Moreover, you can turn your old clock into a coastal style timepiece. It will lend it a fresh appearance for sure.
First of all, run the glue along the clock's bottom glue. Then, apply the nautical twine. Next, keep it tight against another row.
Furthermore, you have to tuck the rope's end. After that, create the knots and tighten them up. Then, apply glue to their backs.
The next step is attaching the knots to the front. Then, install the dock cleat. You can make marks using blue painter's tape.
Furthermore, you must tap in the anchors. Next, remove the blue painter's tape. Lastly, attach the dock cleat.
16. DIY Wall Clock Ideas with Marble Paper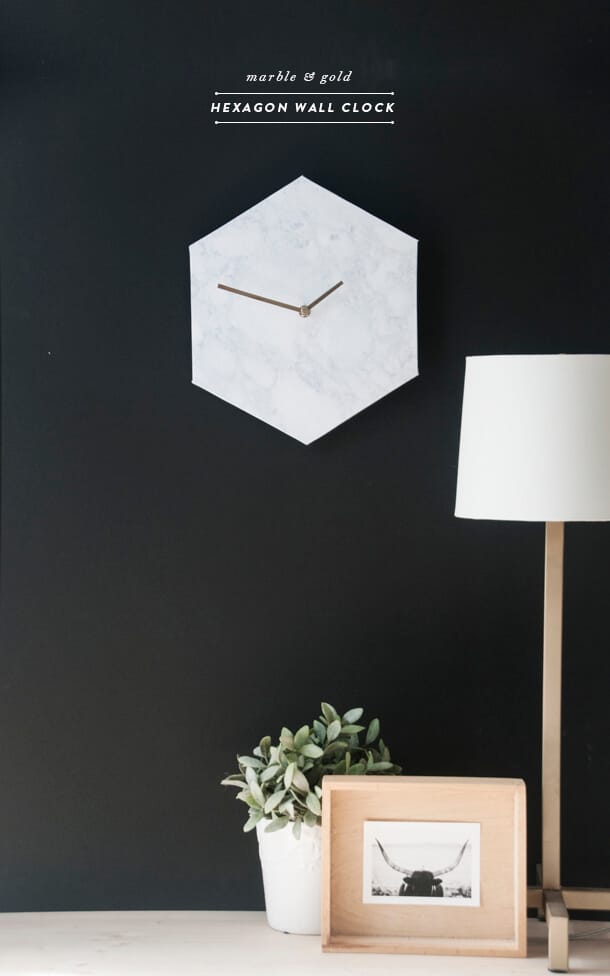 We love this crisp white hexagonal wall clock. It does not only offer marble beauty, but also costs less than $15.
Moreover, this frameless DIY wall clock makes telling time on the blank face easier for certain. Additionally, it delivers a modern vibe to space.
Furthermore, the project itself is quick. Unlike circles, hexagon allows the wall clock to be more apparent as well.
17. Wooden DIY Wall Clock Ideas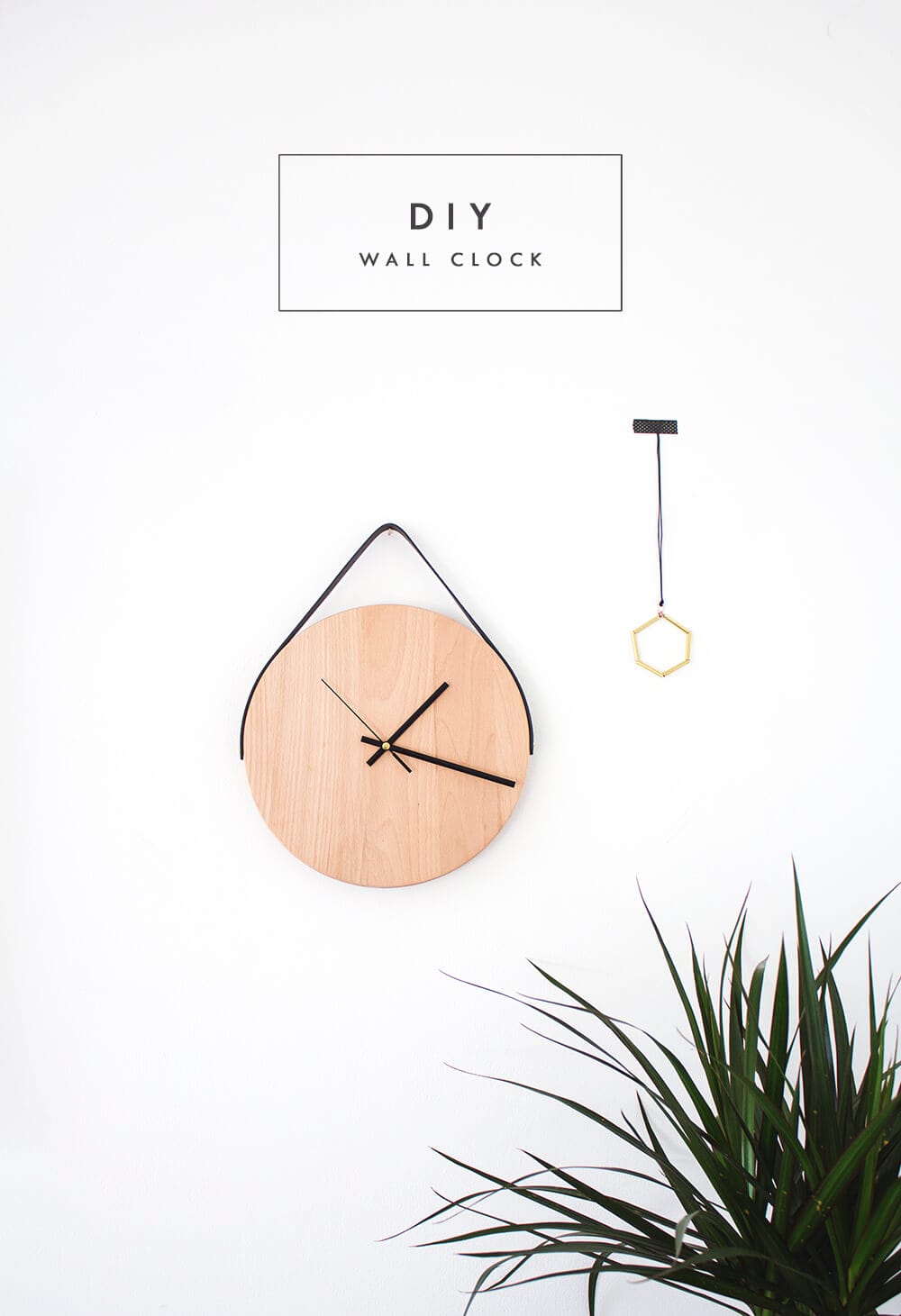 This minimal wood wall clock is super stylish. If you're on a budget, we suggest making it yourself. The item utilizes a cheap chopping board.
Furthermore, the round wood chopping board evokes a rustic charm immediately. Meanwhile, black leather strap lends the wall clock a dash of luxury. You could use the old belt for a more affordable option.
The brass accents spruce the wall clock up. Meanwhile, the slim hands give the timepiece a minimalist flair in an instant.
18. Family Photo Wall Clock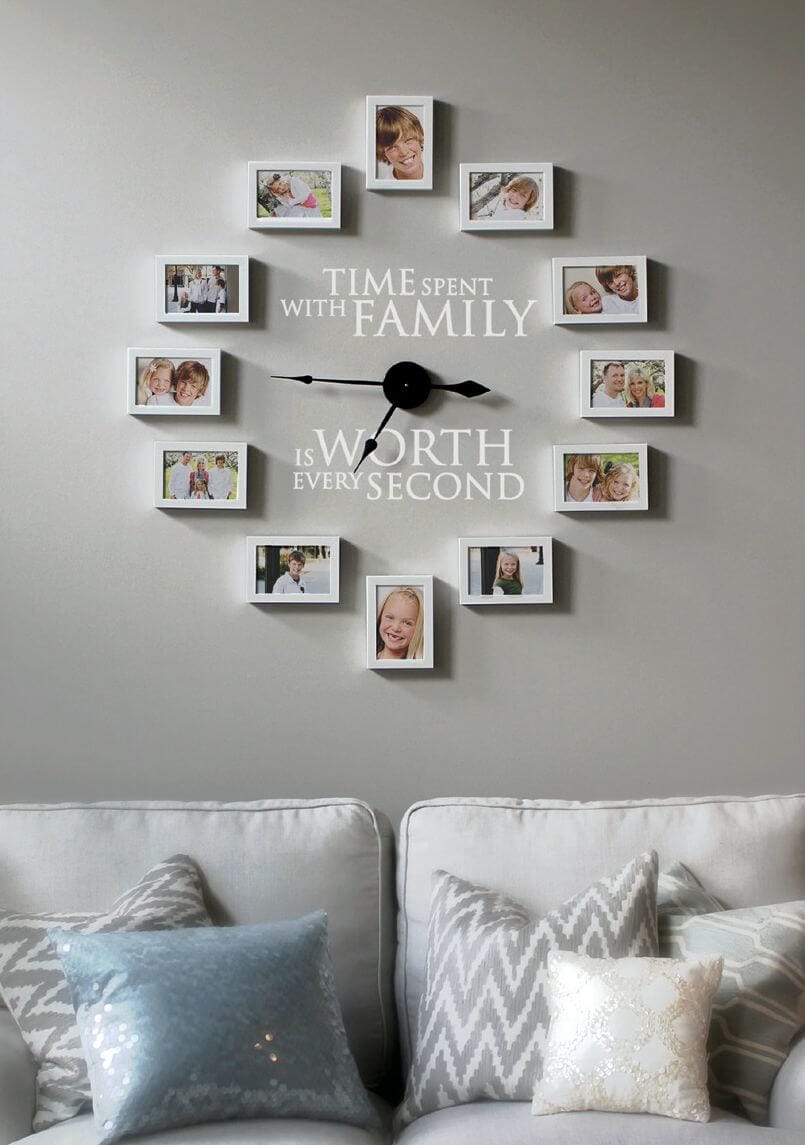 Needless to say, this is one of spectacular DIY wall clock ideas. It reminds you to spend time with your beloved family. The item is really eye-catching and functional as well.
Moreover, the clock kits come in various colors. They also boast the vinyl phrase. You should choose the photo frames that fit your decor and style.
This family picture clock takes up a lot of wall space. However, the timepiece is splendid. It keeps the interior from feeling stark.
19. DIY Wall Clock Ideas for Outdoor Spaces

This stunning prismatic outdoor clock is a perfect decor for keeping time. Meanwhile, the wood plant stand gives it a sturdy base. Meanwhile, rainbow colors send out a cheerful ambiance.
Remove the wheels from your wooden plant stand's bottom. Do not forget to sand the whole unit. Moreover, the twelve sections display a captivating color spectrum.
You can finish the timepiece up using glossy spray. Then, hang the outdoor wall clock on the fence. That way, your family can spot it from any space in the backyard.
20. DIY Wall Clock Ideas with Yardstick Hands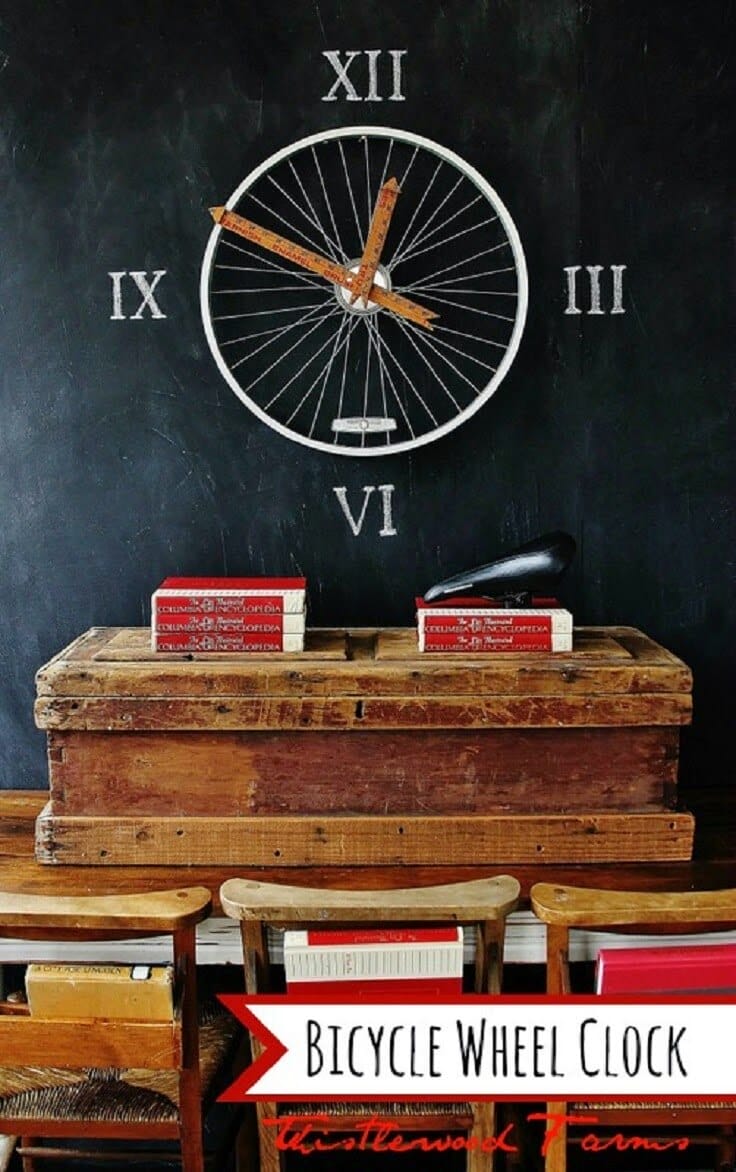 If you're crafty, give this homemade bicycle wheel a go. The chalkboard background and Roman numerals assert a sense of nostalgia.
This DIY project is not only fun, but also very simple to assemble. Furthermore, the yardstick hands lend the bike wheel wall clock a vintage appeal.
21. Mid Century Modern Wall Clock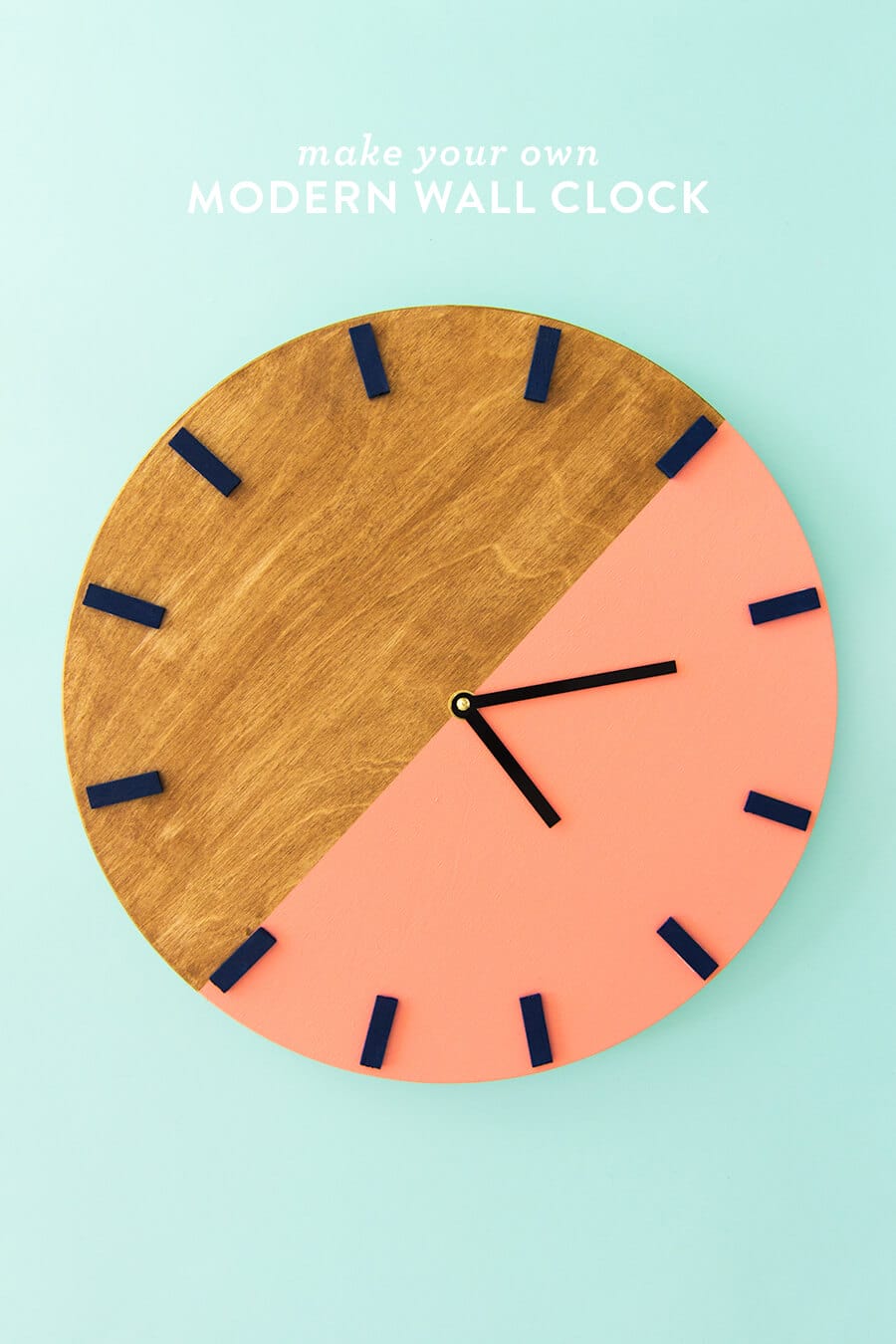 We adore this handmade colorblocked wall clock. It is really easy to build. The project doesn't require your previous painting skills, too.
Furthermore, this timepiece is a marvelous addition to bedroom, living room, or home studio. Coral and navy carve a gorgeous visual contrast.
In short, time is important. Don't waste the walls on an unappealing timepiece. Try any of our DIY wall clock ideas to create a mesmerizing decor. We believe it will impress your friends and family.