Greenery and flowers are always great additions to any room in your house. And these creative indoor plant stand ideas will enhance their beauty without compromising the benefits.
1. Flank the Bed with Natural Air Purifier
Some plants like Mother-in-Law's Tongue and Peace Lily are renowned for being good air purifiers. They can also remove odor and make the room feel fresh. For this reason, they deserve creative indoor plant ideas.
Instead of setting down knick-knacks on top of the nightstands, which may collect clutter, it would be better if you used them to put your indoor plants.
You can try flanking your bed with Snake Plants and Peace Lily for better air. They might not need to sit on the nightstands, though. They can grow quite tall.
However, you can still use your nightstands to set down smaller varieties like Jade Plants, Boston fern, or Spider Plant. You can also place them above the headboard.
As for this bedroom, the exposed brick wall creates such a dramatic backdrop for this nature's charm.
2. DIY Mid-Century Modern Plant Stand
These creative indoor plant stand ideas denote the simplicity and elegance of a mid-century modern interior. The brilliant info is you can make it yourself.
You can make this plant stand from wooden dowels or copper pipes. If you choose the latter, you will need couplings, T-brackets, and long pieces for the base.
Once you have assembled the base, you can add the legs. You can also use pipe glue to make the plant stand sturdier. Finally, add copper caps onto the bottom and top of each leg.
3. Keep It Simple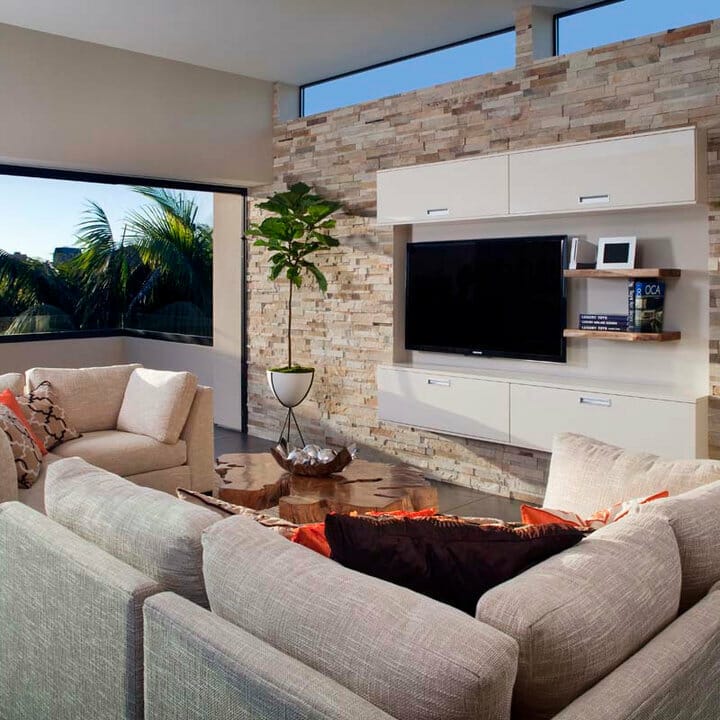 Creative plant stand ideas can be thrilling. They can make your home look more stunning. Still, it is not necessary to be extravagant. A simple one would be much better.
This living room features a Fiddle Leaf Fig that spruces up the space nicely. Try growing it in a white flowerpot that matches the TV console.
Make sure that the flowerpot and plant stand is not sophisticated. Otherwise, they will overlap the tree's charm instead of accentuating it.
4. Consider the Sizes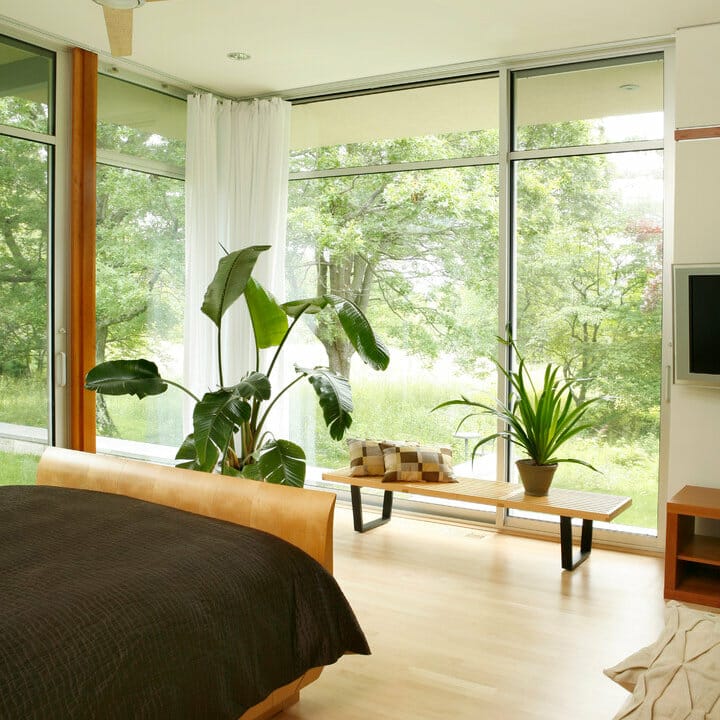 When choosing creative indoor plant stand ideas, you need to evaluate the dimensions of your plants.
If you decorate your home with a large indoor plant like a Palm Tree, Fiddle Leaf Fig, or Bamboo, you do not need a tall plant stand because it will make them look awkwardly bigger.
Succulents and Boston ferns that tend to be small require a tall plant stand so that people can notice their beauty.
5. Creative Indoor Plant Stand Ideas for a Contemporary House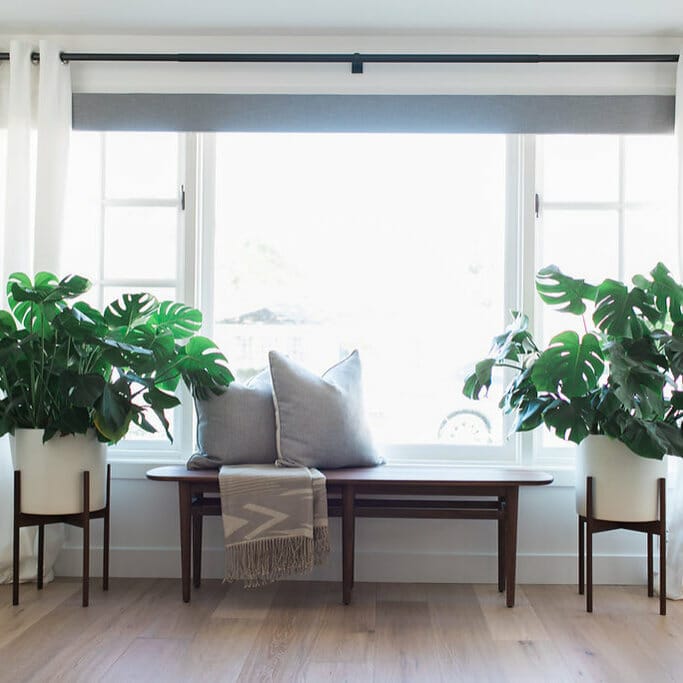 These plant stands can enhance the harmony in this spot by coming in the same color and material like the wooden bench.
They also create balance by flanking the bench, which makes a symmetrical look while preventing it from looking floating.
6. Use What You Already Have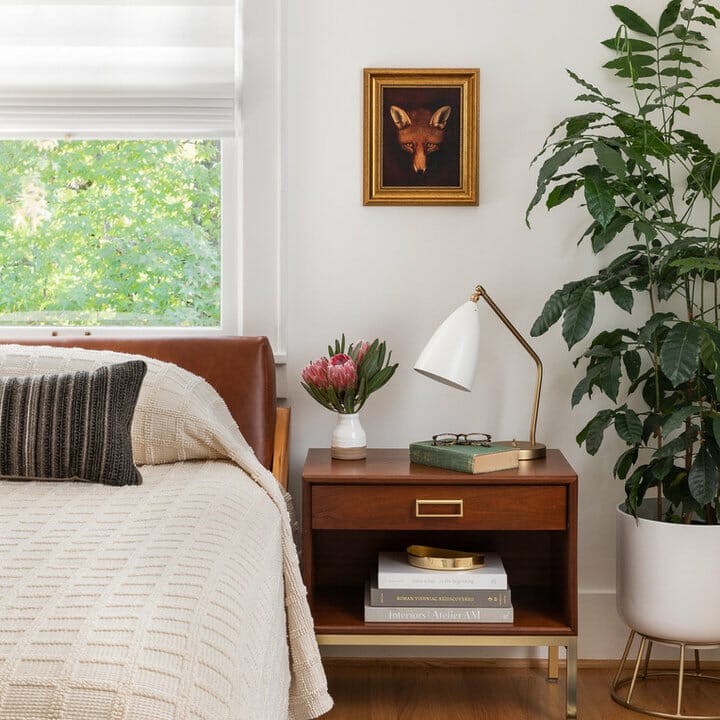 Try to shop around your house to find a hidden treasure that you can use to build a creative indoor plant stand.
You can make a plant stand from an unused wire lampshade frame. You just need to flip it over, top it with a round board, secure it with glue, and you are ready to go.
If you desire it to be more engaging, try spray painting the wire lampshade frame. Then, stain and seal the wooden board you use to top it.
7. Display Them on Shelves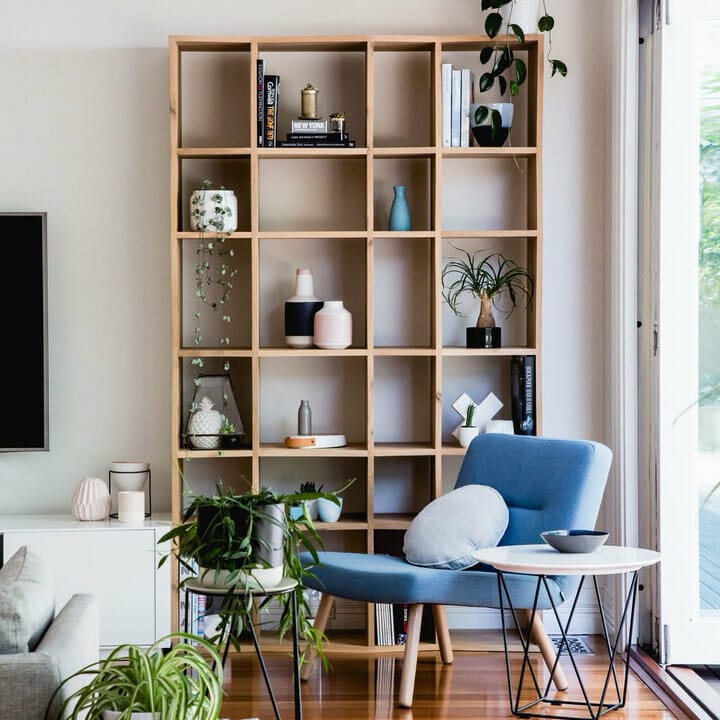 Shelves always make convenient storage. You can use them to store books, display knick-knacks, or even house your favorite plants.
Due to the limited space, you can only put small plants like succulents on the shelves. If you want to create a more dramatic look, you can place a vining plant like English Ivy or Pothos on the top shelf so that they can dangle a bit.
8. Make It Taller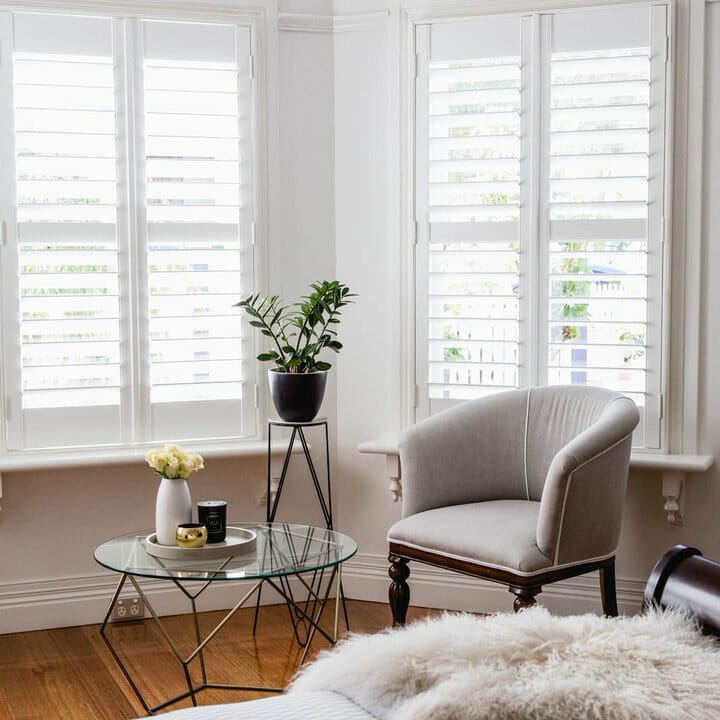 Some plants like Jade Plant and Aloe Vera can be too small to stand in a corner, but too large to sit on a coffee table along with your book and coffee.
If that is the case, you can invest in a tall indoor plant stand. This way, you can make them more noticeable and beautiful.
9. DIY Plant Stand Ideas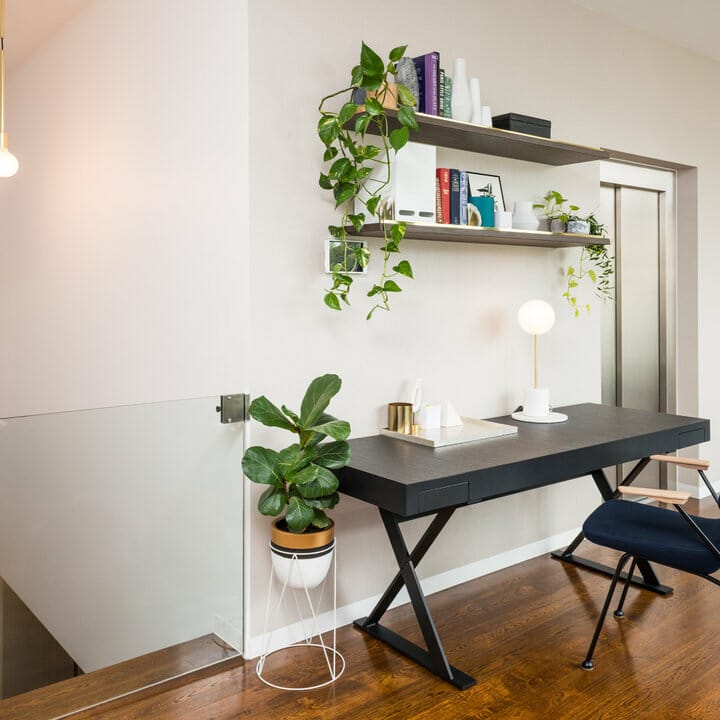 Creative indoor plant stand ideas do not have to be costly and demanding. In fact, you can make one yourself easily.
To create this wire indoor plant stand, you require a tomato cage. Then, cut the top part using a wire cutter.
After that, spray paint it to your liking. Finally, top it with your favorite plant.
10. Let the Pothos Wrap around Everything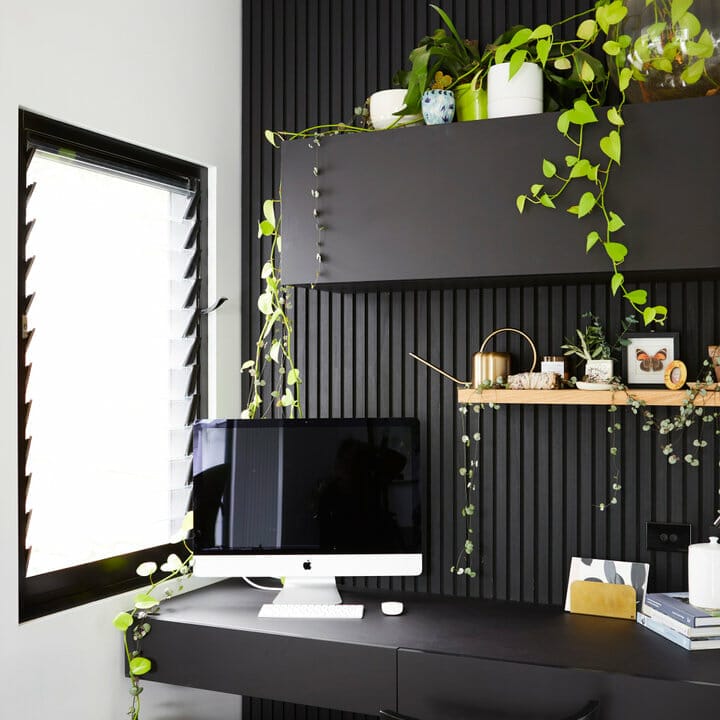 This workstation looks elegant and bold in black and white. You can alleviate the boldness while adding a dramatic effect by placing Pothos on top of the wall-mounted cabinet or shelf. Then, you can let the vines dangle from above.
11. Metal Indoor Plant Stand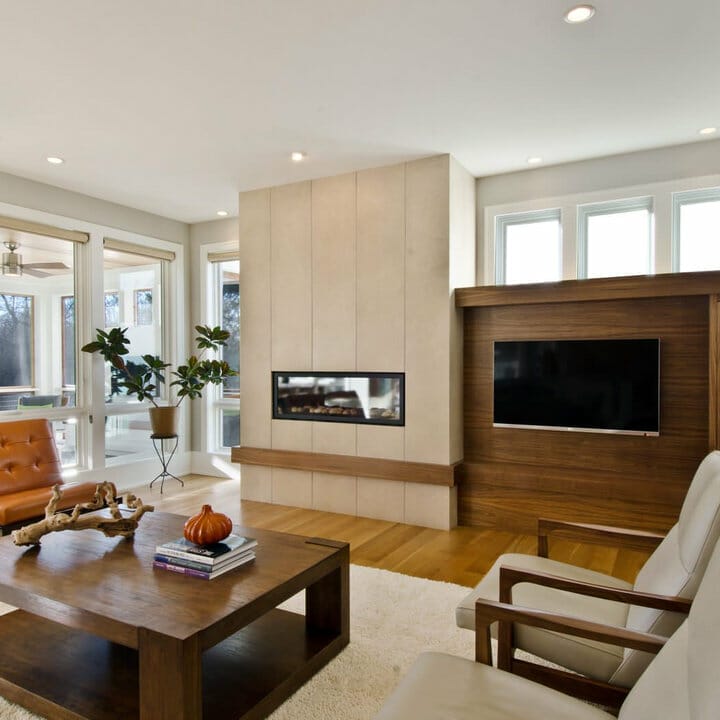 The mid-century modern style embraces various materials and textures along with organic and geometric shapes, just like what you can see in this living room.
A wooden element found in the furniture and flooring brings elegance to the space. The leather couch and metal plant stand round out the look well.
12. Create a Green Corner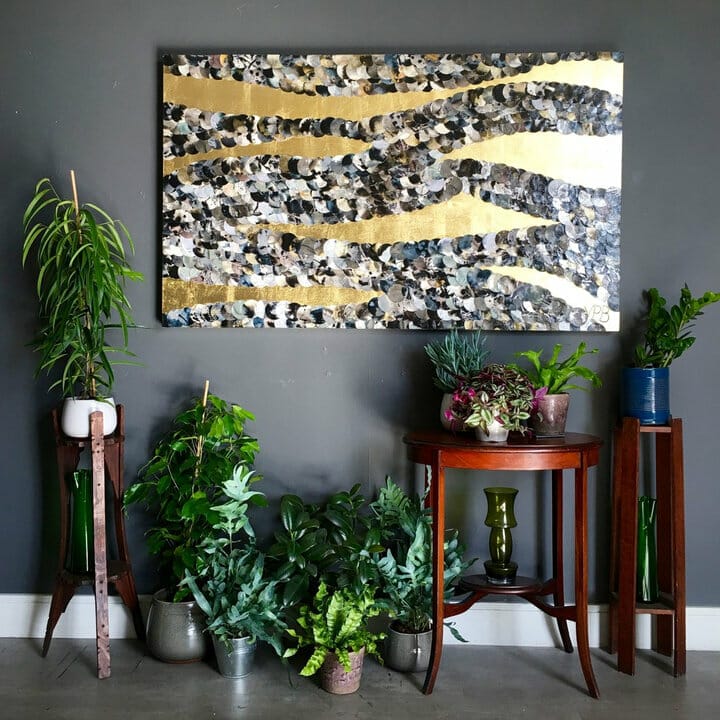 Creating a spot filled with plants is the dream of every avid gardener. You can make it tangible by implementing these creative indoor plant stand ideas.
You can find several greenery like ferns, Jade Plant, and Bamboo Palm in this spot. They also come in various heights, which enrich the look a lot.
Thus, you need to place some plant stands to accentuate the smaller plants. It does not always have to be fancy, though. Even a simple side table would work like a charm.
13. Hairpin-Legged Plant Stand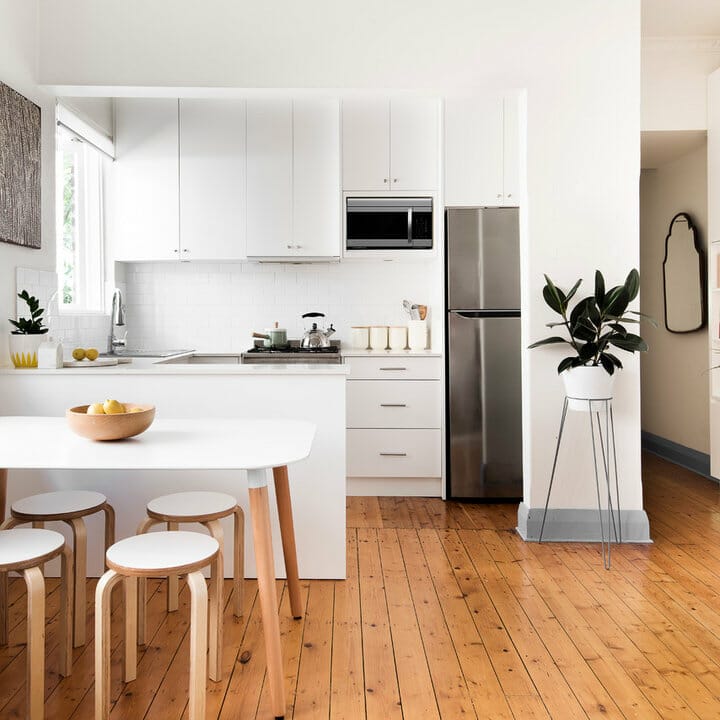 Hairpin-legged furniture is the hallmark of mid-century modern interior design. Thus, you can invest in it if you want to carve out this style in no time.
Once you see this kitchen, mid-century modern style pops into your mind instantly, thanks to the hairpin-legged plant stand. It not solely improves the looks of this Ficus elastic but also spruces up the room.
14. Fill in the Awkward Space
Do you have an awkward corner or space in your home? You can jazz it up with these creative indoor plant stand ideas.
This plant stand is basically a box with four legs. It is so simple that you can make it yourself using wood board and dowels or copper pipes.
The box houses several flowerpots together, making them look tidy and united despite the different varieties.
15. DIY Wooden Plant Stand Ideas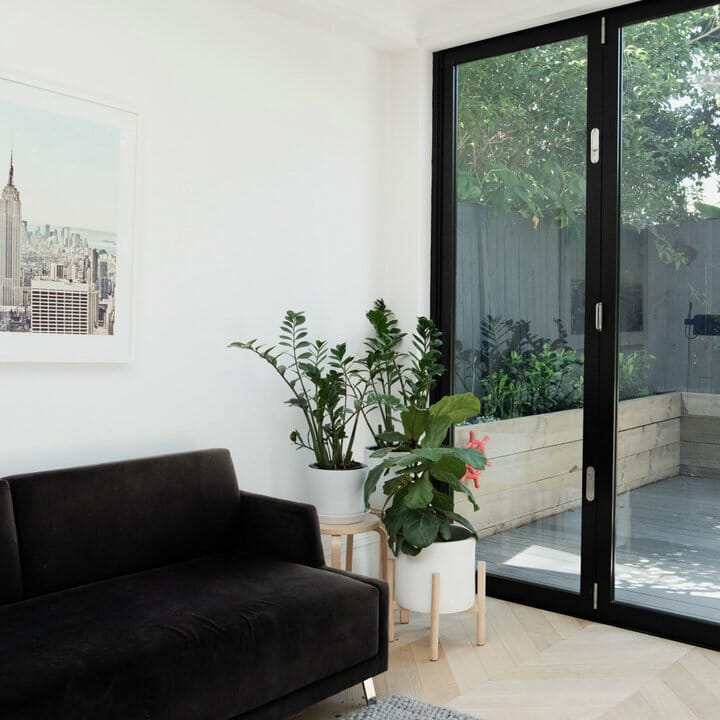 Why do you have to buy an expensive plant stand if you can make one yourself?
To make this plant stand, you need four 1" dowels for the legs, two ¾" dowels for the crossbar, two ¼" wood pegs, ¾" and ¼" drill bits, clamp, wood glue, and table and miter saw.
16. Keep It Low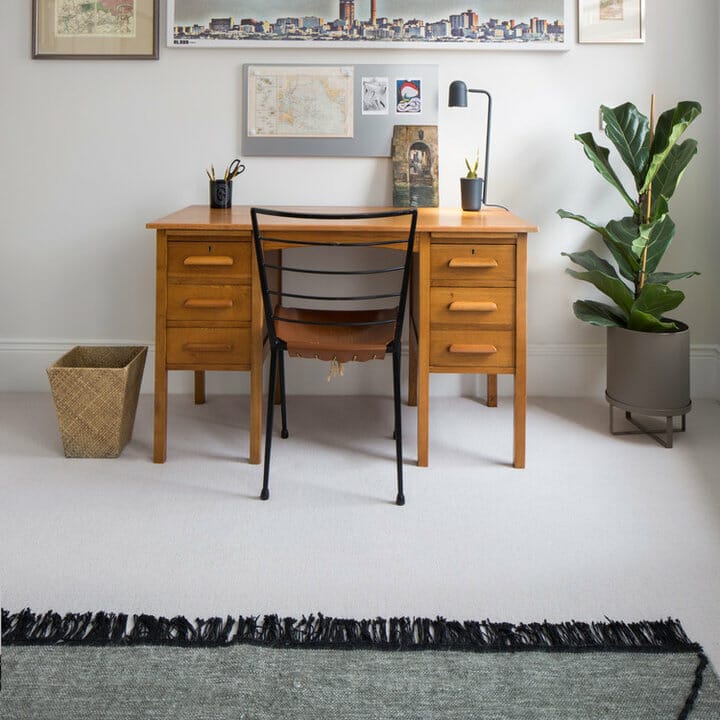 Creative indoor plant stand ideas come in a wide array of sizes and designs to meet your need.
As a good rule of thumb, a large plant like a Fiddle Leaf Fig does not need a tall plant stand because it will ruin the balance of the interior.
You had better choose a shorter plant stand to house a Fiddle Leaf Fig. this way, this greenery will look like a decorative element rather than a giant tree growing inside the house.
17. DIY Tiered Plant Stand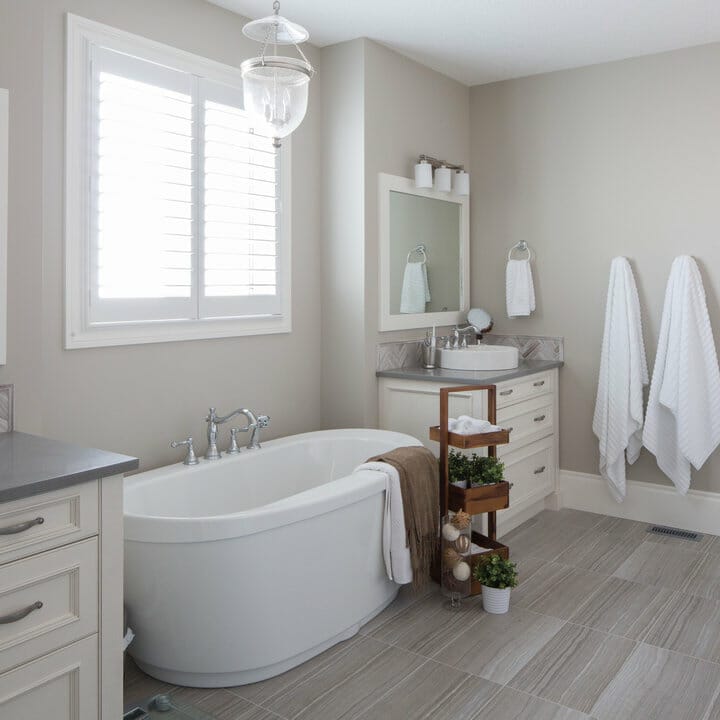 Creative indoor plant stand ideas can be as simple as this 3-tier bathroom caddy.
This caddy houses not only your bathroom essentials but also some beautiful greenery. The design allows it to be moveable.
You can also take this 3-tier caddy and put it in the living room to host your favorite plants. No one tells you that it has to stay in the bathroom all the time, right?
18. Petite Plant Stand Ideas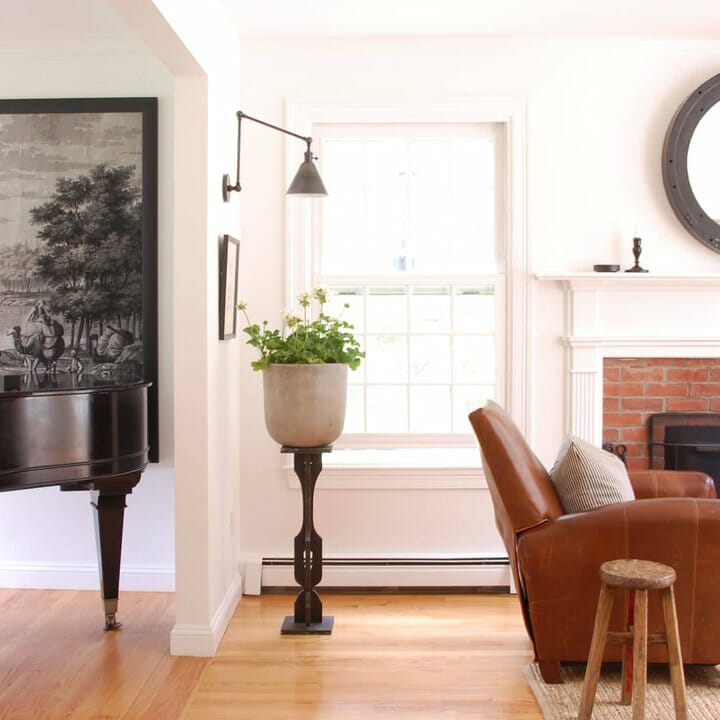 This petite plant stand features striking curves that will add a bit of traditional charm to your modern living room. Besides, it matches the piano well.
19. Creative Indoor Plant Ideas to Create Balance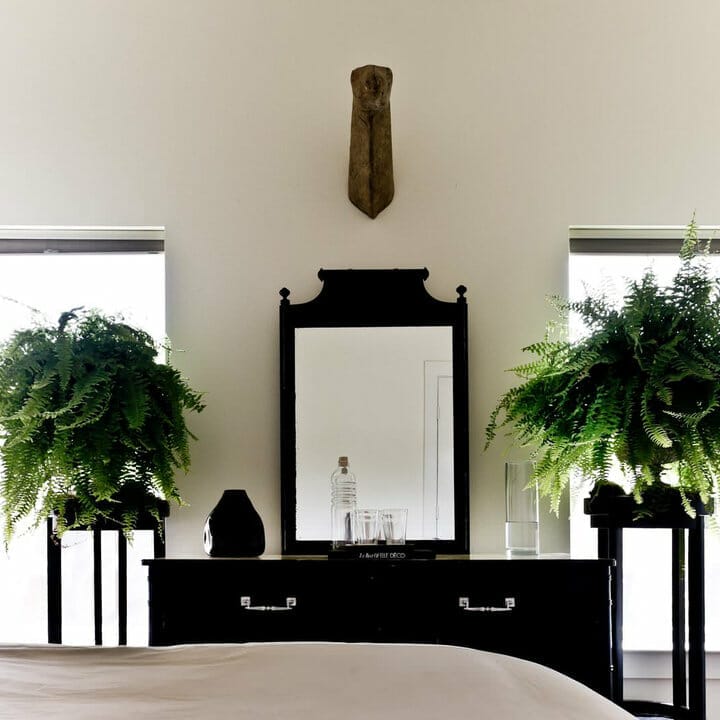 The greatest method to form balance is by carving out a symmetrical look. You can implement it by implementing these creative indoor plant stand ideas.
You can see how elegant this dressing table is. It comes in black, which makes it even look more luxurious and bolder.
Two identical tall plant stands flank the dressing table on each side, creating balance instantly. They even come in the same color hue to carve out a united look.
On top of each plant stands are lush, green ferns that incorporate more drama to the dressing table.
20. DIY Cheap Plant Stands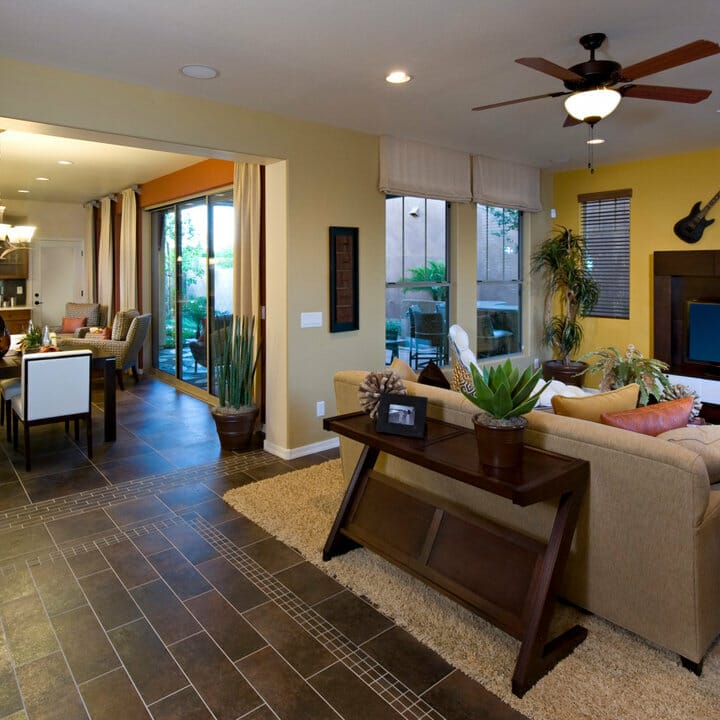 Some creative indoor plant stand ideas are easy to make and even free. You just need to get unused stuff that lies dormant in your home.
Thus, try making a plant stand that also acts as a console table from unused cabinet doors. This table, for example, looks unique with a Z shape.
21. Multipurpose and Creative Indoor Plant Stand Ideas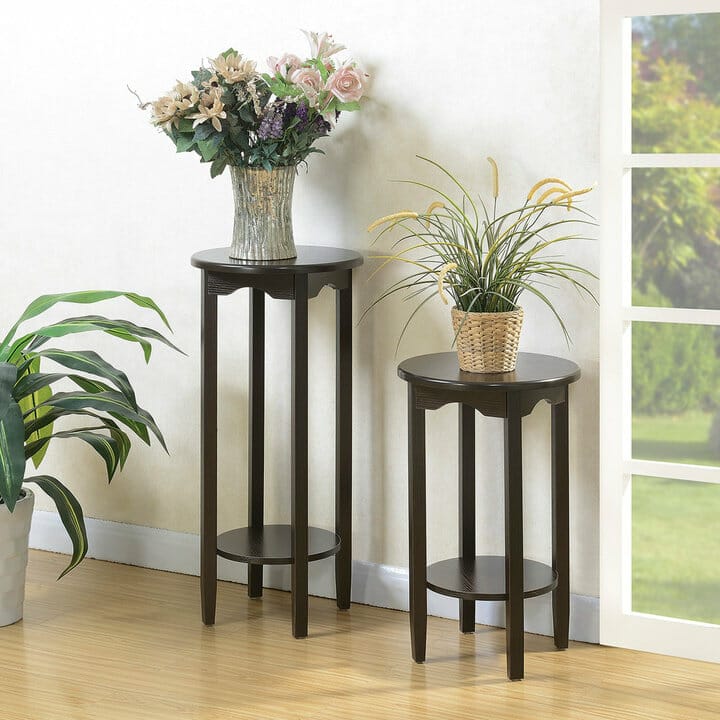 If you are not fancy DIY tasks, you can opt for these creative indoor plant stand ideas. You just need to get a side table and top it with your favorite flowers of greenery. That is it! It is just a piece of cake, isn't it?
22. Ladder Indoor Plant Stand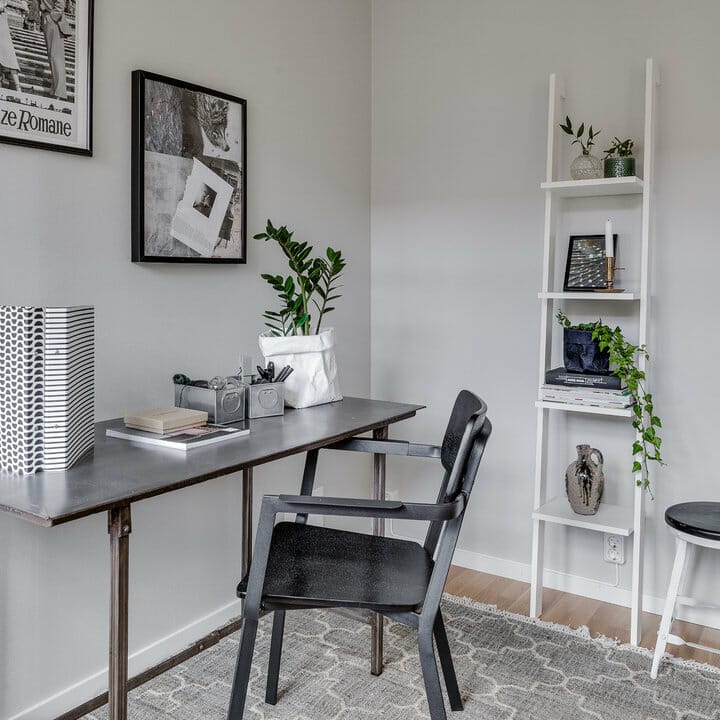 Do you have an old ladder at home? Give it another chance with these creative indoor plant stand ideas.
First, you need to remove the steps and replace them with a broader board to create shelves. You can also sand the ladder to smoothen the surface and paint it the color of your choice.
23. Blend It with the Interior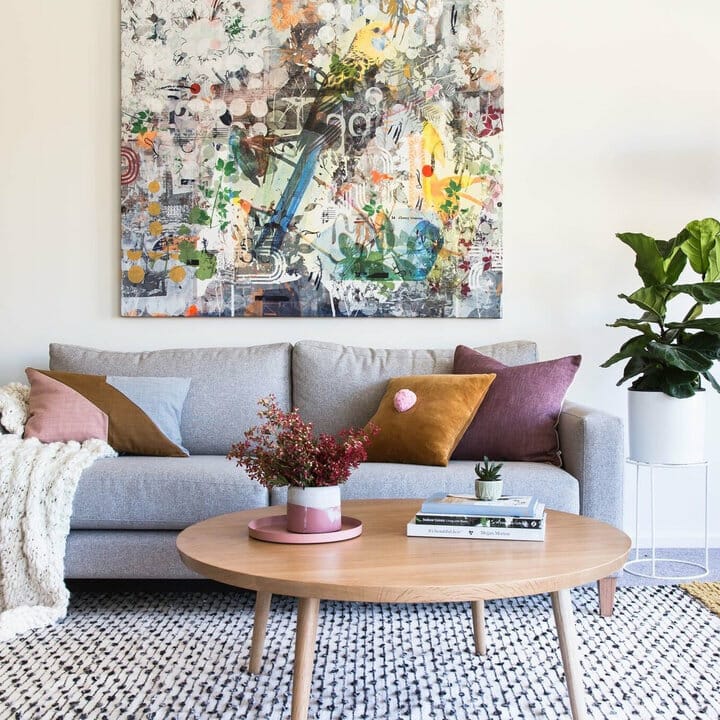 The plant stand and flowerpot come in the same color as the wall, making it camouflage nicely. As a result, the Fiddle Leaf Fig looks as if it were floating.
24. A Forest-Like Retreat and Hideaway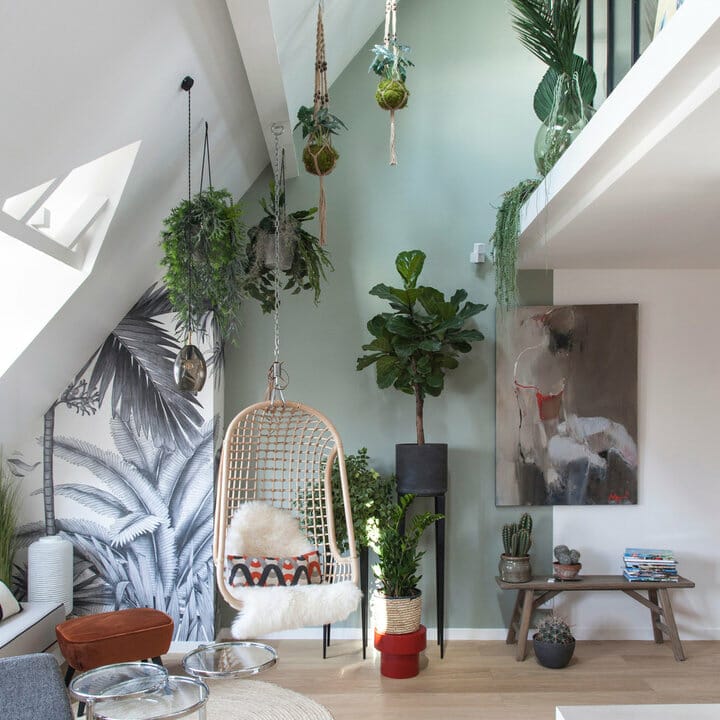 Take creative indoor plant stand ideas to the next level by varying the designs. You can find a rustic bench that houses cactus.
The Fiddle Leaf Fig sits on a tall plant stand, making the tree look even taller. Some other greenery perch on the mezzanine level and dangle from it.
Some plants, including Japanese moss balls, hang from the ceiling, making this room look more fascinating.
25. Modern Indoor Plant Stands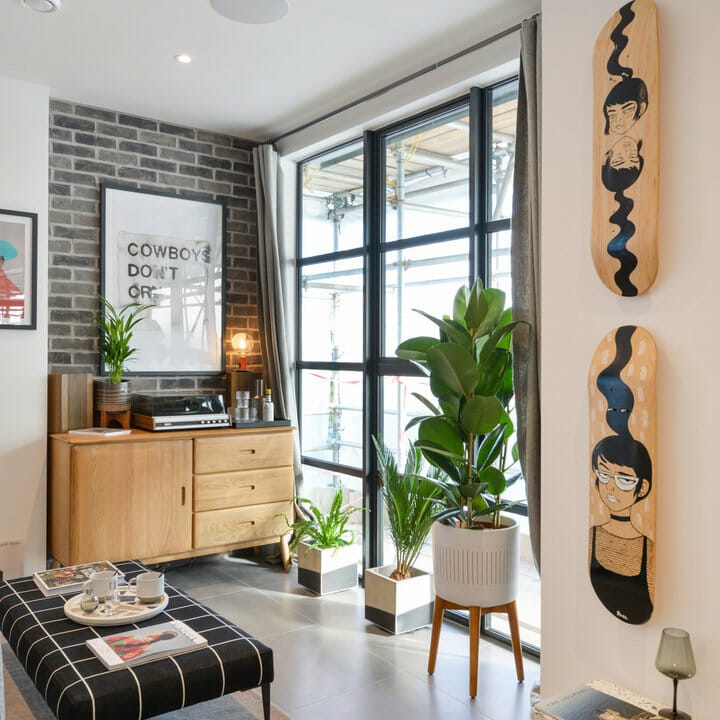 If you want to create a modern look by incorporating plants into the space, you had better stick to greenery, like monstera, philodendron, or Areca palms. Creative indoor plant stand ideas also play a crucial role in carving out the style.
Try investing in flower pots and plant stands that feature simple designs with clean lines and curves.
26. Luxurious Plant Stand with Gold Accents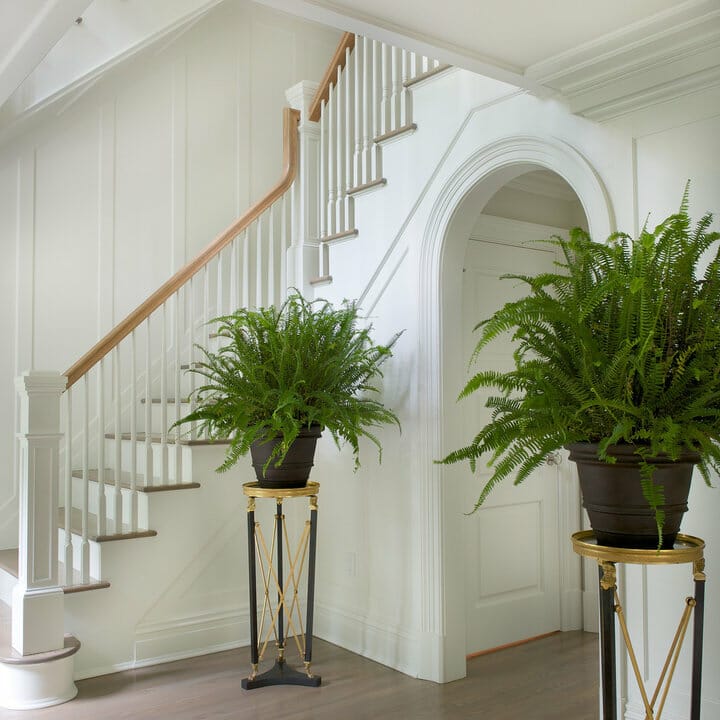 Are you looking for creative indoor plant stand ideas that can add luxury to your home? You can give them a try.
These plant stands feature a distinctive design with a gold accent that adds instant luxury to any room.
You can place them by the front door or stairway to welcome your guests when they step into the entryway.
27. One Plant Stand for All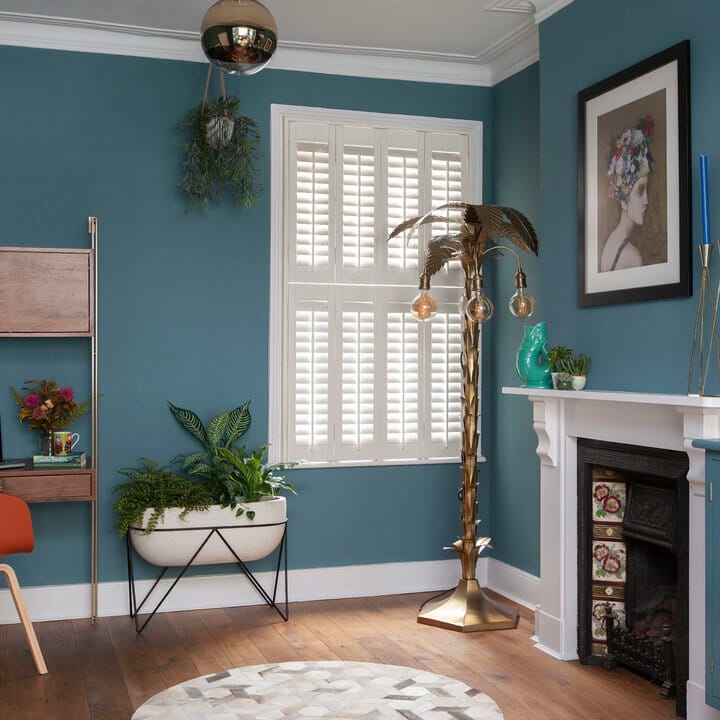 This plant stand is like a mini bathtub. It houses various greenery at once, creating a lush, forest-like look.
28. Add Texture with a Plant Stand
Creative indoor plant stand ideas can do a lot of things, including adding textural elements to the space.
This wicker basket makes a pretty good plant stand that complements the rug nicely.
29. Minimalist Indoor Plant Stand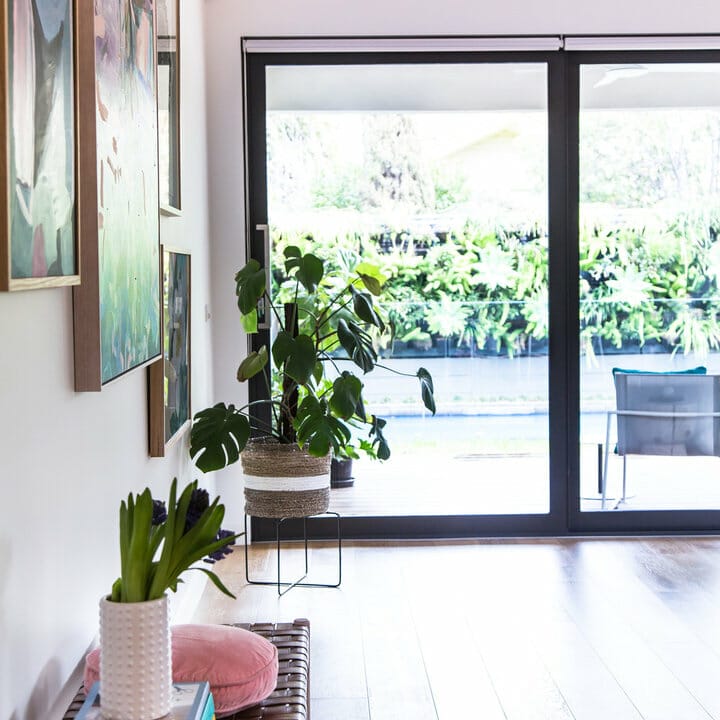 Being minimalist is not always bad and mundane. It can be more attractive and elegant instead, just like these creative indoor plant stand ideas.
A planter sits on a wire plant stand. Jute rope wraps around the flowerpot, adding more texture and pattern at the same time.
30. Bring in Outdoor Elements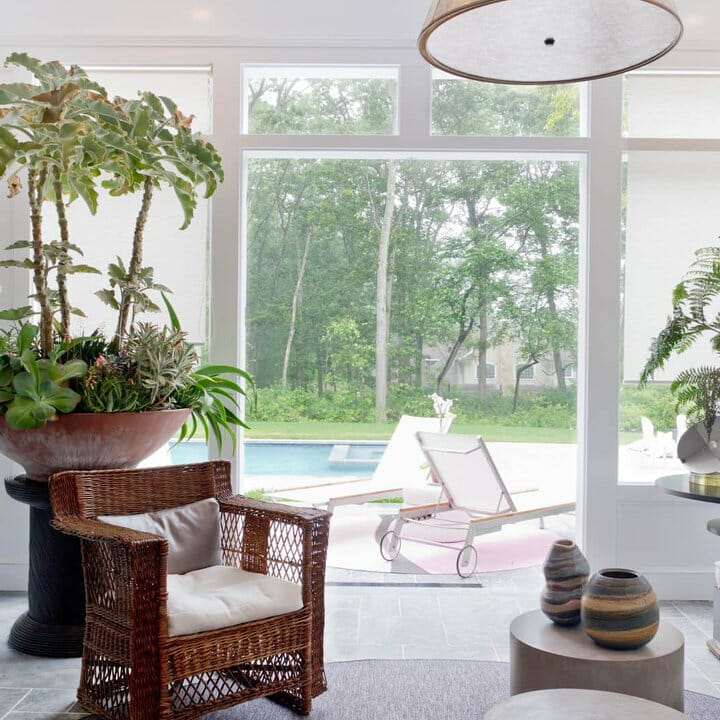 A pool house can be the best place to relax. It is like an extended living area where you can unwind and relish your time with a relative.
Since it is an outdoor living area, you need to consider embellishing it with comfortable furniture and plants.
You can also place a plant stand behind an armchair. This way, you can make the plants more noticeable while creating a spectacular backdrop for the seating.
You have many options for creative indoor plant stand ideas. In fact, you can try to DIY some of them. Whatever your choice is, they will definitely accentuate nature's charm immensely.