You can apply corrugated metal ceiling ideas anywhere in your home. Just say it in the bedroom, home office, living space, to the bathroom.
By showcasing wavy accents, corrugated metal ceiling ideas instantly give texture and exude a remarkable uniqueness inside any space.
Besides being visually appealing, corrugated metal sheets also come in many colors and finishes. And it is painless for you to choose whichever model matches your dream interior design.
Moreover, corrugated metal ceiling sheets are pretty handy to install. Regarding this, you can plan some DIY projects without any doubt.
It's okay to bring it in a rustic style, farmhouse, or industrial one. All of those themes will present a new appearance that always astonishes everyone.
Suppose you are in the home improvement phase and think of taking a unique design. Here are plenty of corrugated metal ceiling ideas for you.
1. Corrugated Metal Ceiling Ideas for Bedroom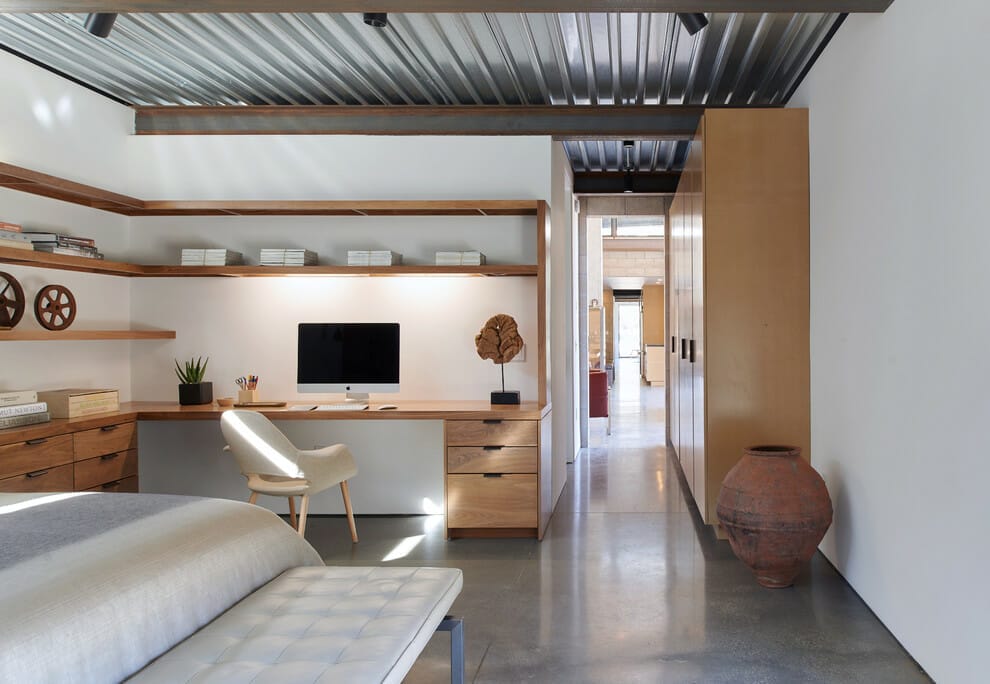 Many people choose to go with a safe interior design for a bedroom. And, giving this space a corrugated metal ceiling can be a little tricky for some individuals.
Suppose you prefer neutral shades, a clean and bright finish. In that case, it is better to set up the entire walls in white. Then place some furniture that emits light-tone wooden structures.
Last, don't forget some ornamental elements to beautify your intimate space on the floor or desk.
2. Industrial Sunroom with Corrugated Ceiling Panels and Glass Wall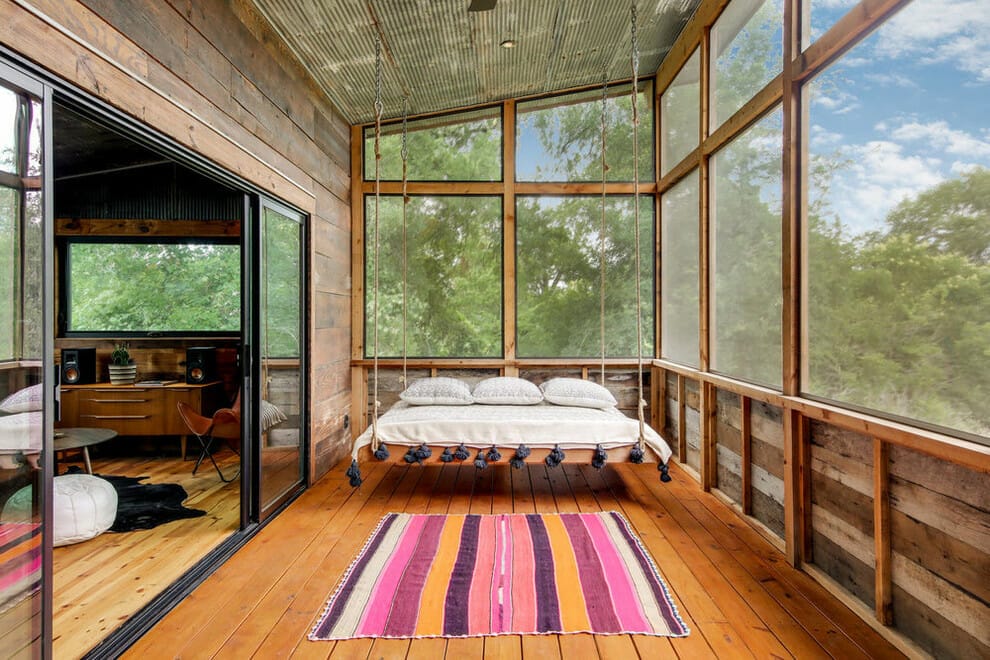 Corrugated ceiling ideas are also convenient for your sunroom. Look, at how this design is eccentric and attractive at the same time, especially with a hammock or standard hanging bed.
You can arrange the entire wall with glass based on the picture above. So that sunlight will more easily emit the whole room during the day. The outdoor view displayed will give you a tranquil feeling while sunbathing.
3. Light Gray Metal Ceiling for Brighter Living Room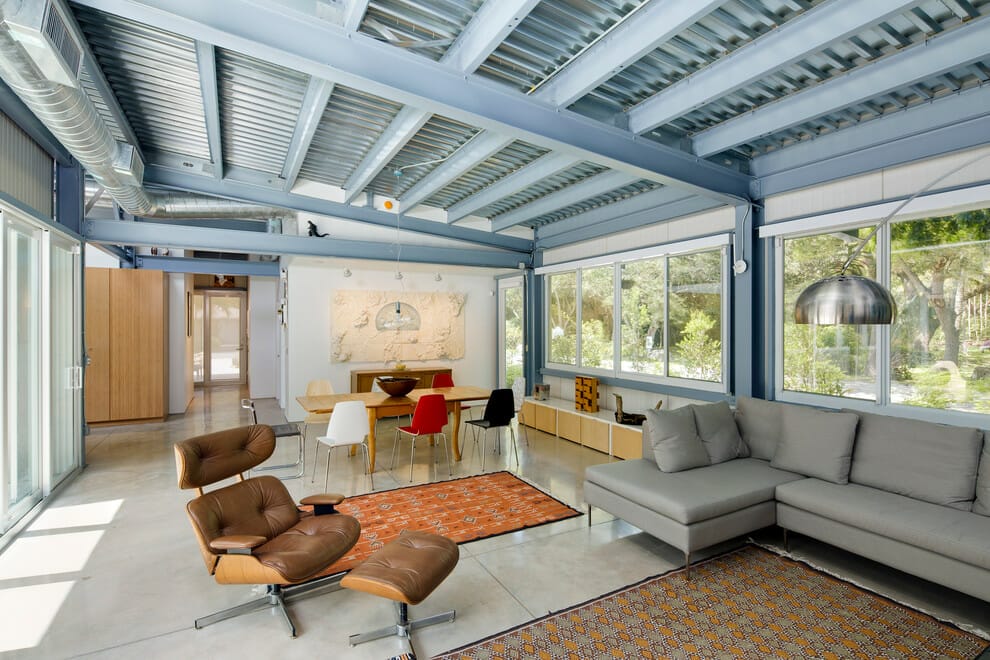 Are you looking for corrugated metal ceiling ideas perfect for your living room? Don't worry, because you will soon find the best in this section.
The first thing you need to do is choose corrugated metal sheets with a light gray color. Next, install it with the iron structure and give it a typical blush.
When everything is clear, you merely have to complete your interior with furniture in warmer tones such as orange, brown, and gray. Now your gathering room has become nifty and cozy.
4. Modest Workspace with Wooden False Ceiling and Fan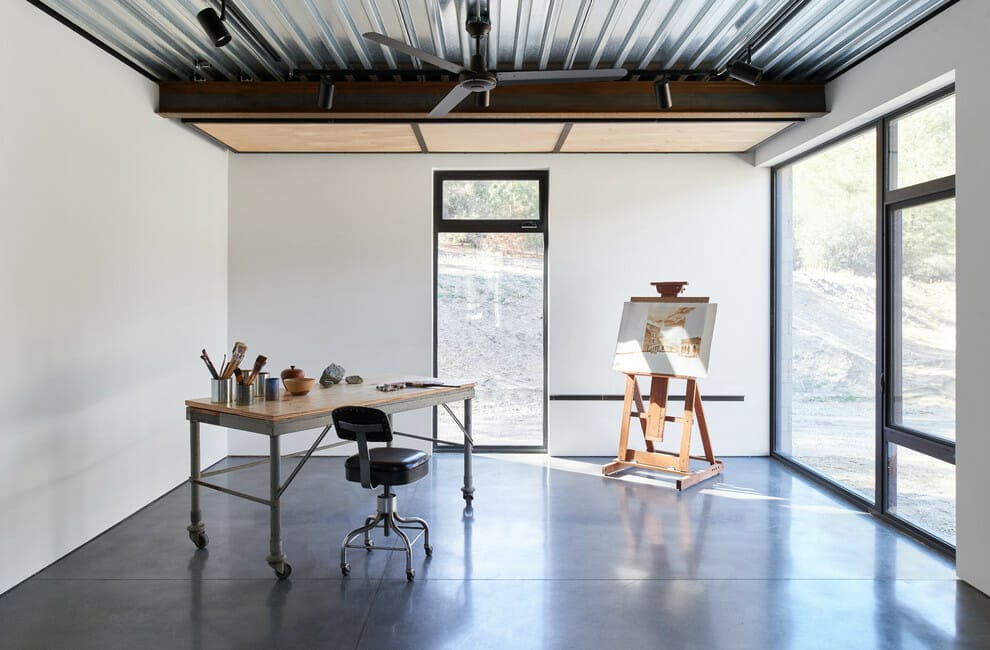 Besides being comfortable, your home office should at least be attractive. It is essential to focus more and quickly get inspiration in finishing a project, especially for you who focus on the creative field.
Suppose you plan to have some improvement and prefer a modest industrial style. In that case, you can bring a false wooden ceiling and metal panels.
Don't forget about a ceiling fan to let your workspace have good air circulation.
5. Solid Industrial Chic with Bare Corrugated Metal Ceiling and Panel Wall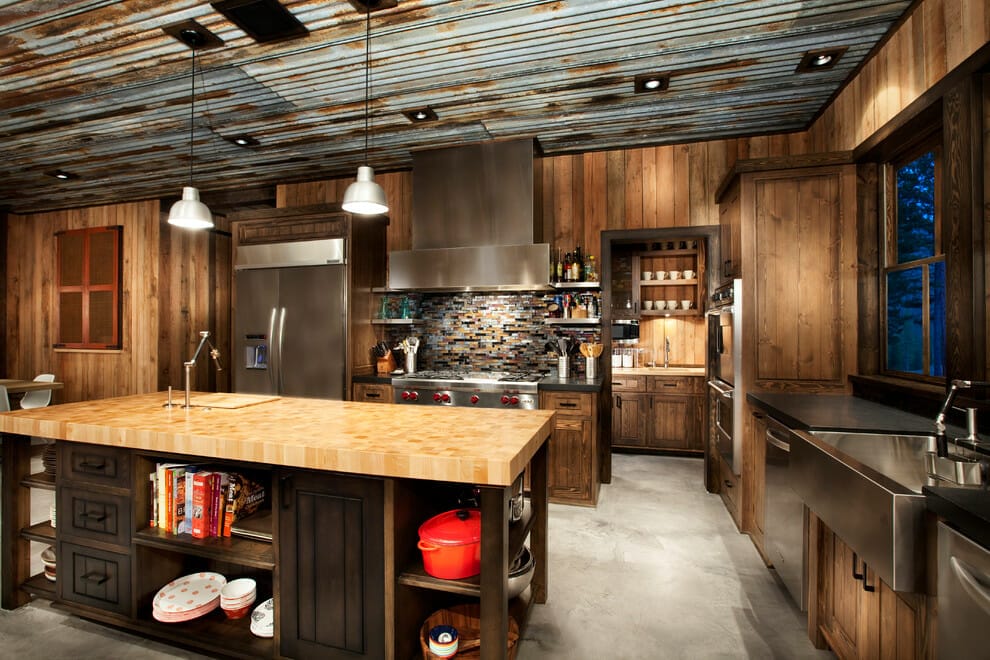 Corrugated metal ceiling ideas don't just encourage you with a sleek and shining look. It has been said that this material showcases many finishes, and one of them is already distressed as above.
A bare or distressed corrugated ceiling will give a strong personality to your kitchen. Moreover, it will successfully provide a statement with rustic wall paneling and a mosaic backsplash.
Don't be afraid to make your kitchen look overcrowded. Instead, it will be eccentric with its uniqueness that no one else has.
6. Sleek and Shiny Corrugated Metal Ceiling Ideas for Kitchen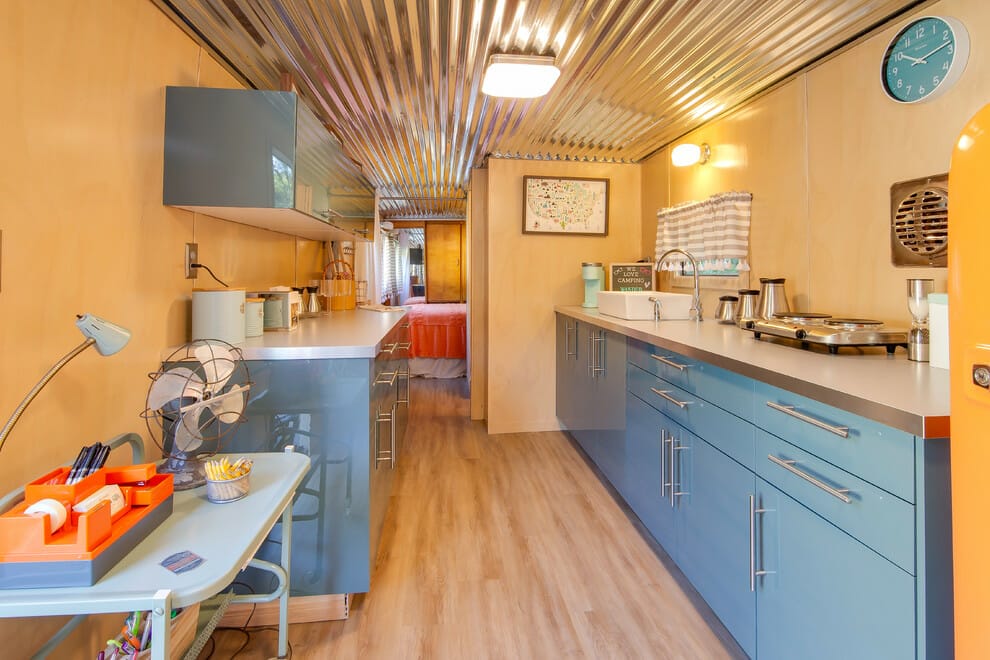 The farmhouse style is known for its warmth and simplicity. And this is what can be displayed with a metal ceiling set.
Choosing bare sheets with a shiny corrugated surface is the best move you will ever make.
Combine this interior with a bright blue kitchen set and wall tiling in cream. Trust me, and this kitchen will be very inviting.
7. Powerful Rural Vibrant in the Bathroom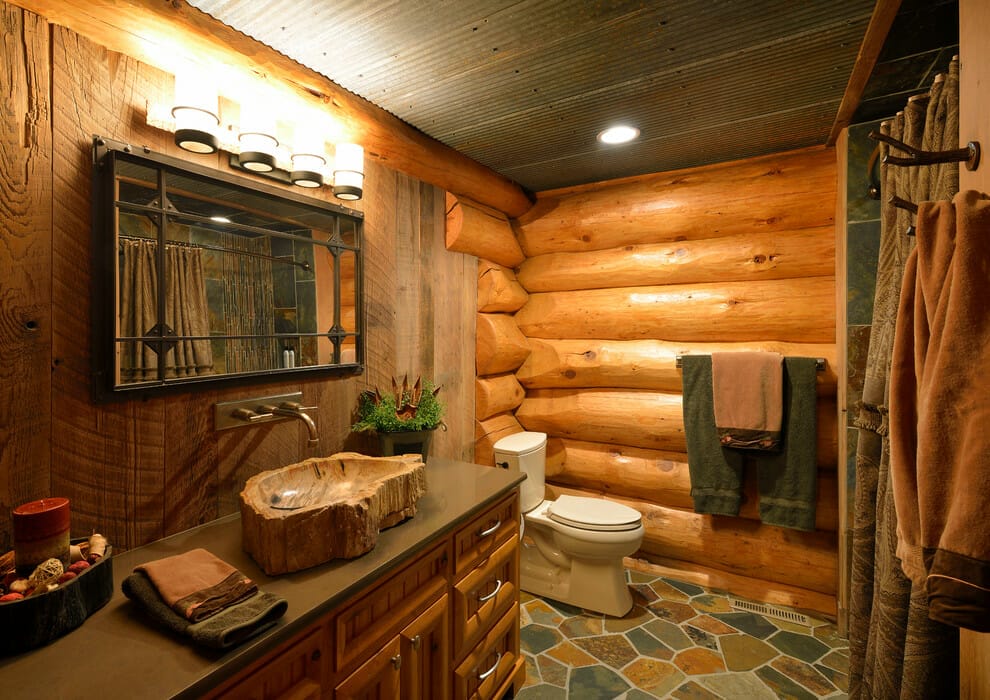 Apart from the kitchen, which other area would you like to add some uniqueness to? If it's about your primary bathroom, then don't hesitate to explore all your creativity.
Put all the elements in all rustic. Starting from corrugated roofs, walls from logs and wooden boards to flooring made of natural stone. Indeed, everything will look perfect together.
Undoubtedly, the guests will be amazed by the aesthetic interior you present.
8. Whole Glass Wall on The Side and White Backsplash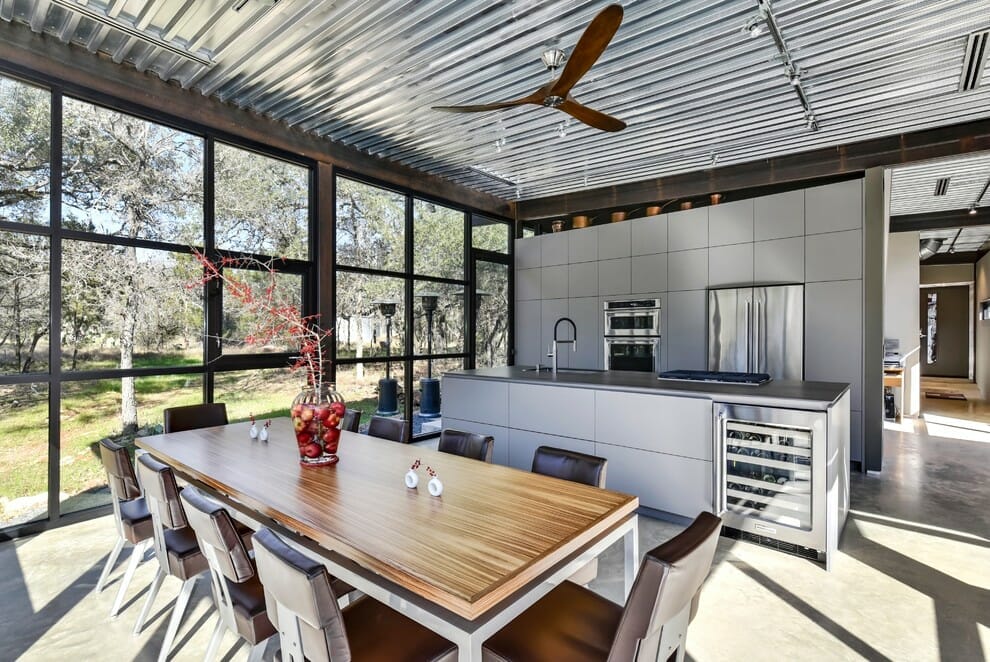 You will quickly get a clean and broad look by adopting corrugated metal ceiling ideas. You can combine silvery ceiling sheets with glass partitions on one side of the wall. Then let the backsplash area set in plain white tiles.
Furthermore, please add some focal points so that your cooking space is not tedious. One of them is having a ceiling fan and a dining table set in matching light brown.
9. Come Together with Polished Concrete for Indoor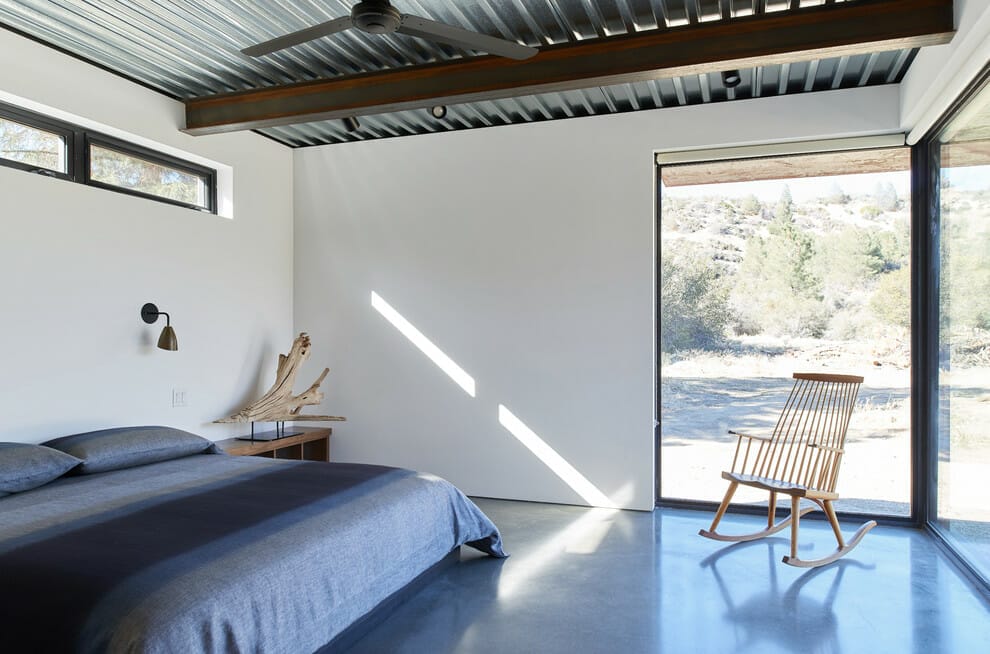 Nothing is more suitable for getting the perfect industrial finish than carrying a corrugated ceiling with concrete flooring.
And, since it's about renovating guest rooms, keep it simple but still memorable for all the guests.
Hence, it is better to pair your corrugated metal ceiling with a polished concrete floor. So that the whole room setup looks more shining. You can also place a unique sculpture that resembles a dry tree trunk for display.
10. Roughness Here and There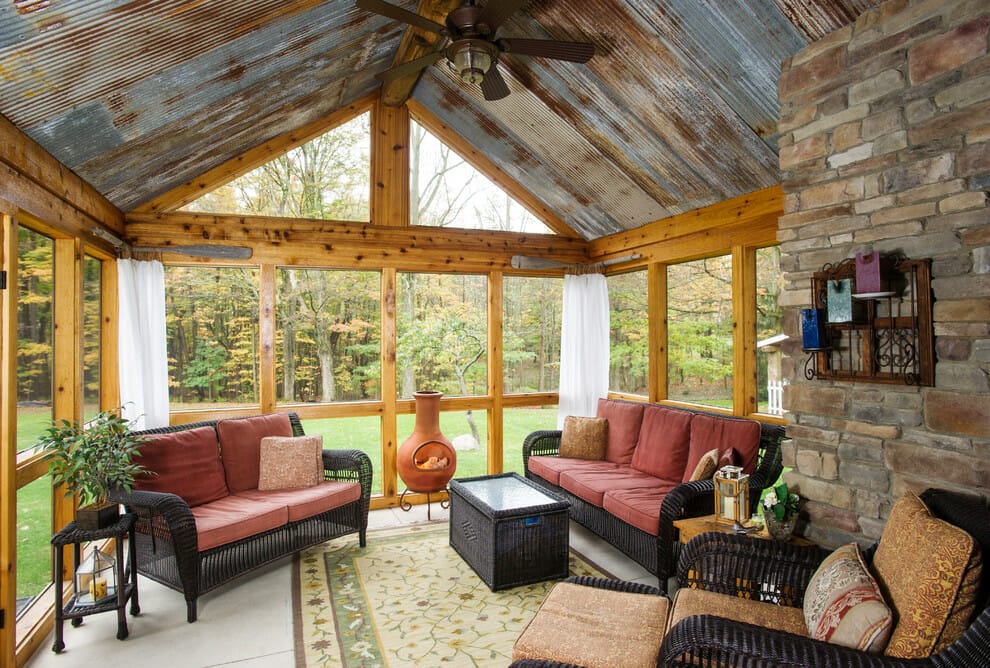 Mountain houses or the rural ones usually go with more rustic corrugated metal ceiling ideas.
It's not just about installing worn sheets with lots of distressed parts but also about bringing in another vital element.
Let's say distressed building structures and also limestone walls.
No one can complain about its arrival because this is the distinctive charm that none can provide.
It shows an aesthetic simplicity, especially if surrounded by glass walls and doors that expose the natural landscape.
11. Add Some Striking Color to Make Everything Look Fancy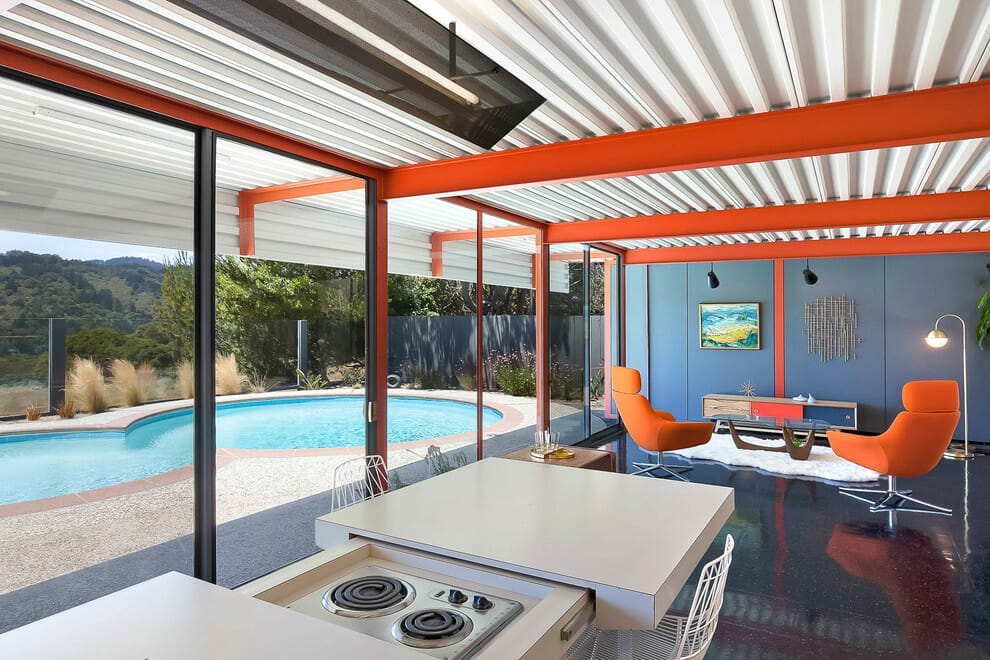 Flashy colors, indeed, always manage to create a unique focal point. And we recommend this strategy to give your industrial-style home some personality.
The neon orange looks very pretty with the white corrugated metal ceiling. And without spending a lot of energy, it already highlights the existence of your stylish sitting room.
Make your corrugated ceiling and sitting area stand out the most by presenting polished concrete flooring in black.
12. Wooden Flooring and Patterned Bedding to Add Drama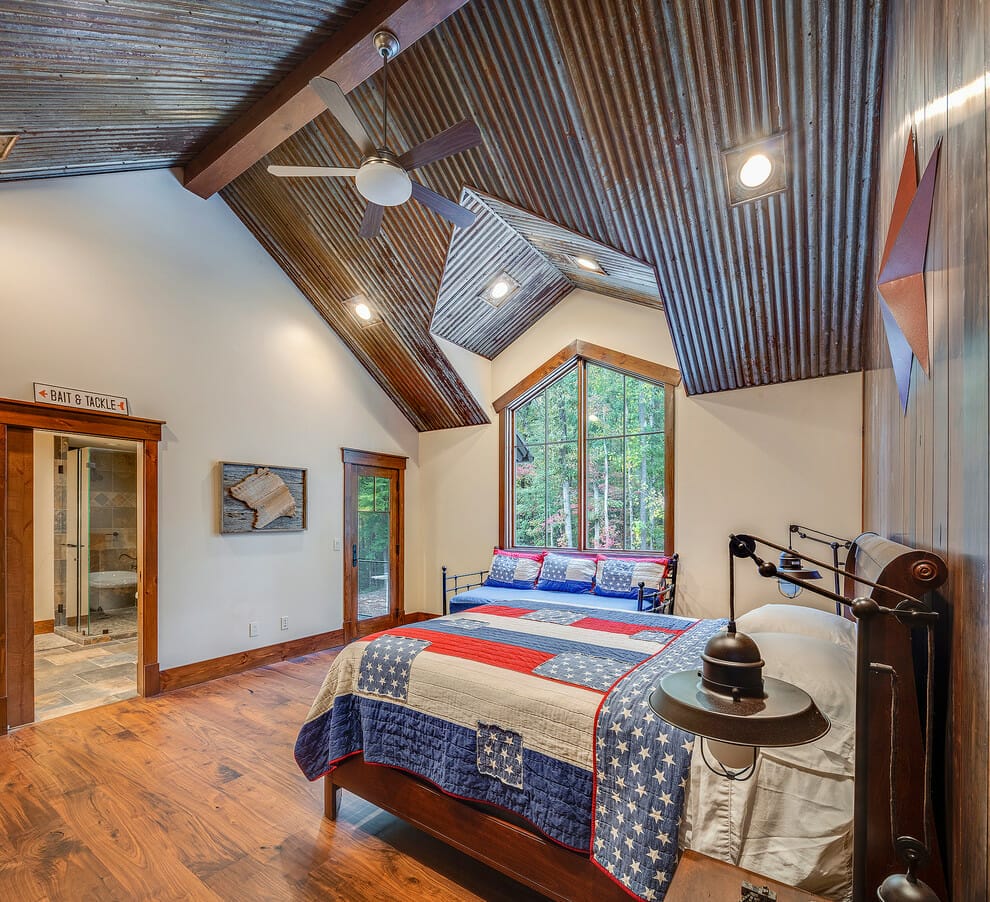 Rough corrugated metal ceiling ideas like in the picture above are, indeed, characterful. However, it is nothing more than a boring bedroom if it is not accompanied by eccentric elements, such as multi patterned bedding.
In addition, it will be more interesting if you all provide the same material and tone on your flooring and frames. As a consequence, your bedroom now has a more anti-mainstream personality.
13. Corrugated Metal Ceiling Ideas for Hallway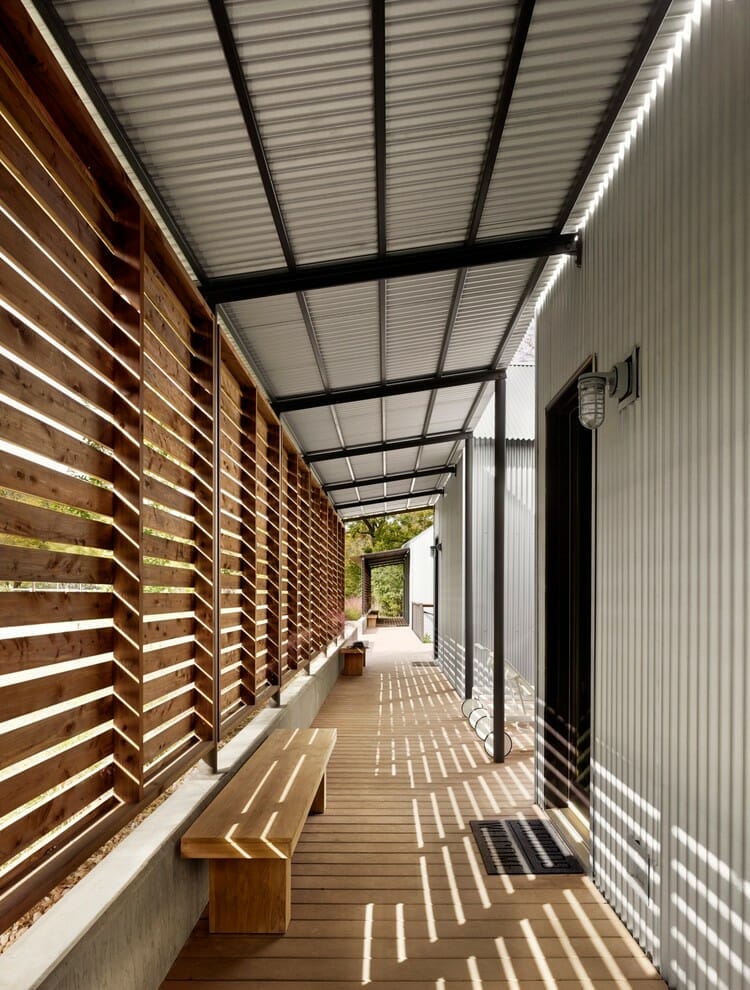 Indoor space is not the only area where you can install a metal ceiling.
It turns out that corrugated ceiling ideas are also perfect for the hallway in your home. Transform this semi-outdoor area by simultaneously providing wooden blinds integrated directly with your metal ceiling.
You can also have a corrugated wall to make all the elements in your hallway look more harmonious and aesthetically pleasing.
14. Gray Theme for Subtle Vibrant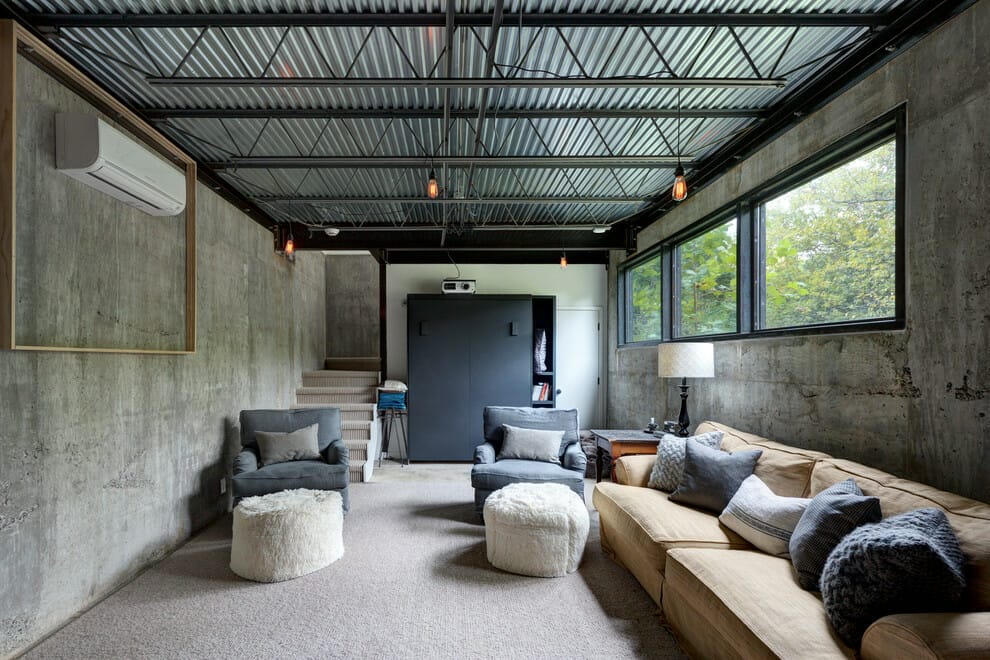 Gray is the epitome of refinement. And by dominating your interior décor with this tone, you have succeeded in creating an incomparable balance.
We know that corrugated ceilings give off profound stiffness. Hence, it takes a lot of elements to give it a more refined look.
In addition to gray, you can also mix and match the furniture with shades of white and cream.
15. Come with Rejuvenating Landscape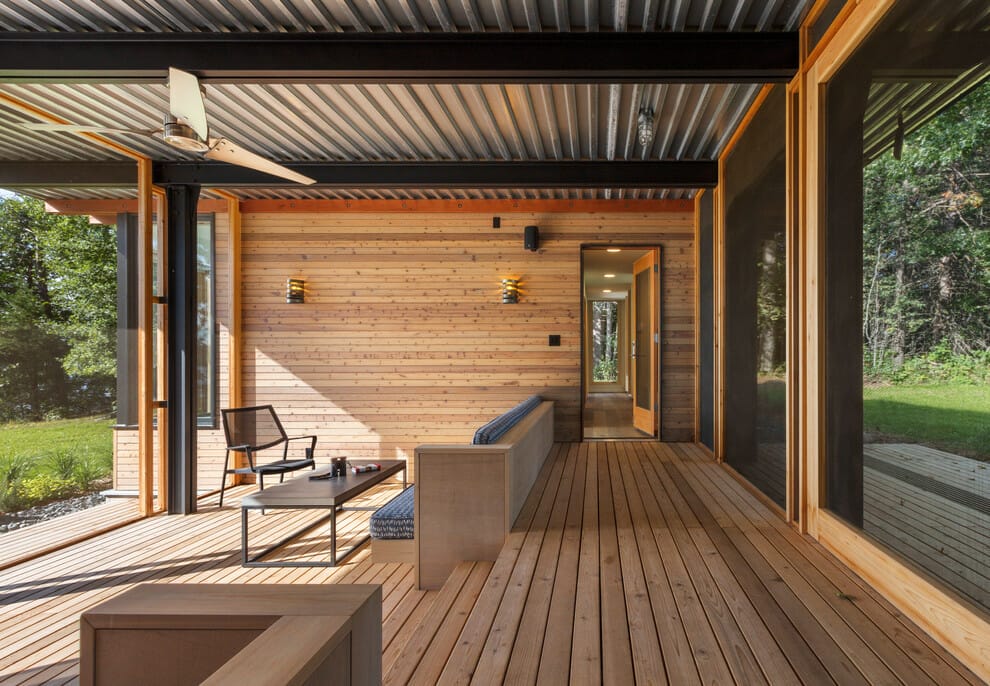 The sitting room represents the heart of a house. Suppose you plan to apply corrugated metal ceiling ideas in this area, then make sure everything around it creates a pleasant balance.
It's not just about installing wood paneling on walls and floors. Yet, it's also about uniting it with nature. One ultimate step you can take is with a whole glass partition.
Guaranteed, you and your family will feel more comfortable gathering together with this comfortable and homely atmosphere.
16. Corrugated Metal Ceiling Ideas for Outdoor Dining Room
Bring an earthy, rustic vibe to your backyard patio by installing a corrugated ceiling as above. It is imperative, especially once you set an outdoor dining table there.
To further enhance the aesthetic value of your patio, consider having a dining table made of wicker in a dark tone. You can also hang some vines or greenery to liven up the atmosphere.
17. Industrial Private Library with Warm Lighting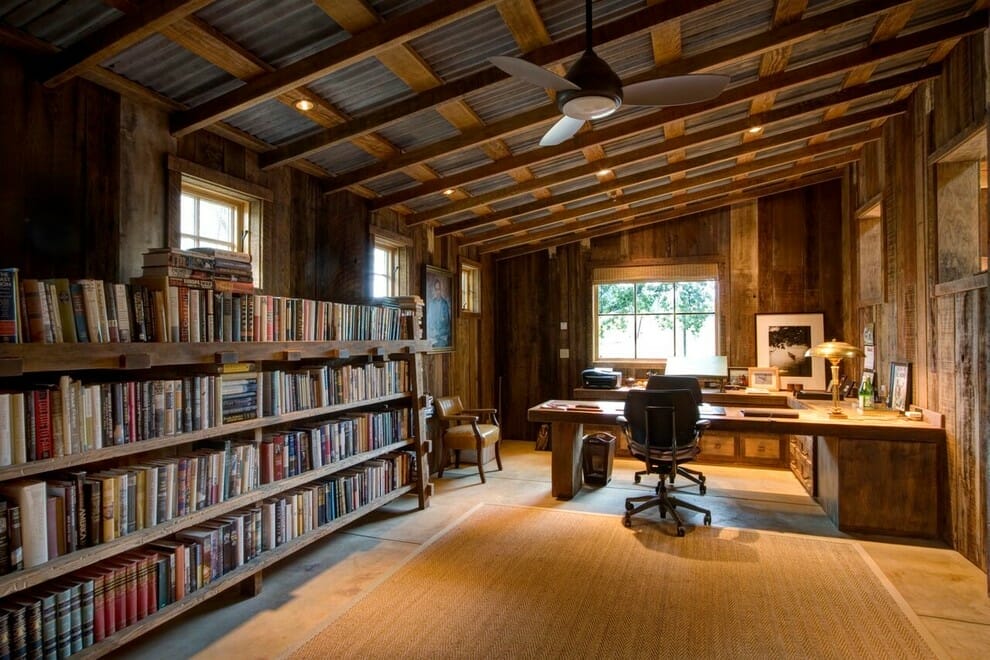 A private library that doubles your workspace requires an extra comfortable atmosphere.
And of course, unique and aesthetic are also factors that further deserve to be considered. Set up the ceiling made of bare corrugated metal sheets.
Then make sure it has a timber support structure that resembles a checkered pattern for a solid personality.
Apart from anchoring the choice to a corrugated ceiling, it would be better to provide decent lighting, especially in crucial spots simultaneously.
18. Accent Lighting Above the Bar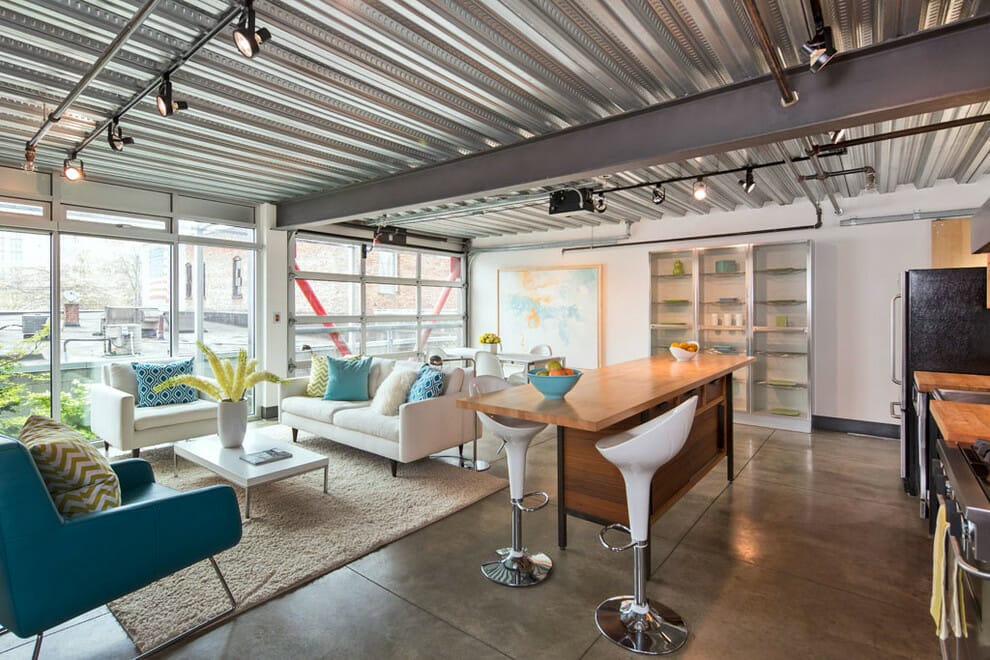 There are many ways to make the corrugated metal ceiling ideas you adopt look more breathtaking. One of them is placing some accent lighting that spotlights in several directions like above.
Choosing standard sheets can be a better option. Thus, you are free to create your interior decor. Place your choice on bright color furniture such as light blue, pastel brown, and broken white. Then everything will be remarkable.
19. Exposed Plumbing for Additional Texture on The Ceiling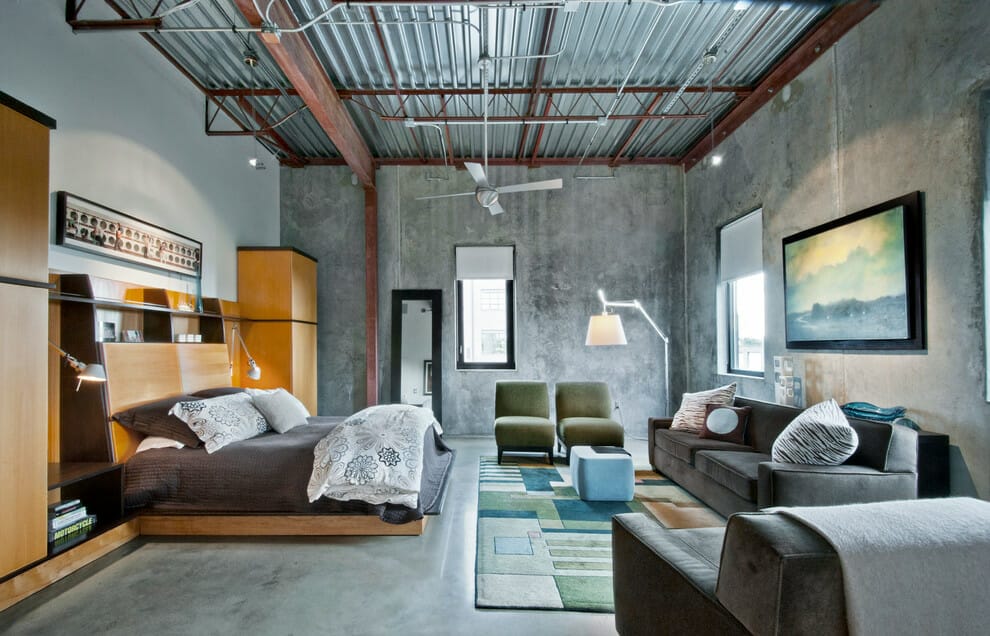 Have you ever thought about giving a 3D accent after the corrugated ceiling in your main bedroom? If so, then don't overthink complicated patterns.
You can provide it with a unique personality with exposed plumbing for extra texture. Next, please give them a color that matches your ceiling fan to make it look like a single unit.
Even though the ceiling was already quite characterful, it still looked pale. So it would be better to make your bed and cabinet have a bright tone to prevent dullness.
20. Corrugated Metal Ceiling Ideas with Light-Tone Mixed Structure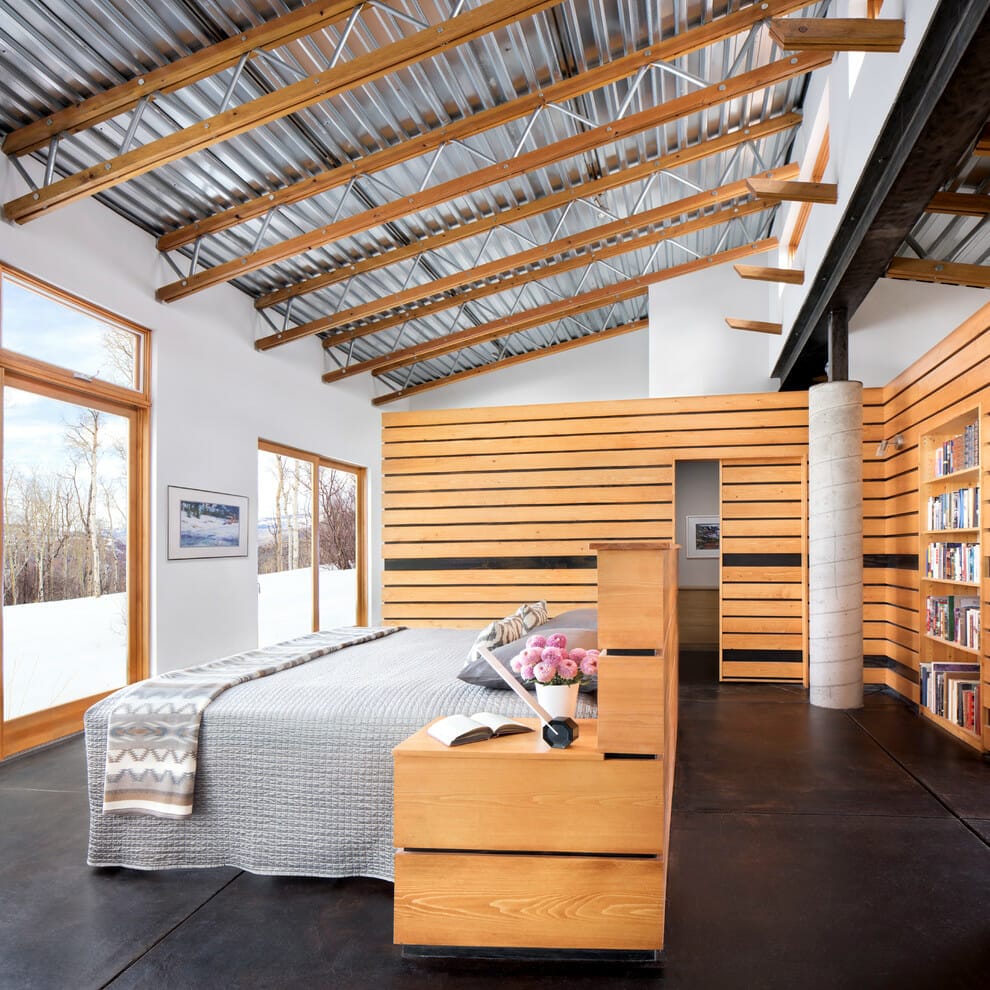 Maybe you haven't thought about mixed structures as a support for a corrugated ceiling before.
And, in these corrugated metal ceiling ideas, you find that it exists and is quite impressive to own.
It could be a custom structure you will get, and you need to consult with your architect. As you can see, composite frames are pretty risky to handle unless you are the expert.
Apart from that, the hybrid structure of metal and light-tone wood will make your room appear brighter. Especially if it is also equipped with wall paneling in a similar tone.
Don't forget about the built-in shelves too. And see how highly artistic and multifunctional the headboard is.
21. Timber Structure, Metal Sheets, and Natural Stones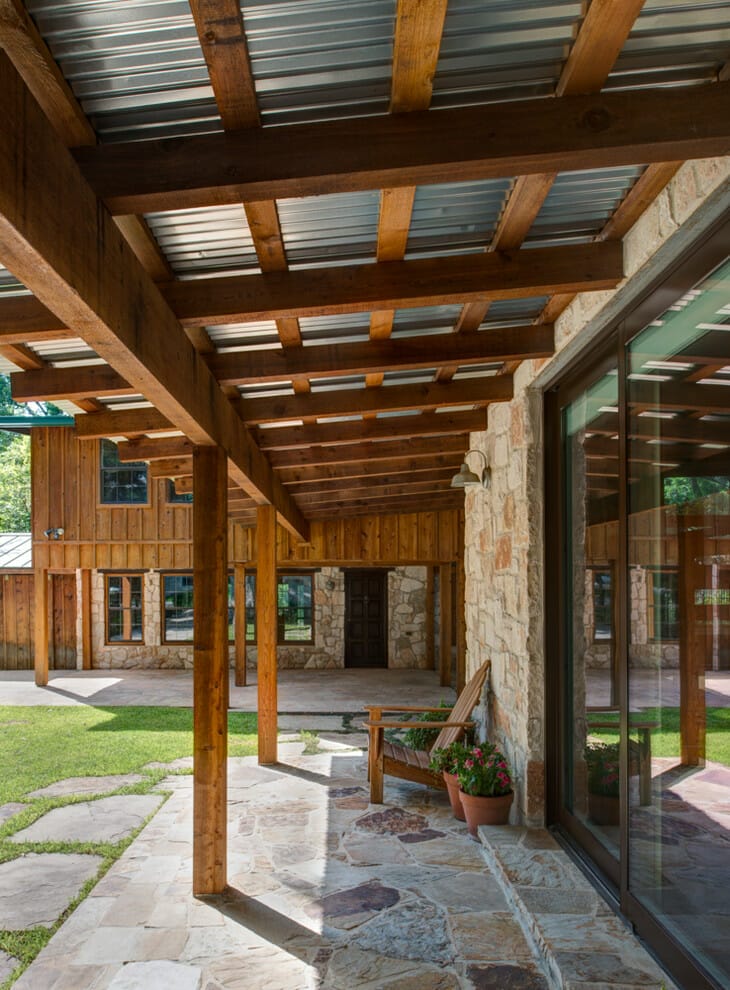 At first glance, the combination of corrugated ceiling panels with timber structures and posts as well as natural stone tiles is incredibly captivating.
The earthy tone with a lot of natural textures makes your front porch stunning without much coercion.
Balance that with full-length glass doors, wall sconce, and some flower pots to further cheer up the atmosphere.
22. In Harmony with Stainless Steel Furniture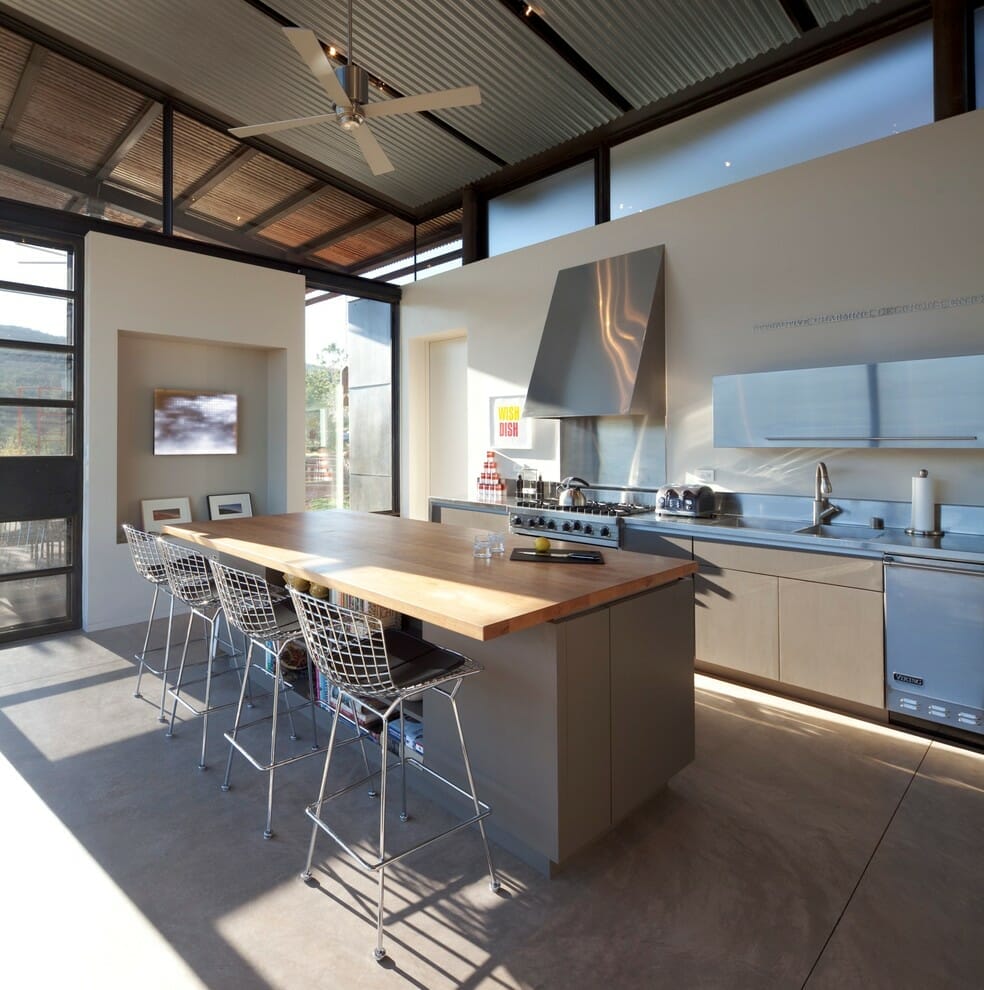 Corrugated metal ceiling ideas that are implemented in the kitchen require a coherent kitchenette. For that, consider installing some units made of stainless steel.
Meanwhile, the rest have little natural touch with a wooden countertop and bare concrete flooring. Make sure everything goes well together to make you and your family get relaxed chit chatting in this area while cooking.
23. Unique Light Fixture as a Focal Point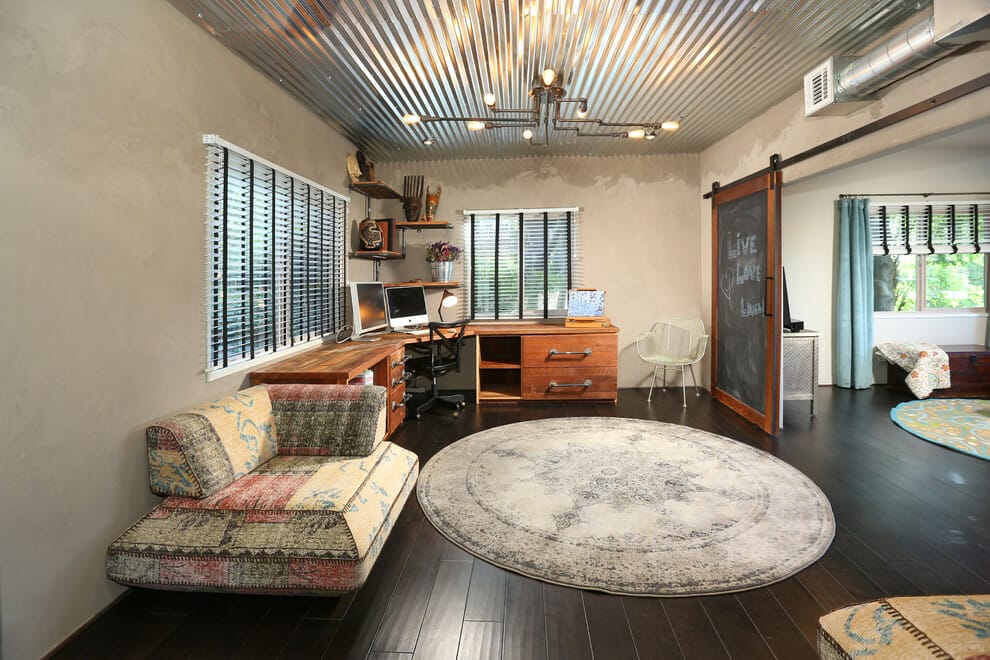 Undoubtedly, installing a unique light fixture on a metal ceiling will give it personality in a flash. Because the corrugated sheets have a somewhat tedious all-around color, make your room bold with dark flooring.
Furthermore, you're good to give it a round rug to dampen the existing stiffness. And don't forget the sofa set with unique motifs and shapes to spoil the eyes.
24. Corrugated Metal Ceiling Ideas for Attic Bedroom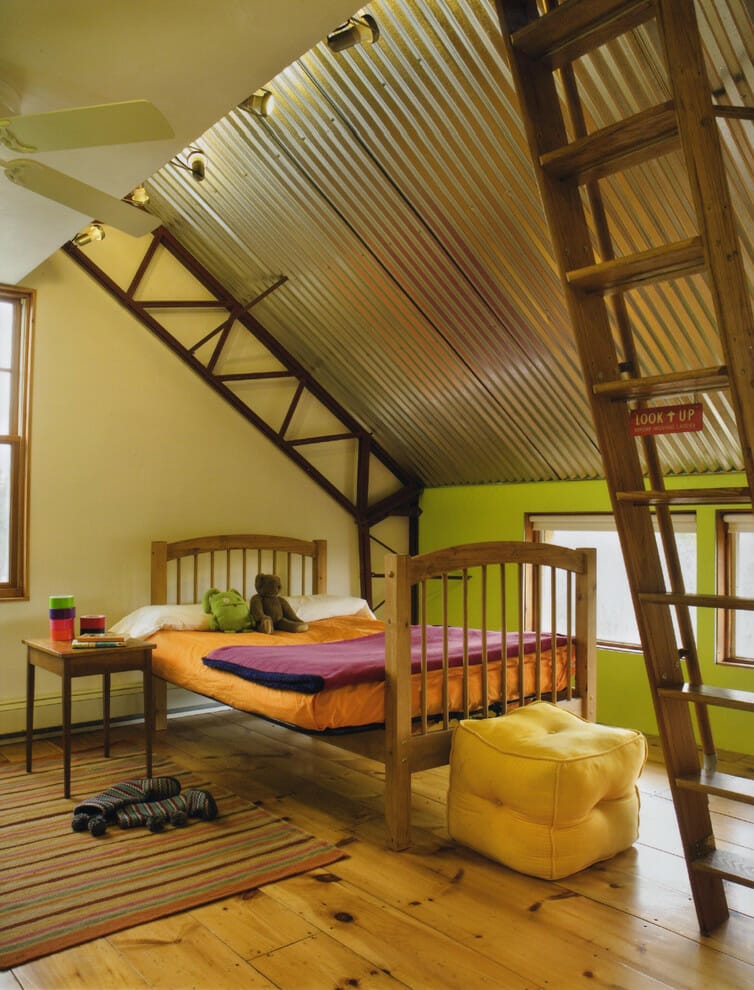 Who says metal ceiling sheets are not suitable for children's rooms? Please do not underestimate this material because it turns out that it matches all wall hues.
Even when you decide to implement striking colors like neon green, orange, magenta, and yellow. This concept can still radiate joy no matter what.
25. Wavy Metal Panels for Ceiling and Wall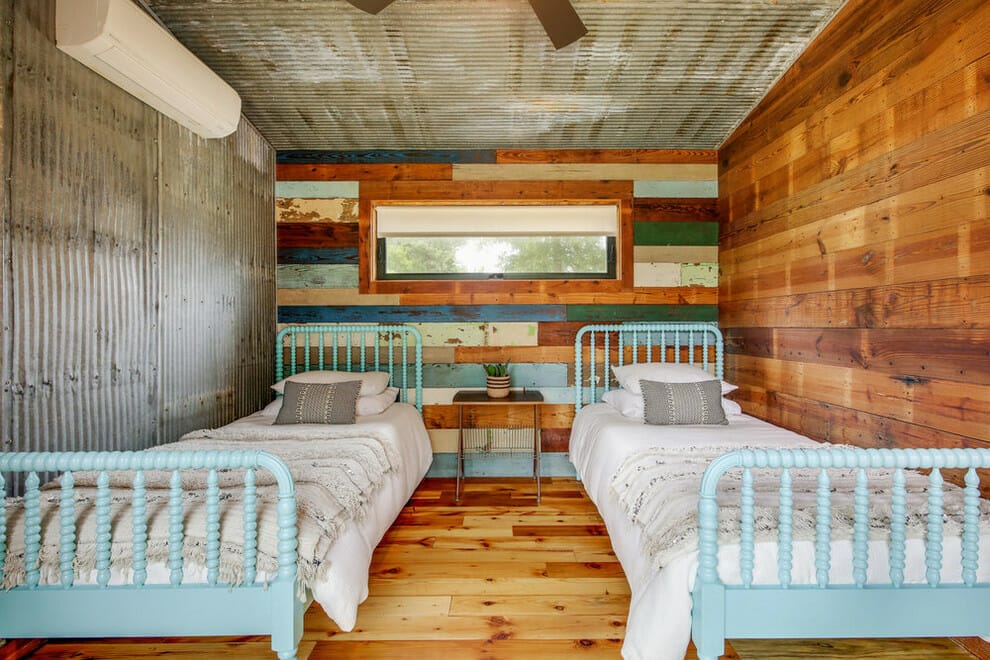 Double bed with corrugated ceiling and wall for twins, why not? Of course, it is ingenious to give personality. Beyond it, this is an artistic masterpiece that not many people will have.
And look at the mixing colors on the wall panels on one side. That spot is already eye-catching without any wall decor.
Moreover, it has warm wooden wall paneling and flooring on the other side. It makes everything balanced.
Observed from afar, it looks like a wildly charming geometric painting.
26. Bare Metal Sheets in Layer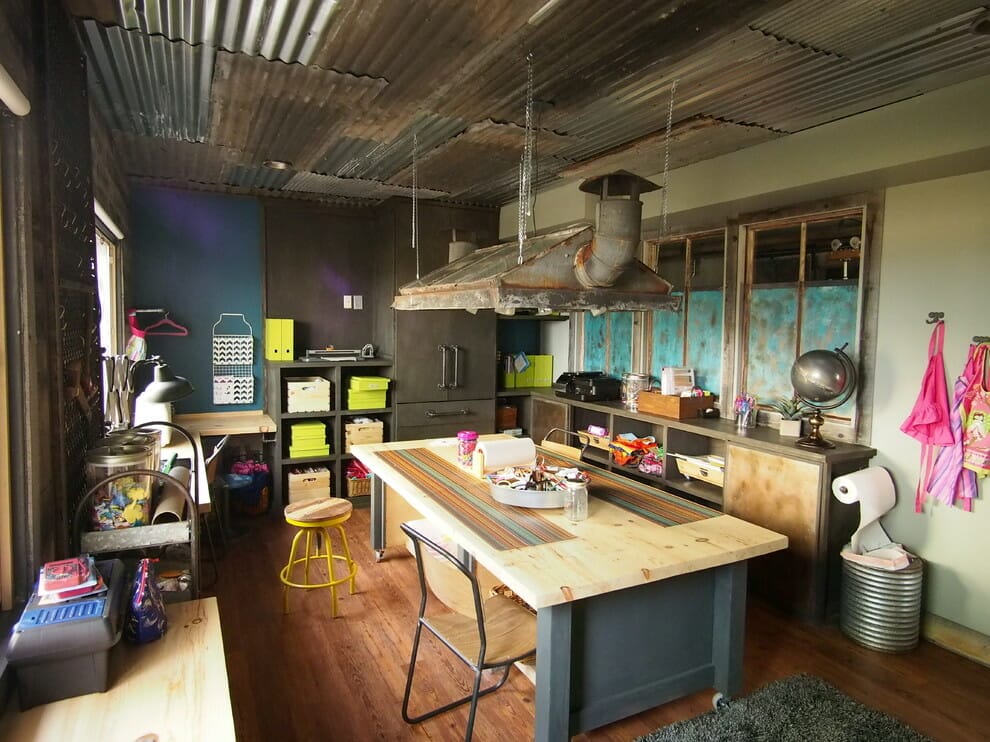 Are you craving the most accessible corrugated metal ceiling ideas to adopt? In that case, try to arrange layered sheets as above. It's not complicated. You can even do it yourself on weekends.
Honestly, this seems too rural in some cases. However, you can still make it look better with a robust kitchen island in natural wooden planks with rainbow accents.
27. Bring the Marble Countertop to Create Elegance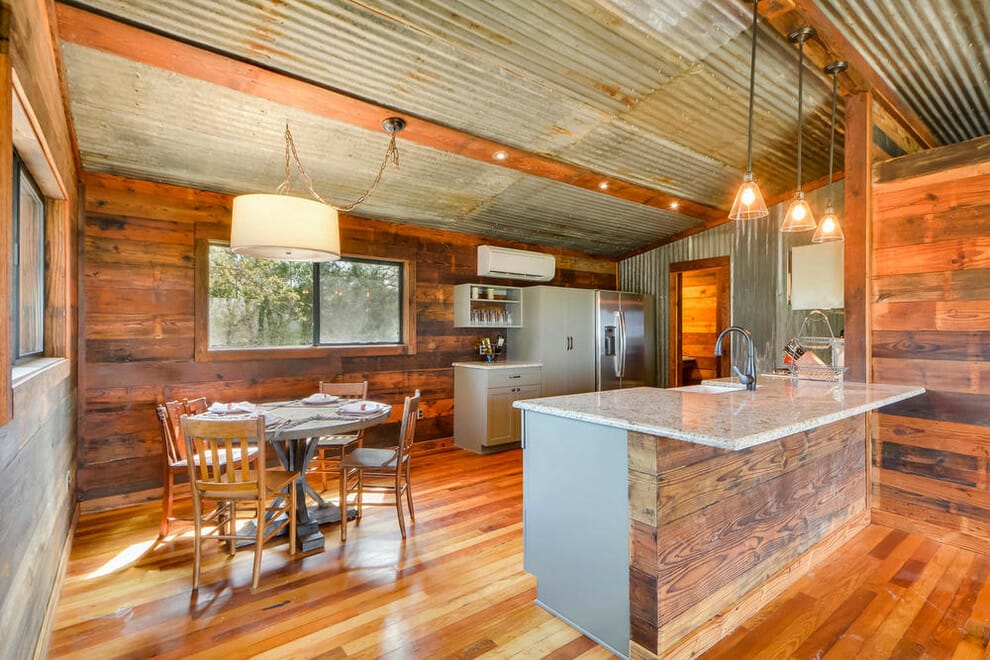 A marble countertop is the ultimate option that you can take to give a touch of luxury to your industrial-themed kitchen.
And it won't collide with all the distressed corrugated metal sheets you have installed. Instead, it elevates the look and enhances the aesthetic value of your home.
28. Wall Art and Eye-Catching Cushions to Make It Artistic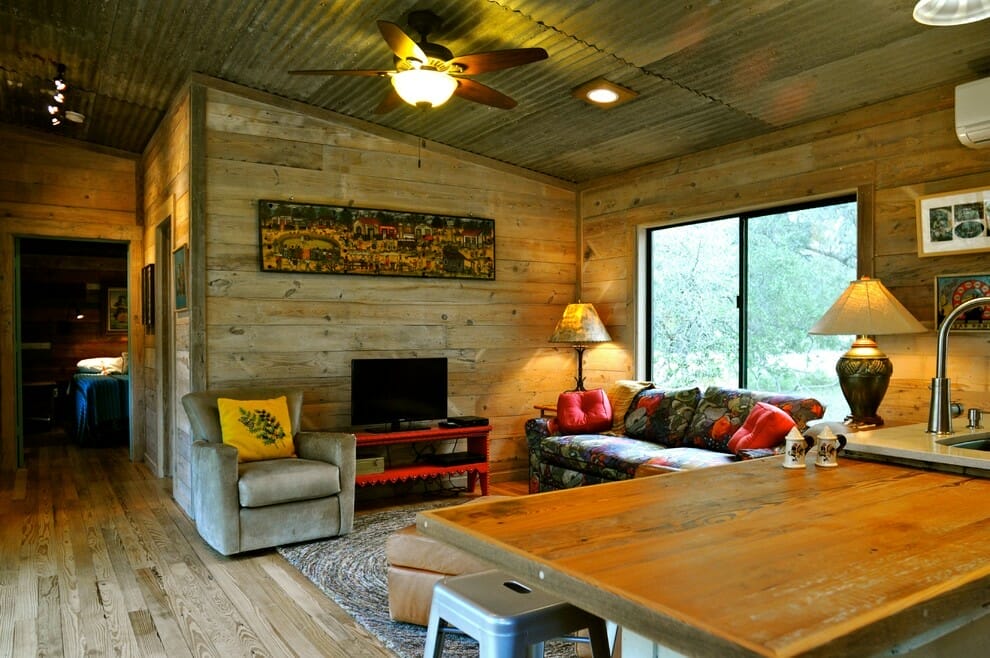 In choosing the proper corrugated metal ceiling ideas, you should also consider additional decorative elements to beautify your living space.
It comes in many ways. Let's start by hanging the masterpiece, providing warm ambient and accent lighting, as well as soft and attractive cushions.
Combine it all in one unit to show off your best interior arrangement to the visitors.
29. Make It Cushy with Neutral Tone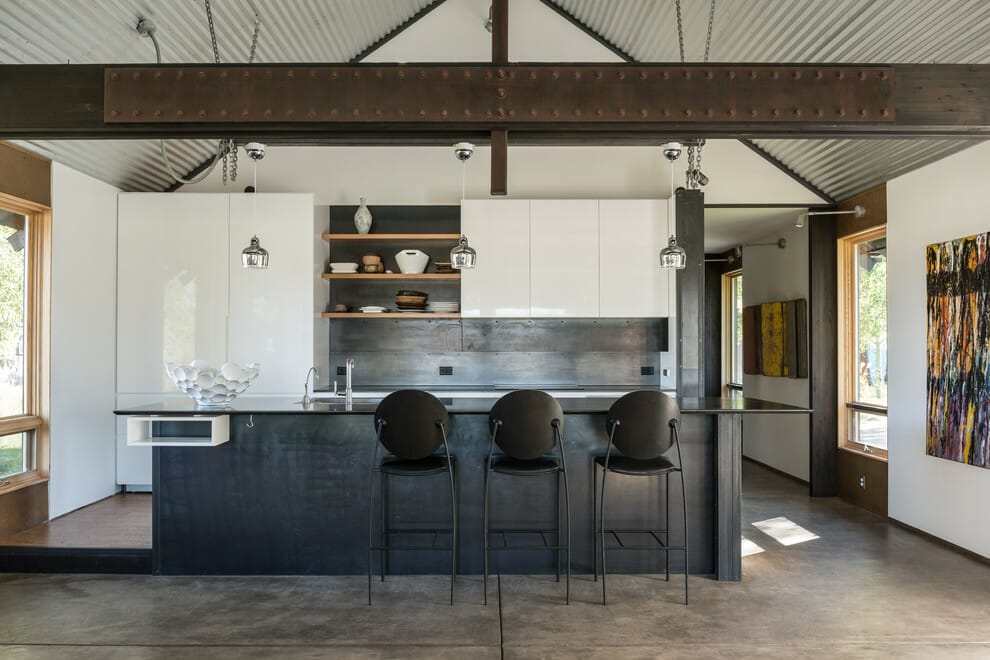 Look how the dark brown tone blends well with an incredible white corrugated ceiling above it. The interior design with white and earthy tones is too cozy to ignore.
For this reason, this concept is suitable for your kitchen and flawless for interiors in commercial spaces such as cafes. The ambiance that radiates makes anyone in this room feel at home.
Adopting corrugated metal ceiling ideas doesn't require a lot of energy. At first glance, it will seem trivial, but it certainly gives an outstanding final result. So, immediately plan the best improvement for your dream house!