Are you thinking about creating a dedicated space for washing your lovely pet? Then, a list of dog wash station ideas will help make the dream come true.
It is no secret that the bathing game with dogs can be a bit overwhelming, so many dog owners prefer to bring their pets to the pet salon.
However, if you are eager to save a lot of money in the future, building a dog wash station will be a great choice. Take the following ideas as a reference to get started!
1. Corner Dog Wash Station Ideas
A laundry room always makes a great space to create a dog wash station. You can use an empty corner and turn it into a functional pet bathroom like the above.
This built-in dog bathroom features a copper shower set that contrasts the all-white backdrop. The floor-to-ceiling subway tile backsplash makes this area easy to clean from splatter.
2. Farmhouse Style Wash Station
Indeed, a dog wash station does not have to be that big. You can easily fit this idea in any laundry room since it will not require much space.
For a balance, use similar material for the bath wall area and the countertop. Then, to support the farmhouse vibe, you can go for shiplap walls for the rest of the room.
3. Large Dog Washing Station for Home
If you prefer dog wash station ideas that are dedicated to bathing the pet only, this picture makes a great example.
This design is perfect if you have a large dog or more than one pet to bathe. With an elevated construction, you do not need to worry if the water splashes onto the beautiful wooden floor.
For decorative purposes, the walls come with such unique patterns that make the whole room less boring despite the use of subtle colors.
4. Multifunctional Room with Dog Wash Station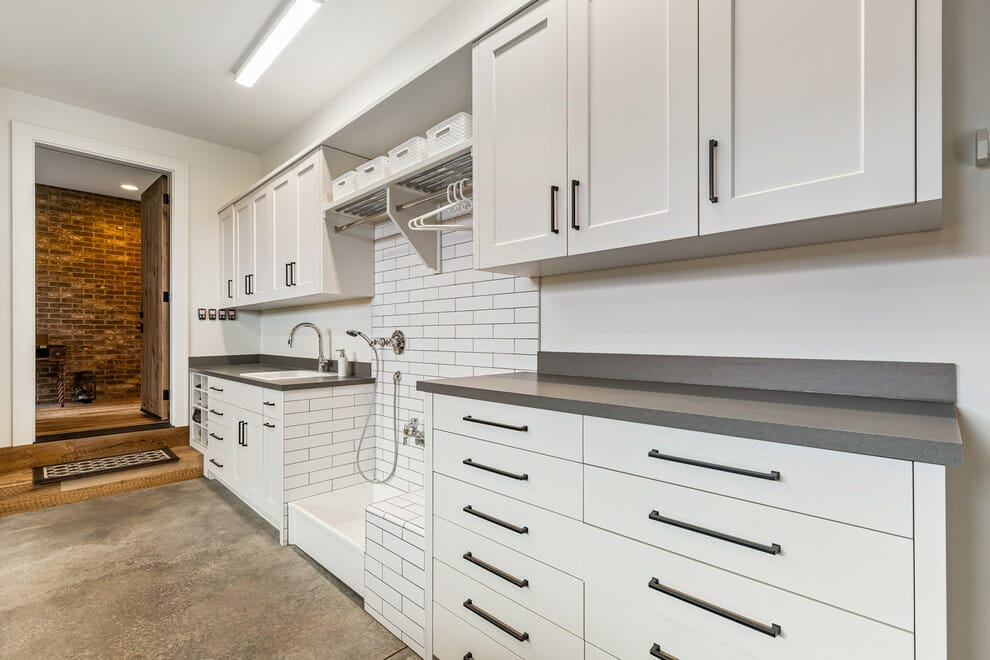 Do you not have the luxury of building a fully-dedicated room for your dog's bathroom? Then, creating a multifunctional space with several purposes will be a better option.
This is one of the dog wash station ideas that take advantage of store-bought baths instead of making it from scratch. Thus, you just need to make sure that the base fits your space and complete it with the shower set.
5. Shiny Black Wash Station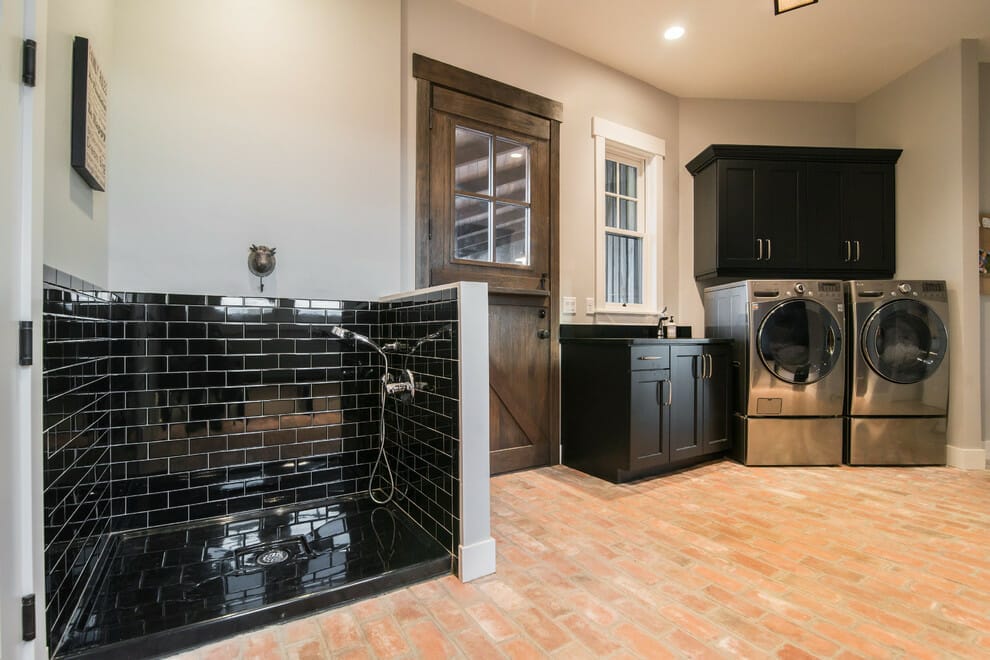 Although a raised one is more recommended, the need for a non-elevated dog wash station is relatable for some people.
It works best if you also need a space to wash your muddy footwear after checking out the backyard in a rainy season.
This allows you to give your dogs a quick spray before they continue into the rest of the home after playing outside.
When it comes to the visual, this dog wash station has a contrasting appeal thanks to the shiny black subway tiles on the walls and base.
6. Stunning Patterned Walls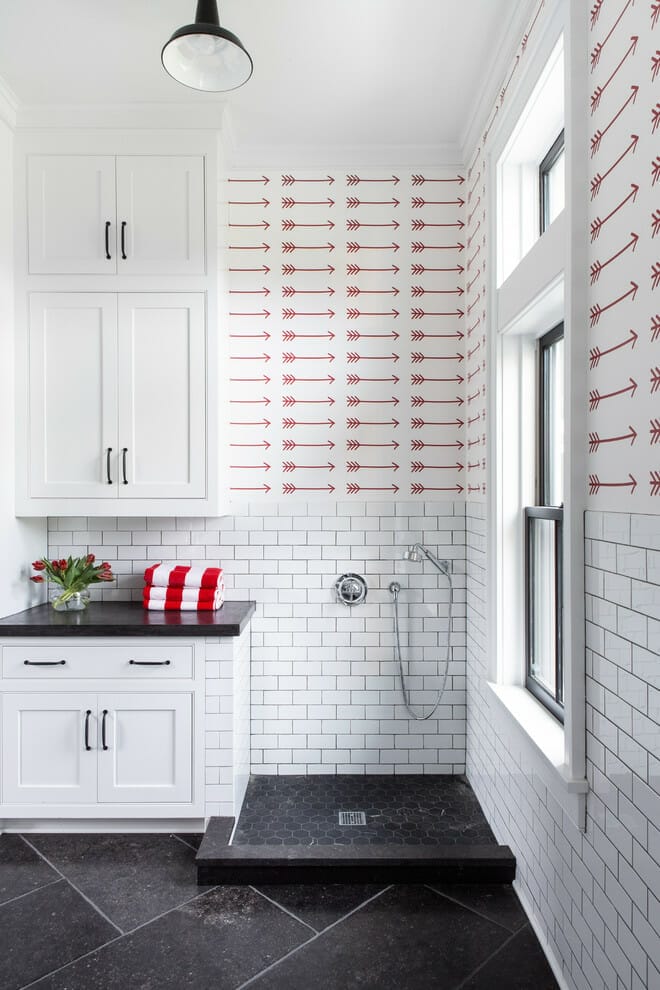 This is another example of non-raised dog wash station ideas that you can consider. Different from the previous one, it does not come with surrounding walls that protect splatter to other spaces.
Instead, the whole room works as a dedicated bathroom for the pet. You can steal the look of that patterned halve walls for a little twist in a monochromatic color palette.
7. Dog Wash Station with Built-in Storage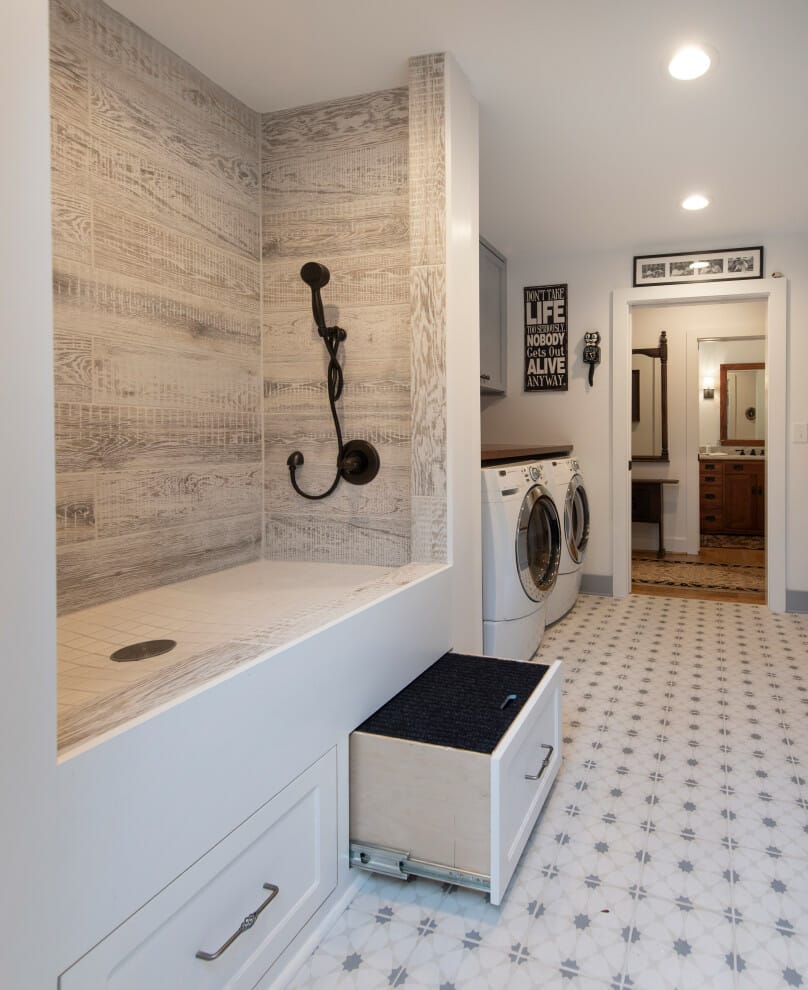 Do you want to build a dog wash station in your laundry room but cannot afford to lose some space for additional storage units?
Then, you can design your space as shown above. The elevated station has some room for cabinets that double as a stool. To help protect against splatter, consider incorporating a plexiglass screen to it.
8. Checkered and Striped Style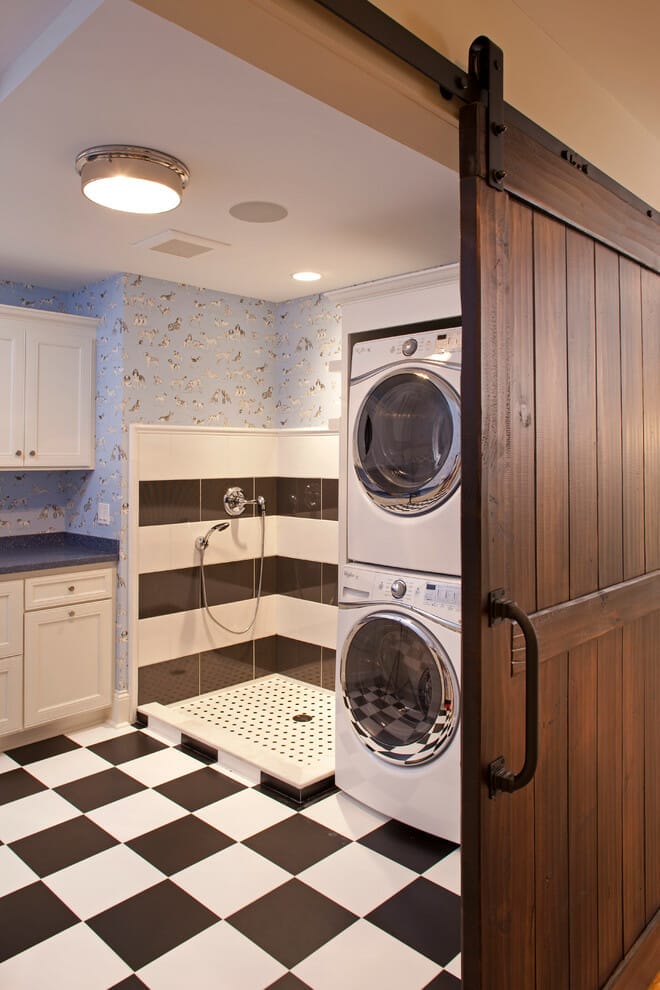 This multipurpose room comes with a sleek-looking barn door and features space for laundry necessities and a dog wash station.
If you are looking for dog wash station ideas with a mix-and-match design, this picture must inspire you the most with its checkered floor and striped walls. Not to mention the pale blue wallpaper that makes this room more unique.
9. Laundry Room with a Built-in Dog Wash Station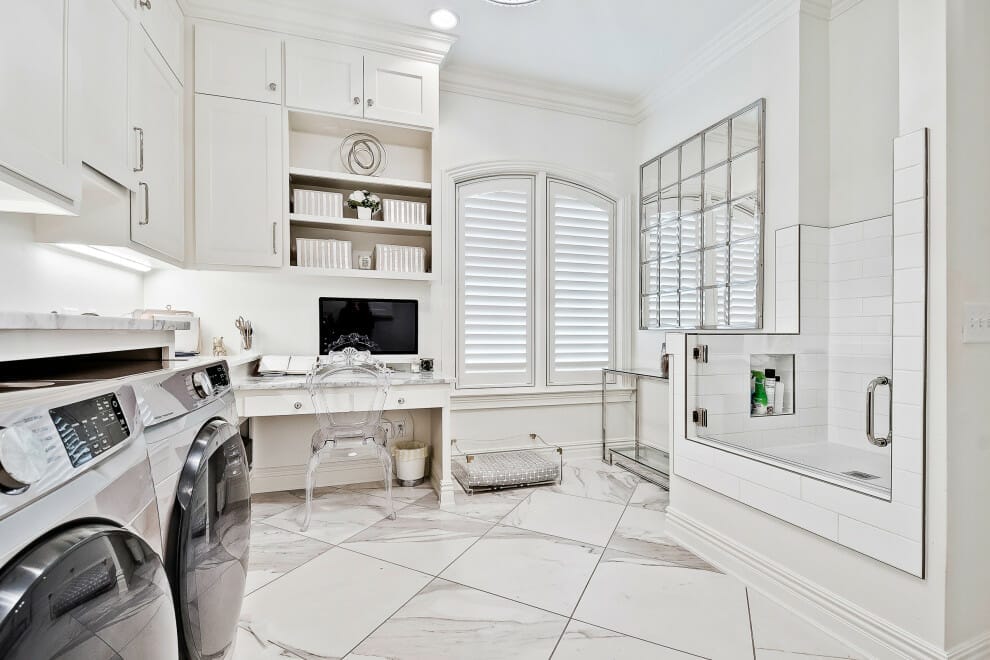 The off-white color palette of this room gives out that elegant and grand vibe. Meanwhile, the wall-mounted storage units allow it to have a side-to-side washer and dryer.
Moreover, across the machine, there is a built-in dog wash station that comes with a small wall niche for storing the pet's shampoo and others.
Lastly, thanks to the use of a glass door on the station, a clear chair, and the wide paneled mirror, this room appears more spacious and airier.
10. Simple Dog Bathroom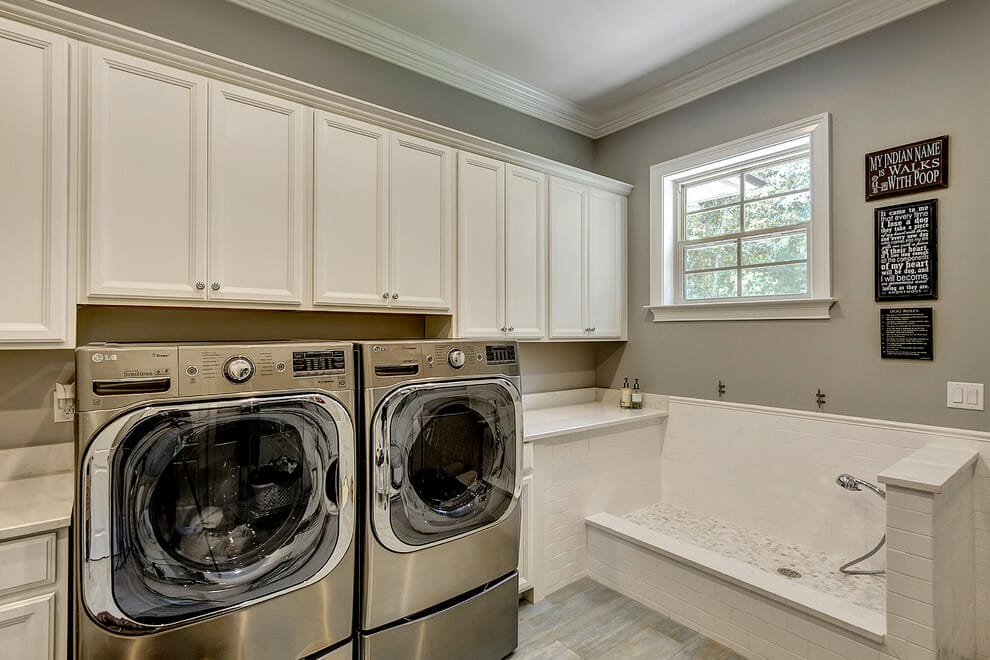 Are you planning to execute the dog wash station ideas from scratch for the first time? Then, a simple design like shown in this picture must be ideal.
It features subway tile walls and a mini shower set like many other pet bathrooms. Additionally, the countertop next to the station is particularly useful for making your dog's washing products easy to grab during bathing.
11. Space-Saving Wash Station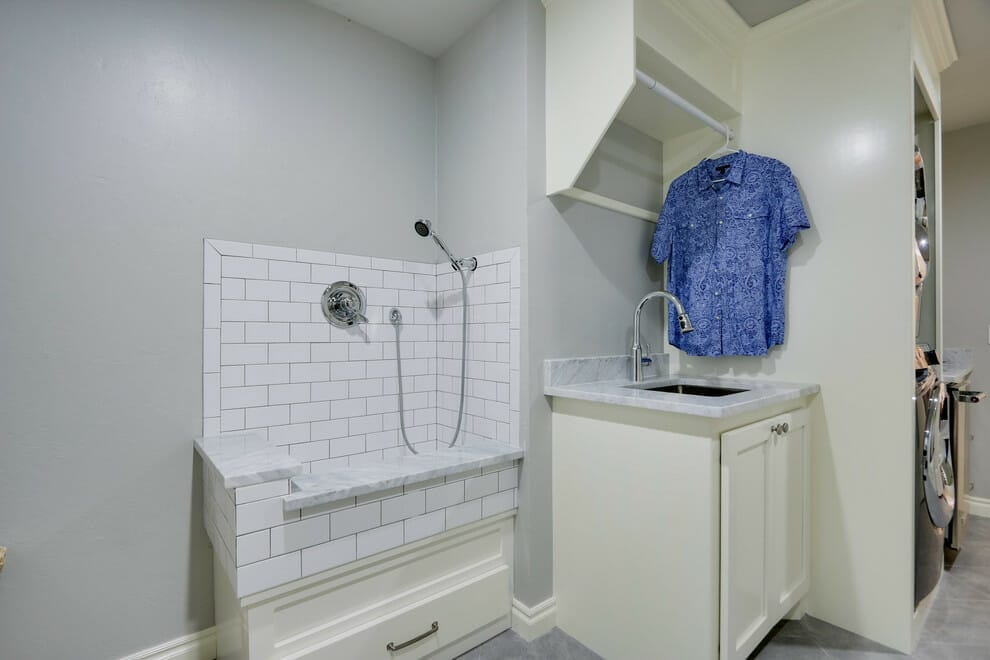 This dog wash station is built over a storage cabinet in a laundry room. Utilizing the corner of the location, it makes a great idea for you who have an awkward corner in the area.
The chrome hand shower comes with a straightforward design that emphasizes the simplicity of the style. Its raised platform will protect you from knee cramps.
12. Multipurpose Elevated Wash Station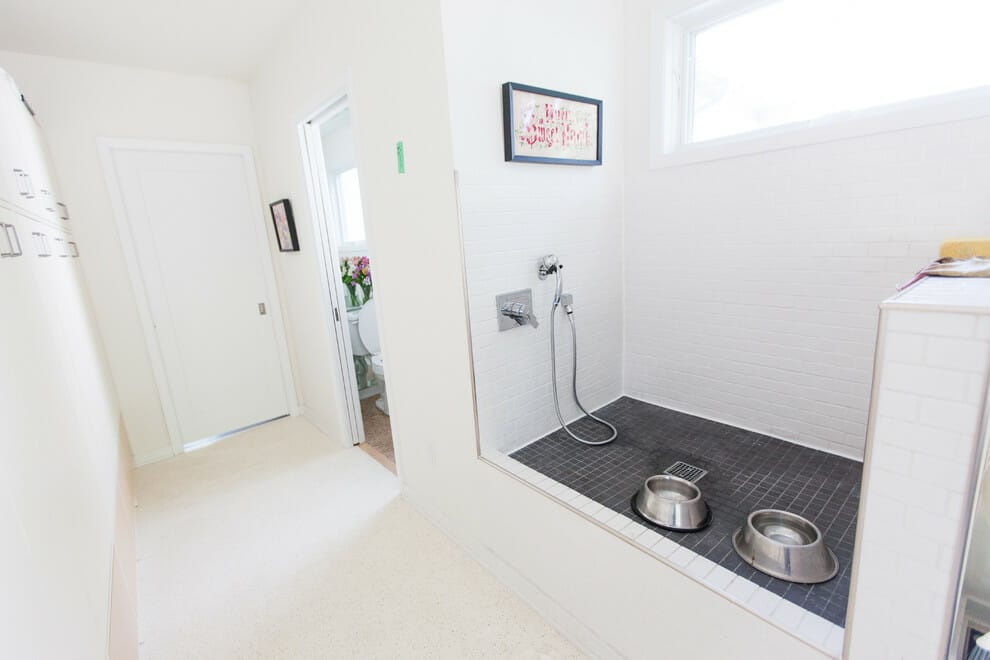 A dog wash station can make a great place to keep the pet's food and water dishes as well. This will be a nice solution if you have tried a variety of mats and whatnot, but they do not work as expected.
Instead of the laundry room, this dog wash is located near the family bathroom. The dark gray tile floor contrasts the all-white background, making it easy to tell the station apart.
13. Small Yet Functional Room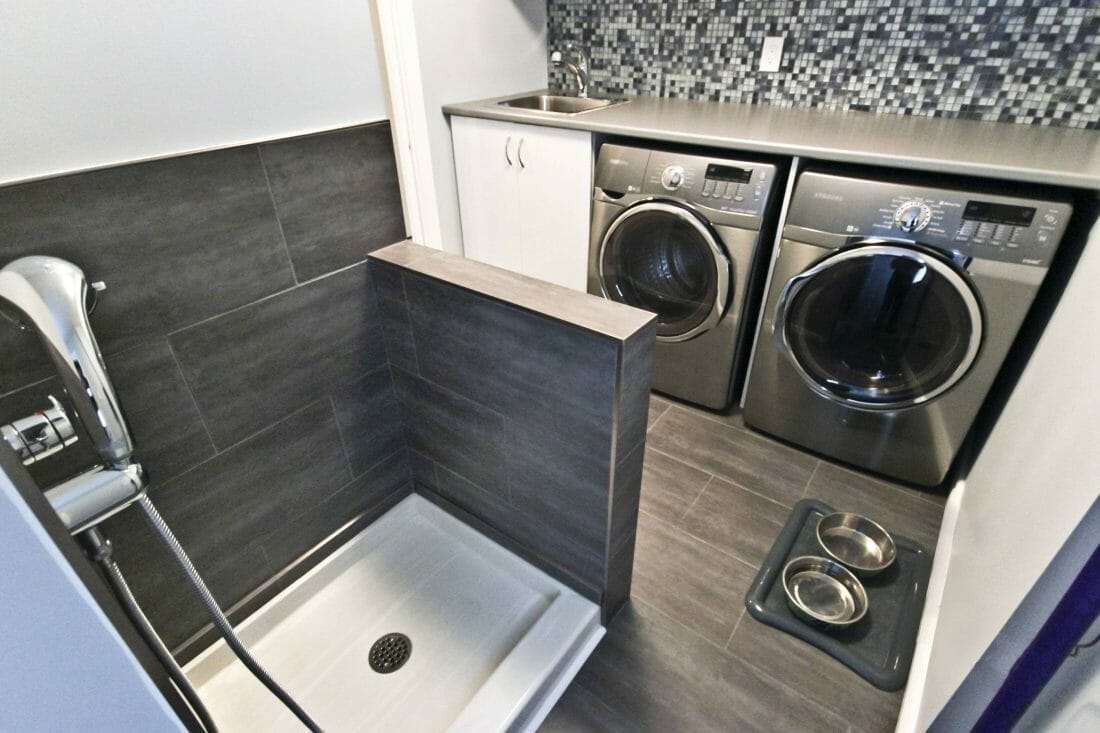 Even the smallest laundry room can double as a functional pet bathroom as long as you arrange the space properly.
This double-function room makes a good reference with the compact laundry area and wash station. It even has some spare space for the dog's dish and water bowl.
14. Dog Wash Station Ideas in the Garage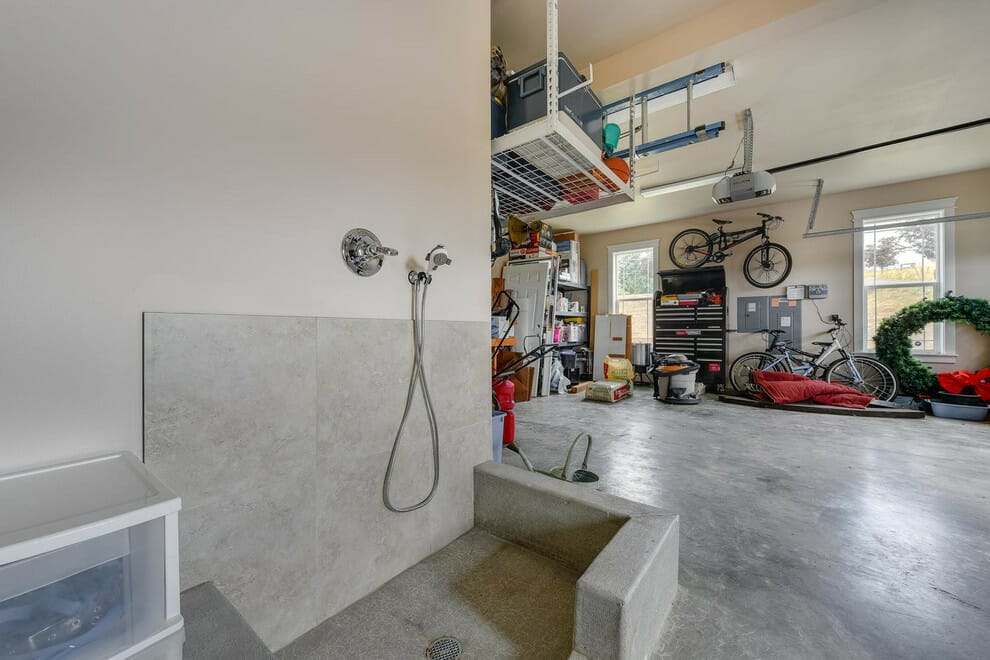 If you have a spacious garage, use one of its corners to build a station to bath your lovely dog. Aside from bathing the pet, you can also utilize the space for cleaning yourself after doing some repairs.
For a more harmonized appearance, pick tiles that have a similar shade to the existing walls. If you are okay with some splatter on the garage floor, creating such low dividers won't be a problem.
15. White and Beige Wash Station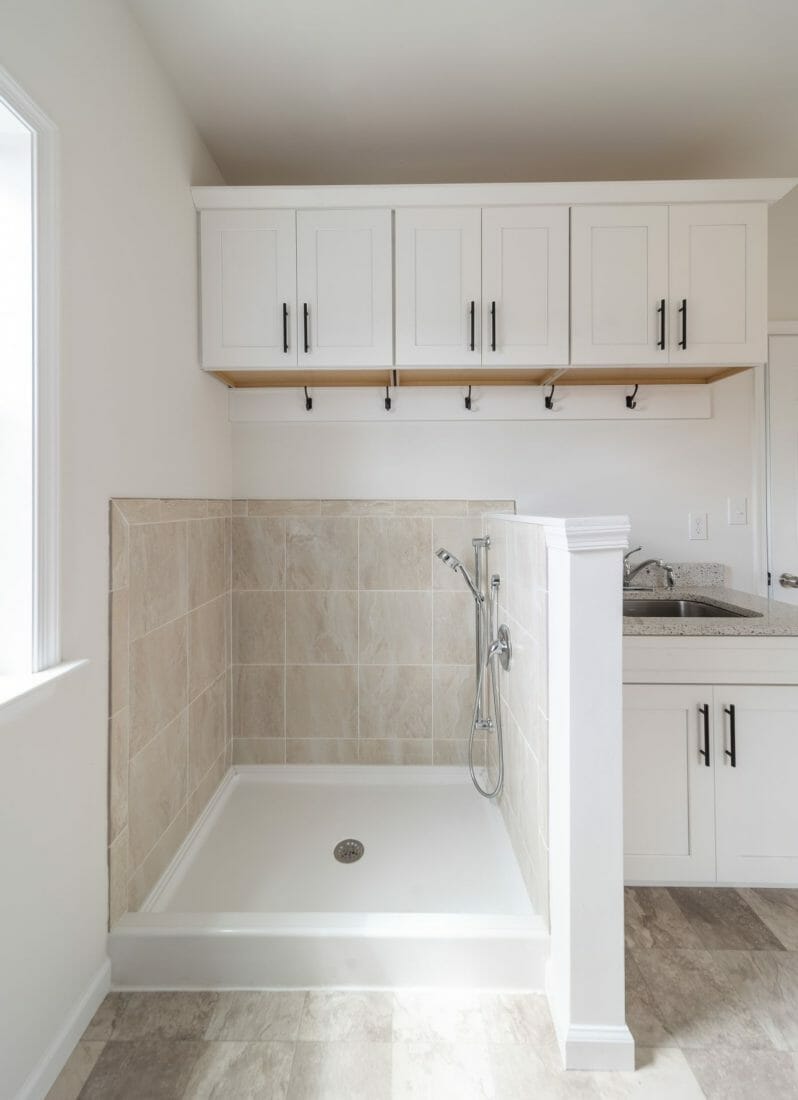 A combination of white and beige gives this dog wash station a boost of elegance. A set of chrome hand showers completes the look, offering a hint of modern design.
The station's wall also works as a room divider thanks to its medium height. Thus, you do not need to worry if someone at the sink may get some dirty splash while washing their hands during the dog's bathing time.
16. Double as a Mudroom
Mudrooms also make a good space to build a dog wash station at home. This design allows you to wash your pet's paws first before they continue to the rest of the house after playing outdoors.
While the homeowner keeps the station's walls in simple subway tiles, the rest offer an exceptional touch with its pattern of yellow swallows and sky blue clouds.
17. Simple Color Palettes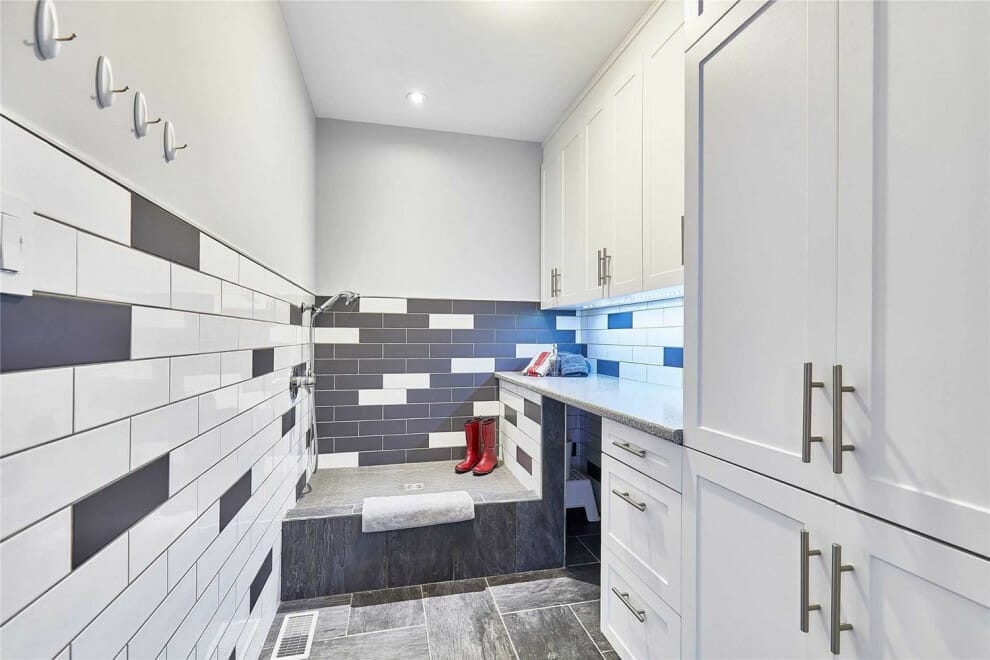 Instead of something colorful, you probably prefer the dog wash station ideas using the basics. In this case, combining white and some shades of gray will be a perfect choice.
You can keep most of the surfaces white and introduce a hint of gray in several parts of the room, such as the tiled walls and the floor.
For a splash of color, don't hesitate to incorporate a small number of vibrant accessories throughout the room.
18. Small Mesh Tiles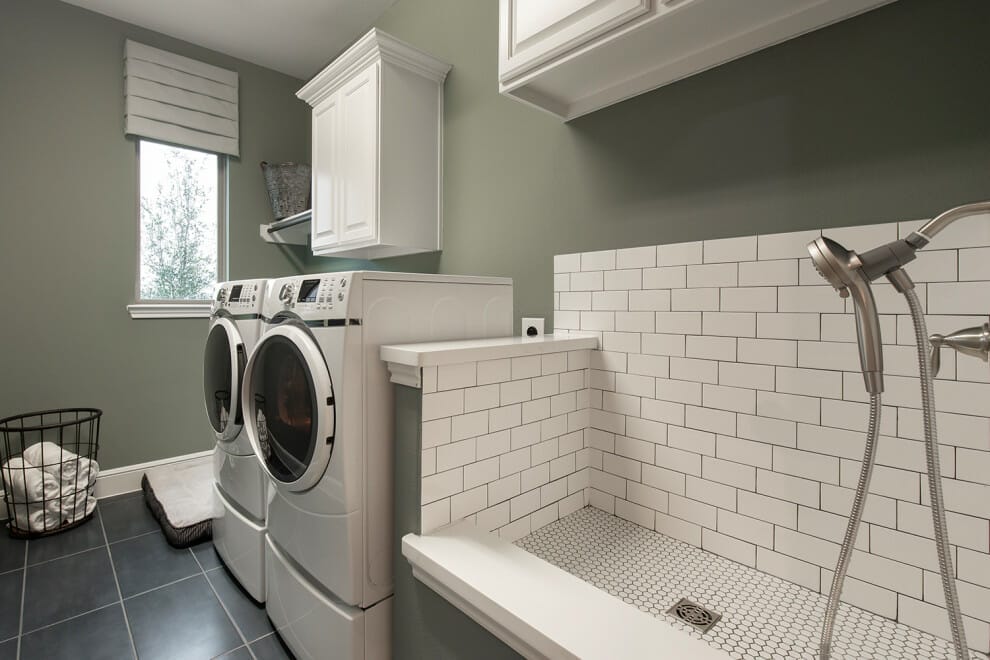 Do you want to build a dog wash station in laundry room? With an elevated construction and adequate subway tile backsplash, this pet bathroom will serve you right.
Instead of larger mesh tiles, the smaller ones often make a better option for a dog wash station. The slope factor plays a huge role here. Besides, they tend to form well to the base of the bath, making them easier to work with.
19. Dog Wash Station Ideas with Total Protection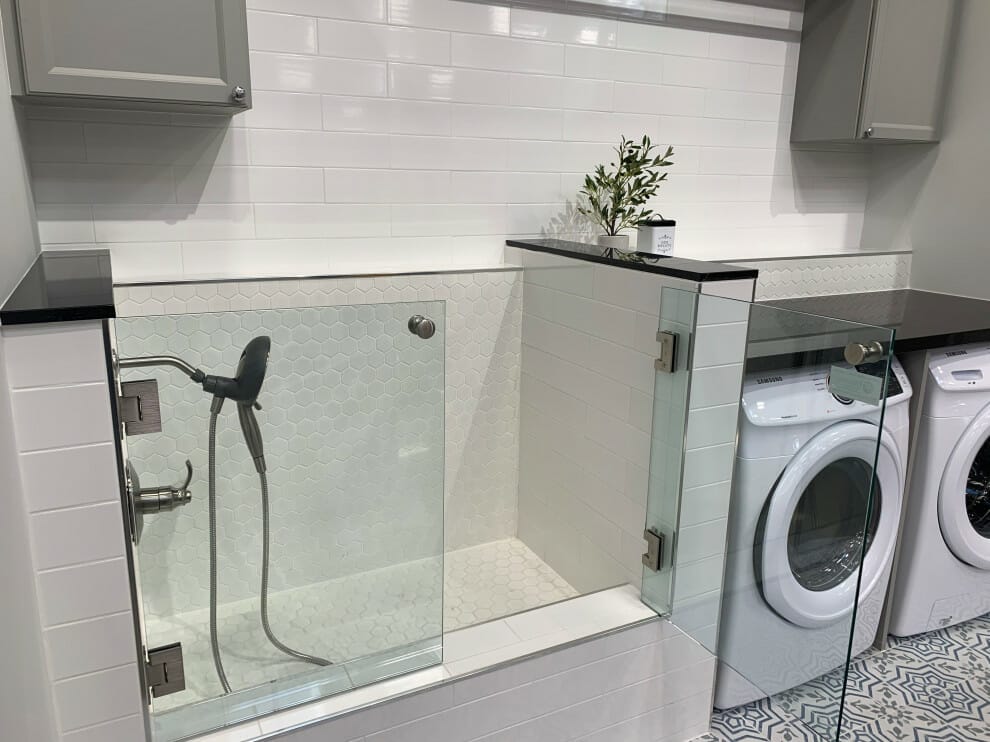 Your wet dog will shake, so having a wash station with total coverage from splatter makes a lot of sense. This is particularly necessary if you do not want everything in your laundry room to get sprayed with dirty water.
To keep it airy, opt for glass doors to avoid splatter. Don't forget to elevate the platform as well and measure it right for your convenience while washing your adorable dog.
20. Pet Bathroom with DIY Decor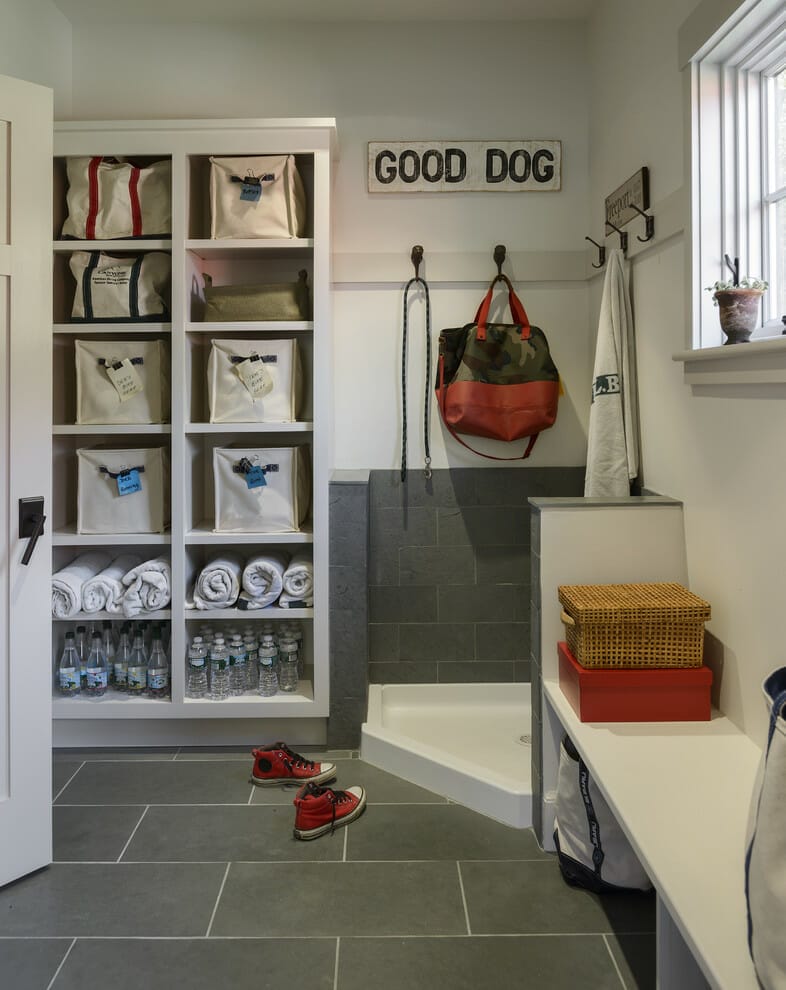 Adorn your dog wash station with DIY towel hooks and decor for a more personal touch. You can take advantage of some wooden pallets and turn them into useful accessories.
For the spare towels and other things, you can incorporate floor-to-ceiling open shelves. Utilize cloth or wicker baskets to keep clutter away if needed.
21. Sufficient Natural Light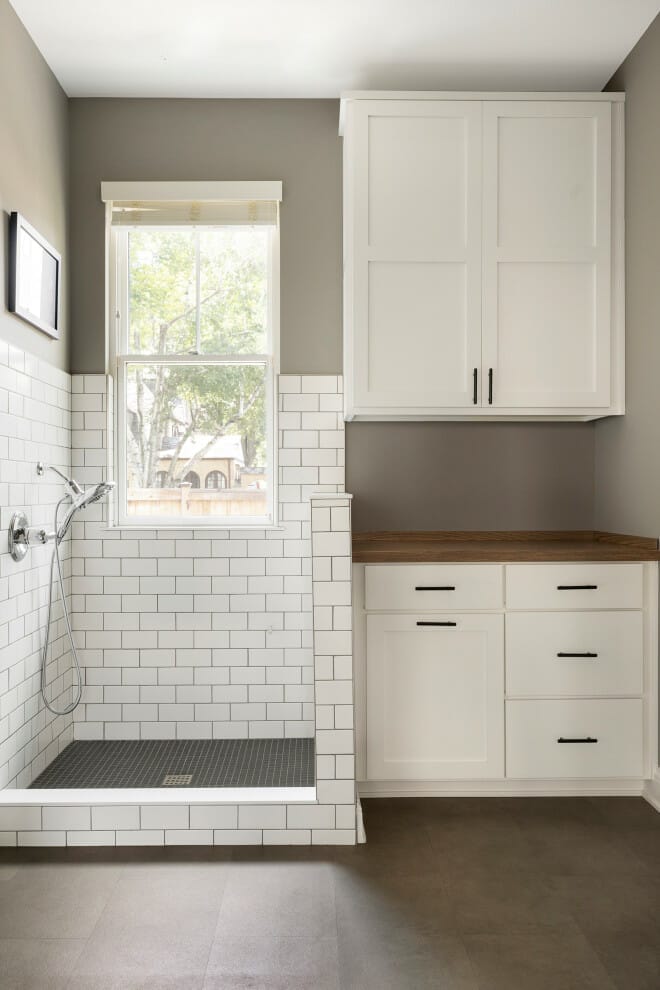 Natural light is an integral part of any room and your pet bathroom is not an exception. Not only does it offer enough illumination in the afternoon, but the wide window can also provide the space with fresh air.
Meanwhile, rather than the usual white grout, the subway tile backsplash comes with the grayish one that matches the rest of the walls.
For balance, the wooden cabinets are white while the floor tiles are in a similar shade to the walls.
22. Back Halfway Wash Station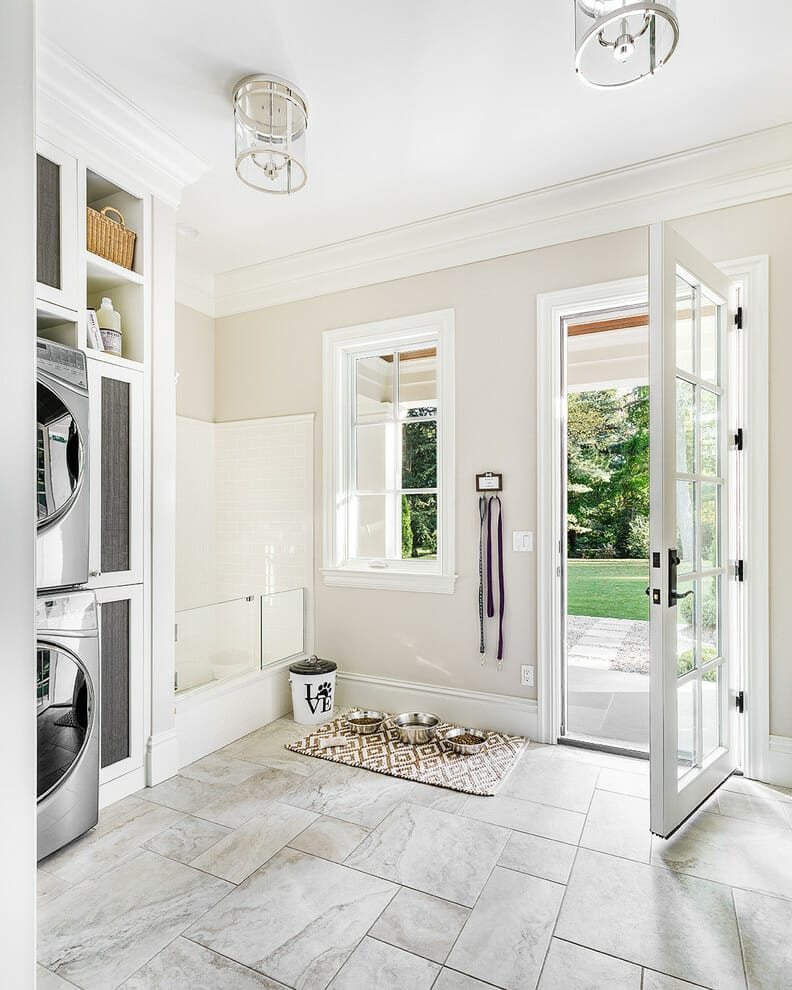 An outdoor DIY dog wash station must be great, especially if you do not have sufficient space for building it inside the house.
Alternatively, you can situate the wash station in the back hallway that doubles as a mudroom. It is ideal for a family with young kids that love to spend their time playing in the backyard.
Aside from being a place for the dog to take a bath, it can be a nice space for the kids to clean their boots before running towards the living room.
23. Bronze Shower Set
Do you want to introduce an industrial vibe in your dog wash station ideas? Then, using some bronze fixtures can be a great way to execute it.
Take a look at how the bronze shower set appears outstanding against the black backsplash of this dog wash station. You will love the unique herringbone flooring and the extra shelves for storing the washing necessities.
24. A Mix of Tiles
Although it comes out to have similar colors, every part of this dog wash station features different kinds of tiles. As a result, the harmonious appearance does not look dull at all.
While the backsplash utilizes big honeycomb patterns, the base takes advantage of the smaller one for easier installation.
The gold shower set is also gorgeous, especially against the light gray backdrop.
25. U-Shape Dog Bathroom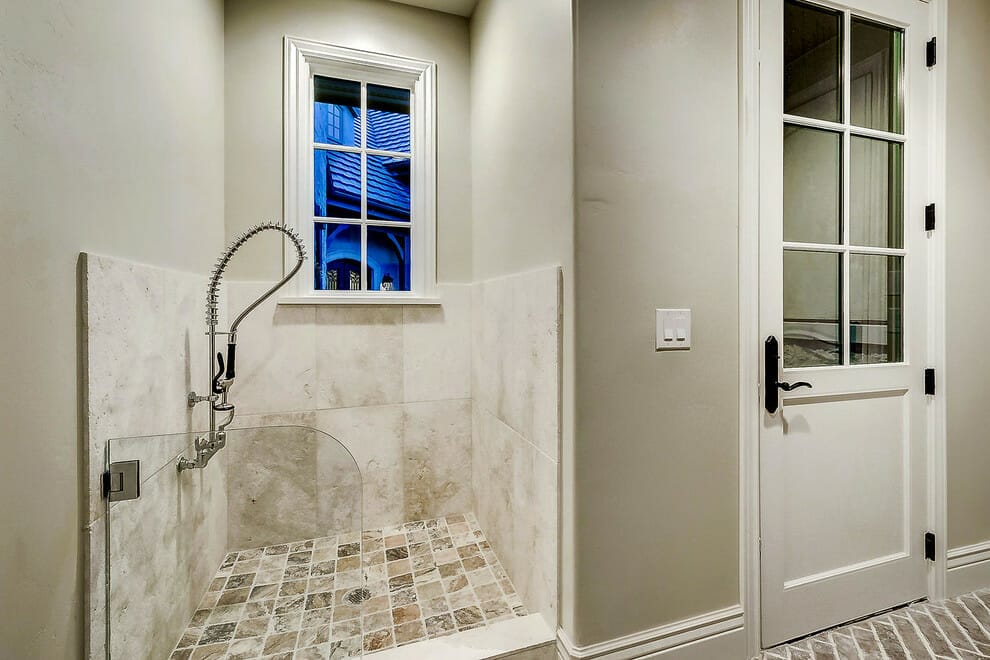 This perfect u-shape wash station will make it easier to bathe your adorable dogs. It utilizes a narrow corner at the house and becomes visual support for the rest of the design.
With earthy flooring and beige tile backsplash, the dog wash station fits the color palette of the home perfectly.
26. Wash Station with a View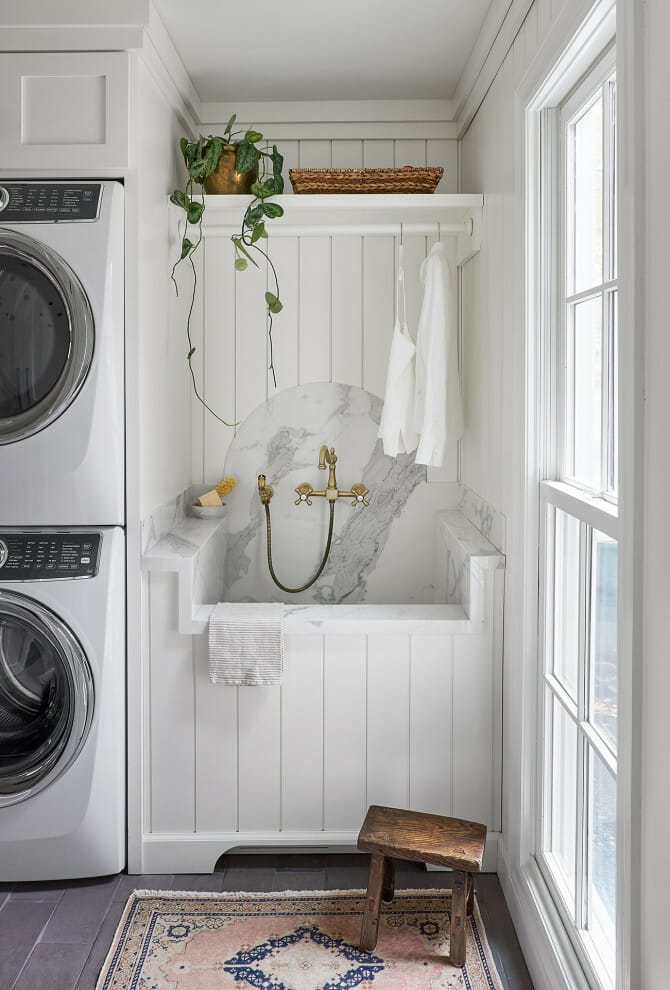 This is one of those dog wash station ideas that allows you to imagine bathing your lovely pet while enjoying the beautiful view of nature.
With floor-to-ceiling paneled glass windows, you will not need to turn on the lamp while bathing your dog.
The window is not only the star of this room. There is the dog wash station that has the style of a farmhouse-style sink for additional interest.
27. A Hint of Summer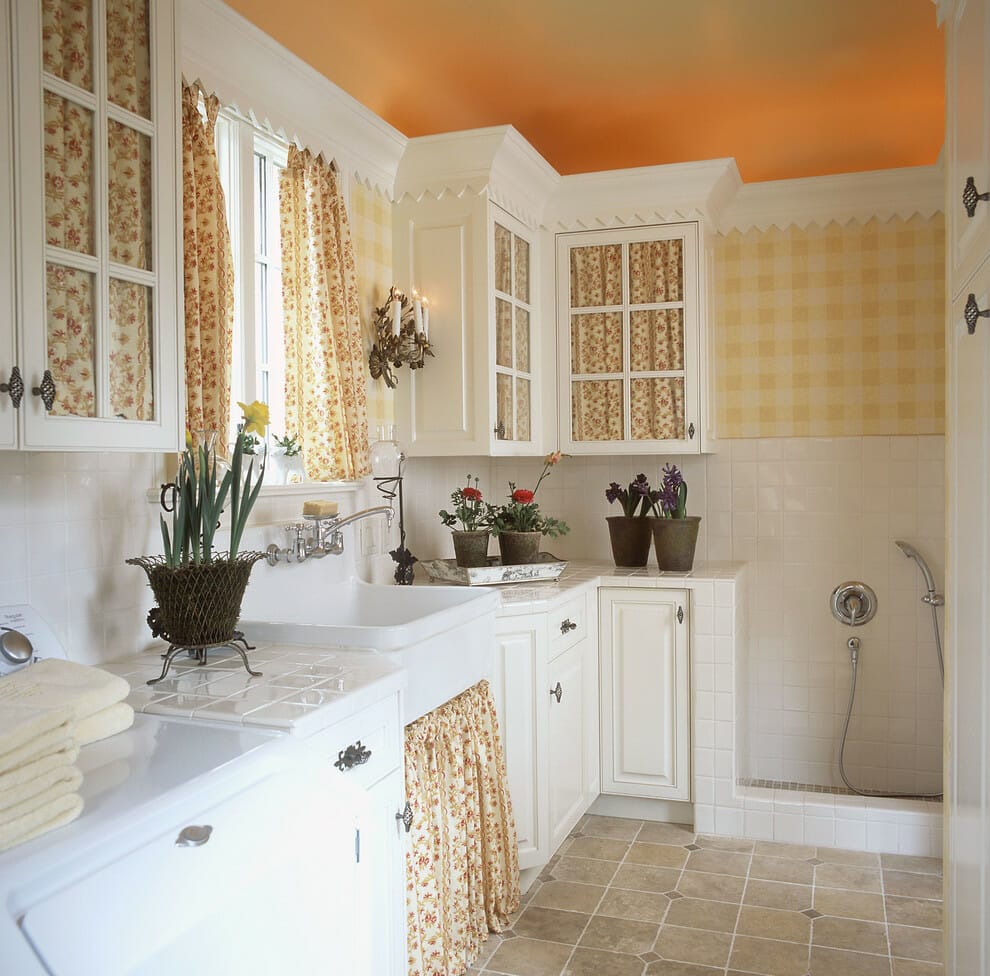 Introduce a summer flair in your joint washing room by incorporating a shade of yellow or orange in the color palette.
For a balance, you can keep the cabinets and walls neutral. Add several indoor flowering plants as well to promote the summer vibe.
28. Compact Dog Wash Space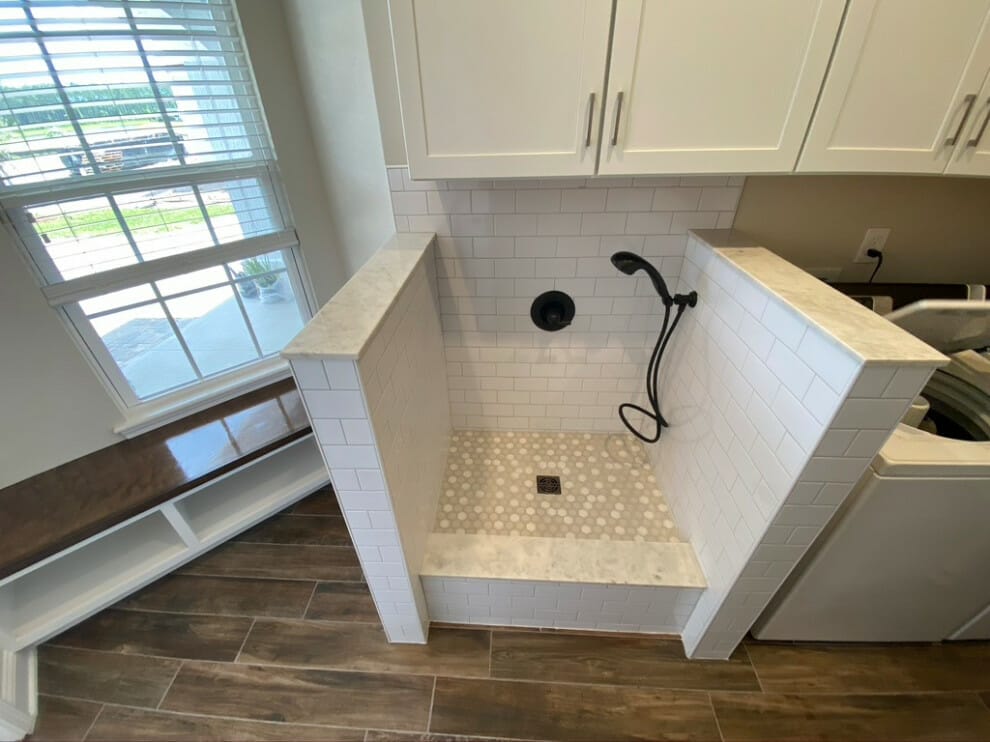 This dog wash station may be small, but it offers everything you need for bathing your adorable pet. Hence, the matte black shower set is particularly notable against the white subway tiles.
Meanwhile, the overhead cabinet serves as an easy-to-grab feature for your pet's washing products. Besides, you can use it to store extra towels or dog stuff as well.
29. Spacious Bathroom for Dogs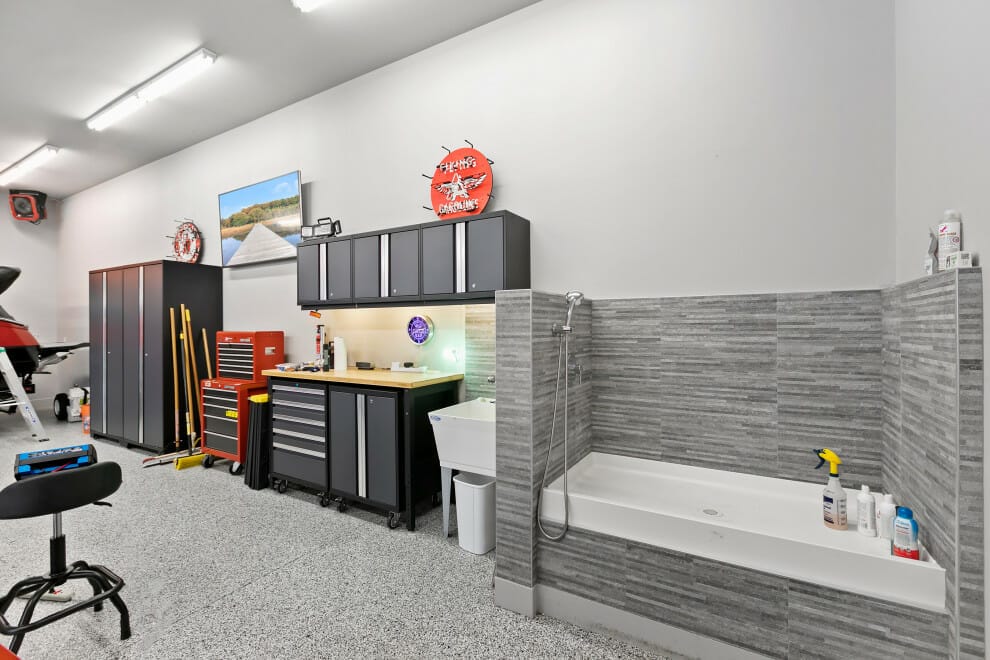 Your dog will appreciate this spacious wash station and you will not get knee injuries thanks to the raised platform. The tile choice is also smart as it matches the gray theme of the room perfectly.
Finally, instead of having your phone's gallery full of pictures of amazing dog wash station ideas, you can always come back to this article for reference.