From the narrow galley kitchen to the larger kitchenette with a walk-in pantry, most people struggle from keeping the seasoning neatly in place no matter how big the space they own. If you face the same problem, here are storing spices ideas.
The ideas are about what, where, and how to store them. You will see numerous ways, from creative to super crafty, using varying containers, from the repurposed to the updated storing tools.
With the following storing spices ideas, you will get the sea salt, cilantro, rosemary, basil, oregano, and other seasonings tidily in line.
1. Bracketed Shelving Above Stove Station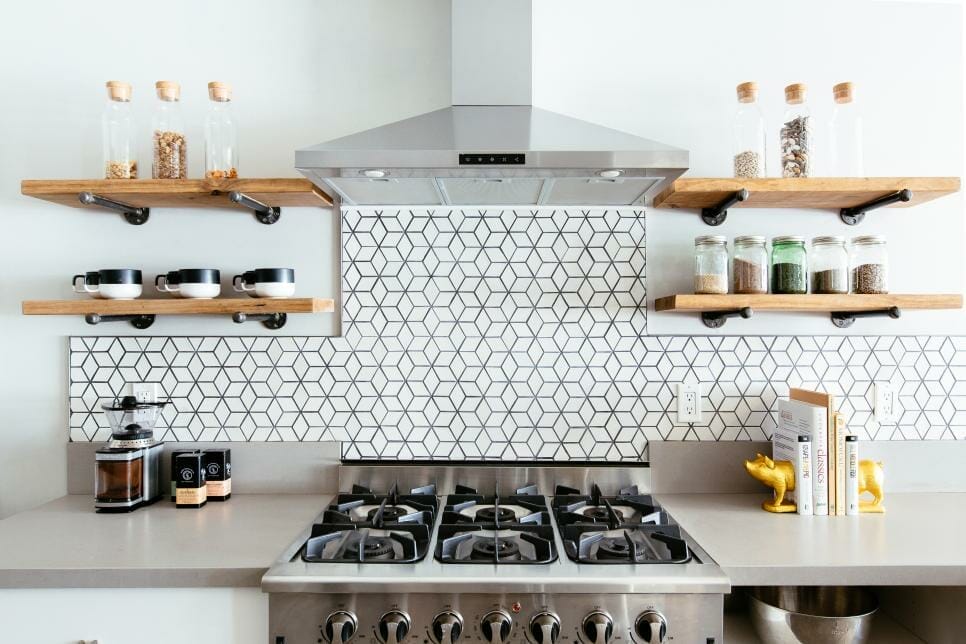 Shelves with brackets are the most typical and functional kind of storing. They fit nearly all eras and designs. With those traits, this storage allows you to execute storing spices ideas using various types of containers, like clear bottles and jars for easy searching.
Featured in this picture are shelves, mounted above the stove station. Under them are the simple versions of book storage for quick-cooking cheat and coffee stations.
2. Labeled Containers in Walk-In Pantry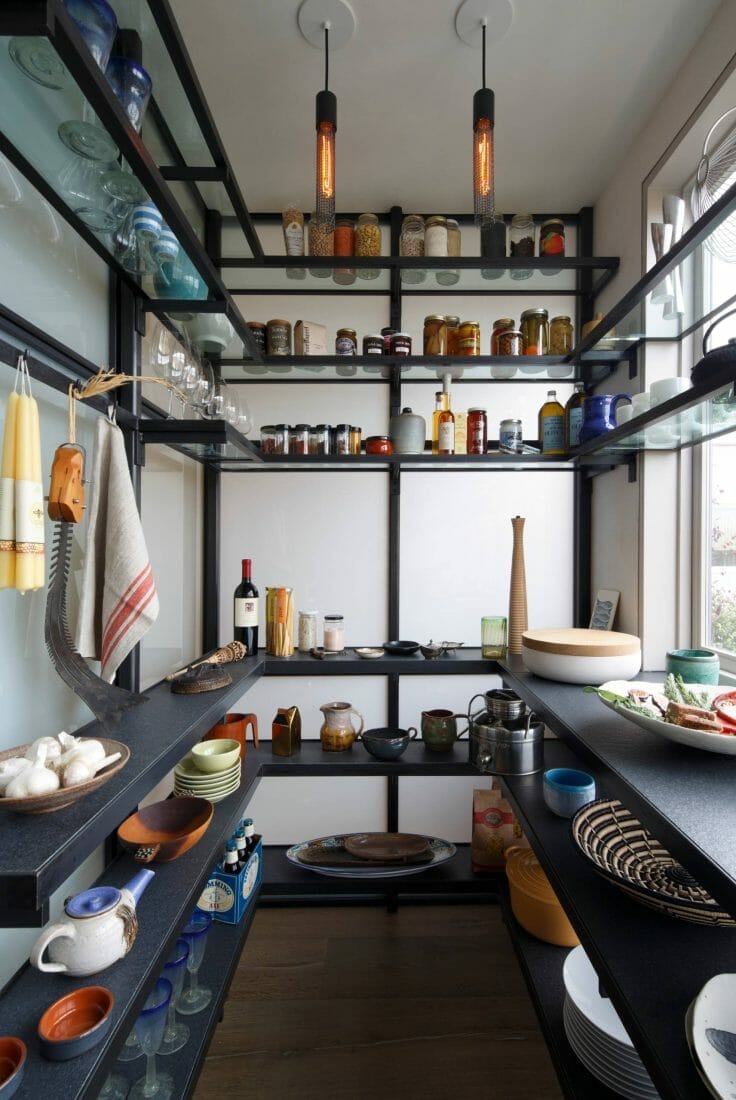 When you walk inside a walk-in pantry, it is natural to forget what you look for due to the array of kitchen needs stored there. So, it will be best to label the spices containers, as illustrated in the picture, to keep the search time short.
By the way, it is such a well-designed and neat walk-in pantry. It combines long black metal shelves with glass shelving and shapes them in the letter U to make a lot of storing spaces. With white enclosures and a light tone wood floor, this storeroom makes you want to visit inside back and forth.
3. Rectangular Wooden Spice Box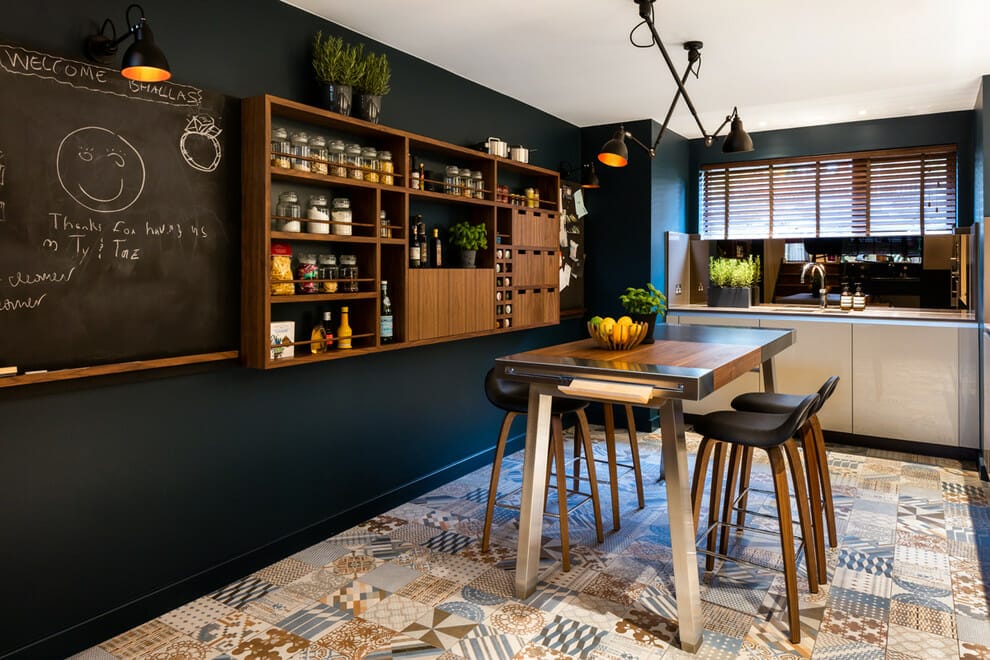 Just as the room takes the shape of a rectangle, so do the furniture and other amenities. It applies to the spices storage also.
With three sections, the seasonings take the right part of the box. It consists of four levels and varying shapes of shelves. Inside the slots are where all containers stay.
Anyway, besides spice storing, this room also gives you some ideas for space designing. It uses 8×8 inch patterned porcelain tiles with a matte finish to cover the wall-to-wall floor.
The intention is to be the highlight of the area when the rest of the elements are either in solid white, black, or wood tone.
4. Multilayered Spice Drawer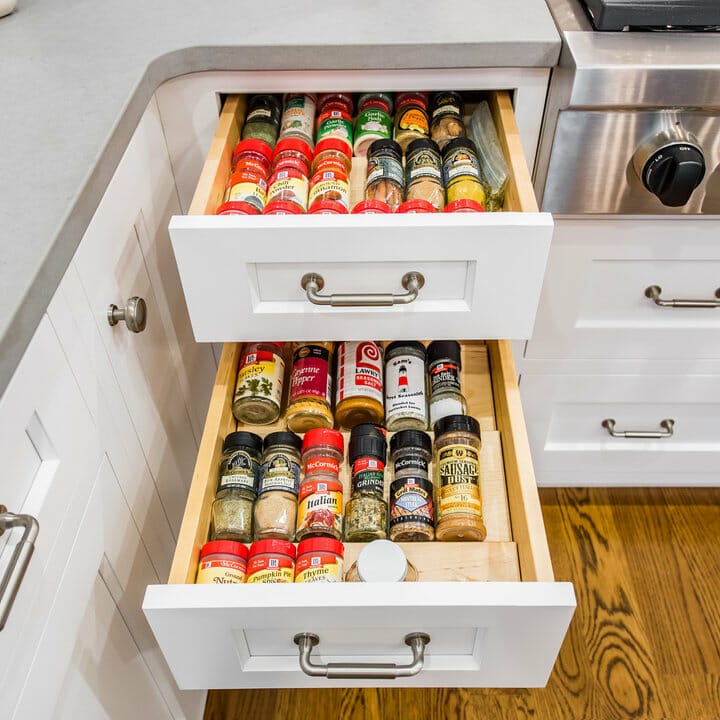 It is one of the most efficient storing spices ideas. One slide away, and you open the drawer to a complete set of seasonings of your own. Just be sure to put in the bottles with their names facing upward.
As a result, you could search for the ones you need without effort.
5. Storing Spices Ideas on Corner Shelving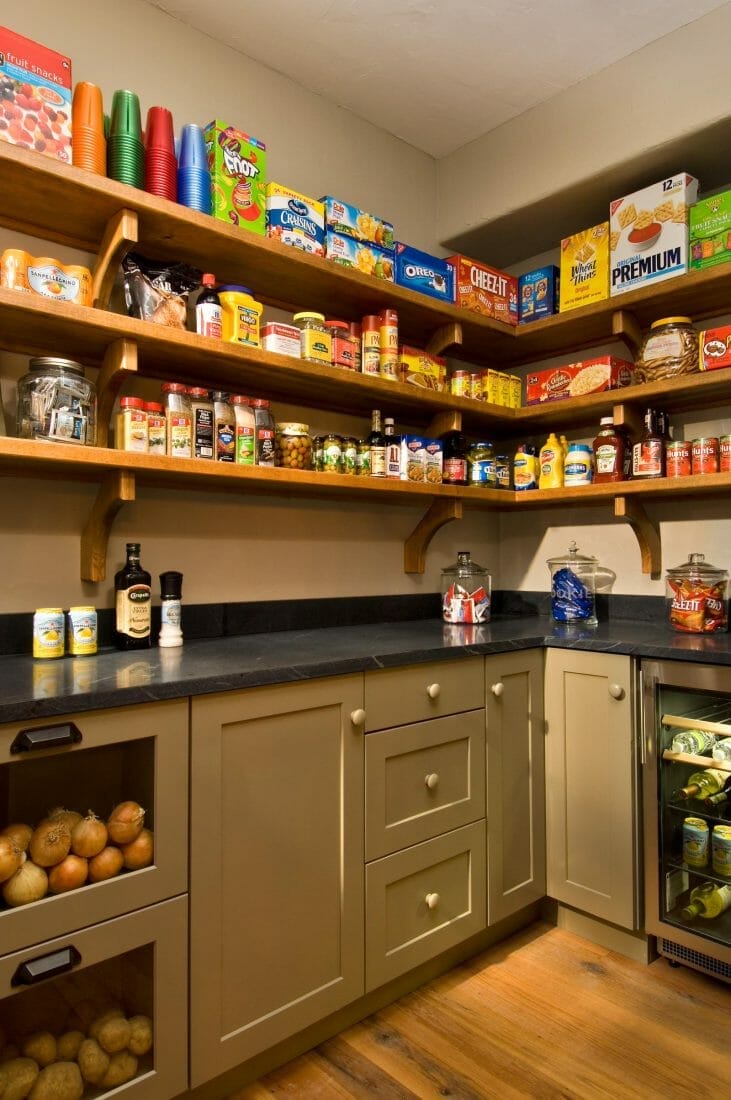 Single-wall shelving is simple while corner storage is efficient. Utilizing the junction space of the pantry efficiently is a way to maximize its storing capacity. And, that is what happens in this kitchen storeroom.
Further, the store-bought spices on the closest shelf to the countertop are storable in their original packaging. Be sure to make them stand with their names facing frontward, though.
6. Eighteen-Jar Crisscross Spice Rack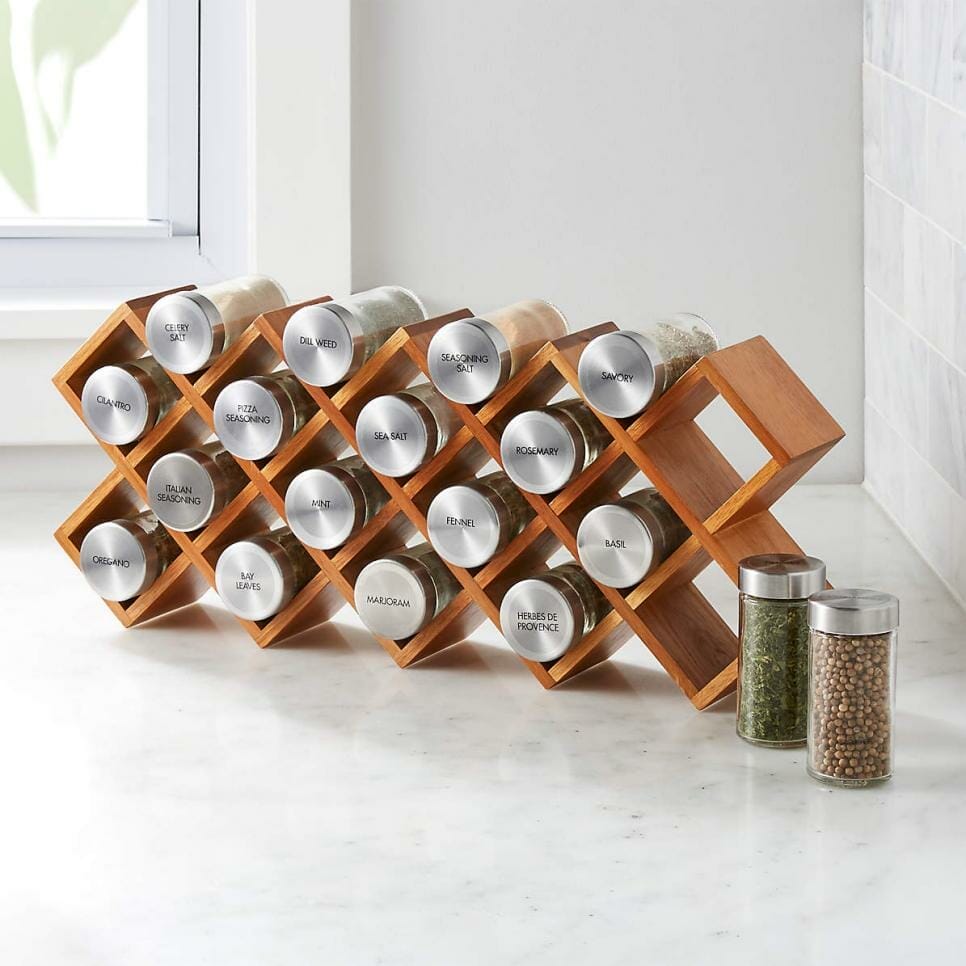 This is another storing spice idea that can store up to eighteen jars of spices. With this storage, you get to keep your seasonings modishly, modernly, and functionally. Just as it could stand horizontally, it stays vertically as well.
Although too bad, it does not come with the jars. So, either you store-buy or customize, the proper containers must fit the slot's dimensions and have writable lids.
7. Spice Rack Ideas for Small Kitchens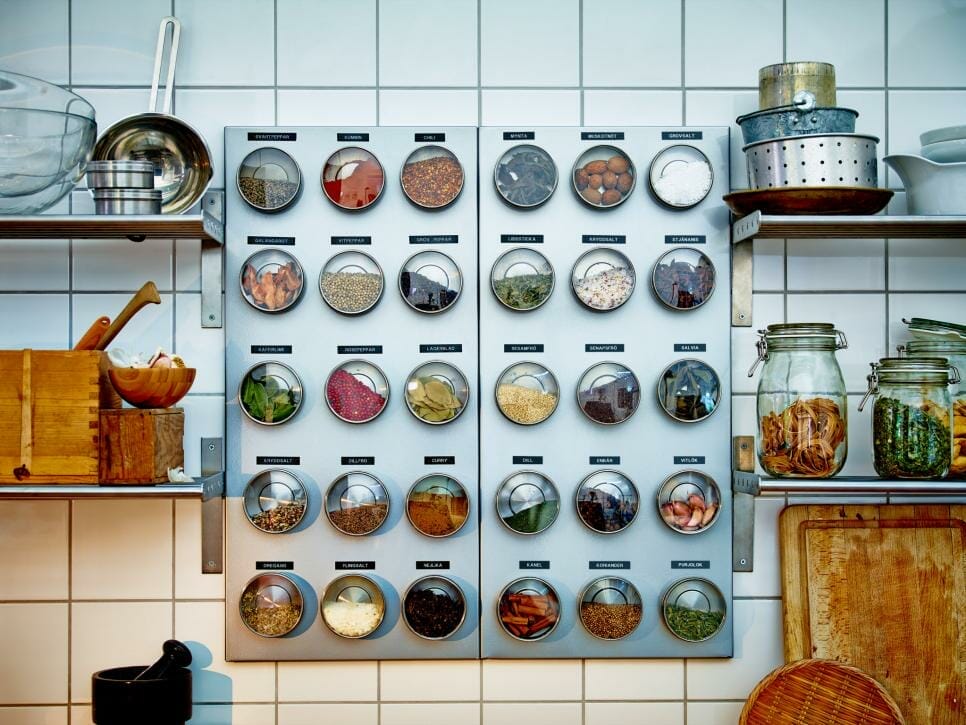 The storing spices ideas, in this case, involve a large metal plate and magnetized containers. Each magnetic storage has the shape of a UFO with a clear glass upper part. Such an appearance gives the cook a short time to tell where a certain spice is.
As if it is not enough, the large metal plate also has the names of each spice written above every container. This storing system is unique, space-saving, and up to the minute. What a great idea for a limited kitchen.
8. Plastic Bags on Kitchen Rod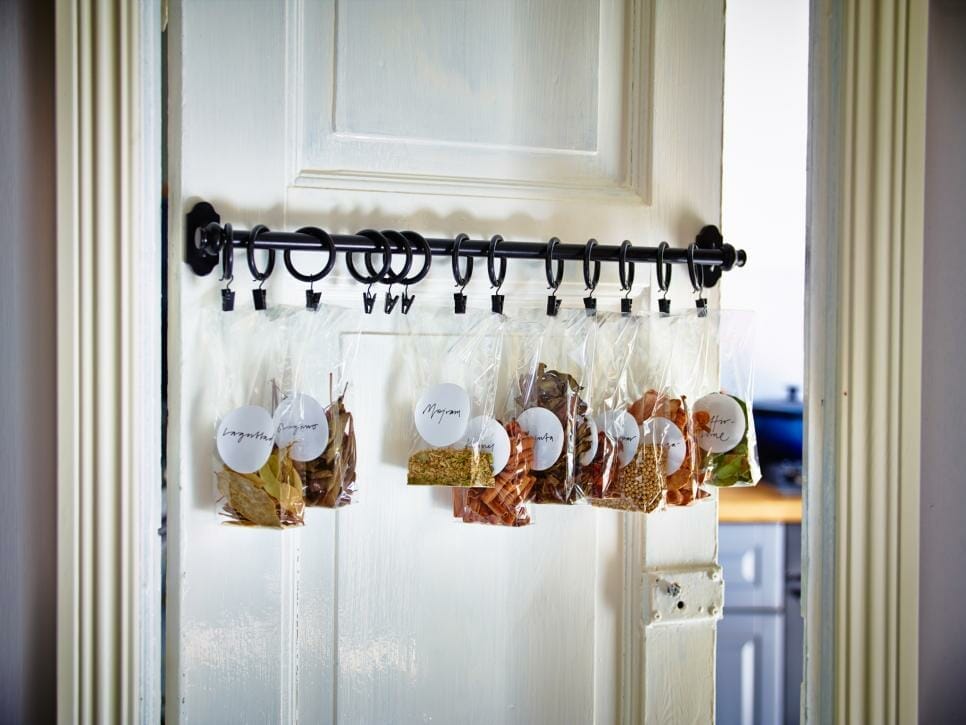 This type of storage belongs to spice storage hacks. Definitely, by hanging your spices in bags on a kitchen rod as demonstrated in the picture, you could free up the spaces above the shelves and countertop.
As a result, your kitchenette surfaces will seem more spacious and less cramped.
9. Fit-Just-Right Spice Box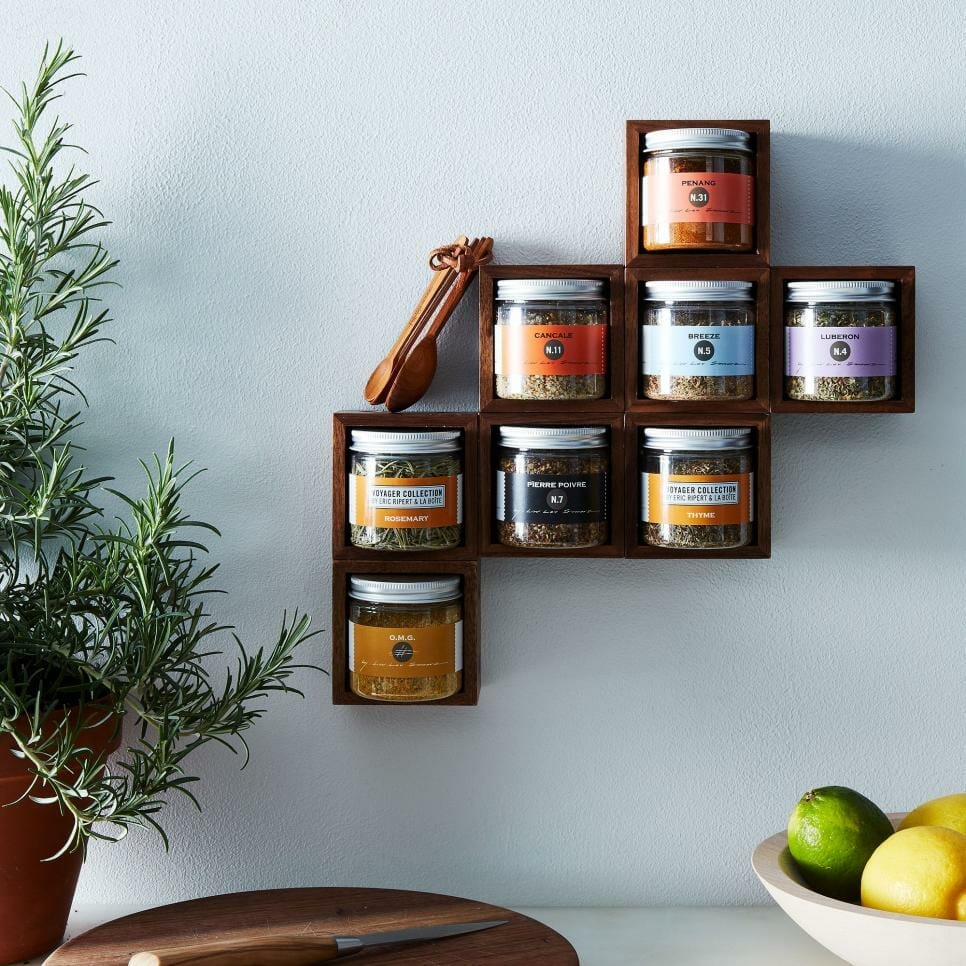 Both of the boxes and the spices are from the same manufacturer. No wonder, the dimensions of both items fit each other. However, the jar diameter is wider than the box depth. So, the container will protrude outward for easy grab.
Specifically, the wooden boxes are purchasable in a set of three or five, completed by a pair of screws. In addition, every pack comes with a two-piece measuring spoon made of the same material.
10. Ceiling-Height Kitchen Cabinet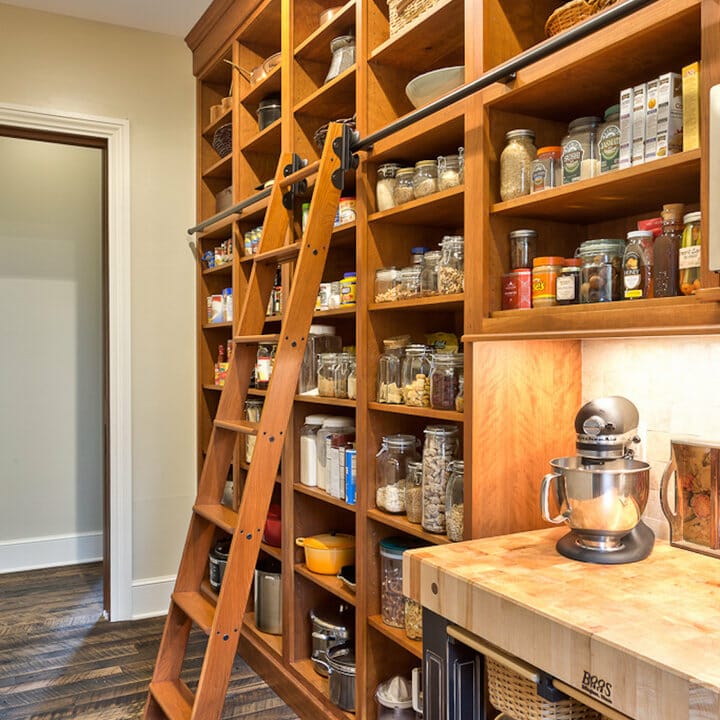 As not to waste any space, a vertical arrangement is necessary. In this case, such an adjustment takes the form of a ceiling-height kitchen cabinet.
Do not worry about the unreached parts because you could always install a rolling ladder, like how this picture illustrates it.
11. Exclusive Kitchen Pantry Spice Rack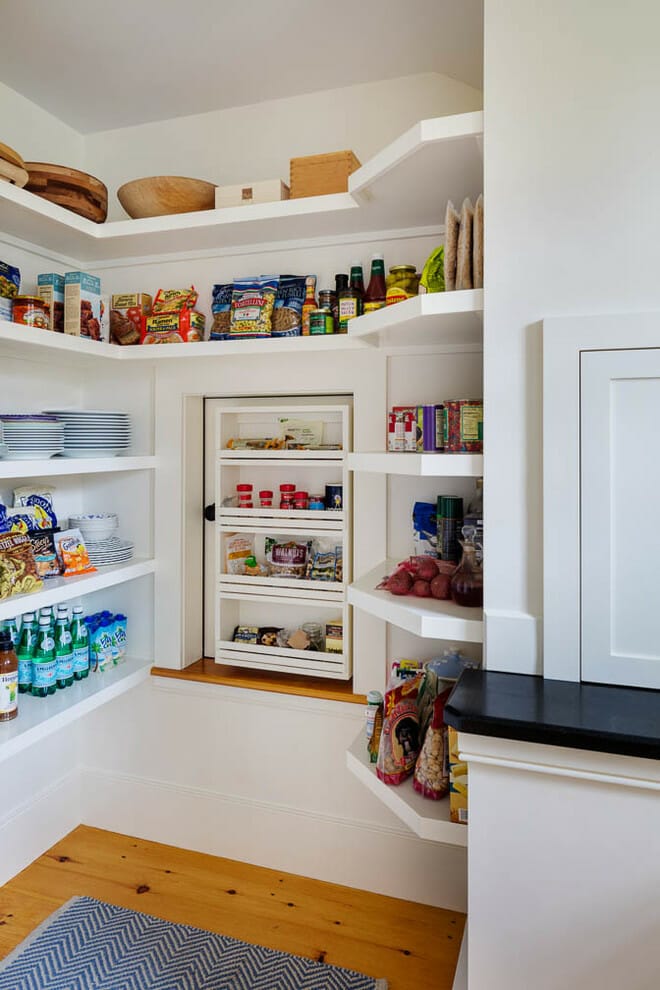 It is essential to group the spices by themselves in the kitchen pantry, apart from the snacks, dry foods, kitchenware, dishware, or even condiments.
Here, someone takes it seriously by building an exclusive inset spice rack under the rest of the shelving.
12. Storing Spices Ideas: Mountable Black Wooden Rack
This mountable rack helps sort the spices separated from the other needs. Its eight shelves fit for plentiful seasonings in various shapes of small jars, multicolor dishware, a table clock, and a decoration.
Just remember to mount it with enough gap between the topmost of the rack and the ceiling to have extra storing space for kitchen supplies.
13. Light Tone Open Cabinetry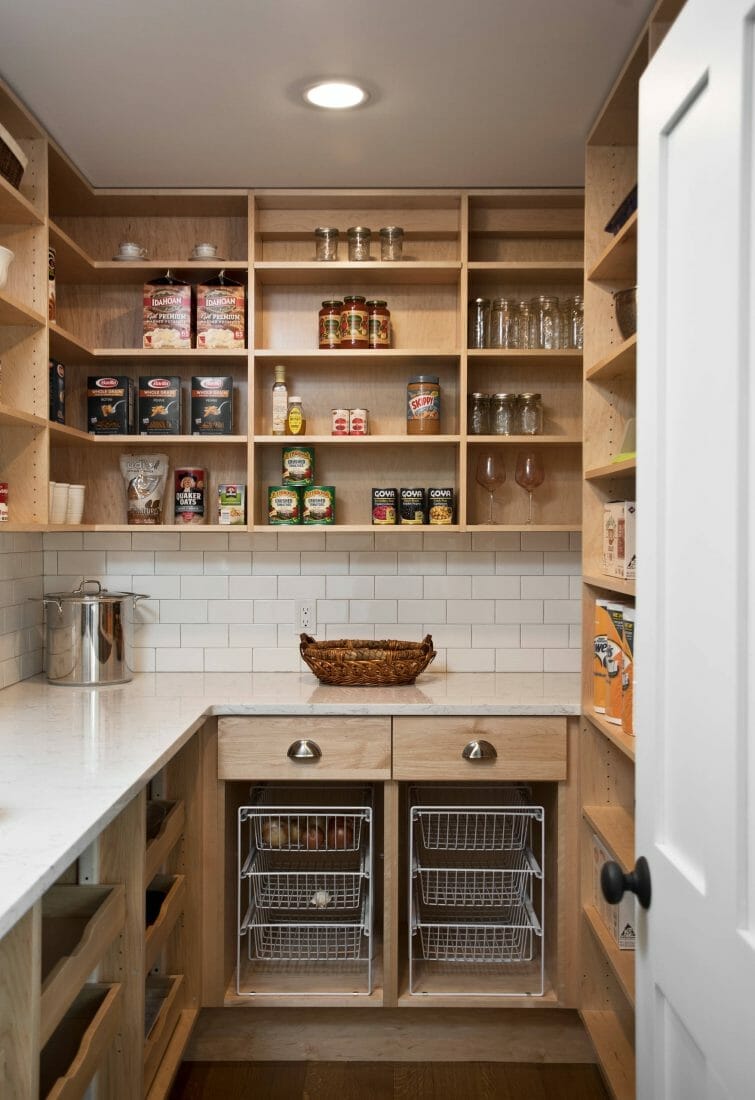 Your storing spices ideas to come are from a store called Scandinavian Pantry. It offers a nice insight into the main light tone wood and accentuating white scheme for your farmhouse walk-in storeroom.
Further, all of the spices are settable on the large enough open shelving that takes the whole space above and under the countertop.
14. Leveled Spice Shelves in Pantry Paradise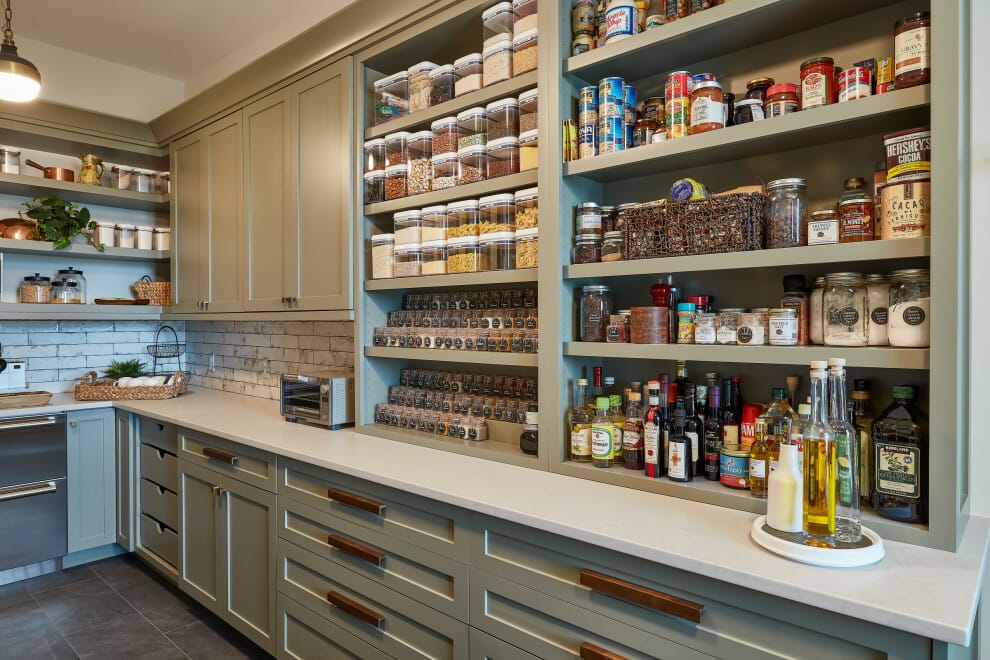 A kitchen dream for most people would be something like this. The pantry paradise, they call it. Well, it is agreeable since a complete array of spices, food supplies, condiments, cooking ingredients, and whatnot are all visible in one place.
Especially, the uniformed labeled containers for spices are settable in multilevel shelves, making the cook able to check the innermost jars without lifting them or pushing the front ones aside.
15. Inside Wooden Larder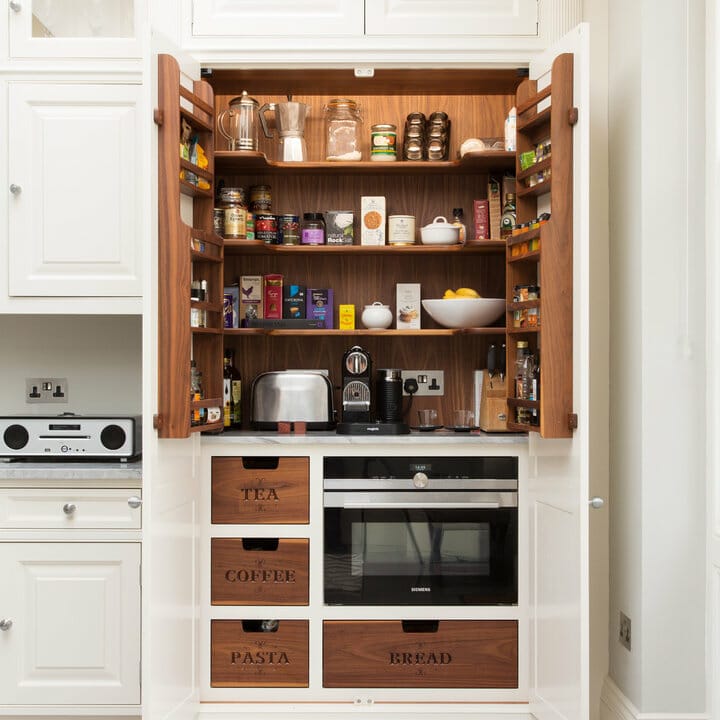 This wooden larder is actually a station for morning routines, looking at the arranged Moka pot, coffee capsule rack, sweetener, toaster, coffee maker, teacups, and others. Still, there are some storing spices ideas to steal from here.
One of them is to engrave the drawers with America, Africa, Europe & Australia Mix, and Asia to categorize your seasonings by their origins when the larder becomes your spice storage.
16. Door Mountable Spice Rack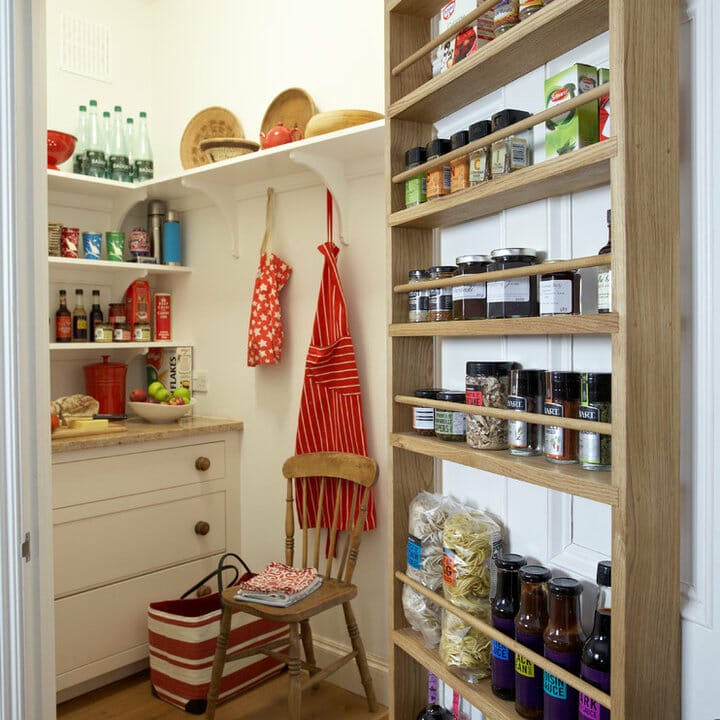 Naturally, there will be no room to spare for seasonings after you store boxes of dry foods, bottles of sauces, and the other kitchen appliances.
So, you had better make some. This walk-in pantry provides door mountable storing spices ideas for consideration. Its finishing and space efficiency are thoughtful.
17. Multi-Storage Pantry Base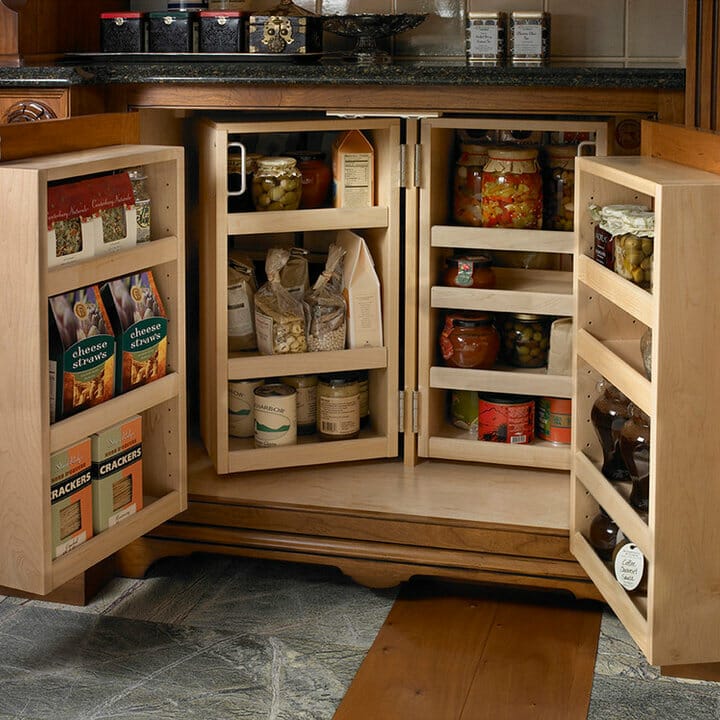 A pantry base with multi-storages is strategical for storing spices, especially if it takes place under the prep station.
The worktop will be free from any presence but your pre-cooked ingredients only, thus prepping time will go on smoothly and without any hassle.
18. Hidden Storage Inside a Wall
Someone brain-racks a way to make one of storing spices ideas by customizing this hidden storage inside a wall.
Consists of six shelves, the top three are for keeping the bottles of spices in their original packaging. Meanwhile, the rest are for stowing cans and bags of food ingredients. An outside handle completes the set for easy pull.
19. Base Organizer Filler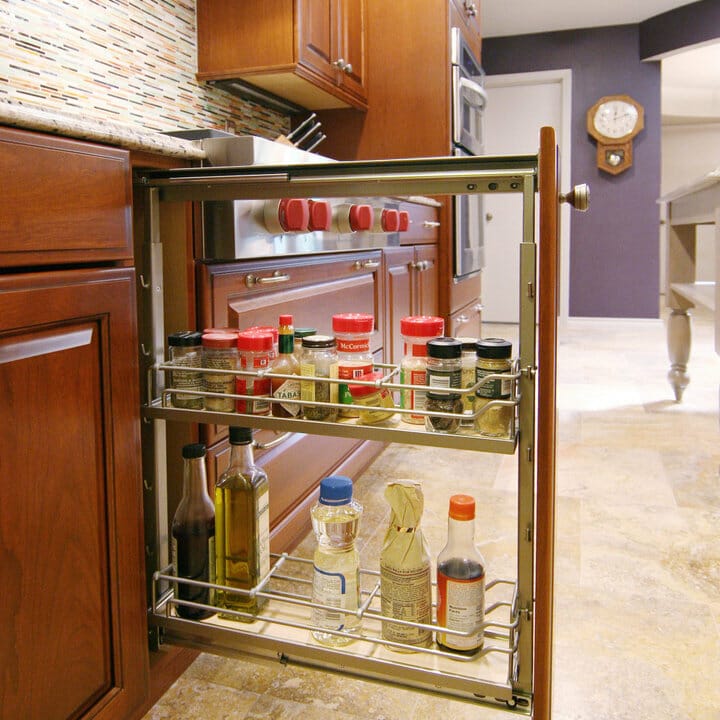 Similarly, the same previous method is also applicable here. Only, it is the small version of storing spices ideas above.
Installed as a gap filler in between two base cabinets, it is there for speedy grab to assist your cooking.
20. Walk-In Pantry Open Shelving with Rolling Ladder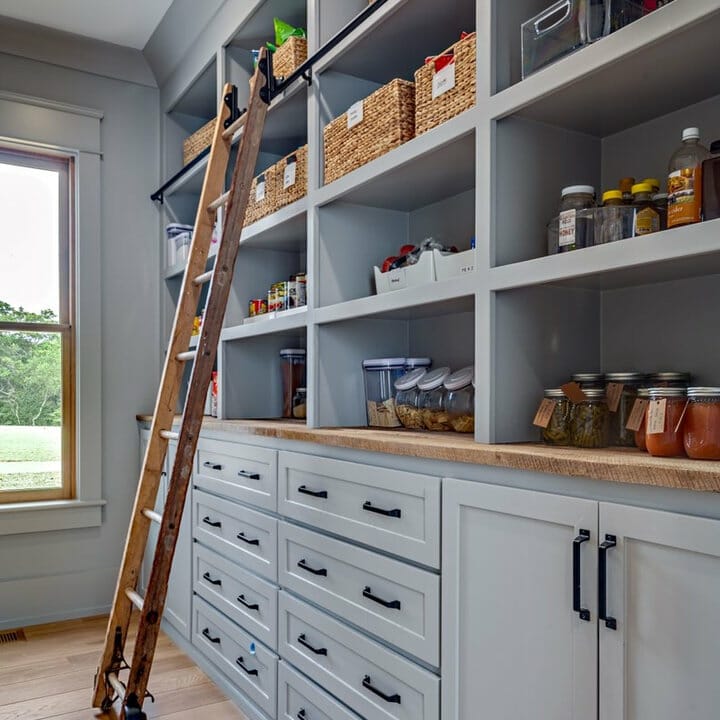 A rolling ladder makes an appearance once again in two storing spices ideas with a ceiling-height cabinet. But, when critical cooking moments happen, you would not want to ladder-climb due to hasty mobilization, would you?
So, here is a tip. Store your spices in open shelves within arms' reach to eradicate the need of using the ladder and keep short your search time.
21. Bespoke Kitchen Cabinet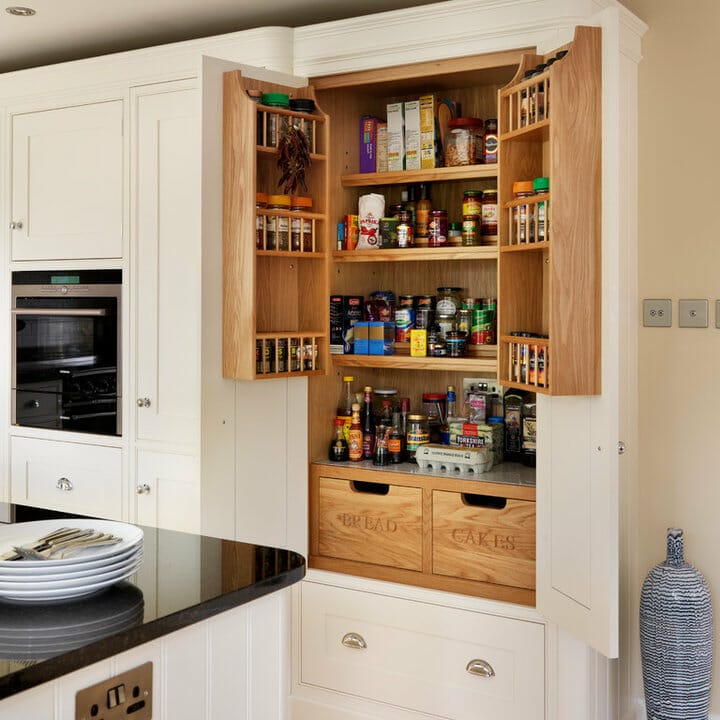 Kitchen cabinet custom-making is one of the satisfying storing spices ideas. Its existence will be, of course, up to your liking.
So, to have seasoning storage that fits your situation, a bespoke one is surely the best solution.
22. Kitchen Cabinet with Layers of Storage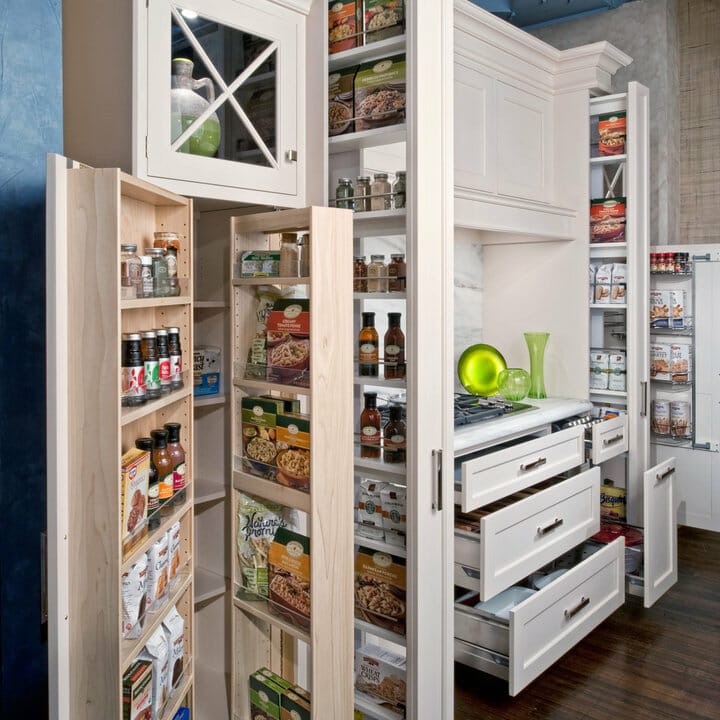 Oftentimes, a walk-in pantry is not the best among the list of storing spices ideas due to some reasons. And, having a kitchen cabinet is enough, especially when the amenity is customizable with layers of storage like this one.
Amidst the crowd, the best place to keep the seasonings would be the closest to the cooking zone.
23. Near Cooking Station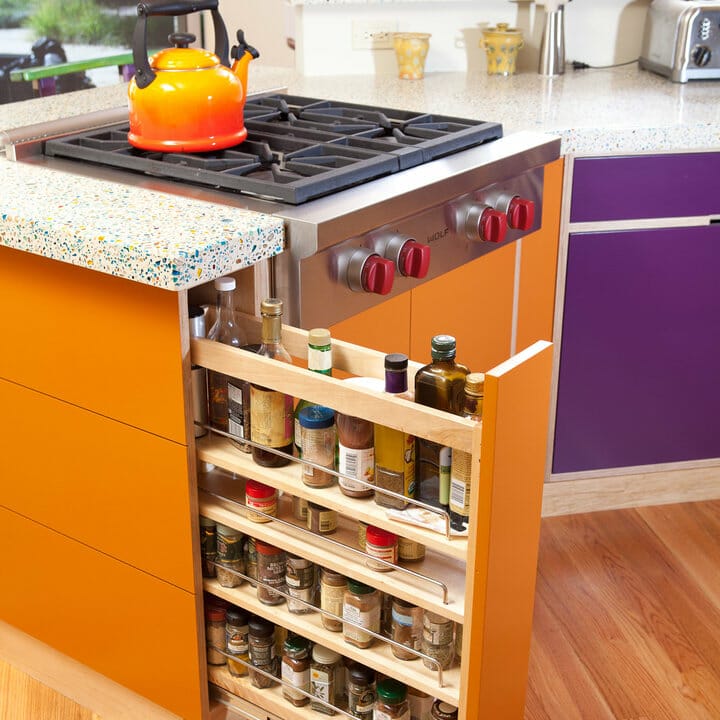 The nearest would be the most advantageous in terms of storing spices ideas. So, no matter the storage, keep your seasonings close to where you place the stove.
In this case, someone builds a base cabinet filler under the cooking station in a purple-orange kitchen. It is full of the most-used ones.
24. At Both Sides of the Fridge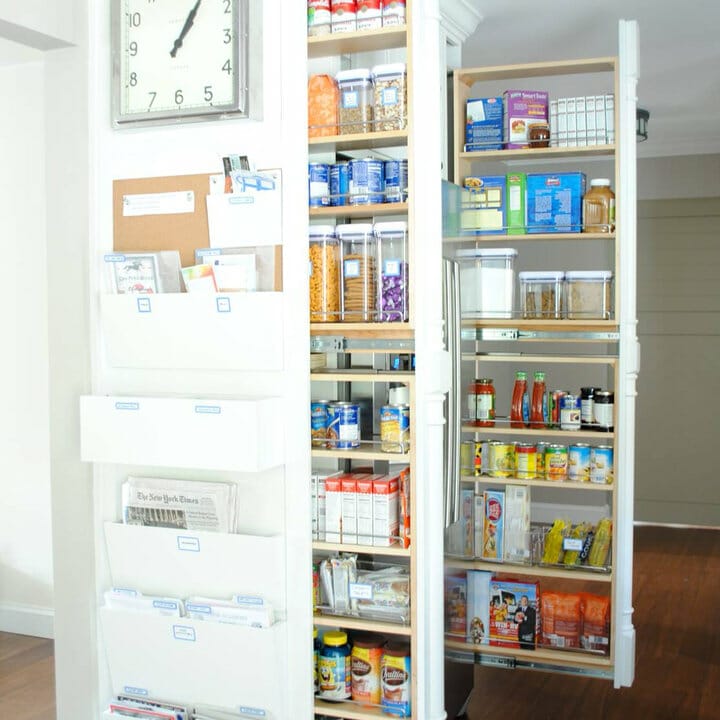 Someone comes up with more hidden storing spices ideas. Instead of only one, two concealed storages are present. They take place on both sides of a refrigerator.
It is a way to group the edible goods, both storable in a room and cold temperatures, in a place.
25. Flat Drawers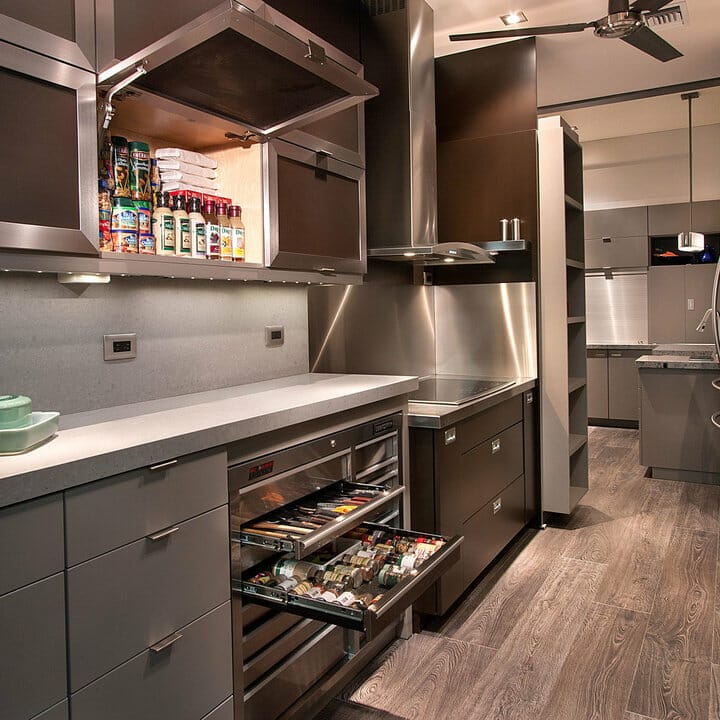 Flat drawers offer more storing spices ideas for you. By flat-lying the bottles inside such storage, you could see every seasoning in a better view. Of course, a drawer could only fit for a few.
That is why this unit comes with eight drawers to afford spaces for all of your spices.
26. Fourteen-Piece Glass Spice Jars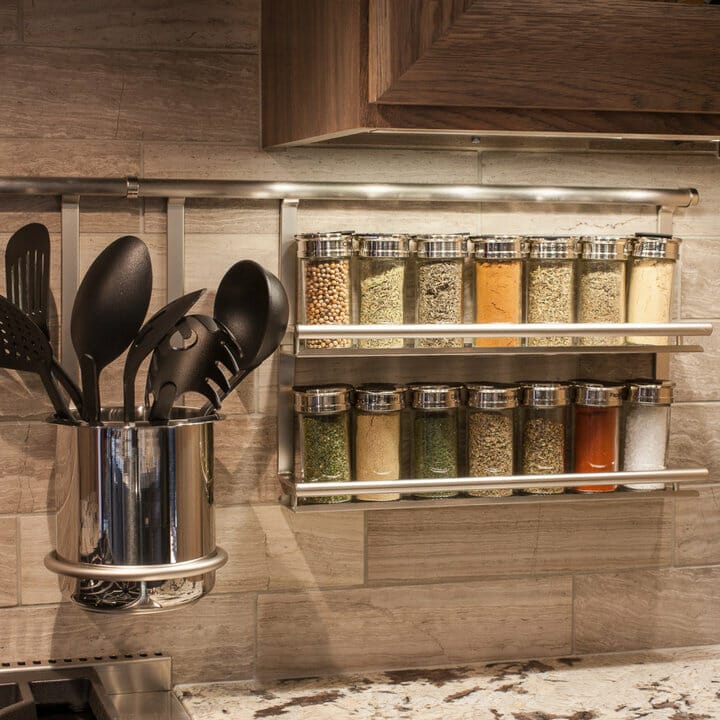 Uniformed jars mostly appear in clear glass to give you the inside view. Otherwise, they come with labels as a way for you to know or differentiate the seasonings within.
These containers are parts of nowadays aesthetic and spices storing system.
27. Preserving Jars with Clip Lids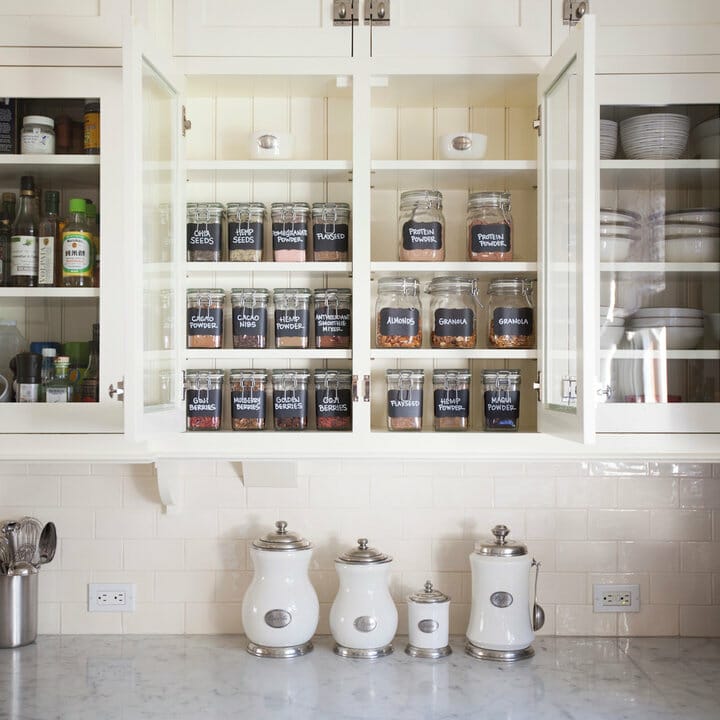 Jars with clip lids are commonly used for preserved foods. But they would as well be great containers to store dried or whole spices, like basil leaves, black pepper grains, cinnamon sticks, dill seeds, garlic cloves, ginger roots, and many others.
Also, jars with clip lids will be awesome storage to store powdered spices if buying them in kilograms is your regular thing.
28. Base Pullout Cabinet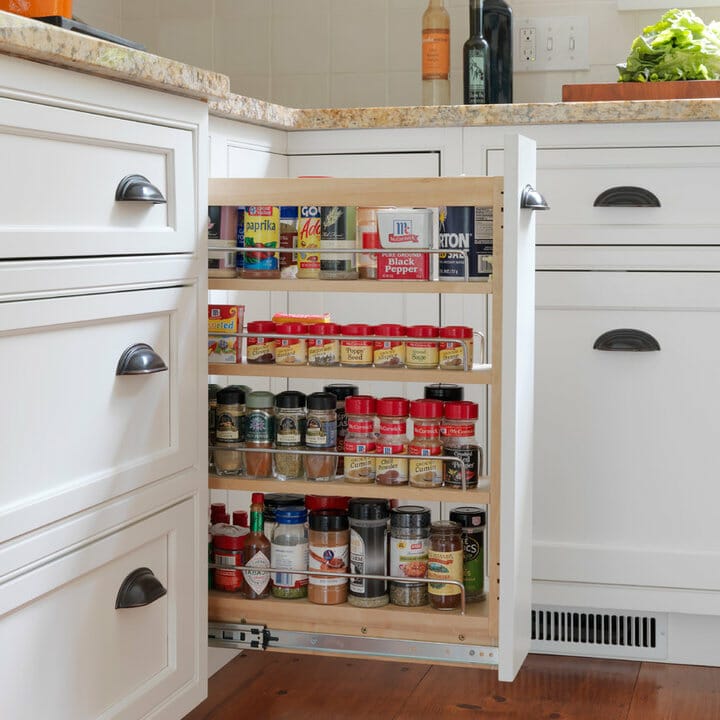 At this state, the concealed cabinet would be everyone's favorite amid other storing spices ideas. How come is it not when its existence takes full advantage of kitchen cranny?
Further, it becomes a part of urban and modern kitchenettes when the traditional method gets you to show everything on the surface.
29. Rollout Pantry Drawer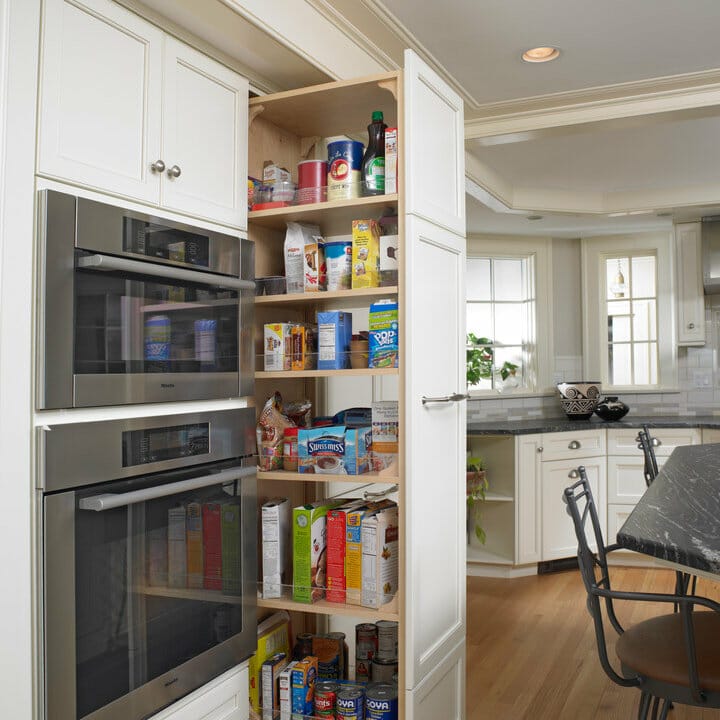 It is always nice to have a little secret. In this case, it takes the form of a rollout drawer in a cupboard pantry where it hides when closed and appears as a common-looking kitchen cabinet.
Finished in fuzzy white stain similarly to the rest of the amenities, it makes a pleasant scheme paired with a light tone wood floor.
So, how will you store your seasonings in the future? The most creative and inexpensive way among the ideas above would be using plastic bags and hanging them on a kitchen rod. Yet, the longest to last would be something robust like cabinetry.
Do not hesitate to steal any storing spices ideas of ours, because they are all yours now! Having a tidy and well-arranged kitchen and pantry will be your near future.