The need to afford private entertainment inside the house escalates lately, especially when social distancing regulation applies. When gadgets with a-few-inches screen cannot satisfy your thirst of movies and cinemas, these small home theater room design ideas will help.
Of course, why do not you bring that tempting cinema in your residence? Instead of wondering when this situation will be over, create a circumstance where you could get the sacred entertainment without going outside.
Do not worry about your house's dimension because you could transform almost any room with these ideas.
1. Basement Home Theater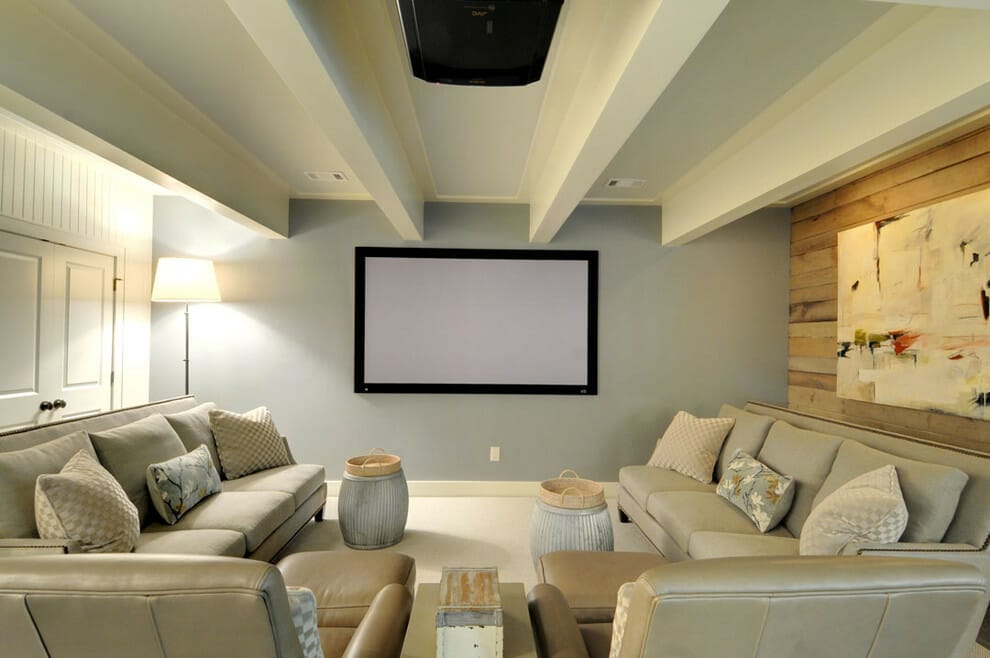 The number one option is your basement, if you have any. Rather than letting your underground floor only to be a storage, it is better to make it more useful.
List the following movie room ideas. Design the ceiling with decorative beams and finish them with paint before fix in the projector.
Paint the wall with cool pale shade and arrange most furniture in similar tone. Mount a fixed projection screen at the center.
Have one of the walls finished with wood planks, even out a wall-to-wall carpet, adorn the seating with patterned cushions, and you obtain a private underground home theater.
2. Traditional Media Room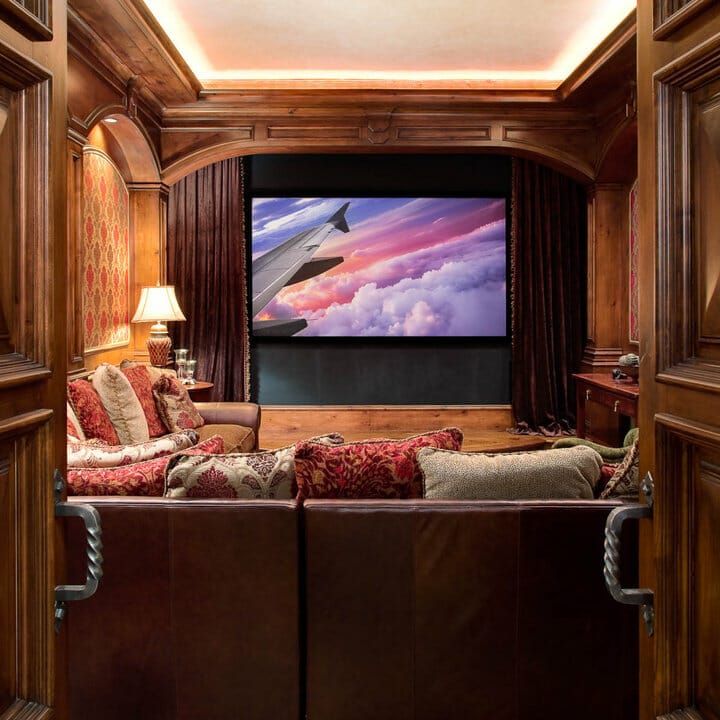 With the solid oak use and the molding design, this room looks like library turned home theater. It is somehow imaginable how people help to bring out the book racks and reading benches of the room.
And then, they come back with a projection screen and a pair of embroidered full-length drapes. Well, leave out the screen and drapes, the rest of the story is only an imagination.
Back to the reality where your tasks next are soundproof the room with some red fabric on the wood walls, install the lighting fixtures with yellow light, and arrange a fluffy couches full of red and cream pillows.
3. Features Natural Lighting Access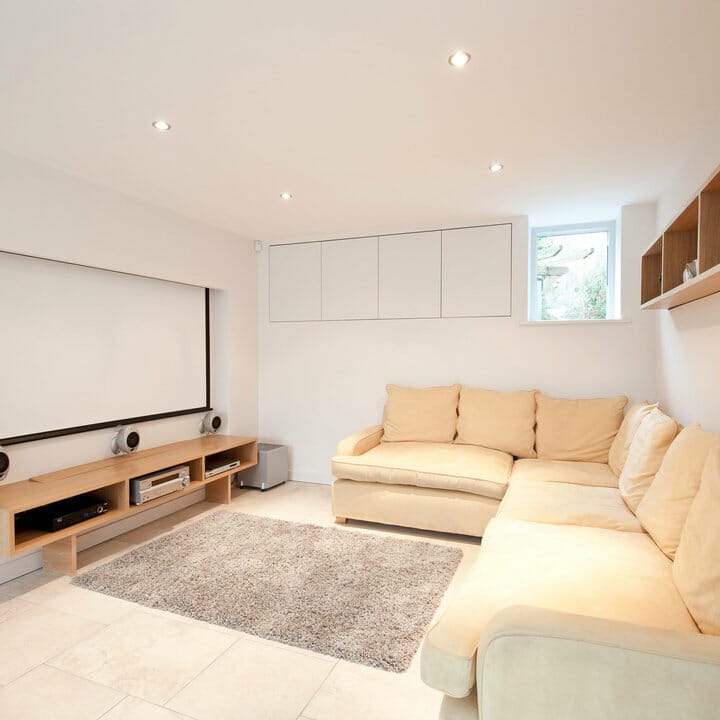 A window as an access of natural lighting in is necessary for your entertainment area. It functions also as a time reminder.
Well, it often happens when the show is captivating, and you spend hours to watch. It feels like the time stops inside your home theater, whereas it is not. The window will let you know about it.
Anyway, this room heads toward contemporary style. It is visible from the use of drop down screen, light tone wood shelving, gray furred rug, and cream L-shaped couch.
4. Small Home Theater Room Design Idea: Lighting Fixtures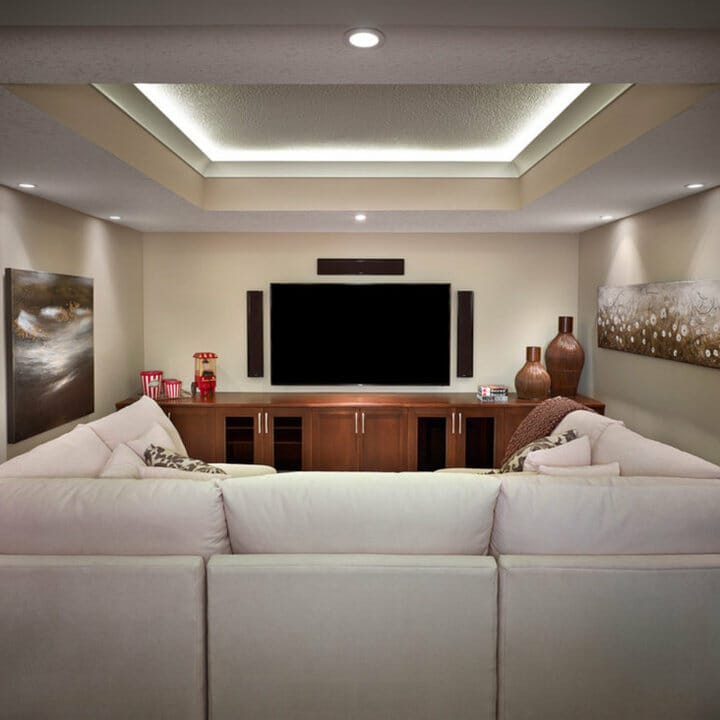 Even though it is better to watch a movie in a dimmed room like how the cinema works, your home theater must still have thoroughly planned lighting fixtures.
This media room features tray ceiling with architectural lighting. The indirect light at the center then gets help from the surrounded recessed lamps.
By the way, it is possible to transform your living room into a home theater without much effort. Leave the couches, walls, and decorations as they are.
You only need to set a TV according to the viewing distance. For instance, you require a 65-inch television if the seating as far as 8–14 feet.
Install the right sound amenity for small home theater system, set cabinet under the TV, and it is ready to host movies.
5. Cozy Seating in Media Room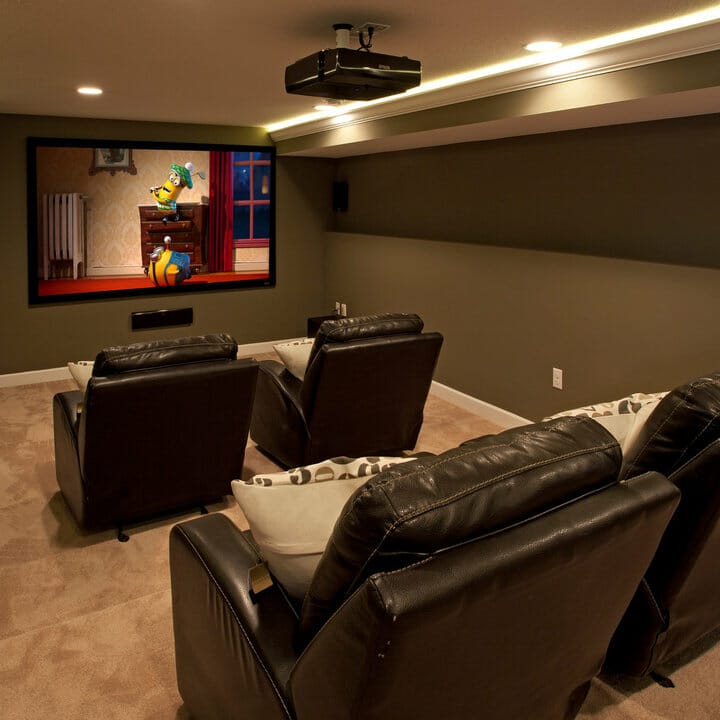 The minions would not be so funny if you watch them from them uncomfortable seating. Therefore, afford something as cozy as these recliners with colors that match the entire room concept.
The material would not be a problem. You could choose cotton or leather upholstery. Otherwise, fiber materials of any kind also among the options.
Be it natural, synthetic, or the combination of natural-synthetic fiber, you could choose anything as long as it fits your definition of comfy.
6. The Forgettable Side Room
It proves that any area in the house is transformable into a private cinema. This side room offers some small home theater room design ideas.
Hence, it features bamboo curtains to give the space some shade when the movie plays, lengthy white sofa, carpet, some decorations, and a television. The TV wall uses some kind of finishing with rusty look.
7. Home Theater with Concrete Floor
We have told you not to worry about the size of your house. This home theater is obtainable with the setting of a compact basement.
This idea features concrete floor, turquoise painted walls, media cabinet, yellow rug, unfinished looking coffee table, and beige sofa with yellow-brown cushions.
8. Extravagant Small Home Theater Room Design Idea
A well-designed contemporary home cinema room in Jaipur, India, features a skimmed ceiling, recessed projection screen wall, and light tone wooden floor.
It depends on recessed LED down lights, wall sconces, and architectural light for the lighting. Meanwhile, the owner gets to sit on a U-shaped sofa full of patterned cushions or on one of the bean bags.
9. Garage Home Theater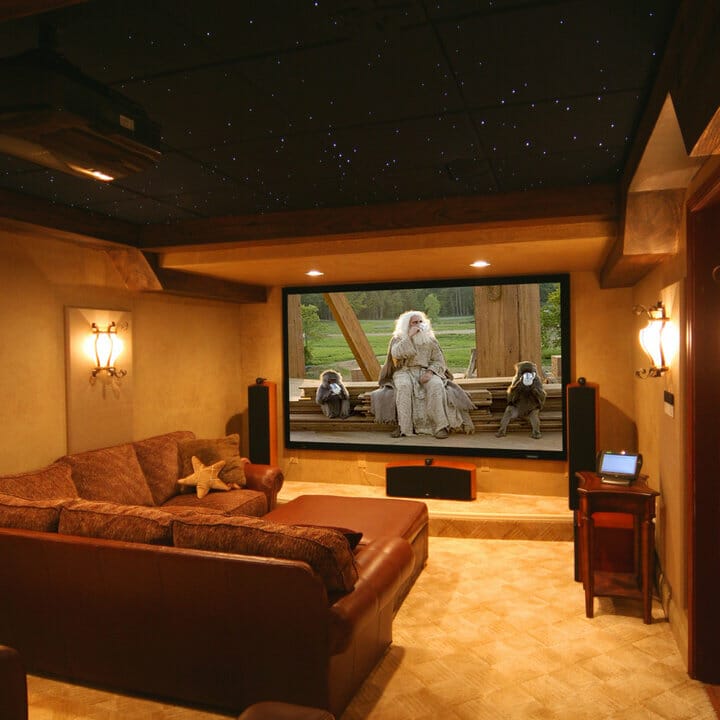 After remodeling, this garage now has a large projection screen, sound system, modular fabric-leather sofa, and serves as a home theater.
The detached one will make you feel like owning the real cinema in your property. However, an attached amenity might work as well.
This home theater has a unique feature at the ceiling. People call it fiber optic star ceiling LED. You could install it, too, using pins, adhesives, impaling clips, or Z-bars.
10. Unused Bedroom Home Theater
Spare bedroom is usually underused. If you are not going to rent it out, just turn it into a home theater.
So, roll out a wall-to-wall carpet, bring in a large TV and its cabinet, install the star ceiling panels, and arrange some convenient seating. This one features a cinema chair completed with a slot to hold a glass of coke.
11. Model Home Theater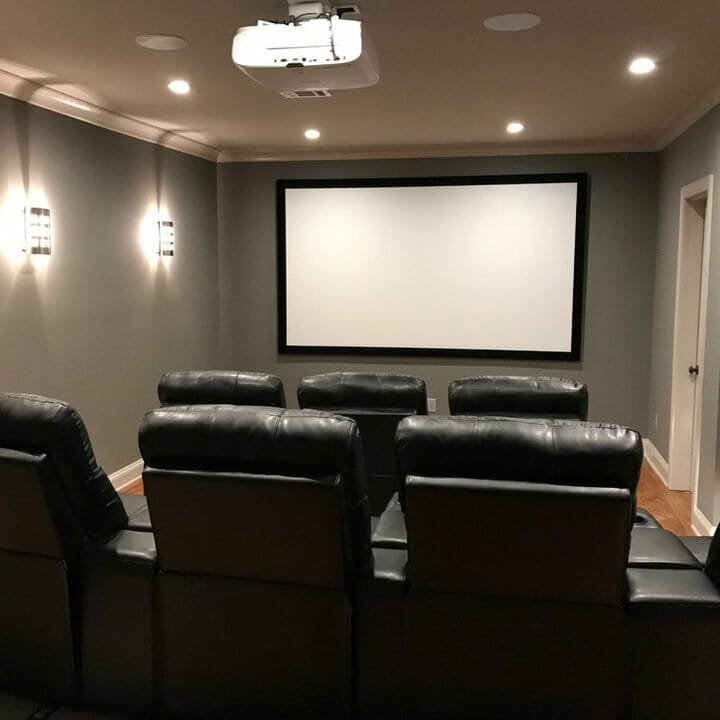 If you want to look up to the best example of home theater, it would be close to the criteria. With minimalist design, it has everything needed to enjoy a movie like a cinema provides.
A framed projection screen, adequate amount of lighting, and even couples of leather chairs with cup holders. This space also offers a home theater door idea.
It appears just like a common access to any other room in the house, highlighting a private cinema chamber. With white paint following the trim and the molding, it complements the gray scheme.
12. Attic Home Theater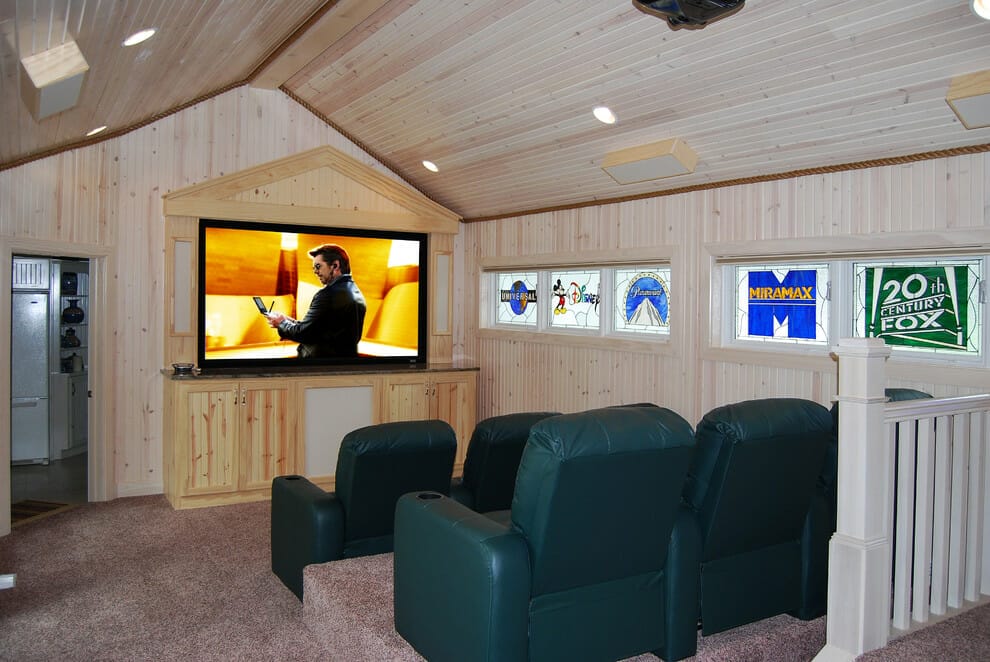 This home cinema takes place in the attic. Look at how the situation in yours now.
If it is bearable to be the house of several theater seats, a projection screen, a few of people, and some excitement, your loft space is transformable then.
13. Home Cinema with Stadium Seating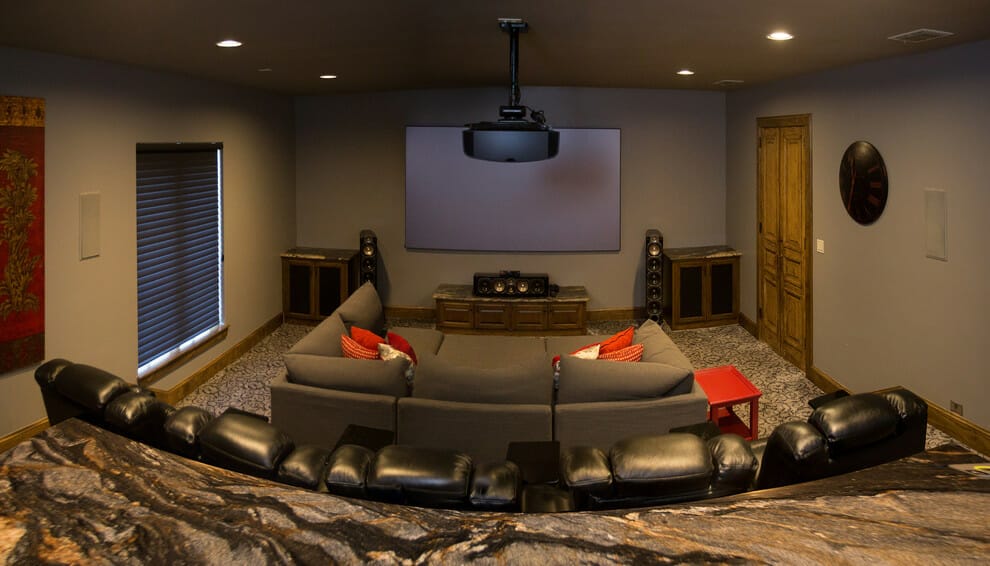 This small home theater room design ideas certainly mimics the real theater condition with stadium seating. Hence, you could watch a movie while lying around on the sofa bed in front with two other persons while the rest could take the higher seat comfortably.
As a result, nobody will block anybody's view.
14. Display Room Slash Home Theater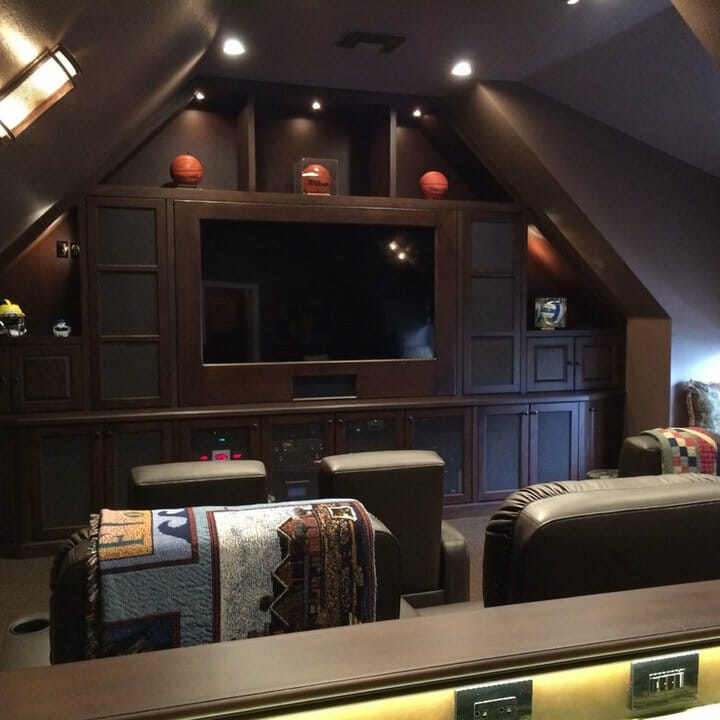 Without the screen, it looks like the seats are present to admire someone's achievements, looking at a built-in cupboard full of precious souvenirs.
If you and your group do not have a movie to play, just tell them stories of how each item came into your possession.
15. Stunning Small Home Theater Room Design Idea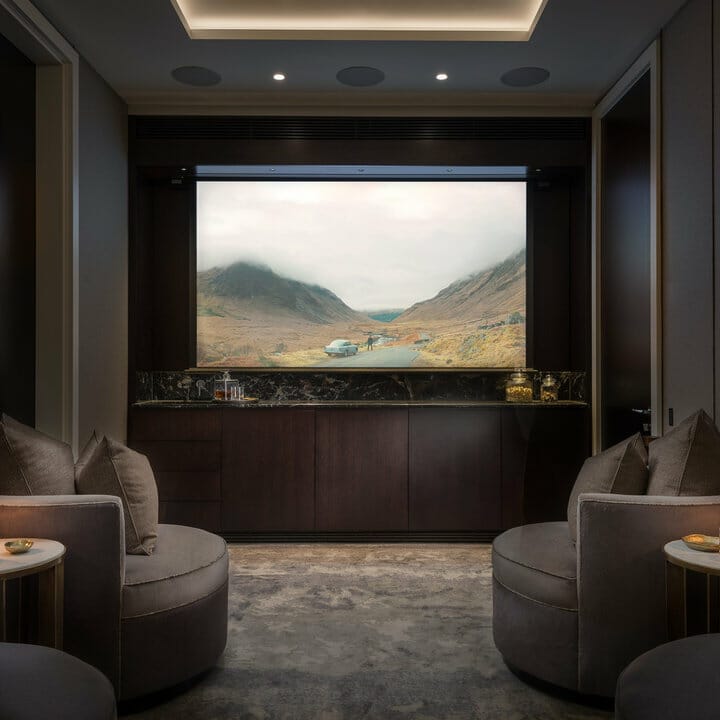 This amenity, belongs to a duplex penthouse apartment, is a private cinema with stunning design. It is not like the usual room with screen, 96 inch drop down screen and audio ceiling speakers are present to let the viewers enjoy optimum movie watching experience.
On top of that, the round seats call for leaning back.
16. Bonus Room as Media Center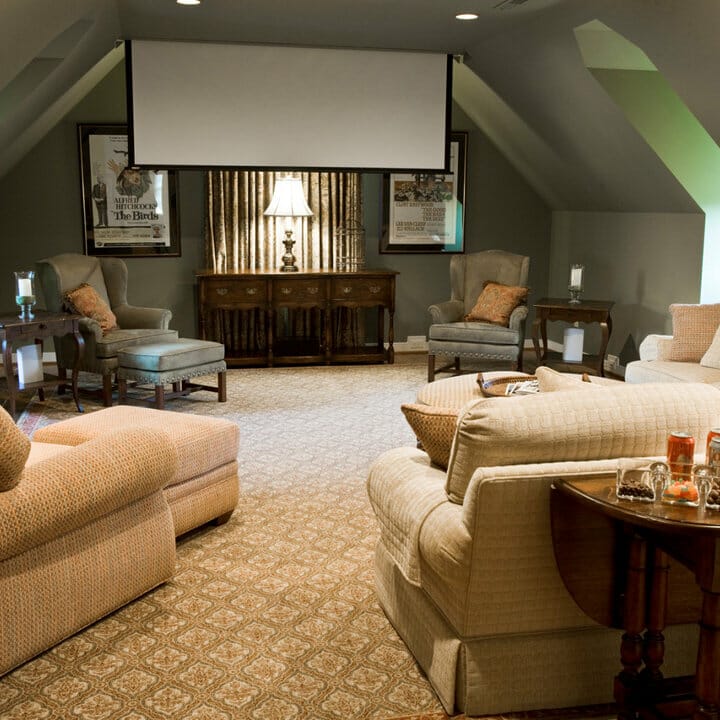 Bonus room is a spare space above the garage or some part of loft area. If you have one in the house, it is a good idea to install a framed down screen, arrange a set of beige soft seating, and roll out a patterned wall-to-wall carpet.
In addition, you can bring in some foldable snack tables, and create a media center of your own.
17. Perfect Setting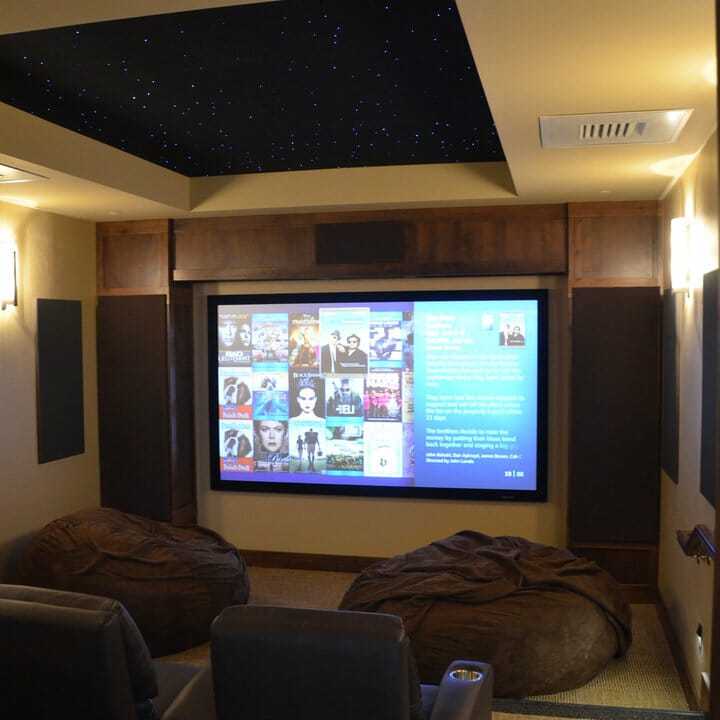 Stadium seating, fiber optic ceiling, large audio speakers, wide bean bags, theater seats, and everything needed to delight in a film seem present.
When the movie is over but you want to linger longer, you could continue the schedule with false stargazing. Then, just lean back and look up.
18. Gray Cinema Room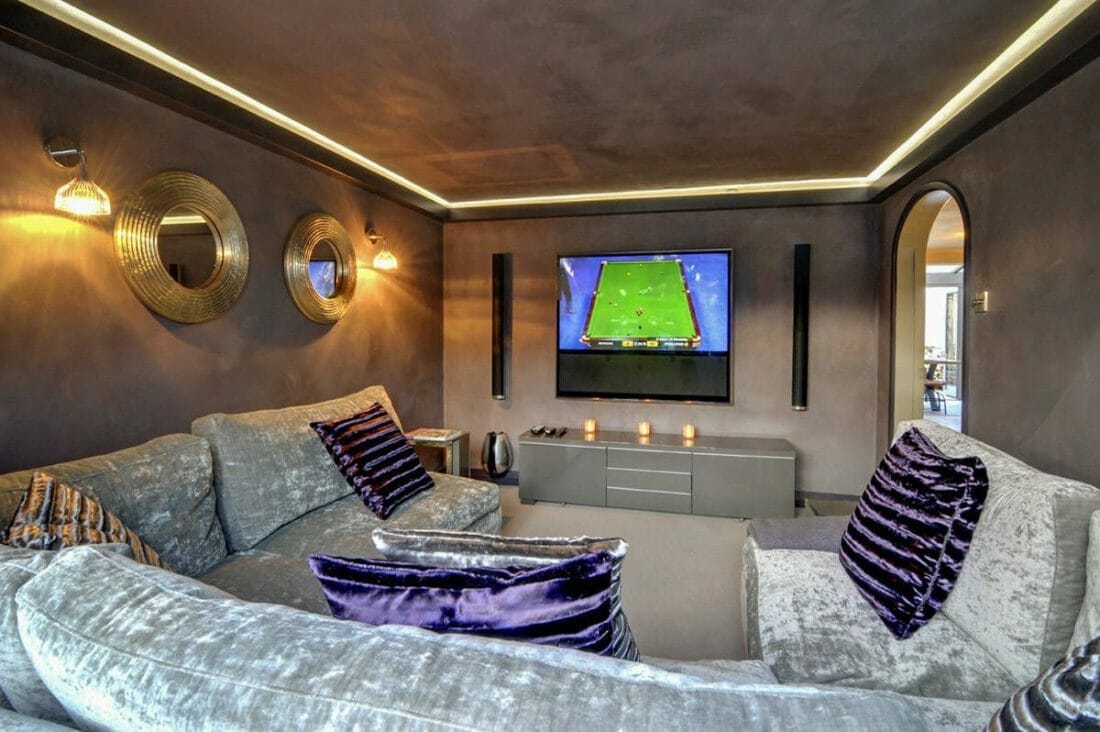 This room specializes in keeping the owner entertained with a TV, a pair of long black echo wall speakers, and gray L-shaped plush sofa. The walls and the floor also appear similarly in color.
Additionally, indirect LED strip lighting and a couple of wall sconces call it completion.
19. Dedicated for Two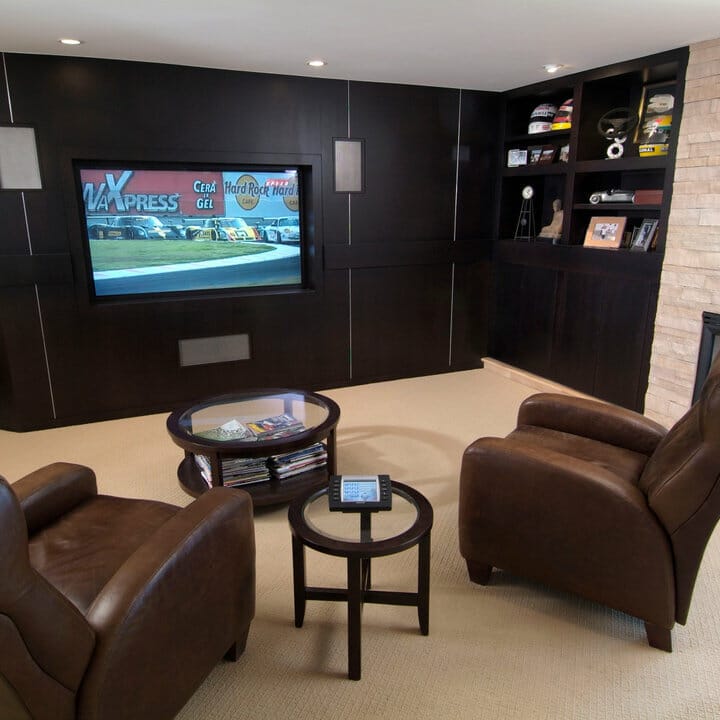 No one has ever defined the small home theater room size because the adjective is opinion oriented.
However, this area must fall into the category since it only fits two people. Then completed with recliners and carpeted floor, this intimate space is ready to facilitate the couple's time.
20. Compact Audio Visual Center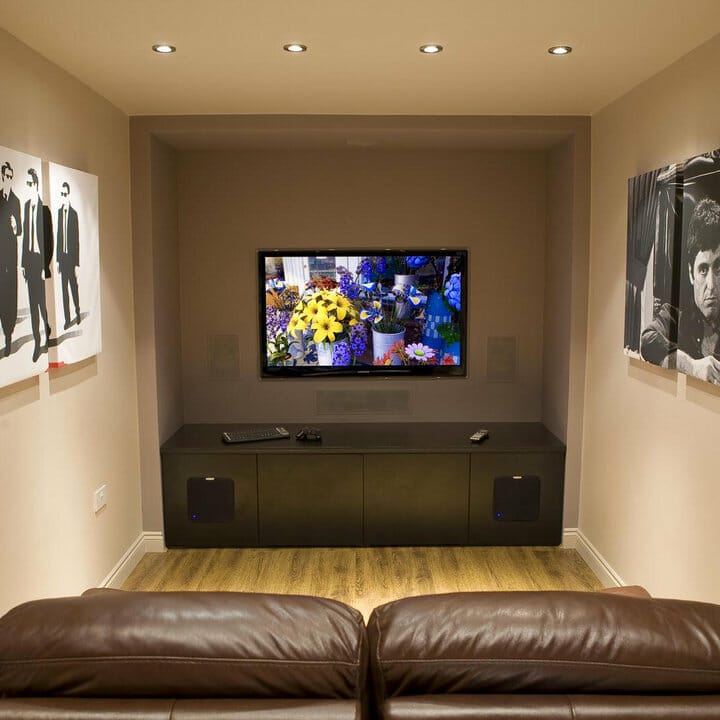 Smart TV could be an alternative for realize your small home theater room design ideas when the projection screen's dimension is too wide.
As long as the visualization is clear and the audio system works well, any gadget will be found. Then, the last step will be adjusting the viewing distance.
21. Media Room with Green Walls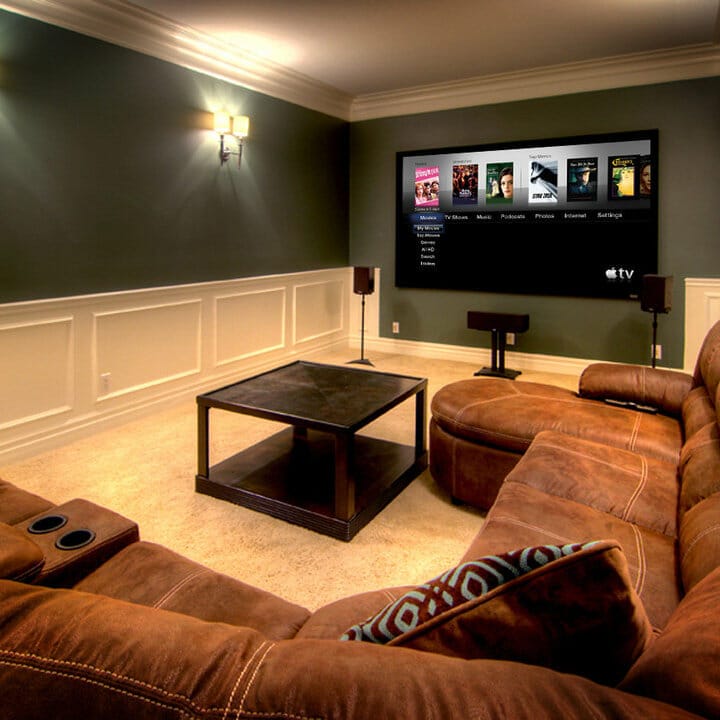 The best paint color for home theater walls will be those of dark tones, such as dark brown, gray, black, or burgundy.
Moreover, these shades are recommendable because they can cut down on the bouncing around light sourced from the projection screen or TV.
22. Exhibition Hall Slash Man Cave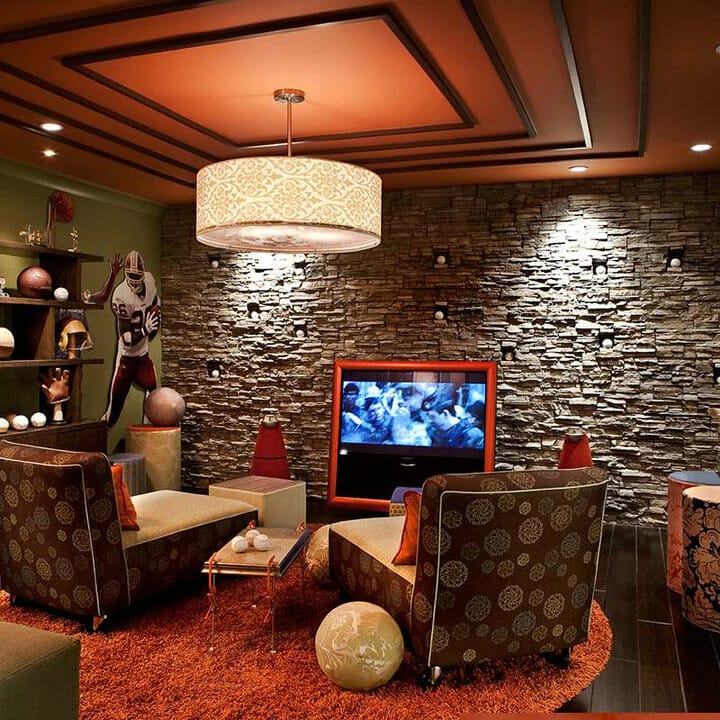 Manspace, man cave, mantuary, manland; we call it by many names, but it serves the same function as a sanctuary or a retreat for male.
In this case, this space features amenities for small red home theater, such as framed TV, furred carpet, and single sofas.
At the same time, the room also affords some facilities to hint the owner's favorite sport. Besides the cupboard, it is also visible on the cladding stoned wall behind the TV. Moreover, the accent wall has holes to house his precious balls.
23. Small Home Theater Room Design Ideas: Seating Circular Formation
This small home theater room design ideas offers an seating circular formation. With this setting, it is better to have swivel chairs, so that you could get them face toward the desired direction with ease.
When the TV is off, you could enjoy a nice chitchat with the other three facing the hammered coffee table.
24. Entertainment Room with Sectional Couch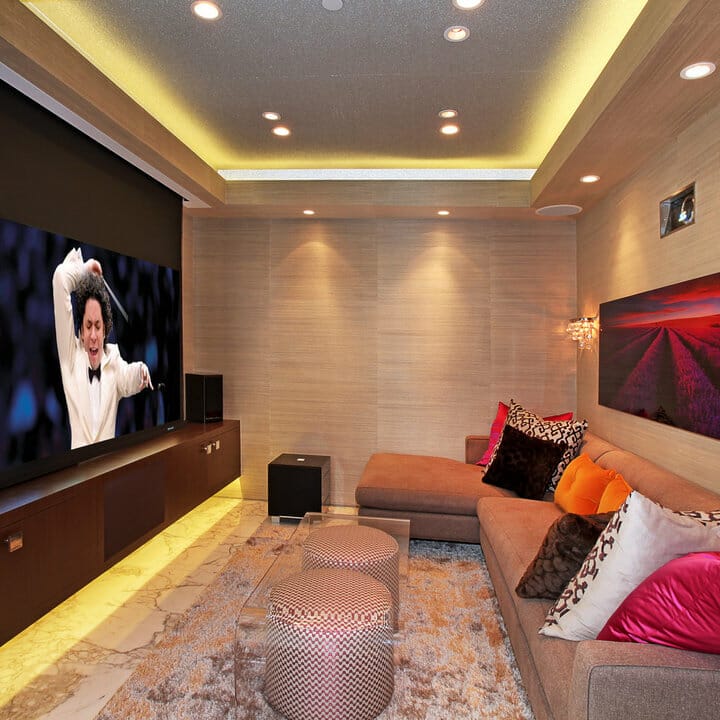 A rectangular home theater room offers two ideas of arrangements. First, having the screen to lean against the length side and the rest of the furniture will follow lengthwise.
That is what happens inside this entertainment room. With this setting, you could afford a sectional couch. The second, letting the screen to recline at the width side and the arrangement will be widthwise.
Every option leads to different furniture pick, especially with the seating. But do not confuse of which one to choose, just head toward the most comfortable setting.
25. Brown Scheme for Transitional Home Theater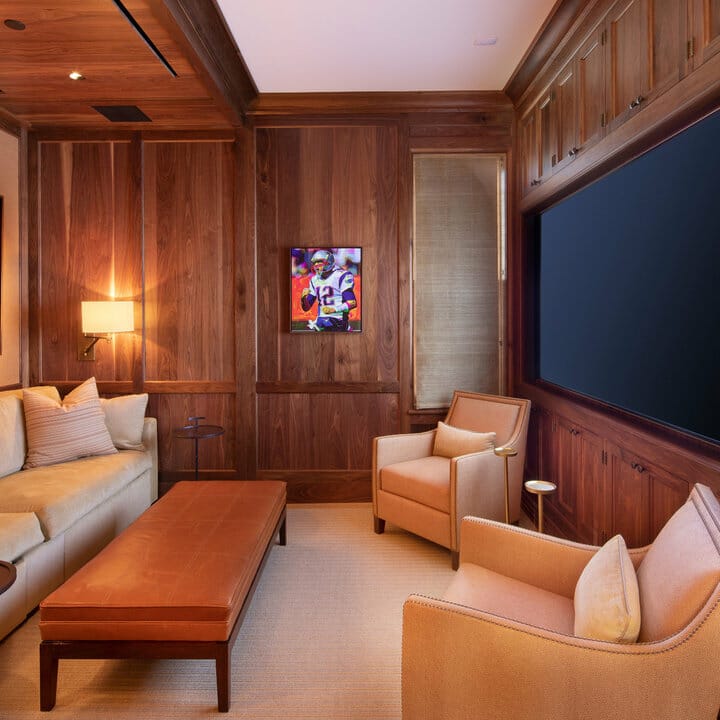 The center of convenience in this particular small home theater room design ideas is the three-seater couch. When the screen is on and the film plays, no one would take a seat on the single seater, right.
As an addition, this room also features a cocktail bench, multifunctioning as a footrest or a table.
26. Basement Turned Home Entertainment Center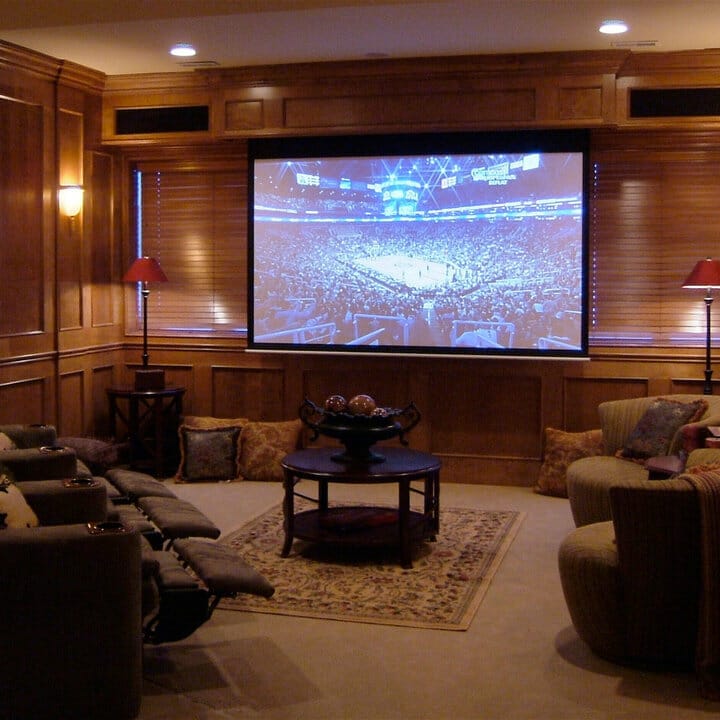 It is another small home theater room design ideas based on basement remodel. The deal is to make a frothy entertainment center where a lot of soft amenities are present.
Moreover, theater seats, cushions on the floor, an area rug, and a couple of single-seater with fluffy surface become the selection of this home cinema.
27. Coastal Theater Room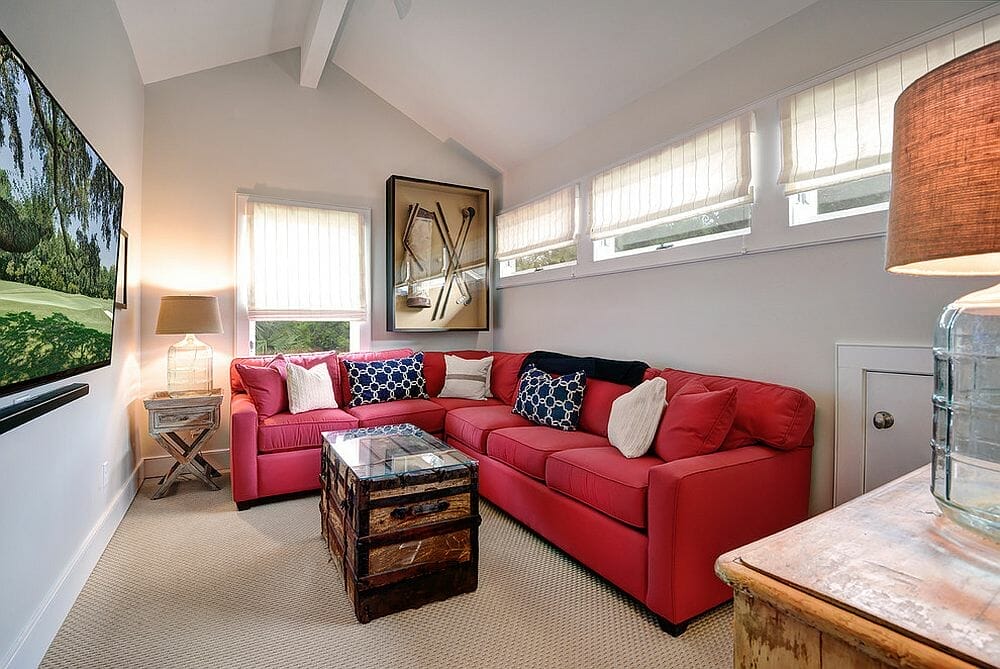 This home theater room pursues coastal style. It is noticeable from the roman blinds that reminisce the wavy sea when opened, the weathered end tables, the treasure chest turned coffee table, and the glass lamp tables.
28. Low Ceiling Media Room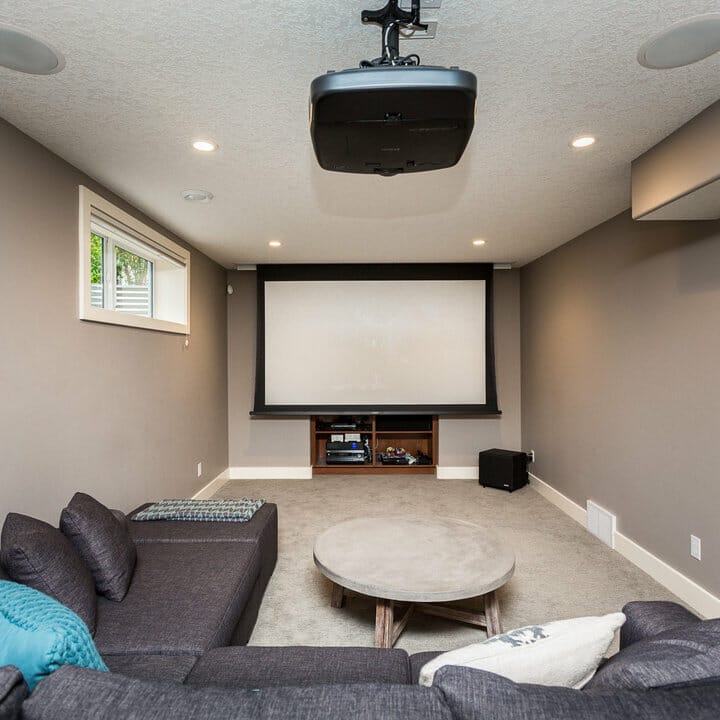 Low ceiling intends to create coziness and calmness. This small media room carries on the intention as the interior concept.
For example, it features a soft corner sofa, a wall-to-wall carpet, and the proper viewing distance to build convenience. Along with it, this space chooses calming tones for the serenity.
There, we have wrapped twenty-eight small home theater room design ideas for you. Then, are you ready for playing the next movie on the list?