Many people now looking for cozy and practical master bathroom walk in shower ideas. Not only because of its aesthetic value but also the claims that promise ease in carrying out our daily activities.
Then, what else do you need to ask? Indeed, through all these concepts, you can immediately get incomparable spa-like comfort.
And undoubtedly, these bathroom plans with walk-in showers will instantly catch everyone's attention.
Suppose you want to explore the designs deeply. Here are thirty master bathroom walk in shower ideas ready for you to have.
1. Presenting Rectangular in A Row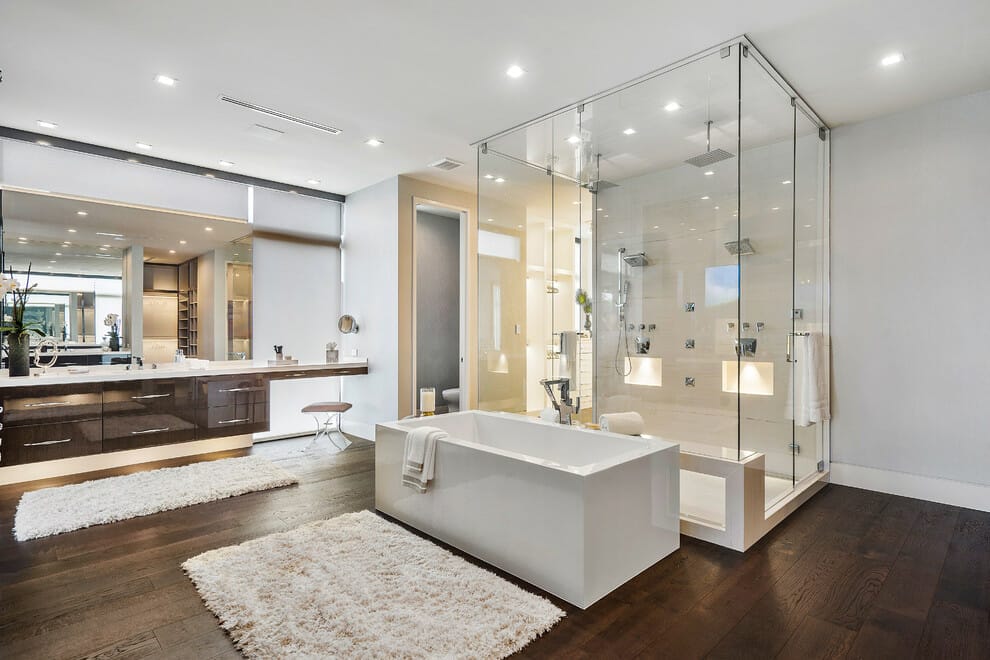 The walk-in shower with tub has become popular nowadays. Especially in the bathroom with ample space. However, some homeowners often find it difficult to determine the best layout in this area.
Thus, suppose you're looking for inspiration to overcome this issue. In that case, you can try to place the shower enclosure parallel to the rectangular tub and the rug. Of course, this kind of arrangement can level up your shower space well.
2. Strong Traditional Vibes with Wood Panels and Stones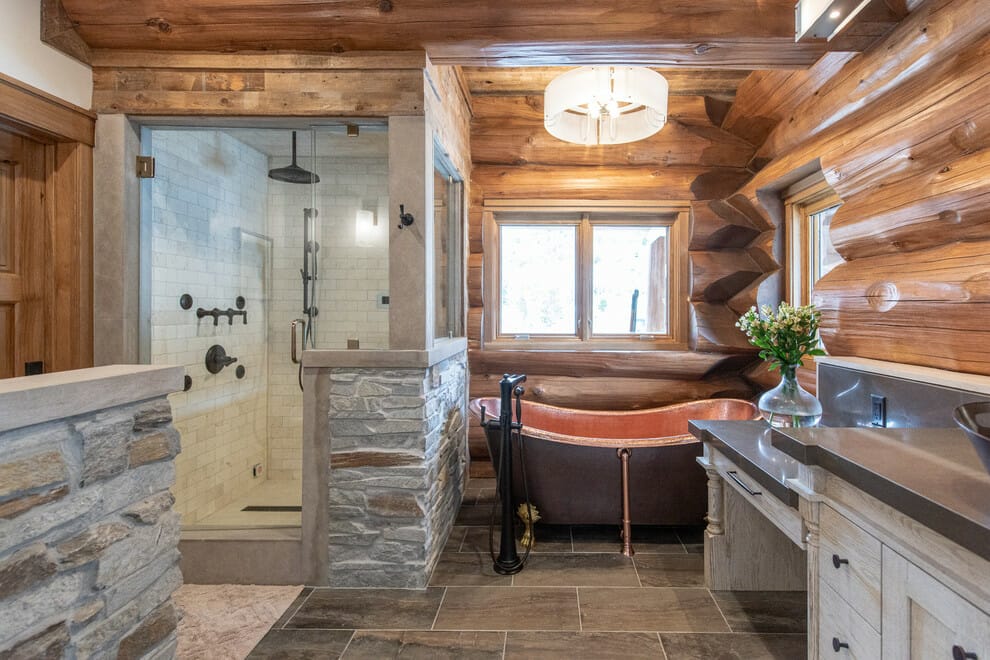 The traditional style that adopts the wooden panels and stone tiling in your master bathroom will successfully amaze everyone who enters it.
It is unique and also timeless. See how the wall with the protruding surface can give a stunning personality in your main bathroom.
3. Minimalist Master Bathroom Walk In Shower Ideas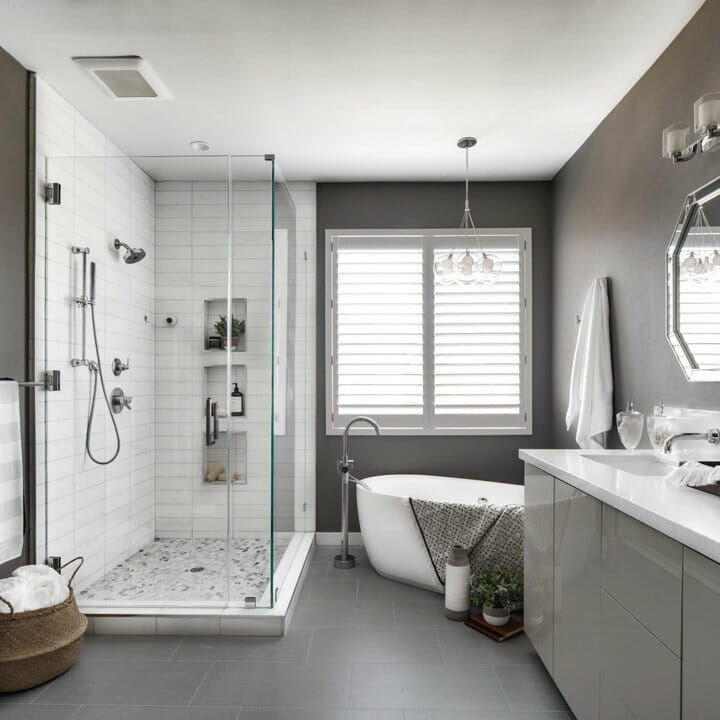 Suppose you prefer a simple theme by not applying flashy colors. Then try to go with this minimalist concept. The combination of white and dark gray is the best of all.
Moreover, these master bathroom walk in shower ideas will match any decor.
4. The Attic Style with Showerhead and Corner Shelves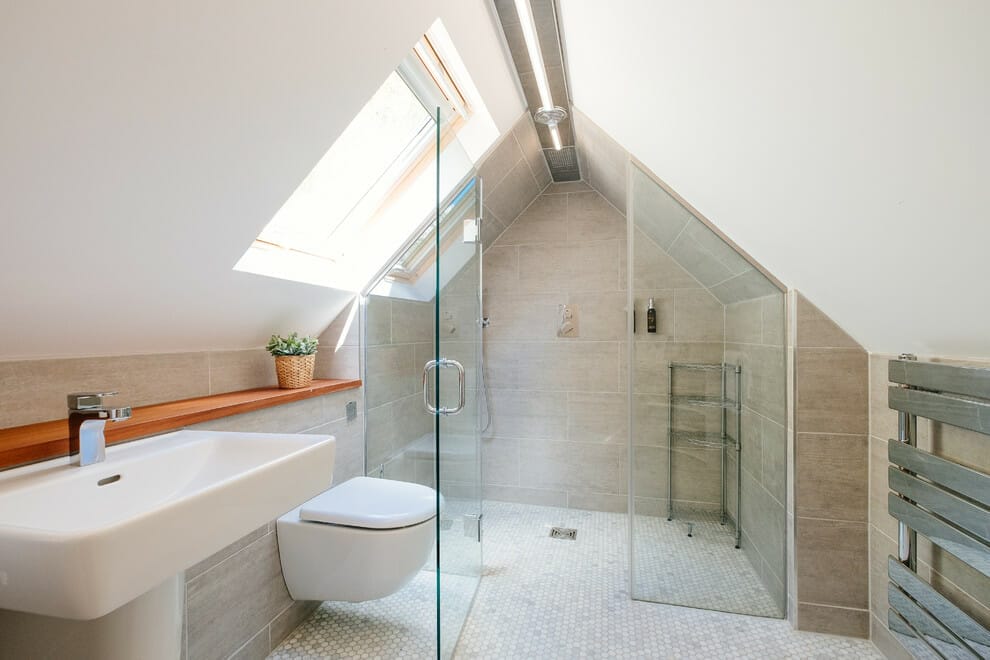 It is undeniable, the difficulty of decorating the bathroom is more often encountered by people who have a shower spot under the stairs or attic. However, suppose you are one of them and managed to find this article. That means you have been saved.
Factually, it is not difficult to elevate your narrow shower spot. You can merely go with a ceiling showerhead and durable freestanding corner shelves to save space.
Also, please offer narrow built-in shelving to display greenery to refresh your bathroom further.
5. Marble Tiles for Wet Room and Wood Paneling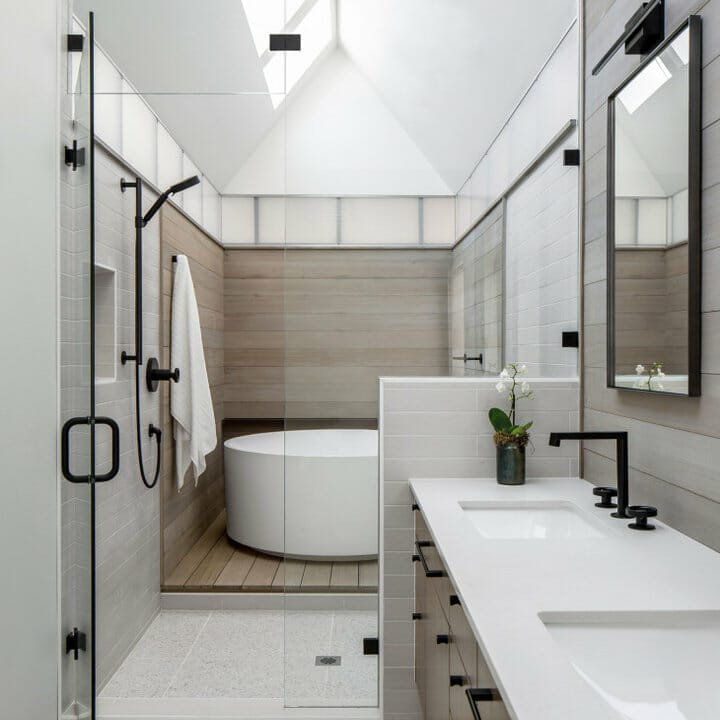 It's okay to apply wood paneling to your bathroom floors and walls. However, you better consider the splash zone accurately first.
Since wood is not a water-resistant material, installing it only in the tub area is better.
Meanwhile, for the splash zone under the showerhead, you can set marble tiles as usual.
6. Mighty Walk-In Shower with Marble Tiles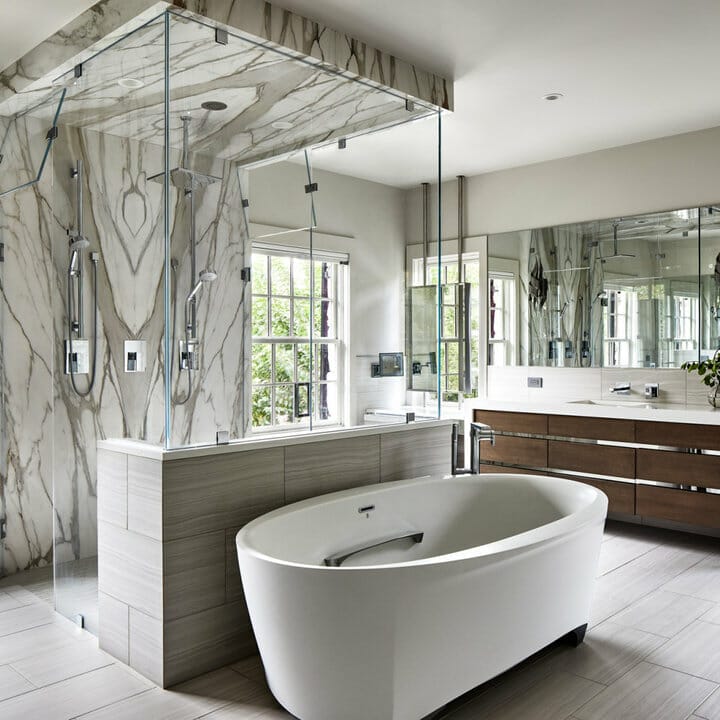 It is common knowledge that you can go with marble tiles to display an elegant, glamorous impression.
Not only in the living room, but you can also install marble tiling on the bathroom wall and false ceiling.
Make sure the tiling system in your walk-in shower has a striking pattern. For example, one that represents a cross-section of wood. Therefore, your shower spot will become an impressive focal point.
7. Bring the Nature Inside the Bathroom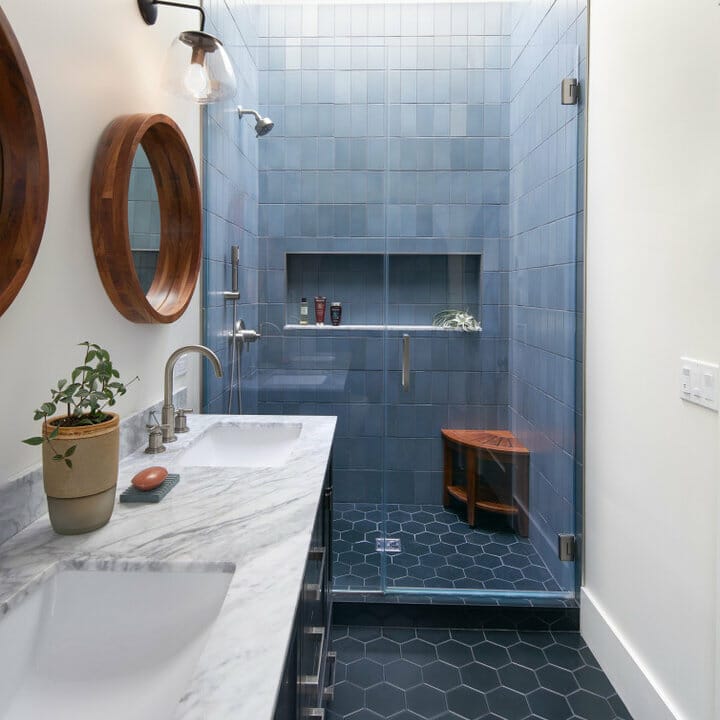 Liven up your small minimalist wet room by bringing in some wooden items. To realize these kinds of master bathroom walk in shower ideas, you can start with twin oak wood mirrors. It's good to go with the round one to balance the stiffness inside the room.
Additionally, you can put a small corner bench with a bottom shelf in the enclosure. Hence, your bathing activities will be more relaxing.
8. Abstract Glazed Tiling and Huge Round Mirror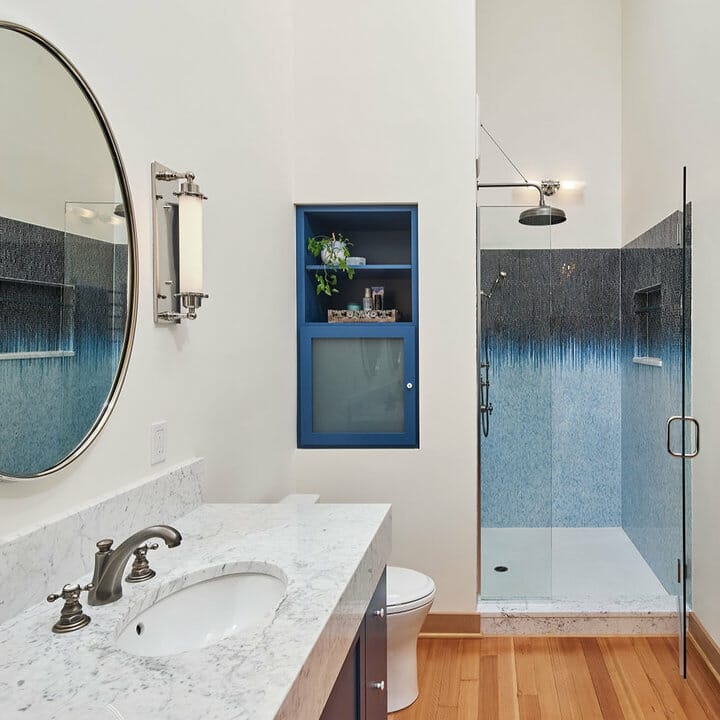 Glazed tiling is one of the best ways to make your small enclosure appear wider. Instead of going with the basic plain one, it will look great with the abstract style.
Implementing master bathroom walk-in shower ideas for small spaces will also save more cost and energy.
Further, you can add a wide round mirror above your vanity to complete all these arrangements.
9. Asian Spa-Like Bathroom with View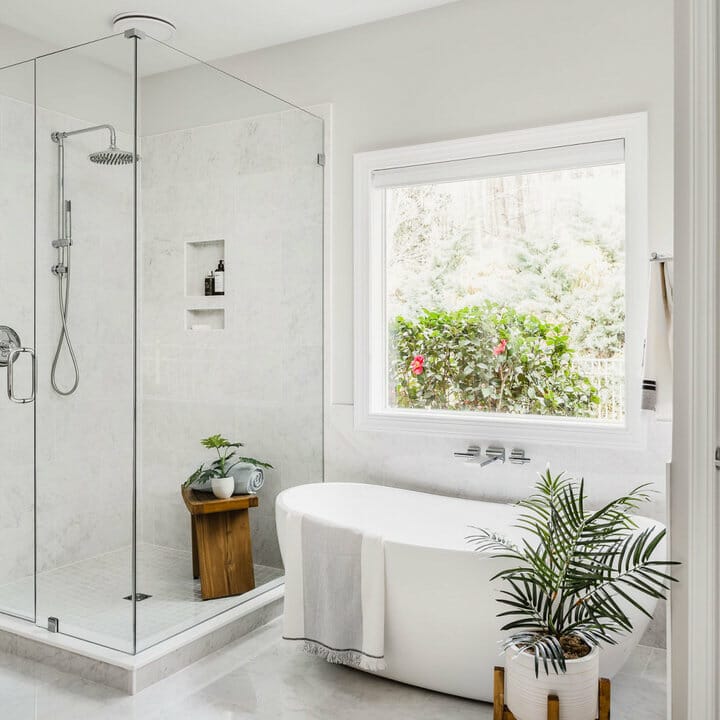 Sleek, cozy, and refreshing are the main results when adopting master bathroom walk in shower ideas. Indeed, not all concepts can provide this kind of ambiance. However, that doesn't mean you can't handle it.
You can realize your dream of bathroom design that brings the comfort of an Asian-style spa. That is only by giving a touch of nature, such as providing a decorative bench from teak and a medium palm tree next to your tub.
In addition, don't forget the lovely view behind the window.
10. Mediterranean Master Bathroom Walk In Shower Ideas with Stone Wall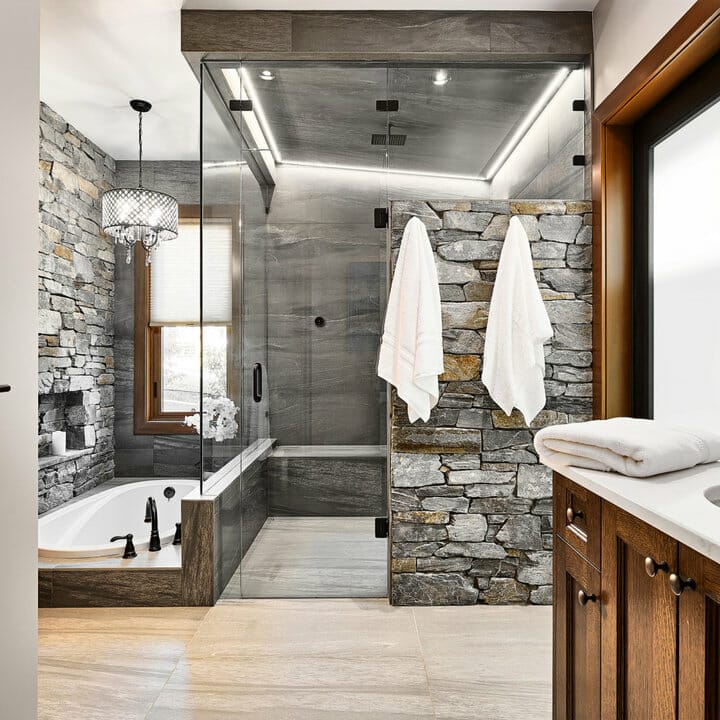 If you think that the Mediterranean style in a master bathroom will be difficult to achieve, then you are wrong.
Honestly, you will quickly realize this theme by installing stone tiling on the half wall in your walk-in shower.
Furthermore, you can combine it with glass partitions and doors. And, everything is set.
11. Warm Lighting and Double Vanity Sinks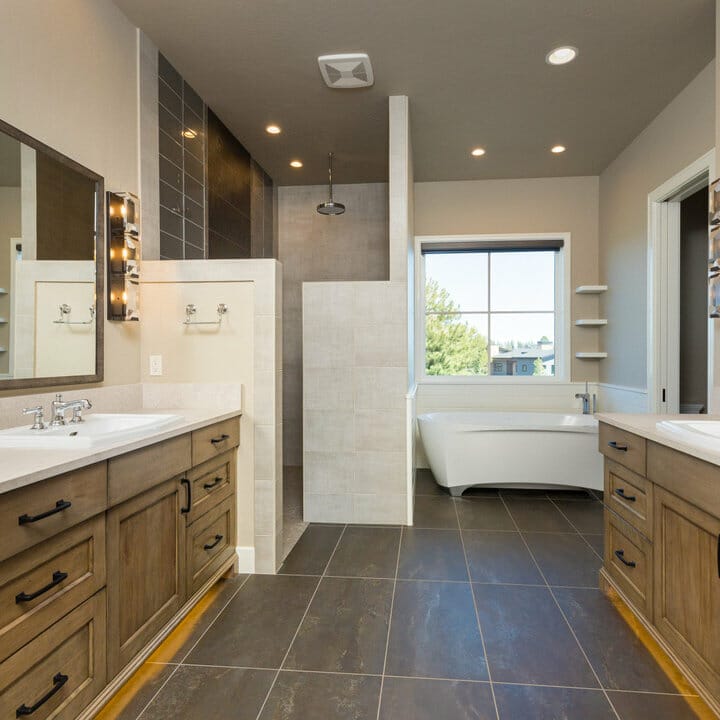 After several master bathroom walk in shower ideas previously came up with a close door concept.
Now, in this section, doorless walk-in shower ideas have their turn to take over the design.
While some people are reluctant to go with the doorless concept because they think it does not maintain privacy. However, it turns out that you can overcome this issue by providing a high partition as above.
Indeed, it will often make your bathroom dark. Therefore, it is better to provide lighting with a white shade, so your toilet is no longer gloomy. Next, assume your space is large enough, then feel free to go with double vanity sinks.
12. Elegant Walk In Shower with Bench for Seniors
Master bathroom walk in shower ideas without a bench will feel empty. This unit's presence is crucial because it can help you clean all areas of the body that are difficult to reach, especially for the elderly, such as feet.
Thus, it's better to provide a floating bench on one side in your square enclosure. It would be even better with the folded-up one. Because later, it will save more space.
13. Abstract Subway and Mini Honeycomb Tiles in White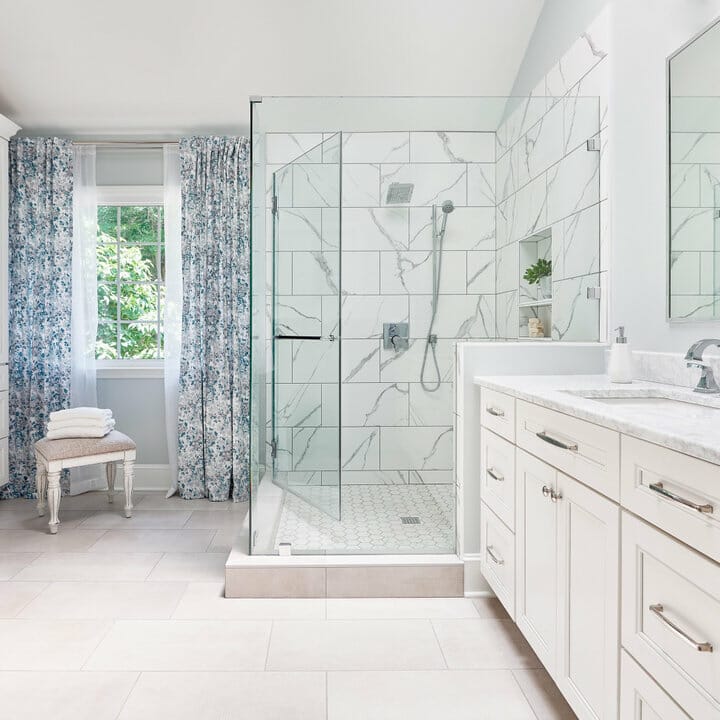 Subway tiles are standard objects that you can install in your bathroom. However, if you want something more distinctive, you can go with a pattern.
For example, abstract. Indeed, this motif is the most suitable for various kinds of decor without looking stuffy.
Next, you need to give honeycomb tilling to your splash zone. Then, go with marble tiles with a large size for the outer area.
14. Sage Green Tiles for Built-In Shelf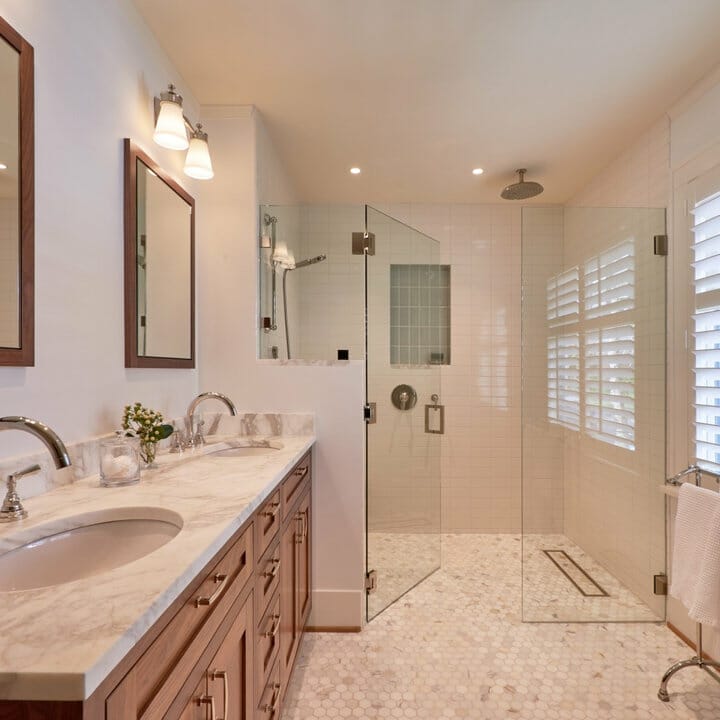 Some homeowners sometimes forget the existence of a built-in shelf in the bathroom. Even mostly leave it in an unattractive state.
But don't worry, through master bathroom walk in shower ideas, you will now have more references to beautify this storage.
You can start by giving it tiles different from the entire bathroom walls. Whatever it is that matters according to your preferences. You can apply sage green to this spot if you like to provide a refreshing and serene focal point.
15. Modern Farmhouse Style with Glass Door Walk In Shower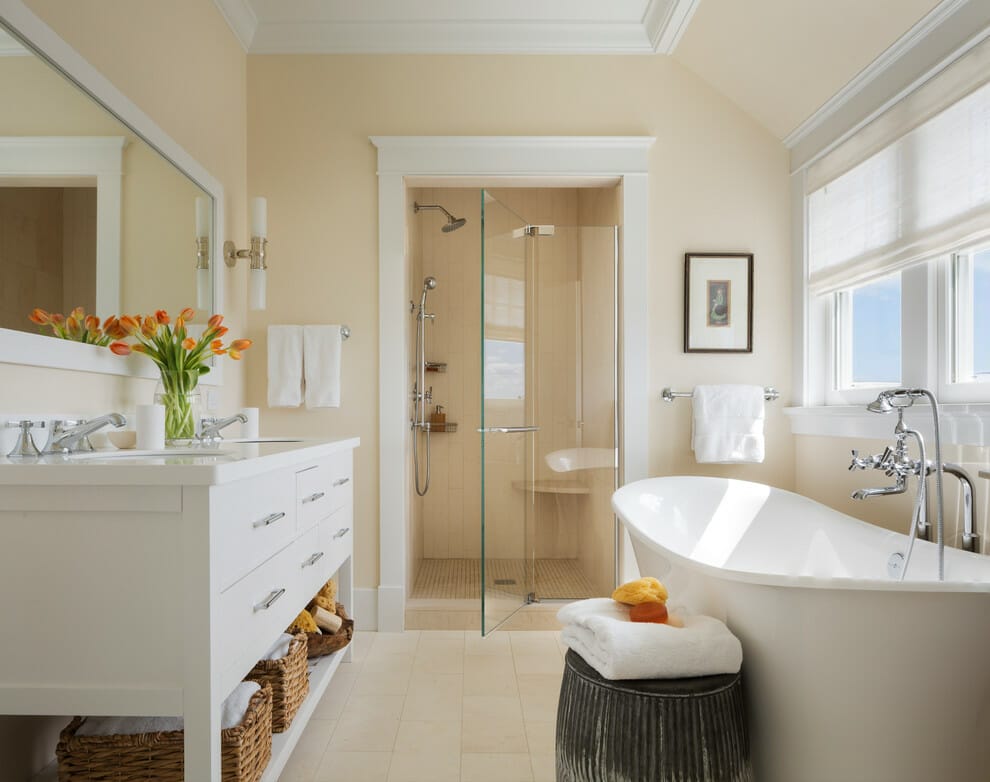 Glassdoor will go well with many master bathroom walk in shower ideas. Be it the one that carries out the industrial, rustic, contemporary, or farmhouse theme.
With its slim shape, you will subsequently get a more expansive space arrangement than you have ever had before.
16. Luxurious Master Bathroom Walk In Shower Ideas with Gold Accent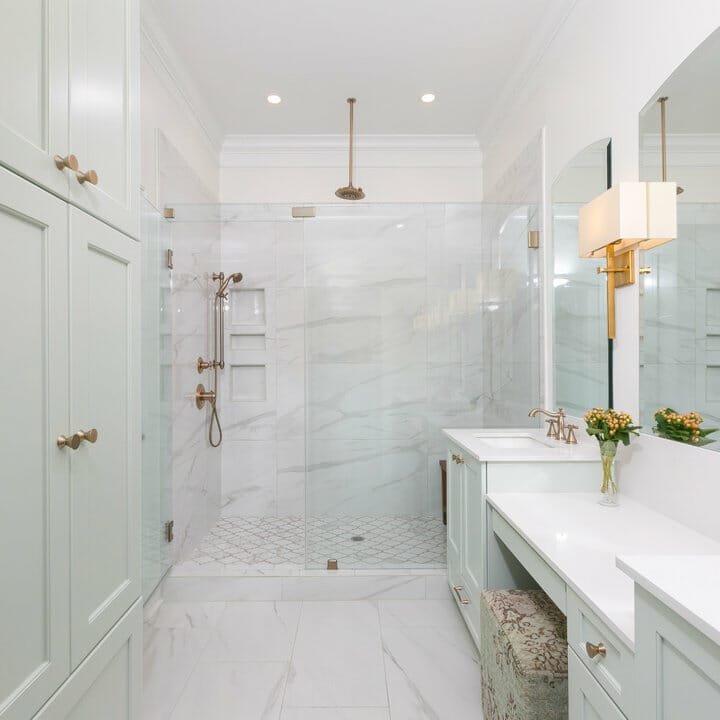 Going with a luxurious theme doesn't always require you to pay dearly for the furniture. You can even create it by giving some items with a touch of gold.
For example, on your shower head, the doorknob, or even on the vanity sink's faucet. You can also provide a wall light fixture with gold supports if you don't mind.
17. Monochrome Style with Freestanding Tub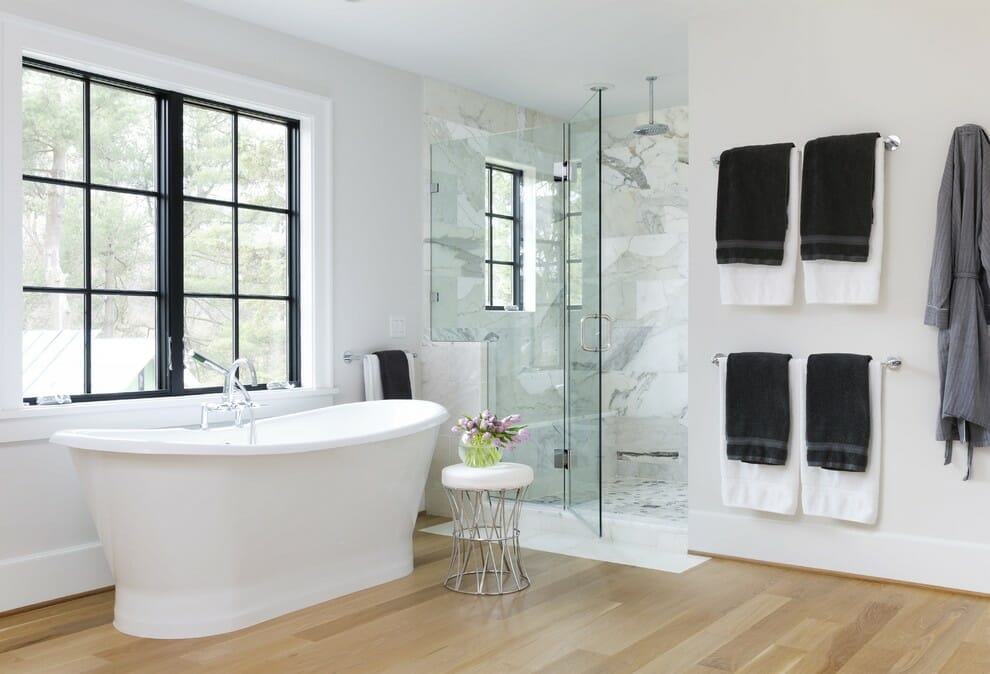 A universal style that can conjure up your walk-in shower to be more comprehensive and classier is monochrome. You can even give a distinctive personality without trying too hard with these two colors.
And, suppose contemporary is your central theme. Then you might consider going with a standing tub instead of a built-in one.
18. Semi Hexagonal Glass Enclosure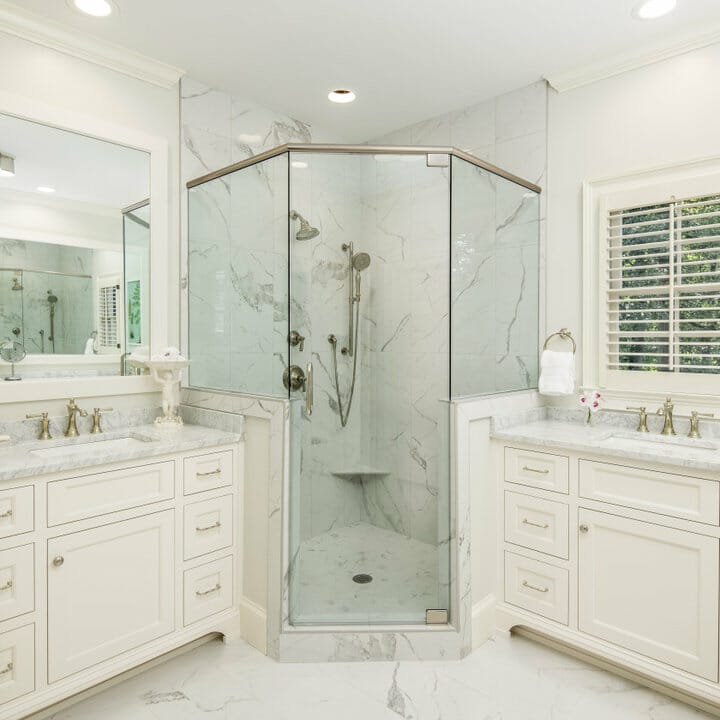 Once more about the master bathroom walk in shower ideas which bring incomparable luxury that you can have. Namely by installing an enclosure with a semi-hexagon shape.
Instead of just going with the basics one, you can strengthen their presence by giving a gold accent on the edges of this enclosure.
You could say it is a semi-open walk-in shower because even though this unit comes with a door, its edges don't reach the roof height, though.
19. Long Walk In Shower for Spacious Impression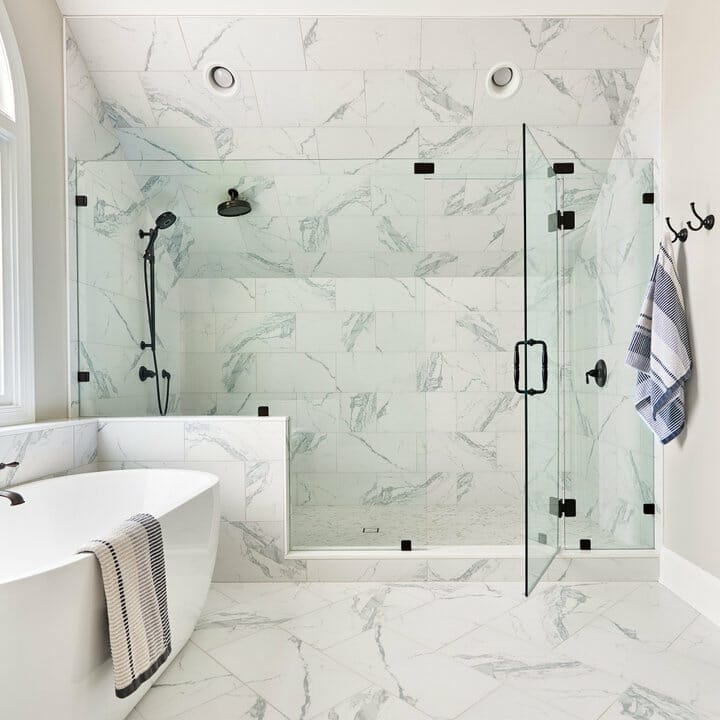 Getting around a narrow bathroom space is certainly not complicated. It would help if you considered how to create a long shower spot instead of a wide one.
Because later, you will be able to take advantage of other space for your bathtub or vanity sink spot.
20. Wooden Cabinet and Dresser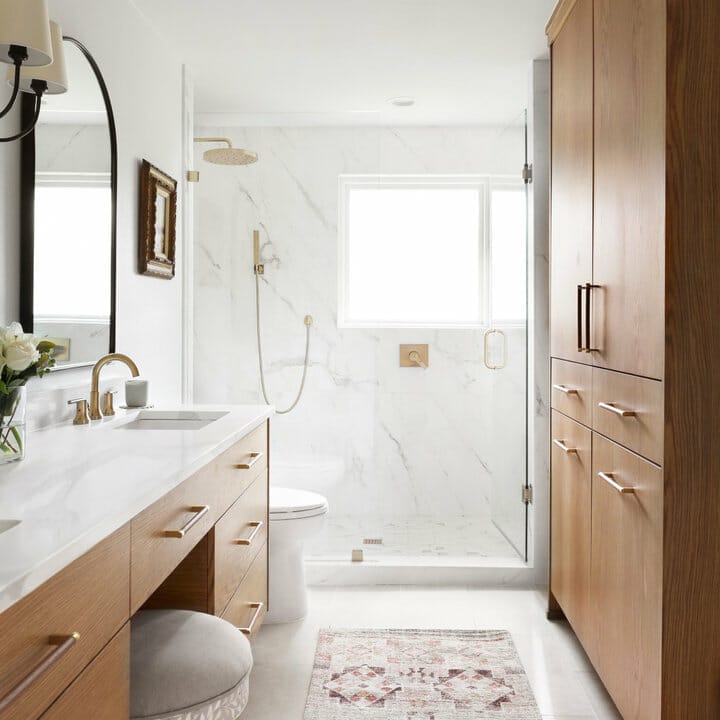 As you'd expect, master bathroom walk in shower ideas doesn't just encourage you to set up your decor. However, it is also about maximizing space and using multi-functional furniture.
Well, suppose you have a medium-sized bathroom space. In that case, you can consider making a built-in cabinet and dresser for your master bath area.
21. Black Chevron Tiles, White Marbles, and Hanging Sculpture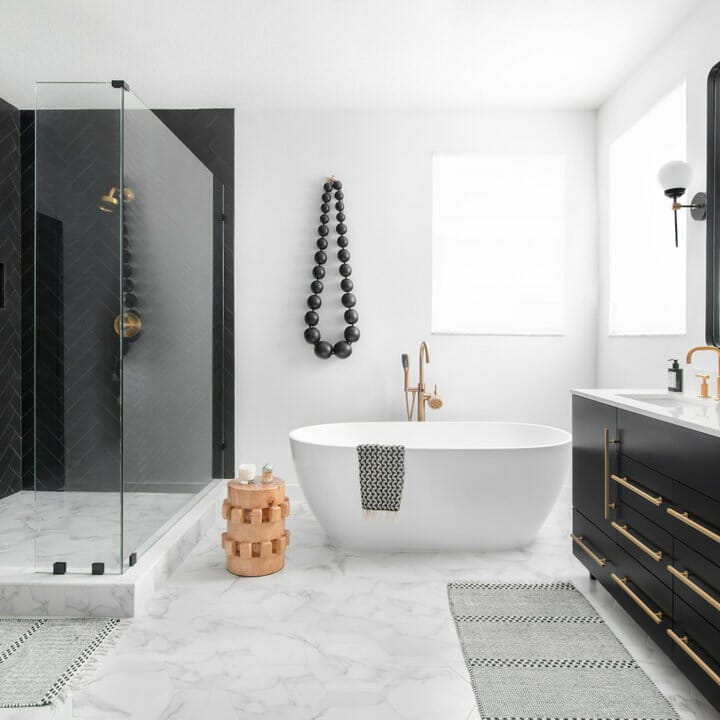 Black chevron tiles on the walls will match perfectly with marble flooring. In addition, you can freely give a shower fixture made of gold.
Without needing a lot of knick-knacks, you've managed to create a classy atmosphere that other homeowners rarely have.
However, you can hang a wall sculpture with a matching color and unique shape to enhance your bathroom decor.
22. Coastal Vibe in Teal Blue and Mosaic Tiles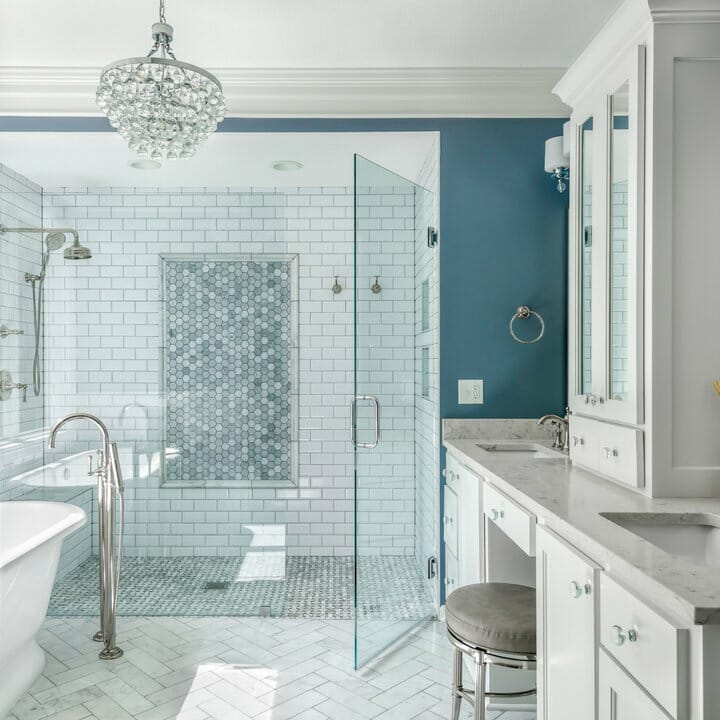 Never be confused if you want to bring the coolness of the coastal vibe into your master bathroom.
Of course, this is because master bathroom walk in shower ideas are ready to provide inspiration that you will love.
The coastal theme doesn't get any easier by just bringing out a few elements in blue. Either you will go with pastel colors or bold ones like teal. You will successfully present the richness of the coast.
23. Distressed Pattern and Chevron Tiles for Bathroom Wall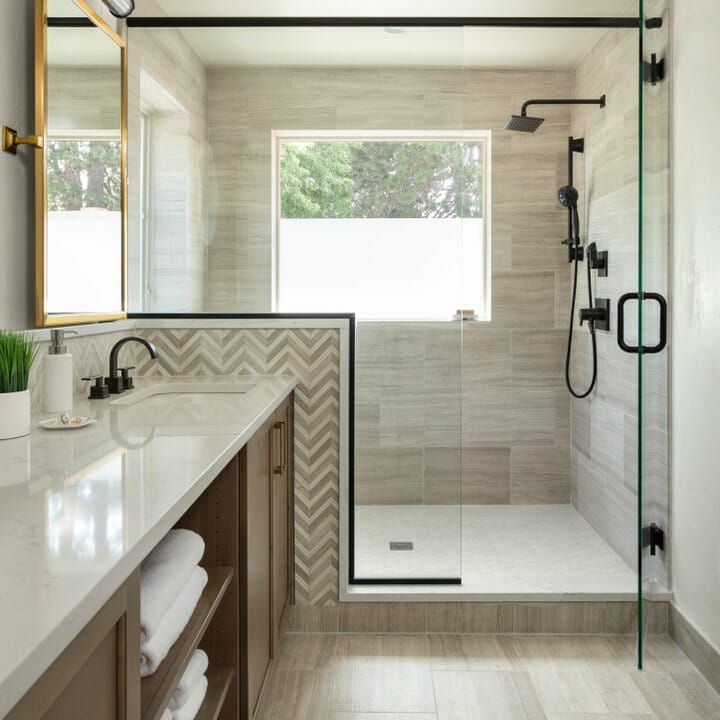 Distressed patterns and chevron tiles with earthy colors have never failed to bring out the warmth of a farmhouse feel. In fact, you don't need to hesitate to invite these two motifs into your bathroom.
With a soft color, you can still elevate your main bathroom without fear of looking stuffy. It's even more perfect if you give a gold-framed mirror above your vanity sink.
24. Small Walk-In Shower with Classic Pattern Tiling
The most effective way to apply master bathroom walk in shower ideas in a small space is to not give too many patterns in your tiling system.
For example, it would be acceptable to go with classic pattern tiles for the floor. However, you must provide wall tiling with a plain and neutral color as a counterweight.
25. Spotlight the Splash Space with Pastel Color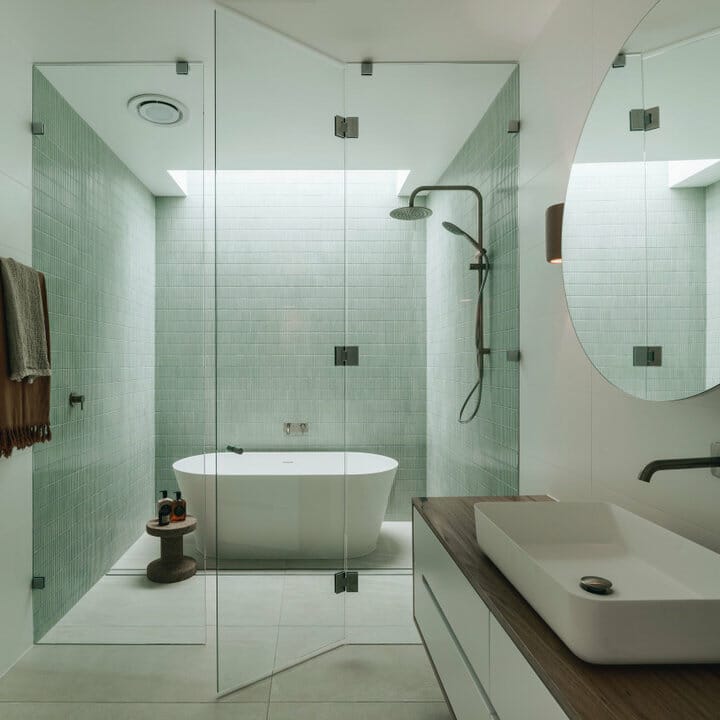 Suppose the previous point directed you to give personality with pattern tiles. In this section, you will be allowed to play with pastel colors to highlight your splash zone.
Moreover, pastel colors are recommended because they are believed to help you relax during bathing.
26. Mixed Tiling Patterns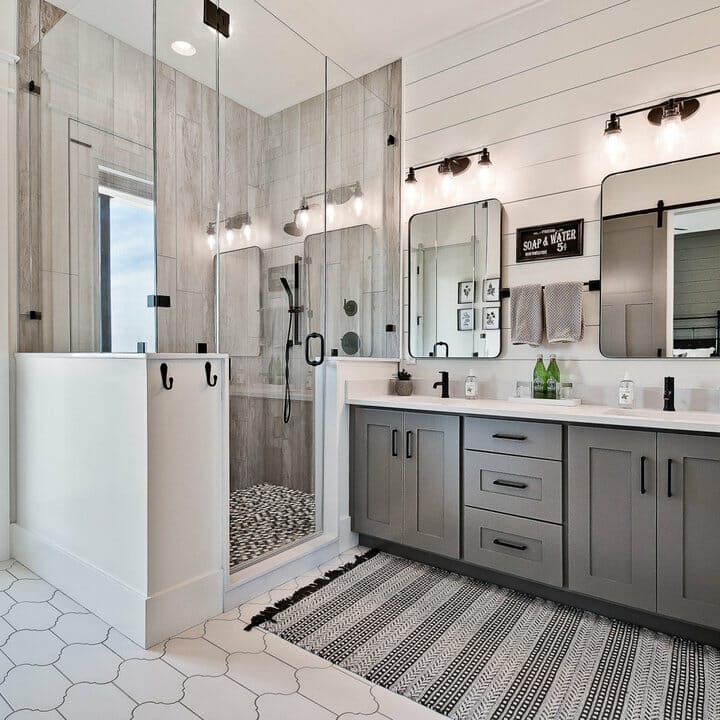 You can mix the patterns in the master bathroom walk in shower ideas that carry neutral colors, such as gray and white.
But remember, you merely place one bold pattern tiling on one spot that you want to highlight. As for other areas, choose tiles with faded motifs or large symmetrical shapes.
27. Black and White Theme with Striking Sculpture
In some cases, shades of black and white will be boring enough to be brought to the master bathroom.
However, you can deal with it by providing a striking focal point. For example, you can place a unique sculpture in orange above your toilet.
28. Walk-In Shower with Vertical Storage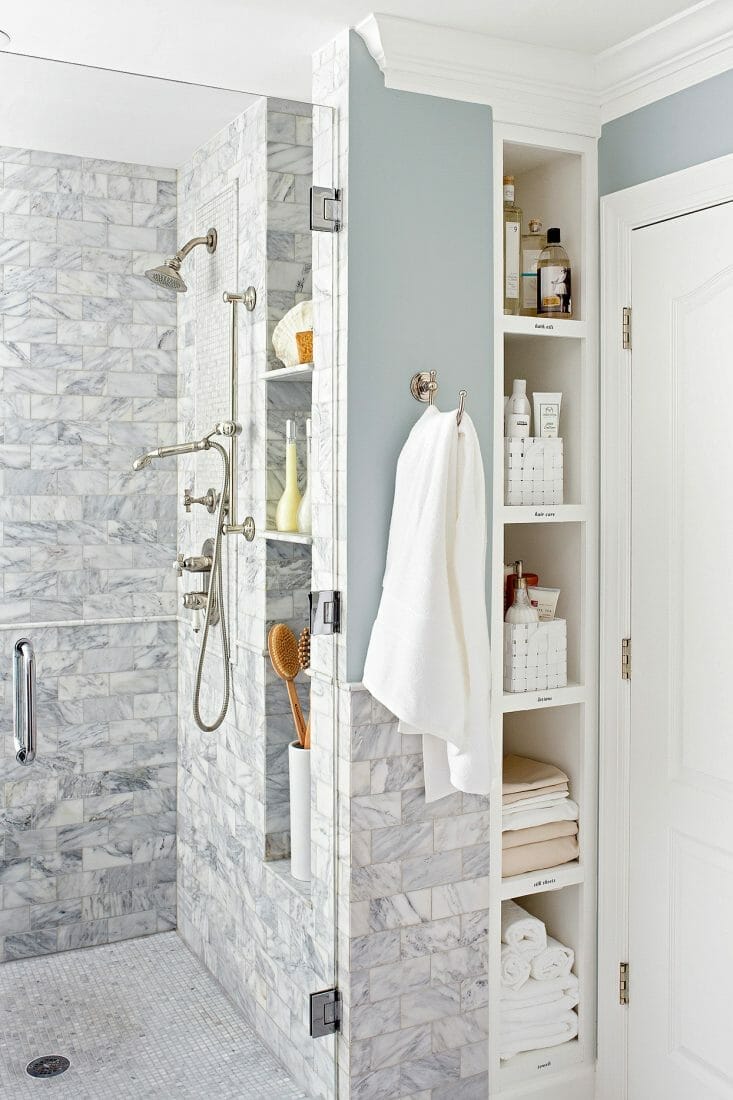 See, even the master bathroom walk in shower ideas also recommend vertical storage close to your enclosure. It aims to make it easier for you to complete activities in a hurry.
29. Huge Bathroom in Gray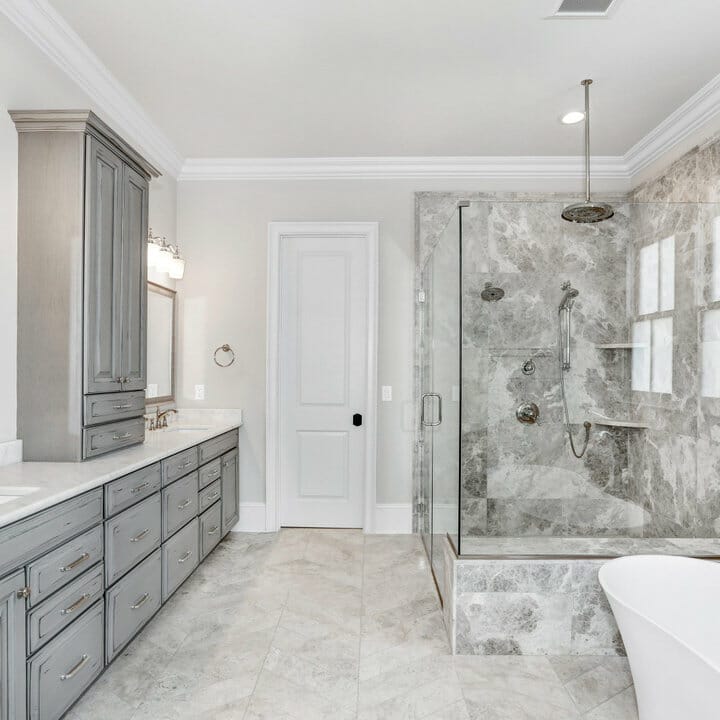 There is no need to say that gray is only suitable for minimalist themes. In fact, you will succeed in creating luxury in your master bathroom with this color.
Of course, by displaying marble tiling around your shower enclosure. And, don't forget about the massive cabinetries on the opposite side to neatly store all your bathing supplies.
30. Bring the Tranquil Rainforest Feel with Indoor Plants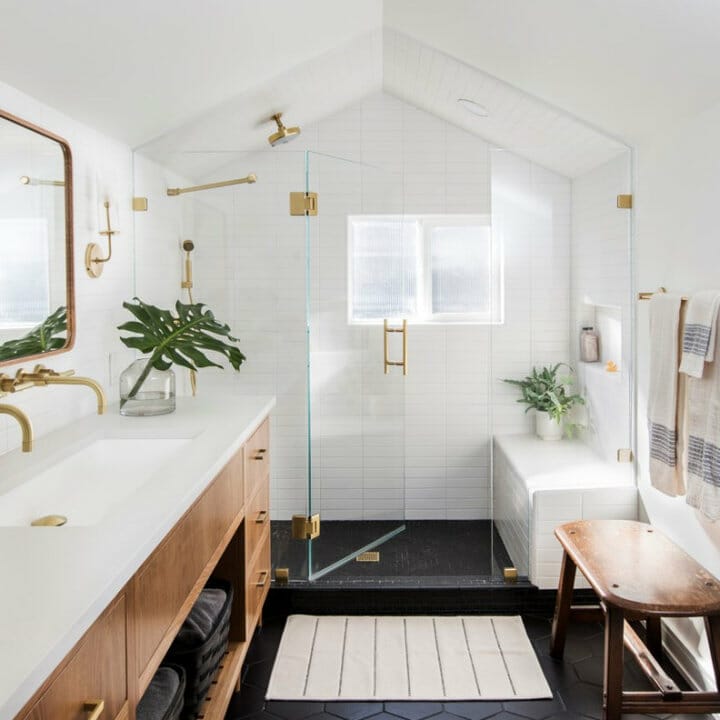 One key that you need to fulfill is to bring the serenity of the spa into your master bathroom. It can complete by putting several indoor plants in every corner of your wet area.
Believe it or not, these master bathroom walk in shower ideas will make you enjoy your bath time every day.
After you have finished exploring all the master bathroom walk in shower ideas in this article, have you been intrigued to renovate immediately? If so, then don't ever put it off. This spa-like wet room is ready to release all your fatigue day and night.