There is no doubt that modern concrete patio ideas will suit your contemporary-style home. With a smooth final result, you can freely put anything on it to give personality to your backyard.
Therefore, you don't need to be confused about what to do with concrete backyard. Either later, you will go with greenery or other exciting materials. Everything will be equally stunning.
Also, implementing modern concrete patio ideas will lead you to a timeless design that many people dream of.
Hence, if you desire to see some layouts, here are thirty modern concrete patio ideas that will give your home a refined look.
1. Leveled Modern Concrete Patio Ideas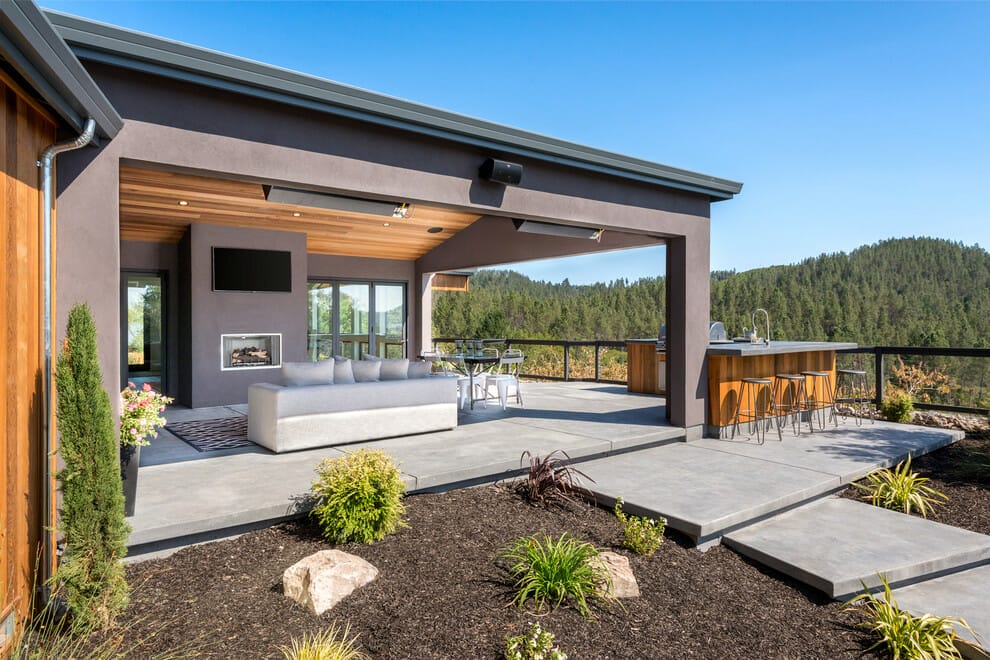 There are many modern concrete patio finishes to adopt. And one of the most popular is a steel trowel finish like above.
Well, suppose you have this design on your patio. Then, you can try to state its existence by building it on a level, like the broad steps that lead to your backyard.
Furthermore, you can complete the landscape with gravel on all sides with no concrete. Although, don't forget to plant some greenery to give it a pop-up color between all the grays.
2. Flawless Design with Glass Wall and Wire Bench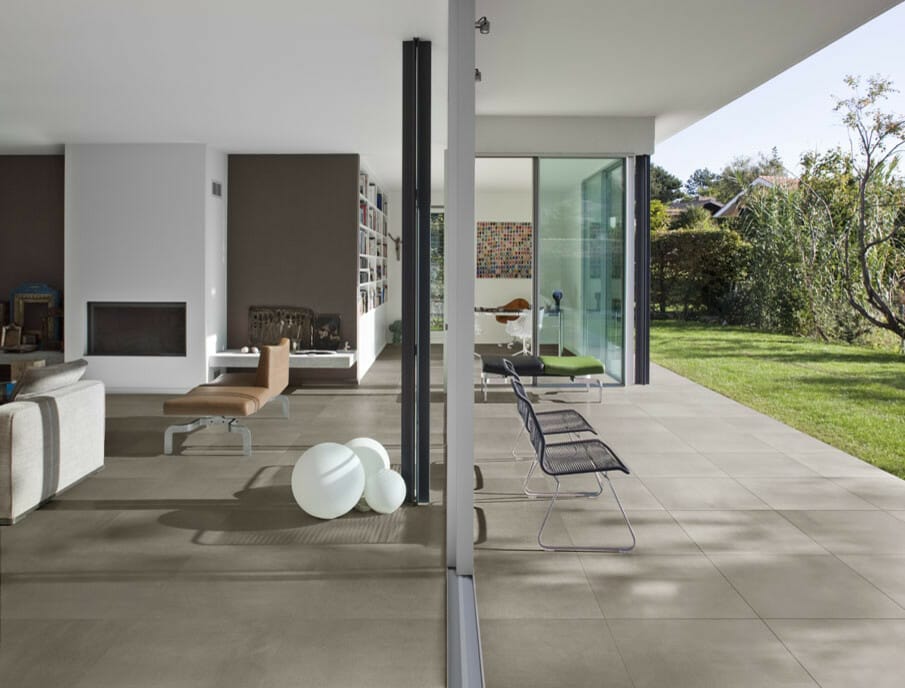 Medium concrete tiles in beige frames make your patio look more eco-friendly and match any decor.
Later, once you plan to apply modern concrete patio ideas like this. You can also develop a glass wall to provide natural light reflections around it.
Indeed, it will give you a more expansive view of all the layouts you've ever had. As a final touch, it's a good idea to arrange wire chairs to fill the void in the outdoor space.
3. Complete the Concrete Pavers with Lights and Greenery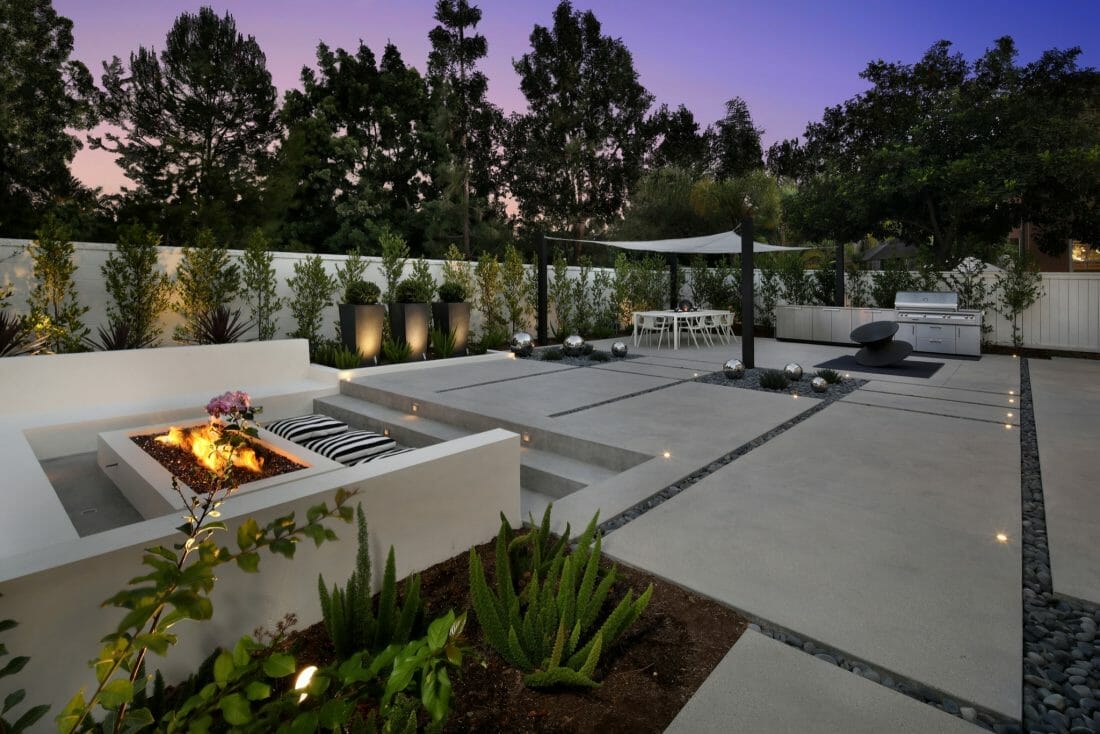 Sufficient lighting on your backyard patio is indispensable, no matter what theme you go next. Even once you decide to apply modern concrete patio ideas, you should not forget this element.
In addition to coming with lighting in the walkway, you can also add accent lights on the side of your concrete fence to further highlight the surrounding greenery.
4. Come in Harmony with Wall Paneling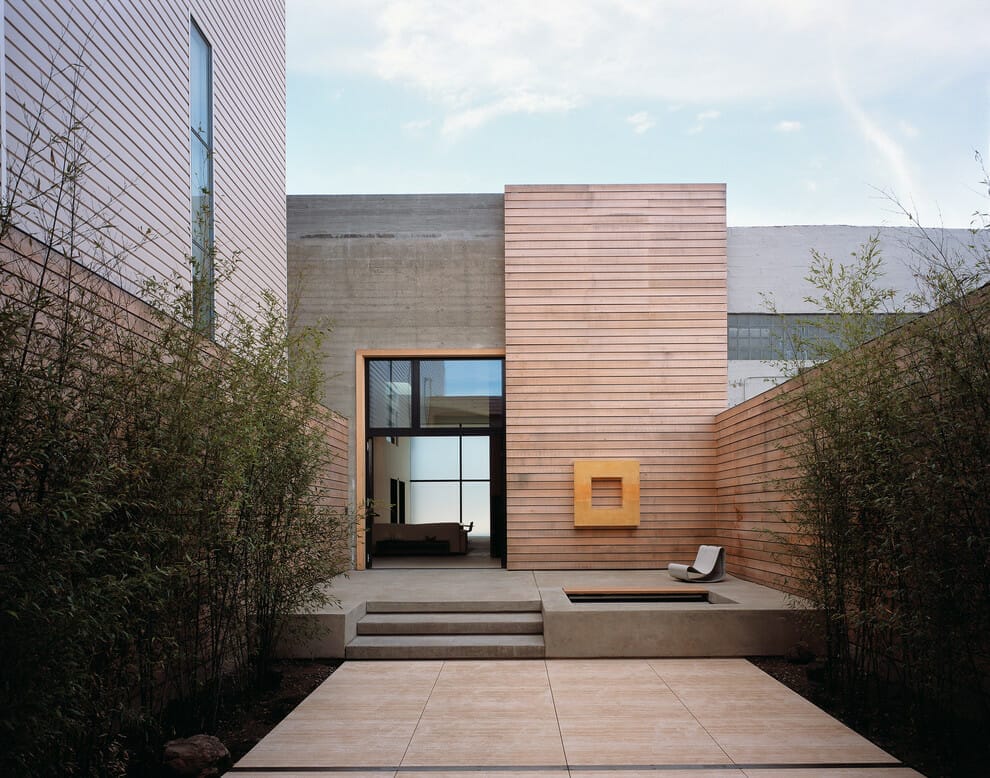 Contemporary style exterior design that adopts a smooth finish of modern concrete patio ideas requires a slightly more subtle touch of wood paneling.
Hence, suppose you have decided to make your entire floor in concrete tiles. In that case, you merely need to arrange the wood paneling on your walls and fences. Then, everything will give an echoing look.
5. Great View for Relaxing Space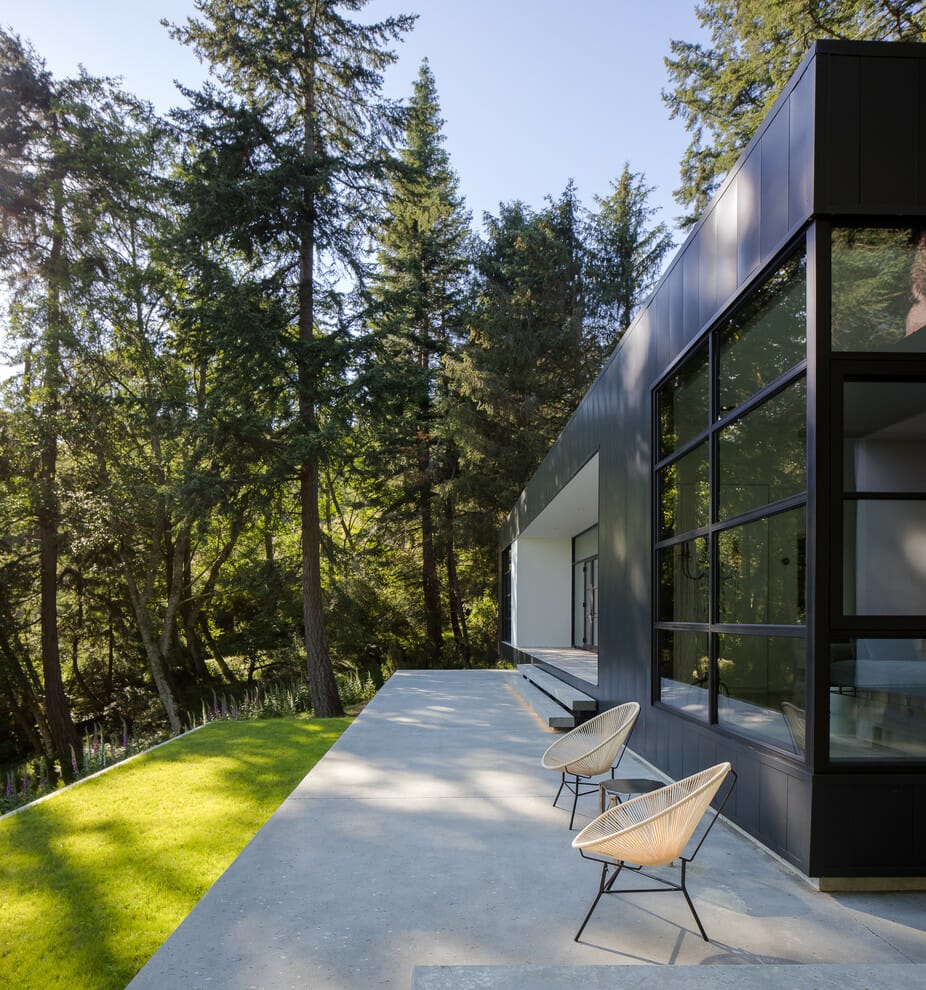 Balance the rigid appearance of your concrete patio by presenting an impressive green landscape.
Whether later you decide to give your backyard a bed of green grass or a series of fir trees, all adjust to the final result you dream of.
But to be clear, to get a double combo of forest serenity, you can add these two natural elements together.
6. Backyard Concrete Patio with Built-In Bench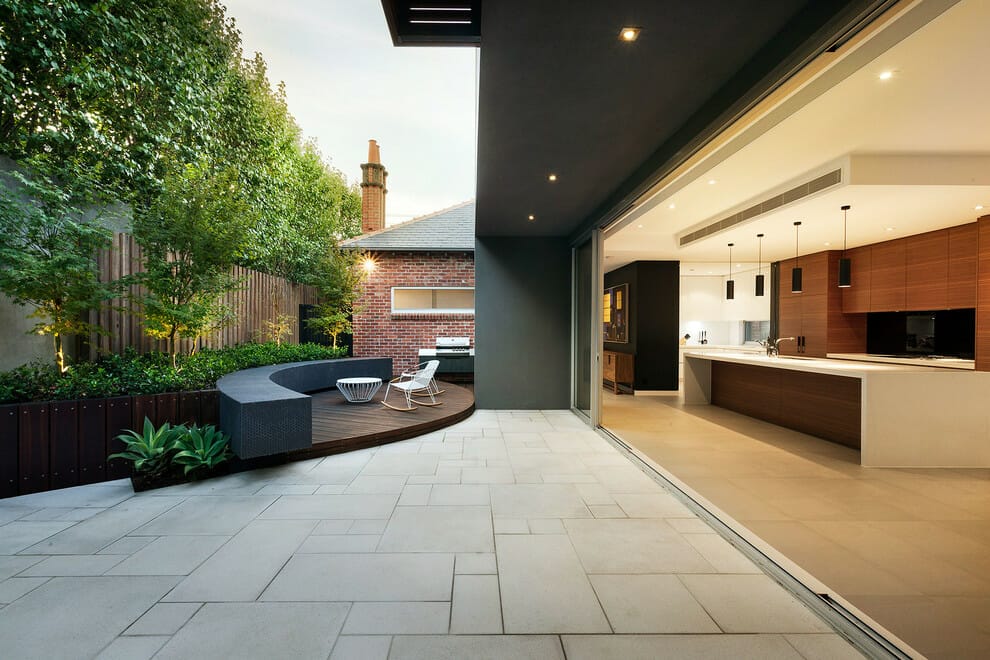 Angular-shaped concrete tiles will be more impressive if equipped with a built-in bench. Instead of building it with a standard horizontal model, you can be more creative with semi-circular as above.
It not only serves as a seat. But more than that, this element is more multifunctional than you might think.
7. A Classy look with Yellow Lighting and Sofa Couch Set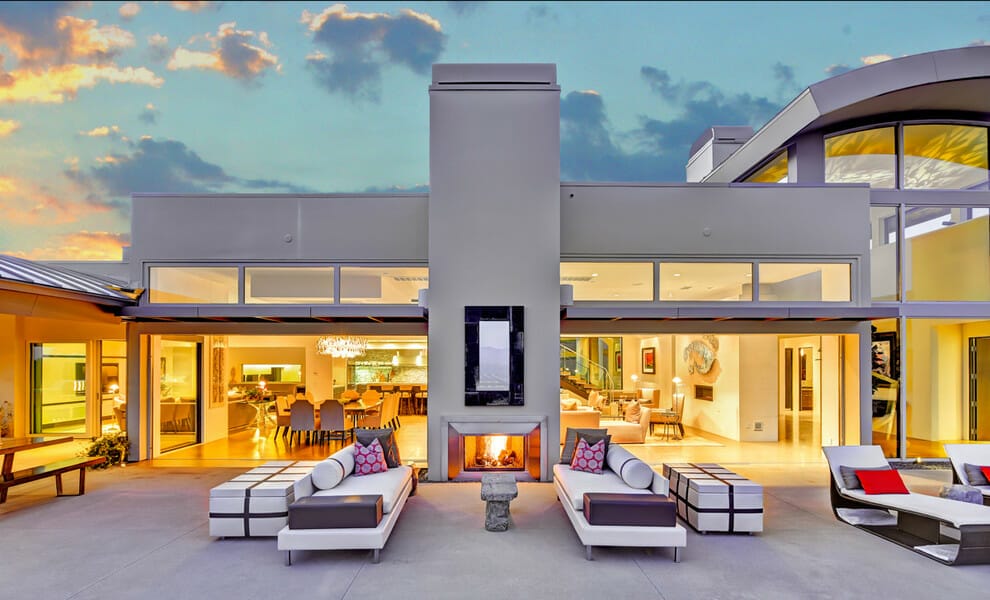 Brighten up your modern concrete patio design layout with yellow lighting to give it a warmer and inviting vibe. Moreover, try to arrange a set of sofas and loungers in regular portions in the middle of your patio.
Assuming you want a more friendly design for everyone. Then, try taking a sofa with a mix of earthy colors, such as cream and deep brown.
8. Skylight Above the Rock Salt Finish Concrete Fire Pit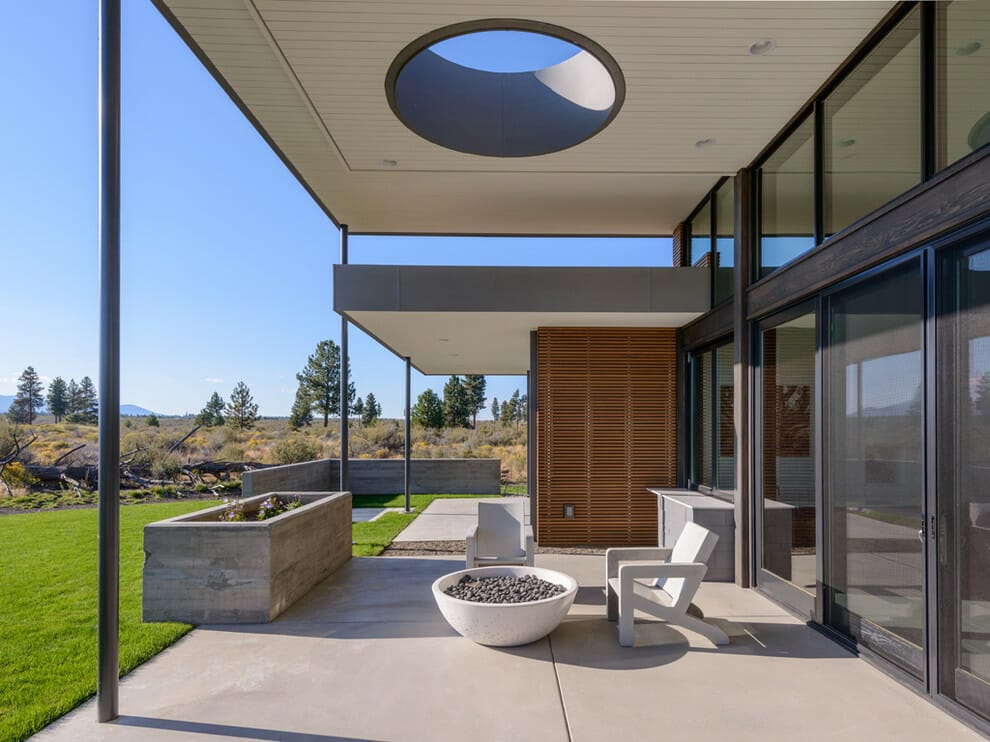 Modern concrete patio ideas lead you to proper flooring and discuss mixing cohesive textures.
So, suppose you've gone with steel troweled concrete for your patio flooring, now's the time to give your fire pit some personality with a rock-salt finish.
Next, don't forget the skylight above the fire pit to provide a more profound statement on your gathering spot.
9. Modern Concrete Patio Ideas with Pool View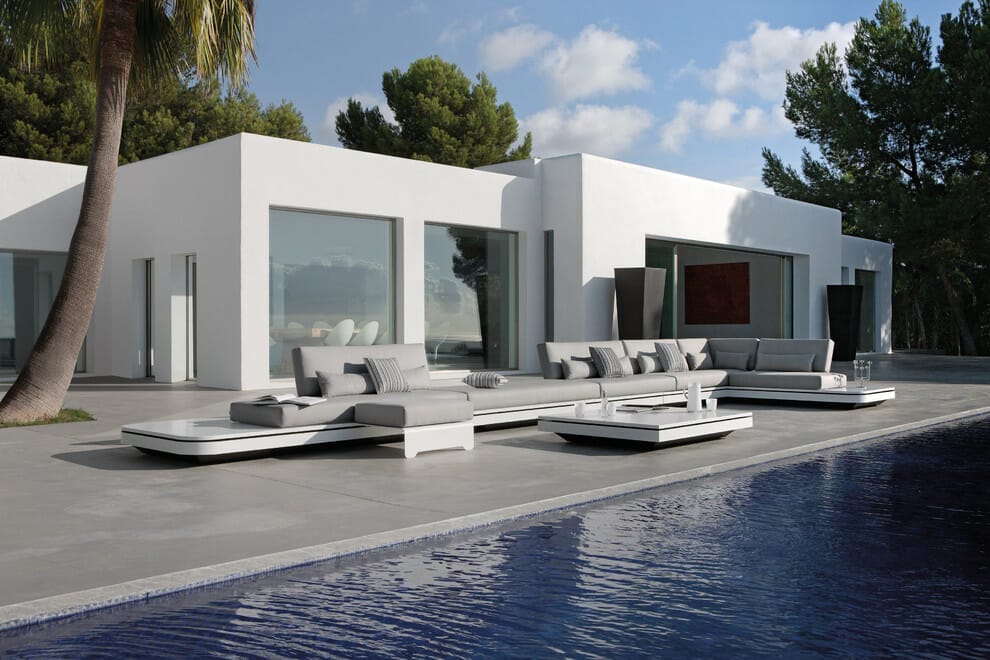 The light gray scheme on your concrete patio needs a little freshness that will free you from the arid impression.
Then, create an oasis with the view of a swimming pool in front of the sunbathing spot. In addition, bring the greenery, like palm trees, to give the same vibe as on the beach.
10. Bring the Serenity in with Rustic Items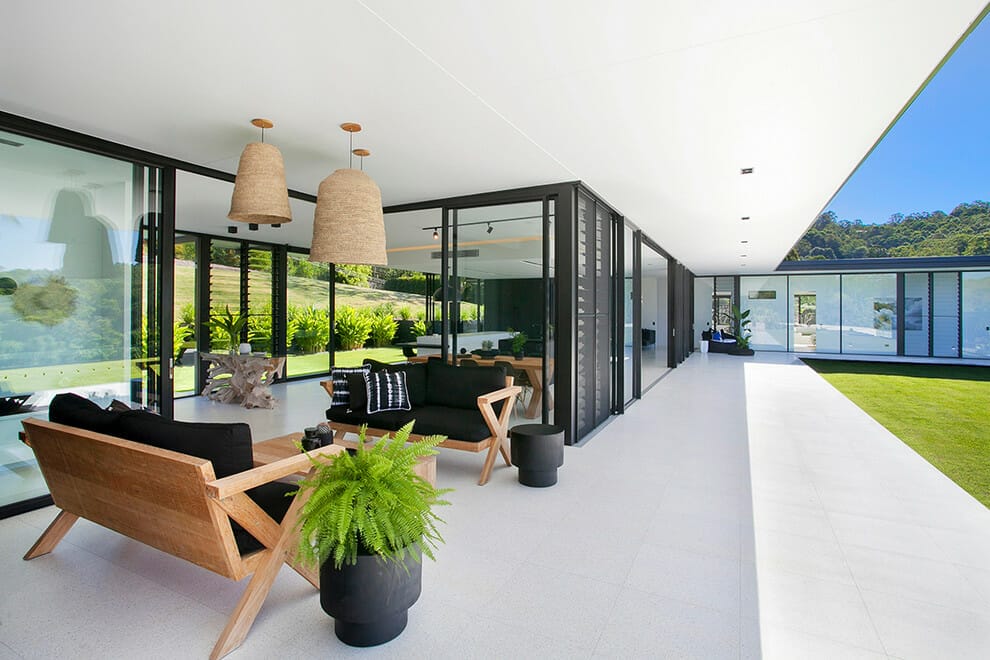 Conjure up your backyard that adopts modern concrete patio ideas more environmentally friendly by providing some furniture with a rustic touch.
You can start with wooden chairs that clearly show the wood texture's roughness. In addition, also adjust the ceiling light fixtures with wicker shades as above.
And lastly, don't forget the trimmed lawn and outdoor plants to give an impressive natural freshness.
11. One Block of Plantation and Ponds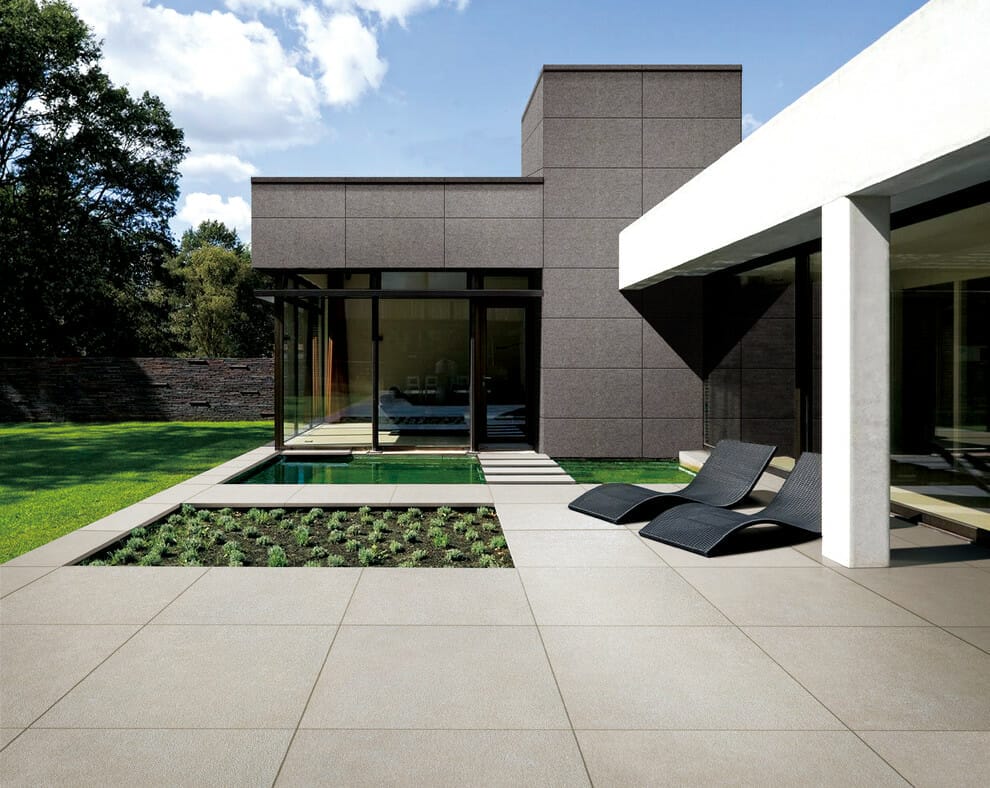 It is not difficult to give your modern concrete patio a natural touch. With ample outdoor space, you can also present a block of plantation spot that contains all your herbs.
Moreover, it will be even more interesting if you create an artificial oasis with a few ponds in the corner of your relaxing space.
12. Backyard with Mini Waterfall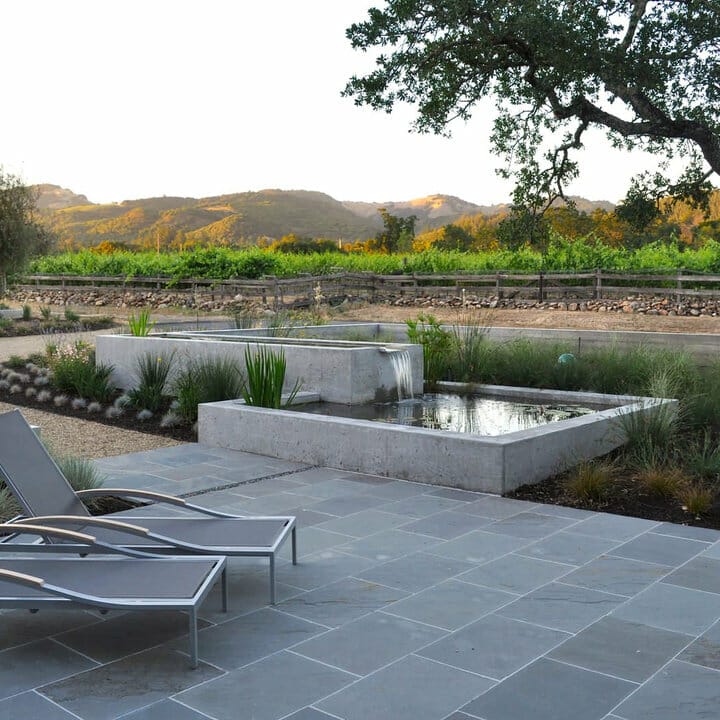 Have you ever dreamed of spending your relaxing time accompanied by the sound of gurgling water? If so, modern concrete patio ideas can also make it happen for you.
It doesn't have to be grand if you expect concrete patio ideas on a budget. You only need to make two standard ponds with different heights on the sides of your deck. Next, create the water flow settings you desire. Then everything is fine.
13. Concrete Backyard Pavers with Loft Garden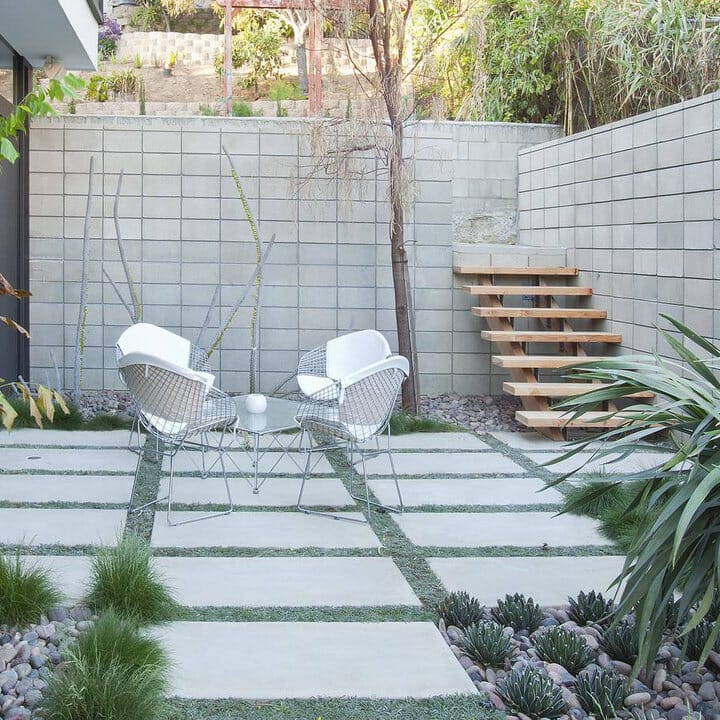 Suppose you have a small backyard but still want a patio and a garden simultaneously. In that case, you should consider lofting your mini garden spot.
Without a doubt, you can access it by providing a simple wooden steps system like in the design above.
Although, because the patio is concrete and already has a personality with the paver's layout as above, you need to complete it with a sitting area dominated by white chairs.
14. Loft Backyard Patio with Brick and Trimmed Lawn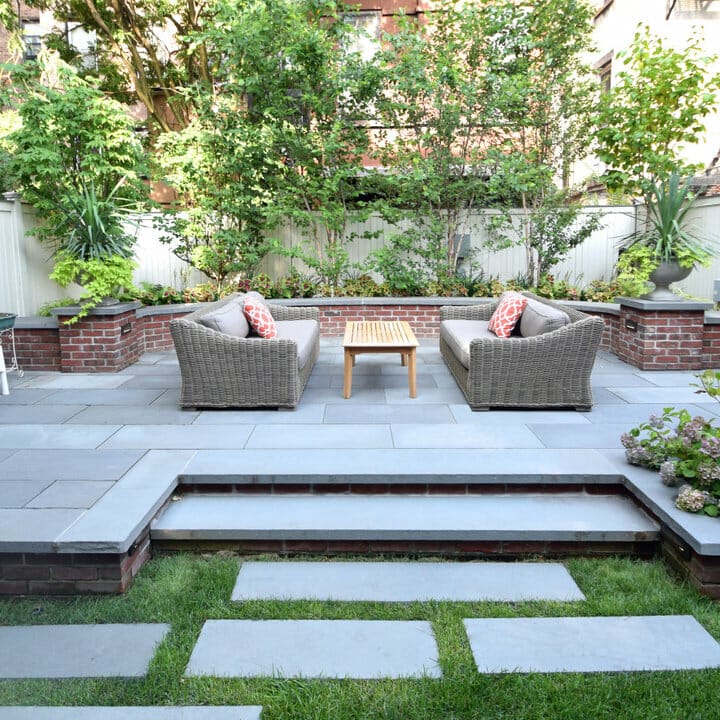 Give your backyard a statement by adopting lofted modern concrete patio ideas complete with brick edges as above.
In addition to the edge of the patio, you can also arrange a brick for your flower bed border. Next, you can fill it with colorful flowers or go with greenery.
As in the trimmed lawn area, consider putting concrete steps simultaneously to enrich the appearance of your backyard.
15. Simple Concrete Patio Design Ideas with Double Rattan Chairs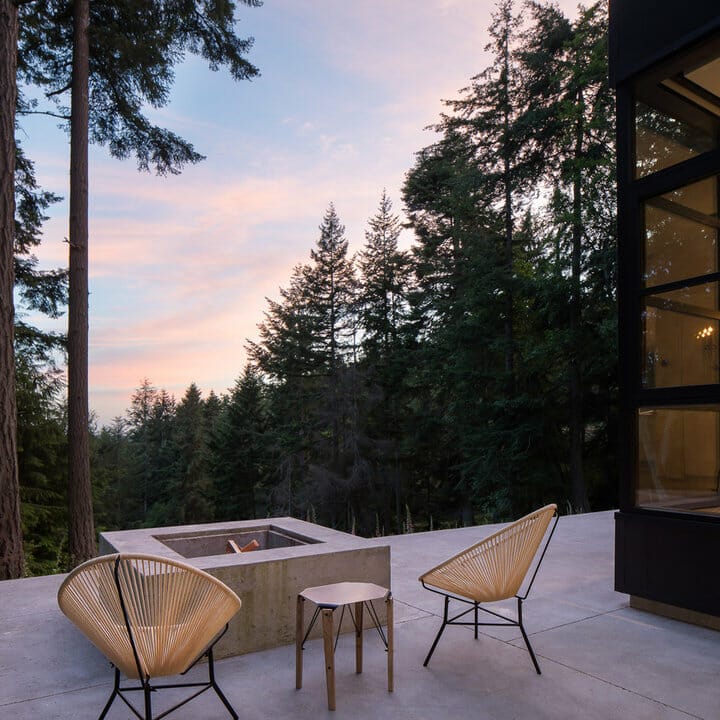 Rattan chairs are the perfect furniture to compliment your concrete patio. Even better, if you put it in front of your outdoor fireplace.
Next, consider arranging this furniture, complete with a small coffee table in the center part. As a result, you will leisurely spend your evenings with anyone in incomparable serenity.
16. Bean Bag Chairs and Coffee Table for Sunbathing Spot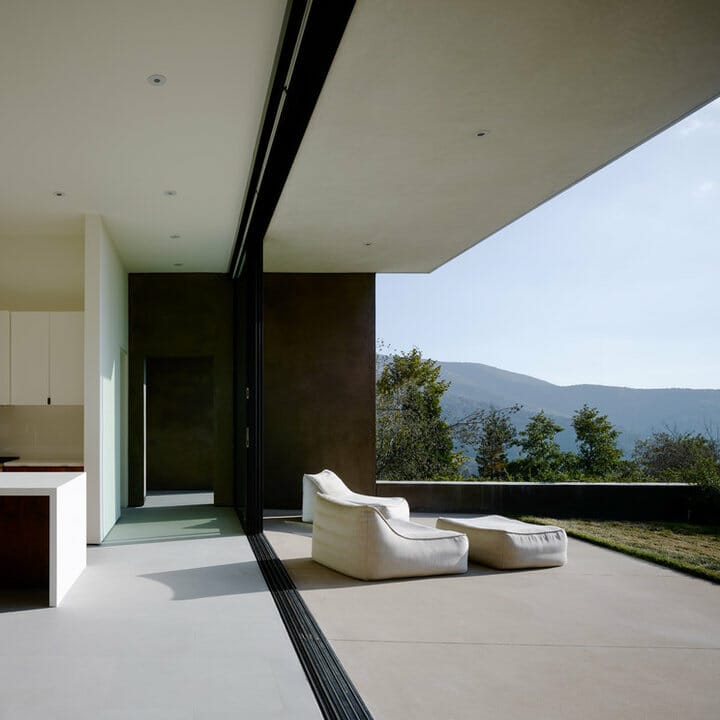 Instead of presenting sturdy furniture in the modern concrete patio ideas you adopt, it would be better to complement it with a bean bag like above. It aims to prevent your exterior design from looking too stiff and dull.
But to give a soft look further, you can choose a neutral-colored bean bag such as broken white, complete with its tufted coffee table.
17. Get Around by Wooden Fence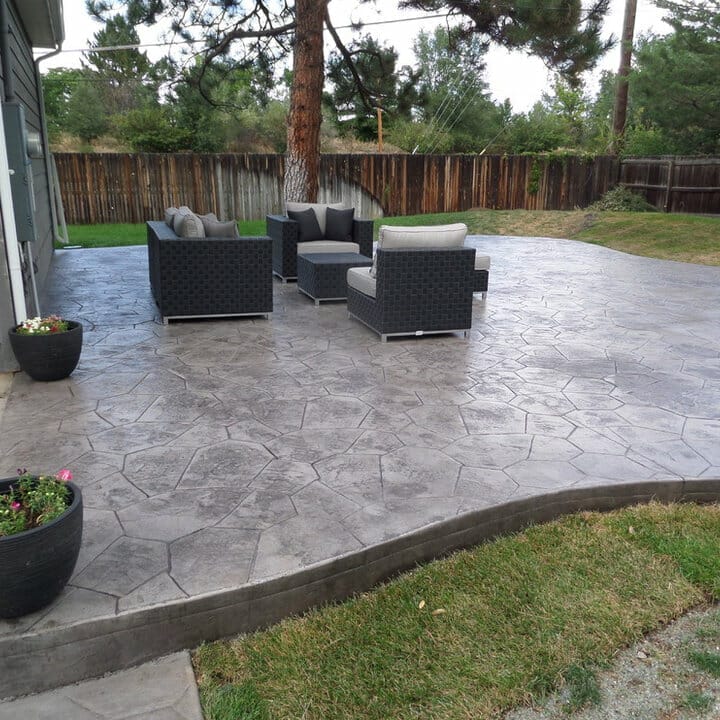 As with other modern concrete patio ideas, you can also present many materials in one area. It is because concrete usually goes well with wooden items to achieve a more cohesive appearance.
Hence, as a one-of-a-kind arrangement, make it look like your patio is an island surrounded by green grass and bordered by a wooden fence.
18. Blend with the Beauty of Nature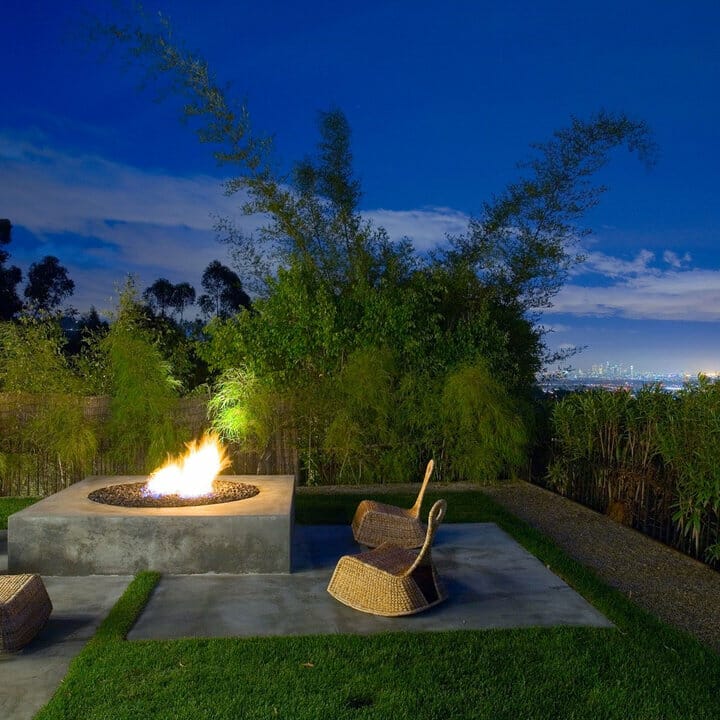 Without raising anything, make your concrete patio level with your trimmed lawn. Indeed, the cohesiveness of concrete with natural beauty is the best of any exterior layout you will ever have.
In short, you will get the perfect natural refreshing vibe by presenting concrete in a balanced portion with the greenery around you.
19. Green Carpeting in The Center Part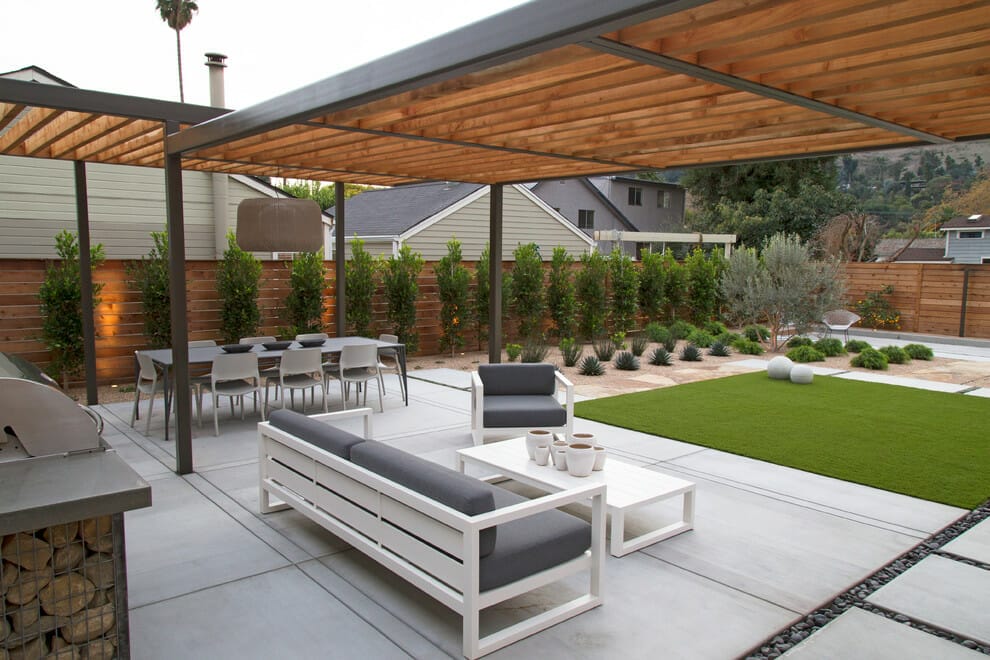 The previous modern concrete patio ideas recommend arranging your deck to resemble an island surrounded by green grass.
Now, you can do the opposite. That is by presenting a bed of green grass in the middle of your concrete patio.
Next, this spot will become a refreshing and impressive natural viewpoint you've ever had. Also, consider providing a pergola to protect anyone who spends time on your patio.
20. Modern Concrete Patio Ideas for Outdoor Dining Spot
Suppose you want a more elegant and grander patio appearance without joints on the floor. In that case, you are better off going with seamless stamping finish concrete as above.
Its smooth surface is indirectly a strong personality emitted in your outdoor space. As for a more impressive look, set an outdoor dining table in the middle of this space. Certainly, it will give you an unforgettable dinner and gathering time.
21. Built The L-Shaped Bench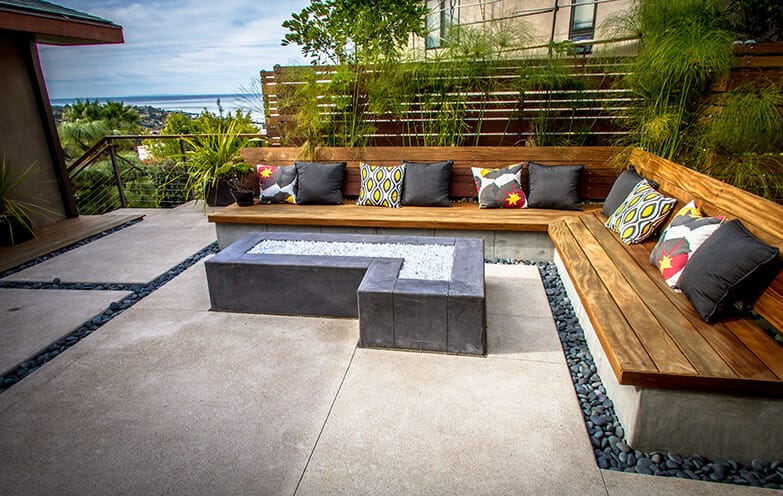 Bringing a built-in L-shaped bench in your backyard concrete patio is the right decision you've ever made.
Even better, if the bench is made of wooden pallets and equipped with multi-patterned cushions. Without question, this has become a comfortable spot and presents an impressive focal point.
22. Set Around Near the Trees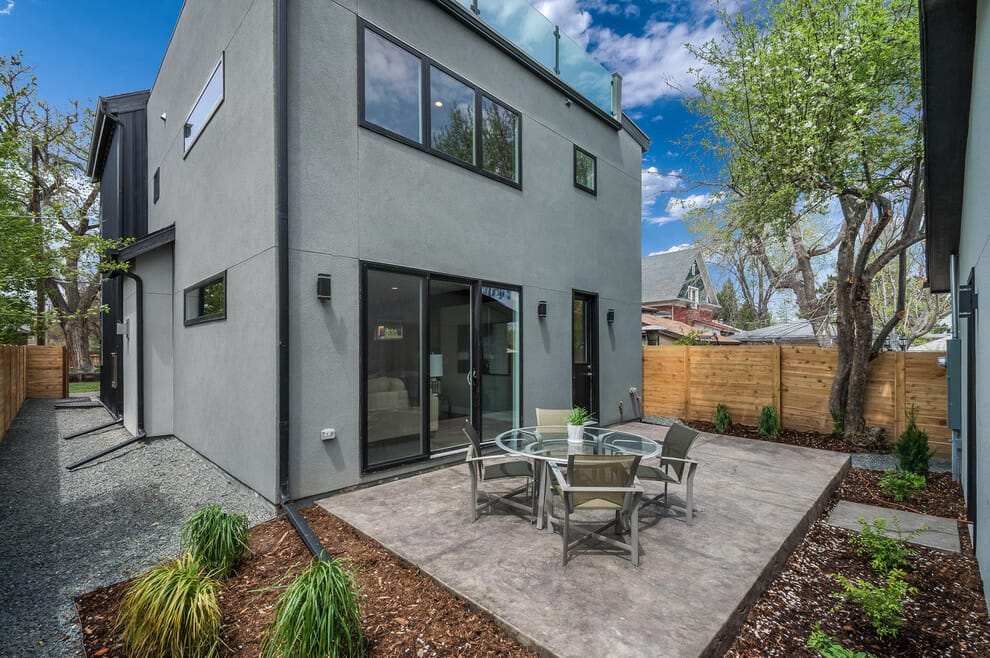 Proper shades in modern concrete patio ideas are the main element to bring comfort to the backyard. Whether you later provide a pergola or take advantage of the natural shades from the surrounding trees, it's all up to your preference.
However, the most important thing is how you can continue to use this space without leaving it in vain and untouched.
23. Concrete Patio Ideas for Small Backyard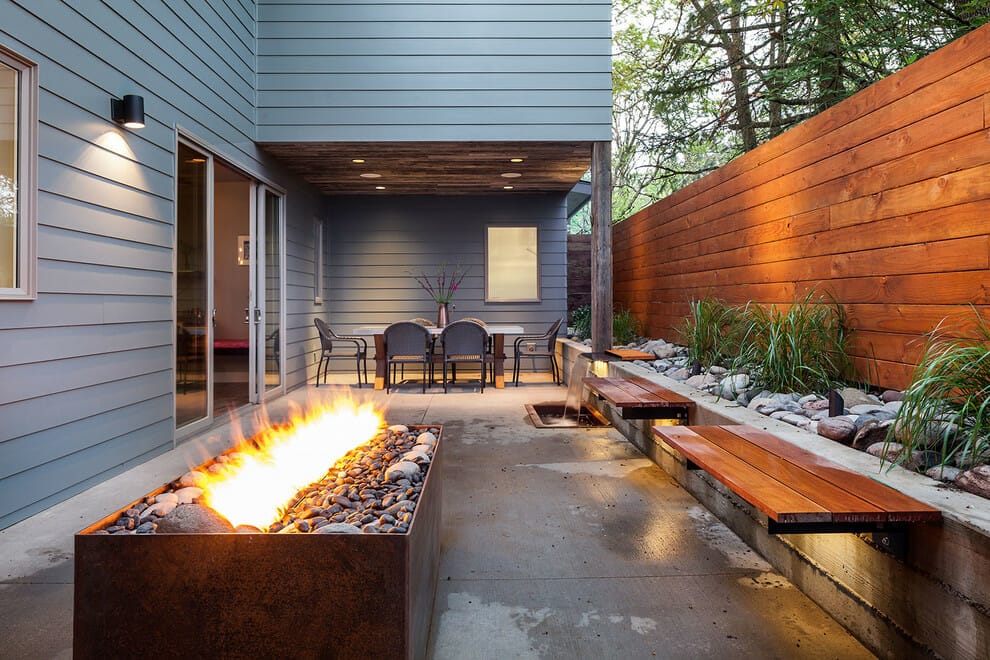 Benches in the backyard don't have to come with a built-in version. You can even create a floating one close to your fence.
With sturdy materials such as wooden pallets and steel supports, you now have a comfortable sitting spot in front of a limited fireplace area.
24. Complement the Seamless Flooring with Versatile Furniture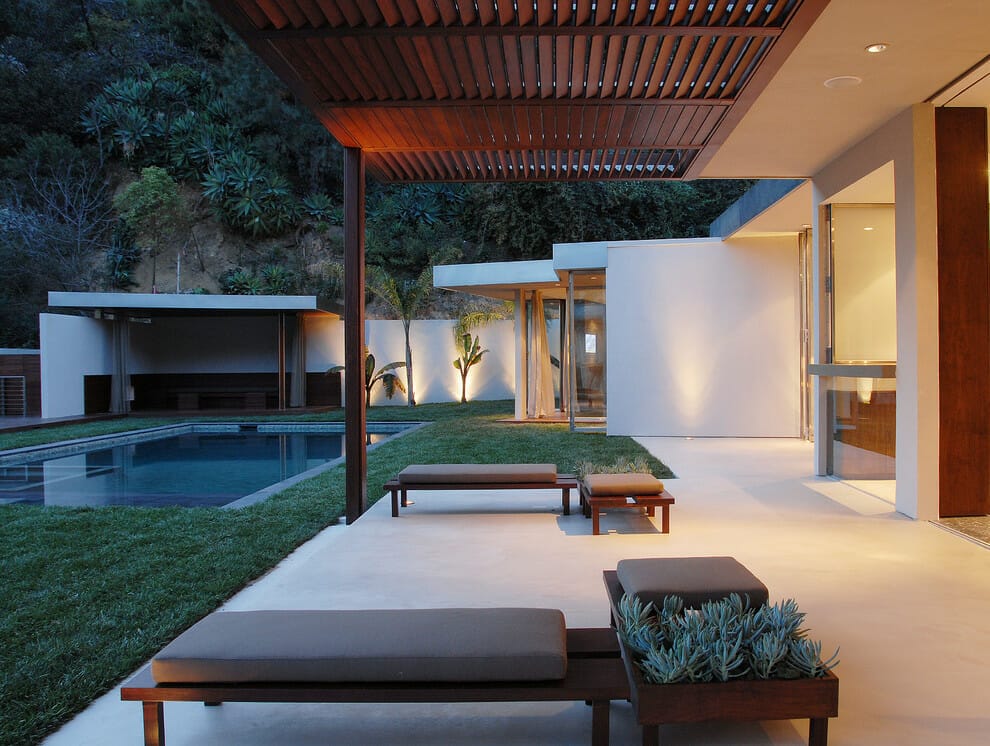 Seamless stamping finish on modern concrete patio ideas, indeed, it can provide an expansive, clean and flawless final result.
However, all of that will seem dull if you leave it as it is. Therefore, you should provide multifunctional furniture that can also be a seat and plantation space for your outdoor plants.
25. White Concrete Patio with Grey Sofa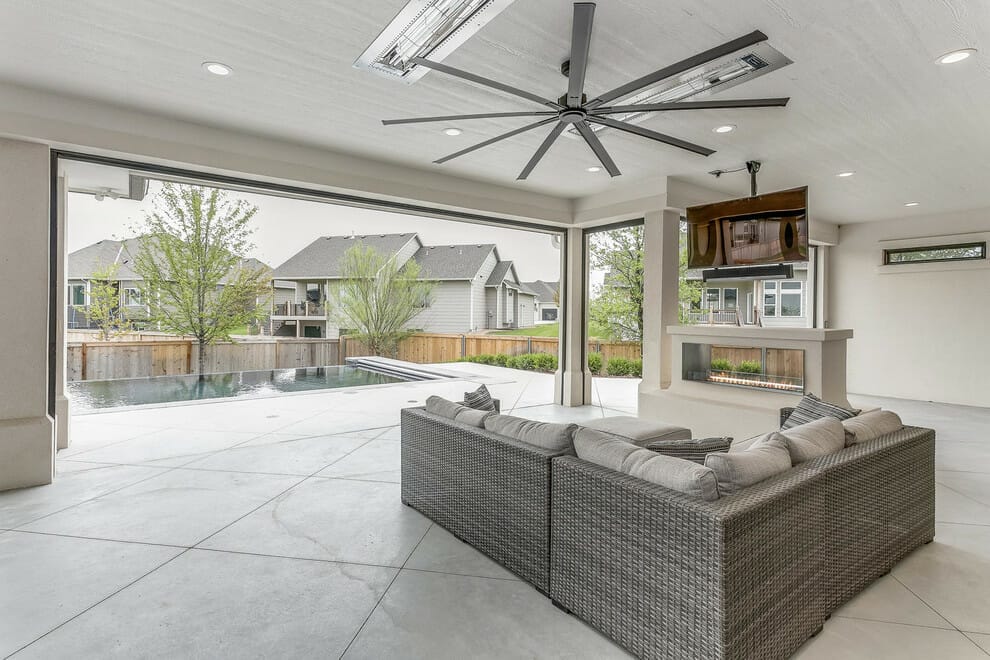 Large rhombus concrete patio tiling with a white scheme will be perfect if it comes with a light gray sofa set.
Even without giving a striking color, the rattan texture that appears on your outdoor seat will provide a pretty strong personality than the others.
26. Simple Blocks in Large Checked Pattern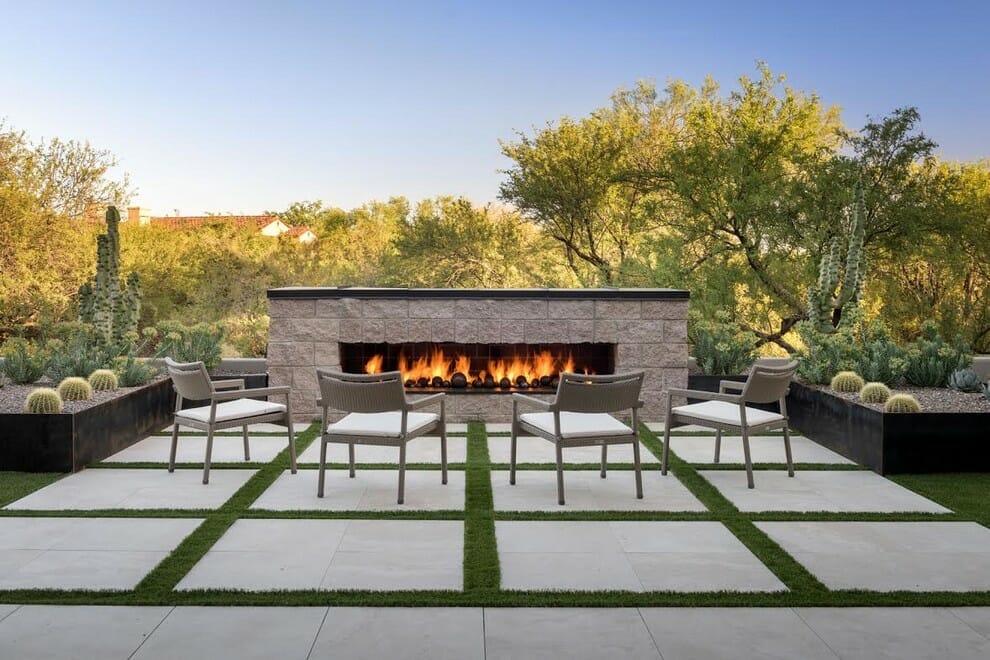 The giant checkered pattern is the most popular layout on modern concrete patio ideas.
Apart from adding pebbles between each block, you can be more innovative with trimmed green grass to give your backyard a refreshing look.
27. Concrete Patio with Linear Finish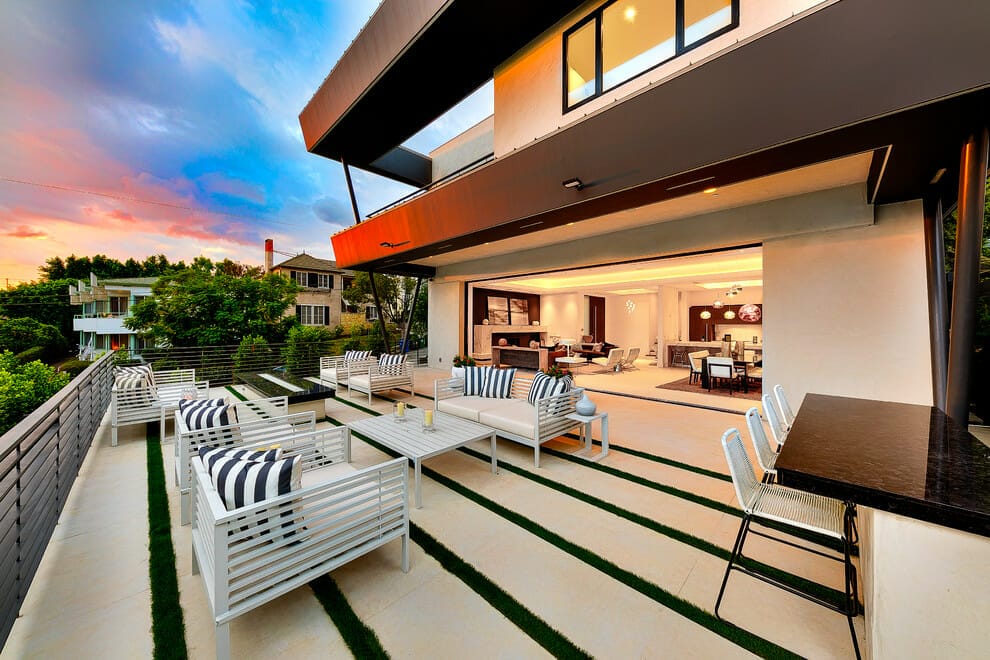 Besides going with a large checkered pattern, you can also beautify your outdoor patio with concrete tiles arranged linearly to form a sizeable striped pattern.
Then, try filling the gap on the flooring with artificial grass above to add more drama. Trust me, a patio layout like this certainly will make your space look more comprehensive than before.
28. Set the Large Rectangular Ones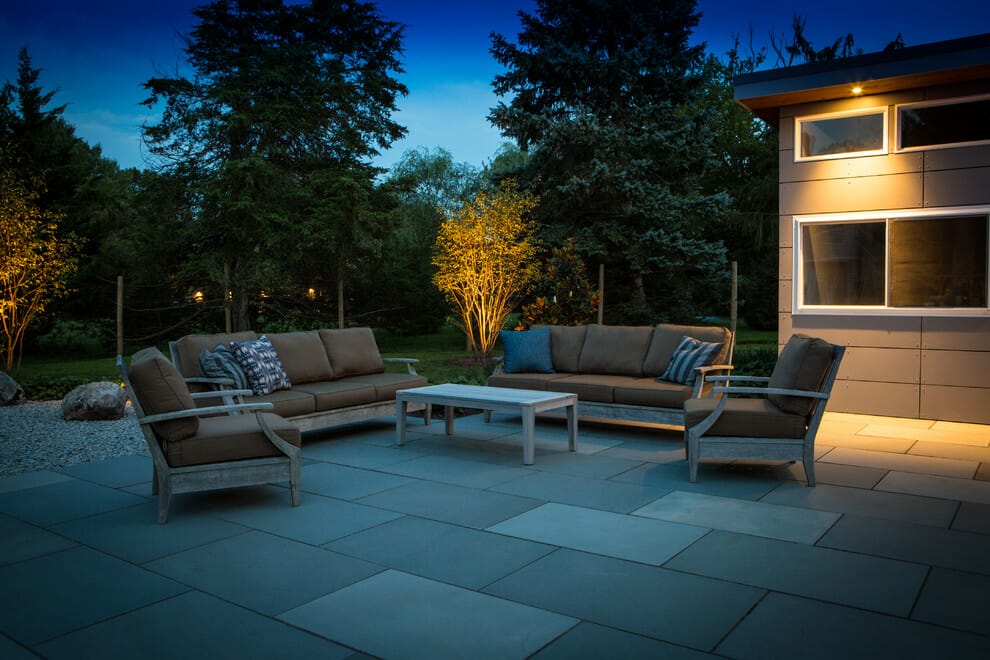 It is undeniable that large patterns in modern concrete patio ideas are the most successful in displaying a comprehensive look on your backyard deck.
But above all, consider setting it up in the subway system to make it look more attractive and far from outdated.
29. Glass Wall Behind and Wood Paneling in Front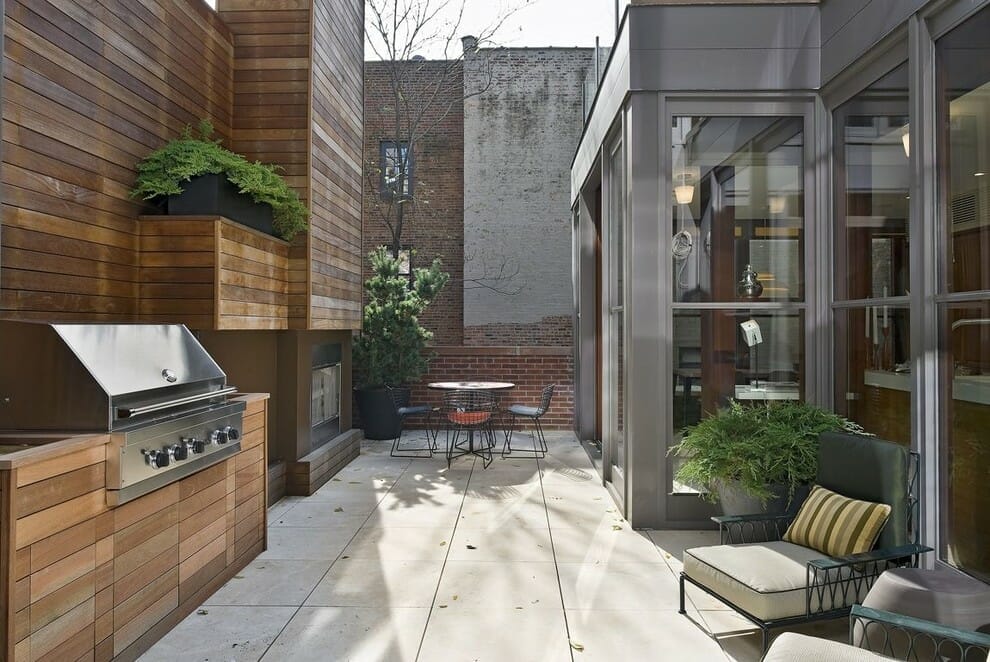 Why don't you showcase three materials in one area? Indeed, whatever you find cohesive in a contemporary style home will produce an attractive finish. Thus, never hesitate to provide concert, glass, and wood in your backyard.
Then, what else are you doubting? You can have the outdoor space that many people crave by displaying a glass wall in your home, as well as a built-in grill that integrates with your wooden divider. As a result, all looks perfect.
30. Bring the Bed Outside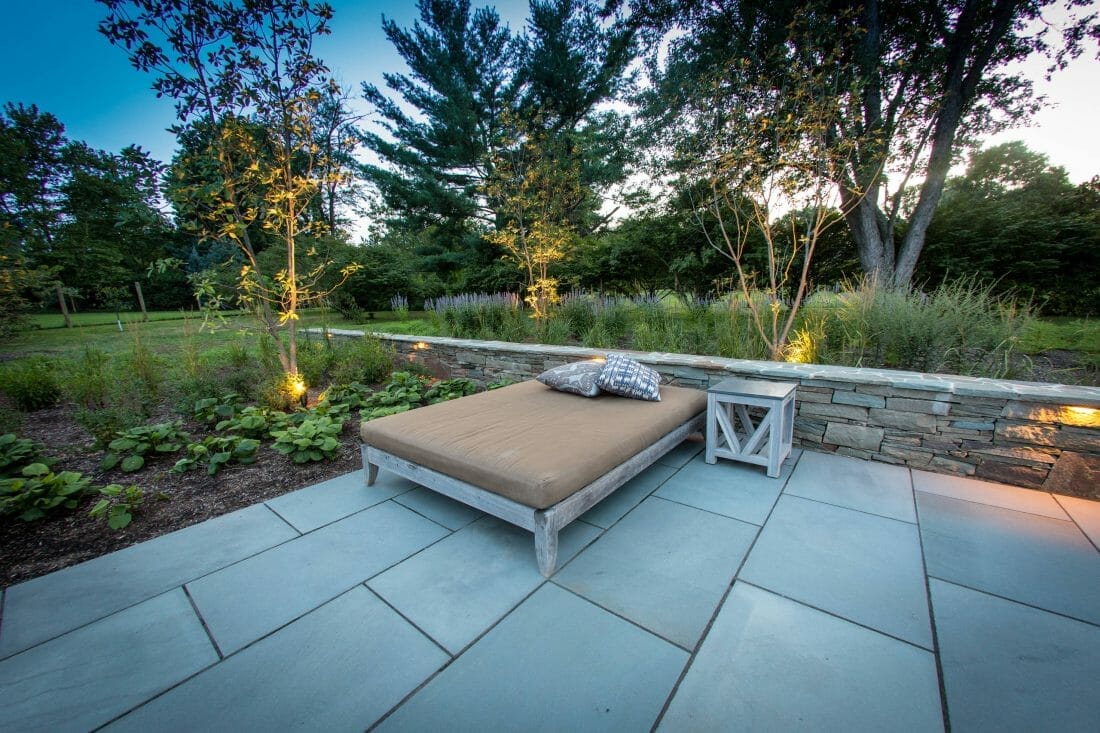 Here is another concrete patio design on a budget that you can borrow. That is by taking out your used bed and repurposing it into a lounger in your backyard.
But be sure to revamp and give a bit aesthetic touch, such as repainting and repairing the damage so that this becomes furniture that is safe enough to sit on.
Finally, from all the modern concrete patio ideas above, now you know that this concept will still elevate your home perfectly with any decoration. Therefore, please do not waste time to have it immediately.