It is not exaggerating to say that extra backyard space existence is a blessing. What a blessed person you are if you also have it. Yet, there might be times when it does not function or appear as expected. Whenever it becomes your case, you will need some patio extensions ideas.
This page will cover twenty-nine ideas revolving around pavers, roof, lighting, entertainment media, fire feature, water feature, planting landscape, color scheme, and other cozy elements. Not to mention, there are also some inspirations to help you decide what amenity your patio will become.
These patio extensions ideas will liven up your outdoor living area so that all family members of the house get to enjoy themselves in the open.
Dining, entertaining the guests, self-warming, and other indoor activities will be doable outside.
1. Deck Flooring, Rattan Chairs, Planters
The owner of this outdoor space opts for patio extensions ideas using a leaf-bone structured roof, so the area does not have full coverage.
Therefore, everything under the opened ceiling will get direct exposure from nature. Thus, the choice is to utilize outdoor materials, like rattan couches, wooden flooring, metal planters, and stone walls.
2. Warming up Zone with Suspended Sofa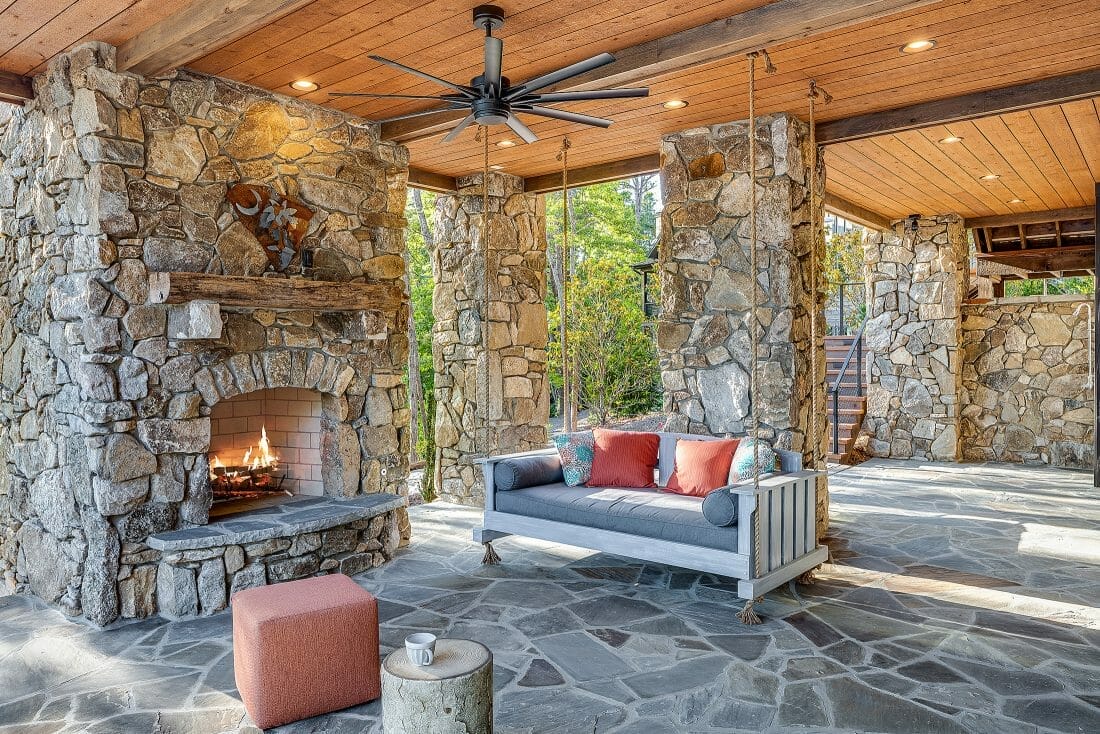 Stones is the safest bet to build an outdoor area. Here is how you do it with them. First, paste them to cover every surface except the ceiling.
Then leave some space to fit a fireplace for a self-warming zone. Next, hang a suspended sofa for a little bit of rocking sense. And, the scene is complete.
3. Summer Kitchen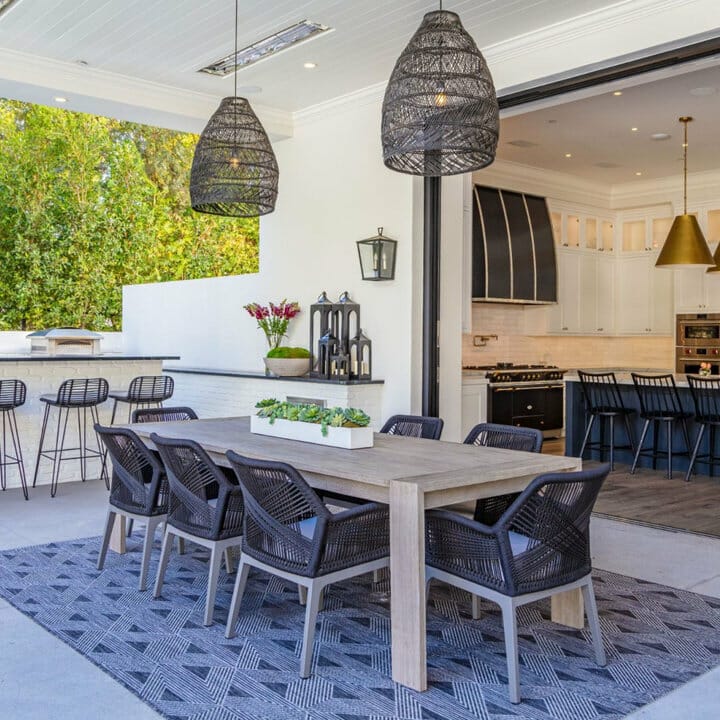 This amenity is a part of a modern farmhouse residence. The former owner was a retired NFL (National Football League) athlete, Tony Gonzales. He and his family were the ones who could enjoy their outdoor mealtime in this summer kitchen.
Hence, this patio extensions ideas features an indoor kitchen island, dining table, and a bar-like high counter, each with a specific seating arrangement.
You can see the setting difference between the indoor and the outdoor space, including the used materials, floorings, and lighting fixtures.
4. Waterfront Outdoor Living Space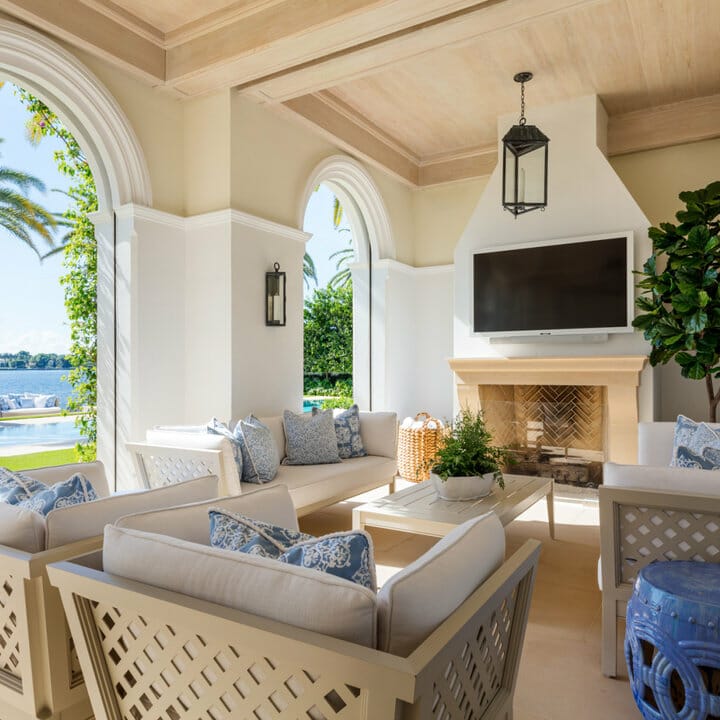 This open living space, built inside a waterfront residence, offers some patio extensions ideas. Anyone can see the well-designed exterior colored by white, beige, and blue soothing tones. Spending your chilling time there would be a luxurious experience.
During the day, you could lay yourself on one of the couches and watch TV, all the while letting the natural light get into your system. The fireplace is ready to warm up the area when evening comes, fighting against the waterfront breeze.
5. Outdoor Memory Stamp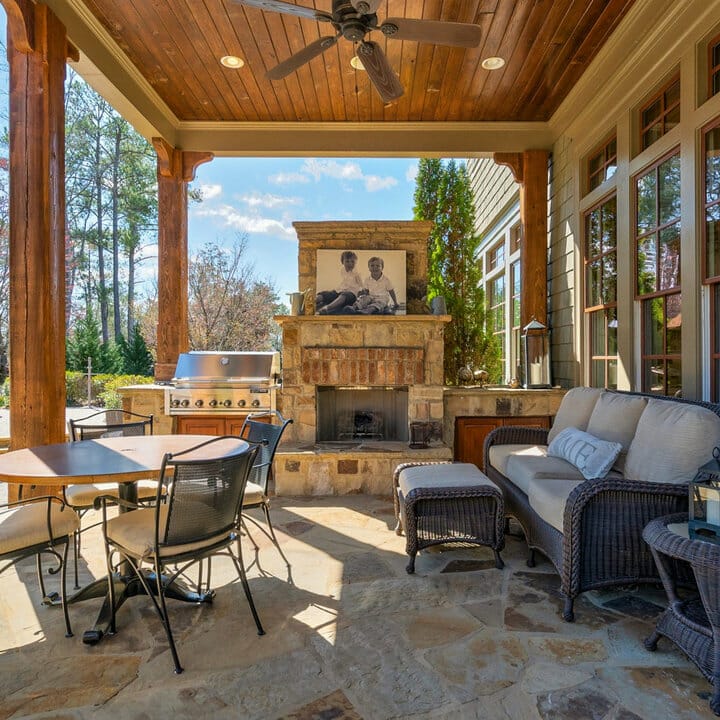 Outside gathering relates to a barbecue party, so a grilling appliance is necessary for your backyard.
In addition, setting some large printed photos is nice too. You could reminisce the phase back when you take them and say how fast time flies, just like this patio extensions ideas.
6. Luxurious Private Gym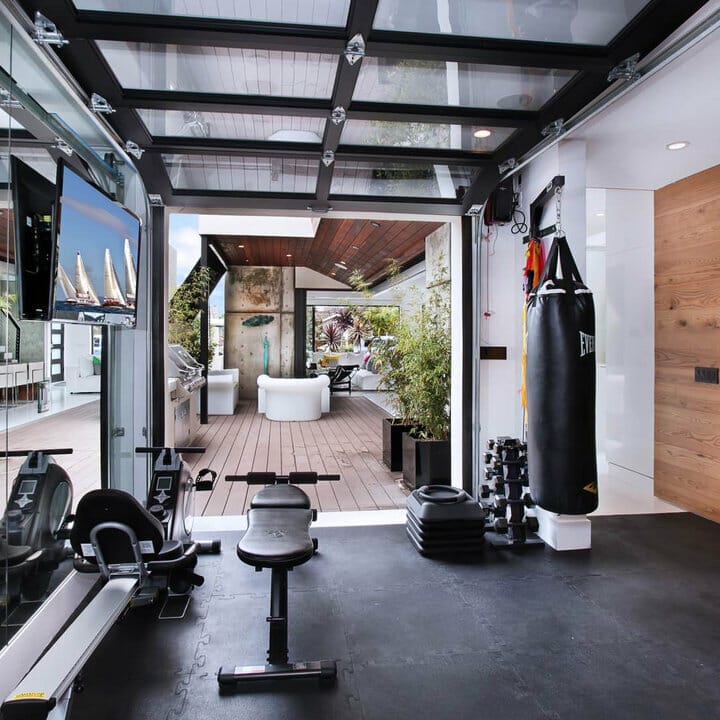 This patio extensions idea does not suggest you have the same luxurious sports area. It indicates that having a private gym itself is one of the luxuries.
Moreover, when you could make use of your outdoor space. It is for everyone who likes to own a fit body and live a healthy lifestyle.
7. Slabs of Concrete Patio Extension Idea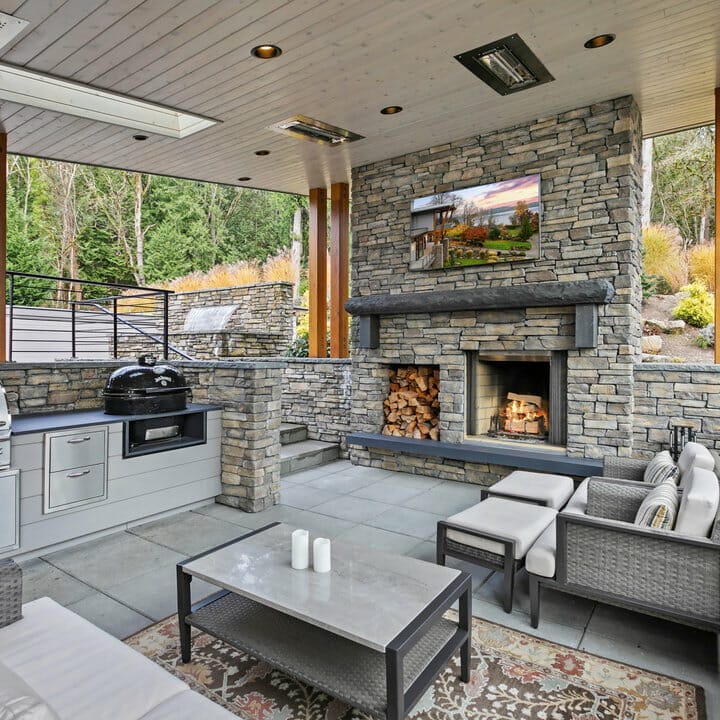 Call grill master every day if there is this kind of amenity around your house. It presents several patio extensions ideas to whoever favors barbecue parties.
The sturdy-looking walls built with concrete slabs could block the coming wind, reassuring you to roast a turkey without disturbance.
In the meantime, your party group could warm themselves up around the fireplace while chatting or watching TV comfortably.
All of the activities are running under a cantilevered ceiling. Consult with patio roof extension contractors if you also want one to shelter your barbecue agendas.
8. Traditional Elegance with Patio Roof Extension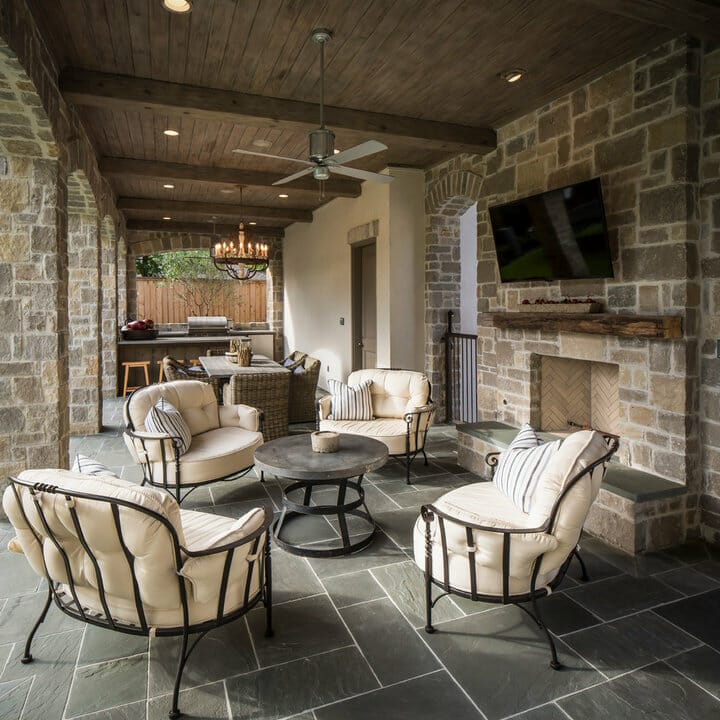 This patio feels traditional yet elegant. It pairs Pennsylvania blue stones and Texas limestone to build the exterior as flooring and wall finishing.
Hence, the combination creates a chilly atmosphere. That is why a fireplace also exists. Absorbing the warmth while sitting on the cuddle chairs, certainly will leave a memory.
9. Patio Extensions Idea for Coastal Home
Sipping your favorite drink out in the open while observing the dancing green grass should be your favorite afternoon routine if you have this kind of patio.
When night comes, anyone can bet that the fire pit will radiate dramatic illumination and a little bit of romance.
10. Patio Extensions Idea with Flickered Firewall
Someone must take this photo when the sun is down to show the optimum performance of this firewall.
Its hypnotizing flare is a part of the illumination landscape in this patio with the hanging lamp above the dining table, a couple of recessed roof lightings, and the stairway lamps.
11. Semi-Covered Patio Extensions Idea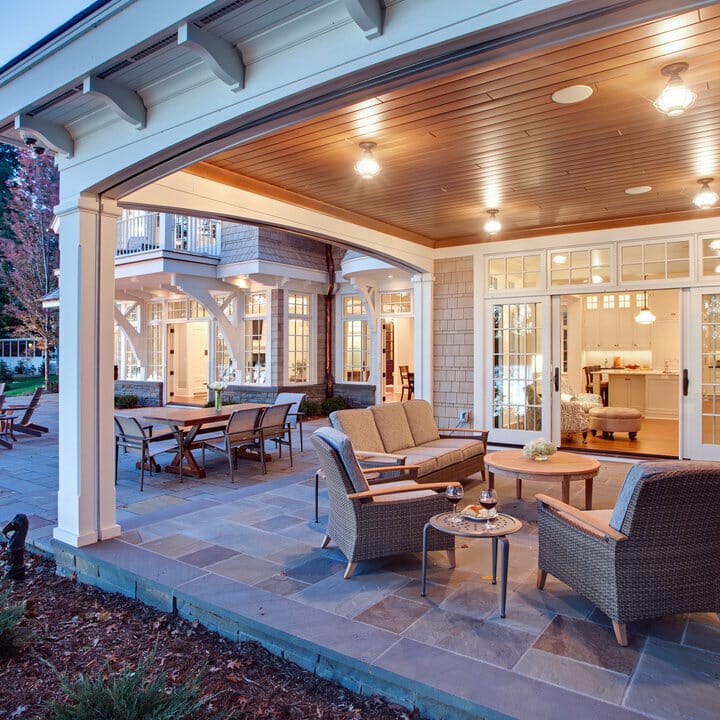 It infuses ideas about a half-covered patio. Otherwise, it wants to tell the viewers about what patio extension means.
Let us assume that the covered area was the starter. The initial intention was to make an expanded living room with single-seaters, a sofa, a center table, and an end table set.
And then, it hit the owner to benefit from the open area and set a dining table. It might not be visible in the picture, but a fire pit is also present with the arrangement of several lounge chairs surrounding it.
12. Playing with Blue Color Scheme
Instead of the patio layout, the color scheme is what you need in some cases to enliven your outdoor living space. Pick one or some to dominate and accentuate the area as exemplified in the picture.
Royal blue and grey are the dominant colors, while white and green are the accent ones. They work in harmony within the natural-toned exterior.
13. Patio Bar-Lounge Featuring Daybed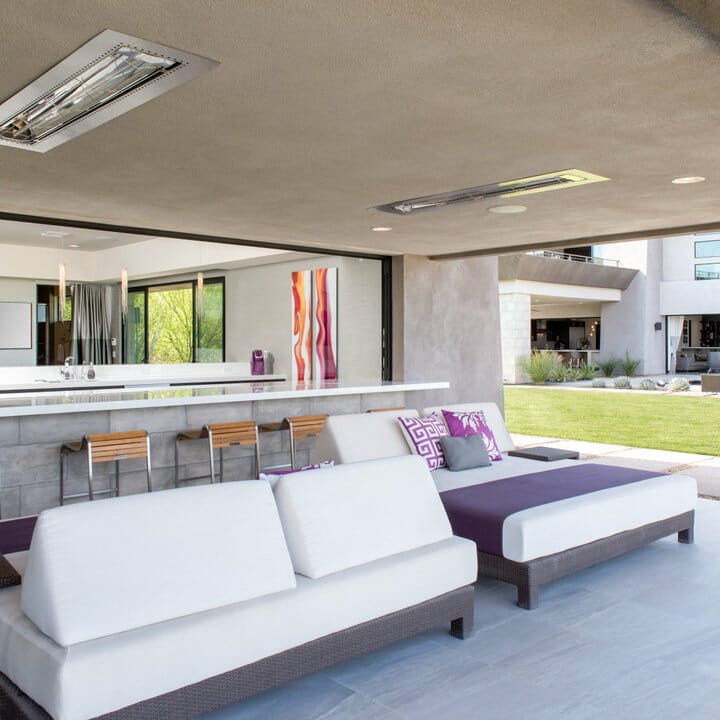 This patio shares an idea to turn an outdoor space into an open bar lounge. On top of that, it features a couple of daybeds.
Surely, you could not pay for something like this anywhere. Thus, you should have one instead. Please, pay attention to the color selection also. In this case, purple attractively accentuates the zone.
14. Sleek Modern Patio Extensions Idea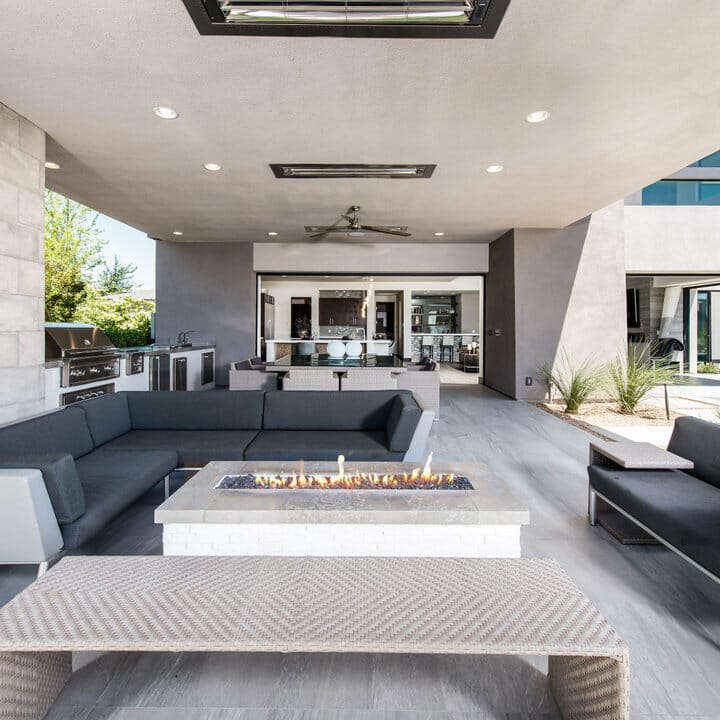 This idea is executable within an enormous space, called an open plan in an open area. The design continues to the lounge with a fire pit focal point starting from the dining zone in front of the grilling corner.
Hence, you can host a big group of barbecue parties here. Moreover, the idea to have one of the couches features a table at the edge is also witty.
When the dining table could not bear the amount of the food, or when the conversation around the fire pit is too interesting to miss, you could bring your meal, put it on the edge table, and join the chitchat while eating.
15. Fancy Sophistication with Stone Landscape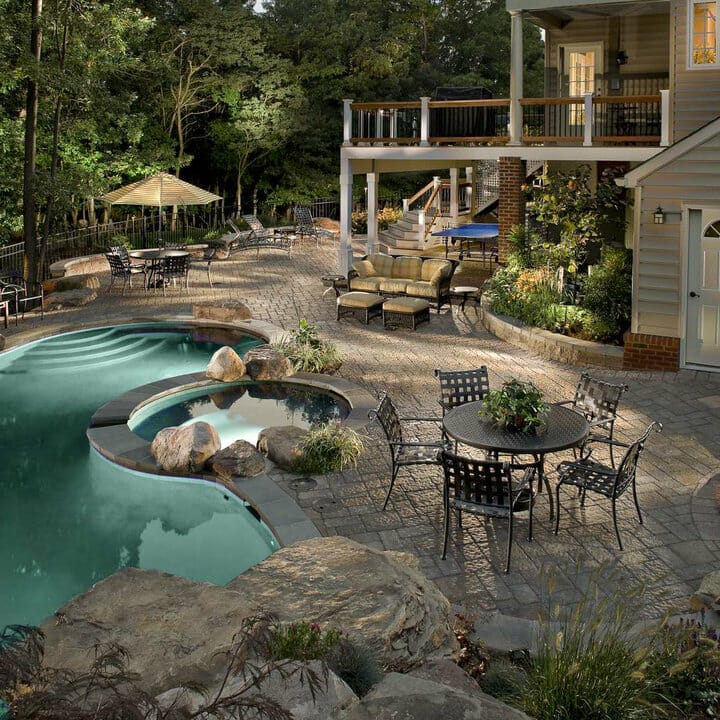 Calling this fancy backyard by sophistication might sound underestimating. It is more like a leaked paradise. How come it is not when everything to support people's enjoyment seems present?
What else do you desire when amenities like a swimming pool with the stone landscape, hot tub in the open, patio umbrella, lounge chairs, dining tables, outdoor sofa, grilling corner, and table tennis are there?
Moreover, the forest-like scenery in which tall trees grow besiege the backyard. It is like private woodland is in your possession.
16. Cheap Patio Extension Idea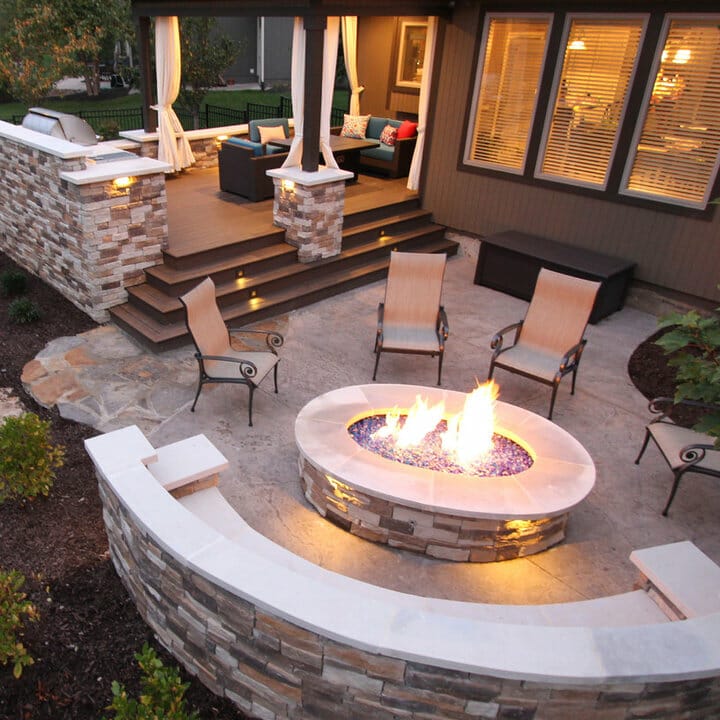 Labeling this patio as a cheap idea is apologetic, but the adjective refers to the effort of building such an area. It does not incorporate many elements, but the result is wow.
The covered patio accommodates a cozy conversation and tasty grilled dish. Soft seating and a barbecue set are present to support it.
Meanwhile, the open space facilitates closer-to-nature contemplating time and sweet roasted marshmallows. Let the well-arranged pavers, curved stone bench, and fire pit be the completing companion.
17. Weathered and Stones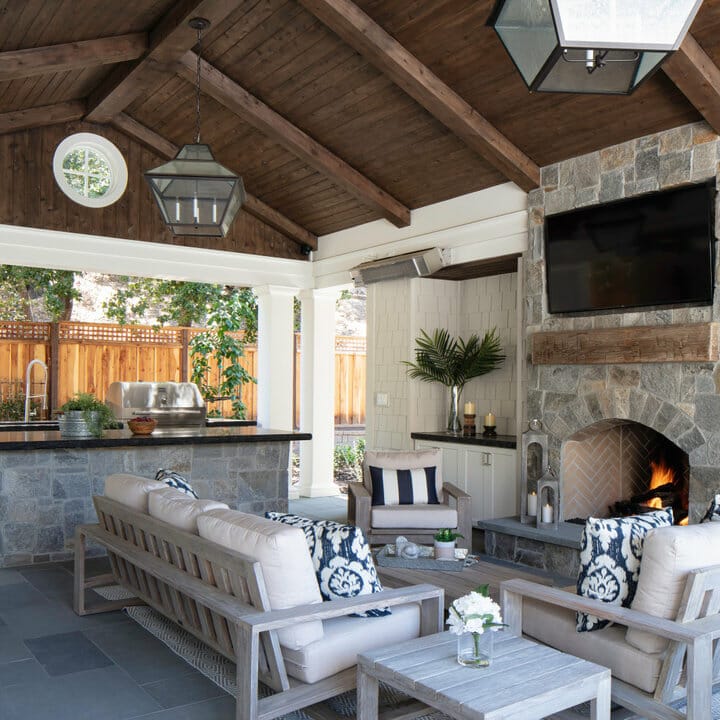 It feels a little bit coastal here due to the weathered seating presence. Yet, bluestone flooring and cladding limestone walls blur the vibe and strengthen another style instead.
Ceramic tiles are also visible to finish the backsplash and inside the fireplace.
18. Teak Seating and Paving Stones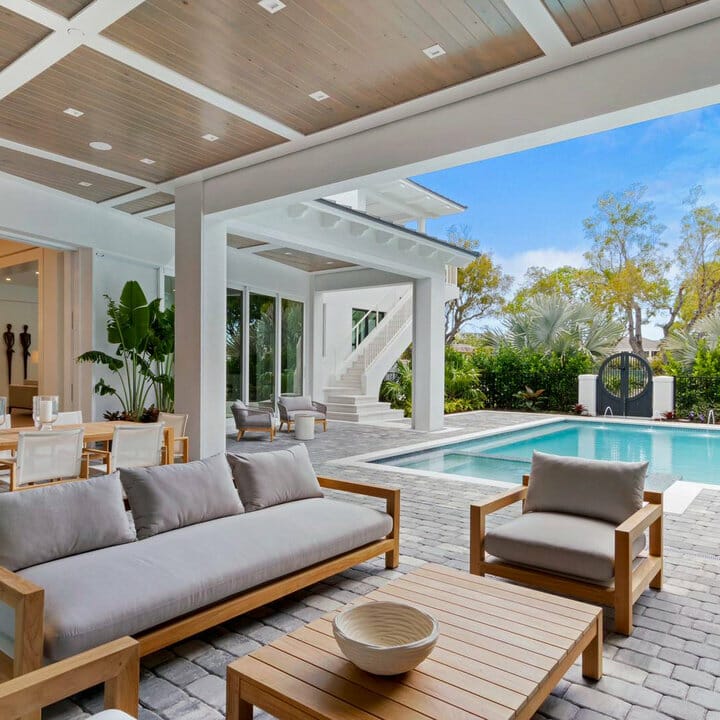 Paving stones are parts of streetscaping, but their use is not constrainable to the street only. Many people finish their patio flooring with these materials, especially when they own a backyard swimming pool.
So, if you are one of the owners, the idea of setting teak seating is also executable.
19. Break-Time Zone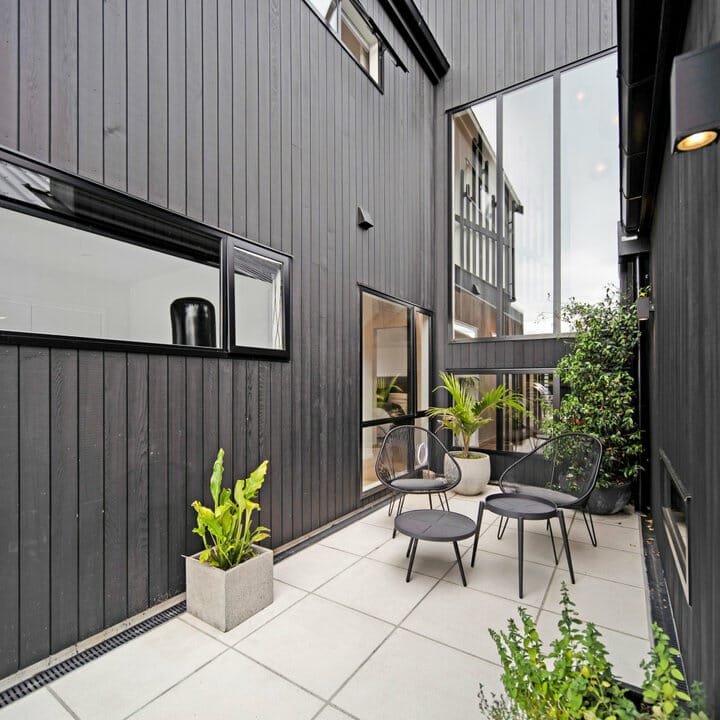 This refreshing zone to spend some break time is a part of an industrial residence in Auckland called The Black House.
It slightly gives an impression of connecting the main and annex building, looking from the location. The idea is to set some seating and several potted plants in the middle of the roofless patio.
20. Traditional Dining Room Expansion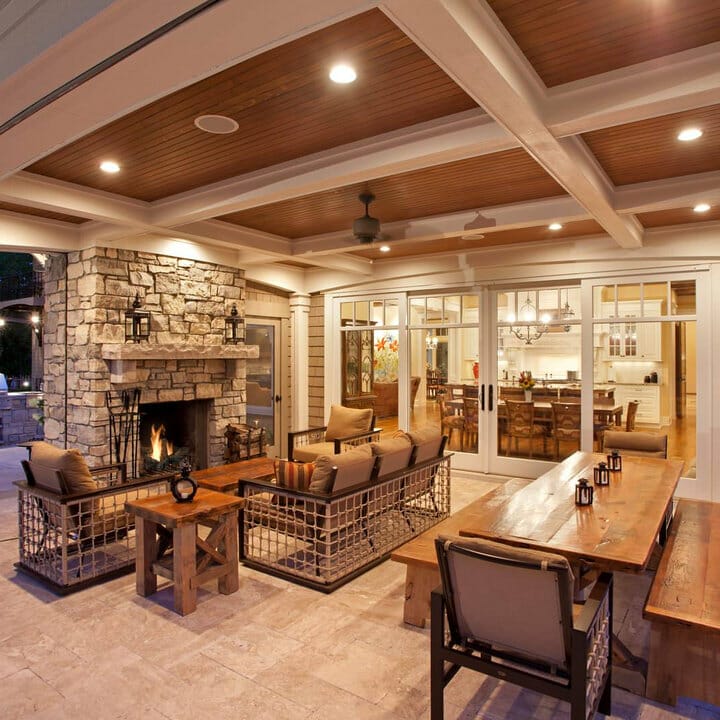 Whenever your dining area feels cramped and could not afford as many eaters as required, you are welcome to execute this expanded feasting space idea.
It involves sliding French doors as the back-and-forth access, brown stained cedar wood ceiling, travertine-tiled flooring, and stone fireplace wall.
21. Accentuating in Green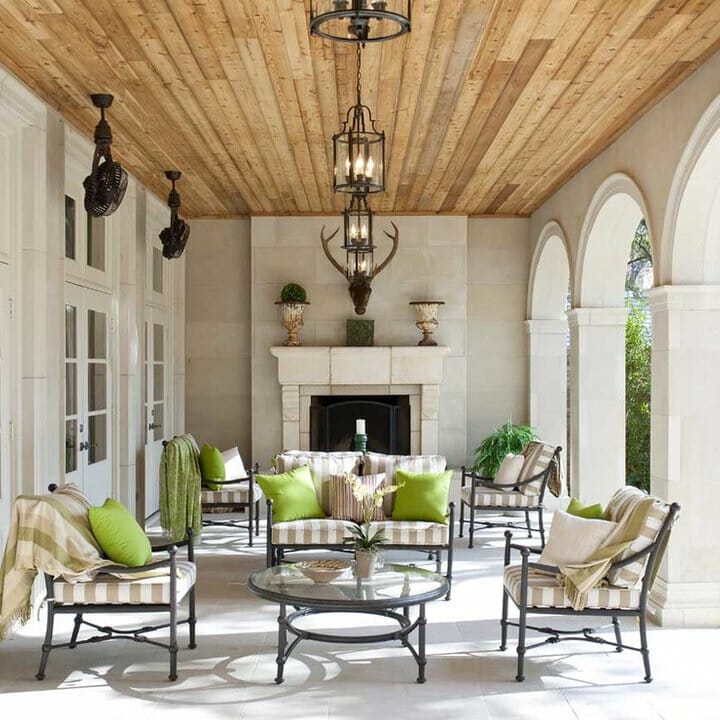 Light brown and white are all over this exterior dominantly. With those shades, you need another tone for the calming and inviting pop-ups, such as moss green and lime.
On top of that, black will be flawless to accentuate the entire scene.
22. Contemporary Outdoor Kitchen-Lounge with Concrete Pavers
There are many patio-turn-lounge ideas here, especially for homes with long conversations routines.
Apply the ideas presented in the picture if you also have such a tradition. The most important note is concrete pavers are necessary, specifically for the uncovered area.
23. Atrium with Extraordinary View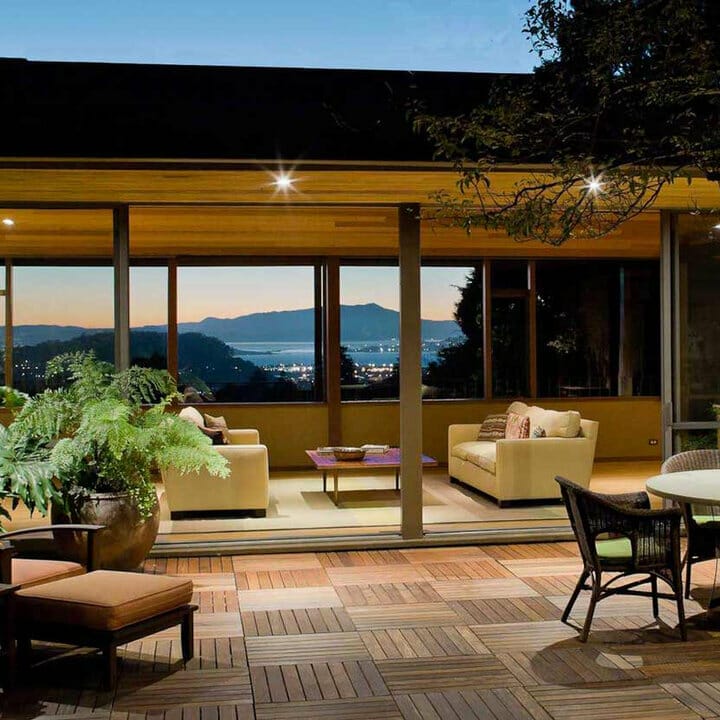 This portrait shows you an atrium with a dining table under a robust coastal oak.
A picturesque view comes as a blessing for the house owner, presenting the universe's masterpiece.
24. Backyard Cookhouse with Metal Roof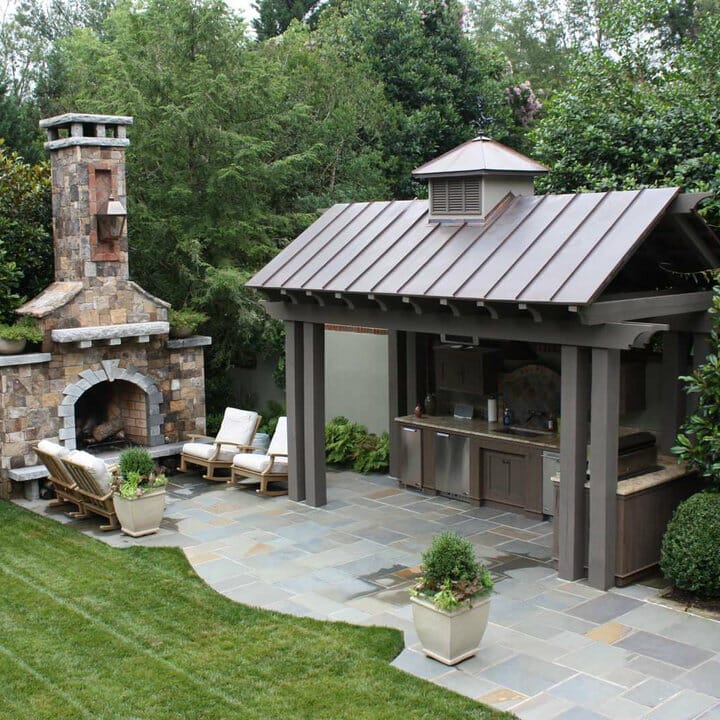 Cooking under the tree shades will stamp a fixed memory. Yet, it is vital to consider the materials for outdoor use, such as metal for the roof and bricks to build the fireplace wall.
But pay attention to the distance from the main building, other houses, and roads. Make it as not to disturb anyone.
25. Patio Extension with Pavers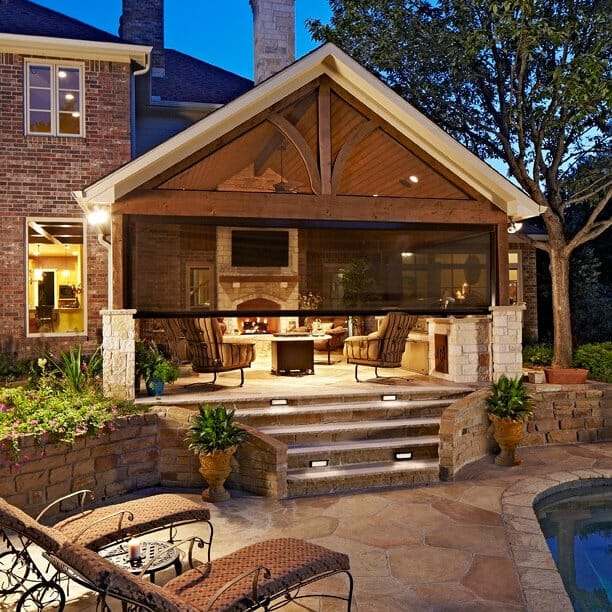 This picture exemplifies the patio idea with paving stones. Since it becomes the access to the swimming pool and vice versa, choosing stones as the material to finish the flooring is full of sense.
It has anti-slippery rough surfaces and fits the outdoor concept.
26. Granite Use for Outdoor Kitchen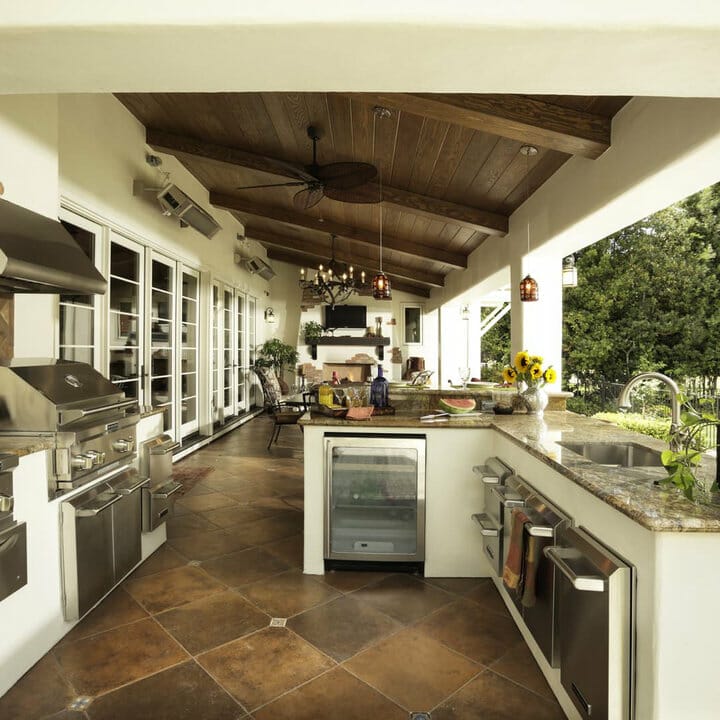 It is unimaginable how comfortable it is to cook in a super-advanced kitchen like this one, in an open space on top of that. An outdoor dining area usually only features a barbecue grill, but it is different.
Besides the roasting counter, several ovens, a refrigerator, and stoves are also present. That is why you need a strong material like granite to finish the top surface and protect the cooking units from harsh weather.
The choice fell on Barcelona granite to harmonize the flooring shades.
27. Outside Covered Lanai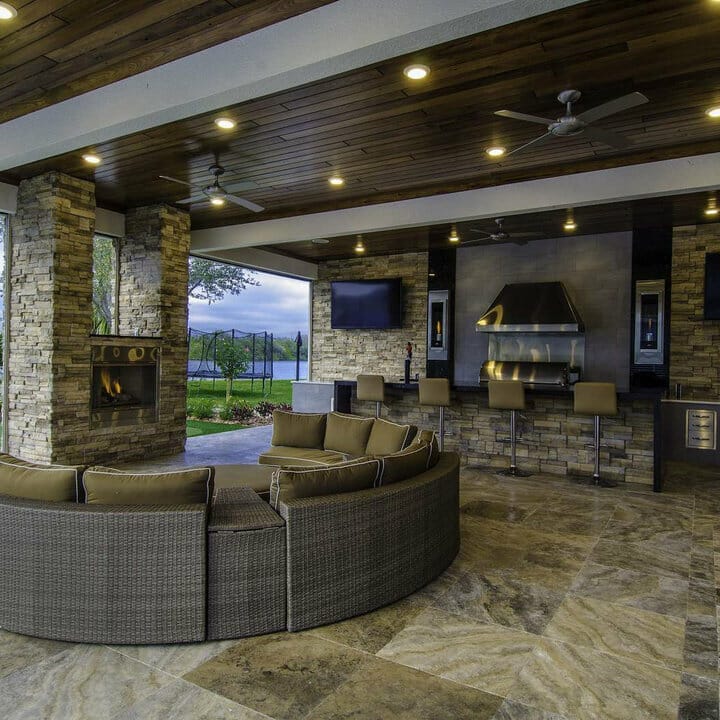 Electronic entertainment is not compulsory, but anyone would agree that it completes the outdoor space. The owner of this outside lanai might think the same.
That is why a couple of TVs are present. This picture does not capture the other television, but two units are there.
28. DIY Patio Extension Idea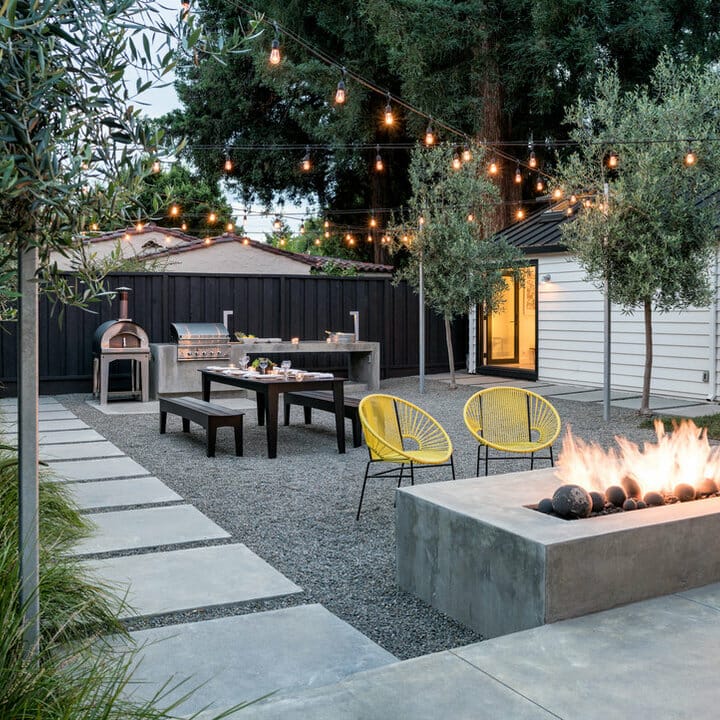 The DIY thing does not mean that you should build everything seen in this picture, but you could make a comfortable setting of the backyard patio by yourself.
There is no need to call any exterior designer or outdoor amenity layout professionals, and it is within your budget also.
Since the intention is to make extra dining space, you only need to set up an outdoor grill and dining table. Hang string lights to ignite some romance, plus set a pair of chairs near the fire pit to enjoy a warm conversation.
29. Mediterranean Patio for Tuscan Farmhouse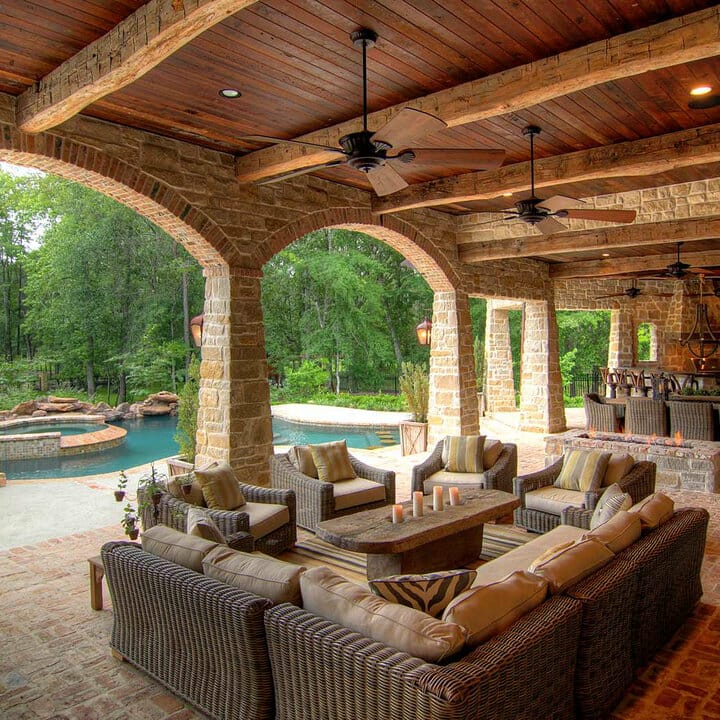 Try this idea if you want to own a patio as eclectic as the Mediterranean style. It involves Texas limestone to cover the exterior surface, tropical ceiling fans, arched access, plus Italian luxury and romance.
Well, what do you think about those patio extensions ideas above? You might find some inspirations by now and could not wait to apply them to your outdoor space. All you need is an adjustment! Plan those ideas to fit your measurement and budget and are worth the effort.