Are you celebrating a wedding anniversary with your spouse soon? Or are you seeking some inspiration for surprising your loved one?
Then, you better stay reading! Because you can uncover them all in these romantic room setup ideas. So, keep reading!
1. Layer the Bed like a Pro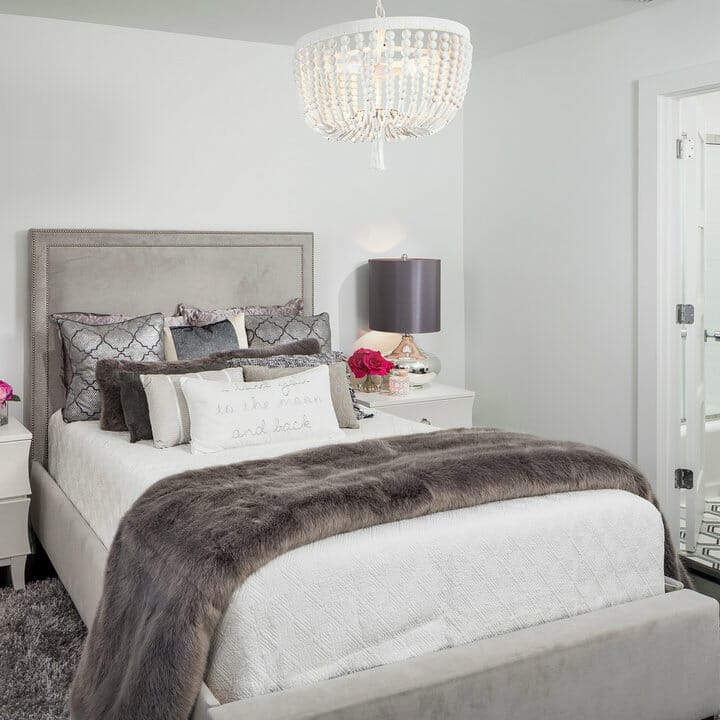 Have you ever wondered why the rooms in a hotel are so comfortable that they can create a romantic ambiance?
Well, it is all about layering the bed to add more comfort. Also, the best part of it is that you can apply it at home.
First, you can begin with a fitted sheet and then add a top sheet. Next, layer a duvet over them.
If you want to make your bed look fluffy, try adding another duvet cover at the bottom of the bed. You can opt for a design with a pattern or simply plain white for a simple yet romantic nuance.
Then, you can begin to toss euro shams behind the headboard. After that, layer in standard and decorative pillows thoughtfully.
The last but not least, drape a furry throw blanket like the one in the picture on the end of the bed.
2. All-White Bathroom with Sheer Curtain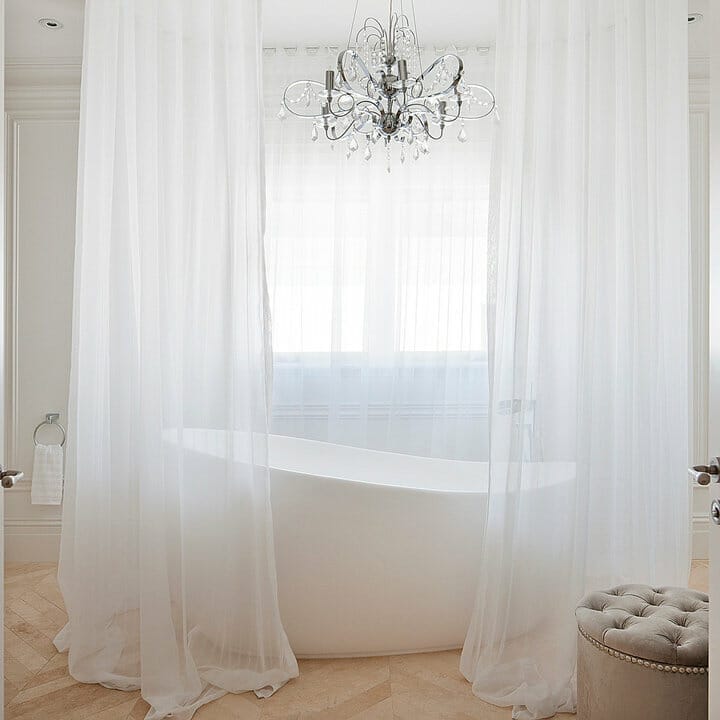 Every inch of this bathroom is romantic. The modern bathtub looks inviting and sexy with white sheer curtains surrounding it.
You would wish to soak your body in it and take a break from the hurly-burly for just a while.
Above the bathtub are crystal chandeliers that offer sufficient light while embellishing the space.
3. Set up some Space to Talk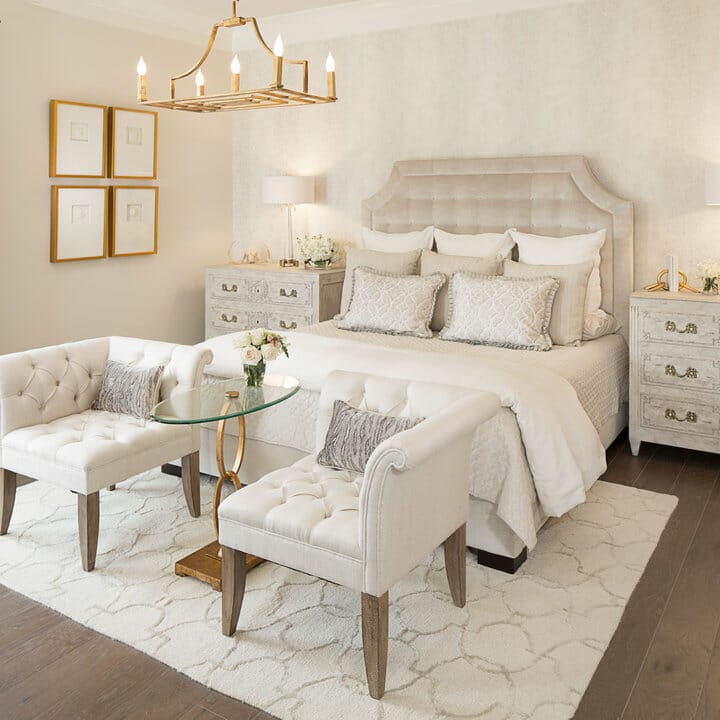 A romantic room setup is not always about layering the bed so that it offers a comfortable place to cuddle.
You can use a romantic moment to catch up in case you have been pretty busy lately and missed a lot of news. Show your spouse that you care about him/her wholeheartedly.
This bedroom features an off-white color scheme, which is easy for the eyes. It also has two identical chairs with a table in the middle, perfect for having an intimate talk.
The chairs also serve double duty. When you put the table aside and push the seats together, you get a comfortable loveseat.
4. Opt for Four Posters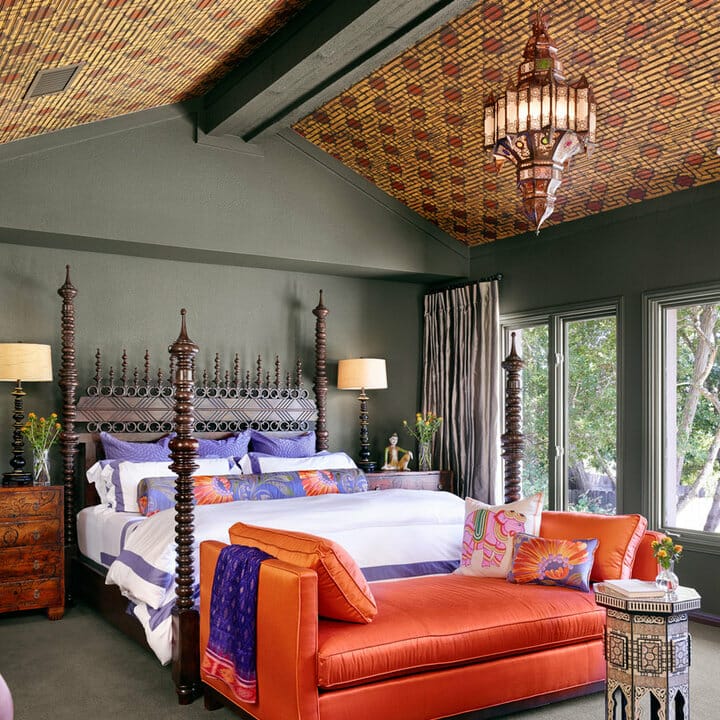 If you love a classic look, this romantic room setup should be on your list.
This romantic room setup features four posters, which will add a classic look instantly to the bedroom. Besides, the bed frame also offers sophisticated details, spreading a distinctive charm.
Add more comfort by shoving a bench against the bottom of the bed. If you are courageous enough, an orange seat will incorporate a pop of color into the bedroom.
5. Romantic Room Setup for Him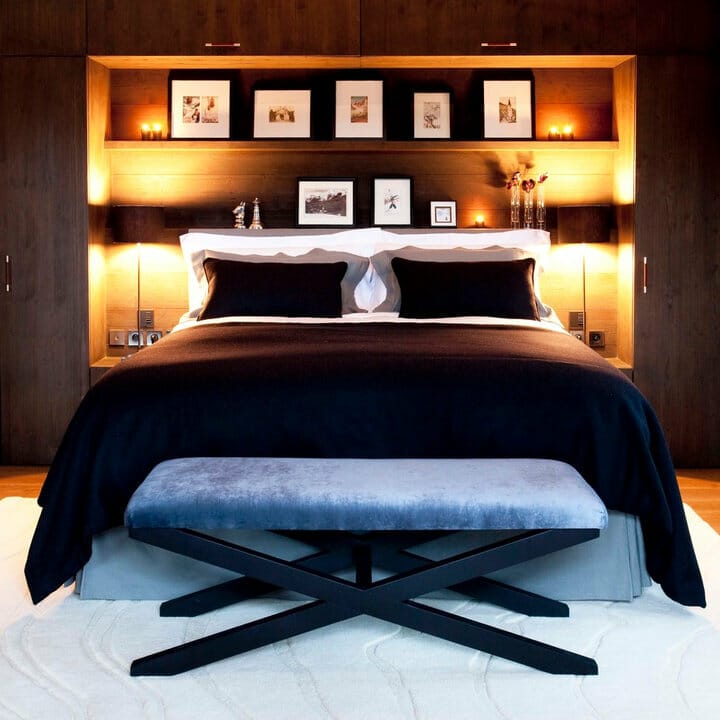 Some romantic room setup ideas entail a girly look, involving the use of red or pink hues, floral patterns, and an abundance of candles.
But you can create a romantic room for men too. You just need to make it look bold as well as elegant rather than cute and lovely.
Begin with using black or charcoal gray bedding because men usually prefer a dark color scheme. Besides, they are neutral hues that will add boldness in no time.
Then, make sure that the room is free from clutter by building minimalist storage, like shelves and cabinets that feature clean-lined edges.
6. Shabby Chic Romantic Room Setup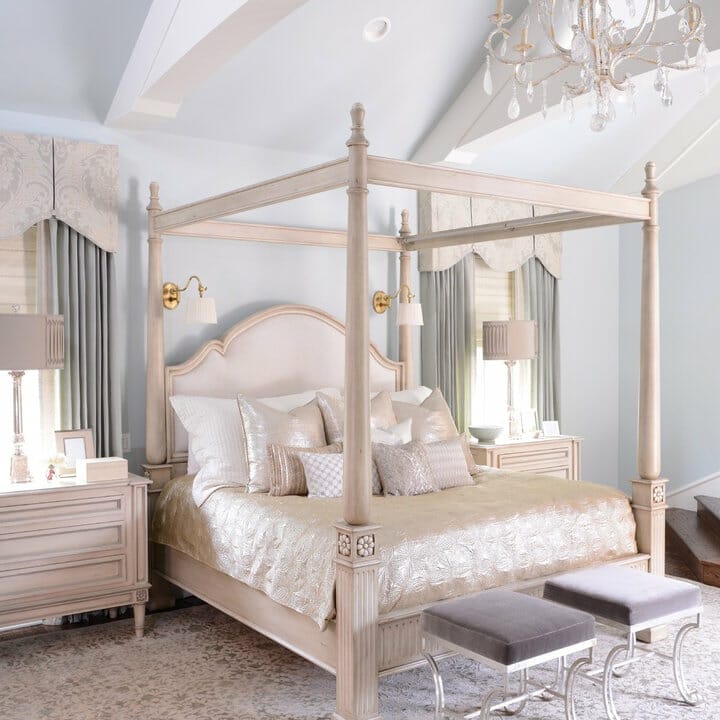 You will wholeheartedly endorse this romantic room setup idea. It comes in a pearl hue, which is easy to the eyes, soothing, and exquisite.
The four posters enhance the classic look immensely. Forgoing curtains is a terrific idea because you will want to show off the glamorous bedding and headboard.
7. Conceal the Bed Subtly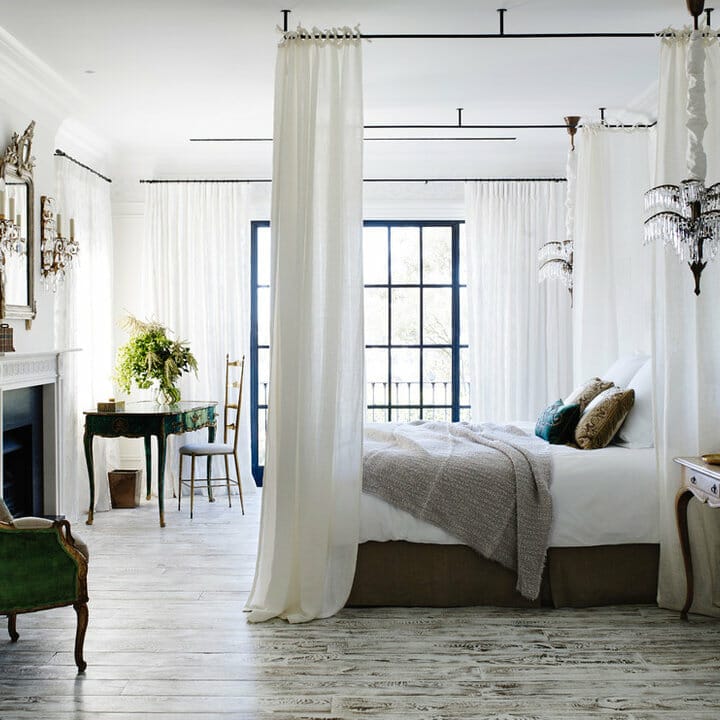 If you are seeking more privacy while adding a touch of romantic ambiance, you can simply hang curtains around your bed.
It would be better if they were sheer curtains because they are translucent. Satin materials will also work like a charm.
8. Simple Romantic Room Decoration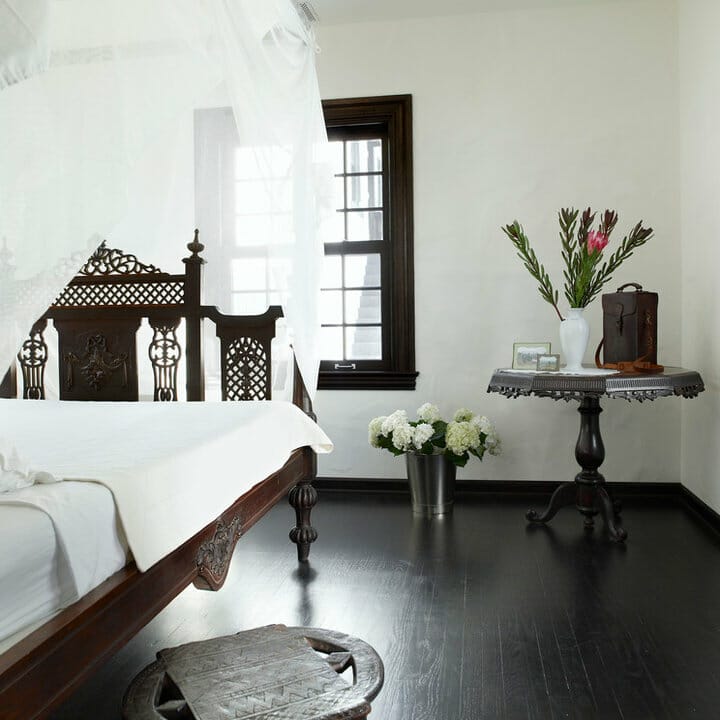 A romantic room setup does not have to be burdensome and costly. It can be as simple as investing in a bed frame with carving details and four posters. Then, you can add a sheer curtain to make it look dramatic.
Then, add a lively lift by decorating the room with plants. Roses will always work. However, if you want to have a subtle addition, white hydrangeas will be your safe bet.
9. Breakfast in Bed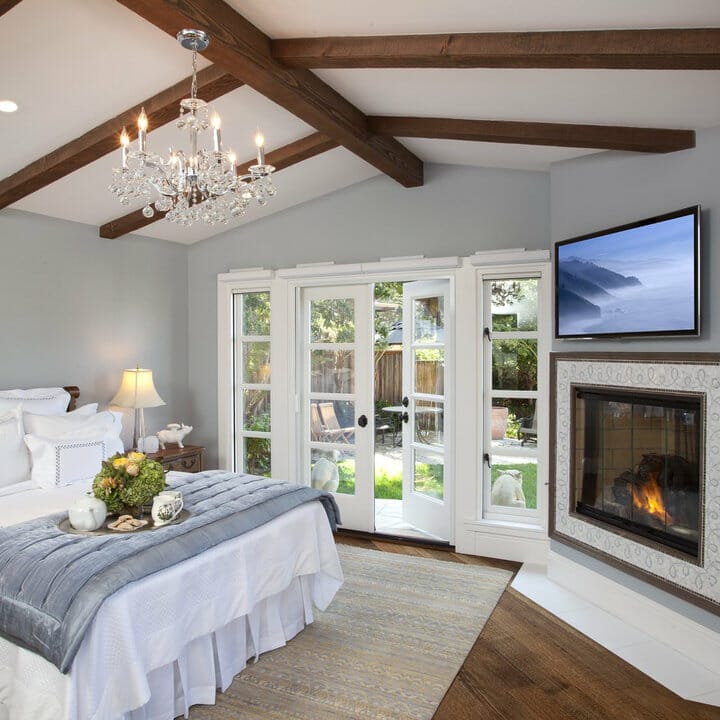 Make your spouse feel special by serving breakfast in bed.
The combination of fluffy bed, rustic look from the exposed beamed ceiling, and breakfast in bed are perfect to carve out a romantic room setup.
Then, accentuate the romantic and glamorous look by hanging these pretty chandeliers.
10. Match the Patterns and Colors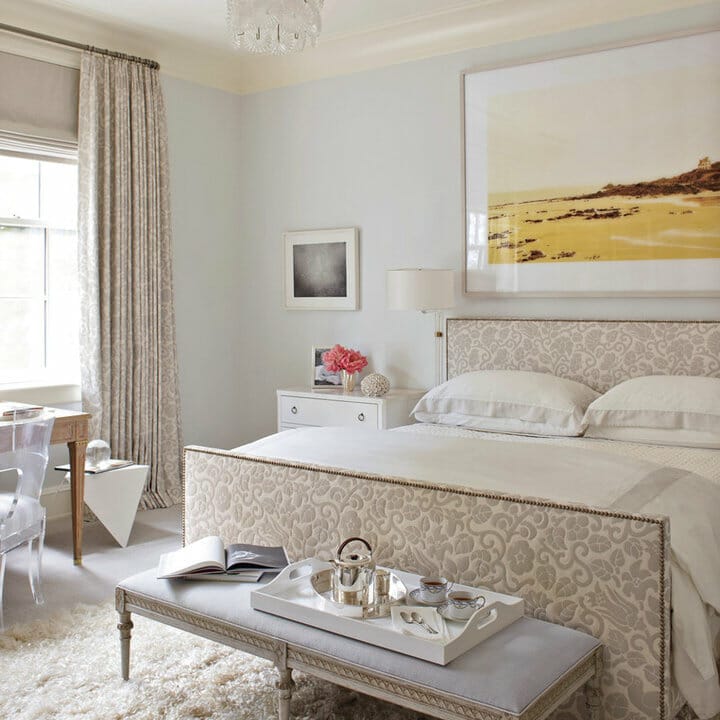 Matching is always a good thing. It can result in a harmonious look, which is common in a romantic room setup.
This bedroom, for example, looks great with pale beige in the headboard, footboard, and curtains.
Some whites also conquer the space, adding a serene and clean look. Under the bed is a long-pile rug that comforts your bare feet in the freezing morning.
11. Opt for Pastel Colors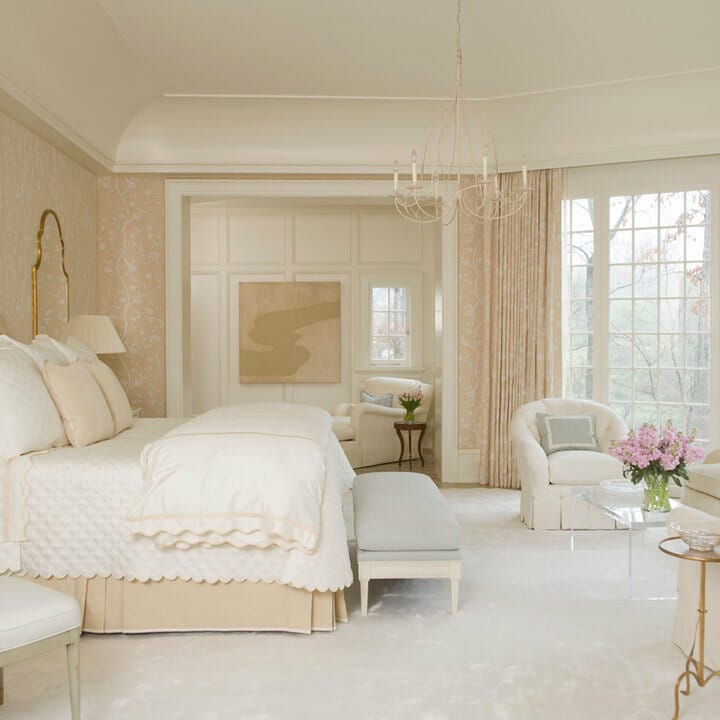 Pastel colors always provide a calming effect to the space, allowing you to experience a good night's sleep.
Then, install a wall-to-wall carpet that will make your feet feel more comfortable.
12. Play with Texture and Pattern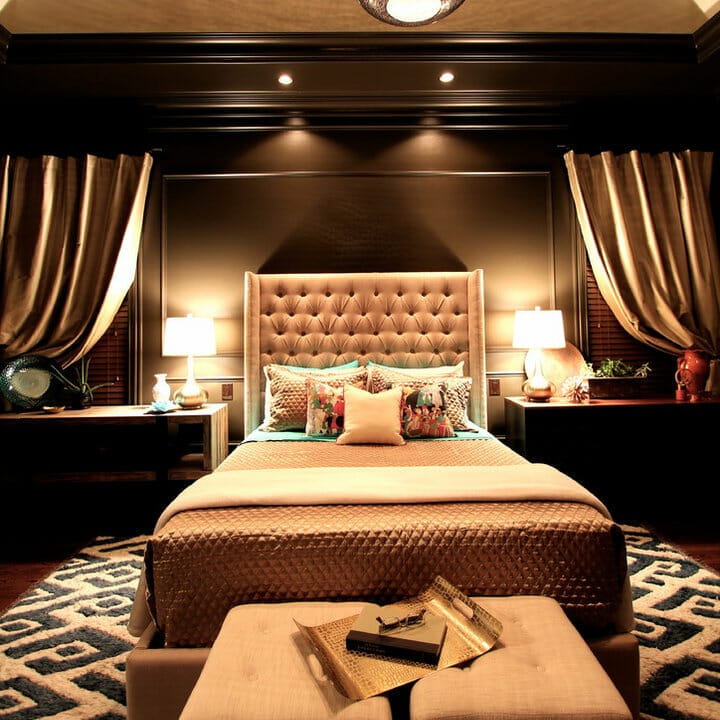 In addition to colors, textures and patterns play a crucial role in carving out a romantic ambiance.
The lighting of this bedroom makes everything looks gold, making the space seem elegant and glamorous. Then, add a bit of texture by layering the bed with a coverlet.
A tufted headboard also adds a textural element to the space. Accentuate it by hanging gold satin curtains flanking on both sides.
13. Soft and Fluffy Romantic Room Setup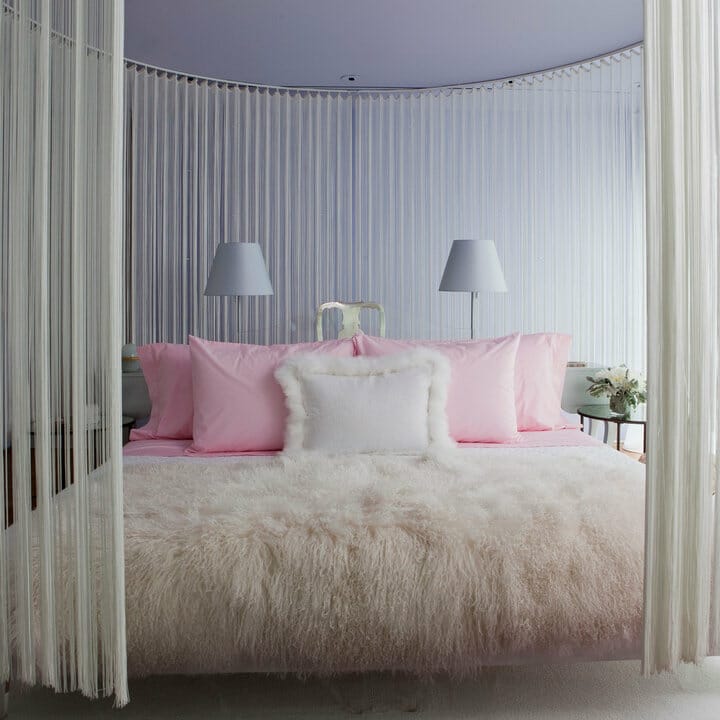 It would be comfortable if you crawled into this bed. Maybe, you will linger in it a little longer and not want to leave it so soon.
Who can resist the fluffy look and the softness of that faux-fur throw blanket? It will keep you warm during the chilling night.
A circular rod hangs above the bed. It houses a string curtain that accentuates the stunning and romantic look of the space.
14. Bring in the Outdoor Look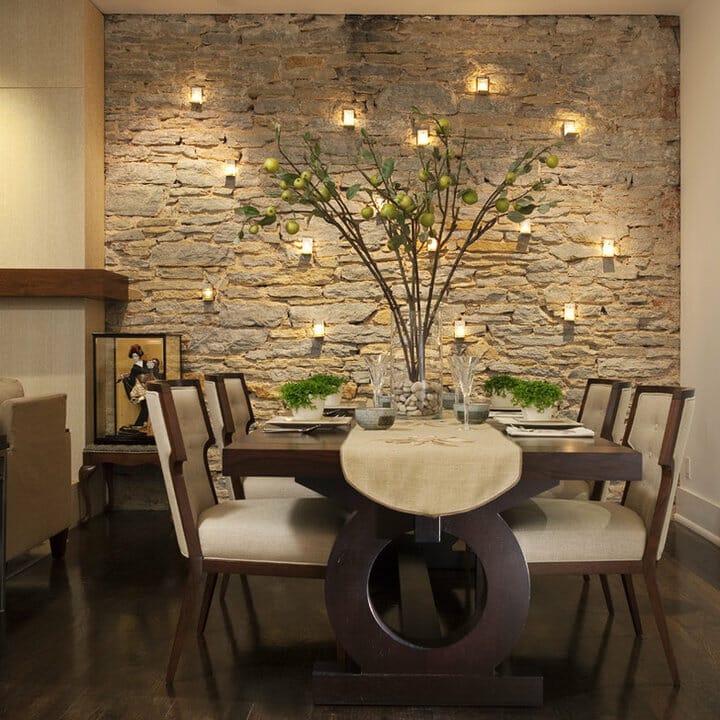 Having dinner outdoors while enjoying the backyard landscaping is eminently romantic. However, it can be catastrophic if it snows, rains, or darn chilling outside.
For those aforementioned reasons, you can try bringing the outdoor in. It is not like you pull out the tree and take it inside the house.
You can create a romantic dinner with faux-stone accent wall housing some flickering candles. Then, place a tree-like plant in the middle for the centerpiece.
15. Be Creative with the Accent Wall
Every bedroom needs an accent wall because it can create a certain ambiance that you are trying to carve out.
Instead of installing the headboard along the width of the bed, you can try expanding it so that it covers one-third part of the wall. Then, combine it with simple yet mesmerizing wallpaper.
16. Sleek and Purple Romantic Bedroom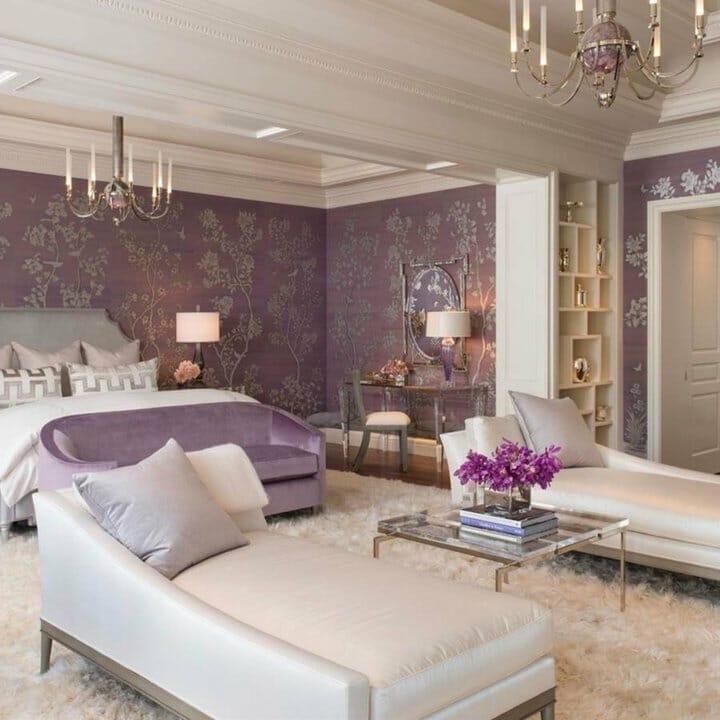 Lots of men and women say that violet is the color of royalty and wealth. No wonder the luxurious ambiance is all you can feel here.
It even becomes more glamorous with leather and velvet couches, stunning chandeliers, and oversized long-pile rug. Purple wallpaper with a floral pattern adds a touch of romantic ambiance to this room.
17. Romantic Decoration Ideas for Him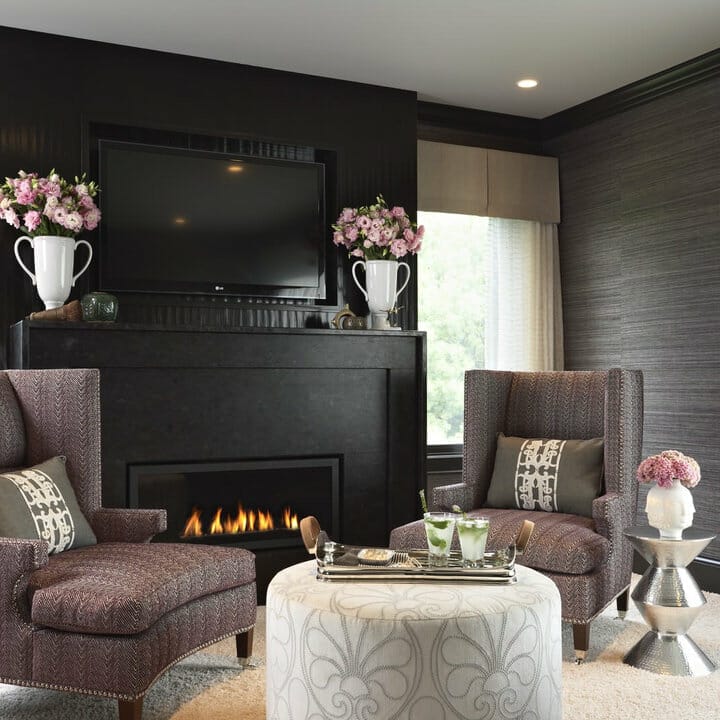 A black matte fireplace makes a great centerpiece in this living room. If you are not sure about introducing dark color to the entire space, you can still apply brighter hues through the seating and decorations.
To create a romantic room setup among the boldness of black, you can display roses and pink peony.
18. Dress up the Lighting
Lighting is a convenient way to add a dramatic effect to your romantic room setup.
Here, in this living room, dried flowers embellish the ceiling light and make a statement piece. It brings the vibes of autumn festive to the space.
19. Romantic Room Setup for Her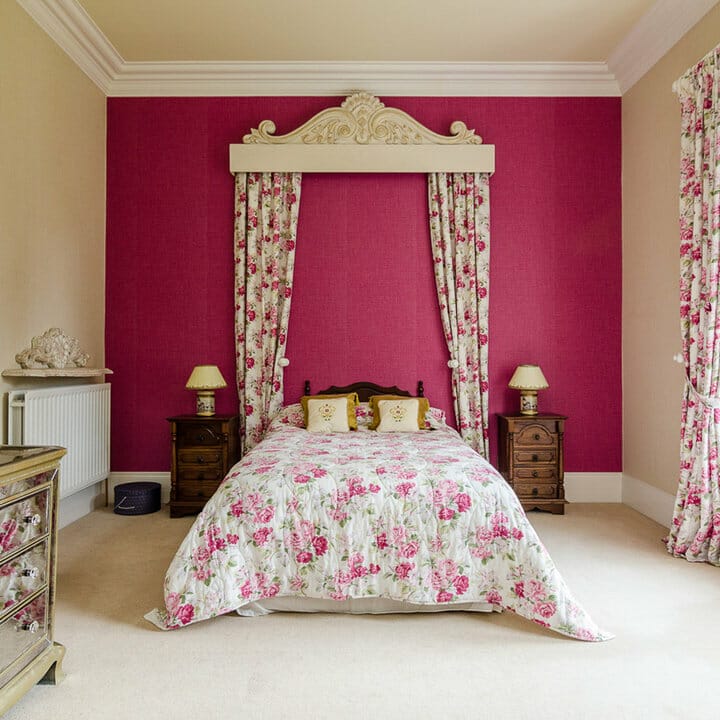 A romantic room setup is not only for couples. In fact, a teenage girl also deserves it.
Since it is a room for a teenage girl, you might want to make it less sexy. Playful decorations like a fuchsia accent wall and valance-like canopy with carving details are great additions.
Then, add some floral patterns to the bedding and curtains, and you are good to go.
20. Create a Romantic Nook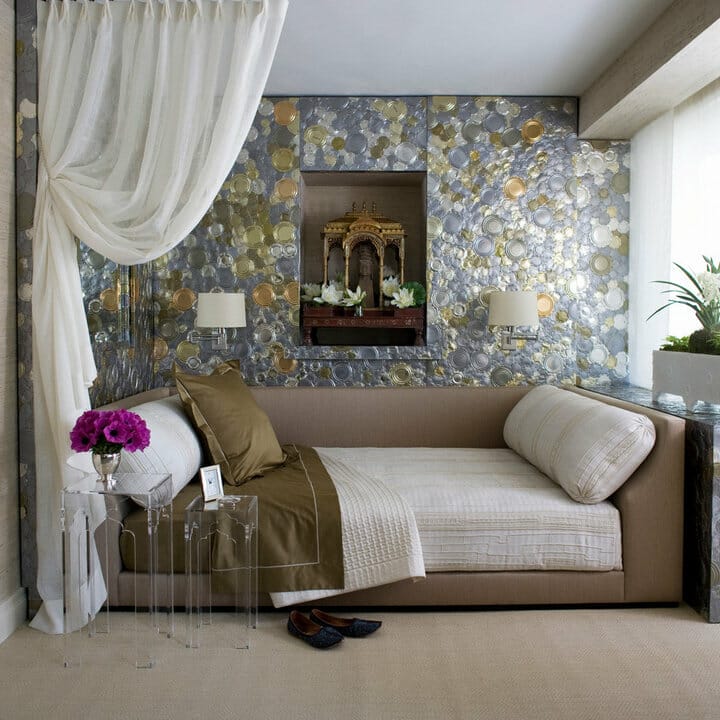 You do not need a spacious room to ensure your ultimate comfort. A romantic nook, like the one in the picture, will do in a pinch.
First, you ought to spend some period thinking about an intriguing accent wall. The one that can offer textural elements, as well as interesting patterns, will work like a charm.
Then, shove a daybed against the wall. After that, hang a sheer curtain to create a visual appeal while giving you some privacy when taking a nap.
21. Add a bit of Nature Charm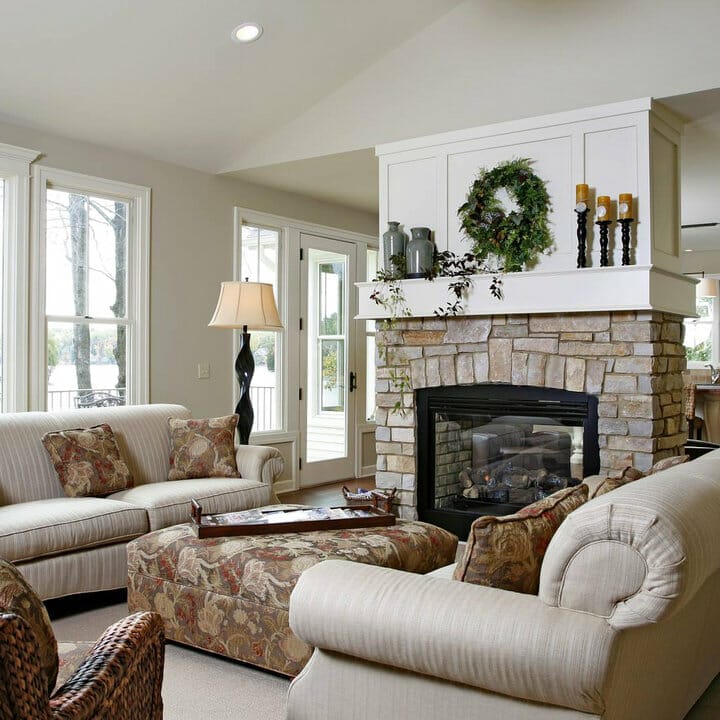 Incorporating the charm of nature into the space is worth the try because it never fails to amaze anyone who sees it.
It is not always about displaying as many plants as possible. Stone accent, like the one in the fireplace, will do.
22. Romantic Room Decoration with Candles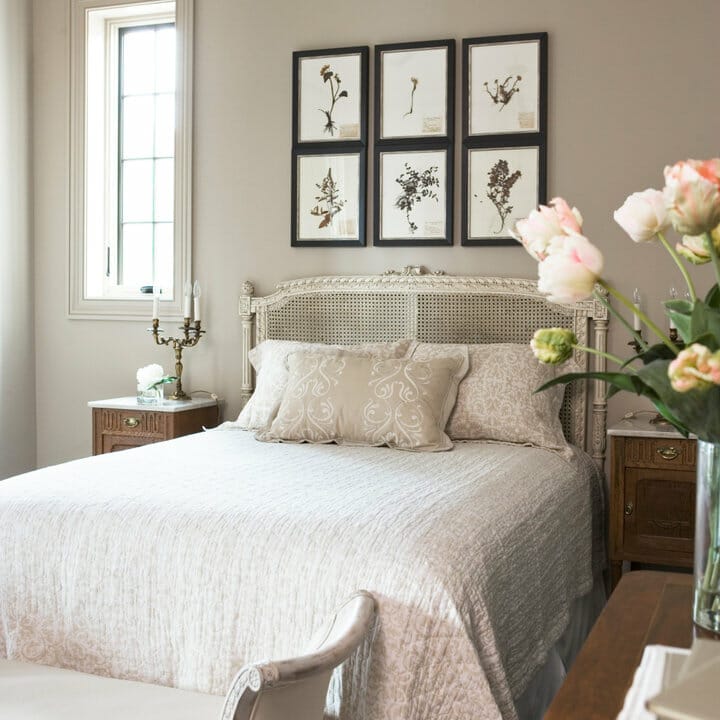 Candles may be small and look trivial. However, they are always your go-to accessories when it comes to constructing a romantic setting.
If you are worried about the risk of burning the entire house, you can try purchasing electric flameless LED candle lights.
23. Magenta Romantic Room Setup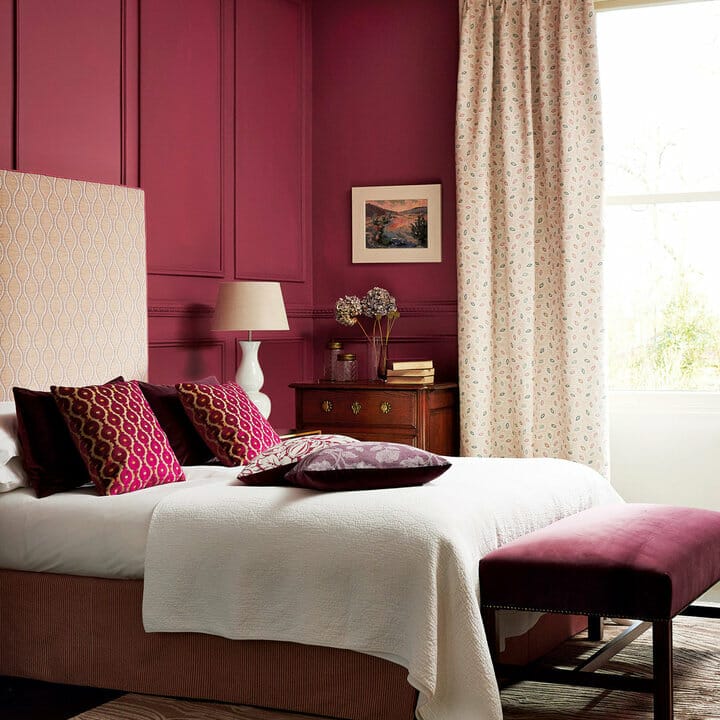 If you want to make your romantic bedroom look more elegant and cute at the same time, try opting for magenta.
Magenta is one of the shades of pink. Thus, it takes after a bit of cuteness and a passionate feel.
24. Small Romantic Room Setup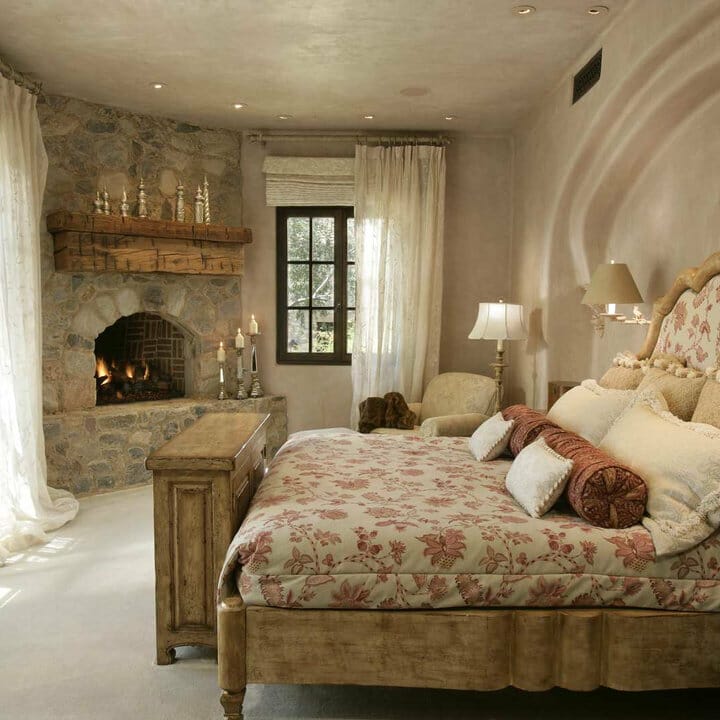 A small bedroom can look and feel romantic if you decorate it properly.
The pearl-like walls and ceiling make you think that you are sleeping inside a clam. In the corner is a stone fireplace that adds a bit of natural charm to the space.
You can also add a bit of rustic style with a distressed bed frame and footboard.
25. Incorporate Floral Patterns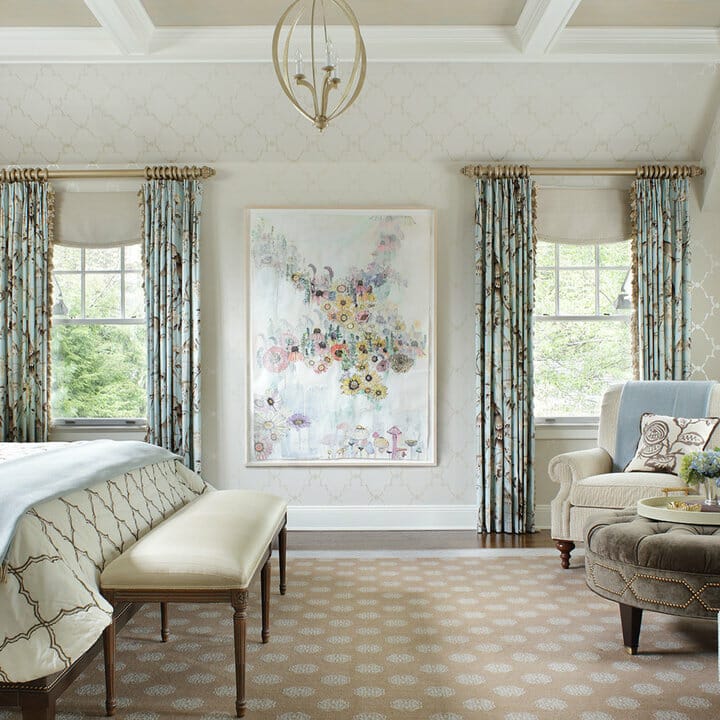 Floral patterns can always refresh any room in your house. It is an excellent alternative for those who do not have a green thumb but want to add a lively lift to the space.
This bedroom has a large blank wall situated between the windows. To make it look more appealing, you can hang a large picture of flowers that match the curtains nicely.
26. Romantic Room Setup for an Elegant and Minimalist Look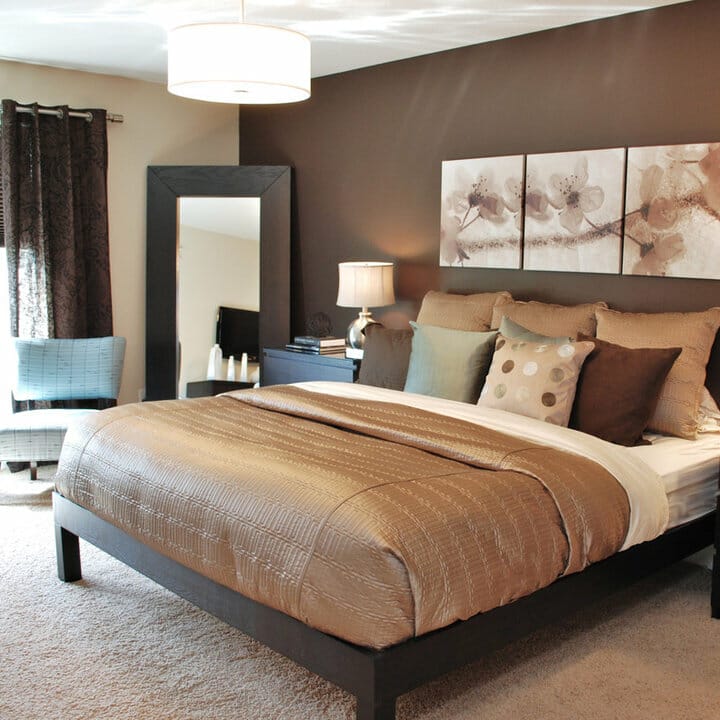 Creating a romantic mood is not always about filling the room with as many decorations as possible. If you prefer a minimalist look, by all means.
Earthy tones carve out elegance and a romantic mood in this bedroom. Since you want it to be simple, hanging floral artwork with the same color hue is your greatest bet.
27. Do not Skip the Lighting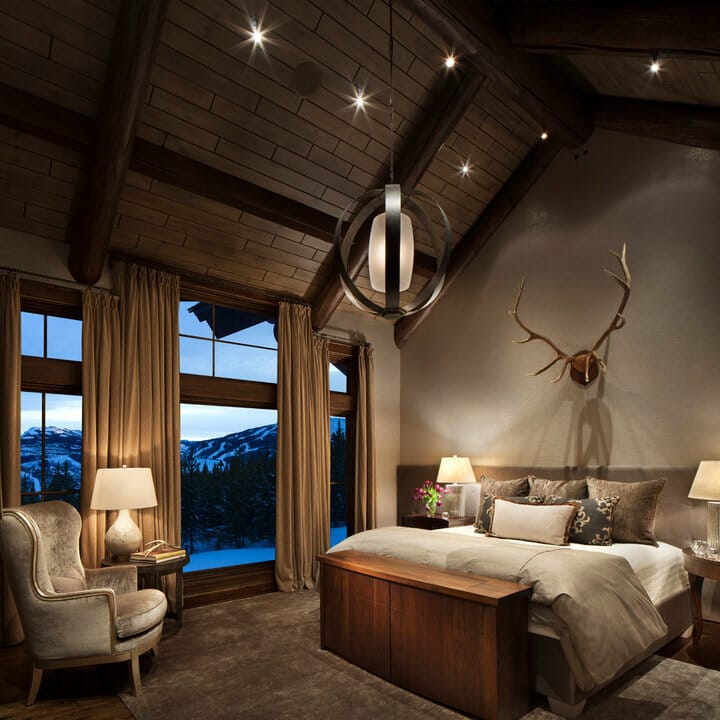 If you want to create a romantic mood, you should not overlook the magic of lighting.
Make sure the lights are soothing rather than glaring. Thus, installing ambient lighting is your top-notch choice.
Therefore, installing a striking pendant lamp is a good call. It not only provides more light but also embellishes the space well.
28. Stay Balanced and Organized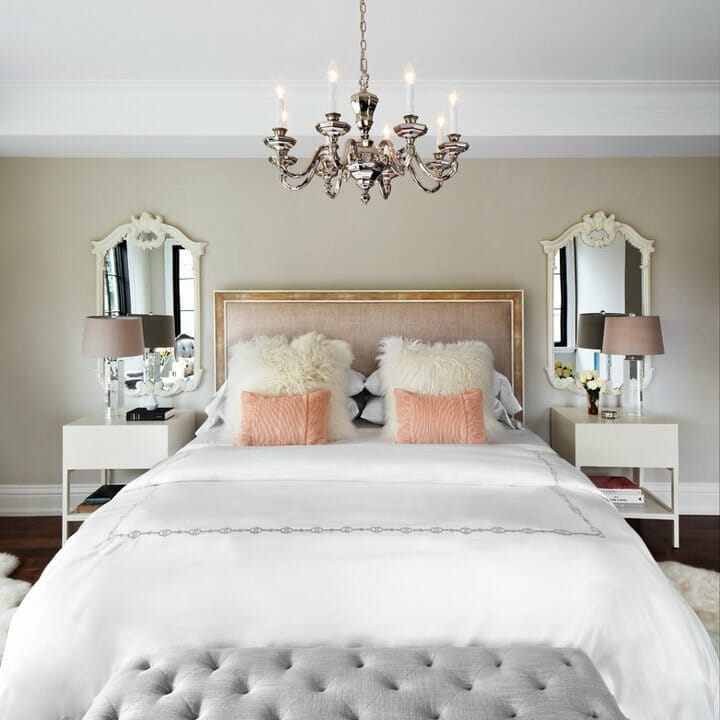 Keeping things balanced is never outdated. In fact, it can create harmony in your romantic bedroom.
You can begin with placing the bed in the middle. Then, flank it with identical mirrors and nightstands.
29. Mirror, Mirror on the Wall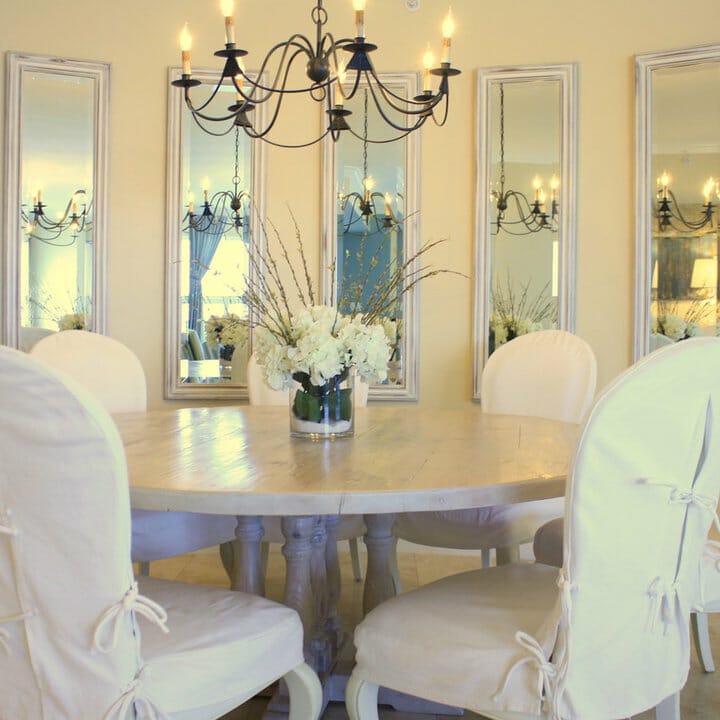 The brilliant method to embarking a tiny space is by incorporating a large mirror into it.
You can also go for several small mirrors hanging on the wall. They can reflect light and make the room look visually bigger.
30. Satin is the Best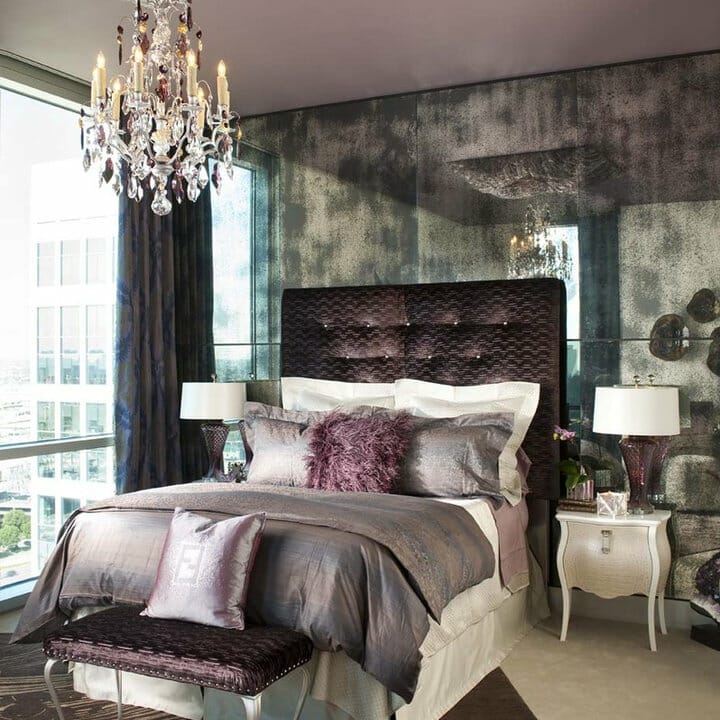 When it comes to creating a sexy and romantic effect in a bedroom, satin is always your safe bet. Combine it with purple hues and crystal chandeliers, and then you will get a super stylish room.
Whether you want to impress your spouse or makeover the interior because you are just bored, a romantic room setup will always be your option. So, which one is your favorite?