Backyard ideas with stones are widely known suitable for modern homes because they tend to be simple and minimalist.
Moreover, they could transform your home into a pleasing and relaxing holiday resort. That is why you better check these 30 backyard ideas with stones.
1. How to Tackle Sloping Area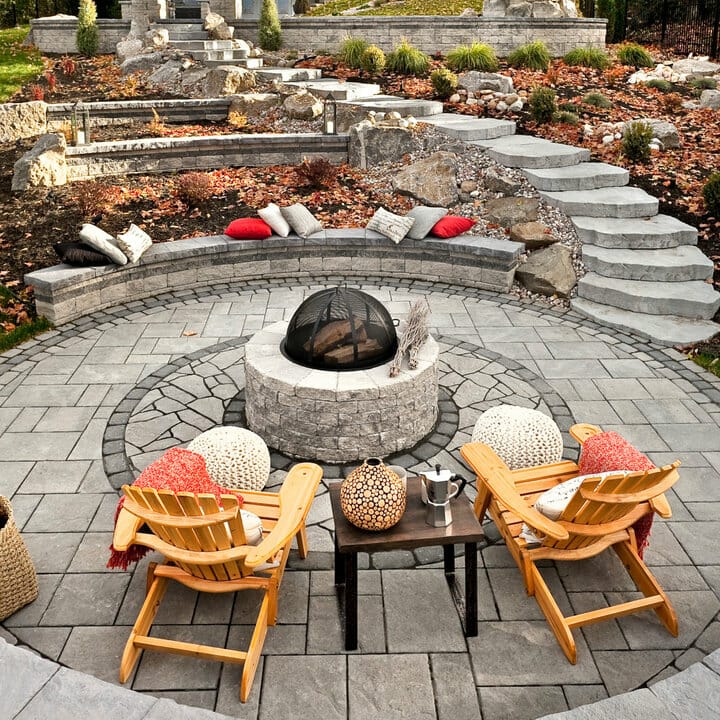 Landscaping with stones is an effective way to tame any sloping area in your backyard. You just need to install some stone steps linking the more elevated with descending levels.
This backyard, for example, features several stone steps that help you reach the patio more easily.
Instead of decorative grass or turf, you can also add boulders and gravels to fill in the space because they do not require regular maintenance.
2. Contemporary Backyard Ideas with Stones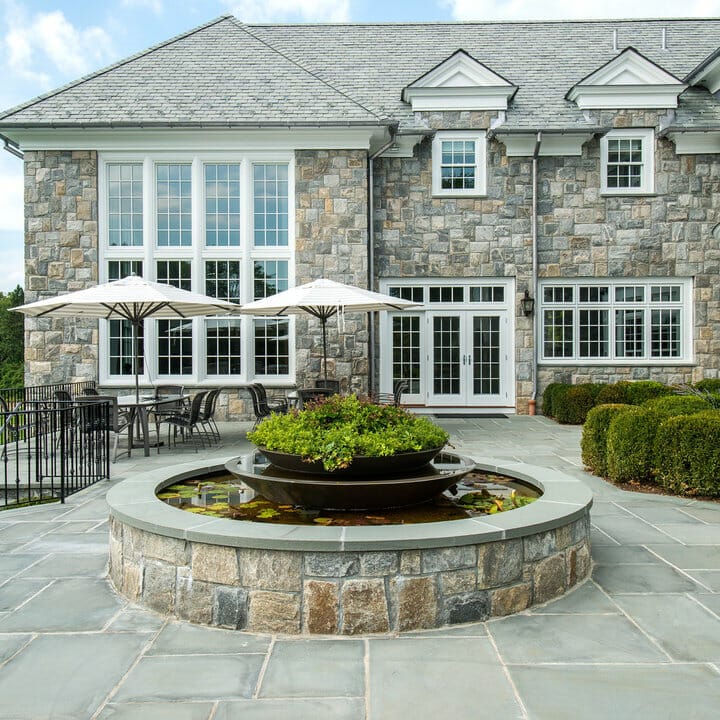 If you are into the luxury of a contemporary style, you should take these backyard ideas with stones into account.
Bluestone is one of the most well-known items used for pool decking and landscaping. It features bluish-gray color, which is perfect to carve out a contemporary look, just like this backyard.
This house features a spacious hardscape that functions as an outdoor living area. You can also find a water feature situated at the center, making it an excellent focal point.
3. Modern Meets Rustic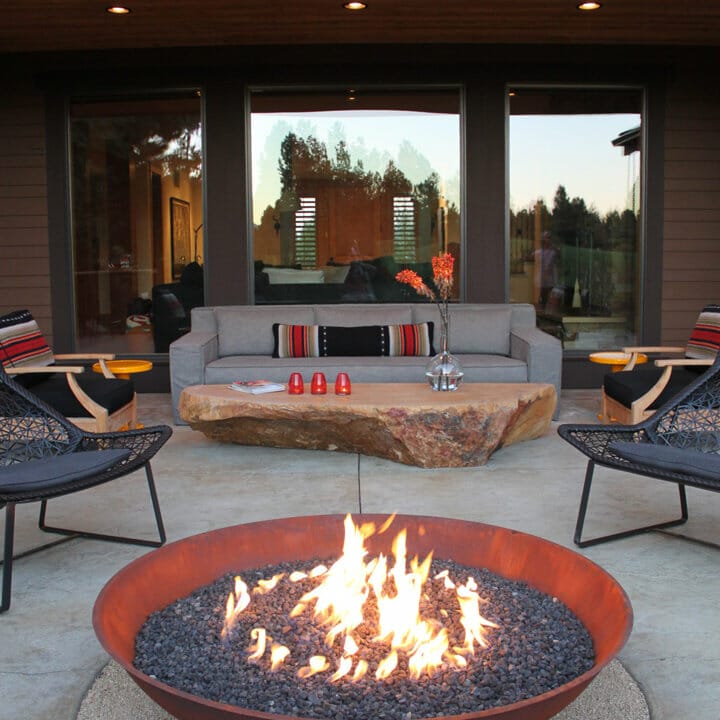 This backyard is stunning despite the absence of plants. You can only see a concrete patio that creates a sleek look while keeping the maintenance to a minimum.
Despite the minimalist furniture that embodies the modern style well, you can also find a distinctive coffee table that lends rustic charm to the space instantly.
Surprisingly, the rustic coffee table does not ruin the modern style. It enriches the look, instead.
4. Harmony in a Small Cottage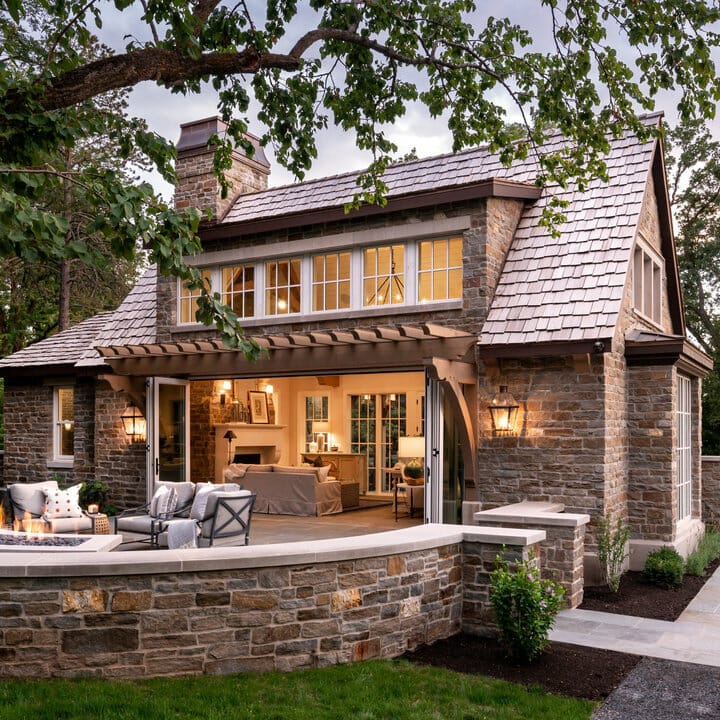 Do not let small spaces become an obstacle to improving your backyard landscaping. In fact, you can turn this downside into a mesmerizing look that will make your neighbors envy you.
This small cottage looks striking despite the limited space. It looks united with stone walls running from the main house to the patio.
5. Backyard Ideas with Stones and a Hot Tub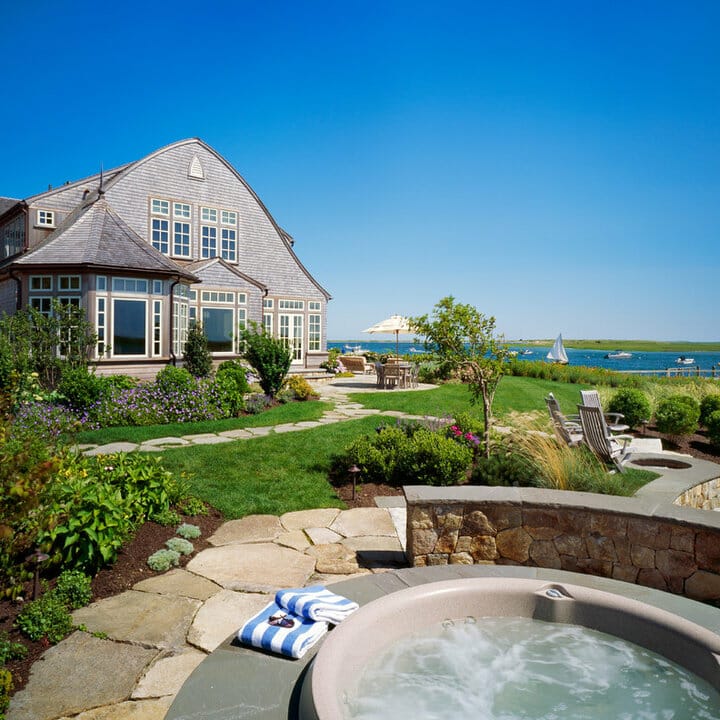 Having a large garden with multiple areas is a dream of many homeowners. They tend to create more living areas for different purposes.
If you have a spacious garden, congratulations! You can apply these backyard ideas with stones.
This backyard features some seating areas that you can use to host different guests. It also has a hot tub, so you can bathe outdoors while enjoying the spectacular scenery.
6. Stones for Backyard Patio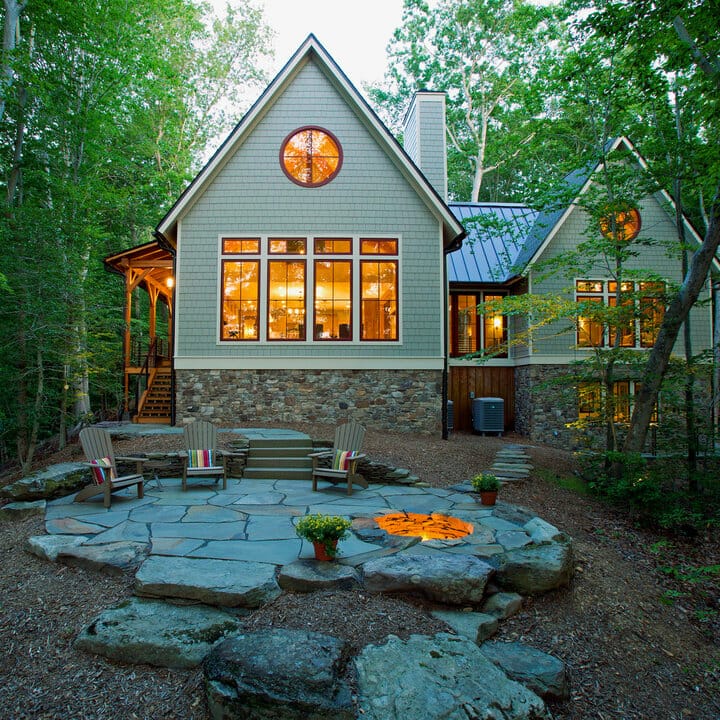 You can use a wide array of materials to make a patio. Still, stones are your greatest bet if you look for beauty and durability.
These backyard ideas with stones, for example, are worth the try. The patio looks stunning with an uneven edge that lends a natural beauty.
It is also durable because flagstone is the primary material used to build this patio. When you add some chairs, it will be the most suitable spot to chill out.
7. The Path to Paradise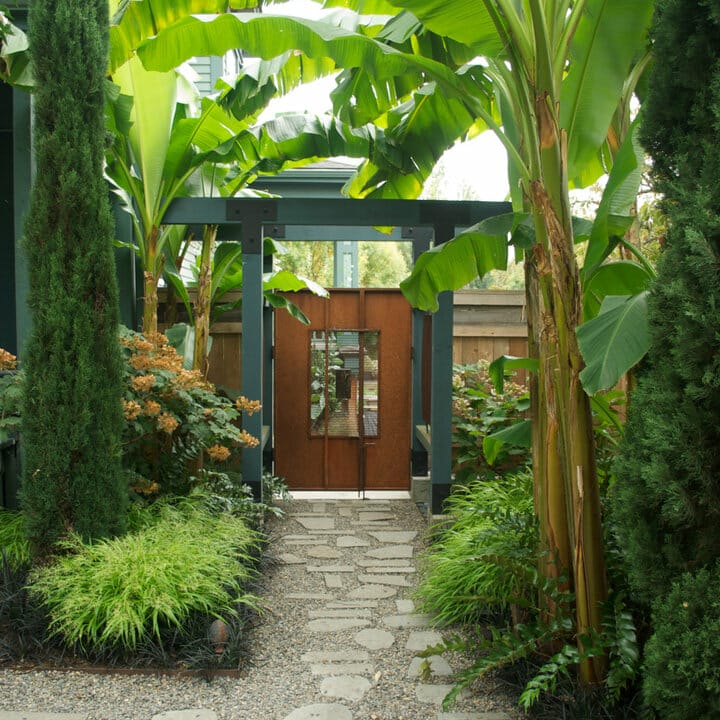 This backyard idea with stones offers exotic tropical vibes, thanks to the banana trees, spikemoss fern, and several ornamental kind of grass.
Once you have created your tropical garden, it is time for you to create a pathway. Although pavers can be an option, slate stones and gravel would be your go-to materials.
This backyard, for example, features many slate stones that escort you to the gate. Then, you can use gravel to fill in the remaining space.
Not only will gravel accentuate the exotic look but it will also create exceptional drainage when pouring rain hits your backyard relentlessly.
8. Large Stone Landscaping Ideas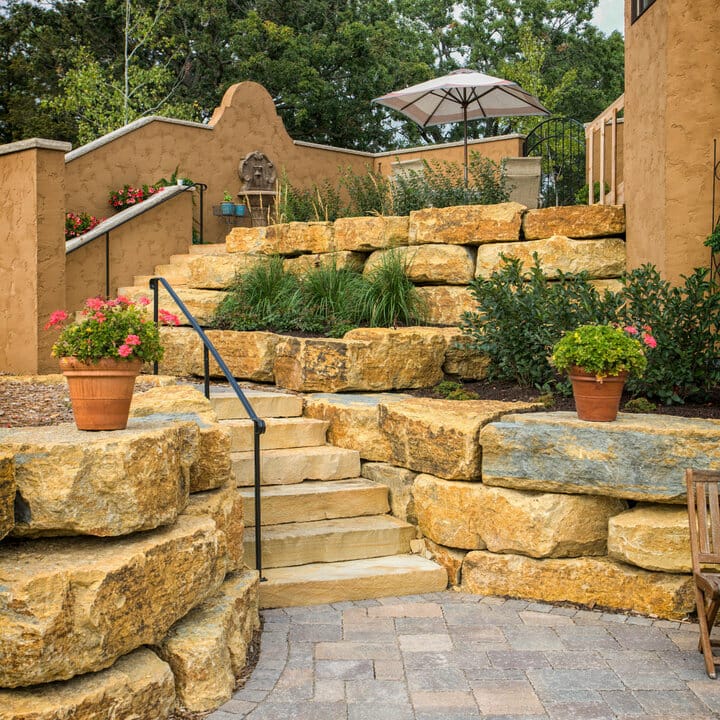 Growing plants in raised beds is always a good idea, especially if the space is limited. Nevertheless, it does not mean you have to give up hope of carving out some style.
This backyard idea with stones has proven that it can be fabulous despite the small space.
You can stack some sandstone to create sturdy raised beds. The uneven surfaces will lend a bit of genuine allure to your garden.
9. Backyard Ideas with Stones and a Breathtaking View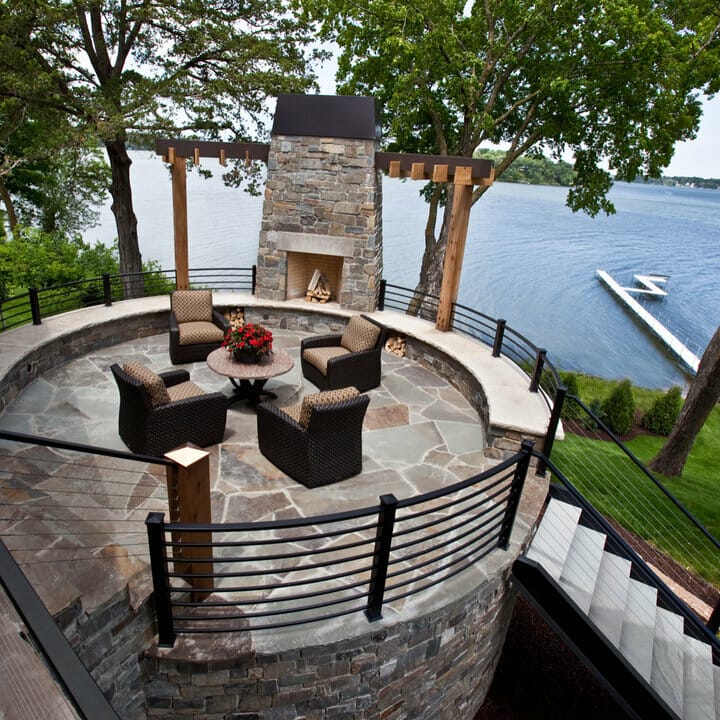 This patio overlooks the lake and the mesmerizing scenery around it. Therefore, creating an outdoor living area would be awesome.
You will want to add a contemporary style without discounting the natural look. Therefore, laying uneven bluestone would be a terrific idea. Do not forget to install railing for peace of mind.
10. In-Ground Fire Pit Seating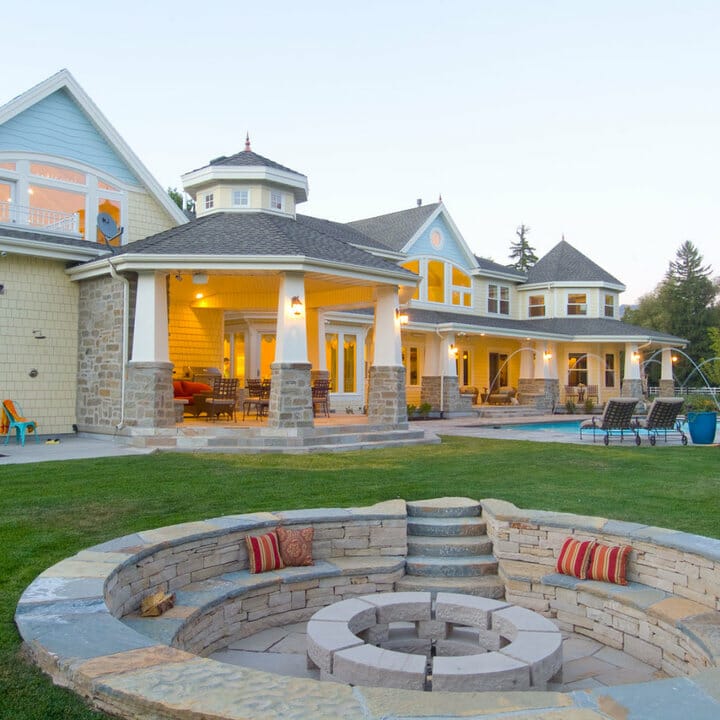 Backyard ideas with stones are not always about covering your entire garden with rocks. In fact, less can be more, just like this in-ground fire pit.
This fire pit makes a perfect addition to the lush, green lawn. Just toss some cushions and throws, and you are ready to enjoy the beautiful night.
11. Tame Different Levels with Rustic Steps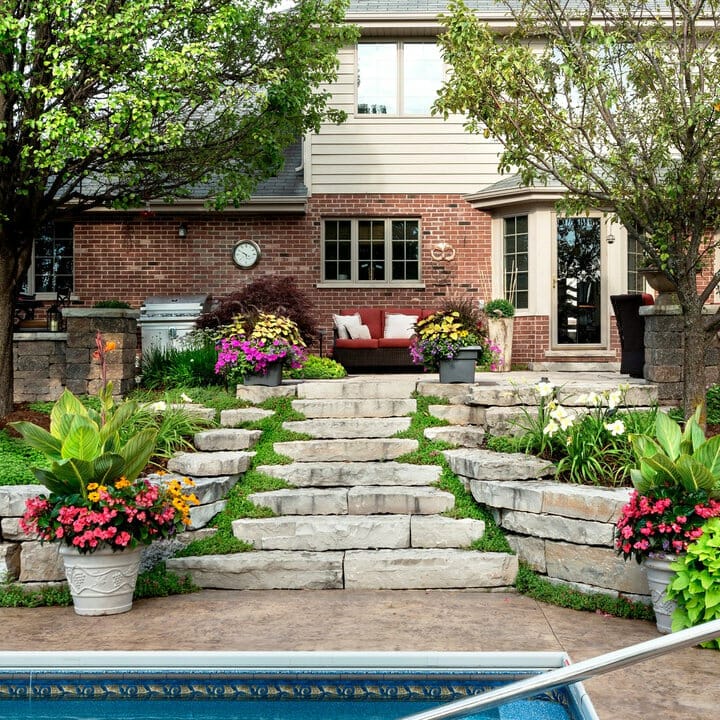 Many people see a sloping yard as an irritating thing. You can remain positive by considering it as a fun challenge.
Try to tackle a sloping backyard with irregular stone steps. That way, you will not only overcome your problem but also improve the landscaping.
12. Fill in the Space with Rocks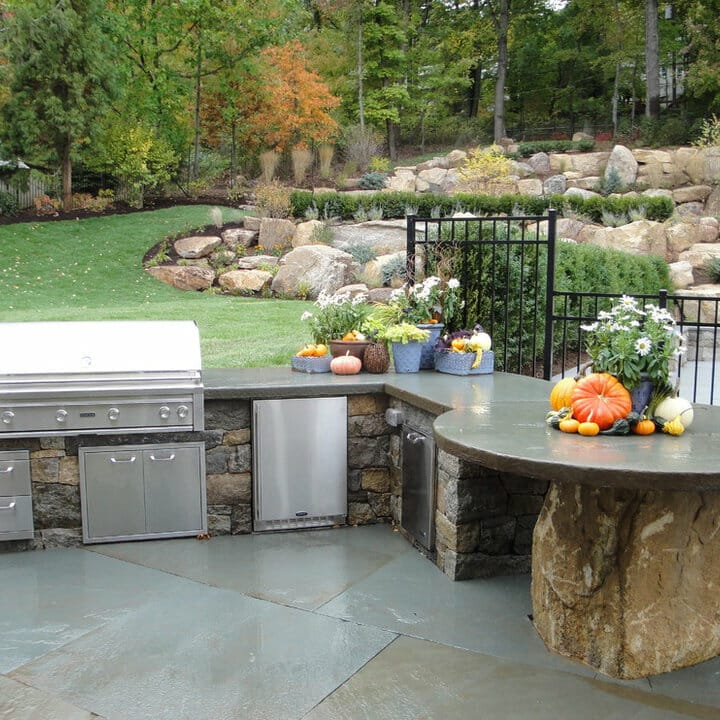 A huge backyard offers you unrelenting ideas. You can even cover the entire garden with a lush, green, carpeting lawn. However, it can be arduous.
Instead of turf that requires mowing and watering regularly, you had better fill in some space with boulders, just like this backyard idea with stones.
The boulders will give an instant natural charm to your backyard. Most importantly, they do not need any regular maintenances.
13. Luxurious and Rustic Fireplace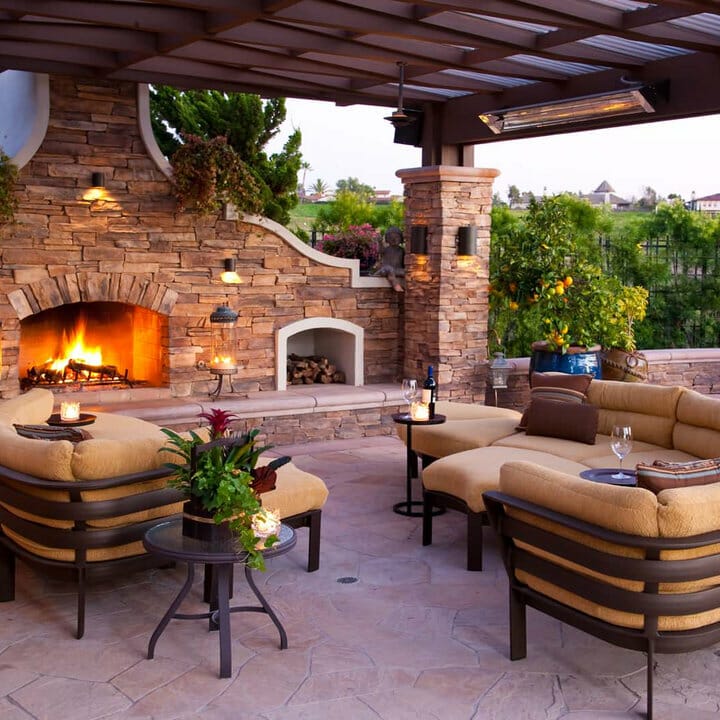 Spending some time with family on a patio is always fantastic. Incorporating a fireplace covered with sandstone into the space will add a rustic ambiance in no time.
To round out the look, invest in a couch and armchairs that match the sandstone well. You can also consider installing polycarbonate panels for the patio cover.
14. Bring the Beach to Your Home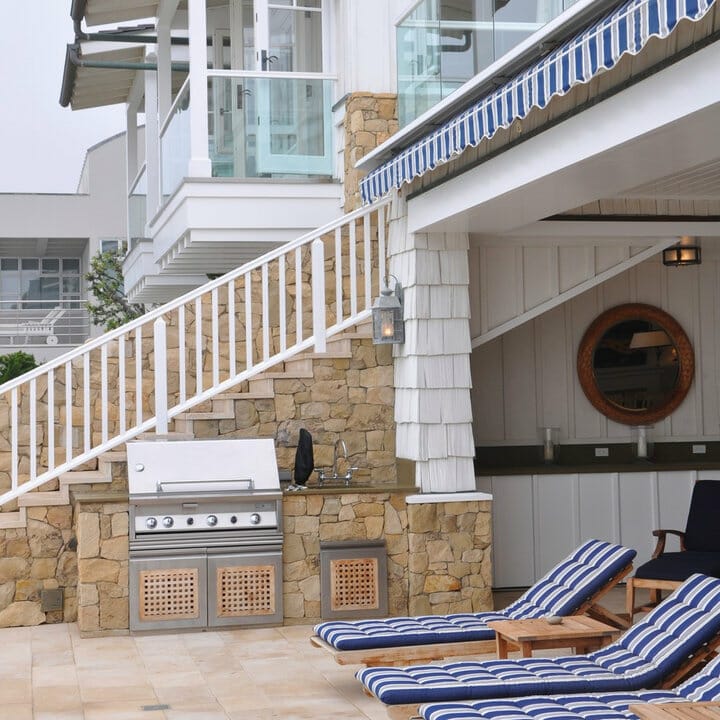 This backyard idea with stones will remind you of the beach.
The beige hues of the sandstone represent the soft and warm beach sand. You just need to place some outdoor chaise lounge chairs coming in white and blue stripes, and you are ready to relax.
15. Stay Calm with Mini Pond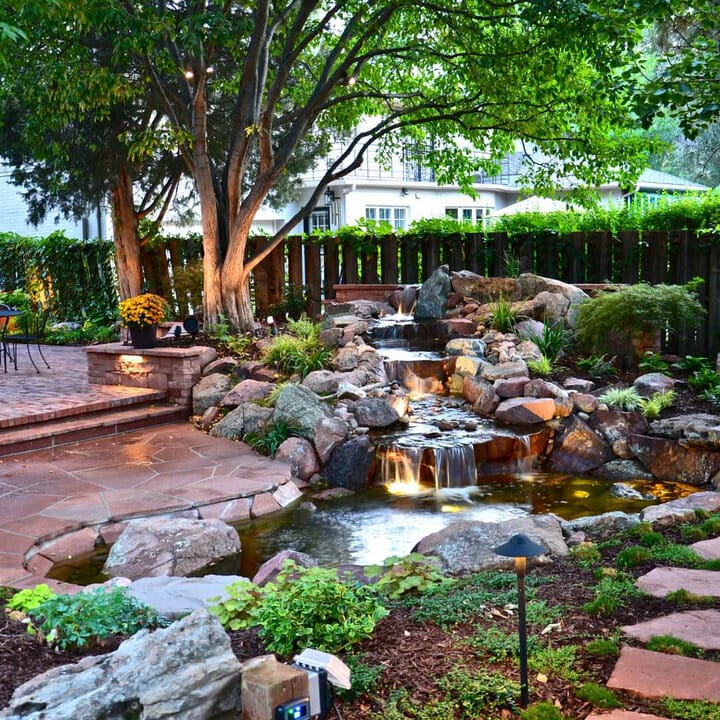 Nothing can beat the soothing effect of a pint-sized pond in a backyard. Do you know what makes it look better? It is some koi swimming here and there, creating Asian appeal.
Whatever type of fish you will keep in it, surrounding the pond with stones is necessary to bring nature to your backyard.
Consider large, chunky rocks to accentuate the pond if you plan to copy this backyard idea with stones.
16. Low-Maintenance Backyard Ideas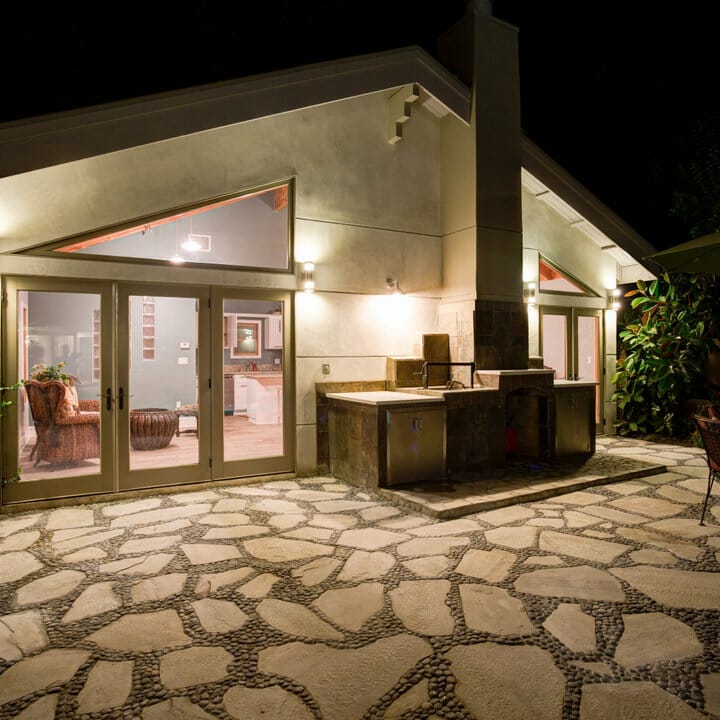 Do you love the beautiful landscaping, but you loathe the maintenance that may take up your valuable time? If that is the case, you better opt for this backyard idea with stones.
Plants are pretty, but they need watering, feeding, and pruning. If you are reluctant to do it, just lay rocks and gravel on the soil to cover your entire backyard.
17. Backyard Ideas with Stones and Beautiful Flowers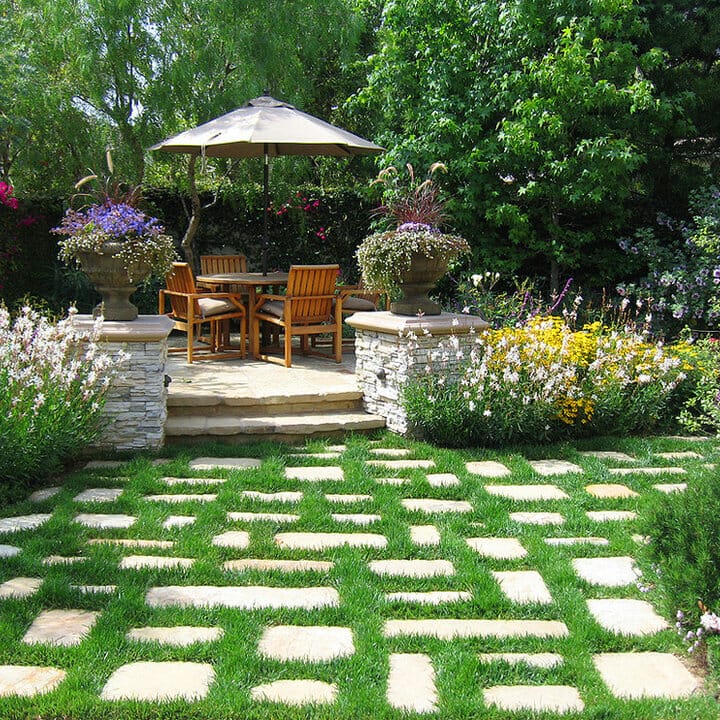 If you have a green thumb and enjoy spending some time in the garden, this backyard idea with stones is for you.
Instead of covering the entire ground with turf, you can try creating some patches by laying rocks on them. This way, you can enrich the look of your garden.
You can also try to make a patio so that you can enjoy your afternoon tea while looking at your beautiful flowers.
It would be nice if you flanked the patio with two stone posts topped with planters that create balance.
18. Patio Ideas with Fireplace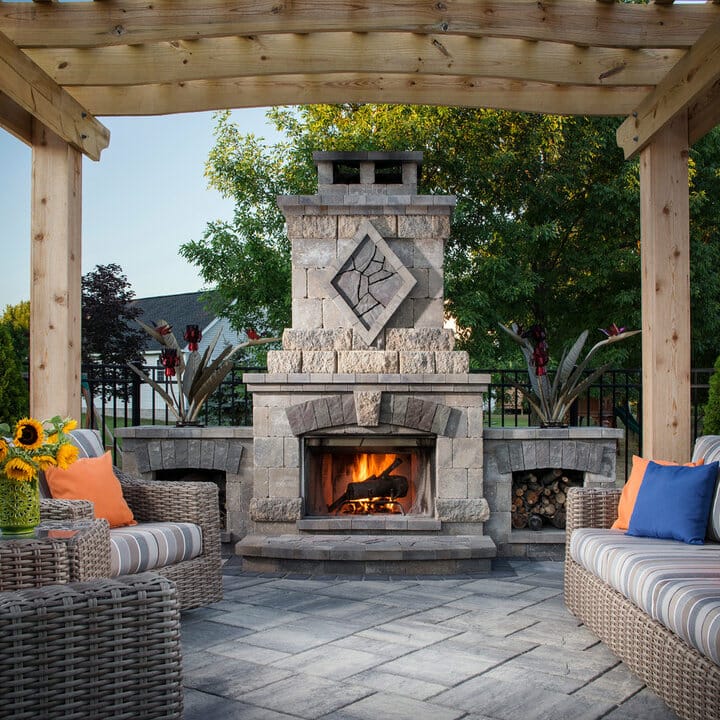 Incorporating a fireplace into a patio has always been an excellent idea. Not only will it keep you warm during the freezing night but also make the backyard even prettier.
A vast array of materials are available to build a fireplace. One of which is flagstone that is renowned for its durability.
This fireplace, for example, features flagstone that adds a textural element to the space. It also complements the bluestone flooring and rattan furniture immensely.
19. A Tribute to the Past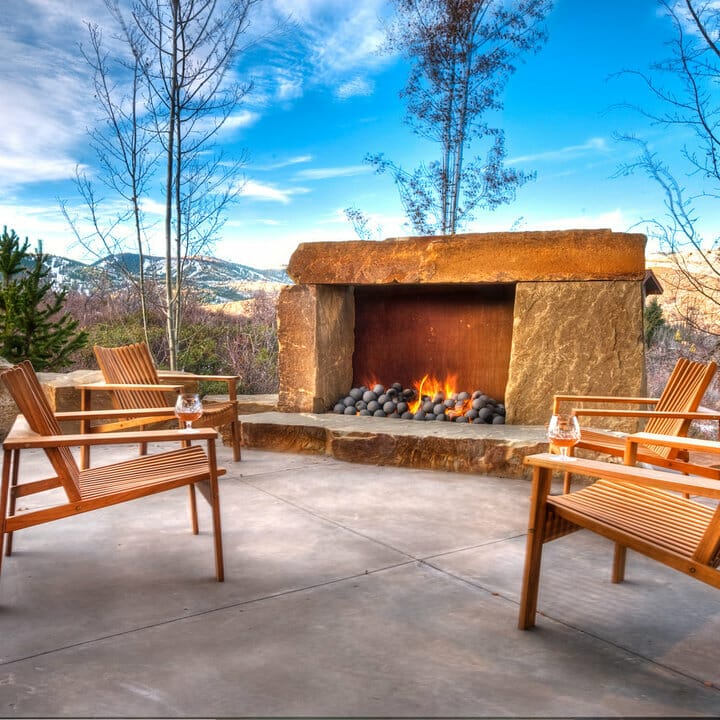 The sleek and smooth concrete flooring makes a great start for a minimalist look, which is the hallmark of the modern style.
However, keeping things down to a minimum can be somewhat mundane. Therefore, you need something to perk it up, just like this backyard idea with stones.
Despite the minimalist look that you find, you can notice the large rock fireplace situated in the middle.
The fireplace makes a great focal point that steals anyone's focus, not to mention the distinctive design that reminds you of the ancient ages.
20. Add More Charm with Step Lights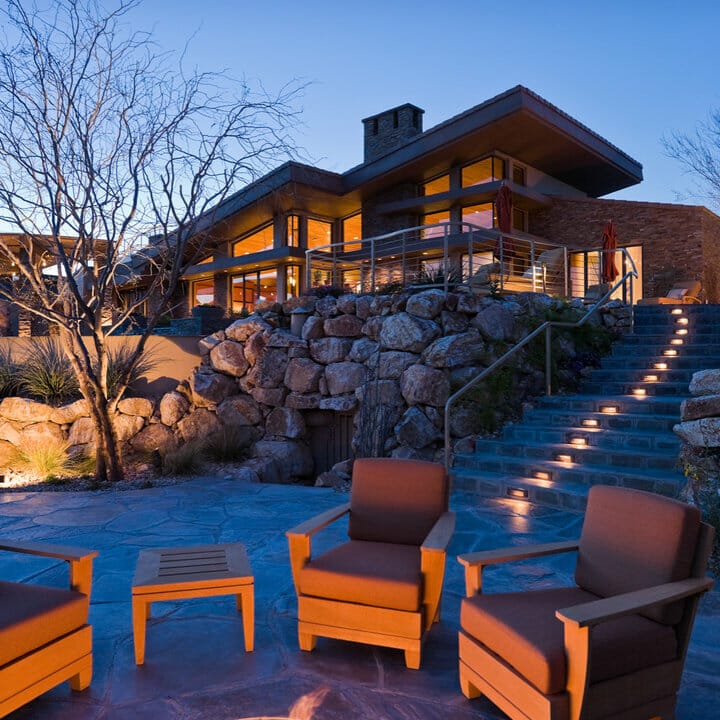 Installing lighting is not only about illuminating the space. It is also about creating a certain ambiance.
When you combine stone steps and recessed LED lights, you get romantic vibes instantly. Besides, the lamps will escort you to the patio and prevent you from slipping.
21. A Long Trip to Outdoor Living Area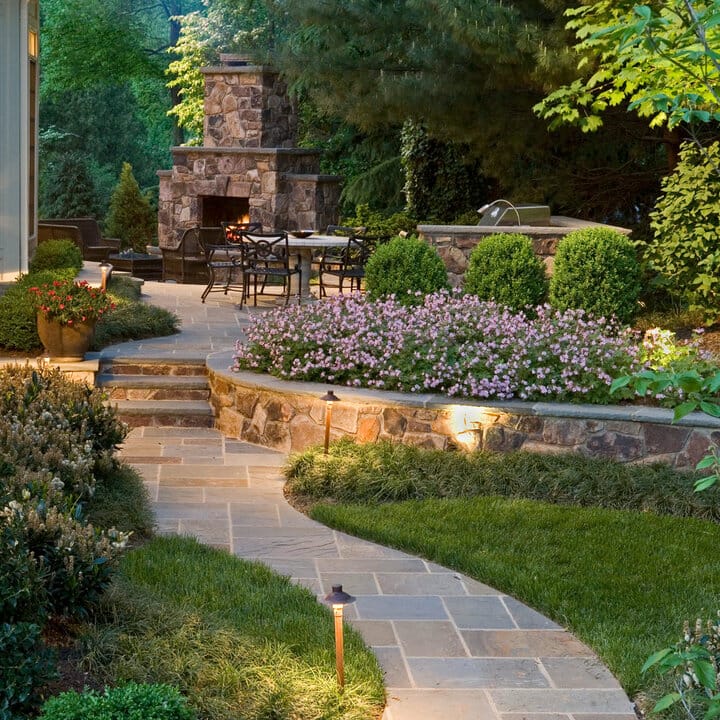 A pathway is your savior. It guides you to the patio or gazebo in your backyard while preventing mud from ruining your footwear.
Since it plays a crucial role, it deserves some sort of style. Thus, you can consider this backyard idea with stones.
Instead of making it straight, which might be mundane, you can use a curvy design for more visual appeal. Then, install some lights along the pathway to illuminate it while kicking it up a notch.
22. Keep It Simple and Original
Creating a breathtaking view is not always about going overboard. Keeping things simple while maintaining the original form can result in a distinctive look.
In fact, it may offer a mysterious charm, just like what you can see in this backyard idea with stones.
23. A Minimalist Patio with Fireplace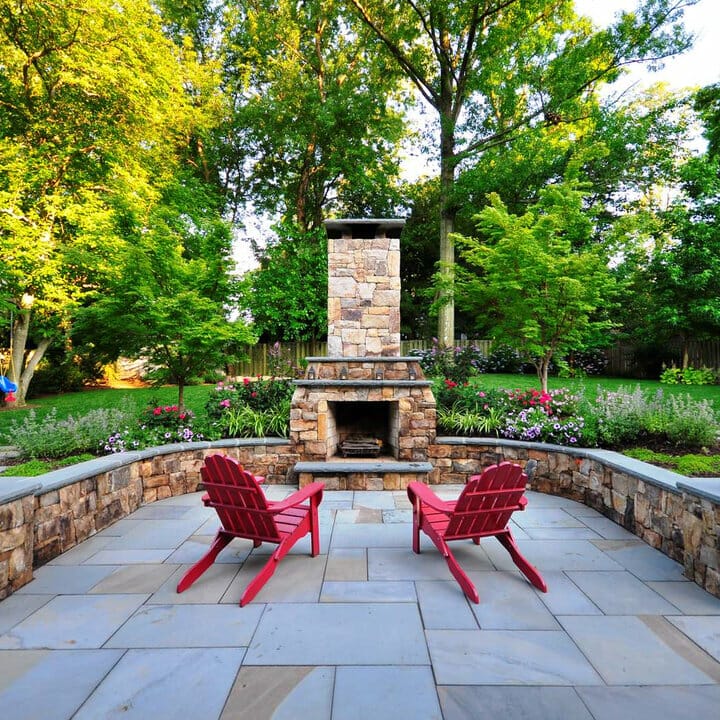 If you are a big fan of the minimalist look, you will love this idea.
This patio does not have a lot of furniture. The combination of sandstone fireplace and bluestone flooring has added a touch of rustic ambiance to this garden.
Two red chairs incorporate pops of colors to them, making the patio look more fabulous.
24. Improving Backyard Landscaping without Plants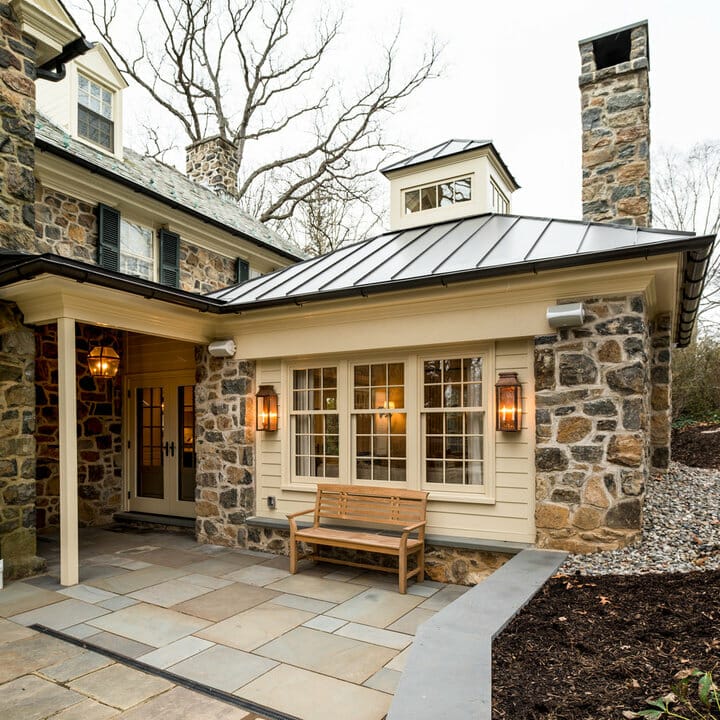 This backyard idea with stones is your top-notch choice if you want to create a place to hang out without the hassle. You just need to lay flagstone and river rock to cover the ground.
25. Rough, Rustic, and Stunning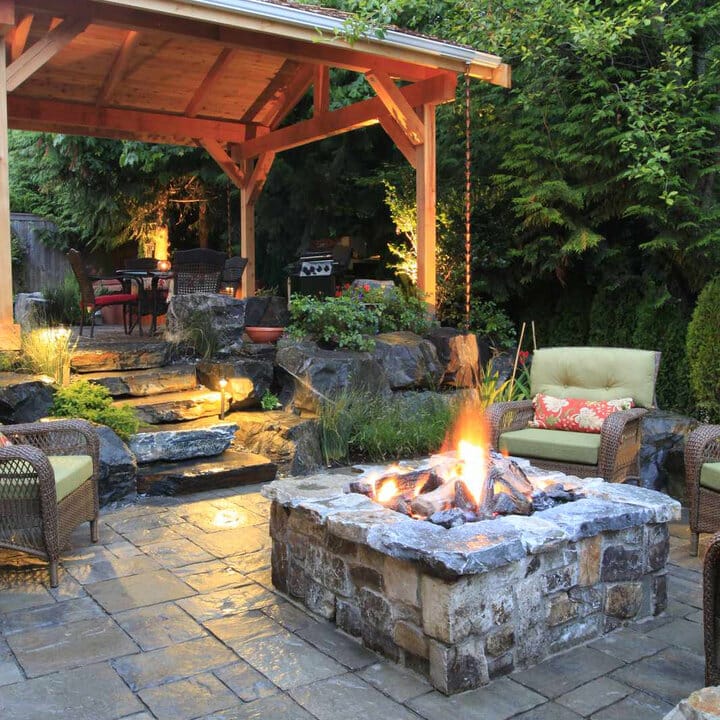 If you love the look of nature, this backyard idea should be on your list.
Large, chunky stones create steps to reach the barbeque area. On the ground level is a stone fire pit that makes a statement on this patio.
26. A Cozy Patio with a Fire Pit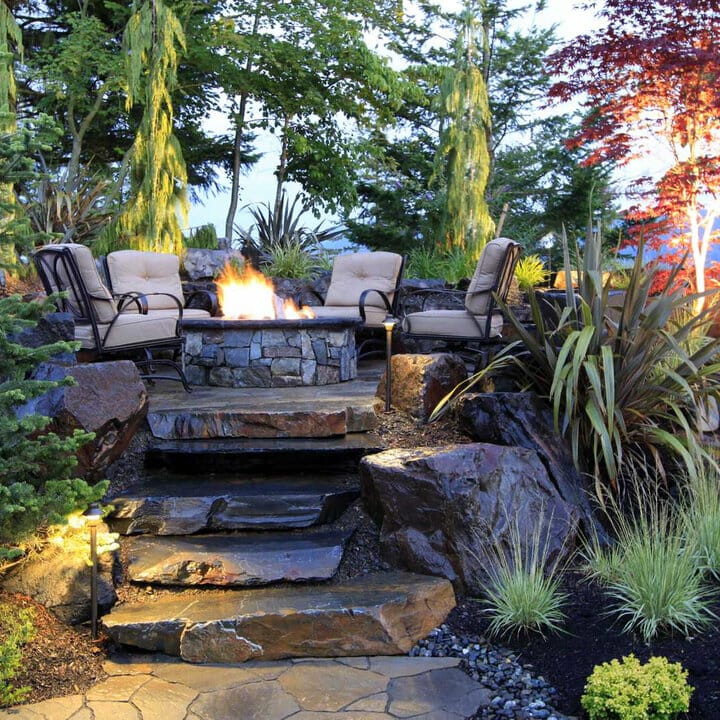 Do not let small space hinder you from relaxing in the backyard. This patio, for example, provides ample room to hang out and banter with friends.
Consider creating a stone fire pit in the middle to keep you warm. Then, invest in wide, irregular rocks for the rustic steps.
27. The Fusion of Wood and Stones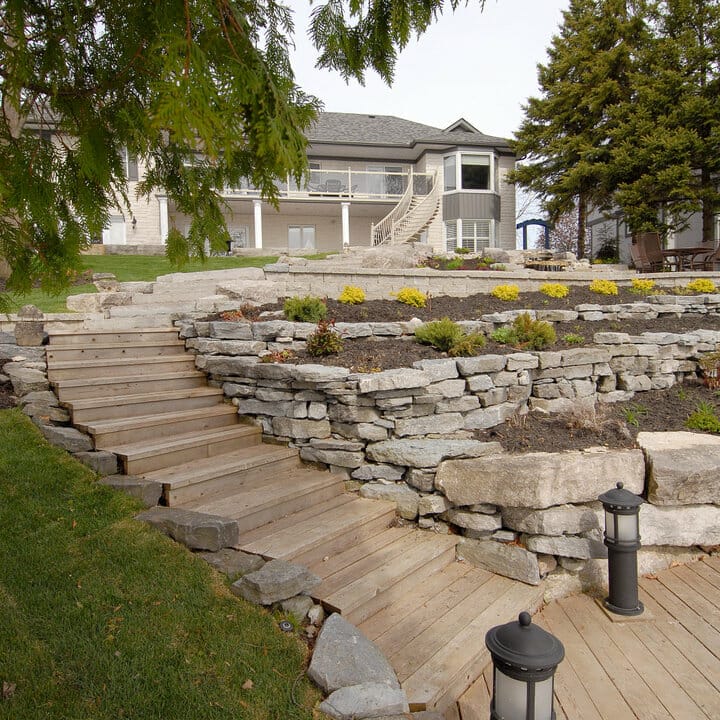 Combining stones and other materials like pavers or wood can result in a distinctive charm.
This backyard embraces rustic charm through large, irregular stones as the retaining walls. Instead of installing rocks for the steps, you can try wood. This way, you can incorporate a bit of a contemporary look.
28. Pool Deck with Concrete and Marble
Marble is renowned for the beautiful veins that add pattern to any space, including this pool deck.
Since marble is rather costly, you can use it as the border of your pool. Then, combine it with concrete for a cheaper, safer, and more durable option.
29. Accentuate the Charm of Nature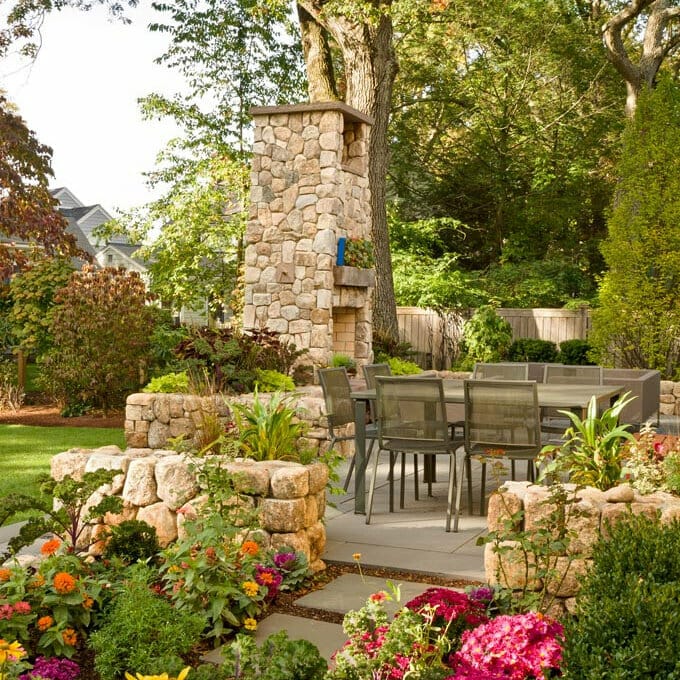 Having a garden with various beautiful flowers is many homeowners' dream. If you already have it, you are lucky! Still, you can accentuate it with this patio.
Sandstone walls make bold boundaries for the patio while housing some plants. The rough and uneven texture blends nicely with the natural beauty of the garden.
30. A Patio with Staggered Finish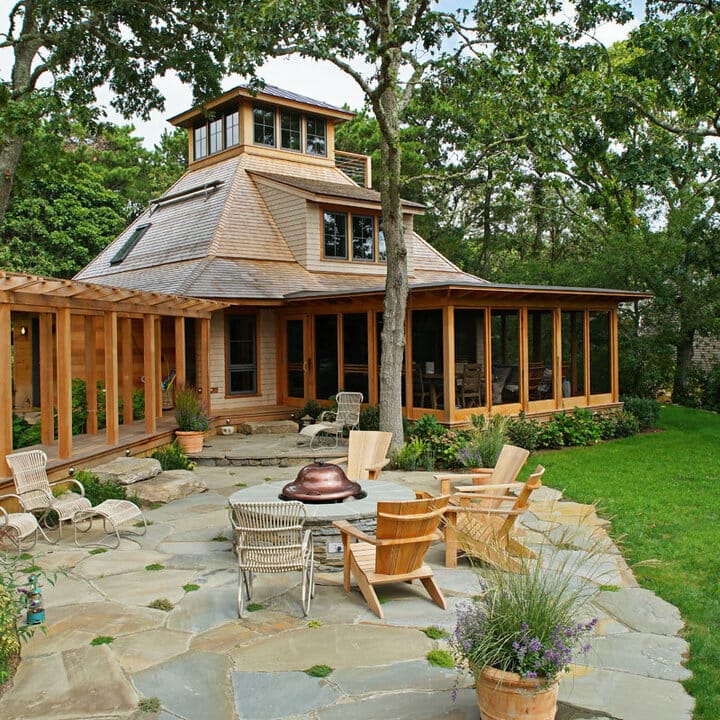 Bluestone has always made a great patio. It offers texture and subtle bluish color to space. And the staggering finish creates a smooth transition to the lawn.
Backyard ideas with stones offer a limitless charm that will please your eyes. Furthermore, they can make a perfect place to mingle with relatives and colleagues.