Front porches are an incredible space to relax outdoors. Moreover, they let homeowners enjoy sunsets, mingle with their loved ones, and curl up with books. If you want a snuggly and stunning retreat, take notes from my furniture for front porch ideas.
Undeniably, front porches develop a first impression. Due to this reason, outfit your porch with chic accessories, striking color palettes, and comfy seats, of course. Those elements can offer any outdoor gathering space an inviting look.
Before you construct your front porch, read on these decor tips. I guarantee any of these outdoor seating areas are worth emulating.
1. Small Front Porch Furniture Ideas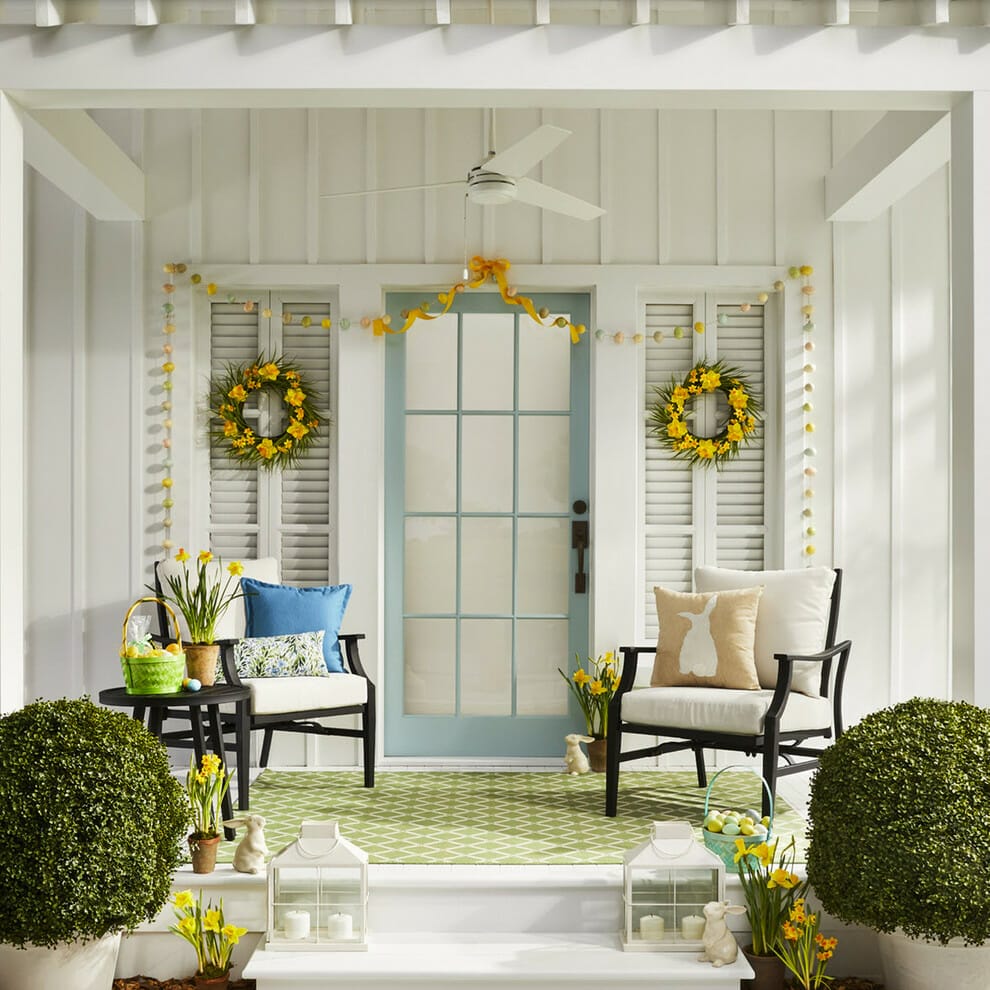 The vertical siding, boxwood planters, steps, and shutters wear stark white. Not only do they depict cleanliness but also allow the narrow front porch to feel larger.
Here, accessories carry bursts of yellow that lend the front porch some character and life. The light neutral foundation emphasizes colorful details for various occasions.
The bunny silhouette pillow and statues generate cohesion. Mismatched pillows carve comfort, while the garland and Easter egg baskets finish things off.
2. Simple Furniture for Front Porch Ideas
Fabulous front porches can be simple yet welcoming and cozy. This porch, for example, boasts a gathering space with a gray-painted table and two chairs. The circular printed rug anchors them while epitomizing unmatched comfort and togetherness.
Further, the light and dark brown bricks complement wooden ceiling planks. During the fall months, they blend with the nearby trees.
Since the seating faces the front yard, homeowners can enjoy their surroundings. Meanwhile, the red accent tempers the cold-toned porch furniture and flooring.
3. Modern Farmhouse Porch Furniture Ideas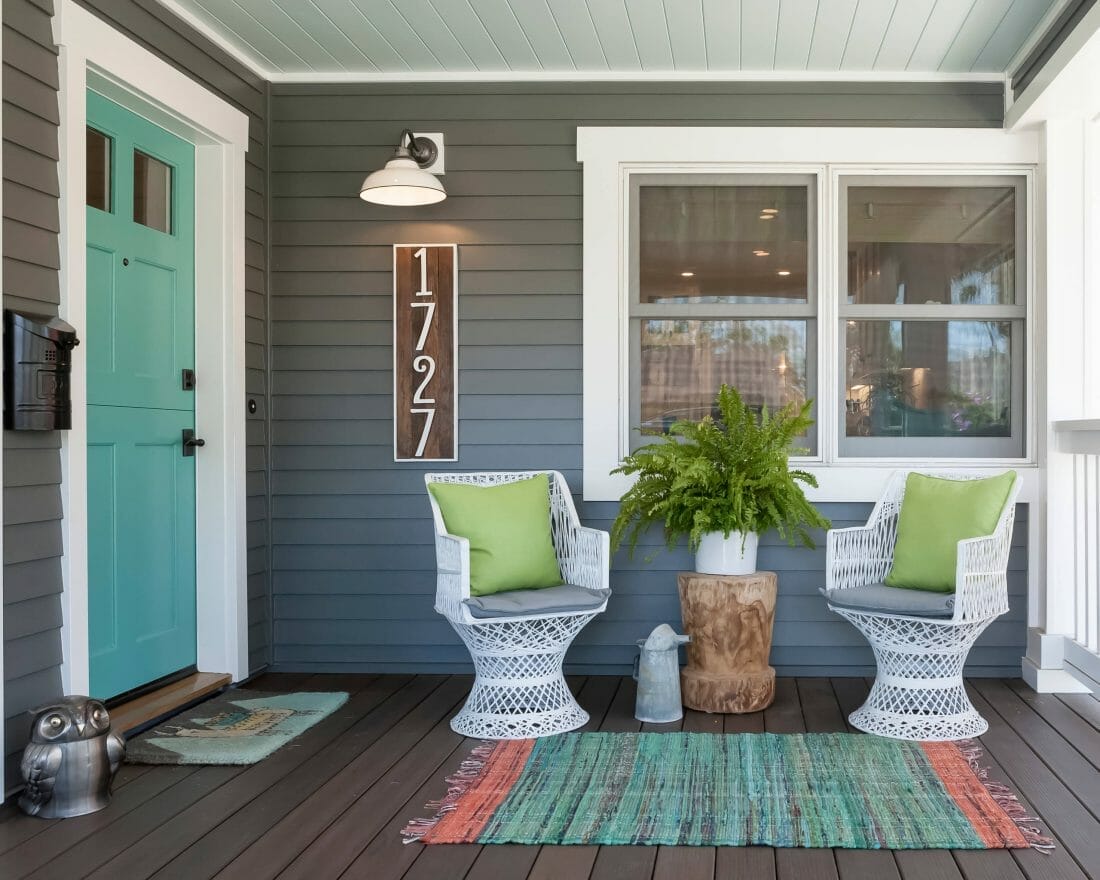 I drool over the front porch seating here. The armchairs add lots of details while offering the farmhouse abode a fresh look. Furthermore, their stark white hue reappears on the nearby handrail, trim, and window frames for cohesion.
The potted fern matches with the understated tree stump table. Also, the shiplap ceiling and gray horizontal siding radiate modern farmhouse charm.
Additionally, the pale turquoise Dutch door, multitone rug, and green pillows spiff up this front porch. Moreover, the white-and-metallic gray sconce brightens two-tone house numbers. Lastly, the welcome mat ties the gathering space together.
4. Timeless Chairs for Front Porch Ideas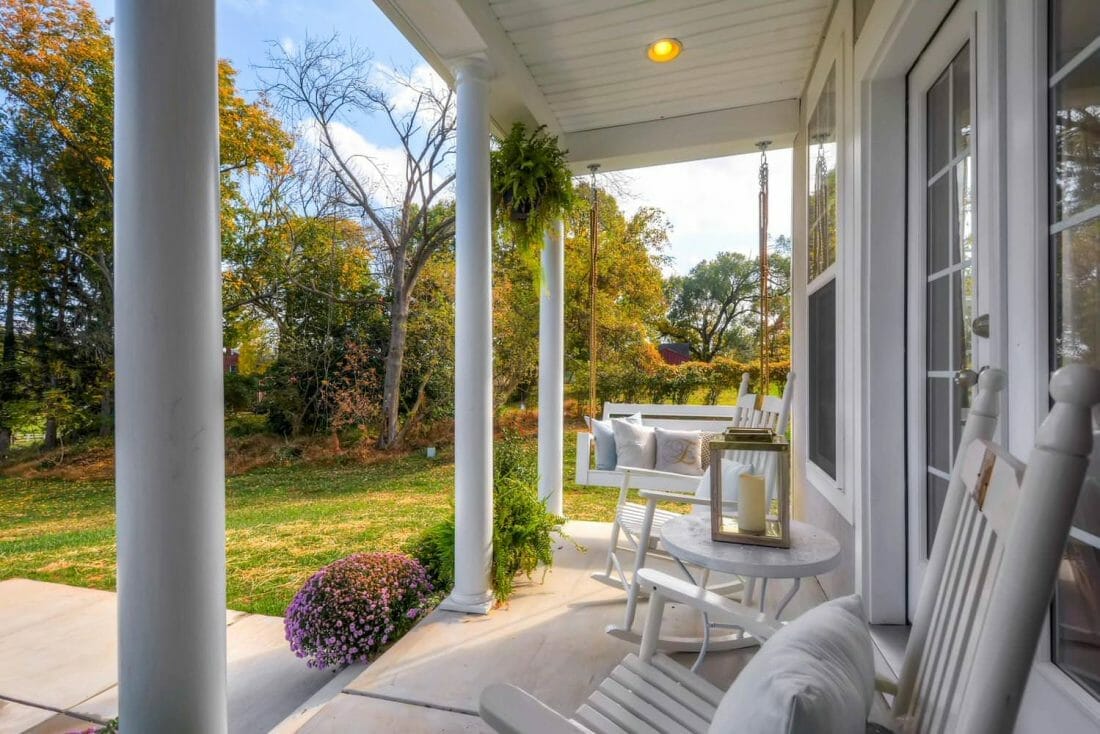 Need small porch furniture ideas? If so, try out this graceful seating area. Clean white columns convey timeless grandeur. Meanwhile, the neutral front entry color palette and shiplap ceiling offer a versatile foundation.
White-painted rocking armchairs suit the front porch's classic aesthetic. The round table accents the glass-and-bare wood candle lantern.
Hence, the swing and varying pillows ensure the front porch doesn't feel too formal. Meanwhile, the hanging greenery and colorful shrubs spice up the exterior of the abode.
5. Furniture for Colorful Bohemian Porches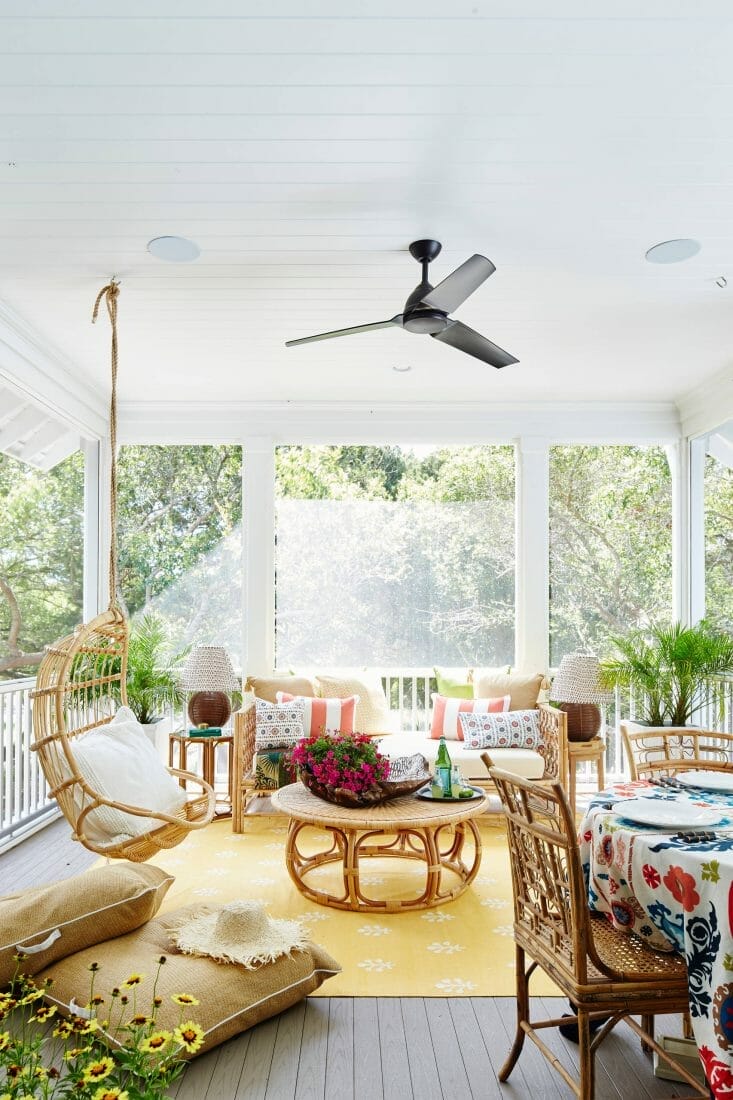 Speaking of bohemian furniture for front porch ideas, try integrating assorted furnishings. This multifunctional gathering space boasts rattan furniture pieces. The daybed and end tables certainly produce symmetry here.
A stunning assortment of pillows infuses personality. Furthermore, the multicolored tablecloth ties the front porch accessories together.
The black ceiling fan delivers contrast while circulating the air. Palm trees and punchy flowers create an invigorating setting. White pillars and railing systems brighten the porch. Since floor cushions feature handles, they become easy-to-maneuver seats.
6. Casual Furniture for Front Porch Ideas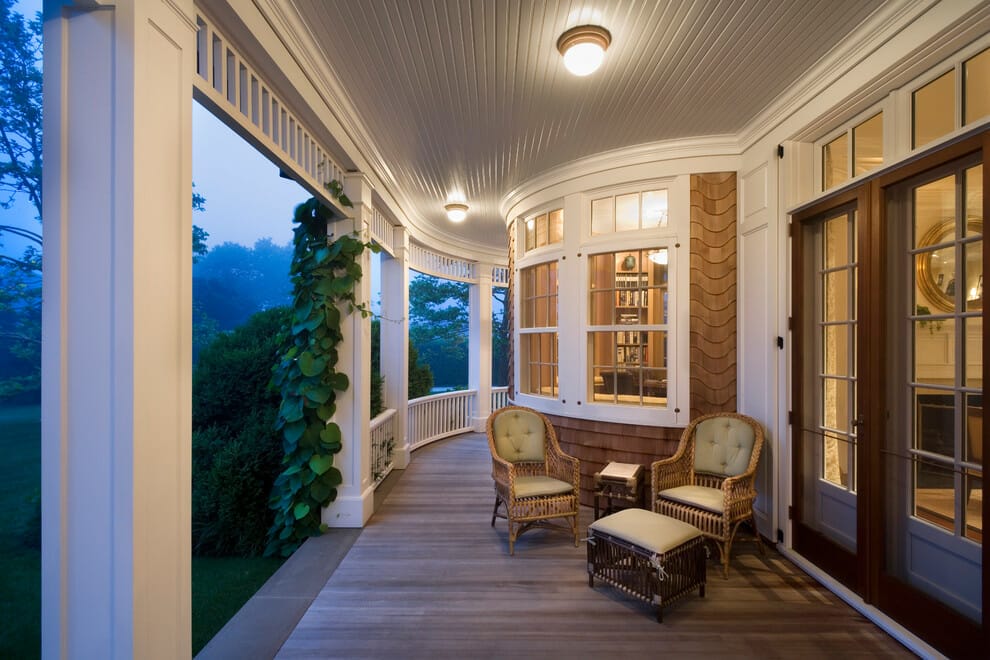 If you're into rattan furniture for front porch ideas, copy this seating arrangement. Two rattan armchairs appear very cozy due to sage green tufted backrests and seat cushions.
The homeowners outfitted her dark-painted rattan table with a cushion. Furthermore, they use it as a comfy footrest after a leg day.
There's also a narrow table between rattan chairs. Meanwhile, the beadboard ceiling, bare wood shingles, and climbers generate a clean yet characterful scene.
7. Indoor Porch Furniture Ideas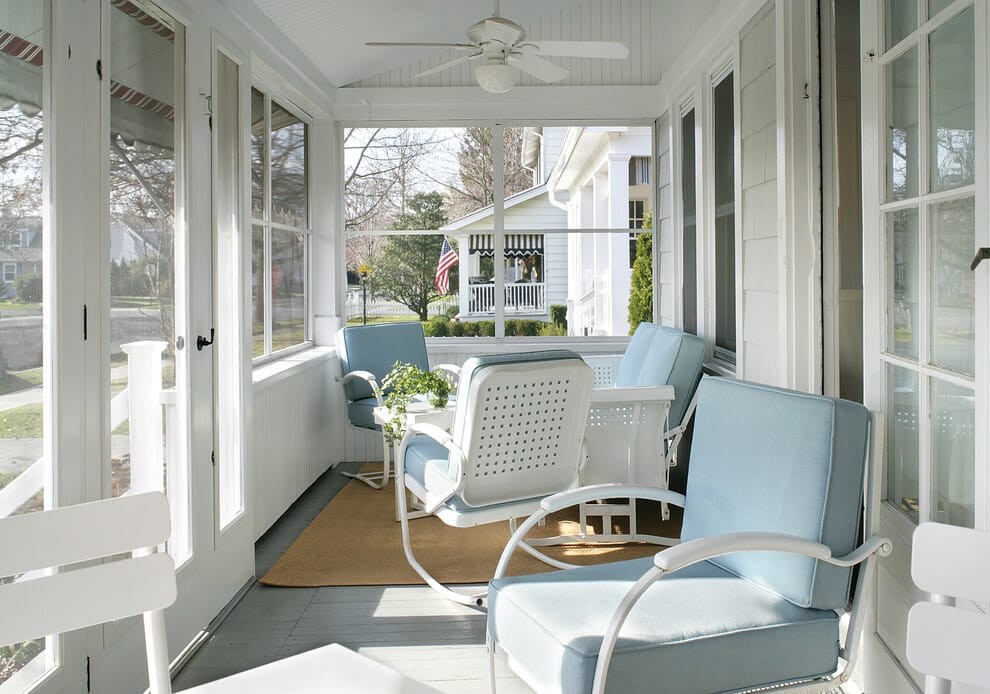 Some homeowners adore screened-in front porch design ideas photos. If you also admire them, this idea comes to the rescue. The glass door and windows make the porch a relaxing spot year-round.
Glass panels, white walls, and armchairs effortlessly retain the screened-in front porch's light ambiance. Moreover, they lead the eyes to solid soft blue cushions that embrace serenity.
The light brown tone of the rug offsets grays, blues, and whites. Greenery imbues some energy, while the white ceiling fan lets visitors stay cool during the sticky summertime.
8. Neutral Furniture for Front Porch Ideas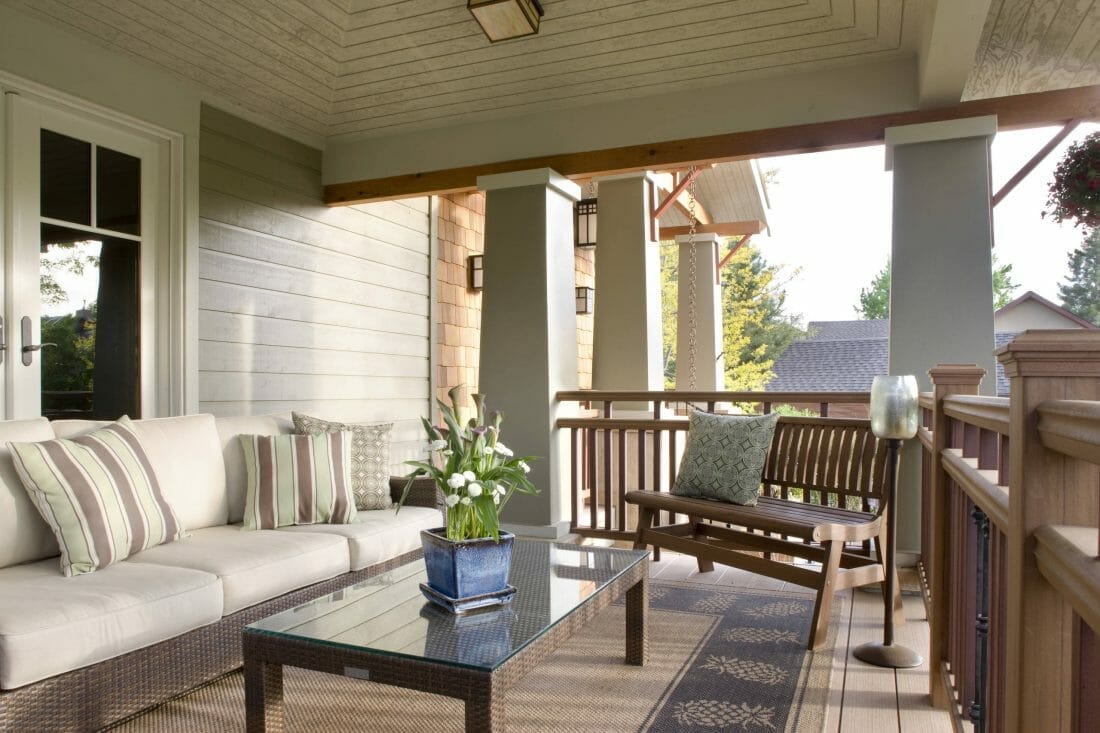 This front porch oozes casual vibes, so it's ideal for laid-back summer parties. Moreover, the space enables homeowners to unwind their minds outdoors.
Thanks to the neutral foundation, swapping in perky accessories for various seasons won't be challenging. Additionally, the wooden bench and railing give warmth to the front porch.
The resin wicker rectangular table and sofa strike a contemporary flair. Meanwhile, the blue porcelain pot, blooms, and different motifs get rid of lacklusterness.
9. Front Porch with Vintage Furniture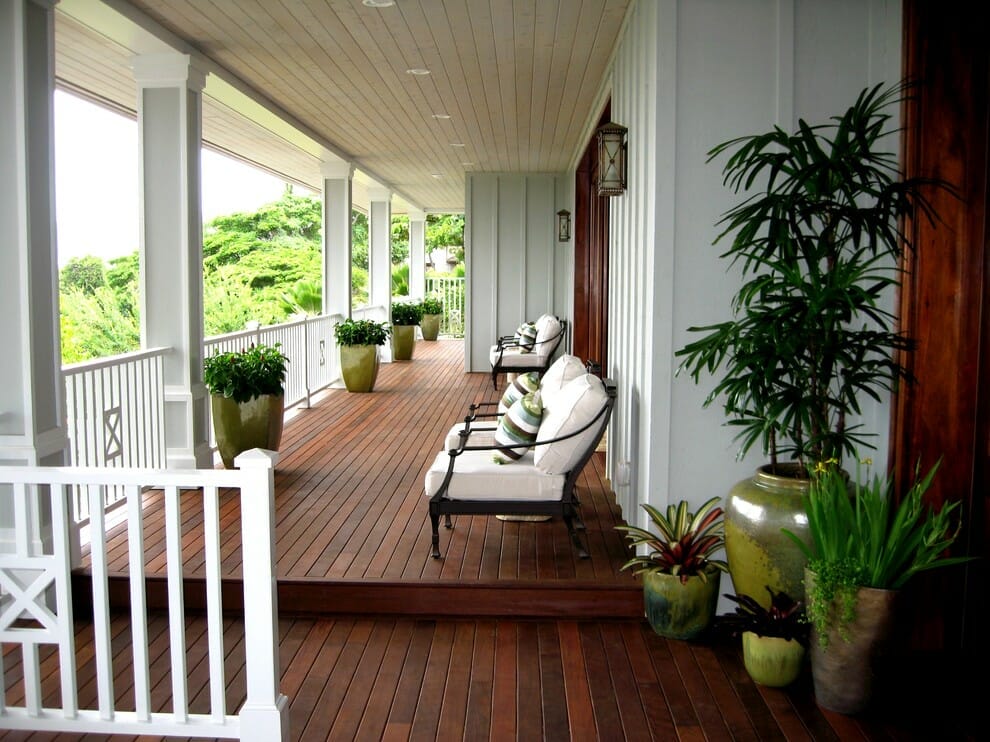 With a dizzying selection of vintage furniture for front porch ideas, many homeowners feel overwhelmed. Simply try copying this layout.
Vintage iron armchairs face the yard. In addition to highlighting white cushions, they guide visitors' eyes to the surrounding views.
Due to the vertical siding, white railing, and columns, the scene becomes versatile. Furthermore, olive green planters and plenty of greenery carve a visual impact. Horizontal striped pillows use all the hues of this front porch.
10. Natural Materials for Front Porch Furniture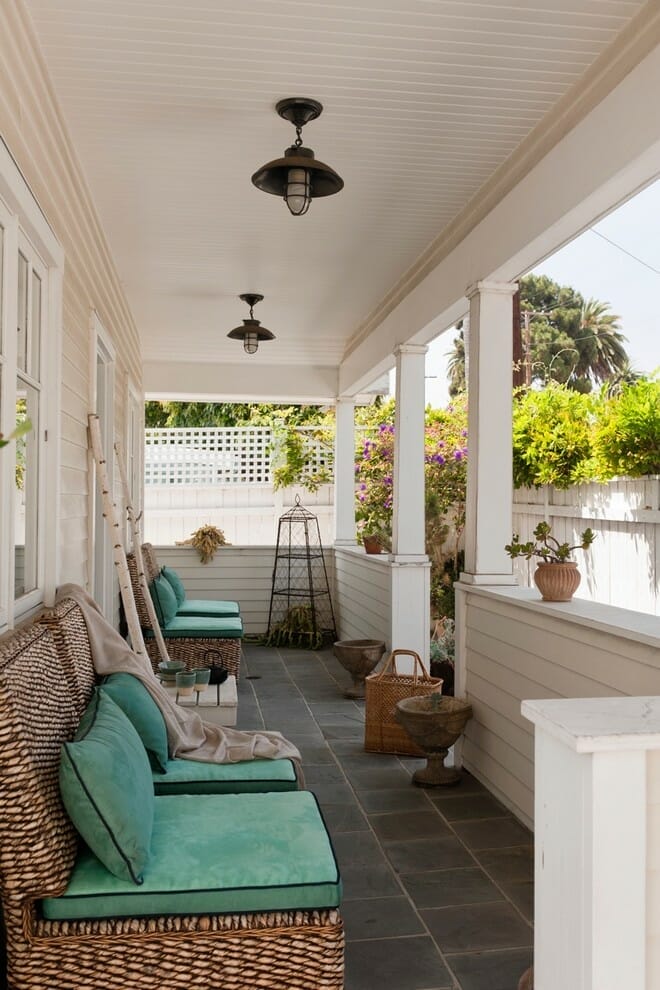 There are pieces of furniture for front porch ideas that employ natural materials. If they interest you, add seagrass chairs to your outdoor gathering space. Because of them, light turquoise cushions and pillows become attention-grabbing units.
Stone tiles clash with the white plank table, tree trunks, columns, and horizontal shiplap walls. The woven basket and terracotta pots embrace a casual feel.
Thanks to the sand-colored throw blanket, this tiny front porch looks undeniably snuggly. The weathered wire obelisk and urns inject rustic touches. Meanwhile, the two-tone teaware ensures the gathering space stays cohesive.
11. Stylish Furniture for Front Porch Ideas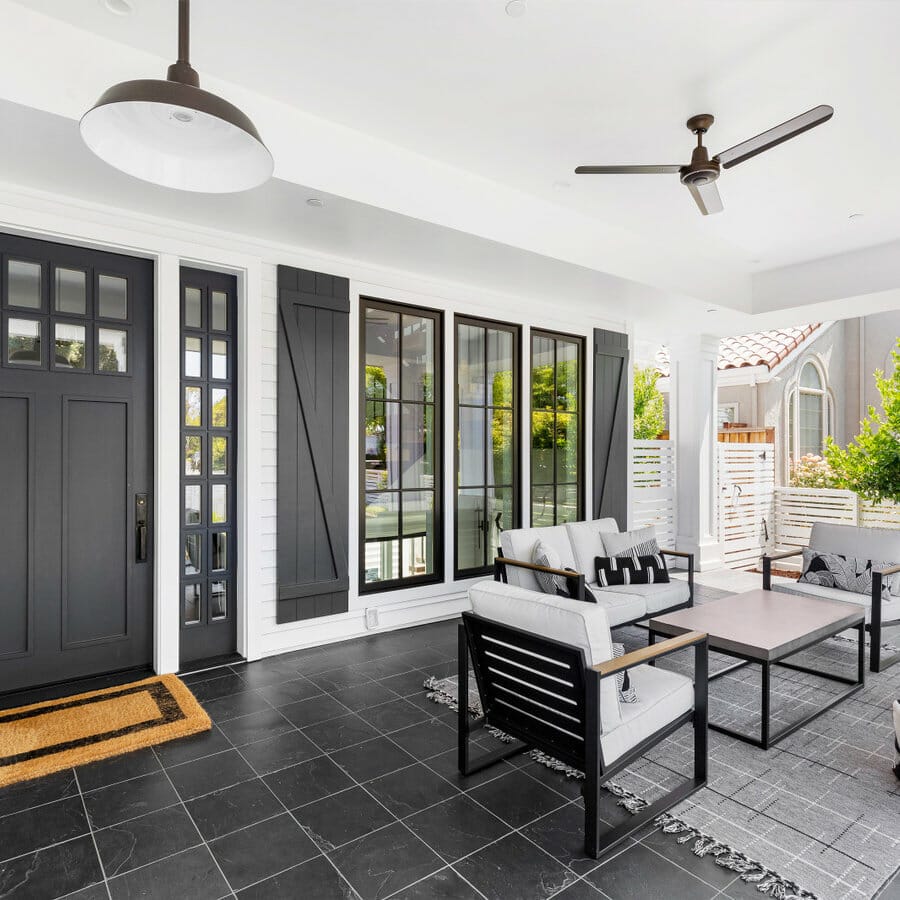 Need modern front porch ideas? Just use this idea. Sharp edges appear on the horizontal shiplap, entry door, farmhouse-style shutters, and windows.
Here, the black iron front porch furniture set, natural stone tiles, window frames, and shutters ooze loads of drama. The white ceiling, cushions, and columns rival their inky hues.
The ceiling fan cools down the front porch on hot days. Moreover, the jute doormat, rug, and artistic pillows keep the black-and-white gathering space from being stark.
12. Rustic Furniture for Front Porch Ideas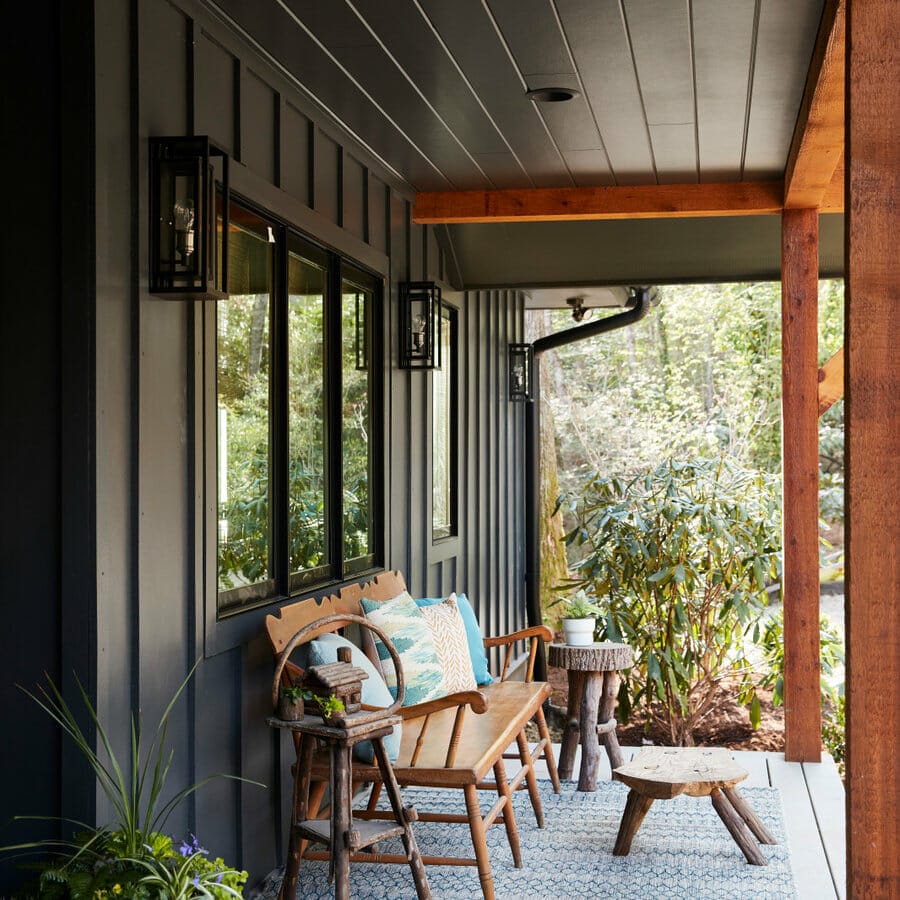 The black vertical siding and window frames add depth to this compact front porch. Also, the gray floor and printed rug brighten them up.
Blue and orange patterned pillows perk up the classic wooden bench. Assorted rustic tables provide ample display space, while decorative plants deliver interest.
13. Front Porch Dining Space Furniture
Wicker dining chairs encircle an oval table with a bright white top. Furthermore, the front porch eating area boasts dark stained wood railing and flooring.
Gray placemats and white cushions soften the porch dining area's look. Meanwhile, the wooden ceiling fan creates a seamless look while keeping visitors cool.
14. Comfy and Trendy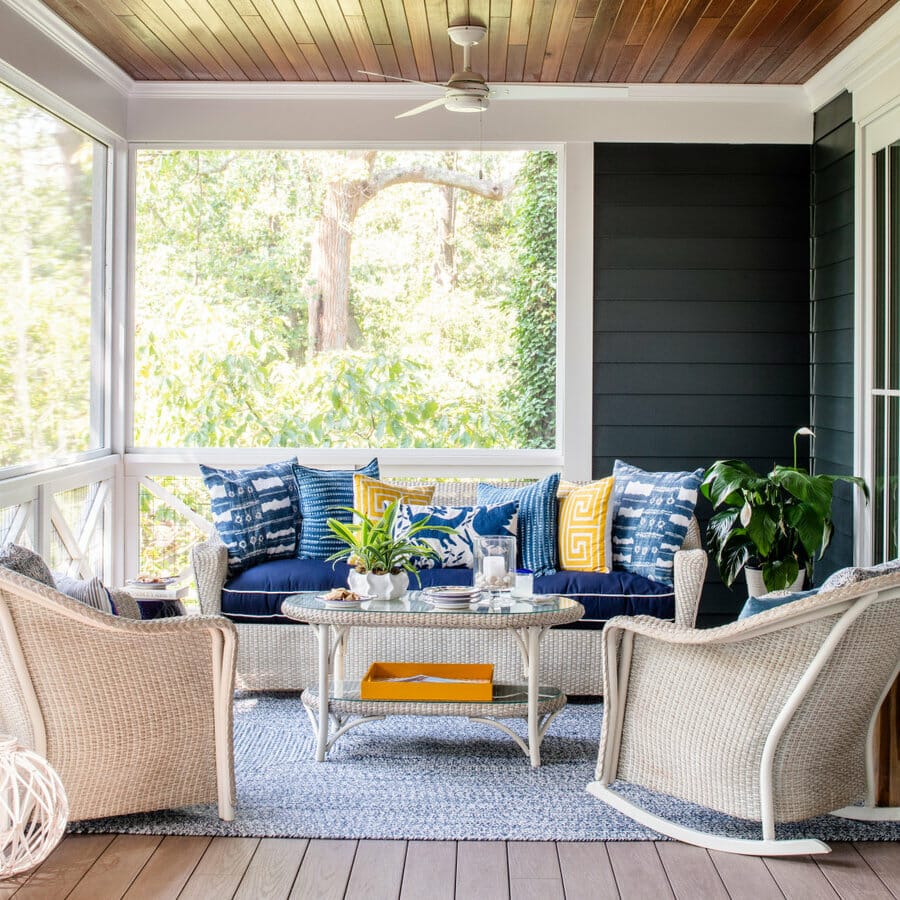 Do you reside in a coastal home? If yes, this is one of my furniture for front porch ideas to borrow. The white wicker rocking chair, sofa, tiered table, and armchair symbolize airiness.
The dark gray siding and navy accents ensure the front porch doesn't appear boring. Accessories of yellow and blue shades introduce tons of character.
15. Furniture for Multifunctional Front Porch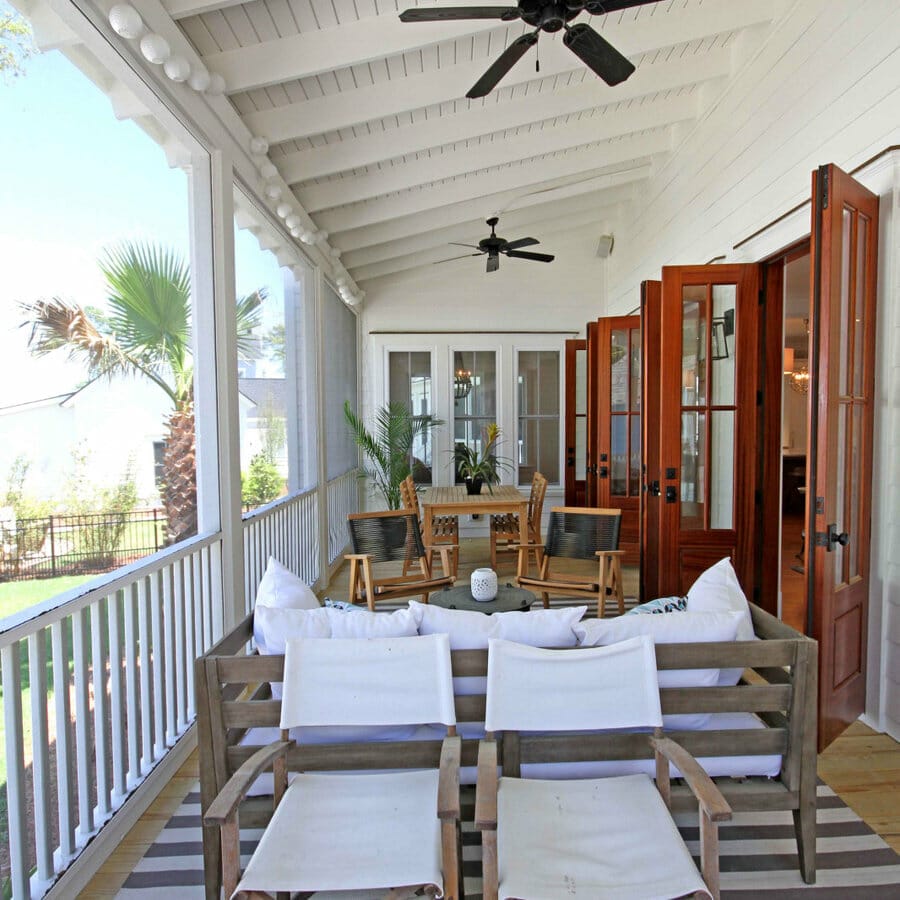 This screened-in front porch is spacious. No surprise, it accommodates different gathering spots for games, chit-chats, and meals.
White armchairs, throw pillows, ball garlands, and walls open up the screened-in porch. Various woodsy tones ooze warmth, while black ceiling fans generate cohesion.
16. Light Blue Meets White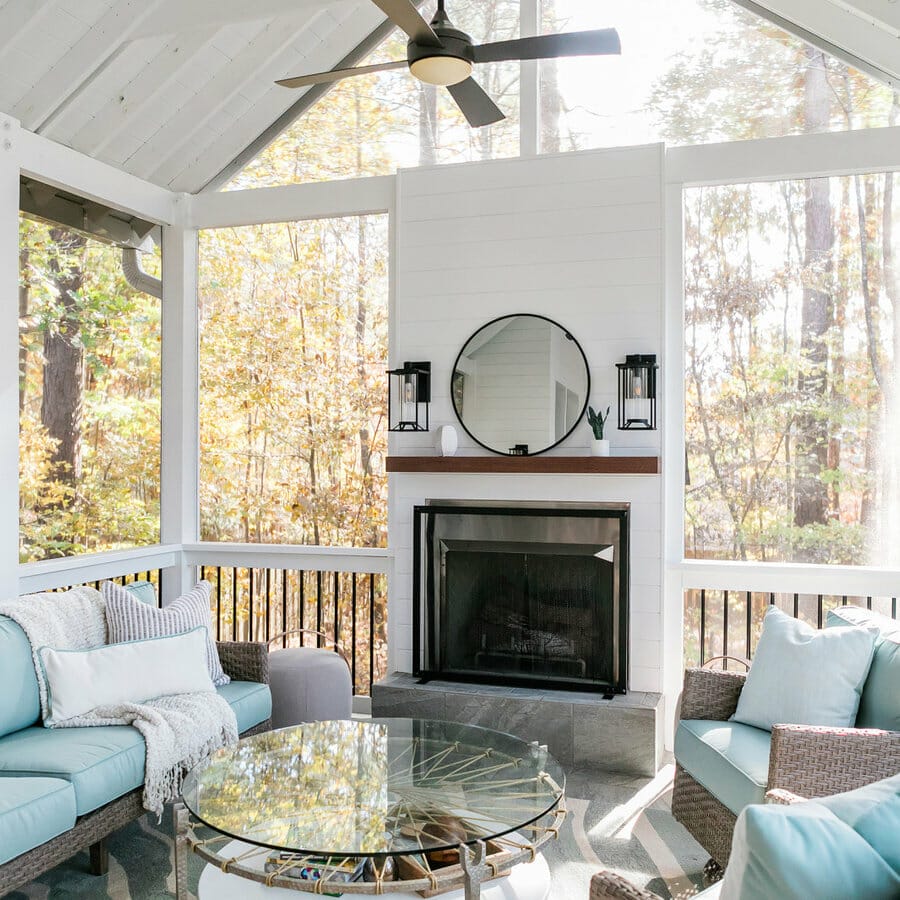 Wicker pieces of furniture for front porch ideas are all the rage now. So why not furnish your screened-in seating area with them?
Blue seat cushions punch up wicker furniture units. Furthermore, white shiplap and circular elements bring the front porch together. The fireplace keeps the gathering spot cozy.
17. Southwestern Front Porch Furniture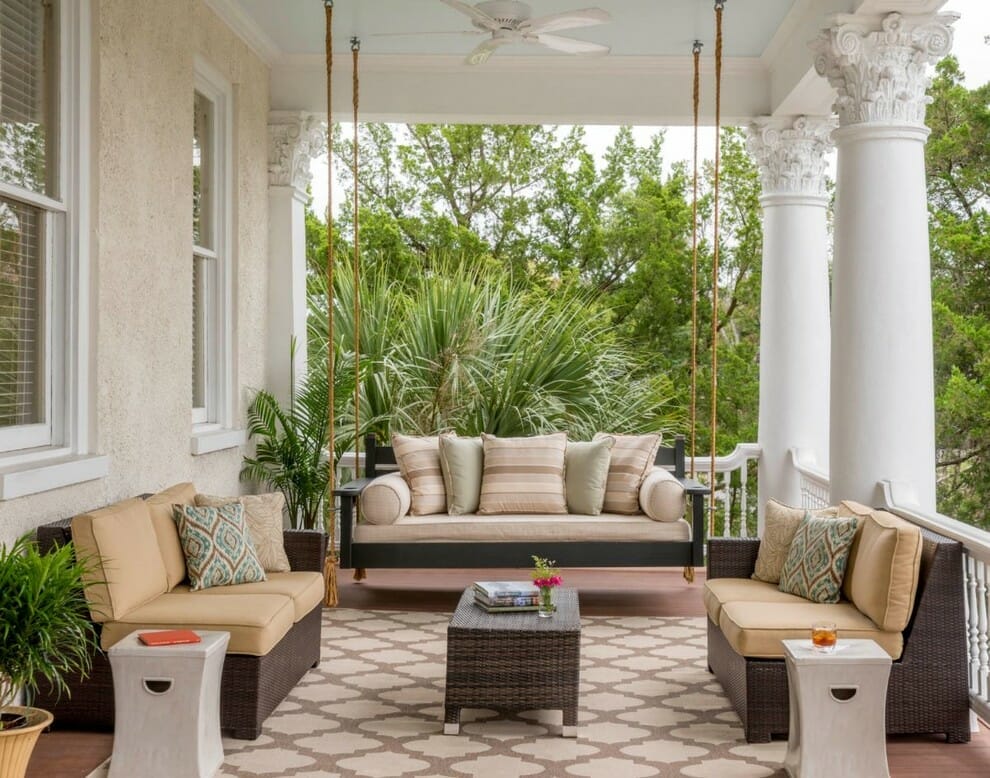 Serene earthy hues, ample comfy seating, and layered textures offer Southwestern charm. The black-painted daybed features bolsters and pillows.
Resin wicker furniture units harmonize with stucco walls and graceful columns. Light gray storage end tables balance out dark tones.
18. Coastal Inspired Furniture for Front Porch Ideas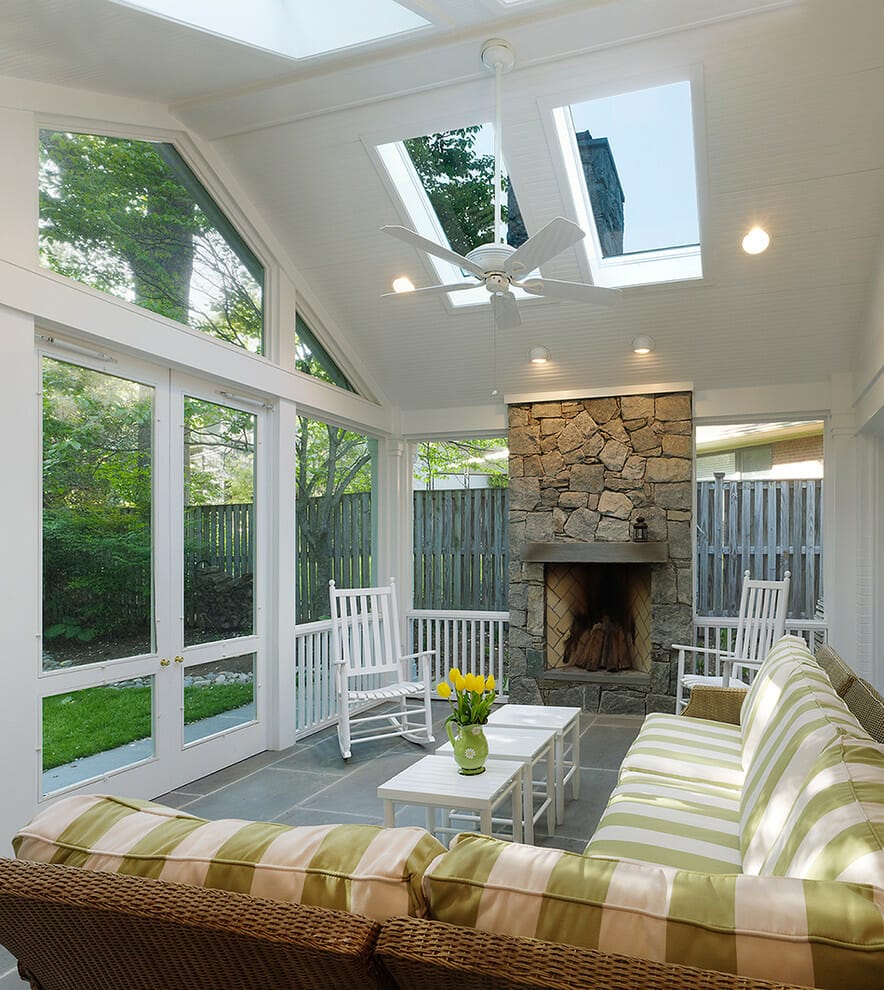 This screened-in front porch keeps all the weather elements off guests. The fireplace with rough stones lets homeowners entertain their visitors during colder months.
Crisp white tables, skylights, and rocking chairs capture airy vibes. Green and yellow accessories get rid of starkness instantly.
19. Nature-Inspired Furniture for Front Porch Ideas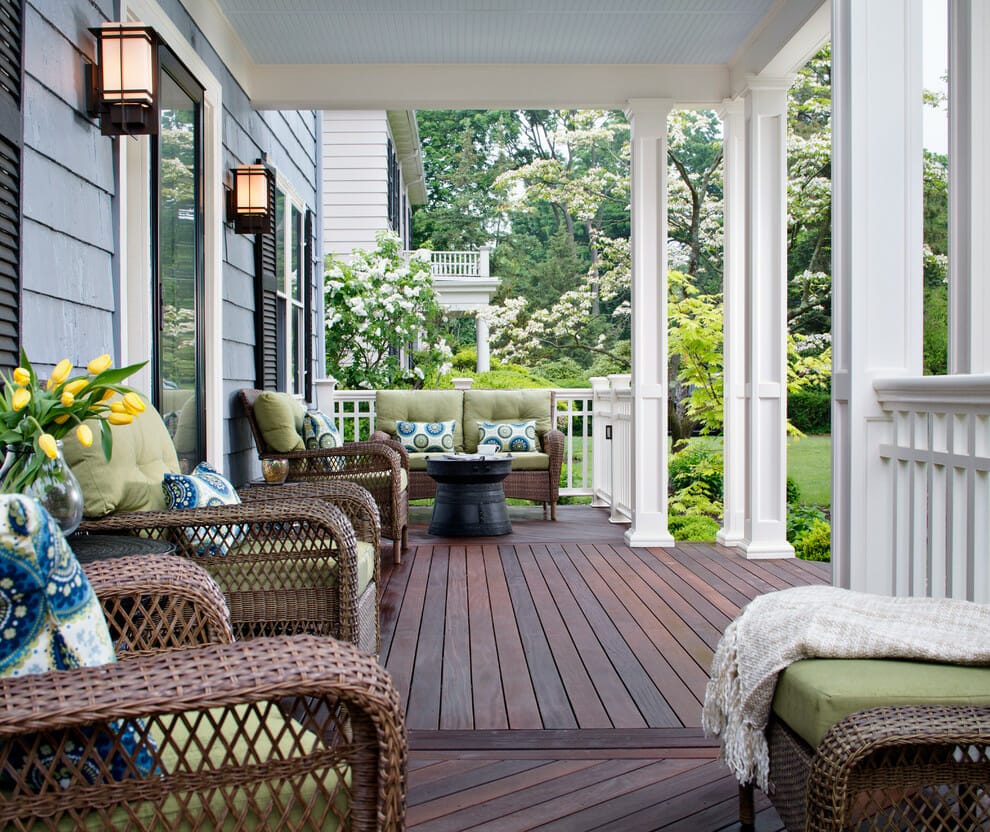 Soaring white columns make this front porch look magnificent. Rich-stained wood planks and wicker furniture items offset their chilliness.
The front porch lets homeowners view seasonal flowers and leafy views. Moreover, muted olive green cushions, yellow blooms, and intricate motifs improve its beauty.
20. Go Matchy-Matchy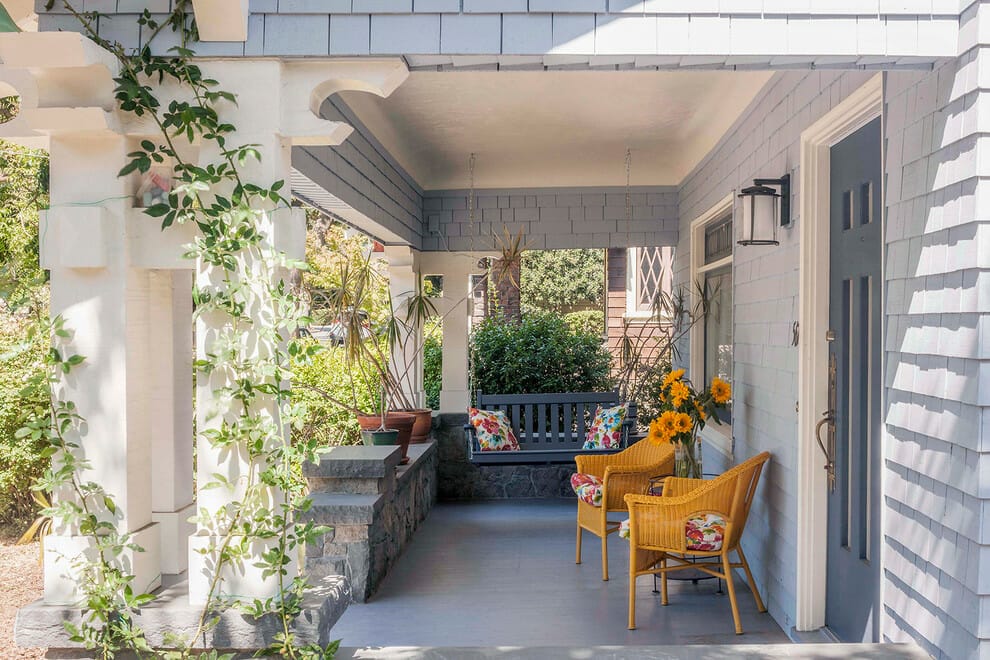 Speaking of the best front porch furniture materials, consider resin wicker. Here, the armchairs boast the material while blending seamlessly with adjacent yellow flowers.
With vibrant pieces of furniture for front porch ideas, your outdoor gathering area won't be lusterless. The homeowners incorporated multicolored floral cushions and pillows. They evoke cohesion and dynamism.
21. Pops of Green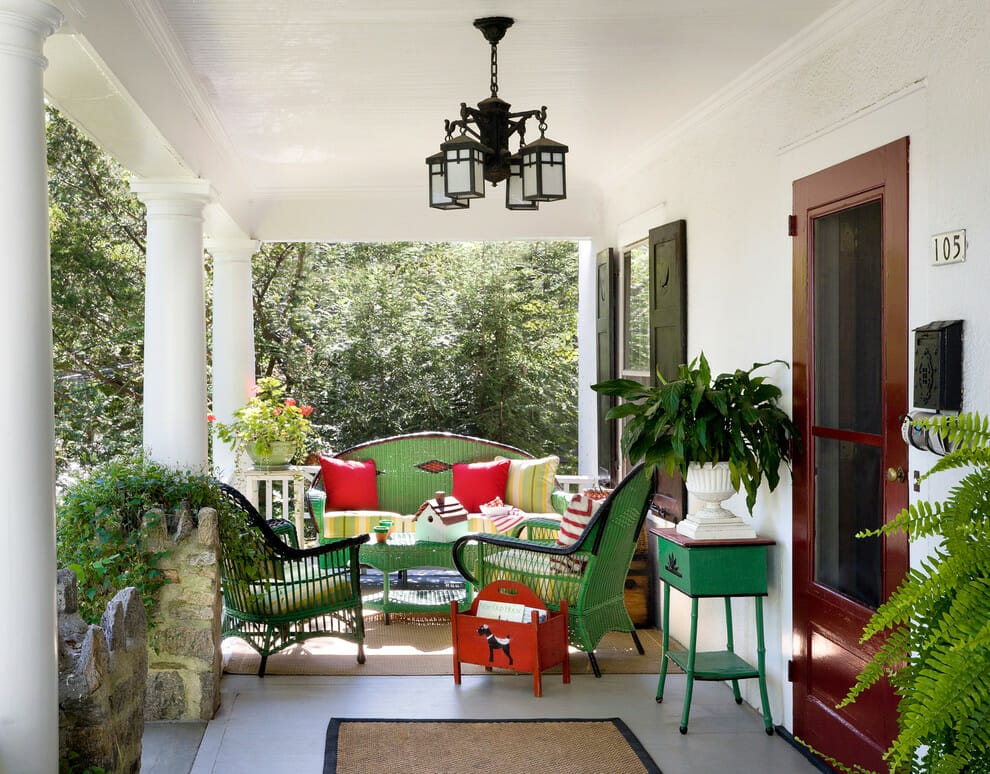 The homeowners practiced controlled repetition on their front porch. Here, the vintage end table, wicker furniture pieces, and plants infuse different shades of green.
Red and yellow accessories carry other vibrant hues. Meanwhile, black wooden shutters, brown rugs, and white columns tone them down.
22. Furniture for Front Porch Ideas with Mismatched Pillows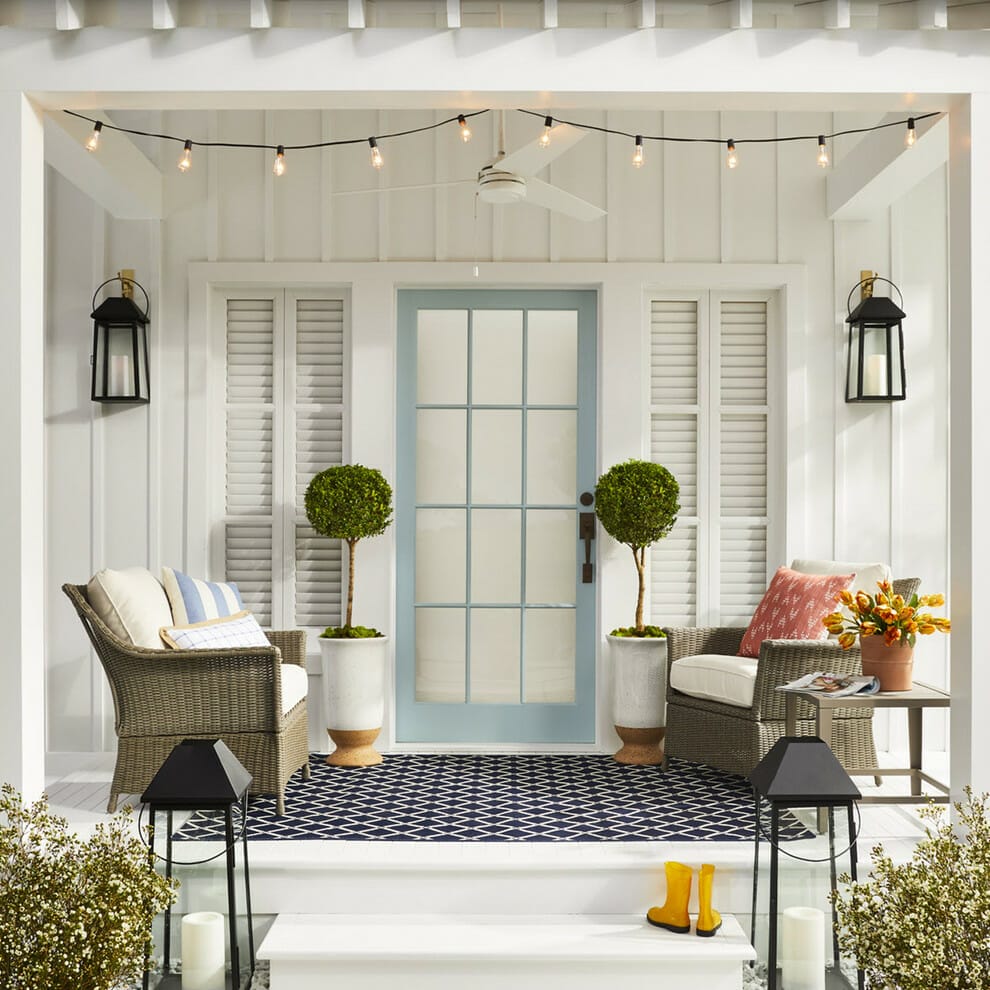 The blue-framed glass door, resin wicker chairs, and outdoor plants give this small porch eye-catching symmetry. Mismatched decorative pillows elevate their look.
There's a matching end table that features potted yellow blooms. The outdoor rug, string bulbs, and iron lanterns make the front porch come to a completion.
23. Front Porch Swing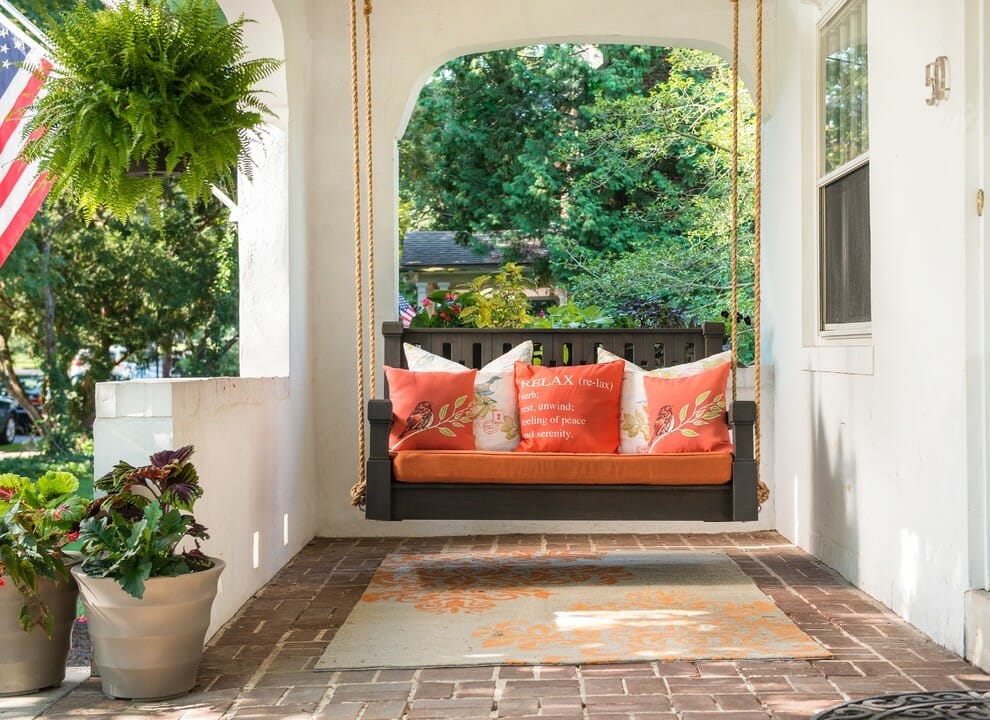 If you're into single furniture for front porch ideas, look no further than swings. Here, the dark gray swing prevents the white siding from being flat.
Botanical and coral throw pillows beautify the porch swing. In addition, the two-tone rug and leafy outdoor plants rival rough stone pavers.
24. Vintage Industrial Porch Furniture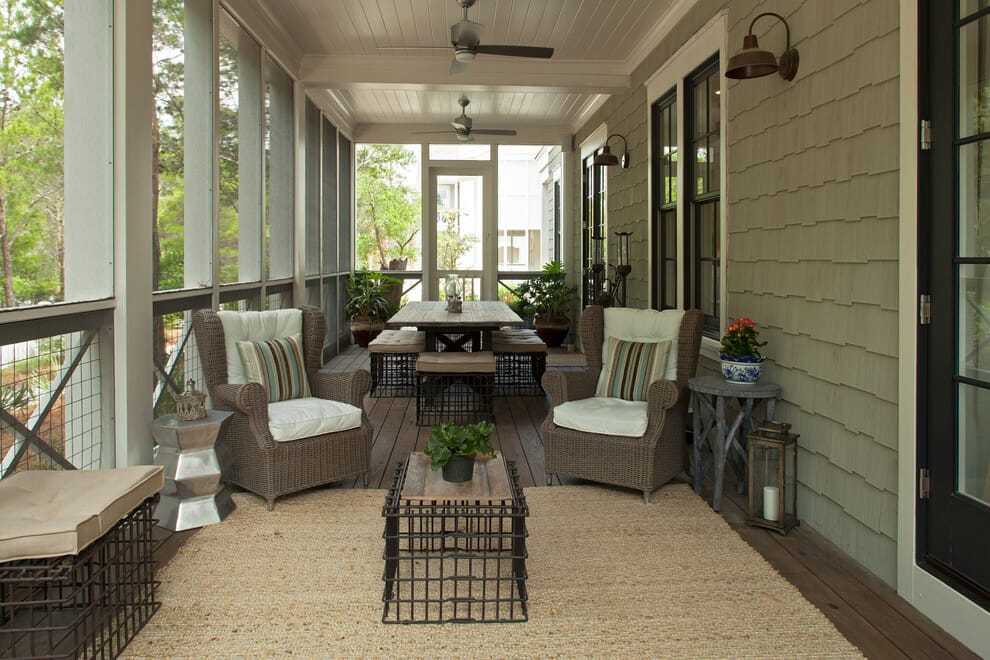 This front porch doubles as a second eating space and a living room. It boasts weathered metal and resin wicker furniture units too.
Vintage sconces, ceiling fans, and sand-colored cushions tie different spots together. Meanwhile, multitone stripes and plenty of greenery titivate the porch.
25. Brown Furniture for Front Porch Ideas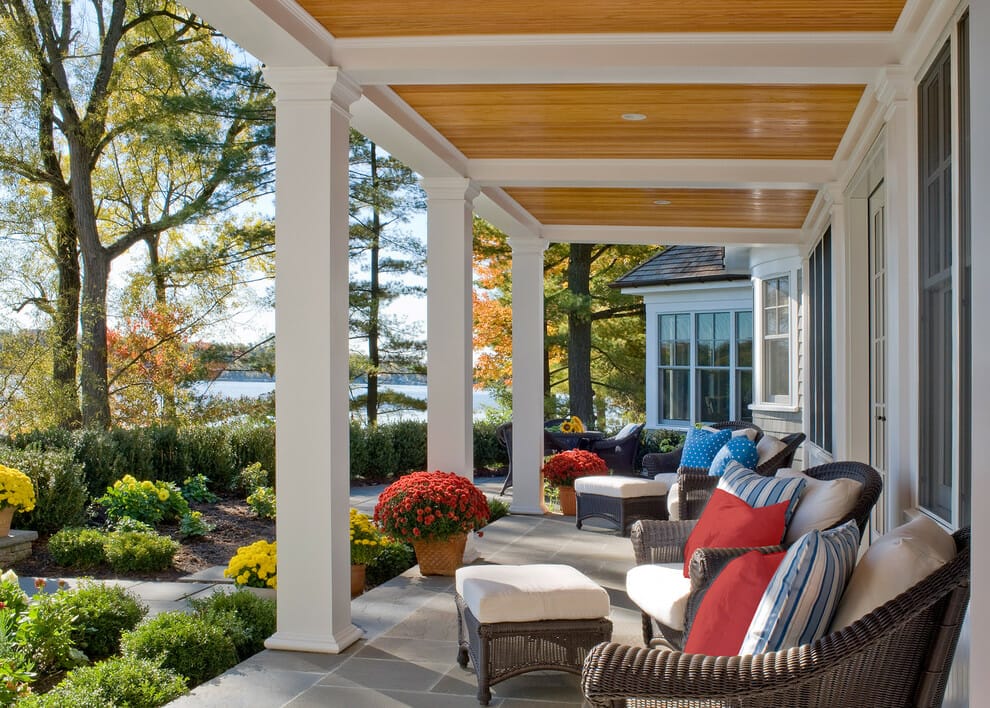 Stained wood ceiling panels make the white pillars seem less cold. Brown wicker footstools and armchairs make for an inviting porch.
Red blooms and decorative pillows ensure this front porch isn't chilly. Meanwhile, striped and polka dot blue pillows pop against white cushions.
26. When in Doubt, Choose Blue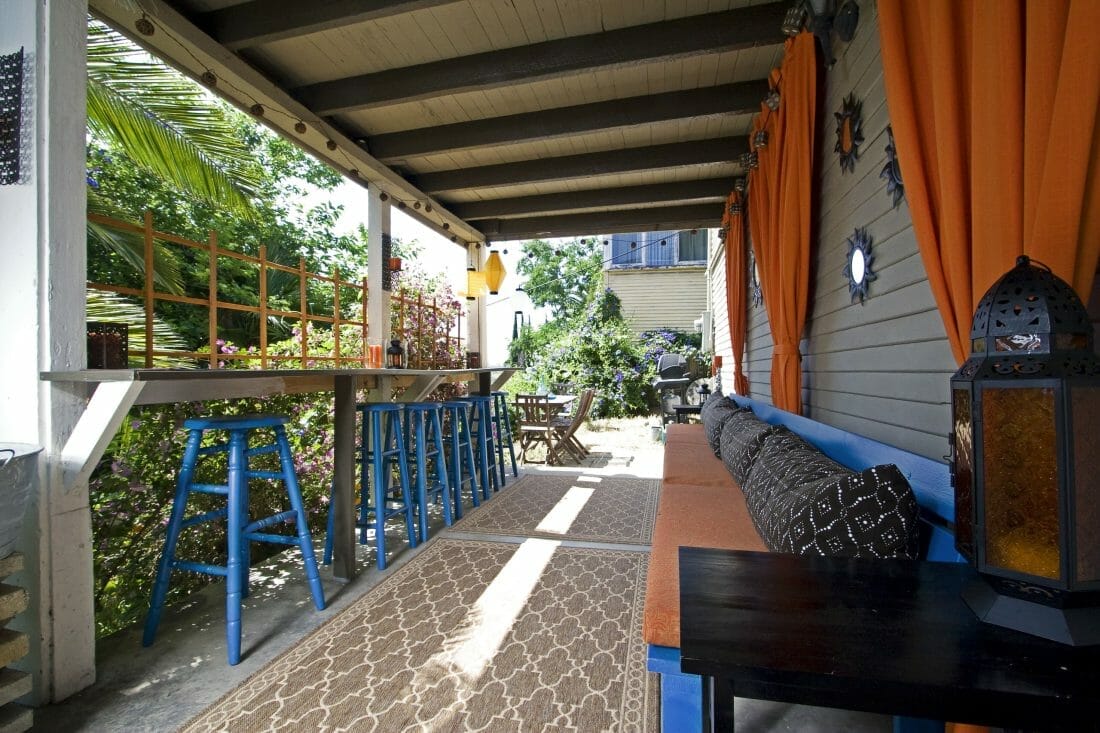 The homeowners can throw regular outdoor parties since their front porch boasts plenty of seating. Moreover, the super-long blue bench and stools perk gathering areas up.
Here, the wooden furniture, orange curtains, and cushions deliver warm tones. Meanwhile, an assortment of accessories portrays eclecticism.
27. Full of Character
The patterned rug accentuates white rattan armchairs. Here, the metallic garden stool and vintage silver table produce cohesion instantly.
Beige curtains frame the low-slung dark gray porch swing. Moreover, black-and-wicker stools sit under the marble-top side table when not in use.
28. One with Nature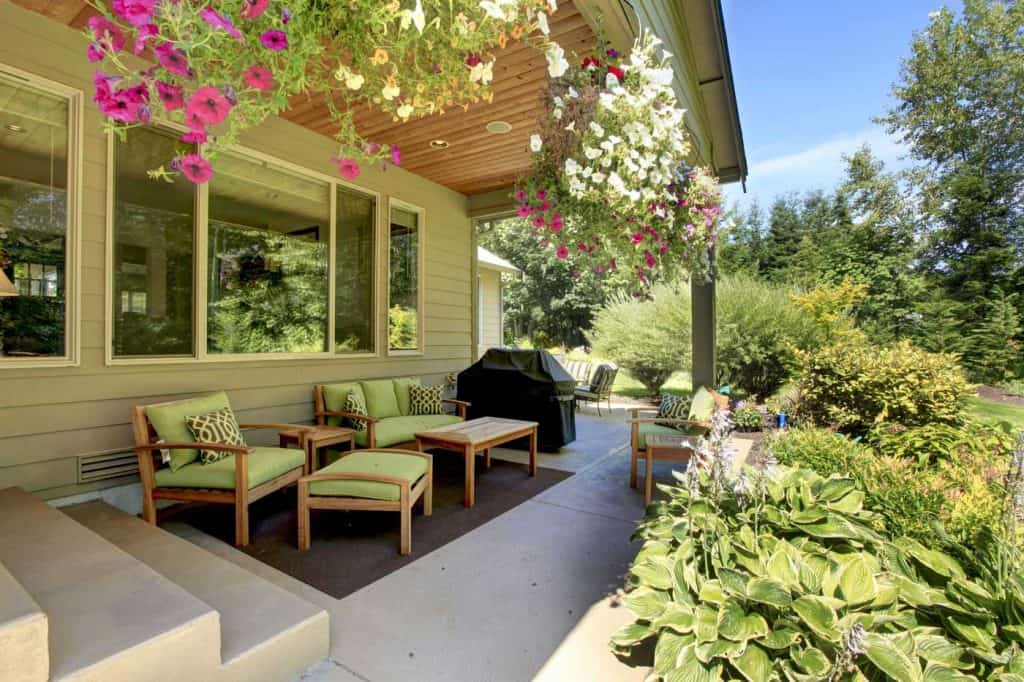 Earth tones are dominant on this front porch. Due to them, the outdoor gathering areas match with gorgeous surroundings seamlessly.
Bare wood furniture units highlight pastel green cushions and vintage patterned pillows. Furthermore, classic iron seats offset them.
29. Black Furniture for Front Porch Ideas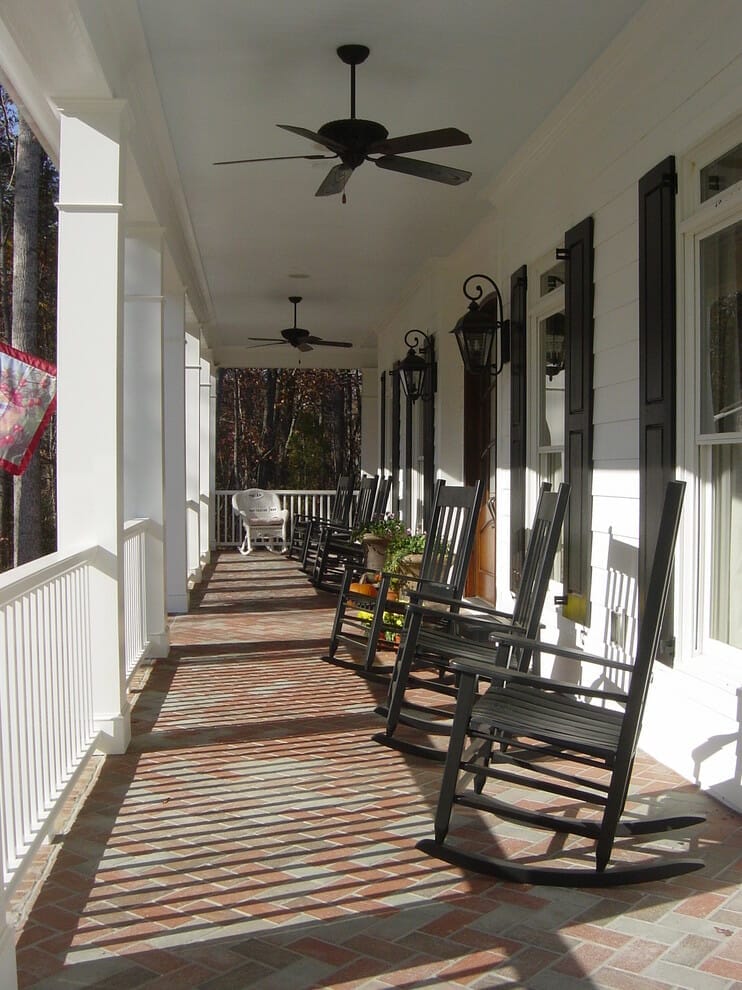 Here, homeowners lined their white siding with black rocking chairs. Apart from facing the front yard, they infuse enough depth.
The white rocking chair, handrailing, and pale gray porch ceiling lighten the scene up. Meanwhile, herringbone pavers create balance and interest. Vintage ceiling fans and sconces echo the black hue of rocking chairs.
30. Timeworn But Timeless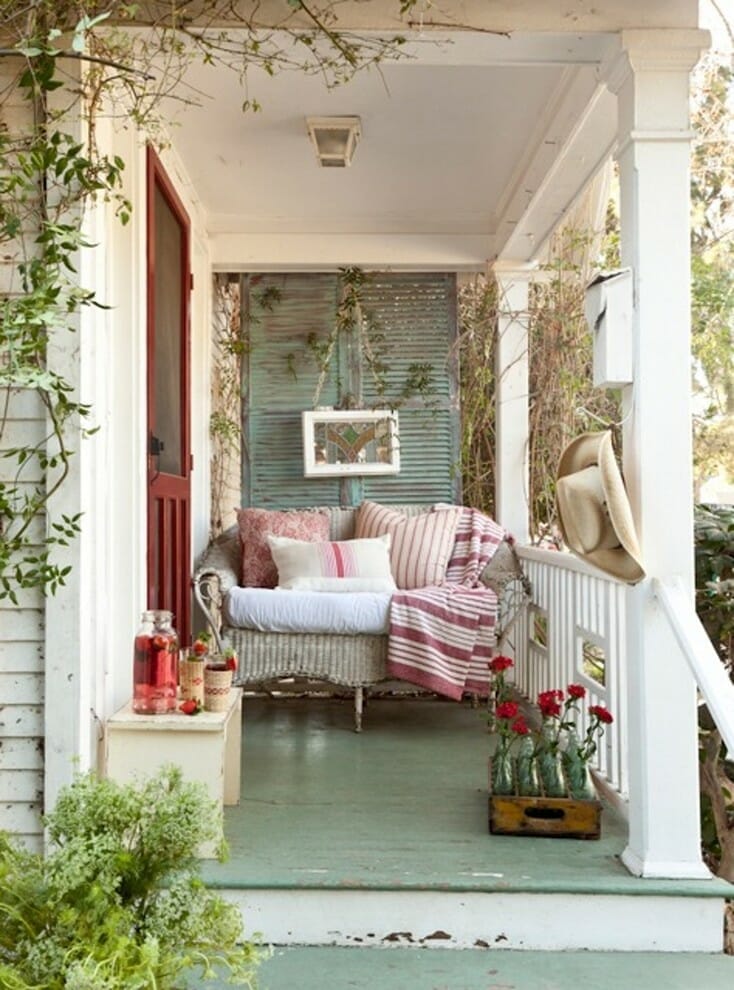 If all things country farmhouse interest you, emulate this idea. The distressed duck egg blue flooring and shutters add personality while inducing a tranquil atmosphere.
The shabby chic crate and cream table house varying vases with red blooms. Meanwhile, the striped blanket and mismatched pillows make the timeworn wicker sofa feel cozy.
Pieces of furniture for front porch ideas give homeowners versatility. Furthermore, they set the stage for outdoor accessories. After diving into them, don't hesitate to create your desired look. When designing a porch, always bear your abode style in mind.