Hot tubs let people release muscle tension after a tedious day. However, they mean nothing without some great privacy. This is why you should make your hot tub private. Fret not! I've had an impressive selection of hot tub privacy ideas.
You can add a hot tub to either a backyard patio or deck. Furthermore, some people build hot tubs at ground level. Regardless of your option, I fully believe any of the ideas below will motivate you to create your private retreat.
1. Permanent Stone Privacy Wall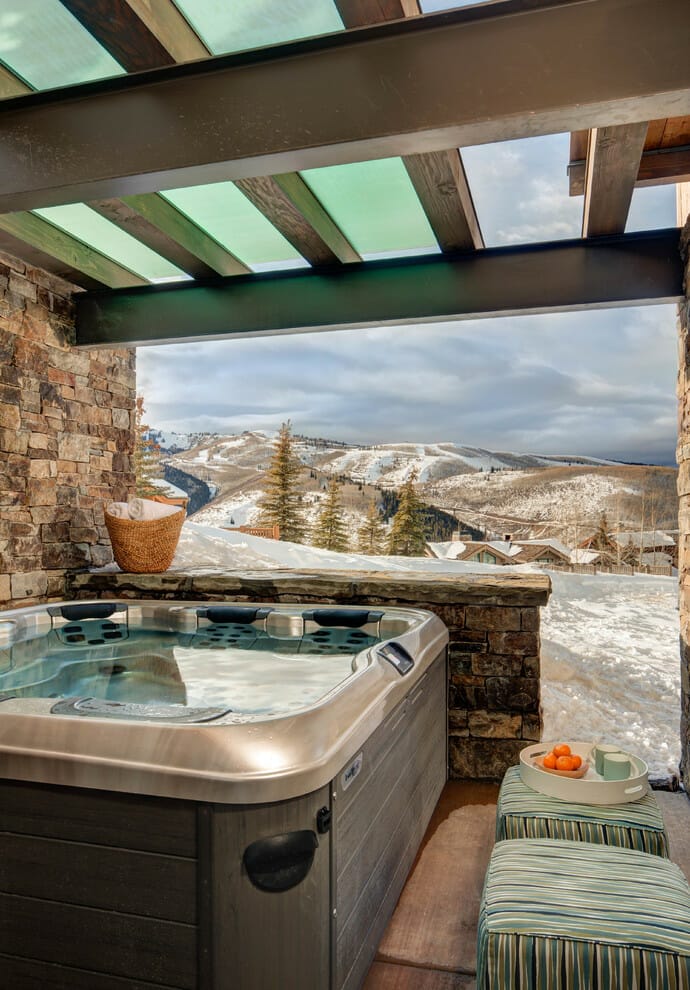 Need permanent hot tub privacy ideas? If so, you should construct a natural stone wall. Here, it blends with the landscaping while carving a primitive look.
The single stone wall makes this hot tub feel inviting, tranquil, and protected. Furthermore, it offers enough privacy and retains the spa ambiance at once.
Additionally, the hot tub roof protects you from the sun and other weather elements. Also, it blocks the view from above.
Meanwhile, the stark white wood serving table boasts cutout handles. Due to the unit, the striped ottoman becomes a table. There's a seagrass basket with rolled towels, too.
2. Rooftop Hot Tub Privacy Ideas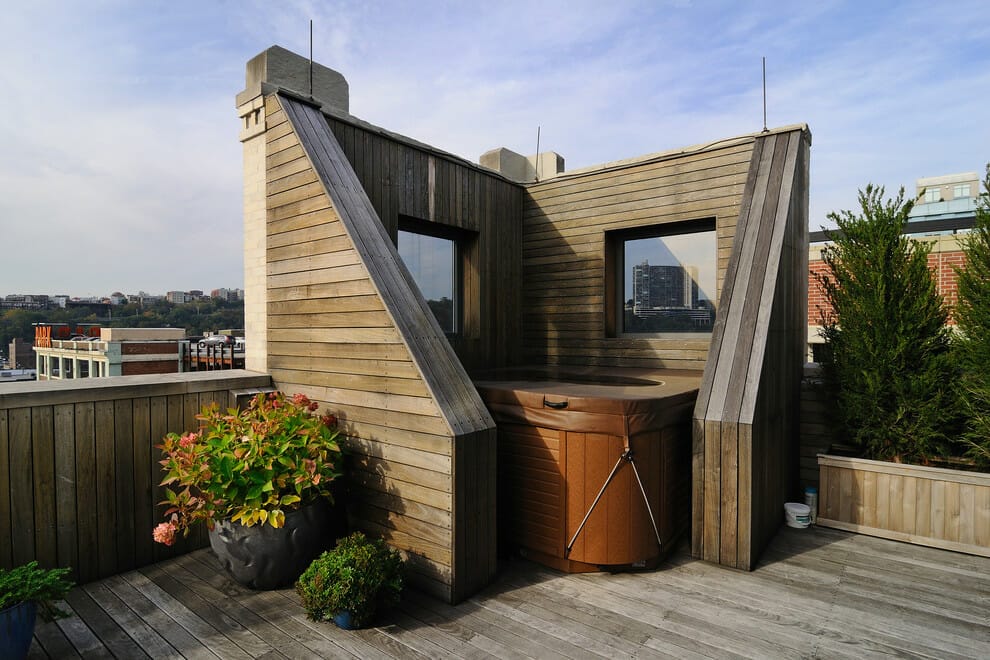 Speaking of hot tub enclosures for decks, you can't forget privacy walls. Before building them, decide on the hot tub's location first. That way, you know the views to hide and maintain.
Take the style of your deck and rooftop hot tub into account. Also, you should think about their shapes since they'll dictate the privacy walls. Be sure to choose materials that embrace similar colors and textures.
Here, square and trapezoid walls employ horizontal planks. They go seamlessly with the rooftop flooring and fencing.
Small windows let you enjoy city views. Meanwhile, the container garden provides extra privacy. The plants deliver height and some life.
3. Curved Privacy Walls for Hot Tubs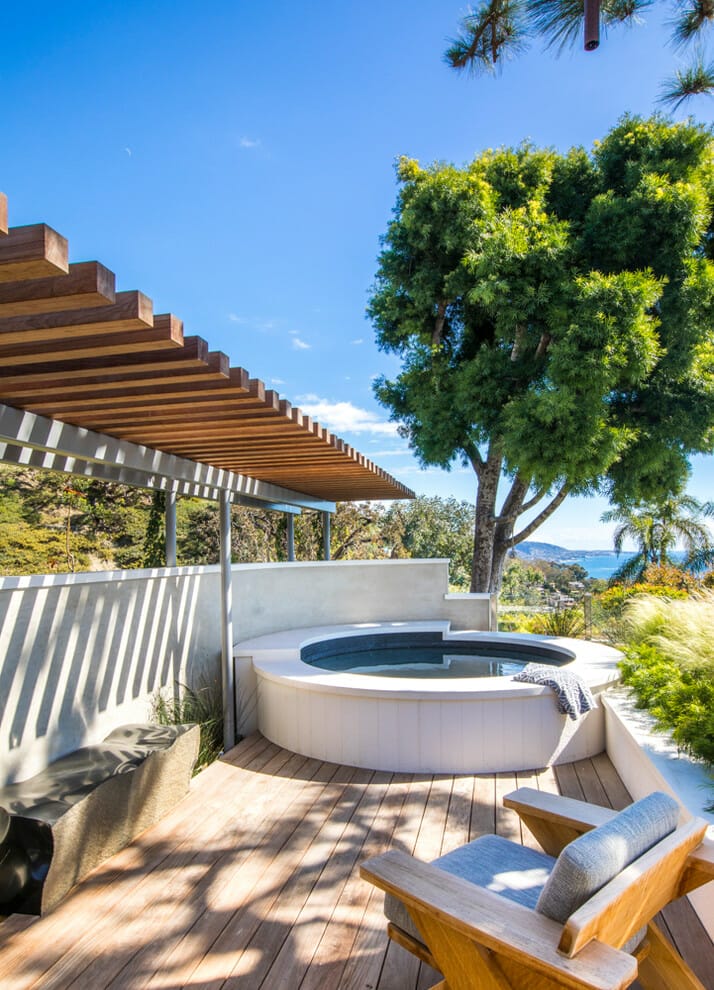 Here is another hot tub privacy enclosure. The curved white privacy wall matches the round hot tub that employs vertical planks. It embodies a sense of privacy while offsetting clean lines.
The concrete privacy wall gives the landscape height and texture. It improves the homeowner's hot tub experience too. Due to its minimalist appeal, it goes harmoniously with the flooring.
Overhead is a wooden hot tub roof. Moreover, it gives some shade. Meanwhile, streamlined planks boost the hot tub's style factor.
4. Hot Tub Privacy Fence Ideas
There are abundant deck hot tub privacy ideas. If you aren't into DIY fences, consider custom fencing. Here, the black slat fences of different heights lend the property some interest. Also, they protect the space from prying eyes.
As you see, the homeowner coupled the slat fencing with the concrete privacy wall. Apart from elevating the property, they let him express his lifestyle.
Talking about privacy plants around hot tubs, try growing bamboo trees. They instill a tropical ambiance while becoming a living screen and an excellent hot tub wind blocker.
The round hot tub matches the deck and softens the look. Meanwhile, nasturtiums, trees, and yellow accents liven up the property.
5. Hot Tub Privacy Ideas with Container Gardens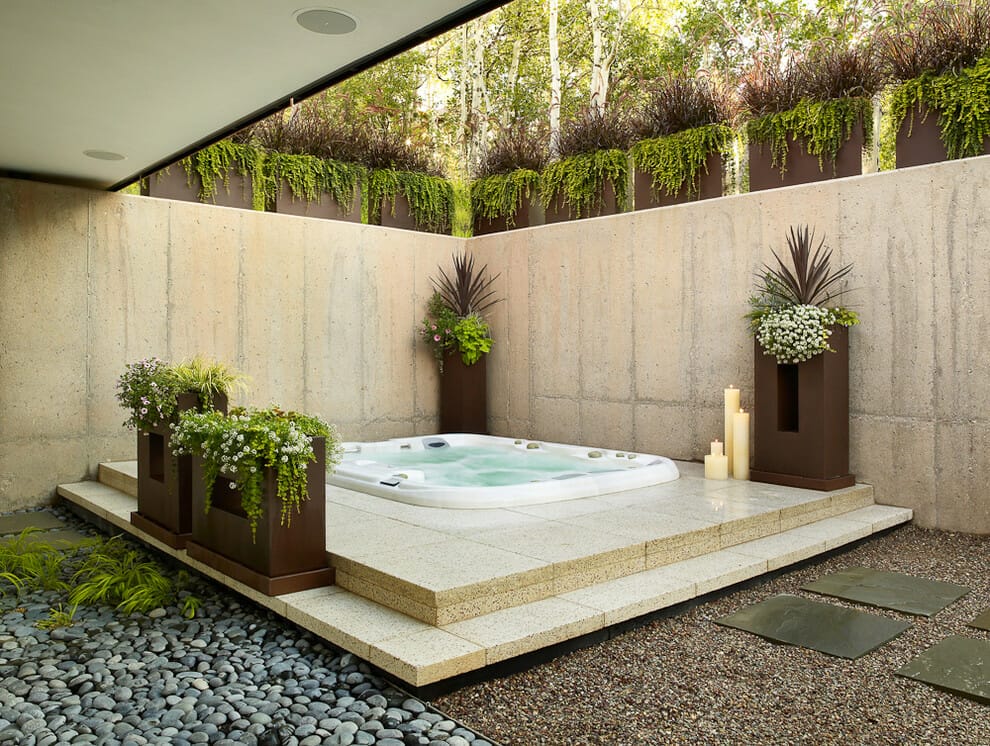 This backyard employs pre-cast concrete walls. They make the hot tub private and carry a pop of color. There's a container garden right over them that adds extra height. Here, sleek metal planters hold purple fountain grasses and trailing plants.
The terrazzo deck allows the stark white-hot tub to be more noticeable. Furthermore, planters inject some visual appeals because of their different heights.
In addition, the gravel emphasizes modern stepping stones. Meanwhile, dwarf grasses and Mexican beach pebbles complete the property in seconds.
6. Hot Tub Privacy Ideas with Curtains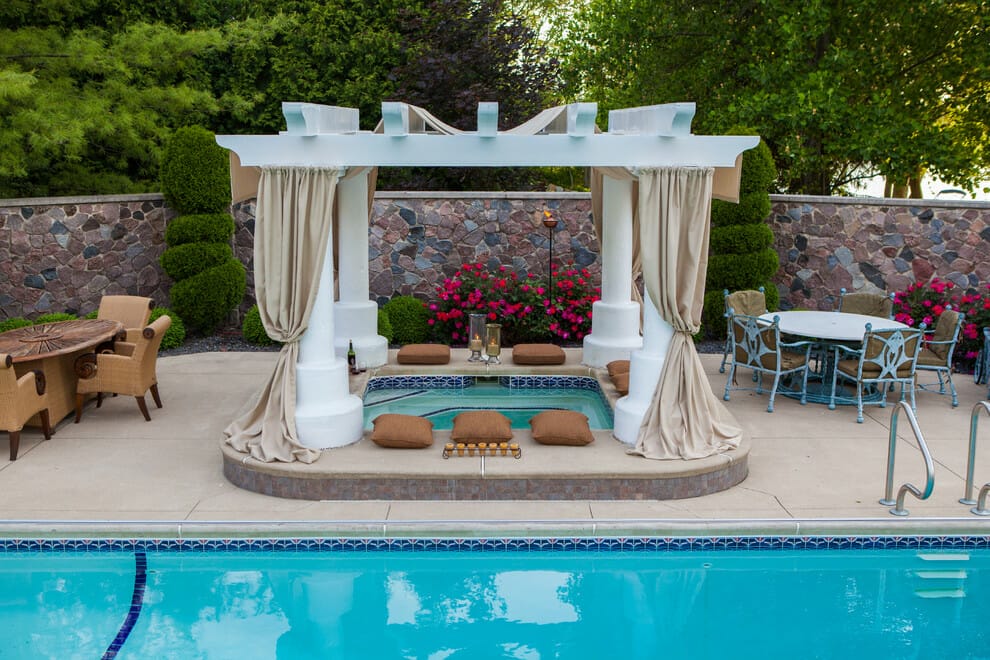 Cheap hot tub privacy ideas are suited to homeowners who have tight budgets. If you're one of them, opt for drop cloth curtains.
Undoubtedly, hot tub privacy curtains make any property more private. However, they don't empty your wallet. Furthermore, they let you keep out unwanted attention with ease.
The drop cloth curtains are a perfect fit for gazebos and pergolas. They introduce an elegant look and a glam ambiance.
Speaking of privacy curtains for hot tubs, take colors into account. If you're after a seamless feel, choose earth tones or neutrals.
Here, sand-colored outdoor curtains enhance the pergola's cozy factor. Brown pillows and cushions mingle with them.
The hot tub mimics the swimming pool. Additionally, stone walls, seating areas, shrubs, and vibrant annual flowers finish the yard off.
7. Hot Tub Privacy Dome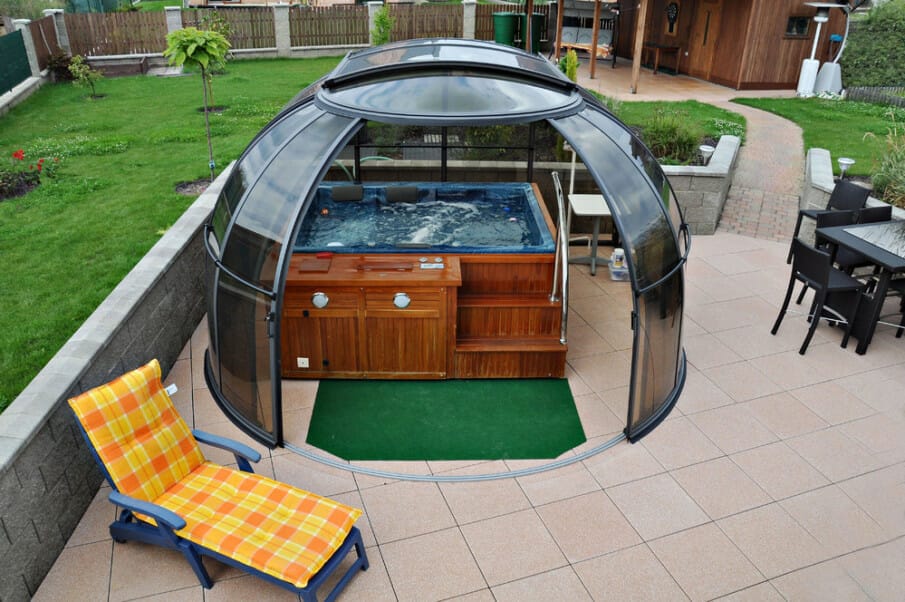 Homeowners can opt for portable hot tub domes or permanent ones. So pick the type that meets your requirements.
It's easy to see why hot tub domes gain massive popularity nowadays. They give privacy without hindering the surrounding views.
Hot tub domes boast an array of features like sliding doors. Furthermore, other versions include retractable blinds and tinted glass panels.
Pair the dome with a bold lounge chair and an outdoor dining area for a multifunctional sunken patio.
8. All About Shapes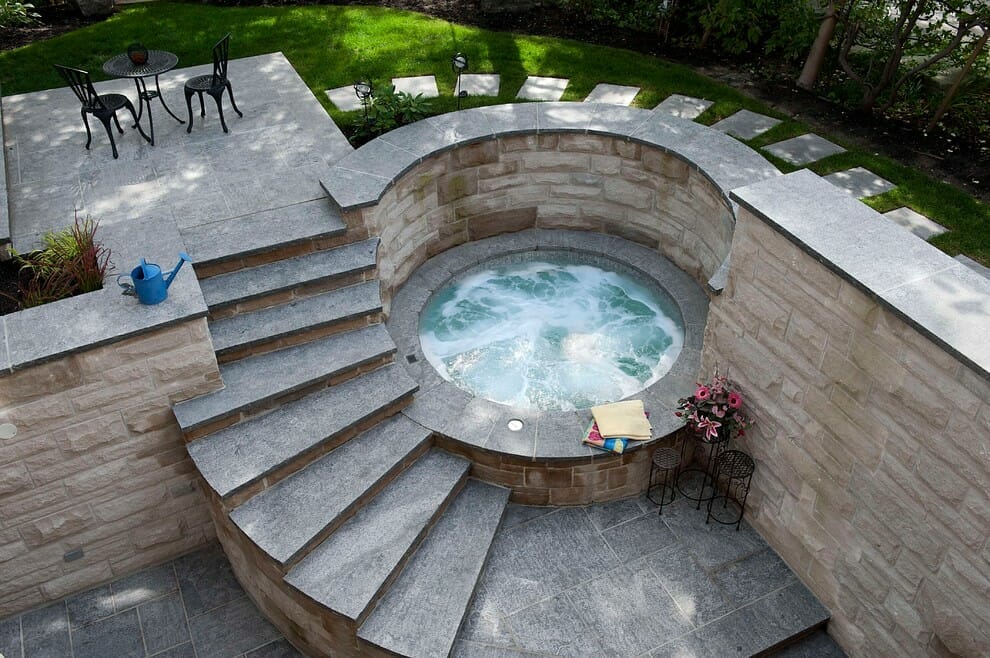 With a massive number of hot tub privacy ideas, you might be overwhelmed. Just build a sturdy stone wall. Moreover, rugged stone bricks make an incredible privacy enclosure.
This patio is like a work of art. The curved stone wall lends the round hot tub a cozy atmosphere. It blocks nosy neighbors and instills a soothing vibe, too.
Medium-toned gray stone tiles top off the round hot tub and curved privacy wall. They match the staircase treads and patio flooring as well. Modern stepping stones guide the feet and eyes to a vintage seating area for two.
9. Simple Hot Tub Privacy Ideas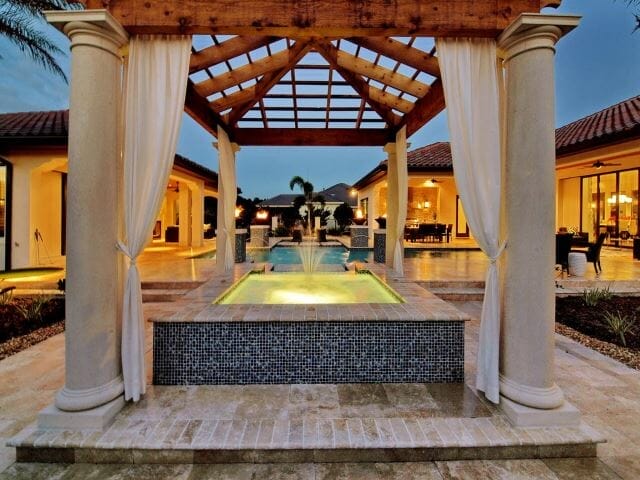 This patio belongs to an extravagant property. In addition, marble tiles and huge pillars make it way more graceful.
The homeowner spruced the pillars with drop cloth curtains. They're a low-cost yet practical way to generate some privacy.
Without a doubt, curtains complement gazebos, pergolas, and pavilions perfectly. Meanwhile, the tie-backs instantly up their style factor.
Here, soft white drop cloth curtains fit in with the surroundings. Moreover, the raw wood pergola roof offers privacy and daylight.
10. Tropical-Style Hot Tub Shelter Ideas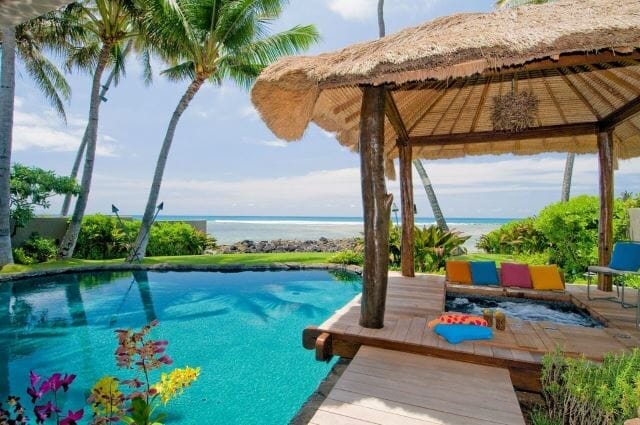 Who doesn't adore this coastal patio? The thatched roof offers the gazebo a tropical flair. It also protects the hot tub against the scorching sun and view from above.
The matching pendant and log pillars complement the hot tub privacy gazebo roof. Moreover, bold orchids, bright pillows, palm trees, and other landscaping plants elevate the patio.
11. Hot Tubs with Spa Canopies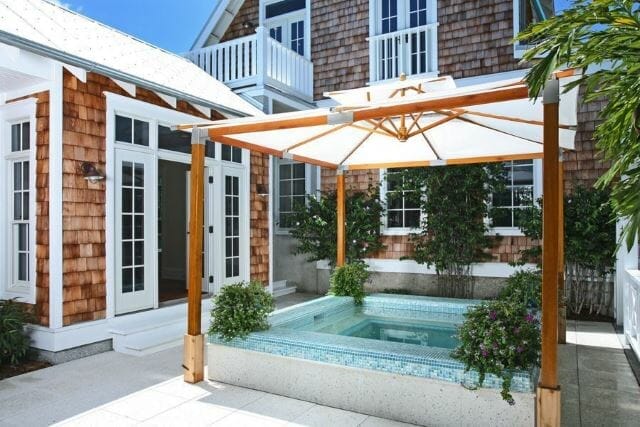 Need outdoor hot tub privacy ideas? If so, incorporate a freestanding canopy. This kind of enclosure boosts your privacy while adding lots of architectural interest.
Here, there's a white-and-wood canopy over the square hot tub. Moreover, assorted plants and blue mosaic tiles titivate the patio instantly.
12. Lovely Latticework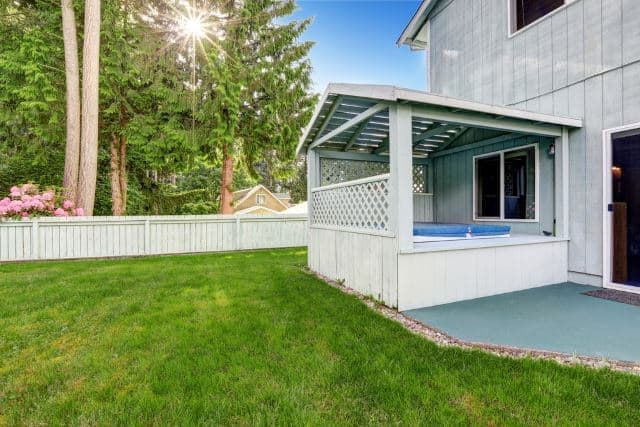 Backyard hot tub privacy ideas aren't complete without lattice screens. Thanks to them, this outdoor oasis gets more striking and private. Such screens can be folding or moveable.
The slatted roof effortlessly gives some shade. Furthermore, the vertical white wood fence delivers a splendid contrast to the lawn.
13. Portable Enclosures for Hot Tubs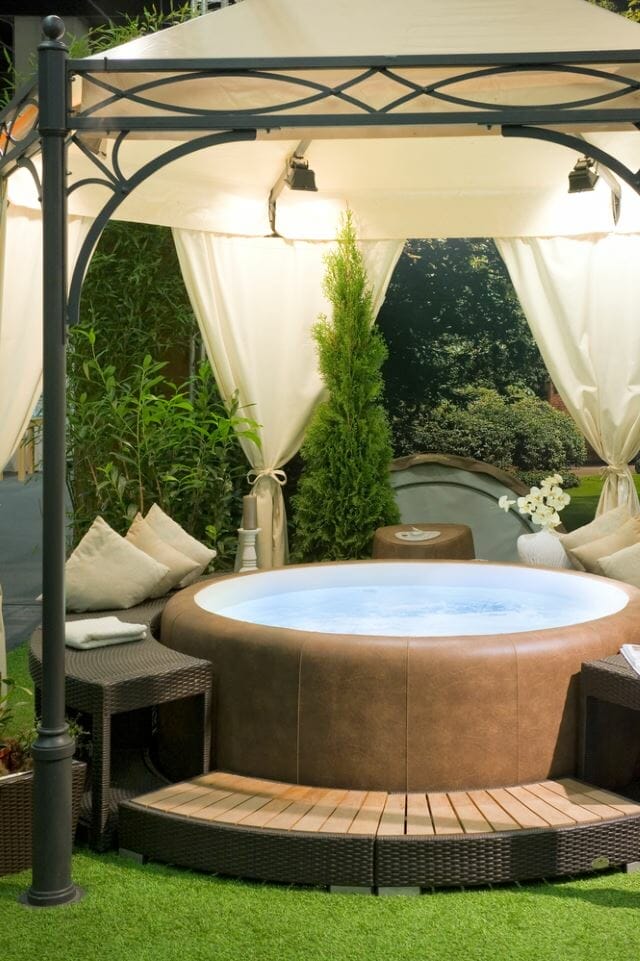 If you can't afford a permanent structure, give a portable enclosure a chance. Speaking of movable enclosures, consider pop-up gazebos with curtains.
This pop-up gazebo accommodates a hot tub and curved benches. Not only does it provide marvelous flexibility, but also produces privacy without breaking the bank.
14. DIY Hot Tub Privacy Ideas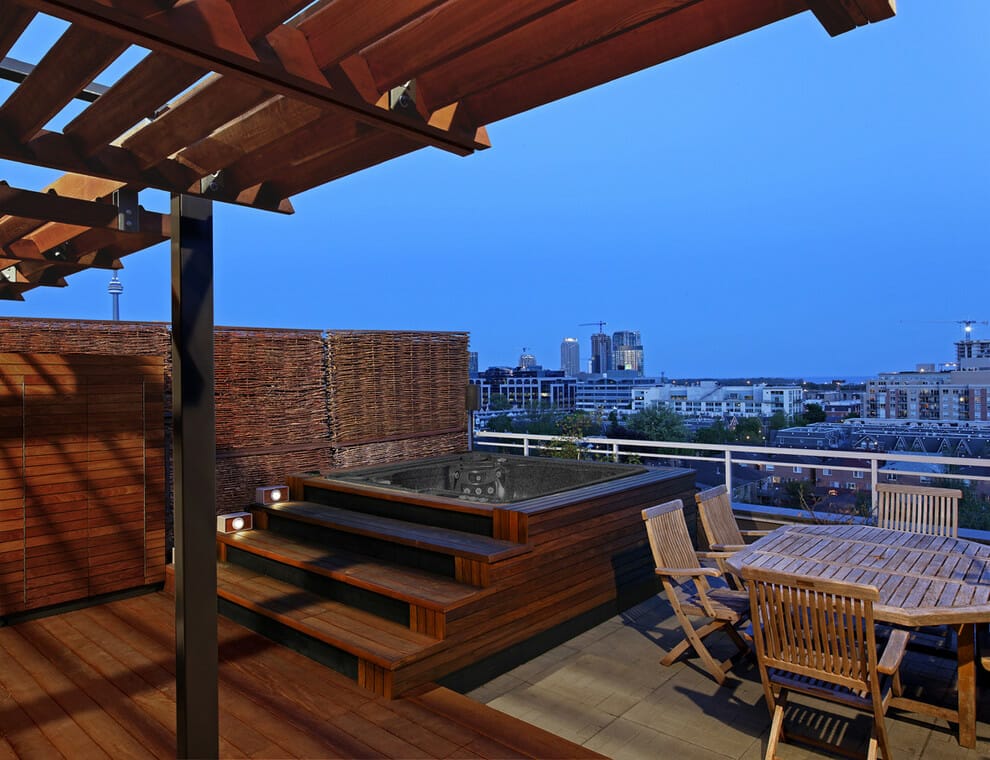 Normally, privacy screens are smaller than fencing. They're a more feasible choice than fences. Furthermore, there's a slew of materials and designs to select from.
These DIY wattle privacy screens are inexpensive. Also, they suit the wooden dining set and richly-stained wood hot tub.
15. Say Yes to Bare Wood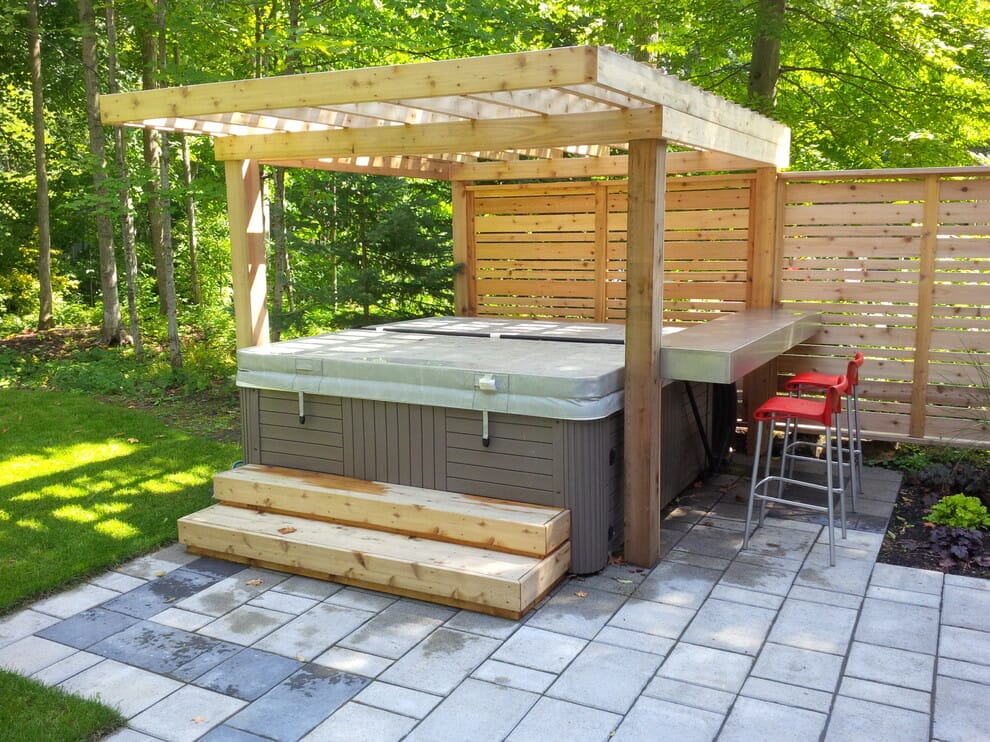 Here, the privacy walls employ horizontal planks. The matching pergola roof and steps carry the raw beauty of Mama nature.
The gaps between bare wood planks generate some character. Moreover, the planks of varying widths give the hot tub tons of interest.
16. Hardwood Hot Tub Privacy Ideas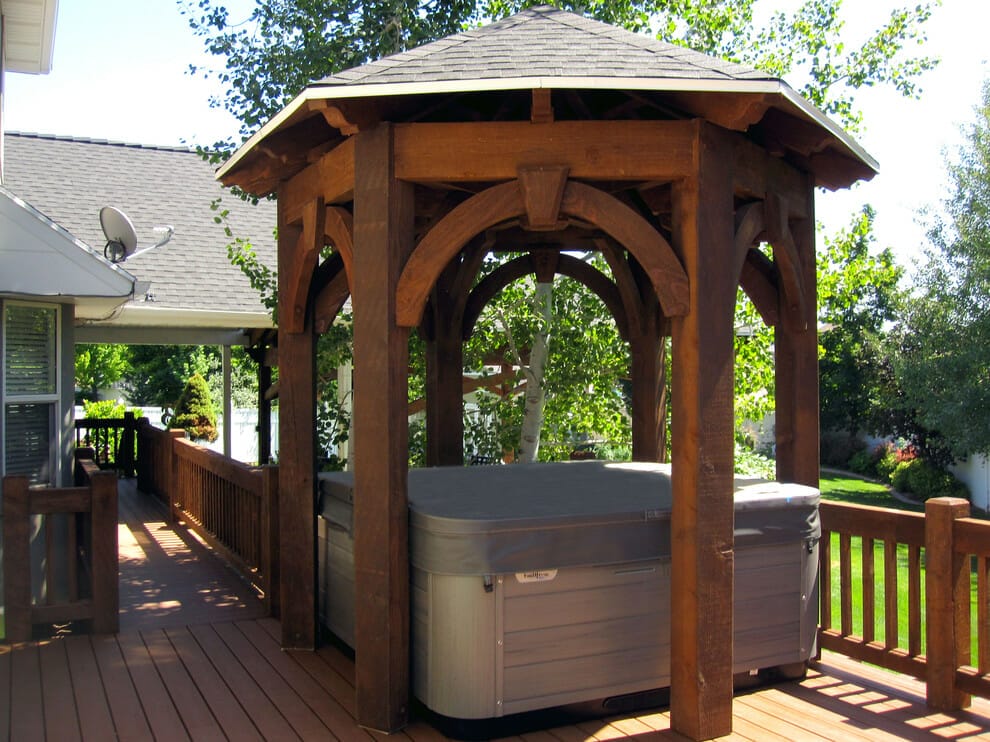 The homeowner attached a hot tub privacy gazebo to her house. Furthermore, hardwood pillars blend with the deck and handrails.
As you see, the hardwood gazebo gives you privacy and shade. Meanwhile, adjacent lush plants embody a sense of harmony.
17. Built-in Hot Tub Ideas with Pergolas
Talking about brilliant built-in hot tub privacy ideas, consider pergolas. In this picture, the white pergola coordinates with stones, boulders, and nearby plants.
Apart from adding privacy, the pergola lets in plenty of light. Moreover, the backyard includes different entertaining areas.
18. Enclosure Kits for Hot Tubs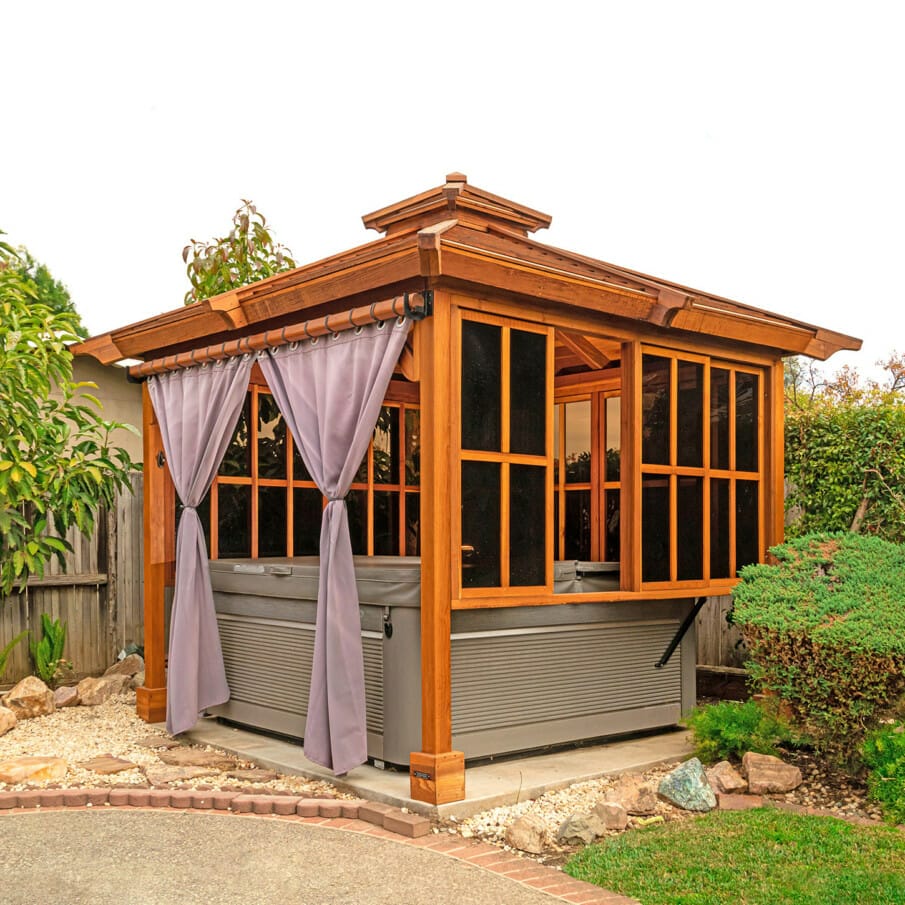 This enclosure kit for a hot tub saves homeowners lots of time. You don't need to construct the structure from scratch.
Thanks to this fantastic cedar enclosure kit, you can obtain privacy. It enables you to use the hot tub year-round. Furthermore, the unit imbues a natural vibe while employing curtains.
19. Custom Hot Tub Privacy Ideas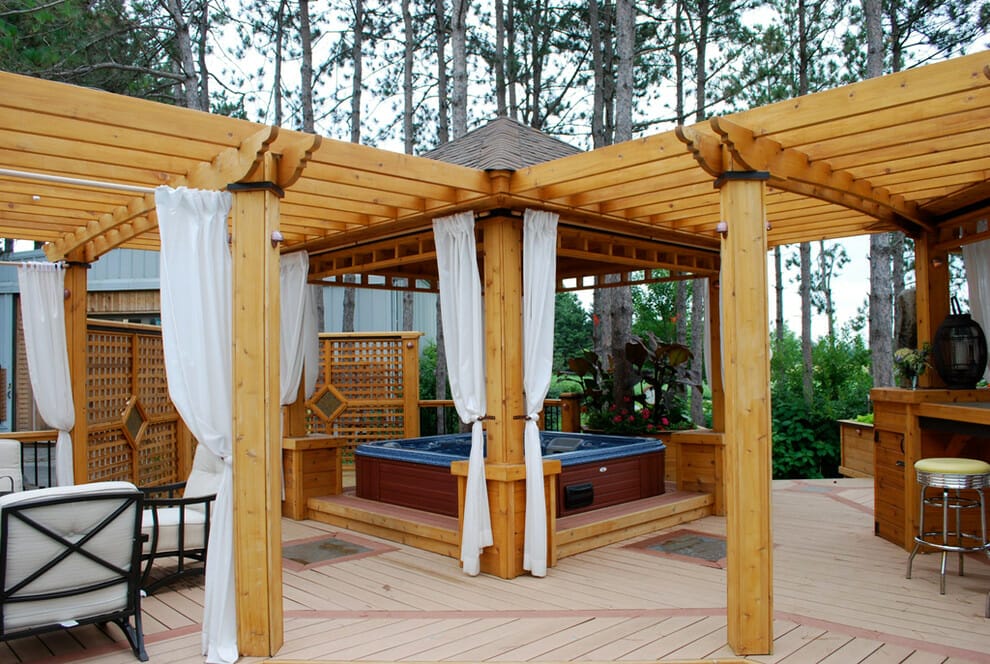 If you have an extensive deck, try this idea. The gazebo protects the precious hot tub from unwanted elements while adding interest.
Pergola roofs and wooden screens produce an extra sense of privacy. Meanwhile, white curtains temper the deck's natural wood elements while elevating the outdoor space.
20. Hot Tub Gazebo with Glass Panels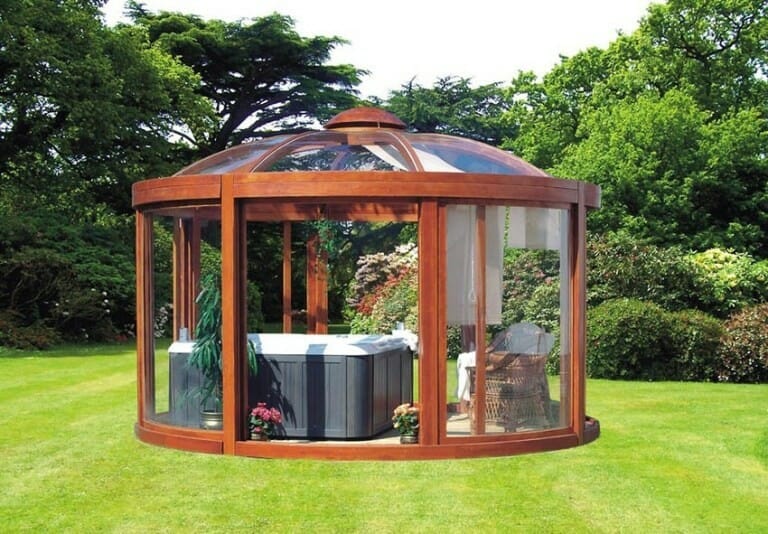 This hot tub gazebo becomes an outdoor retreat in any backyard, of course. It provides optimum privacy as well. Furthermore, it houses potted plants.
If you opt for a massive hot tub gazebo, consider adding ventilation. Moreover, make sure it boasts glass panels to give protection against weather elements while leaving the view.
21. Covered Pergolas for Hot Tubs
Undeniably, the pergola is such a popular enclosure for outdoor hot tubs. Apart from providing privacy, it ensures the yard gets some shade.
The neutral hot tub and covered pergola blend in with the woods. Meanwhile, cinder block walls and wooden fences generate extra privacy.
22. Umbrella Meets Fence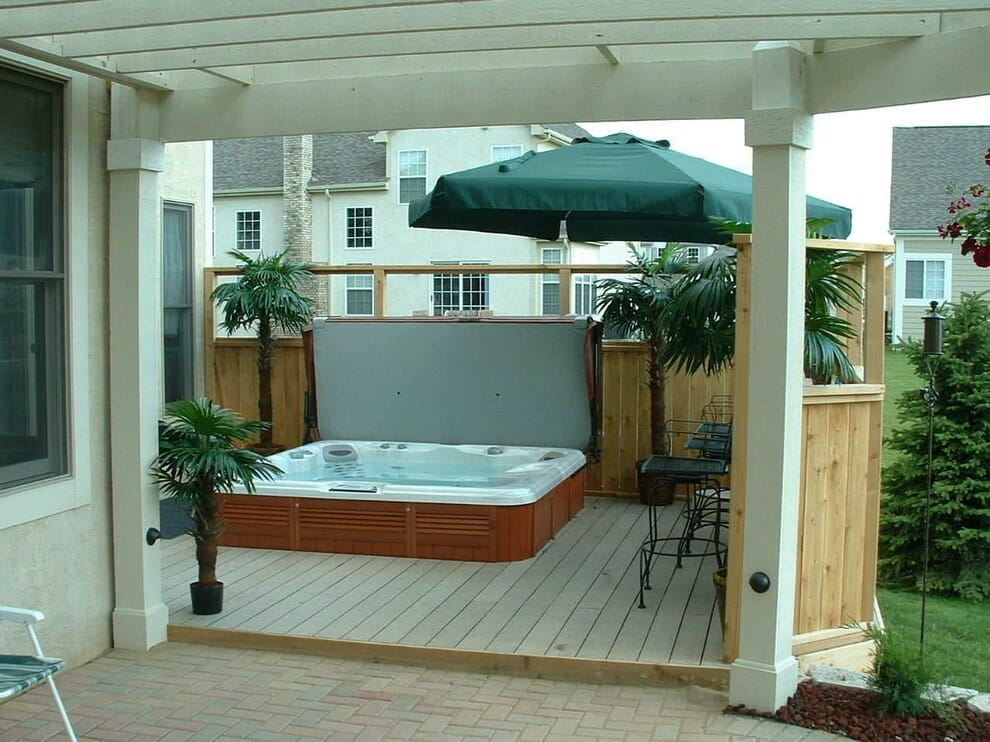 If you need remarkable hot tub privacy ideas, try pairing an umbrella with fencing. The custom vertical wood fence keeps the area private and airy.
The umbrella creates some privacy. Due to potted fake palm trees and iron seats, the hot tub deck seems more inviting.
23. Be A Minimalist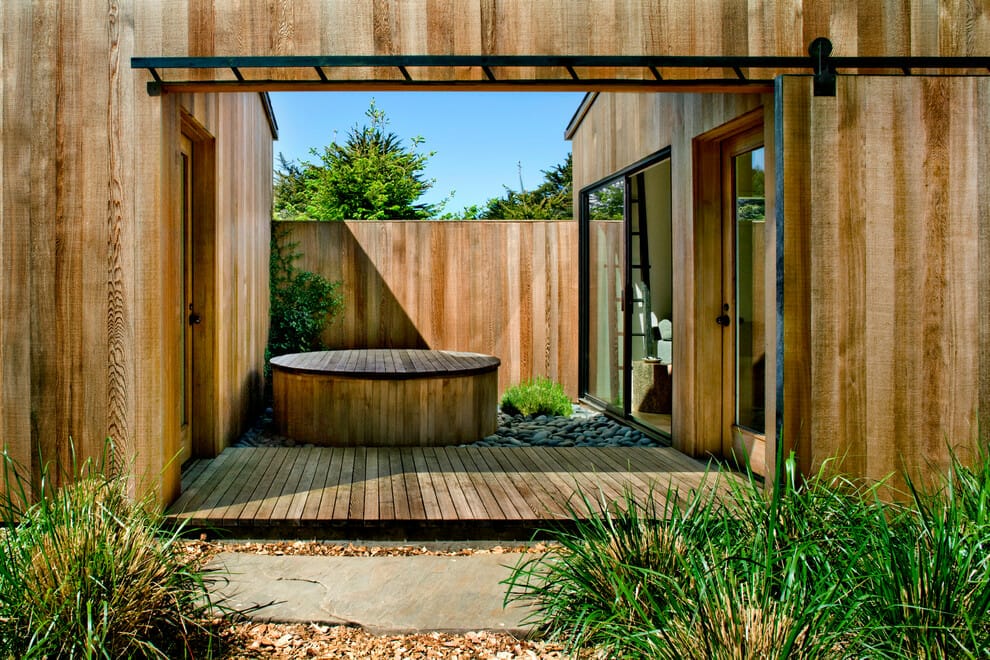 This outdoor oasis perfectly mirrors the homeowner's lifestyle. The minimalist custom fencing shields the hot tub from prying eyes.
The round wooden hot tub softens the privacy fence's look. Because of stone slabs, pebbles, and dwarf grasses, the area becomes a Zen zone.
24. Contemporary Pavilions for Hot Tubs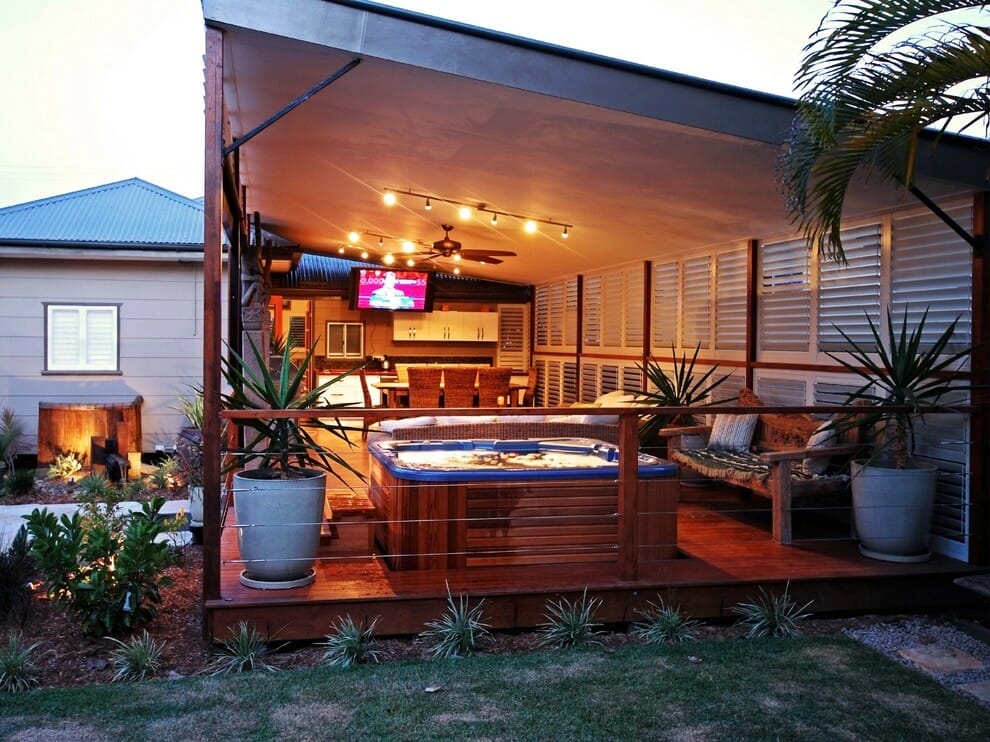 No hot tub privacy ideas are complete without freestanding structures. This contemporary pavilion employs louvered panels for some privacy.
The pavilion protects the hot tub from the elements. It accommodates a dining room, an outdoor living area, a TV, and concrete planters as well.
25. Outdoor Spa Ideas with Wood Slats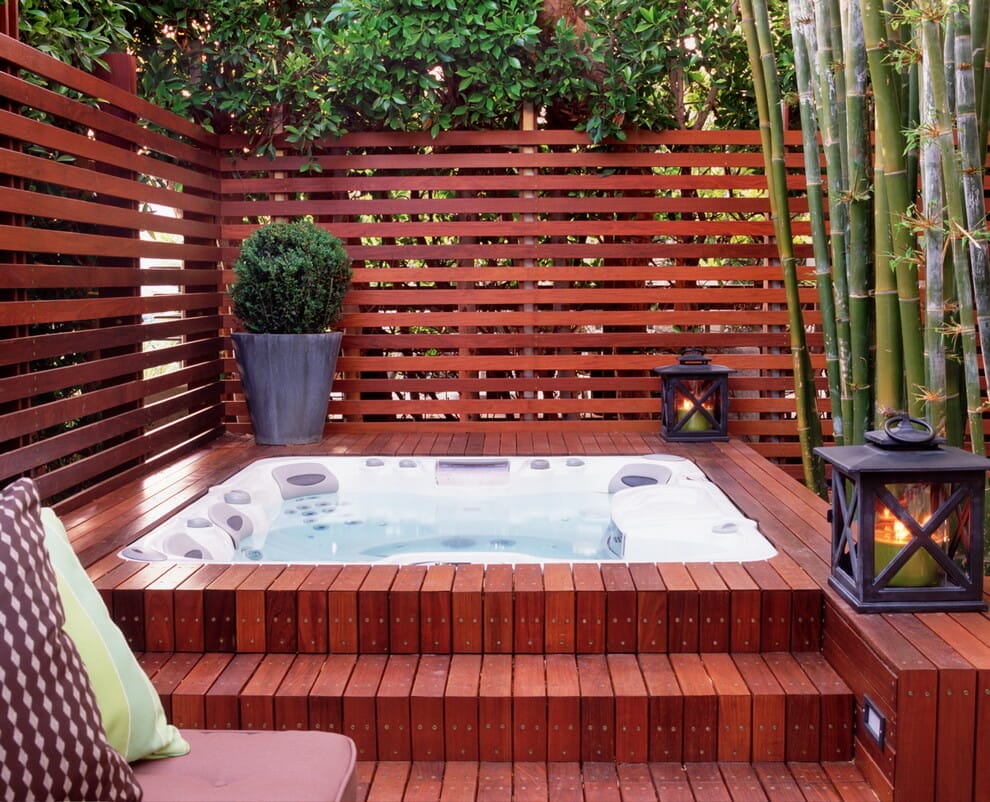 The custom cherry wood fence goes with the hot tub deck seamlessly. Furthermore, decorative wooden slats make the space a focal point.
Not only are these wood slats durable, but also warm up the hot tub deck. Surrounding plants add harmony and extra privacy.
26. Louvered Panels for Hot Tubs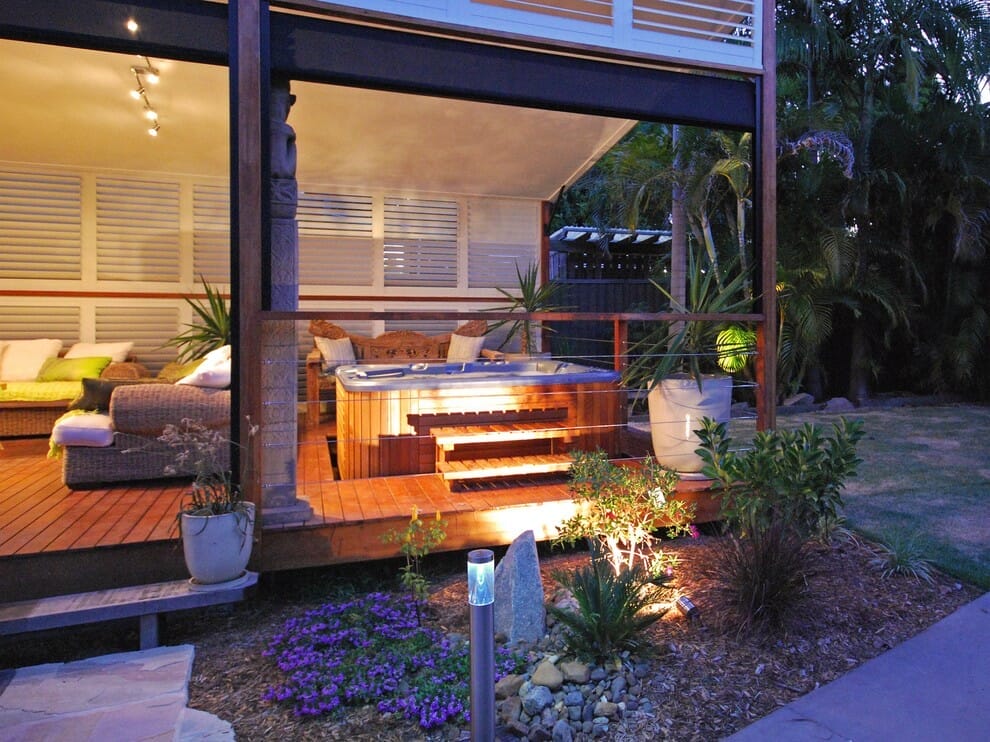 If you don't find fencing viable, consider adding privacy screens. Here, attached louvered panels emanate a sense of privacy.
The crisp white louvered panels brighten up the hot tub deck. Furthermore, they accentuate outdoor-friendly seats and potted plants.
27. Hot Tub Privacy Ideas with Rock Walls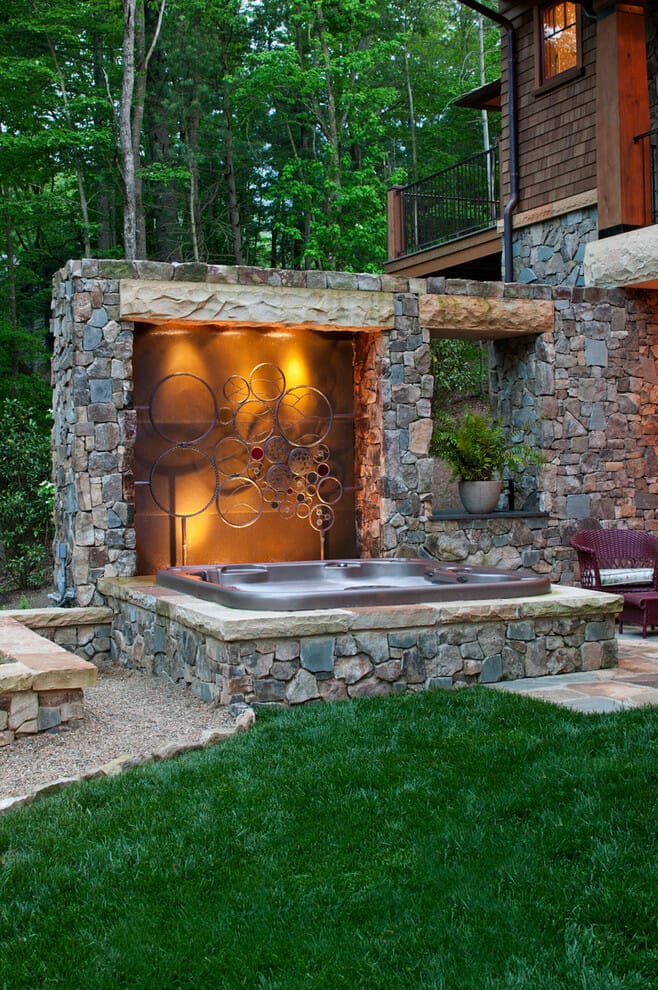 This rugged rock wall is multifunctional. Not only does it hold a fern planter, but also creates privacy and emphasizes steampunk ornaments.
As you see, the rock wall lives in harmony with the landscaping. The deep red resin wicker furniture and warm lights complete the look.
28. Stone Privacy Wall with Lights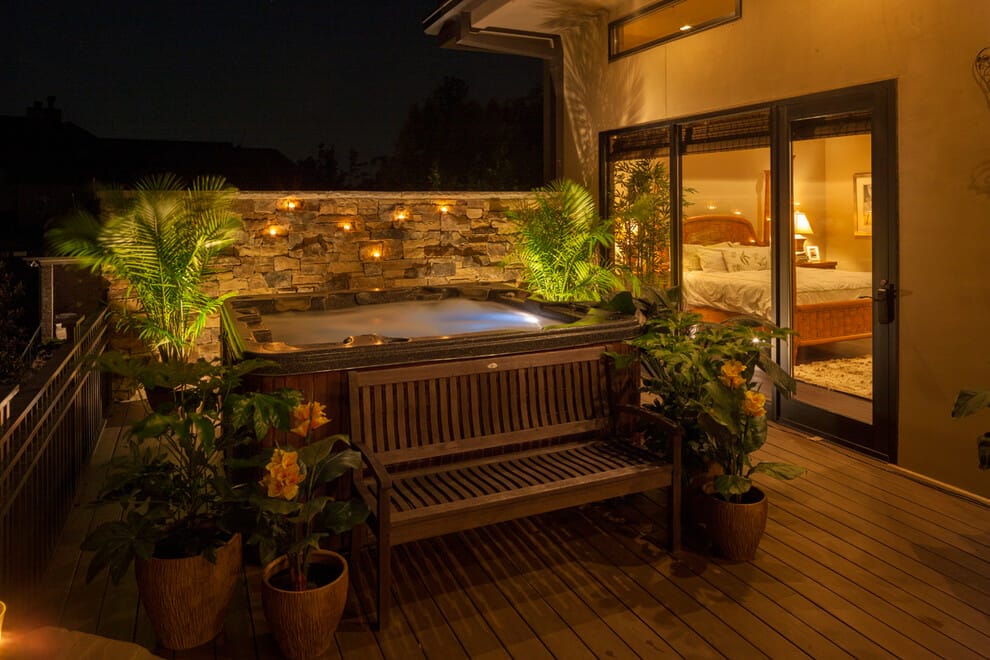 The glass door bridges the bedroom and the hot tub deck. Moreover, the stone wall maintains your privacy, regardless of the time.
Here, the stone privacy wall features tiny lights for subtle warmth. Furthermore, the outdoor bench and plants give the hot tub deck visual symmetry.
29. Movie Theatre Meets Privacy Fence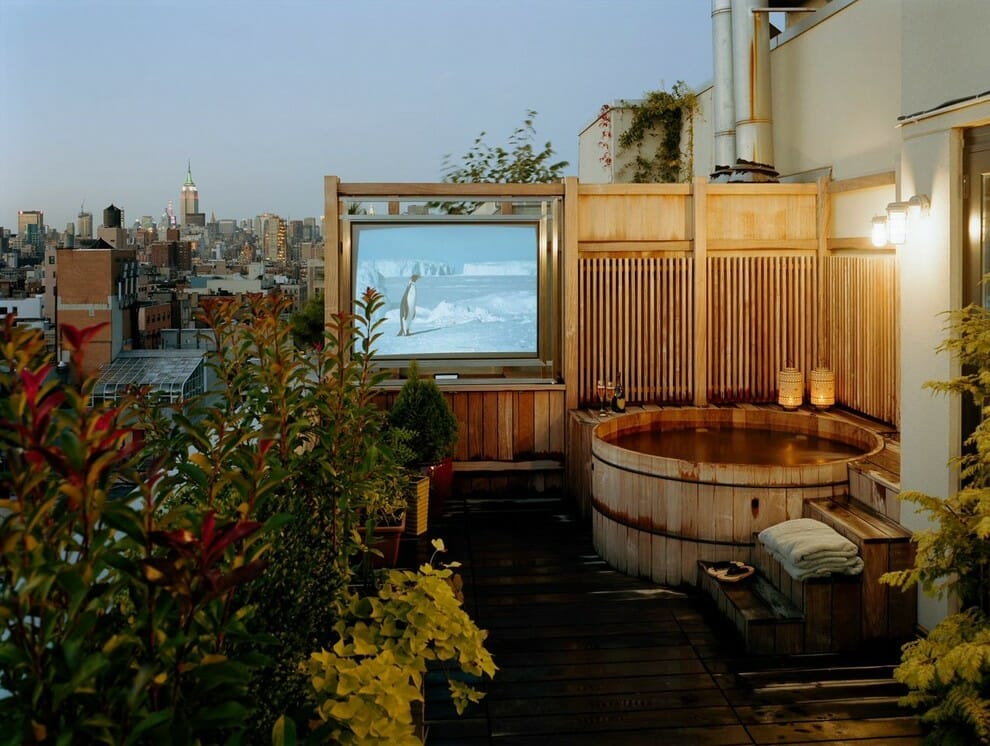 The wooden steps lead feet to the round wooden hot tub. Meanwhile, the container garden imbues some life and evokes a sense of privacy.
There's a custom wooden fence boasting vertical planks and thin wood slats. Furthermore, the movie theater screen lets you watch movies in your hot tub.
In conclusion, hot tubs refresh both soul and body. With those terrific hot tub privacy ideas, people can make the most of theirs. Whether you plan to locate yours on a patio or deck, never sacrifice your privacy.