Nowadays, many homeowners put their televisions above fireplaces. This trend rapidly gains popularity due to the presence of sleek TVs. However, it's somewhat tricky to follow. Fret not, here I've assembled a slew of fireplace wall ideas with TVs for inspiration.
TVs become energy-efficient, streamlined, and lightweight. No surprise, designers choose to hang them over the fireplaces. People only adorned their fireplace mantels with pictures and decorations back then.
Before focusing on the aesthetics of having television sets above fireplaces, you should know the functionality.
Moreover, take wirings and plugs into account. During the wintertime, the smoke and heat of the wood-burning fireplace could damage the device too.
If you have a tiny dwelling and wirings near the fireplace, consider these ideas. Read on to get some decor inspiration.
1. Media Wall Ideas for Open-Layout Homes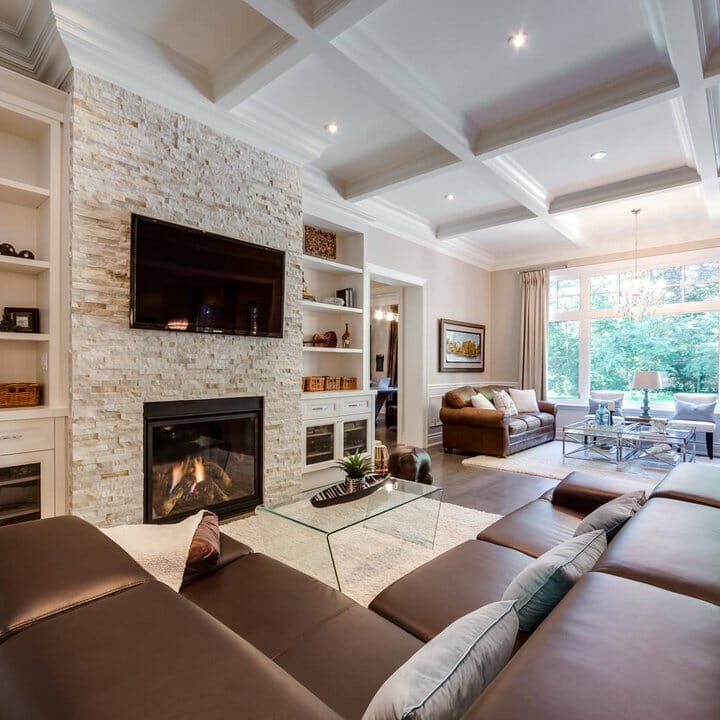 Here, the fireplace facade employs textured neutral limestone tiles. They infuse dimension while epitomizing serenity.
The fireplace makes this open-plan abode feel more snuggly. Also, it lets the homeowner cozy up to her loved ones. Furthermore, the unit generates a guest-friendly environment.
There's a streamlined TV over the glass fireplace. Moreover, the recessed glass-front cabinetry and shelves fit in with the coffered ceiling. Meanwhile, assorted embellishments distract attention away from the uninteresting television.
2. Fireplace Wall Ideas with TVs and Window Seats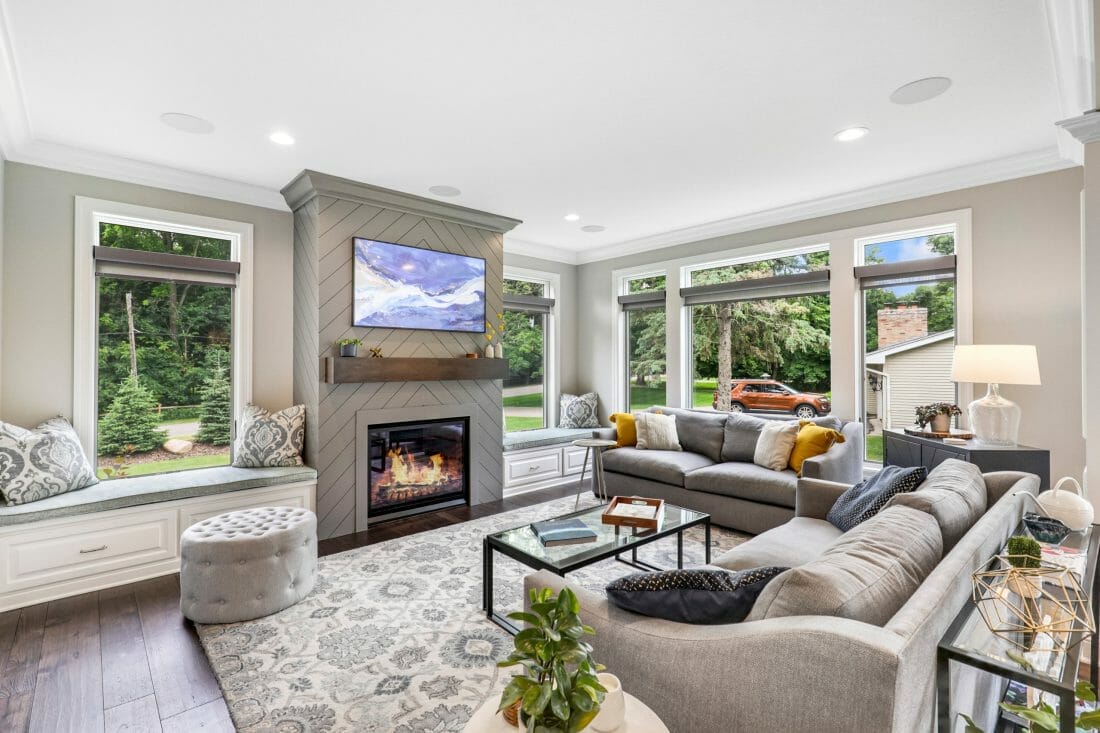 If you drool over modern fireplace designs, try this idea out. Varying gray tones ensure the living room doesn't look one-dimensional. Furthermore, the fireplace seems up-to-date because of the chevron planks.
The dark wood mantel demarcates the fireplace from the wall-hung frame TV. Additionally, it lends the interior display space for tiny but terrific ornaments.
Window seats flank the chevron fireplace wall. Moreover, they boast drawers, gray cushions, and matching printed decorative pillows. Mustard yellow accents and woodsy hues warm gray elements up.
3. TV and Fireplace Wall with Built-Ins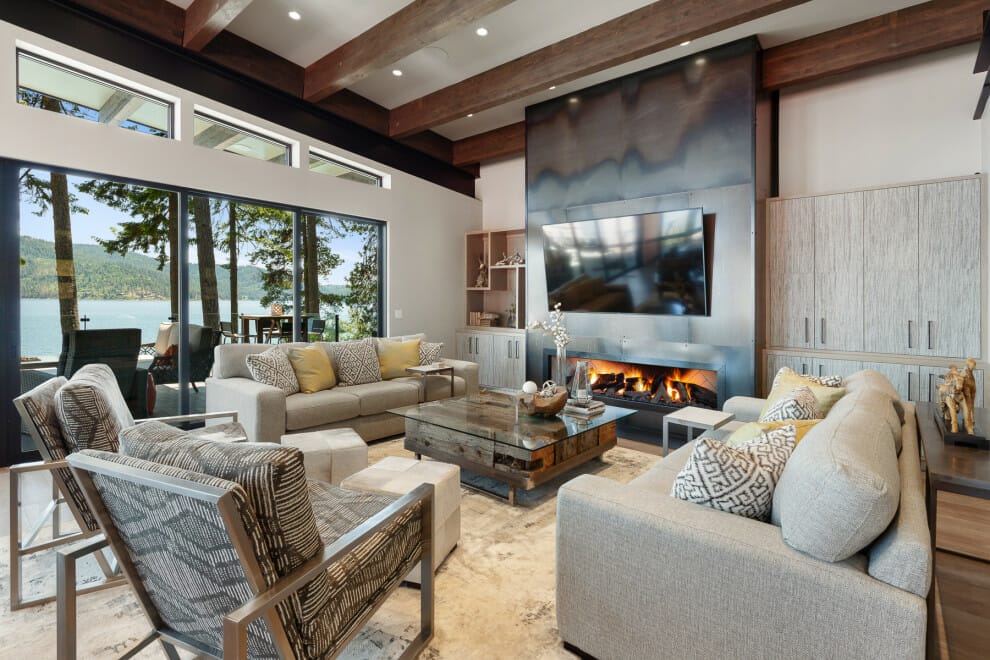 Need fireplace and TV wall ideas? If so, emulate this setting. The homeowners dressed the ceiling-to-floor fireplace facade with metal panels.
The fireplace injects the lake house with homey vibes. Bare wood decorative beams effortlessly temper its cold metal panels.
The wall-mounted television provides some entertainment. It goes seamlessly with the metal fireplace facade, too. Meanwhile, striking shelves and built-in cabinets keep things under control.
4. Fireplace Wall Designs with TVs for Bedrooms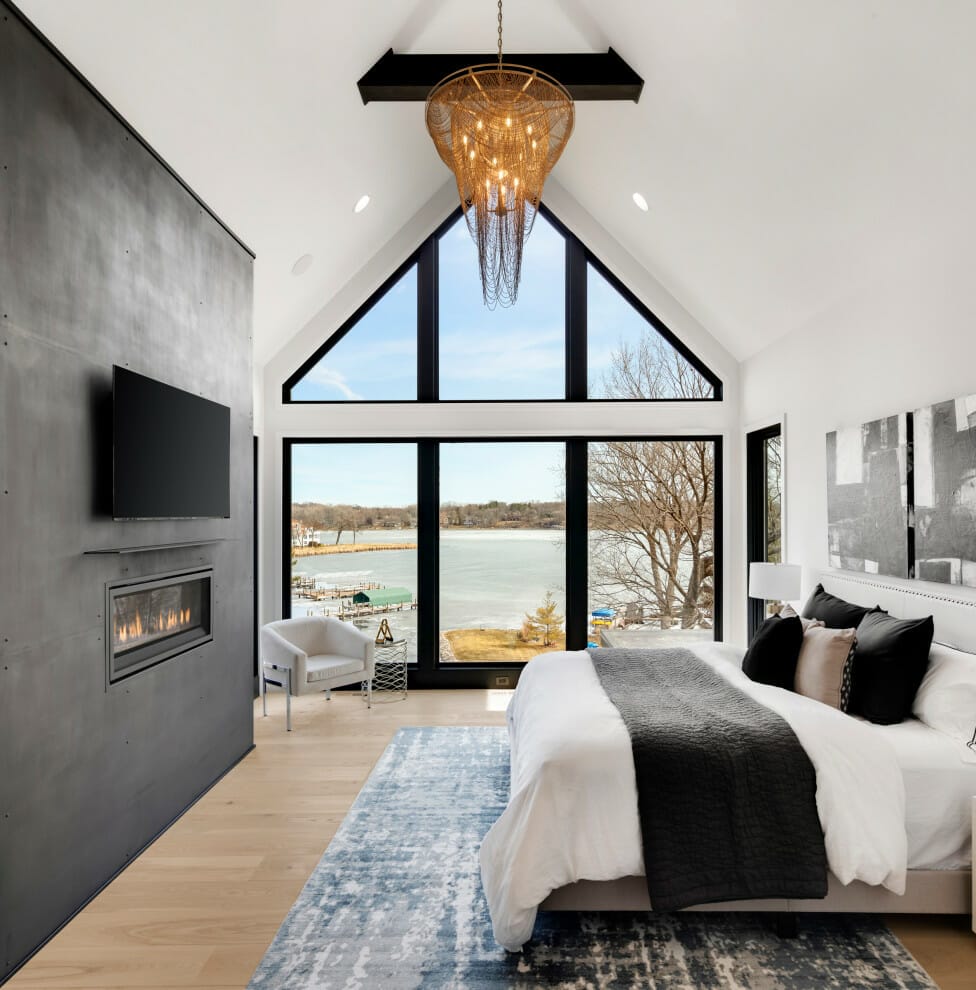 Fireplace wall ideas with TVs are ideal for tiny bedrooms. The sleeping area allows you to create a picture-perfect arrangement.
This spectacular idea enables you to enjoy the television from your snuggly bed. Furthermore, it prevents any neck pain while producing a modern interior.
The steel feature wall has a matching fireplace and a mantel. Additionally, instead of becoming an eyesore, the dull TV blends seamlessly with it.
5. Fireplace Surround Ideas with TVs and Giant Windows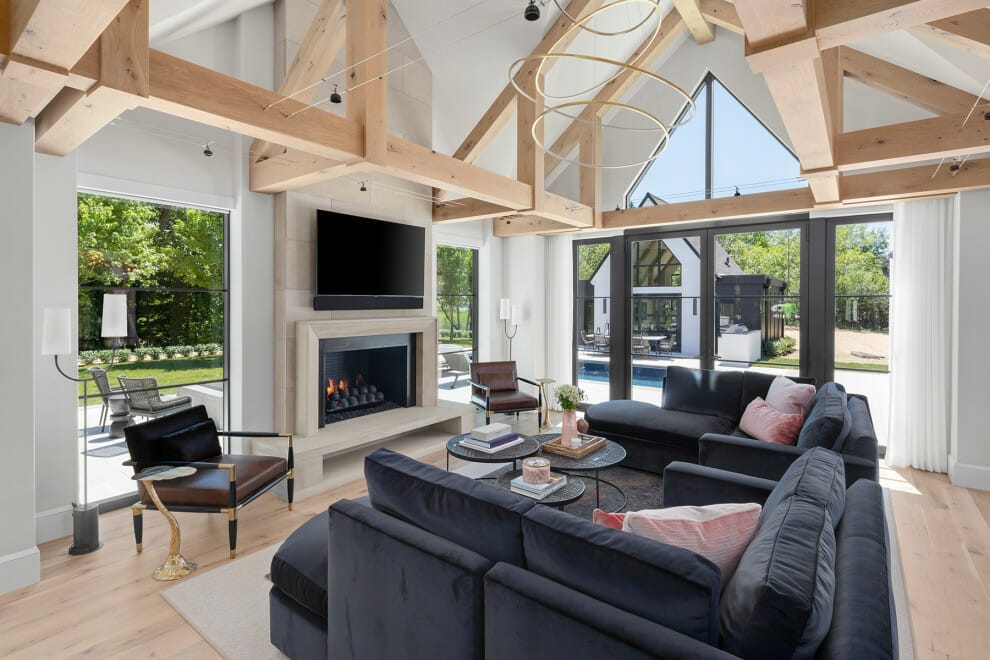 The gas fireplace displays beige tiles that instill a modern look and a cozy atmosphere. Meanwhile, eco-friendly fireballs make it appear sleeker.
Thanks to the gas fireplace, it keeps the homeowner's worries at bay. Unlike the traditional wood-burning fireplace, the unit doesn't induce smoke and heat problems.
The wall-mounted TV, leather seats, and massive windows generate visual symmetry. Blonde wood, orange, intense brown, and gold surfaces introduce warm elements.
6. Fireplace Wall Ideas with TVs and Hidden Cabinets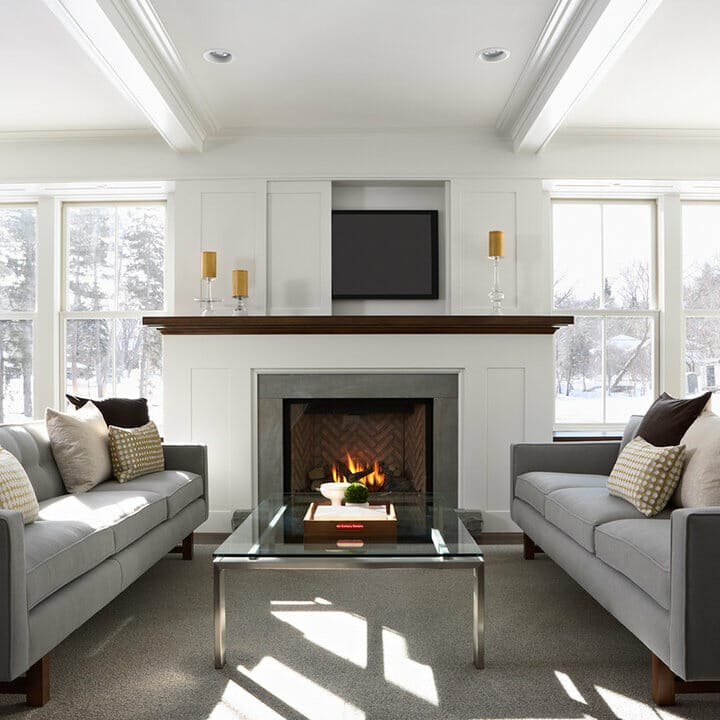 If your abode isn't enormous, emulate this layout. The white board-and-batten focal wall meets the ceiling and windows seamlessly. Also, it boasts a cabinet with a sliding door that hides the television when switched off.
The rich-toned wood mantel houses acrylic candle holders of different heights. There's a modern fireplace under it, too.
Here, the fireplace and mustard yellow printed pillows make the homeowner's friends feel at home. Meanwhile, the glass-and-metal table bridges two chunky gray sofas.
7. Minimalist Fireplace Decorating Ideas with TVs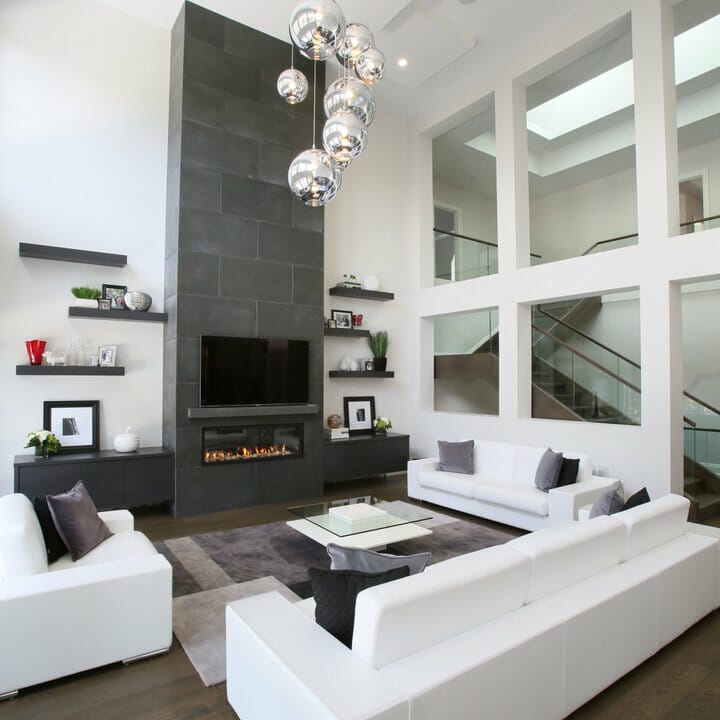 For homeowners who embrace modern minimalism, consider streamlined fireplace wall ideas with TVs. The fireplace above is not only stylish but also soaring. Moreover, intense gray matte porcelain tiles clash with white seats and walls.
Floating cabinets and alternating wall shelves flank the TV right above the fireplace mantel. They epitomize seamlessness while displaying framed family photographs, potted plants, and framed art.
Bright red adornments emanate instant warmth. Since there are plush pillows of different gray tones, the minimalist abode doesn't appear flat.
8. Recessed Fireplace Wall Ideas with TVs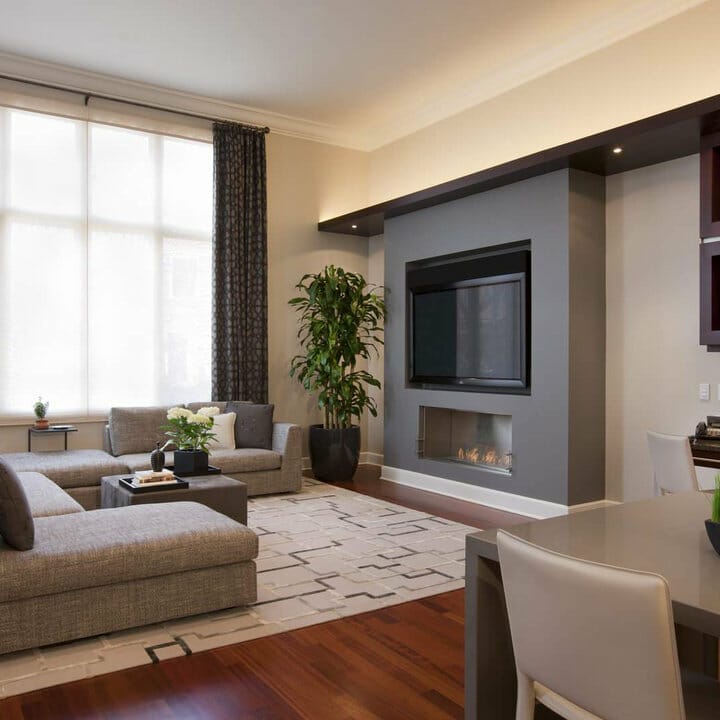 If you need recessed TV and fireplace wall ideas, replicate this layout. The medium-toned gray feature wall ensures the television doesn't become a nuisance. Also, it's an astonishing contrast to the white decorative baseboard.
The recessed television enables the eyes to focus on the printed rug and soaring curtains. Furthermore, it develops a modern interior.
Next to the gray fireplace wall is a statement indoor plant. Moreover, the potted greenery on the square ottoman and side table carve a cohesive, finished feeling.
9. Mismatched Yet Magnificent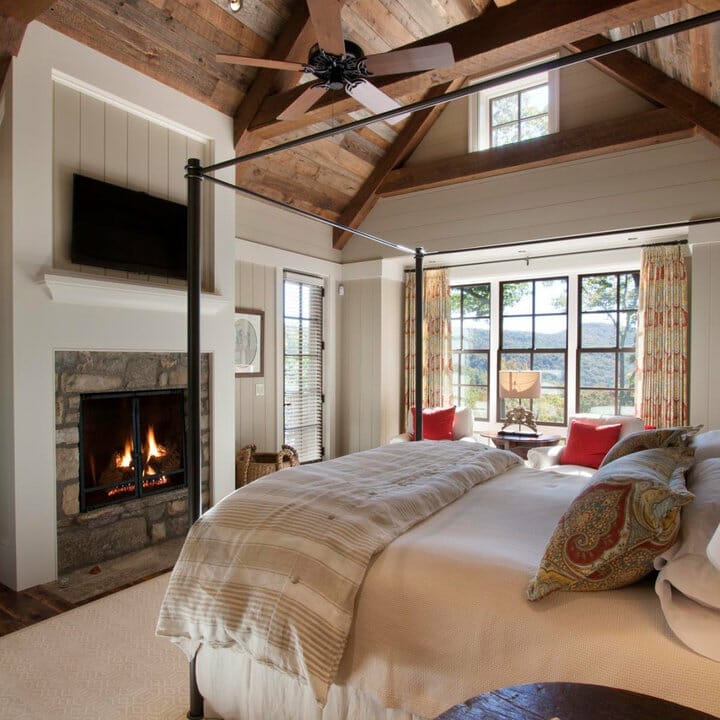 Abundant fireplace wall ideas with TVs make many homeowners feel overwhelmed. On the same boat? This setting comes to the rescue undoubtedly.
The pale taupe vertical shiplap accentuates the television. Meanwhile, the natural stone fireplace surround lives in harmony with the adjacent wicker basket and hardwood floor.
Here, the television and fireplace make the white wall a focus of attention. Also, scattered red accent pieces spiff the bedroom up.
10. Fireplace Wall Ideas with TVs for Indoor-Outdoor Rooms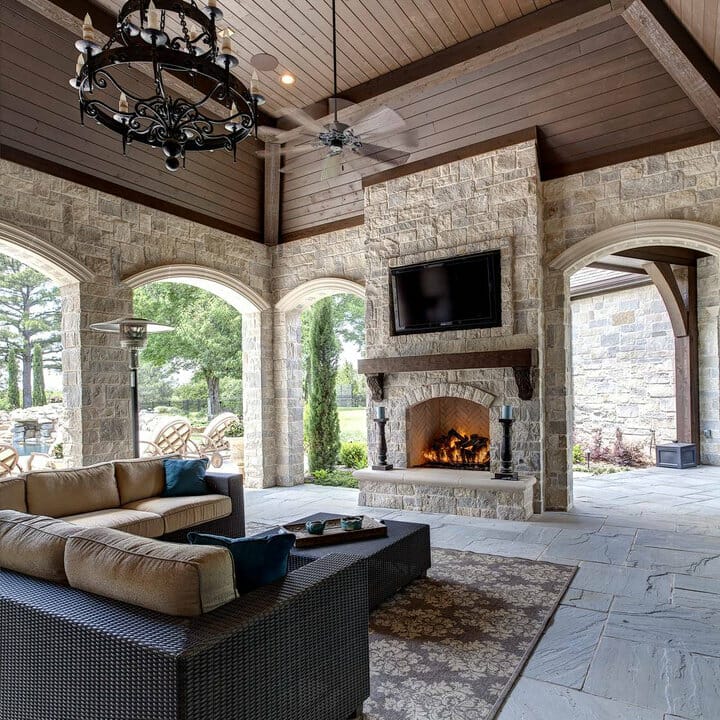 The current trend encourages homeowners to place televisions above fireplaces. Here, both features help the outdoor-indoor living area seem inviting.
Due to two seating areas, the homeowner can throw summer parties for her family, colleagues, and friends. The recessed TV adds some sort of entertainment.
Two antique candle holders flank the rough stone fireplace elegantly. They call attention to the exquisite wooden mantel too. Meanwhile, vintage pieces, rugged stone surfaces, and arches keep the area from running out of personality.
11. TV Fireplace Wall with Shelves for Traditional Homes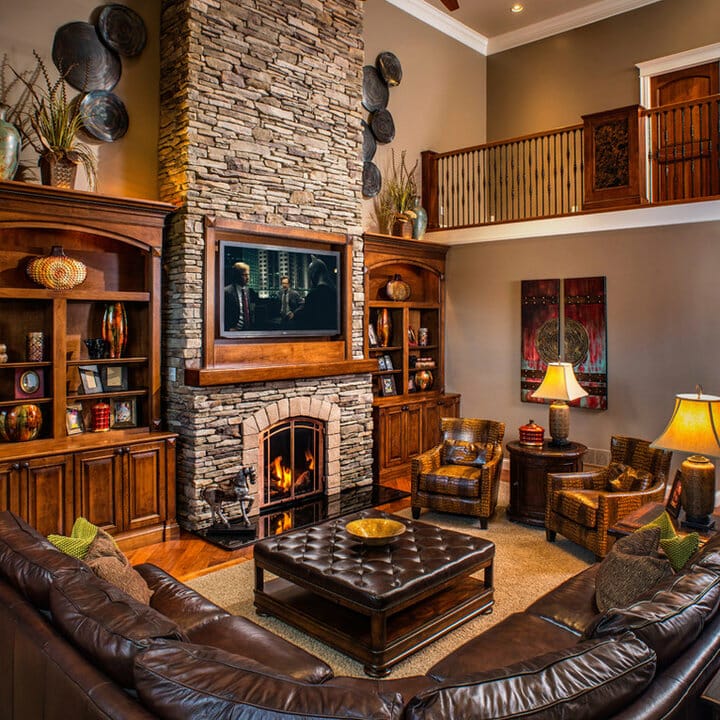 If you're into traditional-style fireplace wall ideas with TVs, luck is yours. I love the wooden TV frame design here. It seamlessly suits classic storage units that employ cabinets and open shelving.
The textured stone fireplace is equal parts rustic, soaring, and transformative. Moreover, stained wood surfaces emphasize leather furniture pieces.
Sand-painted living area walls coordinate with the textured fireplace wall. Assorted decorations introduce tons of interest. Due to statement art pieces and varying earth tones, the abode gets dynamic.
12. Contrasts Are Welcome
With hundreds of fireplace wall ideas with TVs, you have plentiful options. Here, the muted blue wall frames the stone fireplace. Moreover, the hearth boasts pleasant earth-toned tiles while accommodating a wicker basket.
The concrete mantel lets the homeowner show off her minimalistic ornaments. Furthermore, it distinguishes the frame TV from the fireplace.
I love the bodacious juxtaposition between chilly and warm tones. Meanwhile, lots of greenery effortlessly prove the homeowners are plant parents.
13. Fireplace Wall Ideas with TVs for Modern Farmhouse Homes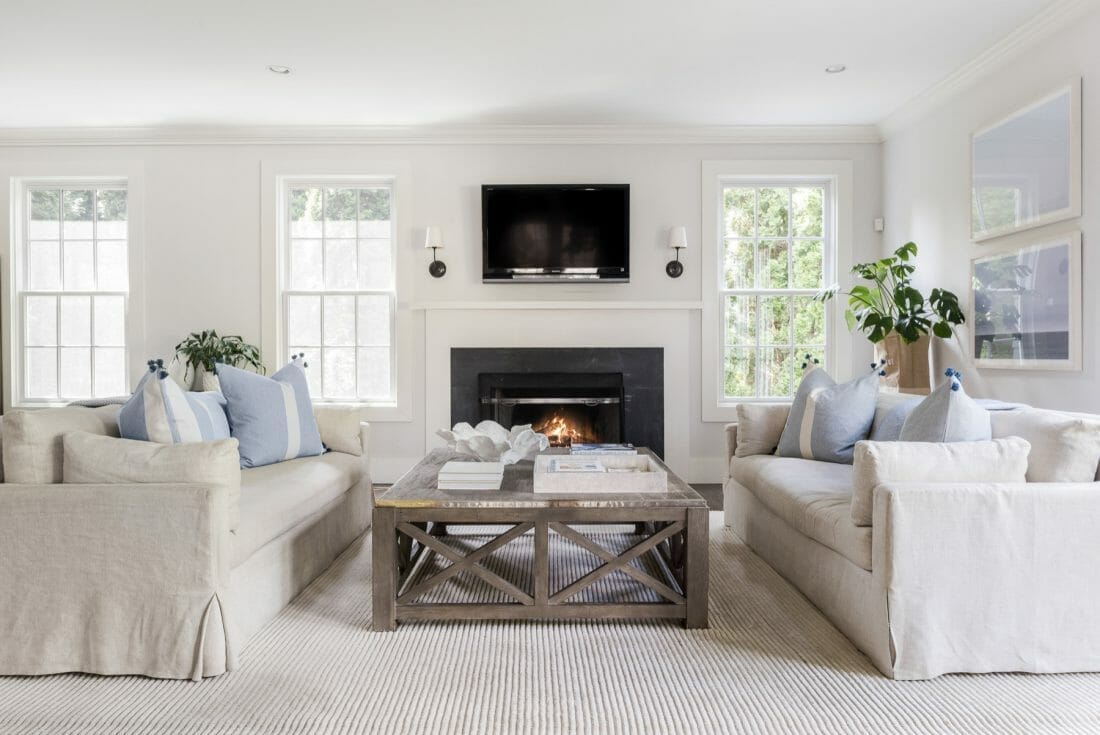 Nearly all homeowners are into fireplace wall ideas with TVs. If your space is pretty limited, following this decor trend is a good call.
The steel-colored sleek fireplace imbues some depth. Meanwhile, the wall-hung television and contemporary sconces create appealing symmetry.
The X-framed coffee table and linen seats portray modern farmhouse charm. Furthermore, the leafy greenery and light blue throw pillows vitalize the interior.
14. Attic Aesthetic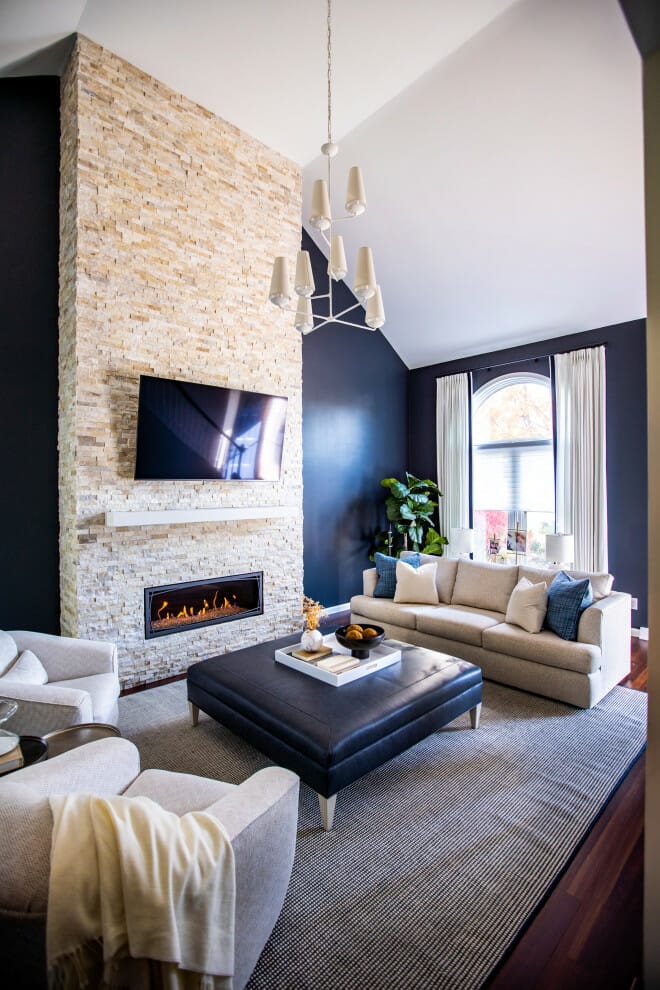 The ceiling-to-floor focal wall marries a floating TV with a built-in fireplace. Furthermore, it boasts skinny textured tiles of limestone for a rustic look.
Midnight blue walls let the limestone wall become a focal point. The white mantel and curtains keep things minimal. Blue, mustard yellow, and green elements add some excitement.
15. Go Off-Center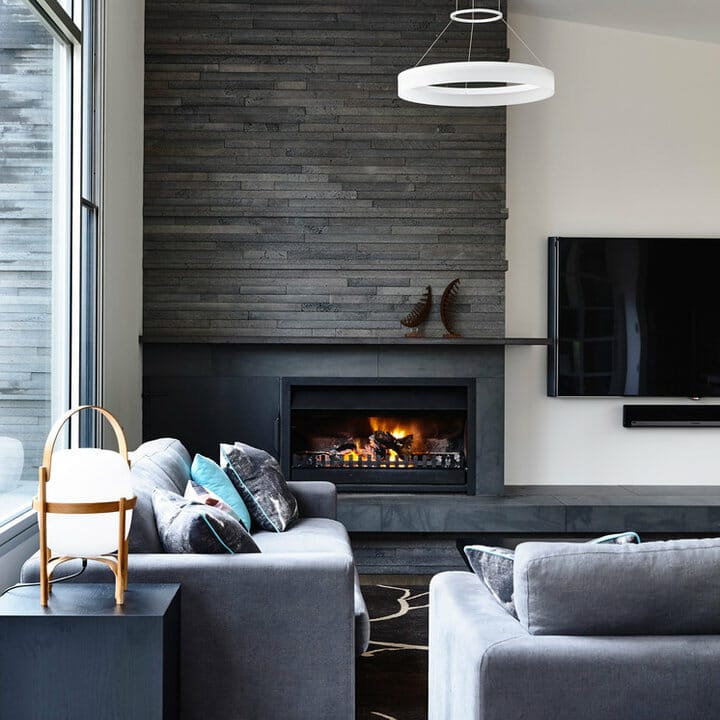 While central fireplaces are common, the off-center ones get popular now. Here, the modern fireplace sends out a snuggly vibe.
The streamlined mantel bridges two different kinds of wall tiles that still make things cohesive. In this room, the white background highlights simple lines of the TV. Blue and wood details add balance.
16. Blend In with Nature
If outdoor-indoor living appeals to you, consider a few of my fireplace wall ideas with TVs. The fireplace-television combo makes this covered space attractive.
Reclaimed wood pieces, rugged stones, and weathered metals carve a rustic flair. Meanwhile, the concrete hearth and herringbone tiles offer an updated feel.
17. Feature Wall Ideas with Fireplace and TV Combos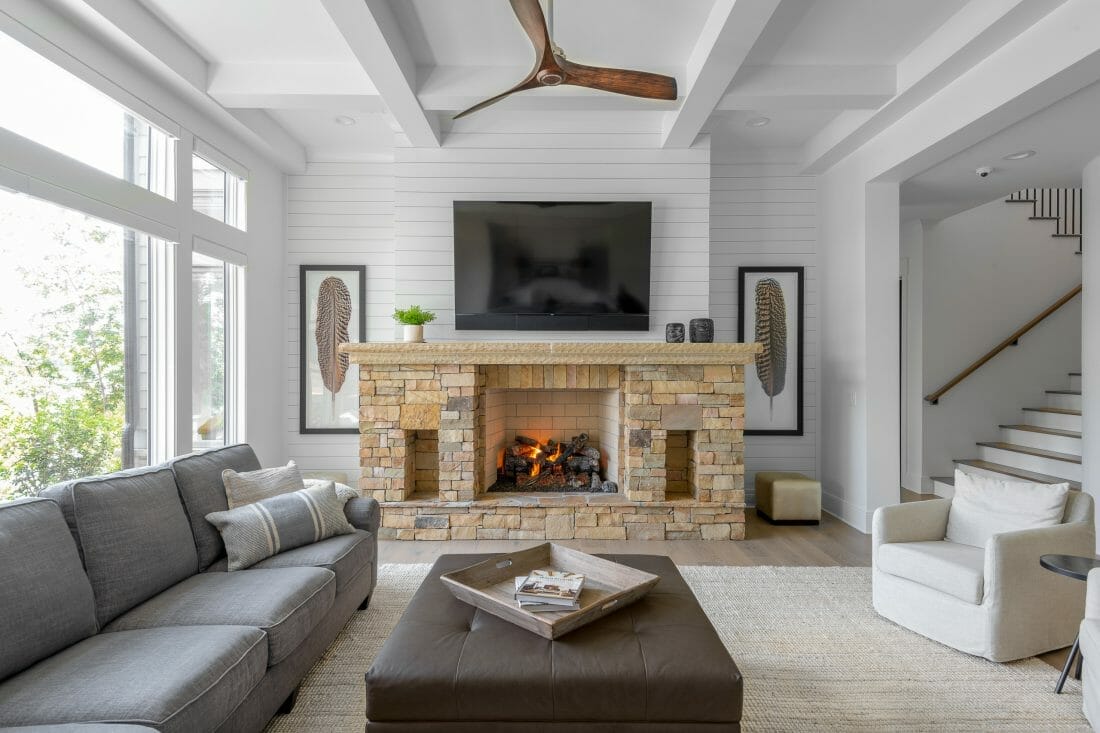 The horizontal shiplap focal wall mingles with the contemporary coffered ceiling. In addition, it supports a TV and feather artworks that please the eye.
Here, the integrated textured mantel meets multitone stone and subway fireplace tiles. The accent throw pillow, tiny greenery, and dark gray embellishments complete the layout.
18. Vintage Vibes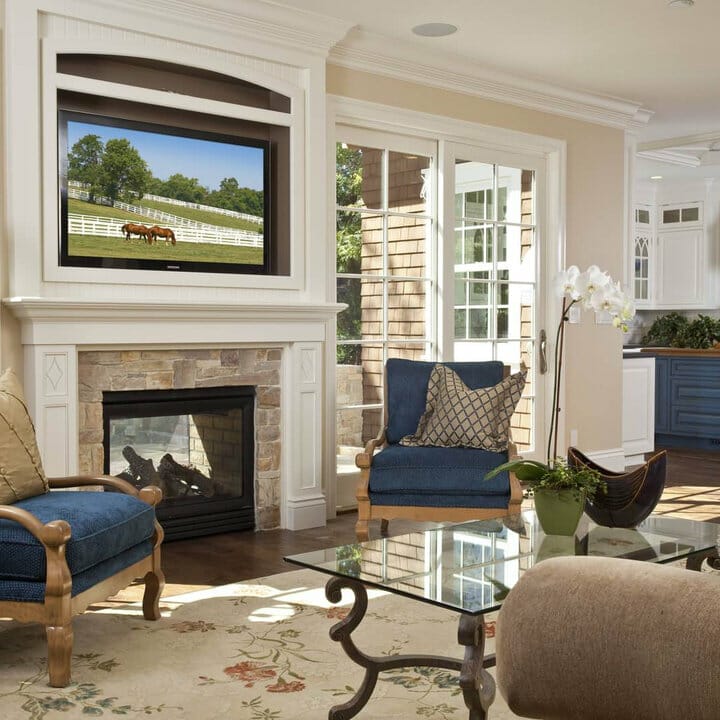 Textured limestone bricks surround the glass fireplace. Meanwhile, the white mantel captures old-world craftsmanship fabulously.
The recessed storage space for a TV ensures the room stays shipshape. Since there are vintage units, floral motifs, and earth tones, this interior looks peaceful yet pretty.
19. Tranquil and Timeless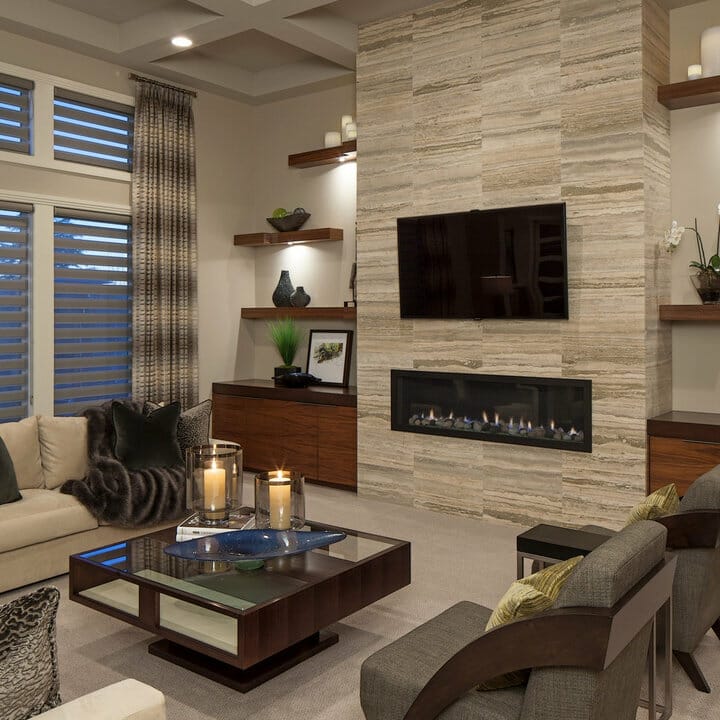 In search of minimalistic fireplace wall ideas with TVs? If so, duplicate this stylish setting. Natural stone tiles become a timelessly appealing backdrop for the television and fireplace.
Chic open shelves and cabinets inject warm elements. Gray and blue tones keep things in balance. Lastly, sleek decorative plants add crowning touches.
20. Dark Fireplace Wall Ideas with TVs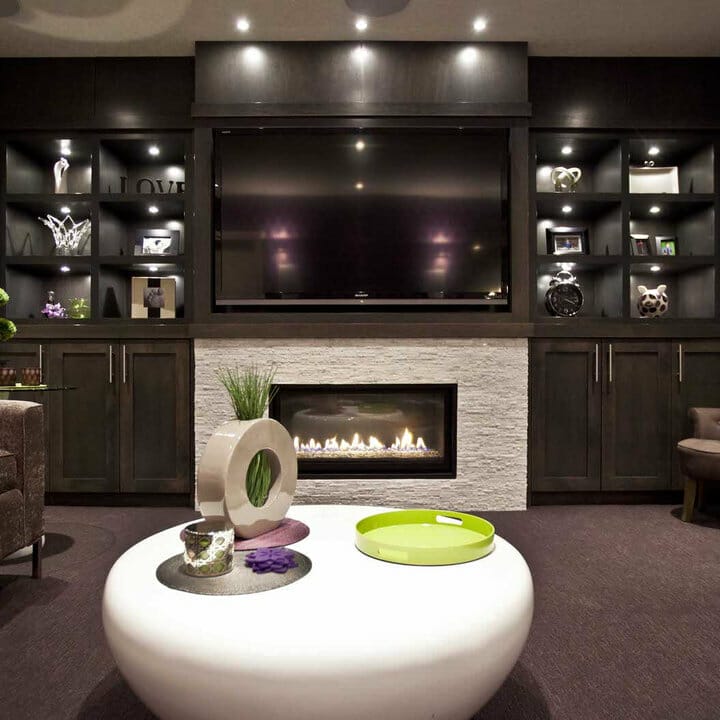 Since the area isn't massive, try optimizing the space with built-in storage units. Rich-toned wooden cabinets and shelves magnificently emphasize the textured white fireplace.
The recessed storage unit obscures the TV's appearance. Meanwhile, varying green and purple tones carry an air of excitement.
21. Deluxe and Delightful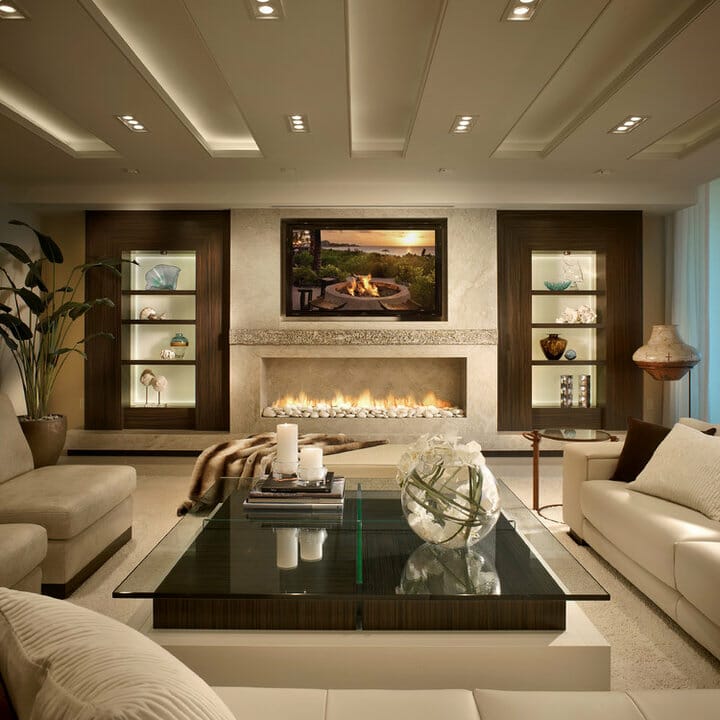 This living area hypnotizes me in seconds. Not only does it feel serene but also looks luxe and exquisite. Also, the fireplace has matching river rocks.
The subtle marble wall showcases the frame TV that feels like art. Minimalist wooden shelves draw attention to striking adornments.
22. TV and Fireplace Wall Installations for Eclectic Rooms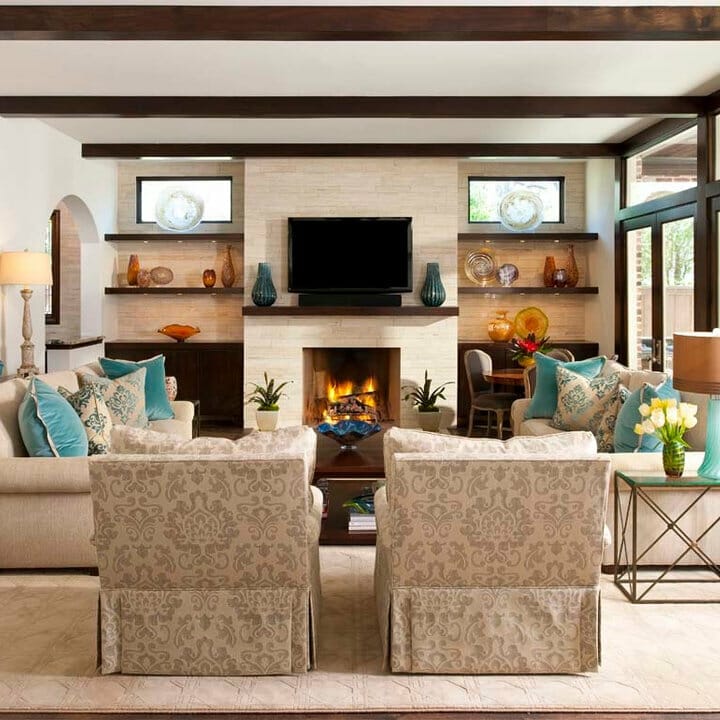 Beige and white are dominant, so the seating area feels airy but still welcoming. The subtle focal wall employs a stylish fireplace and a TV.
Here, the richly-stained wood mantel mimics adjacent shelves. Also, the arch, vintage motifs, bursts of color, and simple lines portray modern minimalism.
23. Captivating Collision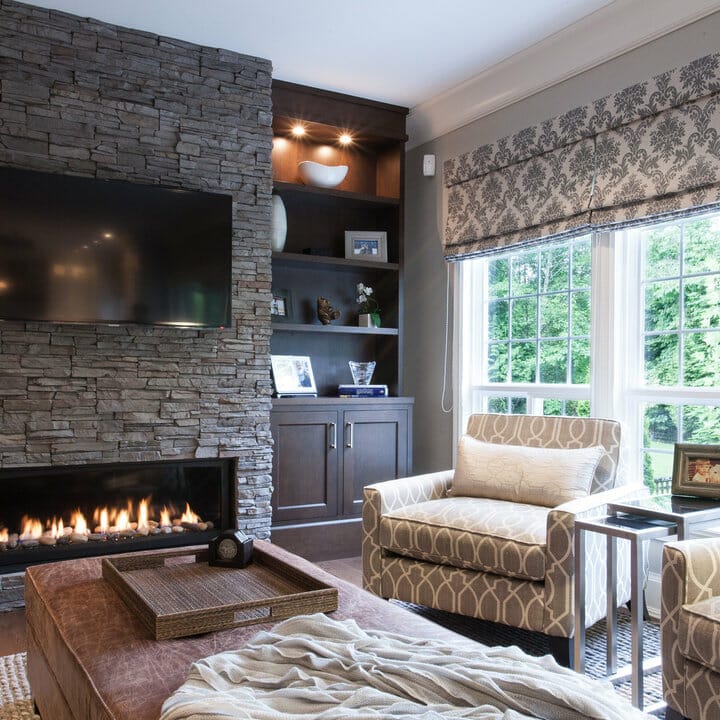 The slate wall is the living room's highlight undeniably. Also, it accommodates a rectangular television and a gas fireplace while imparting texture.
There are adjacent open shelves and cabinets too. Meanwhile, vintage patterns and assorted decorative pieces infuse some additional appeal.
24. Marble Fireplace Wall Ideas with TVs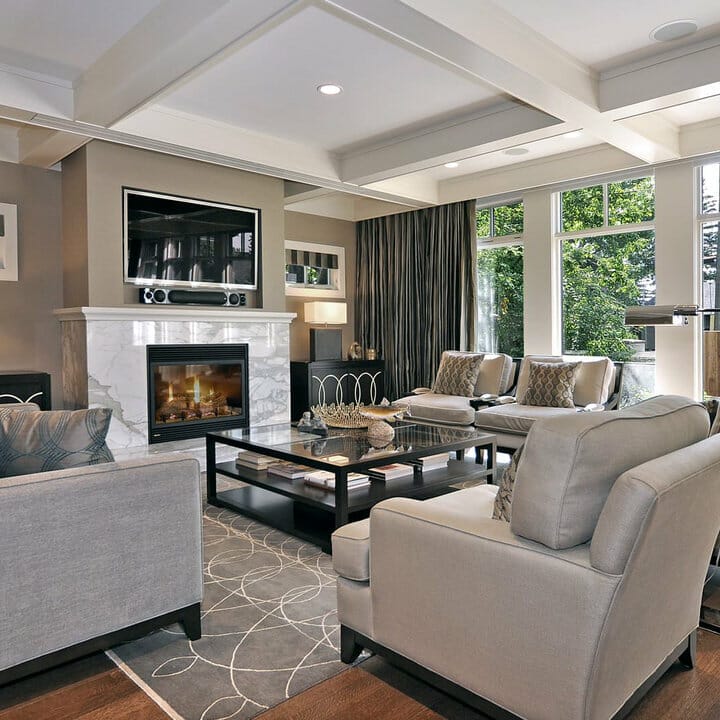 The marble hearth and facade give the sleek fireplace a dose of glam. Meanwhile, it picks up two dominant neutrals in the space for a cohesive feeling.
Over the marble surround is a TV set. Furthermore, black cabinets, contemporary table lamps, and rectangular windows depict striking symmetry.
25. Lavish and Elegant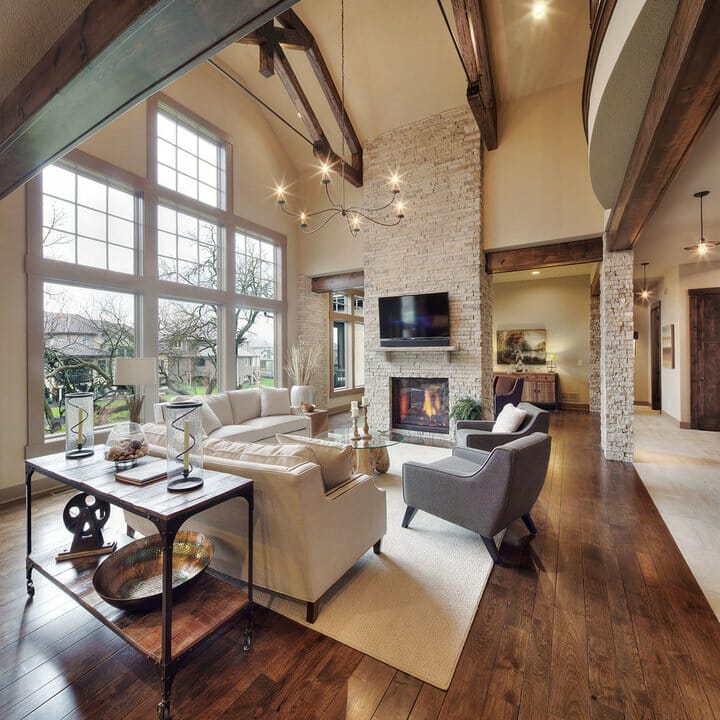 The limestone fireplace elongates this open-layout room's structure. It creates visual separation and lends the abode loads of character too.
Here, the coziness of the fireplace will wow visitors, of course. Meanwhile, the TV right above the textured limestone mantel lets the homeowners entertain their guests.
26. Rustic Vs. Polished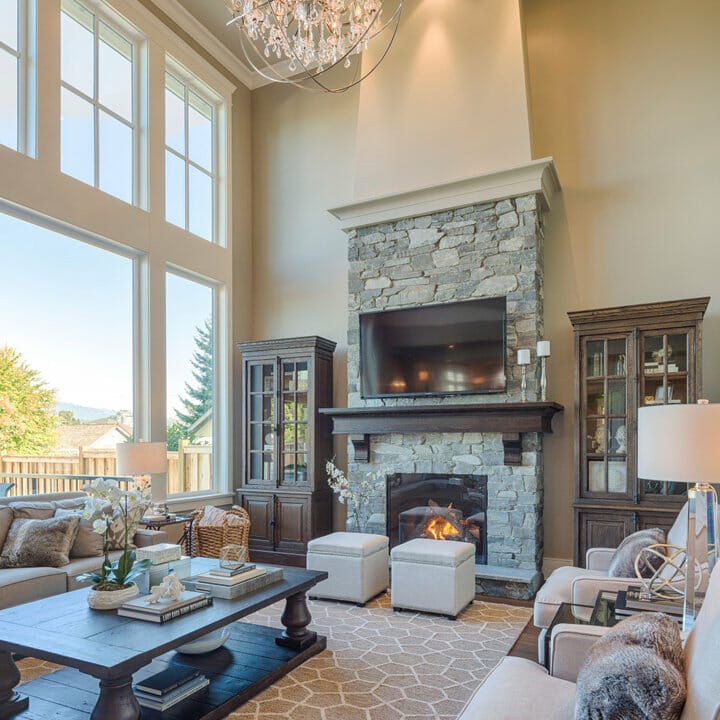 Need rustic fireplace wall ideas with TVs? Rough stones naturally clash with the richly-stained wood mantel and glass-front cabinetry.
The crystal chandelier, cozy seats, silver details, and plush pillows epitomize luxury. Oversized windows and white orchids retain the room's airy vibe.
27. Fireplace Wall Ideas with TVs for Patios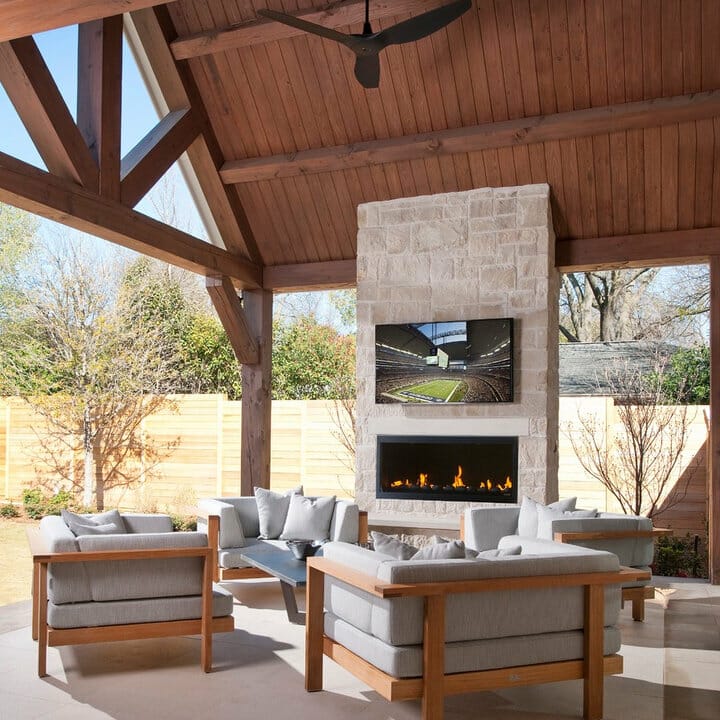 The light-toned stone fireplace boasts a sleek fireplace and a coordinating TV. Also, it's the focal point of this modern rustic-covered patio.
Here, the iron ceiling fan ensures all the visitors stay cool. Meanwhile, minimalist bare wood seats and subtle gray cushions make the patio look perfectly balanced.
28. Loads of Coastal Charm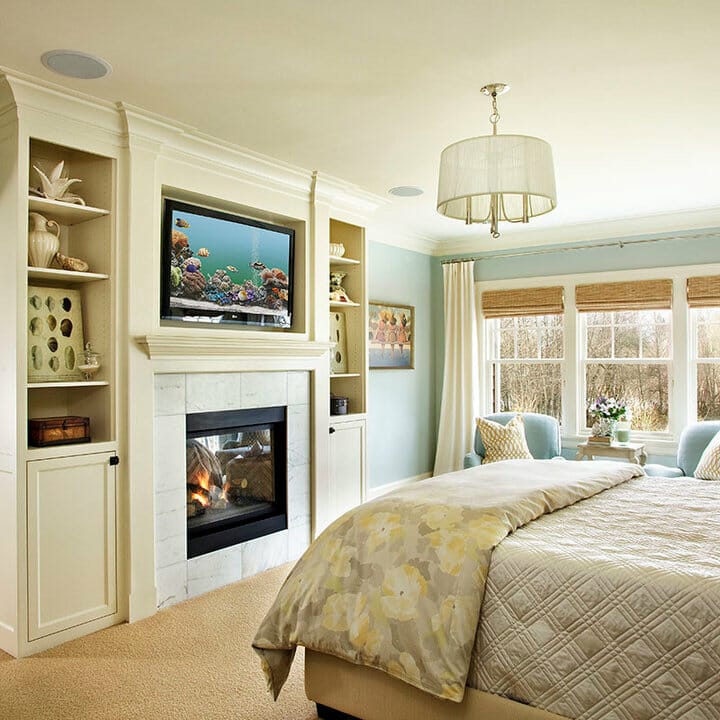 The creamy-white media wall boasts a marble fireplace facade. Above the classic mantel is a recessed storage unit with a television.
Seashells and coastal art pieces induce carefree vibes. Furthermore, the cream carpet, bamboo blinds, and splashes of soft blue epitomize coastal coziness.
29. Corner Fireplace and TV Walls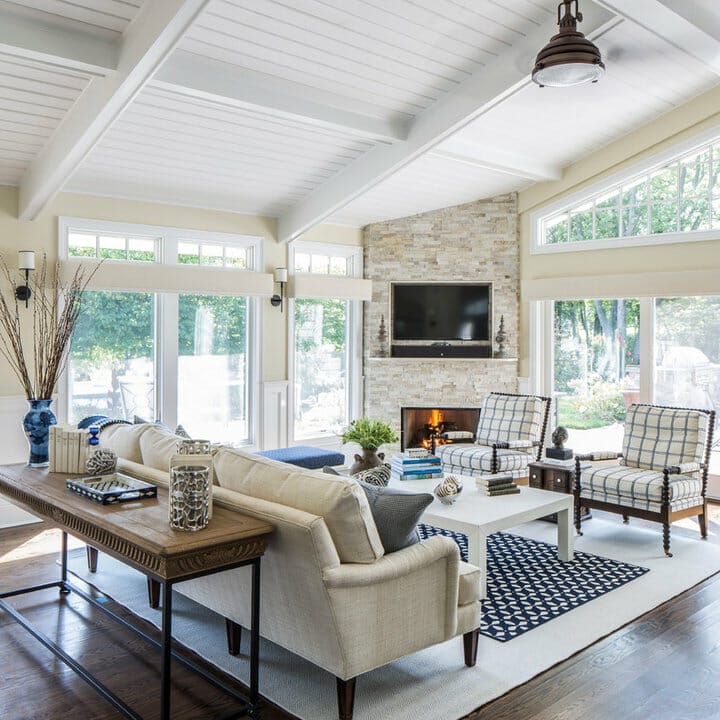 Here, the corner limestone feature wall employs a streamlined fireplace. Moreover, the sleek mantel with vintage decorations demarcates it from the recessed television.
Shiplap panels meet cream walls and windows in harmony. Meanwhile, graphic motifs, vintage pieces, and blue details make the setting characterful.
Placing fireplaces over televisions is undoubtedly a personal choice. Just because the plugs are already there doesn't mean it's necessarily mandatory. Always check the venting system first. If you're determined, emulate any of my fireplace wall ideas with TVs.