Sometimes, hunters forget where they put their firearms. If you face the same problem, consider these striking gun wall mount ideas. Apart from displaying firearms, such storage systems keep them close at hand while carrying style.
Gun wall mounts are perfect for hunters who want to show off their firearms. Furthermore, these ideas help you free up floor space. That means there's room for other units in your abode.
If you're done searching for your guns wearily, luck is yours. Before building a wall mount for a firearm or two, dive into my terrific ideas first.
1. Antique Rifle Wall Mount

This is one of the gorgeous gun wall mount ideas. The vintage-style rifle rack above boasts a stained wood pole to accommodate the carry strap.
As you see, the wall mount keeps the homeowner's antique rifle within easy reach. Moreover, it goes marvelously with raw wood planks that become a rustic backdrop.
If you're a DIY-savvy person, try crafting this unit yourself. Underneath the rifle-wall mount is an animal horn decor piece. Furthermore, it completes the backdrop's rustic look.
2. Horizontal Gun Rack for Walls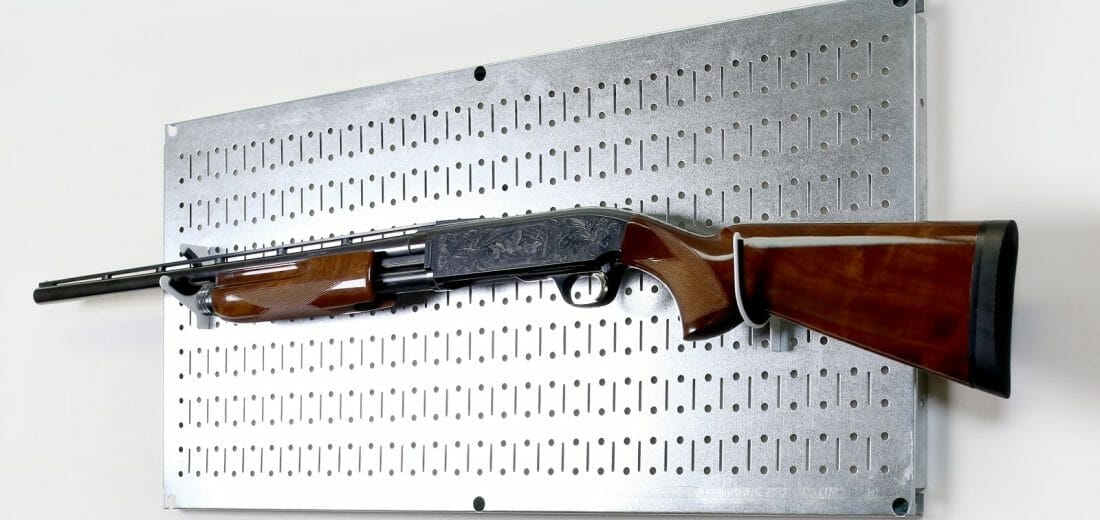 Need custom metal gun wall rack ideas? Give this solid steel wall panel a chance. It's such a durable firearm storage system.
This custom metal wall mount employs an awe-inspiring interlocking hole pattern. Due to its modular nature, it can fit any area.
With this stylish yet functional gun wall mount, I believe you won't regret saying goodbye to your old wooden rack. As the photo shows, it blends with the white backdrop and hooks.
3. Modular Gun Wall Mount Ideas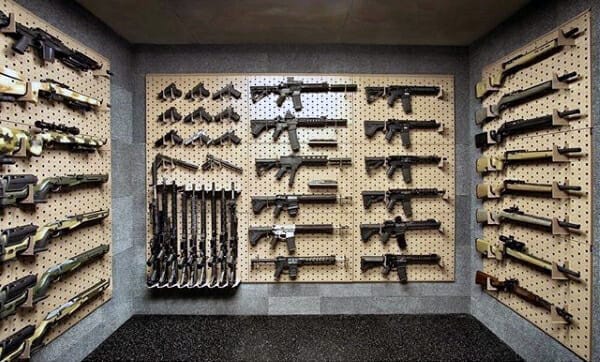 In this gun room, the walls boast tiles of varied gray tones. They effortlessly imbue lots of visual appeals. Meanwhile, the flooring embraces a darker shade of gray for depth.
The homeowner mounted his beige modular gun racks on gun room walls. Moreover, they lend their gray backdrops some soft warmth. Furthermore, they feature matching gun display wall hooks.
Interlocking hole patterns enable the homeowner to showcase his firearms, from handguns to rifles to guns. Moreover, these modular gun wall racks are suitable for any size collection.
4. Striped Gun Wall Display Rack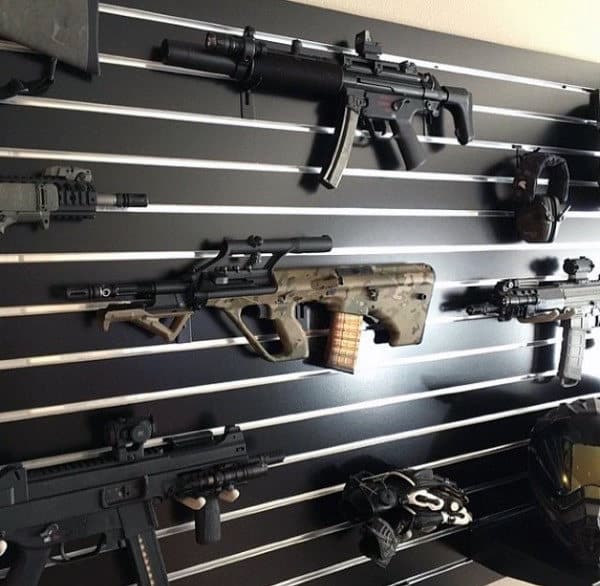 No matter how many guns you own, always take gun wall mount ideas into account. With them, your fine firearms will be under control.
Here, the horizontal Slatwall rack blends seamlessly with black firearms. Furthermore, white and black stripes give any gun room a timeless appeal.
In addition to firearms, this superb Slatwall mount also displays some hunting gear. It makes you ready for upcoming hunting seasons, too.
5. Vertical Gun Wall Mount Ideas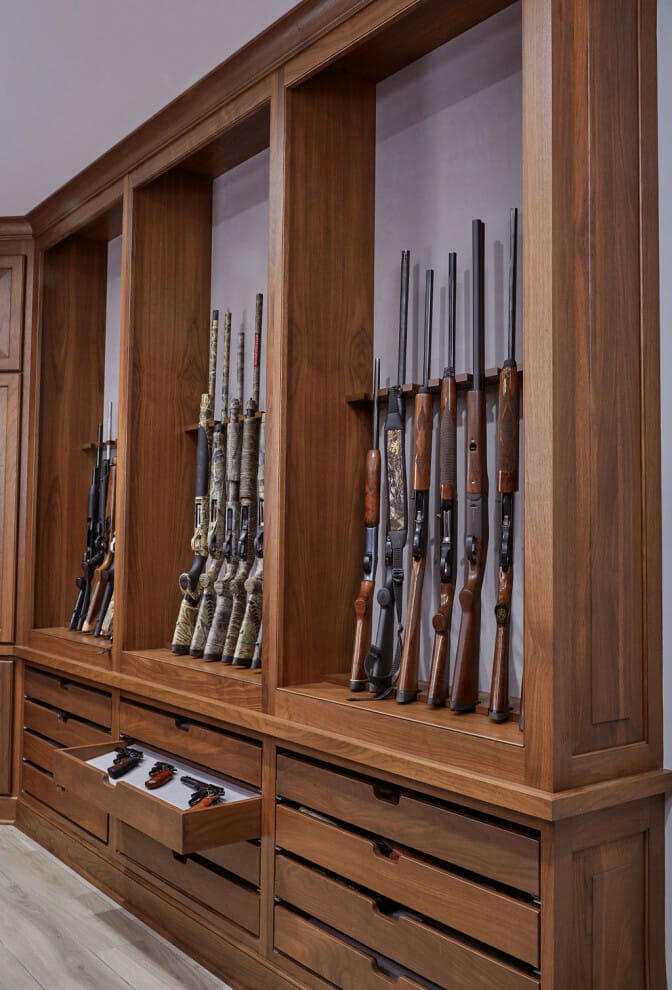 These streamlined hardwood cabinets are an impressive addition to the modern gun room. Here, trendy drawers employ sleek cutout cabinet pulls. They allow the homeowner to stow his handguns as well.
The light-toned wooden floors brighten up custom gun cabinets that embrace a darker woodsy tone. Meanwhile, racks showcase classy vertical displays of firearms.
Subtle purple backdrops balance out masculine firearms perfectly. In addition, they prevent the gun room from being dull.
6. Rustic Rifle Wall Mount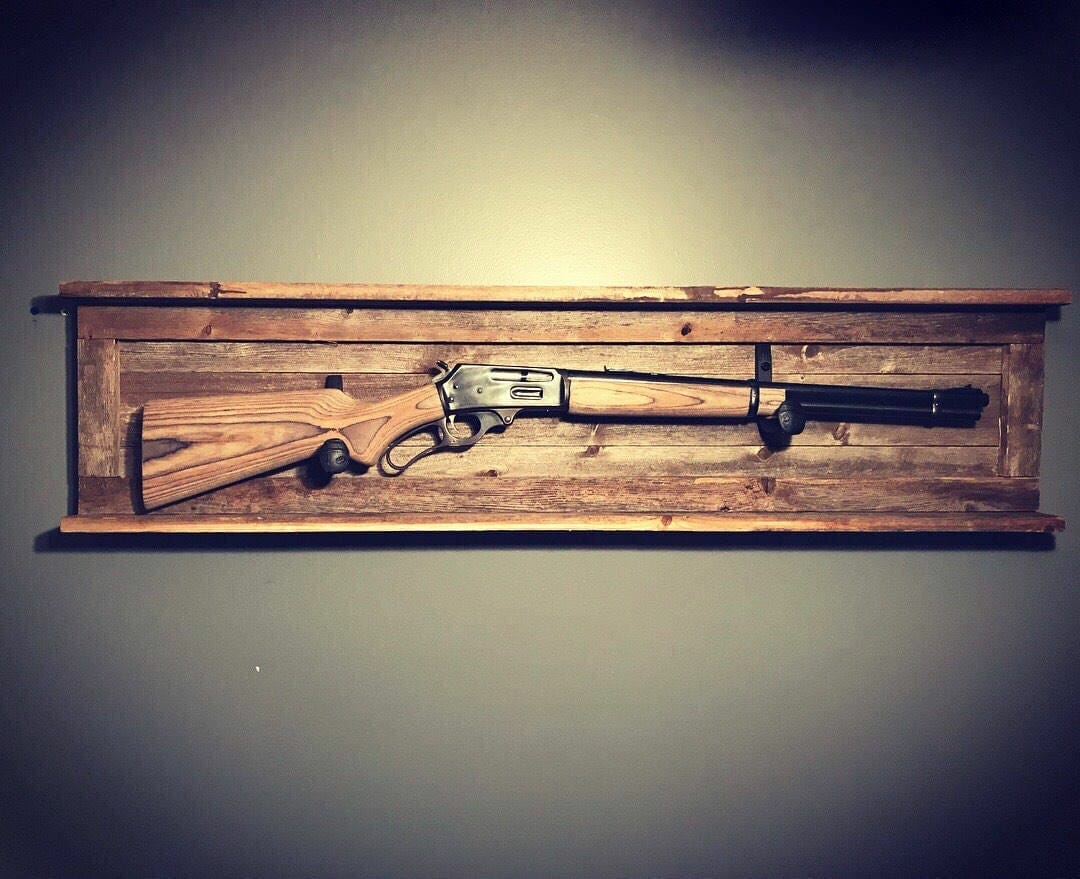 This is one of the single gun wall mount ideas you'll admire. Furthermore, it's undoubtedly ideal for devoted DIYers. Moreover, the project is nothing short of cost-effective. The materials are available at local hardware stores.
Here, the horizontal gun wall display rack employs reclaimed wood planks. In seconds, they send out some rustic charm. Meanwhile, the gray backdrop lends the unit a sense of balance.
Also, you can spot a couple of iron hooks. They give the gun or rifle strong support while adding a fantastic contrast. The DIY project takes an hour, yet it offers an awesome result. Consider making a few measurements first.
7. Fireplace Wall Mount for Guns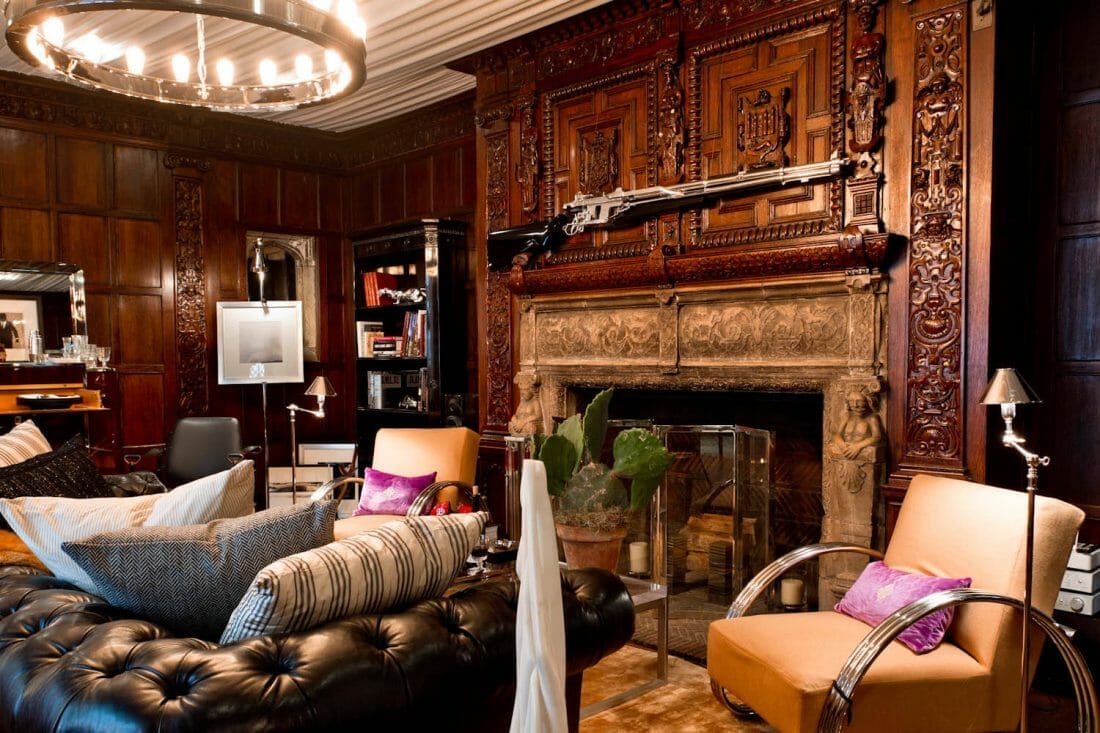 Here, the room is all about ornate details. The richly-stained carved wall panels lend it some unparalleled grandeur while epitomizing intimacy. Meanwhile, the white fabric ceiling gives them a fantastic contrast.
The decorative fireplace wall develops a seamless feeling while carving plenty of personalities. Since the unit isn't working, the homeowner can mount his gun on it with peace of mind.
This gun wall mount over the fireplace ensures the firearm doesn't get damaged when not in use. Additionally, it lets the homeowner find his gun without difficulties. Furthermore, the potted cactus, splashes of colors, upholstered seats, and layered textures elevate the interior.
8. Gun Wall Mount Ideas for Home Armories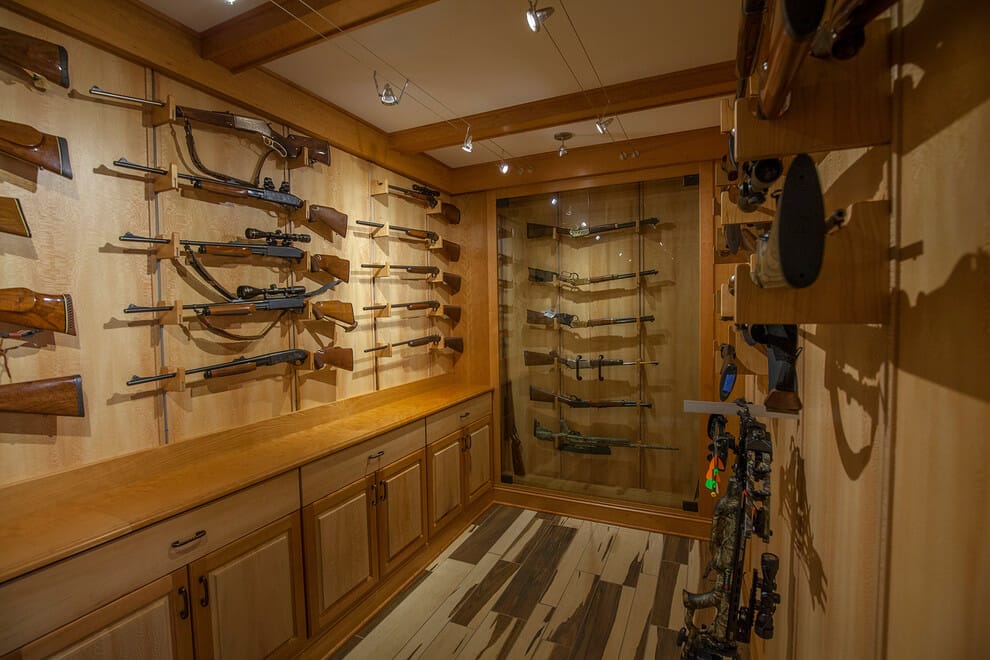 Speaking of brilliant gun wall mount ideas, simply try out this idea. The homeowner clad his home armory with all things wood. Here, the paneling and custom cabinets wear light woodsy tones.
The trims and wall display racks employ darker woodsy hues. Moreover, the statement two-tone flooring catches the eye while tying the home armory together.
Wall display racks accommodate assorted firearms. Due to them, the pocket-sized home armory doesn't seem cramped. Also, they showcase varying hunting essentials. Sleek industrial track lights emphasize fine firearms.
9. Outside the Box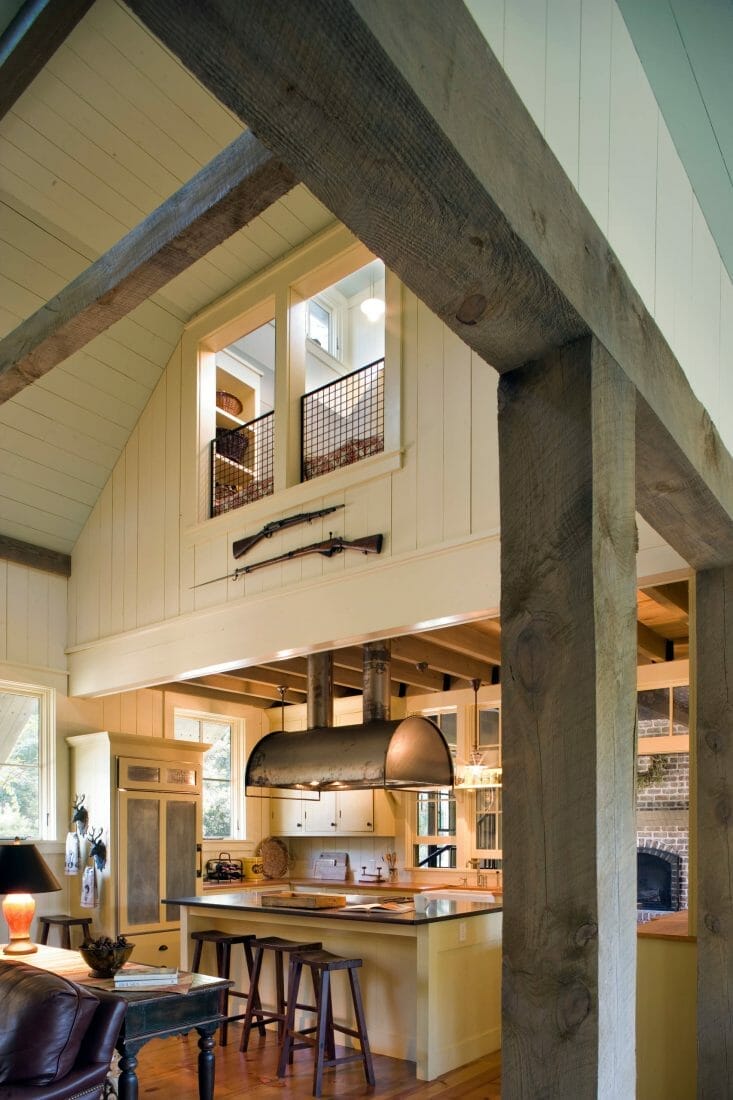 This open-layout farmhouse abode is worth replicating. Vertical shiplap panels, exposed bricks, and vintage furnishings make the home characterful. Moreover, light hues and lots of windows embody a sense of airiness.
The homeowner added iron hooks to his under-ceiling wall panel. Then, he displayed two different firearms for some interest.
As you see, the gun wall mount lets guns become centerpieces. I guarantee they'll draw visitors' eyes up in seconds. Furthermore, deer head towel holders complete this open-plan room.
10. Wooden Gun Wall Mount Ideas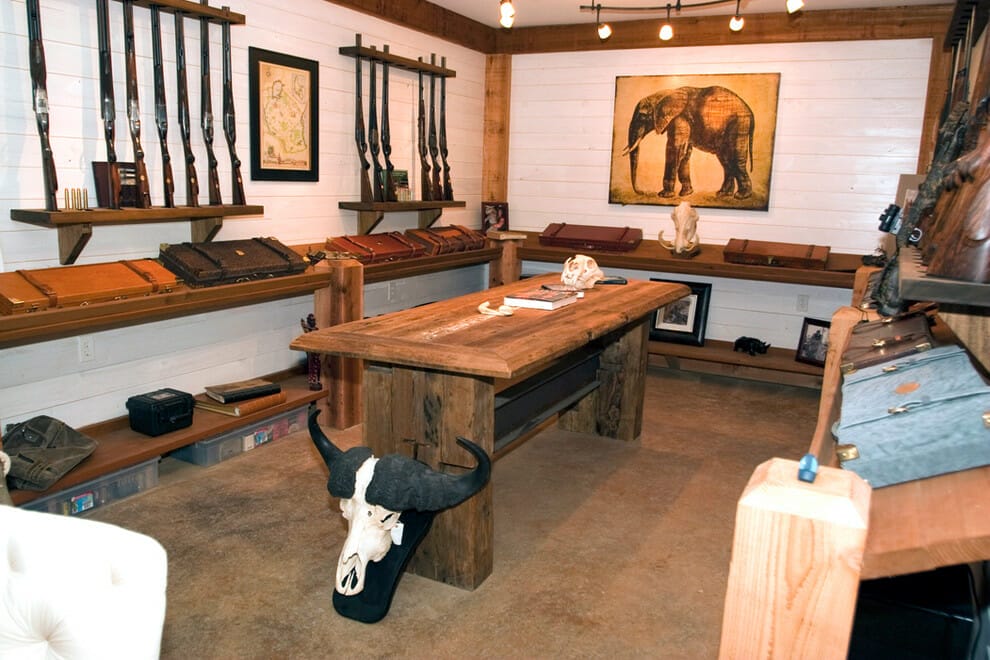 Because of white horizontal shiplap panels, this gun room feels larger. The reclaimed wood central table makes reloading easier. Furthermore, the black-and-white animal skull decor pops against it.
Built-in wooden shelves house framed adornments, books, and cartridge boxes of varied colors. Underneath them are plastic storage boxes.
There are gun wall display racks over the built-in shelving. As the photo shows, they keep rifles and guns within arm's reach while creating ample room for furniture pieces.
Metal track lights develop drama and illuminate firearms. Meanwhile, the vintage elephant painting and black-framed art perk up shiplap panels.
11. Gun Wall Mount with Sliding Doors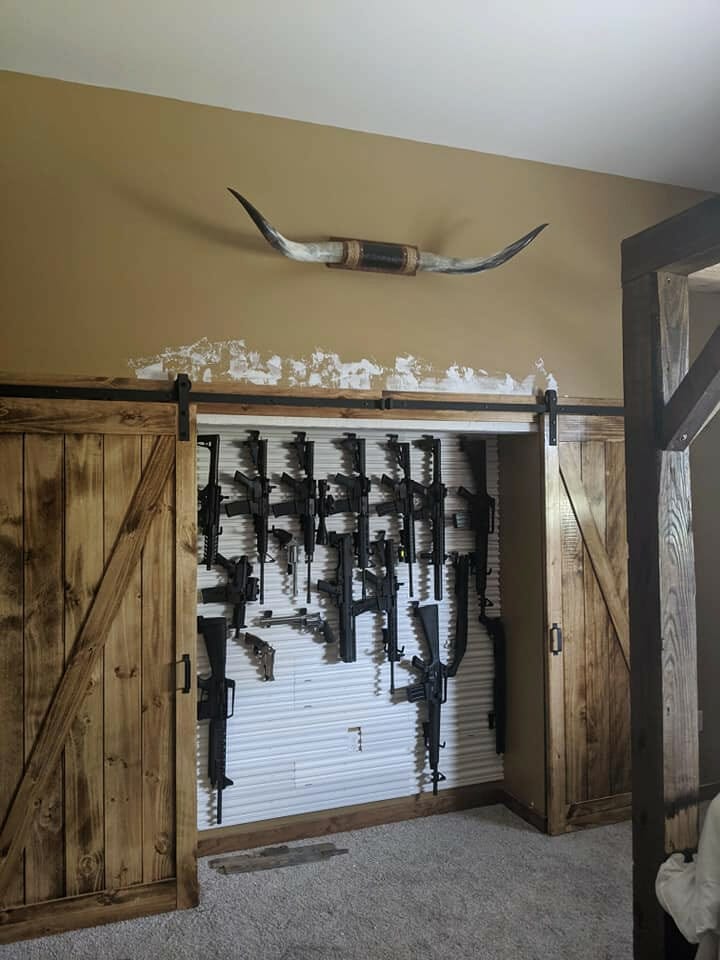 Need hidden gun wall mount ideas? If so, duplicate this storage system. The white wall display rack boasts iron hooks. Not only do they carve an appealing contrast, but also offer firearms remarkable support.
Black firearms clash with the white-painted gun wall mount. Meanwhile, sliding barn doors lend the home armory a vintage rustic aesthetic. Furthermore, they keep the homeowner's guns out of sight without taking up plenty of floor space.
There's an animal horn decor above sliding doors. Moreover, the sand-painted wall of the home armory instills a cozy atmosphere.
12. Different Directions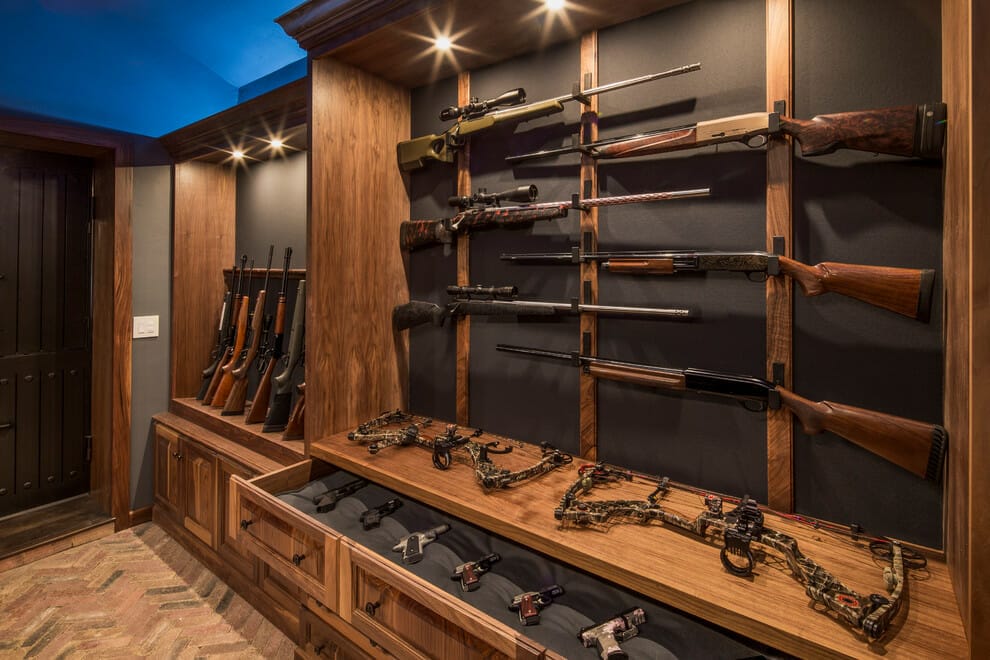 These custom hardwood cabinets belong to a gun room. In addition to carrying ample storage and display storage, they show appealing wood grains.
As seen, the cabinetry comes with wall mount display racks featuring dark warm gray backdrops. Here, they showcase vertical and horizontal arrangements of fine firearms.
The drawers are underneath the vertical gun wall mount. Furthermore, they employ a gray cushion while accommodating assorted handguns.
13. Elegant Gun Wall Mount Ideas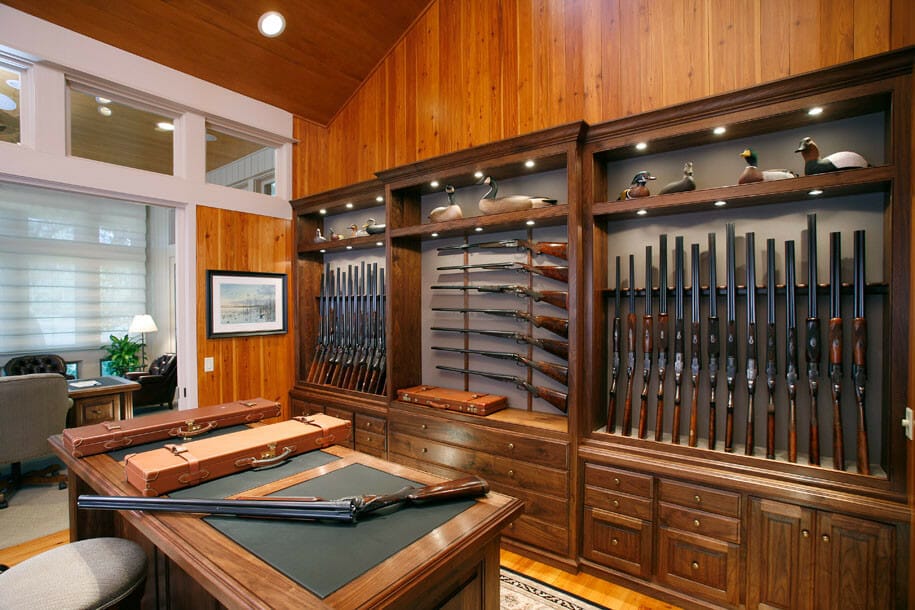 Different woodsy tones deliver personality to this gun room. Meanwhile, layered textures and vivid indoor plants impart cozy vibes.
Light gray backdrops make wooden gun wall display racks more noticeable. The island makes firearm cleaning easier and more enjoyable.
Wall display racks let you have ample floor space for pieces of furniture. Also, they keep fine rifles and guns from getting damaged.
14. Seamless Storage System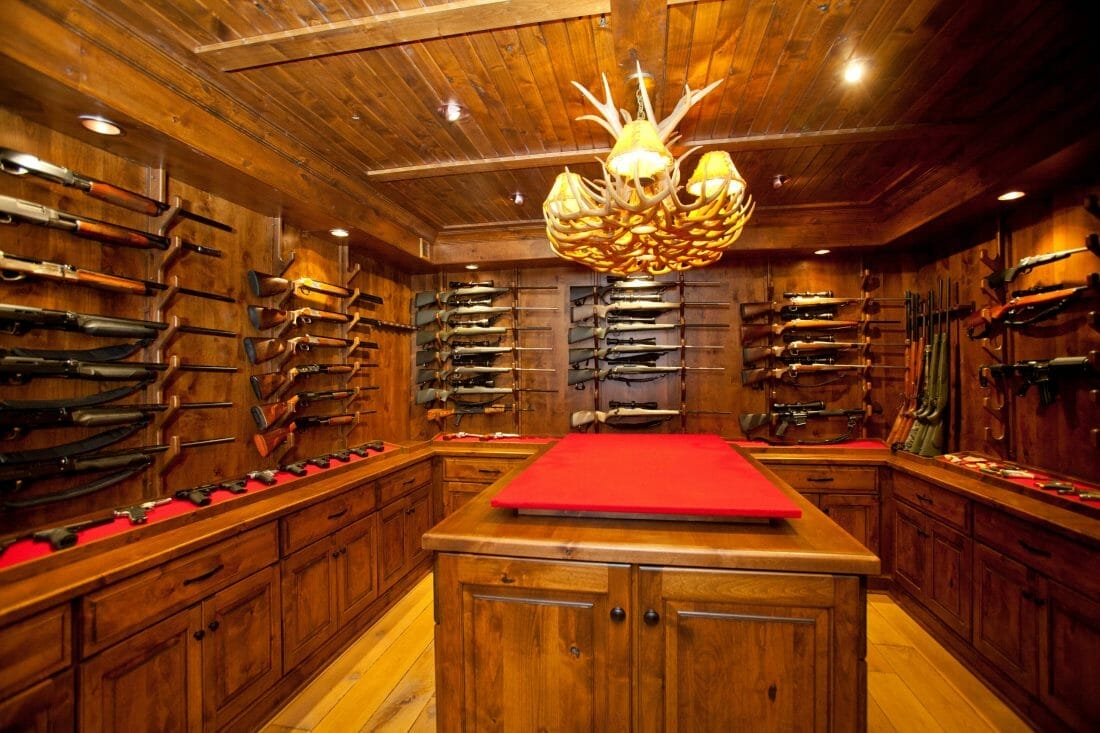 Talking about gun wall mount ideas, apply this storage solution. Stained wood and firearm wall display racks produce a seamless look.
Here, stained hardwood gun wall mounts showcase a myriad of firearms. Furthermore, recessed lights make them the highlights of this gun room. Meanwhile, the red cushion injects a pop of color while accentuating handguns.
15. Extensive and Functional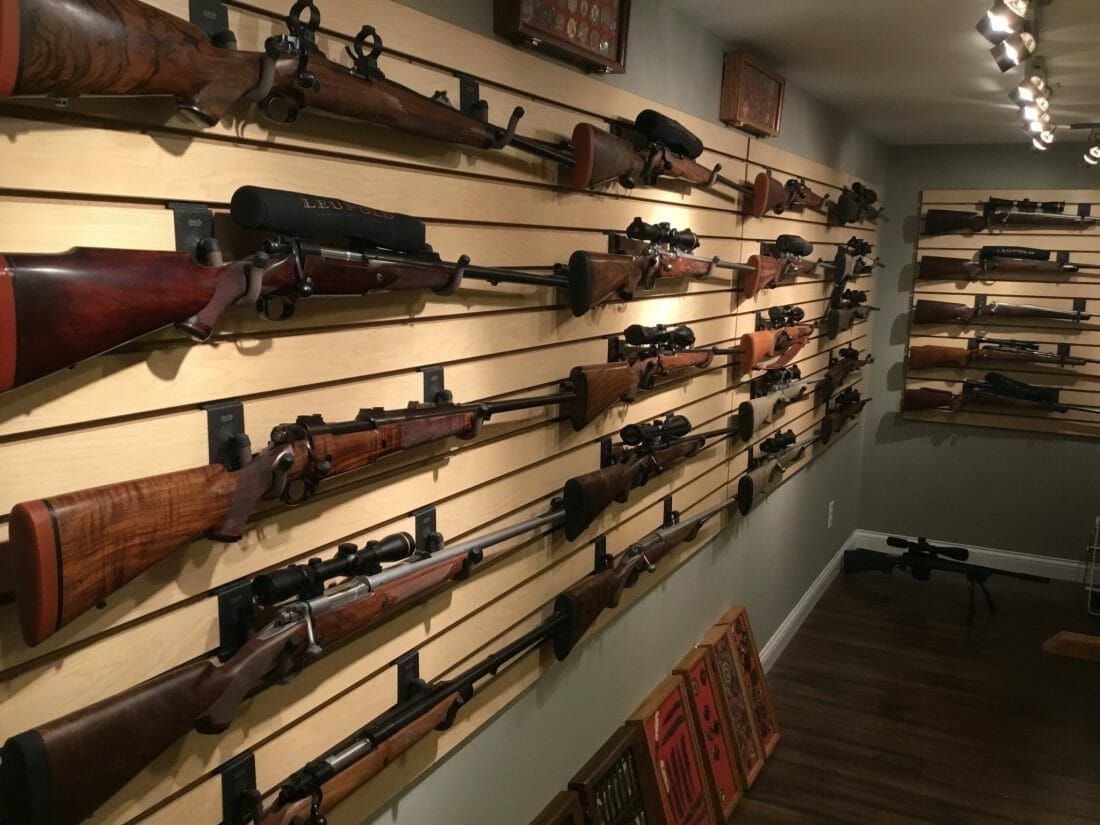 Here is another marvelous gun room. Soft gray walls give the white ceiling and molding a pleasing contrast. Meanwhile, the laminate floors convey warmth.
Beige-tone Slatwall display racks keep firearms close at hand and free up floor space. They clash subtly with warm-toned gray walls too. Framed storage boxes accommodate small hunting essentials, so the gun room doesn't become messy.
16. Wall-to-Wall Mounts for Guns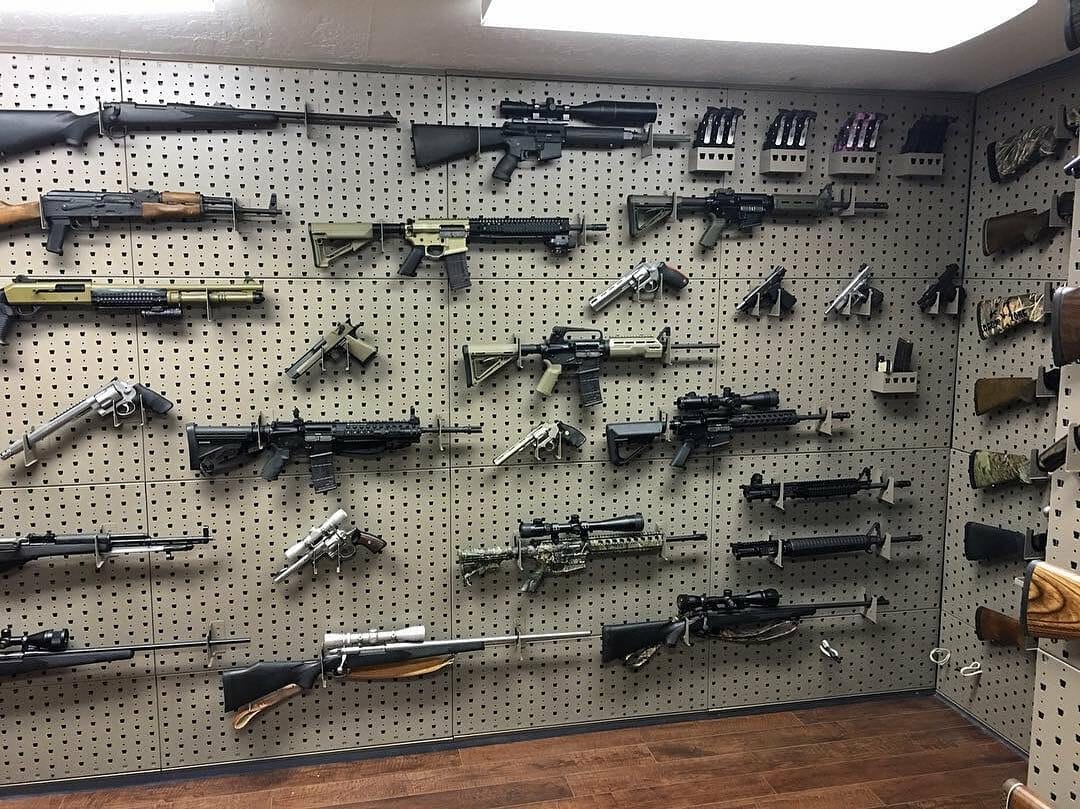 Ceiling-to-floor modular wall display racks optimize the wall space. Moreover, their stylish and matching hooks keep an assortment of firearms within easy reach.
Pale gray gun wall mounts lend dark-toned timber floors a sense of balance. LED ceiling panels cast a bright glow while accenting firearms. Furthermore, the white ceiling fabulously goes with them.
17. Slatwall Mounts for Guns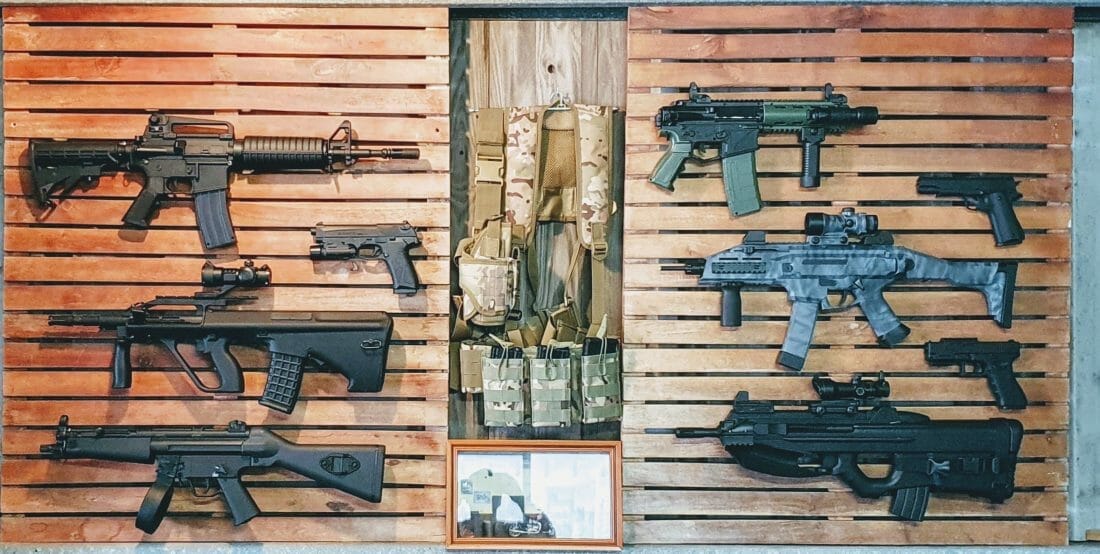 This is one of the remarkable gun wall mount ideas. Wooden Slatwalls display firearms of different types and sizes. They epitomize natural warmth and rusticity as well.
With these bare wood Slatwalls, you have plenty of room for furniture items. Moreover, wall-mounted firearms flank the hunting vest and equipment.
18. Tactical Gun Wall Mount Ideas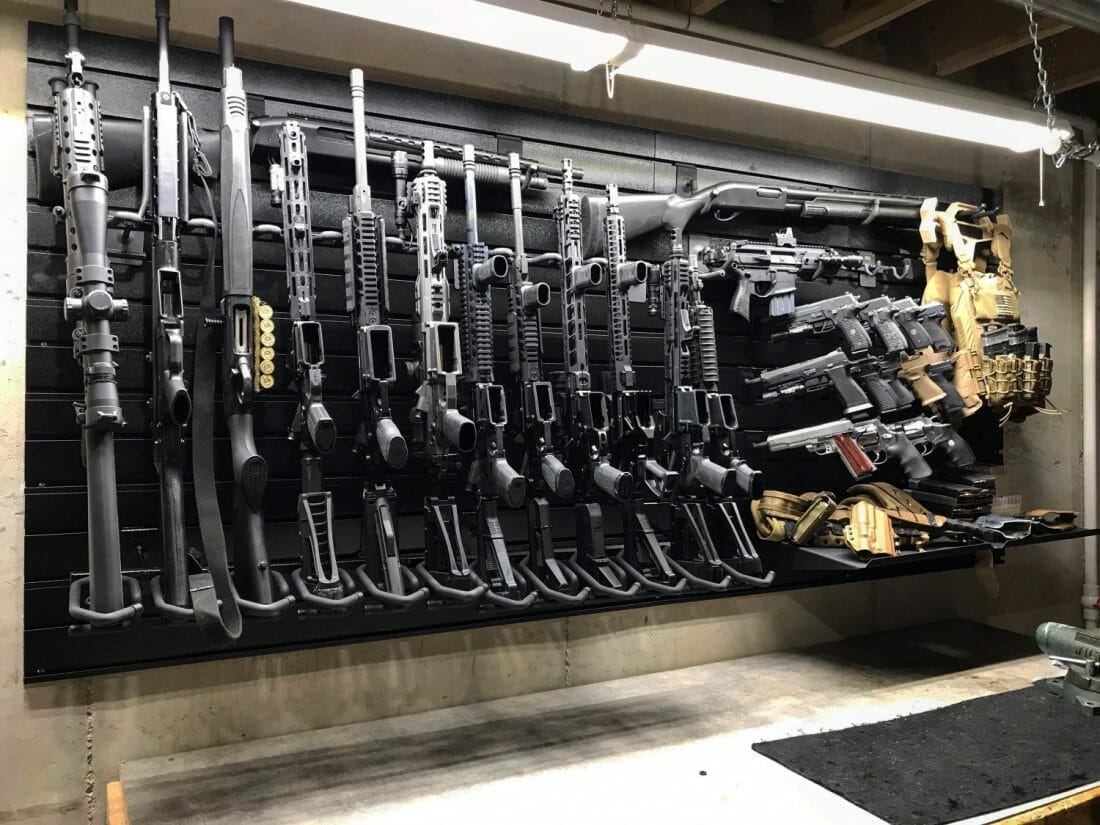 Above is a tactical gun wall. As you see, the black Slatwall makes contact with the hunting gear and firearms while adding drama.
The tactical gun Slatwall offers guns a sturdy resting place. It lets the homeowner get easy access to his hunting essentials at any time. Meanwhile, LED panel lights and concrete walls finish things off.
19. Ample Display Space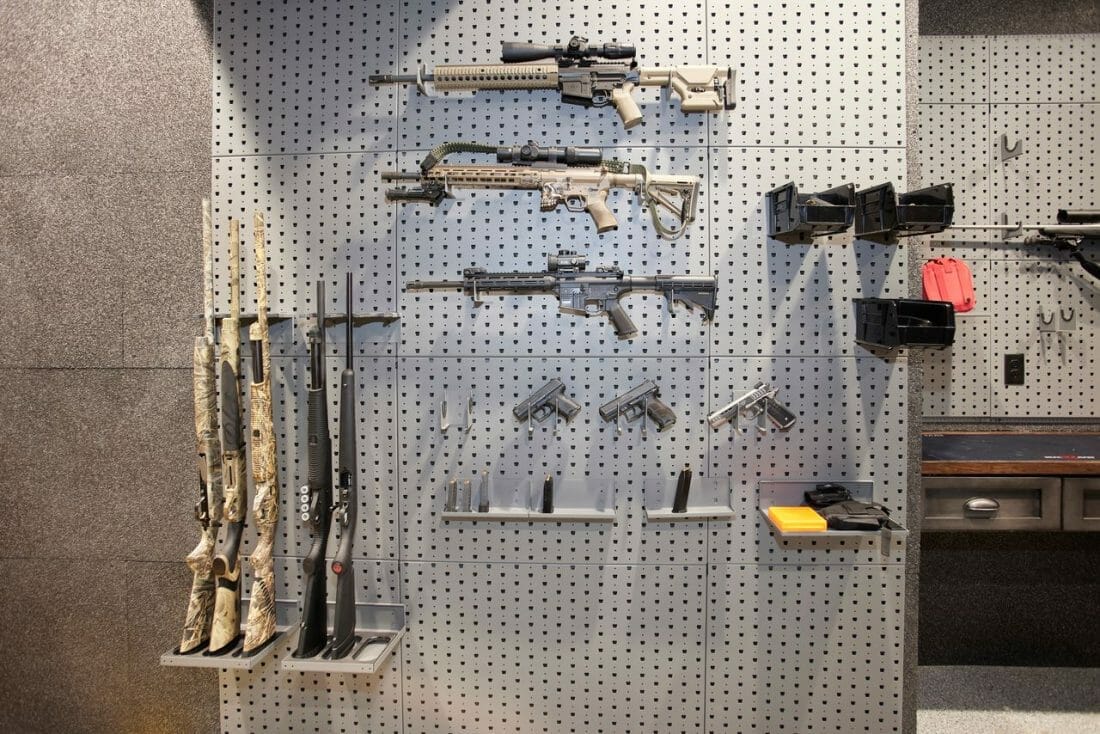 These custom wall panels feature matching gun racks and open shelves. Also, they blend amazingly with the backdrop and drawers.
Here, gun wall mounts hold cartridges and firearms off the floor firmly. Pops of hardwood, red, and bright yellow make the gun room feel balanced.
20. Small Gun Wall Mount Ideas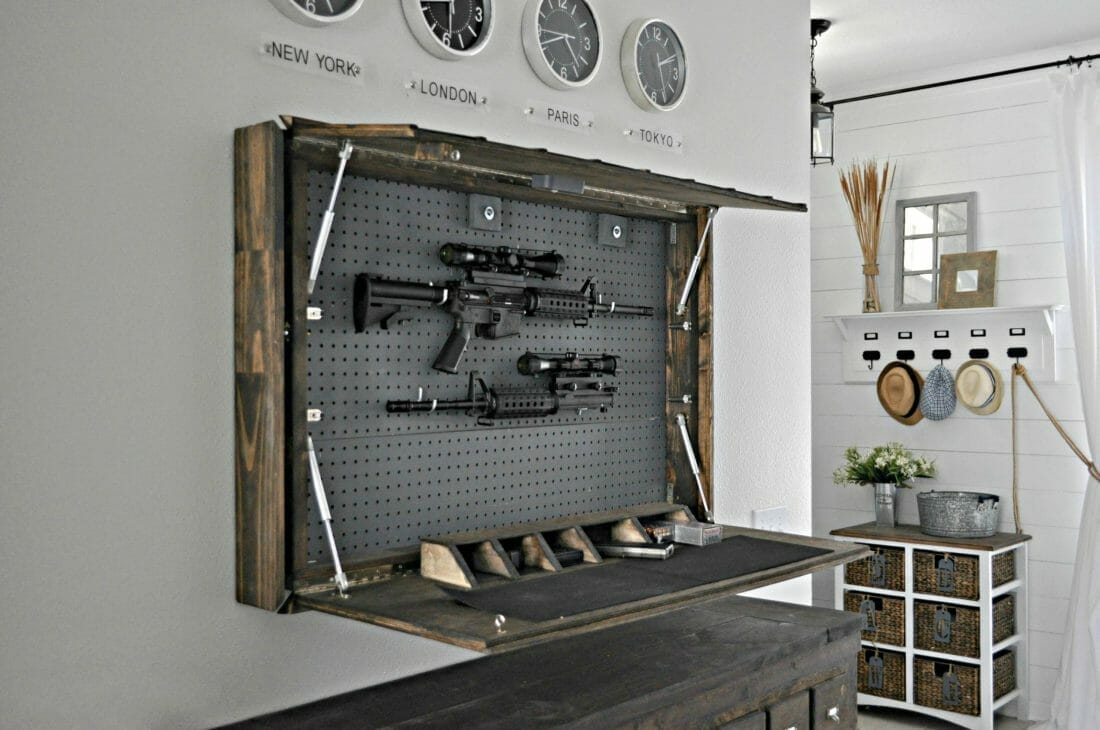 The homeowner mounted his modular gray gun rack on the mudroom wall. Furthermore, it employs an interlocking hole pattern, a dark-toned wood frame, and tiny slots.
In this mudroom, the wall display rack keeps a few firearms in place. Meanwhile, decorative clocks and city plaques complete the scene.
21. Visual Balance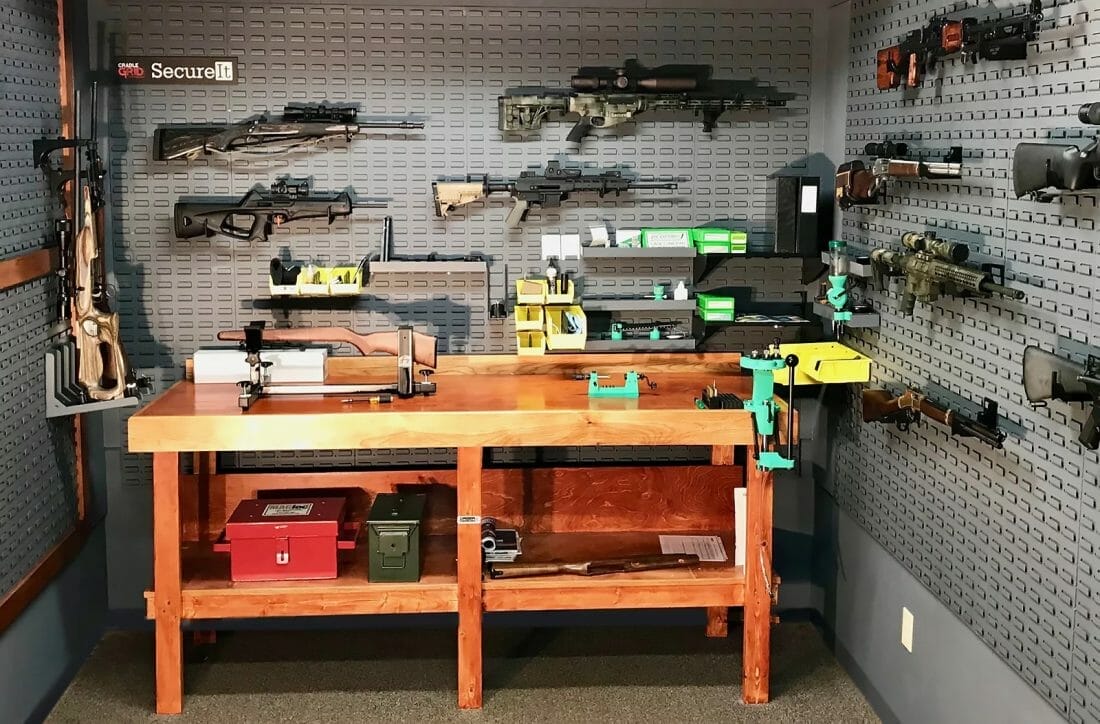 Tiny gun room? No problem. Hang these modular panels on the walls. Apart from being trendy, they solve your issues with storing guns.
The custom gun display racks above suit any size collection. Moreover, the hardwood table and bursts of color jazz up firearm wall mounts.
22. DIY Gun Wall Mount
Speaking of low-cost gun wall mount ideas, build a firearm rack out of reclaimed wood. Here, wooden planks add a rustic look while carving interest.
The rustic gun display rack boasts hooks that offer the gun maximum support. Furthermore, the textured taupe backdrop lets it stand out.
23. Bare Vs. Stained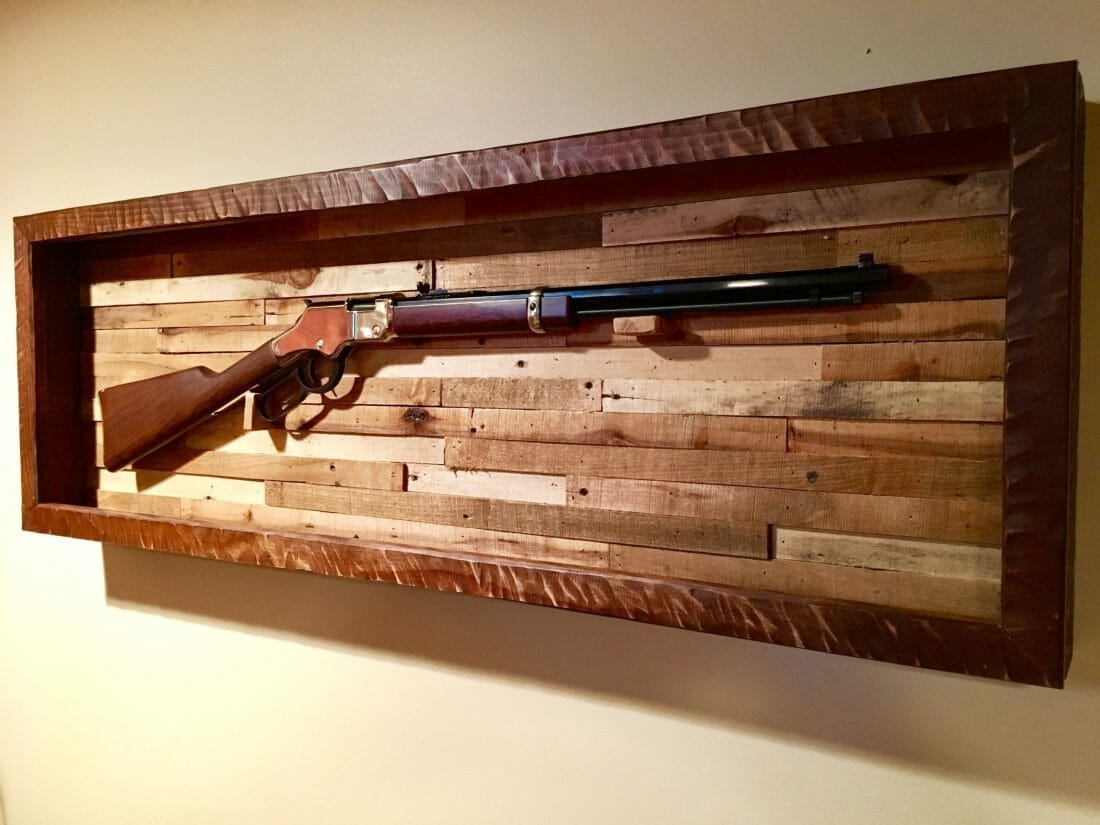 Talking about wooden gun wall mount ideas, don't hesitate to craft this rack. Thin wooden planks show mesmerizing woodsy tones.
The simplicity of thin wooden planks allows the fine firearm to sing. Meanwhile, the rectangular, richly-stained wood frame produces unmatched elegance.
24. Antler Gun Wall Mount Ideas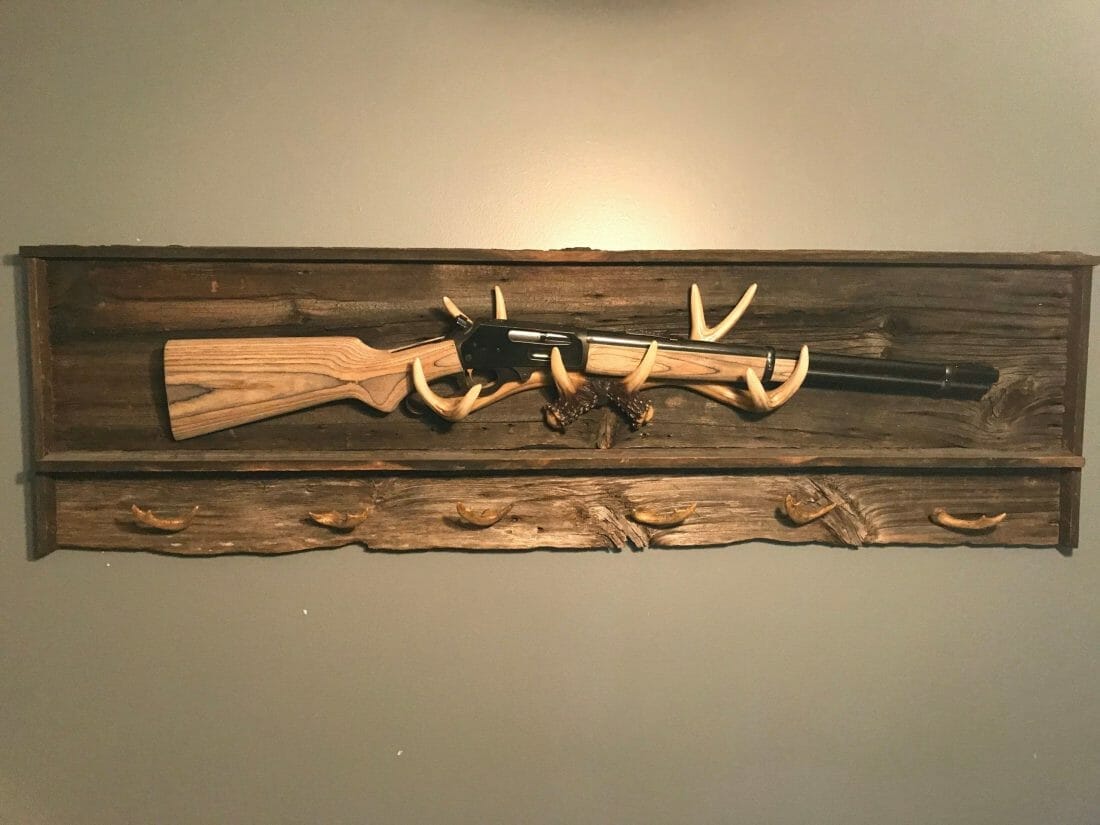 This reclaimed wood gun wall mount develops a primitive look. Moreover, the deer antler holds the matching firearm in place.
Undeniably, this display rack is an enjoyable complement to any log cabin or farmhouse-style home. Deer antler points work as hooks for hunting coats and vests.
25. Hold Up Gun Rack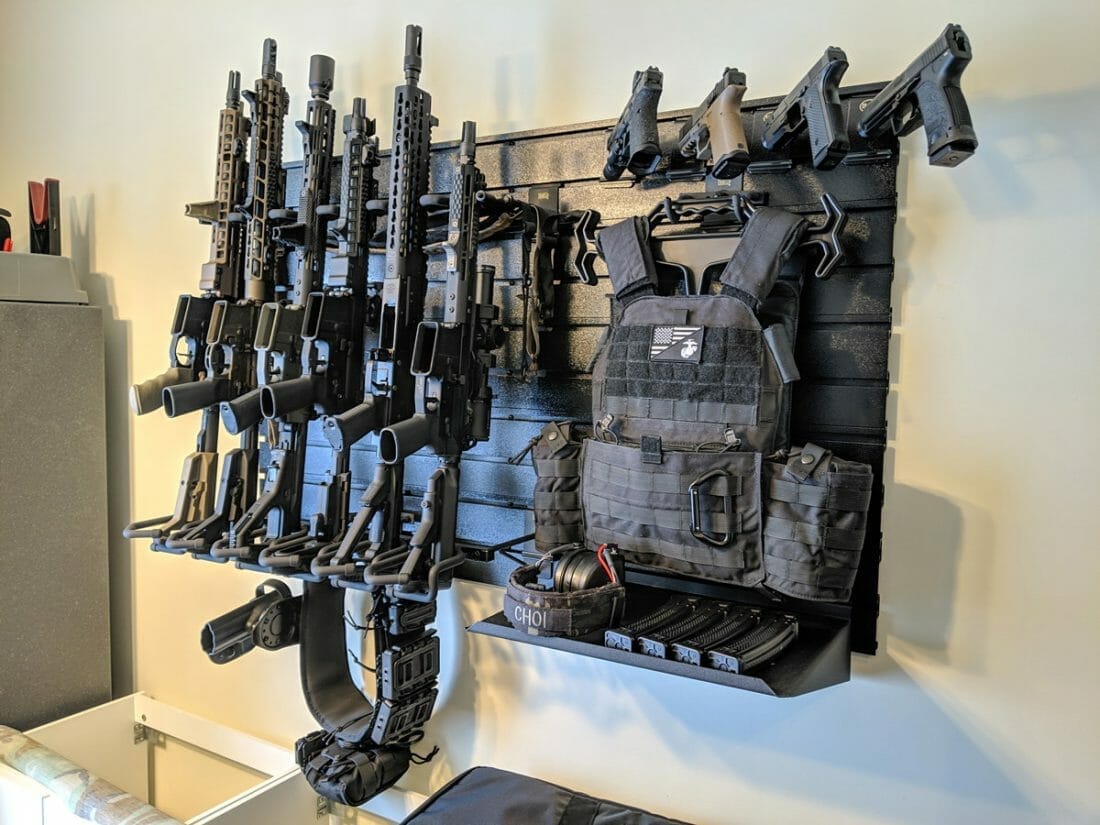 The creamy-white backdrop lightens up the black gun wall. As you see, this hold-up firearm rack looks impressive.
Here, the gun wall is useful and stylish. Furthermore, it employs shelving, hooks, and racks. There are accessories too.
26. Go Invisible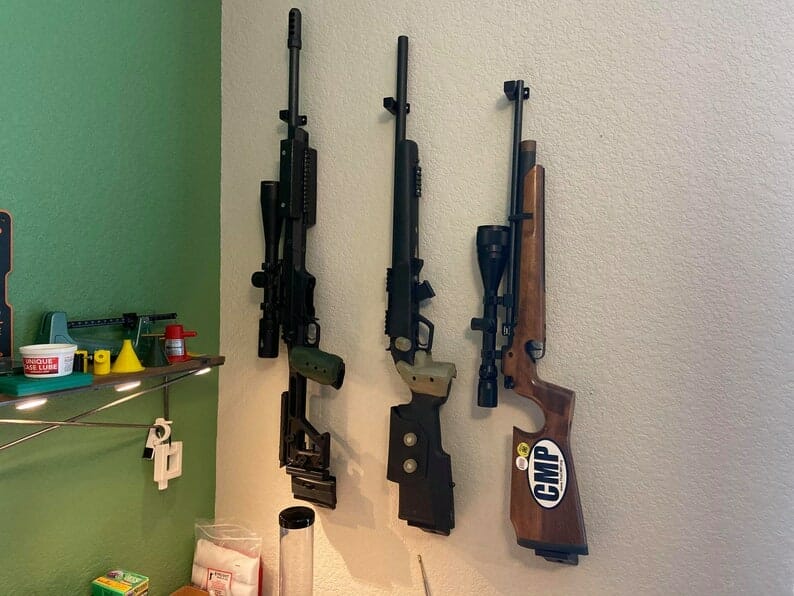 Textured muted green and white walls generate a pleasing juxtaposition. There's also a sleek industrial shelf in the space.
The invisible gun wall mounts carve a sense of intrigue. As the picture shows, they ensure the assorted firearms stay within arm's reach.
27. Simple but Sturdy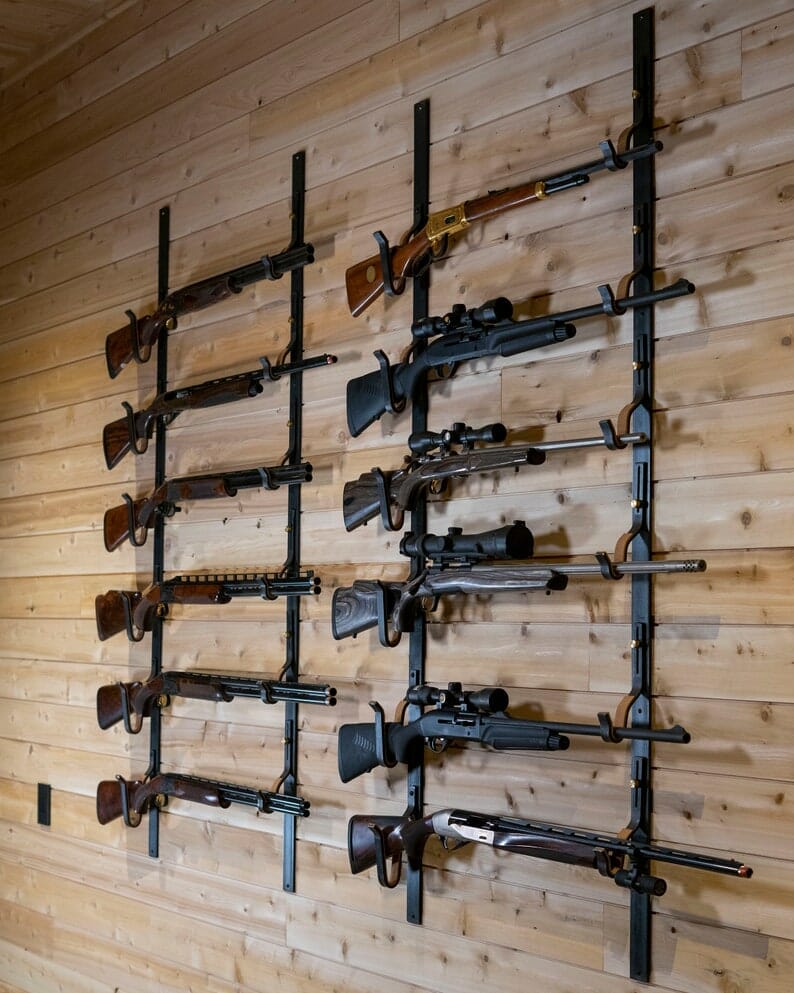 Blonde wood planks make for a gun display rack backdrop. Not only do they accentuate the raw beauty of nature but also brighten the scene.
Iron wall mounts for guns come with matching hooks. Moreover, they enable you to display your fantastic firearm collection horizontally.
28. Masculine Gun Wall Mount

Here, the khaki-painted backdrop highlights the charcoal gray gun Slatwall. Apart from generating a cozy scene, it goes with the wooden box well.
The gun Slatwall showcases manly firearm displays in vertical and horizontal arrangements. It blends seamlessly with varying types of guns, too.
Those gun wall mount ideas provide brilliant storage solutions for firearms. They deliver interest while clearing up floor space. Pick the wall display rack that suits your budget and particular needs. So, let's prepare for hunting season!