Many homeowners only focus on staircases in their abodes. Also, they ensure the stairs are equal parts durable, secure, and stylish. However, deck stairs deserve the same treatment. If you fancy an appealing outdoor space, browse through these deck steps ideas.
During the warmer months, decks typically receive high foot traffic. Of course, steps must be attractive and safe at once. Since there are abundant models and decking materials, be sure to select the right one.
The deck should represent your home while letting you entertain visitors and showcase your achievements. It must provide terrific security and years of enjoyment, regardless of the time. So here are 29 photos of decks with superb steps.
1. Deck with Stairs on Side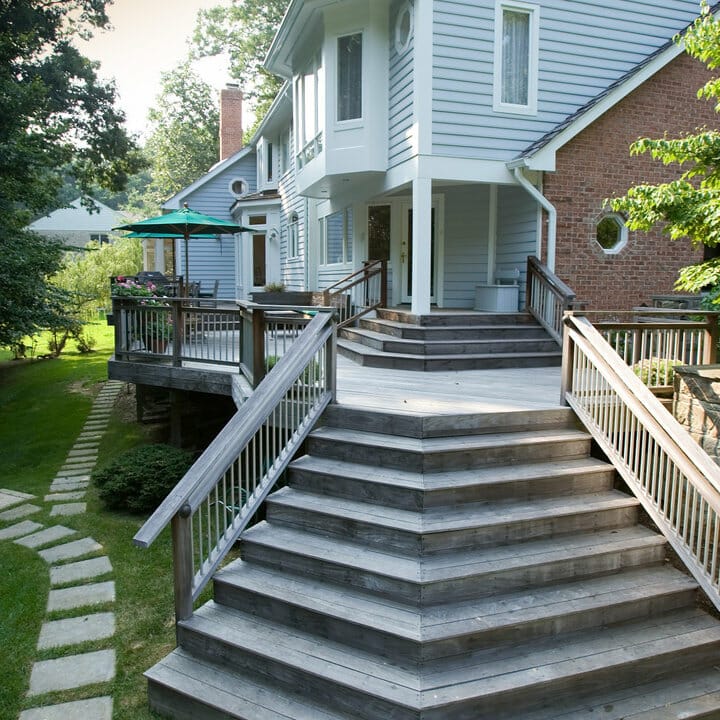 If you own a hillside property, this is one of the incredible deck steps ideas to emulate. The raised deck is suited to any sloped yard. It highlights the house's remarkable features while blending with the landscaping theme.
Here, the homeowner linked the gray-painted wooden deck to her abode. Moreover, steps and handrails wear the same color for a sense of continuity.
Gray deck stairs carve a contemporary look and complement the home's facade. Meanwhile, concrete stepping stones guide visitors to them.
2. Wraparound Deck Steps Ideas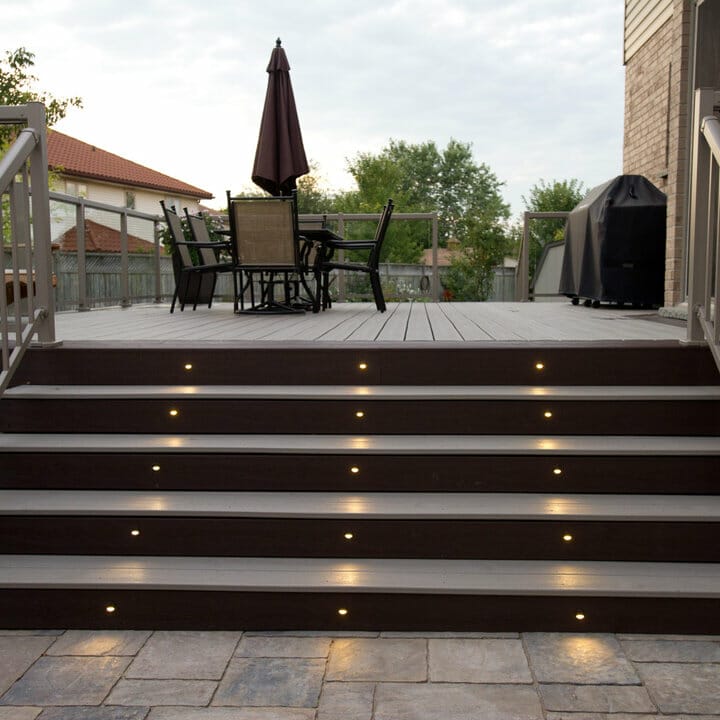 Talking about deck stair designs, take this freestanding deck into account. In addition to reflecting the homeowner's superior taste, it boasts inlaid lighting and matching handrails.
As you see, the deck flooring and treads wear light gray. They mingle with natural stone tiles too. Furthermore, rich brown risers deliver visual contrast and warmth.
The deck accommodates an outdoor dining area. Furthermore, it lets the homeowner relax with her guests while taking in a cool breeze. Also, the grill allows for a fun barbecue party. Meanwhile, the umbrella shields visitors from the harsh sun.
3. Composite Deck Stairs Ideas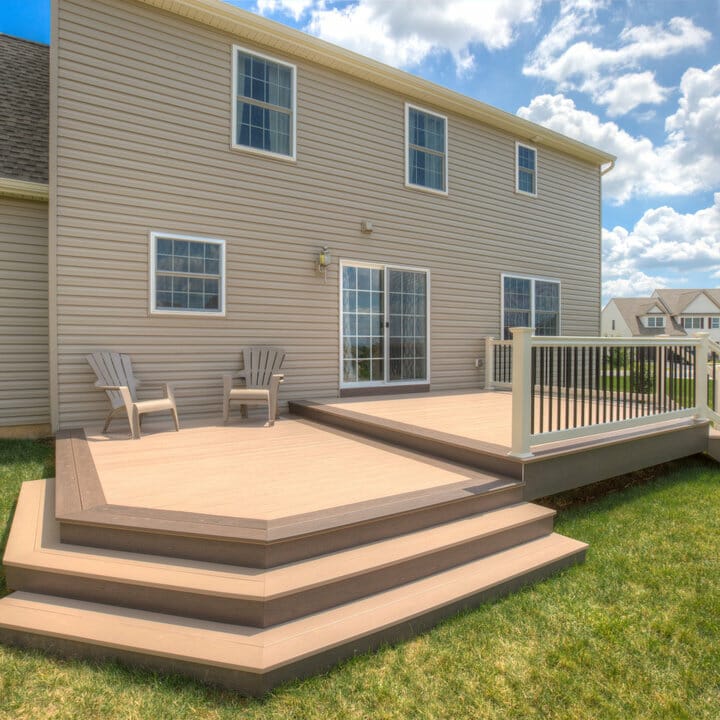 If you adore something low-maintenance and inexpensive, composite decks win your heart for sure. They're more cost-effective than their wooden counterparts. Also, they can resist both stain and weather.
Here, the deck with steps provides unobstructed views of the surroundings. Furthermore, there's enough room for various activities, so the space doesn't seem overpopulated.
This two-tone deck generates an efficient flow around the property. Moreover, visitors can reach it from two kinds of steps that suit the home's clean lines. Lastly, taupe Adirondack chairs are excellent for unwinding with your spouse or guest.
4. Outdoor Wooden Steps Design Ideas with Lush Plants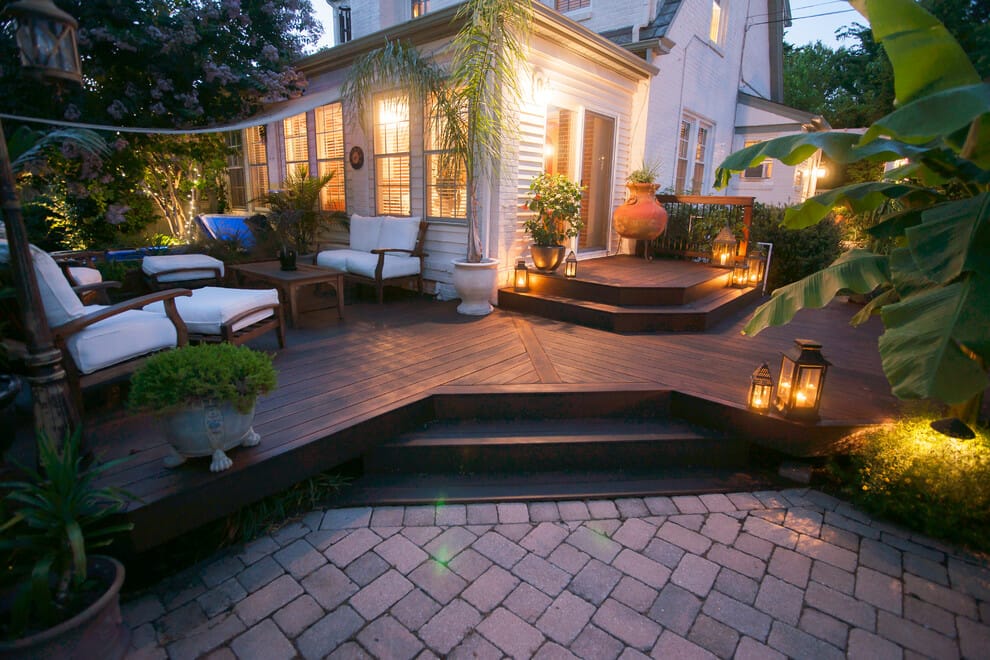 This modern platform deck is worth admiring. It opens up the outdoor space instantly. Moreover, the structure delivers a touch of warmth.
The homeowner linked the deck to her garden corner. Furthermore, potted plants bring nature closer. Also, the seating area has a covering, so it stays comfortable on hot days.
Stone pavers harmonize with wooden deck steps. Meanwhile, lanterns perk up the deck while infusing a tranquil glow.
5. Multi-Level Deck Steps Ideas with Built-in Planters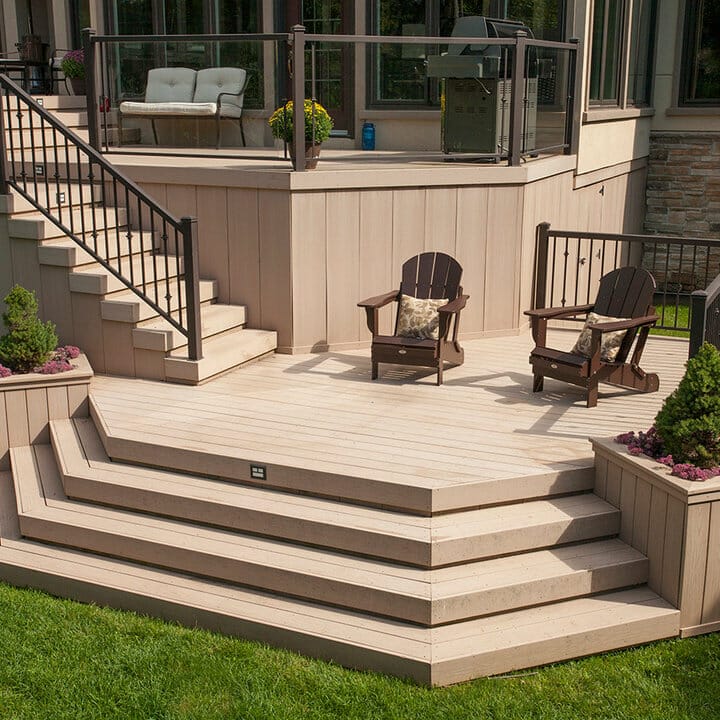 High deck stairs ideas let homeowners have various perspective points. They let you emphasize the surrounding views, too.
Wide composite deck steps lead guests to a seating area for tanning and relaxing. Meanwhile, narrow stairs with a handrail connect the lower deck to the barbecue spot. Glass screens don't obscure the views here.
There are also a few deck steps that define a more private outdoor space. Furthermore, built-in planters add structure while accommodating evergreens.
6. Multifunctional and Trendy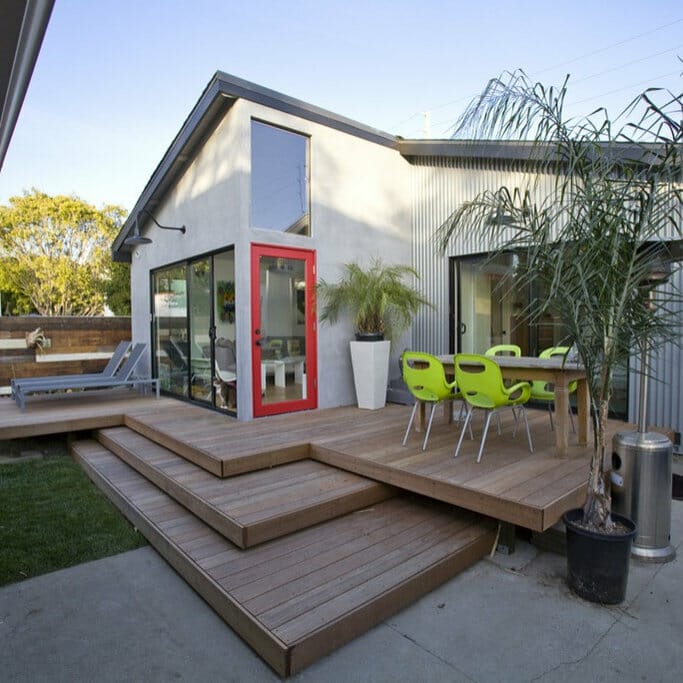 If you're into minimalist deck steps ideas, try this option out. The floating deck employs a few streamlined deck steps. They complement the existing clean lines of the home facade.
The lawn and bare wood deck steps produce a terrific contrast. Moreover, there are gray lounge chairs that let visitors enjoy some sunshine.
In addition to a tanning area, the deck also boasts a dining room with a wooden table and punchy chairs. It's surely perfect for enjoying alfresco meals and socializing with guests.
7. Deck Steps Ideas with a Bench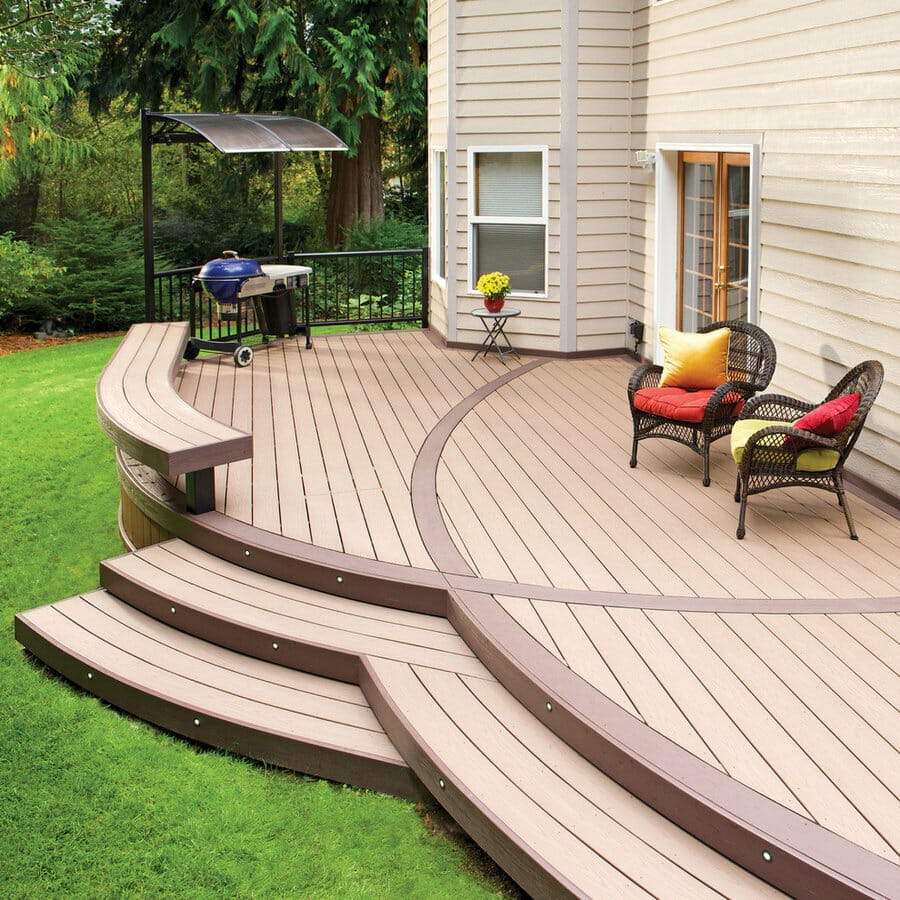 During the daytime, this deck enables you to converse with visitors. Furthermore, resin wicker armchairs feature mismatched seat cushions and throw pillows. Not only do they impart visual appeal but also punch up the whole area.
Built-in outdoor lights brighten up two-tone deck steps at night. Moreover, the curved bench offers extra seating and offsets hard edges.
The metal covering shields the blue-colored grill from the elements. Meanwhile, a tiny round table houses a terracotta planter with sunny yellow blooms.
8. Back Porch Steps Ideas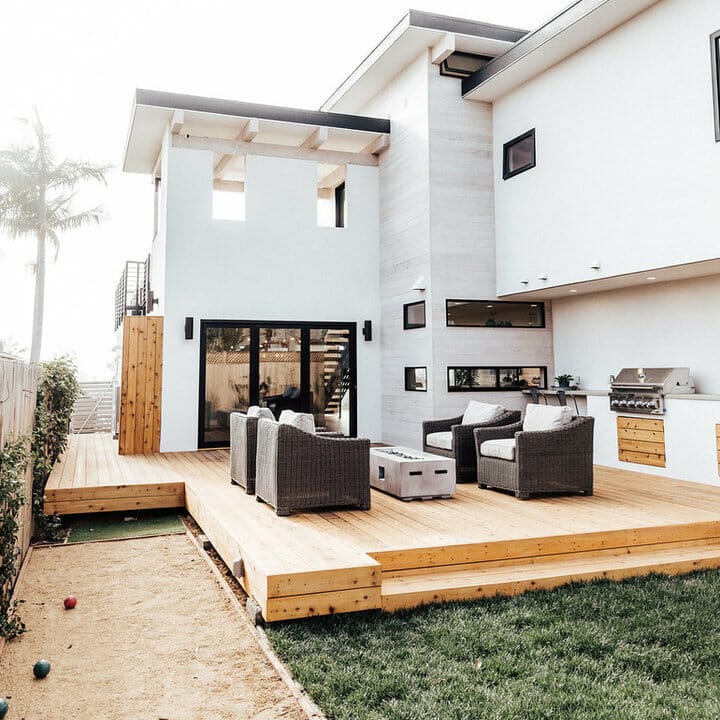 Who says you can only spend time outdoors during the summertime? Consider installing a fire pit on your porch. Apart from evoking comfort, it offers visitors peace of mind.
Dark gray resin wicker chairs flank the concrete fire pit. Moreover, soft white cushions go fabulously with exterior walls.
Blonde wood deck steps ensure the backyard porch doesn't seem cold. Not only are they stylishly rustic, but also harmonize with the adjacent lawn.
The grill belongs to the outdoor kitchen. It suits the deck's urban aesthetic. Furthermore, the dining area and sandbox make the porch a multifunctional space.
9. Screen-In Deck Steps Ideas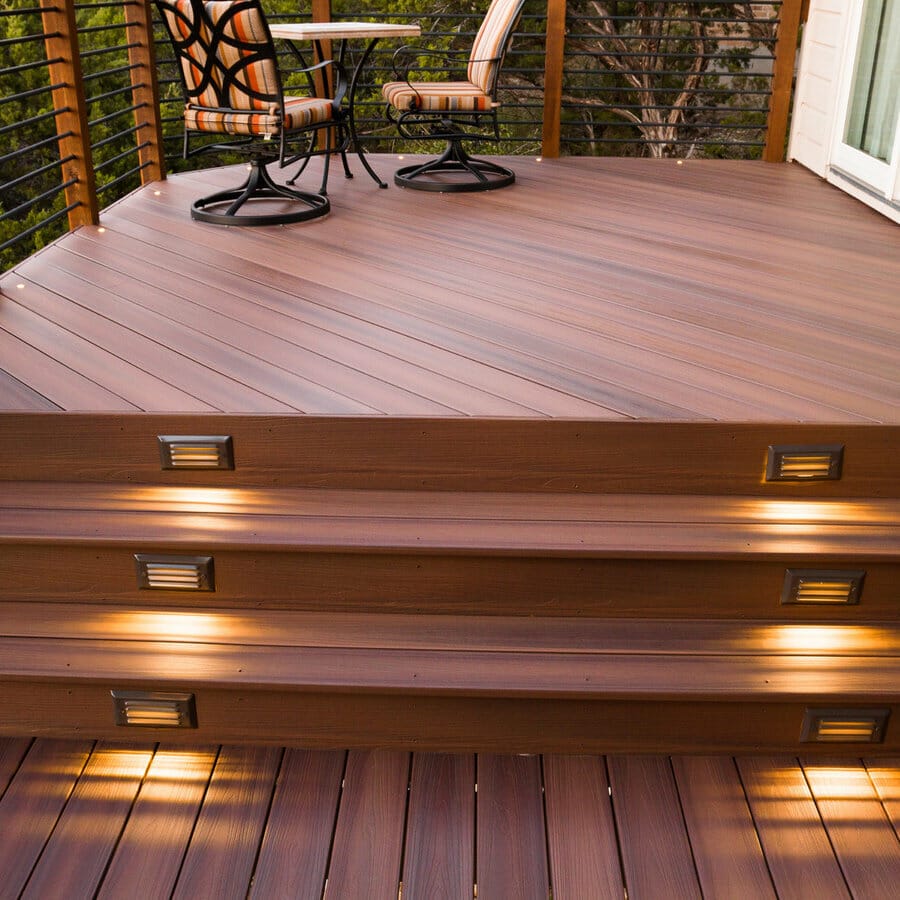 There are tons of deck steps ideas. However, this one quickly entices me. The screen-in deck provides wondrous views of the property. If your home is adjacent to natural beauty, you won't regret installing it.
The outdoor lights accompany composite deck steps. In addition to carrying a contemporary appeal, they keep you from missing a step for sure.
Here, vintage furniture items turn the deck into a majestic sanctuary instantly. Meanwhile, striped cushions are equal parts striking and comfy.
10. Concrete Steps for Decks Around Trees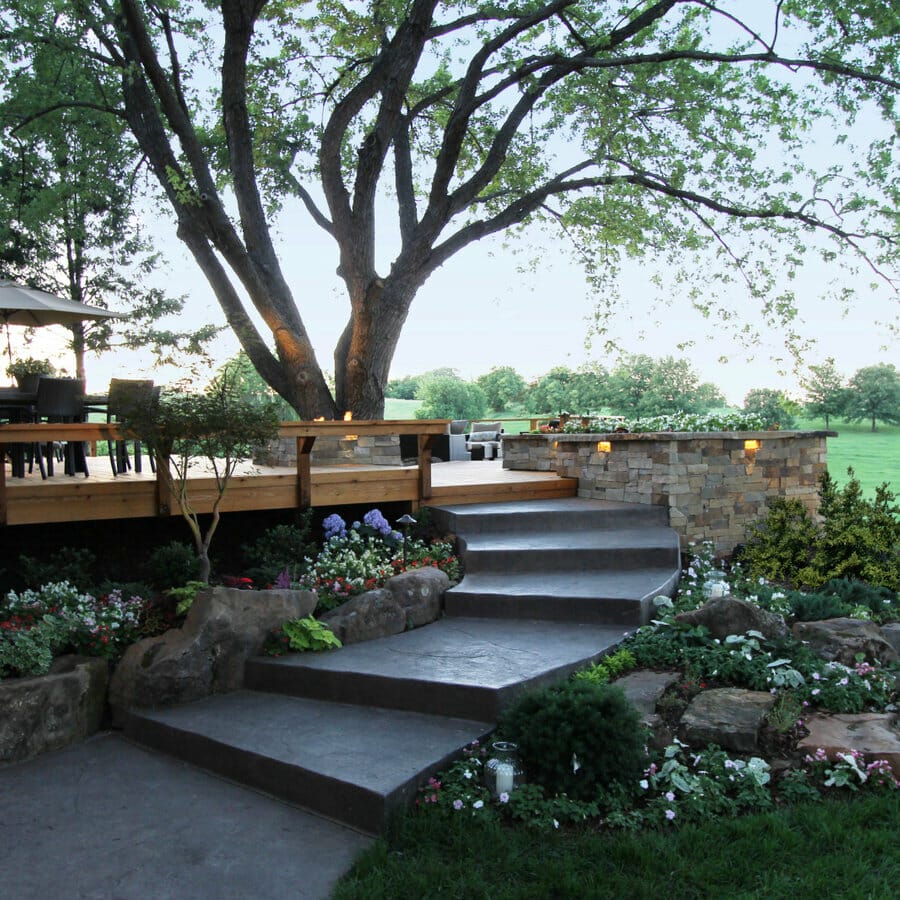 Need concrete patio steps ideas? Simply take cues from this deck. The homeowner didn't cut the existing tree. He incorporated it into the deck's design instead.
Here, the massive tree becomes a backyard's highlight. Meanwhile, the pale wood deck and concrete steps introduce a balanced look.
The gray patio umbrella defines the eating area. In addition, boulders, colorful annuals, and shrubs emanate a natural vibe. They ensure the deck isn't out of place, too.
11. Deck Steps Ideas with LED Lights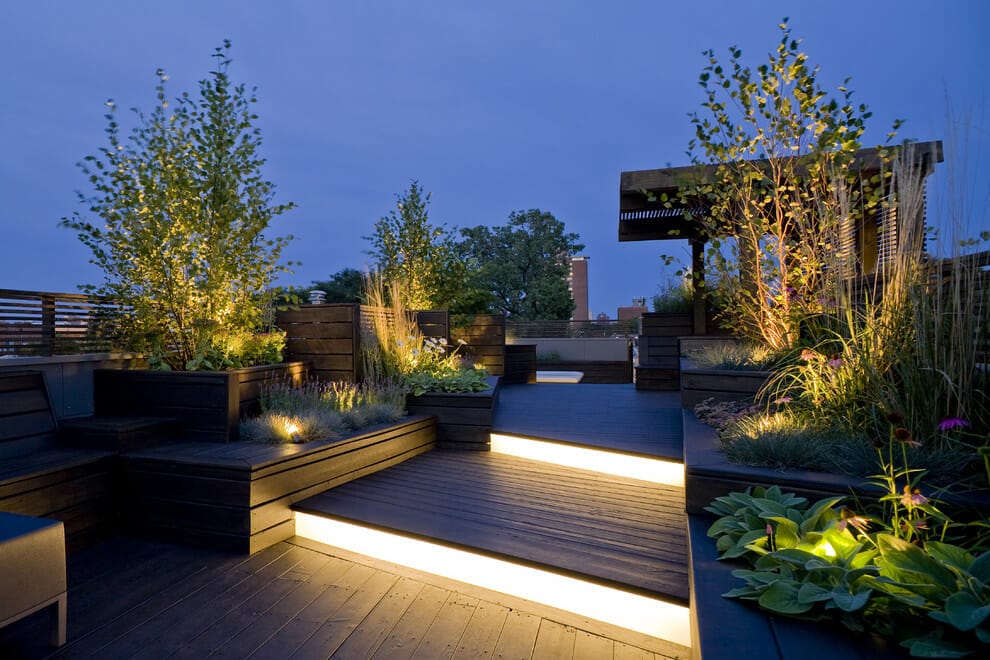 As you see, this outdoor space employs oversized deck steps. Thanks to their simple lines, they can mingle seamlessly with raised garden beds.
LED lights illuminate the large deck steps stylishly. Furthermore, they coordinate well with accents lights, so the urban garden doesn't seem dingy at night.
Tall grasses and plants produce a statement in this garden. Meanwhile, flowering plants temper modern elements while imparting splashes of color.
12. Don't Go Matchy-Matchy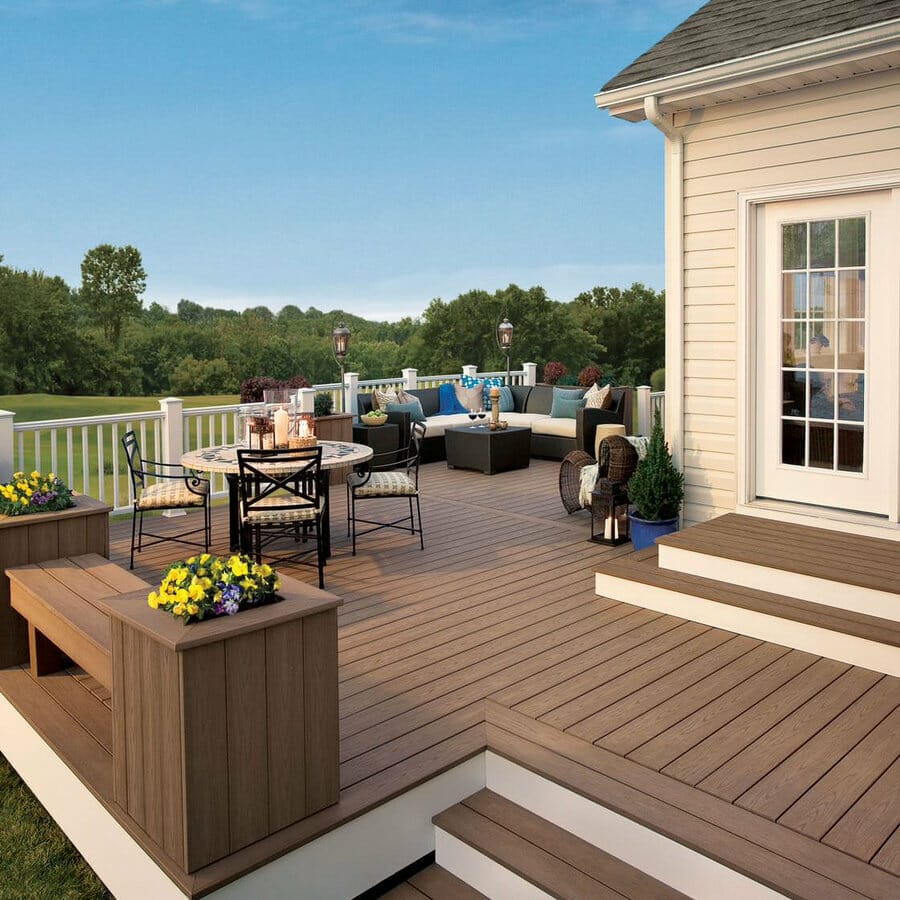 Undeniably, this is one of the outstanding deck steps ideas. The dark brown composite deck floor and treads fill the outdoor space with warmth. They also lend the area an updated feel.
The spacious deck enables visitors to enjoy panoramic views. Moreover, the white handrailing, balustrades, risers, and columns lighten it up. Here, the steps perfectly mimic the staircase in front of the French entry doors.
There's ample seating on this white-and-wood deck. The outdoor eating area boasts a vintage iron circular table and armchairs.
Interestingly, the outdoor living room is on the contemporary side. The gray sofa and cream cushions accent decorative pillows of different blue shades. Also, the bench, planters, patio lamps, and vibrant blooms complete the deck.
13. Deck Steps Ideas with Rattan Chairs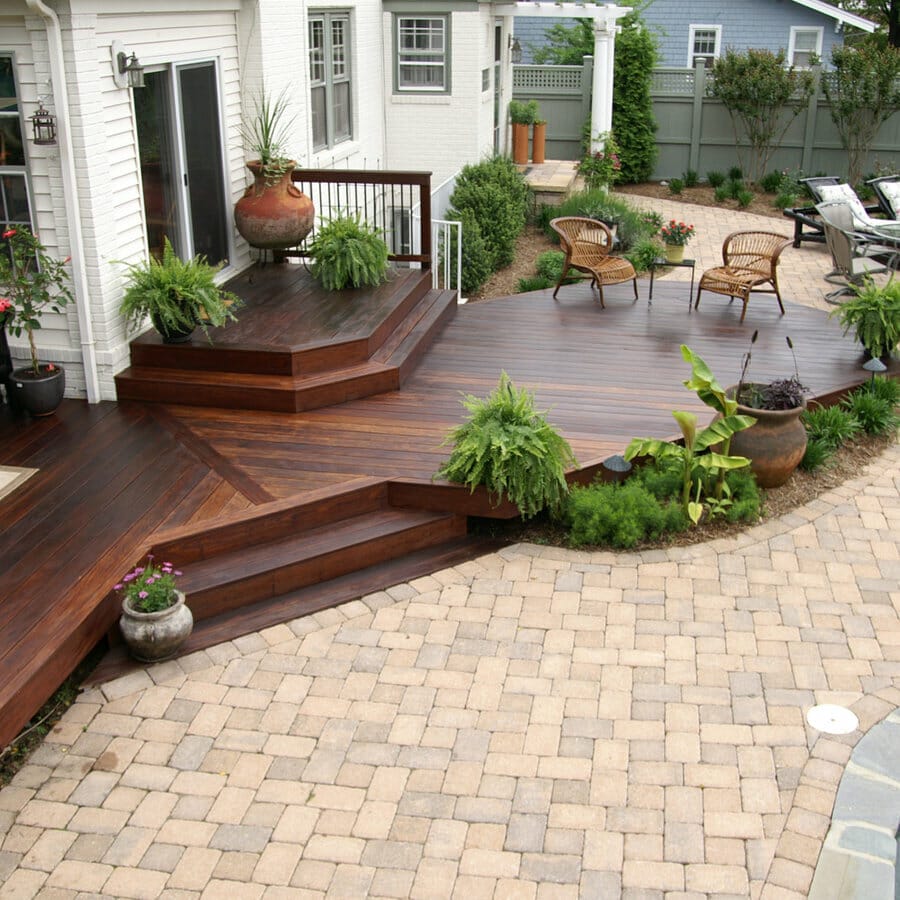 Dark-stained wood deck steps warm up the front patio. Furthermore, they allow potted ferns and terracotta jugs to be visible. Flowers and shrubs produce natural attractions.
Stone pavers around rich-toned wooden deck steps improve the modern rustic factor. Moreover, rattan chairs, loungers, and gray armchairs offer ample seating.
14. Wood Domination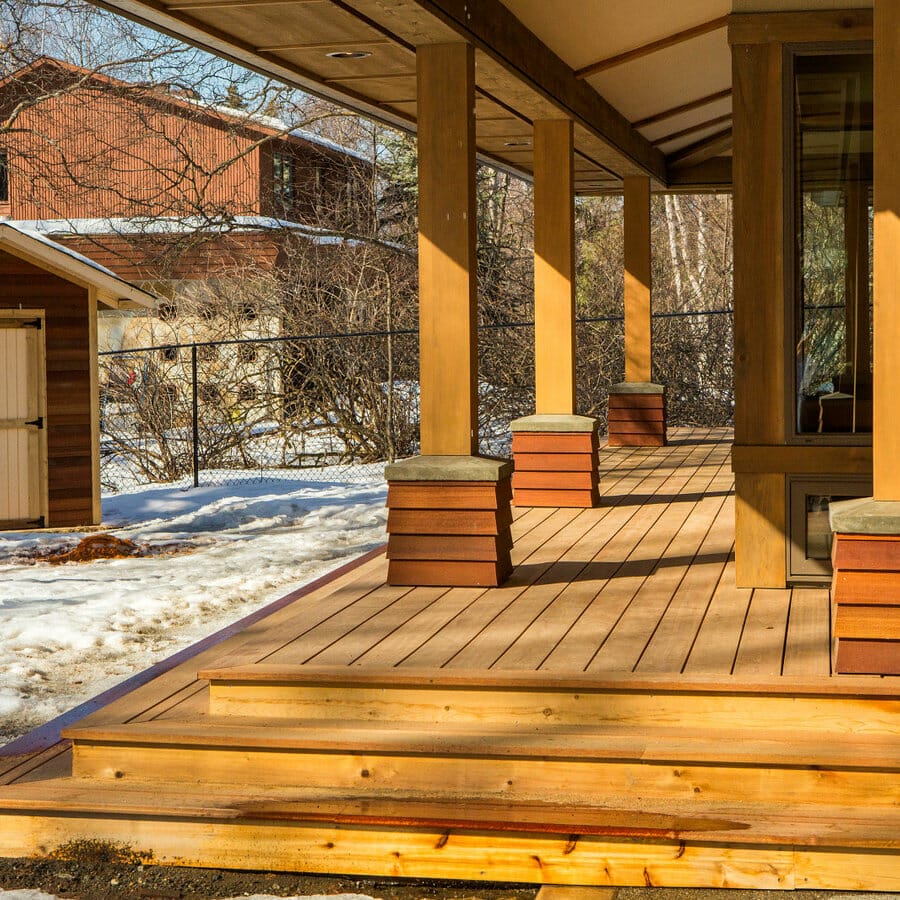 If you have a deep appreciation for simple things, this is one of the deck steps ideas to steal. The steps embrace different woodsy tones. They contrast with the snowy landscape, too.
Despite their simplicity, wooden deck steps are charming and weather-resistant. Also, they accentuate the wood-and-concrete pillars while completing the cabin's look.
15. Deck Steps Ideas for Beach Cottage Homes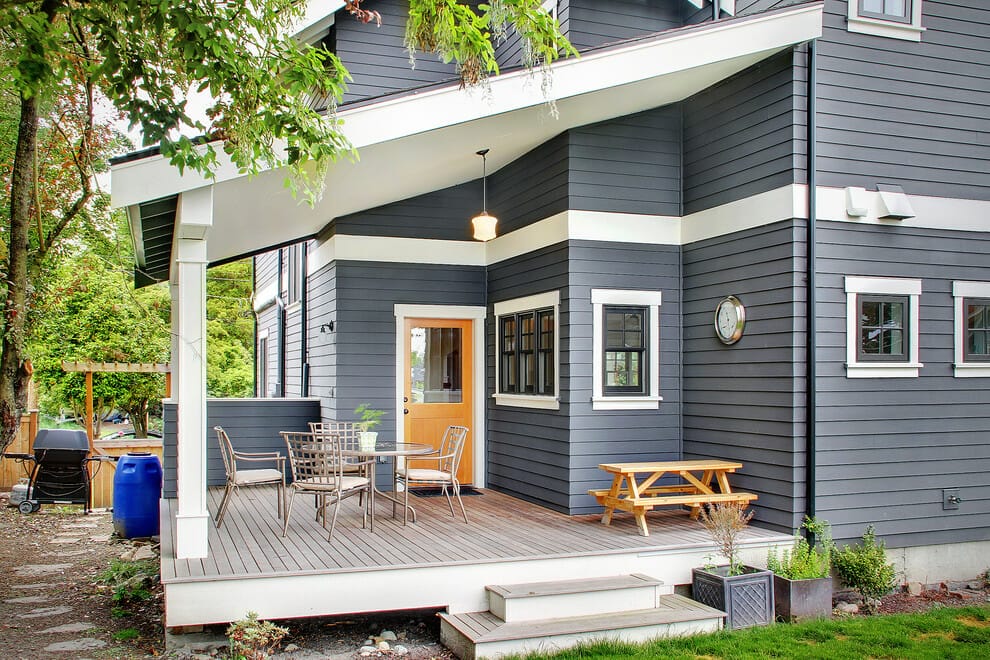 This floating deck is trendy. I can't deny how terrific the steps are. Subtle gray treads and white risers blend with the outdoor dining room set while exuding airiness.
The blonde wood front door and picnic table with benches offset all things gray. Meanwhile, the wall clock, pendant, and modern planters finish off the patio.
16. Say Yes to Neutrals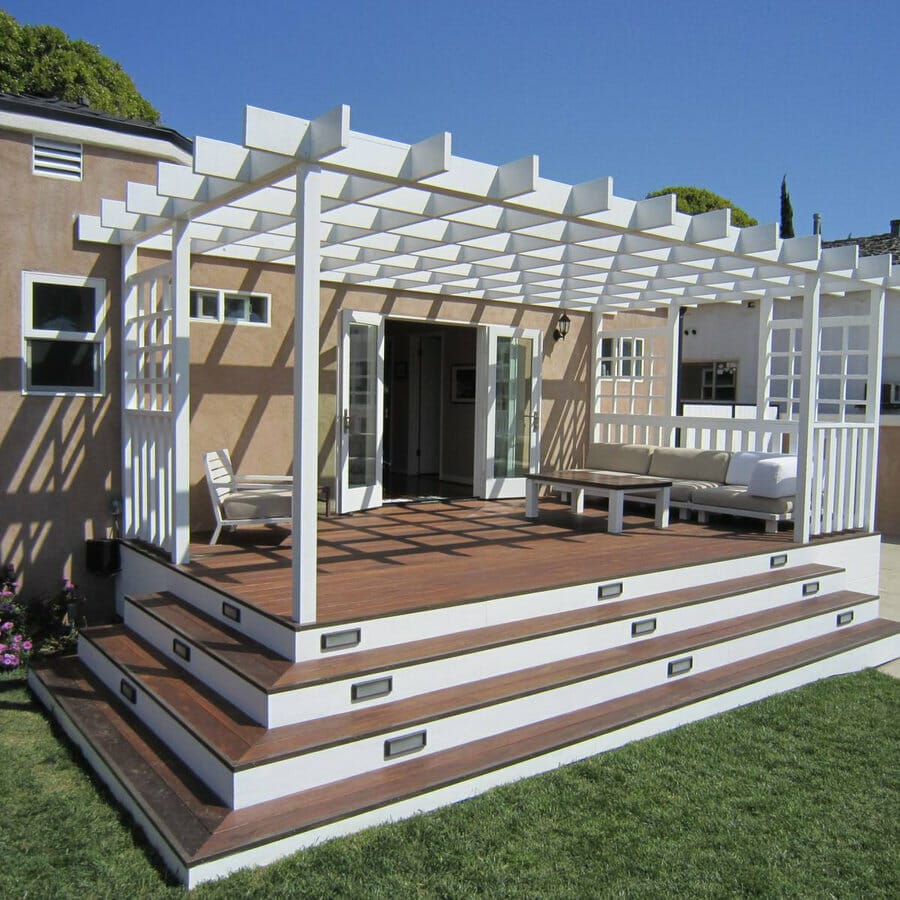 During the summertime, the weather tends to be unbearable. So why not invest in a pergola roof? Apart from adding style, it lends the patio some shade.
The white pergola roof, risers, and square lattice panels tie the patio together. Moreover, wooden treads and brown walls balance out cold furniture units.
17. Snuggly Yet Minimal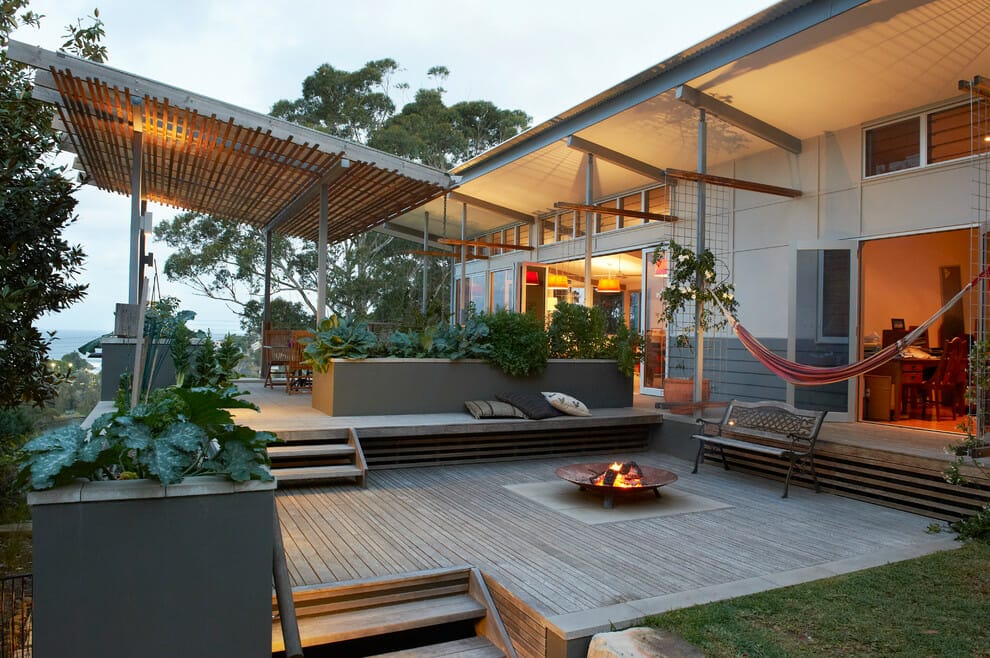 If modern multi-level deck steps ideas interest you, replicate this layout. The urban-style patio boasts modern and vintage benches. Simple decks let visitors access seating areas easily.
Concrete planters enable the dweller to have a vegetable garden. Furthermore, the fire pit and hammock deliver so much comfort.
18. Floating Deck Steps Ideas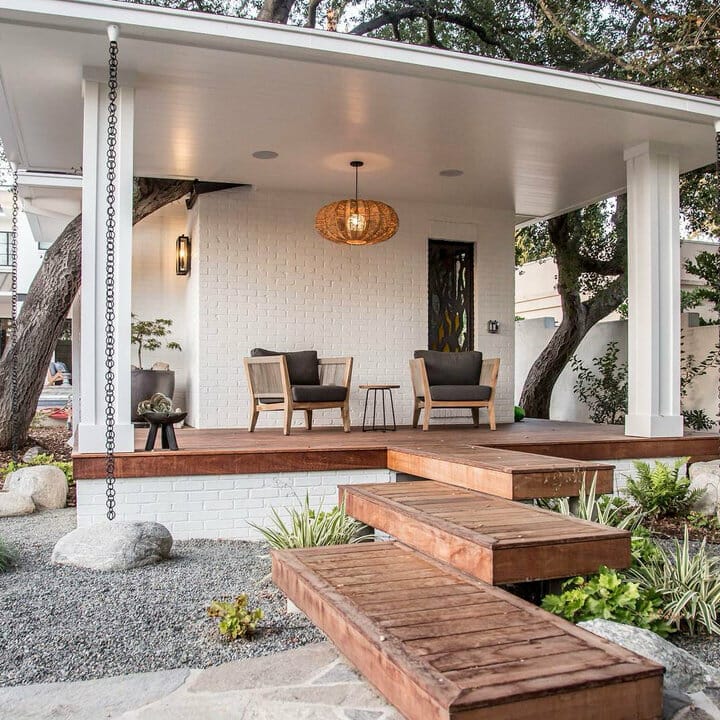 White bricks and pillars produce an airy scene. Meanwhile, the wicker pendant and floating wooden deck steps add visual balance. Metal chains let you install a swing.
The flagstone walkway, gravel, plants, and boulders accompany the wooden deck. Additionally, charcoal gray pieces carve depth.
19. All-Wood Deck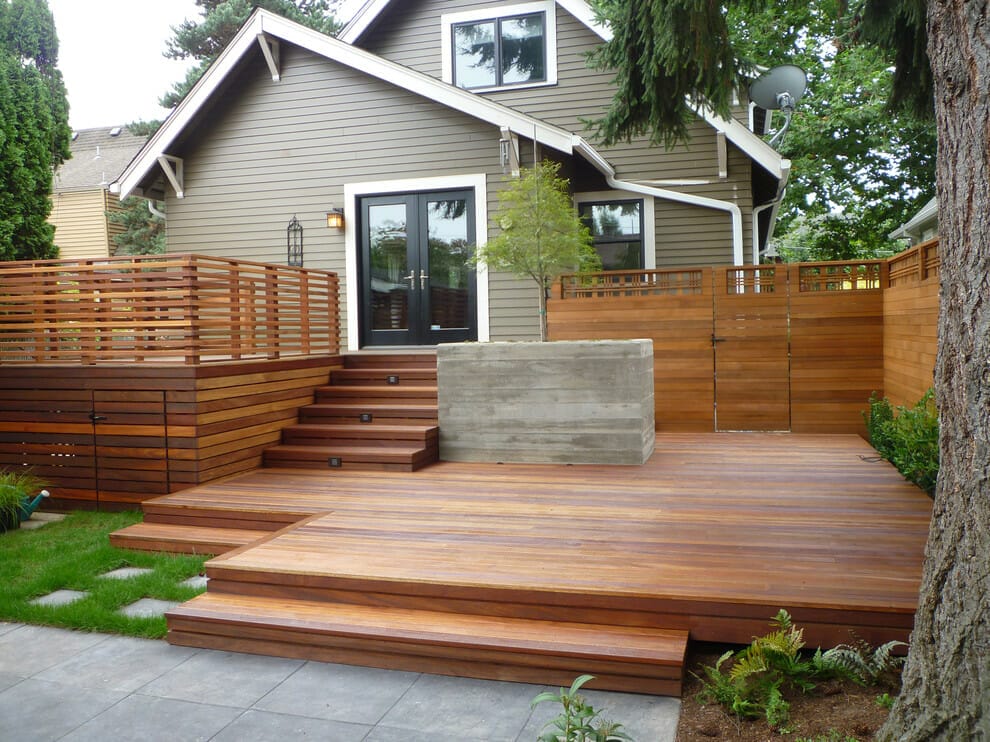 Some dwellers can't get enough of multi-level decks. This deck, for example, boasts two levels. The railing, steps, and privacy walls display warm wood elements.
Here, the gray planter and square concrete tiles stop the wooden deck from overwhelming the space. Meanwhile, lots of greenery ensure the setting isn't lusterless.
20. Hardwood Deck Steps Ideas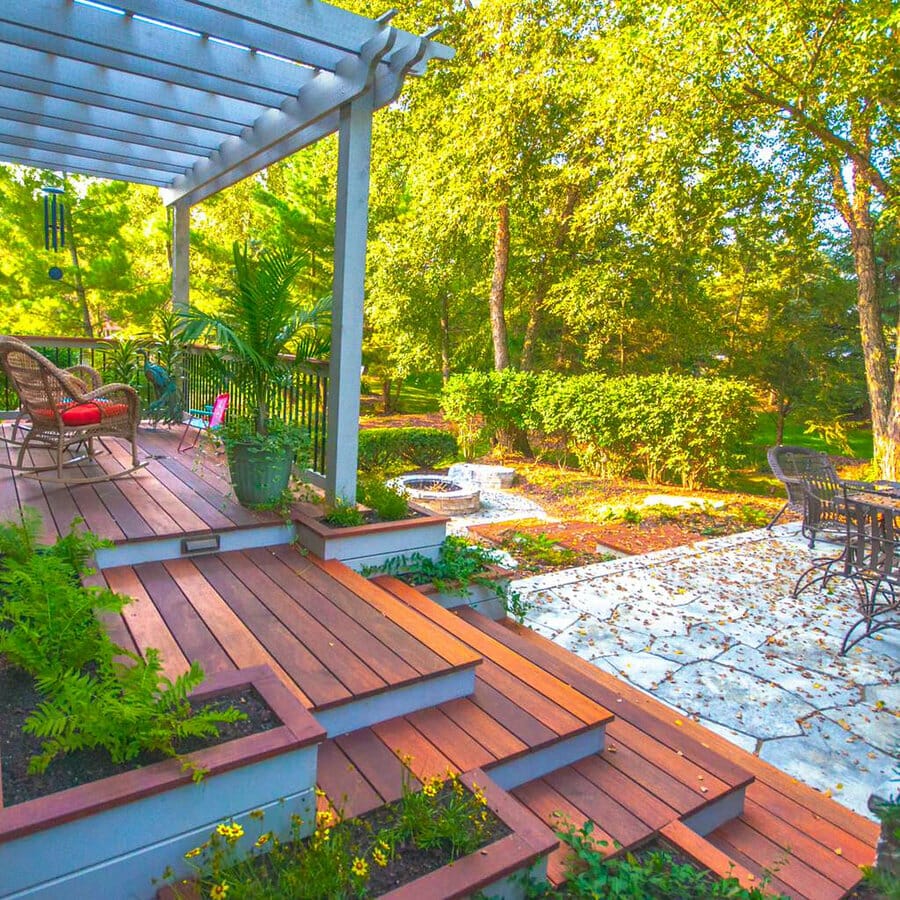 This front patio is suitable for unwinding with guests. There's an outdoor eating space with a few vintage metal furniture pieces.
Hardwood steps warm up the flagstone pathway. Meanwhile, planters house plants without consuming additional outdoor space. Lastly, rocking and kid's chairs add extra seating.
21. Bare But Welcoming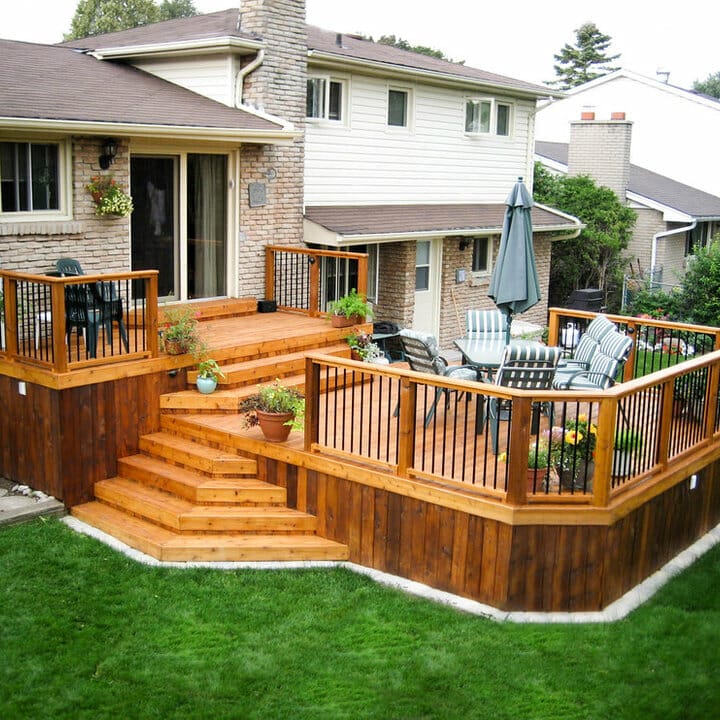 If you dwell in a tree-covered area, implement this idea. The lawn and wooden deck steps let the home fit in with nearby woods.
The multi-level deck provides fresh vistas. Moreover, gray striped armchairs and colorful flowering plants in pots develop some interest.
22. Classic and Cozy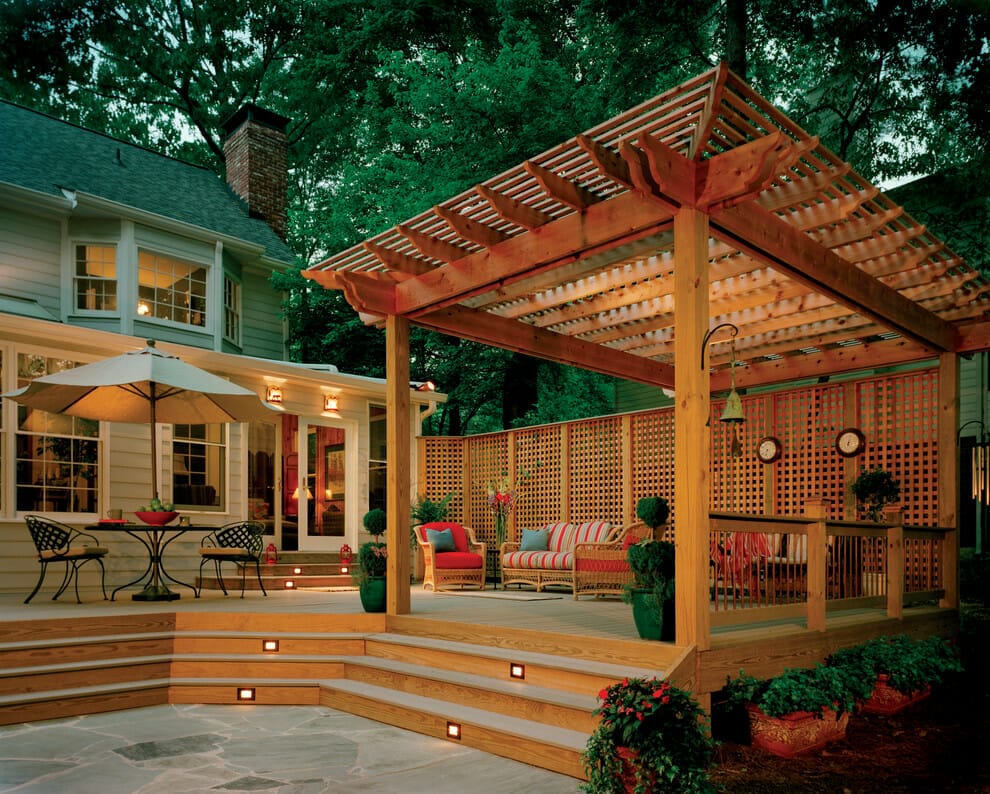 Unpainted wooden steps connect the flagstone walkway to the patio. Furthermore, seating areas feature rattan and metal furniture pieces for a sense of balance.
Vintage wall clocks and topiary plants spice up the patio. Also, accents of bright red and burnt orange speak of intimacy.
23. Tiny But Attractive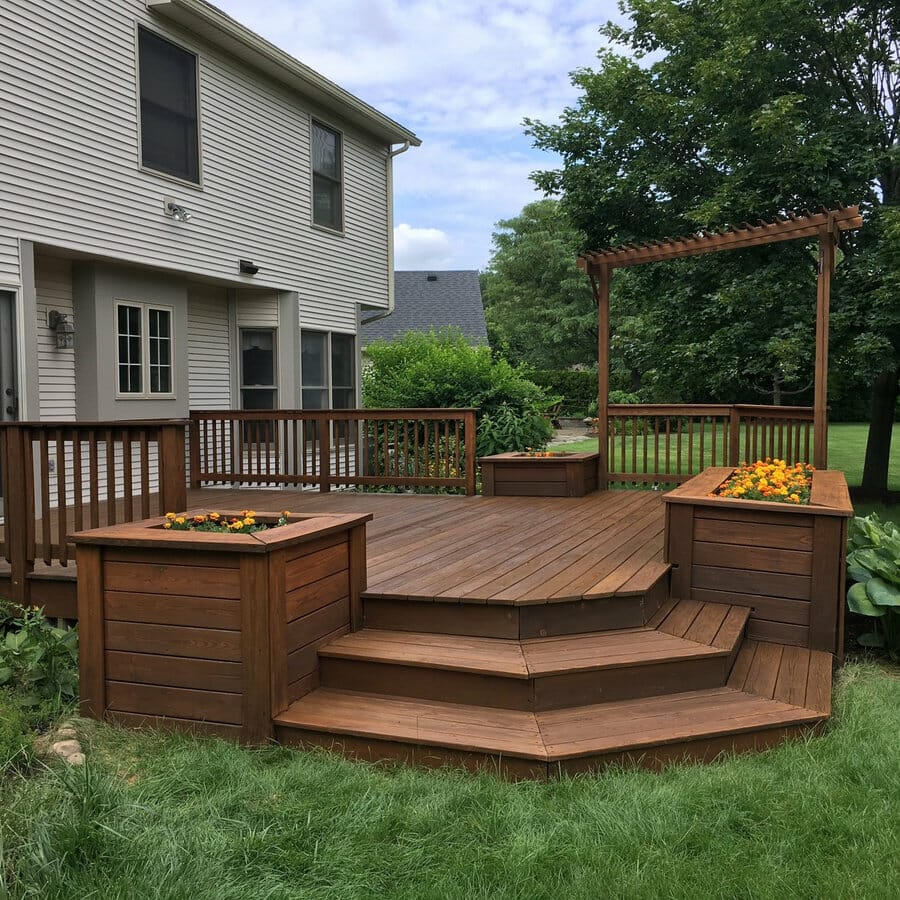 Talking about deck steps ideas, take wooden decking into account. Here, dark wood planks make for an inviting platform deck.
Built-in planters keep yellow and orange annuals in place. Moreover, the pergola-inspired structure adds visual height while accompanying the wooden railing.
24. Deck Steps Ideas with a Jacuzzi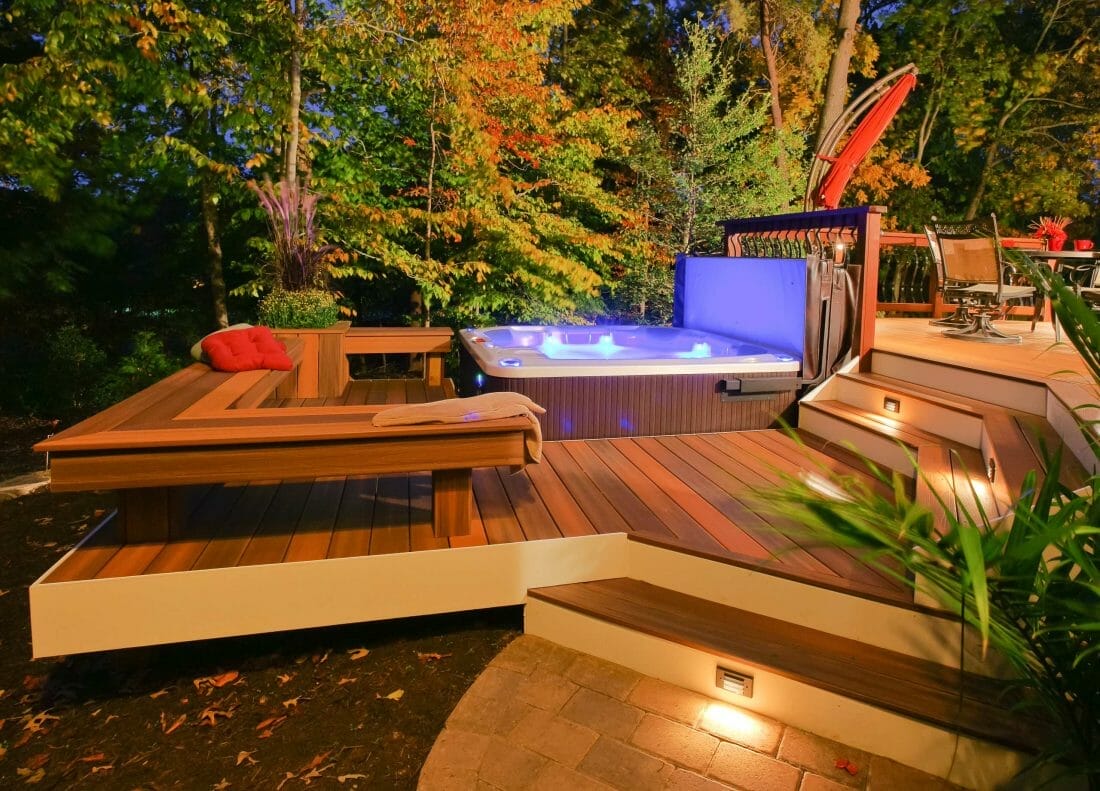 This is another multi-level deck that I drool over. The lower platform features a stylish bench and a raised jacuzzi.
The upper platform employs a dining area with iron furniture pieces that complement metal balustrades. Meanwhile, outdoor lights and red fabrics carry some warmth.
25. Deck with Fabric Coverings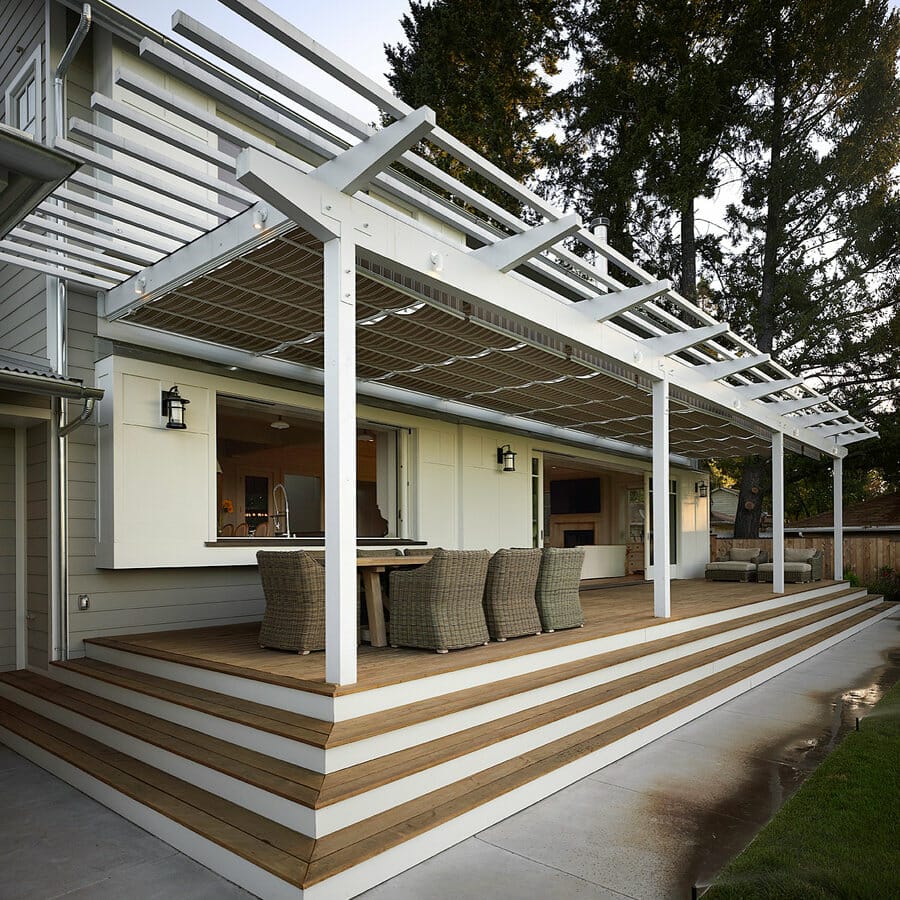 Here, the backyard porch boasts elongated deck steps. Moreover, they prove white and wood are a fantastic combo.
Resin wicker dining chairs meet the wooden deck harmoniously. Meanwhile, two lounge chairs let the dweller create a casual outdoor seating area.
26. Deck Steps with Tiny Lights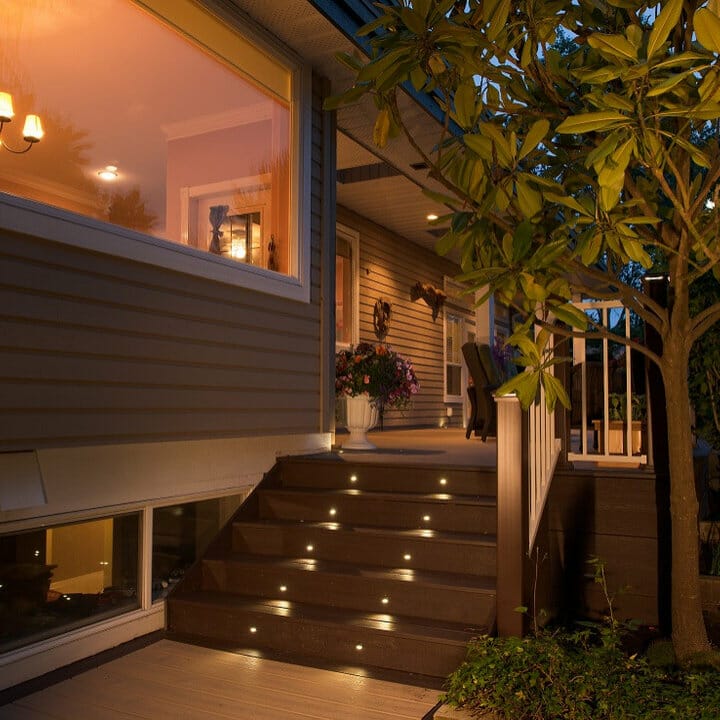 The homeowner coated deck steps with warm gray paint. Since the shade is similar to the home facade, the deck belongs to the property perfectly.
Tiny built-in lights prevent unwanted accidents on the deck. Furthermore, the potted annuals and wall decor beautify the outdoor eating space.
27. Go for Earth Tones
As you see, the porch wears varying earth tones via exterior walls and armchairs. Due to them, it can blend with nearby trees.
Streamlined and curved wooden deck steps add interest. Moreover, their simplicity lets all the eyes focus on pretty annuals and wall hangings.
28. All About Layouts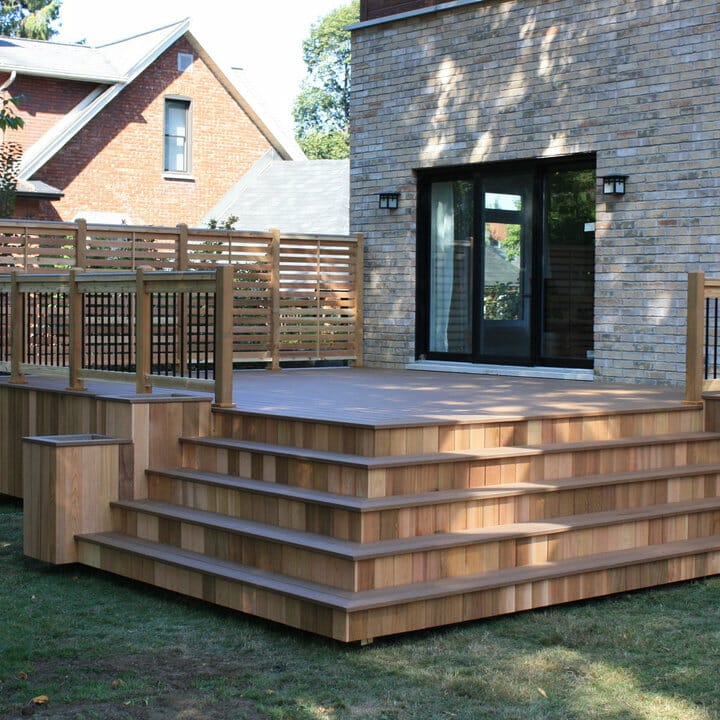 The lawn highlights the rustic beauty of the wooden deck steps. Here, the platform features a few built-in planters and slatted walls for hanging pots shortly.
Elongated, pale wood treads make the deck seem wider. Meanwhile, the risers boast short vertical wood planks that deliver a visual surprise.
Decks aren't mere wooden platforms. With the proper design, they can be anything, from an entertaining area to an open-air dining room. Use any of those impressive deck steps ideas to build your ideal outdoor sanctuary.