Of course, children deserve their own space. This place encourages them to organize the toys and messes after playtime. However, decorating it can be pretty daunting. Fret not, here are some splendid color ideas for playrooms to foster creativity.
If there's no particular room for a kid's play space, consider creating it in a child's bedroom or a family den. No matter where the playroom is, choosing the right scheme is crucial. The palette surely can affect its overall tone. Let's check these paint ideas out!
1. Light Blue and White Kid's Room Paint Ideas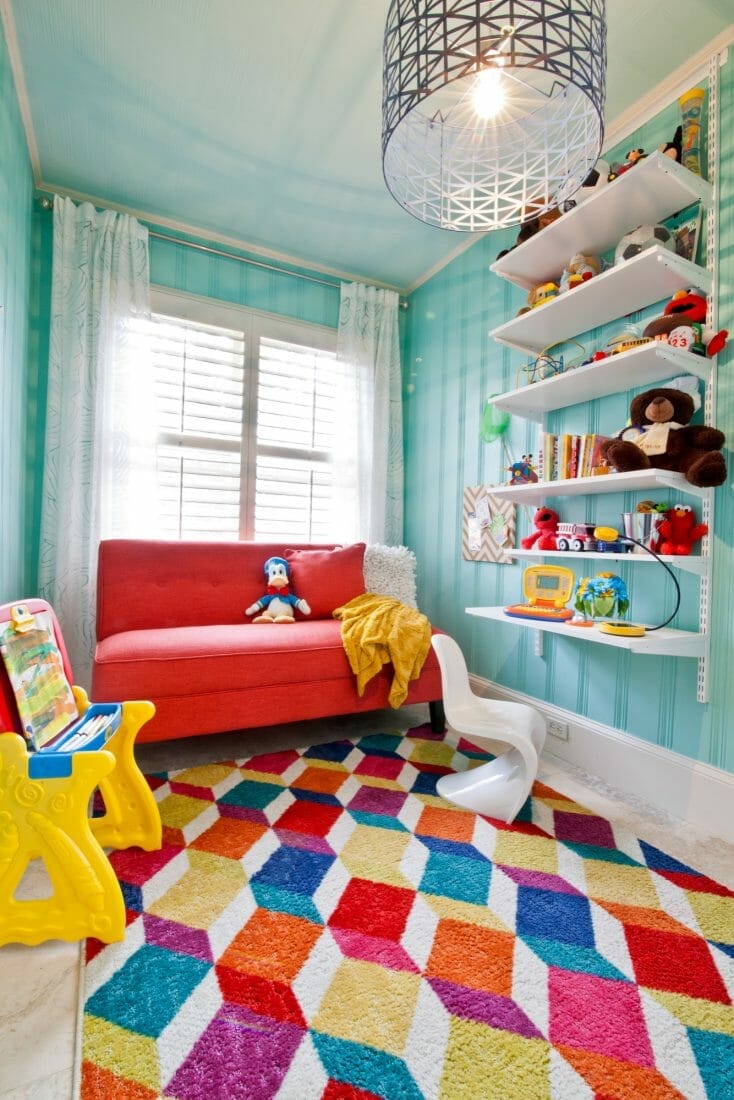 Searching for the best playroom decor ideas? If so, give this trendy and fresh color scheme a shot. As you see, the homeowner pulled off the palette well.
The ceiling and walls supply light blue shades. Furthermore, they lend children's play space a youthful and relaxing ambiance.
Crisp white appears on the window frames, curtains, moldings, open shelving, and chair. Additionally, the color brightens the space even more, while the geometric rug wears all the bold colors of the accessories, furniture, and upholstery.
2. Color Ideas for Playrooms with a Confetti Wallpaper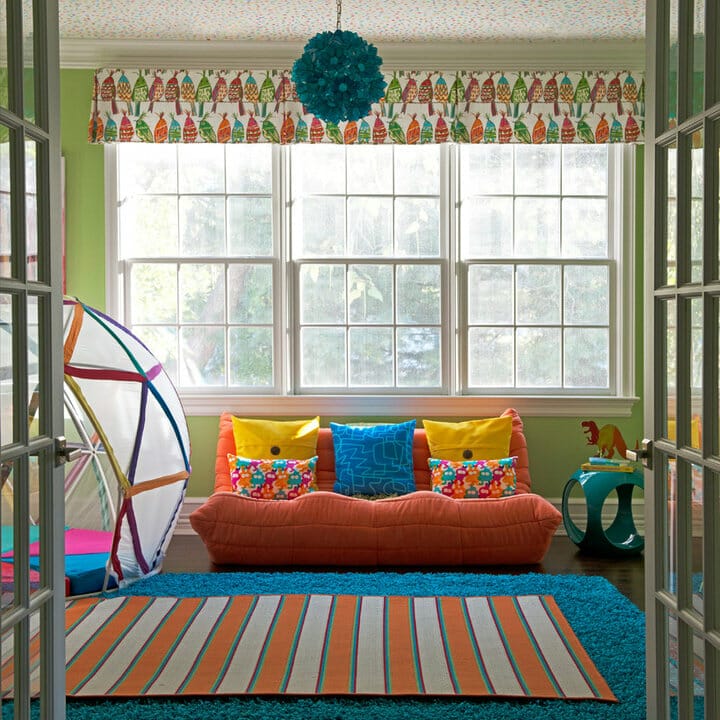 Talking about the best paint colors for playrooms, you won't go wrong with pastel green. Moreover, I strongly recommend using it on the walls to jazz up the child's play space.
Here, cool white pairs with pastel green delightfully. Furthermore, the deep brown wooden floor and orange sofa exude comfort as well as warmth.
The dome tent, confetti ceiling wallpaper, throw pillows, and rugs provide vibrant accents. Also, they bring the playroom together. Lastly, the pendant lamp gives off a whimsical feel.
3. Bold and Functional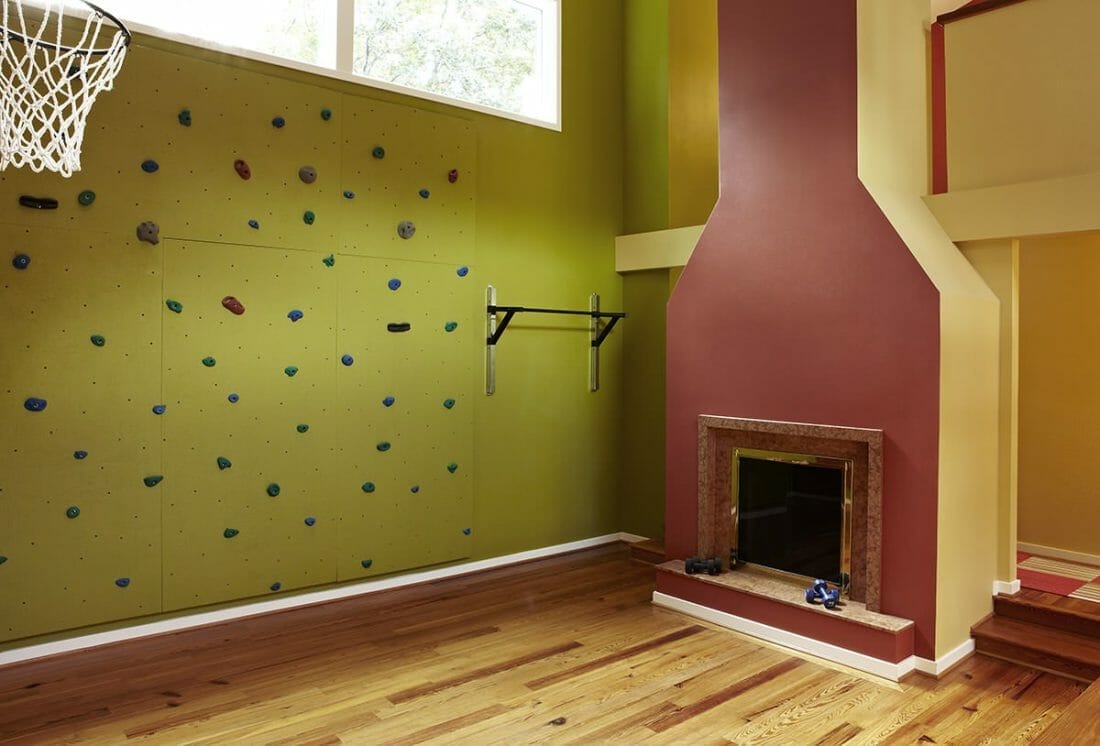 Your kids love red, green, and yellow. Why not use them in their playroom? Instead of picking the vibrant shades, you should choose the muted ones since they won't offer a jarring look.
Paint the moldings and window frames cool white for an astonishing palette. Moreover, let the wooden floor create a homey mood.
The basketball hoop and stall bar motivate children to do their daily exercise. In addition, the rock climbing wall adds extra splashes of color.
4. Green and Yellow Playroom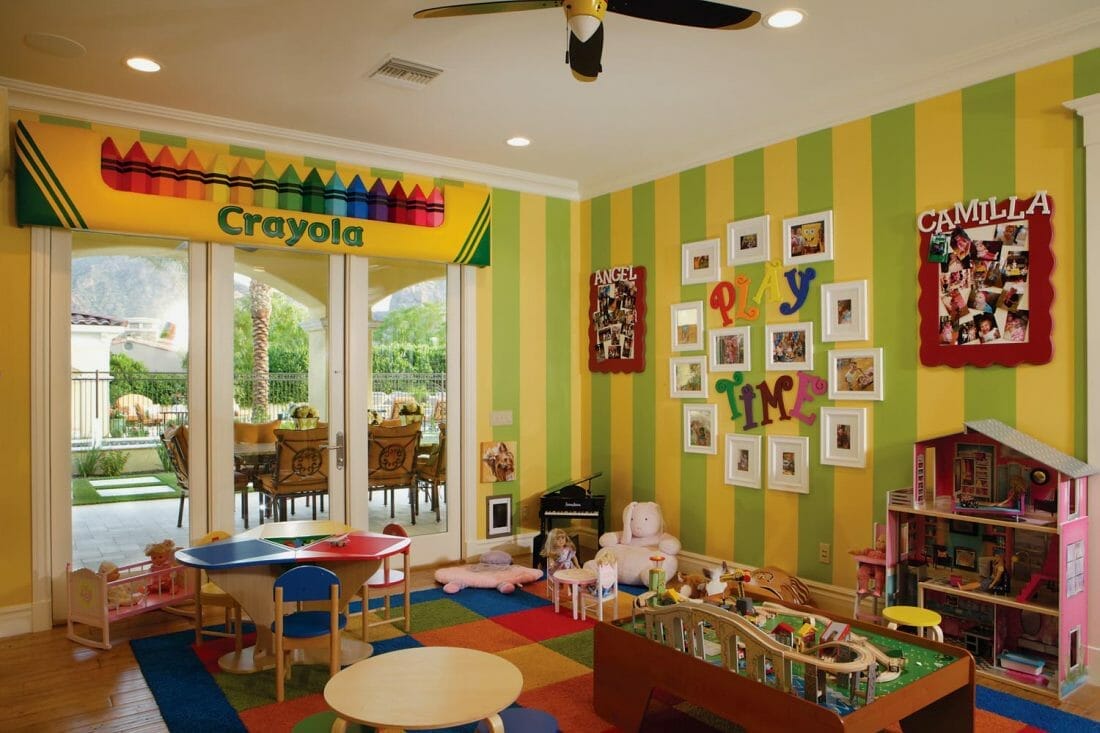 When it comes to bright color ideas for playrooms, look no further than pastel green and yellow. They'll surely inject the children's play space with happy energy.
The white ceiling, furniture, trim, and photo frames make the playroom feel brighter. Additionally, the wood floor and kids' chairs warm the play space up. Lastly, the crayon-themed window valance, multicolored rug, and letter signs offer a sense of cheerfulness.
5. Captivating Color Ideas for Playrooms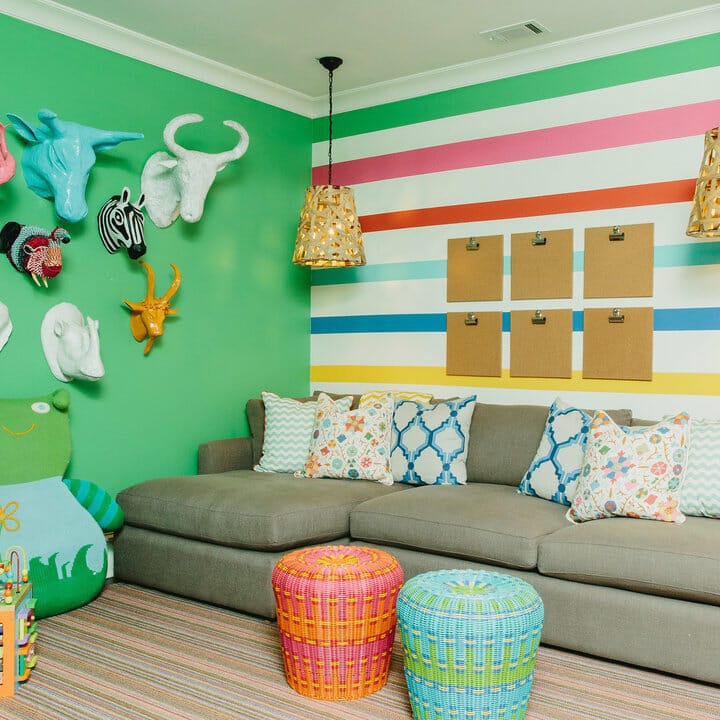 There are tons of mesmerizing color combinations to select from. This playroom, for example, employs minty green and crisp white as primary colors. Furthermore, they produce a fresh look and a relaxing feel at once.
The accent wall, striped rug, and colorful wicker stools energize the playroom. Although the sofa comes in gray, it doesn't look dull due to the patterned throw pillows. Zoo animals excite the imagination while providing visual interest.
6. Clean and Cheery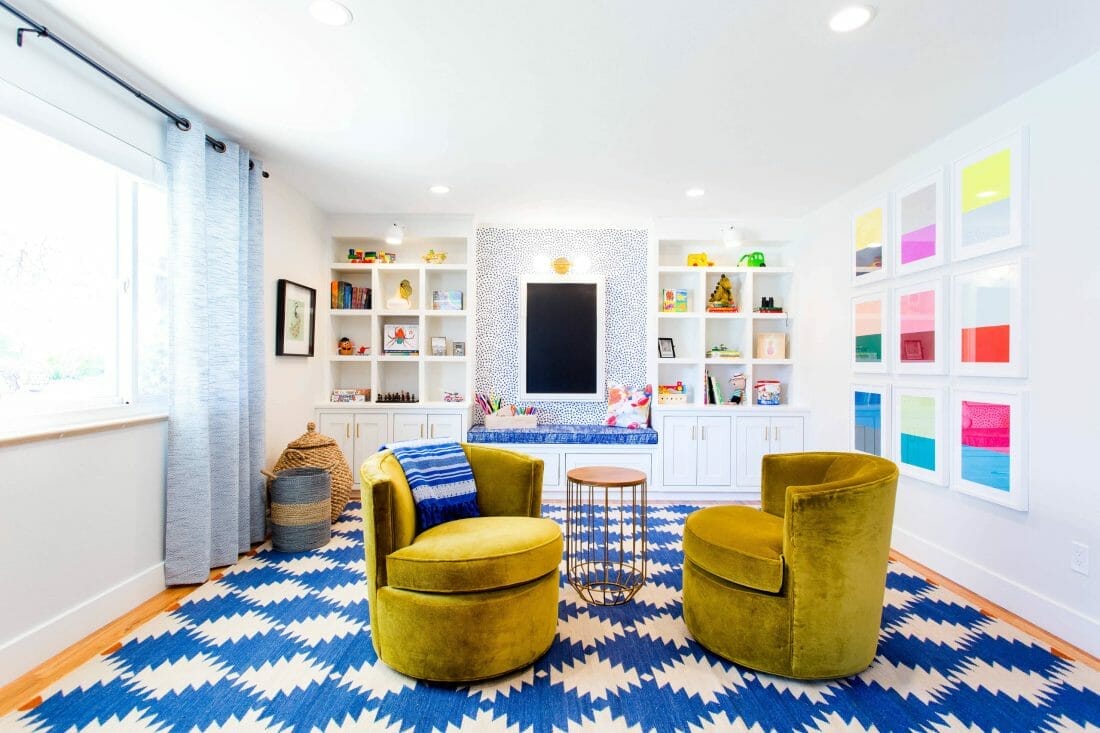 Looking for fabulous color ideas for playrooms? If yes, this decor scheme deserves a try. First, add a massive dose of cool white to the palette. Not only does it visually expand the play space, but also imparts an open feeling.
The bright white recessed shelving, ceiling, and walls let punchy accents shine. Moreover, the mustard green sofa chairs, light blue curtain, geometric rug, and storage baskets provide cozy textures.
7. Jungle-Inspired Playroom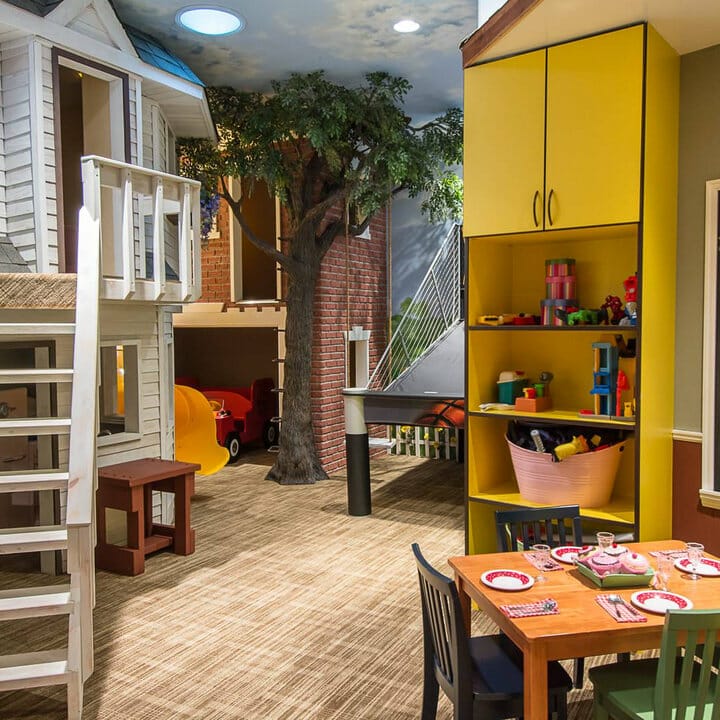 No playroom is complete without a playhouse. Since the space is shared, the homeowner added two playhouses to it.
The sky blue on the walls and ceiling wallpaper evokes tranquility. Additionally, yellow and red accents lend the playroom some vibrancy. Lastly, the life-size faux tree and rope swing generate outdoorsy vibes.
8. Small Playroom Ideas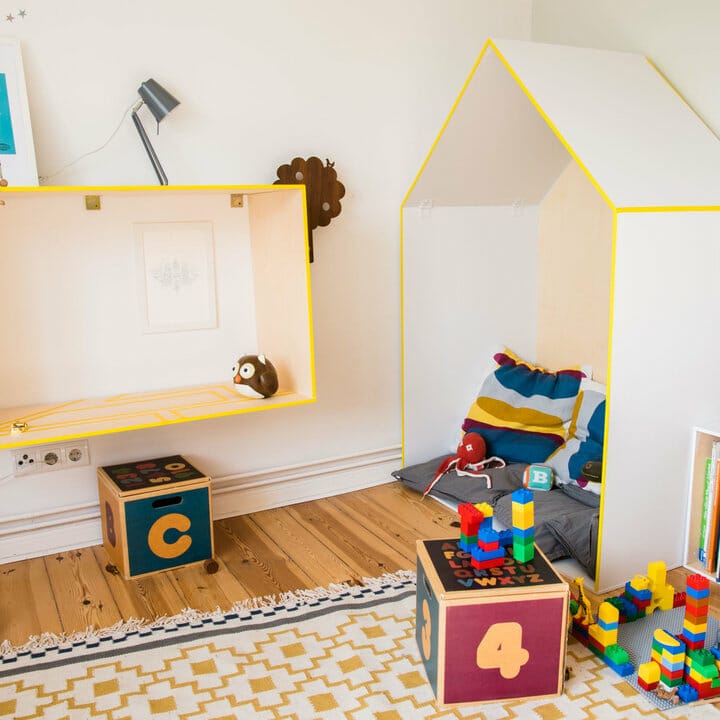 This is one of the spectacular color ideas for playrooms that I love. Since the space boasts a minimalist decor palette, it will surely grow with your children.
Splashes of color energize the playroom. Furthermore, muted blue and pink on the storage boxes ensure that the space remains gender-neutral. Meanwhile, the rug adds comfort while creating a cohesive appearance.
9. Music-Themed Playroom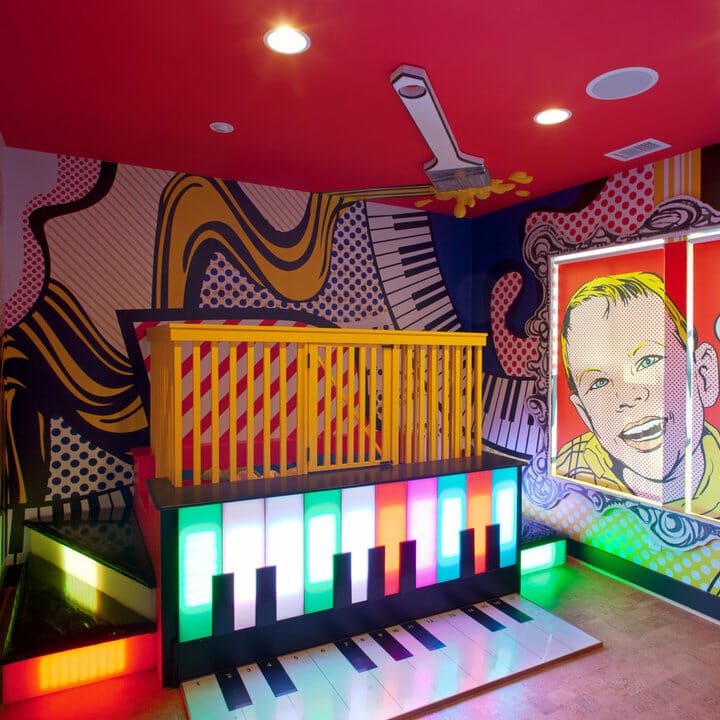 Without a doubt, this play area embraces your child's inner artist. The bright red ceiling goes excellently with the music-themed playroom wallpaper.
Colorful LED lights featuring piano notes illuminate the whole playroom, while downlights make the area brighter. Also, they instill a playful vibe. The wall decor nods to the retro style.
10. Attractive Color Ideas for Playrooms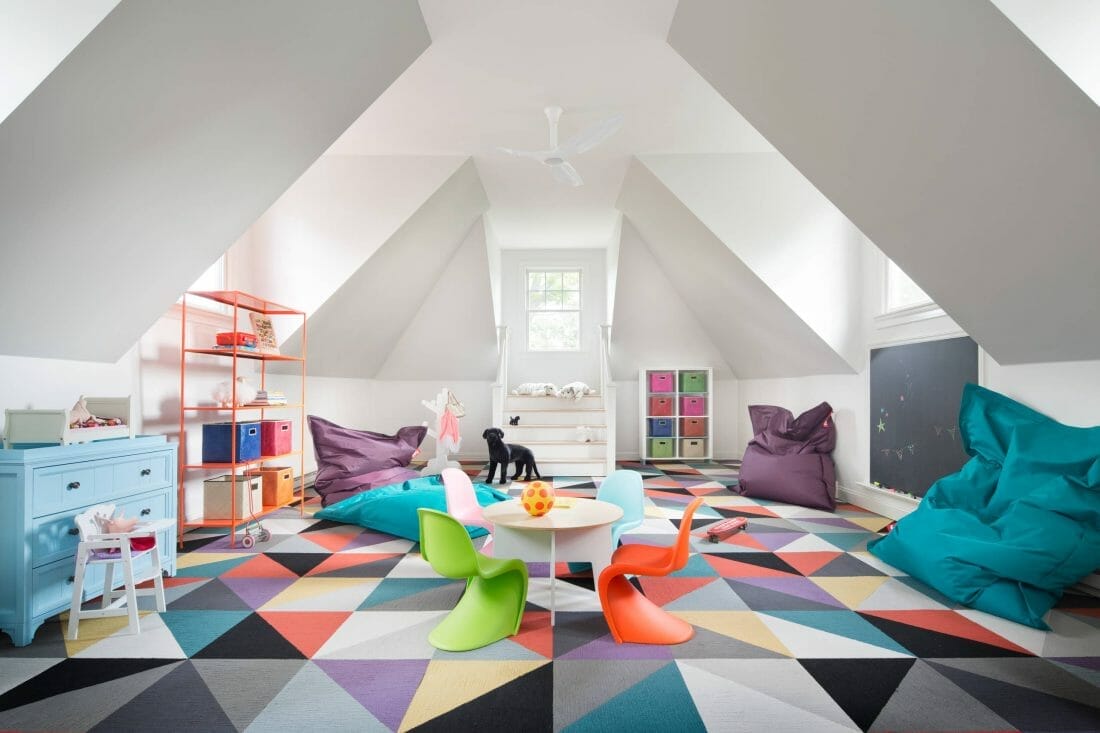 This attic playroom embraces the bright white palette at its best. Moreover, the color dominates the scheme for a light and airy kid's play space.
The orange and white shelving units hold accessories and storage boxes. They produce a sleek look, too. Meanwhile, the light blue dresser exudes a vintage feeling. Lastly, the multicolored geometric area rug and curvy chairs generate a cheerful mood.
11. Airy and Awesome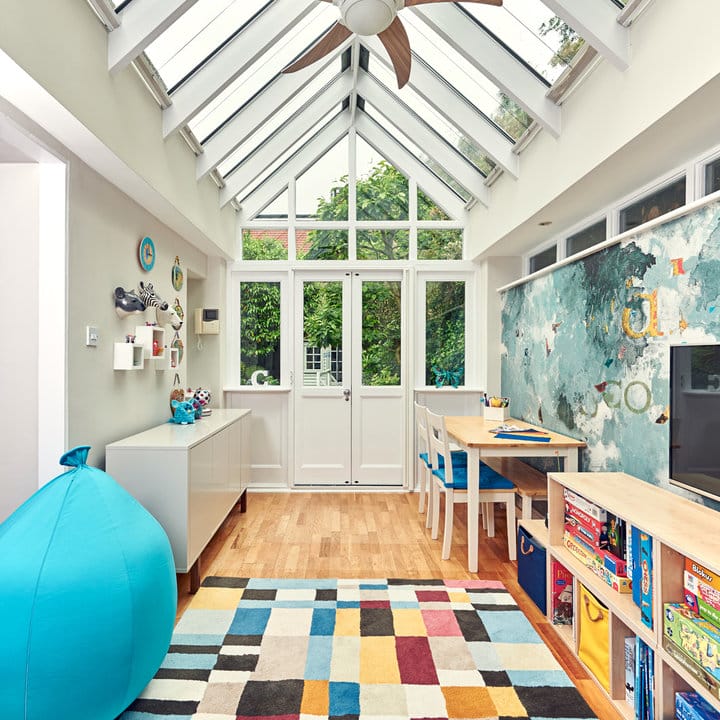 As you see, this child's play space visually feels bigger due to lots of windows. Furthermore, different white shades evoke airiness. In addition, they provide a backdrop for vibrant and subdued colors.
The scheme becomes one of the terrific color ideas for playrooms since it'll grow with kids. Moreover, the wall decorations radiate youthful energy, while the rug lends the interior a sense of cohesiveness.
12. Stunning Color Ideas for Playrooms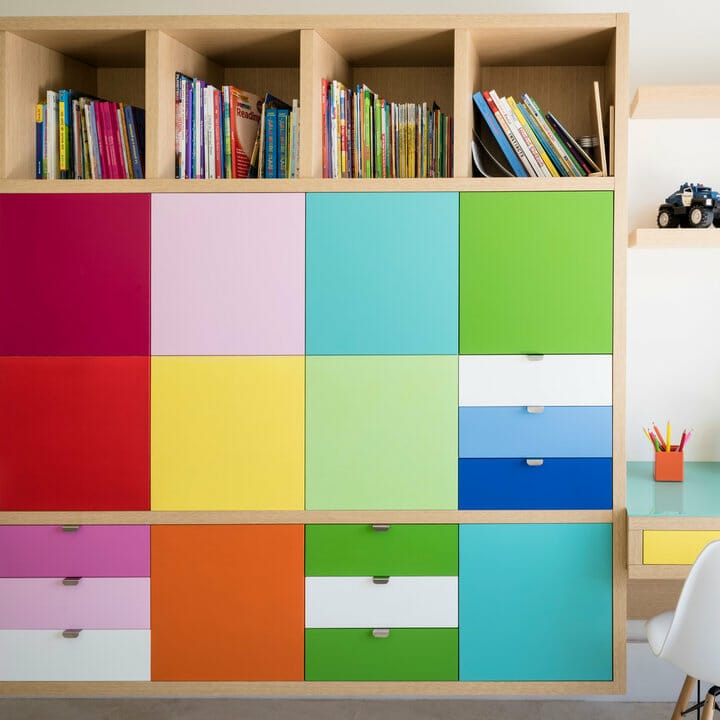 If the playroom isn't large, give this decor palette a try. Cool white and light-toned wood make a timeless pairing. The combination prevents the kid's play space from feeling cramped, too.
The floating shelving unit houses children's books while giving the scheme a fresh twist. Since it supplies exuberant colors, the space seems lively. Lastly, the chair brings the playroom together and imparts a mid-century modern flair.
13. Retro Playroom Color Scheme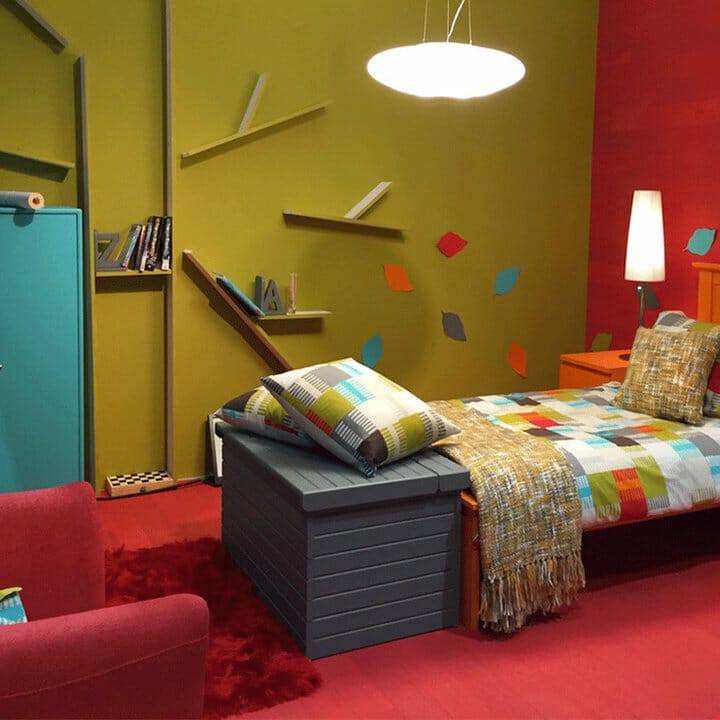 When decorating a play space, bold colors are your friends. This playroom, for example, employs deep teal, mustard green, orange, and red. Not only do they carve a fun ambiance, but also boost kids' creativity.
The pendant and table lamps emanate a retro vibe. Furthermore, the bedcover, wall ornaments, and throw pillows unify all the colors in the playroom.
14. Yellow and White Playroom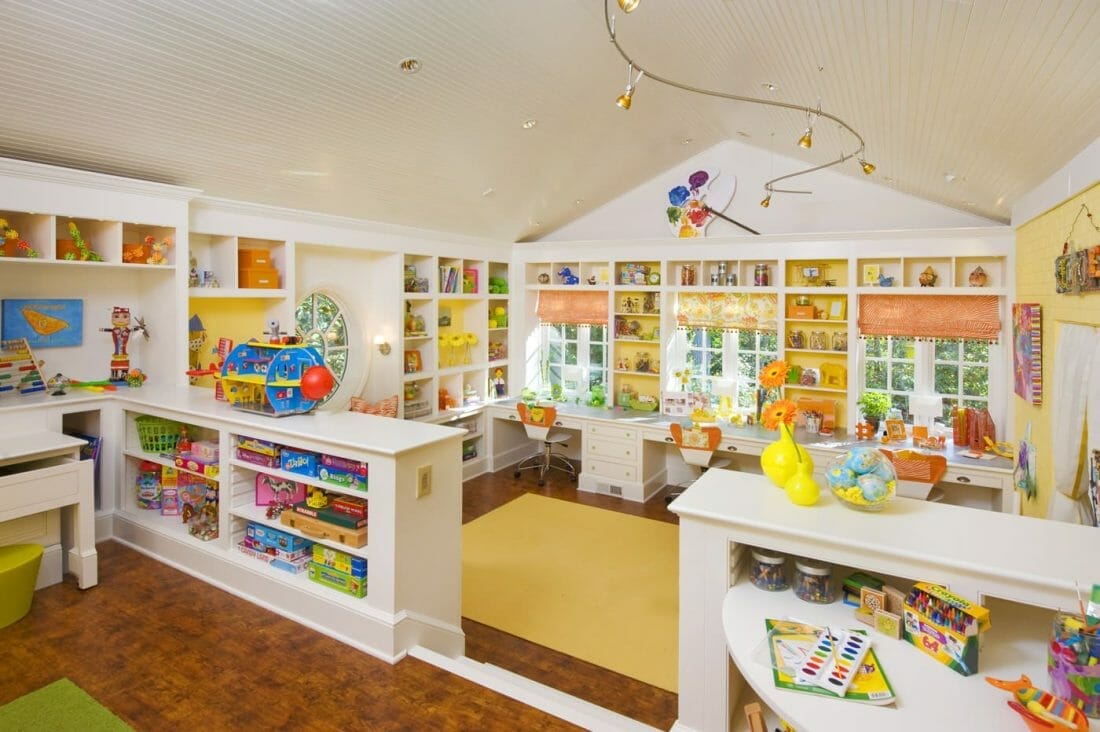 Speaking of color ideas for playrooms, start the palette with primary colors like white and brown first. Then, you can layer in exuberant shades such as sunny yellow, cerulean blue, lime green, and pastel orange.
If your kids like collecting toys, consider incorporating built-ins into the play space, so it doesn't look cluttered. The track light illuminates the playroom. It also evokes a retro flair.
15. Pale Mint Meets Pastel Gray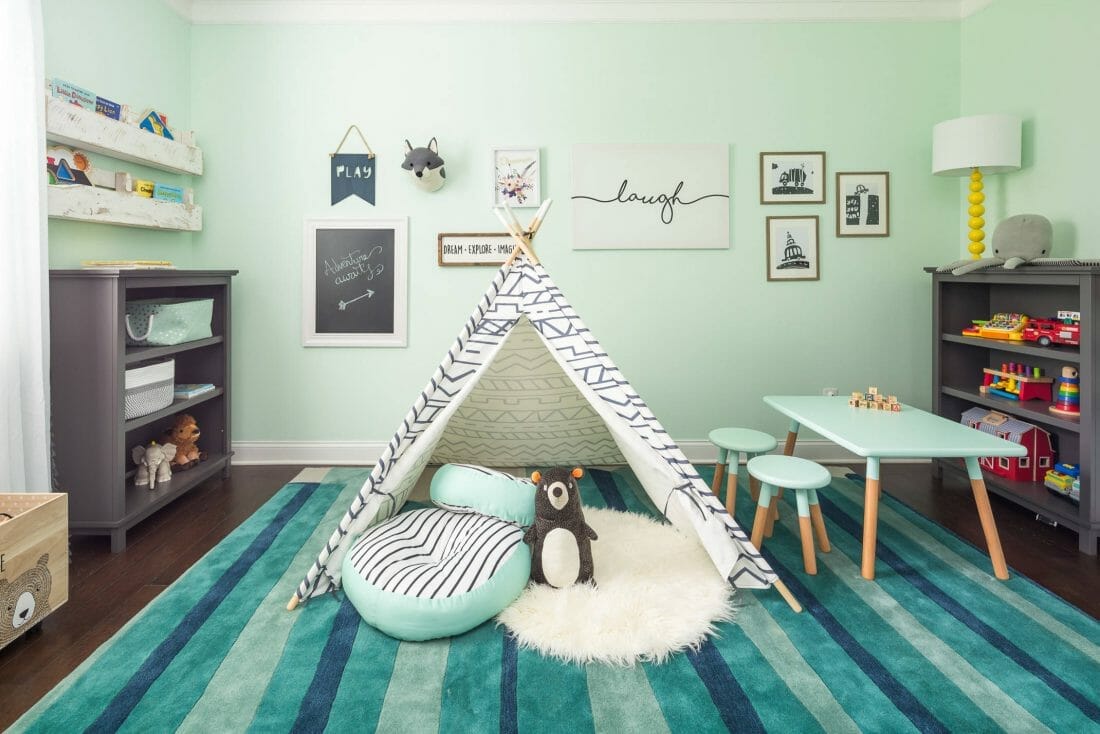 Bold colors can be too intense for small playrooms. If that's the case, embrace different shades of mint green in your kid's play space. Of course, the interior will look calmer and softer.
Pastel gray accompanies mint green shades perfectly. Moreover, the stuffed toys and teepee tent infuse the playroom with a youthful ambiance. The distressed white shelves give off a shabby chic feel, while the statement rug adds accents of turquoise and navy.
16. Modern Playroom Sofa Ideas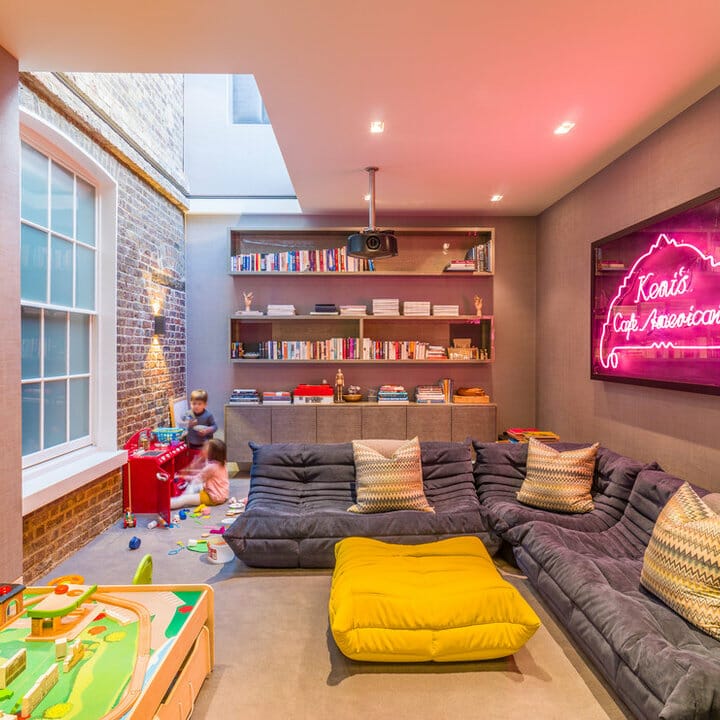 As the picture shows, the children's play space belongs to the family den. Furthermore, bursts of color emanate a happy feeling.
Various gray shades dominate the scheme and create a sophisticated look. They infuse some interest into the den, too. The floating furniture pieces, gray sofa, and brick wall provide an urban vibe, while throw pillows unify the playroom.
17. Lovely Color Ideas for Playrooms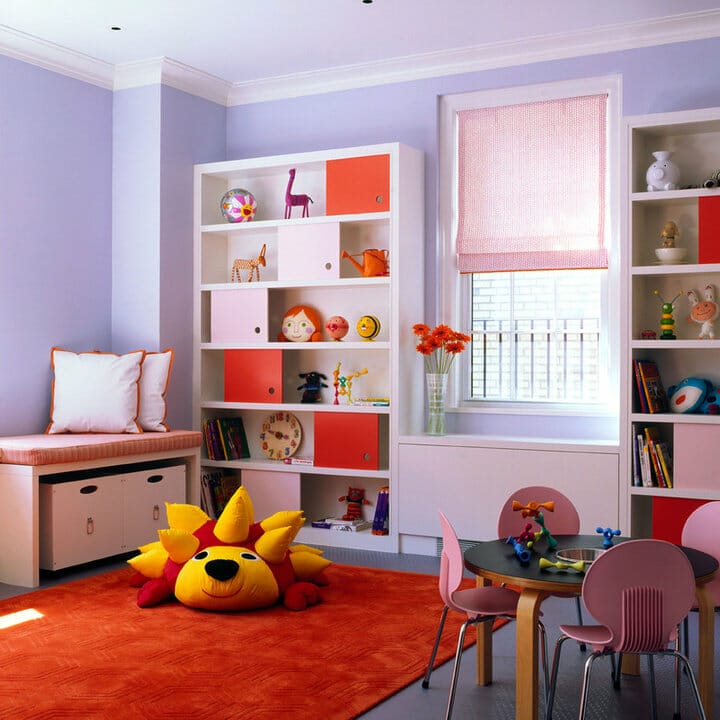 Speaking of girls' playroom ideas, consider using lilac on the walls. The shade is not only calming but also offers serious sophistication. Moreover, it lends the interior a feminine appeal.
Pair lilac with crisp white, so it feels cheerful and modern. Then, layer in varying shades of pink to spruce the playroom up. Lastly, include accents of wood, red, orange, and yellow for a welcoming space.
18. Lego-Inspired Playroom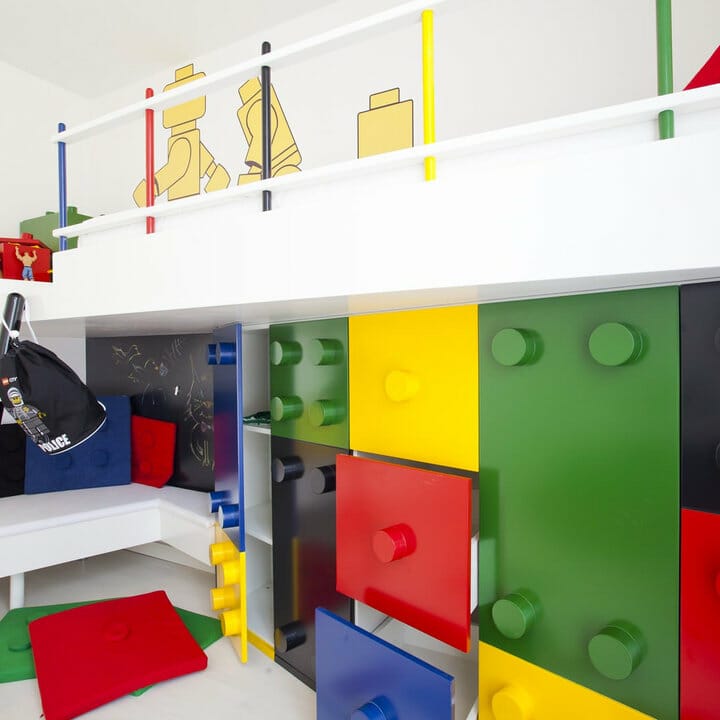 If your children are LEGO fanatics, this is one of the astonishing color ideas for playrooms to apply. Here, the ceiling, bench, and walls wear bright white. Moreover, the pale gray floor slightly clashes with them.
The gray and white decor scheme allows vivid accents to shine. In addition, those neutrals prevent bold shades from overpowering the playroom.
19. Color Ideas for Playrooms with Touches of Orange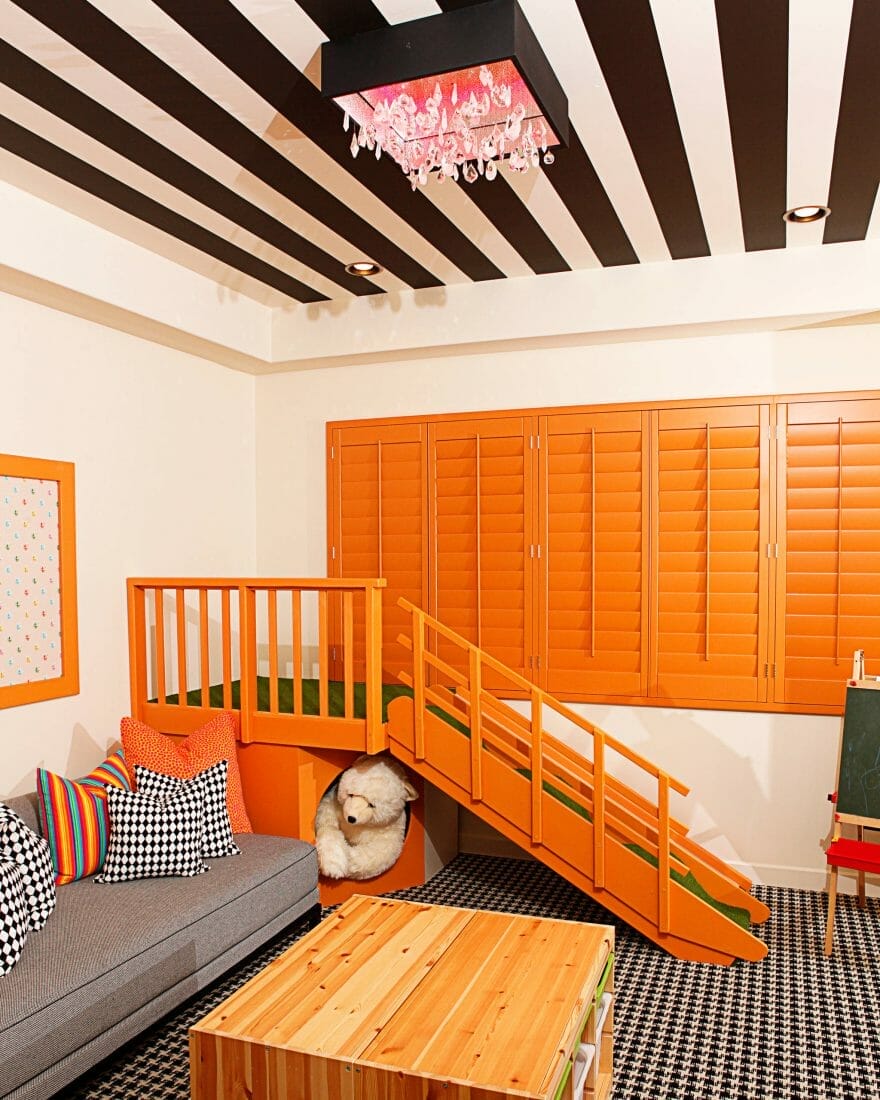 Playrooms don't have to employ bright hues. If the space is somewhat limited, paint all the walls crisp white. They surely blend with other neutrals or vibrant shades.
Blonde wood furniture pieces make the playroom welcoming, while orange accents inspire energy. Monochromatic patterns add visual interest. Lastly, the multicolored pillow and wall decor inject extra pops of color.
20. Lively and Charming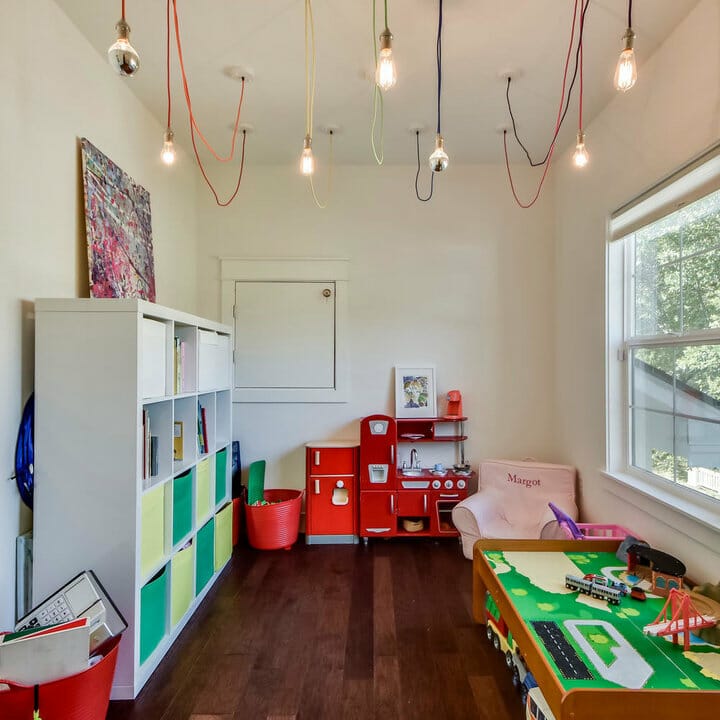 Need brilliant color ideas for playrooms? This scheme is worth trying since it lets you alter the decor with ease. As you see, cool white meets dark-toned wood harmoniously.
Red accents infuse energy as well as warmth into the playroom. Moreover, pastel green and yellow offer further contrast. The pale pink sofa chair does not only provide a girly feeling but also lends the play space a personalized touch.
21. Color Ideas for Playrooms with Geometric Walls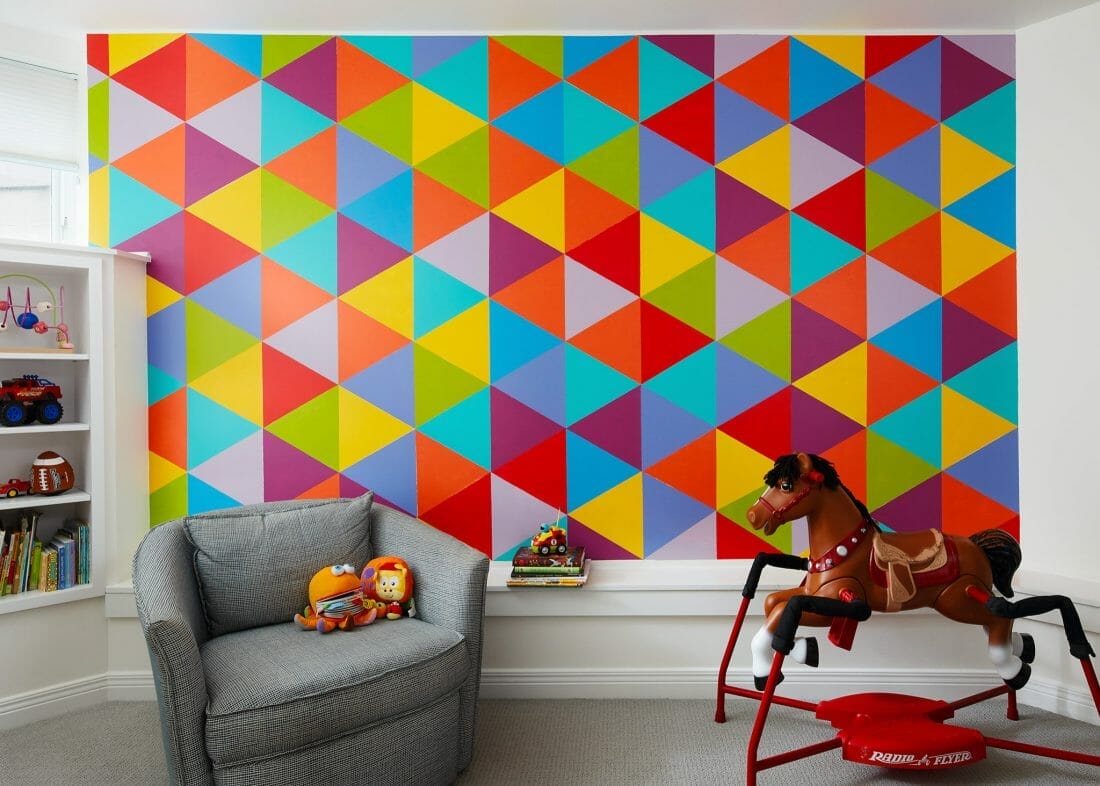 Gray and white are surely a tried-and-true combination. If you integrate them into a play area, be sure to use varying shades, so the room doesn't fall flat.
Since the scheme is minimalistic, the geometric accent wall steals the show with ease. Furthermore, the multicolored book covers and accessories look spectacular on the plain white built-in shelves.
22. Neutral Playroom Color Scheme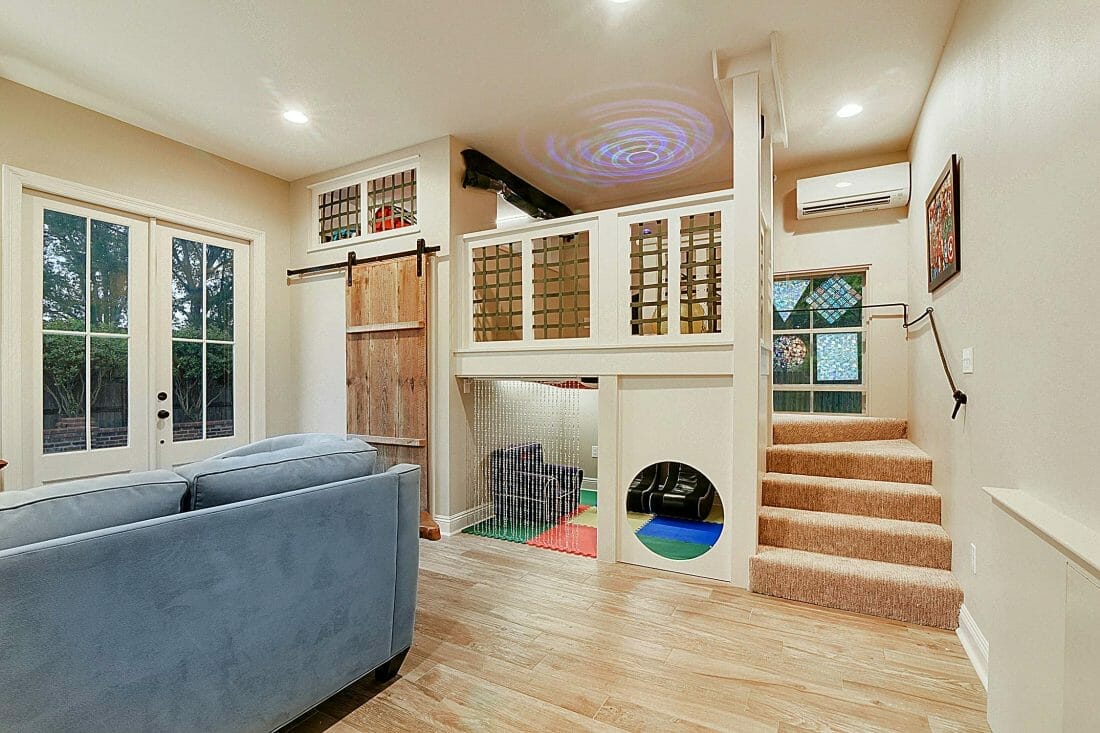 Who said play areas have to be large? Here, the family den features a compact yet charming playroom section. Moreover, the neutral shades evoke calmness and sophistication.
The blonde wooden floor and barn door instill an inviting vibe. Furthermore, the colorful playmat captures happy energy.
23. Teal and Green Playroom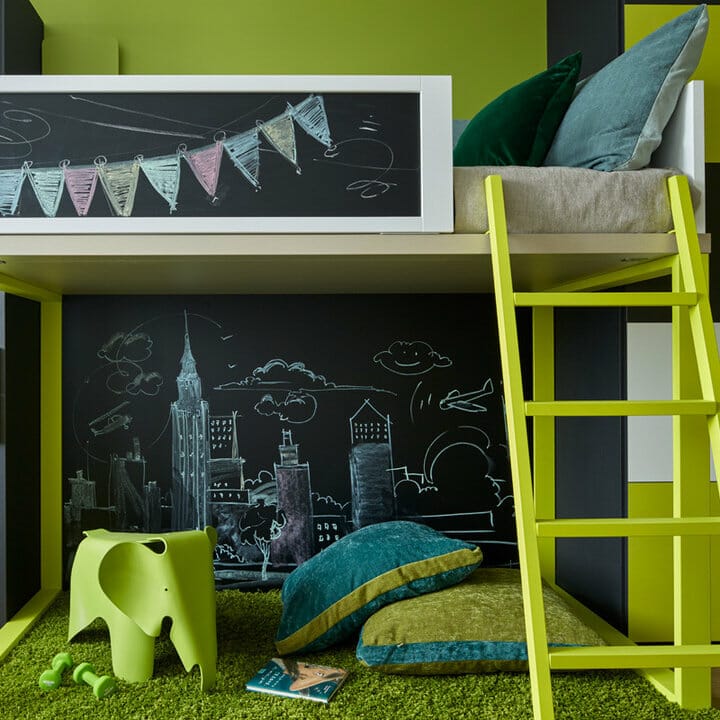 Talking about gender-neutral playroom colors, try using various green shades. They are not only incredible for all genders but also liven the play area up instantly.
Subdued and deep teal hues carve a restful ambiance. Lastly, the blackboards foster your children's imagination.
24. All About Patterns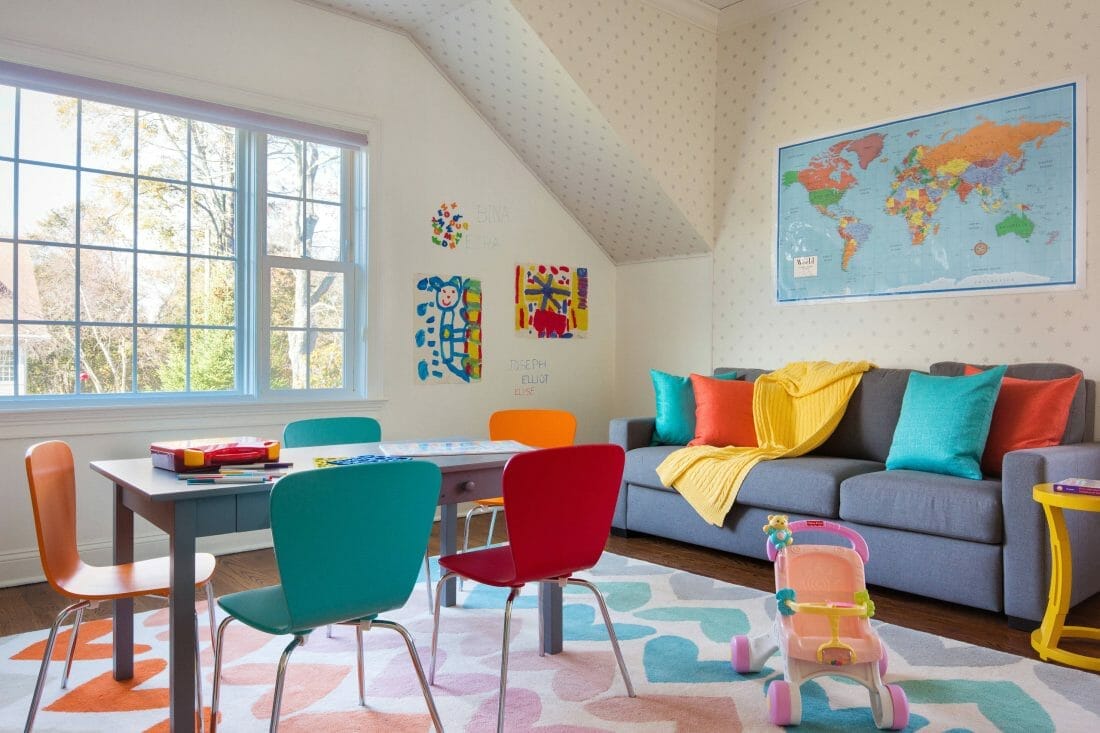 Color ideas for playrooms are almost limitless. This play area, for example, has white walls and polka dot wallpapers.
The throw blanket and pillows spruce the basic gray sofa up. Moreover, the patterned rug provides a variety of pastels and unifies the scheme.
25. Light Playroom Palette with a Bunk Bed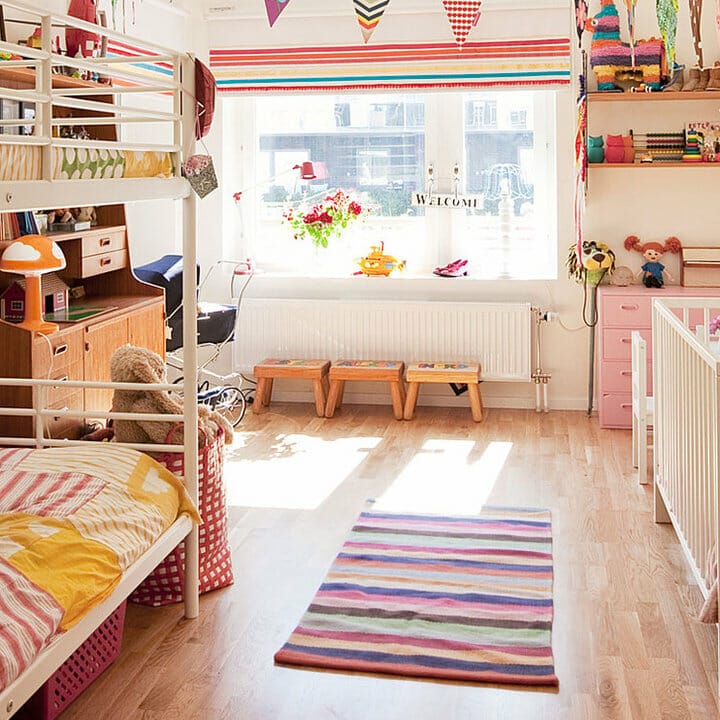 As I mentioned before, light wood and white never get out of trend. Also, the pairing lets you mix and match vibrant accessories.
The mushroom table lamp and dressers create a retro look. Additionally, the striped rug and colorful paper garland produce a joyful ambiance.
26. Shared Playroom Color Palette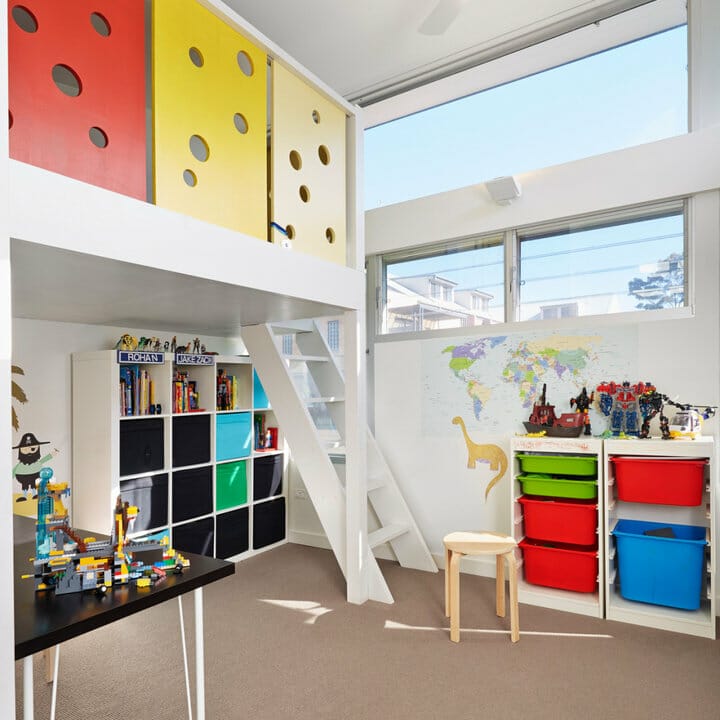 Taupe, black, and crisp white gather in this shared playroom. They provide a backdrop for vibrant splashes of red, blue, green, and yellow.
The wooden stool offsets the colorful storage containers. Lastly, the wall decal and toys evoke playfulness.
27. Color Ideas for Playrooms with Built-Ins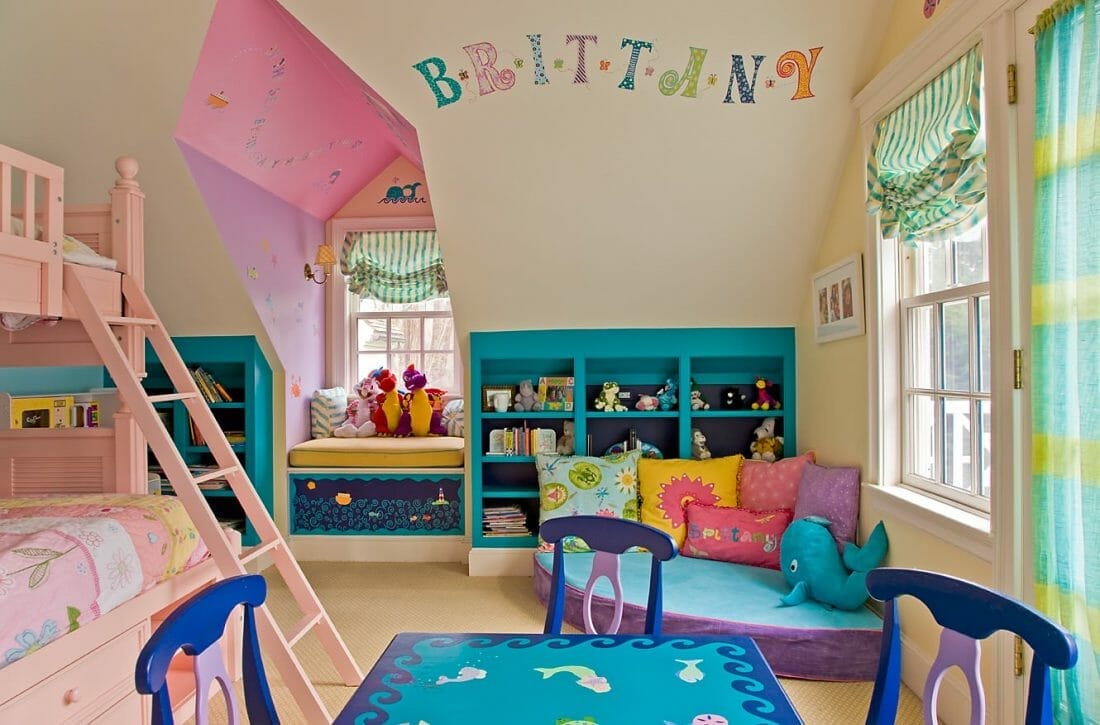 Neutrals serve as primary colors in this play area. Moreover, they emerge on the ceiling, molding, rug, and walls.
Varying shades of purple and pink lend the playroom a feminine flair. Blue tones on the built-ins balance them out well.
28. Blue and Gray Playroom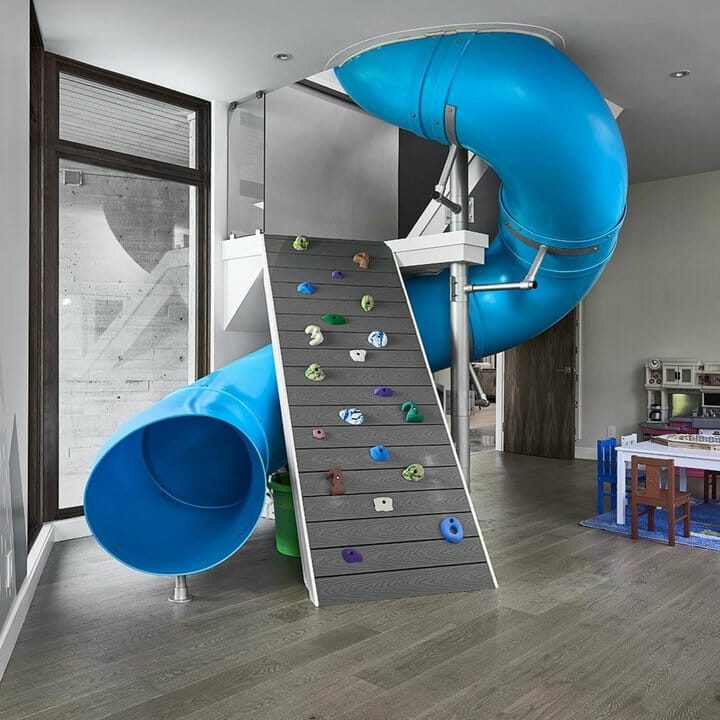 Gray and blue make a noteworthy combo. Furthermore, the pairing can feel either grownup or childlike depending on the decorating style.
Here, the rock climbing wall and tube slide give the playroom a kid-friendly aesthetic. Additionally, hints of color make the play area more energetic.
29. Little Chef's Playroom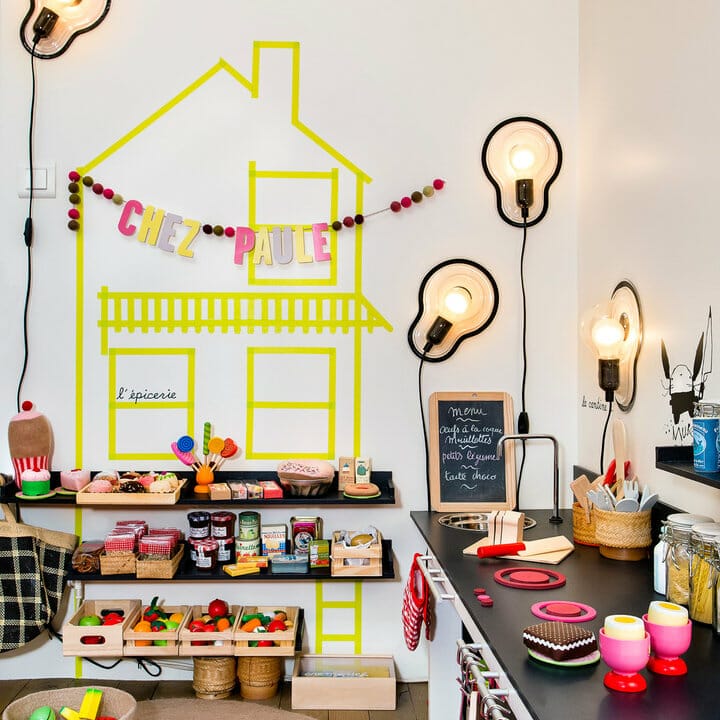 Your daughter loves baking like you, so why not try this scheme? The lime green wall decal is a bold contrast to the clean white backdrop.
The light fixtures provide a touch of whimsy. Furthermore, faux cupcakes and fruits give off a happy atmosphere, while black units offer drama.
30. Color Ideas for Playrooms with Wood Furniture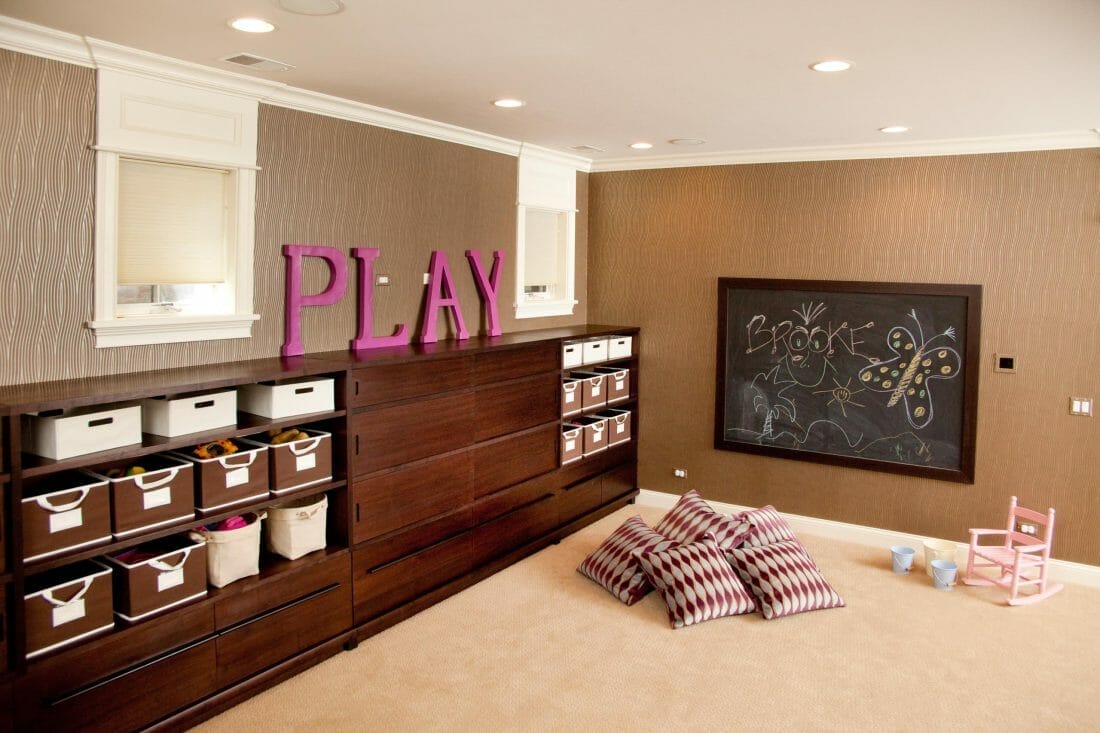 This color palette allows you to do a quick update later on. Since it employs beige, white, and brown, the playroom remains calm as well as welcoming.
The dark brown wooden furniture holds storage boxes for toys, while patterned pillows become centerpieces. Lastly, the pink rocking chair, magenta play sign, and pastel blue buckets send out a youthful feel.
I hope those color ideas for playrooms have inspired you. Try working with your children, because after all, it becomes their whimsical space. In addition, the scheme should be convertible to prepare for kids' school-age years.