Of course, you want your plot to appear both shipshape and stunning. Luck is undoubtedly yours! I've collected a slew of modern garden edging ideas. They will deliver some order to pathways, flowerbeds, or lawns.
Edging is partitioning a garden to generate a sense of order. In addition to making the plot seem tidy, it offers easier maintenance. Moreover, it lets you spend less time mowing while protecting your precious plants.
Without a doubt, edging provides versatility. Additionally, you can use various materials from hedges to timber to bricks. If you're after a modern feel, read up on some chic options below.
1. Biodynamic Garden Edging Ideas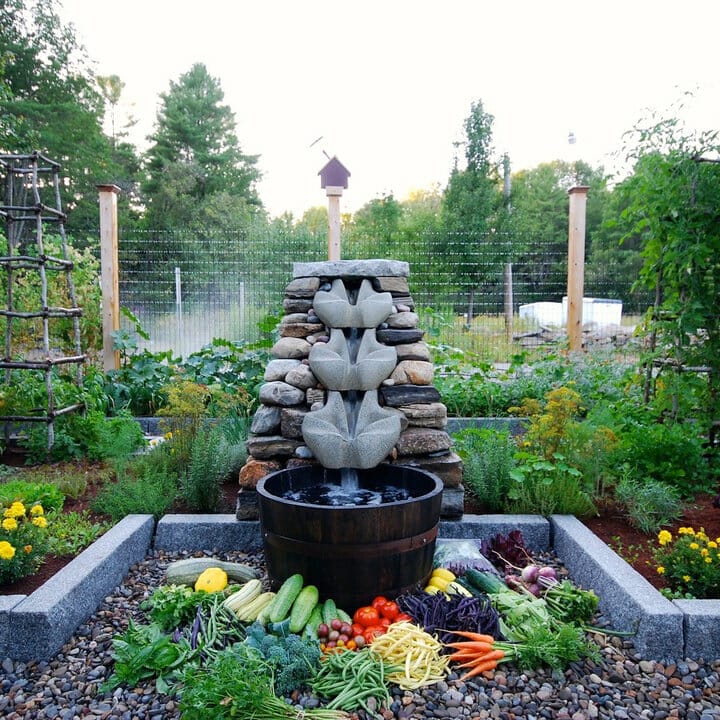 Speaking of modern garden edging ideas, try embracing natural textures. In this biodynamic garden, the gray natural stone blocks lend the flowerbed a rustic feel. As you see, they elevate the outdoor space.
The masonry edging gives this biodynamic garden subtle textural interest. They complement the 3-tier water fountain while highlighting vivid foliage and blooms.
2. Modern Garden Border Ideas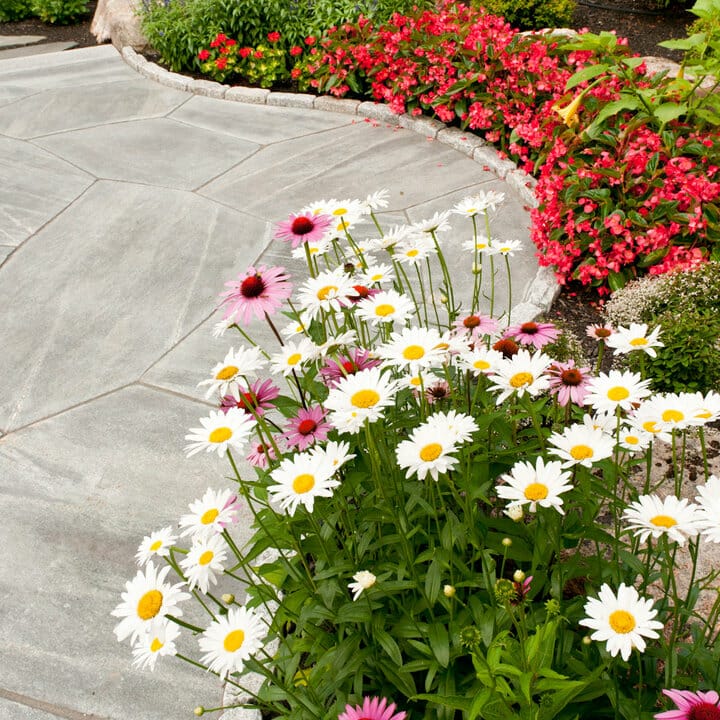 If you have curved pathways or borders, consider stone garden edging. As the picture shows, natural stone blocks follow the fabulous curves of the walkway.
The light gray stone edging carries a touch of Mother nature. In addition, they blend seamlessly with the stone pathway.
These stone blocks accompany boulders in the garden. Apart from emanating a rustic vibe, they frame cheerful flowering plants.
3. Tropical Garden Edging Ideas
This is one of the mesmerizing timber garden edging ideas. Wood is very appropriate for edging. Also, you can recycle the material from old railway sleepers, decks, or fences.
Here, the homeowner cut the wood into the same lengths. Moreover, she used the pieces vertically as a pathway border.
Furthermore, they direct the eye to lush tropical plants. Meanwhile, the pale yellow-toned stone edging frames the smaller garden bed.
4. Modern Garden Edging Ideas with a Hedge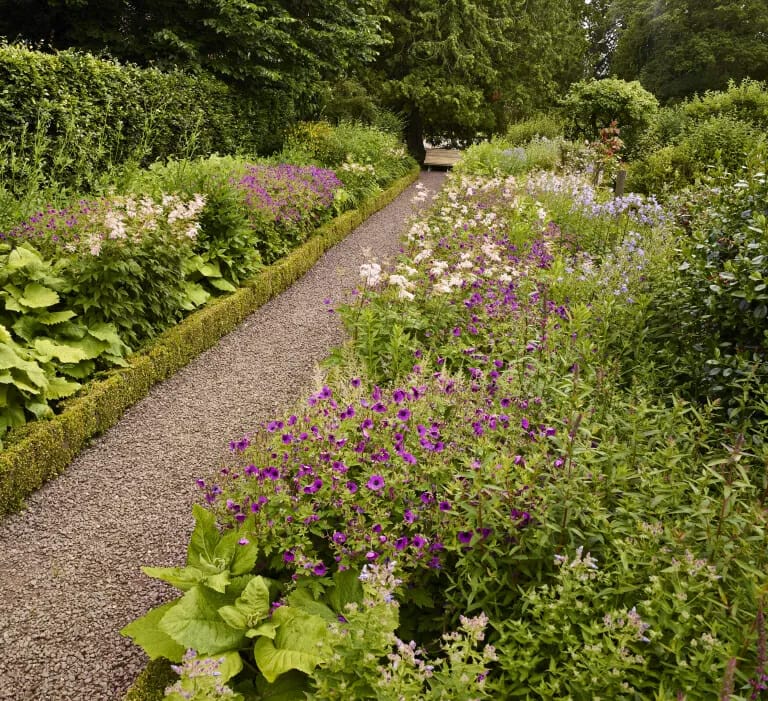 Speaking of flowerbed edging ideas, consider adding box hedge plants to your plot. Here, they serve as a striking divider between the gravel path and gorgeous flowers.
The miniature hedge is visually simple. However, it's effective and develops a timeless look. In addition, it enables you to edge the garden softly. I strongly recommend growing a dwarf boxwood hedge.
5. Weathered Metal Garden Edging Ideas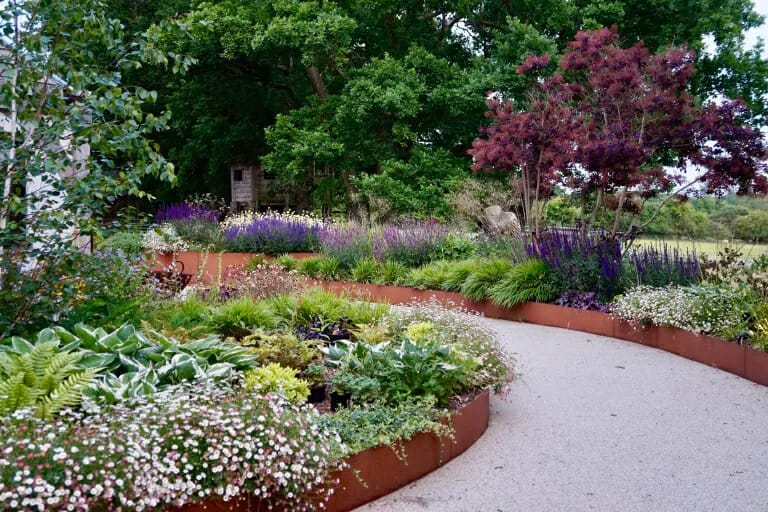 Talking about contemporary garden edging ideas, consider using weathered steel. The material evokes an urban look. In addition, it seems outstanding among the large borders due to its pleasing copper tone.
As you see, the strip edging creates a layer of warm-toned rust. It keeps the interior metal from breaking down.
Furthermore, it generates a sense of definition in this area since there's a gray pathway.
6. Modern Garden Edging Ideas with Polished Stones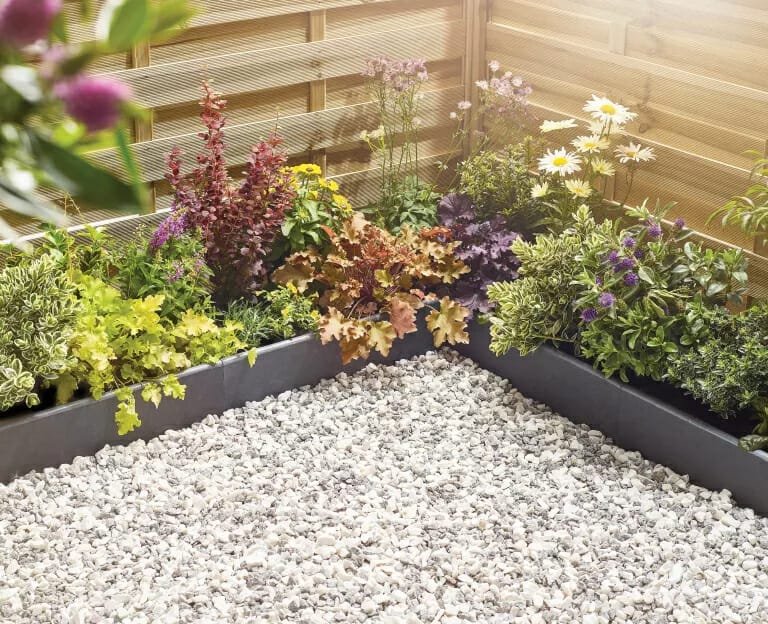 Natural stone is one of the superb landscape edging materials. If you're into it, be sure to use the polished one. Without a doubt, it will lend your borders a sophisticated look.
Speaking of polished stone edging, make sure that it's 1 inch high or two. It will frame shrubs and flowering plants gorgeously while keeping the dark shade from becoming overwhelming.
Here, the deep gray polished stone edging clashes with the gravel pathway and delicate plants. Not only is it appropriate for modern tiny plots, but also carves a sleek appearance.
7. Modern Farmhouse Garden Edging Ideas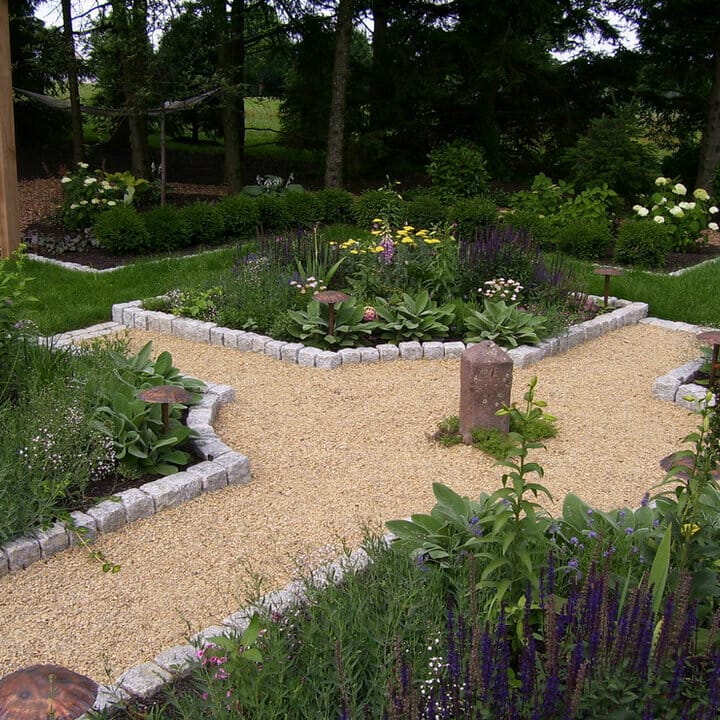 Need modern garden bed edging ideas? If yes, replicate this look. The backyard garden boasts a golden gravel pathway. Moreover, the gray stone edging rounds it out perfectly.
In this case, the natural stone edging keeps the plants in place. Furthermore, it divides the garden into flowerbeds, a lawn, and a walkway.
For effective edging, just pick the color that clashes with the pathway. It allows you to introduce some visual distinction in the area.
8. Modern Garden Edging Ideas with River Rocks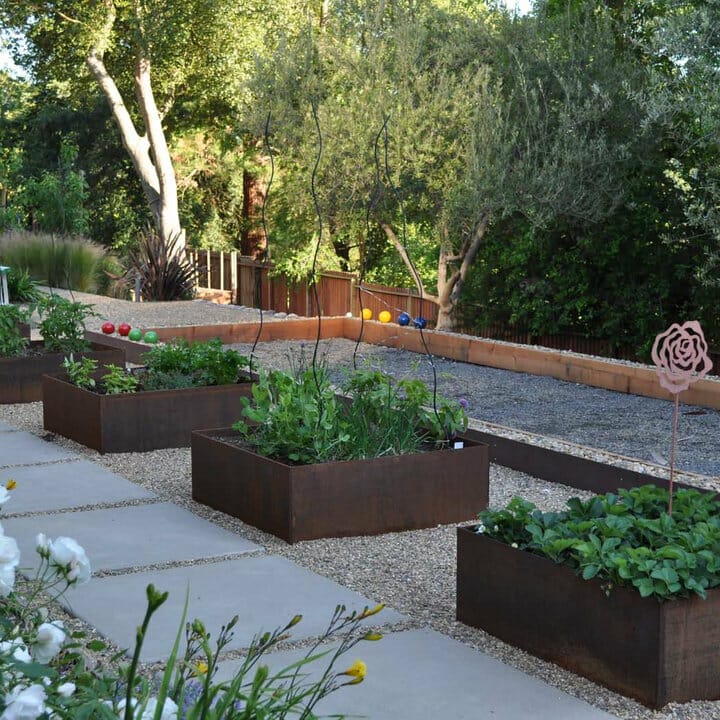 If you're into cheap modern garden edging ideas, try copying this look. First, dig a trench for the edging. Next, simply fill it with river rocks.
This garden edging idea helps you create an excellent border. Furthermore, river rocks seem more modern than country stones.
For this idea, you can either ask at building sites or gather rocks from your backyard. In addition to rock garden edging, there are Corten steel planters with edible plants alongside the gravel-and-concrete pathway.
9. Concrete Garden Edging Ideas
Many people love modern garden edging ideas because of their crisp lines. Furthermore, they're appropriate for small plots.
Here, the stylish concrete edging contrasts with the immaculate lawn that softens the look. In addition, it develops definition as well as distinction in this country garden.
The concrete garden edging modernizes the outdoor space. Apart from keeping the lawn shipshape, it highlights vibrant plants of different heights.
10. Modern Garden with Brick Edging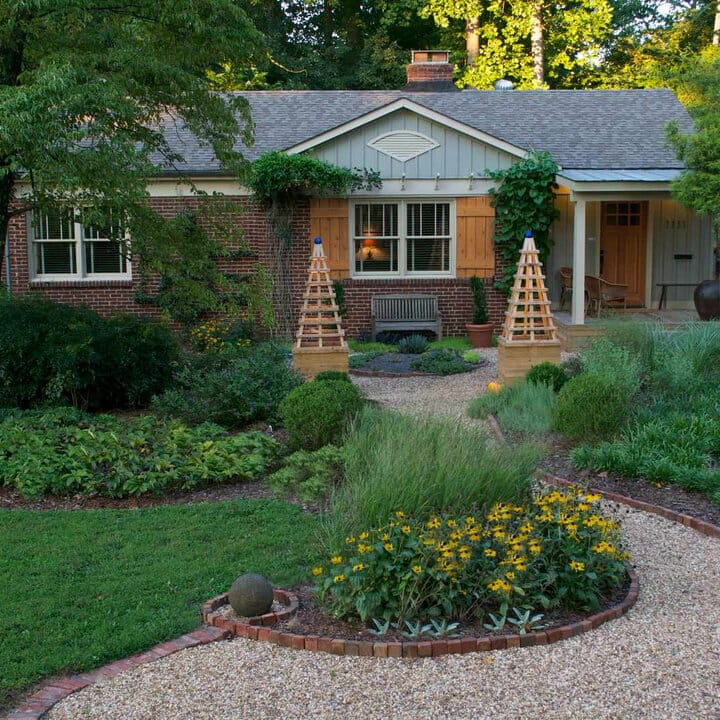 With numerous modern garden edging ideas, you might feel overwhelmed. If that's the case, consider using bricks.
Red bricks might be a traditional garden edging material. However, they work fabulously in modern gardens due to their timeless charm.
As you see, red bricks pose as a mid-point between the gravel pathway and the lawn or flowerbed. They tie the garden together while accompanying the gray stone orb.
11. Modern Garden Edging Ideas with Contrasting Tones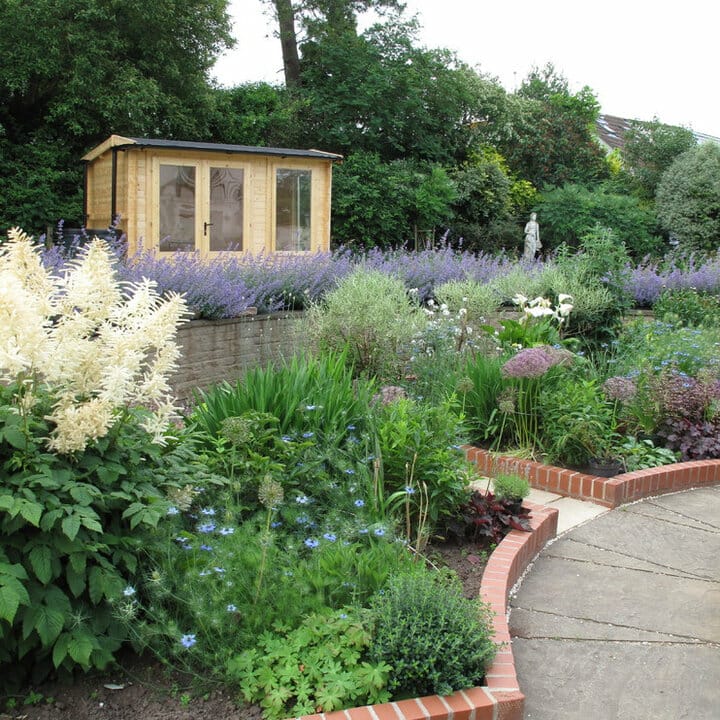 To make a statement feature, try using materials with contrasting tones. The brick edging is a contrast to the rest of the garden. Here, the warm-toned bricks balance out the gray stone walkway.
The classic red bricks produce a timeless appeal. Furthermore, they keep blooming plants as well as shrubs neat in the flowerbeds. Also, due to them, the garden seems more attractive and welcoming.
12. Double Duty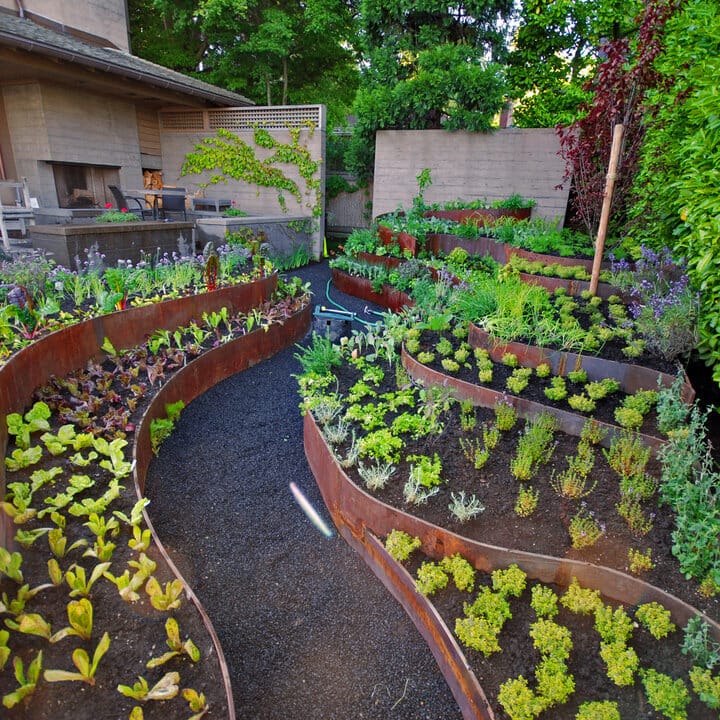 Many people find garden edging very challenging. You only have to pick the color that introduces an appealing visual contrast in your area.
This backyard, for example, employs weathered steel strips. They make for terrific and modern edging. Furthermore, the homeowner used them to create raised garden beds for vegetables.
13. Front Yard Garden Edging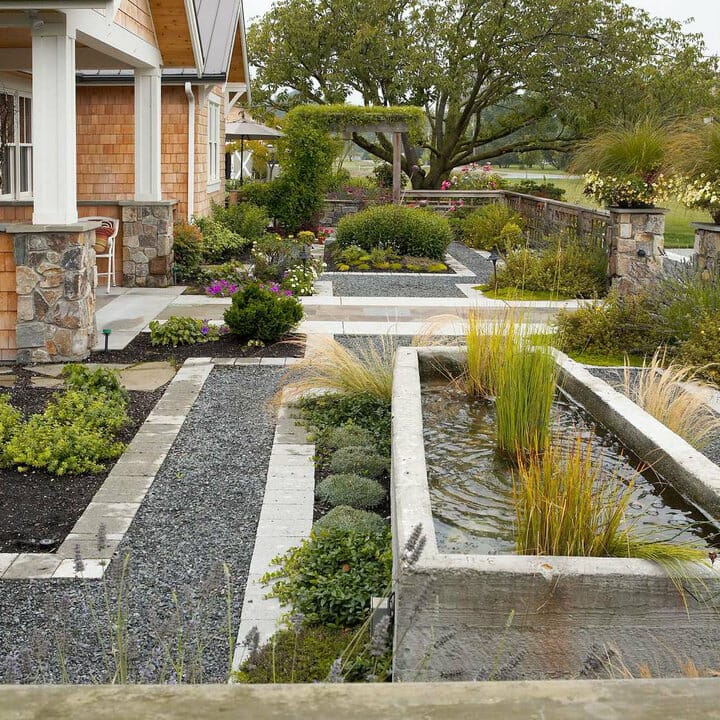 As you see, the paver edging breaks up this small plot into neat forms. It generates a distinct appearance between the flowerbeds and the decomposed granite path.
The clean lines of pavers represent modernity. Moreover, they stylishly frame the rectangular pond, groundcovers, shrubs, and ornamental grass.
14. Creative Modern Garden Edging Ideas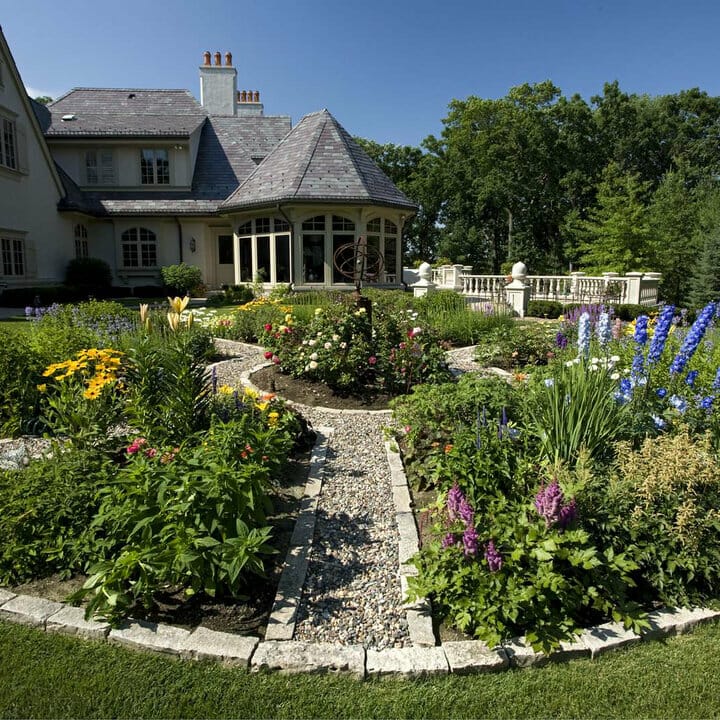 Edging is not only versatile but also allows you to be creative. This garden proves modern edging doesn't always feature square shapes.
The rugged stone blocks make for contemporary rustic edging. They let you appreciate the texture and color of Mother nature. Furthermore, the pieces keep eye-catching flowering plants and gravel in place.
15. Lawn and Lush Plants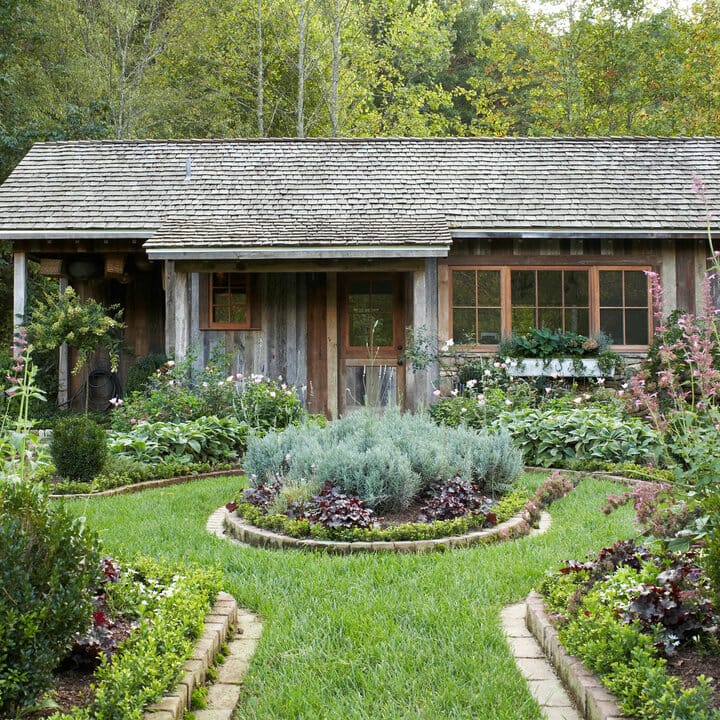 If you want effective edging, make sure that it contrasts with the rest of your property. Here, the stylish paver edging gives the country garden a neat look.
As the photo shows, the paver edging keeps the lawn orderly. In addition, the pavers accentuate a myriad of plants in the garden beds.
16. Rough Yet Remarkable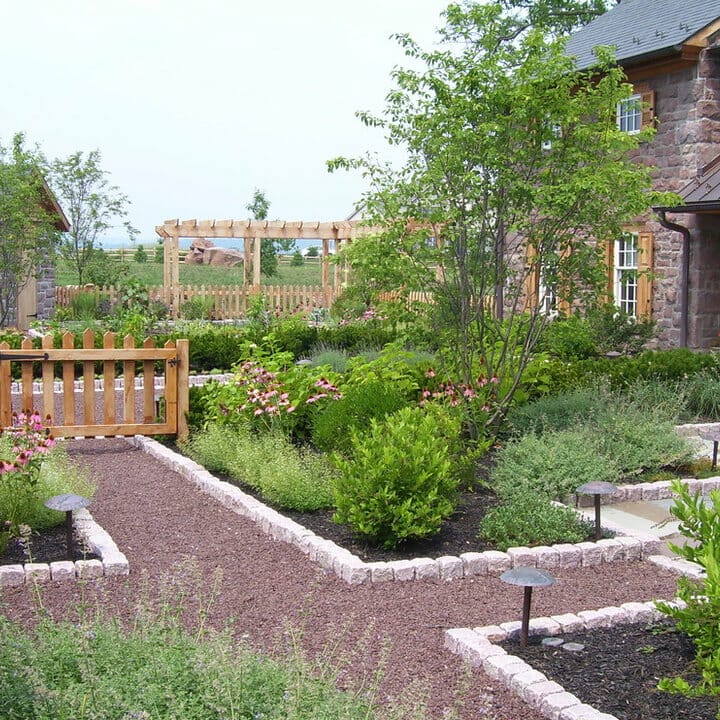 This is one of the modern garden edging ideas for compact plots. The light-toned gray stone blocks produce an impressive visual distinction.
Apart from adding order, the natural stone blocks separate the warm-toned gravel path from black mulches. Moreover, they clash with adjacent trees, shrubs, and coneflowers.
17. Plastic Landscape Edging for Farmhouse Gardens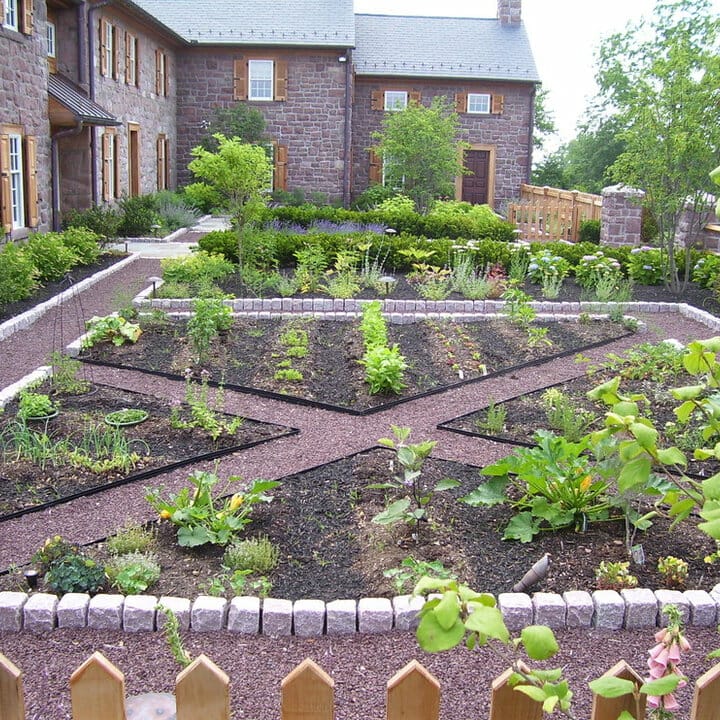 As you see, the farmhouse garden boasts black plastic edging. It infuses a touch of drama while keeping the beds of herbs and vegetables shipshape.
The pale gray stone edging carves a contemporary look and a rustic feel. Moreover, it's a terrific contrast to the black plastic border and gravel walkway.
18. Flagstone Garden Edging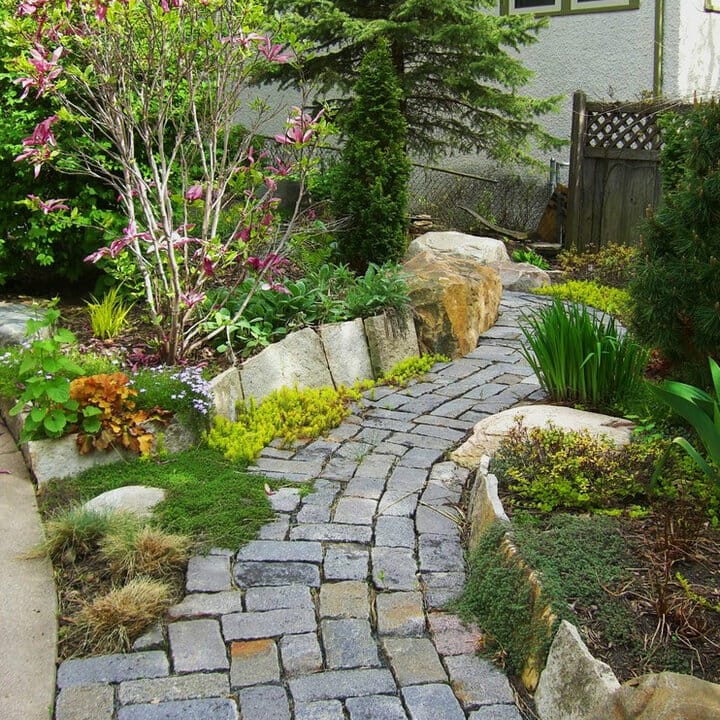 Speaking of modern garden edging ideas, flagstones are your friend. Here, they inject the urban plot with textural interest. Since they wear different tones, the space doesn't feel bland.
The flagstone edging complements the stone pathway and boulders. In addition, the rugged flagstones clash with delicate plants.
19. Modern Garden Edging Ideas with Boulders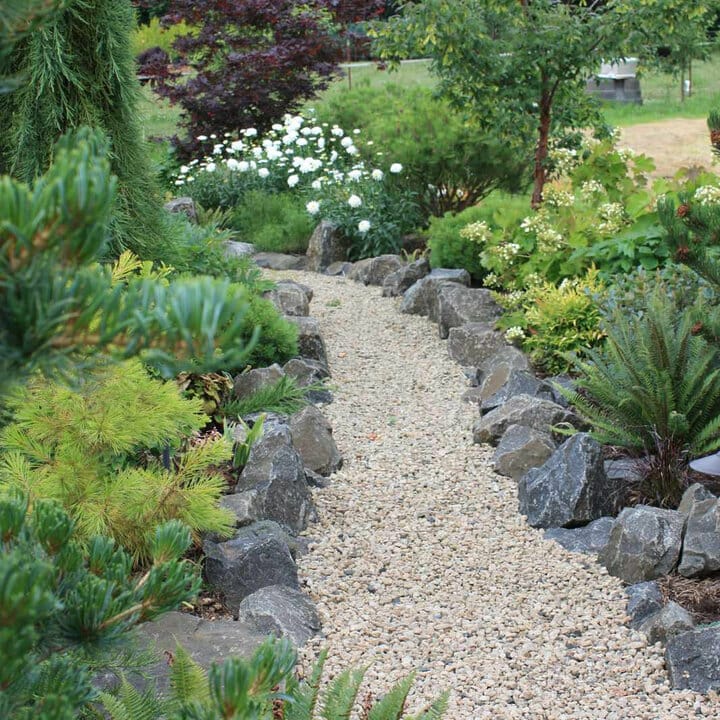 Who says gray edging is boring? These boulders add visual interest instantly due to their varying heights. Furthermore, they frame evergreens and flowering plants.
The boulder edging lends this garden a natural ambiance. Also, the boulders keep the lighter-colored gravel in place, so the plot looks tidy.
20. Metal Edging Ideas for Lawns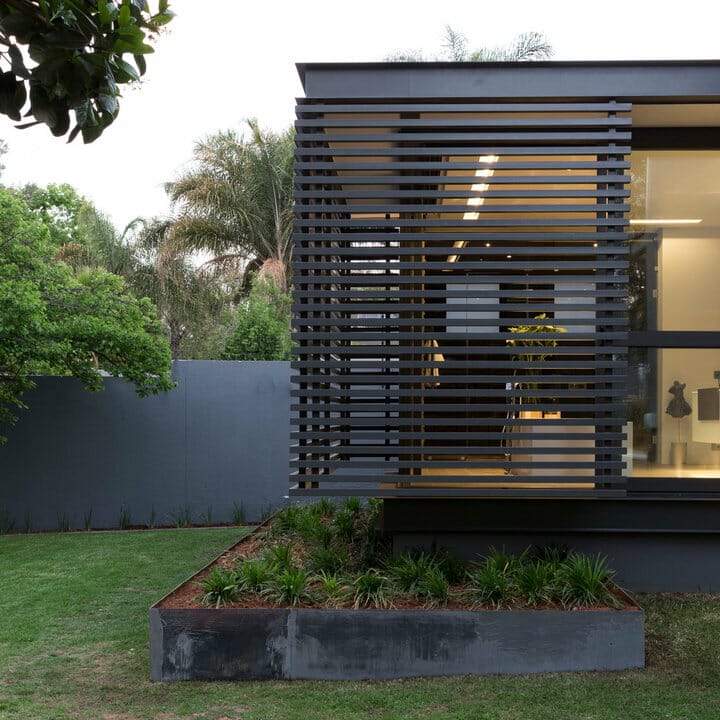 The gray metal edging allows you to edge your lawn stylishly. Apart from being durable, it excellently complements the house facade.
Because of the sleek steel edging, the lawn appears modern and neat. In addition, it ensures that you don't mow over your ornamental dwarf beds.
21. Inexpensive Garden Edging Ideas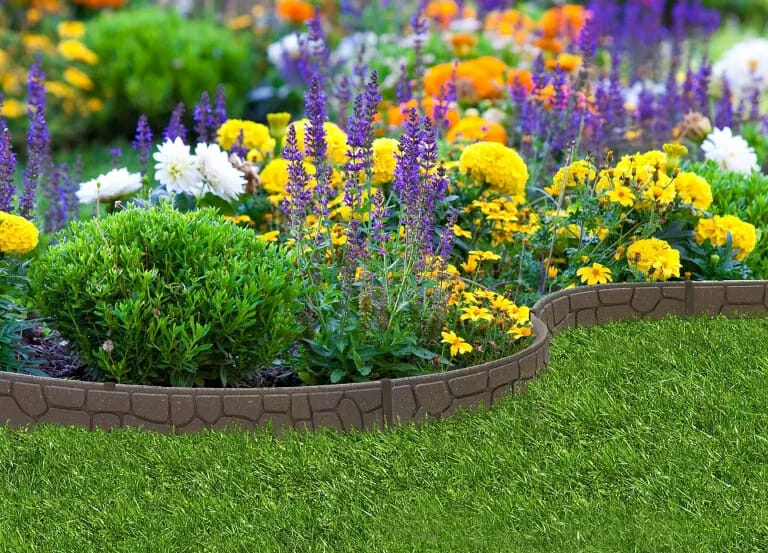 If your children visit your family garden frequently, try this idea. The soft recycled rubber edging offers excellent durability. However, it has no sharp corners.
The rubber garden edging is eco-friendly and flexible. Moreover, it accentuates curved paths while delivering a fun atmosphere.
22. Japanese Garden Edging Ideas
This is one of the fabulous modern garden edging ideas. The black plastic edging undoubtedly will make mowing quicker.
Due to the plastic edging, this Japanese garden looks orderly and visually pleasing. Also, it acts as a divider between the lawn and the gravel.
23. Edging Ideas for Small Garden Beds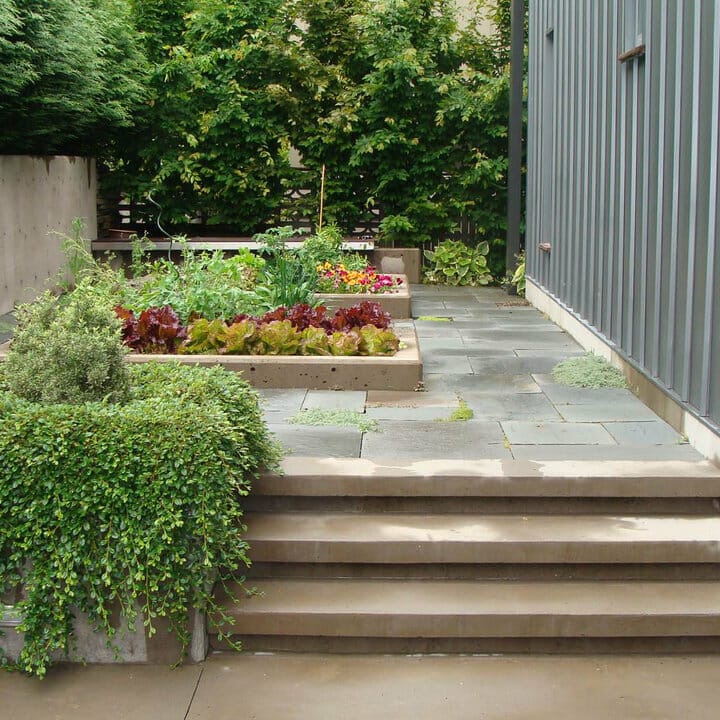 Although these garden beds aren't huge, they deserve attention. Consider adding edging to a small modern plot. It will make a tiny bed a statement feature.
The concrete edging blends with the decking and privacy walls. Moreover, it frames pretty flowering plants and vegetables.
24. Modern Garden Edging Ideas with Rocks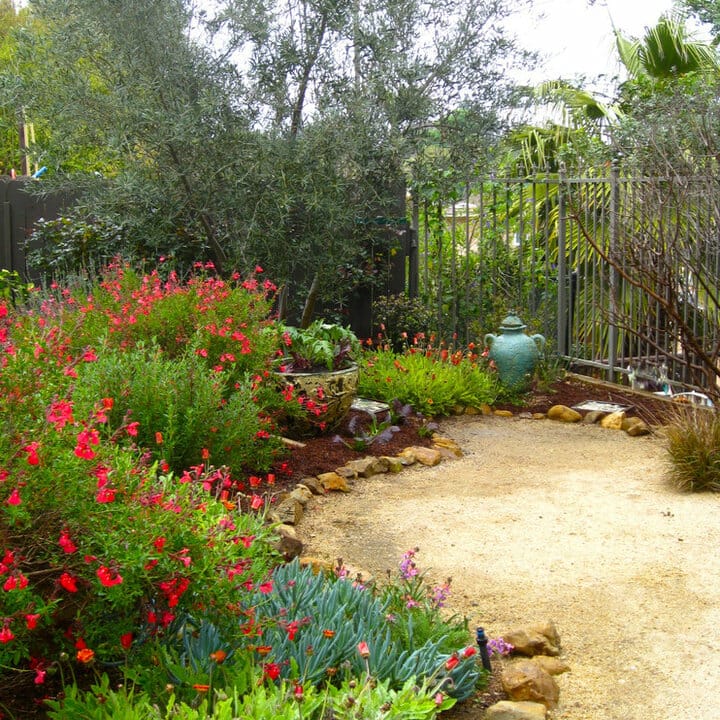 The warm-toned rock edging creates a seamless look here. Furthermore, it keeps the whole backyard garden orderly while making maintenance easier.
As you see, the rugged stone edging separates flowering plants from the pathway. Moreover, it ensures that red mulches stay in place.
25. White Garden Edging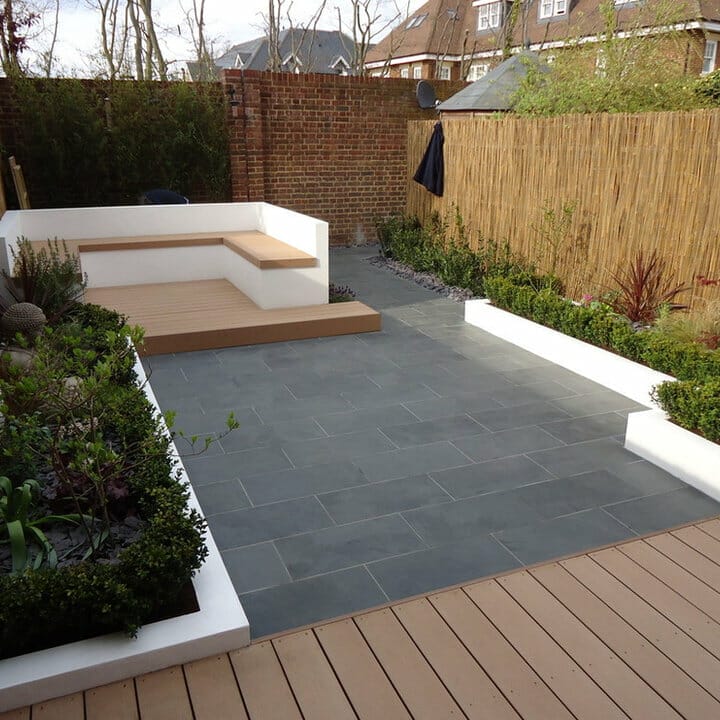 The crisp white concrete edging generates definition in this urban garden. Also, it develops a clean look while carving a minimalist flair.
Here, the bright white edging contrasts with the slate flooring and composite decking. Furthermore, it fabulously highlights the garden statue, gravel, and shrubs.
26. Striking Stones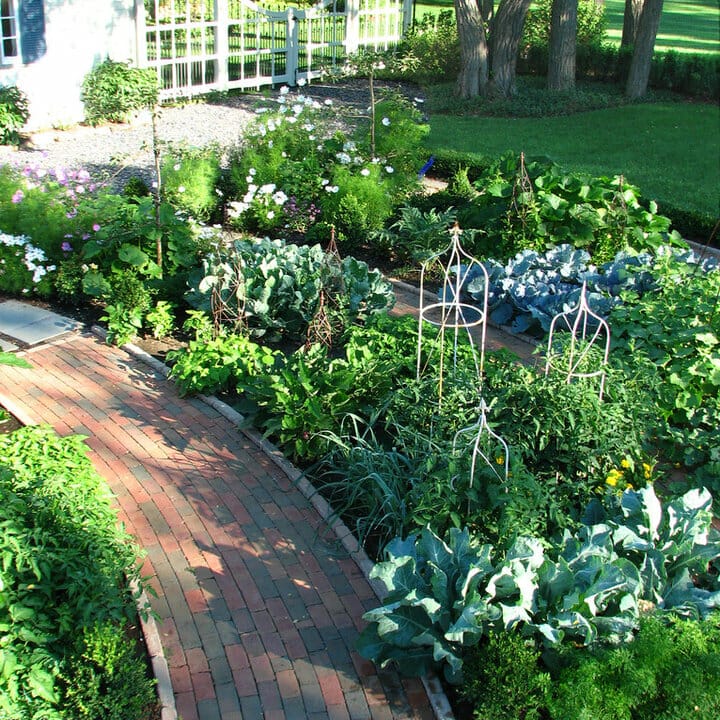 Need captivating modern garden edging ideas? Try out this look. The light gray stone bricks keep the small plots in order. Moreover, the narrow edging makes the space trendy.
The light-toned stone edging accentuates red and deep gray pavers. In addition, it lends the vegetable garden textural interest instantly.
27. Play with Shapes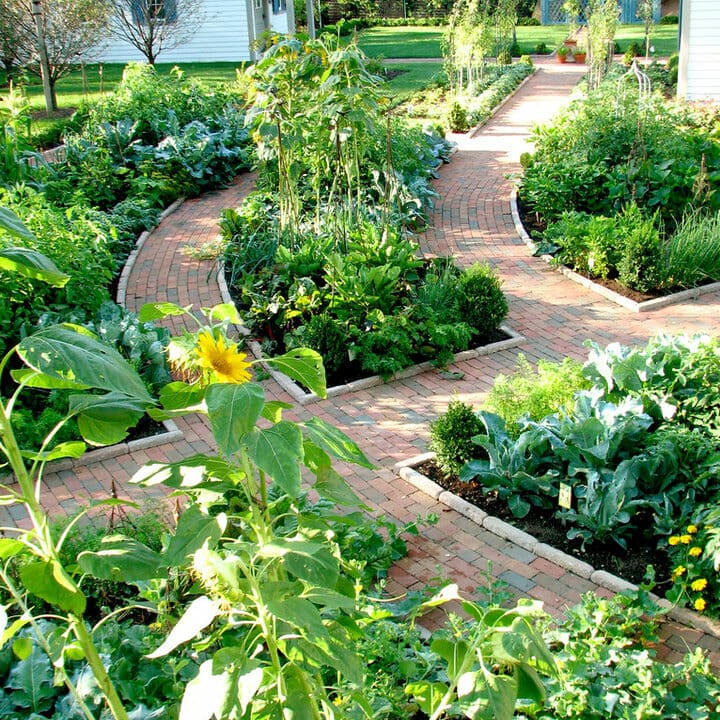 Modern garden edging ideas don't necessarily employ crisp lines and square shapes. Don't hesitate to play with curves in your garden.
This gorgeous garden, for example, features stone edging. Furthermore, the stone bricks work as a mid-point between the pavers and lush plants.
28. A Touch of Seamlessness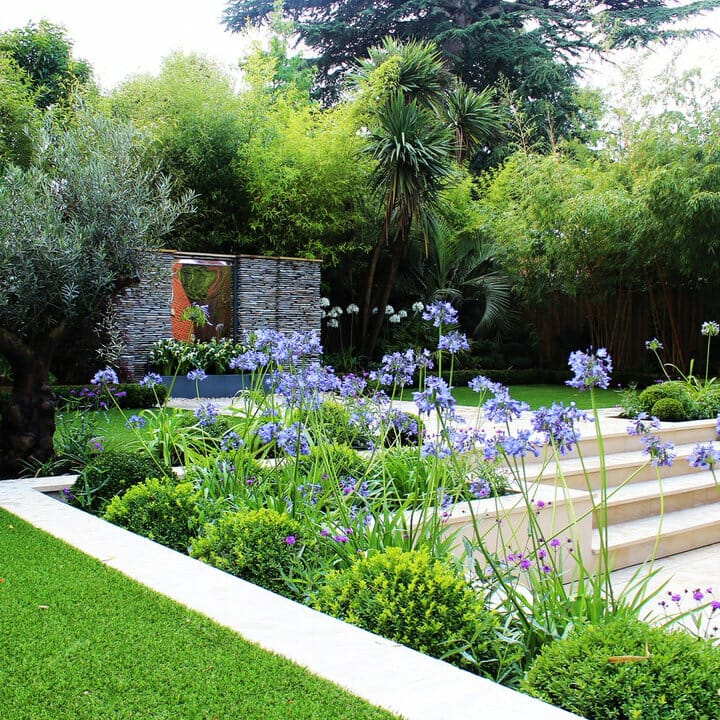 The white edging blends with cream limestone tiles of the steps. Furthermore, it carries an urban vibe and a clean feeling to this private garden.
As you see, the edging lends the lawn some order. In addition, it draws attention to adorable round boxwood shrubs and stunning purple blooms.
29. Stick to the Nature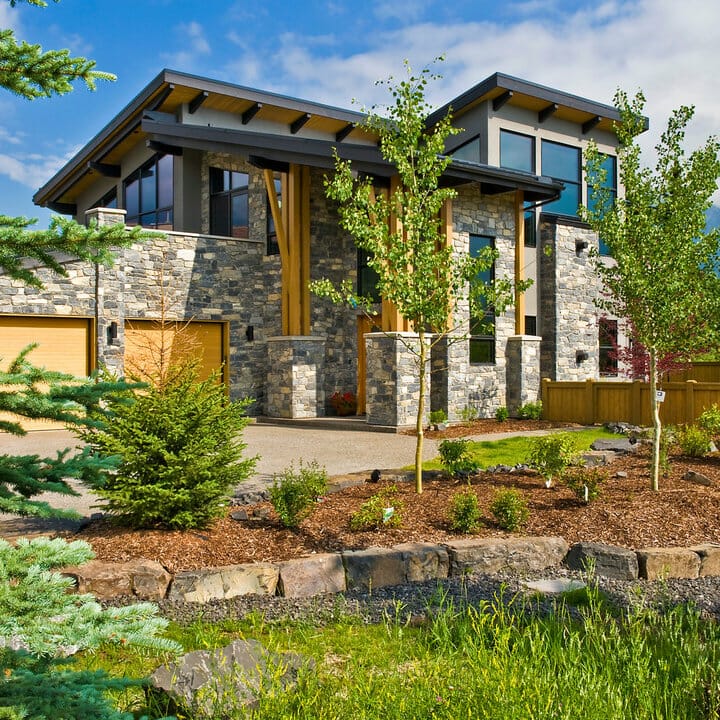 Stone is one of the best landscape edging materials. Apart from looking trendy, it is versatile and long-lasting. Also, the material produces a natural ambiance.
The natural stone lets you border off your garden sections. Furthermore, it's a pleasing divider between the gravel walkway and mulches.
30. Wood Wins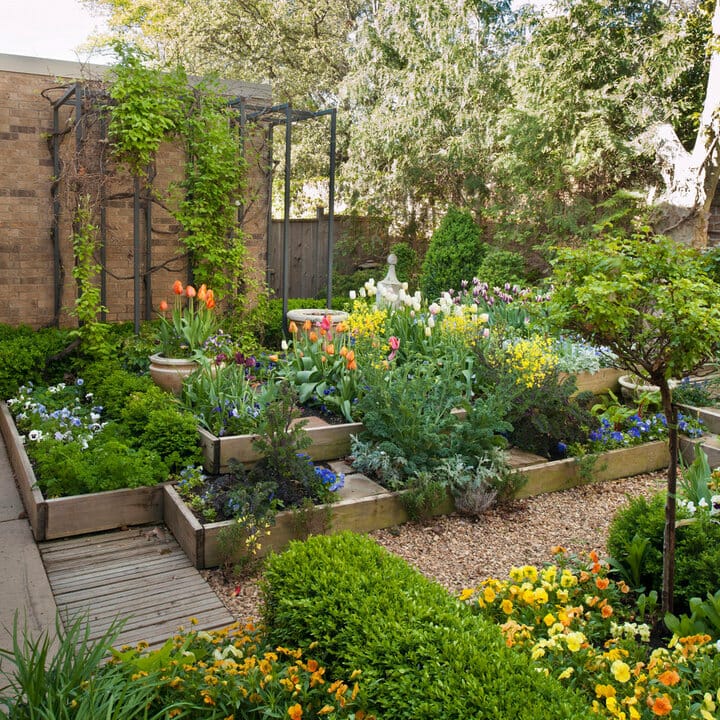 The unpainted wooden edging lends this garden a natural look. Moreover, it separates the impressive plants from the cream gravel pathway.
Horizontal wood planks make for rustic but terrific garden edging. Additionally, due to their elongated lines, the flowerbeds in this garden appear wider.
31. Modern Garden Edging Ideas with Railway Sleepers
You can convert railway sleepers into a garden border. First, cut them into varying lengths. Next, paint the pieces light gray. Lastly, install them around your curved borders.
Here, gray timber edging delivers visual interest. In addition, it blends seamlessly with the gravel-and-natural stone pathway. The wooden edging frames the moss, ornamental grass, and flowering plants.
32. Weathered Yet Wonderful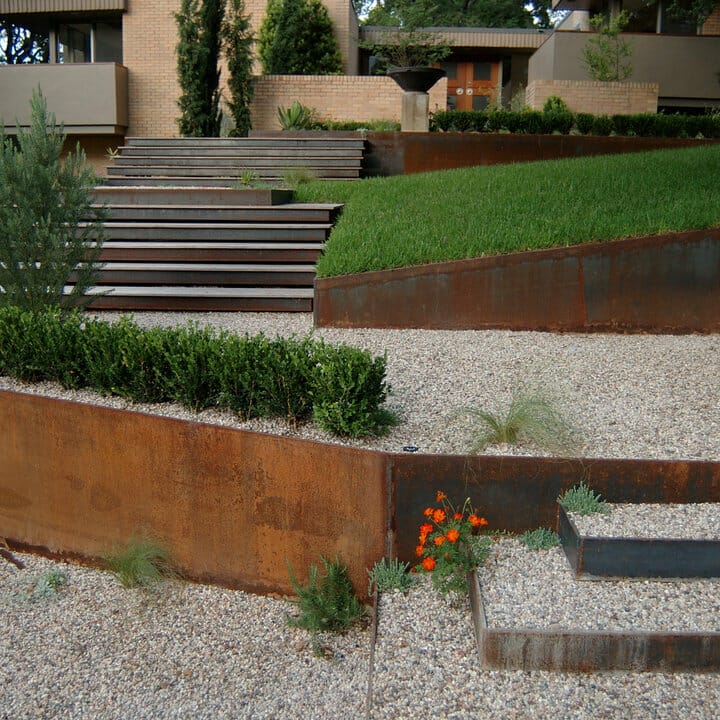 If you aren't into stone or concrete edging, replicate this idea. The weathered metal edging provides a unique urban look.
In this minimalist garden, the weathered steel edging keeps gravel in place. Furthermore, it allows the ornamental grass, dwarf evergreen shrubs, and punchy flowers to shine.
Those modern garden edging ideas are worth trying. Moreover, they prove edging the landscape isn't intimidating. Before dividing the garden zones, examine your needs first. Also, decide on what kind of edging you're after.