Bathrooms should be a mess-free space in the house. For an organized look, consider having a specific spot to accommodate toiletries, personal hygiene products, and linens. If you need storage solutions, read up on my fabulous shelf ideas for bathrooms.
These ideas will help you keep your bathroom necessities under control. Furthermore, they range extensively in functionality as well as style.
Whether you have a children's bathroom or a master bath, these brilliant storage solutions will come in handy. Let's check them out!
1. Wall Shelf Ideas for Bathrooms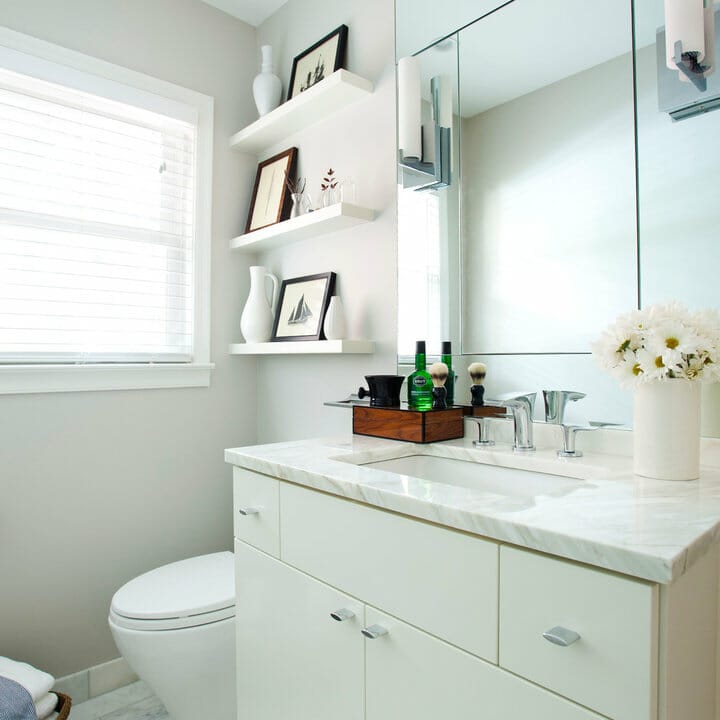 Short on floor space? No worries. Just install white wall shelves over the toilet. Here, they brighten the tiny bathroom while developing an airy scene.
The white open shelves complement existing gray walls marvelously. Also, they encourage the homeowner to keep his stuff tidy.
As you see, wall shelves give the bathroom style and some order. Moreover, they display ornaments that titivate the interior.
2. Small Bathroom Wall Shelf Unit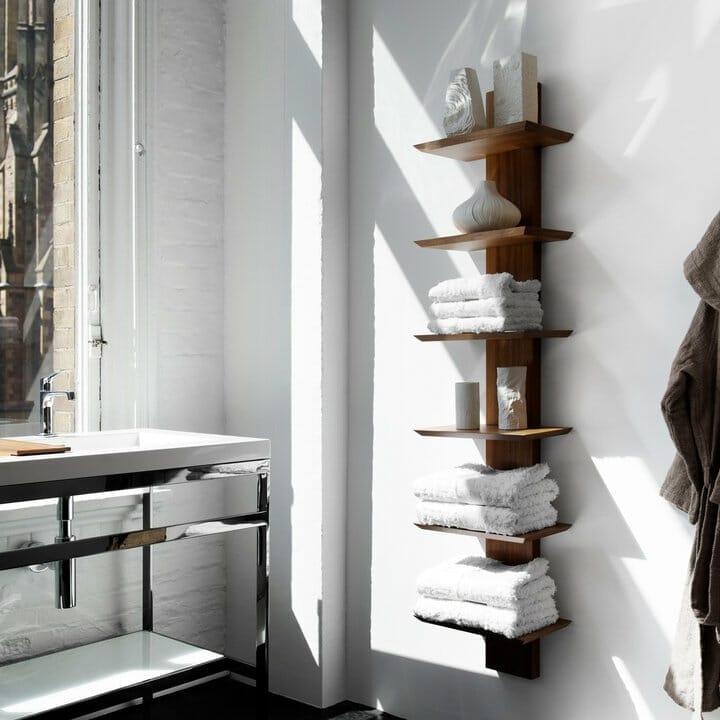 This wooden wall shelf unit features several shallow shelves. Additionally, they house spare towels and decorative vases.
In this pocket-sized bathroom, the wall shelf unit contrasts with the white background. Furthermore, it carries natural warmth to the space.
Due to the wall shelf unit, the homeowner can use his space efficiently. Moreover, it excellently blends function with fashion.
3. The Simpler The Better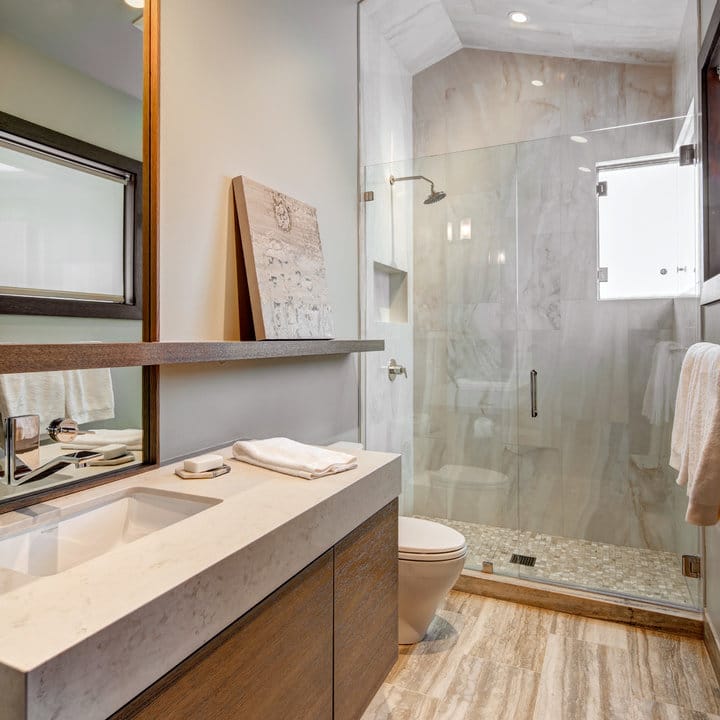 The homeowner incorporated a simple long wooden shelf into her bathroom. As you see, it perches over the toilet and vanity.
Because of the streamlined wooden shelf, the bathroom seems more welcoming. In addition, the unit complements the clean lines of the vanity and mirror.
If you're a minimalist, this bathroom shelf design surely wins your heart. Since the unit is narrow, consider putting an artwork or two on it. There's a functional shower niche, too.
4. Glamorous Gold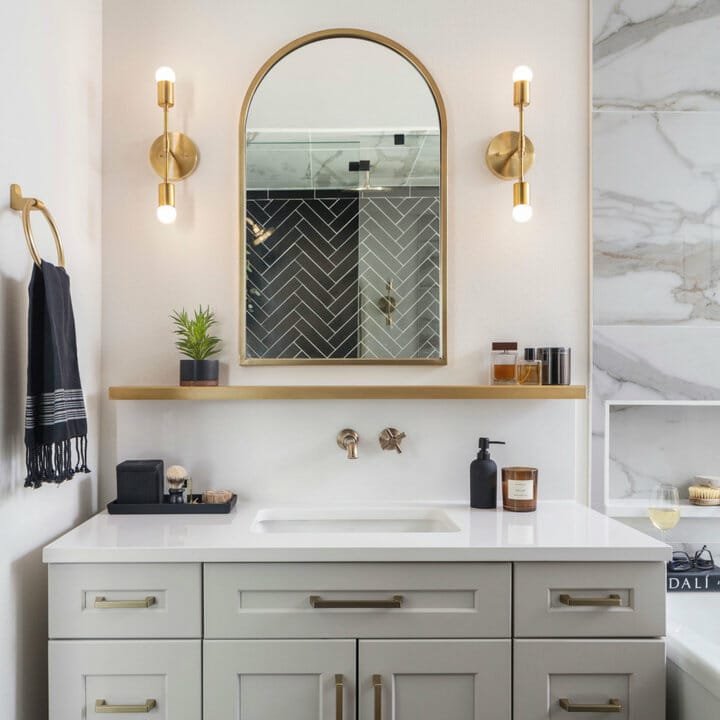 Need floating shelf ideas for bathrooms? If so, try installing this sleek open shelf. Here, it nestles against the crisp white wall.
The homeowner incorporated a gold floating shelf for a reason. It splendidly fits in with the bathroom's existing decor.
This gold floating shelf generates a luxurious feel. Moreover, it showcases a potted plant and a few personal care products.
5. Attic Bathroom with Built-In Shelves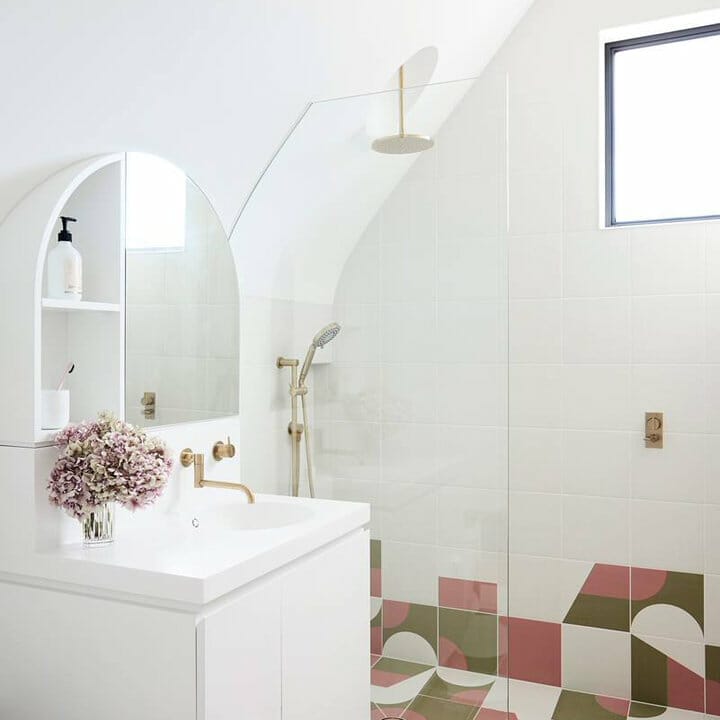 Speaking of built-in shelf ideas for bathrooms, duplicate this look. The attic bathing space seems open and bright because of the crisp white furniture and walls.
The built-in shelves are adjacent to the half arch mirror. Moreover, they house personal hygiene products, so the space appears organized. Also, the units keep you from wasting valuable floor space.
6. Small Bathroom Shelf Ideas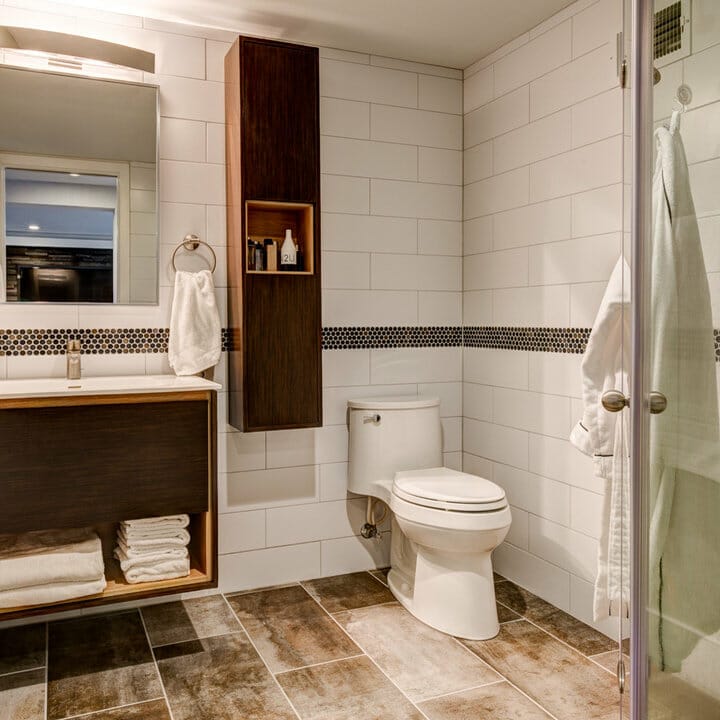 This modern bathroom is clutter-free due to the under-the-sink wooden cabinet shelf. As you see, it displays extra linens while carving a welcoming scene.
Next to the mirror is a wall-mounted shelf unit. In addition to adding height, it keeps beauty products from creating a visual mess. Moreover, it directs the eye to multitone penny tiles that make an astonishing horizontal stripe.
7. Wooden Bathroom Shelves for Towels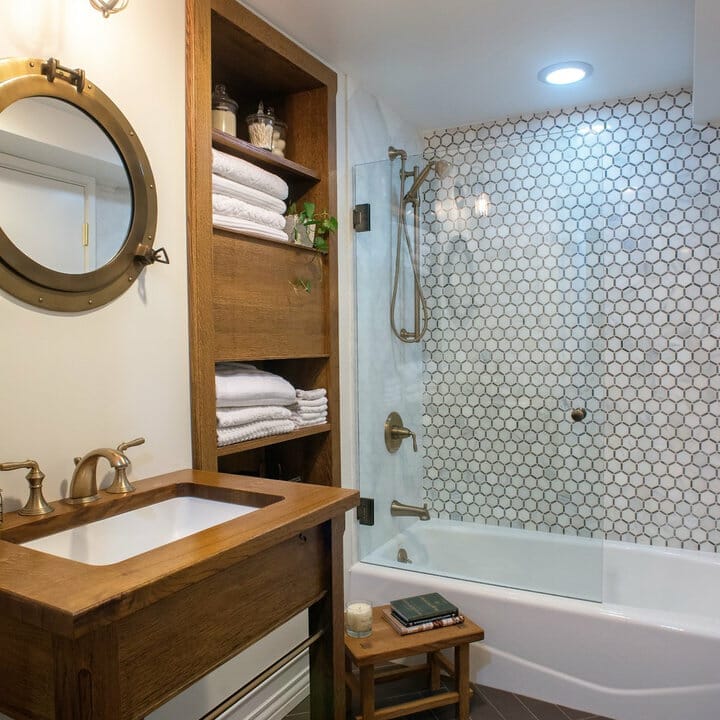 Talking about shelf ideas for bathrooms, try including these built-in shelves in your space. They allow you to store personal hygiene products and spare towels.
Here, the wooden built-in shelves also display potted greenery. Additionally, they maximize the wall space between the porthole mirror and the shower screen. Meanwhile, the step stool helps you reach bathroom necessities on upper shelves.
8. Open Storage Ideas for Bathrooms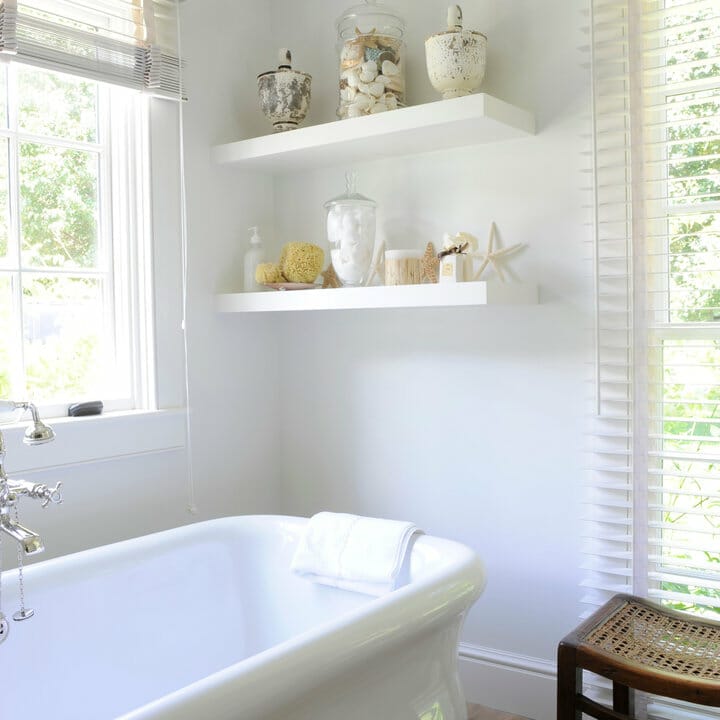 Just because your bathing space isn't massive doesn't mean it cannot appear tidy. I suggest you mount a few open shelves on the wall.
Here, streamlined white open shelves blend seamlessly with the backdrop. Moreover, they keep coastal ornaments and bath supplies off the floor. Due to them, you can enjoy a long soak in the tub with peace of mind.
9. Contemporary Shelf Ideas for Bathrooms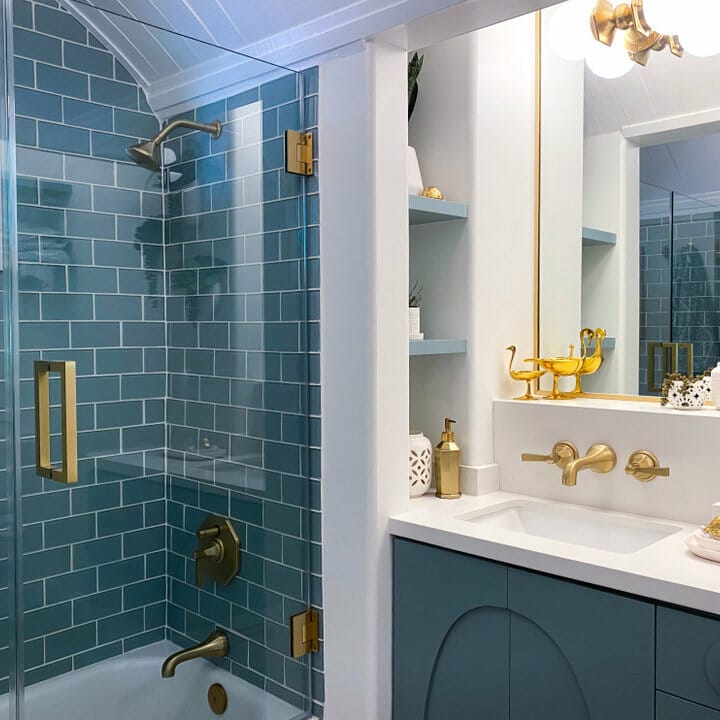 The muted blue cabinet and subway tiles lend this attic bathroom high impact. Meanwhile, the pure white vanity top and walls promote openness.
Here, pastel blue built-in shelves produce a fresh look and a tranquil scene. Also, they keep the attic bathroom from feeling heavy.
These built-in shelves let the homeowner showcase her gold ornament and chic indoor plants. Meanwhile, brass accents introduce an upscale look.
10. Rectangular Shelves for Bathrooms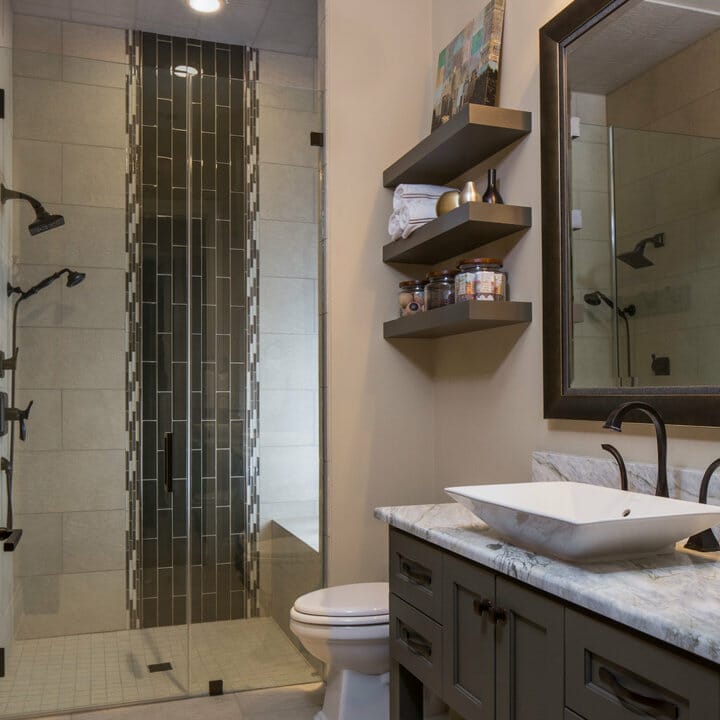 Need bathroom shelving ideas over toilets? If so, replicate this look. Taupe-painted open shelves provide extra storage space. Furthermore, they pair fabulously with the beige backdrop while keeping things tidy.
The lower shelf displays glass canisters of daily use items like soaps and bath bombs. Meanwhile, upper shelves accommodate a painting, decorative vases, and rolled towels. They all prevent precious wall space from going to waste.
11. Bathroom with Clear Open Shelves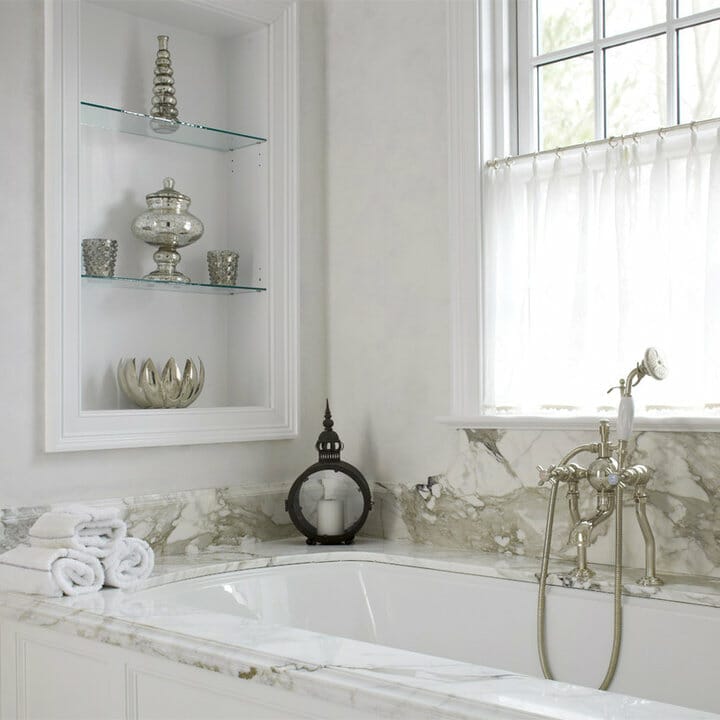 If you're into glass shelf ideas for bathrooms, try this storage solution. Here, the transitional bathing space boasts a pure white wall niche. Moreover, it features a couple of clear glass shelves.
In this bathroom, glass shelves remind me of traditional medicine cabinets. Furthermore, they highlight glamorous silver decorative pieces that are worth displaying.
12. Stained Wood Shelf Ideas for Bathrooms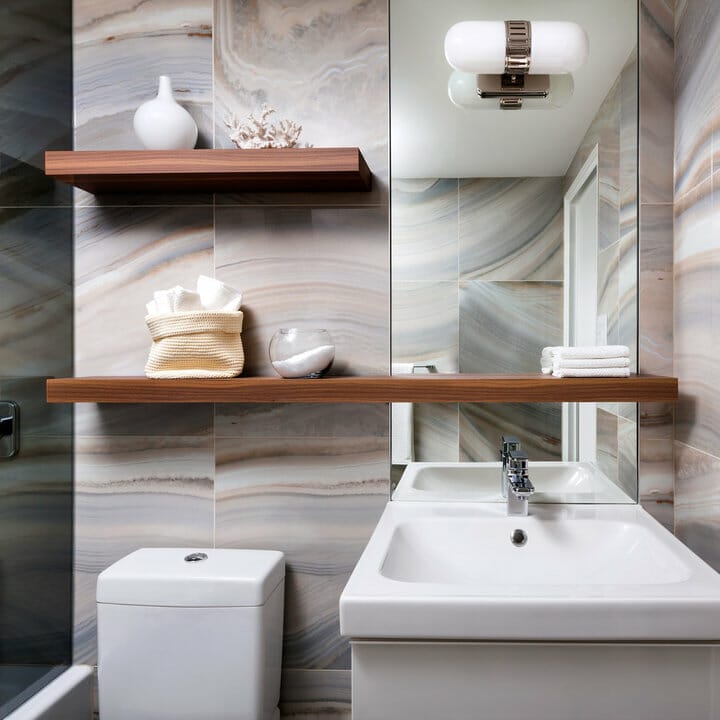 This modern bathroom is admirable. It employs a sink-to-ceiling mirror that makes the bathing space visually seem taller. Meanwhile, gorgeous wall tiles carry textured beauty to the area.
The sturdy stained wood shelves of different lengths perch over the white toilet. They ensure that the bathroom doesn't seem chilly, too.
Streamlined wooden shelves lend the bathroom a modern aesthetic. Moreover, they keep extra linens close at hand while showcasing minimalist decorative pieces.
13. Single Bathroom Shelf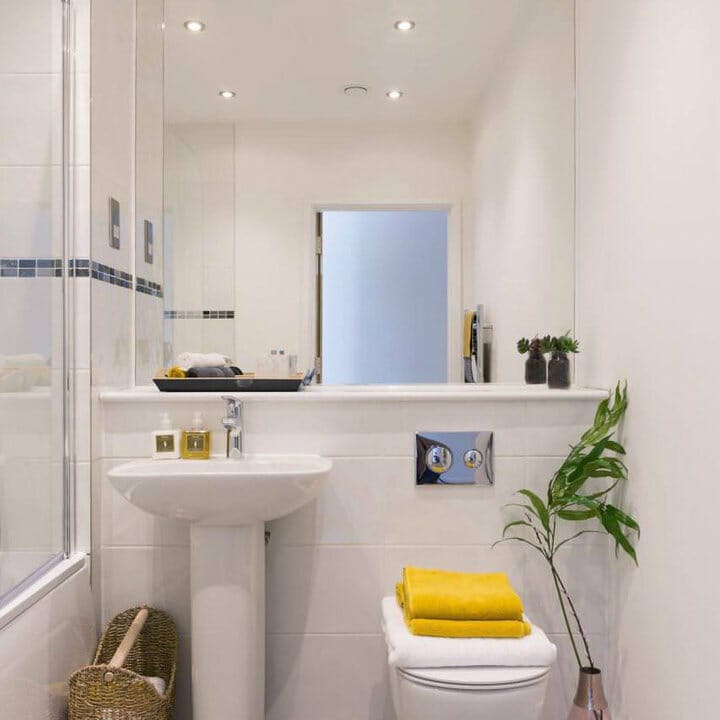 Here, oversized white tiles and grouts develop a seamless look. Apart from expanding the bathing space, they also let yellow and green accents shine.
There's a built-in shelf underneath the mirror. Furthermore, it houses greenery and a black tray full of personal hygiene products as well as rolled towels.
14. Bathroom with a Ladder Shelving Unit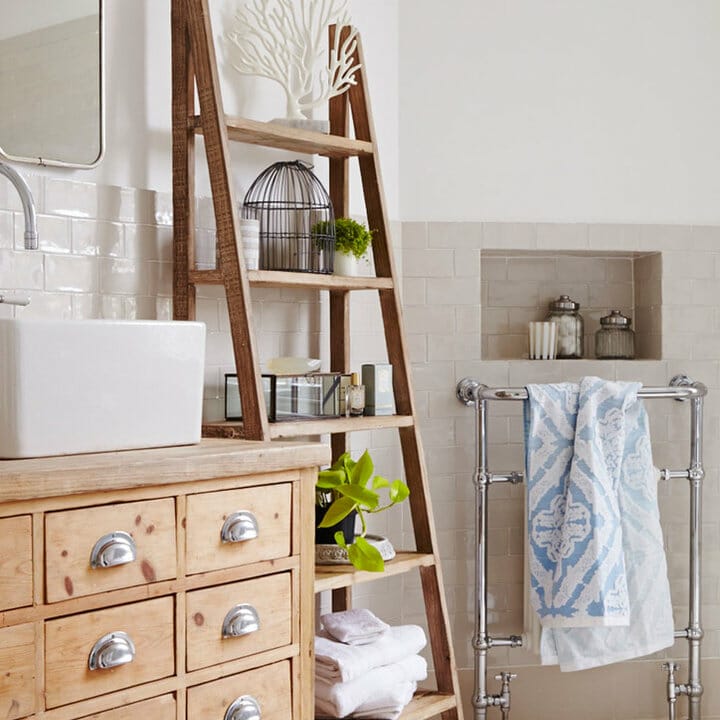 What's not to love about this compact bathroom? Warm gray subway tiles develop an inviting scene. Moreover, they accentuate the metallic towel rack.
Above the towel rack is a wall niche. As the photo shows, it accommodates glass canisters with bathroom necessities like cotton balls.
The unpainted wooden ladder shelving unit boasts shelves of different sizes. They hold houseplants and spare linens besides ornaments.
15. Pallet Shelf Ideas for Bathrooms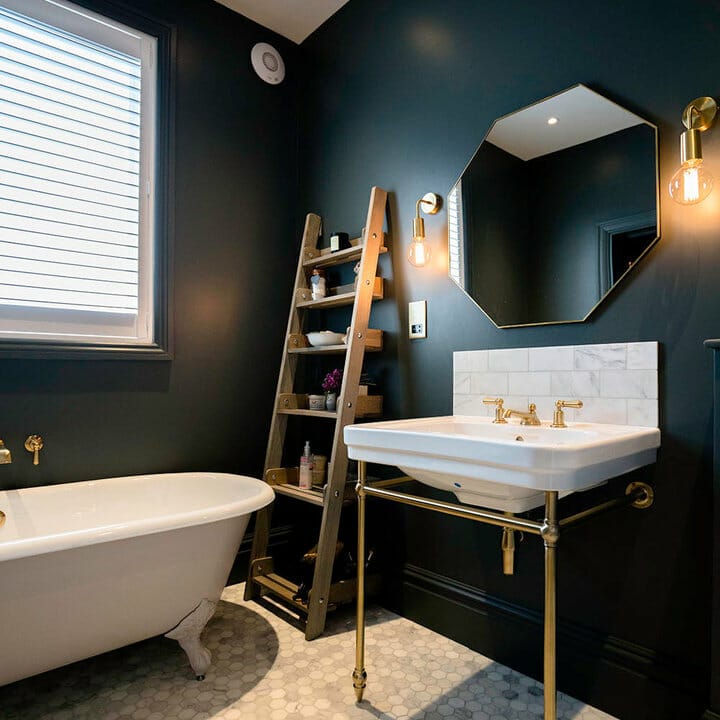 Talking about shelf ideas for bathrooms, don't forget the wood pallet storage ladder. Here, the unit leans against the dramatic black wall.
Although the bathroom is tiny, the homeowner doesn't compromise storage space. She transformed her old wood pallet ladder into an excellent shelving system.
The wooden ladder shelving unit keeps bath essentials and ornaments off the floor. Furthermore, it gives the bathing space a rustic look.
16. Small Yet Splendid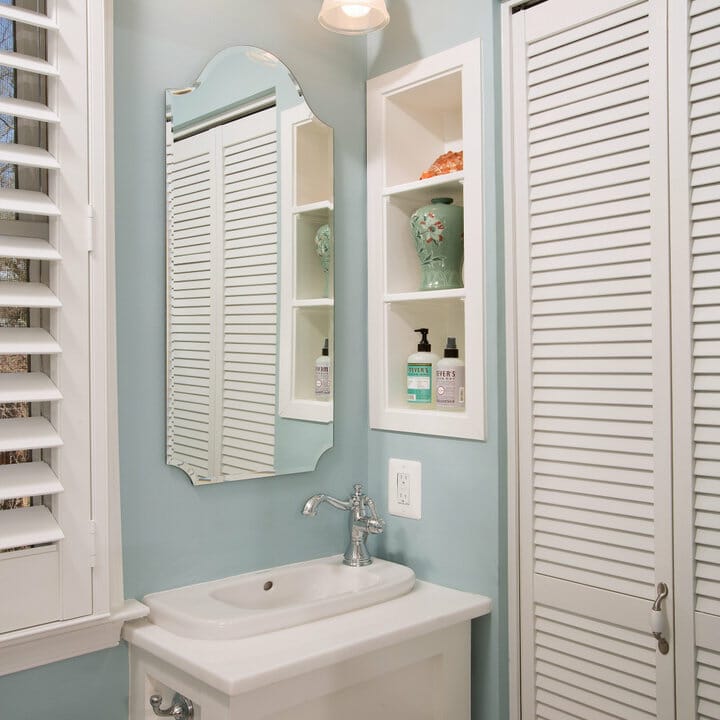 Since the homeowner had lots of white surfaces, she painted the walls pastel blue. They effortlessly make the interior look fresh. Meanwhile, the toilet boasts an integrated sink on top to save space.
Above the toilet sink combo is a frameless vintage mirror. In addition to delivering a touch of elegance, it enlarges the bathing space.
The bright white wall niche displays personal care products on the lower shelf. Furthermore, upper shelves accentuate statement ornaments that carry splashes of color.
17. Think Outside the Box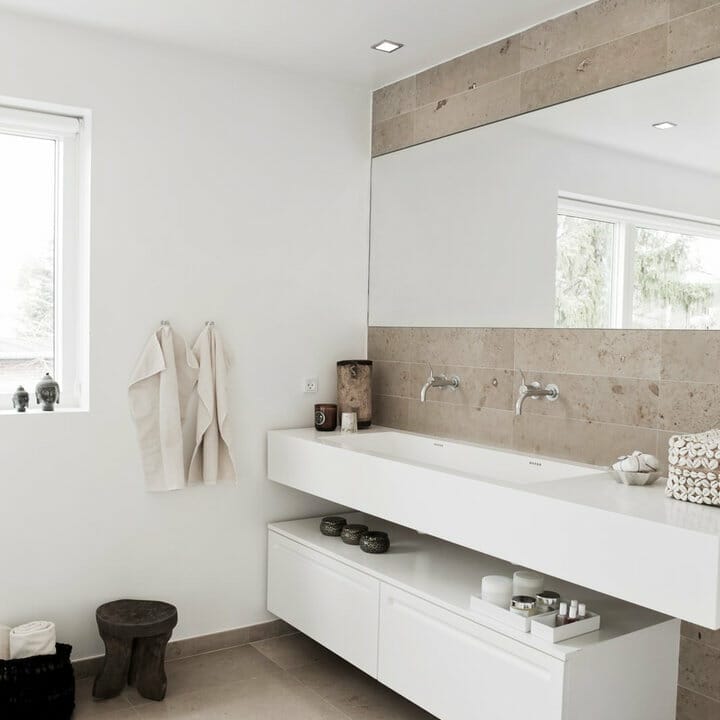 A combination of neutral colors and streamlined units produces a mid-century modern feel. Moreover, the natural stone stool and tiles bring the outdoor elements inside.
The homeowner maximizes every inch of her bathing space. Here, the top of the white floating vanity serves as an open shelf.
Furthermore, it showcases matching trays with personal care products. There are tiny decorative bathroom canisters, too.
18. Long Shelf Ideas for Bathrooms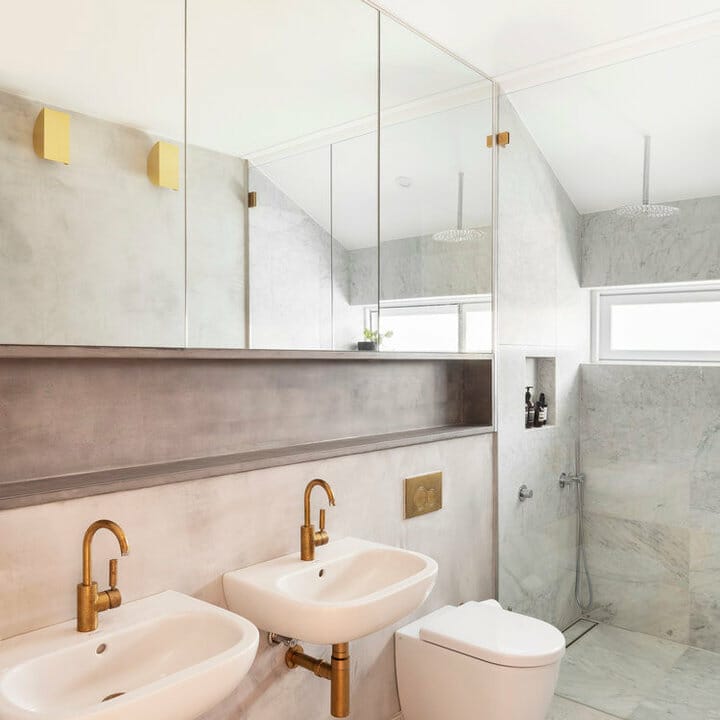 The attic shower room seems airy because of the glass bath screen. Moreover, marble floor and wall tiles deliver unmatched grandeur. There's a small wall niche for bathroom essentials, so the space doesn't look cluttered.
Here, the bathroom features a long concrete wall niche underneath mirrors. As you see, it offers a narrow but stylish open shelf.
Since the shelf is narrow, it's appropriate for tiny ornaments or potted succulents. Additionally, it calls attention to luxe gold faucets.
19. Creative Shelf Ideas for Bathrooms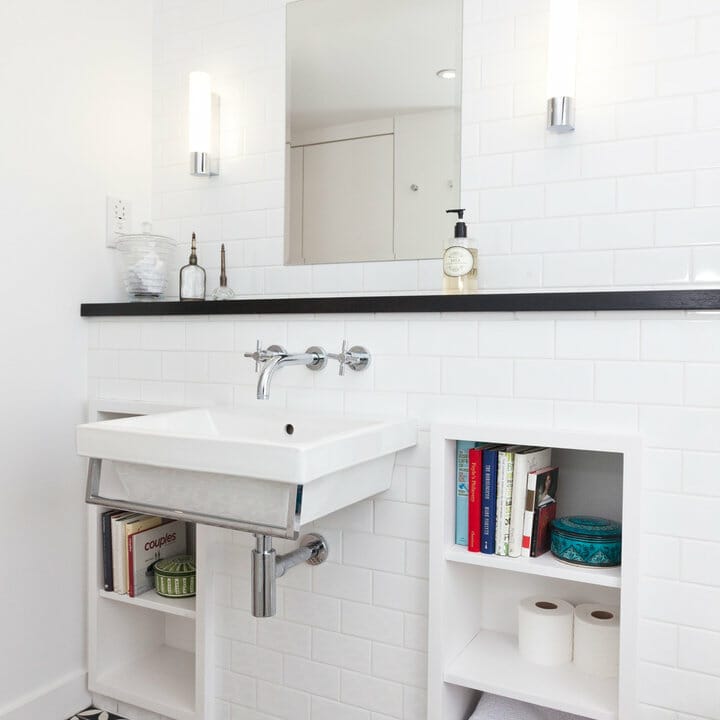 This is one of the captivating shelf ideas for bathrooms. Despite its tiny size, there's ample storage space in this room.
Bright white built-ins keep the toilet papers, books, and ornaments organized. Furthermore, a long, narrow black shelf adds drama. In addition, it houses bath supplies.
20. Master Bathroom with a Corner Shelf
Need corner shelf ideas for bathrooms? If so, duplicate this option. The beige corner shelf perches above the white pedestal sink. Furthermore, it accommodates a vase, a canister, and a brass towel holder.
The white vanities boast beige tops that double as open shelves. As you see, they hold greenery and spare towels.
21. Family-Friendly Bathroom with Shelves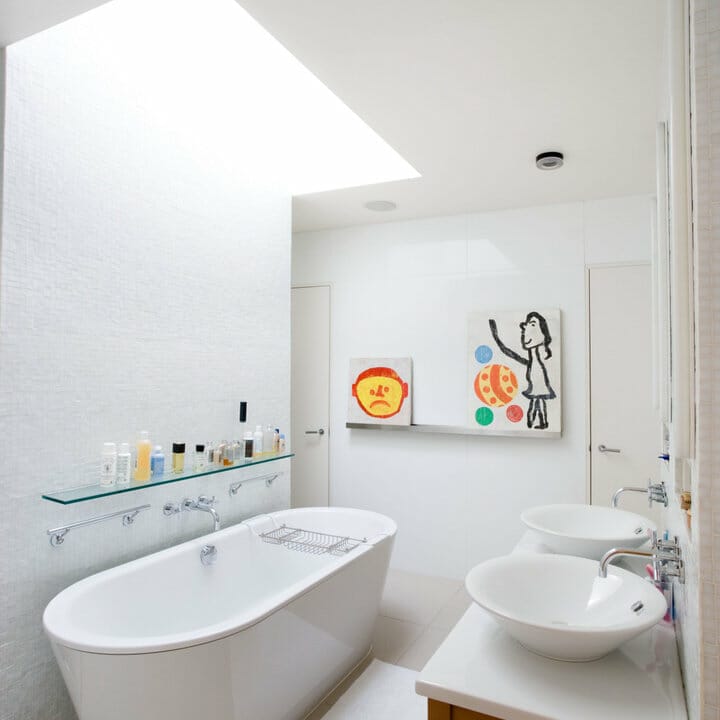 This bathing space is both bright and airy. Moreover, the white freestanding tub and sink bowls lend the master bathroom a minimalist look.
The clear glass floating shelf over the sink keeps bath essentials organized. Meanwhile, the long stainless steel shelf displays cheerful kids' artworks. In addition, they make the bathing space family-friendly.
22. Say Yes to the Single Shelf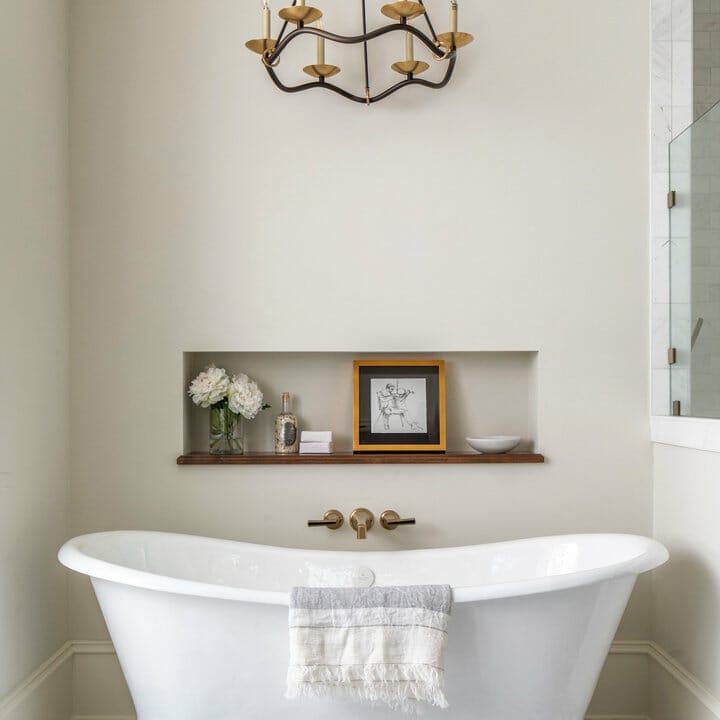 Here's another master bath. Due to brass accents, it looks luxurious. Meanwhile, the pure white clawfoot tub and light gray walls ensure that the bathroom feels open.
The single wooden shelf occupies the wall niche. Apart from carrying warmth, it also showcases decorations of varying heights.
23. Glamorous Bathroom with a Mantel Shelf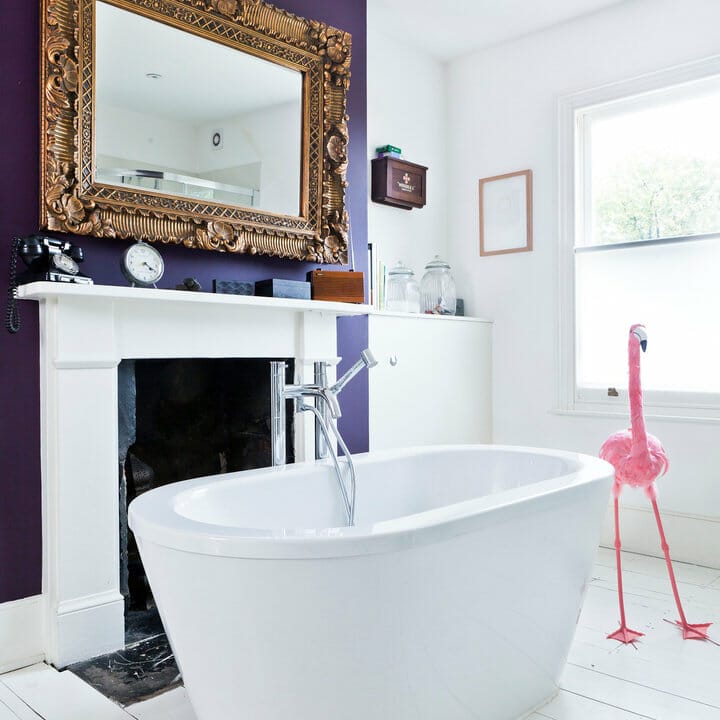 Speaking of terrific shelf ideas for bathrooms, you can't forget the mantel shelf. It gives the interior extra display space. Here, the unit elegantly showcases both modern and vintage decorative pieces.
The built-in shelf keeps bathroom canisters and books tidy. Meanwhile, the flamingo statue, purple feature wall, and ornate mirror embrace a feminine flair.
24. Minimalist Mode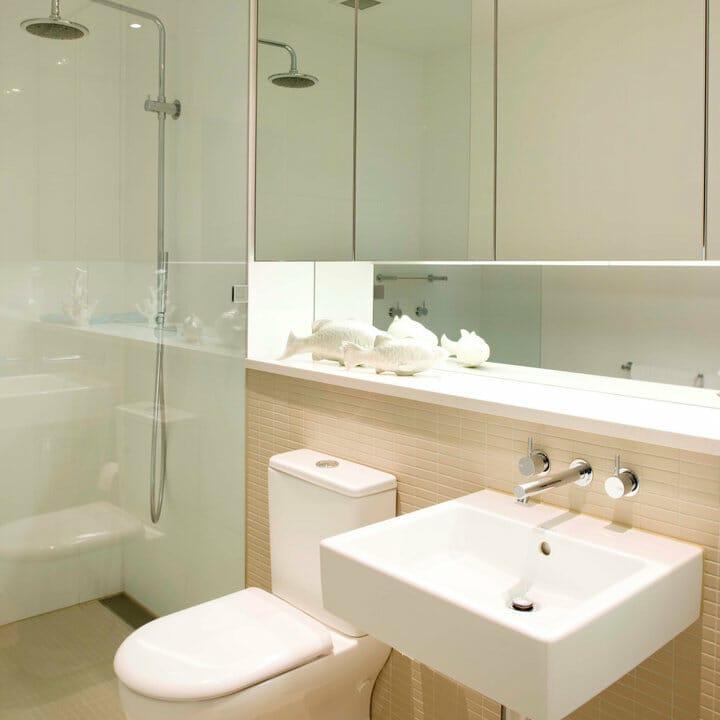 Although this bathroom is on the serene side, it doesn't lack personality. The white built-in shelf boasts a full-width mirror. Furthermore, the unit displays fish-shaped ornaments.
Underneath the built-in shelf is a wall of cream tiles that promote peacefulness. Meanwhile, the square sink and mirrored cabinets keep things stylish.
25. Modern Bohemian Bathroom Shelf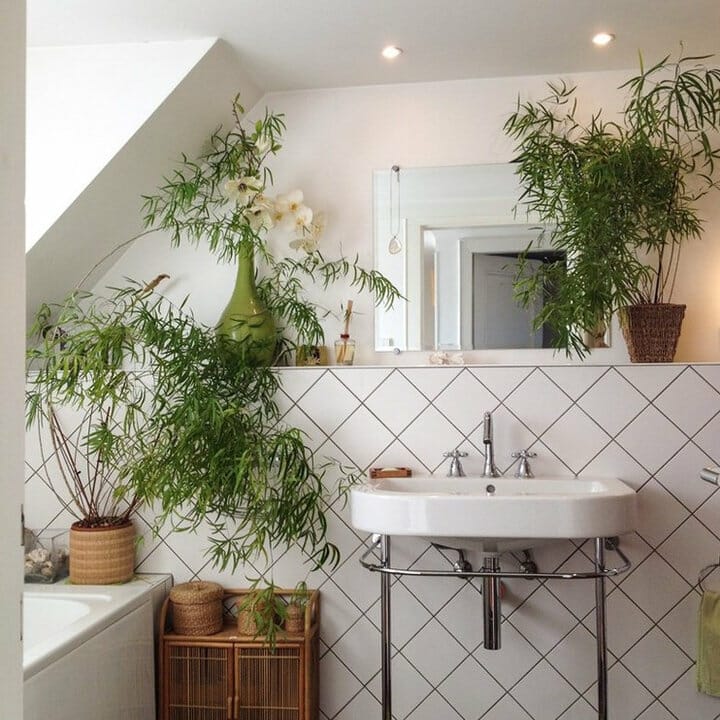 Need trendy shelf ideas for bathrooms? If yes, give this storage solution a chance. The built-in open shelf houses lush greenery and aromatherapy sticks in a glass vase.
The diagonal tiling underneath the open shelf provides the element of surprise. Moreover, wicker and rattan pieces generate urban boho vibes.
26. DIY Bathroom Shelves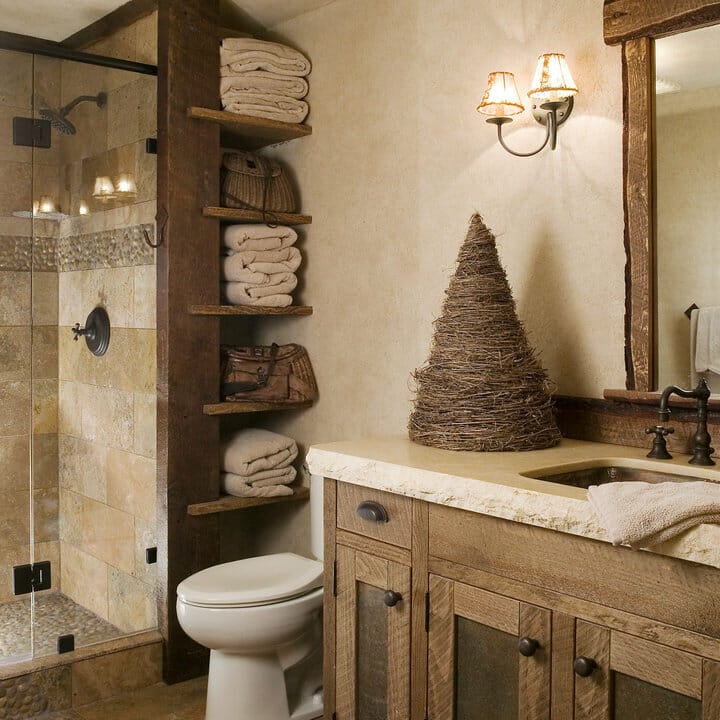 The bathroom belongs to a classic log cabin home. It boasts natural materials as well as light neutrals for a tranquil atmosphere.
There are reclaimed wood shelves next to the toilet. As you see, they hold alternating spare linens and wicker bags while amplifying rustic vibes.
27. Small Shelf Ideas for Bathrooms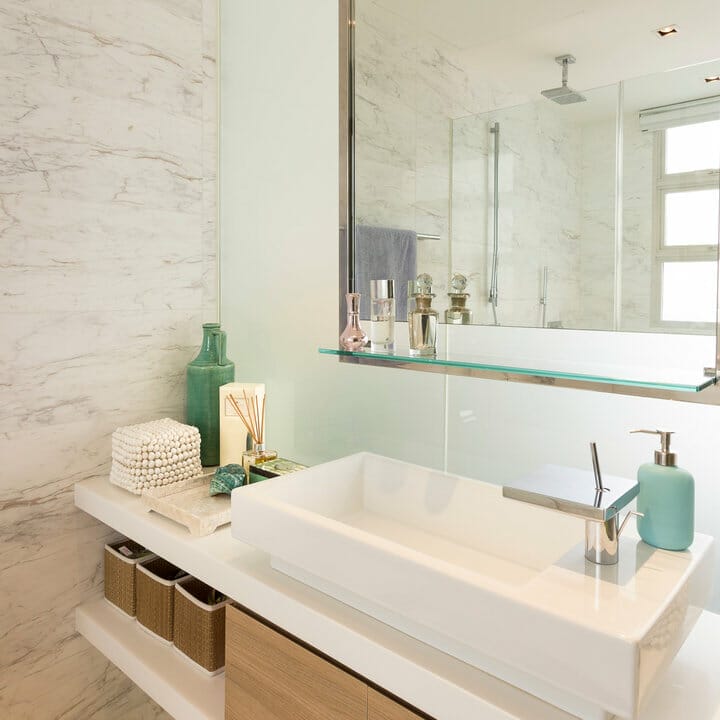 Extend the crisp white vanity top for extra display space. In addition to offering a clean look, it can house marvelous decorative items.
The lower shelf optimizes every inch of space well. Moreover, it keeps storage baskets within arm's reach.
Meanwhile, the clear floating shelf holds personal care products.
28. Transitional Bathroom Shelves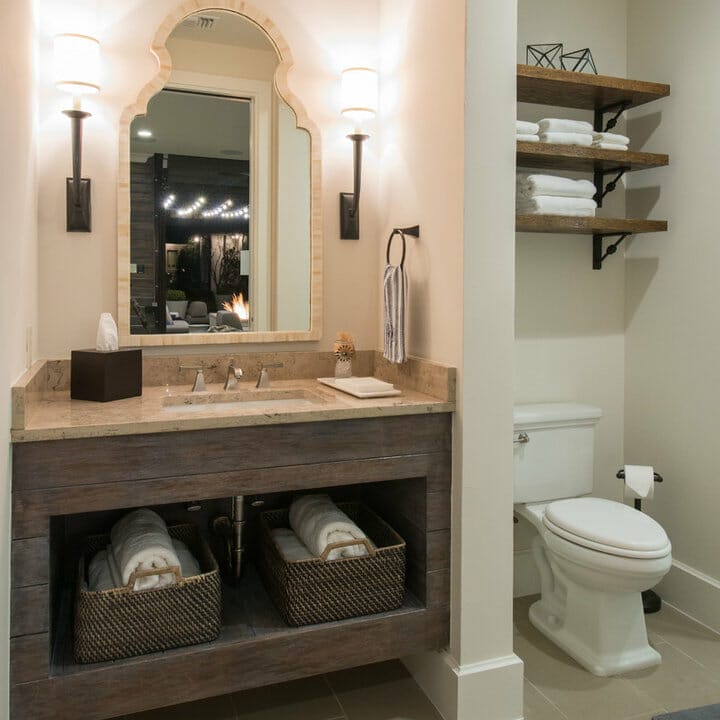 In this transitional bathroom, the floating wooden vanity boasts an open shelf. It keeps woven storage baskets full of spare towels off the floor.
The 3-tier shelves over the toilet house extra linens and geometric ornaments. They combine iron brackets with reclaimed wood planks.
29. Apartment Bathroom Shelf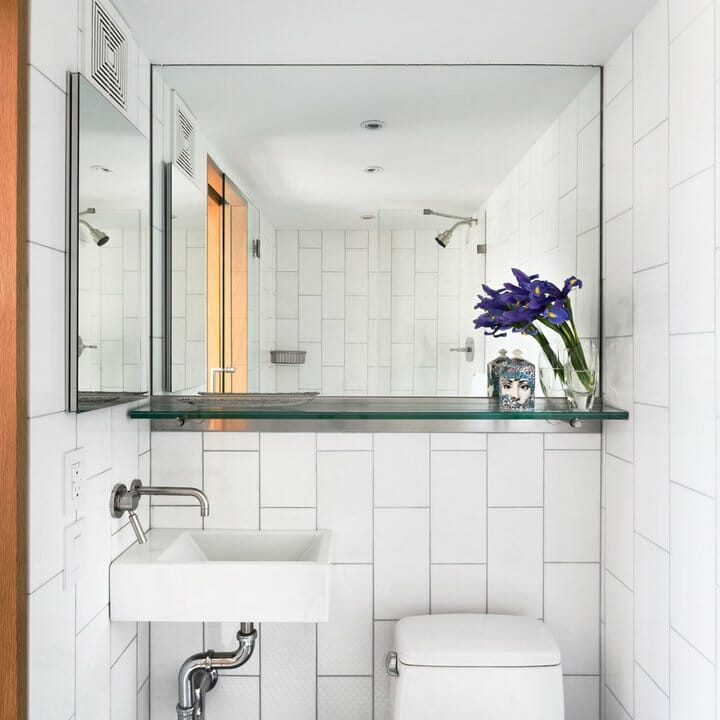 Vertical subway tiles make the bathroom's ceiling appear higher. Meanwhile, mirrors of different sizes expand the space visually.
Over the sink and toilet is a glass floating shelf. As you can see, it showcases a tray, a statement piece, and fresh purple blooms.
30. Walk-In Shower Room Ladder Shelf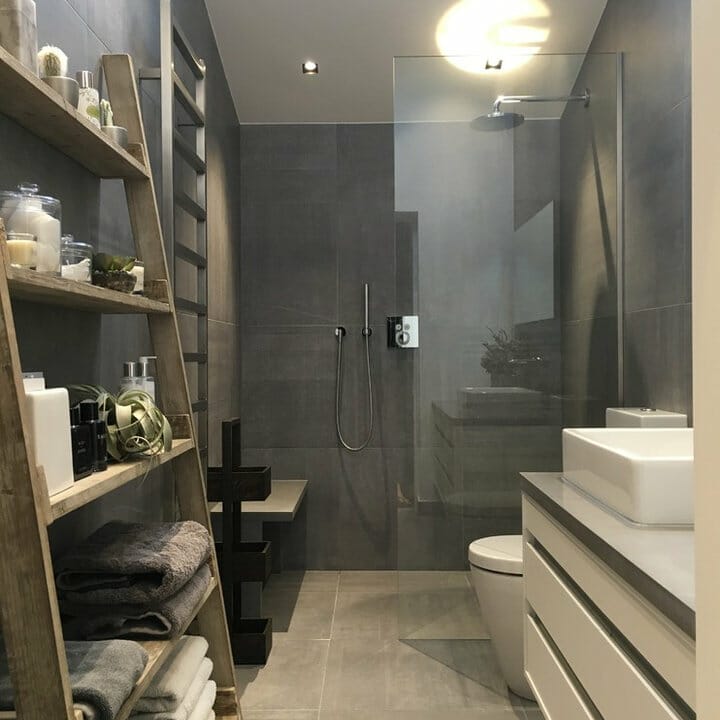 If your shower room isn't massive, the wooden storage ladder comes in handy for sure. It carries rustic charm and warmth to the interior.
Here, the ladder shelf leans against the gray wall. Moreover, it keeps extra towels, bath essentials, and potted succulents organized.
31. Bodacious Built-Ins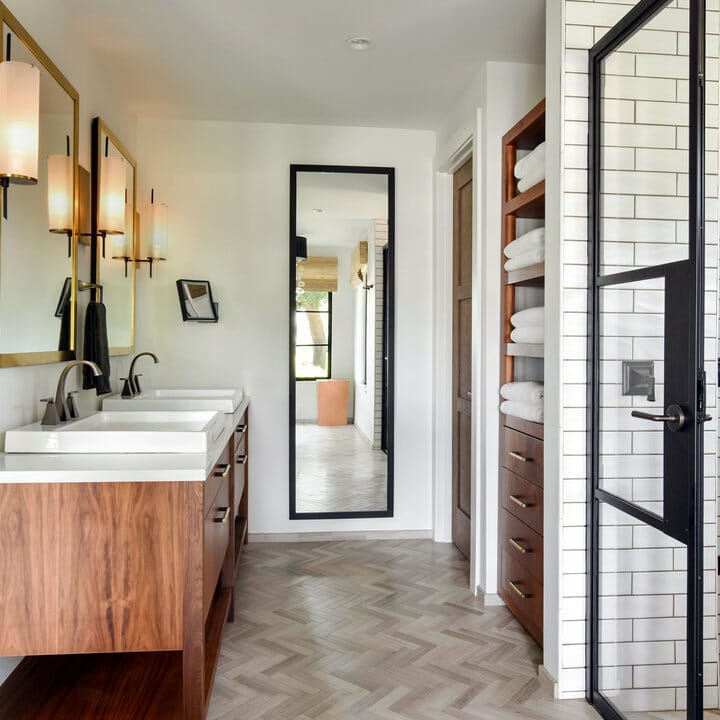 Talking about shelf ideas for bathrooms, copy this storage solution. The freestanding double vanity boasts lower shelves underneath drawers.
Stained wood built-ins house spare white towels. Due to them, the empty vertical space doesn't go to waste. They embrace a welcoming look, too.
Those shelf ideas for bathrooms will help you realize your dream zen zone. Before trying out any of the storage solutions above, examine the bathing space first. In addition, stick to your budget.