No wonder, many interior designers and homeowners love country bathrooms. They are not just gorgeous, but also welcoming and calm. If you want to get complete relaxation, have a look at my country bathroom ideas.
In this article, I have curated country vanities, color combos, and decoration. Whether you are into a classic country bathroom or the modern one, my pick will not fail to wow you.
1. Small Country Bathroom Ideas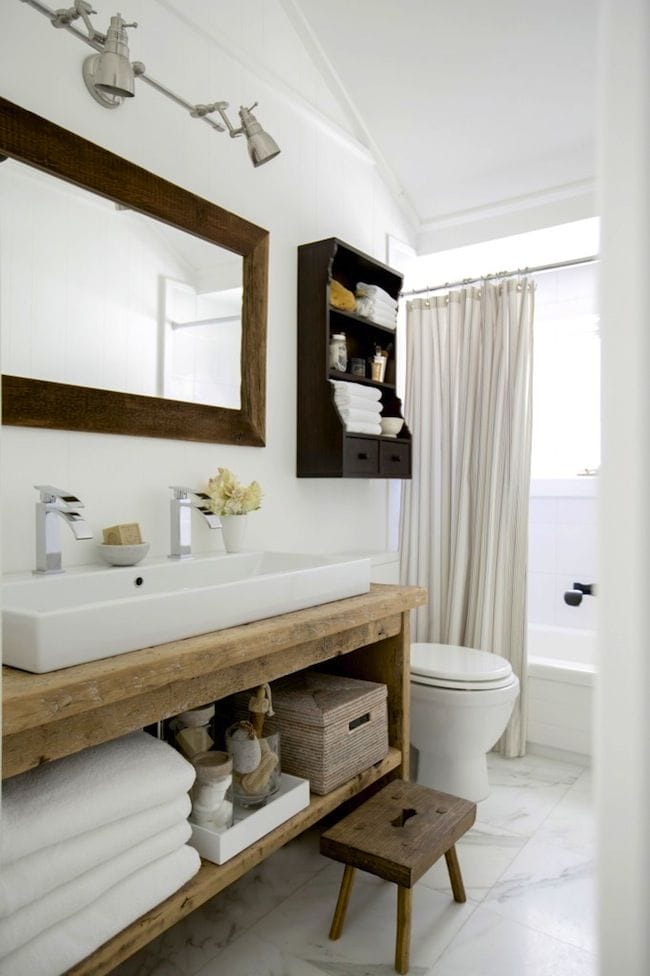 White color palette makes this bathroom appear larger than it actually is. The large window carves an open environment.
Weathered wood stool, vanity, and mirror offer timeworn appeal. Those pieces bring a warm atmosphere to the scene too.
2. Country Cottage Bathroom
Reclaimed and distressed wood accents create a lived-in look. White-painted shiplap walls give the space a cottage feels.
Shower curtains convey a sense of privacy. The black iron mesh basket, mirror, and wall sconce add boldness to the predominantly pale space.
3. Country Bathroom Ideas Pictures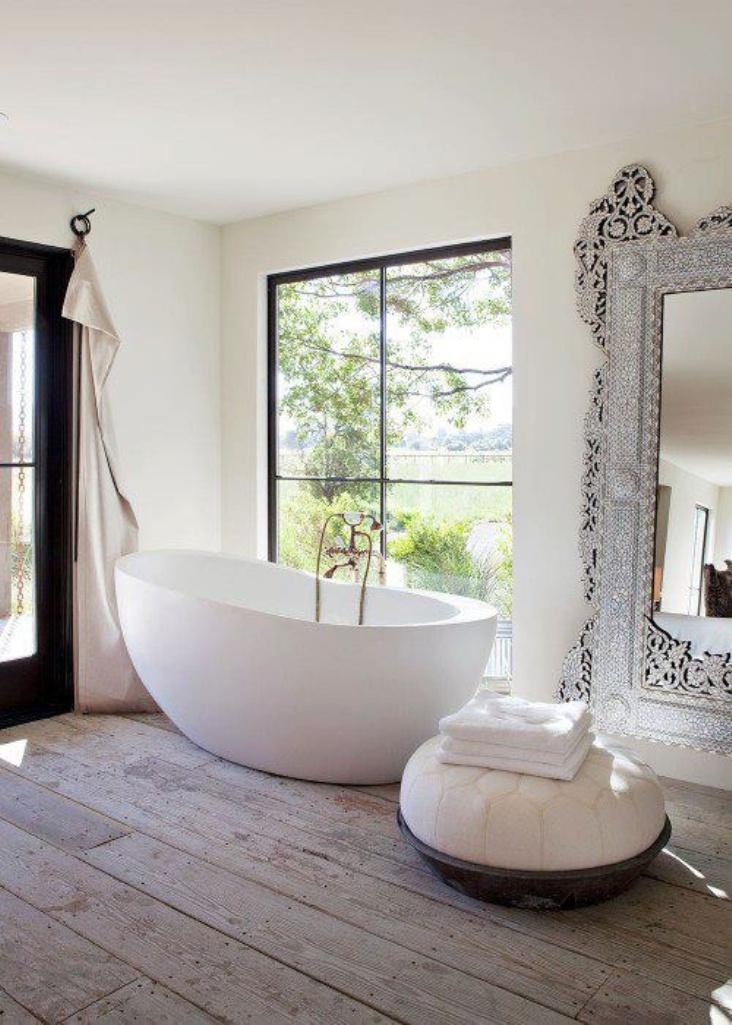 The homeowner mostly dressed her bathing space in white. Therefore, it seems brighter and lighter. Window brings in natural light and mesmerizing outside views.
Underfoot is the untreated wood floor. It undoubtedly celebrates country flair. An overscale mirror generates an illusion of added space.
4. Country Style Window Treatments
Pastel gray wall panels and vanity carry interesting details to the bathroom. They highlight a pink roll-top bath too.
Floral blind complements the opaque glass window. Wood elements contribute to the room's cozy nuance. A crystal flush mount ceiling light exhibits a sumptuous air.
5. Modern Rustic Bathroom Ideas
White vaulted ceiling, walls, soaking tub, and stool lighten up the space. Windows allow the sunlight to shine.
The exposed beams, floor, door, and vanity show off weathered finishes. An accent wall is made up of rough stone bricks.
6. Country Bathroom Vanity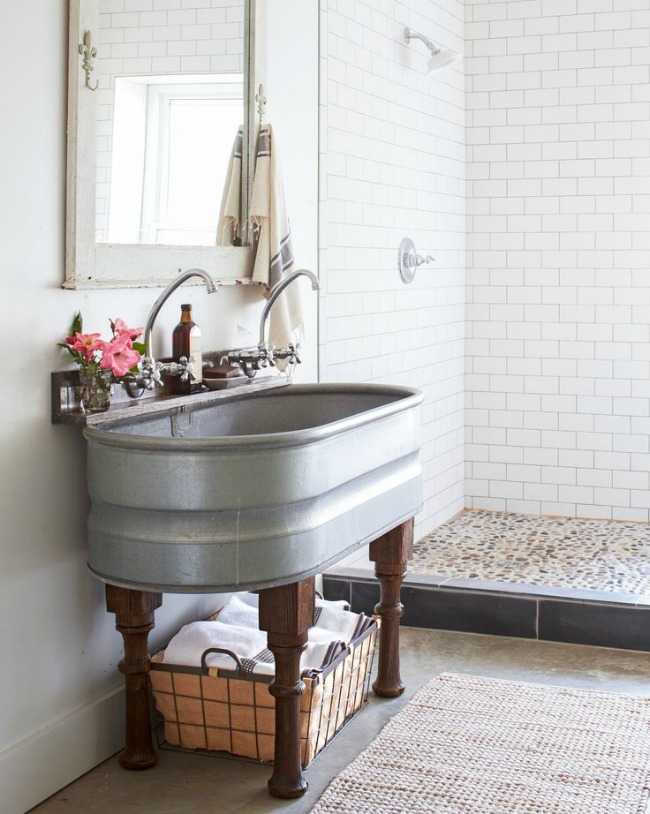 The shower walls are clad in white subway tiles. In a snap, they develop a crisp look. River rocks infuse an element of nature into the room.
Dark-toned wooden legs and galvanized metal tub make for a one-of-a-kind vanity. A white mirror with hooks adorns the wall above the vanity elegantly.
7. Country Bathroom Colors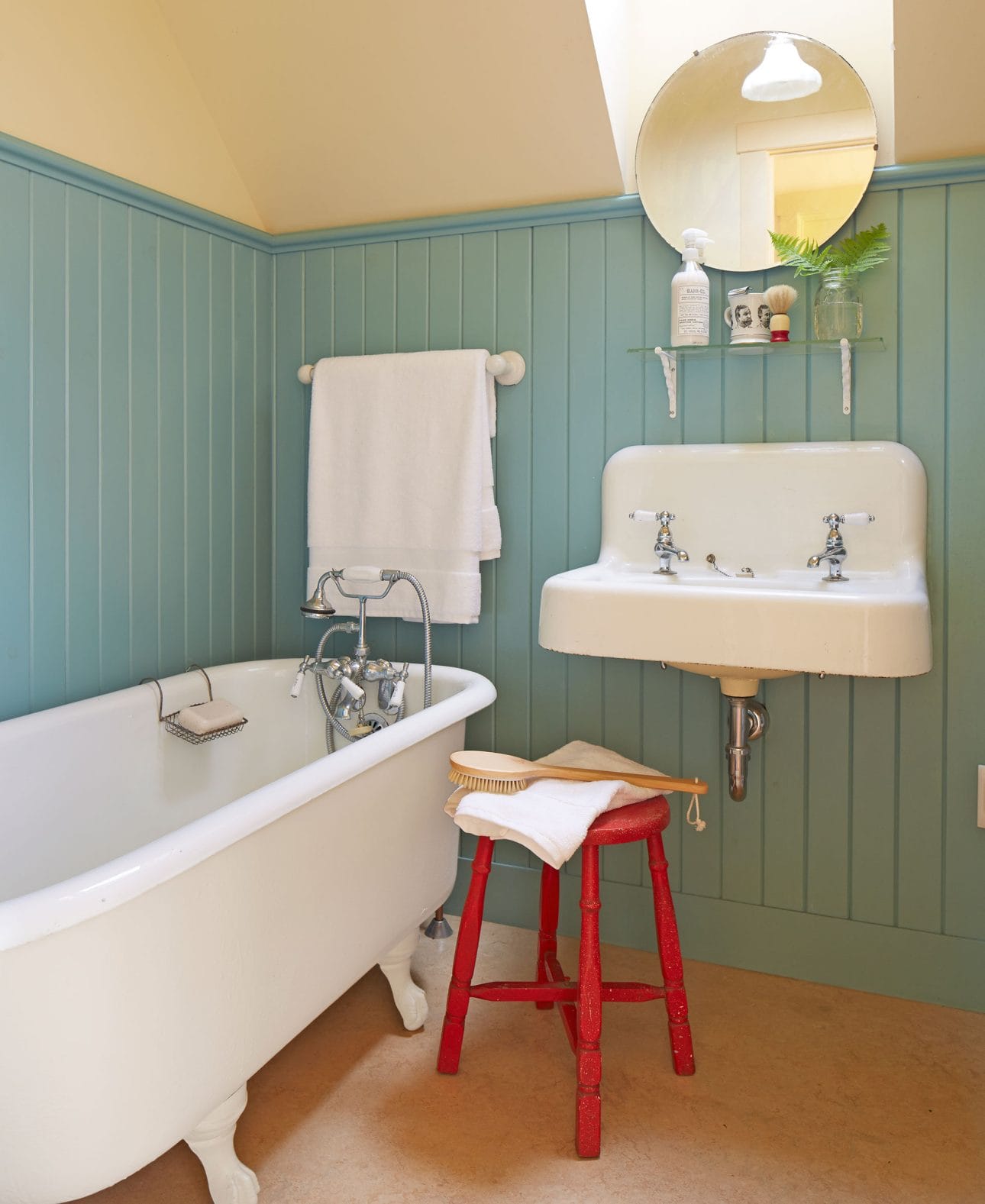 Blue wood panels and light yellow walls freshen up the attic bathroom. White towel bar, roll-top bath, and wall-mounted washstand pop against the bright panels.
A red stool oozes country charm and accommodates bath necessities at once. Greenery breathes life into the zone.
8. Modern Country Bathrooms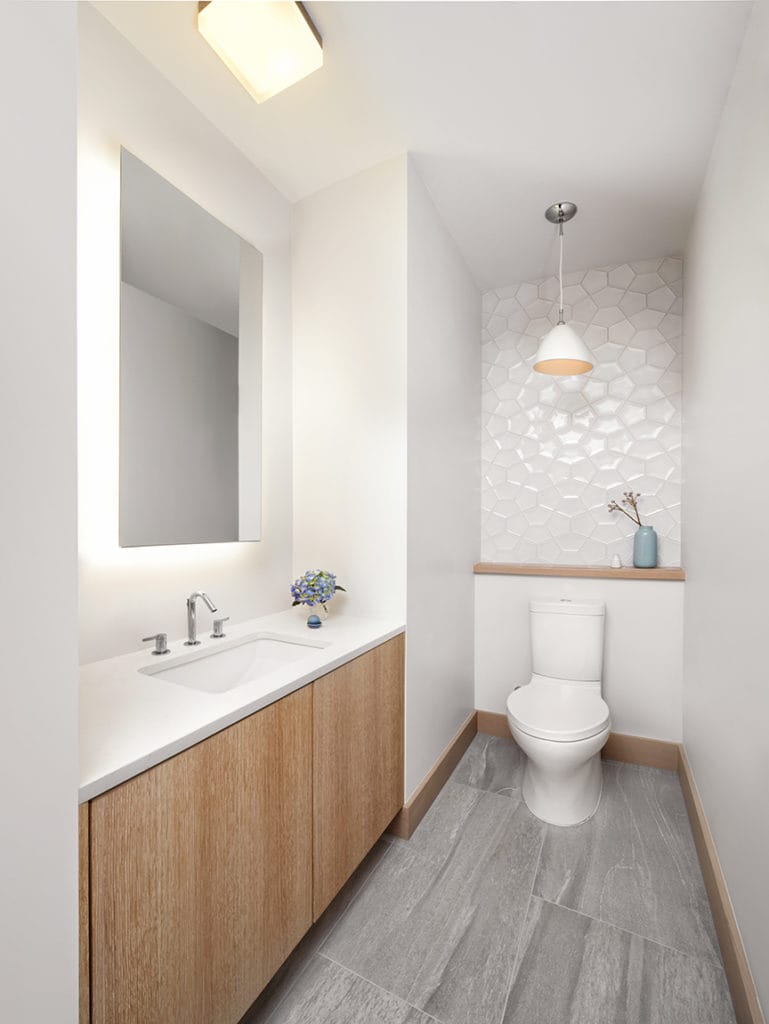 As the image shows, this bathroom is mostly pure white. That is why it does not feel cramped at all despite its small space.
Geometric wall tiles offer a dimensional effect. Gray and natural wood accents exude a sense of comfort, while blue flowers jazz up the interior.
9. Country Bathroom Light Ideas over Mirror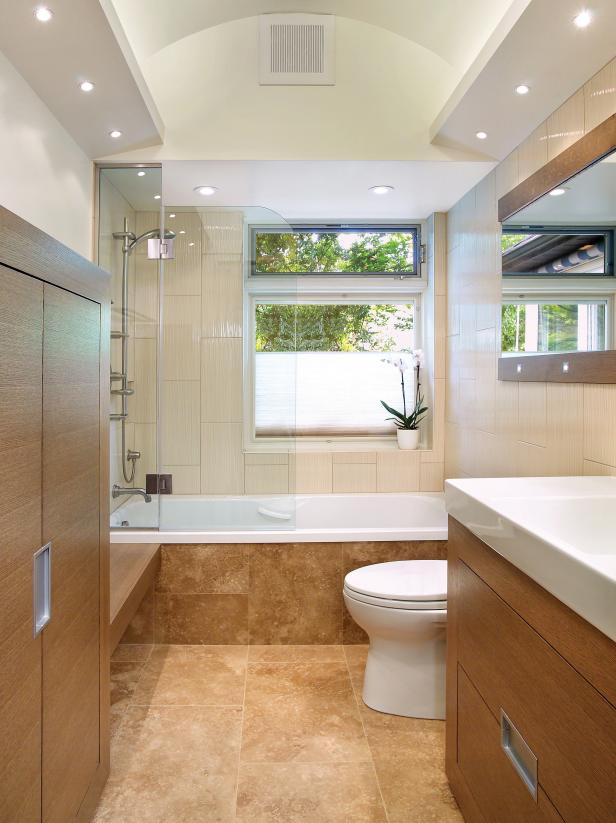 Large subway tiles are vertically laid on the walls. They create the perception of higher ceiling.
Wood furniture units and brown marble tiles deliver nature-inspired textures to the room. The downlights over mirror illuminate the vanity area.
10. Rustic Bathroom Ideas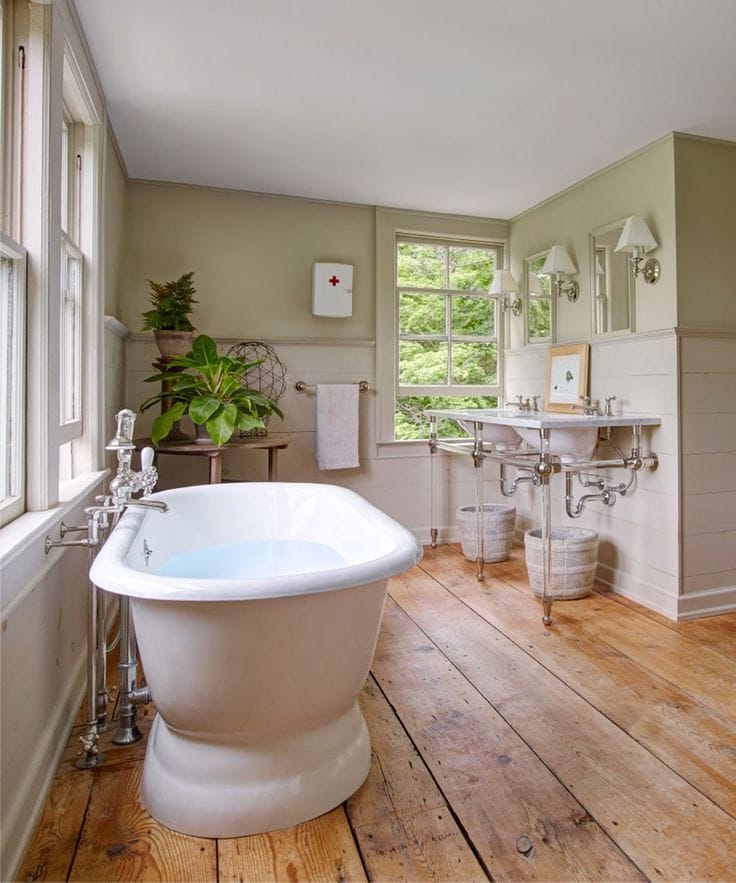 White shiplap panels partner nicely with sage green upper walls. The washstands, wall sconces, and tub embrace country aesthetic.
The weathered wood floor brings a rustic touch to the room. Potted houseplants keep the space from becoming lifeless.
11. Rustic Bathroom Mirror Ideas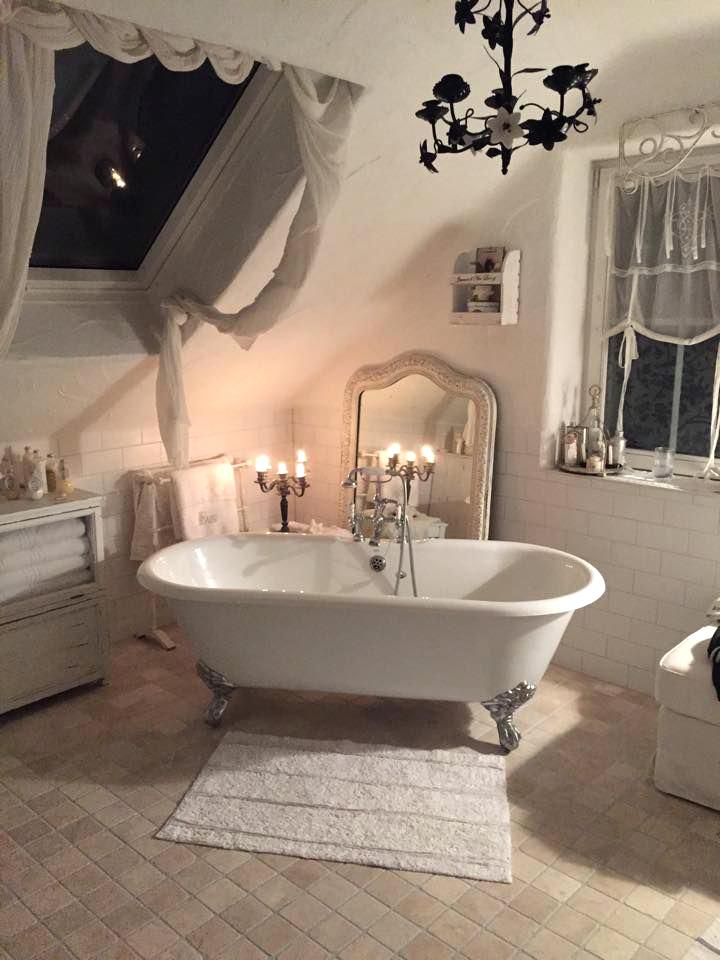 This attic bathroom is nothing but elegant, thanks to clawfoot tub, ornate wrought iron chandelier, and white sheer curtains. The curvaceous mirror introduces a distressed wood finish. Candles provide a romantic glow.
12. French Country Bathrooms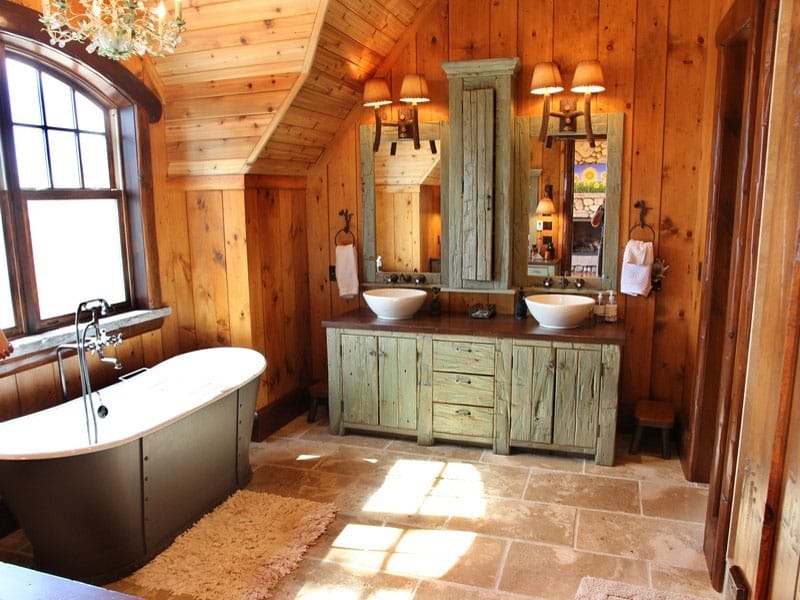 The unfinished wood walls set homey and rustic vibes. Weathered green vanity, cabinet, and mirrors pay witness to the bathroom's century-past beginnings.
Dark-wood arched window lets in lots of sunlight. A stunning chandelier projects French country style. Lastly, a comfortable shag rug tops tumbled stone floor.
13. Country Rustic Bathroom Ideas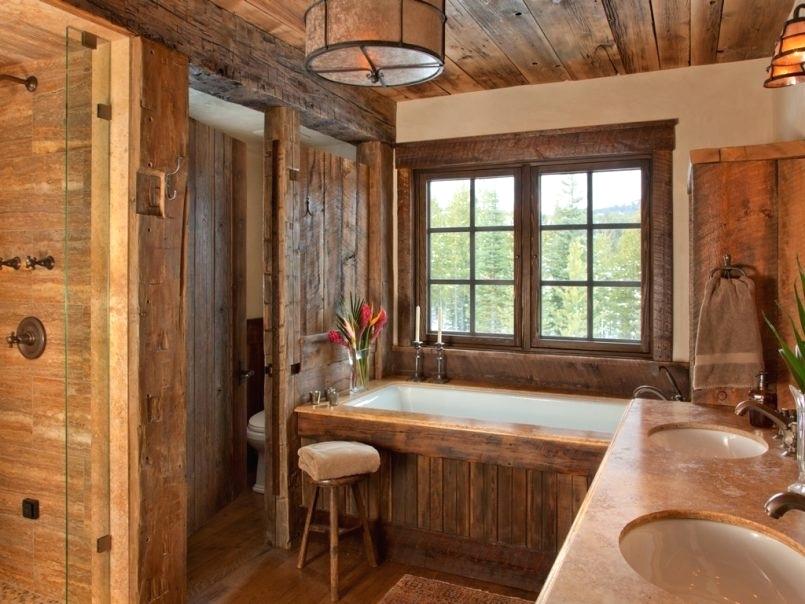 As you can see, this bathroom is covered in weathered woods. Instantly, they impart an aged look.
The windows allow bather to see an enticing outdoor view. Pops of vivid color prevent the area from being dull.
14. Country Bathroom Storage Cabinet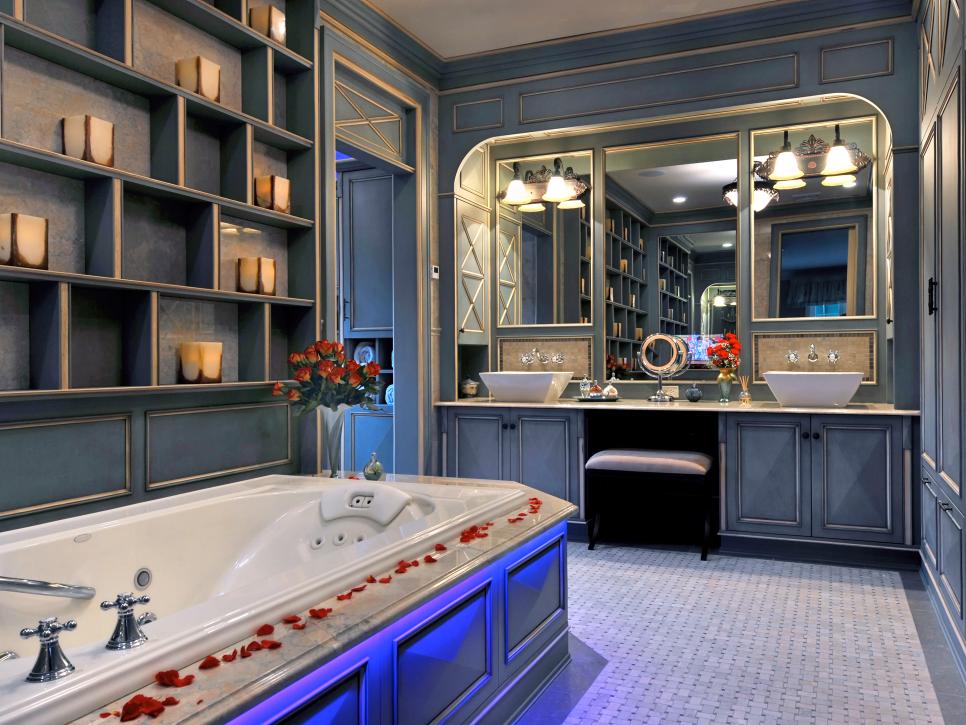 Mirrors, sinks, sconces, and storage cabinets develop a visual symmetry. The open shelves over tub display ornamental pieces.
Blue wall panels let the basket weave floor tiles take center stage. The red flowers energize and beautify the space.
15. Country Bathroom Rustic Rugs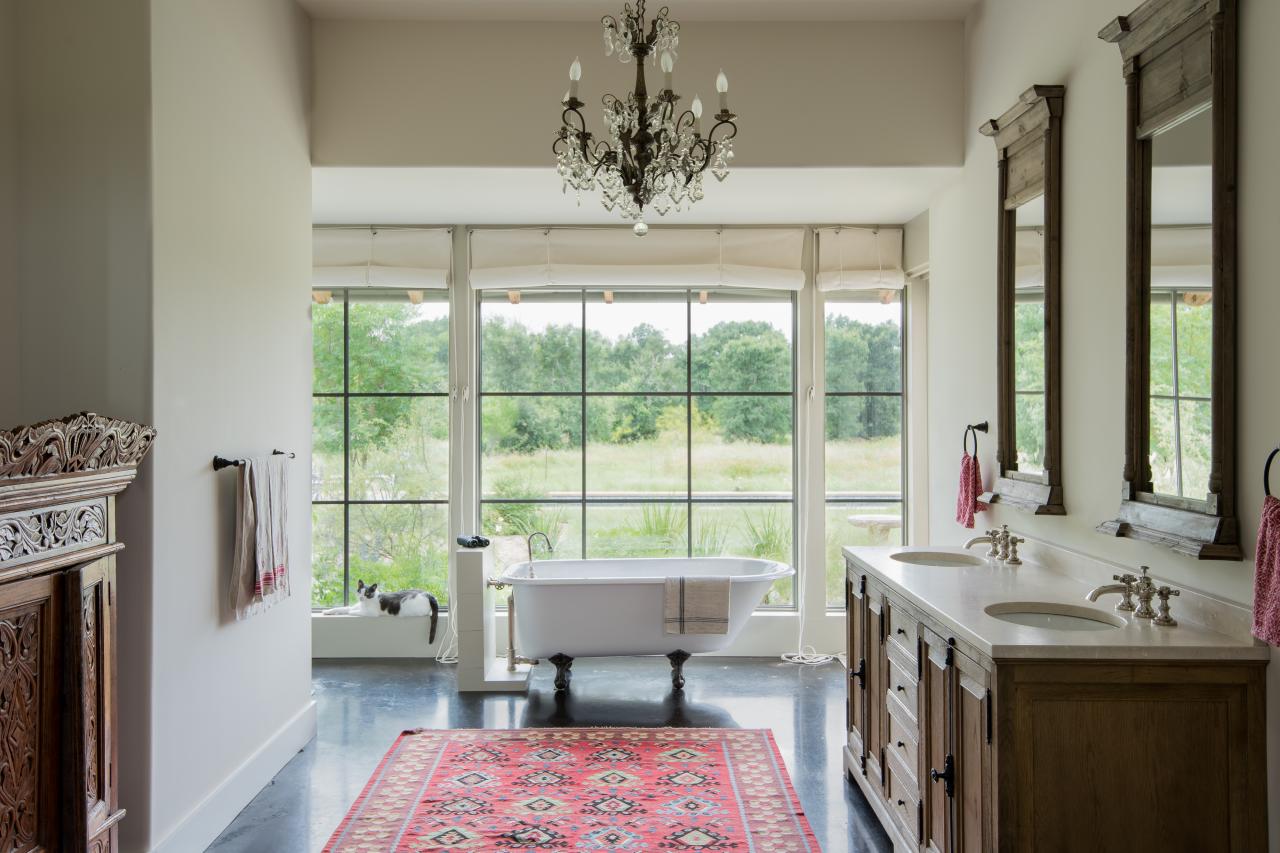 Black polished concrete floor and chandelier contrast marvelously with white surfaces. A well-worn red rug steals the spotlight. Vanity and mirrors have collected character. The views from large windows are across fields.
16. Primitive Bathroom Decor Cheap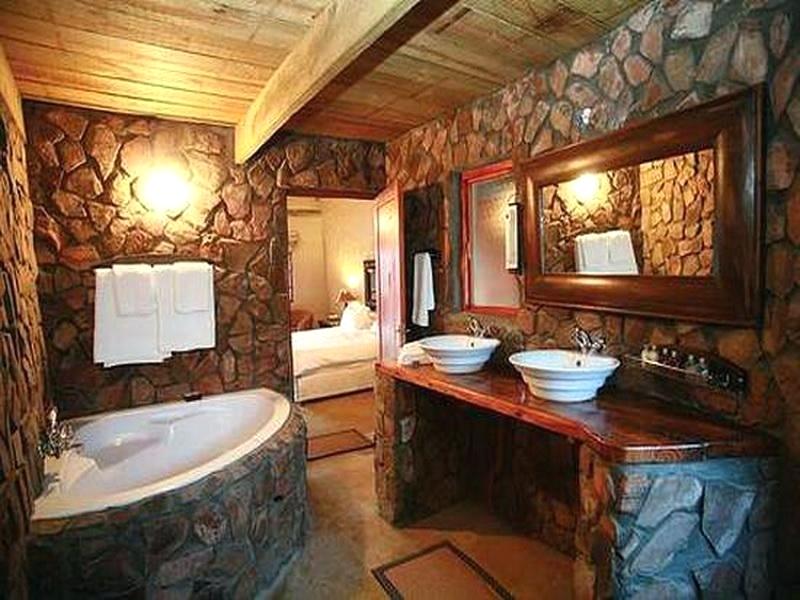 This bathroom maintains its primitive patinas with the help of stone vanity, corner tub, and walls.
The naked wood ceiling and beams up the rustic vibe. Red and dark brown stained mirrors add a perfect final addition to the area.
17. Country Bathroom Wall Cabinets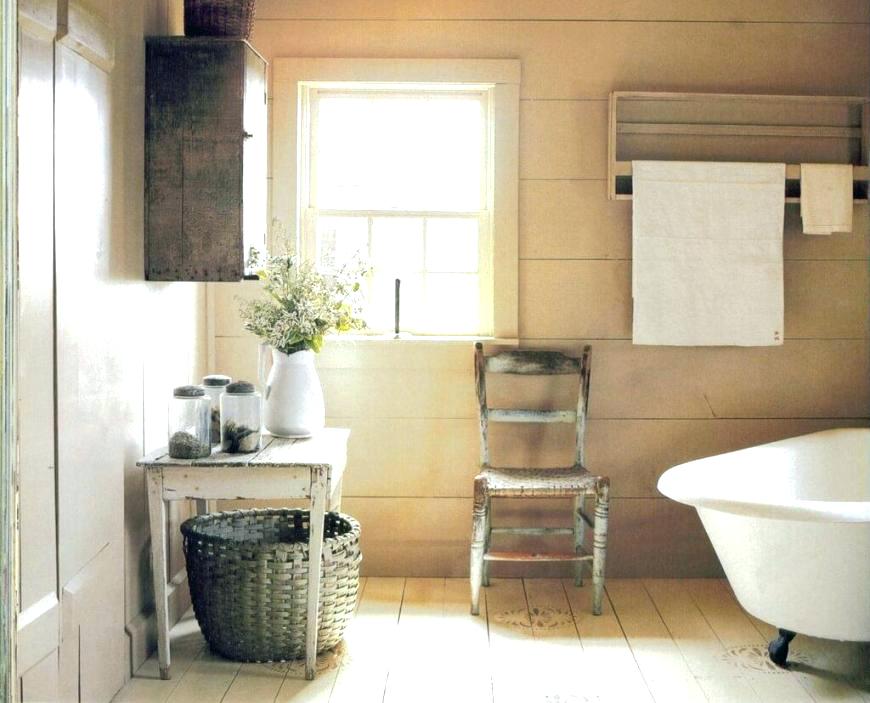 Shiplap wall and floor are cottage take on the country-style bathroom. Chipped-up rattan basket and reclaimed wood wall cabinetwork as storage units. Flowers in a vintage water jug infuse colors and character into the scheme.
18. Modern Rustic Bathroom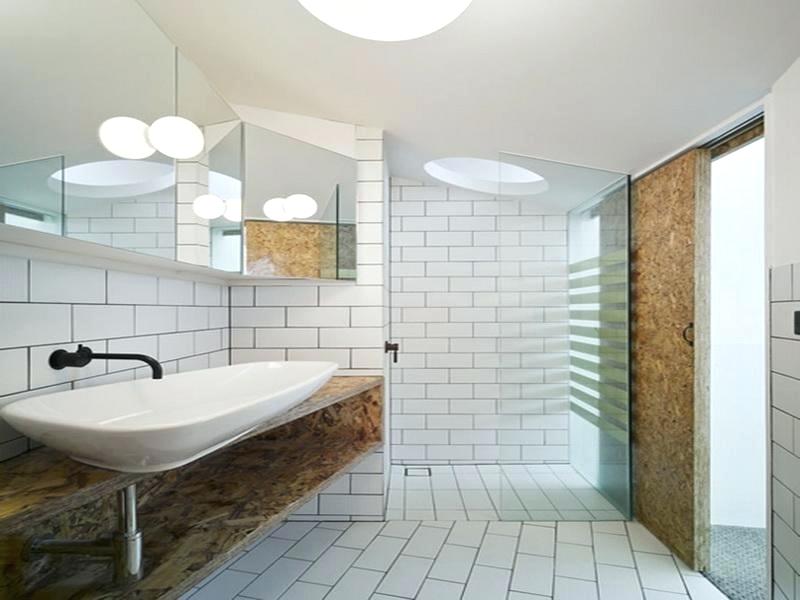 Fibreboard floating vanity and sliding barn door imbue the bathroom with rustic appeal. White subway tiles offer a classic pattern in a modern way. Mirrored cabinets fool the eye into seeing the space is larger.
19. Country Bathroom Wall Decor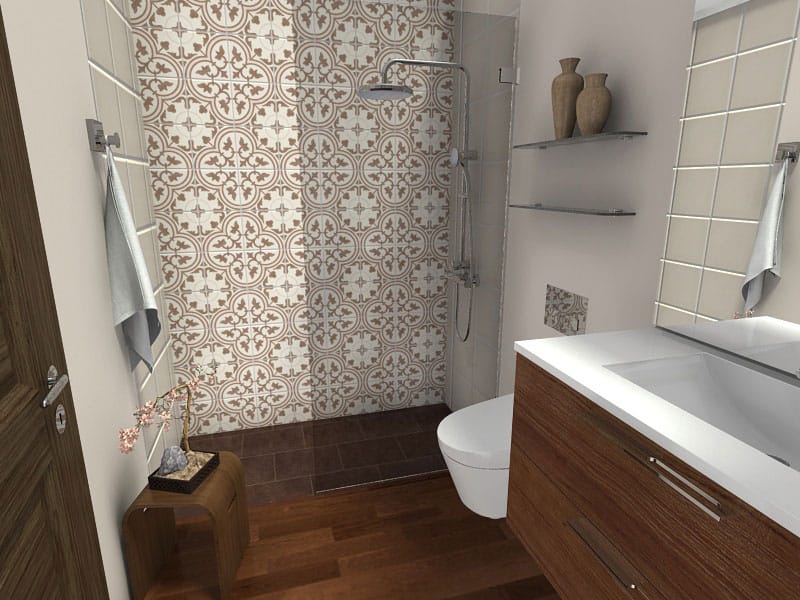 Patterned tiles bring a wow factor to the bathroom. Dark wood floor, vanity, door, and stool along with brown tiles cozy up the space. Two raw wood vases on glass shelf decorate the plain wall.
20. Rustic Bathroom Shower Ideas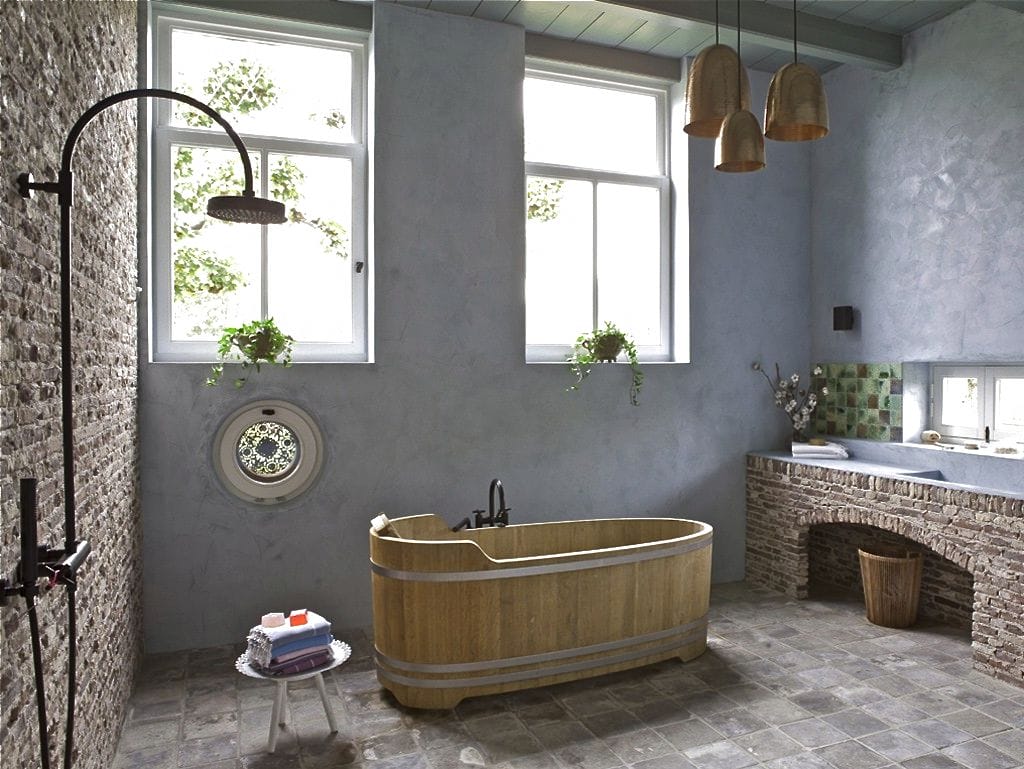 Stone floor tiles, wrought iron shower fixtures, and exposed brick wall instill an industrial rustic feel.
Wooden soaking tub lends the bathroom an Asian flair. Meanwhile, flowers and indoor plants enliven the whole area.
21. Country Bathroom Paint Colors 2019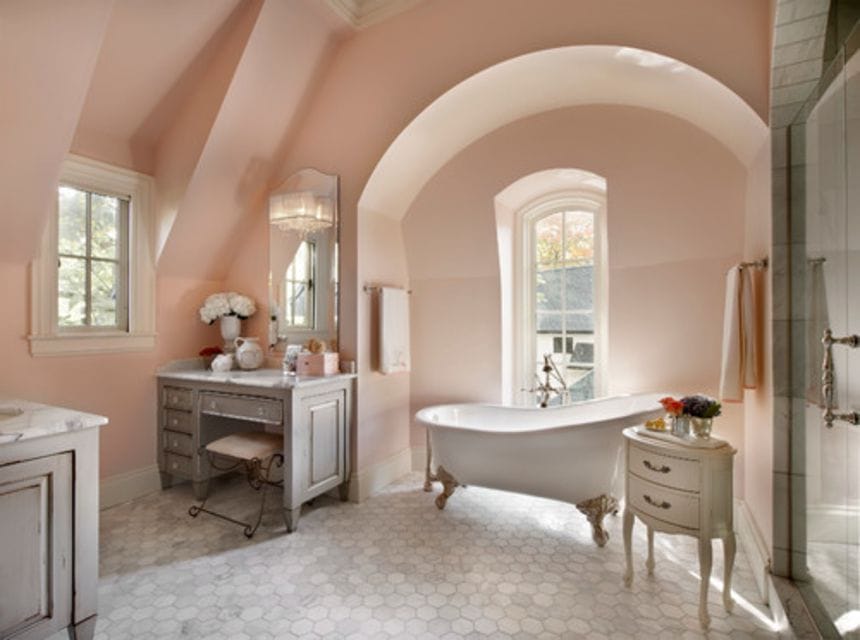 The curvaceous mirror, arched wall, and window reinsure the bathroom with splendor. A white clawfoot tub looks pretty against pink backdrop. The distressed wood furniture pieces ooze assembled-over-time charm.
22. Rustic Bathroom Vanity Lights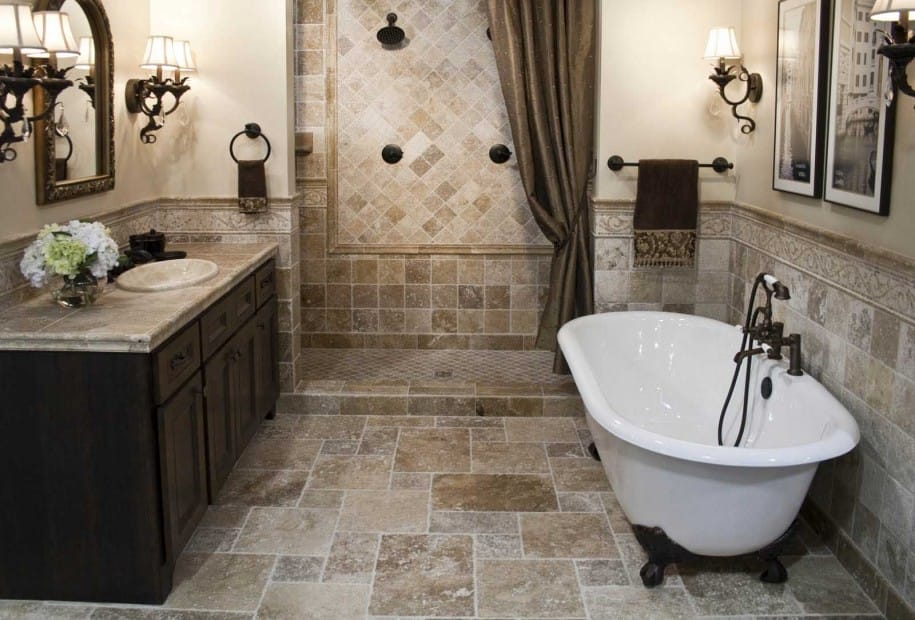 Here, limestone tiles dress the floor in a French pattern. A pristine white clawfoot tub becomes the center of attention. Two antique vanity lights accompany the arched mirror. They provide unexpected rustic appeal as well.
Hope you gain inspiration for your upcoming renovation project with those country bathroom ideas. Whatever idea you choose, be sure you create a bathroom that is both inviting and practical.