Do you find your bathing space boring? All you need is a bathroom refresh. Before taking on an upgraded journey, you should read my captivating bathroom countertop ideas first. Therefore, you can create your oasis.
Here, I have rounded up a wide array of countertop materials, from marble to concrete. They are not just functional and good-looking, but also give any space a high dose of style. Without further ado, let's explore these options and tips.
1. Laminate Bathroom Countertop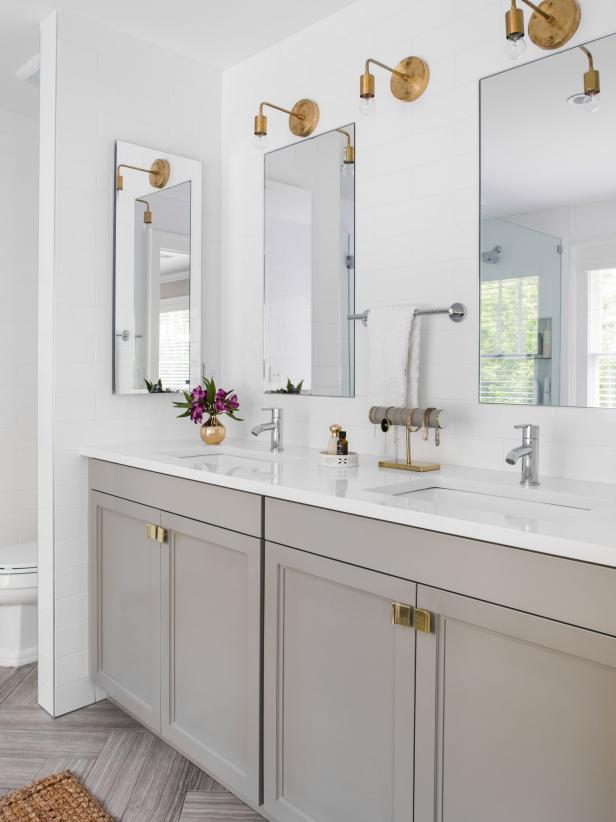 Are you on a tight budget? Laminate vanity top is the best way to go. It is durable, versatile, and affordable at once.
In this picture, white laminate top countertop contrasts subtly with ash-gray cabinetry. Gold accents add a dash of glam.
2. Tile Bathroom Countertop Ideas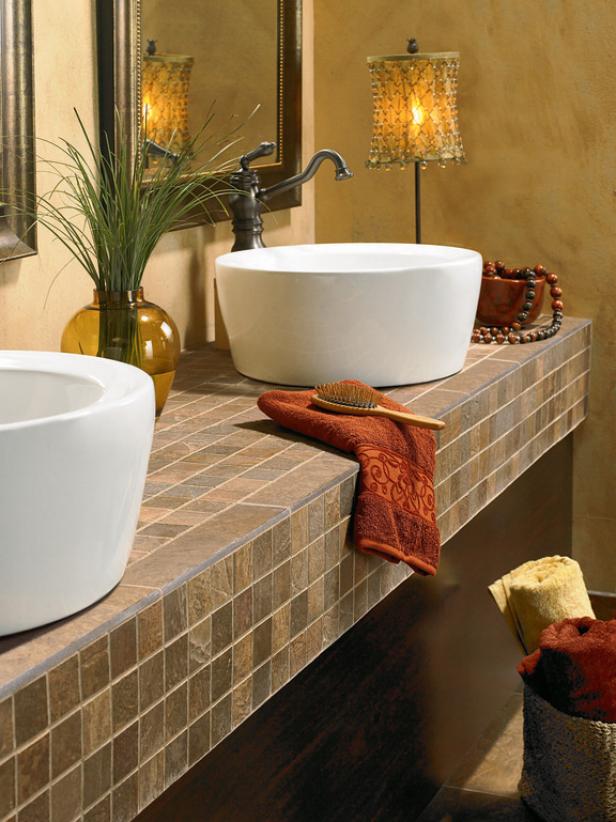 As you can see, this countertop is made of square stone tiles. They introduce rustic appearance and striking grid pattern.
Soft peach backsplash and brown accent walls exhibit a tranquil atmosphere. Rust orange bowl and towels infuse a bit of warmth.
3. Marble Bathroom Countertops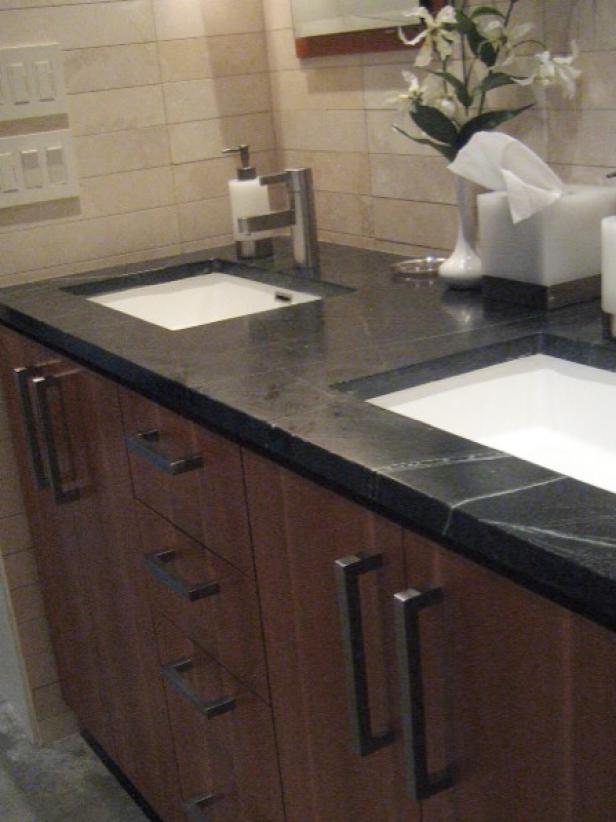 Black honed marble countertop lends the bathroom instant drama, textural richness, and timeless luxury. It teams well with wooden vanity.
The cream subway tiles promote a Zen-inspired ambiance. Artificial flowers in vase titivate the scene.
4. Reclaimed Wood Vanity Tops
Since her half bathroom is tiny, the homeowner paints the walls white. Meanwhile, hexagonal and mosaic floor tiles bring dimension to the space.
The reclaimed wood vanity top celebrates nature's rawness. Wicker baskets and burlap rug radiate coziness.
5. Concrete Countertops
Polished concrete countertop carries the industrial appeal and a sleek touch to the bathroom. Wire mesh baskets and iron drawer pulls intensify the masculine vibe.
Wooden framed mirror, floor, vanity, and wainscoting maintain the homey atmosphere. Artwork adorns the empty wall.
6. Bathroom Countertop Options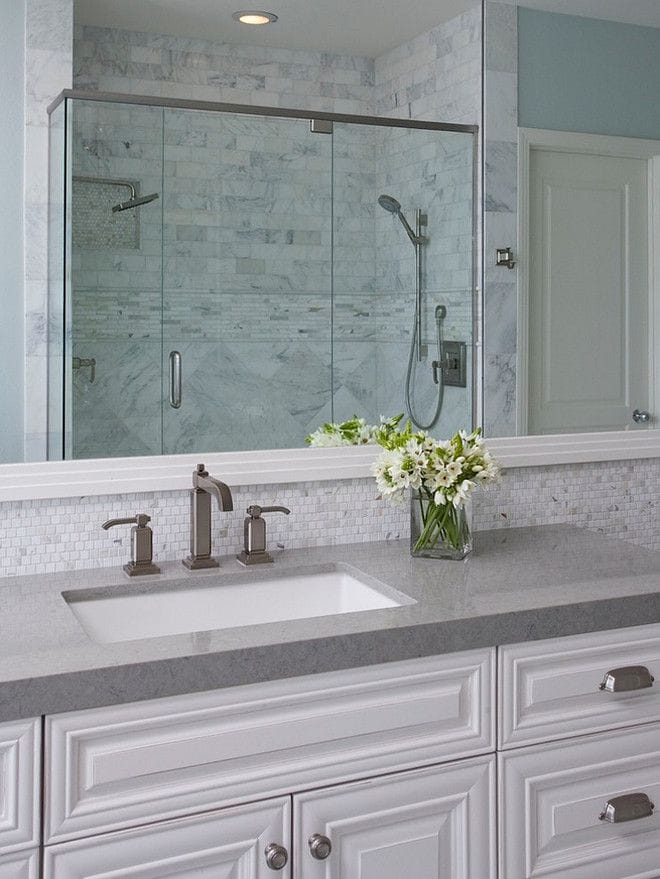 Glass-enclosed shower and natural stone countertop lead to a stylish bathing space. Pure white cabinets splendidly meet the vanity top.
Metal fittings provide a visual connection. Meanwhile, white flowers soften the scheme.
7. Travertine Countertops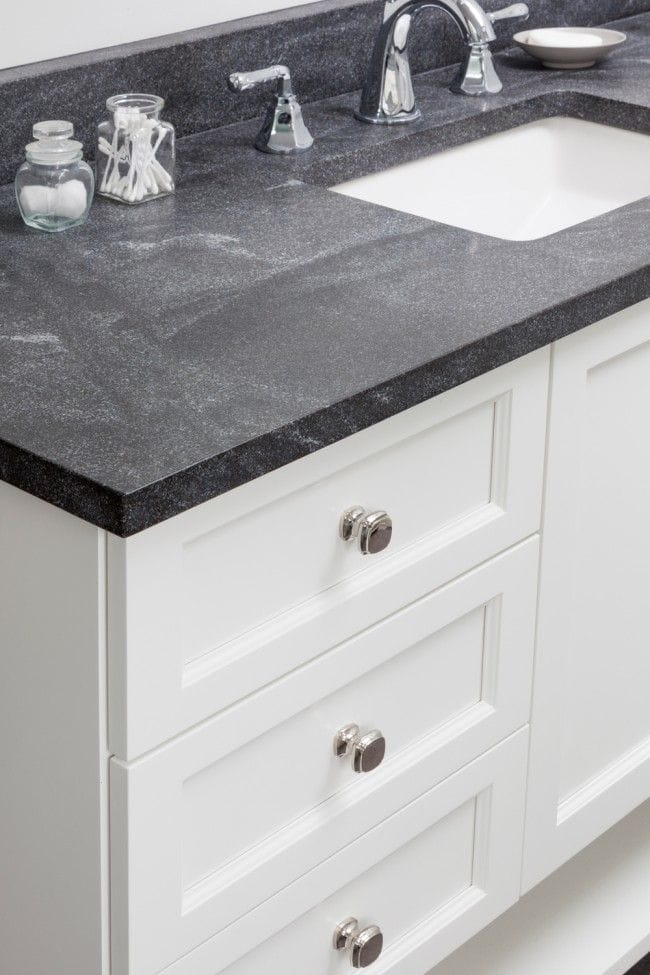 The black honed travertine countertop shows off its ravishing pattern. It develops a casual look in a flash.
White backsplash and cabinetry allow the countertop to sing out. Stainless-steel faucet and drawer knobs lend the bathroom a pop of polish.
8. Granite Colors for Bathroom Countertops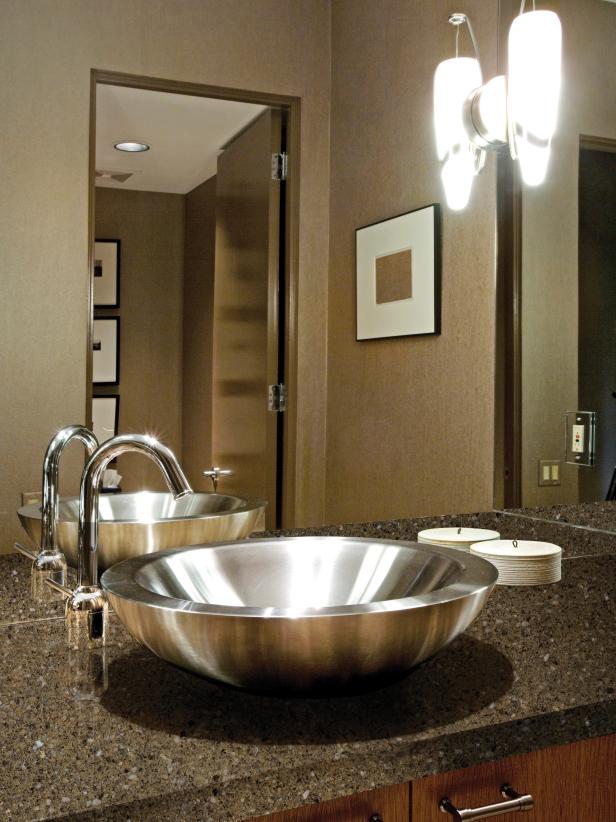 As the picture shows, brown granite countertop has white and black specks. It collaborates with wooden vanity and tan walls for a calm scene.
Shiny stainless-steel elements ooze luxury. Downlight and pendant lights keep the space from being gloomy.
9. Quartz Bathroom Countertop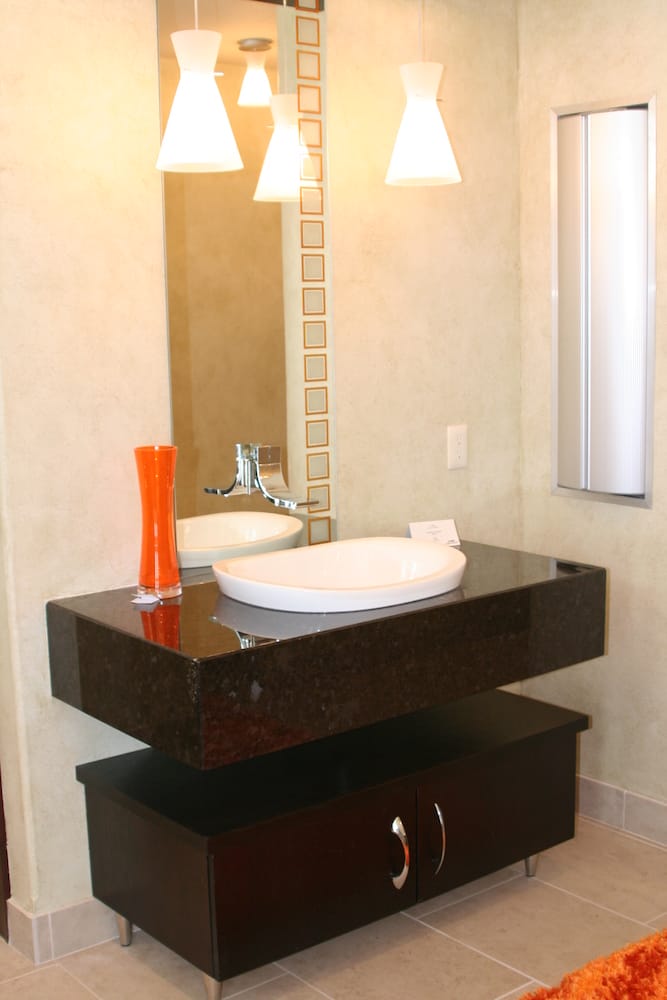 Cream walls and sand floor tiles set a serene ambiance. Meanwhile, orange rug and vase energize the bathing space.
Black quartz countertop and dark wood cabinetry evoke a sense of depth. Three retro pendant lights cast a restful glow.
10. Bathroom Countertop Decorating Ideas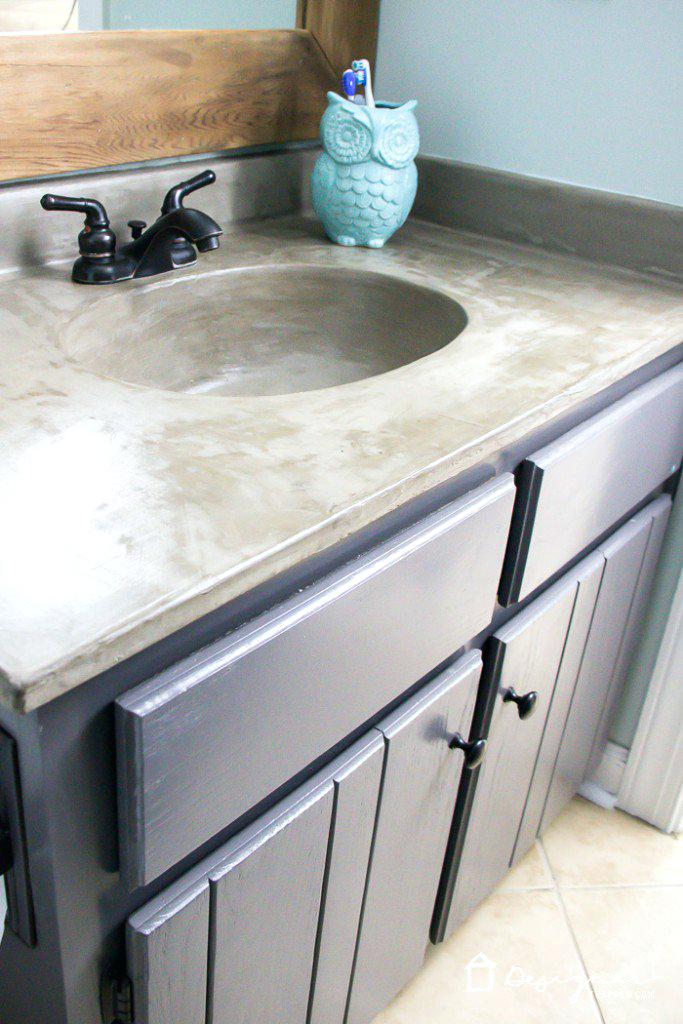 The feather finish concrete countertop exhibits imperfect aesthetic. It also mirrors the manly character of black metal hardware.
Steel-blue vanity contributes to the bathroom's industrial flavor. Light blue owl toothbrush holder spruces up the plain countertop.
11. Granite Bathroom Countertop Pictures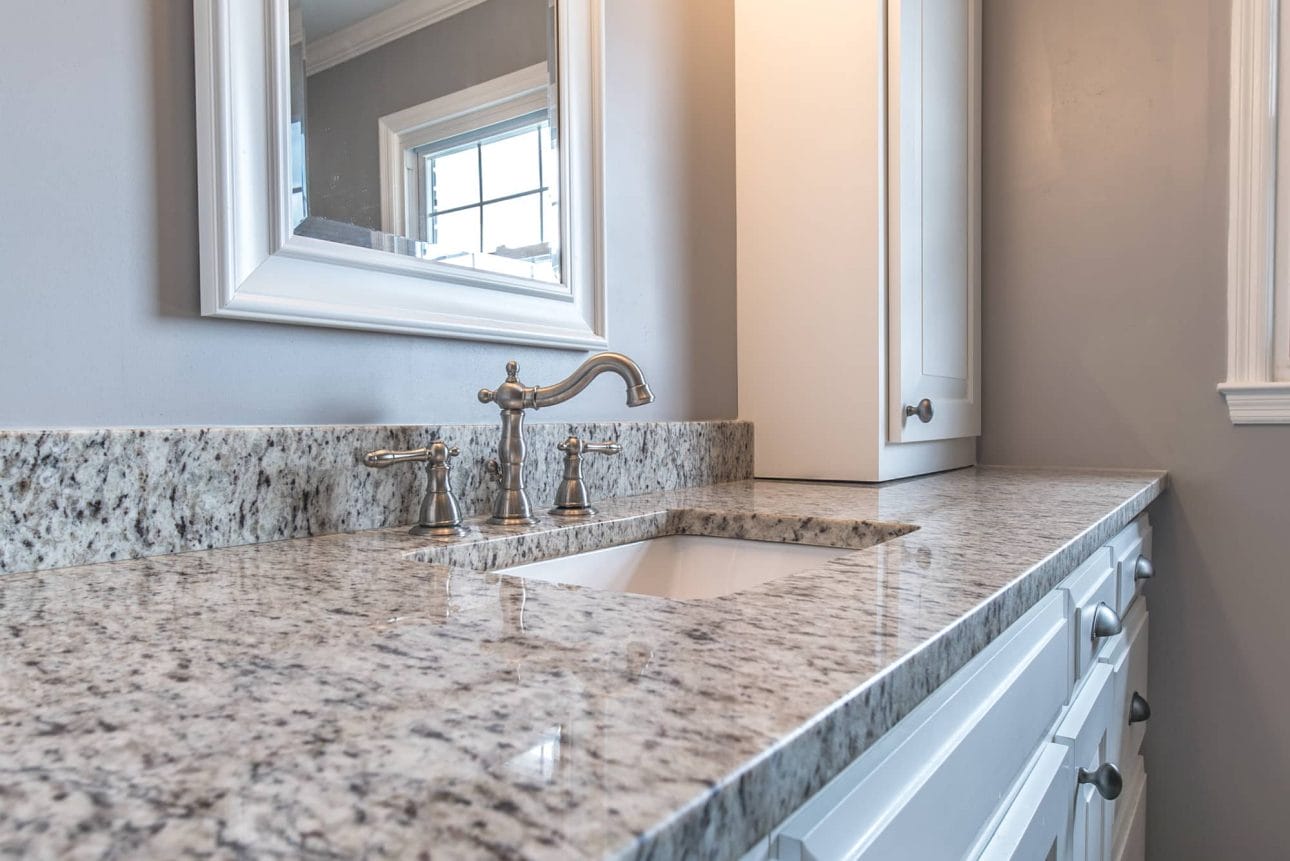 Here, light gray walls and white cabinets preserve a clean, airy environment. The framed mirror creates the perception of a bigger space.
Creamy beige granite countertop is beyond mesmerizing, thanks to black specks. It raises the beauty of bathroom too.
12. Solid Surface Bathroom Countertops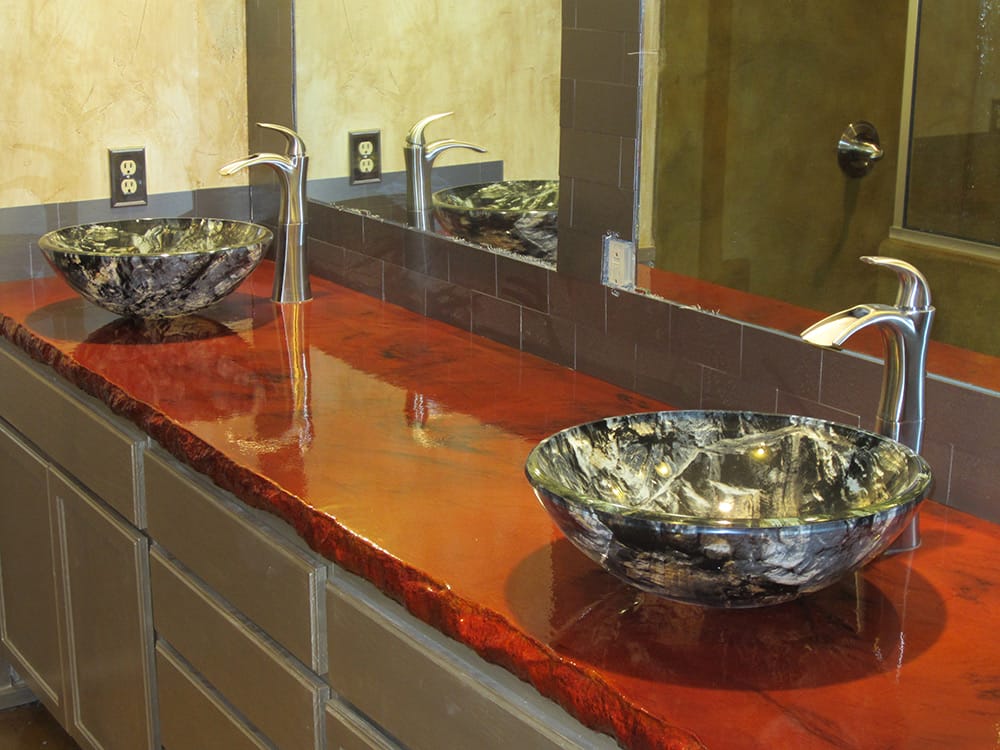 Taupe subway tiled-backsplash and ash gray cabinetry along with cream wall emanate a cozy atmosphere. Metallic faucets add a dash of opulence.
Red stained solid surface vanity top gives the bathroom vibrancy and rustic grandeur. Monochrome marble sink bowls convey enduring allure.
13. Glass Vanity Tops for Bathrooms
The white sink looks outstanding against the taupe backsplash. Meanwhile, light blue walls deliver a rejuvenating ambiance to the space.
Translucent glass countertop infuses a unique character and elegance into the room. The wooden cabinet demonstrates contemporary contours.
14. Inexpensive Bathroom Countertop Ideas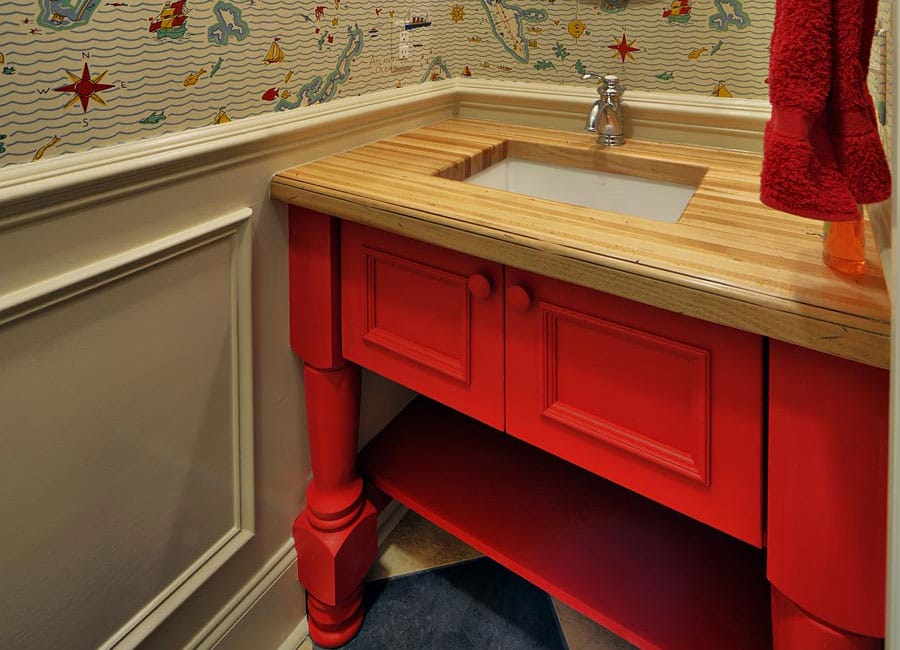 Are you searching for an inexpensive vanity top? Construct your countertop from the unfinished wood board. It carves an organic look and a welcoming vibe.
Match the countertop with red vintage cabinet for a lively scheme. The sea-inspired wallpapered walls lend the bathroom a fun touch.
15. Rustic Wood Bathroom Countertops
White ceiling and walls make the space feel open. Meanwhile, a frameless mirror helps amplify light and visually extend the walls.
Raw wood countertop pulls off the rustic charm. Copper-painted exposed pipe and orange towels pack the room with homey air as well as cozy textures.
16. Teak Countertops Bathroom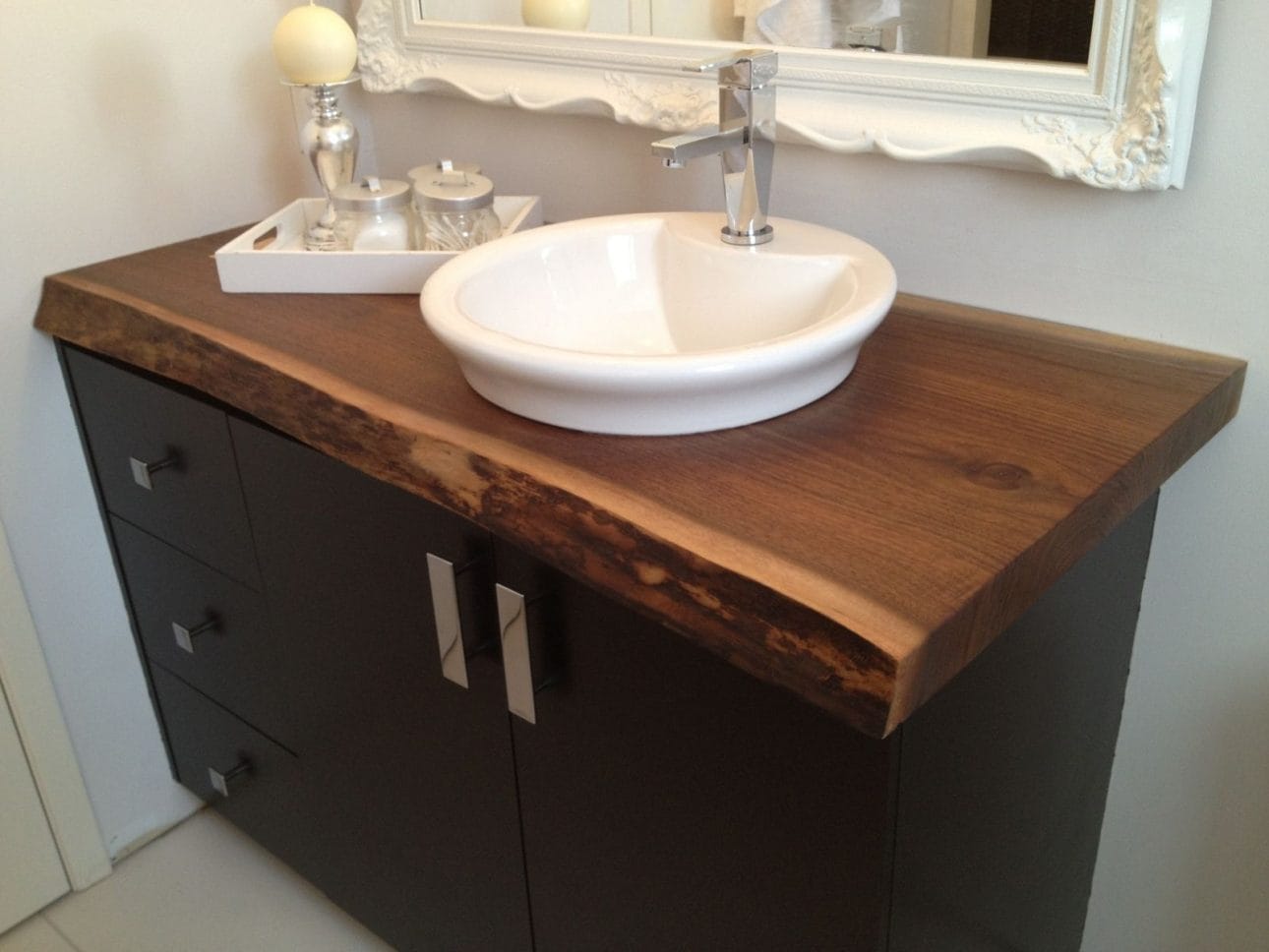 This edge teak countertop embraces nature's raw splendor. Not to mention, it injects rich color and personality into the bathroom.
Deep brown vanity heightens the warm feel. The white mirror acts as a showstopper, while round sink softens the sharp edges.
17. Marble Bathroom Countertops Cost
Silver-gray walls impart a sophisticated setting. The rust-orange accents generate a snug, energizing atmosphere.
Polished marble countertop creates a high-end outlook. It highlights white and brown tones as well. Lastly, gold sink, mirror, glass, and faucet collaborate with fancy countertop surface.
18. Corian Bathroom Countertops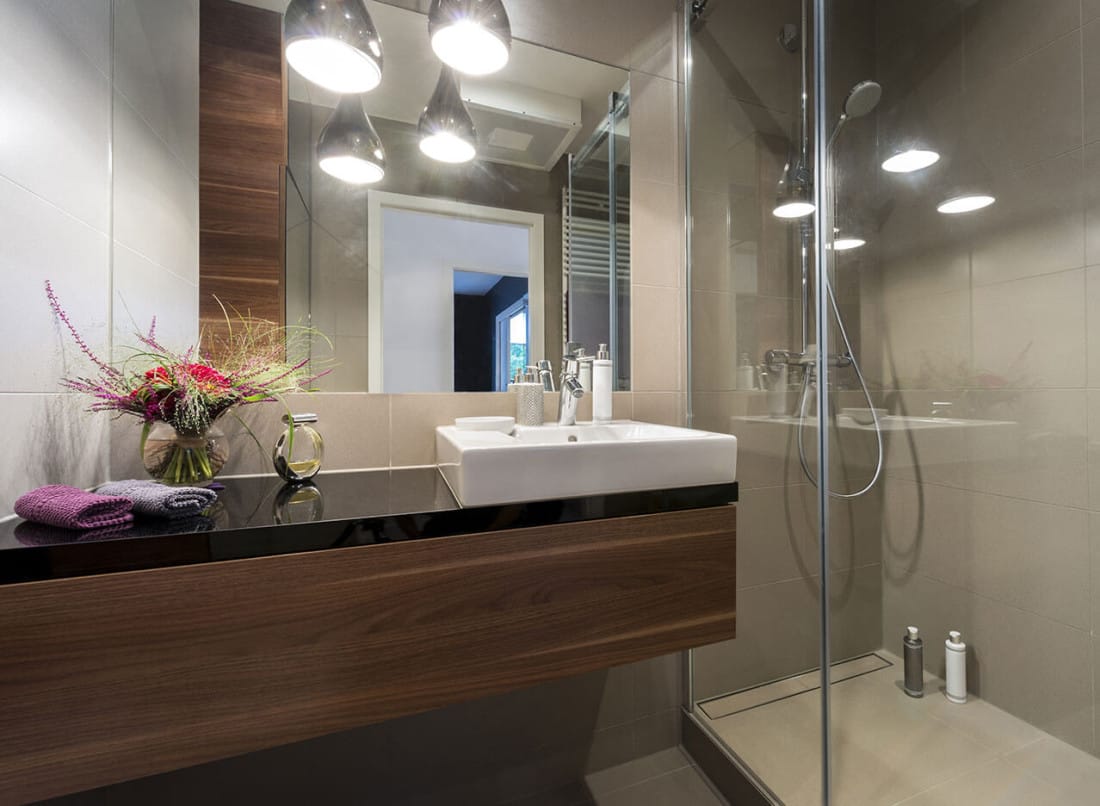 Sand and light taupe tiles make the bathroom feels inviting. Mirror and pendant lights keep the small bathing space bright.
Black Corian countertop and floating wood vanity project minimalist aesthetic. Flowers in a vase and rolled towels bring splashes of vivid color to the otherwise neutral room.
19. Dark Limestone Countertops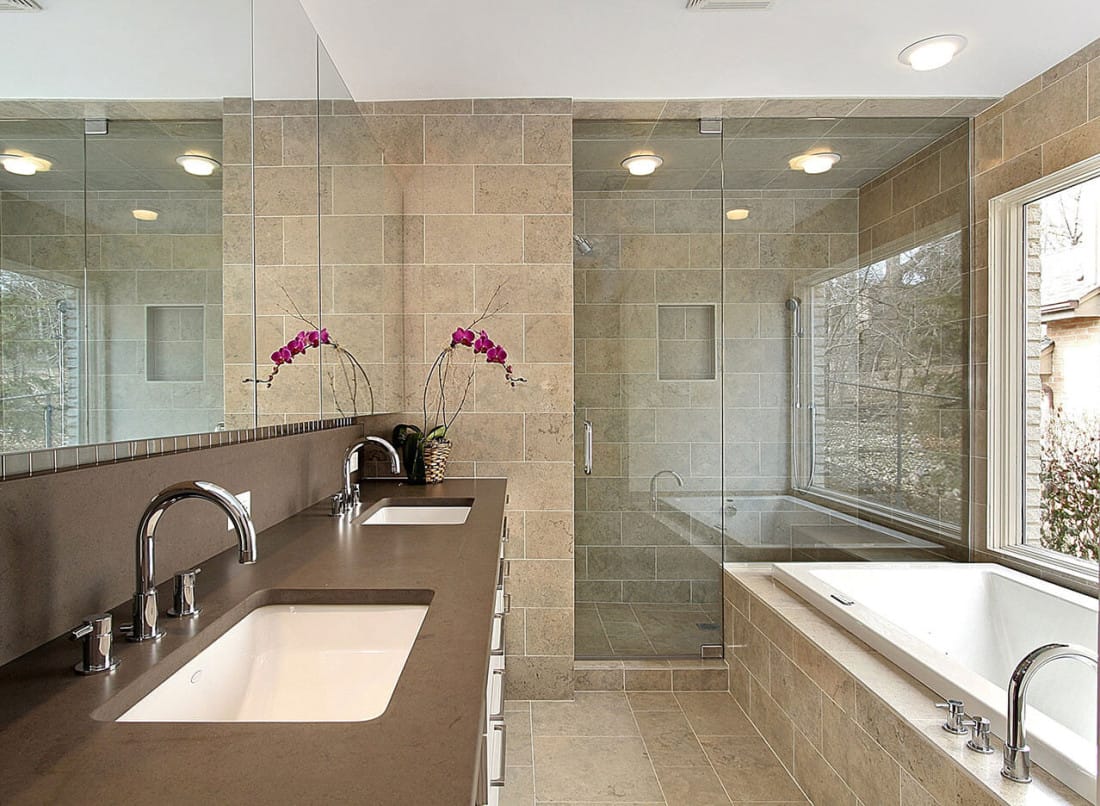 This master bathroom features built-in rectangular soaking tub and glass enclosed-shower. Light-toned subway tiles promote the relaxation vibe.
Dark brown limestone countertop supplies a glamorous air. It is a fascinating contrast to white cabinetry too. Purple flowers liven up the bathroom in a split second.
20. Custom Terrazzo Countertops
Here, polished gray terrazzo countertop complements backsplash and walls. Its black flecks are coordinated with rich brown cabinets and framed mirror.
Both gleaming countertop and stainless-steel accents exemplify an upscale scene. White sink and base molding lighten the bathing space.
21. Soapstone Countertop Colors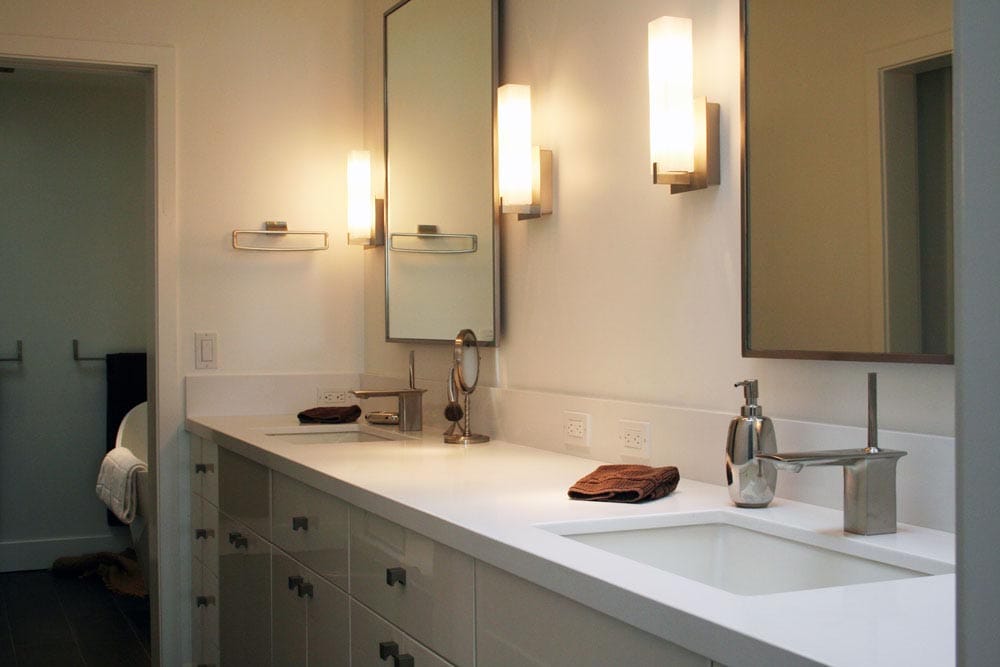 The soapstone countertop comes in pure white. It exudes the feelings of openness and cleanliness. Brown hand towel pops on it awesomely.
Light gray cabinetry lends the bathing space a subdued contrast. Mirrors, sinks, faucets, and wall sconces carve formal balance.
I hope that you enjoy those bathroom countertop ideas. The material of the countertop for bathroom remodel greatly depends on your personal style and budget. So, what's your choice?