Color can change the way your bathing space looks. Using a new color scheme is more economical than doing a complete interior makeover. If you like simple changes, let's dive into my list of awe-inspiring bathroom color ideas.
With these design inspiration, for sure you won't remain undecided. They help you accomplish the project easily. Whether you are in love with muted tones or bold hues, this lineup of bathrooms is sure to steal your heart.
1. Royal Blue Bathroom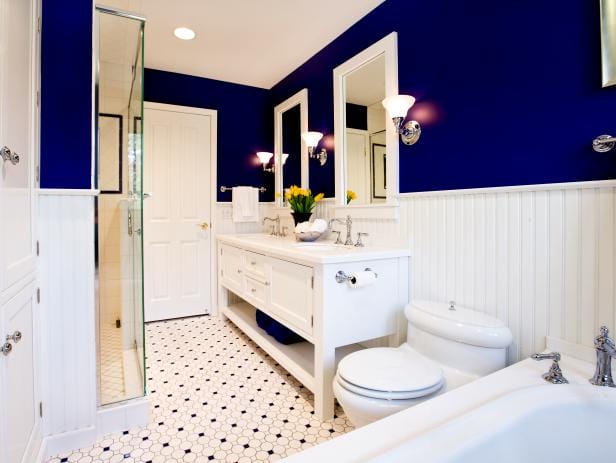 White ceiling, wainscoting, door, bathtub, vanity, and toilet produce an open environment. The patterned floor tiles act as a focal point.
Royal blue on the upper half of the walls lends a masculine vibe to the bathroom. Flowers and delicate wall lamps feminize the space.
2. Orange Bathroom Paint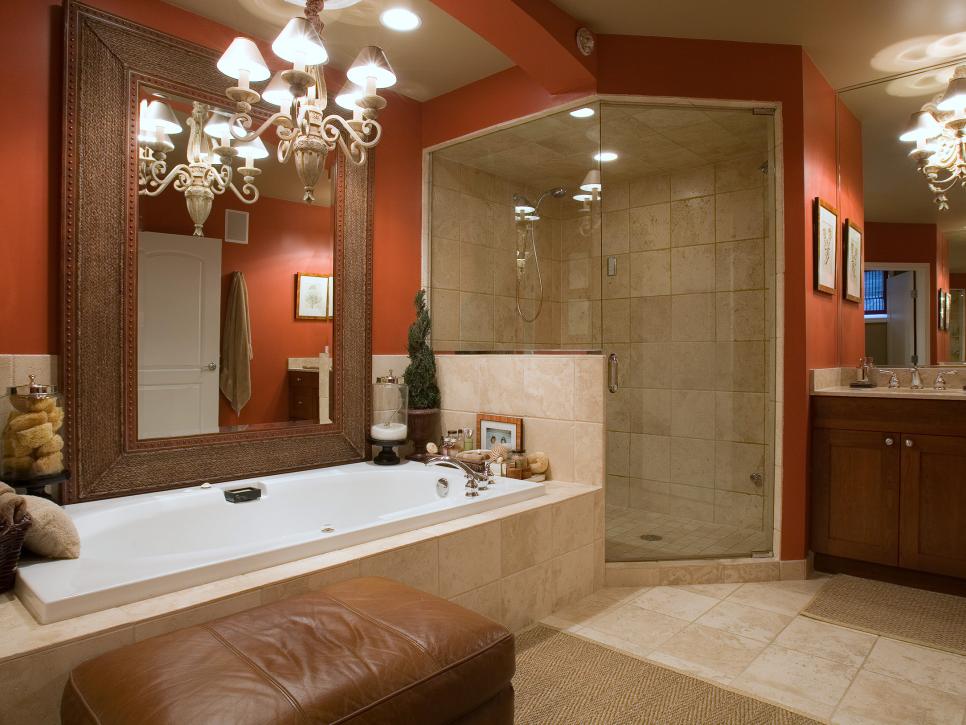 The walls of this bathing space are painted rust orange. They instantly generate a warm atmosphere.
Cream and beige tiles radiate serenity throughout the area. Meanwhile, brown leather bench and traditional chandeliers exude an air of luxury.
3. Brown and White Bathroom Ideas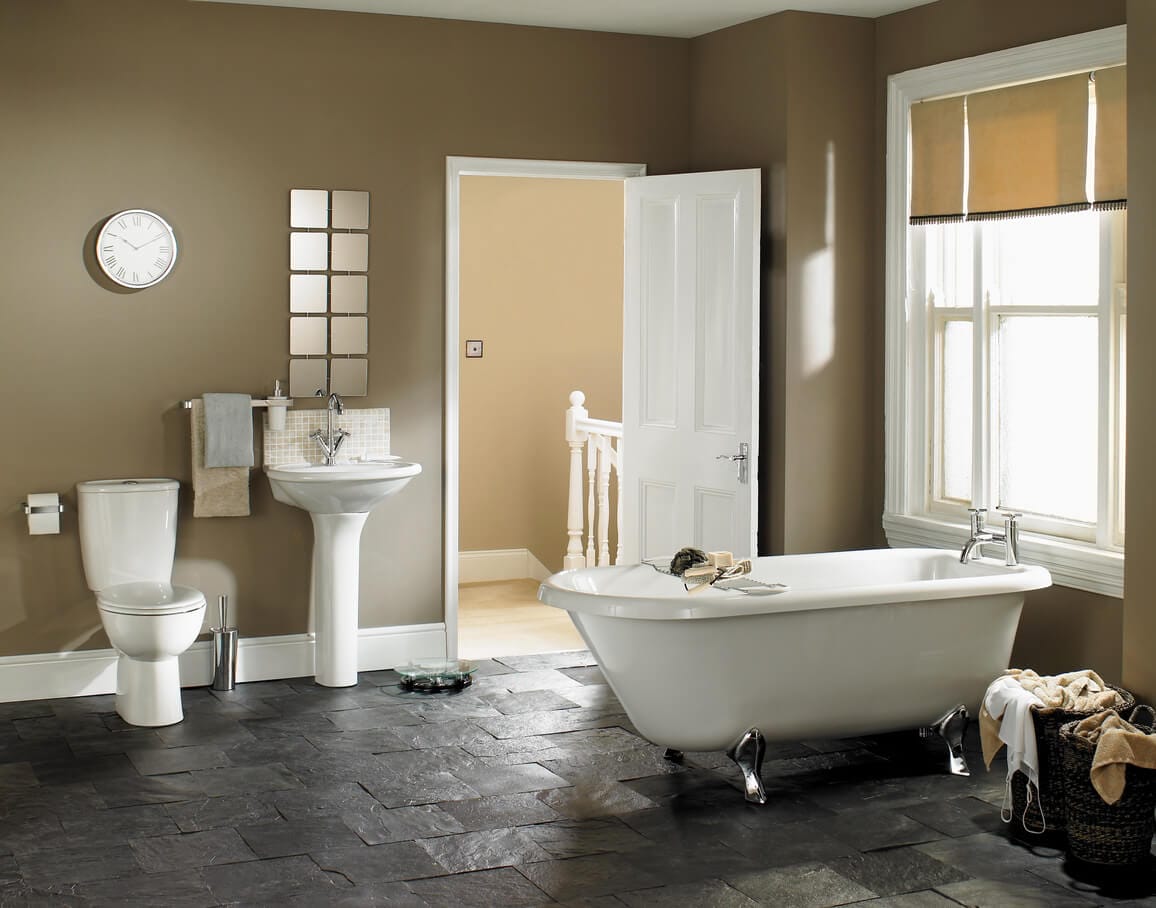 Khaki brown walls create a snug ambiance. Additionally, they allow white clock, sanitary ware, tub, door, and window to be noticeable.
Black natural stone floor tiles offer a rustic look and a sense of depth. The oat brown roller blind sets a welcoming mood.
4. Small Cream Bathroom Ideas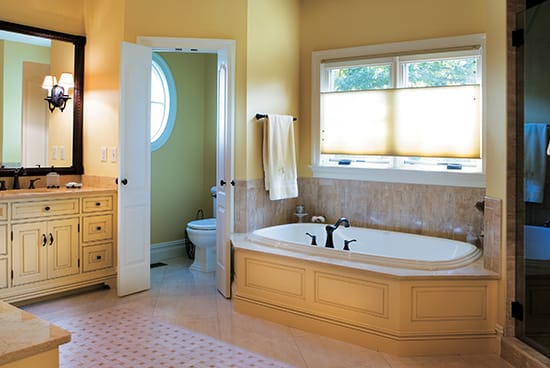 This small bathroom is outfitted with a Jacuzzi tub. It gives the space a spa-like atmosphere. Black framed mirror and hardware add a bit of drama.
The cream vanity, window blind, and walls transform the room into a personal getaway. Basketweave flooring highlights cream and white hues.
5. Purple Bathroom Decor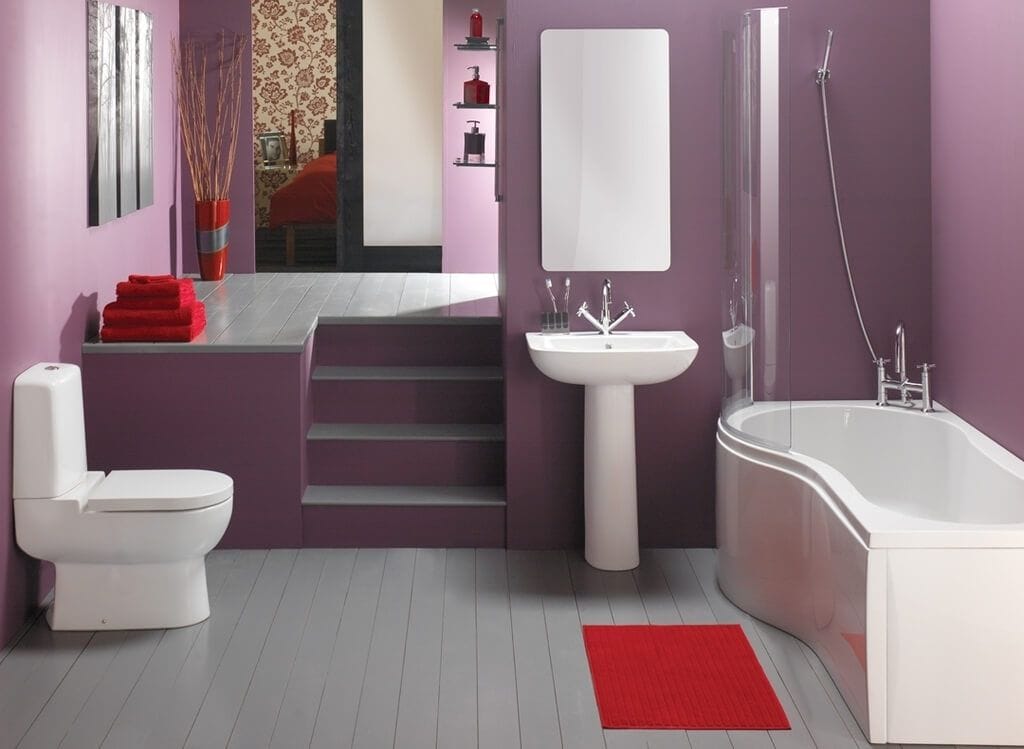 Pastel gray-painted wooden floors and treads introduce a tranquil setting. Meanwhile, purple plum walls and risers deliver a feminine feel.
Red accents spice up the otherwise soft-toned space. Dead stems and ombre gray works of art embellish the area.
6. Blue and White Bathroom Decorating Ideas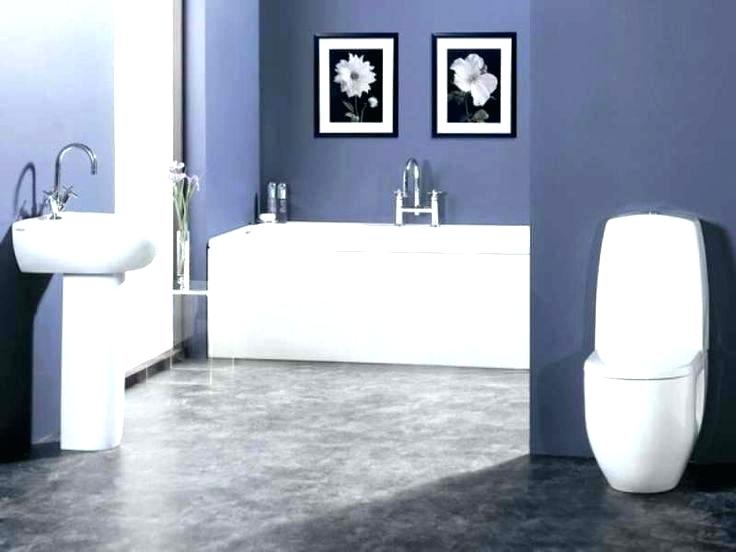 Pigeon blue walls promote a soothing scene. White tub, toilet, and pedestal sink stand out against them.
The polished concrete floor and stainless-steel hardware celebrate industrial aesthetic. Flowers in a vase and floral wall art act as the decorative pieces.
7. Bathroom Color Combinations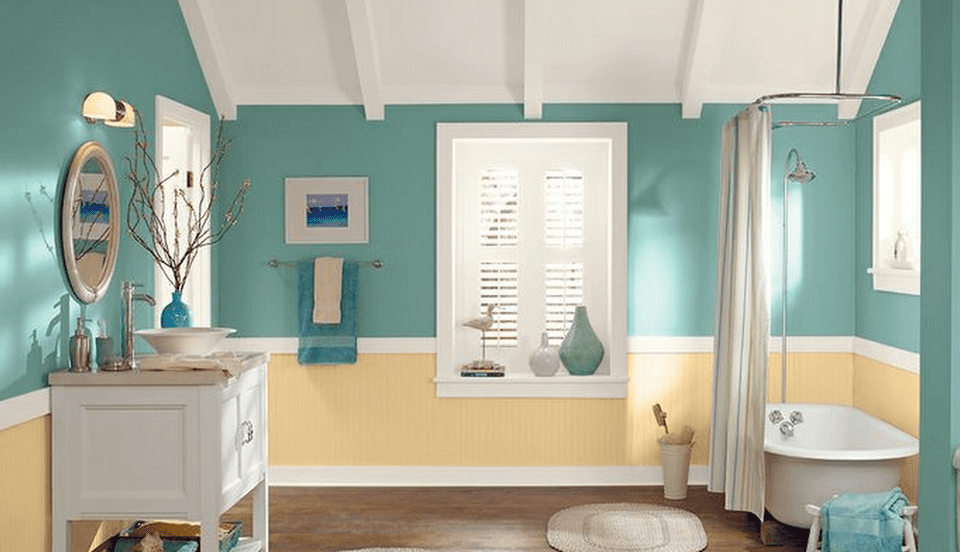 You have been dreaming of a fresh bathroom. Why don't you follow half-and-half painting trick?
In this picture, pastel turquoise and cream walls render playfulness to the scene. The white and natural hue of wood preserves a calm setting.
8. Green and White Bathroom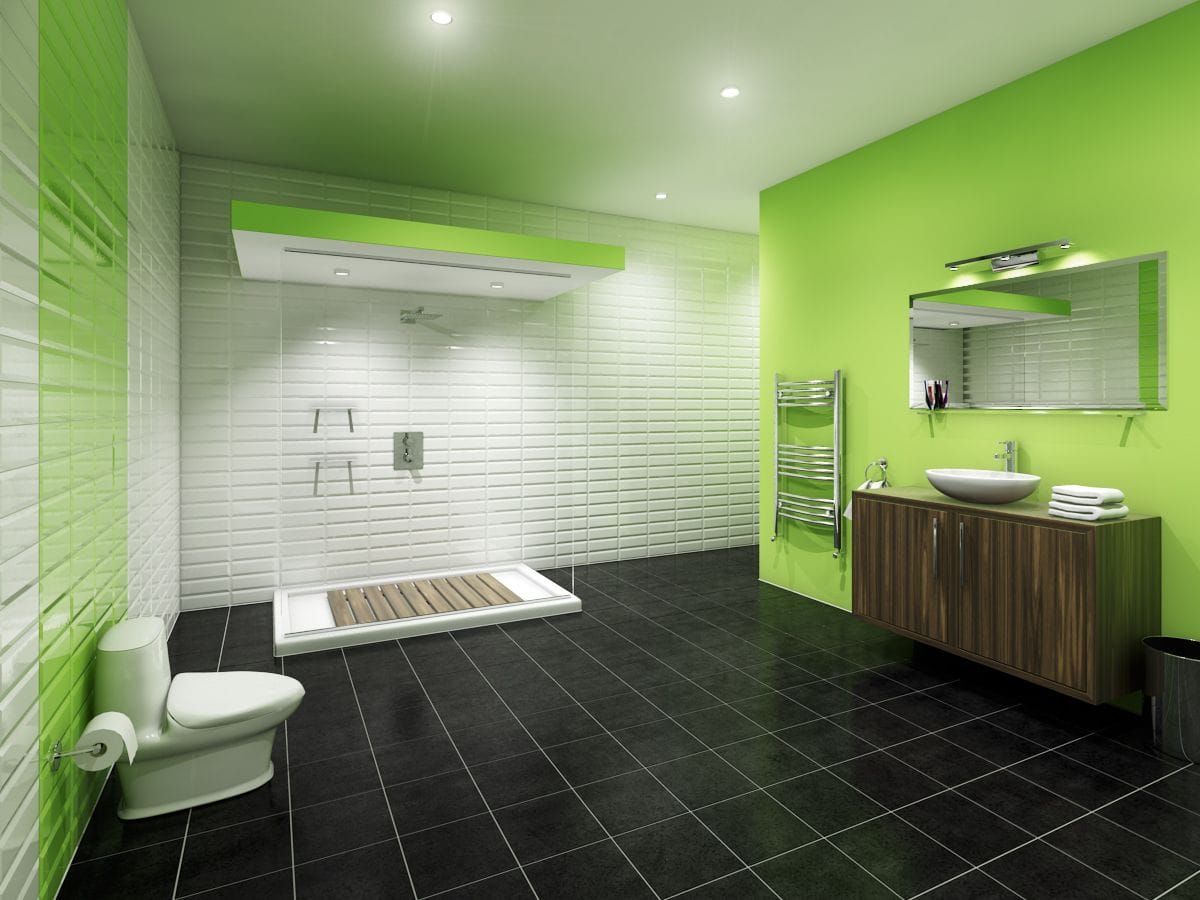 Glass-enclosed shower and white subway tiles lead to a crisp, clean look. Meanwhile, lime greens lead to a cheery bathroom.
Black floor tiles lend the area a level of sophistication. Reclaimed wood bath mat and vanity bring the outside in.
9. Mustard Yellow Bathroom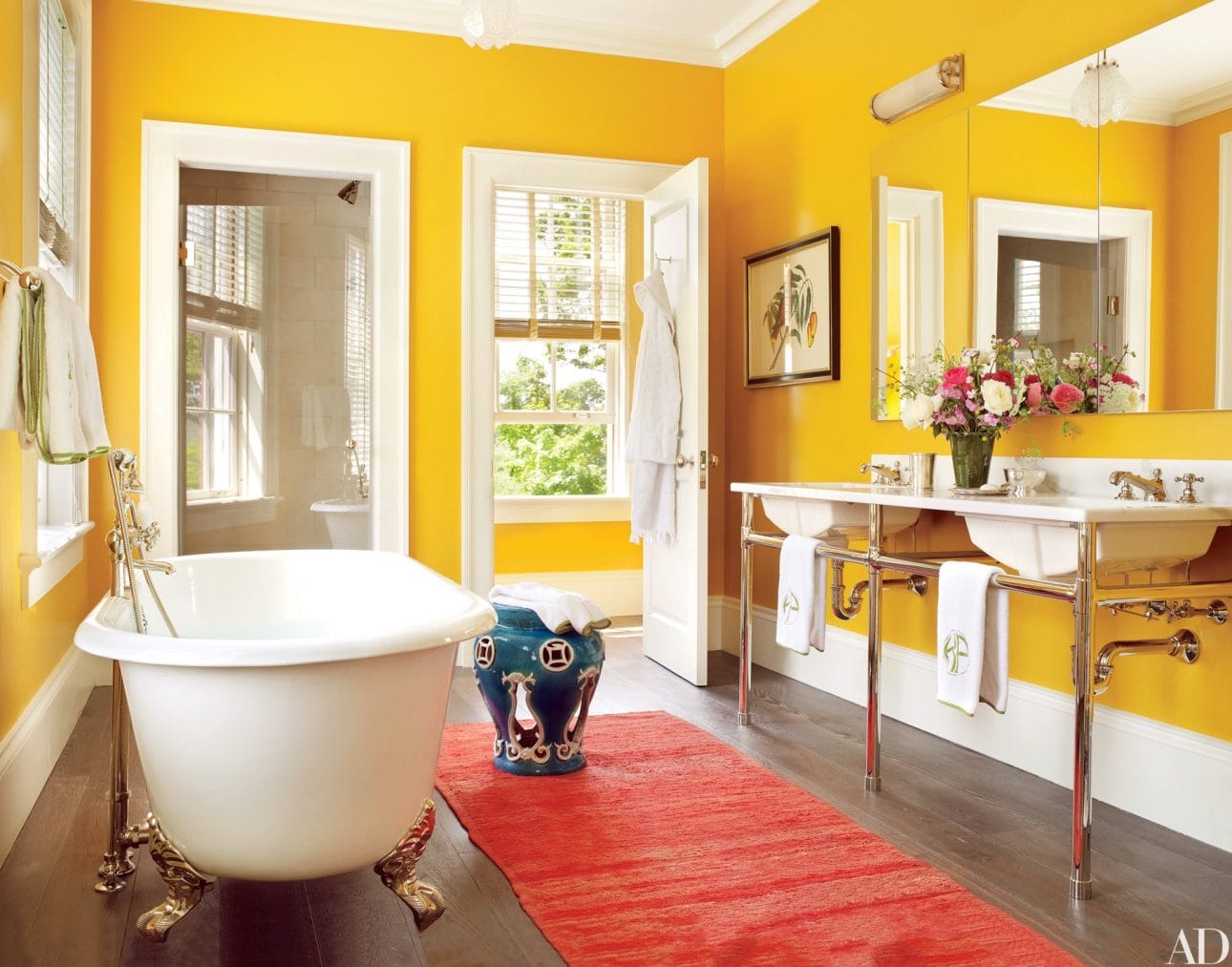 The mustard yellow walls infuse the area with a youthful ambiance. White and wood elements tone them down.
Windows let in sunlight and fresh air. The light fixture, sanitary ware, and accessories are kept minimal, so they don't overwhelm the room.
10. Bathroom Color Ideas 2019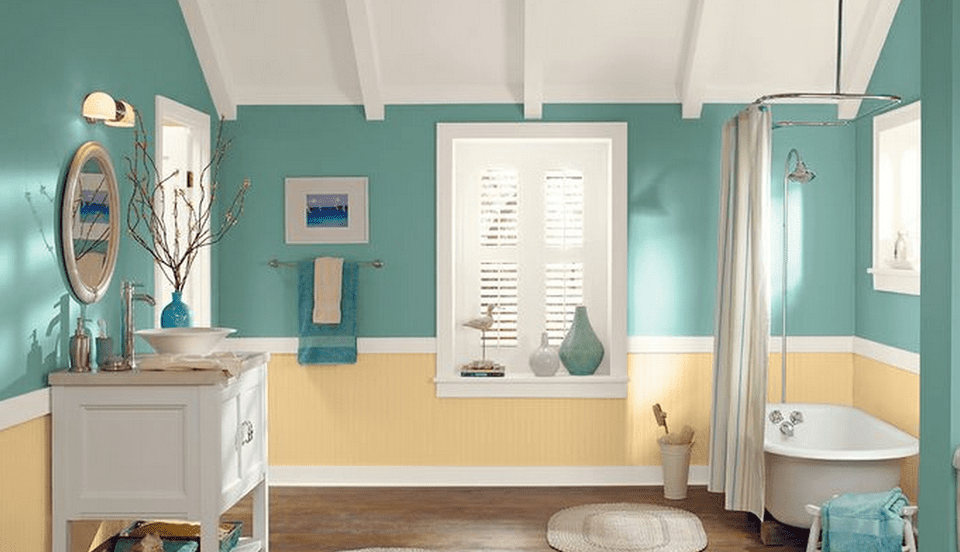 I guarantee you won't mind starting and ending your days in this bathroom. Soft yellow and turquoise on the walls develop a restful look.
White and pale gray elicit a feeling of cleanliness. Curtain, rug, wood floor, concrete countertop, and towels add rich textures to the space.
11. Mint Green Bathroom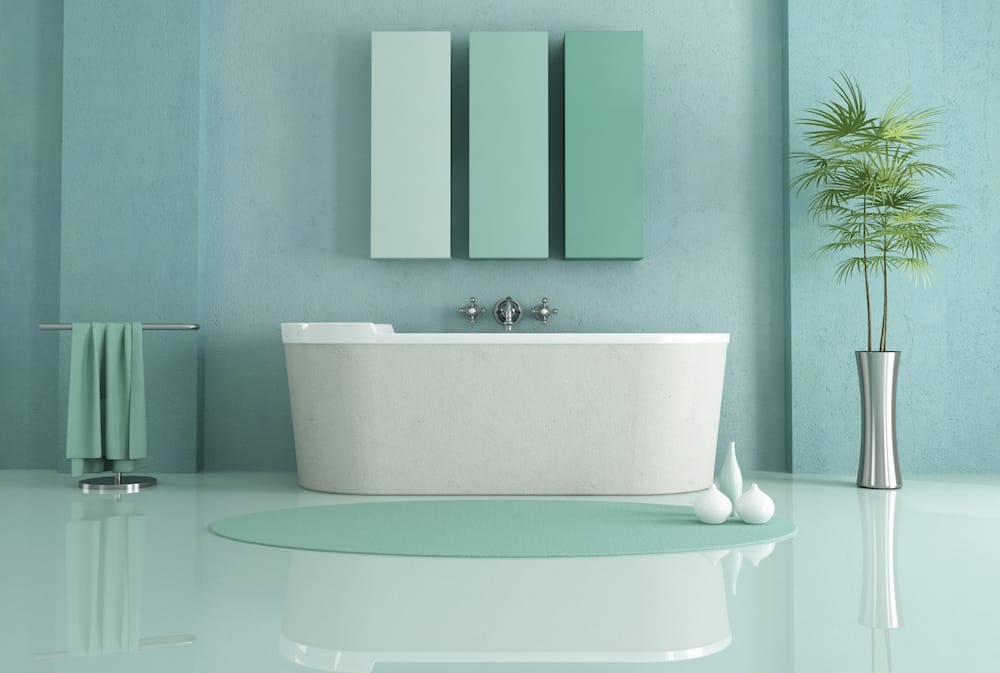 As the image shows, mint green wall provides a stunning backdrop for the white soaking tub. Vintage mint floor, rug, and towel evoke a sense of rejuvenation.
Metallic planter and hardware glitz up the room. Three wall hangings tie all the elements together.
12. Olive Green Bathroom Decor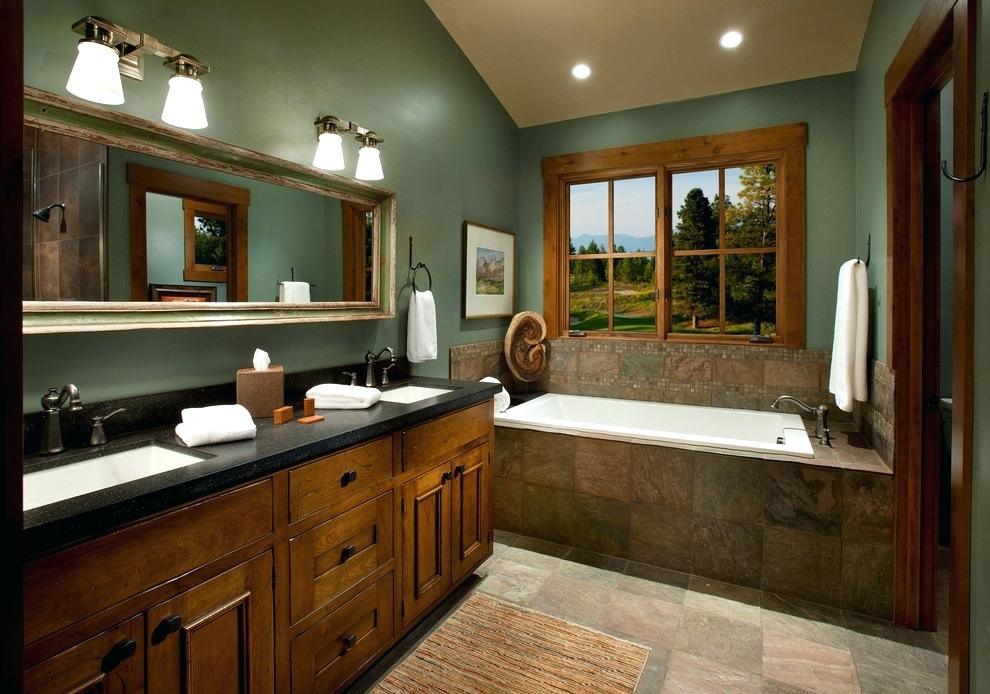 Solid olive green walls instill a relaxing atmosphere. The windows maximize natural light and outdoor views.
Black concrete countertop, wooden cabinetry, seagrass rug, and polished stone tiles embrace rustic charm. Downlights and walls sconces keep the space from becoming dreary.
13. Blue Bathroom Decorating Ideas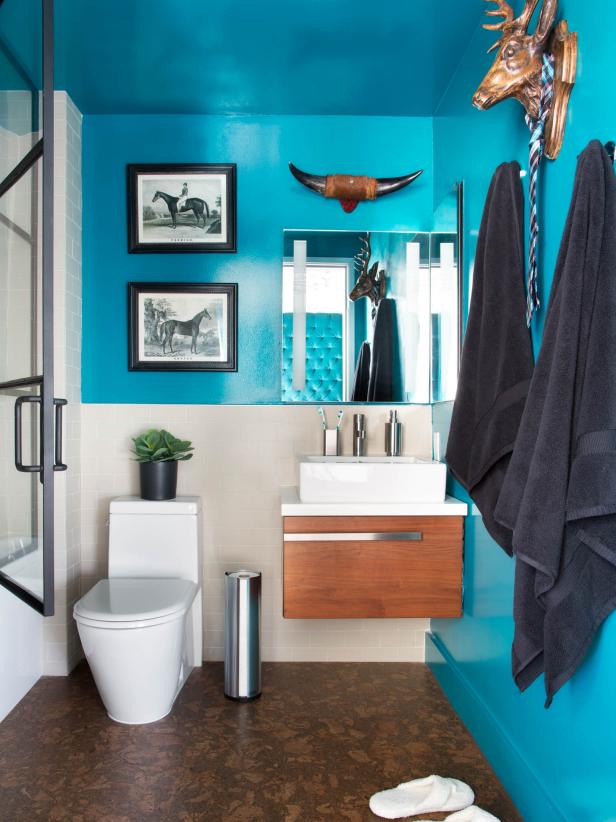 White sanitary ware and subway tiles open up the space. Teal blue walls deliver some vibrancy and playfulness.
A wooden floating vanity and dark brown floor contribute to the room's cozy feel. Black flamed works of art, wooden cow head, and bull horns pop against teal backdrop.
14. Light Blue Bathroom Ideas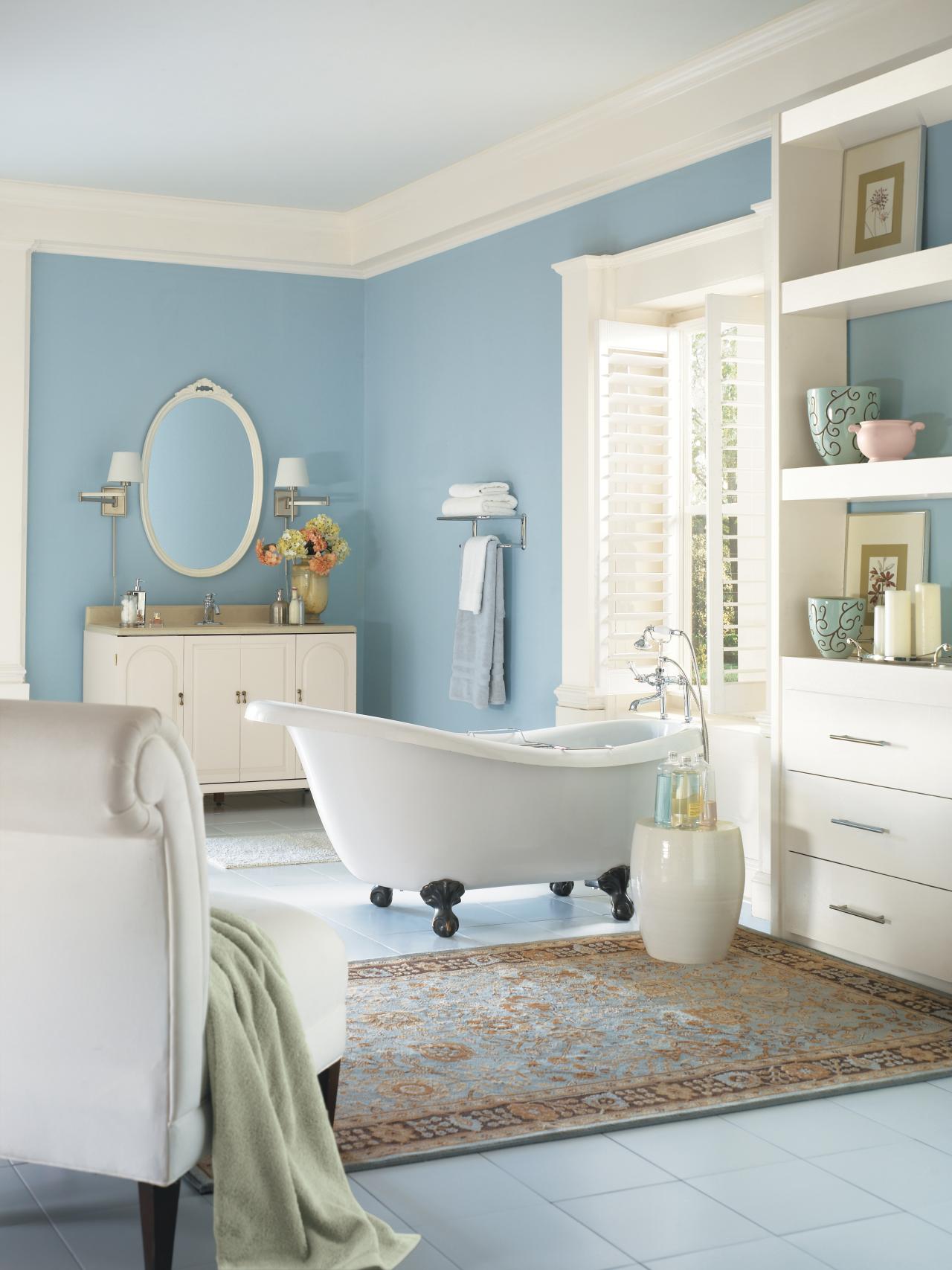 This bathroom is filled with a peaceful vibe, thanks to light sky blue walls. It also provides a respite from a hectic modern life.
White ceiling, trim, and furniture units clear the mind. An ornate floral rug lends the area French country flavor.
15. Classic Black and White Bathroom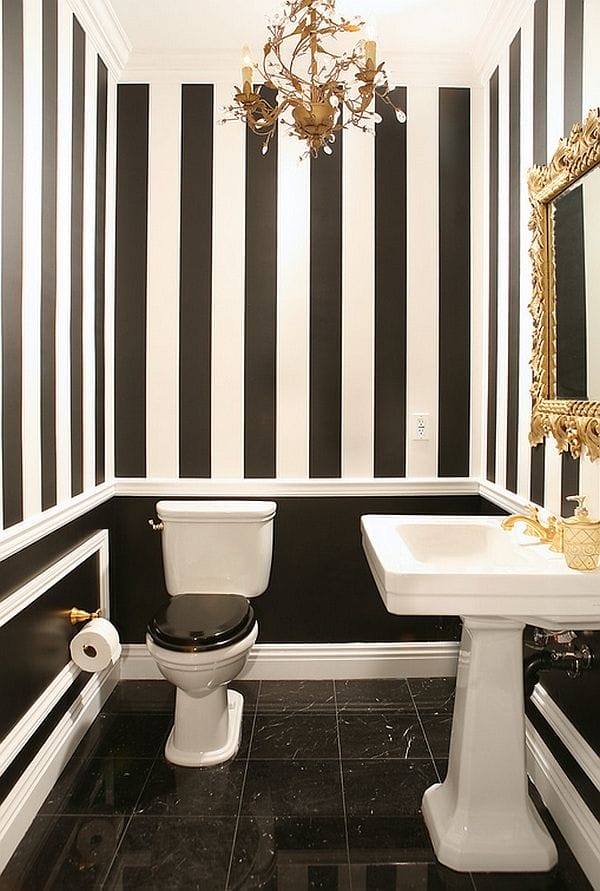 Black and white color palette generate a chic look. Moreover, this classic combo infuses a dose of style into the bathing space.
Monochrome stripes quickly steal the show. Meanwhile, gold accents scream opulence and splendor.
16. Bathroom Color Schemes Gray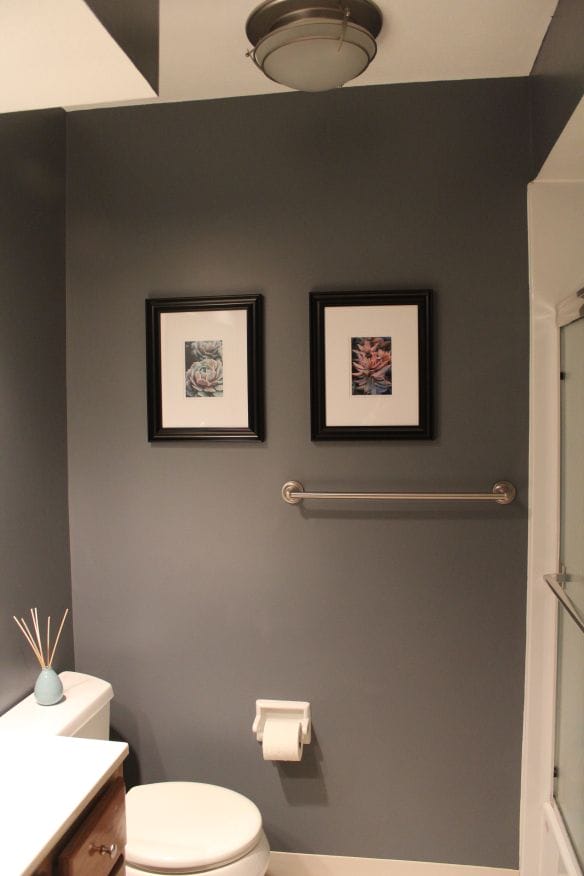 The gray walls convey elegance and timelessness. They let black framed wall ornaments take center stage.
Whites are a lovely contrast to the grays. Meanwhile, wood vanity balances out the stainless-steel towel bar and antique brass flush mount light.
17. Sea foam Green Bathroom Ideas
Pure white and sea foam green are winning coastal shades. They carry a peaceful atmosphere to the bathroom.
Beach stone floor and starfish wall decor elevate the seaside vibe. Wood-framed works of art infuse comforting warmth.
18. Bathroom Colors for Small Bathroom
Are you short on space? It's no problem. Pair pale mint with crisp white to make your small bathroom appear bigger.
Throw in reclaimed wood shelves, distressed mirror, galvanized metal watering can, and whitewashed planters for a shabby chic look. Now, you have a dreamy bathroom.
19. Red Bathroom Wall Decor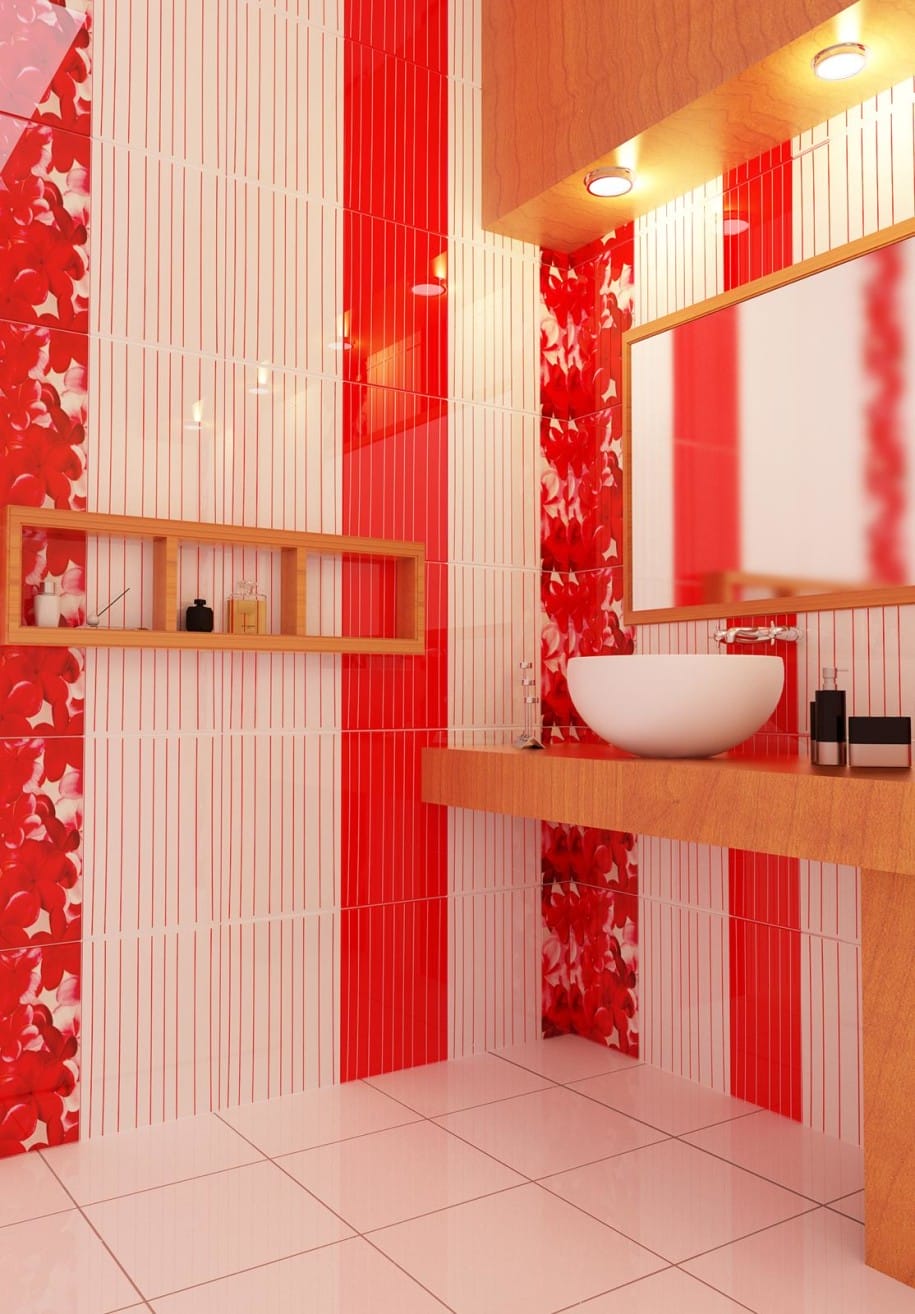 This bathroom predominantly comes in white. Cherry red accents lend the area vivacious energy.
Floral and stripe patterns adorn the space. Medium-toned wood elements elegantly counteract the reds.
20. Pink Bathroom Tiles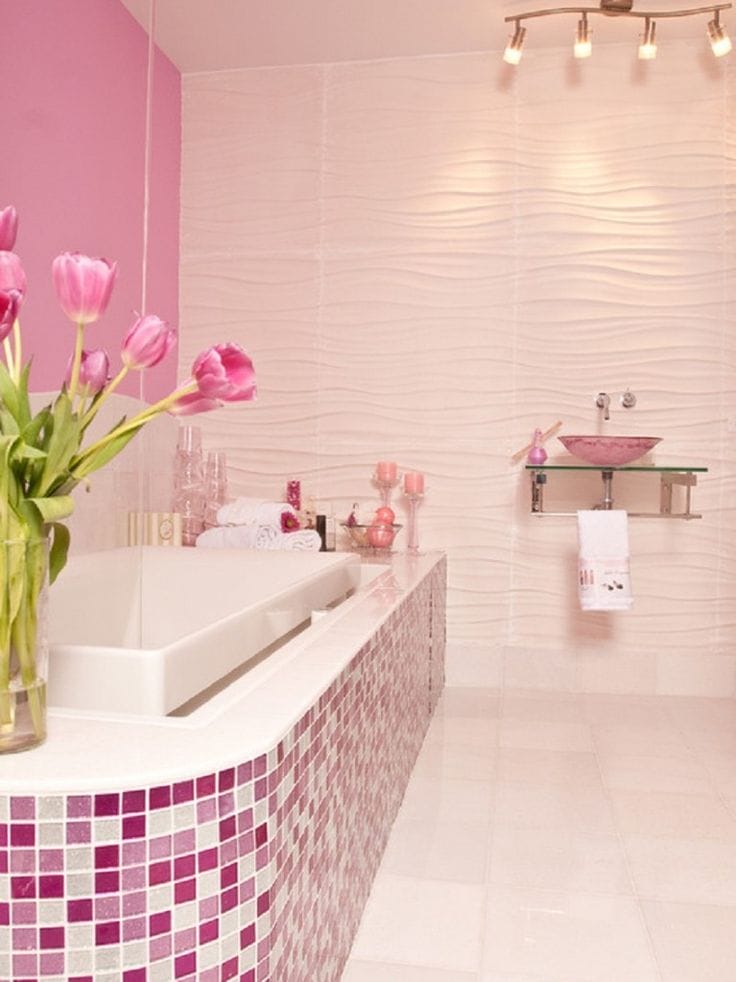 Design a bathroom in varying shades of pink. In seconds, they unleash your soft, girly side.
Pink mosaic tiles add visual interest. Meanwhile, pink tulips breathe life into the scene and metallic details offer a touch of glam.
21. Blue and Gray Bathroom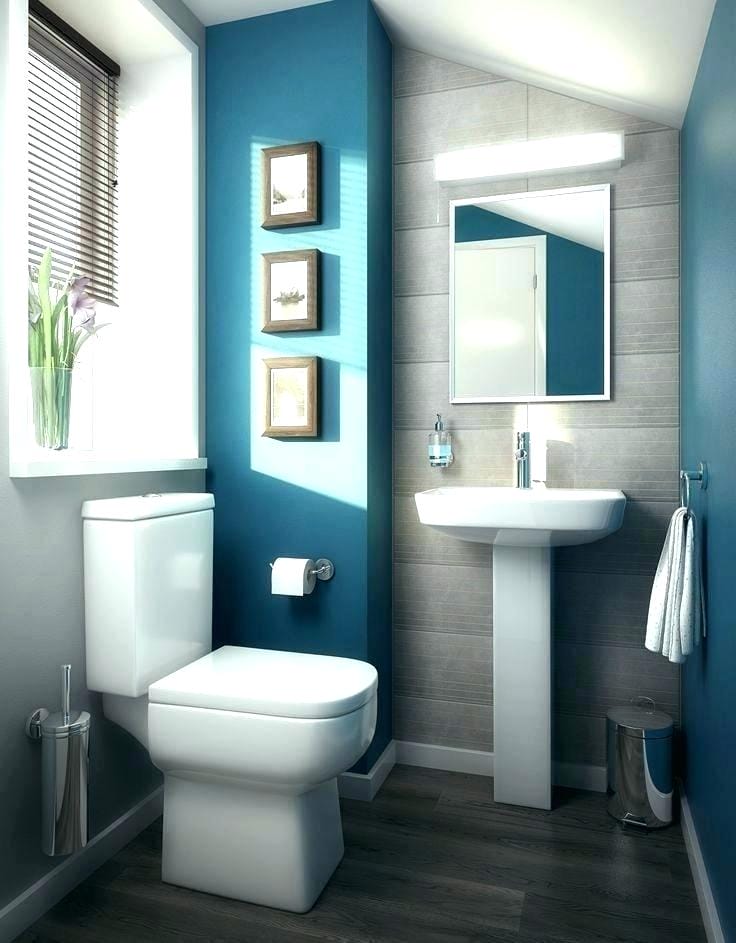 Medium gray and cerulean blue develop a dynamic yet soothing bathroom. Neutral artworks look fabulous against bright backdrop.
Shiny metal accents raises the sumptuous vibe. Flowers produce a lively environment.
22. Gray and White Bathroom Ideas
White and different shades of gray exemplify a calm ambiance. Corner bathtub saves valuable space.
Wooden floor imparts a homey air. Meanwhile, metallic mirror, planter, and hardware make the room shine.
Those bathroom color ideas surely come in handy. Choosing the right color palette is not a hard job. Just opt for the colors that truly represent your personality.