Like the main staircase, underground steps also need some decorations to look more aesthetically pleasing. Especially when you decide to use the lower ground floor as a gathering space, the presence of several stairs to basement ideas will undoubtedly be quite helpful for you.
The steps left may still be functional, but that doesn't mean you can't polish them to spoil the eyes.
Apart from making it look aesthetic, stairs to basement ideas are also here to make it versatile at the same time. That way, you will also have enough storage in your underground room.
The following 28 stairs to basement ideas will inspire you to remodel them immediately. That way, they will be more attractive and multi-functional.
1. Simple Stairs to Basement Ideas with Rustic Concept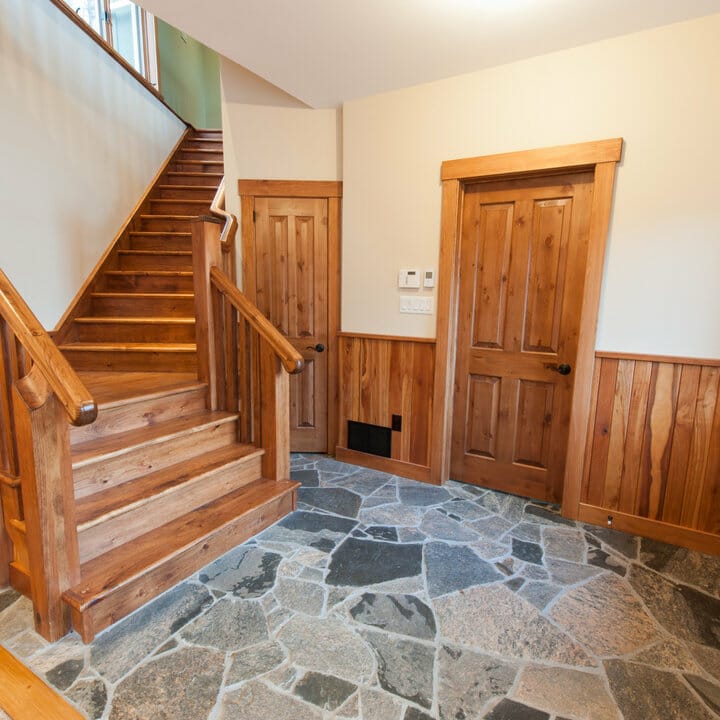 For those of you who like the ruggedness of the countryside, a rustic theme can always be the best solution. Remodeling the staircase is easier by installing wood paneling on steps like above.
Not only by leaving the staircase in all wood, but you can also equip it with stone floors, wooden doors, and raw wainscoting to strengthen the rustic ambiance in your basement.
2. Stairs with Victorian Balusters and Bookcase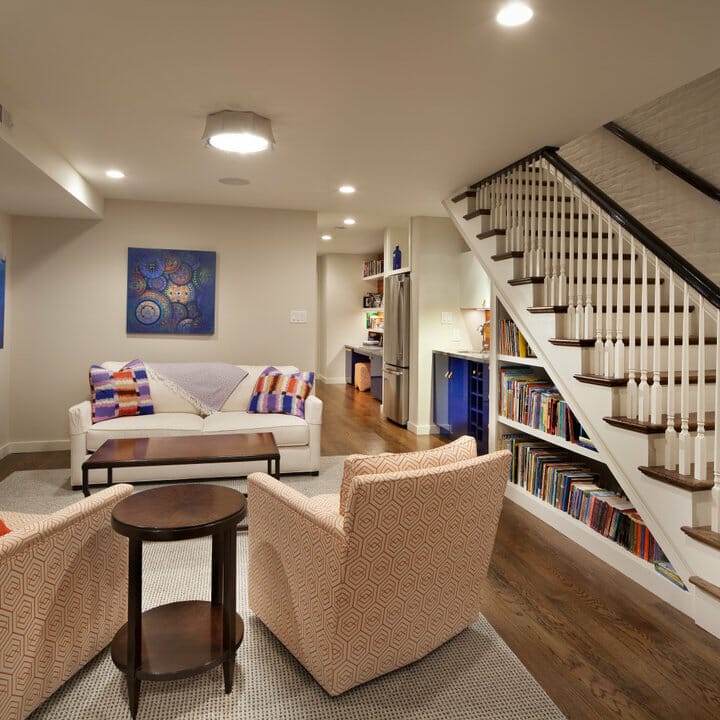 Aside from the basic style, you can manage your balusters made of wood with a Victorian design. The carving accents put a personality on the basement stairs without any doubt.
Further, you can also turn the section under your basement stairs into a cabinet to store your books.
And, now, your basement already has a staircase that is both aesthetic and functional at once.
3. White and Light Brown Basement Staircase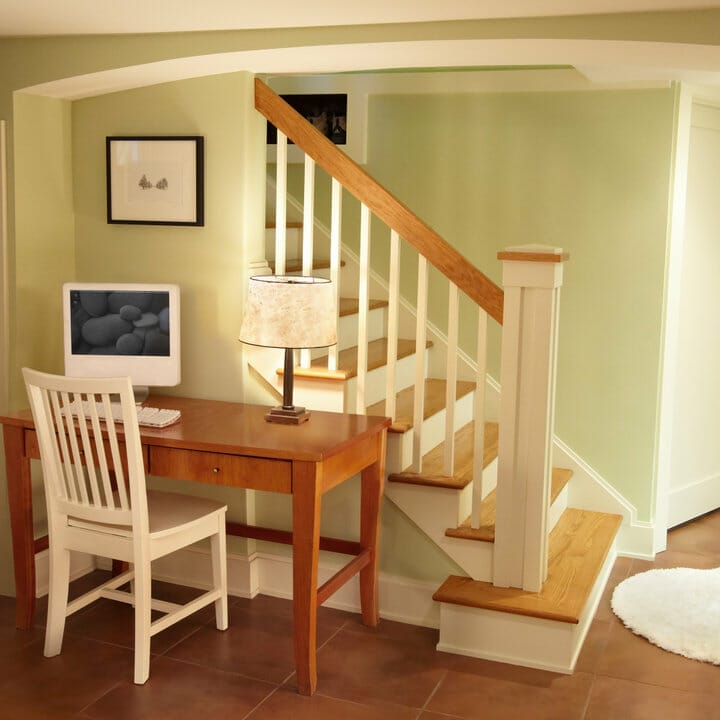 Stairs to basement ideas in this article also invite you to give a bright color to your underground steps.
Since many homeowners usually leave the basement stairs in a dark sense with deep color. Now it's time for you to make a different style. You can let it be more cheerful and warm with white and light brown instead.
4. Contemporary Stairs without Railing
Besides rustic, the contemporary theme also allows you to play with raw wood stairs. However, it has a more stylish and sleek design than others.
You can even have straight stairs without handrails like above. Or, by giving it a glass railing in the top quarter, while the rest you can leave as it should.
5. Basement Stairs Remodel with Polished Wood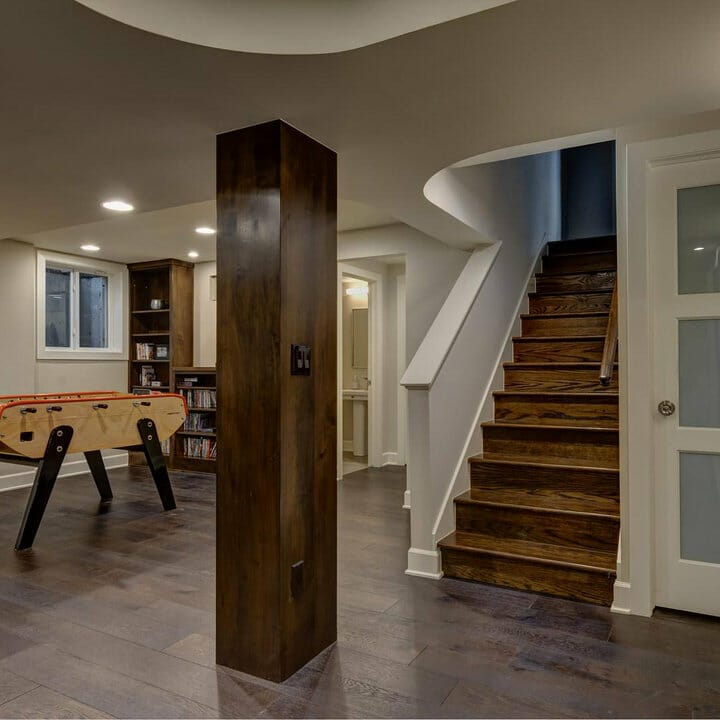 This point brings the easiest step of some of the stairs to basement ideas. That is by polishing your raw staircase instead of leaving it as it is.
Indeed, raw stairs still have a high aesthetic value in a rustic theme. However, once you start wanting a more refreshed look without going too far from the previous concept, then polishing is a step that is worth a try.
The polished wood staircase will show you the elegance of a glossy look inside your dark basement.
6. Classic Iron Balusters and Wooden Newels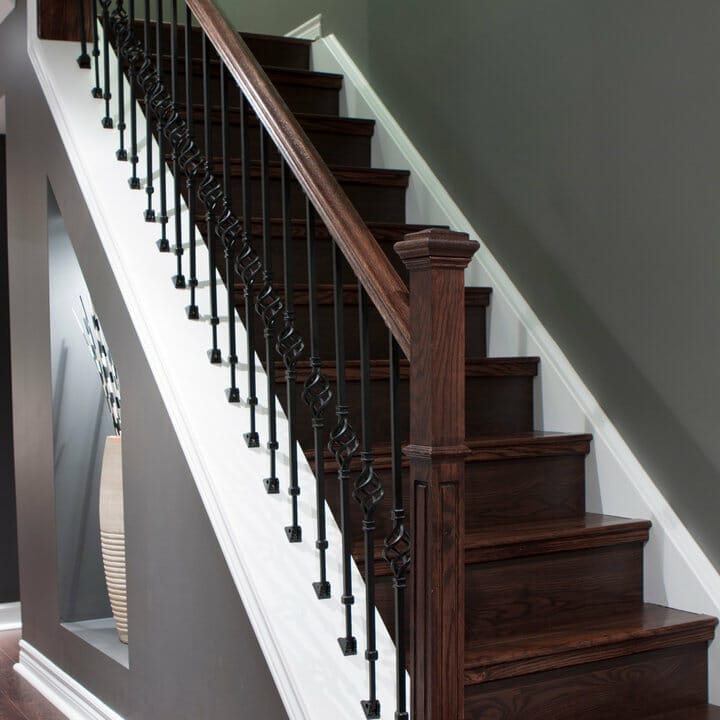 Who says combining wooden newel with iron balusters is not a good decision? Instead, it will make the traditional style setting in your basement even more impressive.
Iron balusters with spiral designs can also state your basement staircase without much effort.
Further, making an empty spot under the stairs a decorative area to display your large ceramic pot with artificial flowers is an excellent step to add more aesthetical value.
Don't forget to give it a spotlight to make these ornamental elements more appealing.
7. White Stairs with Storage Underneath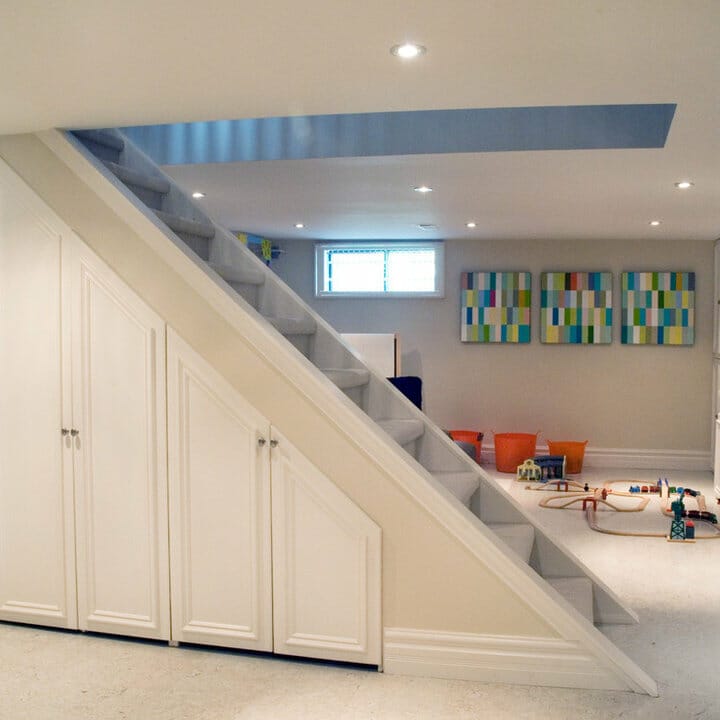 Installing a cabinet on the wall has become a standard step to do. Then, how about arranging it under your basement stairs?
Of course, it is the smartest stairs to basement ideas implementation you have ever done. It's not only about the aesthetical value but also versatility.
This concept is suitable for you who have a narrow underground floor. It can help you keep the space spacious but still accommodate a lot of stuff in it.
8. Open Staircase to Basement Ideas in Industrial Theme
The industrial theme never disappoints anyone who owns it. This concept always manages to give a forceful personality in any space, including your basement.
Applying stairs to basement ideas with an open U-shaped or spiral staircase model can help you save space in your underground floor.
9. Elegant Straight Stairway with Covering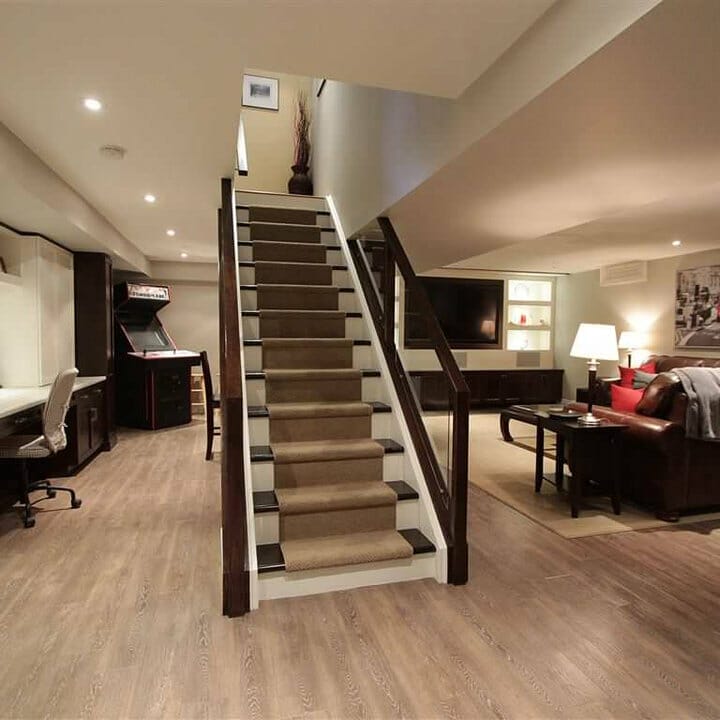 There are lots of basement stairs covering ideas that you can take. One of them is by giving carpet running in the middle of the stairways.
Besides showing an elegant appearance, especially with the selection of earthy tones like cream, it will also help muffle the noise of footsteps.
10. Stairs with Vertical Cable Railing and Storages
Cable railings installed high up to the ceiling can provide extra security for anyone from falling from the edge.
In addition, this cable railing also acts as a partition between your basement sitting room and your staircase area, which obviously, is stunning.
Furthermore, other stairs to basement ideas also recommend you to have some storage under the stairs. Whether it's drawers or cabinets, it is all fine if they can help you have a neater and space-saving repository.
11. Minimalist Gray and White Stairs with Shelves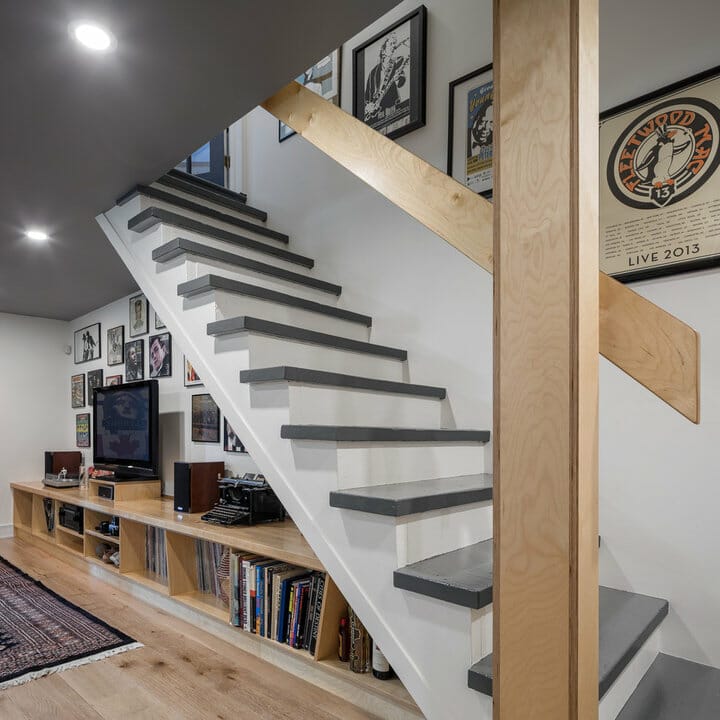 Suppose you've gone with stair to basement ideas that are versatile by providing drawers or shelves underneath. Now is the time for you to play with mix and match colors to highlight your underground stairway.
A minimalist choice by combining gray and white is the best for a small underground space.
12. Staircase with Glass Railing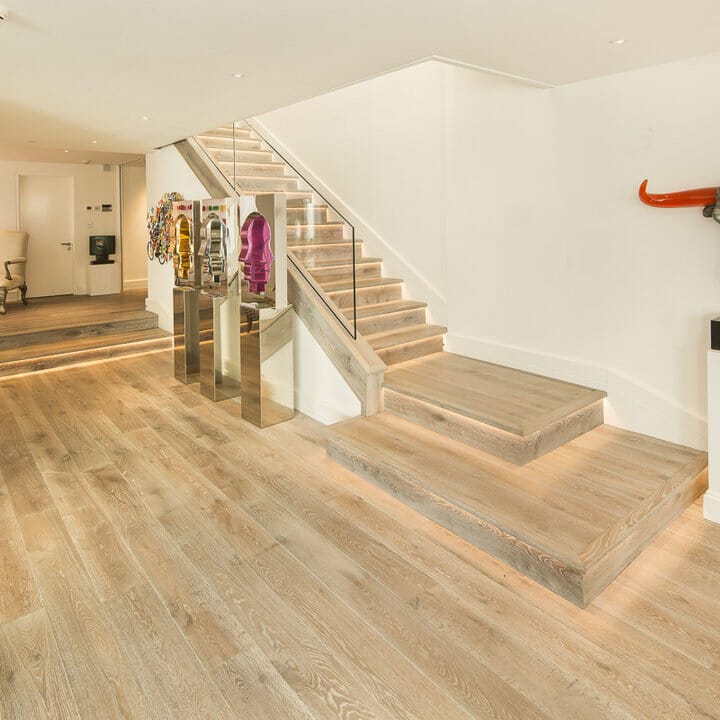 Of the many stairs to basement ideas you've found, the one with glass handrails is the one you should try when deciding to give your underground stairway a remodel.
For a moment, this looks fragile. However, who would have thought that glass handrails also have a strength similar to other materials.
In addition, it is also able to give an aesthetic impression to your basement. Especially if it comes with step lights, everything will be stunning at once.
13. Steel Flight with Horizontal Cable Railing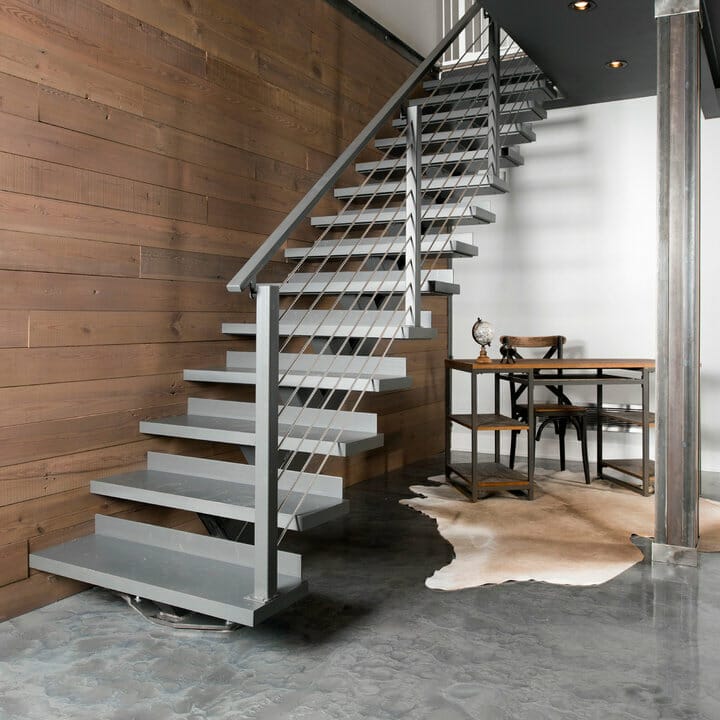 Stairs to basement ideas allow you to use any material, including steel.
Giving it its actual color like grey with a horizontal cable railing on only one side will make your basement have a strong industrial feel.
14. Adorable Quarter-Turn Staircase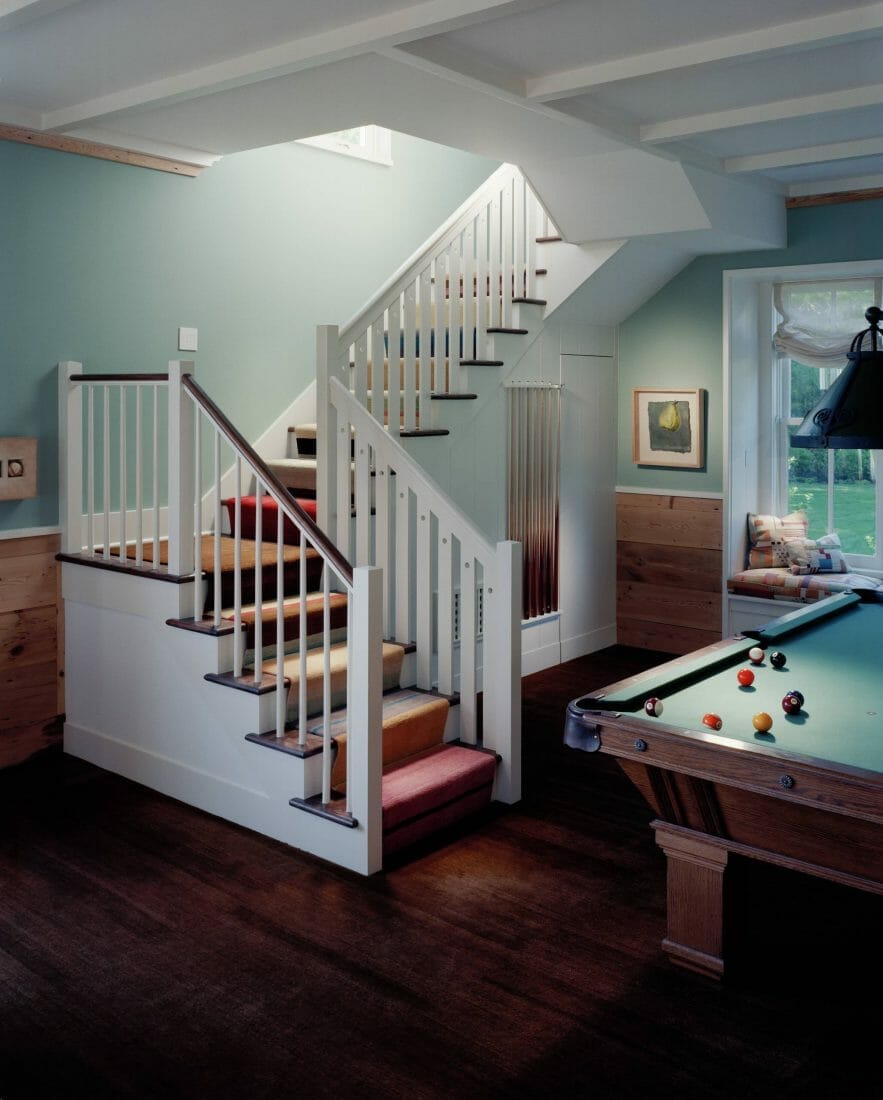 If you love the variety of farmhouse designs to take to your basement, then presenting a quarter-turn staircase is the best.
Its chic design with a landing between two flights allows you to stand on it for a moment while enjoying the landscape across your basement. Further, it also helps you to save space properly.
15. Stairway with Wall Lighting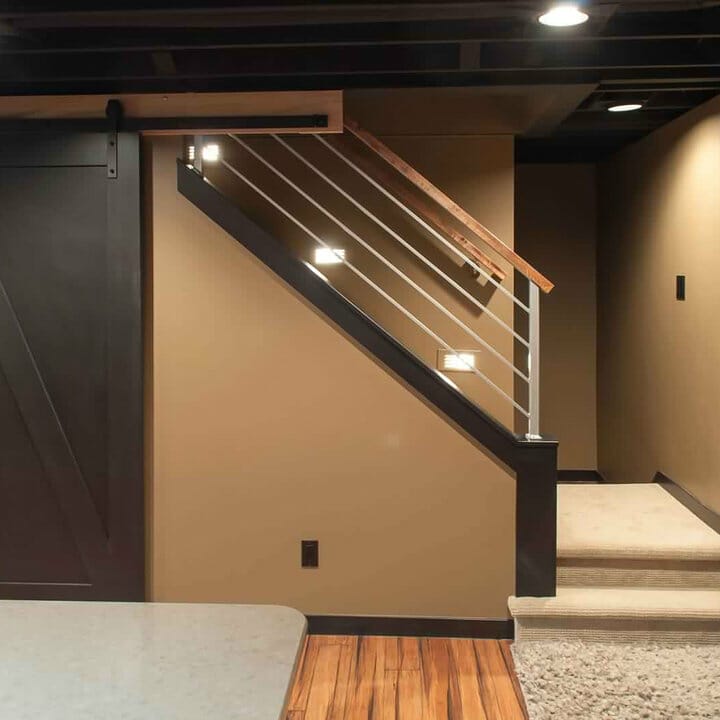 You know that most basements require more lighting than your first-floor space. Therefore, providing light at once on the wall near the stairs is the perfect step to take.
The existence of lighting on each step of the staircase can help you be careful at every step you take. That way, you will still go upstairs dan downstairs safely although you have to hurry.
16. Raw Wood Steps with Brick Wall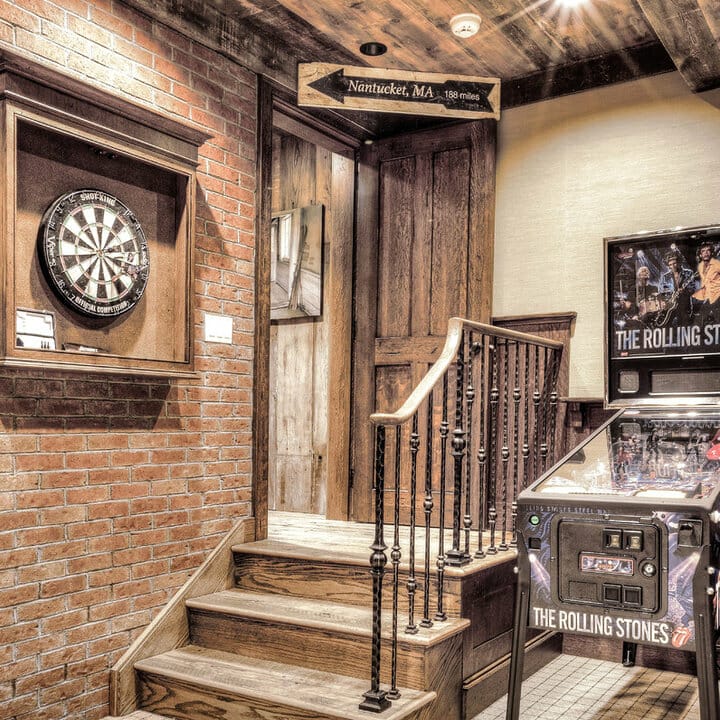 The rustic ambiance will be more robust in your basement game area by simultaneously providing wooden stairs with iron balusters as above.
In addition, you can also consider the wall decorations that surround it. Deciding to go with a brick wall is the best option to implement.
Further, you can also add the stairway with some decorations, such as decorative hanging directions and other wall art decor.
17. Keep It Simple with Wall-Mounted Handrail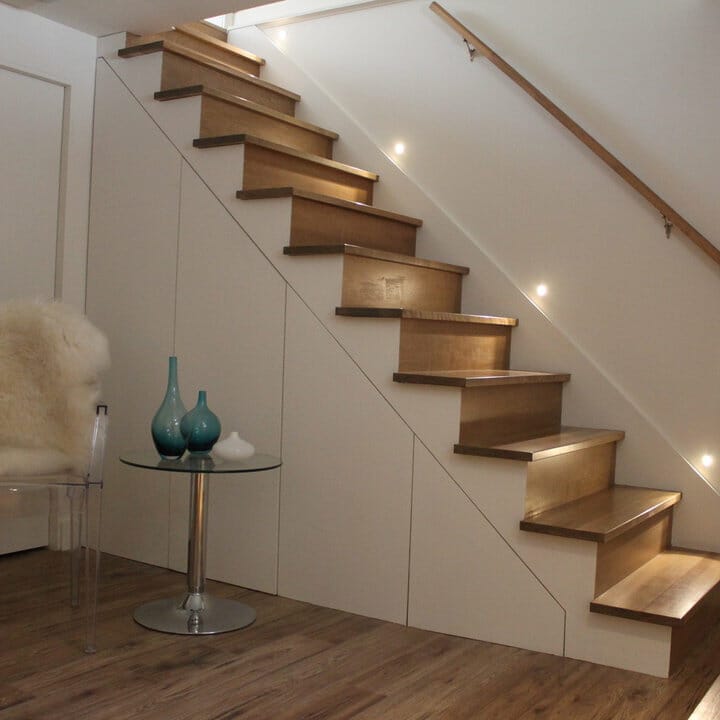 If previously you have gone with stairs to basement ideas with no handrails, now you can go with wall-mounted bars which are more modern and straightforward.
A design like this can give a sleek impression to your basement and the best security, so you don't easily fall off the edge.
Providing it with a step light is also a good option you can take.
18. Wooden Floating Stairway with Wall Paneling and Secret Room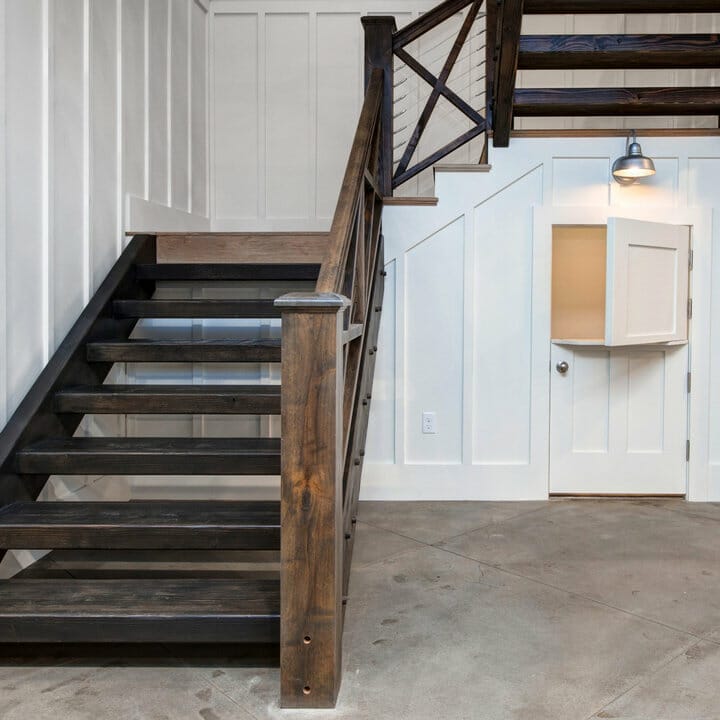 There's nothing more perfect than equipping your farmhouse or coastal-themed underground floor with wall paneling. You can even confidently install it around your entire basement stairway.
In addition, you also can't always go with the storage room under the stairs. But more than that, you can have a mini private space that is comfortable and away from the crowds beneath.
19. Laundry Room Under the Basement Stairs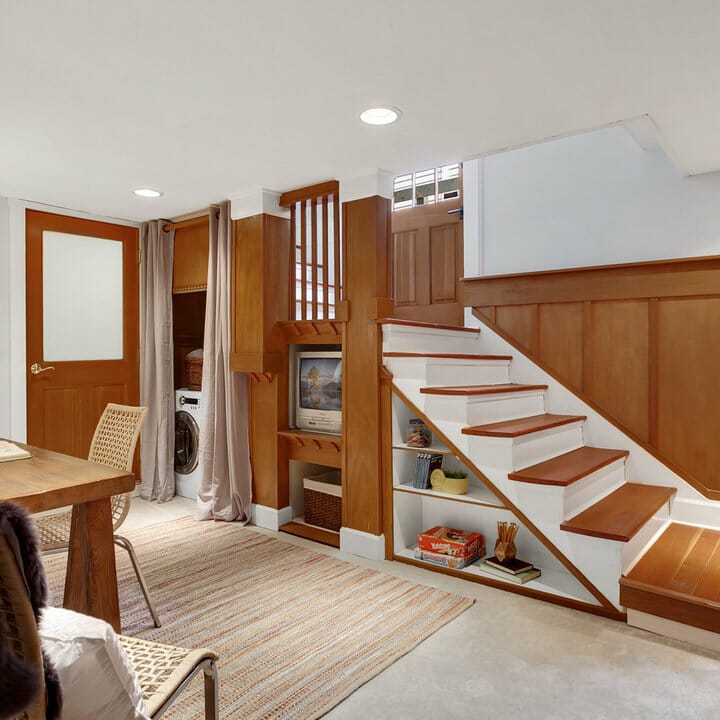 Other recommendations on stairs to basement ideas in this article also allow a laundry room under the flight.
Look how versatile this basement stair area is, so you can have several shelves simultaneously just to put your television and store your books in it.
The arrangement of basement stairs is about aesthetical purpose and multi-functionality at once.
20. Versatile Drawers Under a Flight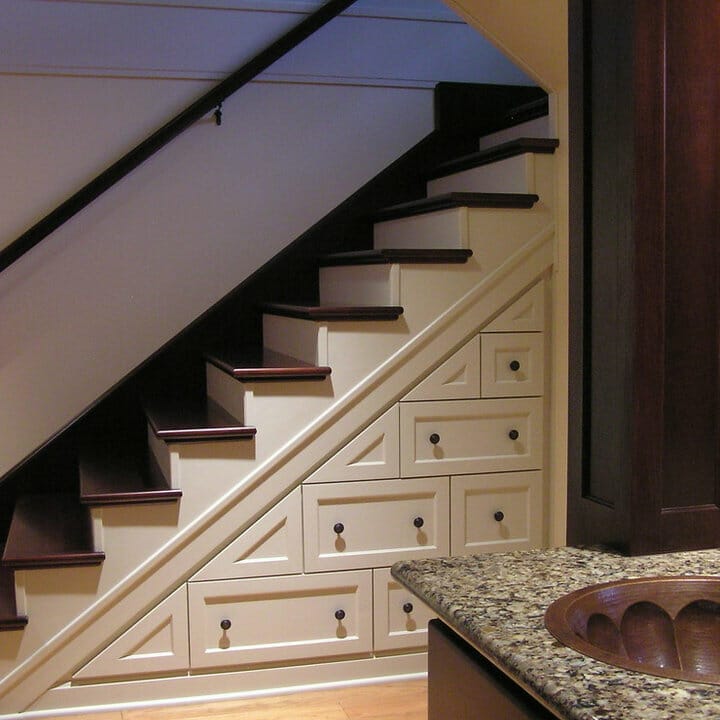 After shelves and laundry room, you can also now have drawers under your basement stairs.
At first glance, stairs with dark hardwood flooring already seem mainstream. However, with the presence of multi-sized drawers underneath, with round handles of the same color, everything looks new, more pleasing to the eye, and versatile at the same time.
21. Wainscoting Wall and Add Some Art Decors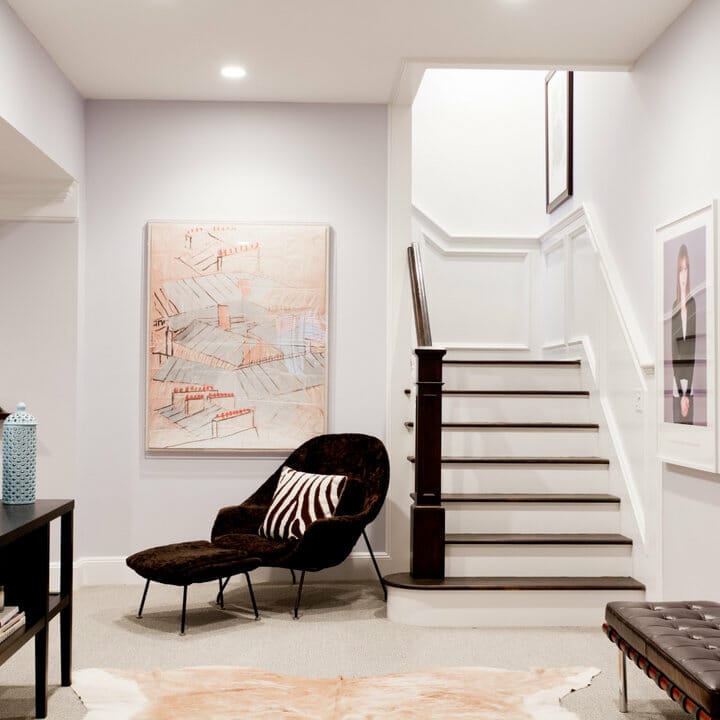 You've faced wall paneling in the last stairs to basement ideas. And, if you're not comfortable enough with that, you can go with a more modern concept by installing white wainscoting.
The basement stairs with a combination of dark wood and white flooring will be more stunning if you also hang wall arts along the stairway. Whether it's big or small, it's all pleasing to the eye.
22. Modern Slim Straight Staircase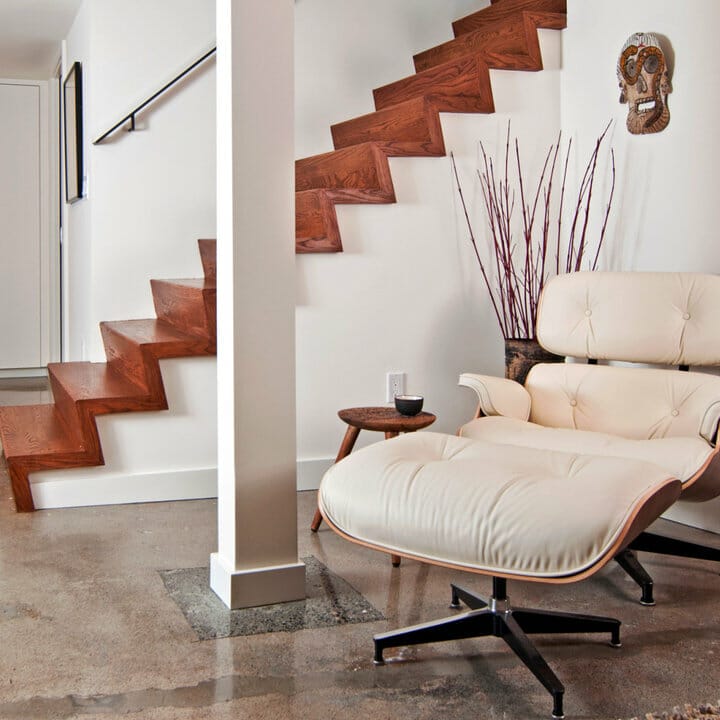 Many people like the modern, sleek, and straightforward concept of underground stairs.
It is because most of them have good space-savvy abilities. Giving your basement stairs only a straight model is not a mistake.
You can beautify it by providing a covering in the form of hardwood. After that, complete it with anti-slip to keep you safe from slipping quickly from the staircase.
23. Modern Stainless Steel Staircase Railing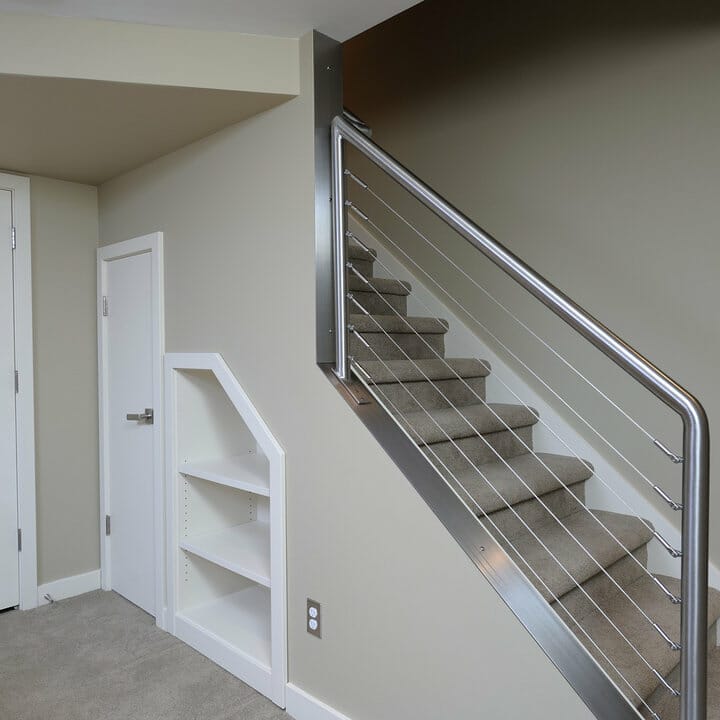 Stairs to basement ideas previously introduced you to glass, wood, and iron handrailing systems. Now it's time for another recommendation, namely to install stainless steel bars on your underground stairway.
Not without reason, stainless steel has become popular because it is more durable than other materials.
Further, it also can give a more solid look to your basement floor.
24. Decorative Built-in Shelves Along Landing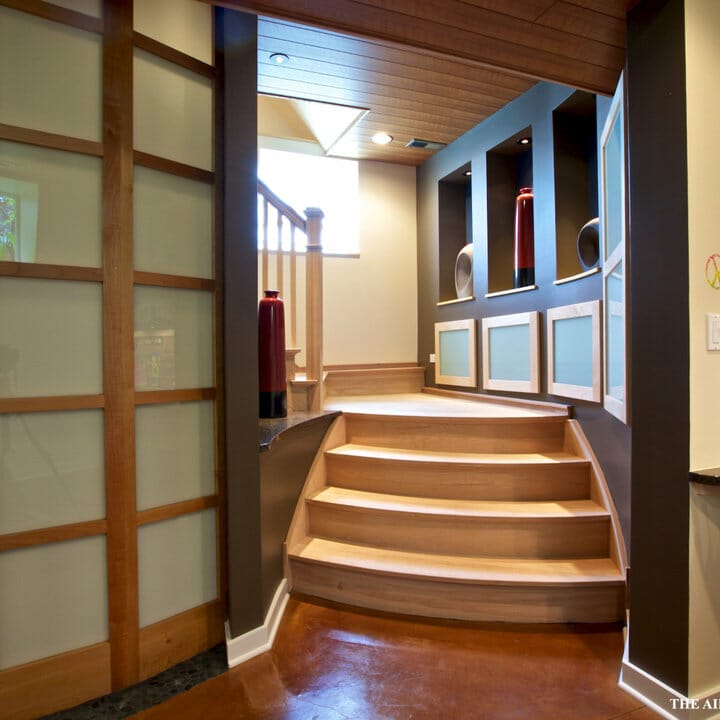 Basement landing ideas are starting to spread around the internet. It has come to highlight the landing area in any of your stair arrangements, including the steps leading to your underground floor.
You're okay with just hanging up some wall art decor to give it a focal point. However, it would be even more aesthetic to create built-in shelving to display all your pottery collections.
25. Strong Contemporary Feel Around the Staircase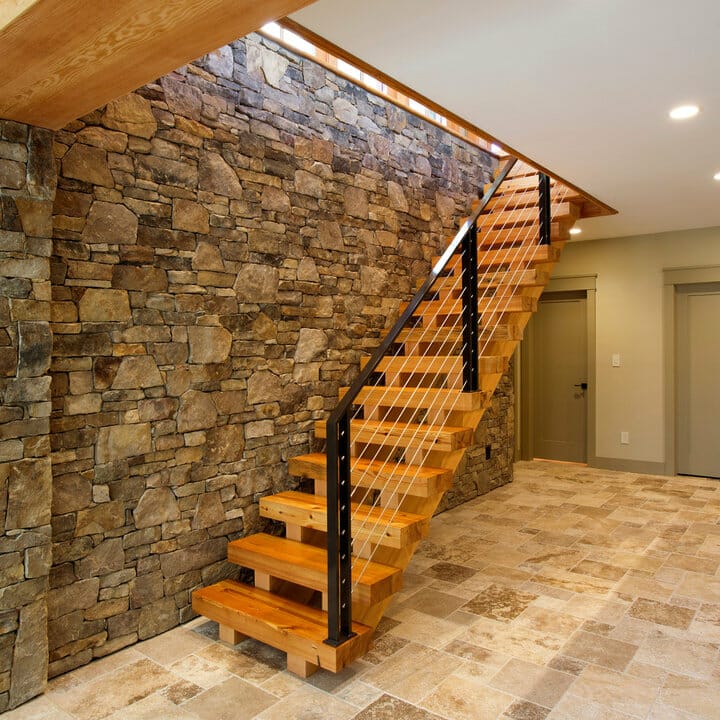 Stairs to basement ideas with contemporary themes will continually develop other innovations to beautify and highlight your underground stairway.
Indeed, open or floating stairs are the best option to implement in this interior design.
What's more, once you plan to boost the contemporary ambiance, it's a good idea to provide stone walls and granite flooring for your basement.
26. Shiplap on The Wall Under the Stairs
Have you ever gone with stairs to basement ideas with wall paneling and wainscoting? Do you need further remodeling to give your underground room a new vibe?
So, don't ever hesitate to install shiplap around your basement, including on the wall under the stairs.
That way, you don't have to think about other decorative elements to decorate your walls because shiplap has given a clear texture and personality to your basement.
27. Industrial Staircase with Step Lights
Installation of the step lights is suitable for stairs to basement ideas with modern or contemporary themes. Either, it's even perfect for your industrial basement too.
Instead of wall lighting, you can install lights right under your hardwood coverings.
28. Black and White Staircase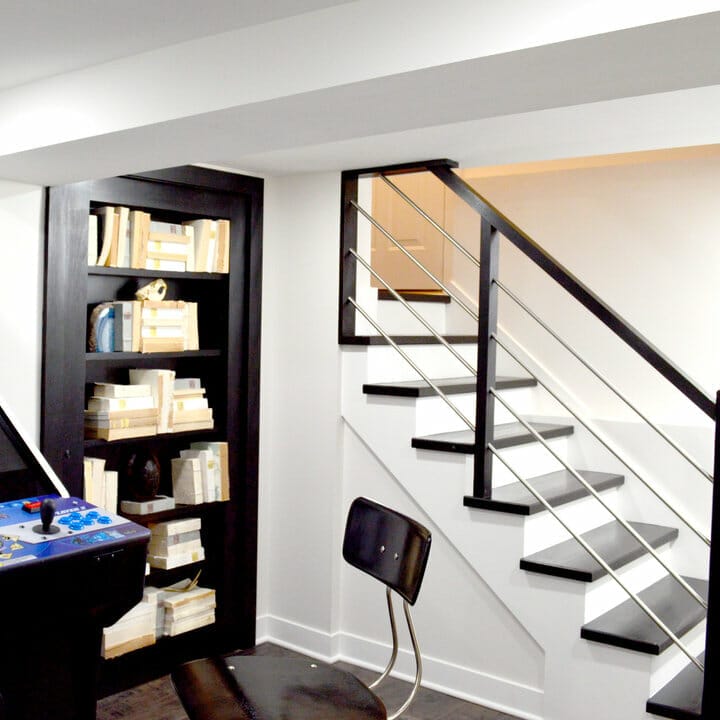 The final option on the stairs to basement ideas brings you to the minimalist look of the underground flight.
Without applying many color shadows, you have to go only with black and white. Now your basement stairs have managed to give a good personality.
Apart from that, you can also install a tall built-in shelving system with similar colored frames to store or display all your books and ornaments.
Of all the stairs to basement ideas mentioned above, there must be one design that suits your current preference best. So please hurry up to remodel it to increase the aesthetic value in your dwellings.