Speaking of balcony privacy ideas, people typically think about mesh screens that they can attach to their railings. Moreover, dwellers can surely do a lot to protect themselves from the unwanted outside world. Here are 20 incredible balcony privacy ideas for you.
Even on pint-sized balconies, dwellers can ensure their privacy. Furthermore, you could convert your tiny outdoor area into a tropical retreat or marvelous garden.
If you want a private space on your balcony, these fantastic ideas will do the trick. In this post, I've gathered some fabulous methods to keep out the curious neighbors without drilling some holes.
1. Small Apartment Balcony Privacy Ideas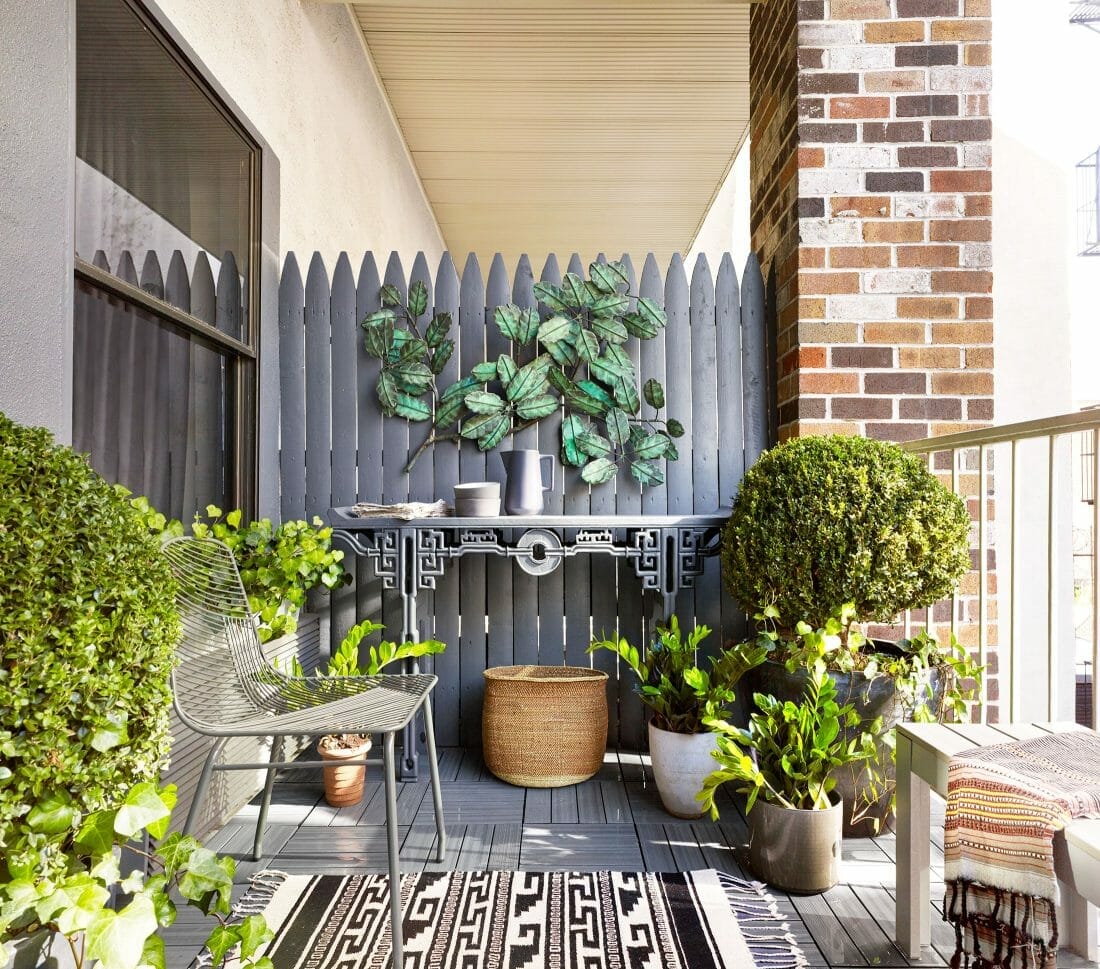 This is one of the remarkable DIY balcony privacy screens. Furthermore, it reminds me of a classic picket fence instantly.
The dweller made his freestanding privacy screen out of wooden planks. Also, he painted the unit medium-toned gray, so it does not seem out of place.
As you see, the privacy screen helps prevent awkward eye contact. Moreover, it highlights the distressed green metal leaves.
In front of the freestanding privacy screen is an antique metal console table. Apart from accommodating the tableware, it exudes an Asian feel. Lastly, the wicker basket and terracotta pot balance cool-toned elements out.
2. Balcony Privacy Screen for Apartments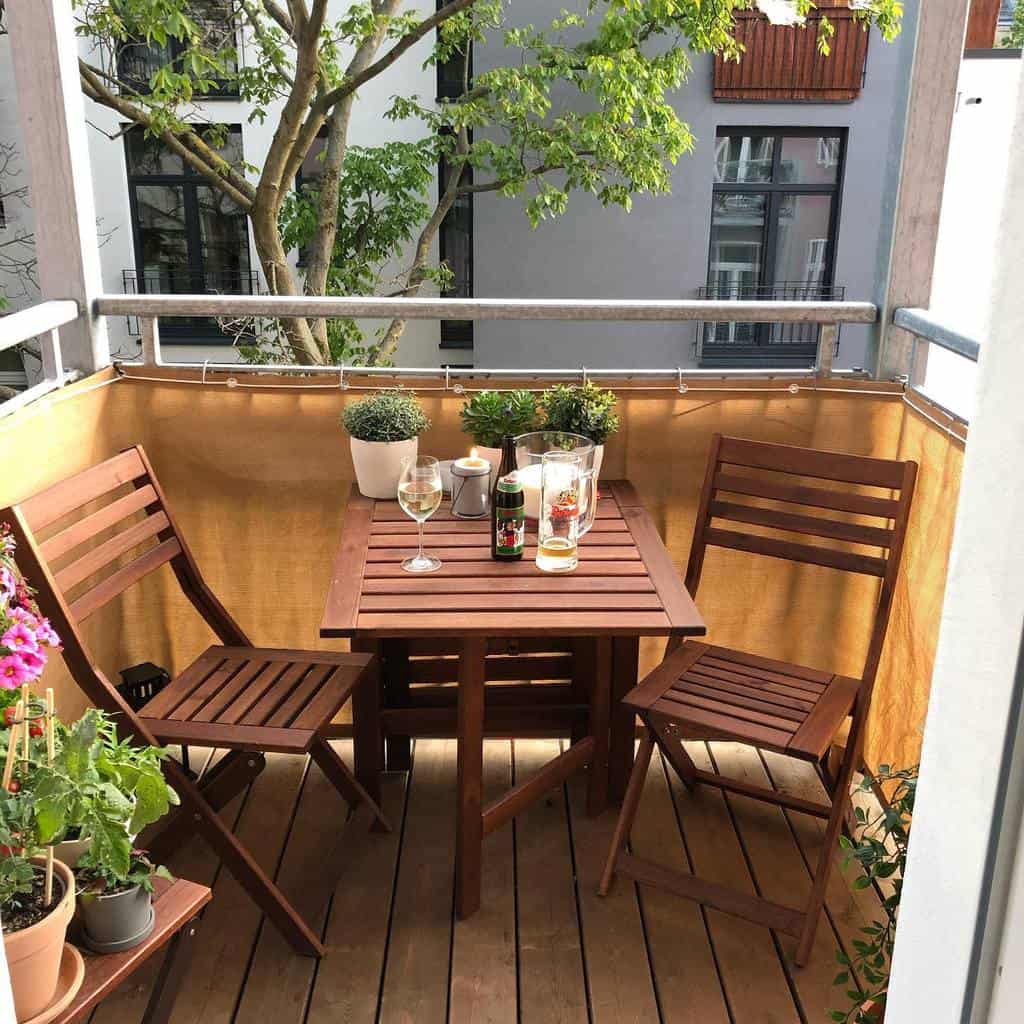 Deal with some privacy issues? If so, consider covering the balcony railings with the fabric privacy screen. Not only is it truly solid, but also chic.
As the picture shows, the fabric privacy screen protects the dweller from nosy neighbors, scorching sun, and wind.
With this solid fabric screen, you can receive a sense of privacy. Since the unit comes in tan, it accompanies the wooden floor as well as furniture items perfectly.
The screen includes tiny fasteners, so you can hang them from the balcony railings easily. Moreover, it's low-cost. Also, the unit offers an ideal backdrop for the white potted greenery.
3. Balcony Privacy Ideas with Faux Bamboo Trees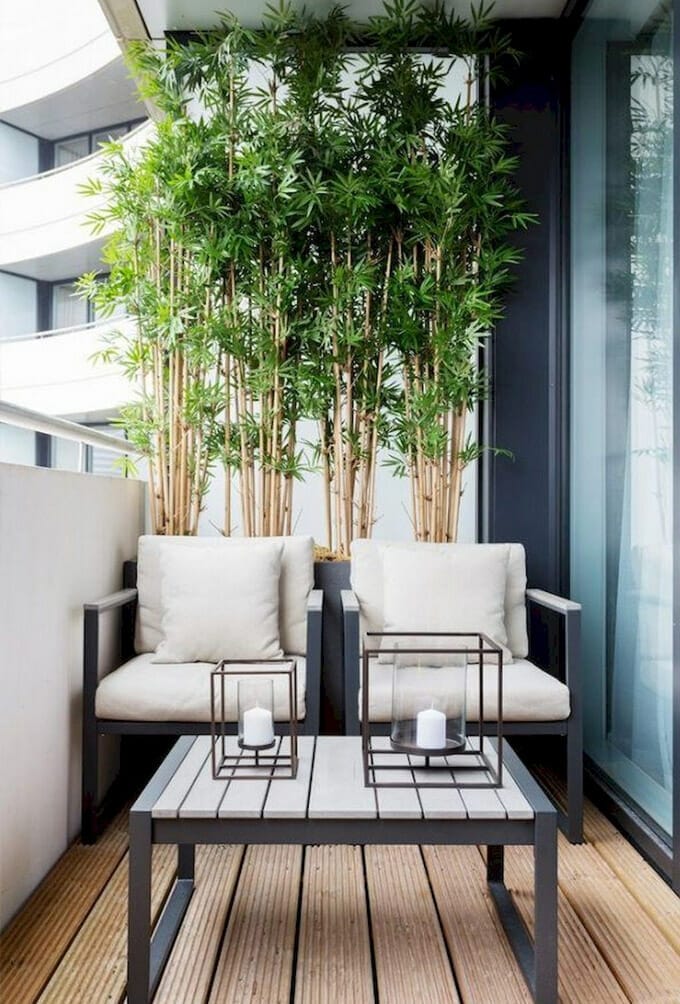 You can grow plants to make your balcony private. However, they take some time to create some privacy. That's why the faux ones come in handy.
This option is suitable for dwellers who cannot keep their plants alive or need decent privacy. Furthermore, artificial plants can be the right solution.
Here, faux bamboo trees protect neighboring balconies as well as streets. In addition, they transform the otherwise basic balcony into a private oasis.
Although the bamboo trees aren't real, they still evoke a zen feeling. Moreover, the wooden floor, table, and armchairs inspire Japanese minimalism.
4. Outdoor Curtains for Balcony Privacy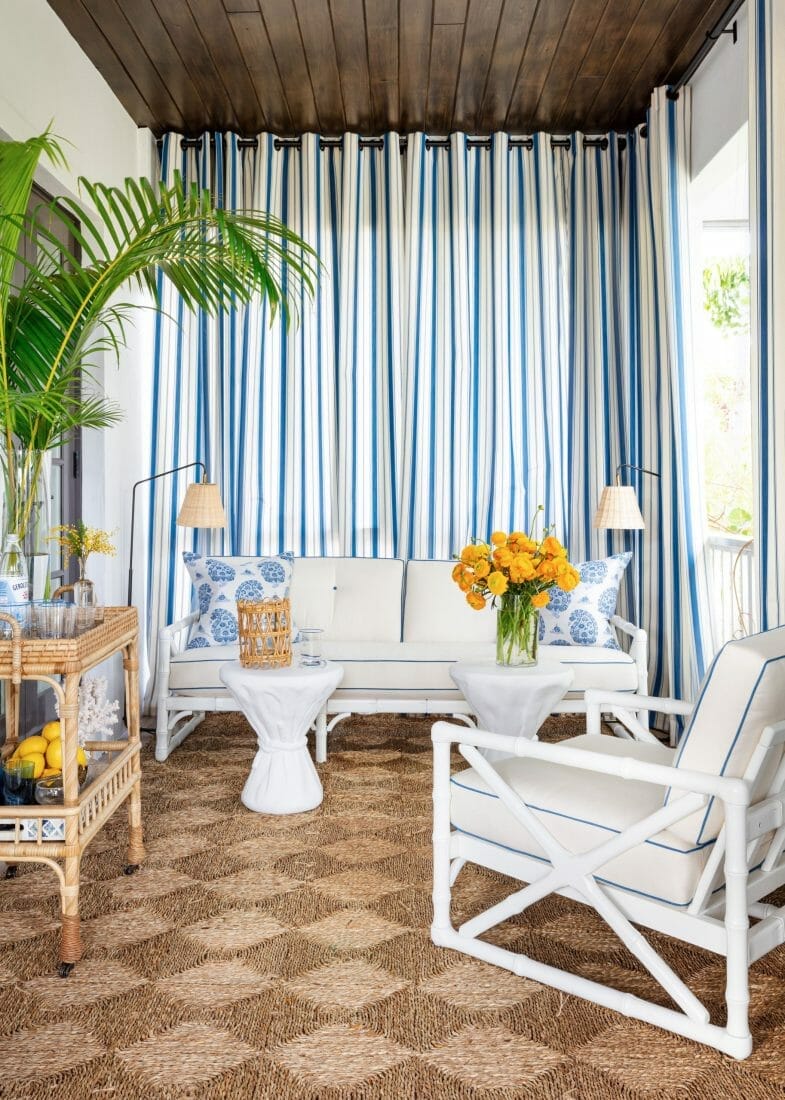 These apartment balcony privacy curtains suddenly remind me of cool resort patios. Moreover, they shield your outdoor space from wandering eyes.
The outdoor curtains give awesome protection against wind and sun. Make sure that yours is fade- and mildew-resistant, so you can use the unit outdoors.
Here, vertical blue and white stripes on the outdoor curtains produce a coastal feel. Furthermore, rattan pieces and palm leaves infuse a tropical atmosphere.
Before hanging striped curtains, you must prepare the right curtain rod. Lastly, the upholstered furniture, flowers, and wicker floor lamps turn the balcony into a tiny outdoor retreat.
5. Balcony Privacy Ideas with Louvered Windows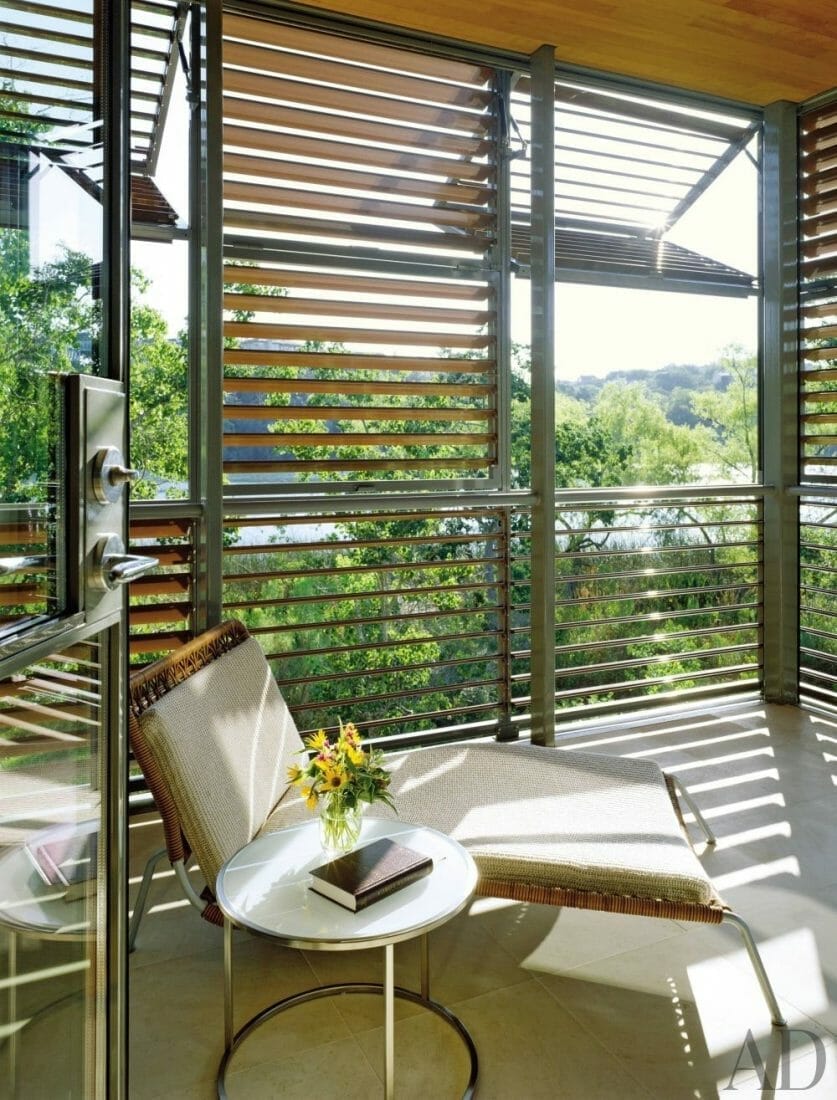 This is one of the impressive small balcony privacy ideas that I admire. The louvered windows prevent unnecessary eye contact. In addition, they make you feel secure in your outdoor space.
These louvered windows do not only provide balcony privacy but also aesthetic. Furthermore, they filter out natural light.
I love louvered windows on this balcony since they're adjustable and stylish. Also, they pair magnificently with the lounge chair and round table. Moreover, the yellow blooms in a small glass vase lend the outdoor space a perky touch.
6. Apartment Balcony Privacy Screen Ideas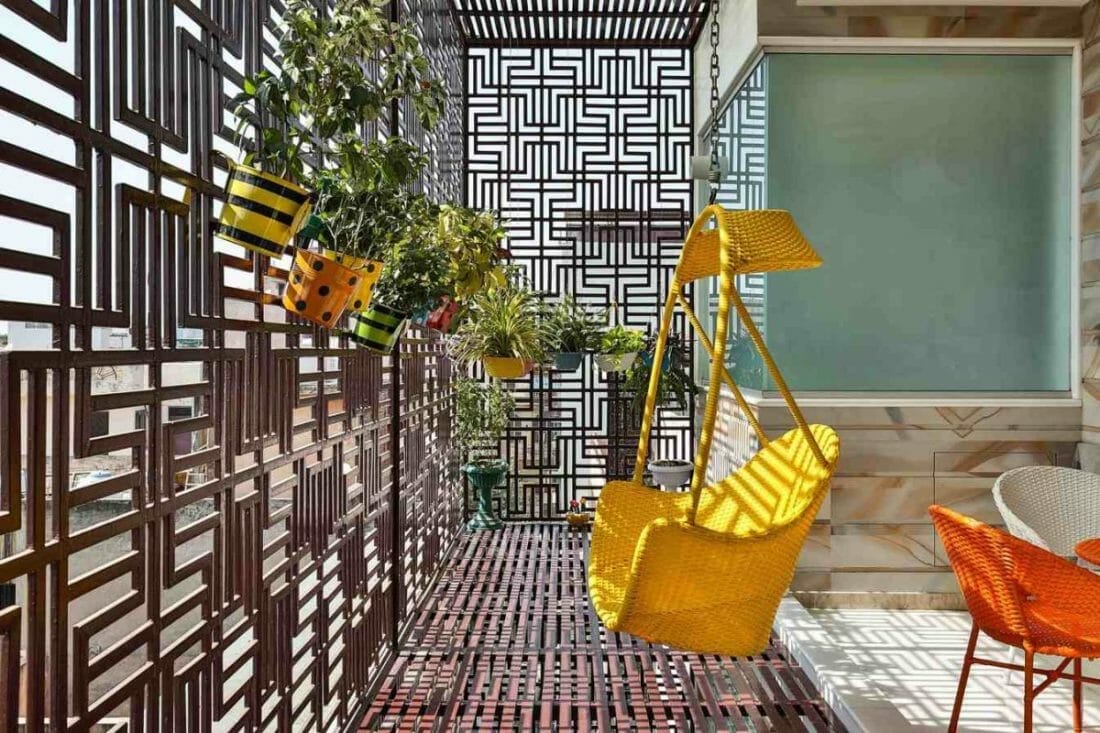 I can't help but adore the privacy screen on this balcony. Not only is it fancy but also eye-pleasing and charming. Moreover, the unit excellently encases the trendy outdoor space.
This screen could be a remarkable solution for your balcony privacy. Furthermore, it provides a statement and glamorous ambiance at once.
Since the privacy screen comes in neutral, it doesn't overpower the balcony. Additionally, hanging plants in colorful pots offer natural green accents. Meanwhile, orange and yellow wicker furniture items punch the area up.
7. Balcony with Hideaway Screens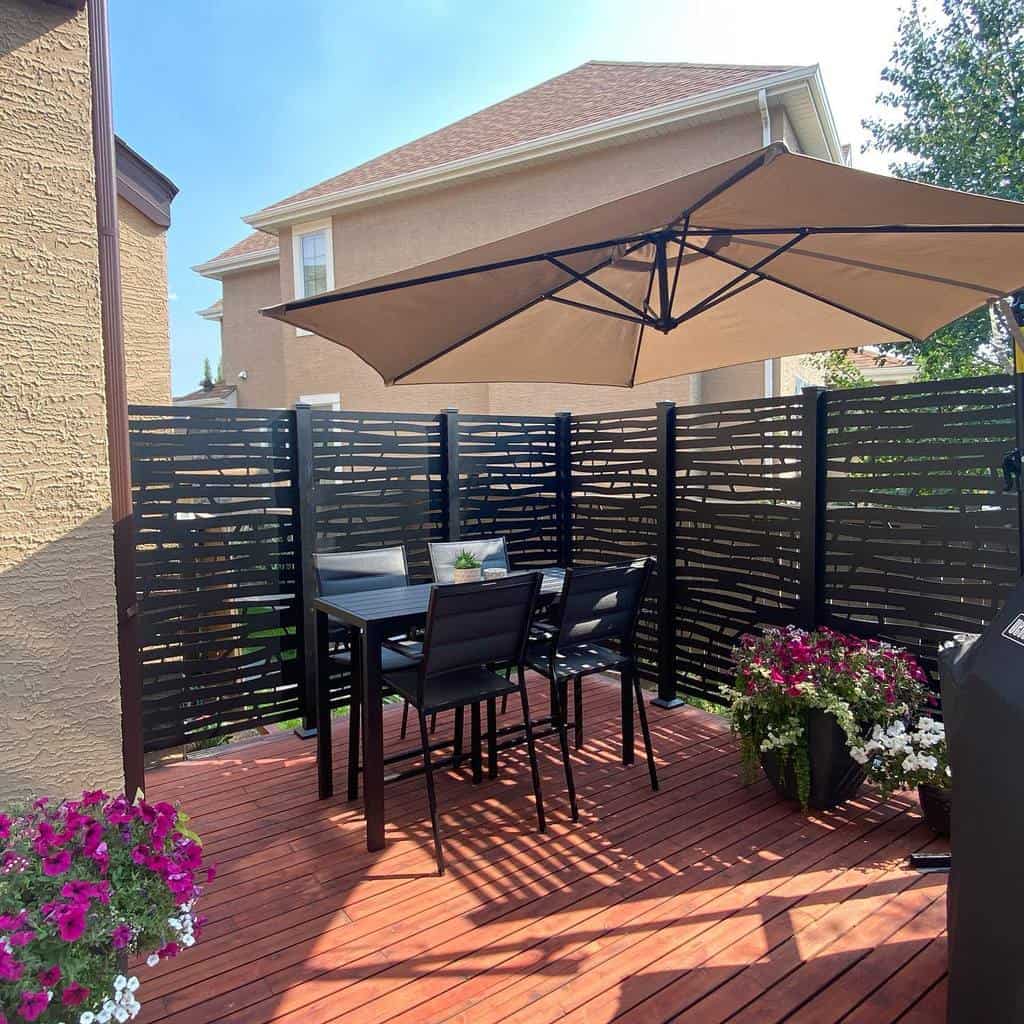 These hideaway screens are not only excellent for ground-floor apartment patios but also pint-sized balconies. Furthermore, they provide an ornamental privacy system that is long-lasting.
Apart from being weather-resistant, these black aluminum hideaway screens cannot rust since they withstand any weather.
If your balcony is pretty expansive, consider adding an adjustable patio umbrella. It can give you decent privacy. Moreover, it shields the whole balcony from the glaring sun and curious eyes.
Both black hideaway screens and dining chairs infuse some drama. Because of the reddish-brown wooden furniture, they seem more visible.
8. Balcony Privacy Ideas with Real Plants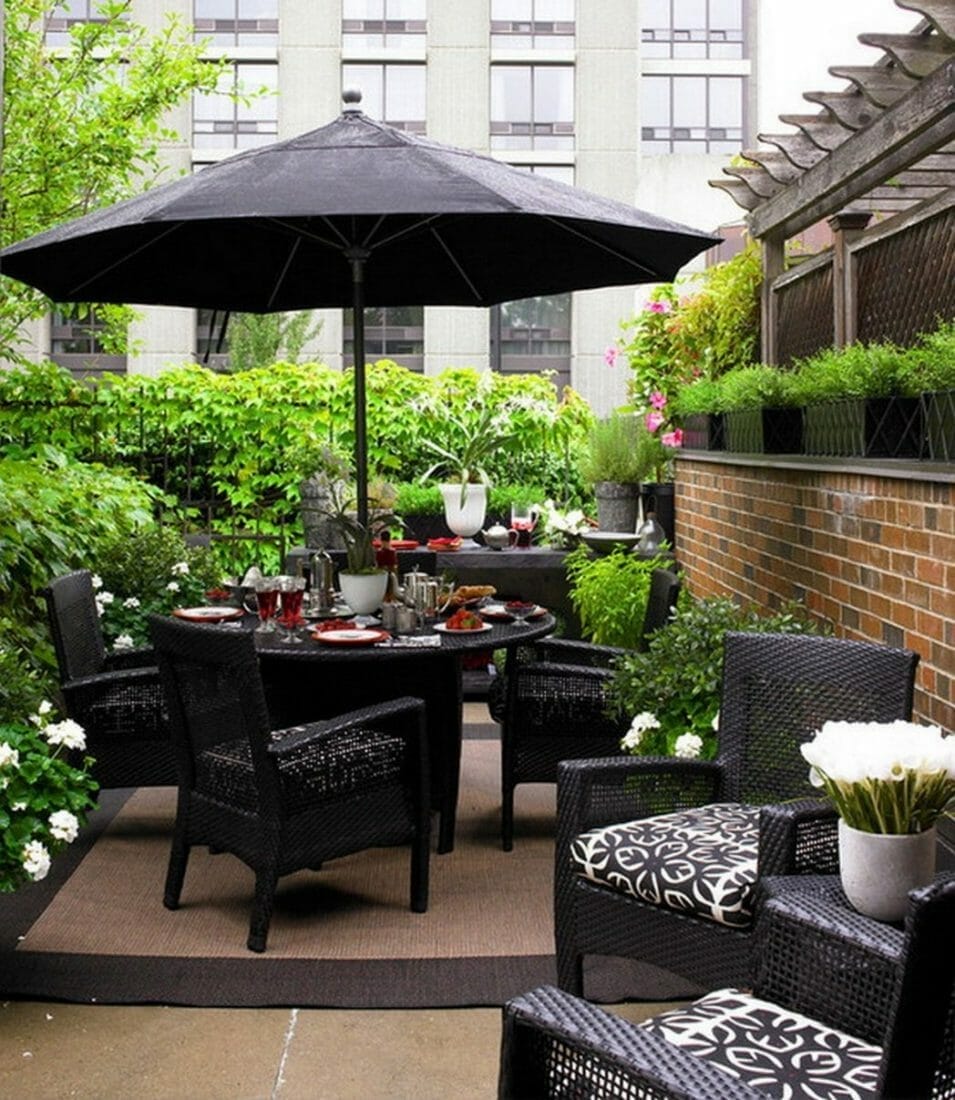 Talking about balcony privacy ideas, you won't go wrong with ivy. The plant grows nicely on anything and provides an aesthetic.
Speaking of balcony privacy plants, don't forget ivy. Moreover, this evergreen climber can cover anything excellently.
This balcony, for example, displays ivy that grows over the metal trellis. Apart from giving protection from prying eyes, it makes the otherwise monotonous outdoor area lively.
There are also other tall plants for your balcony privacy, such as lemongrass, hollyhock, and spartan juniper.
The black umbrella hides the dweller and her visitors from the scorching sun during the summertime. Furthermore, the unit is adjustable and sophisticated. Lastly, patterned seat cushions develop cohesion.
9. Chic Privacy Screens for Balconies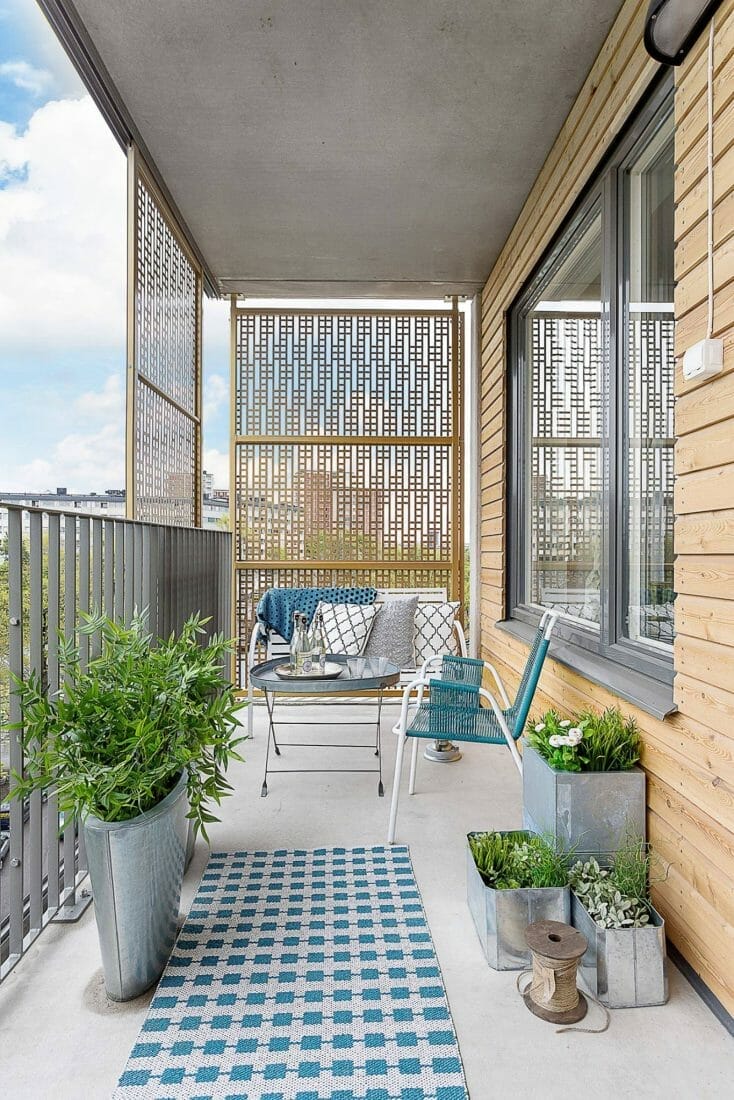 This eclectic urban balcony employs two chairs that wear white and blue. Not only do those furniture items offer a striking contrast but also produce a beachy vibe. Moreover, the Moroccan throw pillows provide an instant appeal.
Speaking of balcony privacy ideas, the dweller added intricate floor-to-ceiling privacy screens to her outdoor space.
The privacy screens are super stylish. In addition, they let in sunlight while maintaining great air circulation on the balcony.
Using these exquisite screens is one of the artful ways to obtain privacy. Apart from keeping the dweller away from wandering eyes, they also evoke intimacy.
10. Balcony Privacy Ideas with Timber Privacy Screens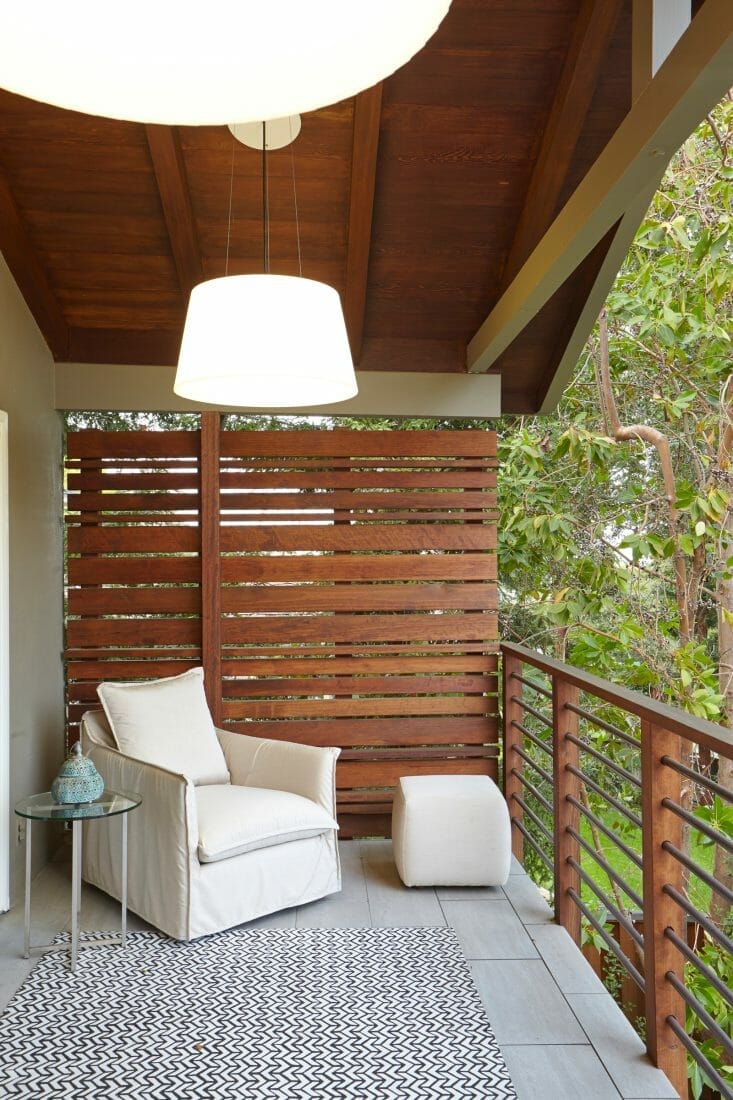 I love this calm contemporary balcony. A warm white stool and a sofa chair offer maximum comfort while oozing serenity.
In addition, the sleek table highlights the light blue decoration. Furthermore, the patterned rug tops the concrete floor tiles and generates a statement.
The low-cost wooden slatted privacy screen lends the balcony organic warmth. Also, it injects a rustic feel and filters out the glaring sun. In addition, the unit protects the contemporary balcony from unwanted prying eyes.
11. Ground Floor Apartment Privacy Ideas
There are numerous balcony privacy ideas for ground-floor apartments. This one is surely worth borrowing.
This Scandinavian-inspired balcony boasts light tan seat cushions for a tranquil setting. Moreover, the rug and throw pillows show off eye-pleasing patterns.
The dweller used the same material for her freestanding privacy screen and railing. Moreover, they impart an inviting air.
Here, the privacy screen's back faces neighboring balconies to protect the dweller's privacy. It poses as a planter wall, too. Furthermore, the unit holds the metal basket, string lights, and potted blooms.
12. Balcony Privacy Ideas with Bamboo Screens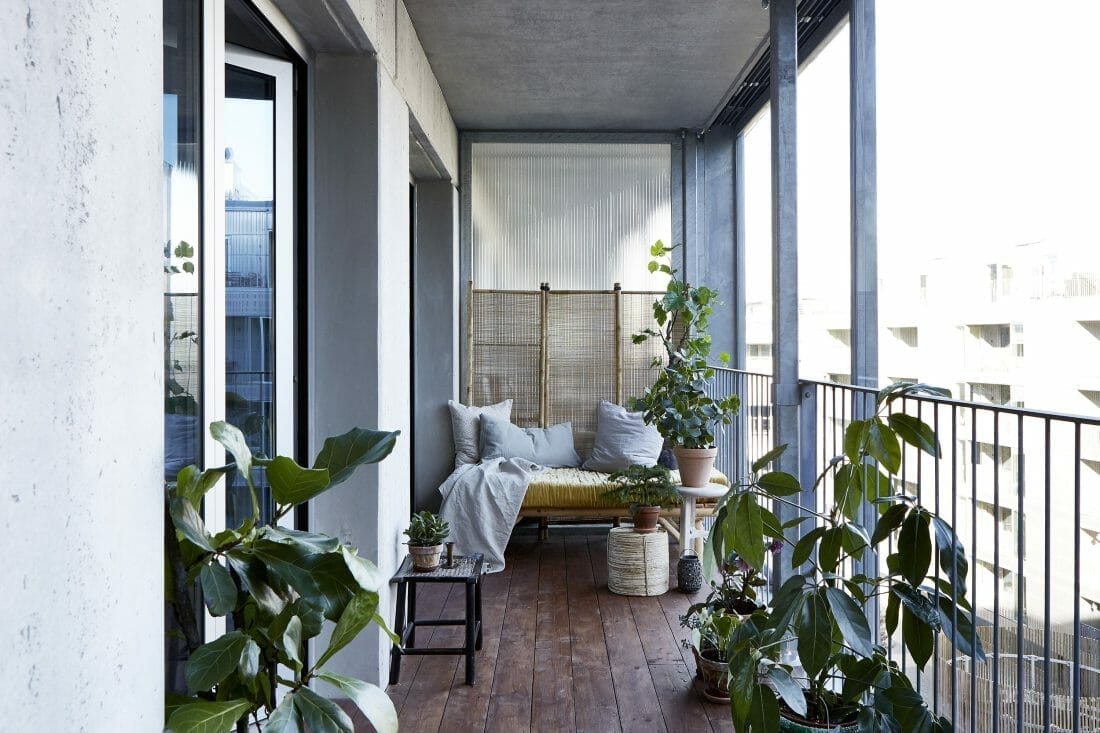 Since the dweller has a pint-sized balcony, she only incorporated a bench into the space. Moreover, she lined it with the throw pillows for a comfortable nuance.
Terracotta pots and planters accommodate statement plants as well as succulents. Furthermore, they breathe some life into the urban balcony. Additionally, dark wooden planks emanate a welcoming vibe.
The freestanding bamboo privacy screen infuses a tropical atmosphere. Also, it filters out the wind and sun while adding a rustic aesthetic. Due to the unit, the dweller can feel secure on her balcony.
13. Modern Privacy Screens for Balconies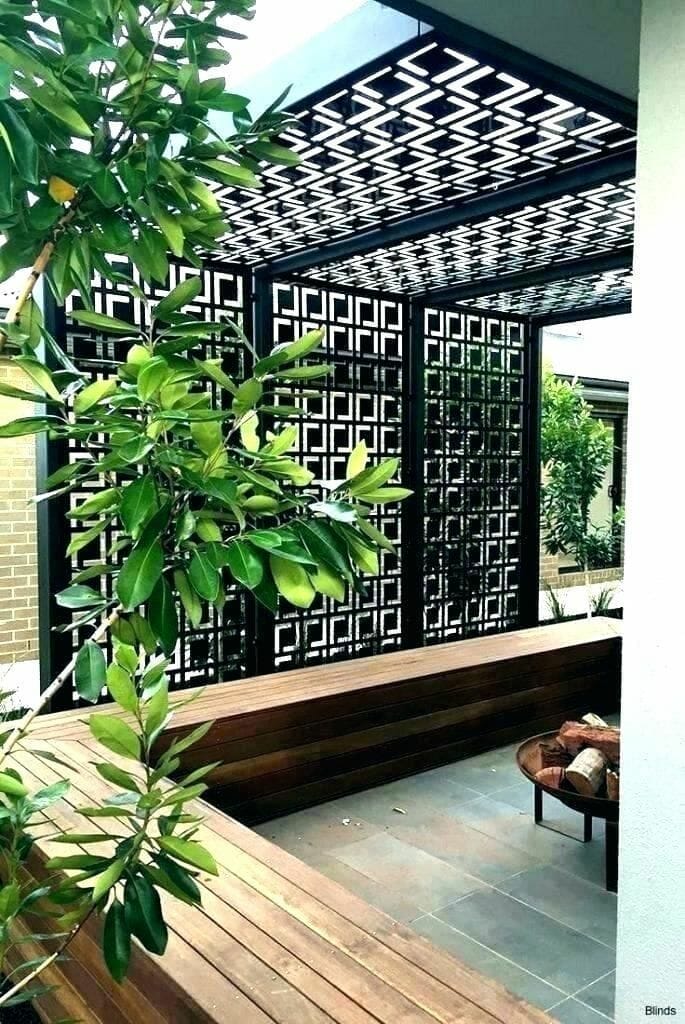 With many balcony privacy ideas, your choices are surely unlimited. This area has a black metal roof and screens. Furthermore, they develop a modern aesthetic.
The decorative privacy screens lend the ground-floor apartment balcony interest and drama. In addition, they inspire pure sophistication.
Here, the black screens go with the minimalist wooden bench excellently. Apart from being exquisite, they protect the dweller from the street as well as nosy neighbors. Lastly, the sculptural tree and firewood produce a natural ambiance.
14. Balcony Privacy Ideas with Solid Fabric Curtains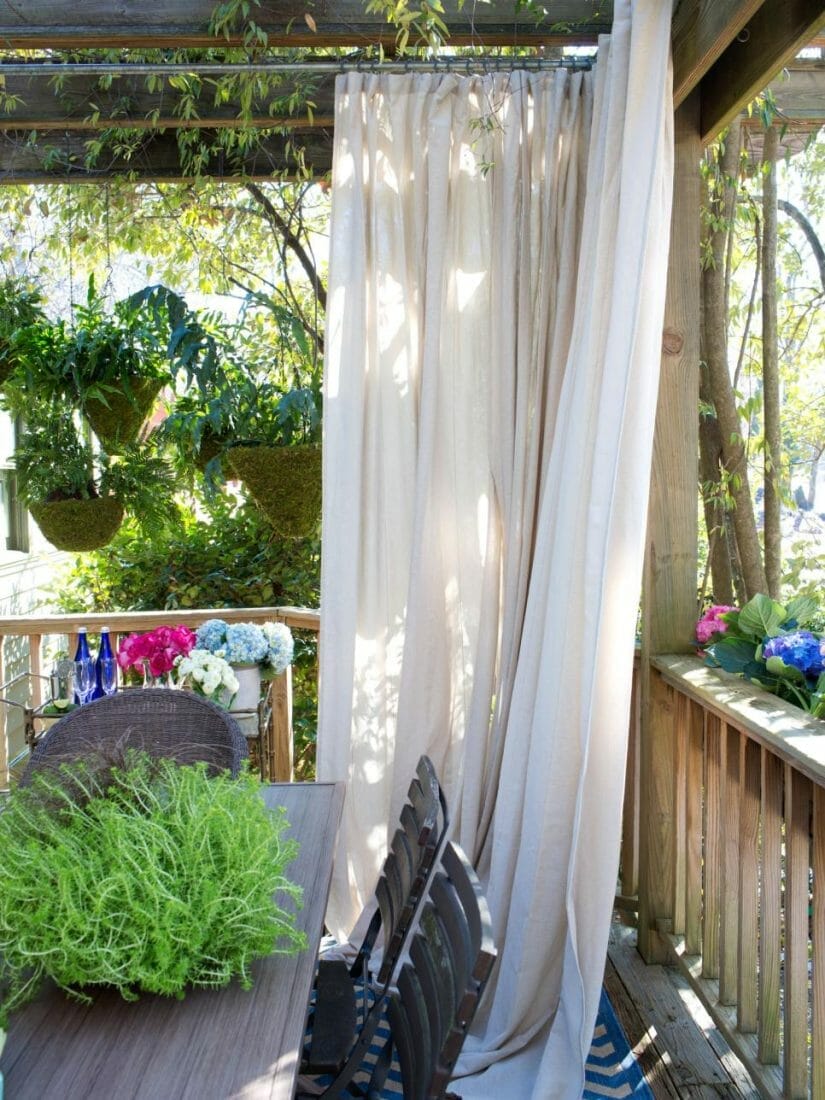 Have privacy issues? If so, consider draping the solid fabric curtains around your balcony. They'll keep the outdoor space safe from wandering eyes.
These balcony curtains are ideal for outdoor use. Furthermore, they can resist color fade as well as mildew.
As the image shows, the dweller hung her balcony curtains from the metal curtain rod. In addition, they infuse pure elegance.
The solid fabric curtains send out a cozy feel. They blend with the bare wooden railings and posts, too. There are also hanging potted plants behind them. Meanwhile, the blooms and greenery enliven the balcony.
15. Reed Fencing As Balcony Privacy Screens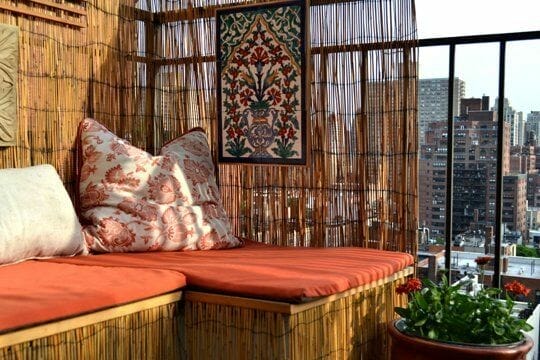 Speaking of balcony privacy ideas, try using reed fencing. It's such a delightful privacy solution for both apartment patios and balconies.
Here, reed fencing acts as a balcony privacy screen. Moreover, it aids in improving privacy on the balconies. In addition to being economical, the item is environmentally friendly.
The reed privacy screen gives the outdoor area some warmth. Furthermore, it protects you and your visitors from curious eyes.
Due to the reed fencing, the urban balcony has a tropical flair. The orange seat cushion develops a welcoming feeling, while the floral throw pillow and artwork make the area gorgeous.
16. Slatted Privacy Screens for Balconies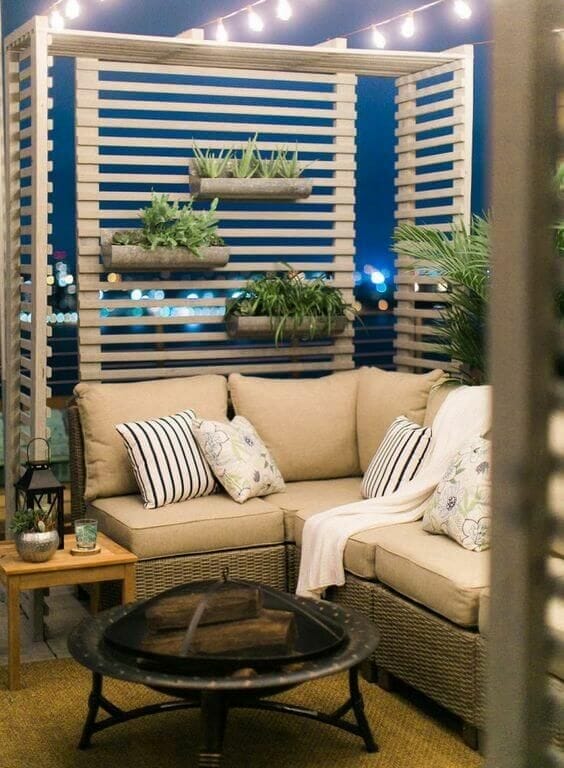 Talking about balcony privacy ideas, you can't forget wooden slatted outdoor screens. Not only are they truly cost-effective, but also exude a modern feel.
This urban balcony, for example, boasts white-painted slatted privacy screens. Additionally, they double as planter walls that display captivating plants.
White slatted outdoor screens introduce a light feeling. Furthermore, they go with the wicker furniture well.
The wooden slatted screens let the dweller get more privacy on her balcony. Striped and floral throw pillows perk up the neutral seat cushions. Because of the string lights, the visitors don't need to sit outside in complete darkness.
17. Balcony Privacy Ideas with Reed Fencing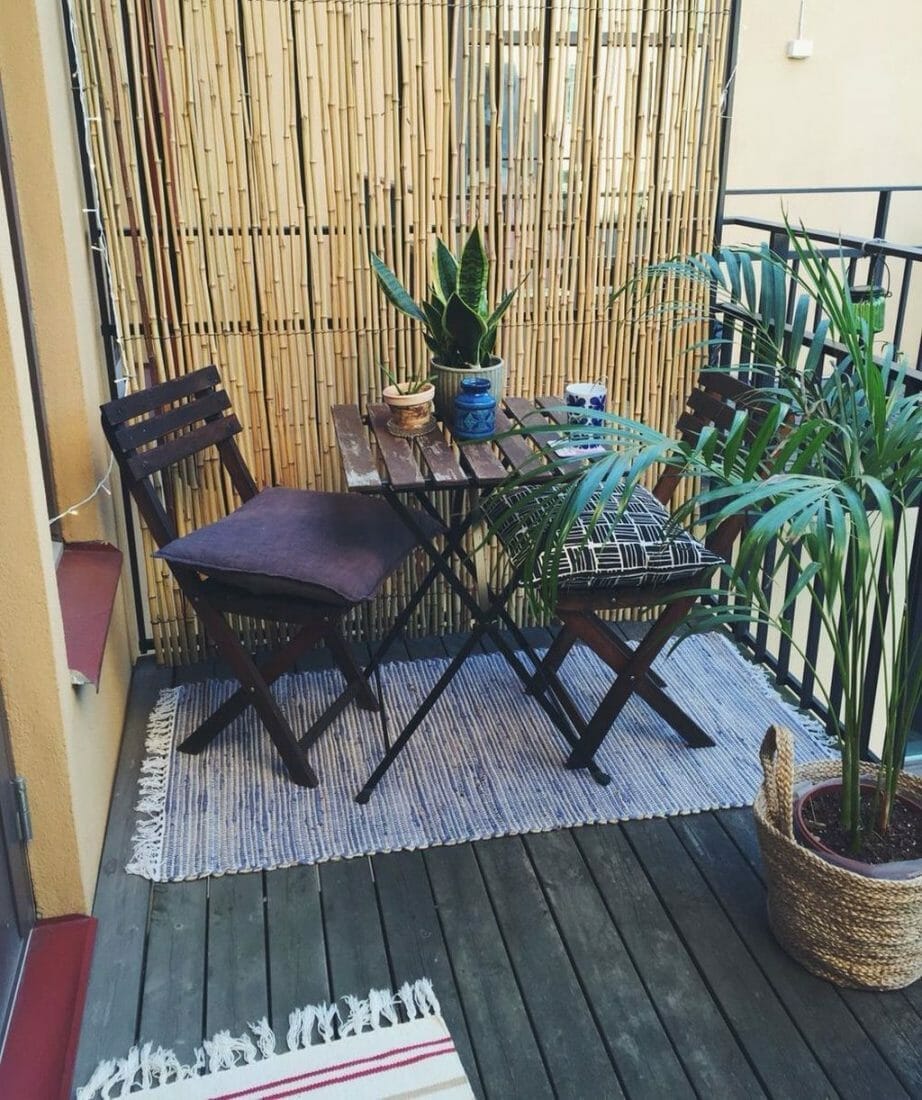 For dwellers who have privacy issues, look no further than blonde reed screens. Apart from infusing a tropical vibe, they enhance privacy in the outdoor space.
Here, the balcony features deep brown furniture items and dark gray wooden planks on the floor. They instantly inject some drama. Moreover, the reed privacy screen brightens up the outdoor space quickly.
In addition to giving the dweller privacy, the reed fencing filters out the sun. The snake plant, parlor palm, and wicker pot holder heighten the tropical atmosphere.
18. Tiny Balcony Privacy Ideas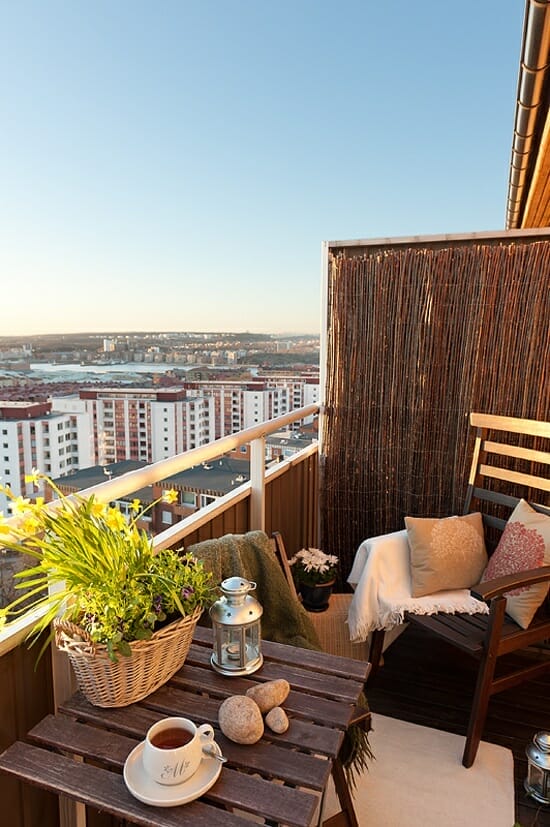 Pint-sized balcony? No problem. Just borrow this idea. Here, the outdoor area features a few units, such as a wooden table and a couple of armchairs. They develop a welcoming vibe without overcrowding the tiny space.
The reed fencing works as a privacy screen. Moreover, it offers the dweller privacy while producing a tropical flair.
On top of the table is a rattan basket. Furthermore, it accompanies reed fencing and injects an extra tropical touch.
19. Balcony Bamboo Privacy Screen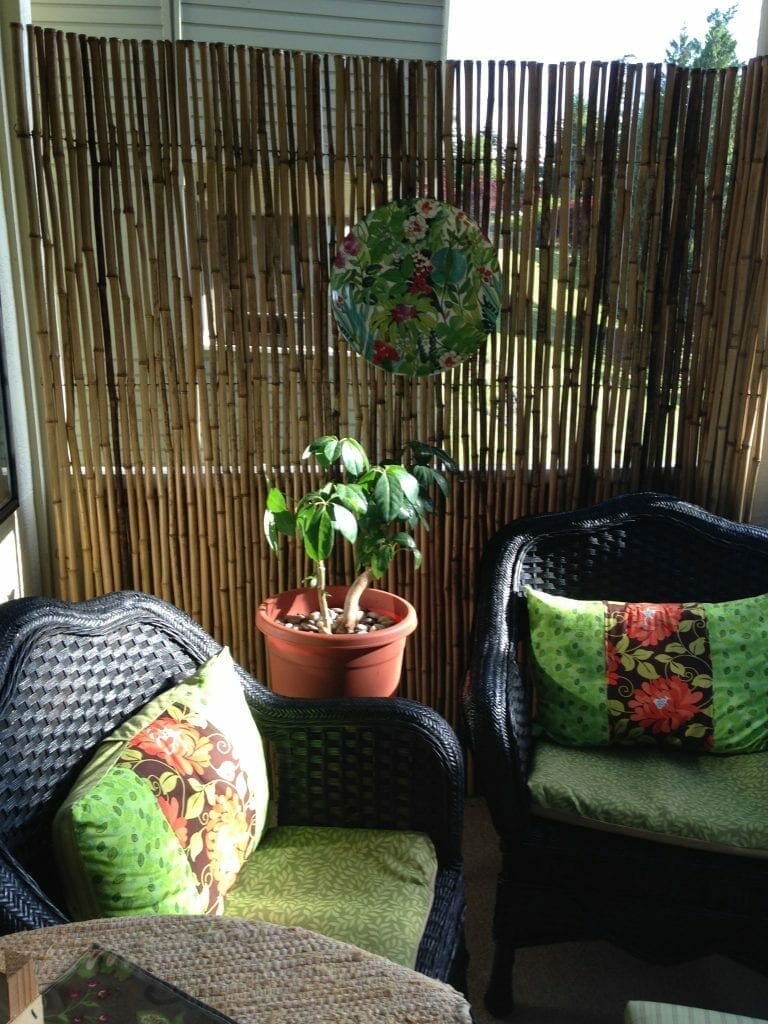 As you see, the dweller included a bamboo privacy screen in her outdoor area. Moreover, it makes the balcony more private and inviting.
The bamboo privacy screen lends the balcony a tropical appeal. Furthermore, it acts as a rustic backdrop for the ornamental plate and potted plant.
Due to the freestanding bamboo screen, the dweller is always safe from curious eyes. Lastly, pillows and seat cushions boast botanical prints for a cohesive look.
20. Balcony Privacy Screens with Wooden Slats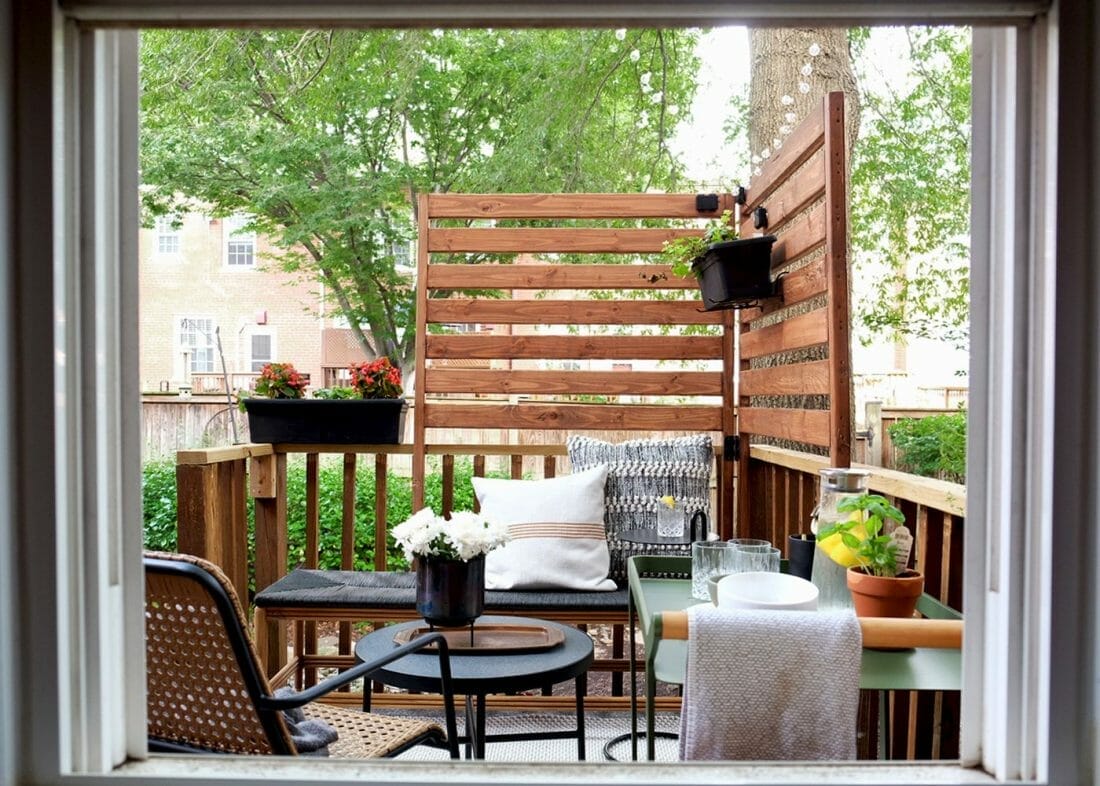 Instead of using freestanding privacy screens, the dweller put her wooden slatted screens on her railings. Furthermore, they are affordable, remarkably rustic, and eco-friendly.
Here, the dweller also combined her wooden slatted screens with hanging plants. They generate more privacy while providing a natural aesthetic. In addition, the throw pillows on the black bench keep the balcony inviting.
Those balcony privacy ideas can make outdoor spaces private. If you hate wandering eyes, borrow any of them soon. Furthermore, opt for the one that accommodates your needs. After protecting your privacy, then feel free to decorate the area.