Linger at your residence all the time during the pandemic can be mundane. You need to work out and play even though it is still in your garden. So, check out these backyard basketball court ideas below.
We are confident that these ideas will help you release stress and blow off the steam.
1. Backyard Basketball Court Ideas with Textural Effect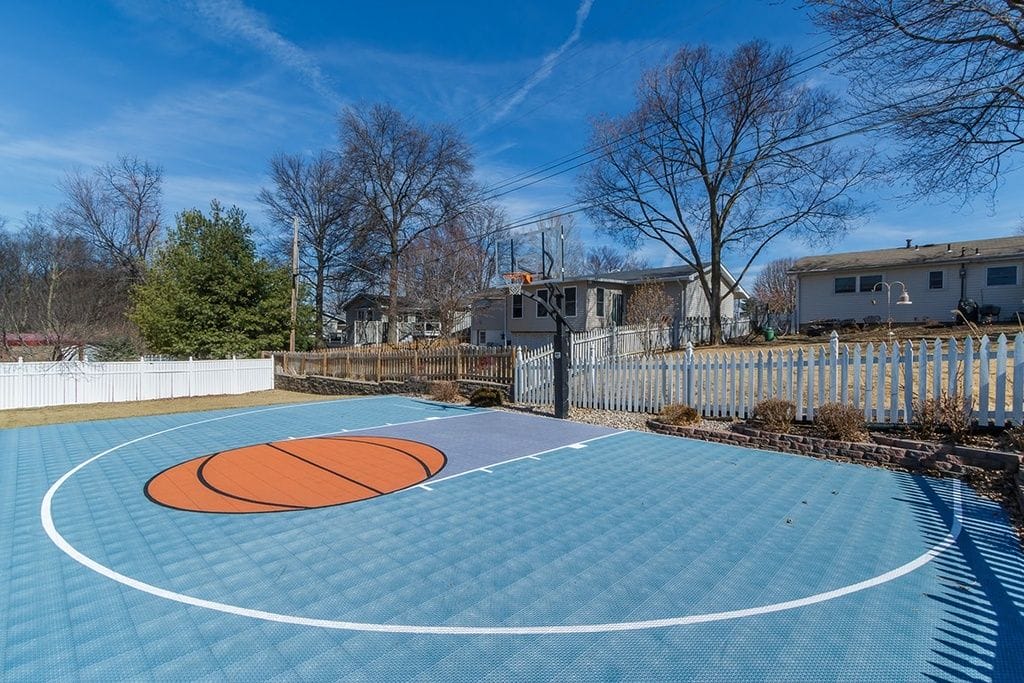 People usually use concrete flooring or asphalt sub-base construction to make a basketball court. But now, you can try an easier way to get this look.
To make a basketball court in your backyard without breaking a sweat, you need to compact and level the ground to make a solid permeable sub-base.
Next, lay a woven geotextile on it and adjust it in the spot with horizontal pins.
After that, begin to lay the interlocking sub-base tiles. Make sure you leave a gap of 3/4" between the retaining walls and the tiles to allow any expansion.
Next, lay an 8-oz needle-punch filter fabric on top of the tiles. This permeable fabric will reduce the noise because it can act as a sound barrier.
It also provides a layer between the sub-base panels and modular tiles, which eliminates the risk of slipping.
Finally, you can lay the modular plastic tiles. Since they come in interlocking design, it will easier for you to assemble them.
Once you are done, you will get a basketball yard with a bit of textural element that offers more grip.
2. Backyard Basketball Court Ideas on a Budget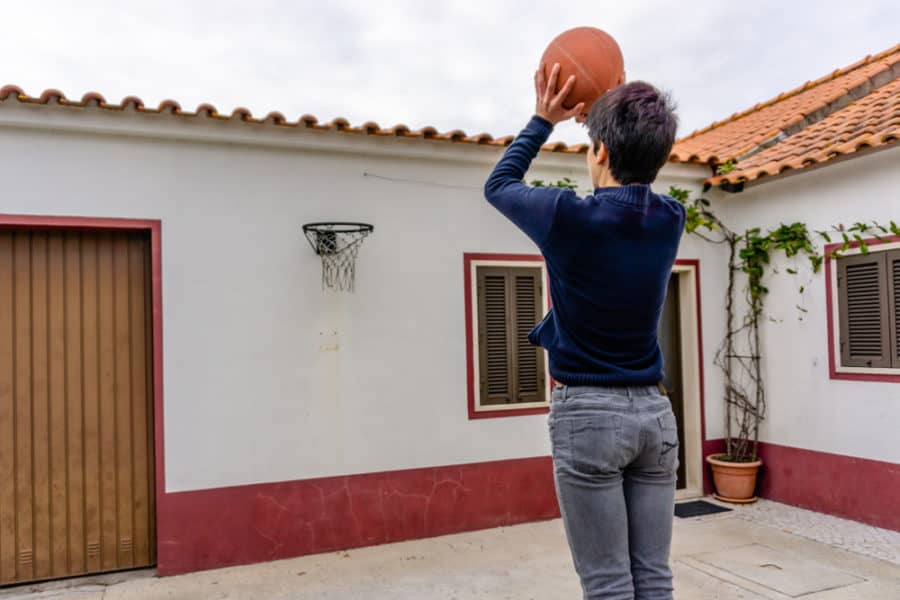 Well, the idea of having your basketball court in your backyard can be thrilling.
However, the installation of the tiles and application of the paint can cost you a fortune and take up a lot of your valuable time.
Actually, making a basketball court does not have to be arduous. It can be as simple as attaching a basketball hoop and net to a wall in your backyard.
The hoop plays a crucial role in creating a basketball court. Even if you have a small backyard and a limited budget, you can still experience the fun.
3. Modern Backyard Basketball Court Ideas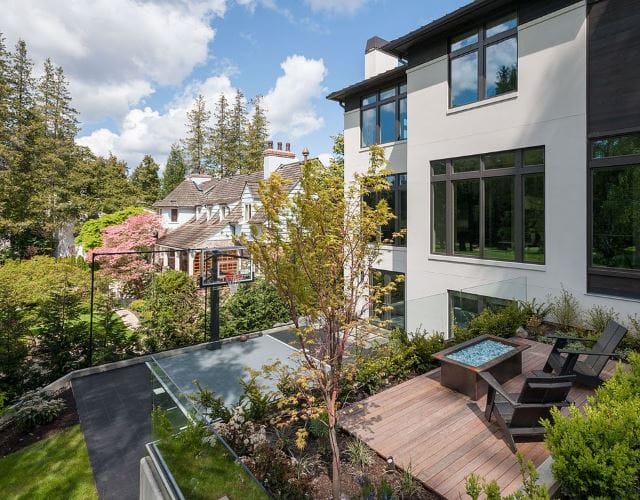 This modern backyard packs a lot of fun for multiple users. It has a relaxing area for a couple along with a fire pit table that keeps you warm during the freezing night.
Since it is situated on a higher area, it overlooks the basketball court beneath.
This basketball court comes in a minimalist look to match this modern home. Although it is rather small, it is sufficient for a single player that wants to brush up on his skills.
4. Backyard Basketball Court Ideas and Playground Combo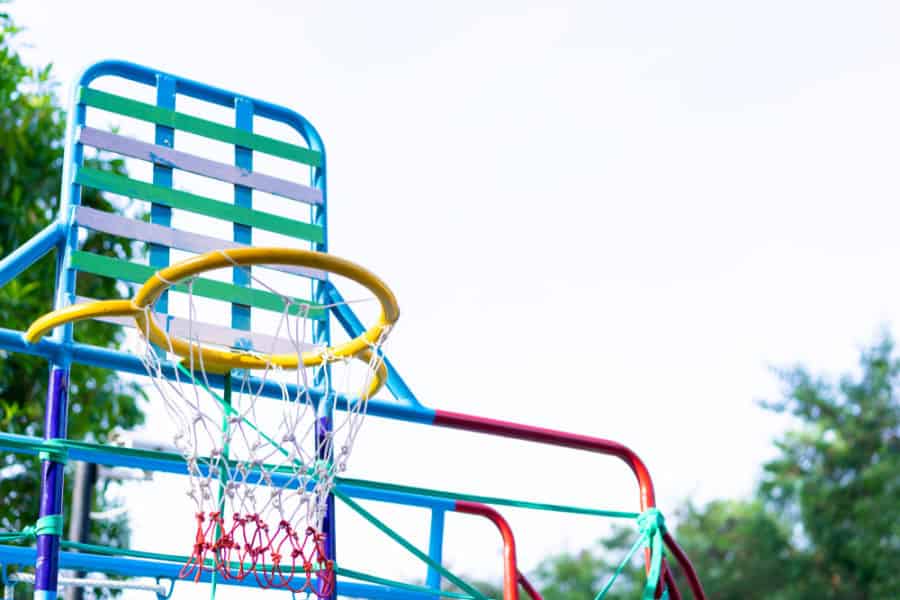 Not only adults and teenagers but also kids like playing basketball. Therefore, making a court in the backyard for them is a good idea.
The primary concern you need to analyze ahead of making a basketball court for them is the height. You ought to assure that they can reach the ring.
This backyard basketball court idea is worth copying. Instead of attaching the ring to a backboard or wall, you can try welding it on to a playground climber.
By doing this, your kids can play various kinds of games at the same time.
5. Backyard Basketball Court Ideas and Golf Course Combo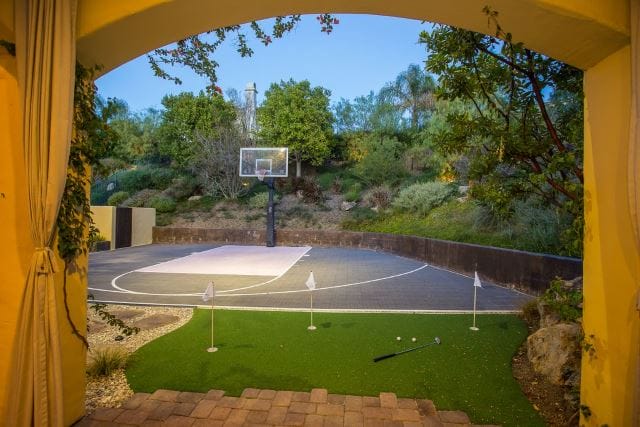 If you have an oversized backyard, do not let it lie dormant. It is an opportunity to gain the most of it by tapping into it. You can try making a basketball court and golf course combo.
This backyard features a half-court basketball system. Although it is not a full-sized one, it does in a pinch because it allows you to do a 3-pointer.
Next to the basketball court is a mini-golf course. Well, it is not as spacious as the real, but it can still offer you the excitement of this sport. Kids will also find it thrilling when they can drive the ball into the hole.
6. Backyard Basketball Court Ideas with Natural Shade
Instead of cutting down all the trees in your backyard, you can keep some of them to create natural shade around the basketball court.
Imagine when fall comes. The leaflets will be plummeting from the trees and creating a breathtaking view. They will also alleviate the glaring sun so that you can keep playing basketball despite the hot day.
7. Backyard Concrete Basketball Court Ideas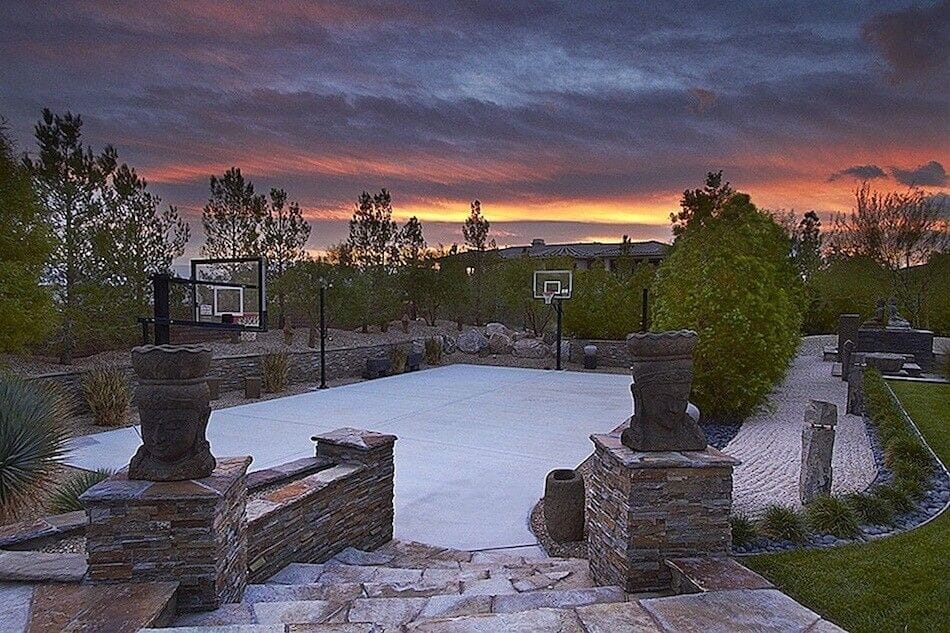 Concrete or asphalt are the most common materials used to make patios due to their durability and sturdiness.
Therefore, you can also use them to build a strong backyard basketball court that allows the ball to bounce nicely.
However, a concrete basketball court can be harmful. The hard surface can hurt your legs and ankles. Asphalt also offers the same drawbacks as concrete does. It can even tear up your shoes, skin, and ball.
To gain the ultimate safety, consider surfacing the concrete with a synthetic basketball court that will be easier on your legs and knees. It will also give an outstanding look to your backyard.
8. Backyard Basketball Court Ideas with a Dramatic Backdrop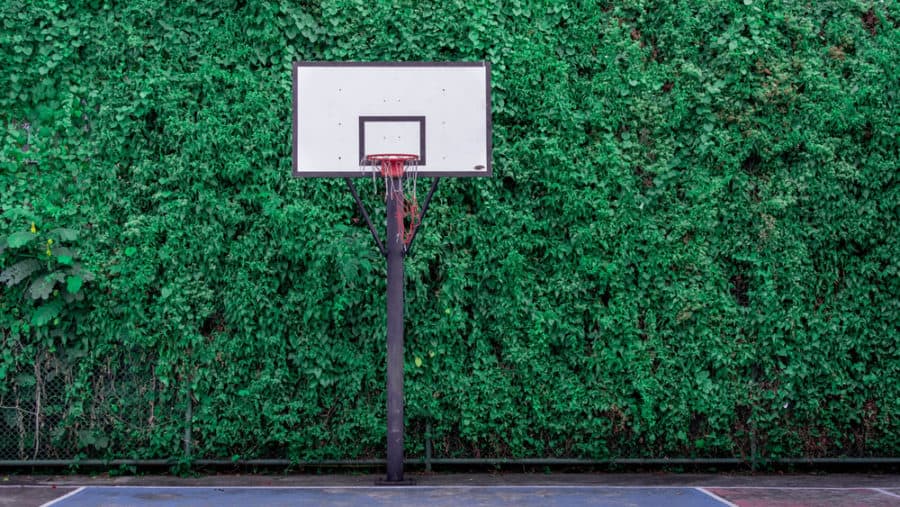 If you are going to make a basketball court in your backyard, consider surrounding it with wire mesh to prevent the ball from bouncing outside the area.
However, the plain wire mesh can be a bit boring. You can make it look more stunning by covering it with climbing plants, such as hops, trumpet vine, wisteria, morning glory, or honeysuckle.
This backboard stands in front of wire mesh. Climbing plants completely wrap the fence around, creating a lush green cover that makes a dramatic backdrop when you try to shoot the ball into the hoop.
9. Backyard Tennis and Basketball Court Ideas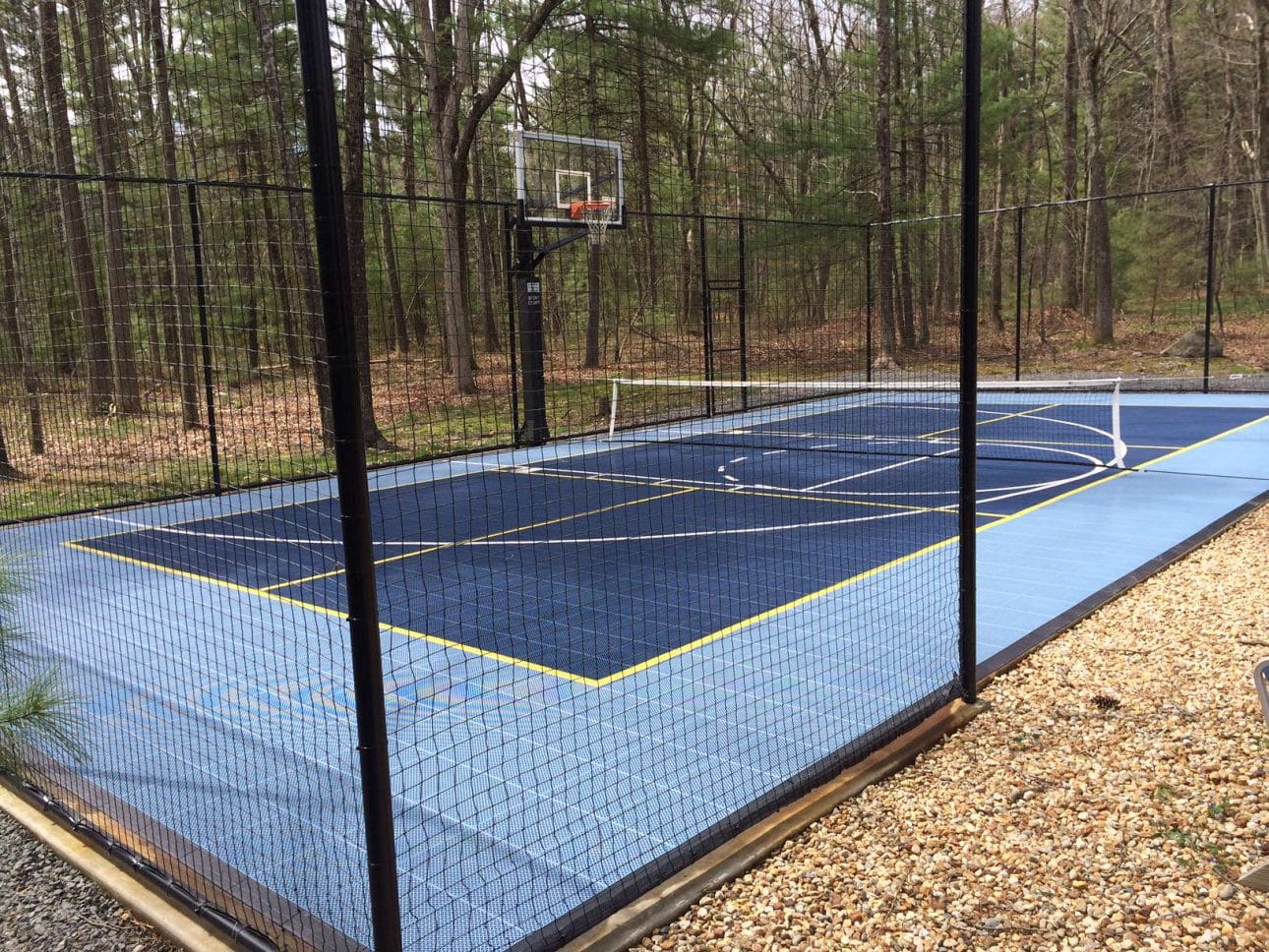 Are you trying to figure out whether you want to make a basketball or a tennis court in your backyard? How about constructing them both?
You might be thinking that having both private basketball and tennis courts entail a lot of budget and space. Well, it ought not to be that complicated and painful.
Try this backyard basketball court idea to get more fun. It is the site for those who are keen on working out while playing.
To get this combo, you need to make the sub-base construction before surfacing it with a sports court that eases your knees and legs. Do not forget to install a wire mesh fence around it to catch any bouncing balls.
The tennis net is not permanent. Therefore, you can fold and store it in your garage when not used.
10. Backyard Multipurpose Basketball Court Ideas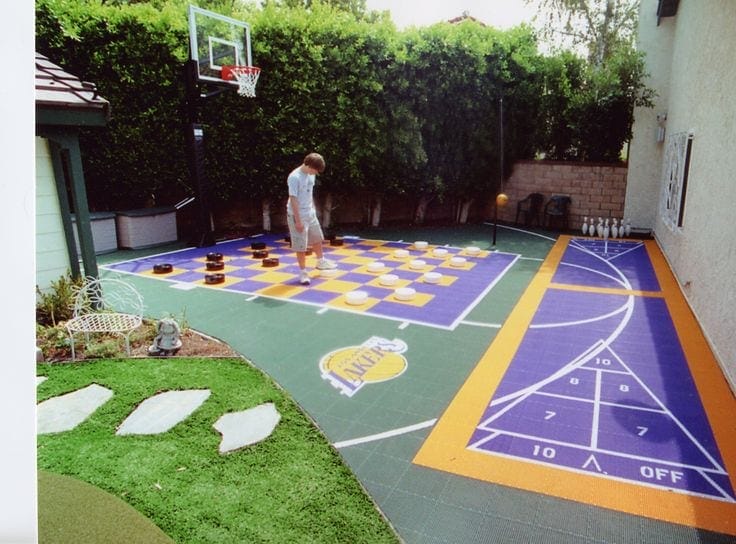 A small backyard is not a dead end. Do not ever think that tiny space will not grant you enormous fun. This one has proven that it can do a lot of things despite being compact.
This small backyard packs various kinds of games within a small space. You can play not only basketball but also bowling, chess, and dart in the same place.
11. Backyard Basketball Court Ideas with Net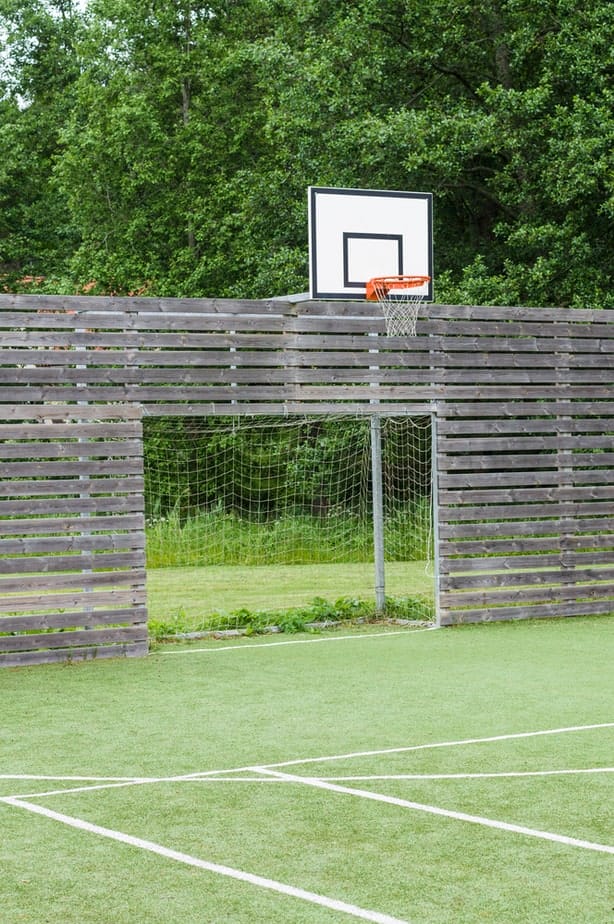 This is another sport court combo that you can try to make at home. It features a distressed wood fence that adds a bit of a rustic look to space as well as keeping the balls inside the arena.
In addition to a backboard hanging on the fence, it also has a net. This kind of construction allows you to play basketball or soccer whenever you want.
As a bonus, the net under the hoop will not only hold the soccer ball but also basketball so that you do not have to run after the bouncing ball all the time.
12. Backyard Playing Basketball in a Swimming Pool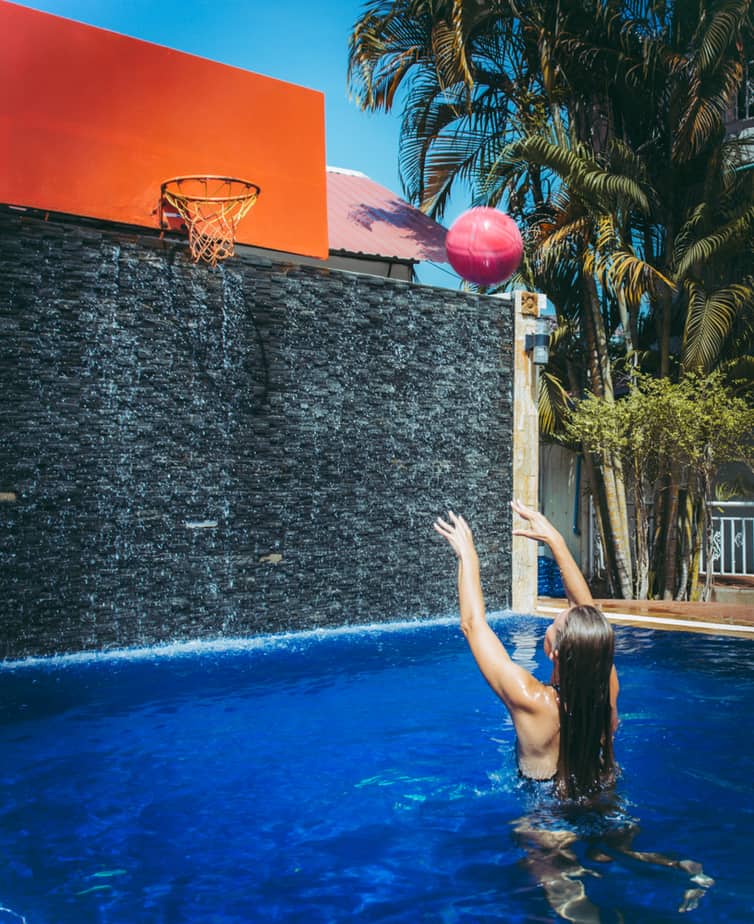 Playing basketball in the water? Why not? You can play it while swimming. It will be a bit different from doing it in a sports court, though.
Here, you will not be able to bounce the ball. You will only shoot it into the hoop attached to a backboard. It will be so much fun if you play this game with your friends.
13. Backyard Inflatable Basketball Court Ideas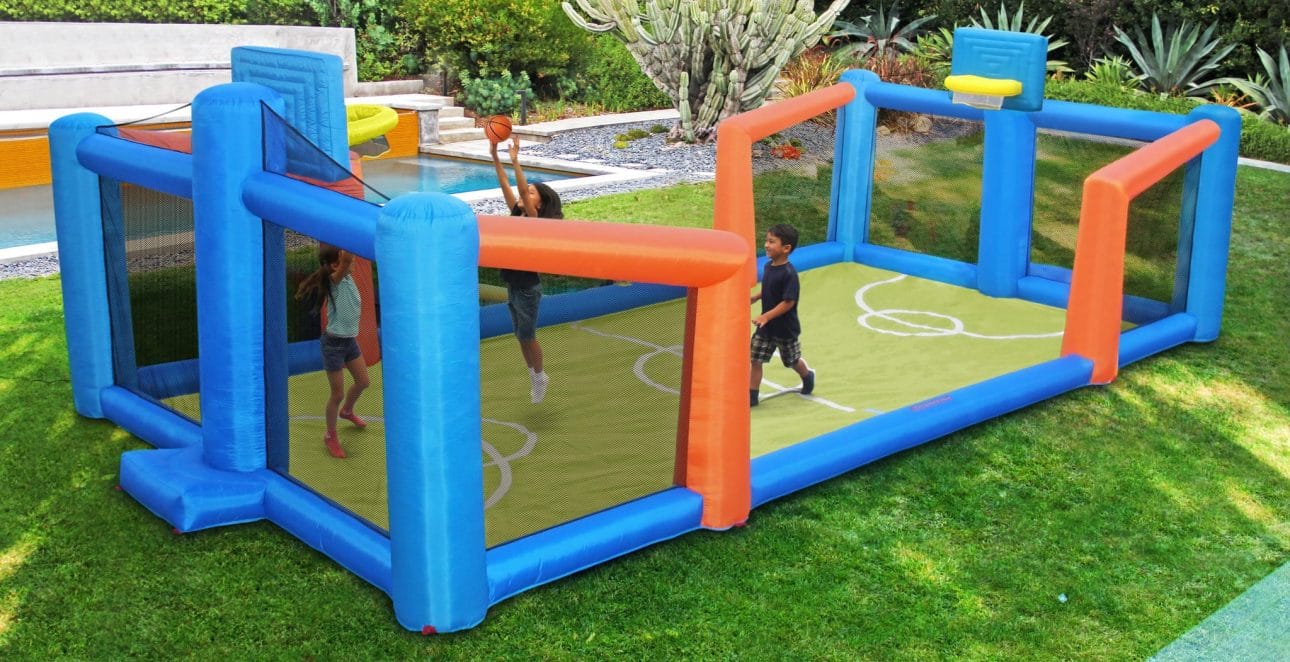 Do you want to make a basketball court for your kids, but you hate the labor and are not willing to create a permanent one in your backyard? You can opt for this inflatable one.
As you can guess, you only need to use an air blower to get this thing ready within 2 minutes. Do not worry about the hoops, backboards, and court lines because you can find them all here.
Most inflatable basketball courts are durable and strong. But it is always a great idea to include an anchoring set to enhance stability.
14. Backyard Basketball Court Ideas in a Patio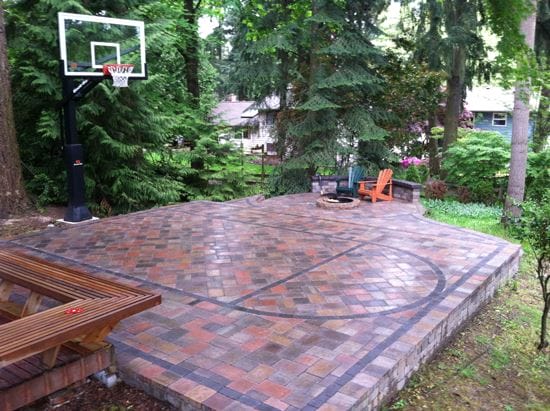 You can play basketball anywhere in your backyard as long as it is spacious enough, just like this patio.
This patio is quite spacious to accommodate multiple users. You can sit back and relax by the fire pit while watching your kids trying to shoot the ball into the ring.
Although it is not the standard of an ideal basketball court according to FIBA regulations, it still satisfies the temptation of blowing off steam. This could be a great option to be part of your tropical garden.
15. Backyard Basketball Court Ideas for Kids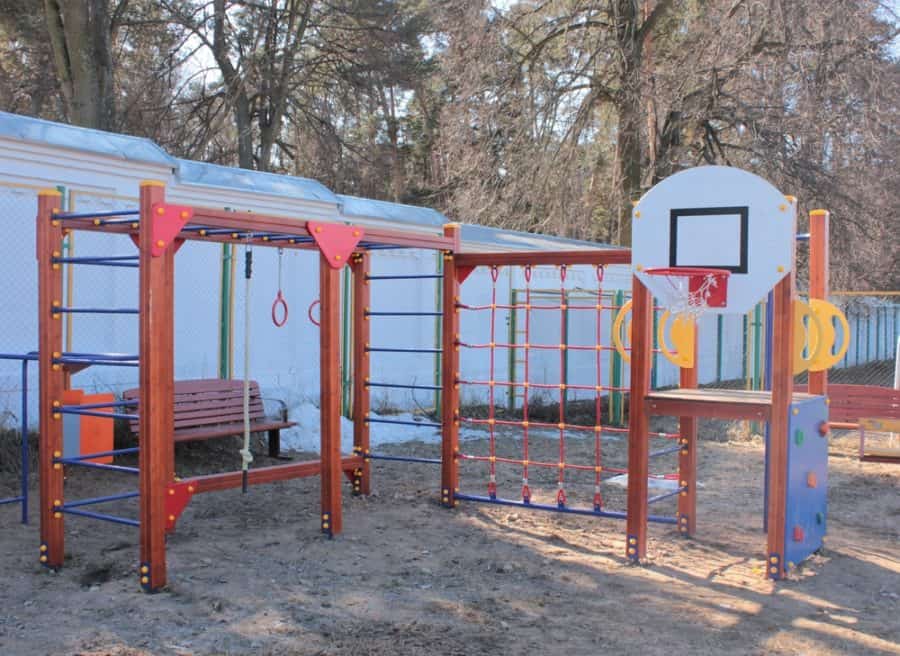 This backyard is a haven for any kid. It has all the things they need to stay active and happy.
As you can see, you can find monkey bars, gymnastic rings, and mini wall climbing that allow your kids to hang and do any other physical activity.
This mini playground also has a backboard and hoop. Since it is not too high, your kid will be able to make a score more easily.
16. Backyard Basketball Court Ideas with Colorful Backboard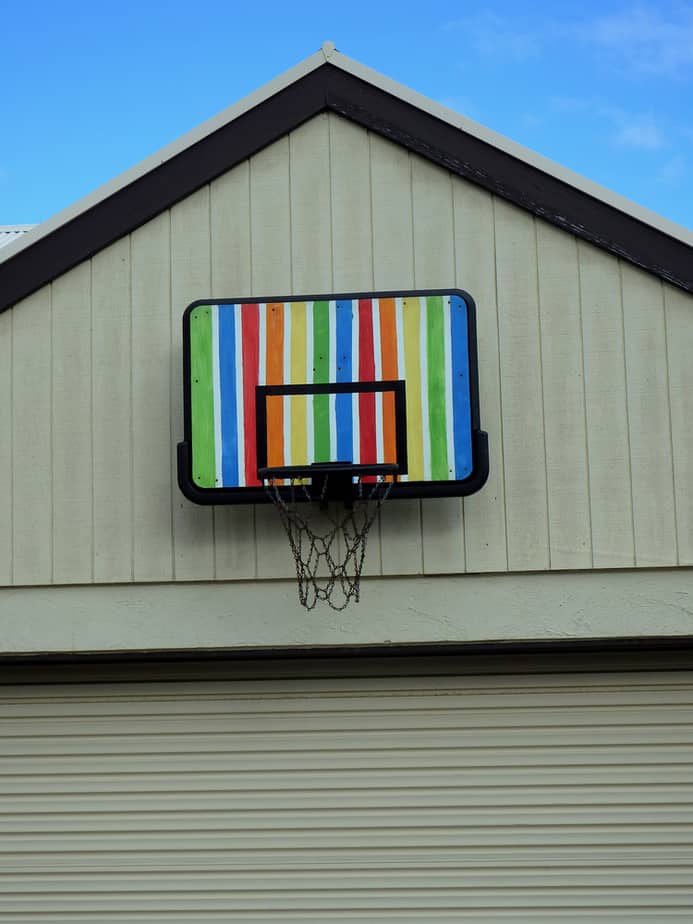 Who says that a backboard has to be monochromatic? If you want to add more fun by playing with colors, please do.
This backboard has shown you that there is nothing amiss with being vivid. It comes in rainbow hues that infuses good vibes to your backyard. It also brings a bit of retro flair.
17. Rustic Backyard Basketball Court Ideas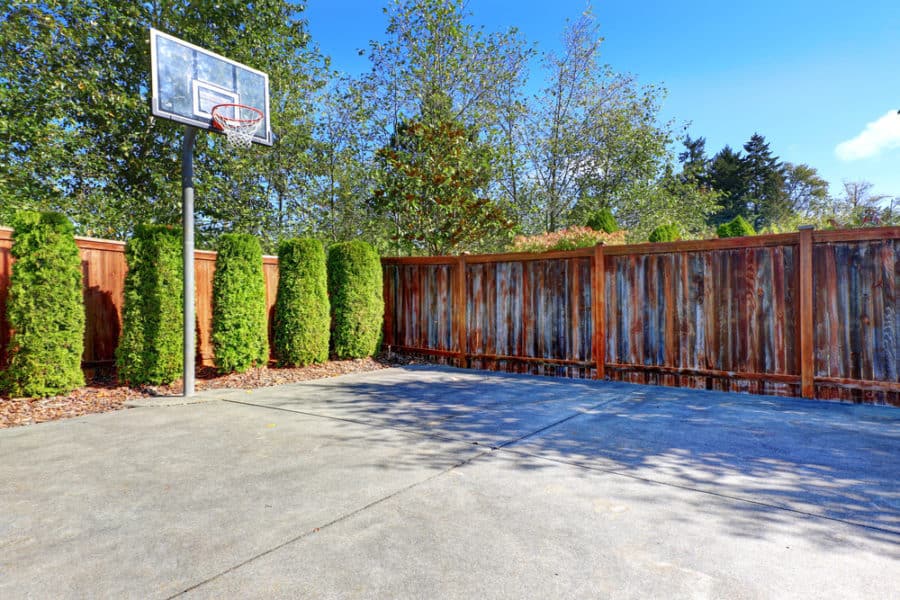 Building a fence around a basketball court is essential because it can prevent the ball from bouncing outside the arena. Besides, it also adds a bit of privacy.
This backyard, for example, features a well-worn corrugated fence that makes it look rustic.
It offers the ultimate privacy that you have been looking for because it blocks the view nicely so that your neighbors will not be able to peep.
18. Luxurious Backyard Basketball Court Ideas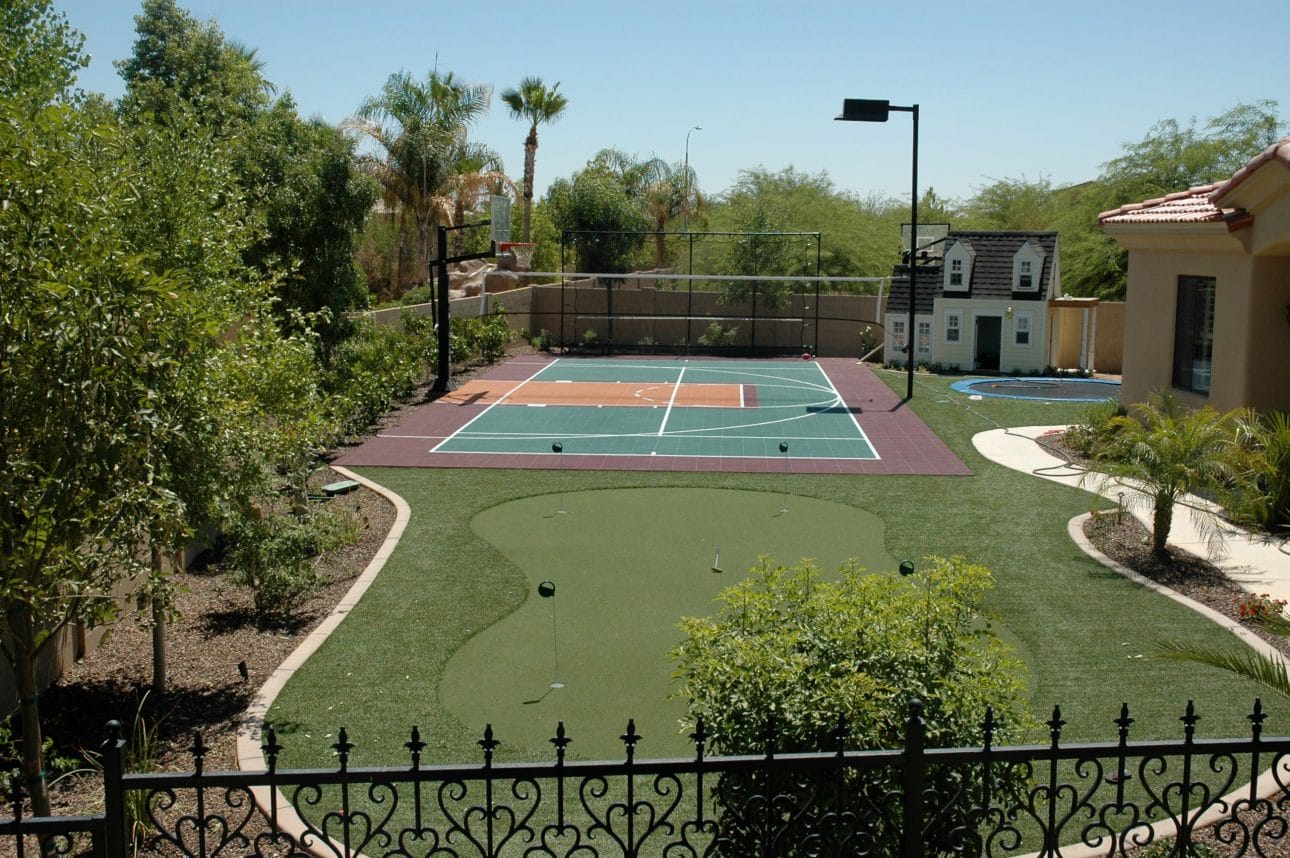 This oversized backyard allows you to do various kinds of sports games and invite your friends or neighbors to come over to join you.
It has a half-court basketball that you can also use to play tennis. Next to it is a mini-golf course that permits you to own pleasure with your household and mates.
19. Small Basketball Court Ideas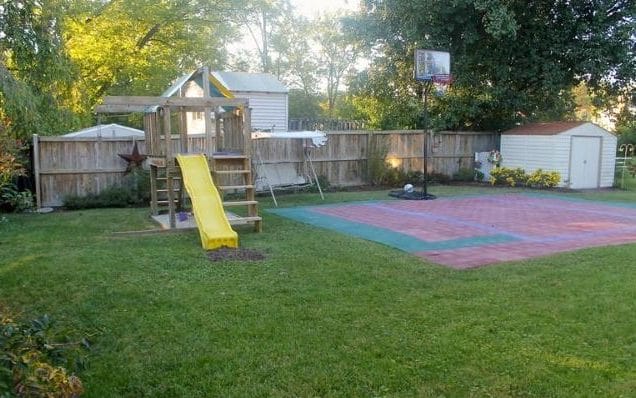 This backyard features a playhouse with a slide that will help your kids explore their imagination. When they get bored and want to stay active, they can jump to the basketball court next to it.
The basketball court is nothing fancy, yet it can give them a lot of fun.
20. Backyard Basketball Court Ideas for All
Many people think that basketball is a game for tall people. But, that it is not constantly that way. You can make a sports court in your backyard for any user, just like this one.
This basketball court features two adjustable hoops. You can set them to meet the requirements of any user, from kids to adults.
21. Movable Basketball Court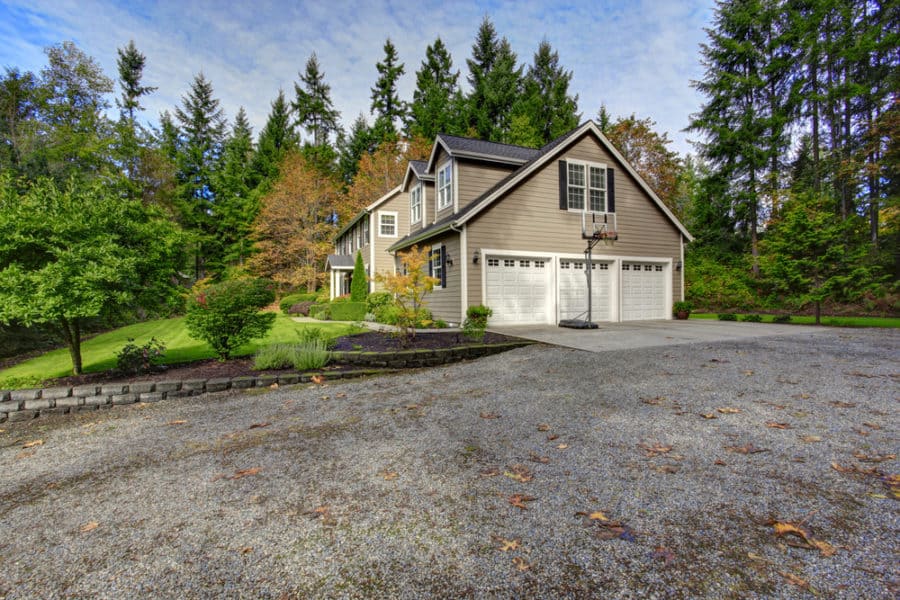 If you do not have time to construct a fancy basketball court that features sub-base construction, geotextile layer, modular plastic tiles, and court markings, you can try to invest in this portable post.
This basketball post has casters that allow you to move it from the garage to the driveway, or vice versa. The base is lightweight, which enables you to carry it easily.
The post also features an adjustable rod so that your kid can still use it although he grows taller.
Those backyard basketball court ideas pack an abundance of fun. Now, you will not feel bored anymore although you just stay at home all the time because you can play various kinds of sports and games.