Many dark brown couch living room ideas can inspire you to redecorate your sitting room. Whether you go with a classic, modern, contemporary, or other theme, the point is that you have succeeded in creating an attractive focal point in your home.
Therefore, don't hesitate to explore your creativity. That is why to help you find some inspiration to redecorate your space, here are twenty-nine dark brown couch living room ideas you can copy.
1. Classic Dark Brown Couch Living Room Ideas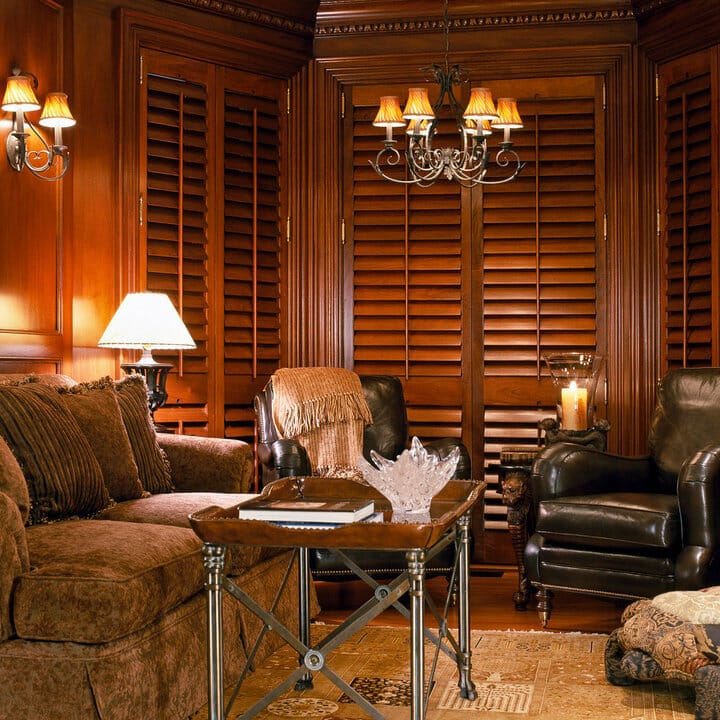 This living room with a dark brown couch brings a classic impression with wooden shutters behind the sofa.
Additionally, you can set a coffee table with a leather top and metal legs to break the monotony. Furthermore, you can complete the room decor with a fluffy carpet and tufted cushion for a softer statement.
2. Dark Choco Minimalist Sofa with Patterned Cushion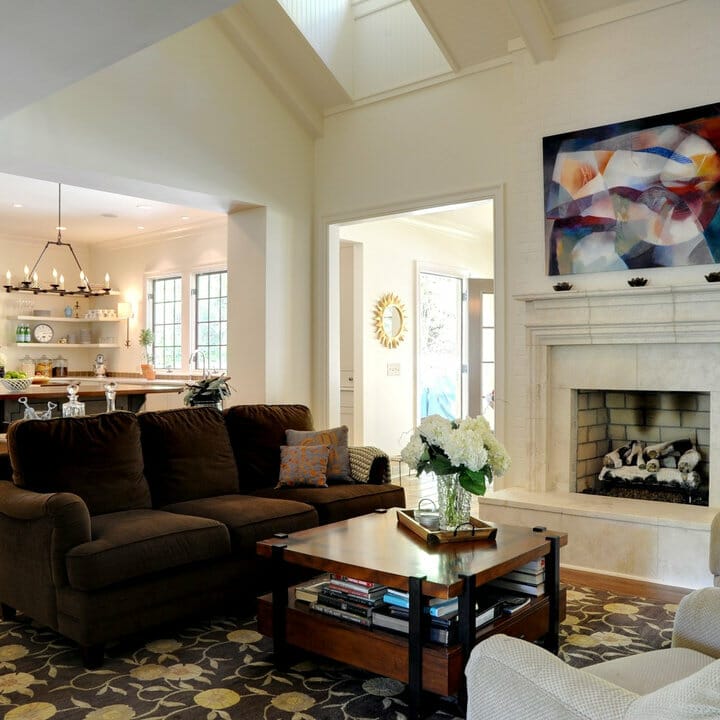 Another dark brown couch living room ideas that take you to a more relaxed and understated décor.
Along with cushions and carpets with well-suited motifs, you can be sure that you have succeeded in providing an attractive focal point in the plainness of your sofa.
3. Dark Brown Leather Sofa Decorating Ideas with Industrial Concept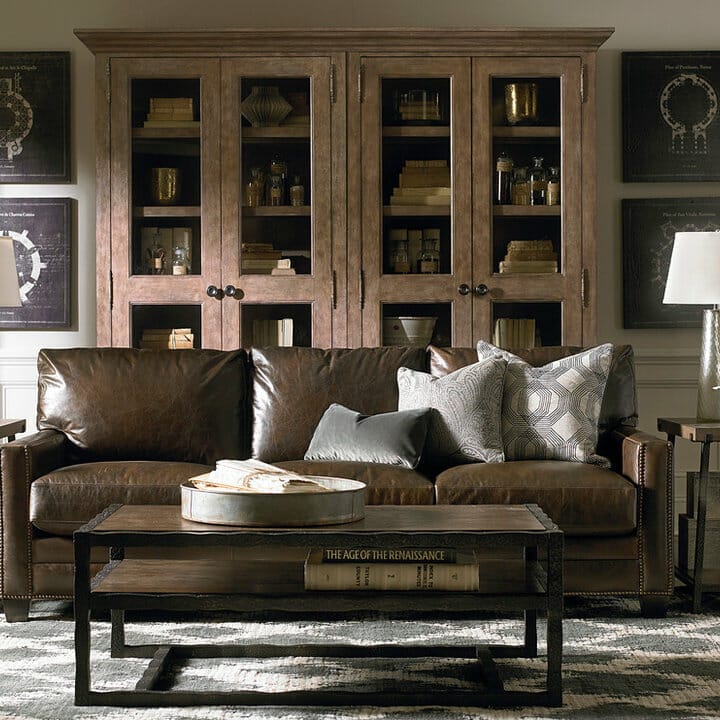 Generally, dark brown couch living room ideas are never far from applying industrial themes in the house. Also, most of them are pretty dull with no focal point.
Therefore, you can highlight the simplicity of the sofa and some wooden furniture by giving a metallic touch to both your cushions and centerpieces.
In addition, providing a rug with a strong motif can give your sitting room drama.
4. Brown Couch Decor with Bright Cushion and Striped Upholstered Coffee Table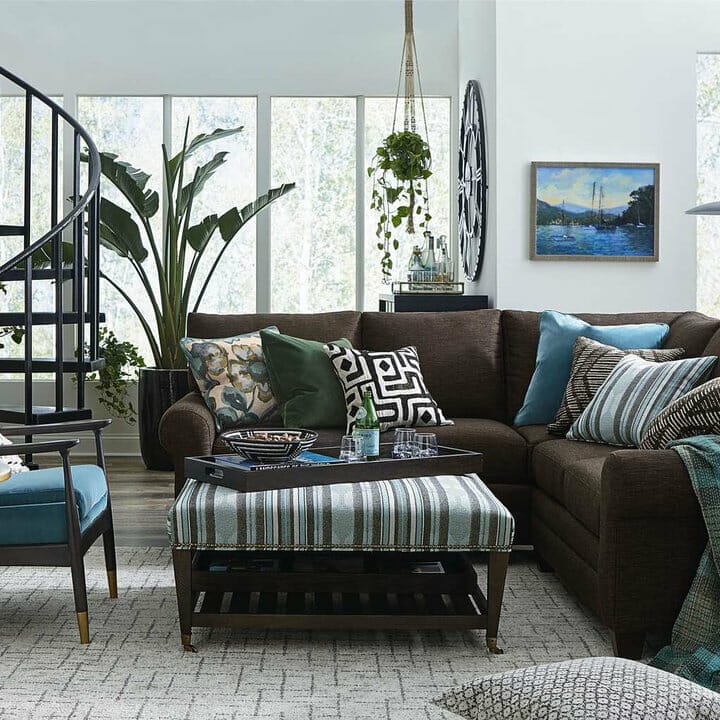 This boho style lets you be more creative in playing with colors and motifs in your dark brown couch living room ideas.
Instead of going with harmonic tones, giving contrasting colors is a big move. Not only on cushions, but you can also apply the strips accent on your ottoman table.
5. Give Some Highlights with Abstract Wall Painting and White Elements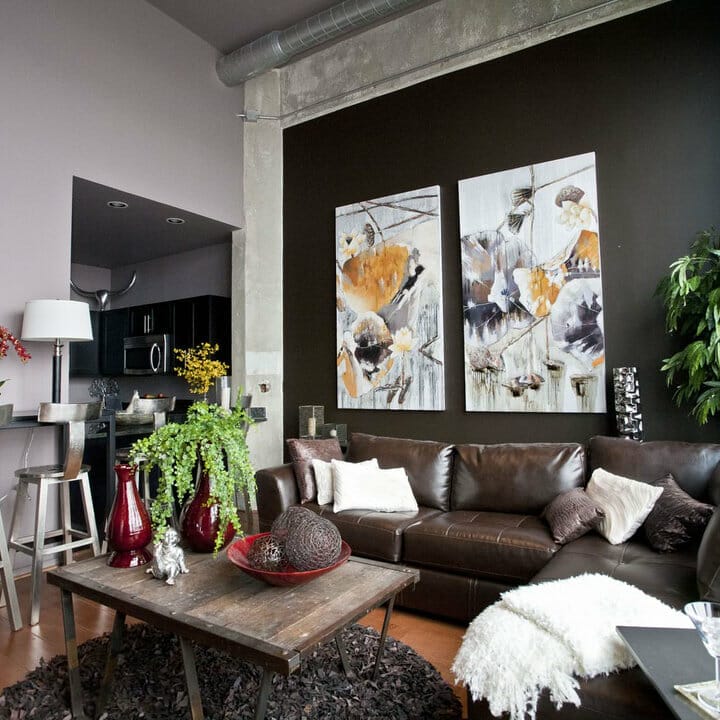 As well as coming up with a bright color, white also provides a stunning balance in your dark living room.
Moreover, the presence of large wall art with abstract strokes right above your sofa helps to give a firm statement to anyone who passes by.
In addition, providing some cushions and blankets in white on the sofa will make this room more welcoming than before.
6. Cozy but Straightforward with Beige Cushions and Rugs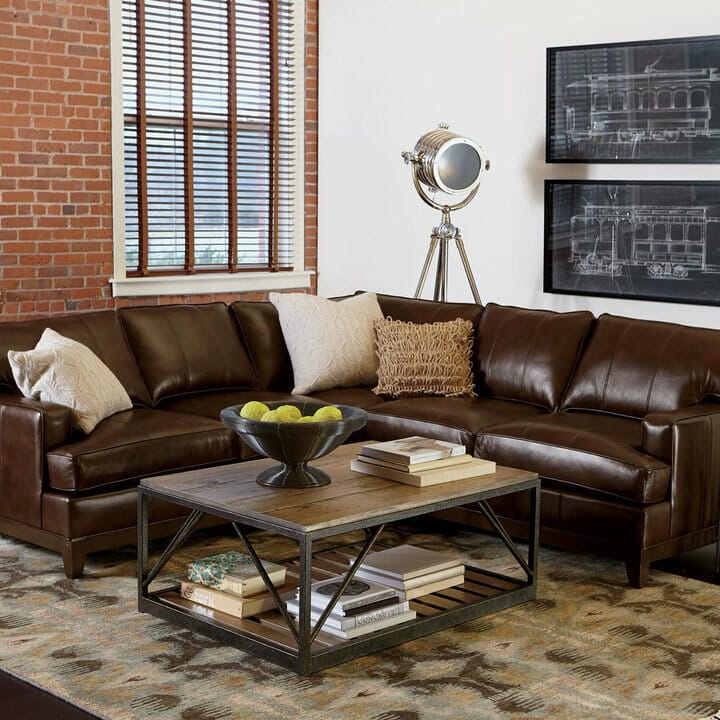 Besides white, the colors that go with the brown sofa perfectly are beige and cream. Without the need to present striking patterns, this room arrangement becomes warmer and friendlier to live in.
Even so, it is never wrong to give an abstract motif rug with a similar tone for your flooring.
7. Give a Statement with Similar Pattern and Brighter Tone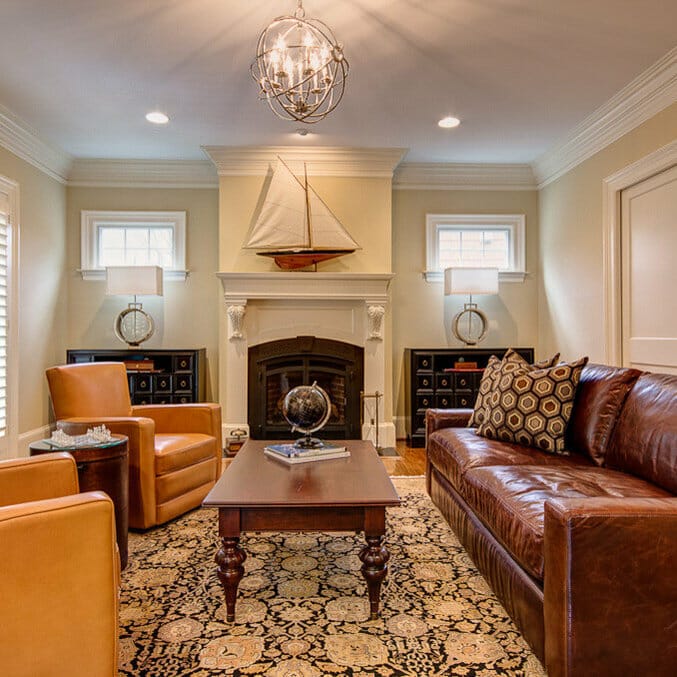 Leaving your living room filled with dark brown will undoubtedly be a little less evocative of the mood. Therefore, it's a good idea to display at least two or three pieces of furniture in a lighter brown color.
Also, place some motifs of the exact tone on the carpet and seat cushions.
Plus, coupled them with warm white pendant lighting. Then your goal to expose the existence of a dark brown sofa has now succeeded.
8. Glamor Touch with Large Silver Pendant Lighting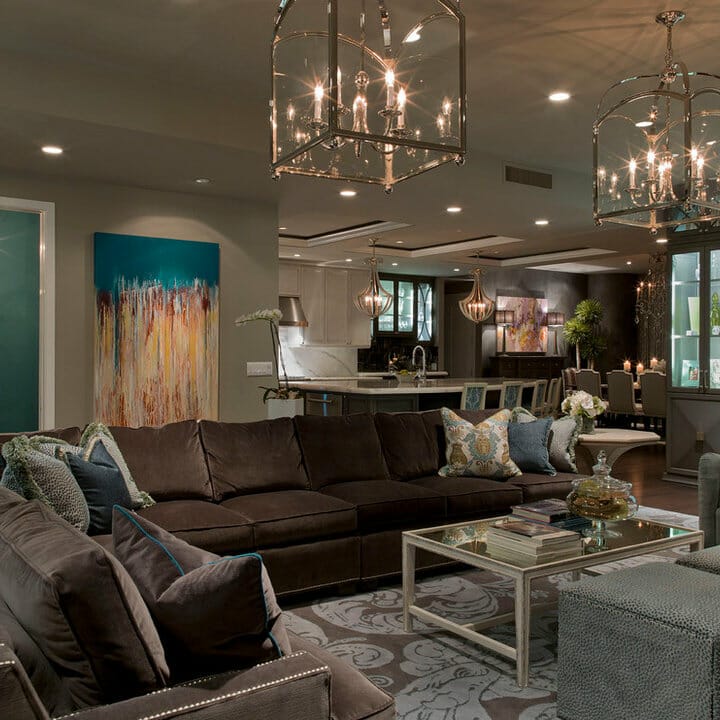 Of the many glamorous dark brown couch living room ideas, one most recommended decor is to present a chandelier with silver pillars.
Indeed, its elegant shape resembling a birdcage can make all eyes fall on this spot.
9. Dark Brown Tufted Velvet Sofa in Autumn Vibes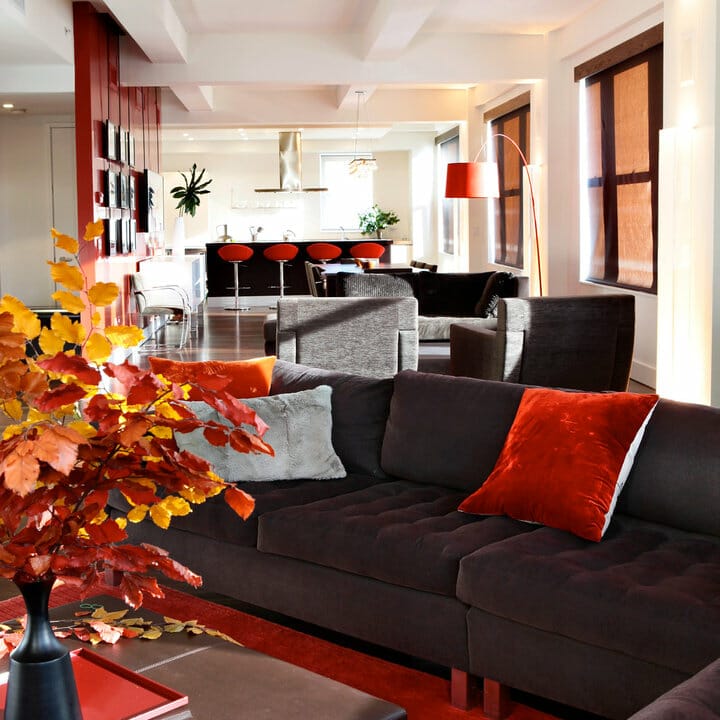 There's nothing wrong with combining dark brown along with a striking orange. By providing a cheerful and homey impression, of course, your living room will later become a pleasant spot.
And, once more, talking about the sofa material, suppose you want this velvet version. In that case, ensure keeping your pets away from the sofa to avoid its fur scattering on the surface. Which is true, it would be difficult to clean up.
10. Elegant Concept with Pure White Walls and Embroidered Cushions
This pure white wall is the safest step you can take to apply dark brown couch living room ideas. Moreover, white is the most neutral color of anything. It also makes all your settings look cleaner and brighter.
In addition, don't forget to keep giving texture to some elements of your sofa so that your living room is not dull.
11. Scandinavian Sofa Set with White Surfboard Coffee Table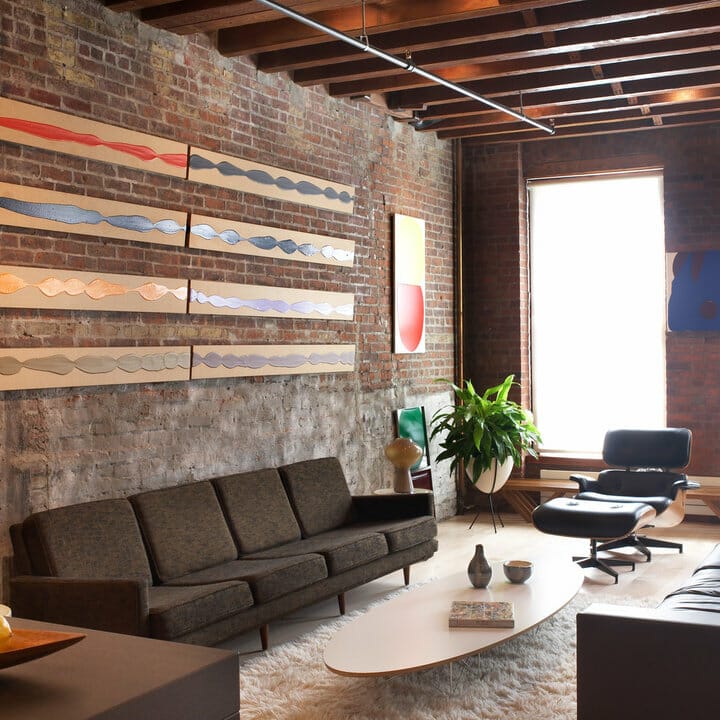 The sense of ruggedness from an industrial theme requires you to be more creative in selecting all the furniture that accompanies your sofa set.
You can overcome this issue by choosing a surfboard-shaped coffee table instead of a square one. It helps you to reduce stiffness in the room, indeed.
In addition, you can also express your imagination on an abstract painting on a wooden board to later become a wall art decor hung on the wall behind the sofa.
12. Chocolate Brown Couch Comes with Bright Natural Style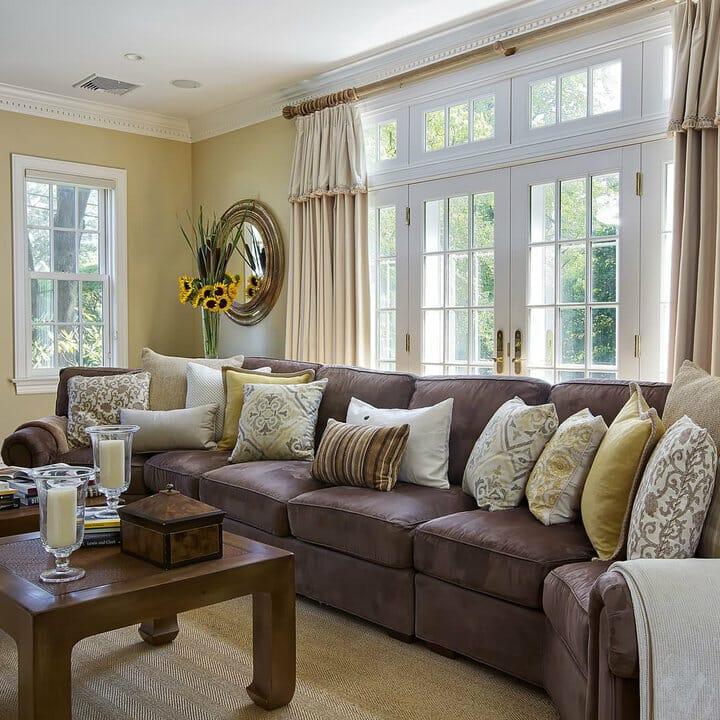 You can realize the natural style of dark brown couch living room ideas by giving your walls a bright yet warm color painting like cream or taupe.
In addition, you can also set your cushions with various colors and motifs, such as plain yellow, green with motifs, and so on. You can also complete this decoration with fresh flowers to liven up the atmosphere.
13. Rustic Dark Brown Leather Couch Living Room Ideas with Rattan Round Table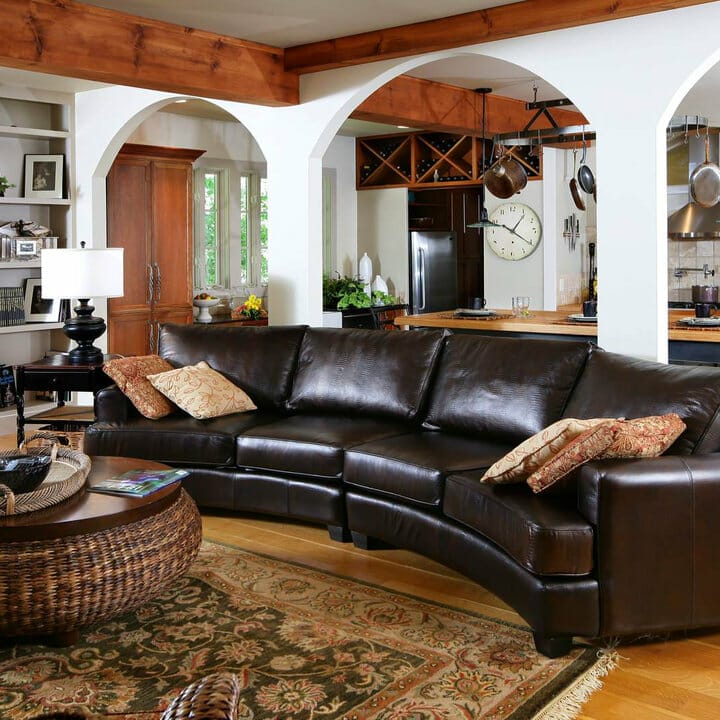 You can get the embodiment of the dark brown couch living room ideas with a rustic vibe by placing some rattan furniture or likewise.
For example, you can start from a coffee table, tray set, and stools to emphasize the countryside feel in your living room.
14. Traditional Look with Tufted Sofa Cushion and Light Gray Rug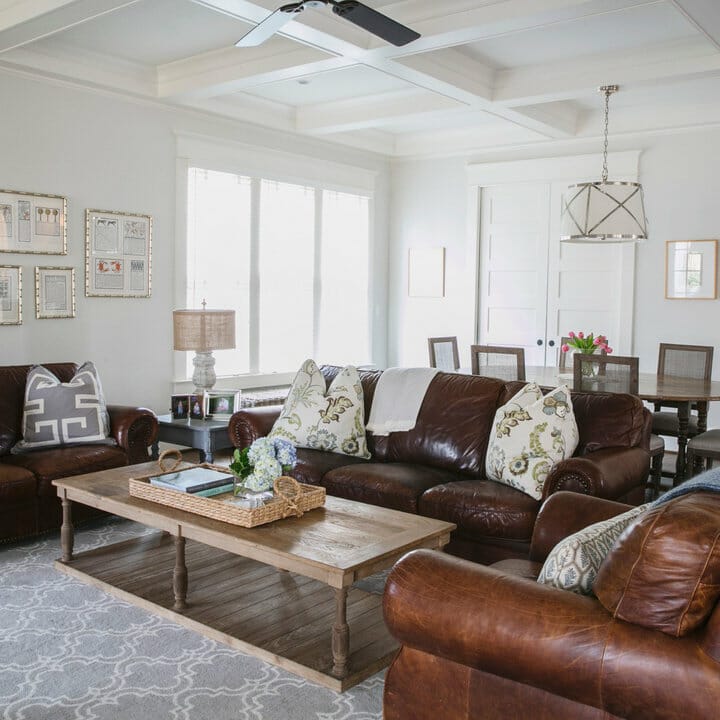 If you have a sofa set with a simple design, then it's good to give them a little drama. For example, provide tufted seat cushions with bright motifs and light gray carpets as your floor covering.
As a result, your living room arrangement becomes more attractive to the eye.
15. Modern Decor with Chandelier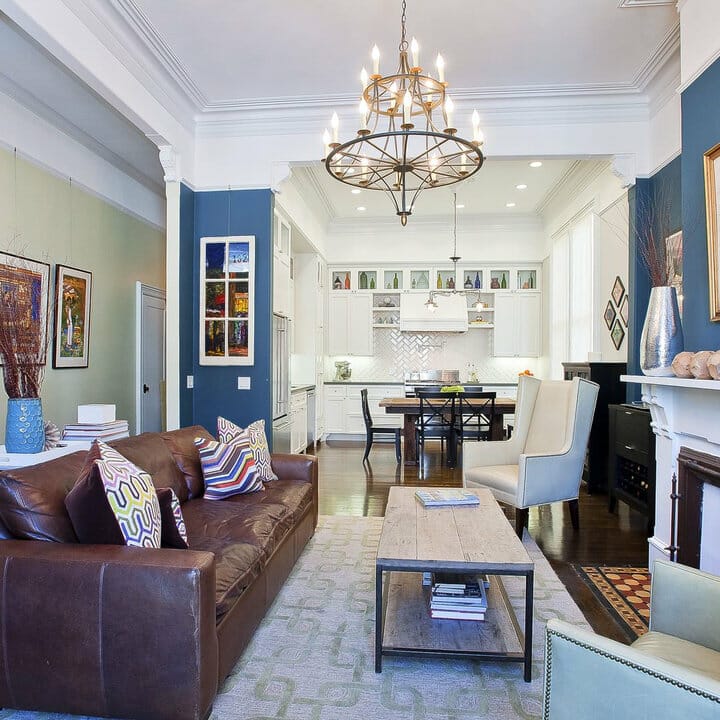 The dark brown couch living room ideas with modern vibes don't just come from the sofa design. Instead, it turns up on the overall furniture that accompanies the decor. One of them is the selection of your light fixture model.
By going with a chandelier that is elegant and has lots of bulbs, your living room becomes more comfortable, bright, and timeless.
16. Going earthy and Cozy in Eco-friendly Home Setting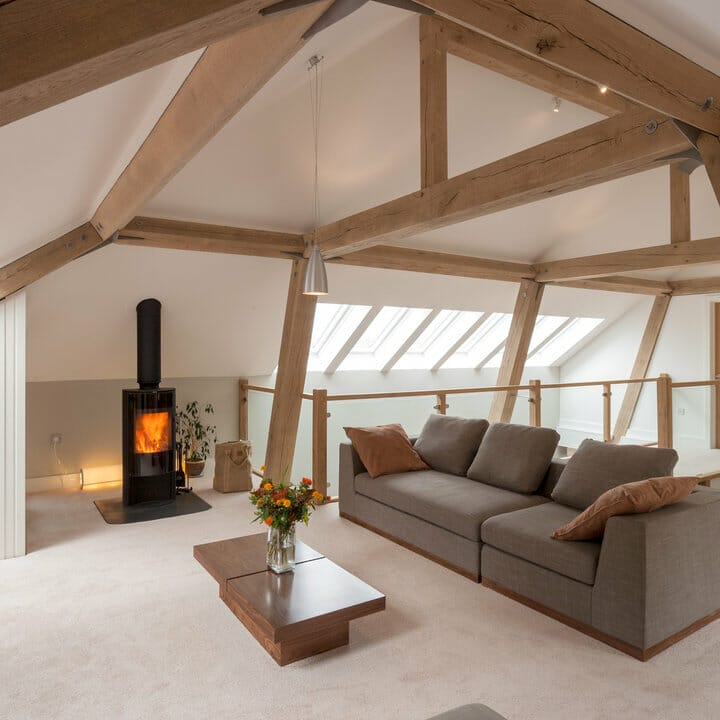 Applying this simple dark brown couch living room ideas would be better if your house adopts an eco-friendly theme, where all the house frames are left exposed.
Without having a lot of furniture and minimum wall decor in it, your living room will look cleaner as well as more organized.
That is why the presence of a small coffee table and a sleek fireplace is preferred.
17. Industrial Vibes with Large Tufted Coffee Table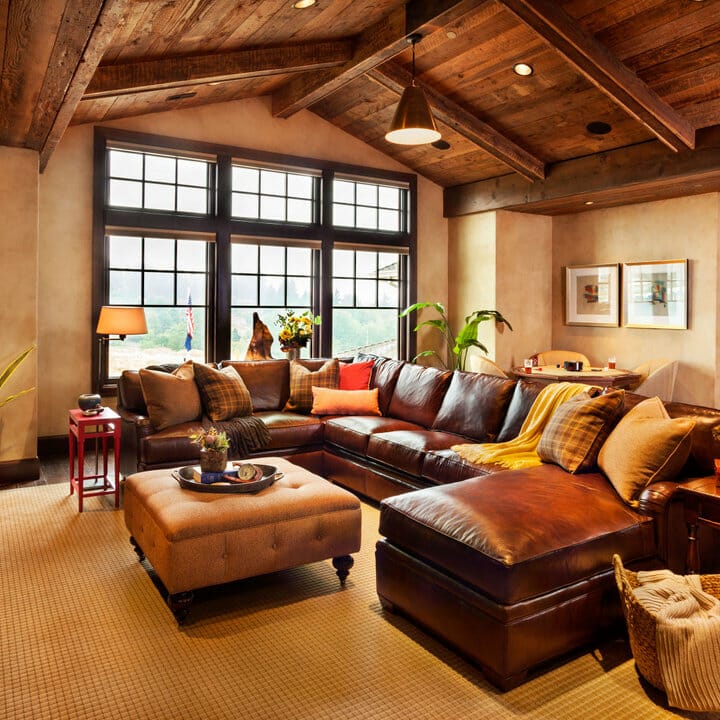 Besides deciding to use an upholstered coffee table to complement your dark brown couch living room ideas, you can also set up a wide tufted table for a more elegant and luxurious impression.
Even when you have an industrial home concept, the presence of this soft sofa set provides smoothness among the sturdiness of other furniture.
And, don't forget the red end table in the corner. Make sure to make a bold statement like that for your next living room decor!
18. Stunning Gold Wall Art Decor Behind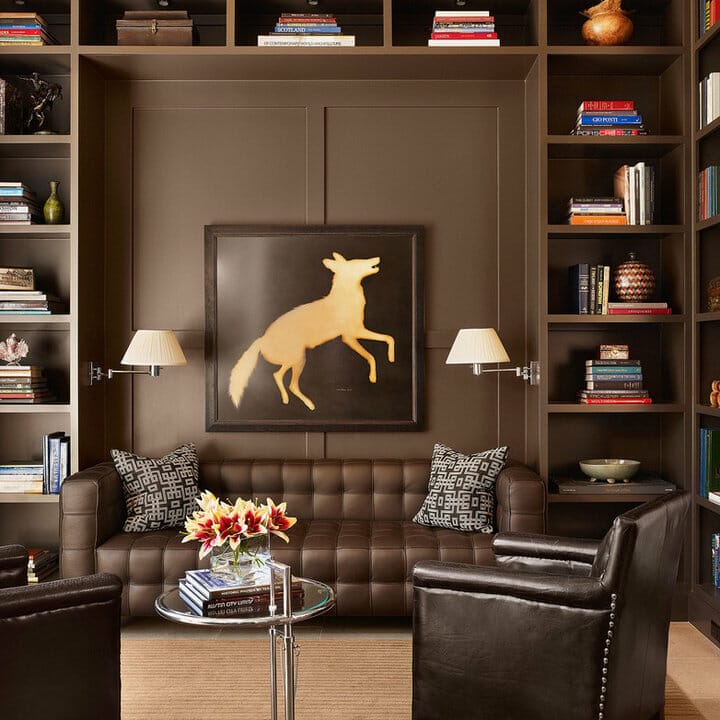 Providing a focal point to your dark brown couch living room ideas allows you to go with wall art with a gold touch as above. It is all fine whether you have the one with the horse, birds, or other animal figures.
Besides making your sitting room look luxurious, wall decor in a frame like this can also give drama to your chit-chat spot.
Look how well the dark brown goes with gold. Marvelous!
19. Pirates Deck Style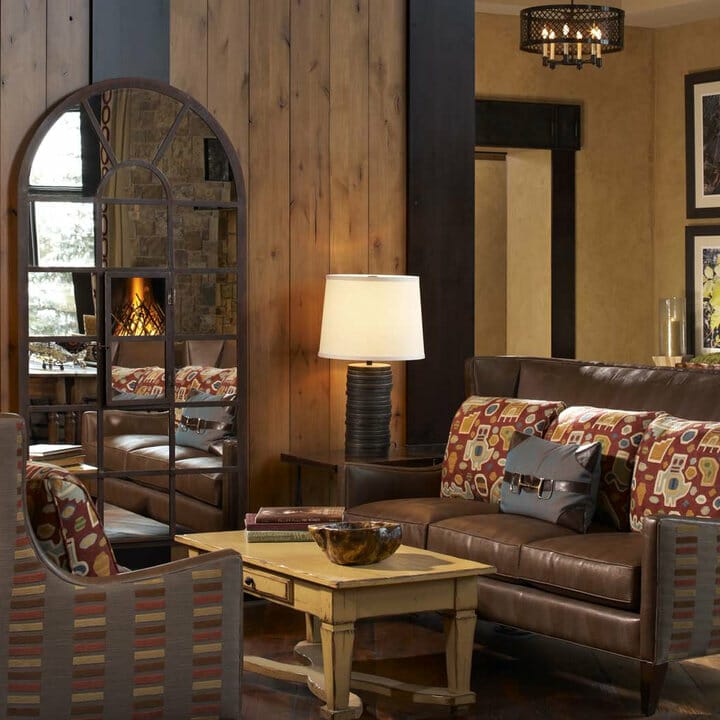 Not many people dare to express their imagination in a living room arrangement.
However, suppose you want an update on your sitting room that is far from other people's expectations but still memorable.
You can try setting up your space to resemble the deck of a pirate ship like the one above. There's nothing wrong with unique home decor, indeed.
20. Put an Animal Skin Pattern Carpet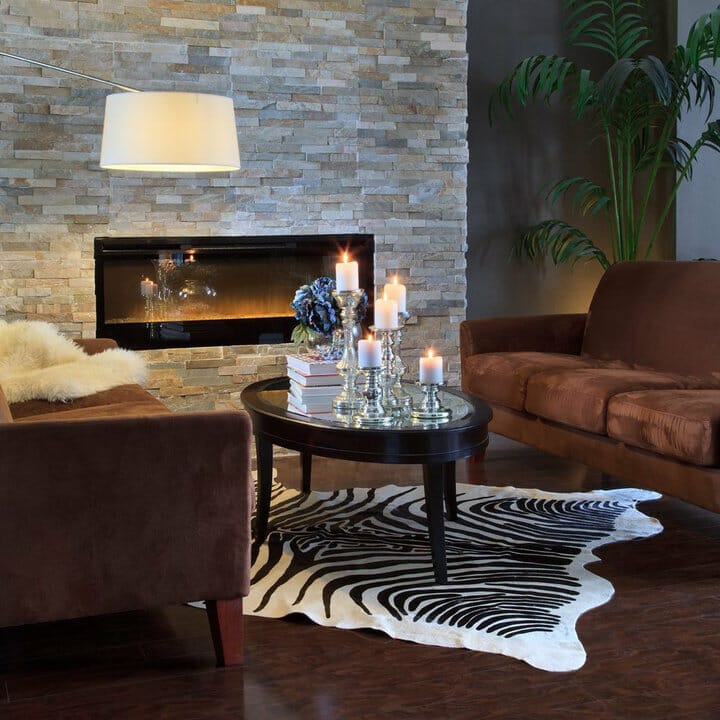 Let's go back to the flooring arrangement. The perfect dark brown couch living room ideas manage to blend the texture with the plainness of the sofa to give the room drama well.
Thus, there is a recommendation to give an asymmetrical rug with animal skin motifs rather than the standard one. That way, your sitting room becomes more stunning in the eyes.
21. Complete The Decor with Transparent Table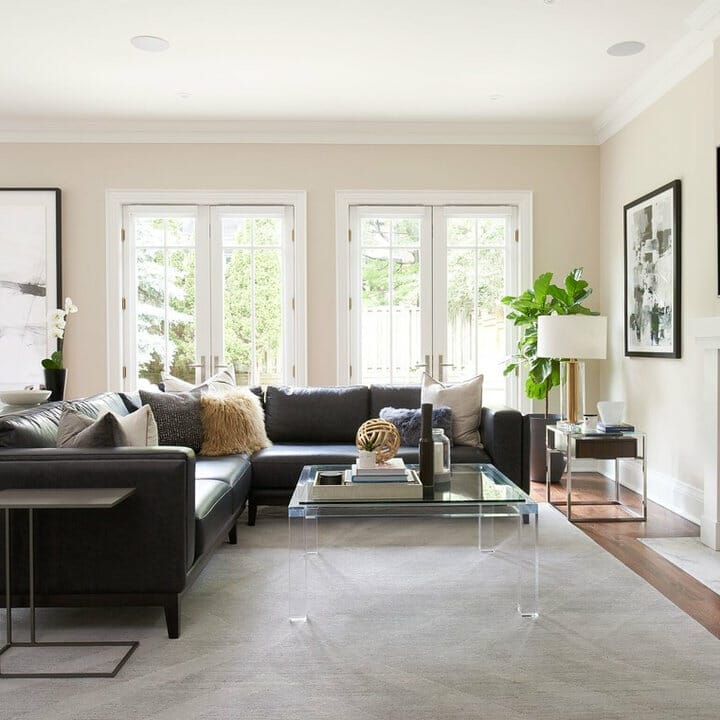 Who says that dark brown couch living room ideas are only good with wooden tables and other classic ones?
On the contrary, arranging a transparent full glass table can give a casual impression in your sitting room. Don't you want to try it?
22. Be Brave with Red Wall Décor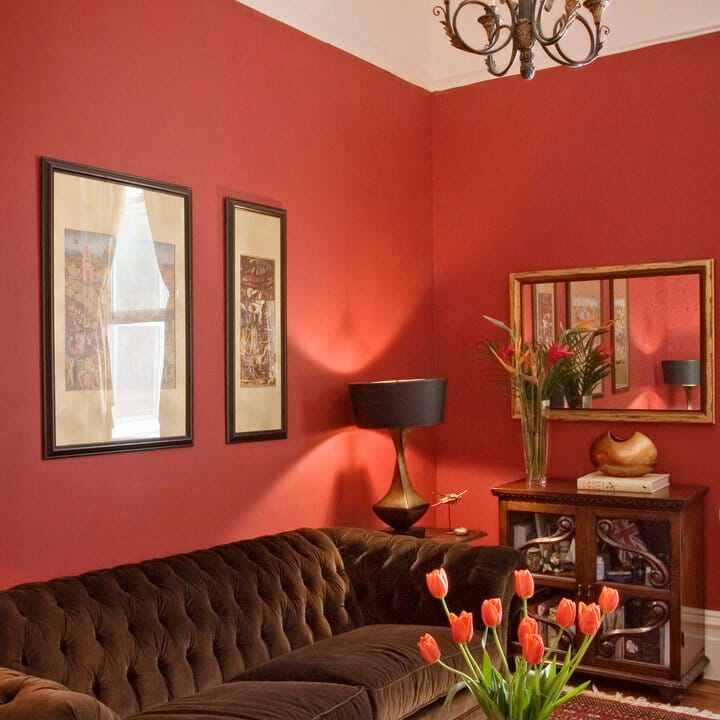 After giving you some safe options in the previous points, it's time to invite you to be bolder in playing with color in decorating the room.
By giving your walls a red color, your living room with a deep brown sofa can now be more exciting and fun at once.
23. Nice Coastal Vibes with Dark Brown and Aquamarine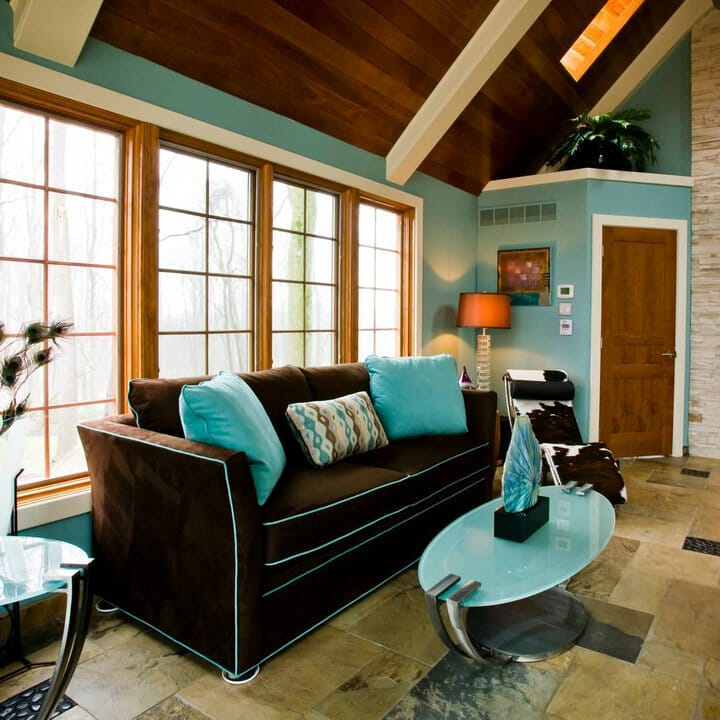 Dark brown couch living room ideas are suitable for any interior design, whether modern, rustic, industrial, or coastal.
And, here's a recommendation for a room setting with a warm and bright coastal theme. You can combine your dark brown sofa color with aquamarine furniture and other decorative elements.
Never wonder what it would be, as everything will fine together.
24. Stay Minimalist with In-Framed Monochrome Art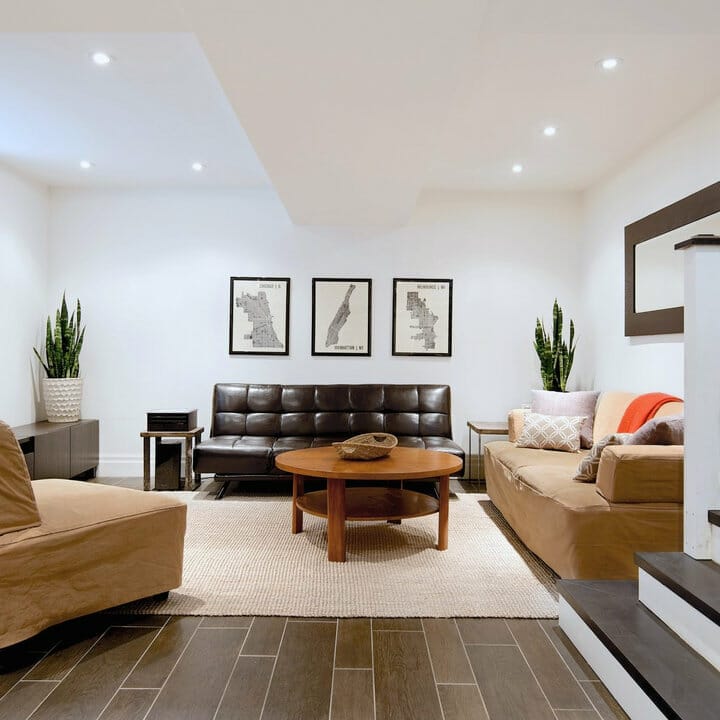 For a minimalist home setting that applies the dark brown couch living room ideas, it doesn't show you complicated things.
To achieve a simple, comfortable, and peaceful atmosphere, you only need to add some framed wall decor with a monochrome theme.
In addition, you can also set some additional chairs with a brighter color to give more statements to the room.
25. Textured Dark Brown Couch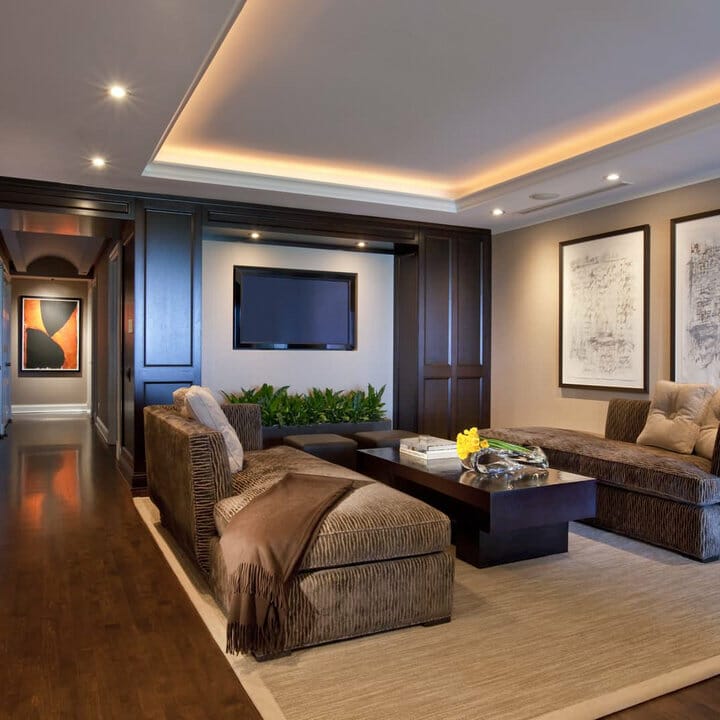 In addition to providing texture to the cushion and carpet, you can also choose to give it to your sofa. Which of course means that it requires you to buy a new one instead of redecorating the room.
However, it's all based on your needs and preferences. So, try to always consider it well before making a decision.
26. Coffee Brown Modular Sofa and Red Puff Table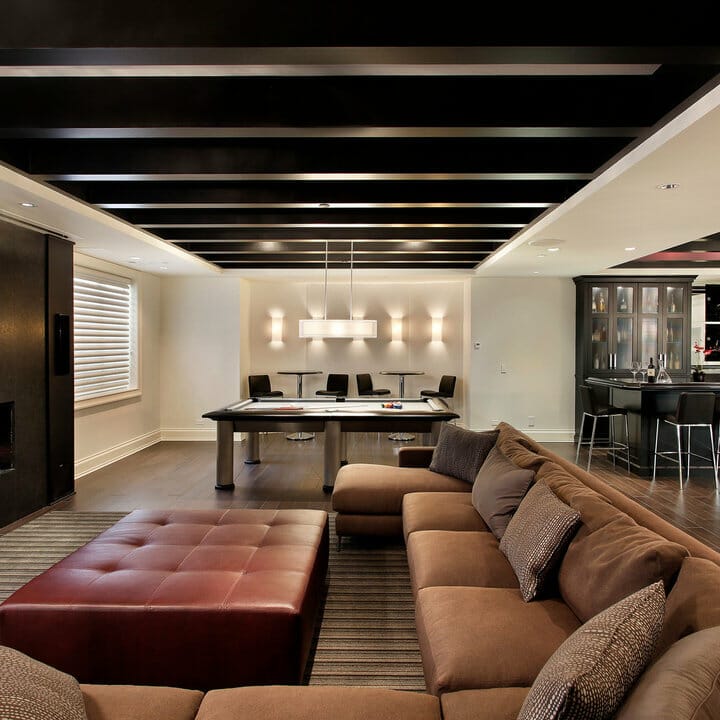 Red has appeared several times to complement the dark brown couch living room ideas in this article. It happens because red provides a bold and attractive focal point to express the existence of your sitting room.
In addition, the presence of red can also balance the brown color, which tends to be more earthy and soft. At the same time, red is ready to give extra energy to the room.
27. Deep Brown, Four Hands Augustine Sofa to Add a Drama
Once again, providing a focal point does not always rely on decorative elements but can also be done on the object itself. Just like this idea.
Choosing to arrange a sofa with lots of tufted as above can give a solid drama for this sitting spot.
28. Double Seater Sofa with End Tables and Twin Sunburst Wall Décor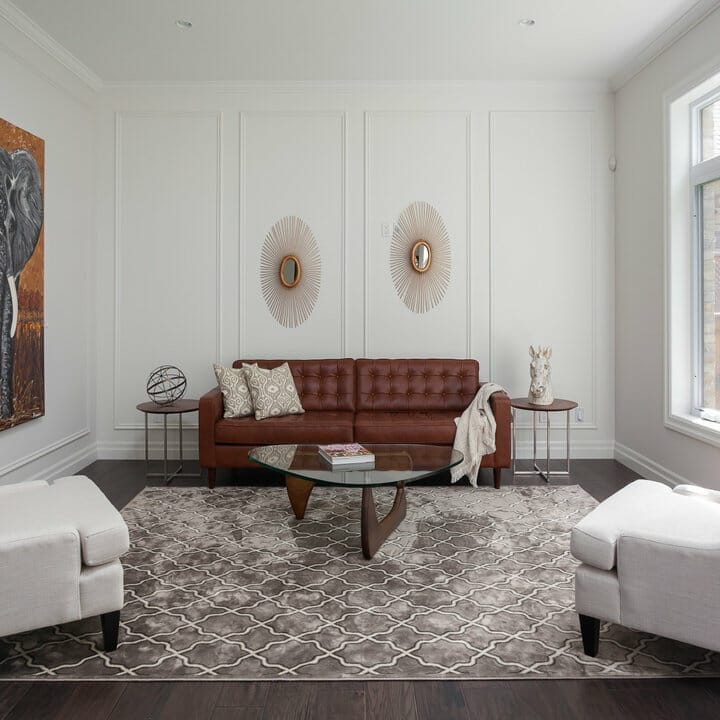 Your dark brown sofa can instantly become an attractive focal point simply by giving your entire room a white color.
Meanwhile, to amplify the luxurious feel, you can add end tables on the right and left sides of the sofa with some decorative elements that match your theme and preferences.
In addition, you also need to put wall decor in the form of a small mirror with a golden sunburst accent like above.
29. Dark Brown and Turquoise Blend Together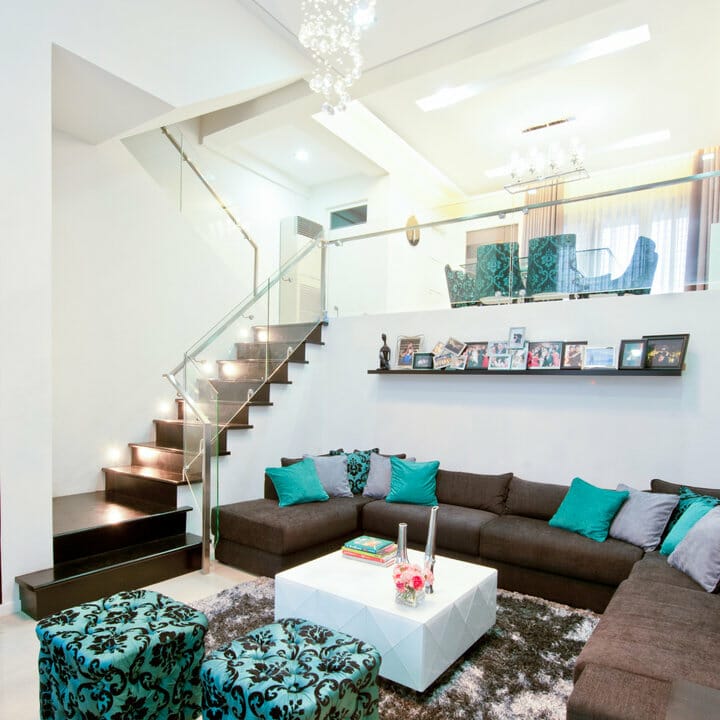 Combining dark brown with turquoise is a clever move that instantly makes a statement in your living room.
However, it would be best to consider not giving too much color that is too flashy. That way, the decorations in the room can remain balanced and support each other.
After going through many dark brown couch living room ideas, have you found one that catches your eye and matches your preferences? If so, hurry up to get some redecoration strategies to give your sitting room the best look!