Tiling ideas for kitchens are not only here to protect you from splashes and stains during cooking. But it also gives personality to your kitchenette.
Whether it's installed on the entire kitchen wall, range, or comes between your countertop and cabinet. Also, you can be creative with your whole heart giving it a tiling system.
Moreover, you can go with all the materials and designs that suit your preferences perfectly, whether the simple, sleek tiles, the textured ones, the bright colors, or the Mosaic.
With these kitchen tiling ideas, you no longer need to worry about your cooking area being dirty and unsightly. As you know, the smooth surface of the tiles makes cleaning everything easy.
So, here are the twenty-nine best tiling ideas for kitchens that can inspire you.
1. Classic Green Subway Tiles for More Natural Look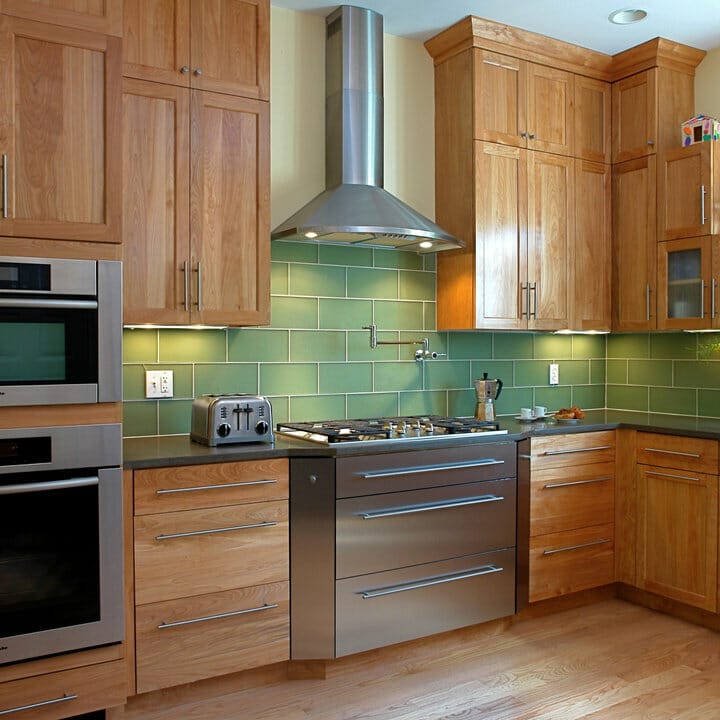 Applying green to your kitchen is a wise move. Many people also believe that this color can provide calm and make the atmosphere in a room more refreshing.
Even though it looks simple, you can combine sage green along with warm tones furniture. As in the picture above, if you have a kitchen set with the original color of polished wood, applying tiling ideas for kitchens like these is worth trying.
2. Complete the Backsplash and Countertop with Mosaics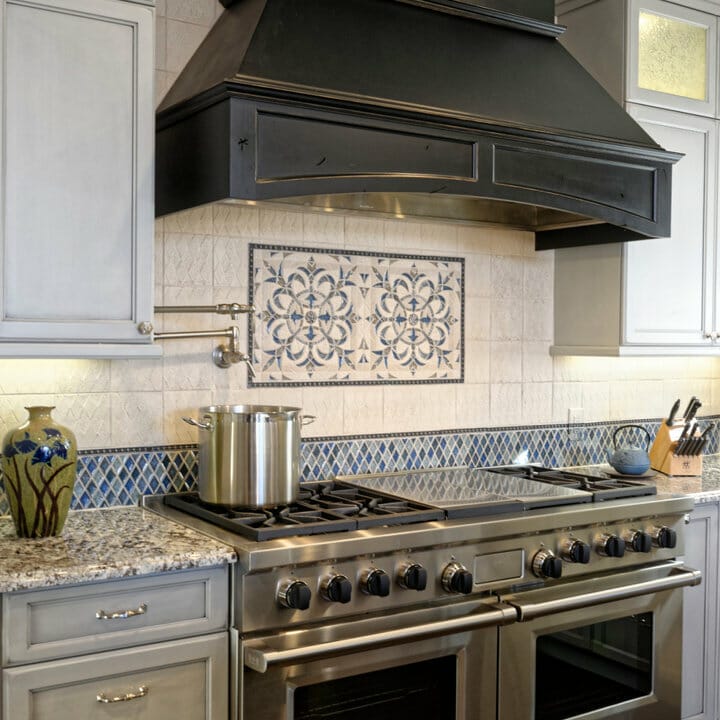 Whatever tiling ideas for kitchens you apply to your walls and countertops, it's all good. Whether you go with plain or patterned or even combine the two of them.
By presenting one small area with a mosaic backsplash and then leaving the rest in the tranquility of plain tiles, you have succeeded in giving your cooking spot a distinctive character.
3. Bright Honeycombs Tiling Ideas for Kitchens with A Focal Point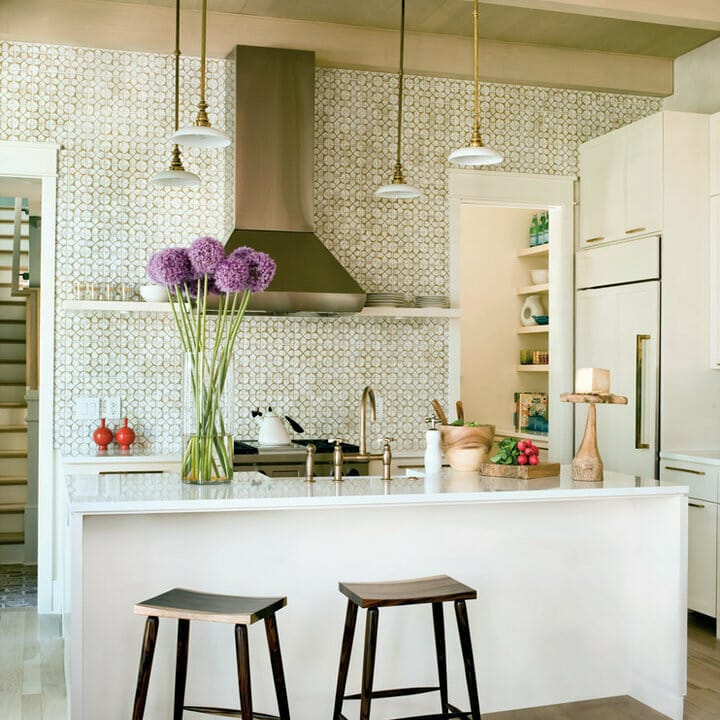 Geometric tiles along with bright colors such as white and cream will be able to give a clean, spacious, and minimalist impression at once in your kitchen.
But of course, you can freely choose to install these geometric tiles on the entire wall without worrying that your cooking area will look cramped.
Although you better install tiles with a small geometric pattern and then complete them with a kitchen set in plain white.
Further, beautify that simplicity with a large fresh flower vase with a striking color to provide a focal point on your kitchen island.
4. Patterned Tile Among the Plainness to Emphasize Kitchen Chimney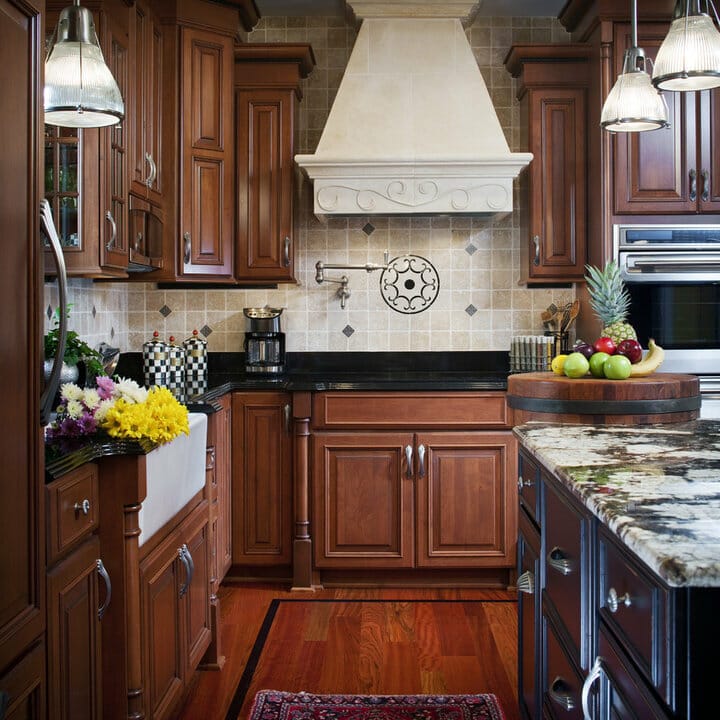 The kitchen chimney can be a dull and unaesthetic spot if you leave it plain. However, you don't need to worry. Because you can change it all by giving a solid focal point to make a statement.
You can start by engraving the edges of your chimney and then installing an area with patterned tiles underneath.
5. Grey Brush Stroke Porcelain Tiles
Porcelain is the most popular material of many tiling ideas for kitchens.
It happens because porcelain has many choices of motifs and designs. In addition, they are also more durable and easier to clean.
Therefore, to present a clean and elegant atmosphere, you can choose porcelain tiles with a light gray brush stroke accent on your walls.
Then, complete it with a marble countertop and a kitchen island with the same tone to create perfect harmony.
6. Iridescent Mixed Metallic Tiles in the Entire Room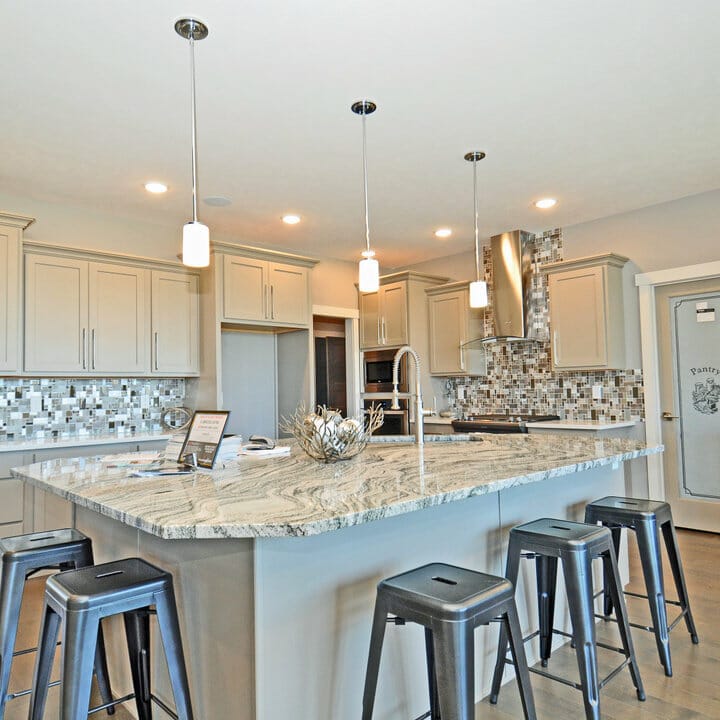 Are you planning to have a luxurious cooking area?
Then, you can apply tiling ideas for kitchens that use iridescent tiles made of metallic. Without great effort, this mixed metallic tiling can naturally emit different colors from different points of view.
Not only looks beautiful at night, but these iridescent tiles are also stunning during the day with the reflection of sunlight entering your kitchen.
7. Clean and Minimalist Look with White Geometric Tiles
Suppose you prefer the modern, minimalist design. Then, installing medium-sized geometric tiles for your kitchen wall is the best choice.
Its presence in black and white makes your cooking space look tidy as well as spacious simultaneously. Also, the selection of these tiling ideas for kitchens is timeless and fashionable.
8. Multi-Finish Stone Marble Linear Tiles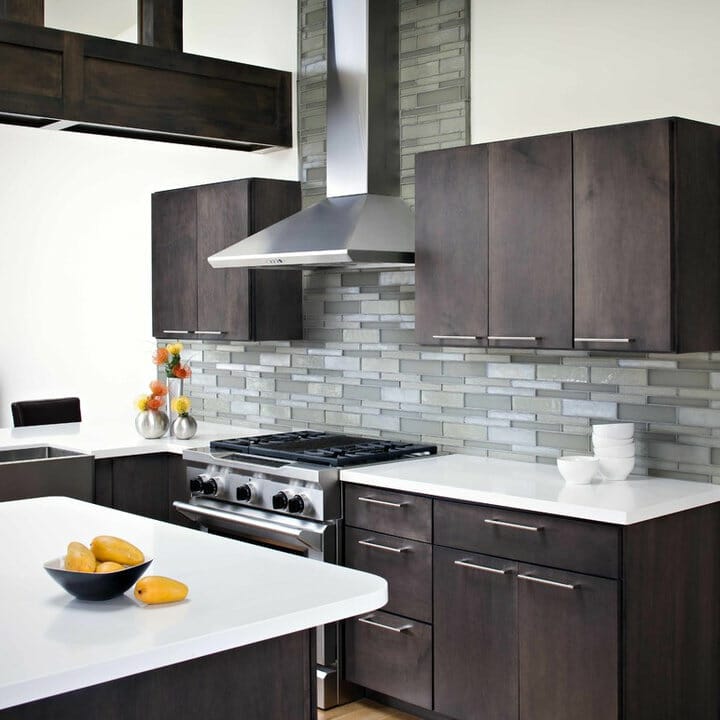 Linear tiles with multi-finish accents are perfect for your contemporary-themed kitchen.
With a slim and unequal size on each tile, it makes your backsplash look wider.
But you don't need to install it on the whole wall. Instead, giving it to only certain spots help you highlight and provide texture to your kitchen set.
9. Eclectic Style with Classic Pattern Tiles
The eclectic style allows you to explore your creativity to give personality to your cooking area.
Therefore, you no longer need to hesitate to apply tiling ideas for kitchens with lively and colorful patterns to your kitchenette walls.
But with a note, merely apply the tiles with this striking motif and color only on one side of the wall. Meanwhile, leave the rest left plain, so your kitchen doesn't look cramped.
10. Far from Stains Black Tiling Ideas for Kitchens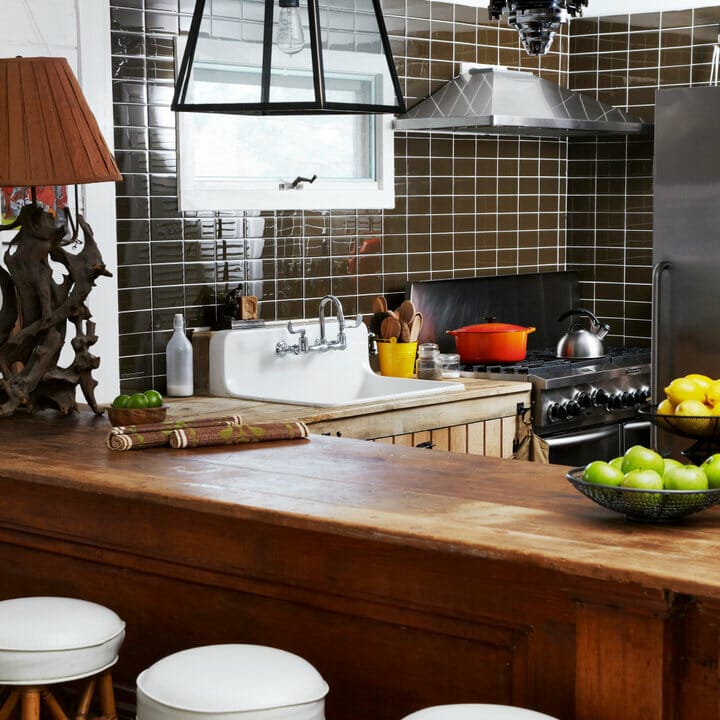 Bringing a retro style to your kitchen is very easy. You can undoubtedly apply black tiling ideas for kitchens to get a more general design and safe from visible stains.
Moreover, the standard square shape of the tiles won't make your kitchen cramped. In addition, as black is a neutral color, your kitchenette will still have a high aesthetic value even if you set colorful cooking utensils on the countertop.
11. Paneled Accent Tiles in Beige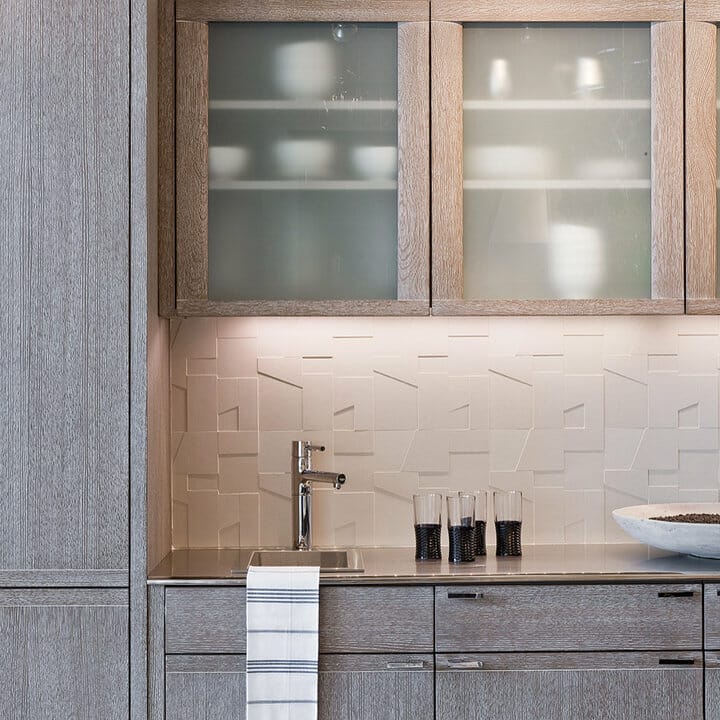 Presenting paneled accent tiles for your backsplash makes your kitchen more elegant without having a lot of flashy motifs.
When viewed from afar, these tiling ideas for kitchens may seem ordinary. However, try to approach and equip it with lights under your cabinet. That way, it will highlight all the textures of your tiles perfectly.
12. Highlight The Mid-Century Kitchen Set with White Geometric Tiles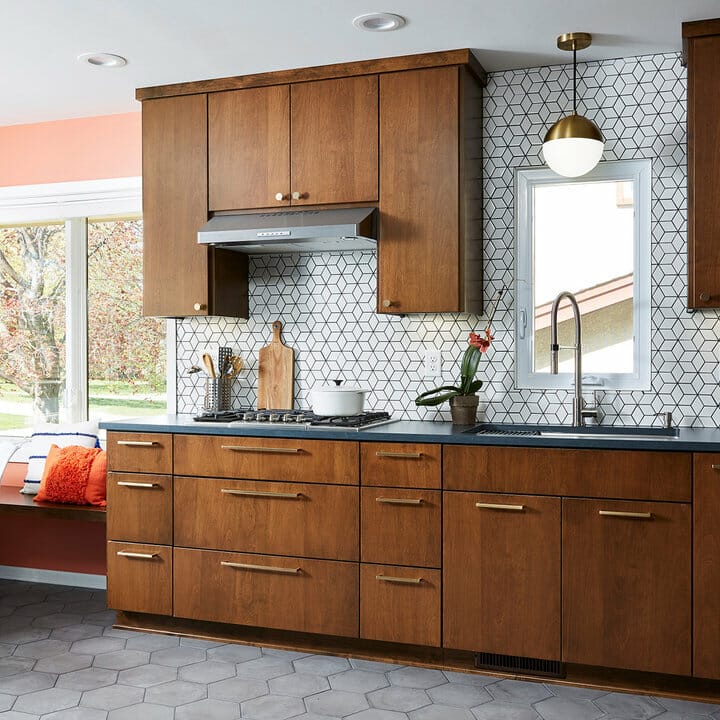 White geometric tiling never goes wrong with making a statement. Even for a medieval-style cooking area, a tiling system like this makes all of your kitchen sets perfectly highlighted.
Moreover, adding a touch of gold to your furniture makes everything cohesive and look more luxurious.
13. Colorful Vintage Ceramic Tiles for Your Mediterranean Space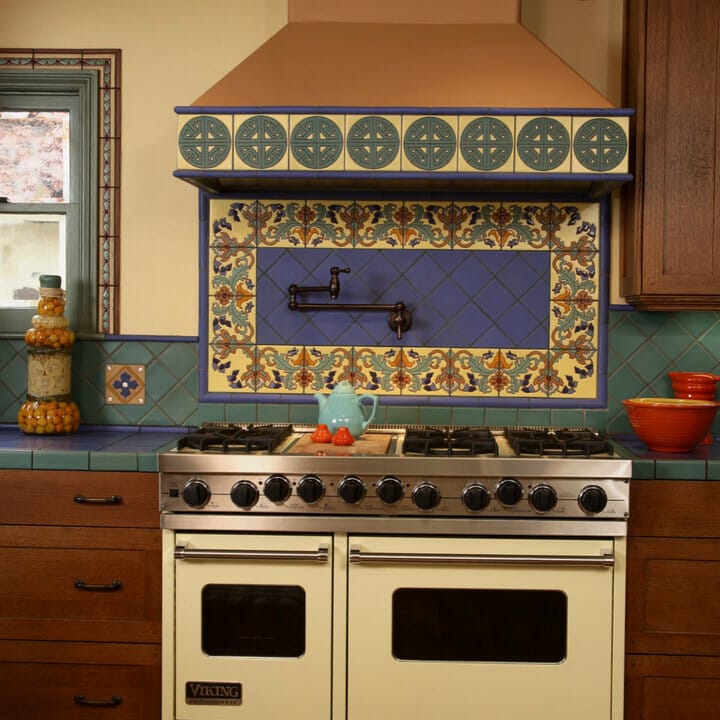 You have come with tiling ideas for kitchens that carry basic designs with safe colors. Now, it is time for you to be bolder in exploring striking tones, textures, and patterns to give your cooking area a focal point.
The first step you can take is to go with vintage tiles as above. Bringing together ceramic tiles for kitchens with colorful motifs can give drama to your backsplash as well as your chimney, ideally.
14. Flower Patterned Tiles in Gray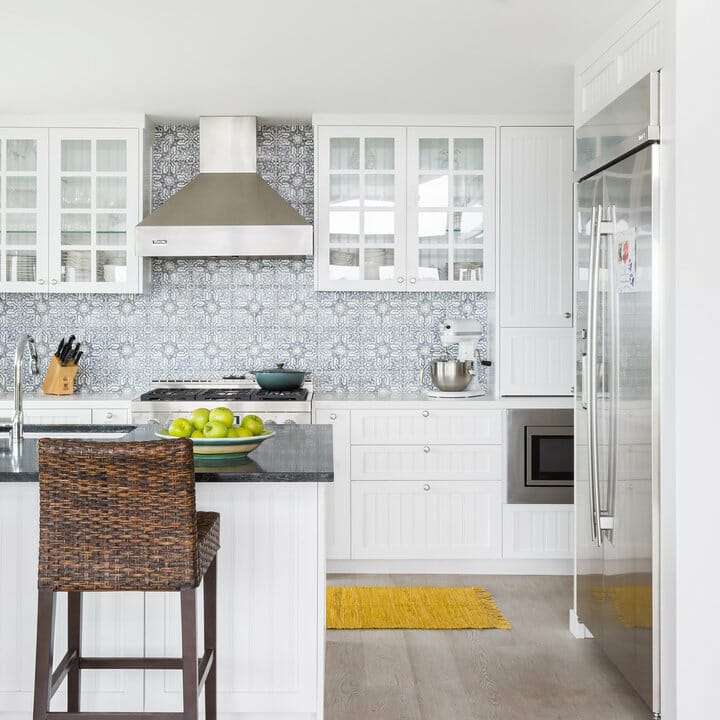 Suppose you prefer displaying a clean but not a monotonous cooking area. You need to apply tiling ideas for kitchens with unobtrusive textures and motifs.
For example, you can get tiles with white and gray floral motifs as above. By showing it only on one side while leaving the other walls white, everything will look clear and fresh.
In addition, to give a bit focal point, you can play with furniture or cooking utensils with striking colors such as yellow.
15. Modern Granite Tile for Kitchen Island and Backsplash in Brown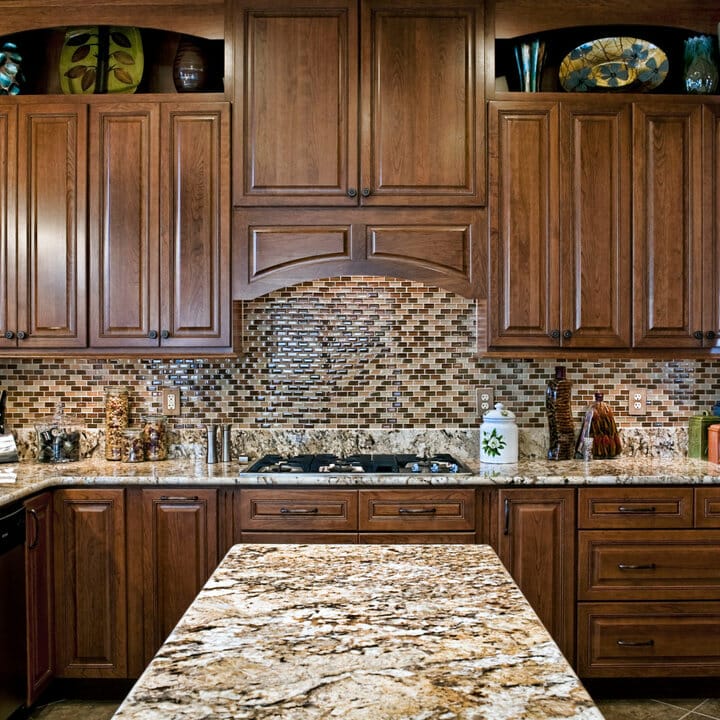 Bringing an earthy, understated yet luxurious feel to your cooking area is so simple. You can start by giving them a tiling system with brown tones and the like.
In addition, you can add a more dramatic warm feel by providing a kitchen island in matching colors and patterns.
16. Simple Grey Subway Tiles for Kitchen Wall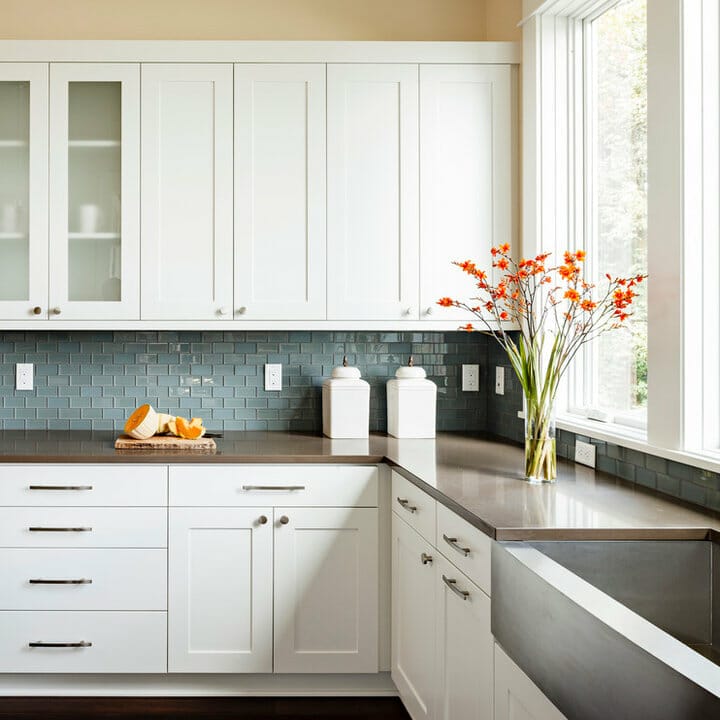 Subway tiles are indeed common tiling ideas for kitchens. However, it doesn't mean you will fail to give personality by applying these tile models in your cooking area.
On the contrary, it will become an attractive focal point when you successfully display a cohesive color that describes your personality. Ones in light gray can help you create neutrality and warmth to the space.
17. Custom Tile Mural Backsplash for Kitchen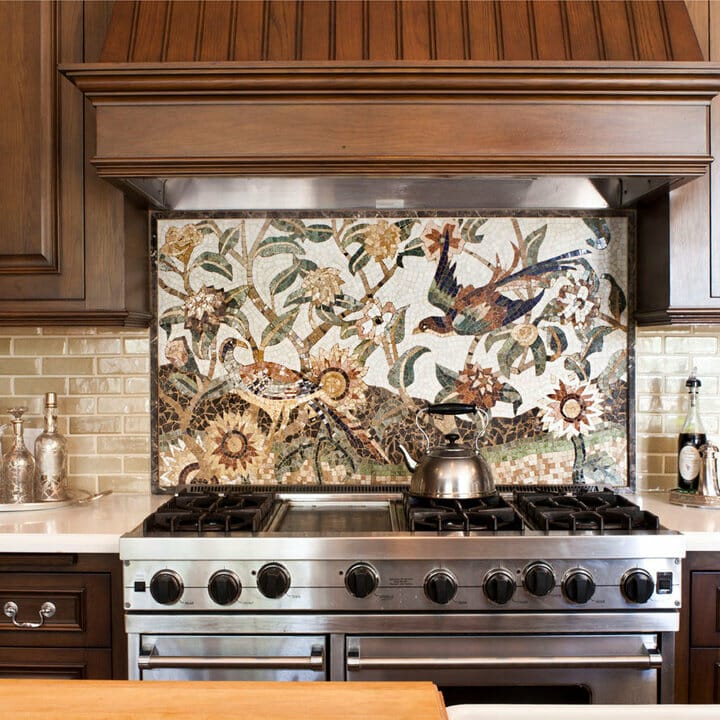 Suppose you want tiling ideas for kitchens that are unique and display your personality exclusively. In that case, you can consider custom tiles to make it happen.
Tiles with murals will always attract the attention of anyone who passes by it. Even it can state the existence of your range well.
18. Bright Coastal Vibes with Mosaic and Pattern Tiles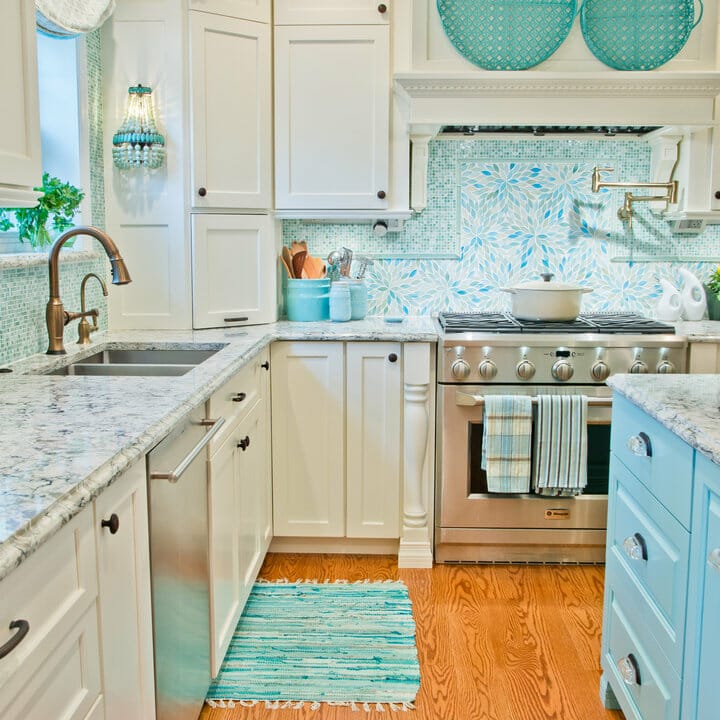 Blue for the cooking area means shooting and calm. By adopting tiling ideas for kitchens like above, you will always be happy to be in this space.
To create a cheerful atmosphere, you can combine patterned tiles with several mosaic shapes. There's no need to hesitate. They all look amazing together.
19. Beige Arabesque Tiles to Bring Dramatic Vibes into The Kitchen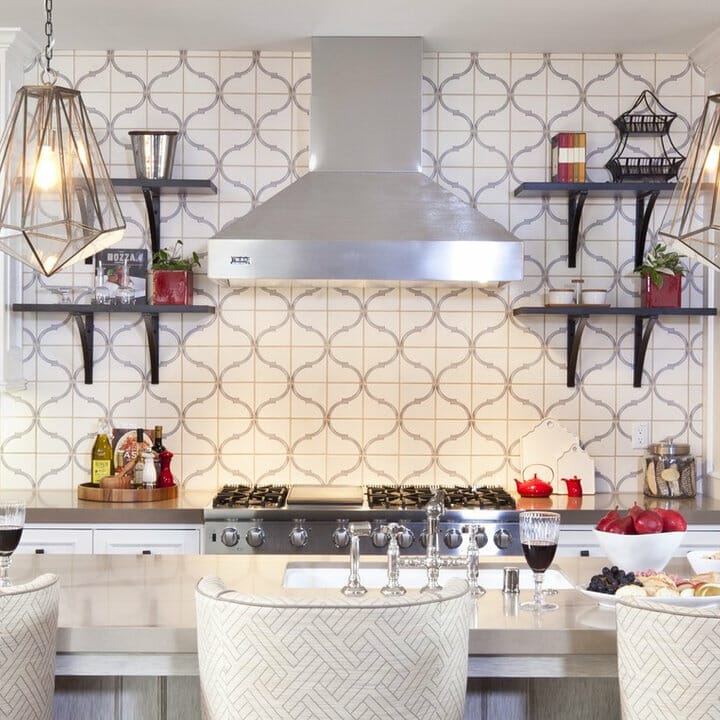 Tiling ideas for kitchens with curvy accents and warm colors can give an elegant impression to your cooking area.
Simply by displaying this pattern repeatedly, on one side of the wall that is close to your countertop, you've got a statement in your kitchen.
In addition, you can also give a light fixture with a metal or gold touch to bring out a luxurious vibe to this spot.
20. Elegant Custom Tiles to Spotlight the Range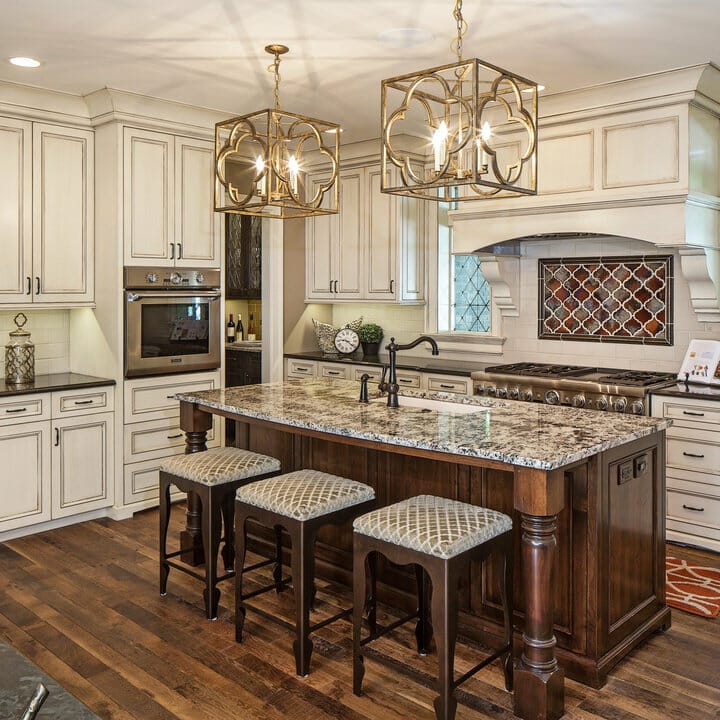 Indeed, custom tiles are the best answer for those of you who want a design that only you who have it.
Thus, if you are looking for the best tiles for kitchen walls, you can confidently choose a warm white color as the base.
Then, don't forget to add the custom ones with the same material right above your range. It helps provide the best focal point in your kitchen without providing many patterns and textures.
21. Timeless White Subway Tiles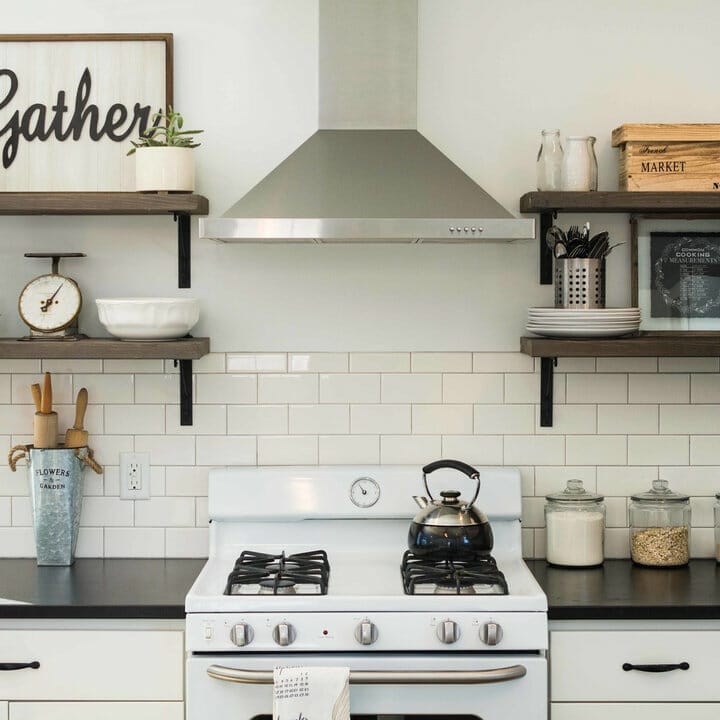 Like some of the tiling ideas for kitchens previously mentioned, subway tiles are a timeless option for everyone to go. Indeed, it will always go well with any interior design, even for your farmhouse cooking area.
Without giving a lot of motifs to the wall tiles and prioritizing white, this will enhance all the decorative elements in your kitchen.
22. Monochrome Linear Glass Tiles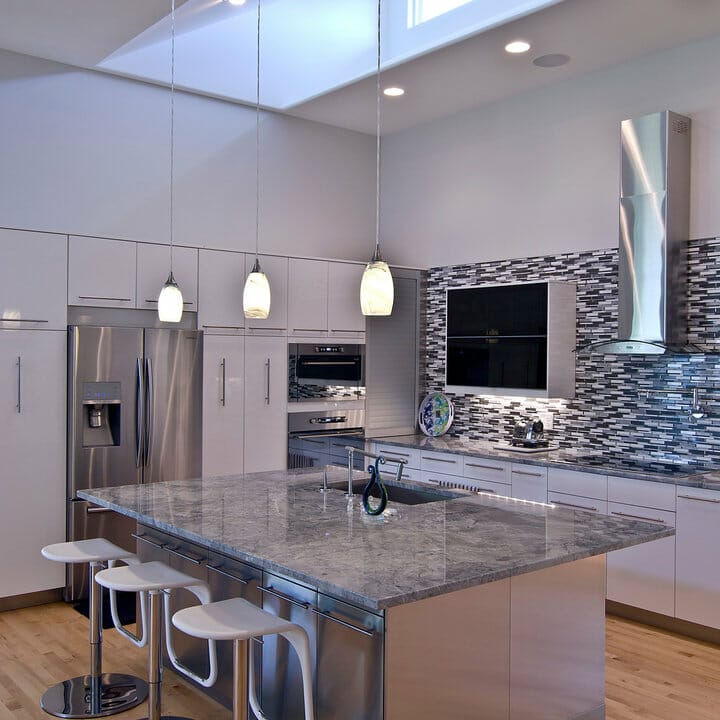 You are not only can go with tiling ideas for kitchens made of metal to create a luxurious feel in your kitchenette.
Alternatively, you can even install the glass tiles for the best glossy effect between your countertop and cabinet settings.
Further, choosing a monochrome theme in selecting these tiles will make you successful in spotlighting your all-white kitchen set.
23. Glossy Bright Orange Marble Tiles among The Grey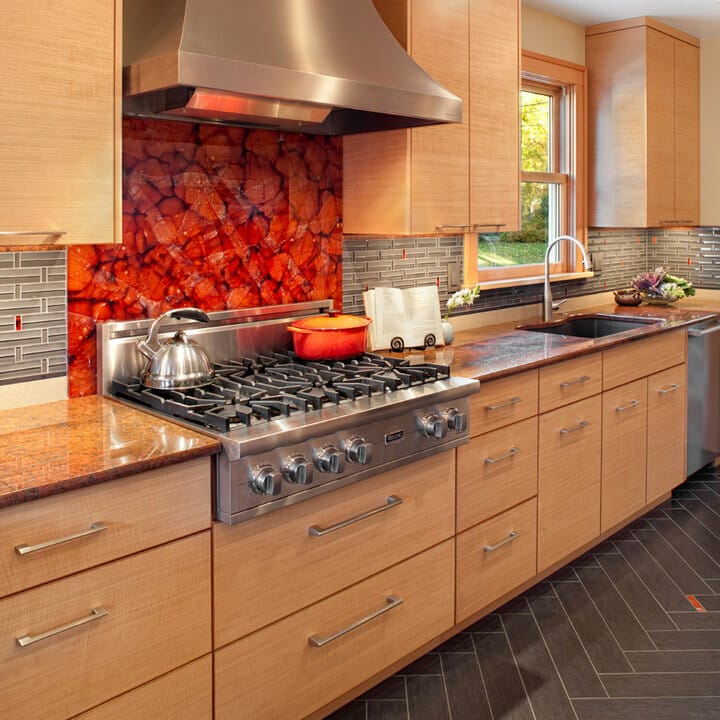 Giving your backsplash a bright color with marble tiles amid all-gray wall tiling is a bold step in expressing your creativity.
Not without reason, this recommendation comes for those of you who are quickly bored with a minimalist-themed monotonous atmosphere.
24. Yellow Mosaic Tiles on The Floor and Wall to Make a Character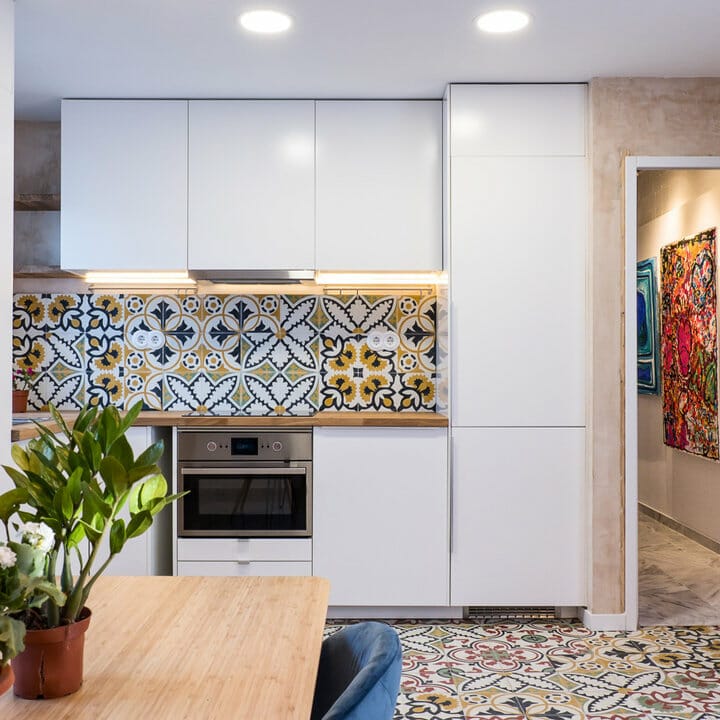 Tiling ideas for kitchens lead you to the arrangement of wall tiling and the flooring system. Deciding to install tiles of the same color pattern on the walls and floor simultaneously will give a powerful drama to this area.
However, make sure to install a kitchen set in plain white so that your cooking area is not cramped.
25. Patterned Cement Tiles in Misty Gray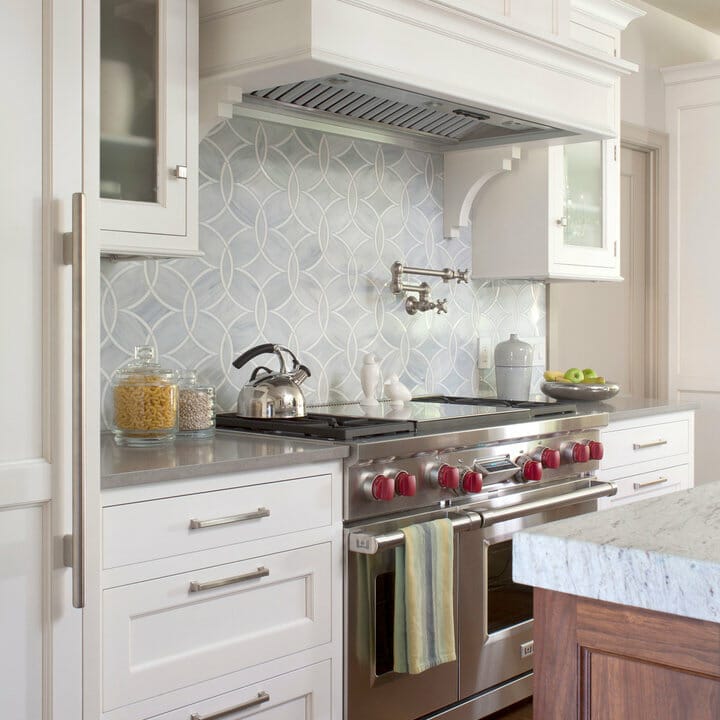 Besides going with marble tiles with abstract motifs, you can also calmly adopt tiling ideas for kitchens from cement tile with a curvy pattern.
Choosing a misty grey one with white accents will make your backsplash look more neutral with any furniture. Further, as long as the pattern is not too crowded with colors, you can choose a medium to large-sized motif.
26. Mural Among the Creamy Tiles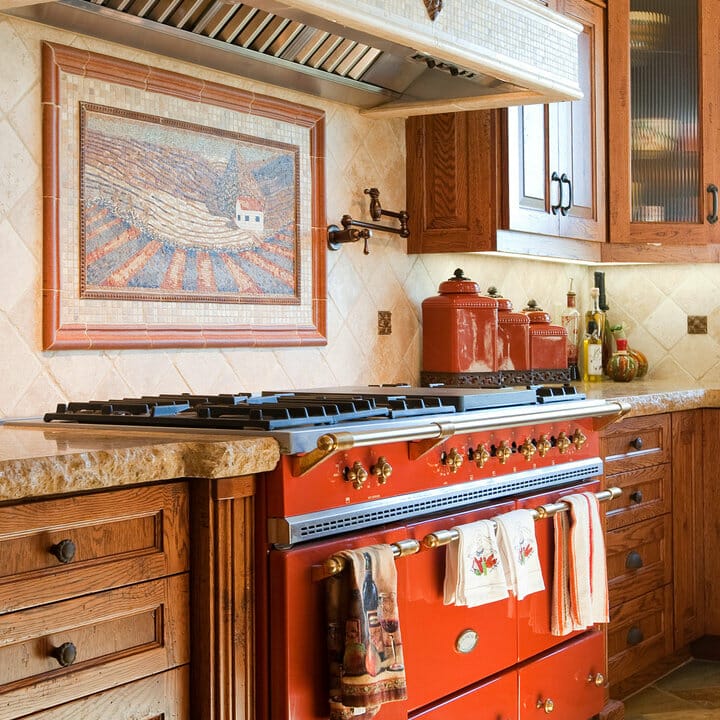 Going with tiling ideas for kitchens with warm and plain colors is relatively safe for you. However, it would help if you gave character so that all your wall tiling settings are not boring at all times.
It is where the role of custom tiling with murals begins. You can stick with a straightforward concept and merely highlight one point to make things pleasing to the eye.
27. Mix Color Rhombus Tiles
Rhombus tiles can be an alternative if you get bored with the standard rectangular shape. Choosing tiles with a mixed color of warm tone will succeed in creating a comfortable and homely atmosphere in your kitchen.
28. Tiling Ideas for Kitchen with Circle Accent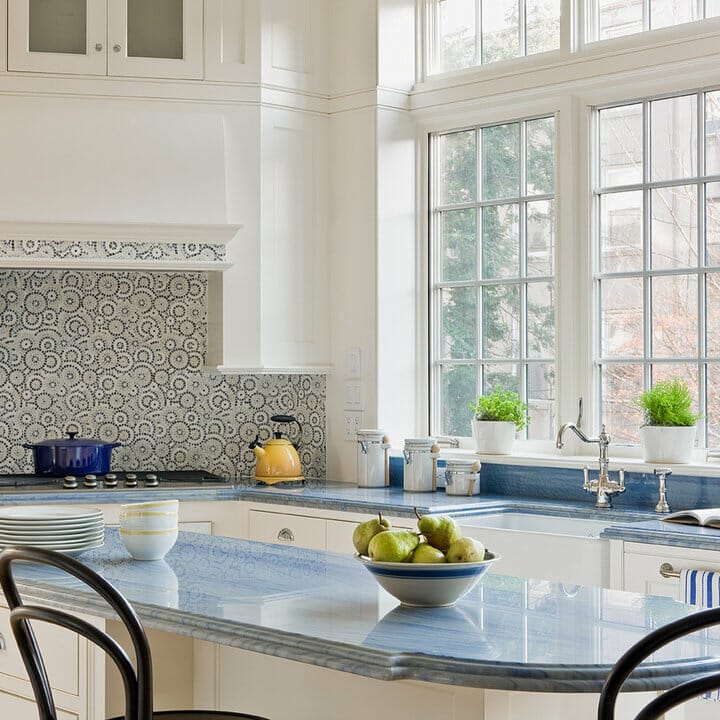 You can install wall tiles with circle motifs that resemble doodles in your kitchen for the following option. Of course, misty gray is a safe color to choose if you're not too brave to go with overly dramatic accents.
29. Herringbone Pattern Kitchen Tile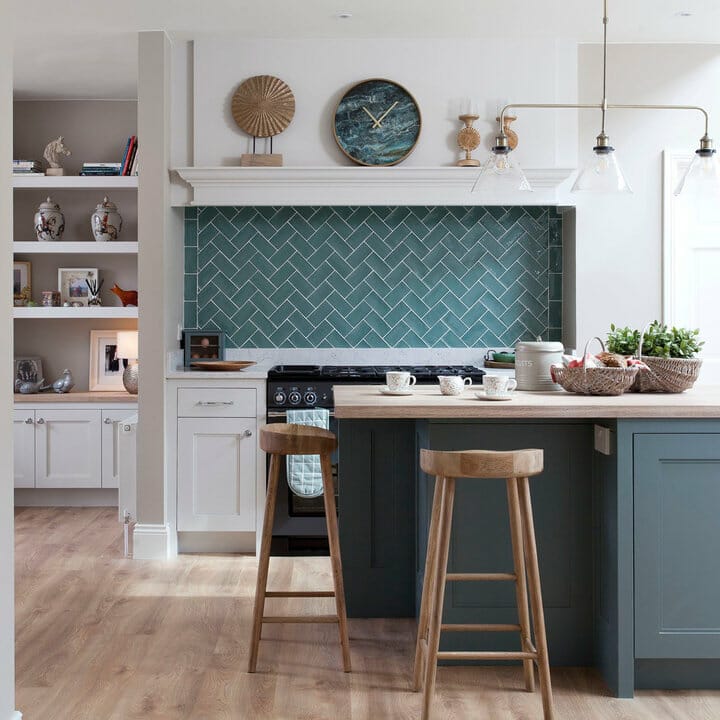 The last recommendation, tiles with herringbone shapes with a coral blue color, will suit those of you who have a coastal interior concept.
However, you can apply these tiling ideas for kitchens to all the interior designs. You only need to reconsider the color selection to make all settings appropriate and cohesive.
So, do you finally find the right one for your cooking area of all the tiling ideas for kitchens mentioned above? If so, immediately contact a professional for a consultation session and installation.
Applying proper tiling ideas for kitchens will soon make your cooking space clean and aesthetic at once.