Kitchen is an area in the home that calls constant attention. When it comes to removing the clutter of your culinary space, look no further than shelving. Kitchen shelving helps create a light and clean setting.
Furthermore, the shelving system keeps your most-used items within easy reach, neat, and appealing. If you are planning to make some cool changes in your kitchen, let's dive into these superb shelving ideas.
1. Farmhouse Open Shelving Kitchen

The open wood shelves hold practical glasses and vintage antique water jugs. Not to mention, the ivory wall allows them to stand out.
White-painted brick backsplash, acrylic countertop, and stainless-steel appliances complement the shelves. They also produce a utilitarian vibe.
2. What to Put on Open Kitchen Shelves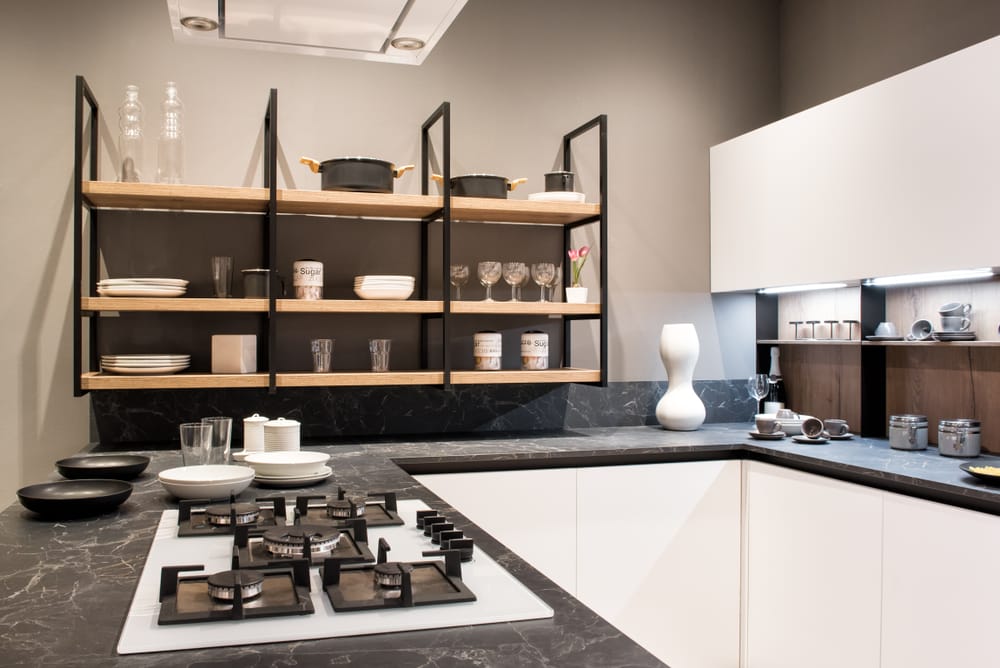 This culinary space is outfitted with metal-and-wood shelves. Along with sleek white cabinets, they convey a feeling of openness and airiness.
The crockery, cookware, and eating utensils are showcased on open shelves in an organized manner. Black marble countertop spells timeless luxury.
3. Kitchen Corner Shelf Cabinet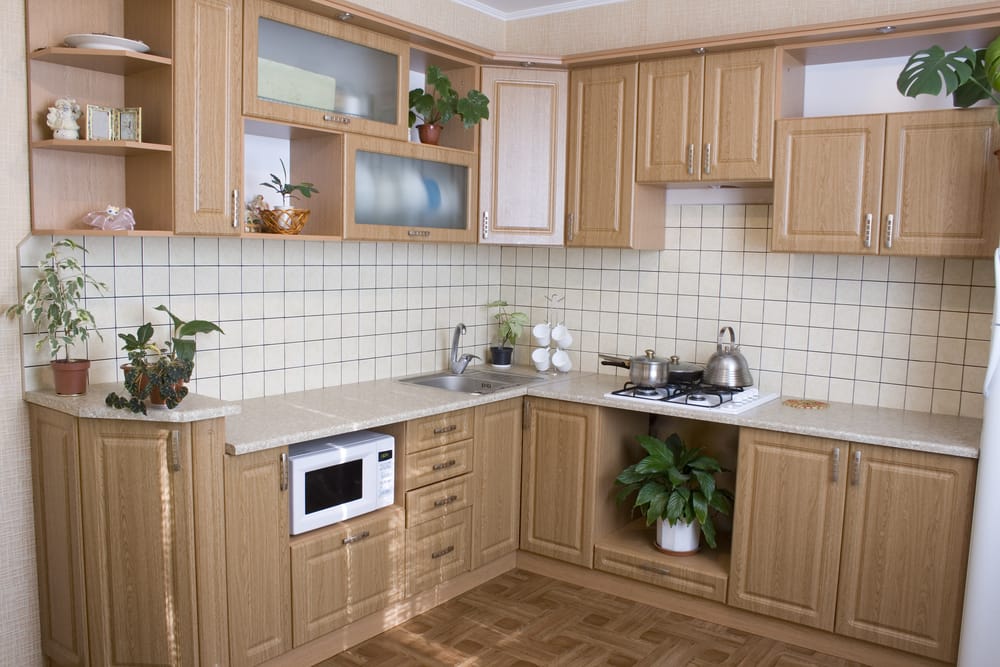 If you have a petite kitchen, make most of your small space by installing a corner shelf cabinet. Here, white plate and ornamental pieces on the shelves develop a coordinated look.
Unpainted wood cabinets evoke the rustic charm. Square backsplash tiles serve as a focal point, while potted houseplants breathe life to the entire area.
4. Industrial Kitchen Wall Shelving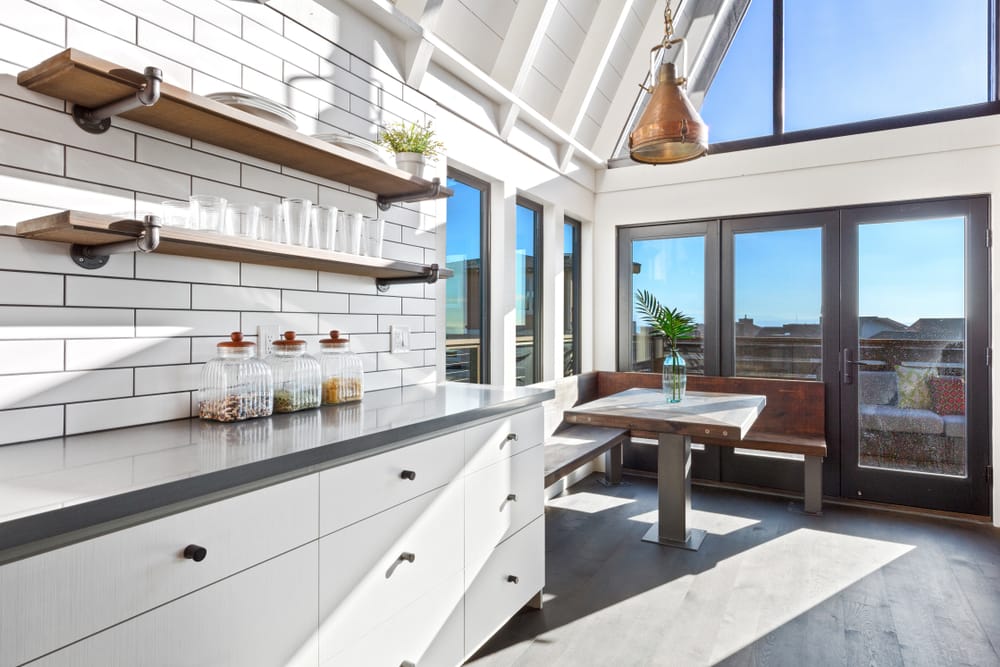 A neutral color palette, vaulted ceiling, and plenty of windows make the kitchen feel more expansive than it is. Plus, you can see the outside view while enjoying your meal.
White subway-tiled backsplash allows the wall-hung shelves to be more noticeable. A rusty pendant light reinforces the industrial flavor.
5. Wooden Shelves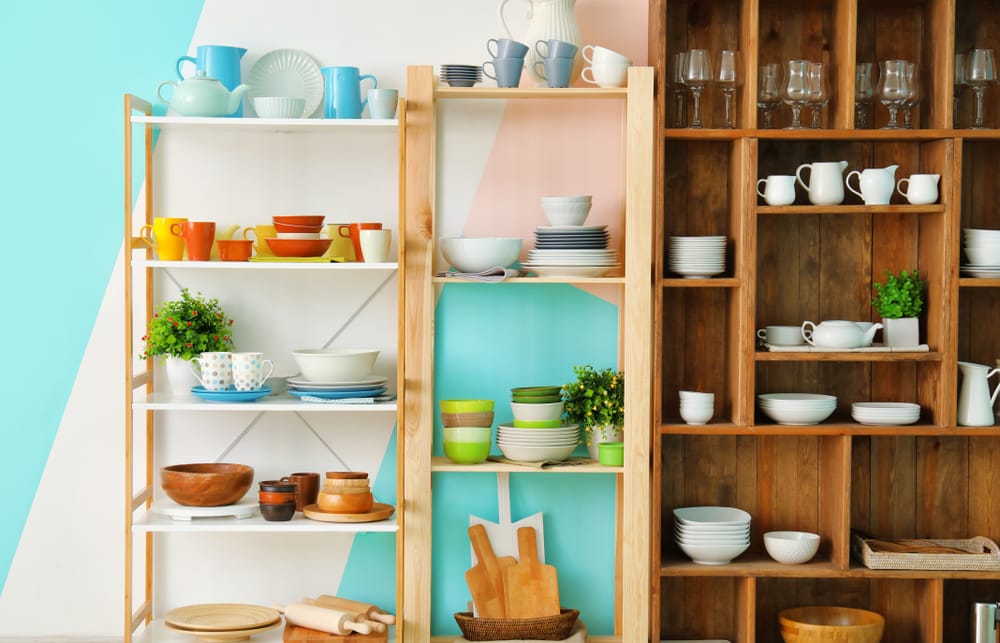 In this picture, reclaimed and unfinished wood shelving units give the kitchen rustic charm. Plus, they provide an abundance of storage space.
White, pastel turquoise and peach on accent wall inject the room with instant cheer. Bold dishes and wooden baking utensils bring the kitchen together.
6. Cubby Shelves DIY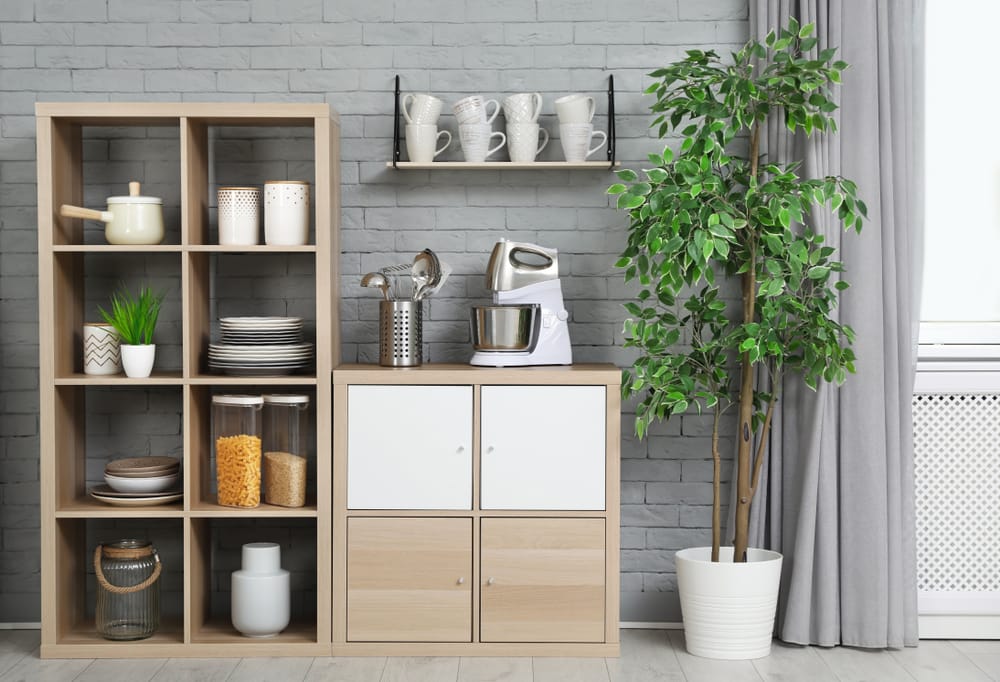 Straight lines and neutral space scheme demonstrate a modern kitchen. Brick wall, wood floor, and linen curtains cozy up the room.
The cube storage units show off tableware, kitchenware, baking equipment, and food canisters. Above the cubbies, there is a wall-mounted shelf that houses a set of coffee mugs.
7. Freestanding Shelving Units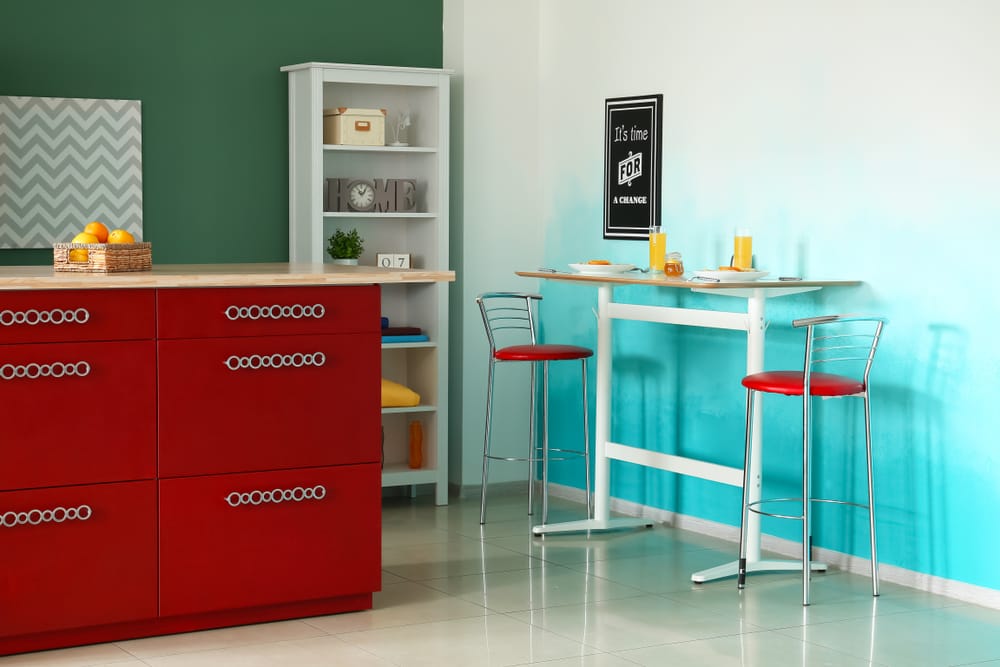 Here, the ornamental pieces are placed on freestanding white shelving units. The dark green wall highlights the shelves in an outstanding way.
Ombre blue dining area wall delivers a playful ambience. Red kitchen island and chairs turn the kitchen into a dynamic space. Chevron wall decor grabs the attention in a flash.
8. Kitchen Space Saver Shelves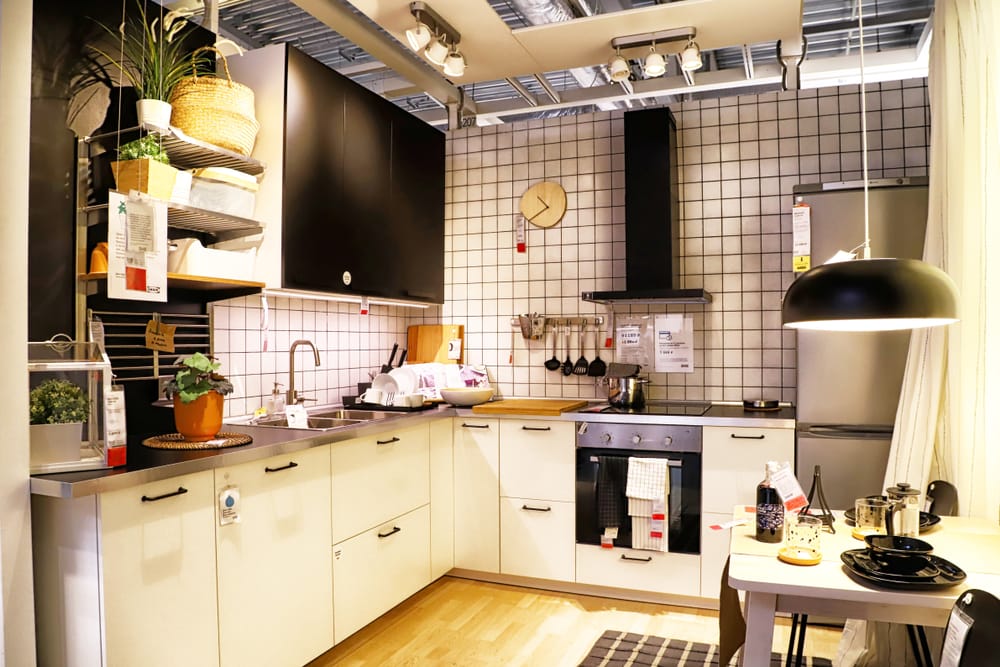 No large space? No problem. You can tidy up your petite kitchen by hanging stainless-steel shelves vertically. They free up the floor space for sure.
Then, put potted plants and wicker baskets on the shelves. To maximize storage, attach a utensil rack to the wall.
9. Kitchen Wall Shelving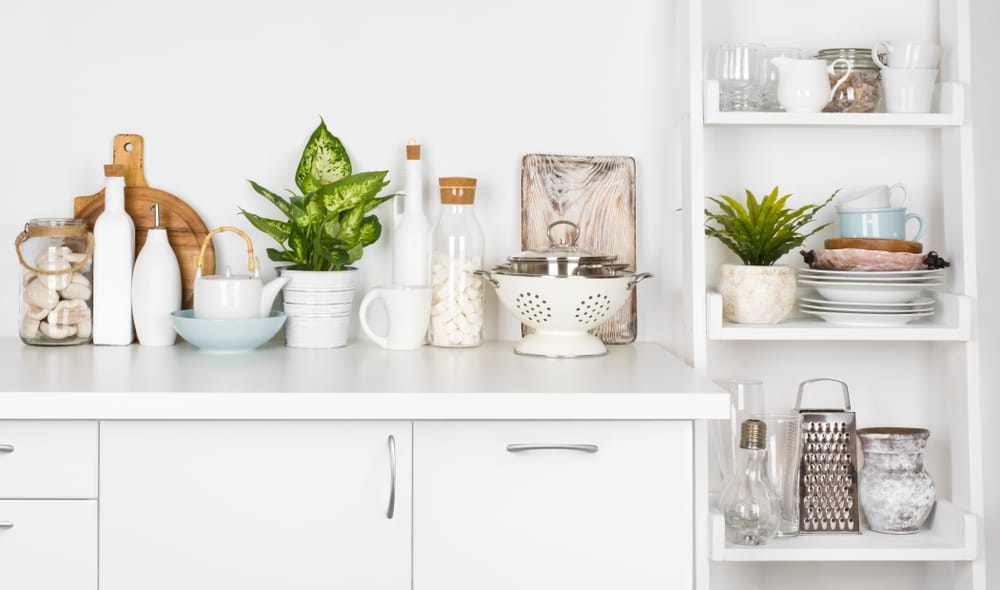 This cooking zone is spotlessly clean and bright. White countertop, wall, and cabinetry instantly expand the area.
Tall ladder shelving units lean against the wall. They are used to store crockery, pottery vase, and drinking glasses. Pastel blue and peach tableware elicit a sense of softness. Potted plants perk up the room.
10. Wall-Mounted Kitchen Shelves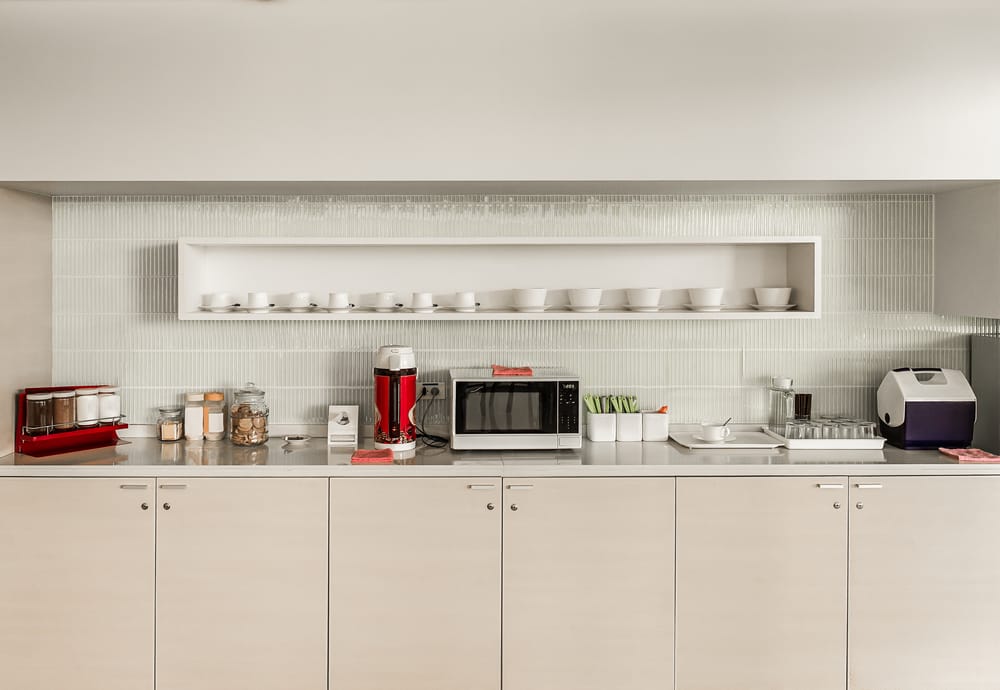 As you can see, a white rectangular wall shelf is the home of small and medium-sized cups. Striped subway glass tiles behind it lend the space textural contrast.
Sand-colored lower cabinets exude subtle depth and an aura of equanimity at once. Red and orange pieces radiate energy.
11. Kitchen Shelving Ideas IKEA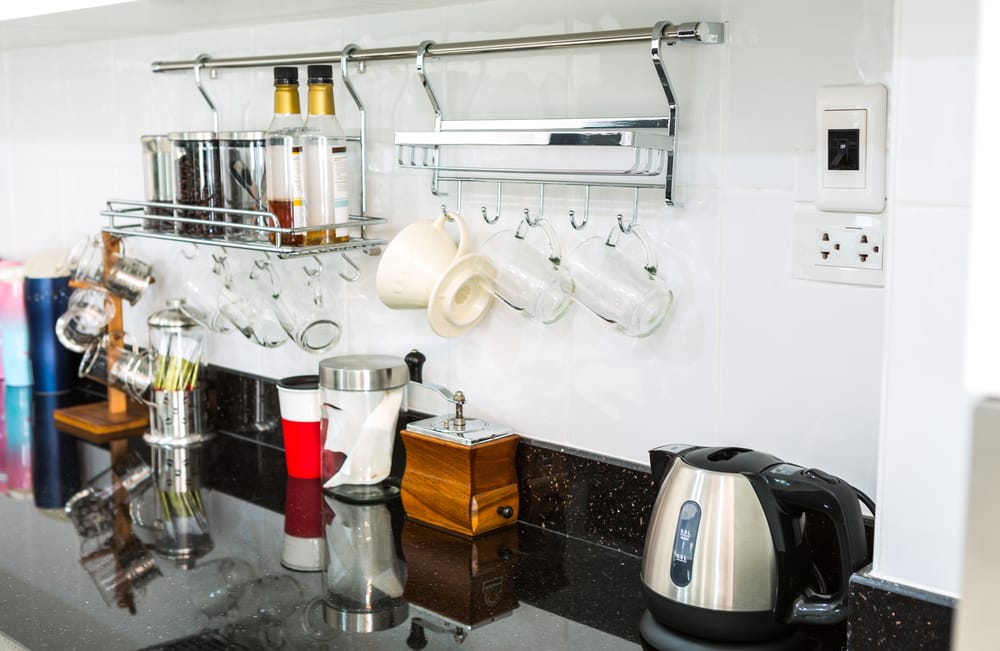 The metal wall-hung shelf from IKEA displays kitchenware and bottled cooking oils. Meanwhile, rails with hooks are for cream cup and glasses.
Moreover, an inky granite countertop offers unique beauty, natural drama, and high-end look. Wooden units set homey vibes.
12. Kitchen Shelves and Racks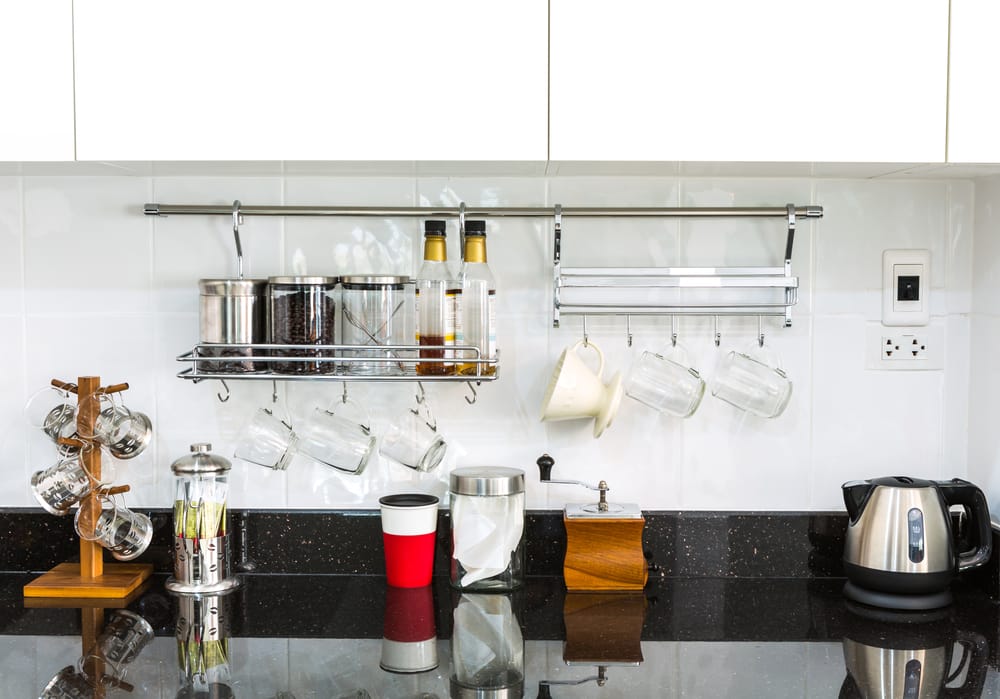 Stainless-steel shelf and racks help to preserve a stylishly organized kitchen. They give the cooking area an eclectic touch as well.
White tiled-backsplash delightfully contrasts with black countertop. Pops of golden brown and red carve a warm nuance.
13. Open Kitchen Cabinets No Doors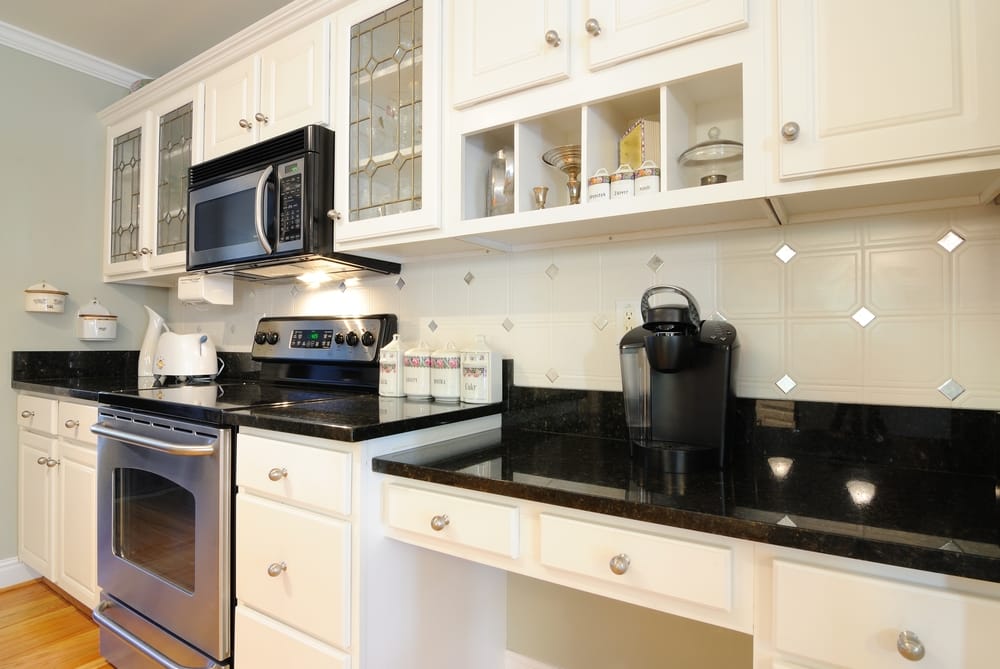 This modern kitchenette employs off-white cabinets. The homeowner removed the doors of upper cabinetry to have boxed in shelves.
Ceiling and walls are painted gray. They pose as a wow-factor. Honey wood floor catches the attention in a jiffy.
14. Floating Kitchen Shelves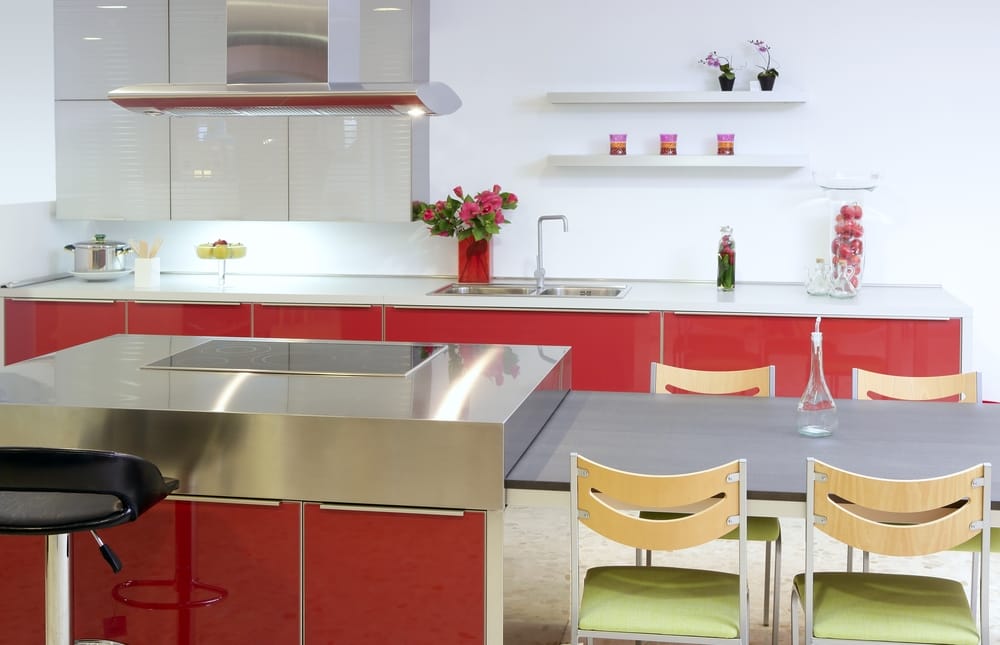 Red & white is a winning combo. This kitchen is the real proof. It looks trendy, fresh, and inviting at once.
White floating shelves are paired with sleek light gray cabinetry. They open up the room. Fresh flowers in the vase and pots naturally adorn the space.
15. Best Wood for Open Kitchen Shelves

Speaking of material for shelving units, oak wood is the best choice. It is very long-lasting and not susceptible to warping.
The Tetris-inspired shapes compartmentalize the units. Meanwhile, brick wallpapered-wall adds urban cool to the kitchen.
16. Metal Shelving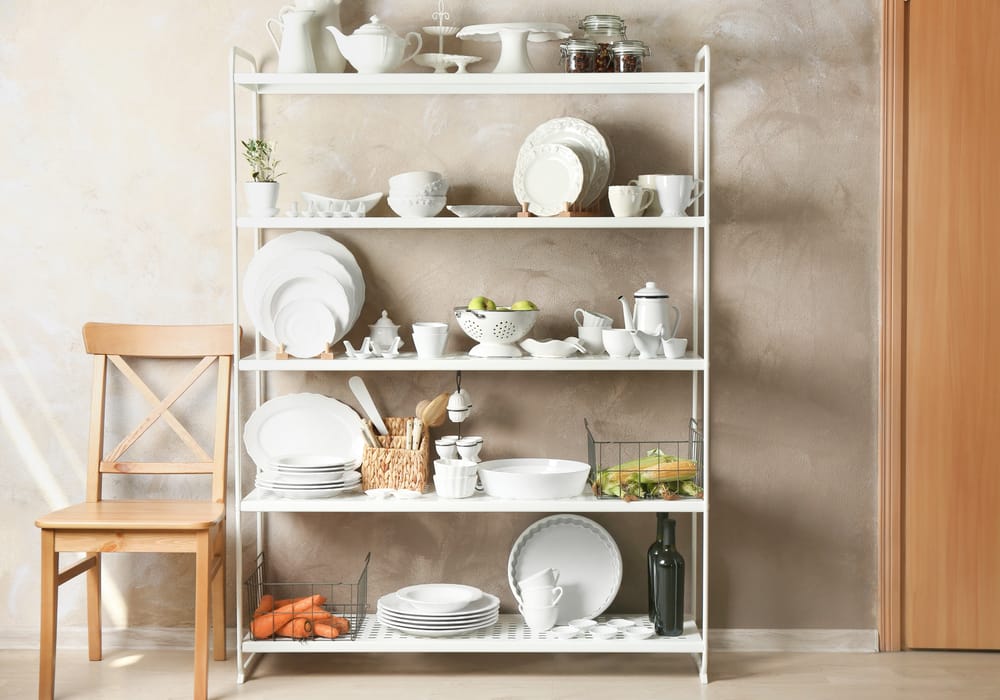 The freestanding metal shelving units are coated in white paint color. They look so stunning against the light taupe textured wall.
Apples, corns, and carrots brighten up the area. A wood armless chair lends country flair to the culinary space.
17. Kitchen Counter Shelf Wood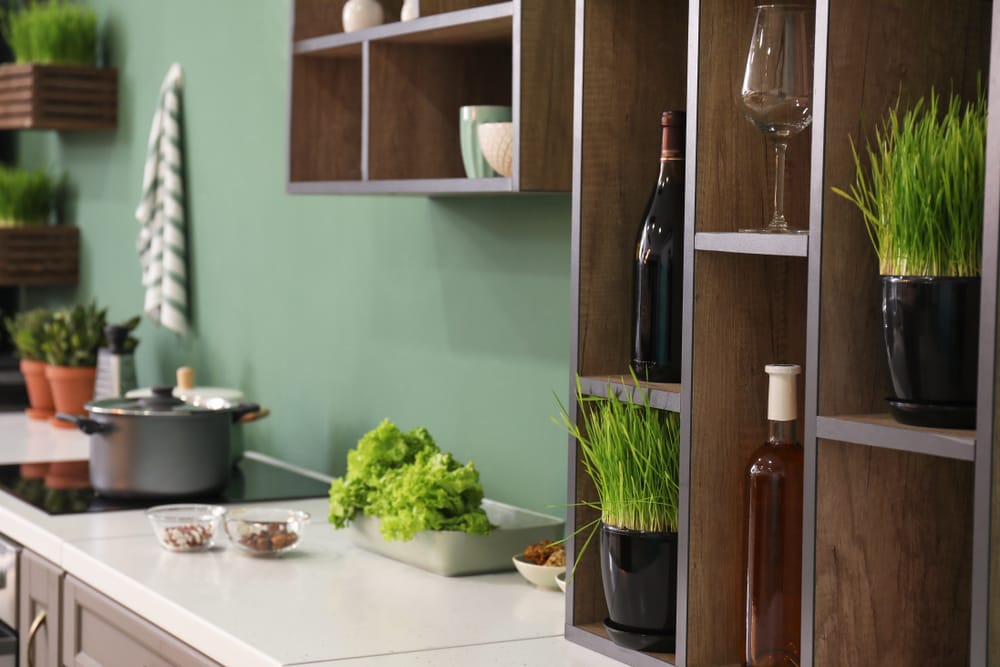 Here, the tall wooden storage units are placed on countertop. Meanwhile, other shelving units are mounted on the wall. They hold drinking glasses, bottles, bowls, and potted indoor plants.
Raw interior of shelves promotes rustic aesthetic. Pastel green backdrop softens the kitchen's look. Lots of greenery rejuvenates the entire zone.
18. Cubby Shelves Wall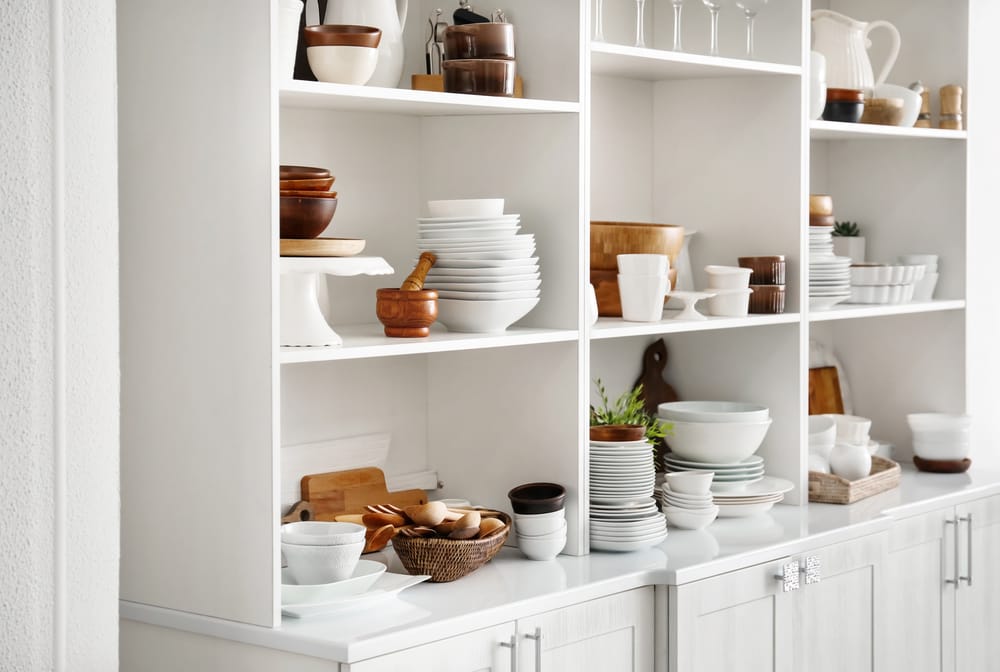 Pure white wall, cabinetry, and cubbies introduce an open environment. Cubby shelves make the entire area tidy and cozy. They accentuate brown kitchenware, wooden dishes and eating utensils.
The houseplant adds color and life to the whole area. The nature spectacularly meets modern design in this kitchen.
19. Open Kitchen Shelving Ideas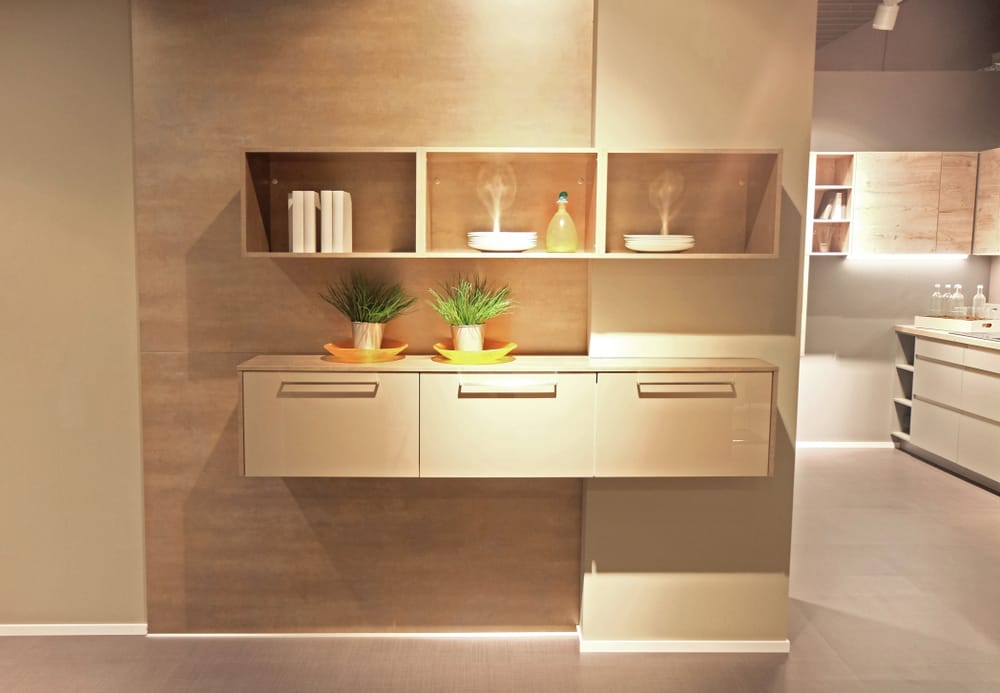 This kitchen has plenty of storage space, thanks to streamlined cabinets and shelves. The corner shelf cabinet and boxed-in shelves reveal understated beauty. They keep the items visible.
Light taupe walls and floor tiles carve a soothing atmosphere. Lastly, indoor plants purify the air as well as spruce up the room.
There you have it, all my kitchen shelving ideas. Whichever the idea you opt for, be sure it fits your storage needs. Are you ready to live a mess-free life?