As the homeowner, you should pay attention to your kitchen windows. Curtains tremendously can affect their look and inject energy into space. In case the windows require some dressing, read about my kitchen curtain ideas.
Furthermore, curtains come in many colors, forms, patterns, and styles. Due to this fact, I have had an amazing list of window curtains. They surely go beyond the ordinary window coverings. Check this out!
1. Vintage Kitchen Curtains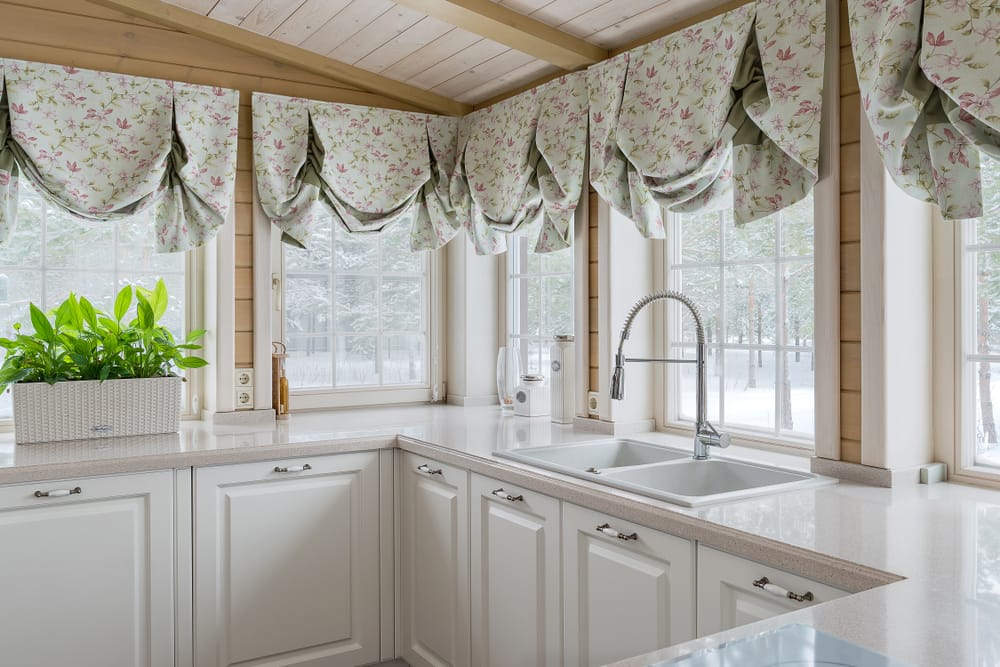 This kitchen boasts white countertop, bead-board ceiling, and cabinets. They create the perception of a bigger space easily. Raw wood walls promote a rustic feel.
Vintage floral curtains elegantly dress small glass windows and serve as the focal point. Potted greenery revitalizes the room.
2. Beautiful Kitchen Curtains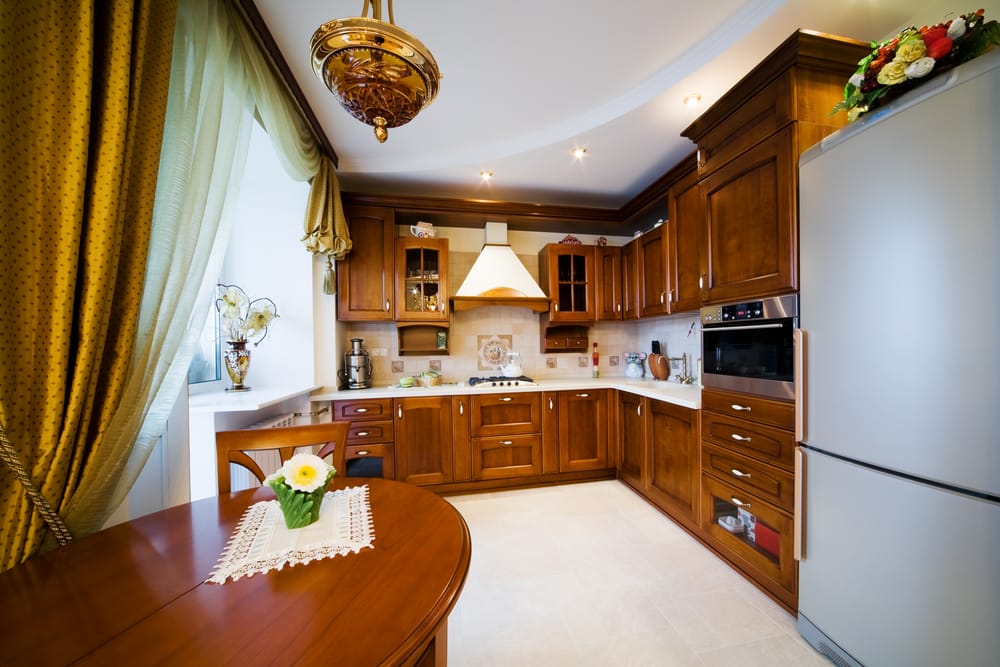 Here, you can see golden yellow blackout drapes and ivory sheer curtains. These window treatments filter sunlight during daytime as well as provide privacy.
The neutral color palette, clean lines, and sharp edges lead to a modern interior. Golden ceiling light offers a regal feel. Wood table, chair, and cabinetry warm up the zone.
3. Roman Shade Curtains for Kitchen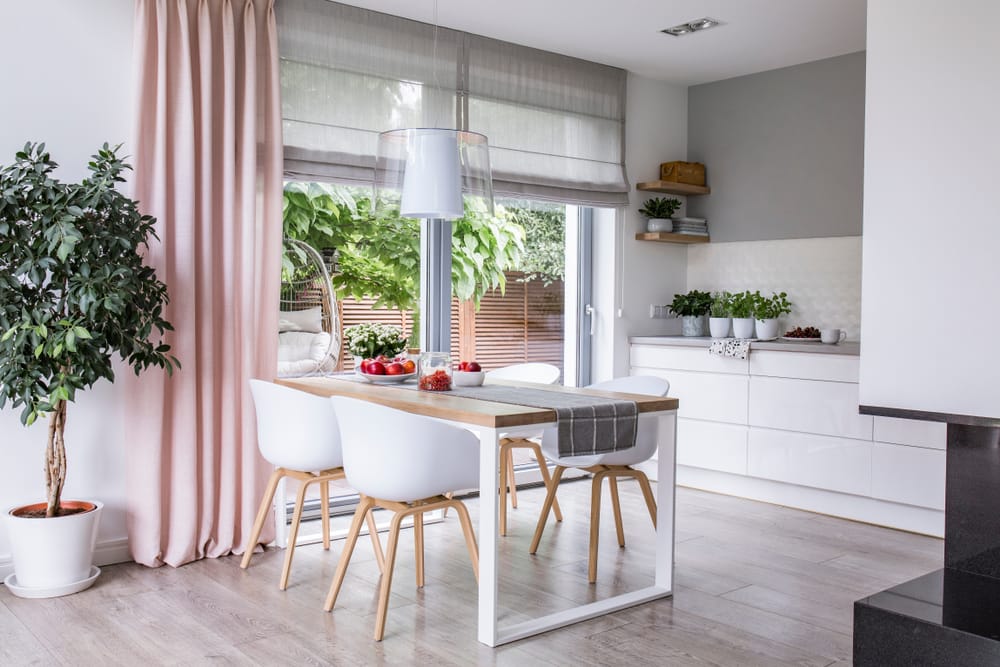 This kitchenette is tiny. However, it looks so inviting and stylish, thanks to the soft hues as well as an open concept.
Blush pink curtains nicely meet gray roman shades. They add a womanly flair to the scene. Houseplants bring the outside in.
4. Kitchen Curtain Ideas for Large Windows
Sheer curtains allow the daylight to enter this kitchen. Meanwhile, steel blue blackout curtains cover the wide windows and give a sense of privacy.
The oversized pendant light emphasizes the dining area. Streamlined wood cabinets develop a modern farmhouse flavor.
5. Kitchen Curtain Ideas 2018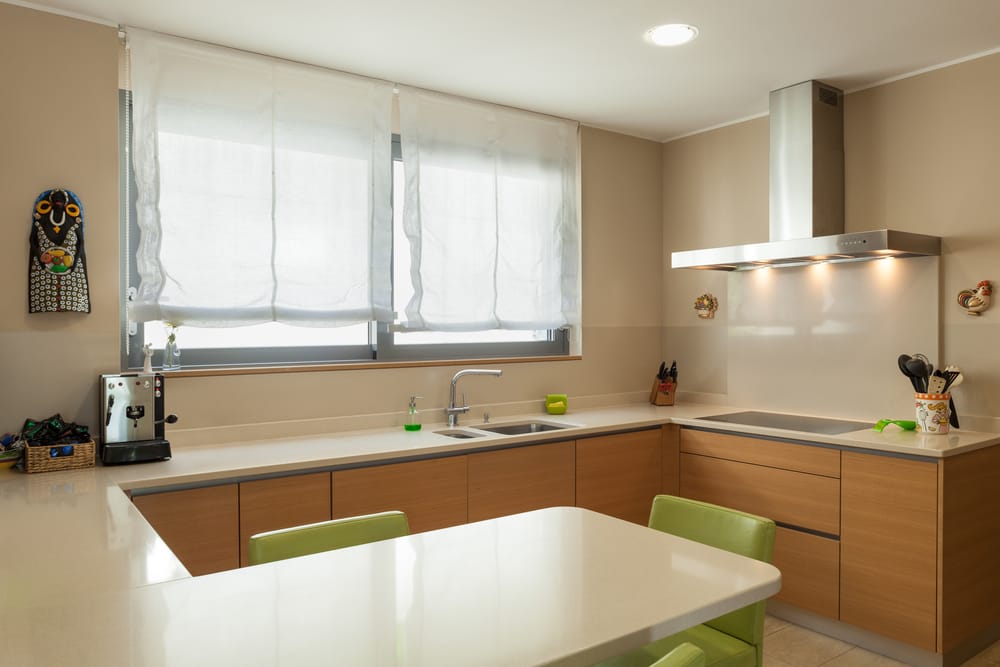 This modern cooking zone features window treatments that are more of roll-up lace shades. Their delicate details instantly add beauty to the bare windows.
White ceiling, beige countertop, and walls produce a calming effect. Pops of green and wall ornaments keep the starkness at bay.
6. Kitchen Curtain Patterns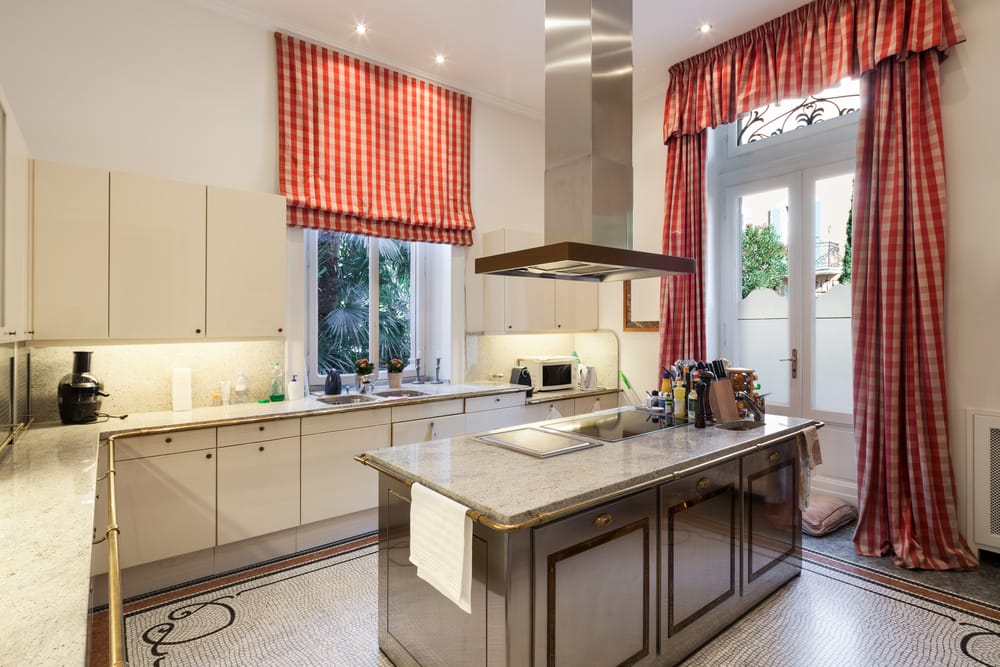 The neutral tones in this culinary space generate soothing vibes. Straight lines and crisp edges bring a modern touch to the scene.
Glass windows are embellished with red-and-white plaid curtains and blind. Their simple patterns carve the classic appeal. Marble countertops ooze timeless luxury.
7. Modern Kitchen Curtains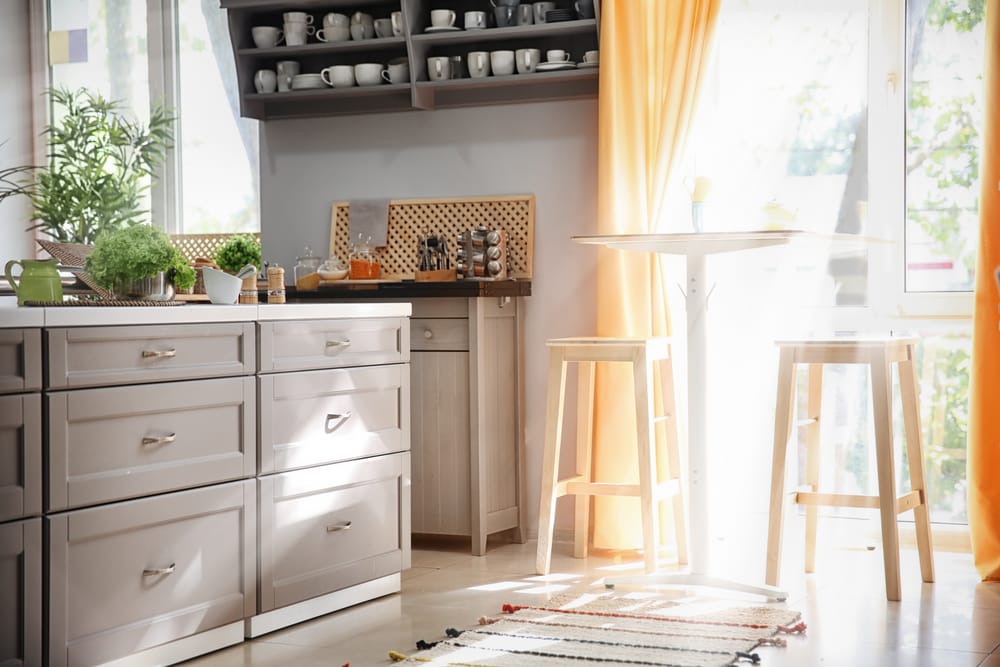 As you can see, this small kitchen looks sunny and airy. The giant glass windows let an abundance of sunlight in.
Orange blackout curtains deliver vibrant energy and welcoming aura. Tableware in the open wall cabinet acts up as the centerpiece of the kitchen.
8. Linen Fabric for Curtains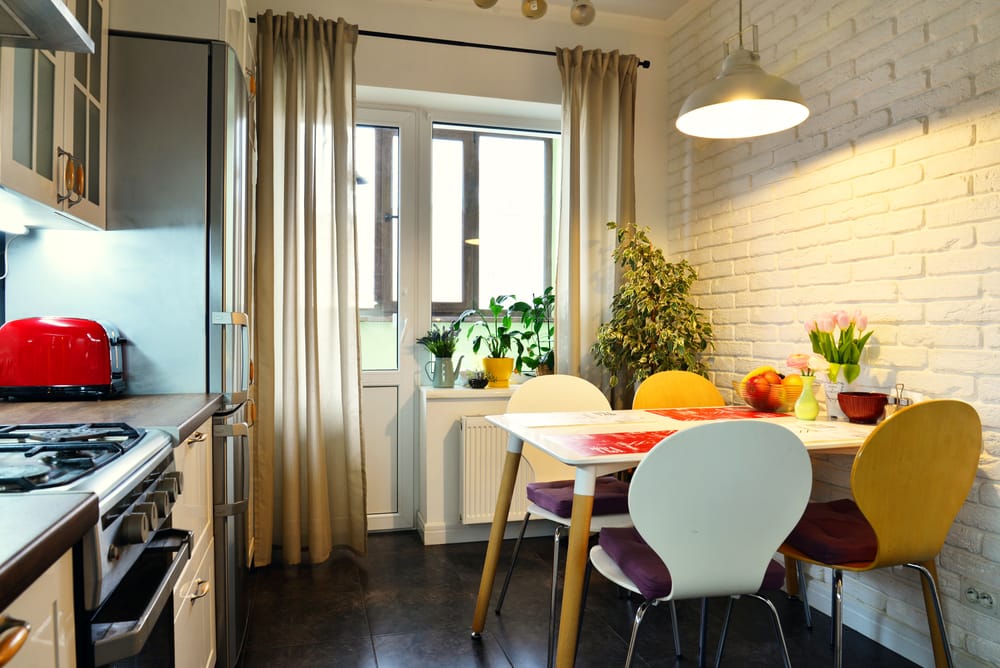 The homeowner paired her Scandinavian-style kitchen with minimalist dining table and chairs. The concrete floor and pendant light exude industrial charm.
Camel sheer linen curtains lend lightweight texture and understated luxe to the room. Plants and flowers make the space livelier.
9. Long Kitchen Curtains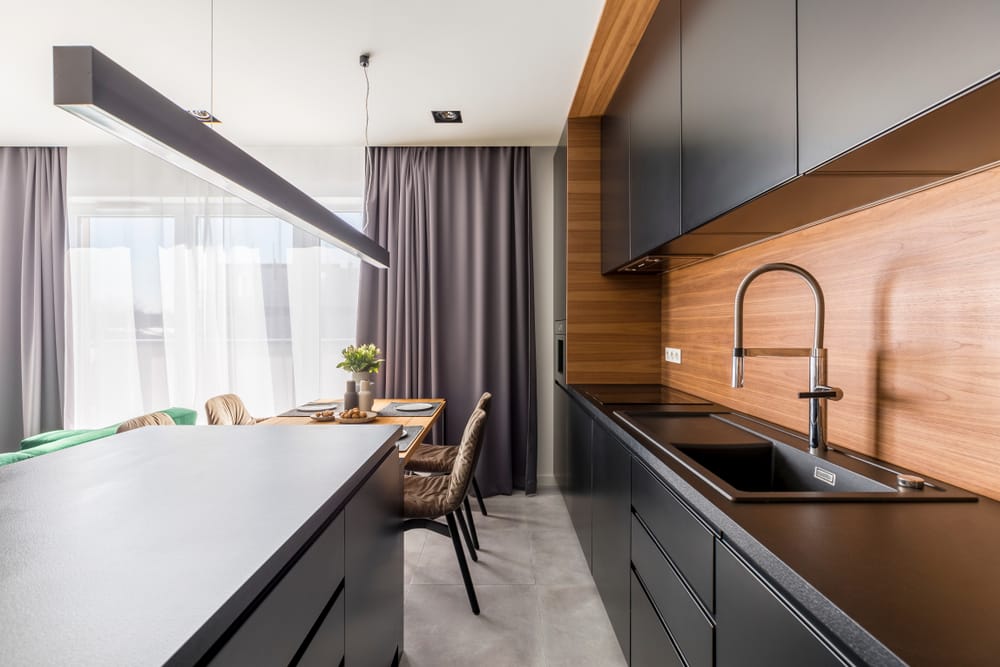 I'm swooning over this sleek kitchen. The black countertop, kitchen island, and cabinets offer so much dimension as well as depth.
Fossil gray blackout curtains protect the room from heat. The transparent ones diffuse the natural light. Wooden table and backsplash prevent the area from being cold.
10. Country Kitchen Curtain Ideas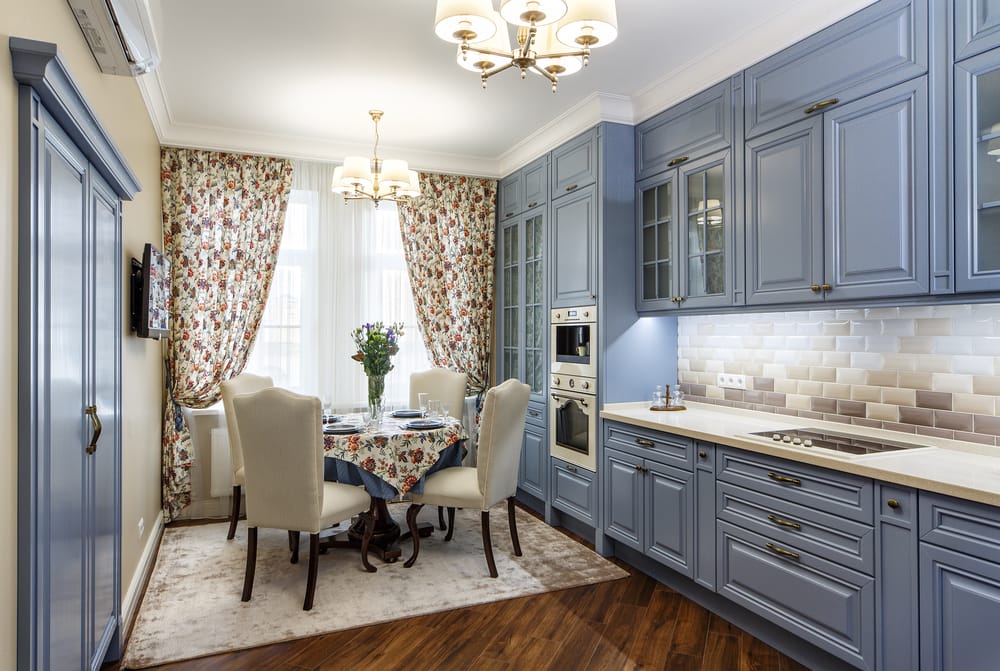 White base allows pastel blue built-in cupboard and cabinetry to take the center stage. Pedestal table, ceiling lights, and dining chairs introduce French country flair.
Floral cupped curtains and tablecloth unify the room. Grandiose pink velvet rug tops wood floor and gives the area extra comfort.
11. 1940s Kitchen Curtains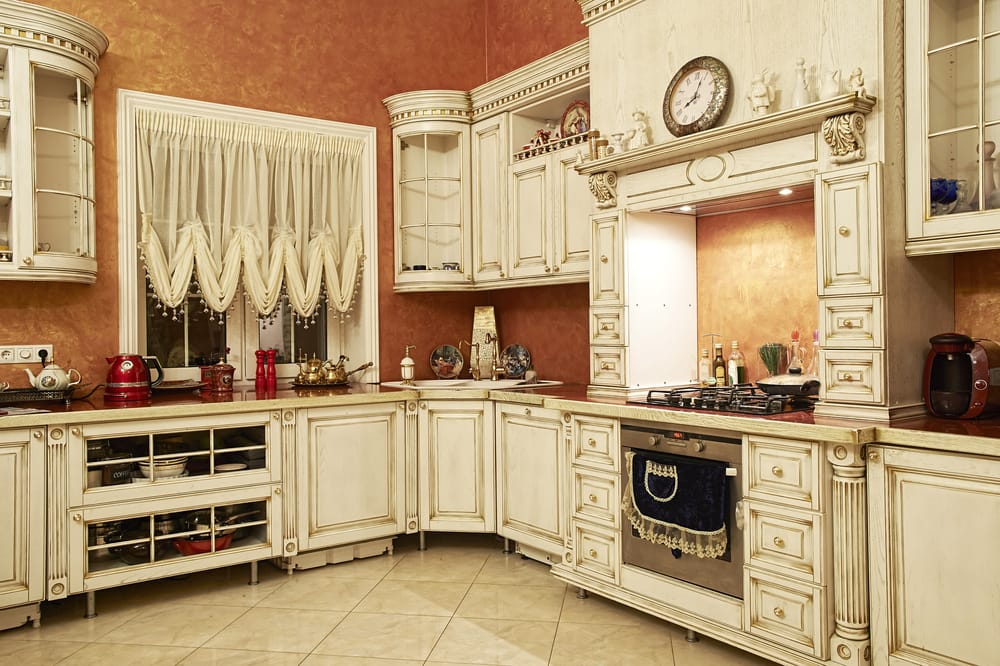 This large kitchen is full of old-world charm. The ivory cabinets and range hood match wonderfully with brown-painted walls.
Victorian sheer balloon curtains adorn the small windows. Vintage clock and ornamental pieces on the mantel evoke a sense of heritage.
12. Kitchen Window Treatments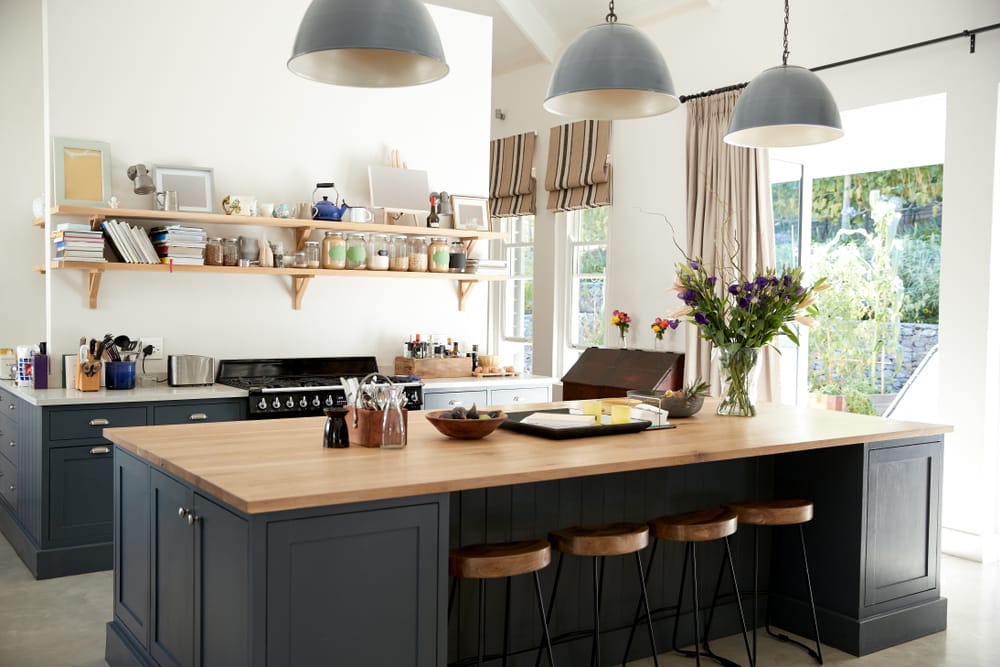 Here, wood and black develop a splendid contrast. Three industrial pendant lights brighten the dining area during evening hours.
Sand-colored long curtains block out harsh sunlight. Striped blinds create a crisp edge to the industrial modern kitchen. Flowers in vase prettify the area.
13. White Kitchen Curtain Ideas
Whitewall and cabinetry contribute to the kitchen's clean setting. They also visually expand the tiny cooking zone.
Extra-wide white curtains let the daylight come into the room while retaining a bit of privacy. Raw wood knife holder, potted plant, and stainless-steel units break up the white scheme.
14. Kitchen Curtain Ideas above Sink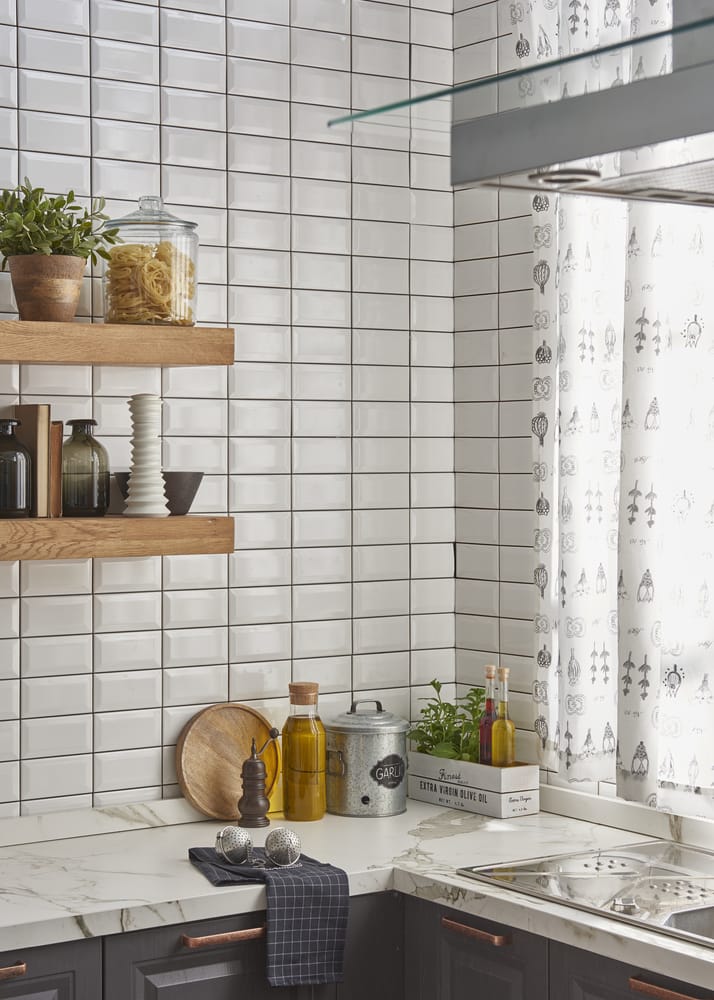 Gray and white are the dominant players. They promote a sophisticated contemporary interior design. Marble countertop emanates a glamorous air.
Patterned curtain provides some coverage and visual appeal. Vintage pieces add personality to the kitchen. Wood open shelves line the subway-tiled walls. Houseplants liven up the entire area.
15. Kitchen Curtain Ideas Pictures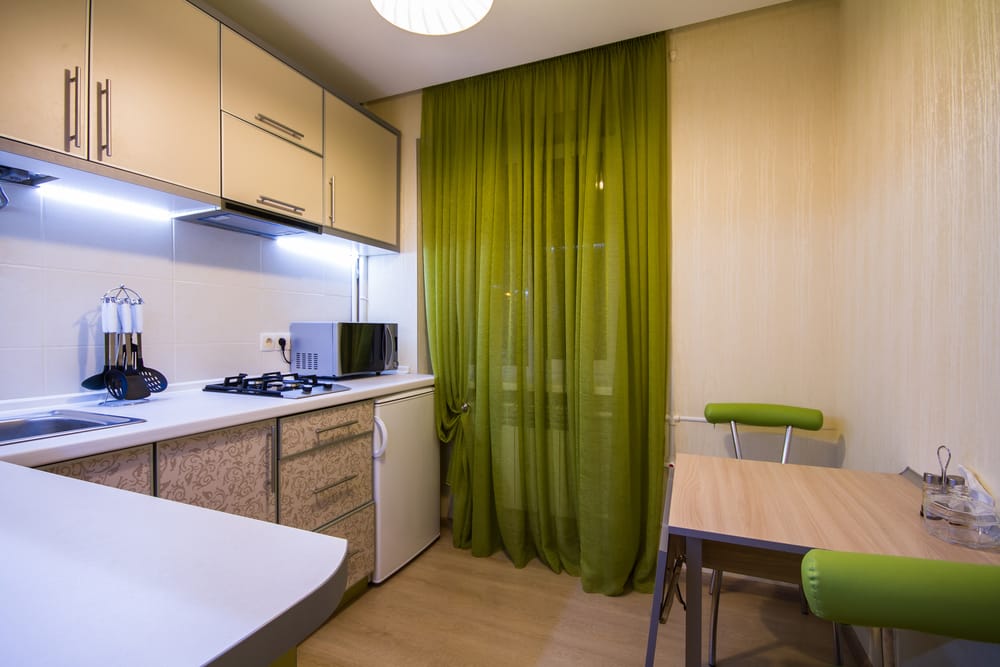 Love something bold? This idea is for you. Neutral color palettes and wood elements calm the area.
Green sheer curtains put the right finish touch on the kitchen. Two dining chairs accompany the window dressings and perk up space.
16. White Kitchen Curtains Target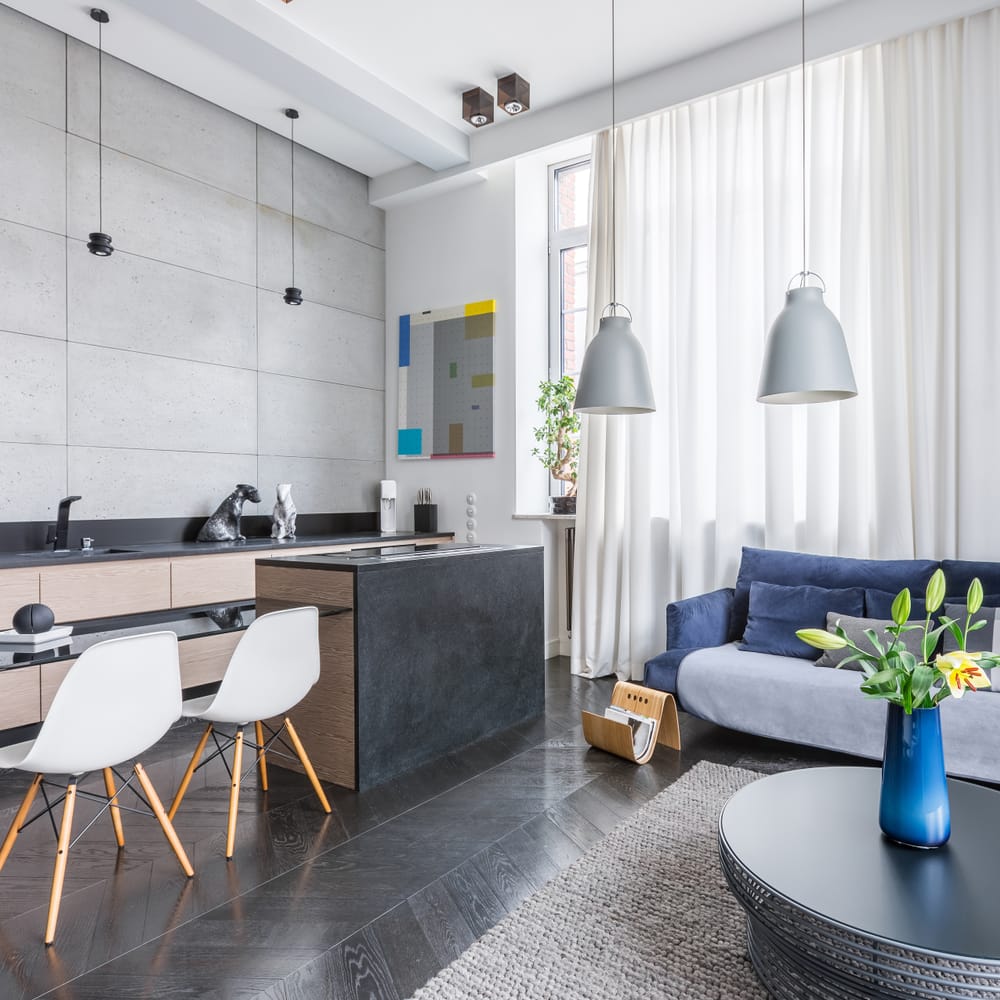 The kitchen is integrated into this industrial-style living room. Extra-long white curtains from Target protect the furniture and decor from sun damage.
Black floor and kitchen island give the area dramatic effect. Wooden magazine holder and Scandinavian chairs create a fresh look.
17. Kitchen Curtain Sets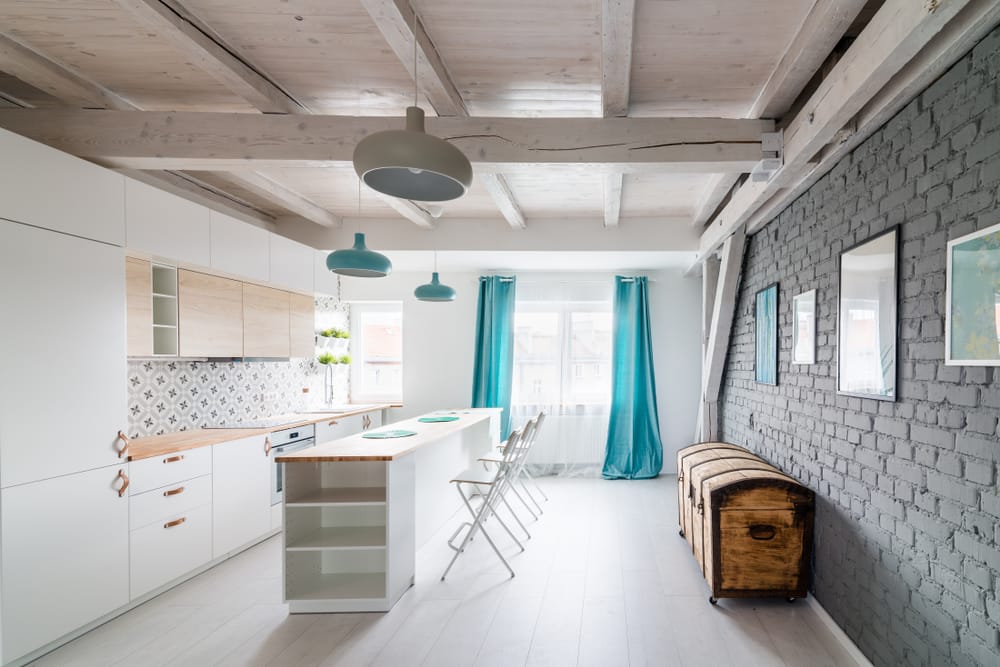 Exposed wood ceiling beams reveal superb architectural details. Vintage steamer trunk, countertop, and upper cabinet demonstrate the rustic aesthetic.
Turquoise curtains and pendant lights make a vivid statement in a jiffy. Framed works of art on gray brick wall elicit a sense of cohesiveness.
18. Modern Kitchen Curtains and Valances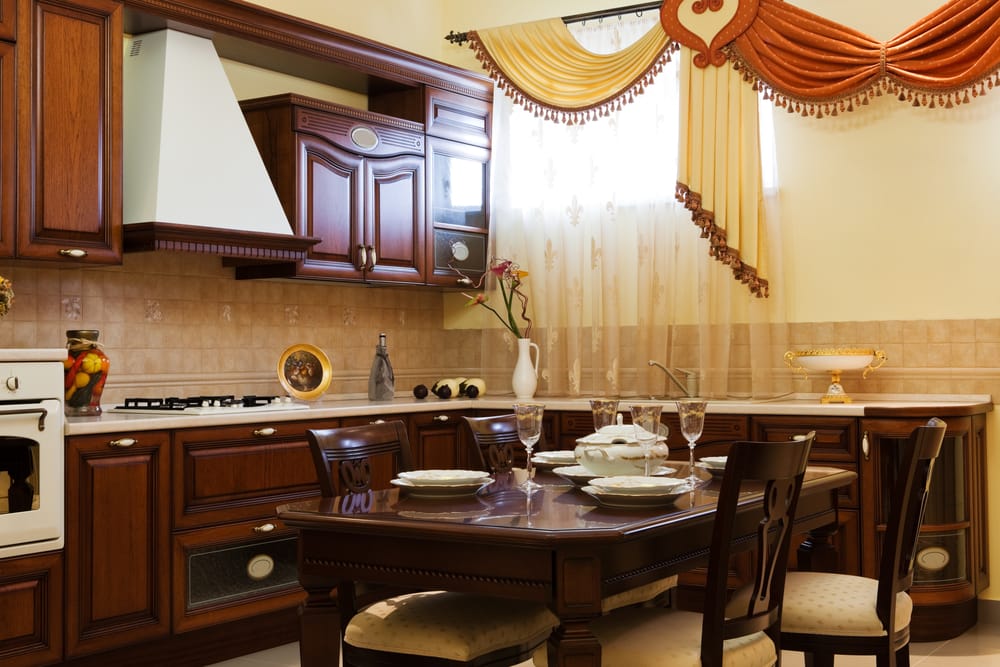 The backsplash is covered in beige square tiles. Dark wood table, dining chairs, and cabinets heighten a warm ambience.
Sheer printed curtain gently filters the natural light. Cream and orange silk scallop valances add an air of elegance and opulence.
19. Gray Kitchen Curtains Walmart
The pale gray tied drapes and translucent curtains marry together. Off-white cabinets soothe the space.
Brown granite countertop and backsplash exude a cozy atmosphere. Black and white checkerboard floor tiles catch the eye.
20. Kitchen Window Curtain Rods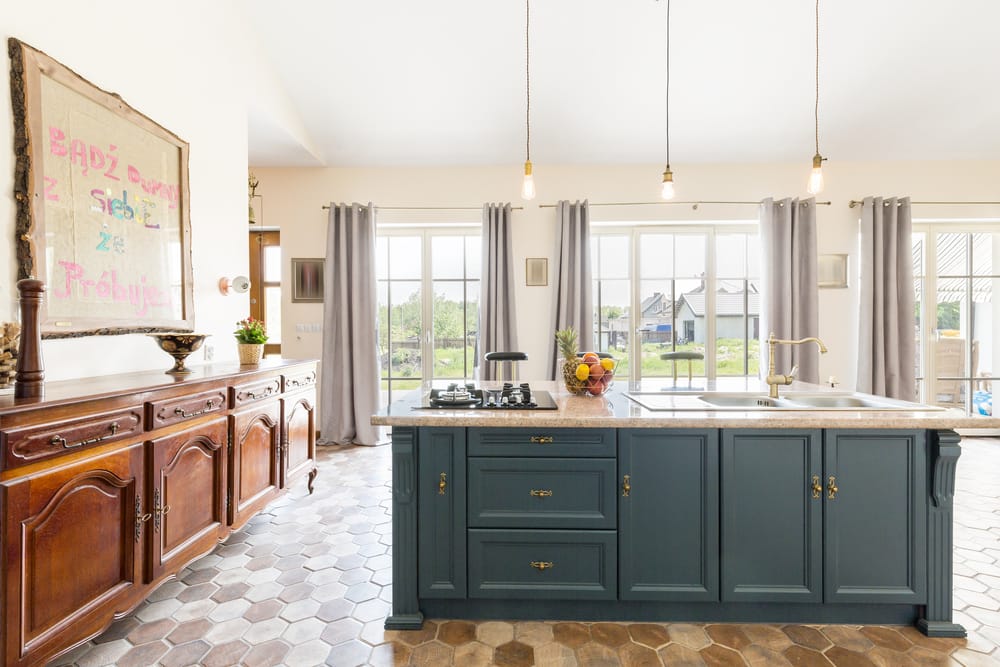 Here, light gray blackout drapes are used to protect the grand kitchen from cold and heat. Plus, they cover the windows after dark.
Blue-gray kitchen island is a bold addition. Hexagon floor tiles give the room dimension and classic beauty.
Playing with kitchen curtain is extremely fun. Before you buy new curtains, measure the windows correctly and calculate your budget first.