If your home seems boring and lifeless, inject a bold splash of color into it. Moreover, if you are looking for great inspiration, then luck is yours. Today, we are going to present some splendid green painted furniture ideas.
After a long dreary winter, you certainly miss the lush grass and trees. Without a doubt, green is a perfect color to have a look at. Moreover, we've outlined 20 amazing furniture makeovers that use different green paints.
Green is vivacious and vibrant. This color is very common in nature, so it can go with many color schemes nicely.
The potted houseplant looks wonderful in any abode. Furniture that wears greens blend well with various colors and styles, too.
In this article, each picture includes a paint color name. That means you will know the details about the brands, finishes, and painting techniques. Without further ado, check these furniture makeovers out!
1. Green Painted Furniture Ideas for Bedroom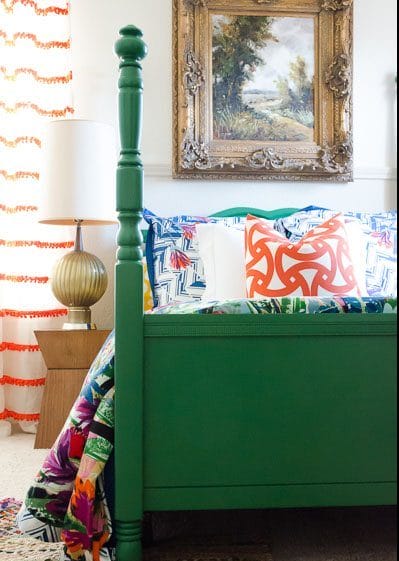 You can include green painted bedroom furniture in your sleeping space through highboys, nightstands, storage chests, and bed frames. This piece is such an awesome addition to any twenty-something girl's room.
The homeowner bought an old, ugly full-sized bed frame for $35 from Craiglist. Then, she refinished the unit and made it terrific.
Furthermore, the black latex paint on the vintage bed scratched off. The homeowner scraped and then sanded it down. After that, she used wood glue to repair some post cracks and applied an oil-based primer.
The homeowner painted the bed in Benjamin Moore Cat's Eye Green. Since it only came with a footboard and headboard, she added on a box spring, mattress, and faux rails. Now, the unit quickly enlivens the bedroom.
2. Antique Green Painted Furniture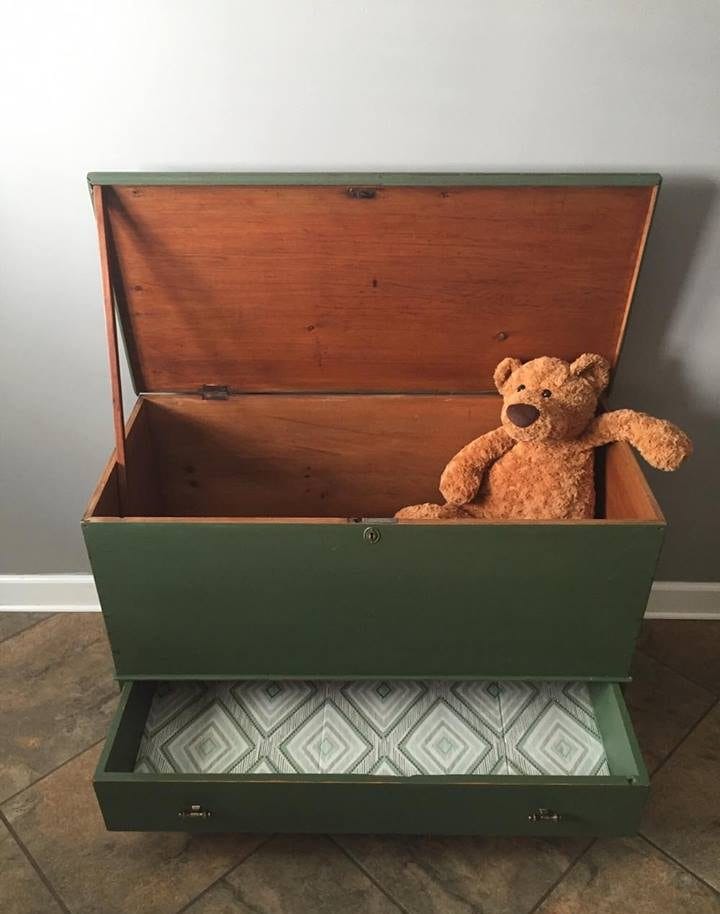 Searching for delightful green painted furniture ideas? If yes, you should give this makeover a try.
The homeowner turned an antique storage chest into a cool functional toy box. She used a decoupaged ikat fabric drawer and chalk type paint.
First of all, the homeowner gave the storage chest a good sanding outside. Then, she lined the lower drawer's inside with stunning ikat fabric. It will provide a nice clean bottom for her kid's toys.
The homeowner coated the antique storage chest with dusk green chalk paint. In addition, she spruced the inside of the unit up using a wood stain. Meanwhile, the distressed finish perfectly embraces its imperfections as well as age.
Moreover, the homeowner used a clear sealer to seal the whole storage chest. This green chalk painted furniture does not only contain clutters but also lends the kid's bedroom character.
3. Mossy Green Painted Highboy for Bedroom
Speaking of green painted furniture ideas, consider integrating this highboy into your bedroom. It instantly gives the sleepy space a mid-century modern vibe.
Additionally, the high gloss finish makes the piece more appealing.
The white hexagon drawer knobs pair tastefully with the mossy green painted highboy. They are definitely a stark contrast to the furniture unit, too.
We suggest styling your green painted furniture. Here, the homeowner styled his highboy with a table lamp, tall sculptural item, botanical prints, and books. Adding visual height to its top develops a sense of balance.
4. Dark Green Painted Furniture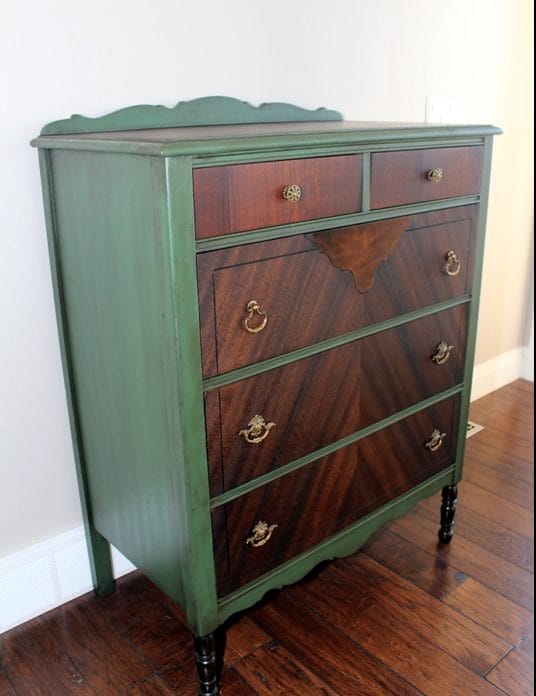 The homeowner got this antique chest of drawers from the dumpster. He gave the old furniture piece a new life by painting it in Old Fashioned Milk Paint's Lexington Green.
Furthermore, the homeowner repaired the antique dresser first. After that, he started the sanding process. Since the unit has a shellac finish, it easily sands off. However, the piece needs a mask and ventilation.
Moreover, the homeowner cleaned his chest of drawers with soap as well as warm water. Then, he oiled the dresser top and drawer front.
The next step was to coat the dresser's body with Old Fashioned Milk Paint's Driftwood. Additionally, the homeowner sanded it and applied clear wax. After that, he painted the piece in Lexington Green.
Before painting, the homeowner used mineral spirits to wipe the waxed surface down. Then, he did sponge sanding and applied clear wax again.
Talking about green painted furniture ideas, consider applying dark wax. It will give your dresser some character.
5. Emerald Green Painted Furniture for Bedroom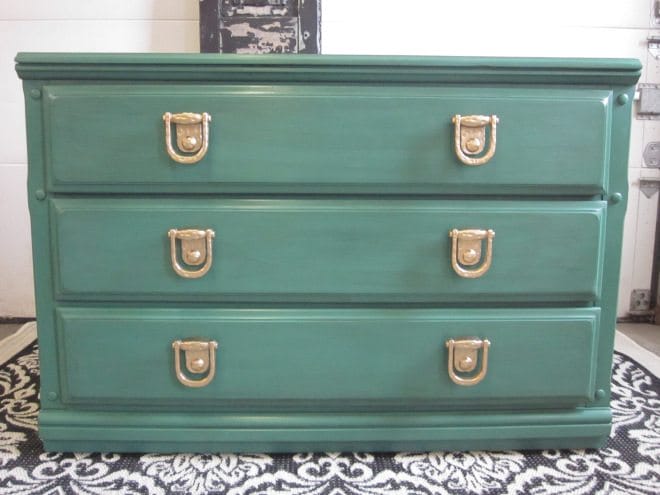 This dresser originally had a brown stain and retro look. The homeowner gave the unit an update to make it stylish. Moreover, the emerald green paint keeps the piece from being dull.
Before brushing on the paint, the homeowner did some light sanding as well as priming. Then, she applied the dark wax lightly for an extra layer of depth.
Meanwhile, the gold drawer pulls lend the dresser a glamorous touch. The thing that we admire about this green painted furniture is the size.
It can work as a TV stand, a hallway table, or a dresser. In addition, the unit features three large drawers.
6. Tavern Green Painted Nightstand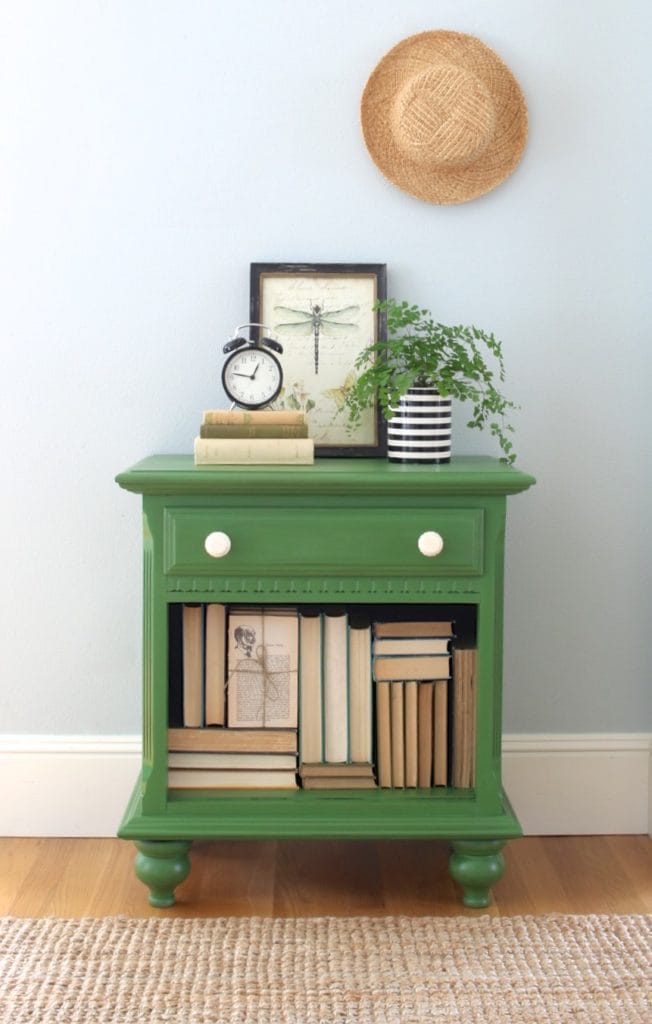 When thinking of green-painted furniture ideas, don't forget about the traditional nightstand makeover.
In this example, the homeowner did a major reconstructive surgery. She painted it, added chunky legs, then removed the skirt and doors.
Before painting her nightstand, the homeowner mixed the powdered milk paint in Tavern green with water. It doesn't only offer a lovely matte finish and dimension, but also takes the unit from drab to the divine.
After the painting process, the homeowner sanded the unit and sealed it using hemp oil for a buttery smooth finish. Finally, she installed a white drawer knobs.
7. Meadow Green Chest of Drawers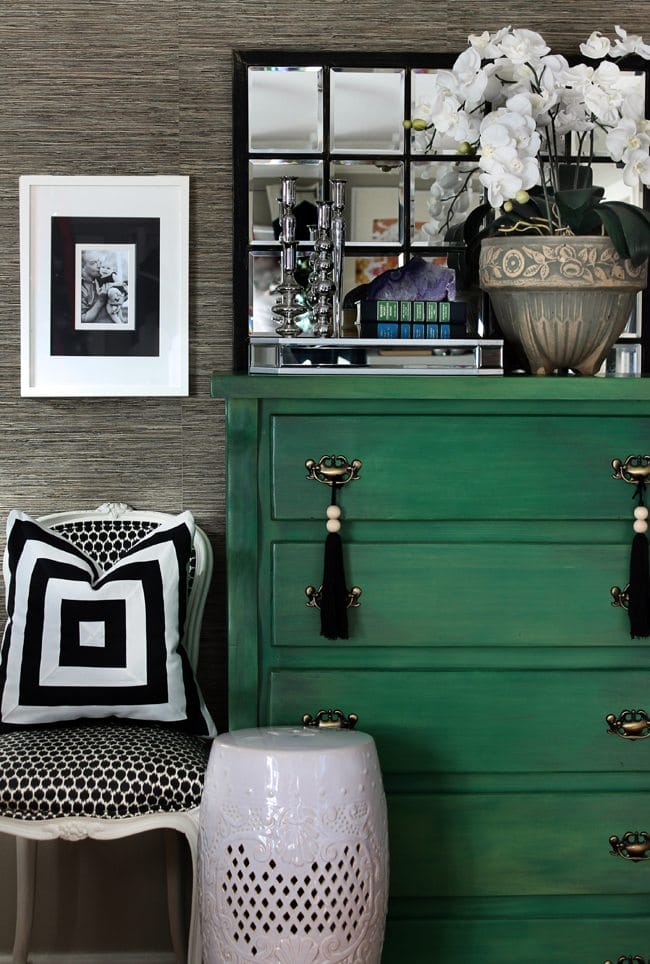 Before the transformation, this chest of drawers had deep scratches and ugly varnish. However, it was in excellent condition. The Meadow Green paint turns the unappealing piece into a beauty.
First of all, the homeowner primed the furniture using a brush. Then, she spray-painted the unit and used steel wool to sand it down.
The homeowner dry brushed her chest of drawers with brighter green and applied pewter glaze for visual depth. Lastly, she added some finishing wax and hung handmade tassels on the unit.
8. Chest of Drawers in Tavern Green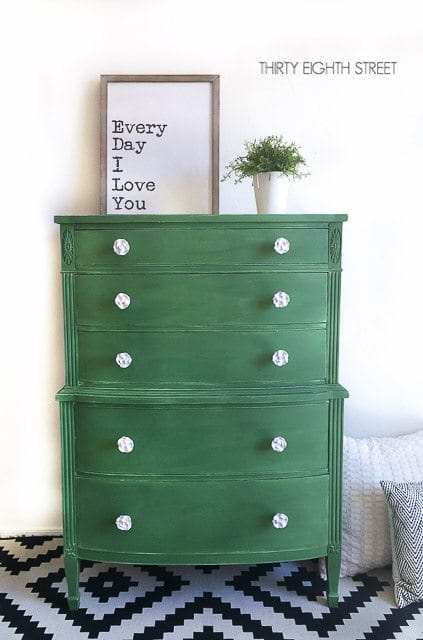 Looking for magnificent green painted furniture ideas? If so, we recommend giving this one a go.
Here, the Old Fashioned Milk Paint gives the unit a vintage appeal. The white rose drawer knobs carve a romantic look.
First of all, repair the damaged areas. Then, clean the dresser to ensure that it is completely free from oils, dirt, and dust using Trisodium Phosphate.
Next, paint the unit in white and then Tavern Green. Lastly, apply the matte topcoat.
9. Green Painted Furniture for Dining Room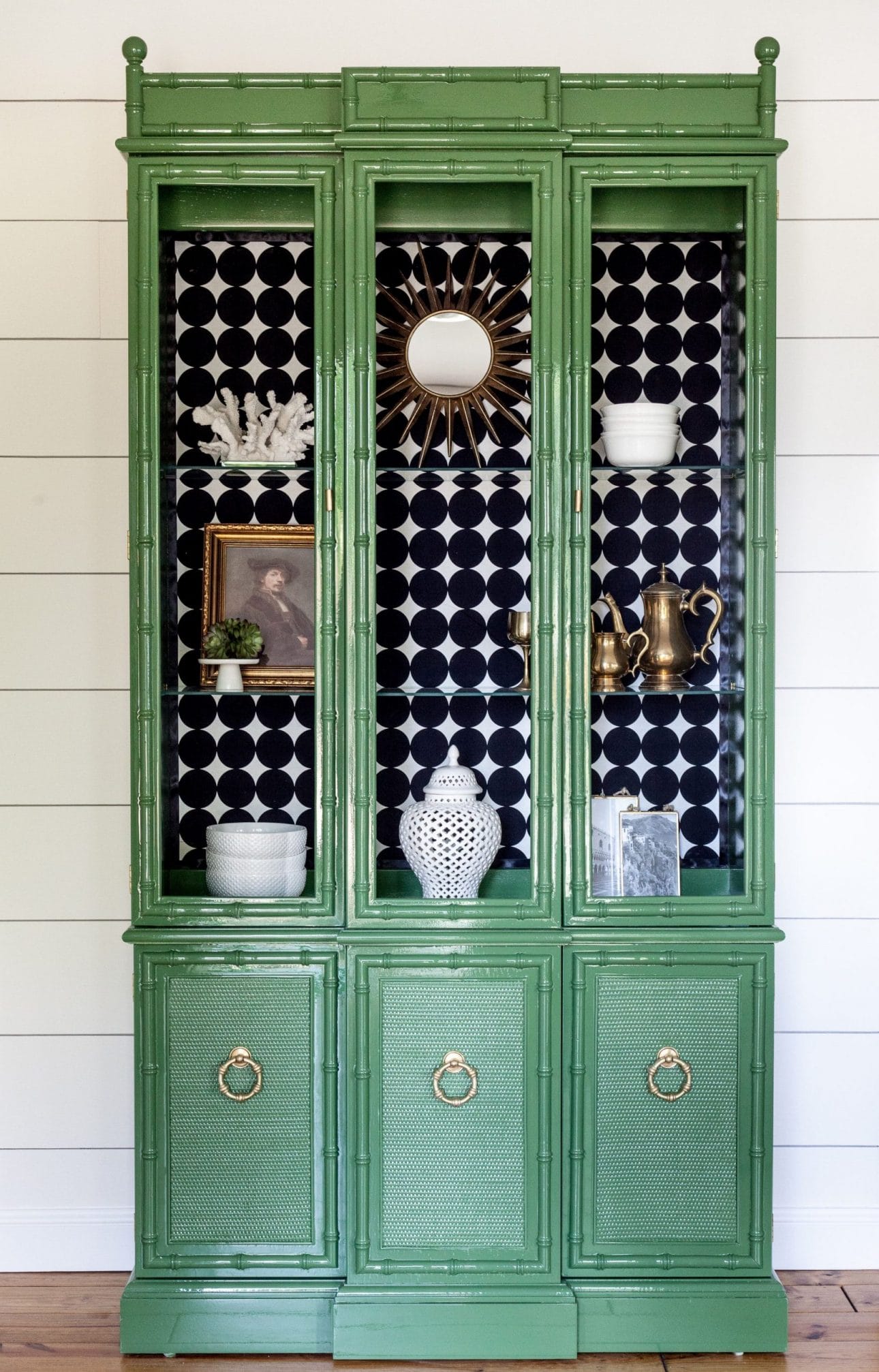 If you have a china cabinet, try this furniture makeover. The unit itself calls all faux bamboo lovers. Furthermore, we suggest coating it with Hollandlac Brilliant Paint's WC 60.
The wet sanding, as well as polishing, help create a nice glossy reflective paint finish. Remember, you can only use a sander on fully-flat surfaces. Moreover, on this china cabinet, just polish the vertical sides.
10. Moss Landing Green Painted Bamboo Hutch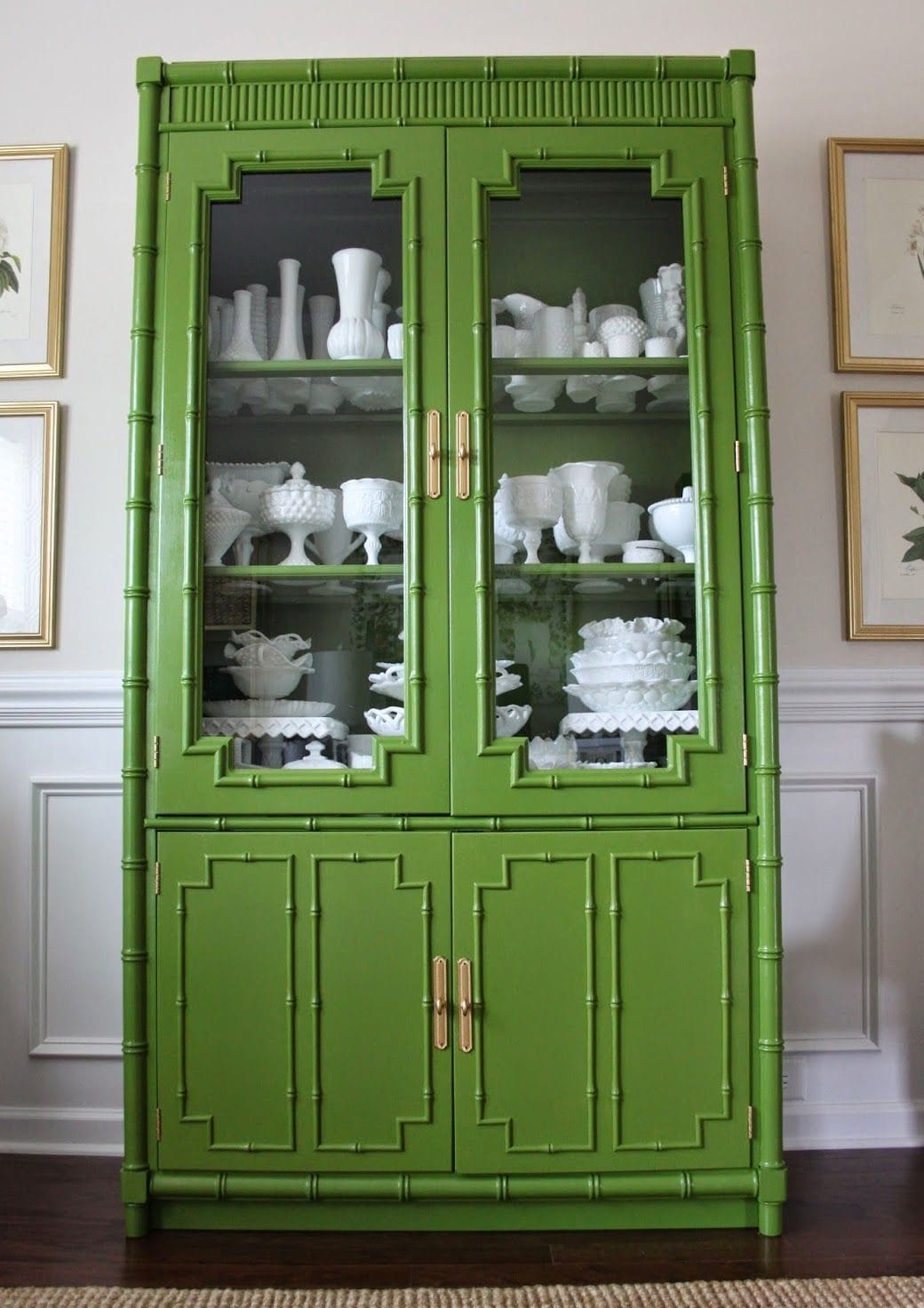 This is one of the captivating green painted furniture ideas for your kitchen. Before the transformation, the bamboo hutch was aesthetically awful. Now, it looks bold and bodacious, thanks to Behr Moss Landing paint.
Make sure that you give the bamboo hutch a great cleaning as well as some prepping. Then, paint it in Moss Landing. The color is a stunning mix between olive and emerald.
Moreover, you have to spray the hinges and hardware of the hutch using design master gold. Then, display your white milk glass dishes in the unit for a ravishing contrast.
11. Green Painted Cabinetry for Kitchen Sitting Area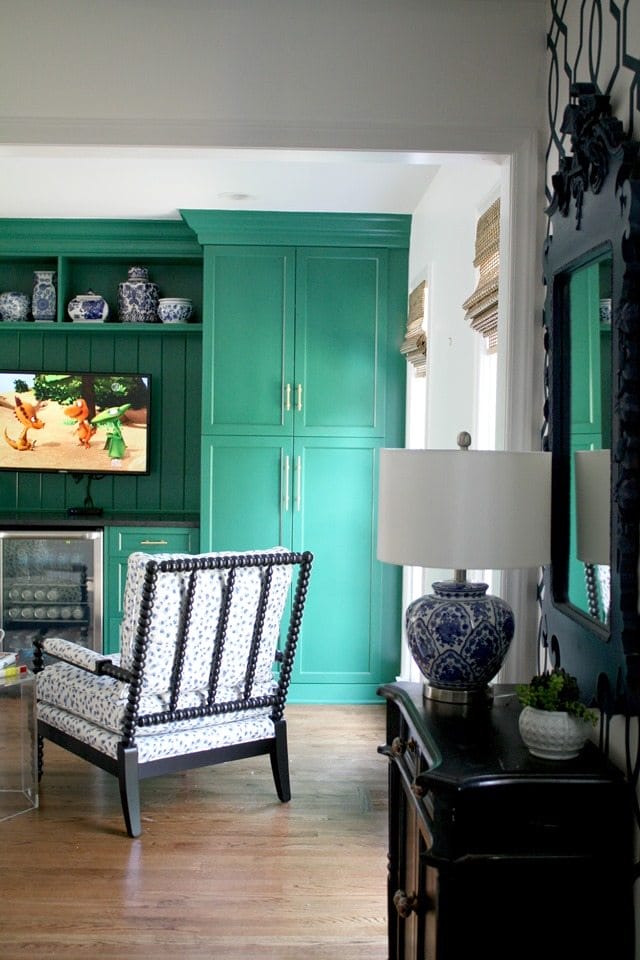 If you plan on creating a sitting area (keeping room) in your kitchen, don't forget about spool chairs. It can serve as a workspace or morning hangout space. Moreover, the spot allows your children to unwind after school.
For a more inviting and lively, incorporate the deep jungle green painted cabinetry into the keeping room.
Here, it holds a mini-fridge, drawer storage, Chinese pottery, and pull-out pantries. Additionally, the piece perks the kitchen up.
12. Tavern Green Painted Dining Room Sideboard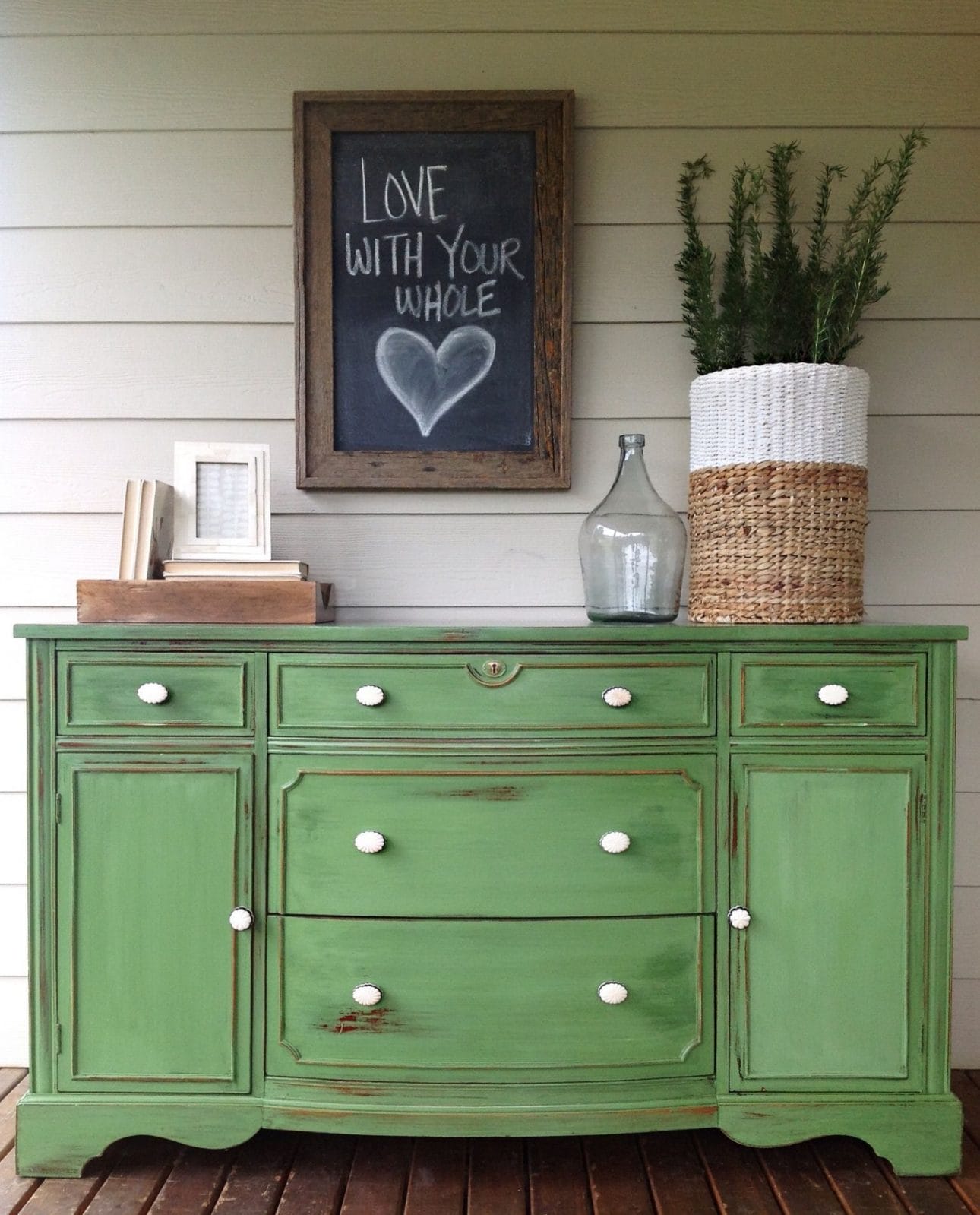 Talking about green painted furniture ideas, consider this makeover. It is such an easy way to bring a bright blast of color into your culinary space.
As you see, the sideboard wears Tavern Green. Moreover, the furniture has a remarkable distressed finish that lends it an aged appearance.
Furthermore, Tavern Green is gorgeous paint color. In this case, it also contrasts with stark white wonderfully.
13. Emerald Green Painted China Cabinet for Kitchen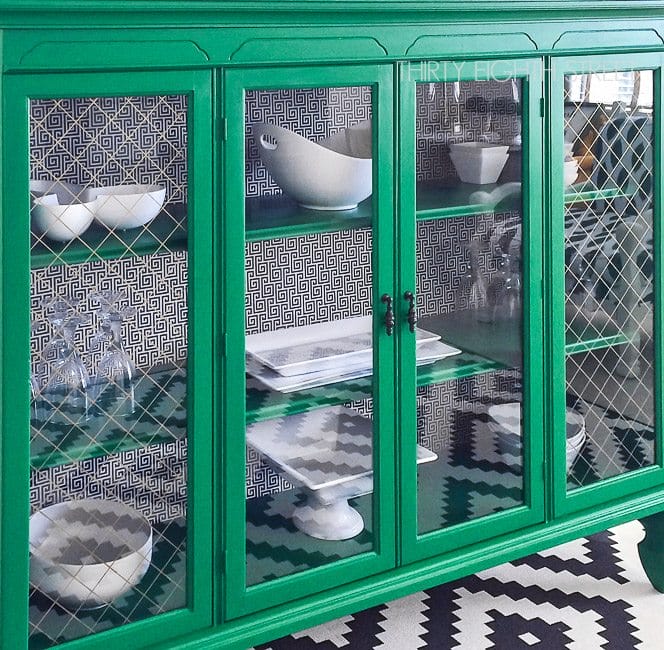 We really love this green painted furniture makeover. It transformed the china cabinet into two functional and showstopping units. You could create a buffet and hutch from only one piece.
Moreover, this makeover is budget-friendly because it doesn't require surgery. Paint the china cabinet in Emerald green and sealed the unit using a water-based topcoat.
Attach the geometric fabric to the china cabinet's back using Mod Podge and spray adhesive. It gives the traditional furniture a fun touch and dramatic effect.
14. Persian Green Painted Farmhouse Dining Table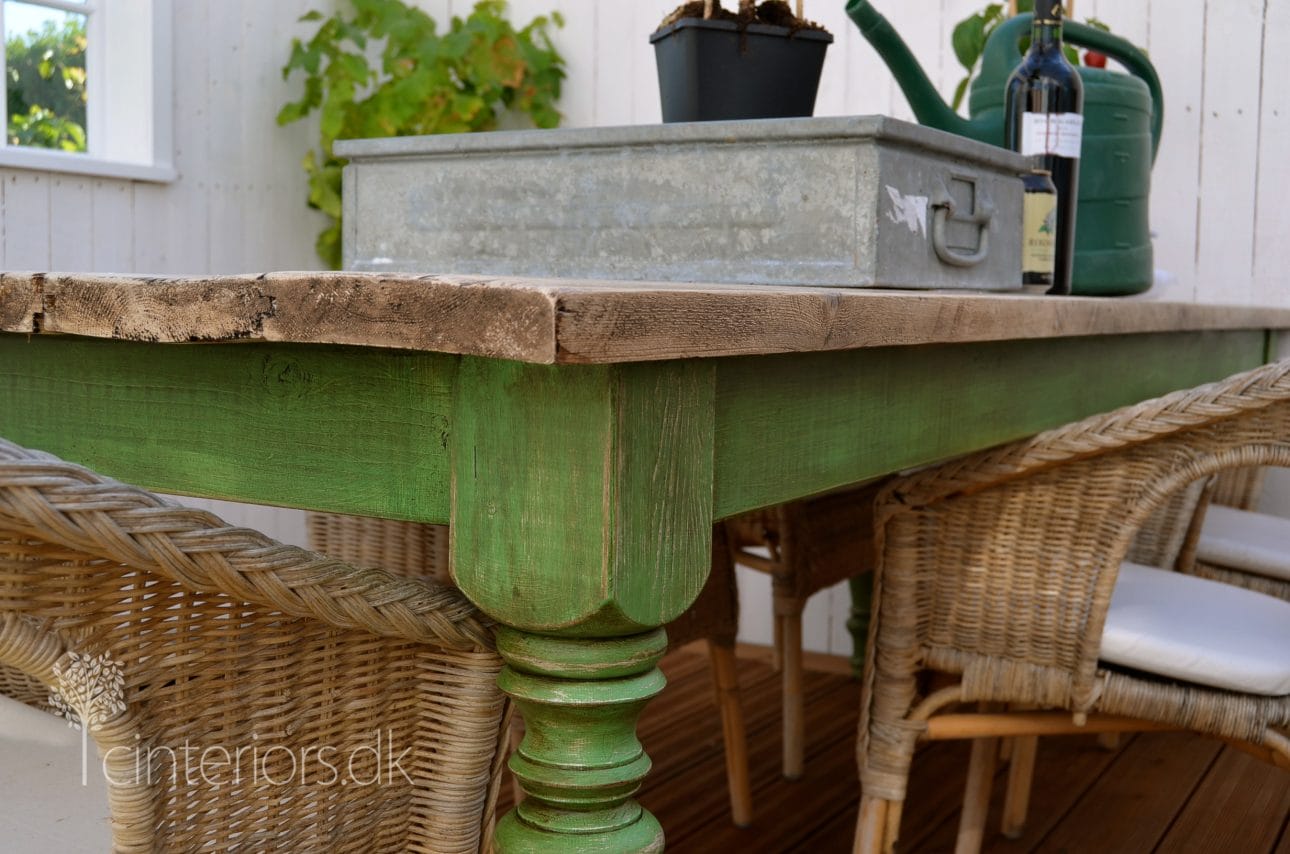 As you see, this dining table sports a lovely Persian Green paint color. In addition, the piece boasts a reclaimed wood top.
The homeowner intentionally left the item unpainted. It quickly infuses the room with a farmhouse feel.
Also, the Persian Green painted farmhouse table jazzes up the otherwise neutral dining room. Furthermore, it blends with wicker chairs very well. The unit accommodates galvanized metal planter, too.
15. Green Painted Furniture for Home Office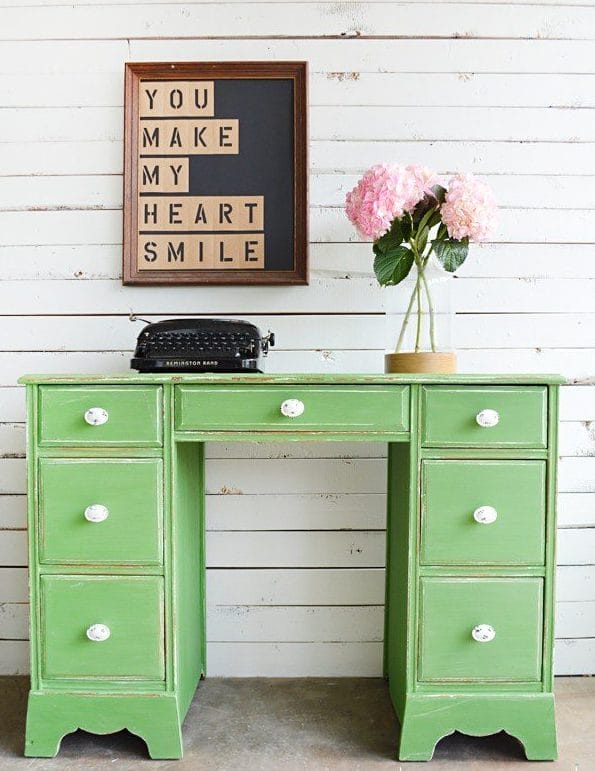 Do you love fun furniture makeover? If yes, implement this fabulous idea. It converts the garage sale find into a head-turner. Furthermore, the Tavern Green office desk contrasts with the white background nicely.
Adding this bright green desk to your home office is a brilliant option. It will definitely make a space. We recommend distressing the unit for a shabby chic flair.
16. Emerald Green Bamboo Office Chair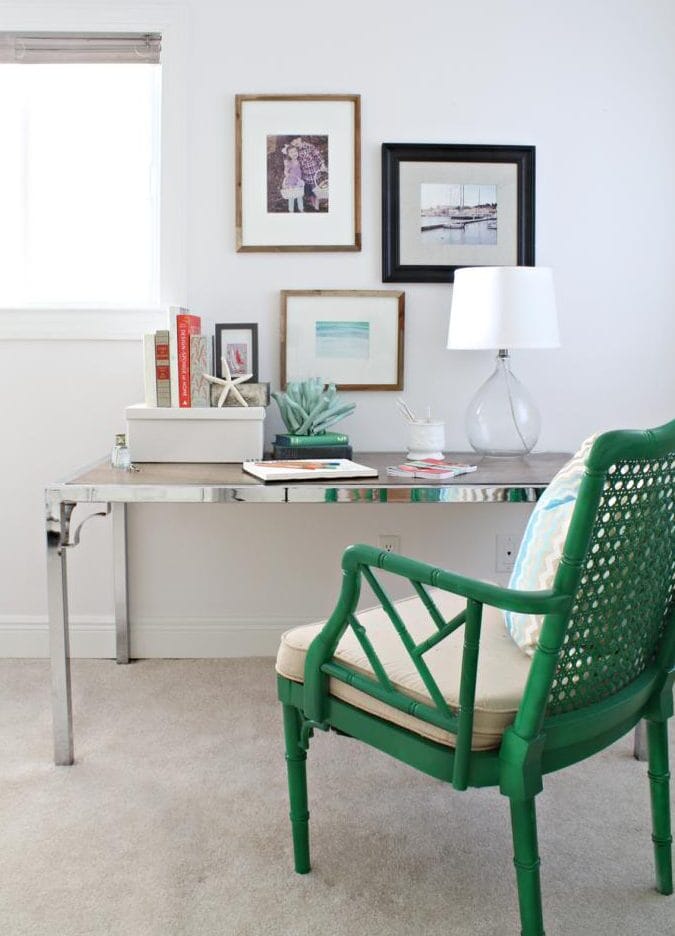 Speaking of green painted furniture ideas, you should give this makeover a shot. Here, the bamboo chair and long metallic table make for a cozy writing space.
Moreover, the homeowner coated her bamboo chair with Krylon's Emerald Green. This glossy spray paint surely offers ultimate control.
Furthermore, the emerald green painted bamboo chair pairs with the cute zig-zag throw pillow well. Coral sculpture, starfish, vintage lamp, and books adorn the office desk.
17. Tavern Green Painted Office Desk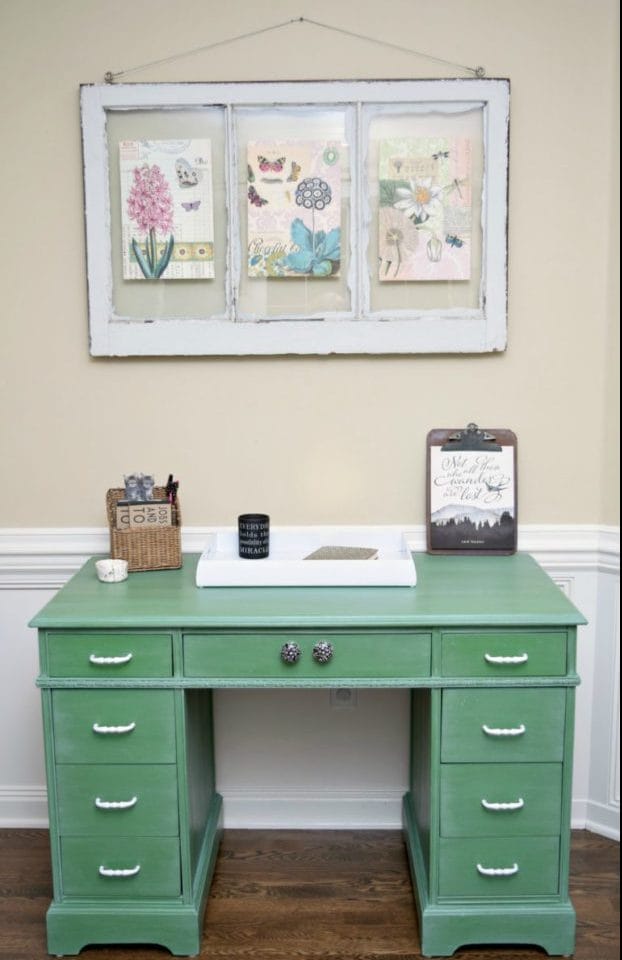 You aren't ready to include green furniture in your living room. Why not stealing this terrific idea? Here, the homeowner added her bold desk in her home office.
Furthermore, the homeowner painted the office desk with Tavern Green. She also installed white drawer pulls and silvery knobs. They offset the vibrant backdrop and generate an elegant look.
18. Antibes Green Painted Furniture for Living Room
In this example, the vintage side table boasts Antibes Green paint color. Talking about Annie Sloan's palette, it is one of the most mesmerizing colors for certain.
Furthermore, Antibes Green evokes spring joy and captures the surrounding nature's beauty. This shade carves a neoclassical flavor as well.
Here, the Antibes Green painted side table features black drawer pulls. It houses beautiful floral arrangements, too.
19. Envy Green Living Room Campaign Dresser
If you are obsessed with a campaign dresser, apply this furniture makeover. Before the transformation, it seemed very unattractive. Moreover, the Envy Green paint takes the unit from plain to pleasing.
We recommend attaching the open large box on the campaign dresser's top. The satin finish is so captivating. You should add brass corner pieces to your hutch. As the photo shows, the unit holds a TV, book, and decorative items.
20. Muted Green Painted Side Table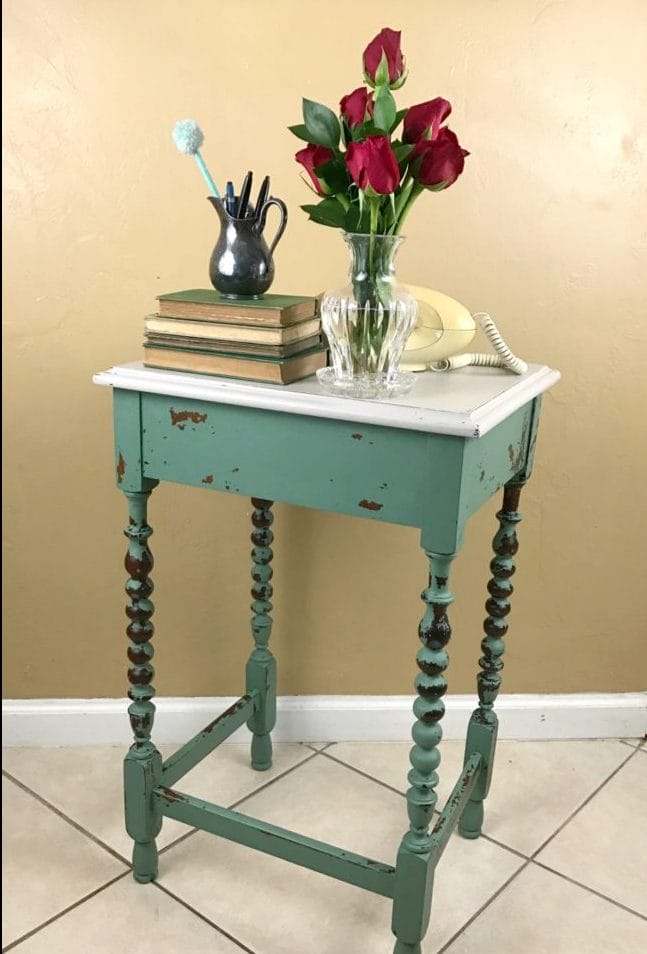 The homeowner painted his telephone table in a fantastic mix of Snow White, Dove Gray, Tavern, and Sea Greens.
These paint colors instantly set a tranquil mood. Meanwhile, the distressed finish produces a shabby chic flair.
In this case, the muted green side table mixes in well with other colors. It accommodates a vintage telephone, books, and vases. Moreover, the piece does not occupy a lot of floor space.
Hopefully, you liked those green painted furniture ideas. Picking your favorite makeover project is certainly hard.
However, we particularly love the bamboo desk chair and a china cabinet. Let's bring one of those green painted furniture into the interior of yours.