There are many round coffee table decor ideas that you can easily find on the internet. However, despite them all, they always stick to the same tricks.
That is by providing balanced accessories for the size of the table in your living room. Don't go with ornaments that are too small or too big, indeed. Also, don't forget to play with other shapes like triangles, rectangular, or asymmetric ones.
On the other hand, the well-organized and proper arrangement of round coffee table decor ideas soon can make this focal point more appealing and not boring.
But, you know that one idea won't be enough to cater to all seasons' arrangements. So, here are thirty-one recommended round coffee table decor ideas that can make your living room look fresh every time.
1. Bring Out the Mid-Century Vibes with Metallic Green Bitossi Vase and Pottery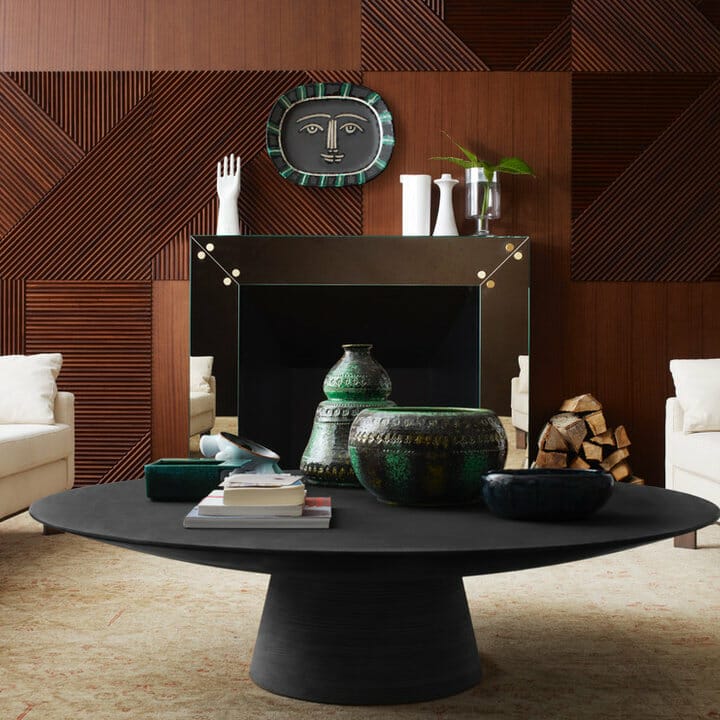 Medieval round coffee table decor ideas are perfect for those who like classic vibes inside the room.
But, suppose your furniture is big enough. In that case, you can try placing medium-sized elements such as flowerless vases, pottery, and other decorative glassware with the same color and pattern in the center part of it.
2. Artificial Bamboo Tree in Tribal Monochrome Pot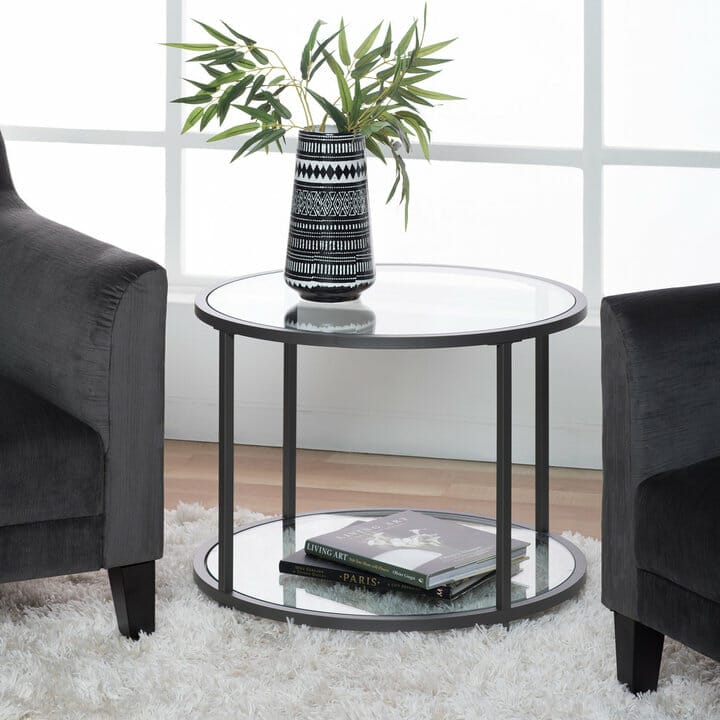 Putting greenery are basic round coffee table decor ideas that are easy to follow. As a result, in just a few minutes, you've got one that catches the eye.
Instead of going with a plain flower vase, you can choose a monochrome design. Hence, it will state the table in your living room.
Lastly, don't forget a few stacks of books with the same color cover to complete the void on the shelf at the bottom of your coffee table.
3. Rhinoceros Beetles Sculpture on The Bird's Nest Coffee Table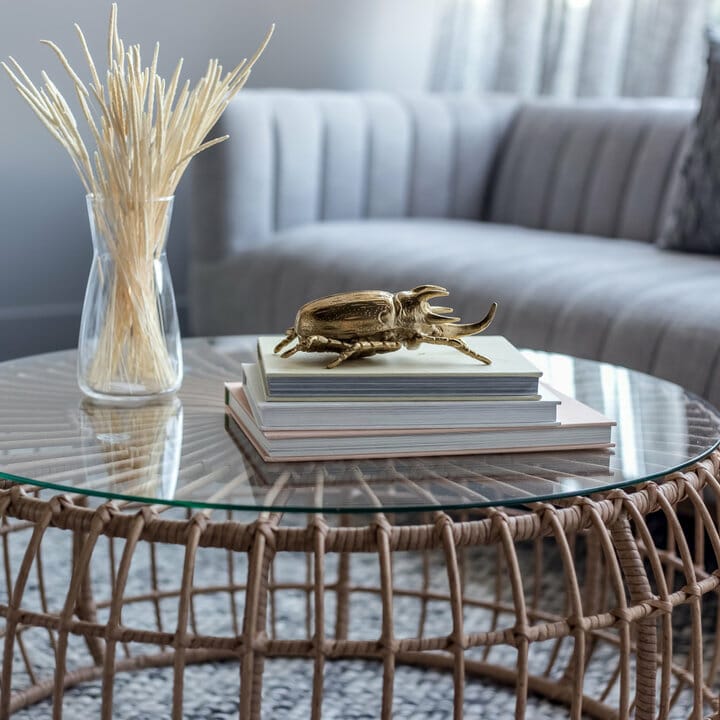 A rustic-themed round glass coffee table will look even more elegant with the presence of a small gold insect sculpture on it.
Moreover, it would be best to stack some books with a nude cover beneath. But, don't forget to put a vase of dried flowers beside it.
As a result, it will make your living room brighter and calming. In addition, remember that "three-to-four items" always be the best key for every coffee table arrangement.
4. Lush Greenery on A Wicker Tray
A vintage-style living room arrangement with a round wood coffee table will feel incomplete without the presence of greenery.
Also, let a similarly shaped wicker tray support the centerpiece. It is indeed refreshing yet straightforward.
5. Asymmetric Table Sculpture from Resin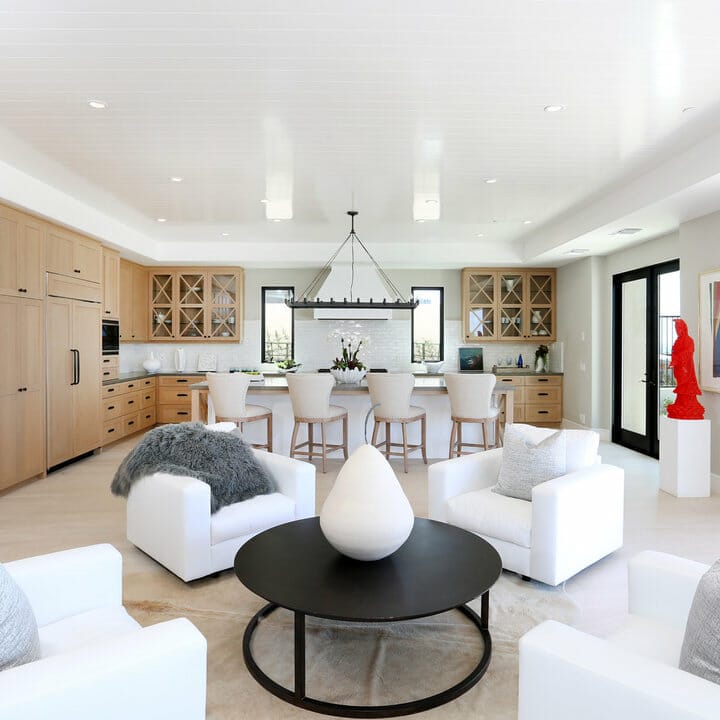 Providing a unique sculpture in the middle of your coffee table is a wise choice. Although, you have to consider the proper size for it.
The combination of pure white colors along with a dark table under can ideally state your living room arrangement.
Then, you won't need to play with other decorative elements anymore.
6. Affordable Round Coffee Table Decor Ideas with Repurposed Jar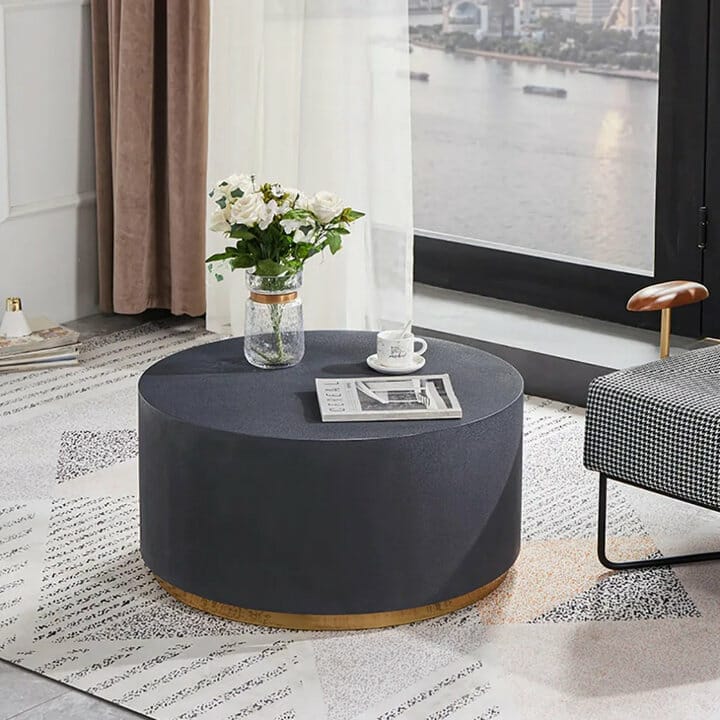 Are you looking for more pocket-friendly coffee table decor accessories? Then, try repurposing unused jars that you find in your kitchen as flower vases.
Merely put gold paint on its neck, then everything is done. Indeed, it looks luxurious.
7. Succulent Plants and Rattan Decorative Bowl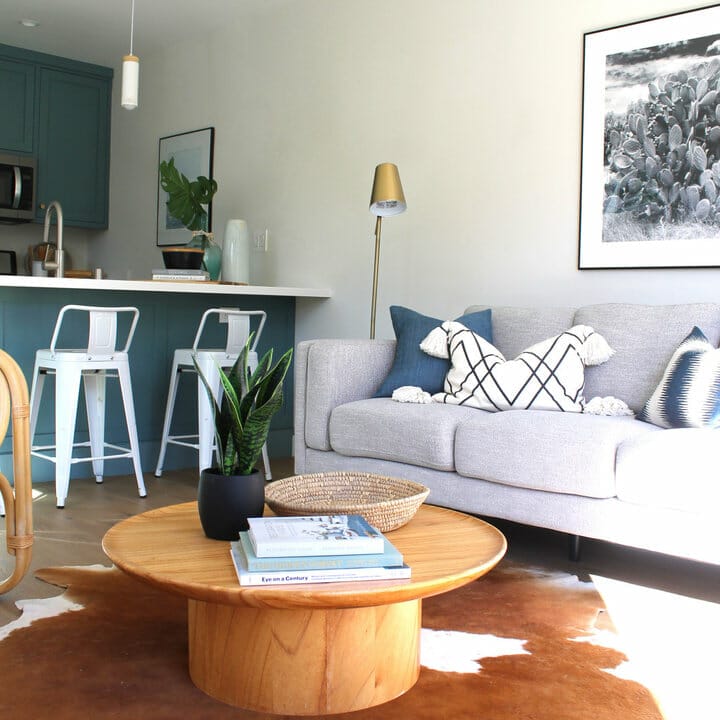 You can quickly get warm as well as cozy earthy vibes in your living room just by placing decorative wicker bowls, succulents, and a stack of books on your round wood coffee table.
But make sure to arrange them in a triangular position to make your table setting balanced.
8. Dendrobium in a Crystal Vase on Acrylic Clear Coffee Table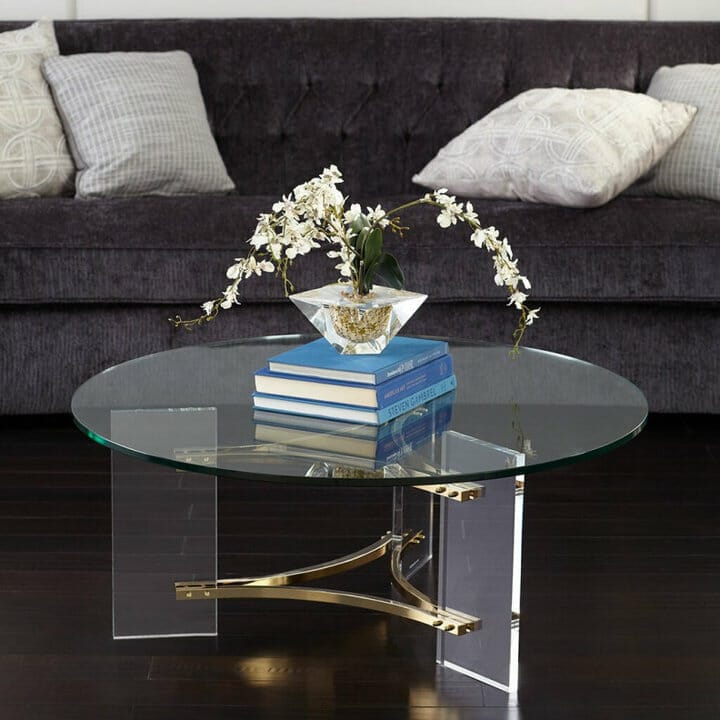 Round coffee table decor ideas in minimalist design can transform your small bench into a more comprehensive one.
Instead of applying a triangular arrangement like said before, you can place a small flower vase on a pile of books like the one above.
Finally, now you have enough space to accommodate several cups of coffee on it.
9. Aromatic Cylinder Glass Candles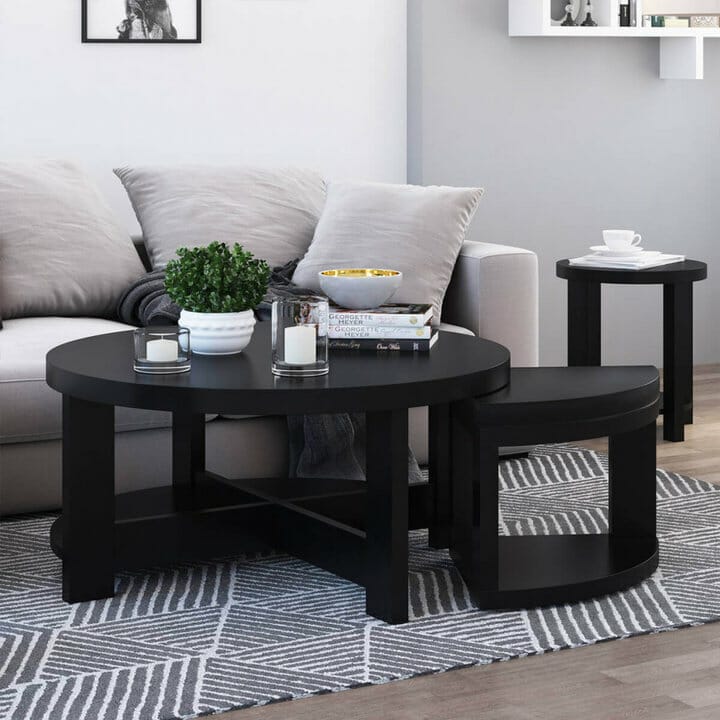 Aside from putting piles of books, snack trays, and greenery, round coffee table decor ideas also lead you to put aromatic candles on top.
Besides being useful for aesthetic arrangement, the soothing aroma of candles is also able to help improve the mood of everyone who sits in front of it.
10. Artistic Vases Sculpture and Classic Wine Glass on Silver Tray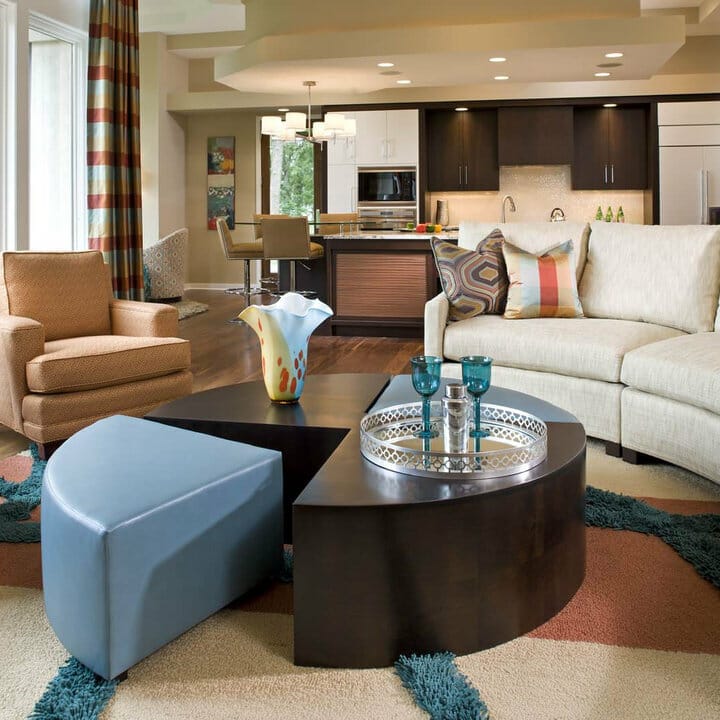 The compact table and sofa set needs a little artistic touch to make it more eye-catching. Therefore, the classic wine glasses on tray and vase sculpture with a unique shape complete your round coffee table decor ideas.
Additionally, choosing lighter colors yet still matching the table's tone is the best decision to make.
11. Two-Prong Glass Table with Silver Pitcher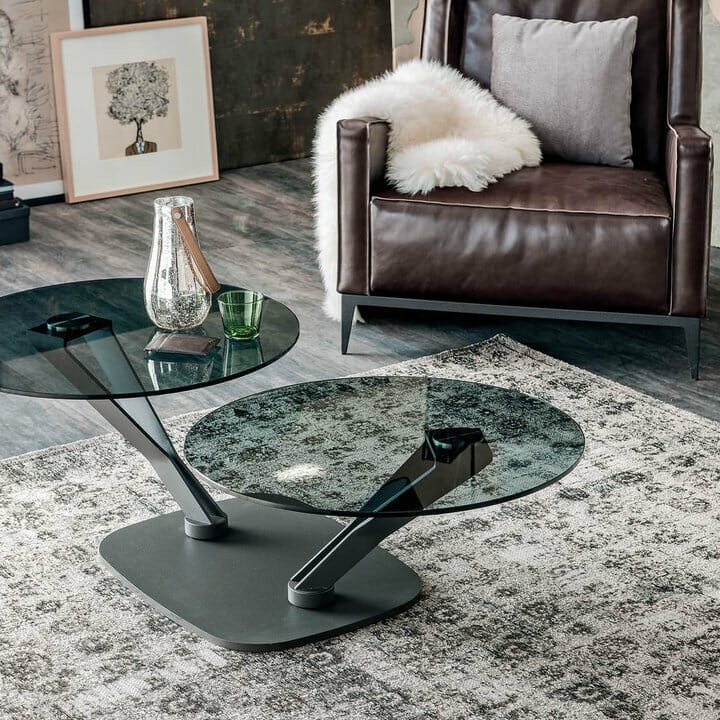 Suppose you already have a table with a unique shape. Then, you no longer need to add many decorative elements to it.
Alternatively, have one or two pitchers on one side of the table. Meanwhile, leave the other side blank.
An aforementioned, uniquely shaped table like this can provide an excellent focal point even without applying complete round coffee table decor ideas.
12. Large Aromatic Candle as a Centerpiece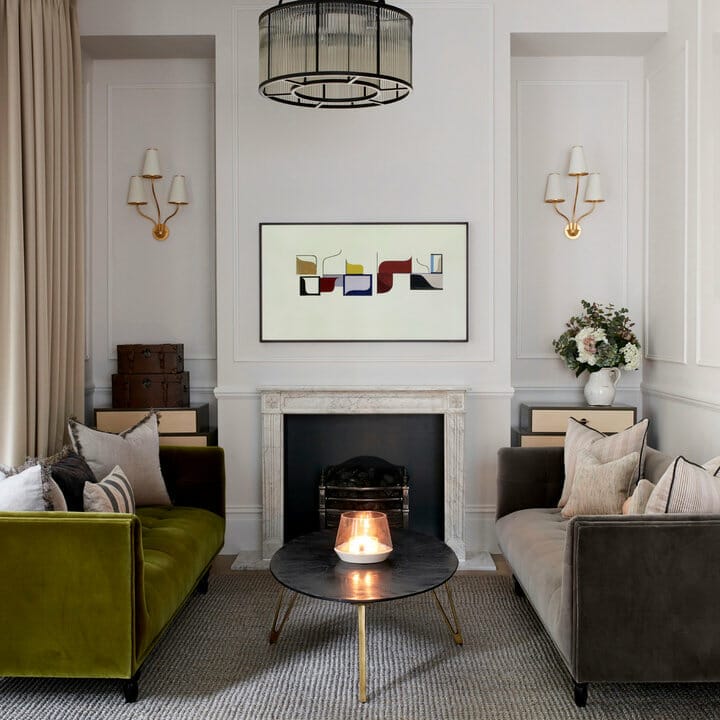 An aromatic candle can be the essential item of many round coffee table decor ideas that you ever come across.
That is why placing this medium-sized candle in the middle of your coffee table will still be appealing even without other decorative elements.
13. Gold Coffee Table Ornaments Set and Red Peony
The luxurious round table setting doesn't require you to go with many gold-tone items. Instead, it is enough to choose three decorative elements to avoid overwhelming arrangements.
While the rest, you can use a clear glass flower vase with a bouquet of red flowers as another focal point.
14. Round Glass Coffee Table with Fruit Wire Bowl in Gold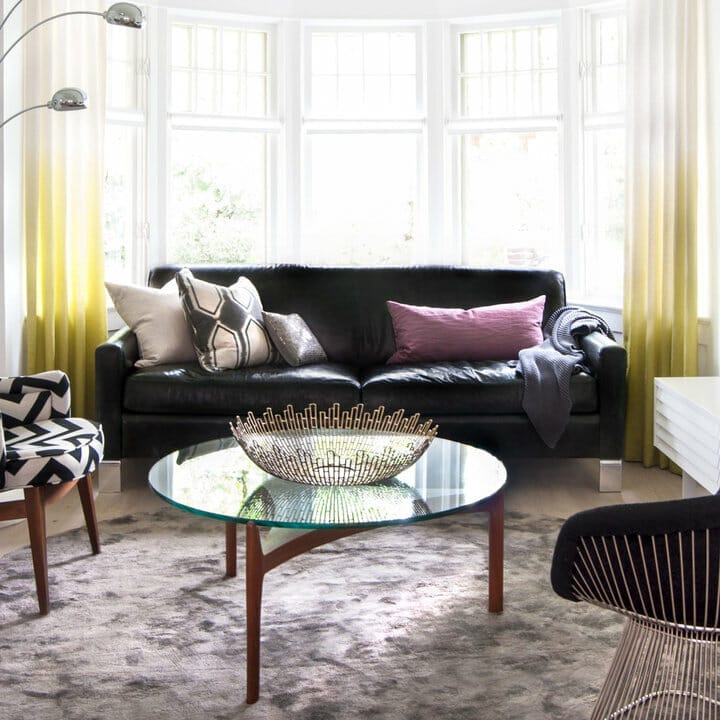 This setting is also the simplest of the many round coffee table decor ideas. You can go free as your preference.
Whether you decide to fill it with fruits, snacks or leave it empty, this will not interfere with the beauty and comfort of your living room.
15. Simple White Marble Coffee Table with White Hydrangea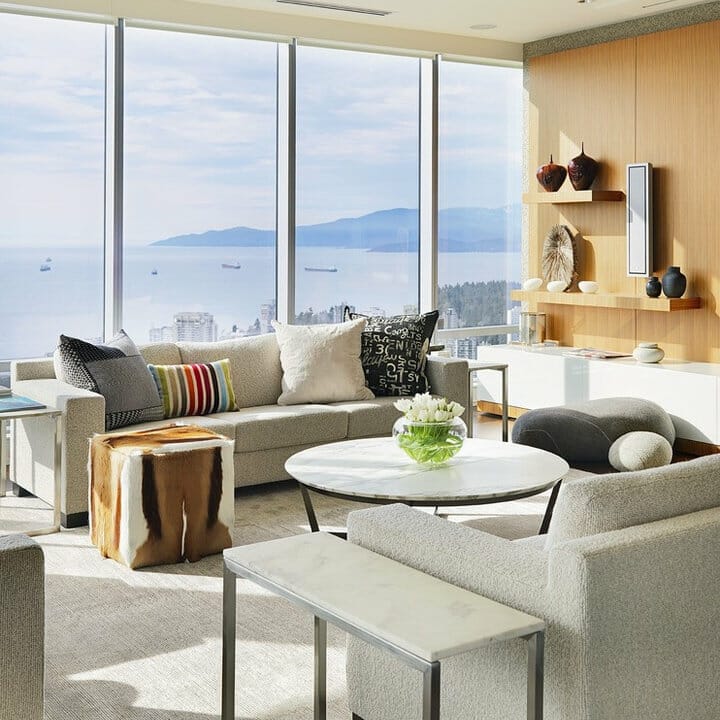 Coastal-style living room arrangements generally adopt a lot of white for the furniture. To balance the atmosphere so that it is not pale and monotonous, giving a vase of hydrangeas right in the middle of the table is an excellent decision.
These kinds of round coffee table decor ideas can revive and refresh your living room.
In addition to decorative ornaments on the table, you can also add a puff stool with an abstract pattern as a compliment.
16. Metal Fruit Platter and a Pair of Globe Candle Towers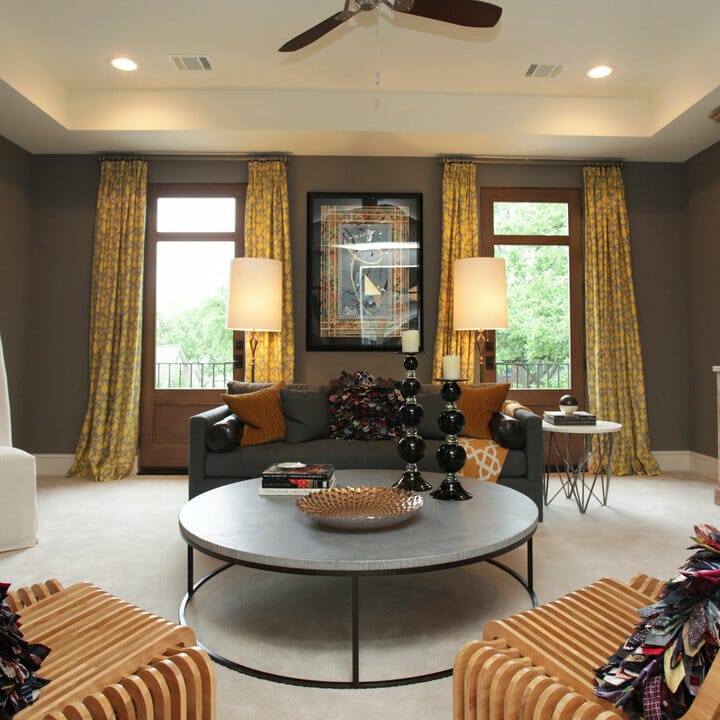 The towering candle holder can provide an attractive focal point on your round coffee table.
Use at least two pieces, or adjust to the needs and size of your table. Besides, you can also give a metal fruit platter as an additional decorative element.
17. Two-level Glass Coffee Table Decorating Ideas with Succulents and Ornamental Basket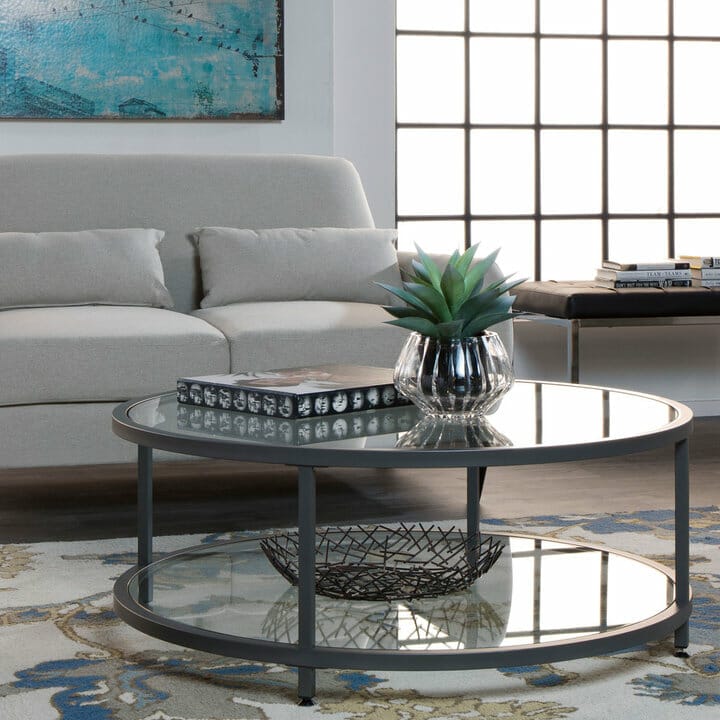 A coffee table with a bottom shelf comes to provide additional storage for the items you have. However, do not fill this space to the brim because this furniture is doorless.
It would be best only to put a basket, whether made of wire or wicker, with a size that is not too large than the underside of the table.
While the top, you can play with succulents to give a touch of green to your living room.
18. Farmhouse Round Wood Coffee Table with Wooden Vase and Wicker Basket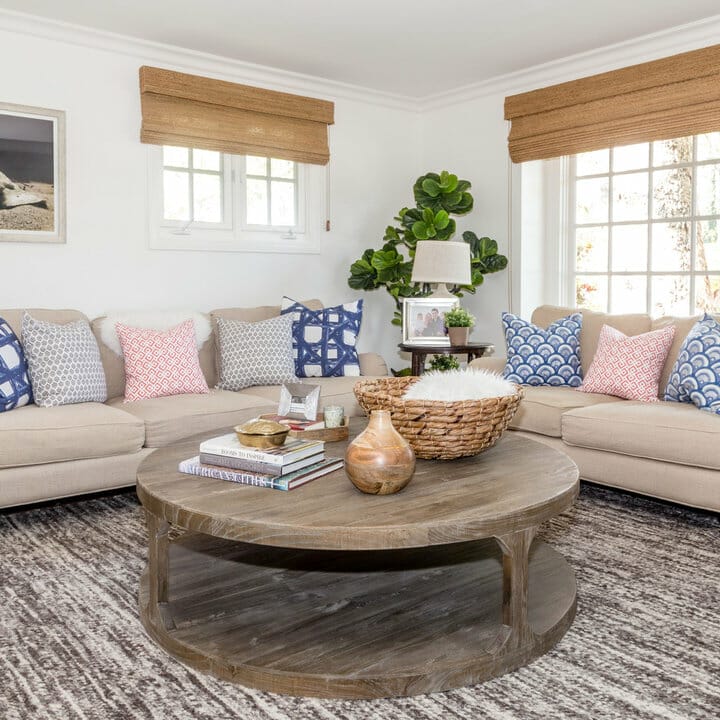 Arranging all home furnishings made of rough wood, including other table decorative elements, defines a great rustic style.
The back-to-nature theme brought by round coffee table decor ideas like this makes your living room warmer and more homely.
19. Coastal Theme with Shells and White Sand Inside the Table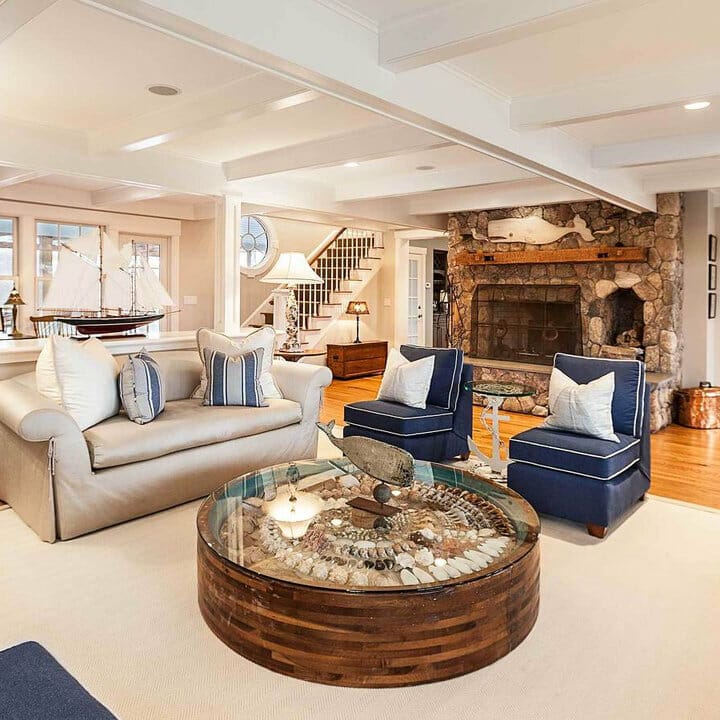 Custom round coffee table decor ideas are the best solution for you who desire a specific theme for your living room.
Like the picture above, the design presents the freshness of the sea breeze by dissolving white sand, coral reefs, shells, and beach stones into one round coffee table.
20. Red Coral Reef, Beach Stones, and Ceramic Globe Sculpture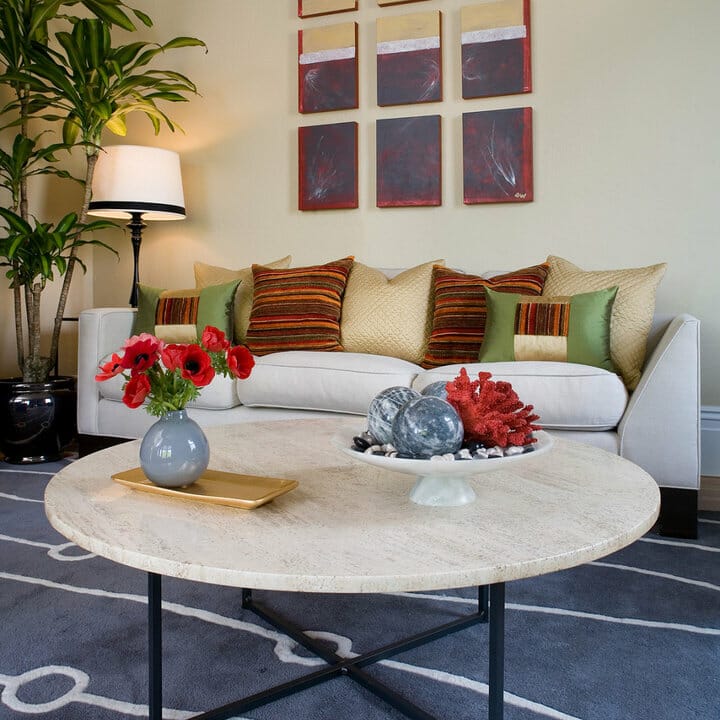 Not only planted inside a custom table, but you can also display red coral openly on top of it.
Even without a lot of gold or silver accents, the presence of a ceramic vase and sculptures placed on the tray makes everything luxurious.
Complete the warmth of your coastal-style coffee table with some decorative beach stones and sofa cushions in bright colors.
21. Quill and Ink Pot Ornaments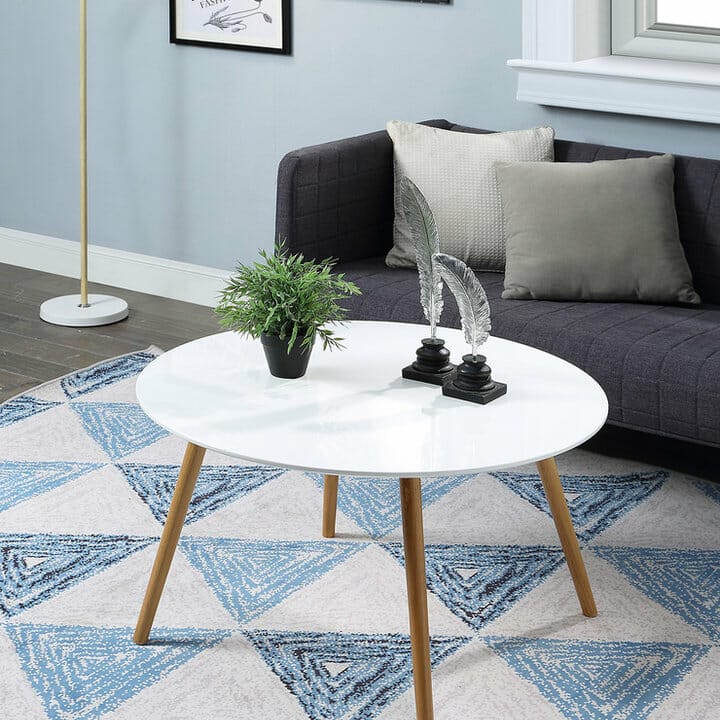 After revealing many round coffee table decor ideas in modern style, now is the time for a classic one to burst into your living room.
The presence of decorative ornaments that resemble pens with table ink above makes your living room look anti-mainstream.
22. Cozy Boho Style with Small Fruit Bowl and Cactus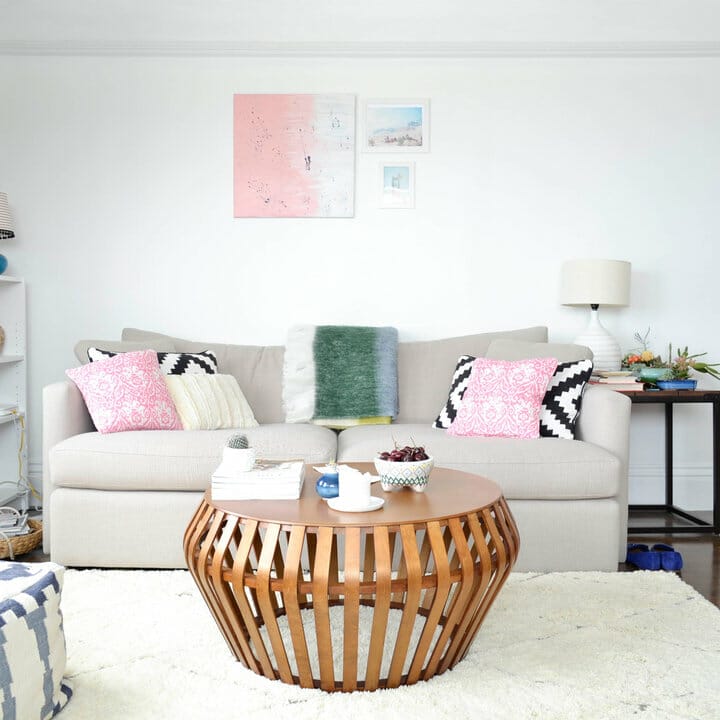 Besides appearing in modern, classic, rustic, and coastal styles, round coffee table decor ideas also bring a boho style free to express personal feelings. And, it is a perfect time for the cactus to take over your living room table.
Next, choosing a small fruit bowl made of ceramic with a few monochrome accents makes everything blend perfectly.
23. Coffee Table Set with Mini Faux Greenery in Terrazzo Pot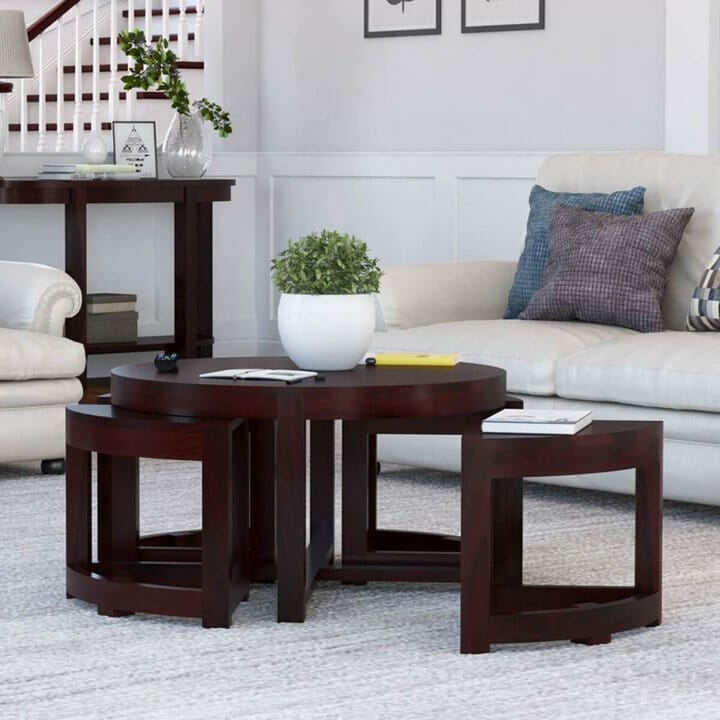 Suppose giving fresh flowers as a decorative element for your coffee table is a matter for you.
In that case, simple round coffee table decor ideas allow you to use artificial ones. Besides not requiring intense care, faux greenery is also more affordable in price.
24. Elegant Round Coffee Table with Storage with Mosaic Ash Pot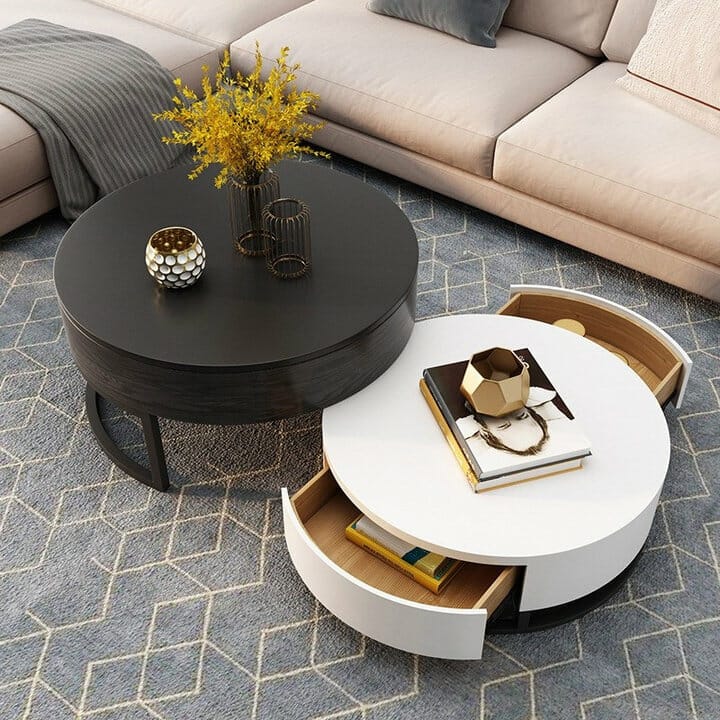 A modern round coffee table with pull-out storage allows you to have multifunctional furniture. Even so, that doesn't mean you can carelessly put all the stuff in it.
Like other round coffee table decor ideas, keeping things to a minimum will help you keep them well-organized. You can add aesthetic value by putting metal mosaic ashtrays and clear flower vases with gold accents on top of them.
25. Nesting Coffee Table Set with Greenery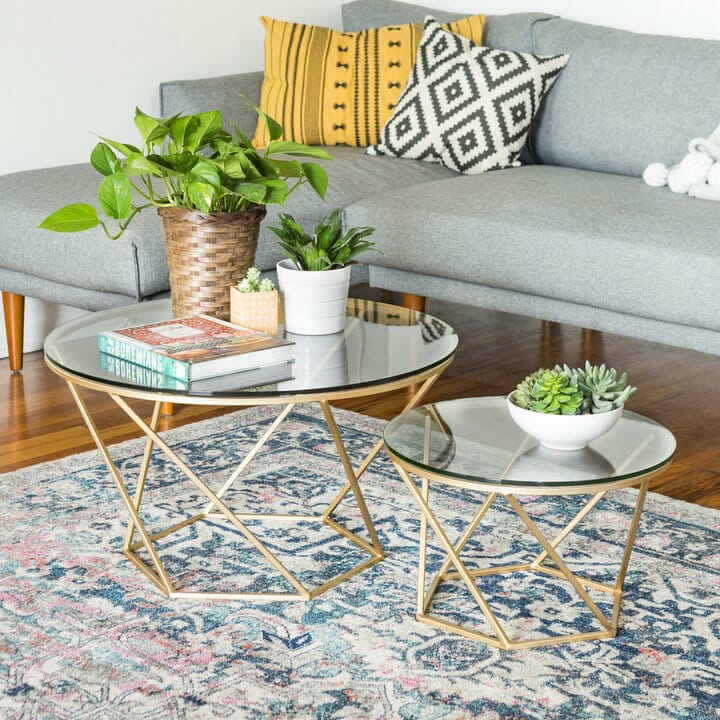 No one forbids you to put various plants for your coffee table decorative elements. As long as it's not too much, all is well.
26. Dried Lavender on Lotus Coffee Table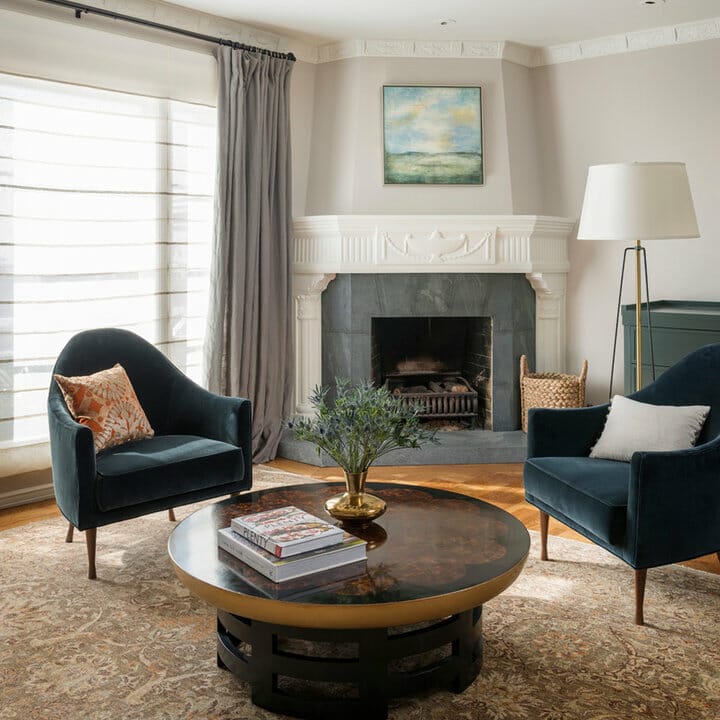 A table with a stand-out design with a giant lotus flower pattern like above doesn't require you to add other decorative elements to it.
Just give a vase of dried flowers accompanied by a stack of books. Then, everything becomes pleasing to the eye.
27. Basic Coffee Table Centerpiece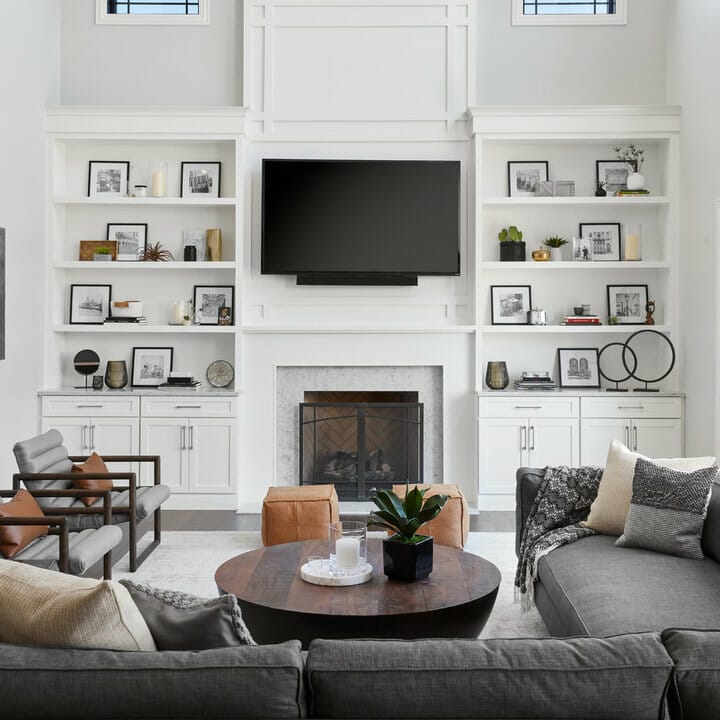 As said before, candles and greenery are essential elements that you can quickly get and place on your coffee table.
The existing round coffee table decor ideas give you the freedom to go with simplicity or luxury. It all depends on your preferences.
28. Industrial Gold Ring Coffee Table with Table Tray Set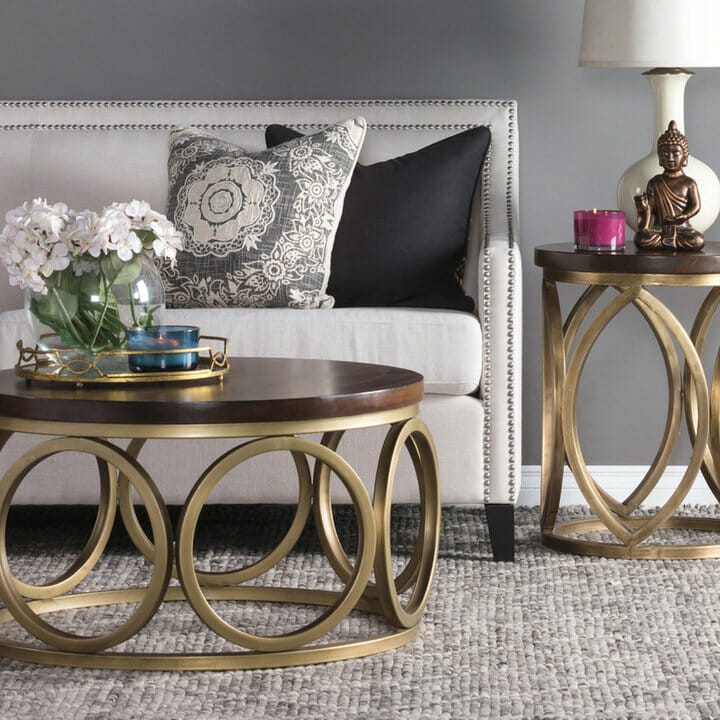 The arrangement of the decorative tray set in the middle part of the furniture comes to balance your round coffee table.
However, that does not mean you are forbidden to put the centerpiece slightly to the side. It is a unique and exciting aesthetic aspect that everyone has to try.
29. Eclectic Vibes with Golden Grey Cylindrical Candle Holder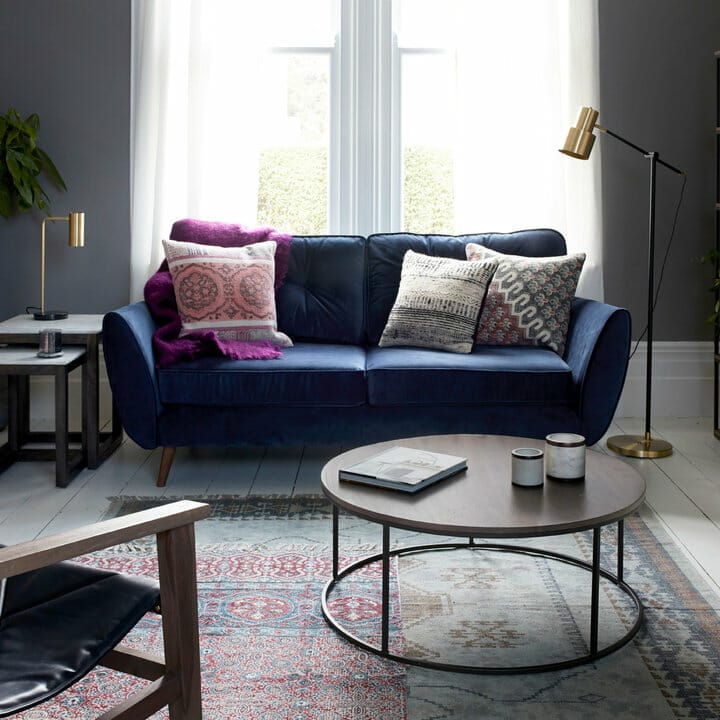 Eclectic interior design usually does not involve many decorative elements on the table. Most play with a stack of books and marble candle holders to reveal the table's existence.
30. Large Dark Wooden Sculpture in The Middle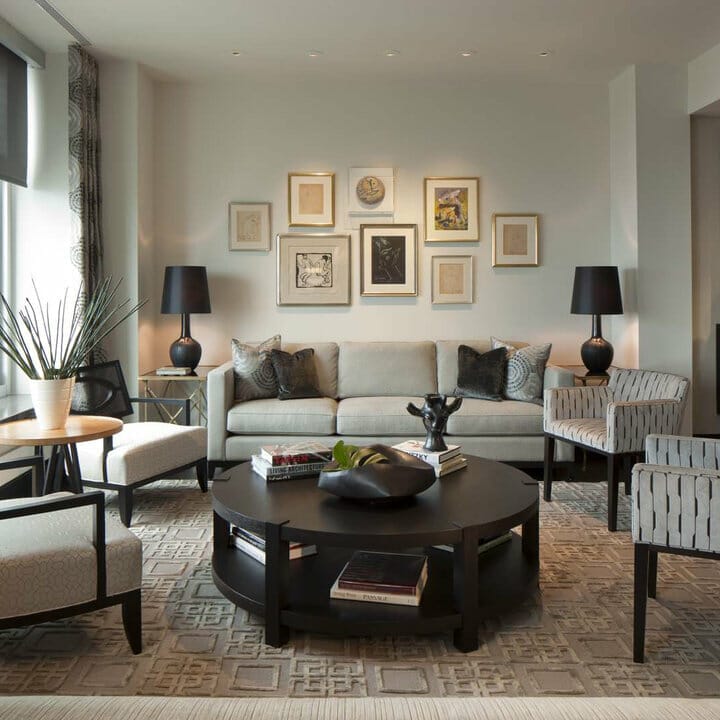 The medium-sized asymmetrical sculpture is perfect enough to make a statement on your table. And, of course, especially if it comes with other more minor decorative elements, such as a wooden statue of a deer with horns or others.
Moreover, the selection of materials and colors that match the dark coffee table makes this arrangement ideally give off warm and comfortable earthy vibes.
31. Simple Oak Coffee Table and Single Red Glass Vase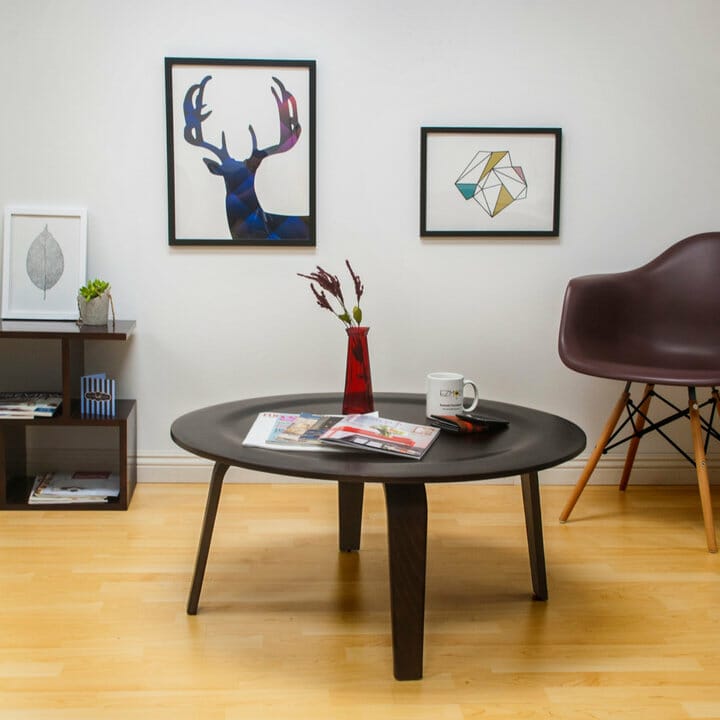 After coming with various round coffee table decor ideas, the last and simplest one comes with a red glass vase, dried flowers, and magazines.
By placing this simple teak table close to the wall with some artistic wall decors, everything becomes fascinating to the eye.
However, it doesn't matter what round coffee table decor ideas you will go. But, don't forget to stick to your preferences' suitability and the size of your furniture. That way, you will get the most inspiring living room ever!