Most people think that decorating the utility room is not very important. Indeed, due to its location, many guests do not often pass. However, it would be better to look for references to laundry room lighting ideas to provide the best illumination for this spot.
That is why you should choose the light fixture that fits your budget as well as preferences perfectly.
Therefore, below we provide you with 30 laundry room lighting ideas to redecorate your utility room immediately.
1. Vintage Rustic Pendant Lighting for Your Farmhouse Laundry Room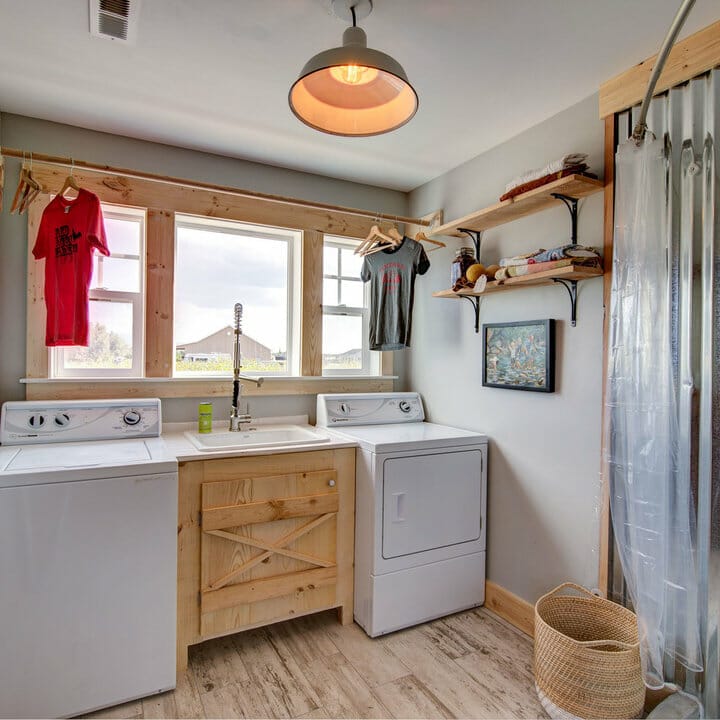 Some farmhouse-style utility spaces have expansive windows to let enough sunlight enter the room. Therefore, applying small and focused laundry room lighting ideas will be better.
That is why you better try to install a vintage rustic pendant lamp with a lid above and a warm yellow light bulb. As a result, the combination can reinforce the cozy rustic feel in this spot.
2. Metal Polygonal Chandelier for Modern Laundry Room Lighting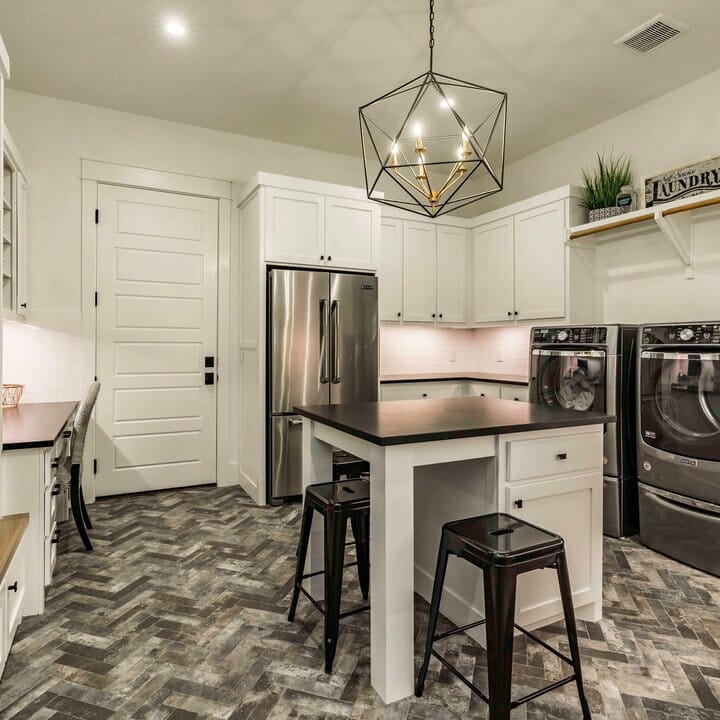 Selecting polygonal chandelier light fixtures is the best choice. Indeed, it can make your laundry spot more luxurious.
Unfortunately, because the light bulbs are small, the lighting from these fixtures is less diffuse. Therefore, adding a ceiling lamp to support perfect illumination is worth trying.
3. Contemporary Laundry Room Lighting Ideas using Triplet Hanging Light Fixtures
Complete your utility room decor with a hanging light fixture with three pendants. Putting this lighting in the middle of the room, right above your laundry island, will surely make things easy to do.
In addition, the all-white wall painting and furniture selection also help you get proper lighting during washing.
4. Soft White Round Dimmable Ceiling Light for Your Utility Room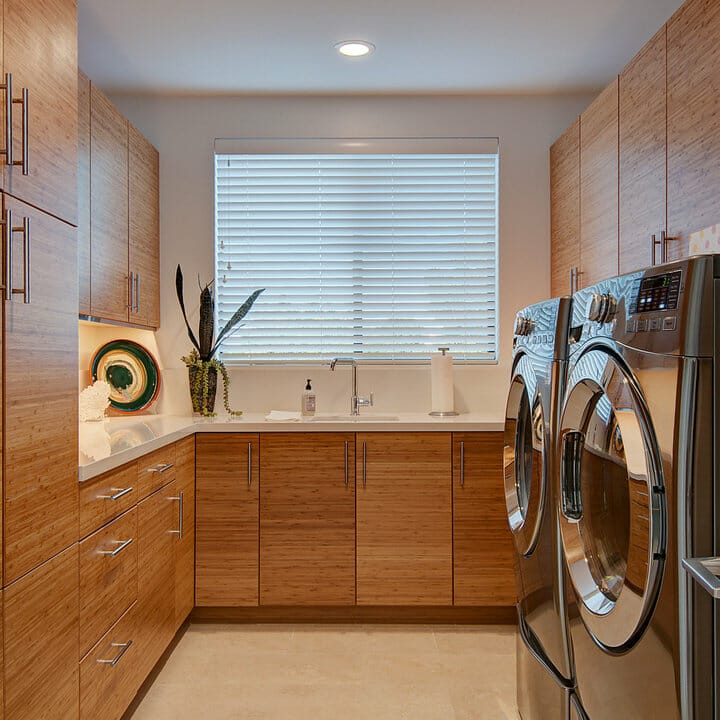 Installing dimmable ceiling lights is one of the advantages that you need to consider. As a result, you can adjust the brightness level of your laundry room according to your needs.
Therefore, laundry room lighting ideas like these are what you should try at least once in a life.
Moreover, this kind of lamp generally can last a long time and save enough energy cost per bulb in a month.
5. Laundry Room Flush Mount Light in Satin Illumination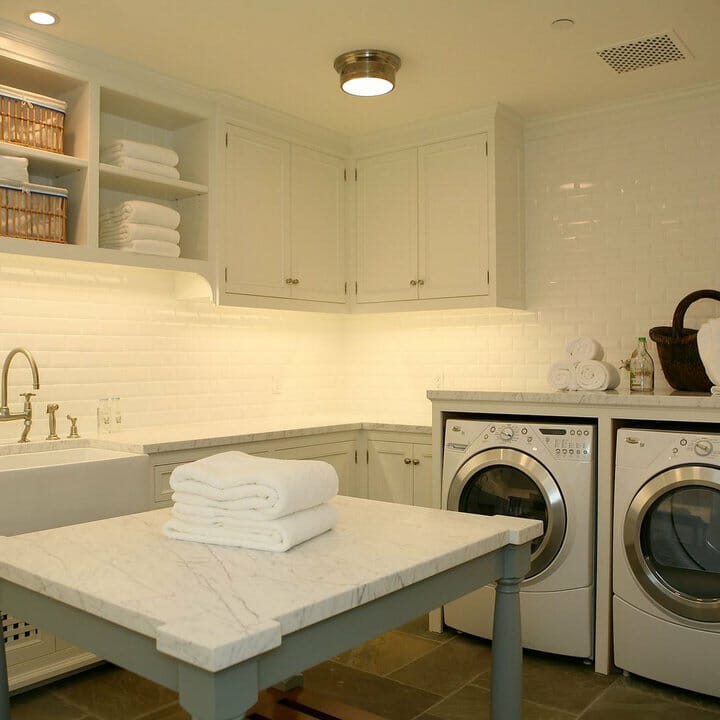 Illumination with a satin finish makes your utility room emit a cozy warm vibe while providing a clean look to your all-white laundry space.
Because this type of lamp does not emit enough light for the entire room, you need to install some in every corner of your utility space.
In addition, provide additional lighting such as a task lamp installed under the cabinet, later making it easier for you to do everything related to washing needs.
6. LED Laundry Room Light for Projecting the Washing Spot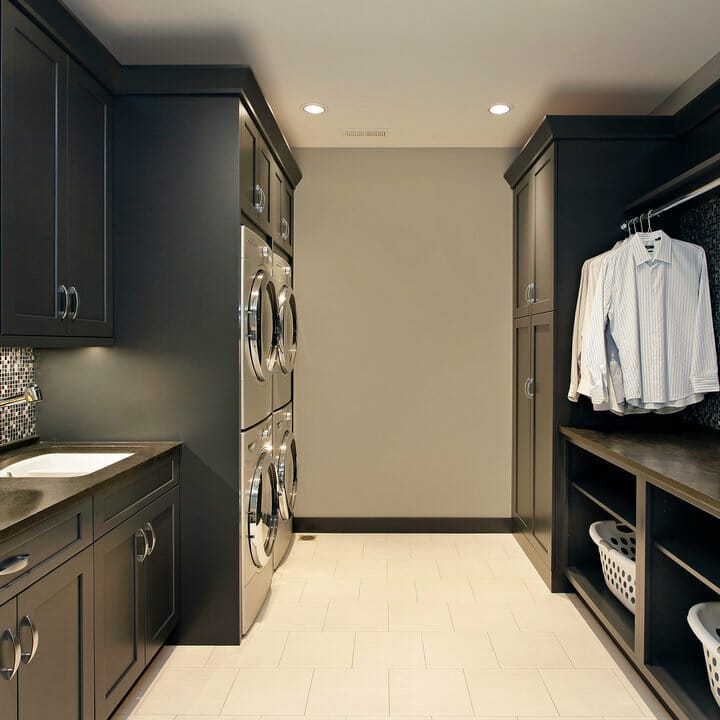 Instead of choosing a hanging fixture, picking a ceiling-mounted and static one can make your utility space more compact and minimalist.
As stated in the previous point, many laundry room lighting ideas recommend you to use LED lights because they save more on your costs.
7. Broken White Hanging Lantern for Your Shabby Chic Laundry Room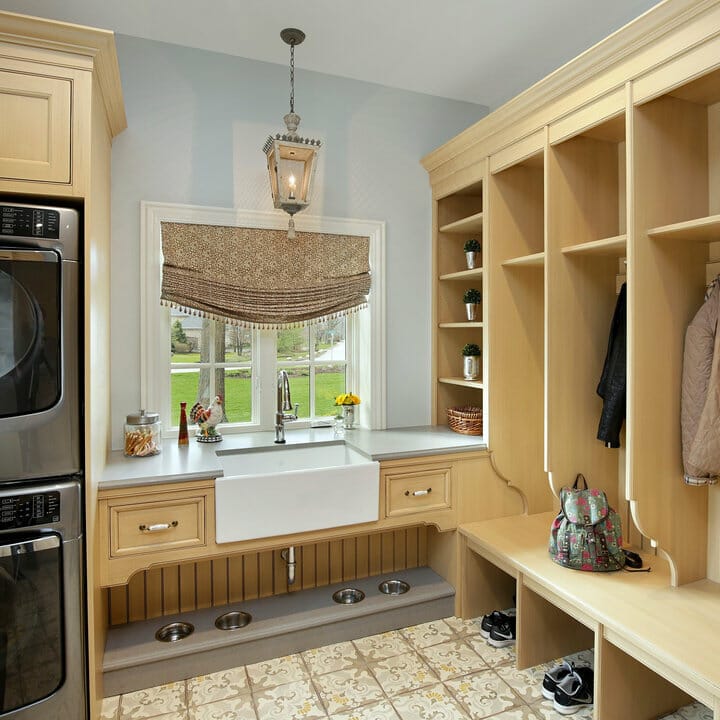 The selection of a light fixture that resembles a lantern with a tassel will match your chic laundry room perfectly.
Instead of using it as the main lamp of the room, this hanging fixture acts more as a decorative element on the ceiling.
As a result, it successfully gives an aesthetic radiance projected on the wall in front of it.
8. Icy Blue Industrial Pendant Lighting for Small Utility Room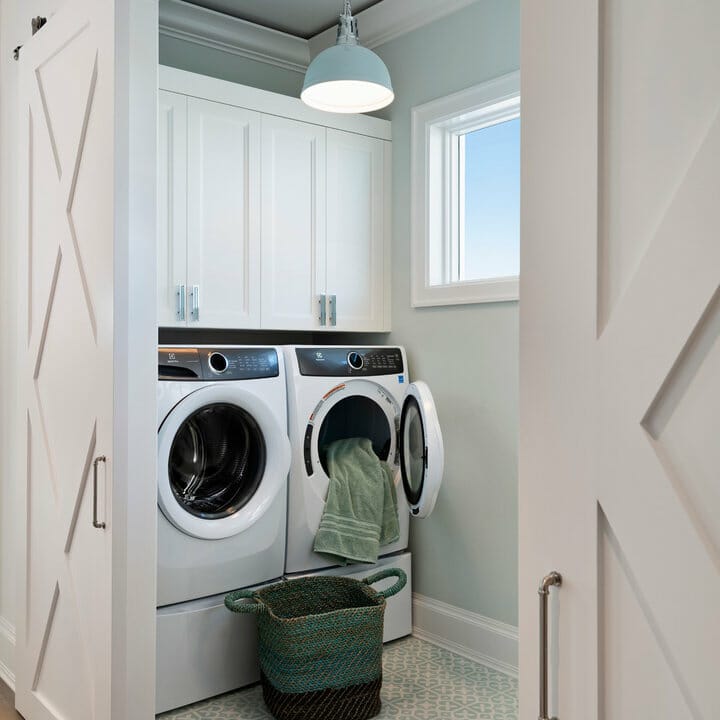 At first glance, you see this industrial pendant light has a pure white lid. However, if you look at it closely, this hanging fixture has an icy blue color that is pleasing to the eye.
Suppose you are looking for the best small laundry room lighting ideas that you can apply in your utility room.
In that case, this option is a great solution to take. Indeed, this hanging light fixture won't make your small washing area look stuffy with its perfect size.
9. Medium Globe Lantern to Give Your Laundry Room a Statement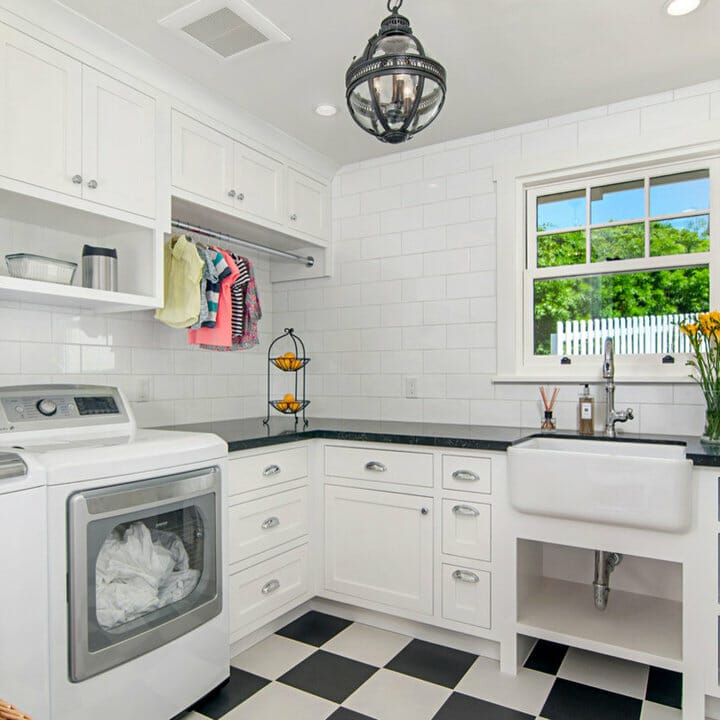 The all-white theme will make any room in your house seem monotonous if it is not complete with at least one piece of a stand-out focal point, likewise in your laundry space.
That is why you need to find laundry room lighting ideas that suit perfectly and provide texture in this space.
In this case, an industrial chandelier with a globe-like shape is the most worth trying fixture to add on. As a result, your laundry room will be more pleasant to the eyes.
10. Modern Pendant Light Fixture in Gold to Give an Elegant Touch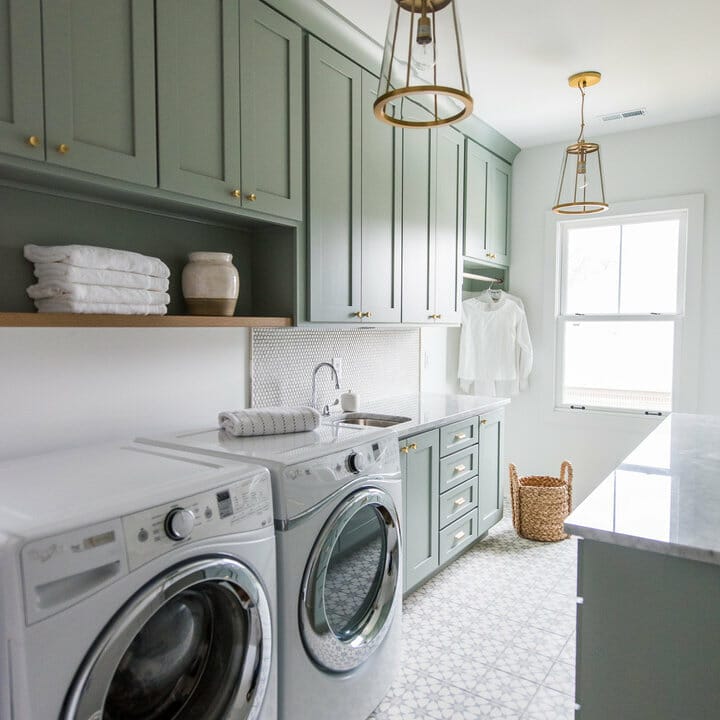 Sage green has become a favorite of many people lately. Even some of them apply this color to the laundry room.
That is why, to give this space an elegant touch and luxurious look, you can combine this pastel color with gold elements. But it is better to go first with your light fixture.
Additionally, you don't need to pick complicated models to get the best final result. Merely go with a straightforward design to make your modern laundry room more understated.
11. Basket Light Fixture to Bring the Uniqueness into Your Laundry Room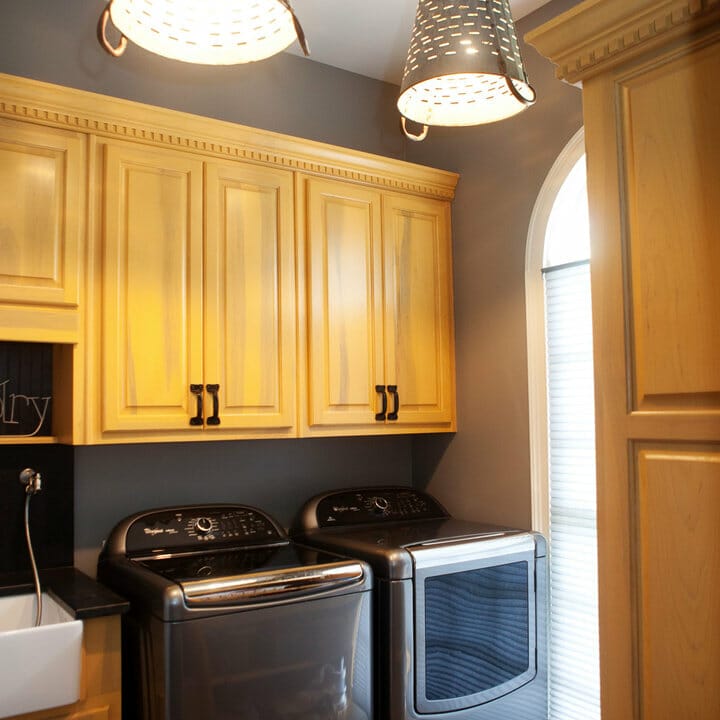 Are you looking for unique laundry room lighting ideas? If you are, then worry not. Because you can find all the answers quickly here.
Actually, the key to giving a unique touch to your utility room is to hang a light fixture that matches the function of your intended space.
As you can see, the presence of a basket-shaped light fixture makes it seem as if your clothes container is hanging above the ceiling. Indeed, it is super anti-mainstream.
12. Warm Yellow Single Pendant with Scalloped Shades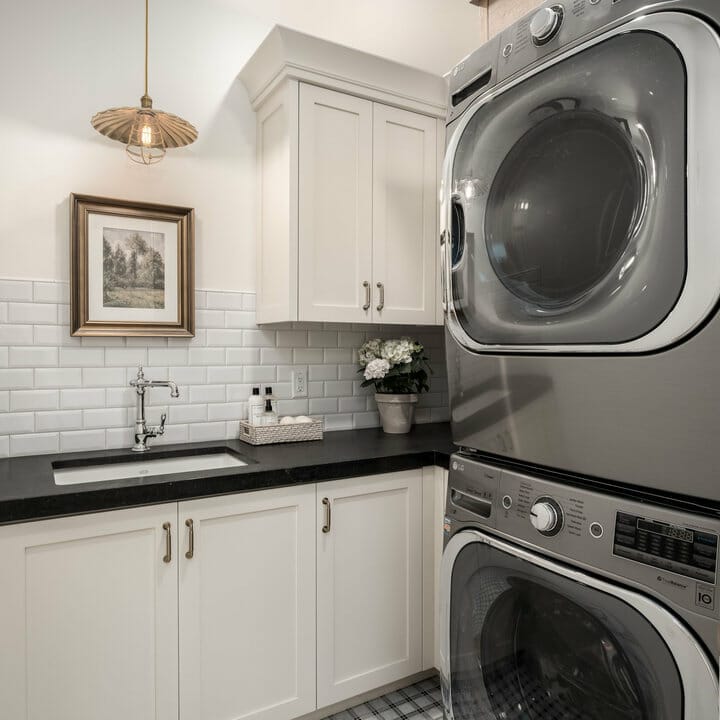 Likewise, a little artistic touch to your contemporary-style laundry room is a must. One way you can take is to place a single pendant fixture with an umbrella shade over a light bulb as seen above.
In addition, you may decide to install it close to your wall decor to create a more stunning focal point.
13. Fresh and straightforward Laundry Room Lighting Ideas
Coping with lighting issues in a small laundry room is easy. Instead of using pendant lights, it's good for you to set ceiling lamps and some LEDs that are installed right under your built-in shelving.
Therefore, your utility room will look fresher and far from overcrowded.
14. Medium Lampion Shades from Rattan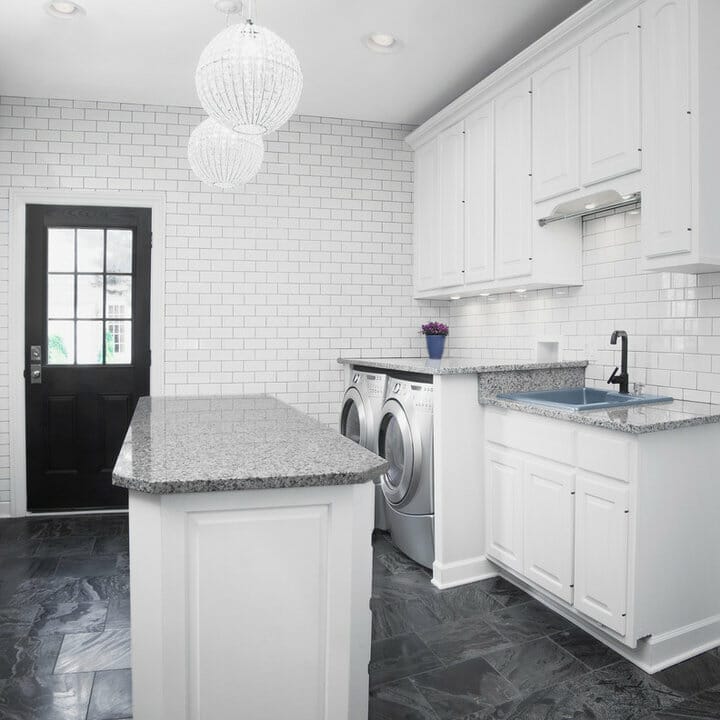 There is nothing wrong with this concept like the previous laundry room lighting ideas, which used an all-white theme.
Because besides making your utility space look clean, it can also give an overall impression in this area.
However, you still have to provide statements in this space not to be too dull. Here comes a double rattan lantern that you can freely install in the middle of the room.
15. Timeless Gold Flower-shaped Flush Mount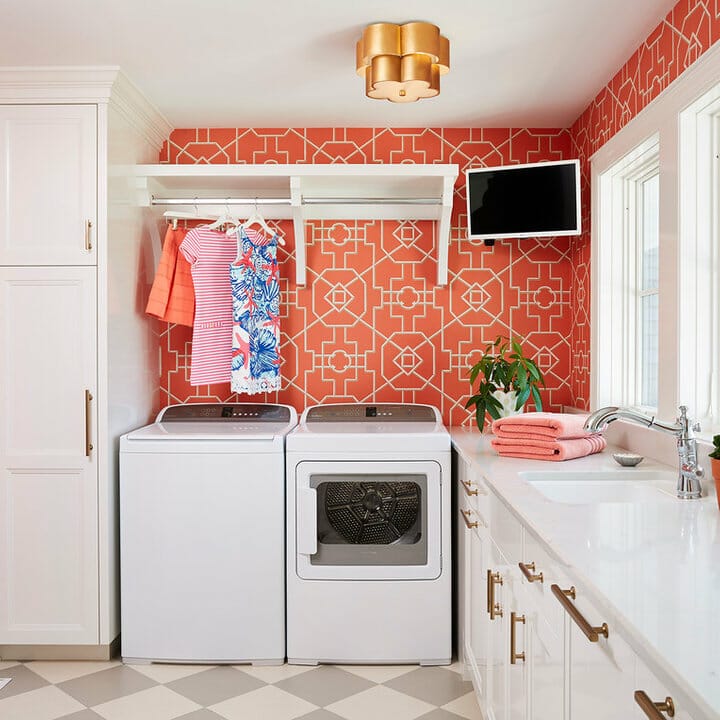 You can also give a bright-colored patterned wallpaper like the one above to give a positive impression to your utility room.
Additionally, complete this décor with a gold flush mount that resembles a five-petal flower. As a result, you earn a stunning laundry area.
16. Strengthen The Coastal Vibes with Art Glass Chandelier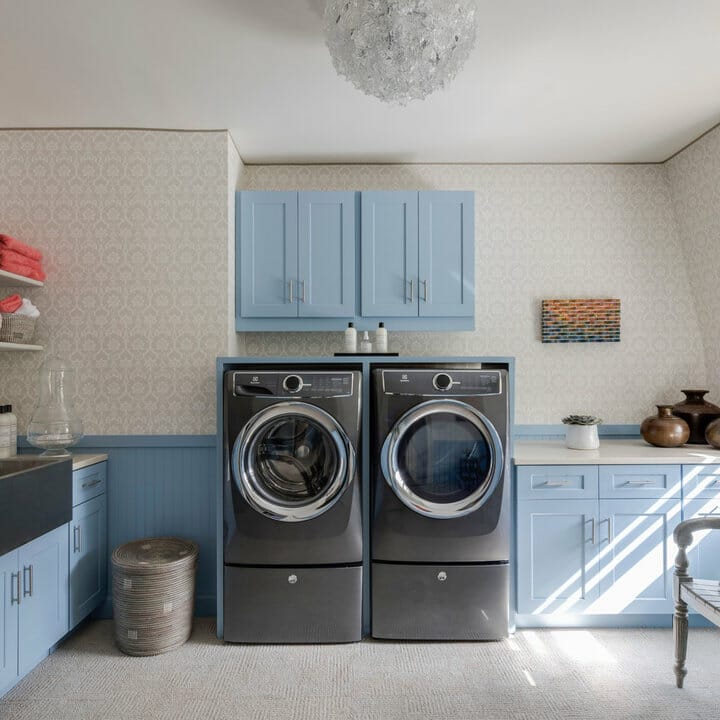 There are many laundry room lighting ideas that you can quickly apply to your new utility space. And one of them is by providing an art glass light fixture like above.
Moreover, the presence of this element is not only able to provide sufficient lighting for you at night. But also, to reflect the sunlight coming through the window during the day.
17. Nickel Semi-Flush Lamp as Best Farmhouse Laundry Room Light Fixture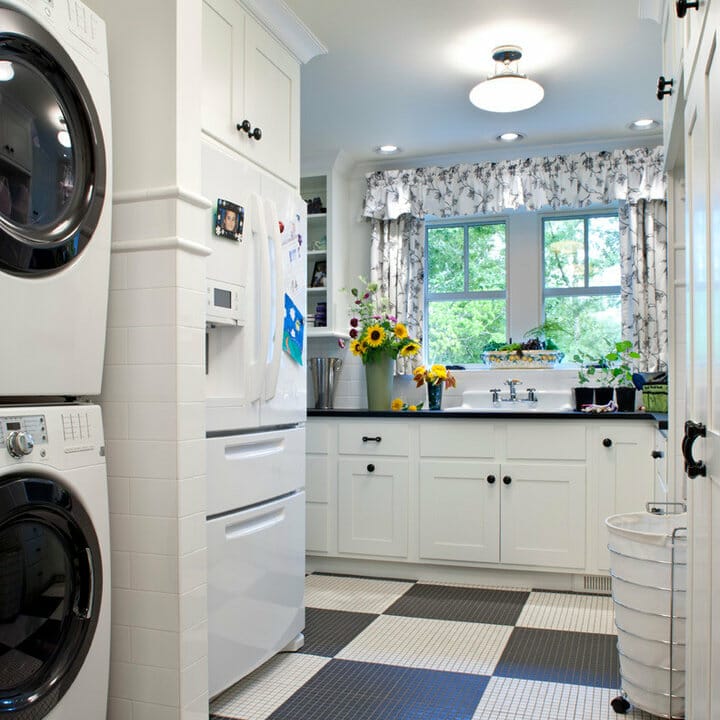 Indeed, farmhouse-style utility rooms can come with other lighting arrangements that are more up-to-date. That is by installing a medium-sized semi-flush lamp on the side of the washing room.
Not alone, this fixture also comes with a row of ceiling lamps mounted near the window. As a result, their presence will help to project the attributes under it.
18. Elegant Metal Cone Pendant Light in White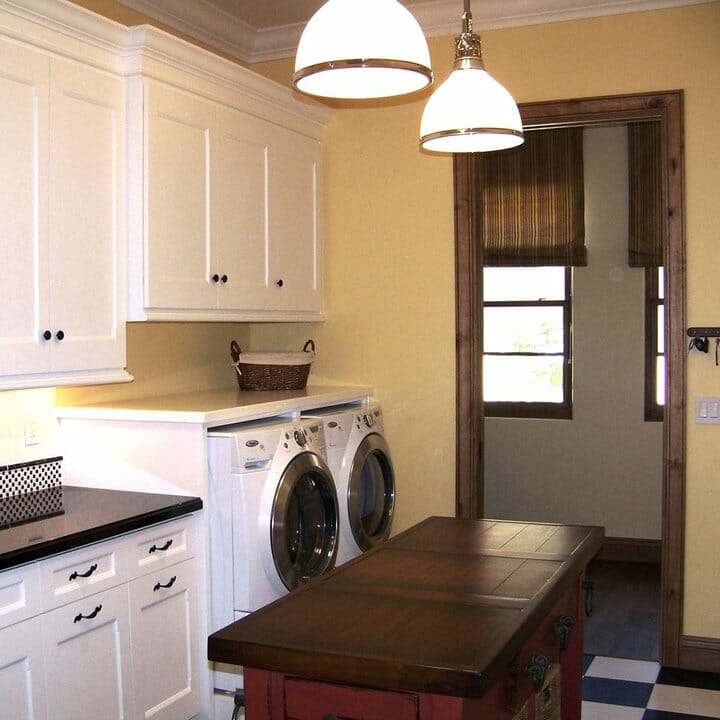 Again, rustic decor brings full of simplicity. Later, you can give a subtle statement to your laundry room by installing a pair of metal cone pendants over your versatile table.
Further, the white color of the light fixtures provides a brighter sense amidst the softness of the earthy tone.
19. Silver Quatrefoil-shape Pendant Light Fixture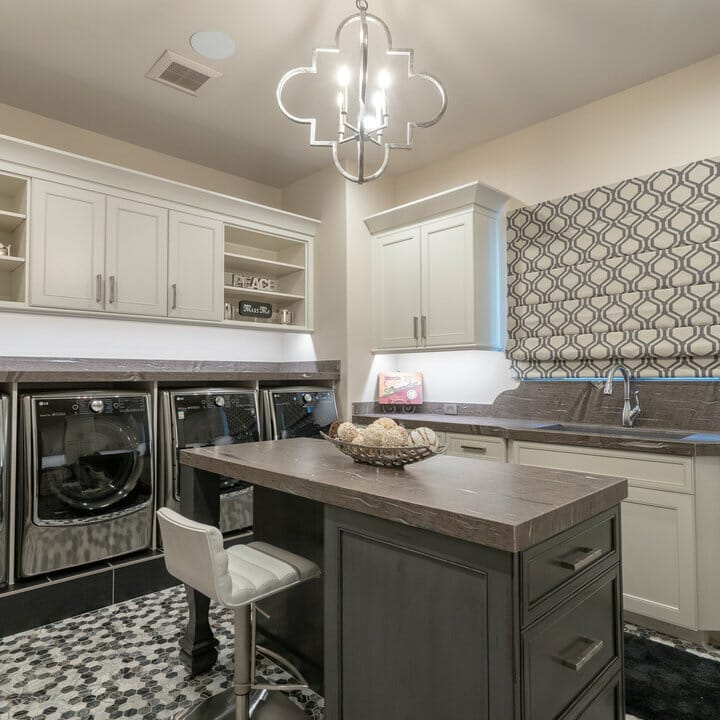 Here comes the most incredible light fixture among many laundry room lighting ideas. It ideally gives your modern interior design the best statement through its unique shape.
Quatrefoil, indeed, can illuminate your utility room without any supporting lamps surrounded.
20. Ovalle Warm White Hanging Shades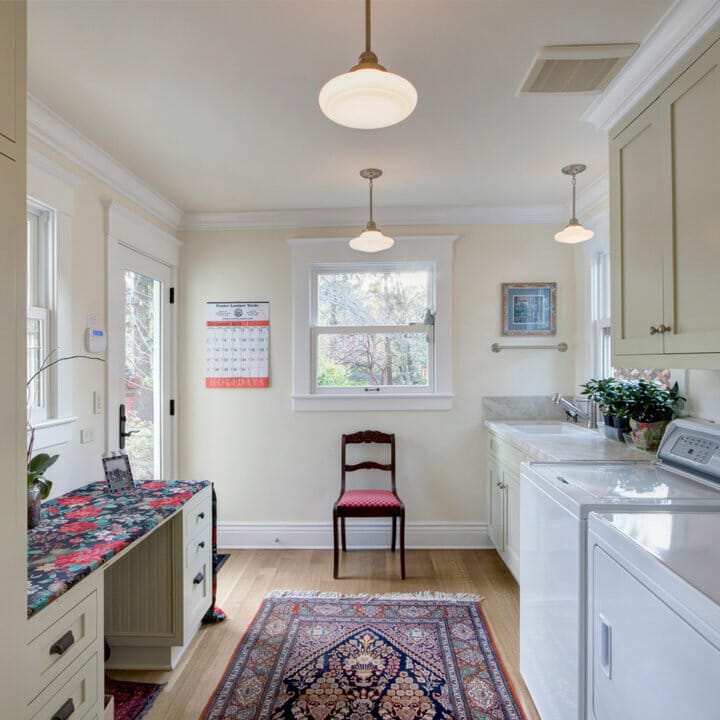 Providing a set of light fixtures with warm white illumination over patterned carpets and tablecloths will soon strengthen the boho vibe in your laundry room.
However, as the room is already complete with sufficient windows, it is okay to use shades with dim light reflections instead of brighter ones.
21. Versatile Retro Industrial Wall Lamp Sconce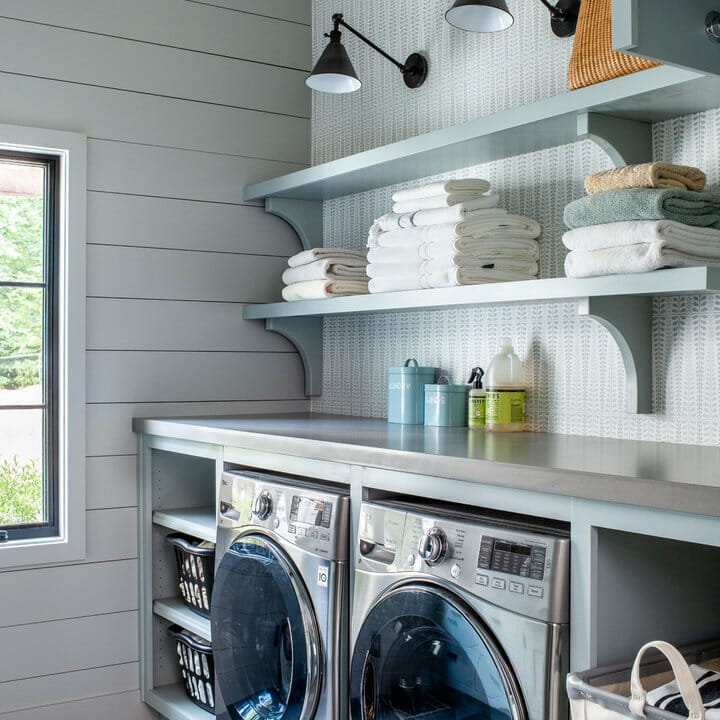 As many people already know, the presence of these wall lamp sconces makes things done easier.
With a design that you can adjust to be longer or shorter, you don't need a lot of light fixtures in your laundry room anymore.
On the other hand, installing two is enough to compensate for the lack of lighting while you're doing your laundry.
22. Luxury Round Semi-Flush Mount Light Fixture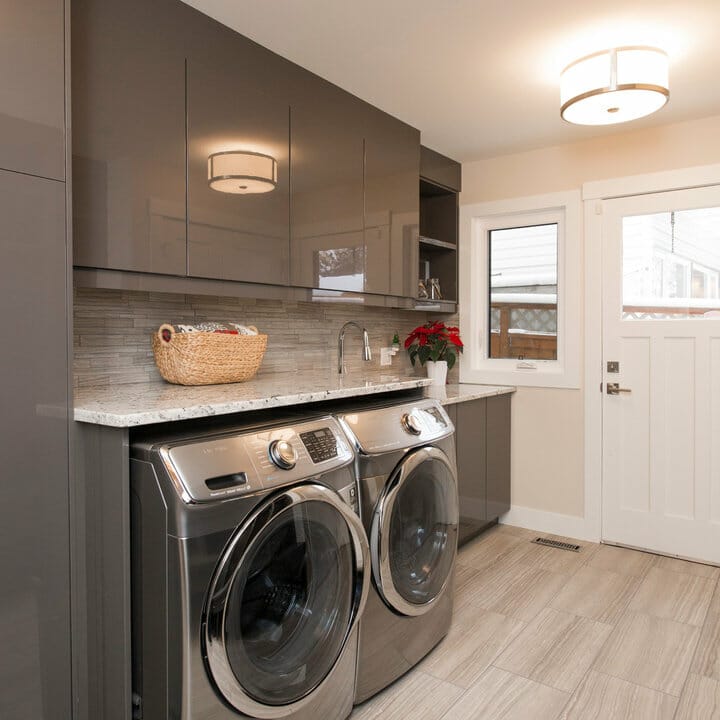 Choosing luxurious laundry room lighting ideas doesn't mean you have to go with a light pendant with many bulbs.
Instead, you can use a semi-flush mount illuminating fixture to make your utility room layout simpler and neater.
23. Stunning Metal Pendant Shades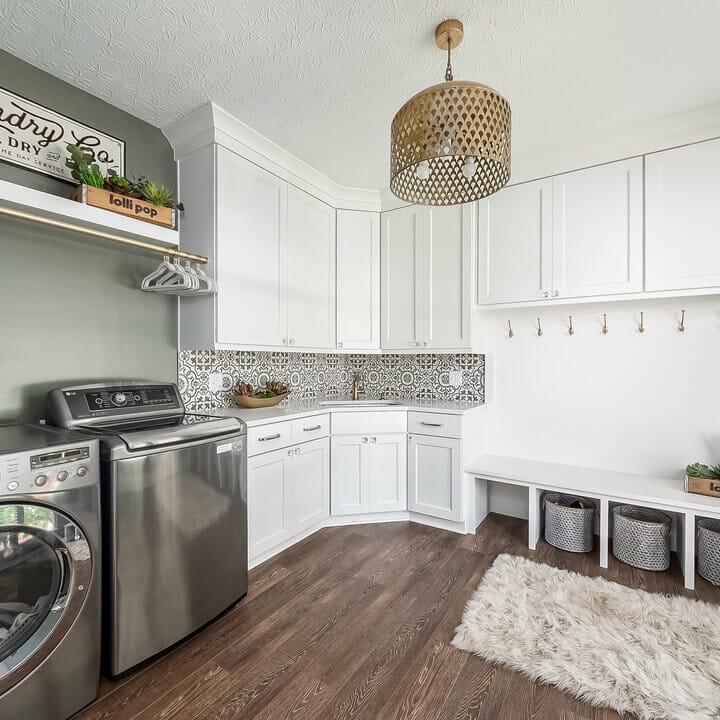 Other laundry room lighting ideas also recommend you to use medium lampshades fixture made of metal.
As it has a pretty large size, the selection of this type of lighting will only be suitable for laundry rooms with vast space.
Suppose you have a smaller area but still want a lighting design like this. You can try looking for smaller ones to apply.
24. Simple LED Ceiling Lighting and Under Shelving Lamps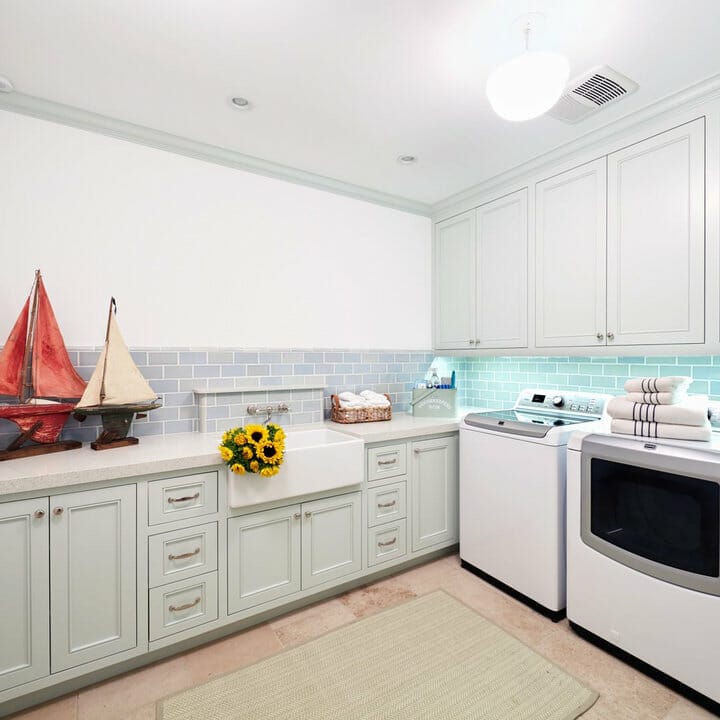 A minimalist utility room makes you don't have to bother looking for laundry room lighting ideas that are too complicated. Just go with a single LED ceiling light.
Then complete it with a row of lamps under your shelving system to highlight everything that is happening on your laundry table.
25. Industrial Giant Bulb Lighting for Eclectic Laundry Room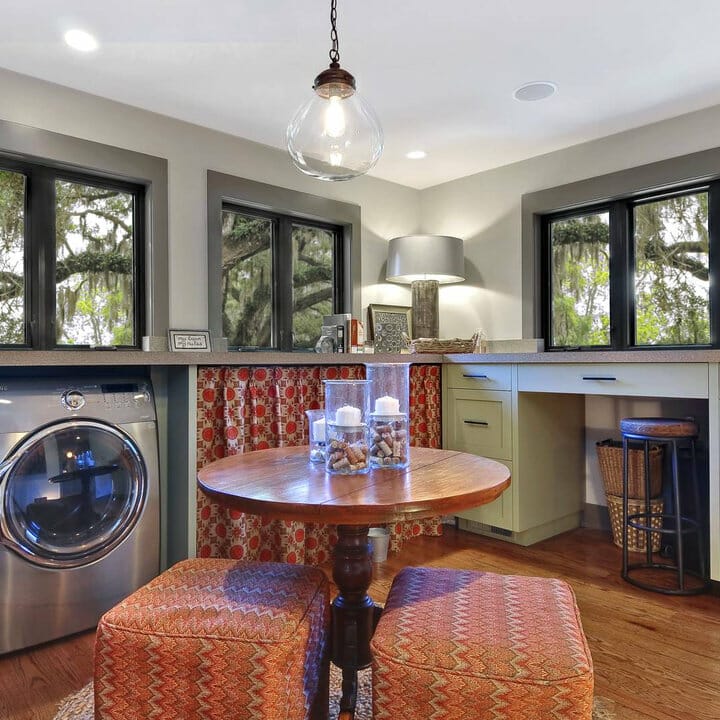 Who says only having one bulb in your laundry room will make it less lit? Of course, to overcome this issue, you have to change the size to a larger one.
That's right. It is an industrial giant bulb that can illuminate the center of your laundry room well. While for the other side lighting, you can put a large table lamp in the corner of the room.
26. Retro Ceiling Mount Lighting in Black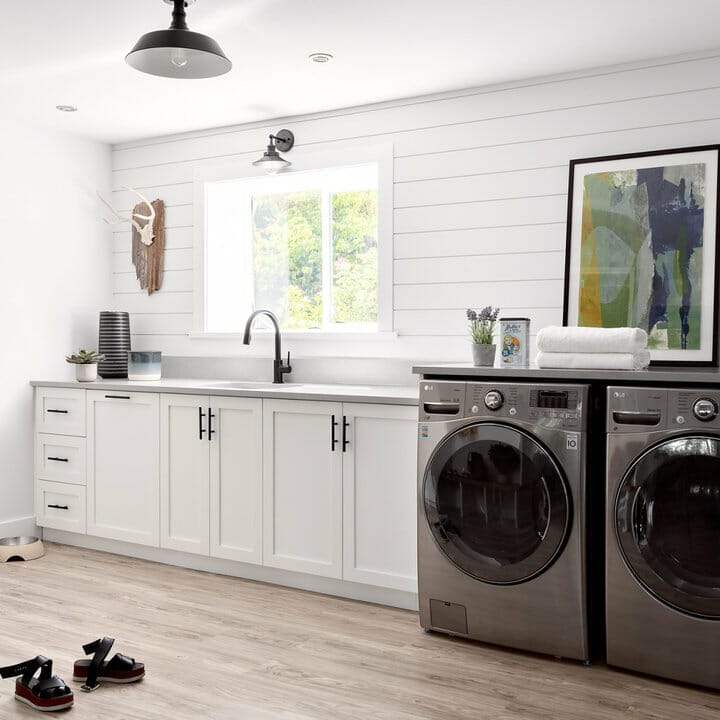 The selection of lighting elements with a retro style is never outdated. Even a single fixture with a dark lid color can ideally state the existence of your laundry room.
27. Cylindrical Track Lighting for Task Lamp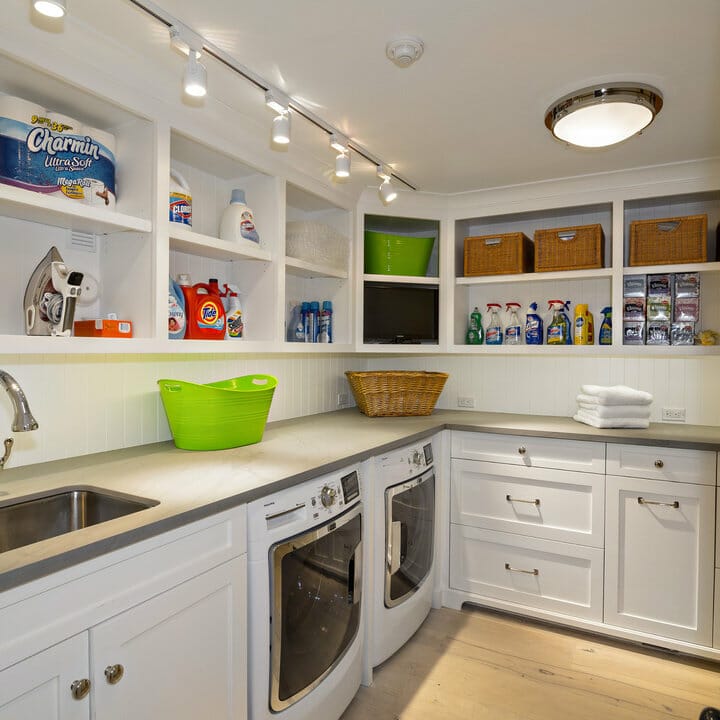 Track lighting also doesn't want to miss its role in illuminating your laundry room.
Most laundry room lighting ideas provide additional illumination in certain spots with the track light fixture. That way, all objects located around your utility room become easier to find.
28. Single Pentagon Prism Pendant Light Fixture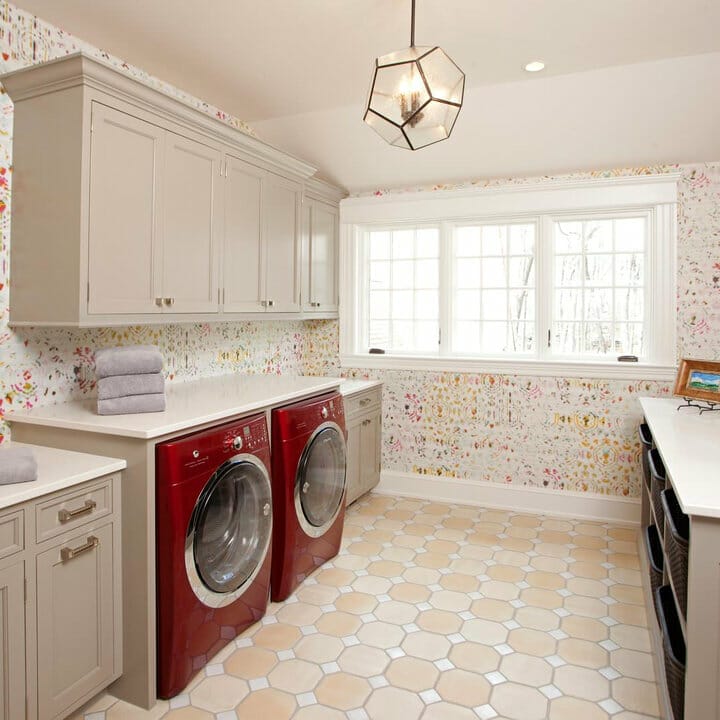 The contemporary style of your laundry room now has not only one focal point but two. In addition to placing the washer and dryer machine in a striking color, your lighting arrangement is also a stunning object indeed.
Moreover, laundry room lighting ideas with a single pentagon prism pendant fixture are practical and elegant enough to blend with all the furniture you have.
29. Protruding Traditional Light Pendant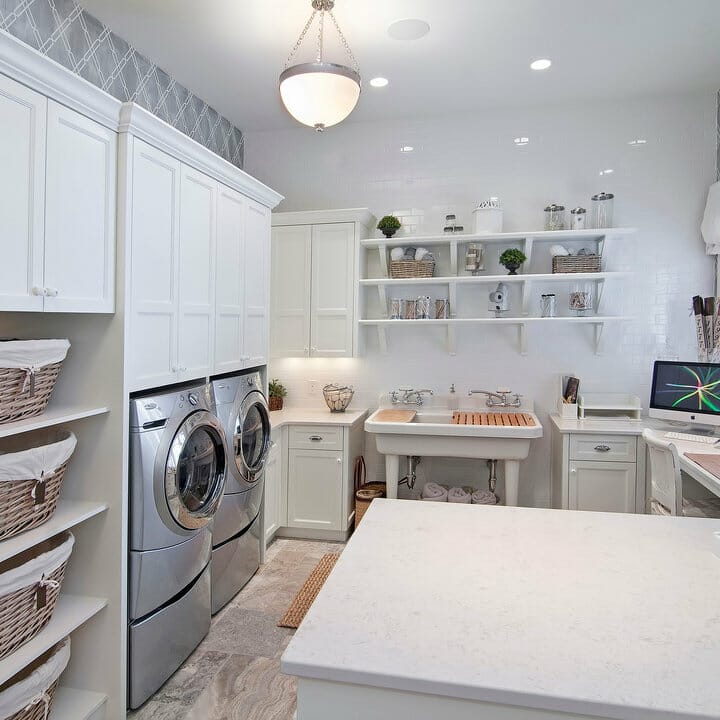 There's nothing wrong with giving a traditional element amidst all the modern furniture you have in your laundry room. It will give anyone an attractive as well as stunning appearance.
30. Charming Classic Touch with Morris Pendant Lighting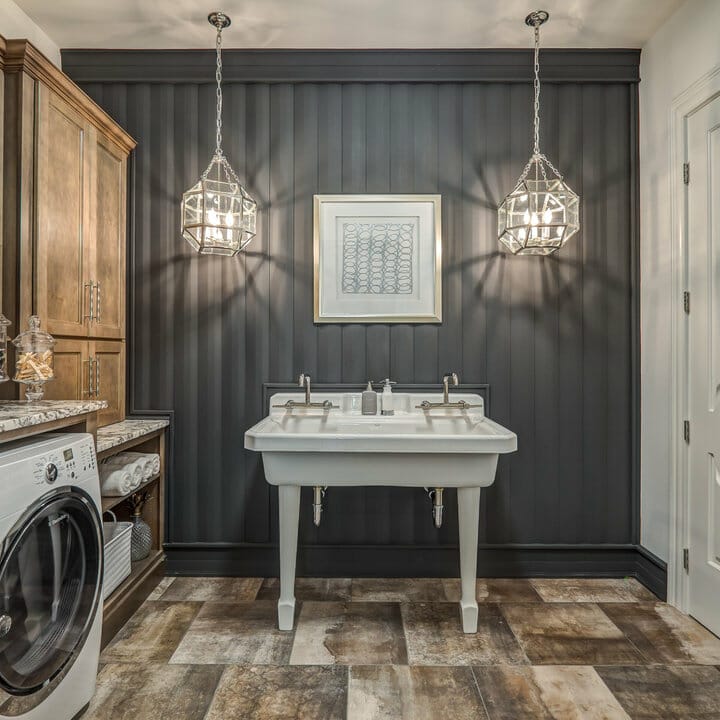 Morris pendant lighting is more widely known for its use in cathedrals. However, you can still install it in your lovely classic laundry room.
With edges made of iron with glass panels, this light fixture is famous as the perfect modern fixture ever. Do you see that it has the most beautiful illuminations on the wall behind it?
Most of all, the best lighting for a laundry room doesn't just depend on how unique your fixtures are.
However, how practical is the element to provide sufficient lighting and make your utility room more attractive and comfortable.
Therefore, choosing illumination for your laundry room cannot be careless. Of all the laundry room lighting ideas mentioned above, hopefully, you will soon find one that suits your preferences and needs.