Hunters devote their money and time to assemble their fine firearm collections. If you're one of them, consider constructing a secure space to stash away your guns. For inspiration, simply dig into my awe-inspiring gun room ideas below.
Gun rooms let hunters show off their firearms to family or close friends. However, such spaces limit access to outsiders. Furthermore, having a home armory is crucial since it protects the guns against weather elements.
Regardless of how many firearms you own, I guarantee any of these marvelous home armories will steal your heart. Let's dive into them!
1. Small Gun Room Ideas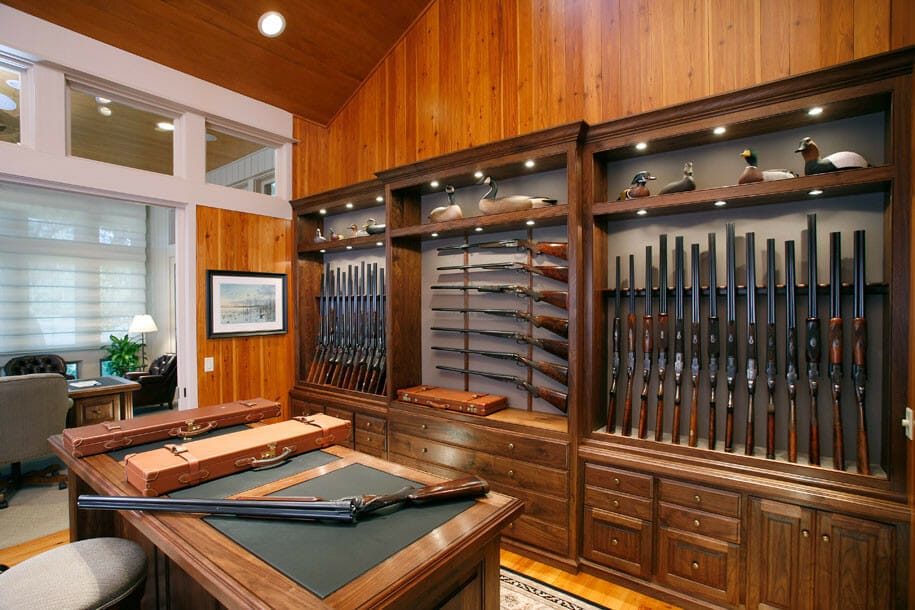 This hunter's prep room is tiny, yet it appears airy, thanks to gray fabrics, windows, and white trims. Meanwhile, black leather tufted seats embody a sense of luxury.
The central island accommodates a pale gray stool. It lets the homeowner clean his firearms while keeping the gun equipment off the floor.
There's also custom wood cabinetry in this gun room. Furthermore, racks and gray backdrops emphasize guns excellently. Top shelves display statues of varying birds.
Recessed puck lights illuminate firearms and bird statues. The wall art and plant bring the gun room to life.
2. Gun Room with A Coffered Ceiling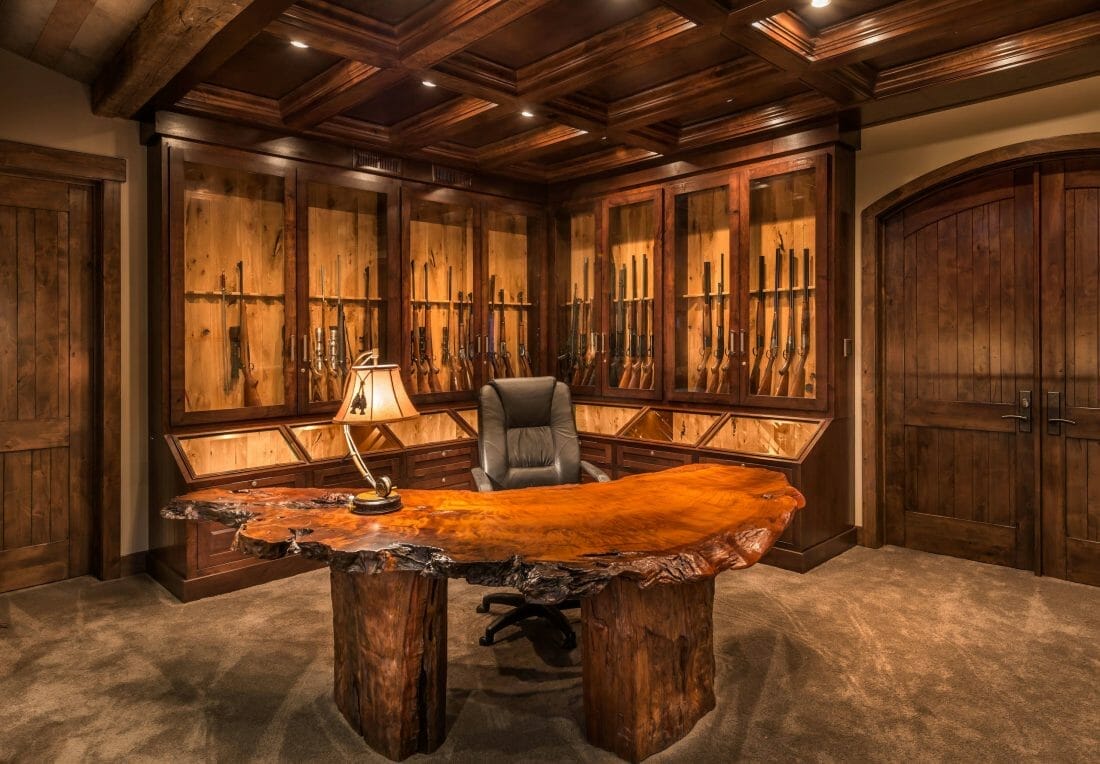 Need basement gun room ideas? This idea comes in handy undoubtedly. Custom wood cabinets employ simple racks to showcase fine firearms vertically. Moreover, they generate tons of warmth.
The wooden coffered ceiling ensures the gun room feels cozy while capturing some grandeur. Also, it mingles with custom cabinets and beige-painted walls.
Here, the live edge table coordinates with the rustic beam overhead. Arched doors retain the gun room's welcoming look. Additionally, the gray rolling chair and vintage desk lamp finish things off.
3. Custom Gun Room Cabinets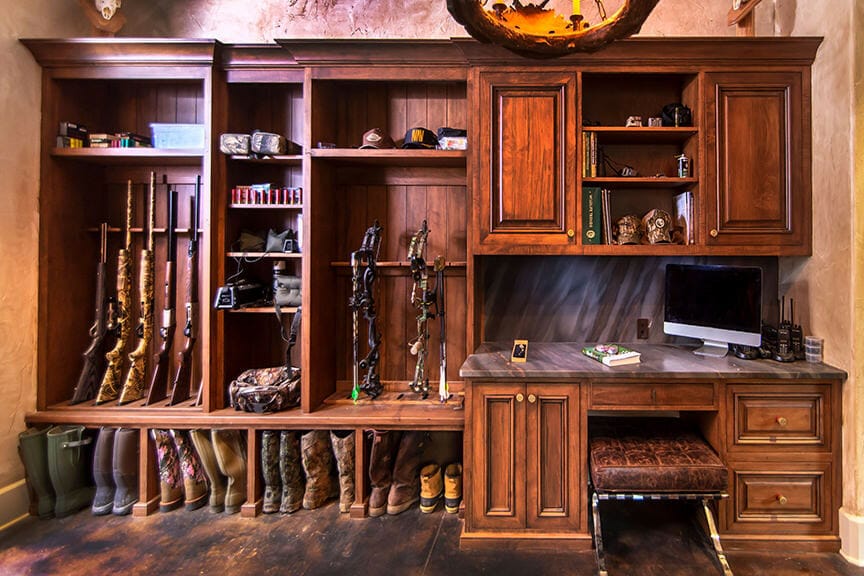 This is one of the brilliant gun room ideas. Textured beige walls give the home armory an inviting ambiance while producing a masculine flair.
The custom cabinetry is multifunctional. In addition to boasting drawers, it also comes with a couple of gun racks. Meanwhile, the shelves hold caps, cartridges, and other gun equipment.
Underneath the gun racks are hunting boots of different sizes. The marble desk accommodates a leather stool and a computer. Moreover, there are narrow shelves for hunting guide books and caps. Lastly, accessories lend the home armory a sense of completion.
4. Rustic Country Gun Room Ideas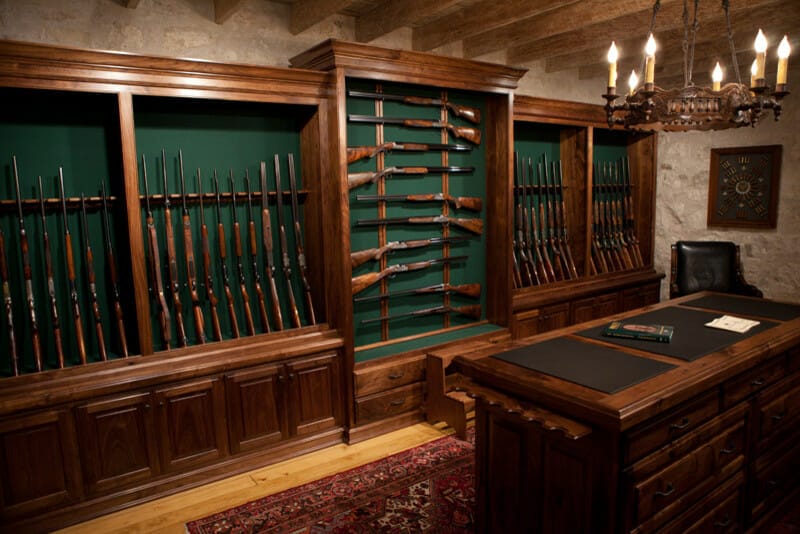 Speaking of gun room design ideas, take notes from this rustic country home armory. The hand-oiled hardwood cabinets generate a custom look. Furthermore, they complement the homeowner's fine firearms perfectly.
Dark green backdrops guide eyes to classy displays of the guns. In addition, they harmonize with custom wood cabinets.
Reclaimed wood beams and beige stone walls epitomize rustic charm. The desk and leather chair let the homeowner enjoy his hunting guide books. Step stools offer easy access to upper firearms, while the red country rug and chandelier complete the gun room.
5. Gun Room Storage Ideas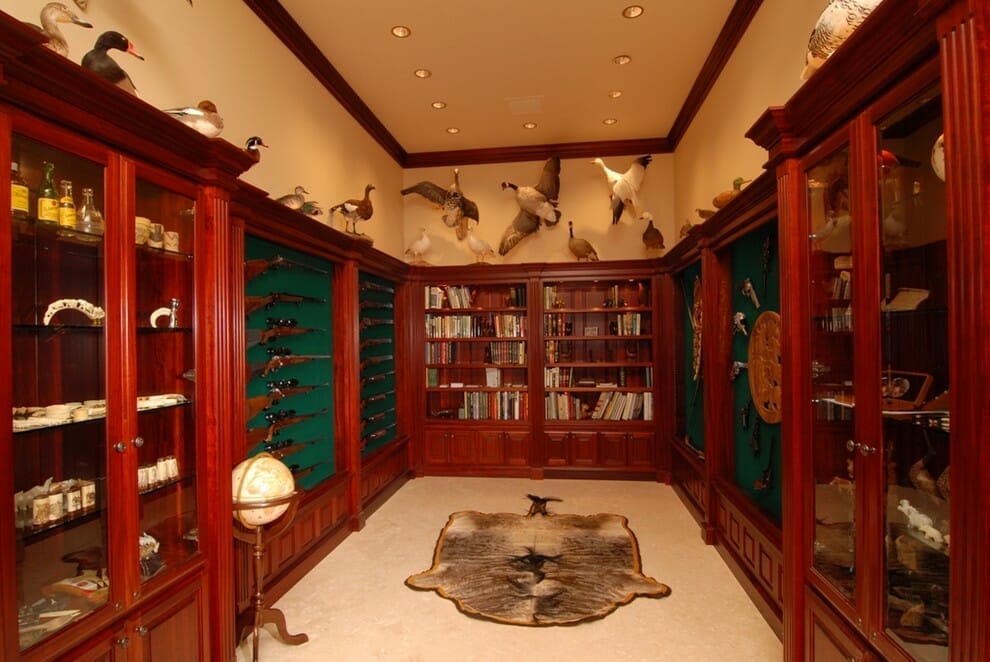 Talking about gun room organization ideas, try showcasing firearms on the interior's perimeter. This layout optimizes space while accentuating the massive gun collection.
Cherry wood cabinets warm up the gun room. Moreover, the glass-front cabinetry makes all the embellishments visible. Bold green backdrops let pistols and guns shine. There's a dedicated bookshelf for hunting guide books.
The beige flooring allows the deer hide rug and floor globe to be more noticeable. Meanwhile, cabinet-top and wall-mounted bird decorations adorn the gun room. Recessed puck lights brighten the home armory at night.
6. Home Gun Room Ideas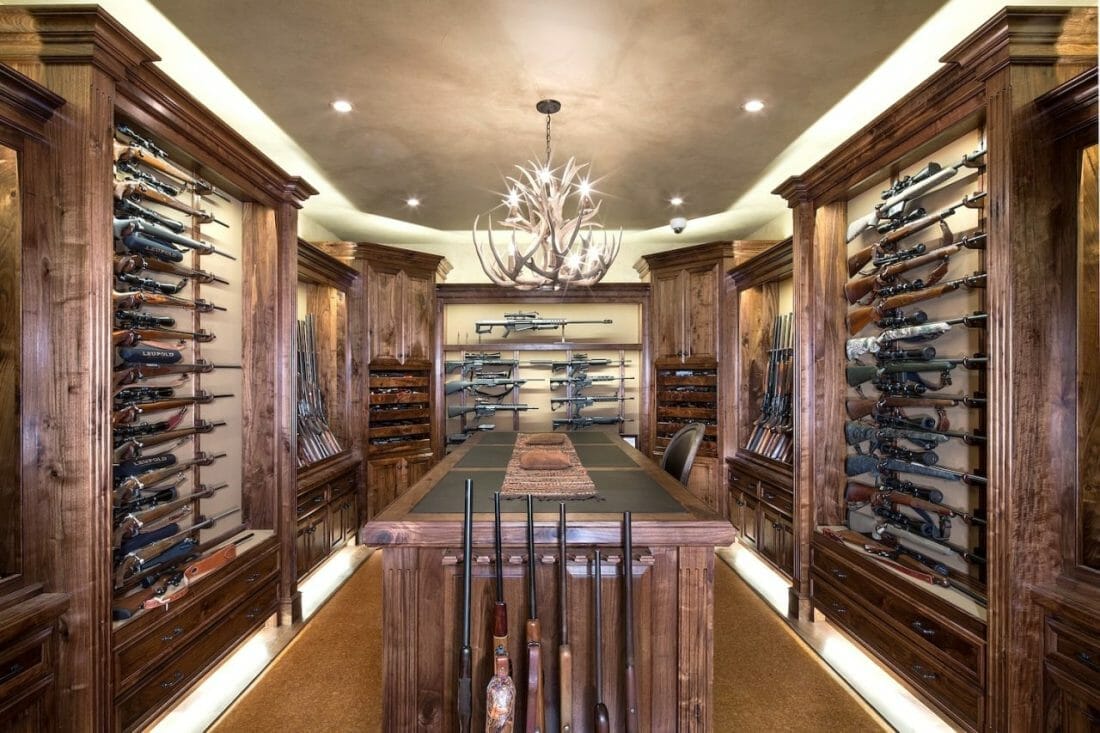 The homeowner is a hunter. This well-designed home armory is an incredible addition to his home for sure. Custom walnut cabinets provide ample display space for varying guns. Also, they make the gun room feel more inviting.
Recessed lights offer this gun room general illumination. The taupe ceiling emphasizes the rustic deer antler chandelier. Moreover, the long central island enables the homeowner to reload his firearms. It accommodates a gun rack, a matching table runner, and a chair, too.
7. Gun Room Ideas with Strip Lights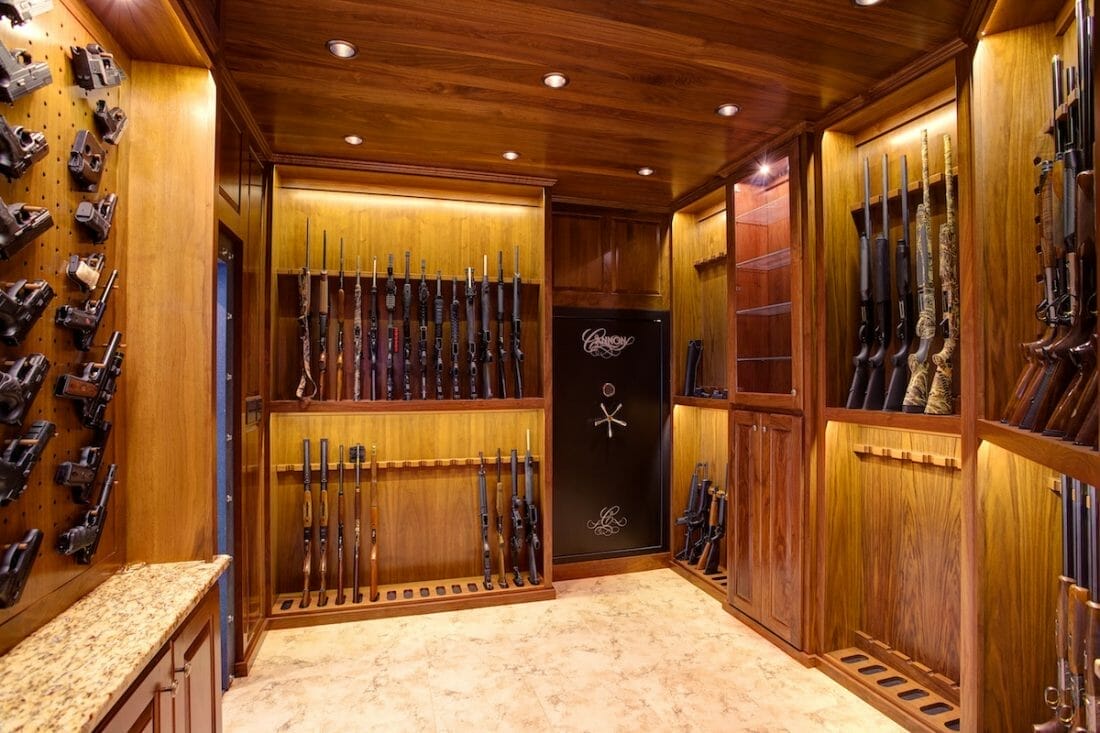 This is one of the contemporary gun room ideas. Custom wooden ceiling-to-floor cabinets boast racks with specific slots. Furthermore, they ensure the guns don't fall to the floor. The cabinetry features narrow glass shelves, too.
Modern wooden cabinets carry organizational charm to the gun room. They go seamlessly with the adjacent ceiling as well.
This home armory also employs a fire-resistant gun safe. Moreover, strip and recessed lights illuminate firearms.
The wall mount gun rack displays a neat collection of handguns. Natural stone surfaces improve the room's wow factor.
8. Gun Room Flooring Ideas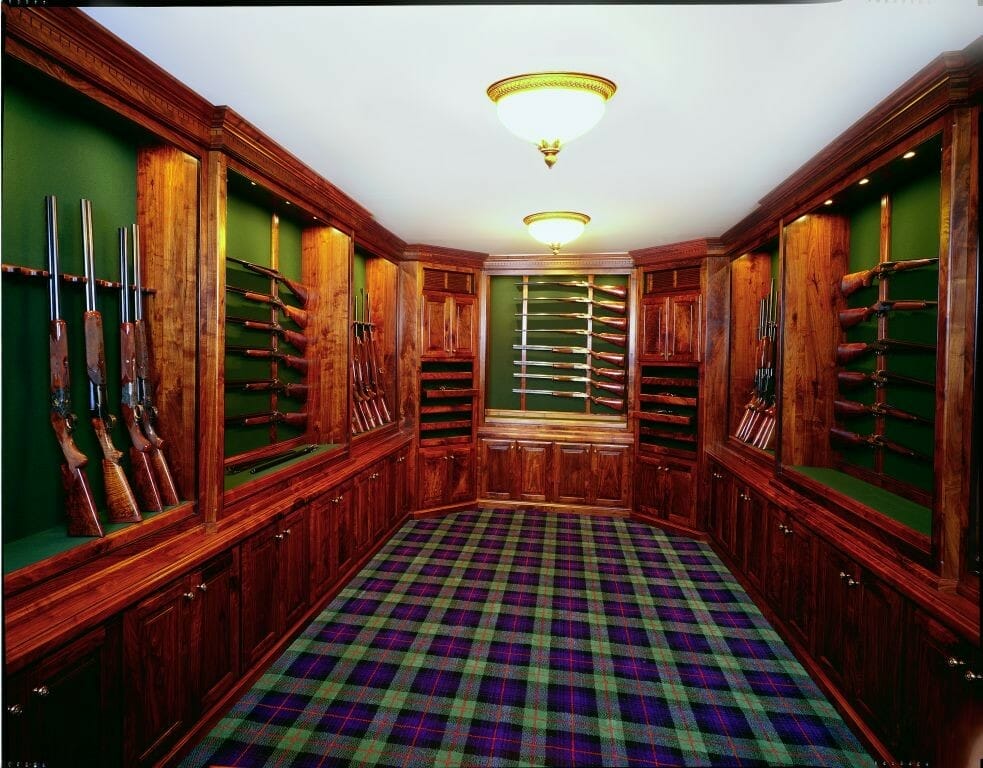 As you see, the custom cherry hardwood cabinets make the most of this luxury gun room. Meanwhile, tiny silver knobs lend them a striking contrast.
The racks allow the homeowner to showcase his firearms horizontally and vertically. Furthermore, deep green backdrops call attention to rifles and guns.
Classic ceiling lights with gold details produce a glam look while delivering general lighting. Recessed lights lend the gun room extra illumination. Meanwhile, the plaid carpet develops a country aesthetic and imbues pops of color.
9. Gun Room Accessories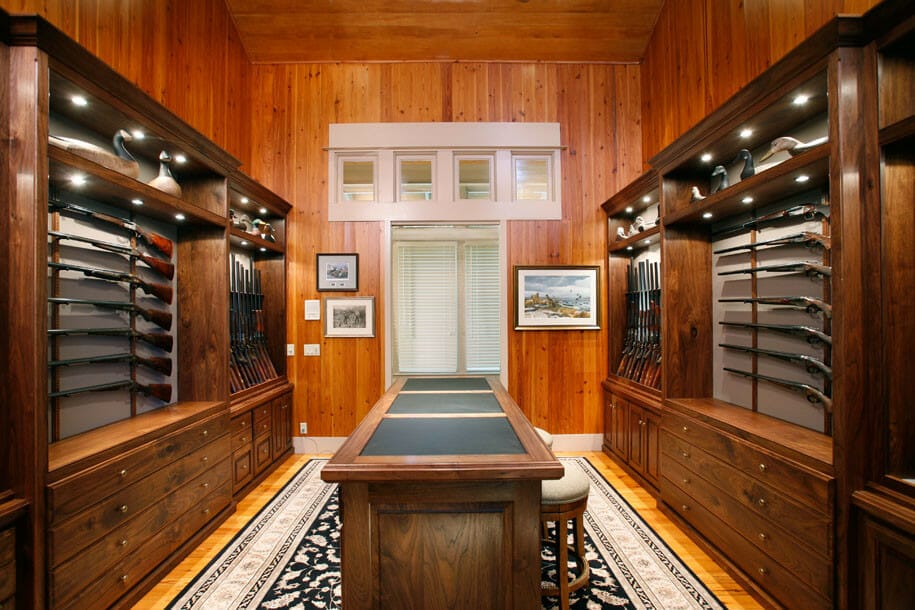 There are two custom walnut hardwood cabinets with metallic knobs here. They face each other while adding some depth to this home armory. Meanwhile, gun room panels and floors employ lighter woodsy tones for a brighter ambiance.
Also, the cabinetry gracefully showcases assorted bird statues, guns, and rifles. Moreover, recessed lights introduce task lighting. Pops of subtle gray and crisp white create an airy flair.
In addition, the elegant country rug anchors a central island and two upholstered stools. Artworks come with mismatched frames. They adorn the home armory while infusing some character.
10. Gun Room Tile Ideas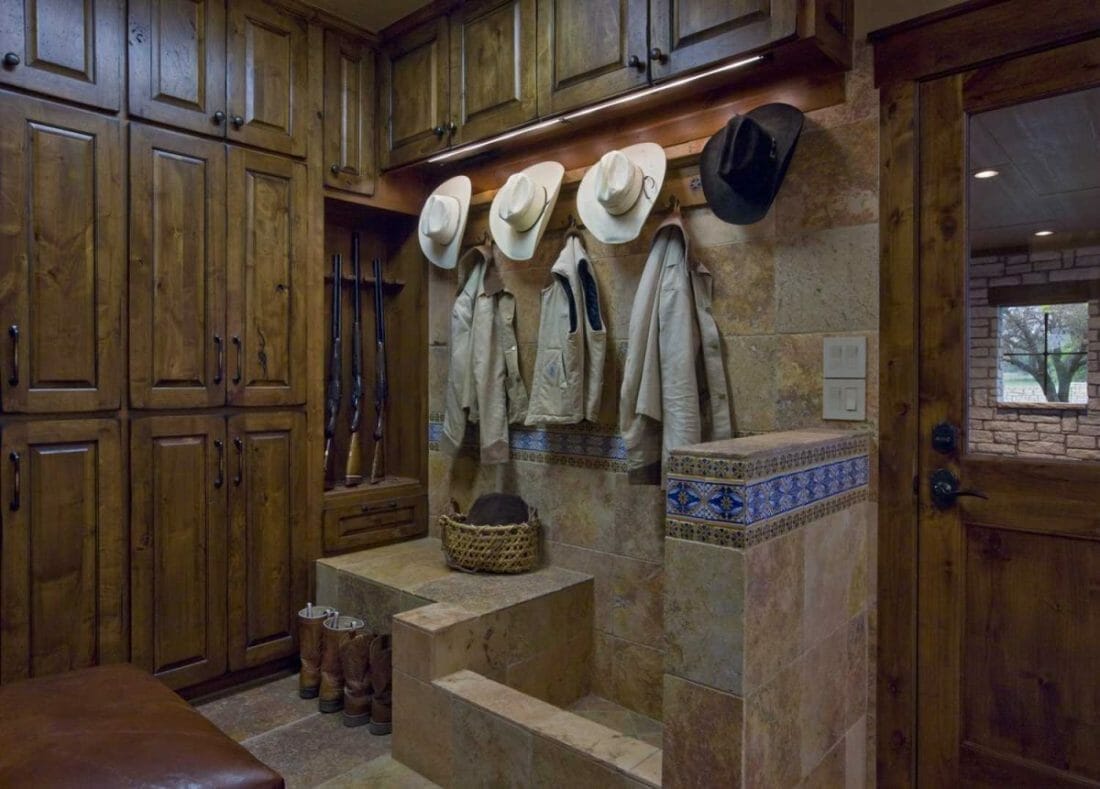 Need fantastic gun room ideas? If so, emulate this home armory. Ceiling-to-floor wooden cabinets keep things under control. There's a rack to showcase guns vertically.
Cream natural stone tiles cover the gun room's flooring and walls. Apart from bringing the outdoors in, they embody timeless grandeur.
The brown leather stool carries an additional dose of warmth. Meanwhile, the under-cabinet strip light illuminates the rack for hats, vests, and jackets. Lastly, Mexican tiles punch up this gun room in seconds.
11. A Pop of Blue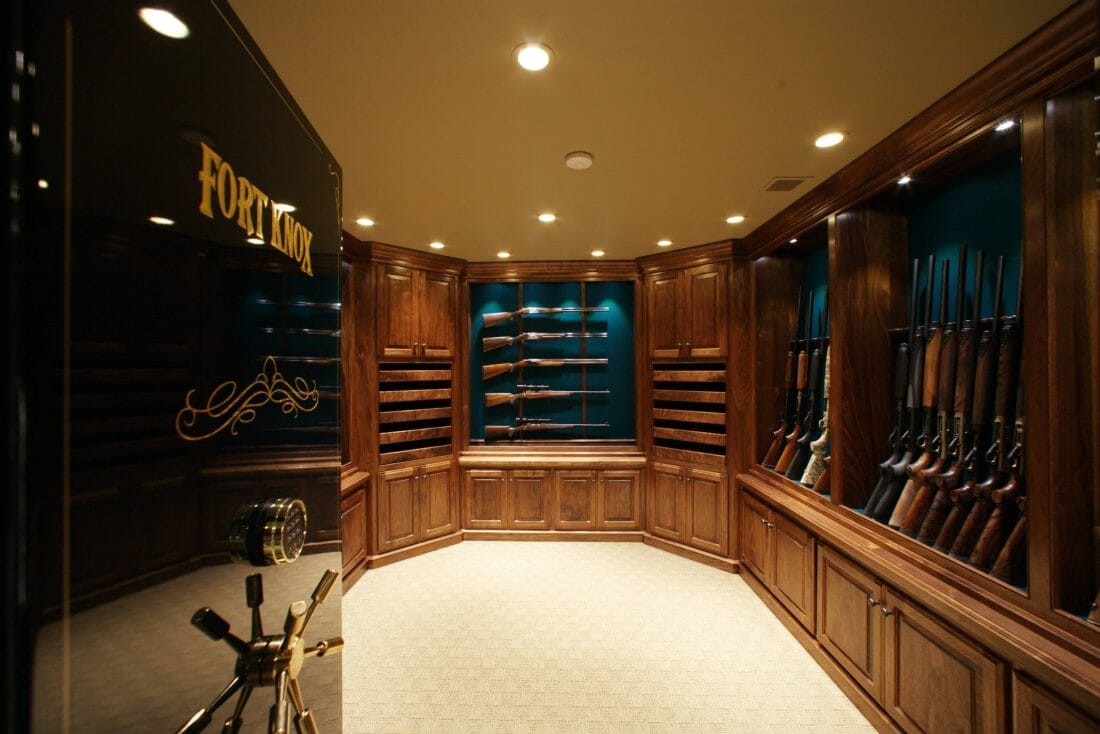 This odd-shaped gun room benefits from the custom wooden cabinetry. The cabinets make it appear homey and elegant while adding function. Moreover, racks let the homeowner put their guns and rifles of varying colors on display.
The beige carpet and cream-painted flooring emphasize hardwood cabinets. Meanwhile, the black safe employs gold details. Furthermore, a burst of bold blue keeps the gun room from looking monotonous. Recessed lights bring proper illumination.
12. Gun Room Ideas with Dark Gray Panels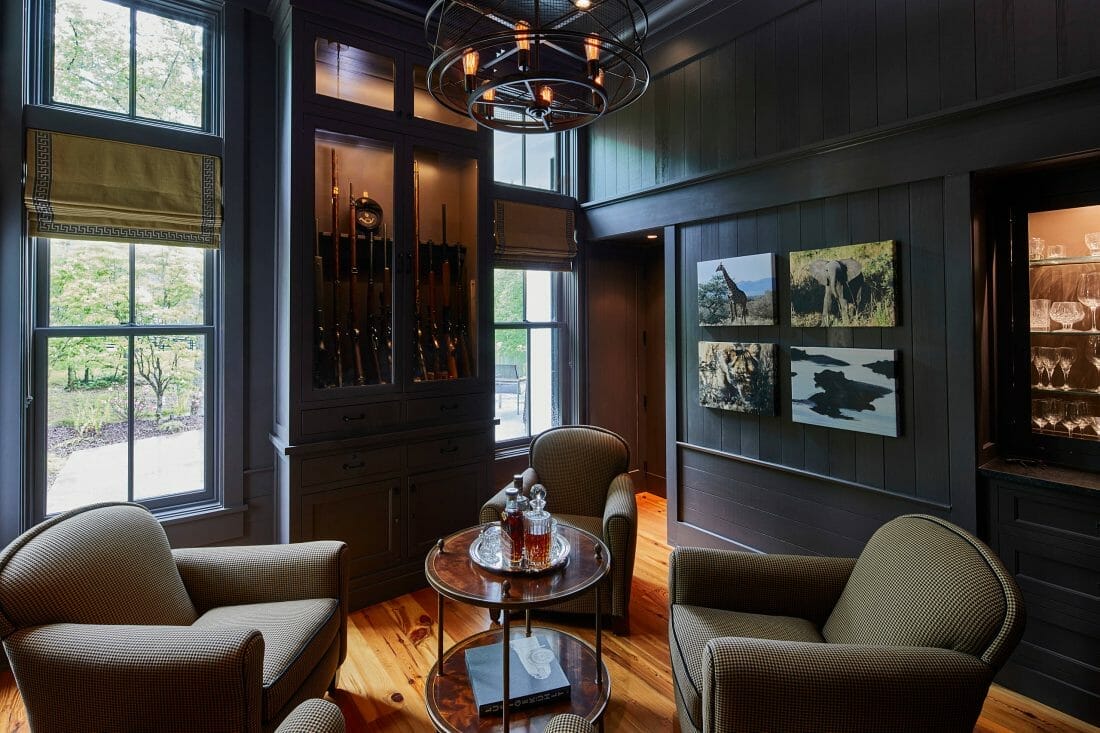 Speaking of man cave gun room ideas, try playing with dark hues. Here, deep gray-painted wooden panels generate enough depth. The ceiling embraces the same color for some extra drama.
The iron chandelier carves a masculine appeal. Moreover, glass-front cabinets showcase drinking glasses and firearms. Meanwhile, windows ensure the gun room doesn't seem dingy.
Light-toned timber floors temper custom dark gray cabinets. Additionally, the seating area lets the homeowner mingle with his close friends. It boasts a warm-toned tiered table and upholstered chairs, while wildlife artworks complete the look.
13. Gun Room Wall Décor Ideas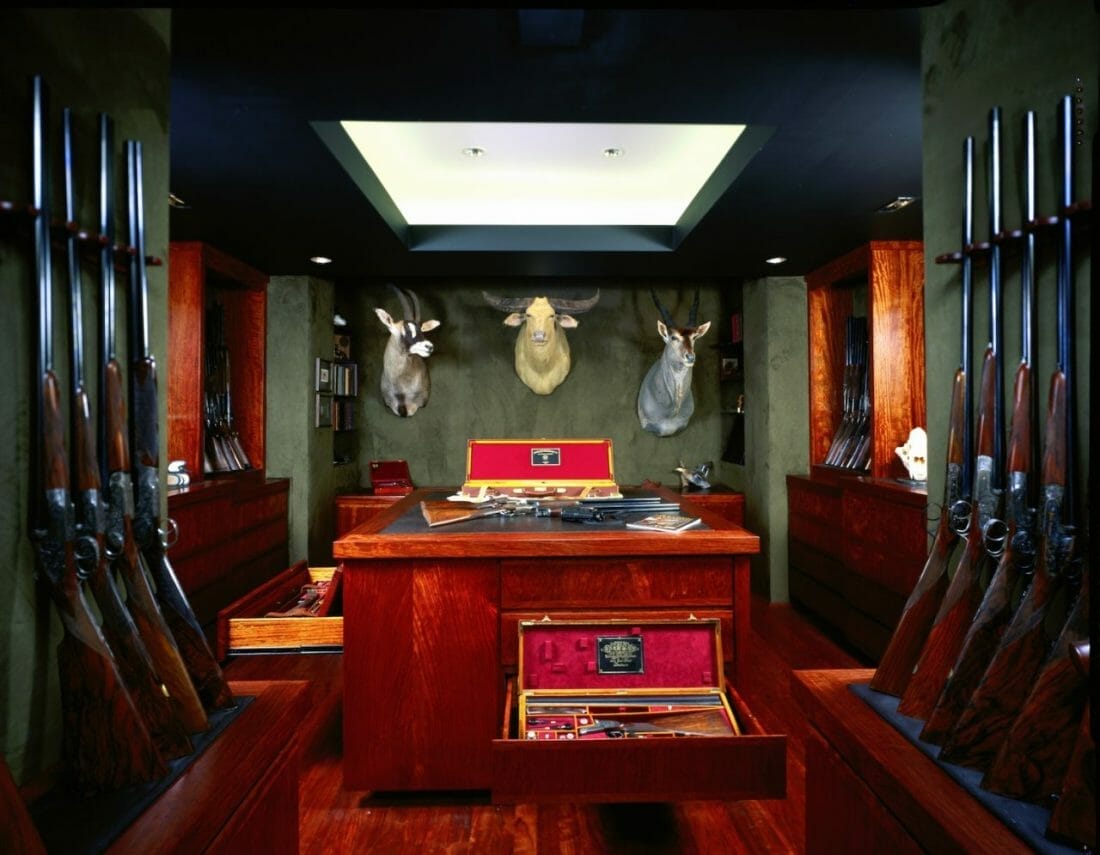 Who doesn't want to acquire this gun room? It's nothing short of magnificent. The cherry hardwood flooring, island, and cabinets introduce a seamless look. Meanwhile, the black-and-white tray ceiling injects interest.
Here, the racks showcase vertical arrangements of firearms. Furthermore, the island enables the homeowner to reload his guns. Artworks and animal heads enliven the earthy green walls.
14. Attic Gun Room Ideas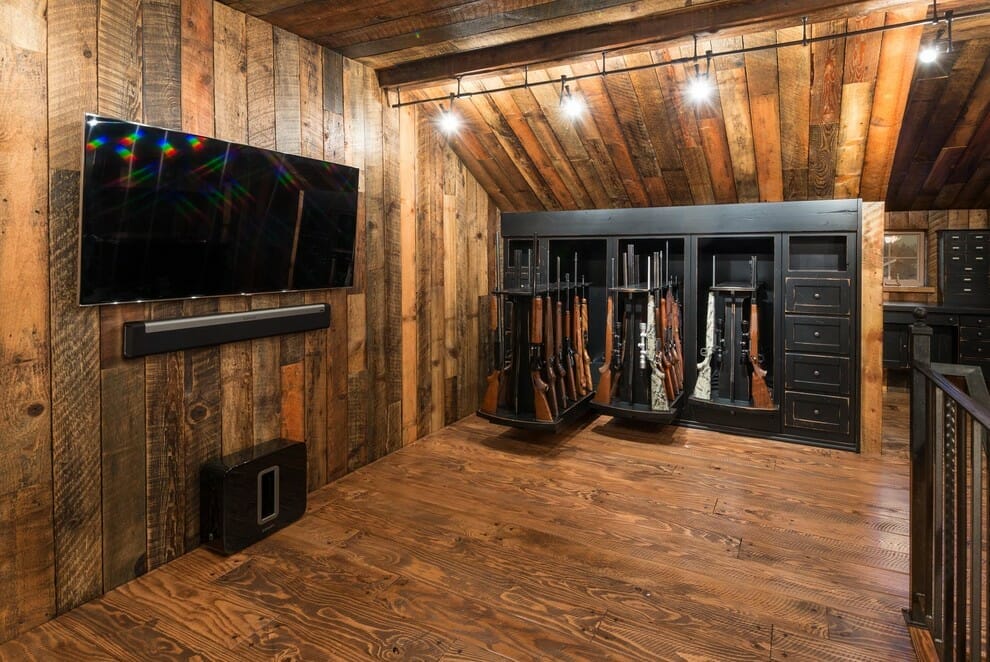 As you see, the homeowner covered his attic gun room with rustic wood planks. Their varied woodsy tones impart lots of visual appeals while warming it up.
The distressed black cabinets feature drawers and pull-out racks. Not only do they portray drama but also keep the homeowner's cartridges and guns in place. Lastly, the TV and iron track lights round out the gun room.
15. Gun Room with Warm Accents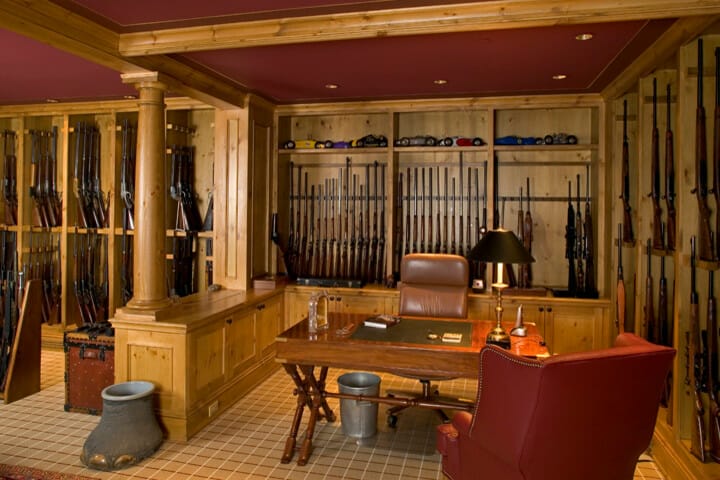 This gun room is intimate and charming. Oak cabinets and pillars brighten it up. There are lots of racks for different types of firearms.
The carpet boosts the gun room's cozy factor. Meanwhile, splashes of muted red and brown temper silver pieces instantly.
16. Tray Ceilings for Gun Rooms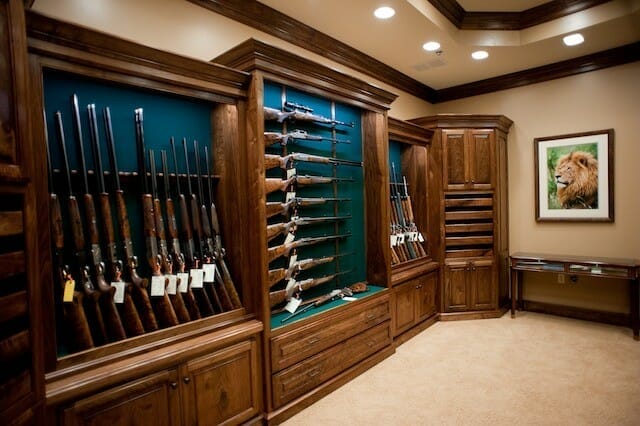 Need gun room ideas with tray ceilings? You're in the right place. Custom hardwood cabinets boast corner cabinetry to maximize available space.
Teal backdrops jazz up the homeowner's firearm collection. Moreover, the beige-and-wood tray ceiling represents cohesion. Meanwhile, the lion artwork over the console table adorns the bare wall.
17. Gun Room Ideas with Recessed Lights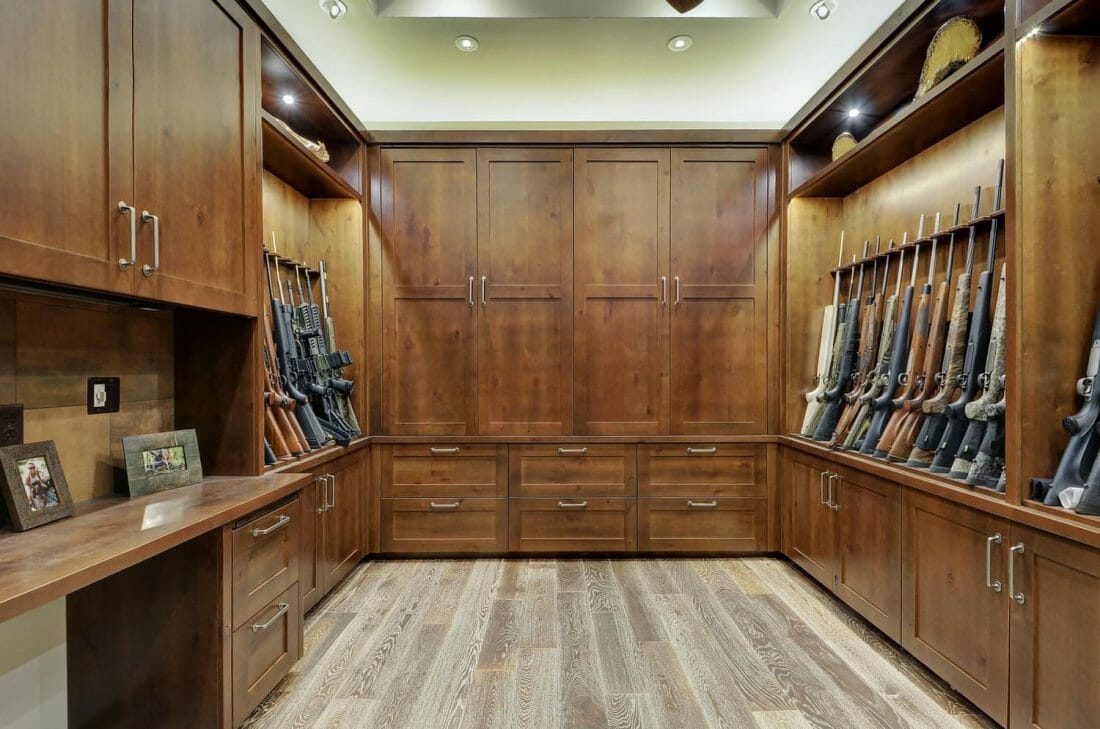 Here, the white recessed ceiling and hardwood cabinets carve a superb juxtaposition. The light-toned timber flooring and can lights give the gun room an airy feeling.
As you see, the racks allow for elegant firearm displays. Furthermore, the hardwood open shelf holds framed family pictures.
18. Be Bold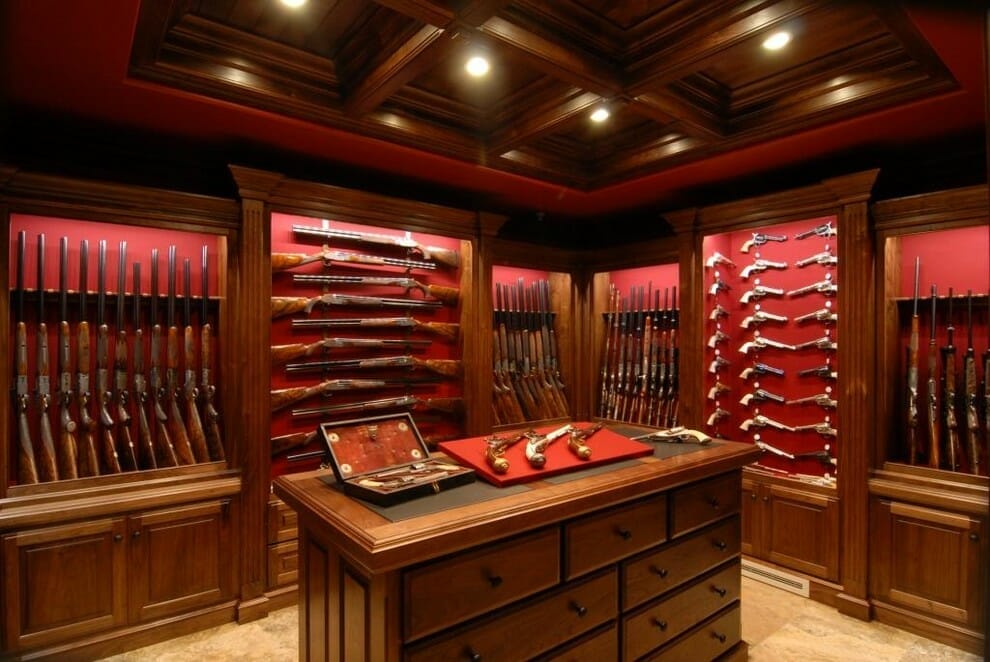 Speaking of gun room ideas, you never go wrong with hardwood cabinets. Not only are they timelessly charming, but also embody a sense of intimacy.
Racks with red backdrops accentuate an assortment of firearms, from handguns to rifles. The bold red-and-wood coffered ceiling ties the gun room together.
19. Airy and Appealing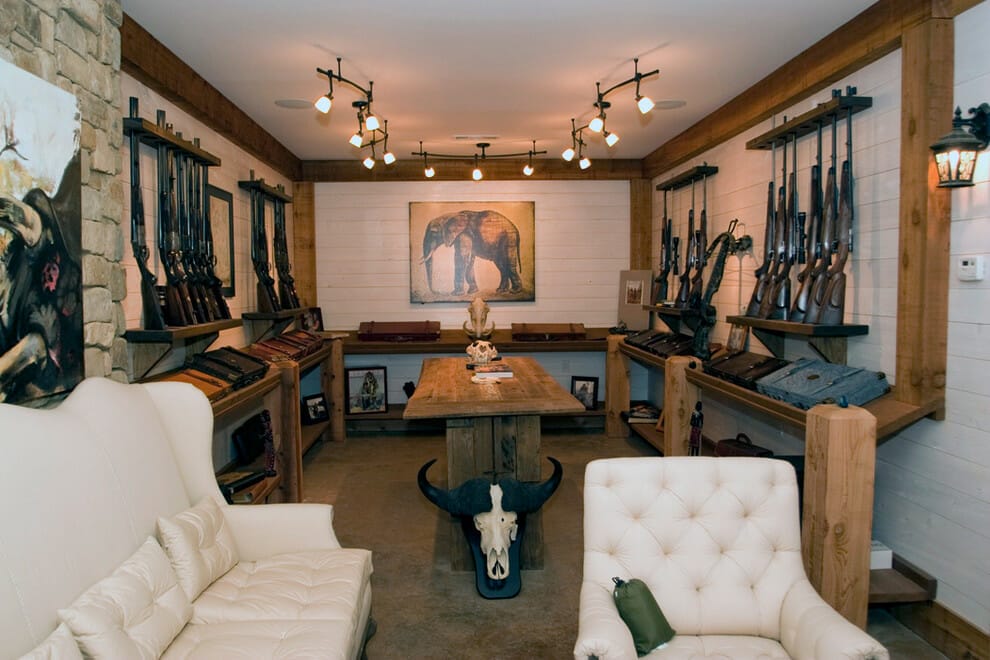 This gun room feels airy due to mismatched white seats and shiplap walls. Moreover, the ceiling emphasizes curved iron track lights.
Shelves display assorted cartridge suitcases. The reclaimed wood table and molding complement the stone focal wall. Meanwhile, wildlife-themed embellishments complete the space.
20. Stunning Symmetry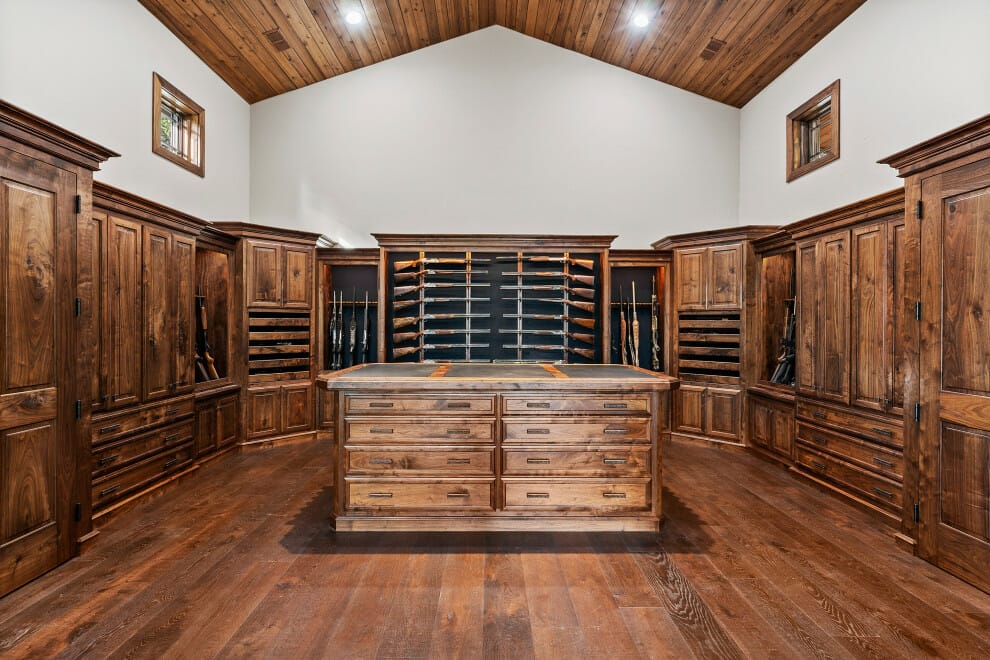 Here, the custom hardwood cabinets keep firearms in place. Furthermore, they inject visual symmetry while depicting lasting warmth.
The island makes gun cleaning and reloading easier. Additionally, white walls emphasize the stained beadboard ceiling with recessed lights.
21. Gun Room with A Seating Area
This gun room combines firearm displays with the man cave. Meanwhile, hardwood shelves showcase hunting guide books and sentimental decorations.
Chevron planks make the tray ceiling look captivating. Moreover, the printed rug, lampshade chandelier, wooden side tables, and upholstered seats finish the gun room off.
22. Gun Room with Recessed Racks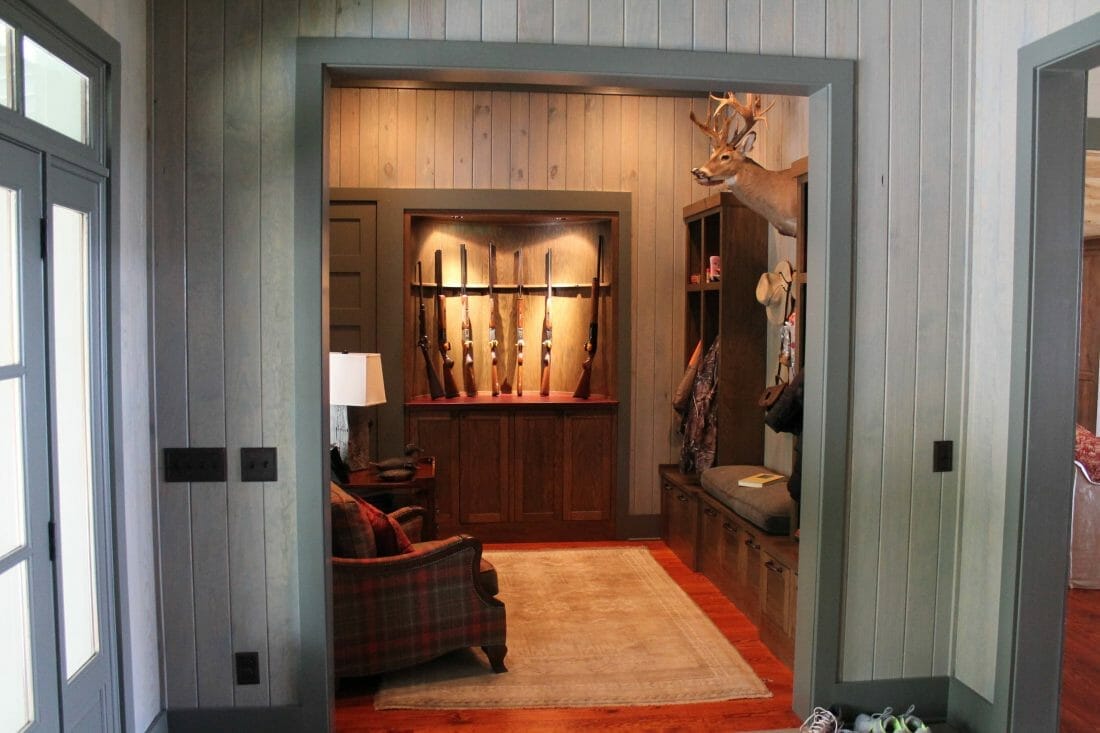 There are abundant gun room ideas. However, if your space craves some country charm, this home armory idea is worth emulating.
The recessed lights illuminate the firearm rack. Meanwhile, the tartan chair, country-style rug, and accent pillows symbolize ultimate coziness. Pops of gray bring visual balance.
23. Gun Room Island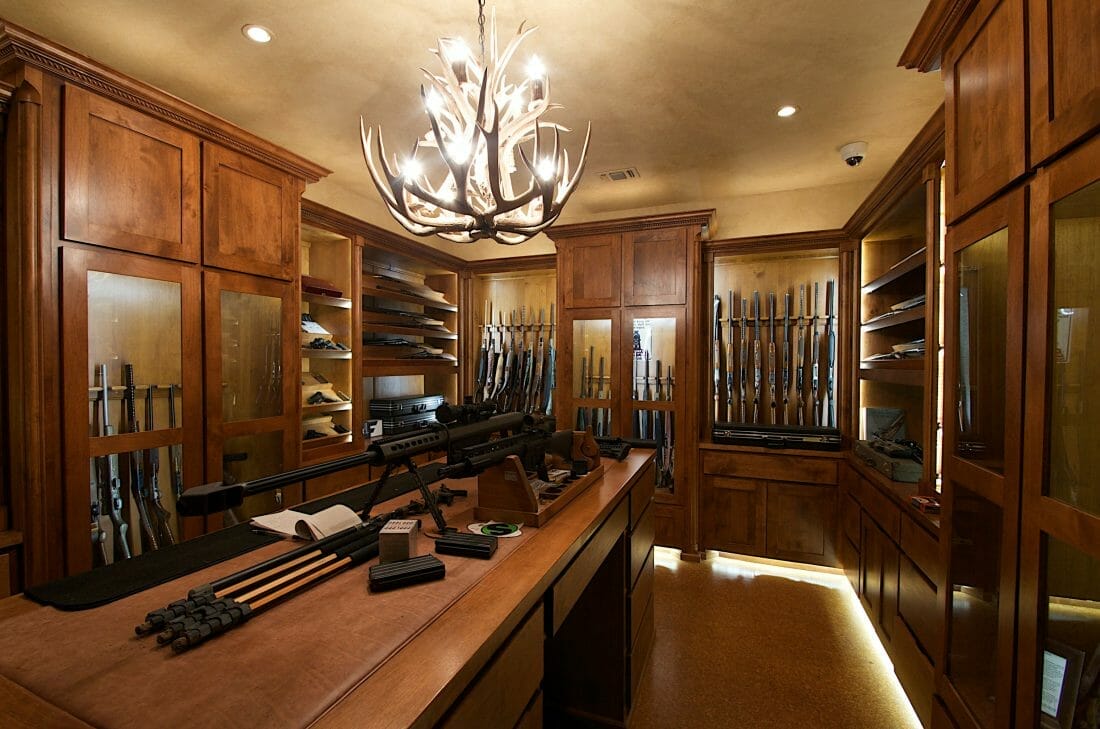 There's a long wooden island in this welcoming gun room. Furthermore, it lets the homeowner reload his firearms with ease.
Custom glass-front cabinets provide classy firearm displays. Additionally, the open shelving displays handguns as well as rifles. Meanwhile, the accent lighting, deer chandelier, and recessed lights exude a feeling of completion.
24. Gun Room Ideas with LED Panel Lights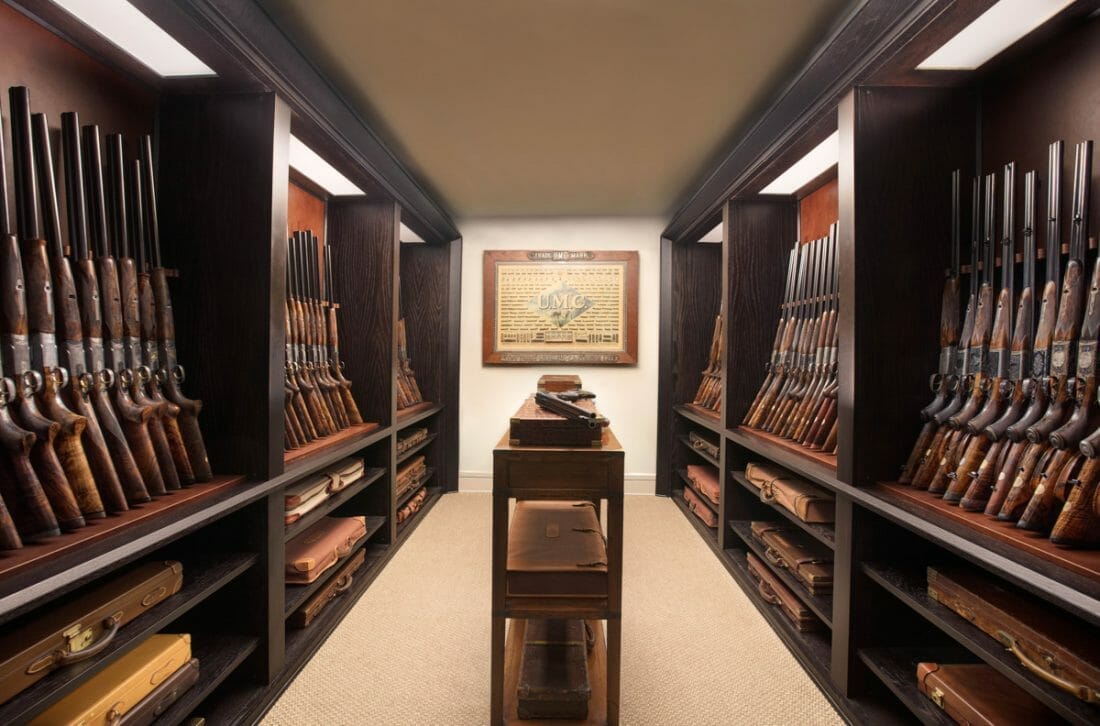 The beige carpet infuses texture while highlighting the long, tiered table. Meanwhile, dramatic wall-to-wall open shelves accommodate cartridge suitcases of different pastel hues.
Racks display vertical arrangements of fine firearms. Moreover, LED panel lights illuminate them properly. Furthermore, the vintage decoration titivates the gun room wall.
25. Corner Cabinets for Gun Rooms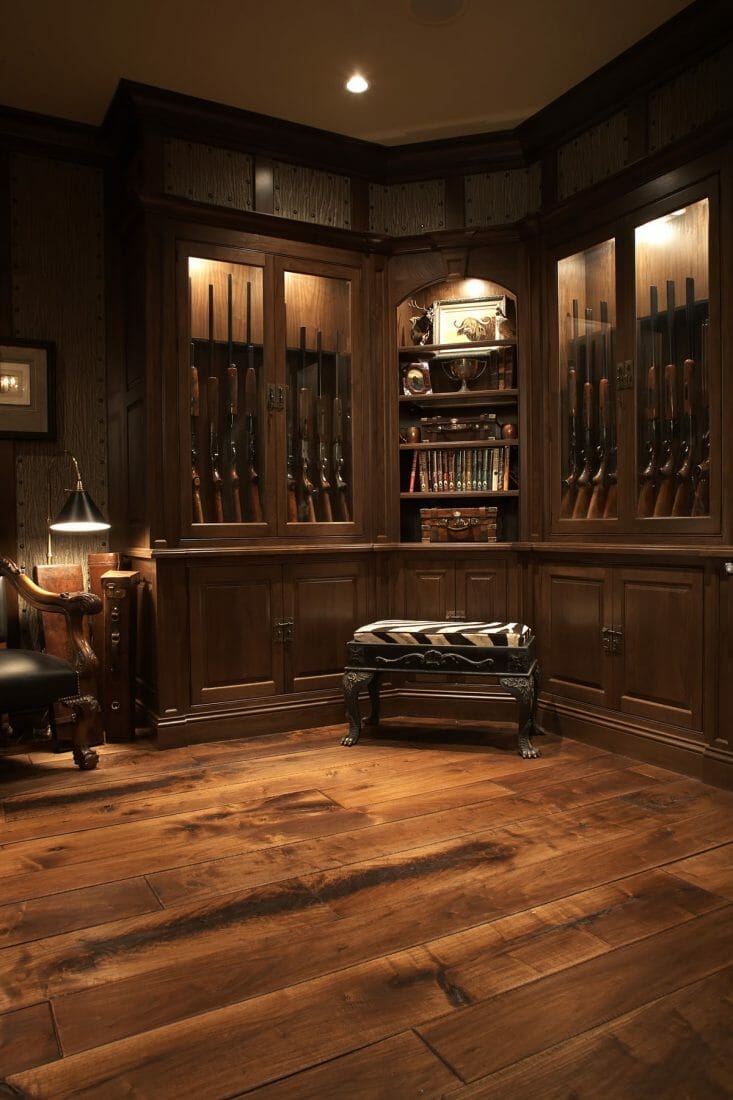 As you see, corner cabinets offer details while making the most of a tiny gun room. Also, they showcase books, firearms, cartridge suitcases, and wildlife art pieces.
Hardwood floors blend with adjacent custom corner cabinets. Furthermore, they accent the vintage printed stool and leather armchair.
26. Gun Room with Glass-Front Cabinets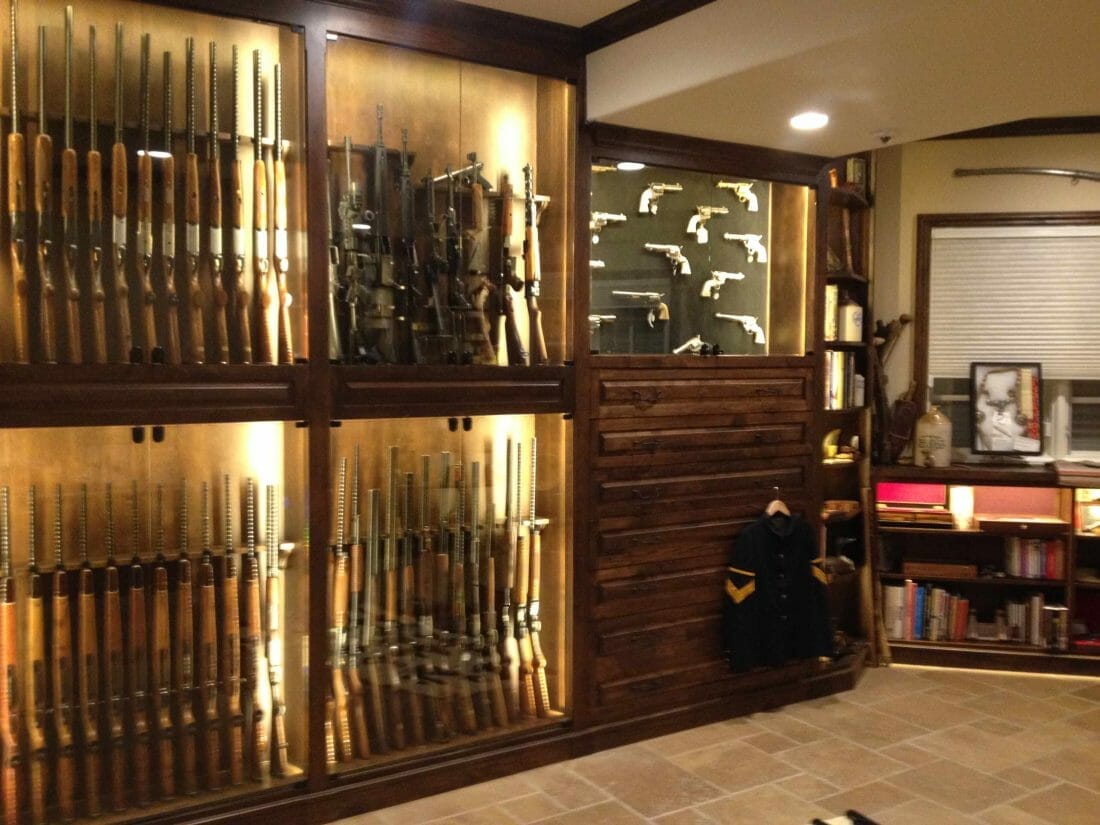 Beige limestone tiles of varied sizes generate some personality. There's a glass-front cabinet for pistols. The recessed lights brighten them.
Glass-front cabinets show neat arrangements of rifles and guns. Meanwhile, touches of color keep the gun room blandness at bay.
27. Gun Room Desk Ideas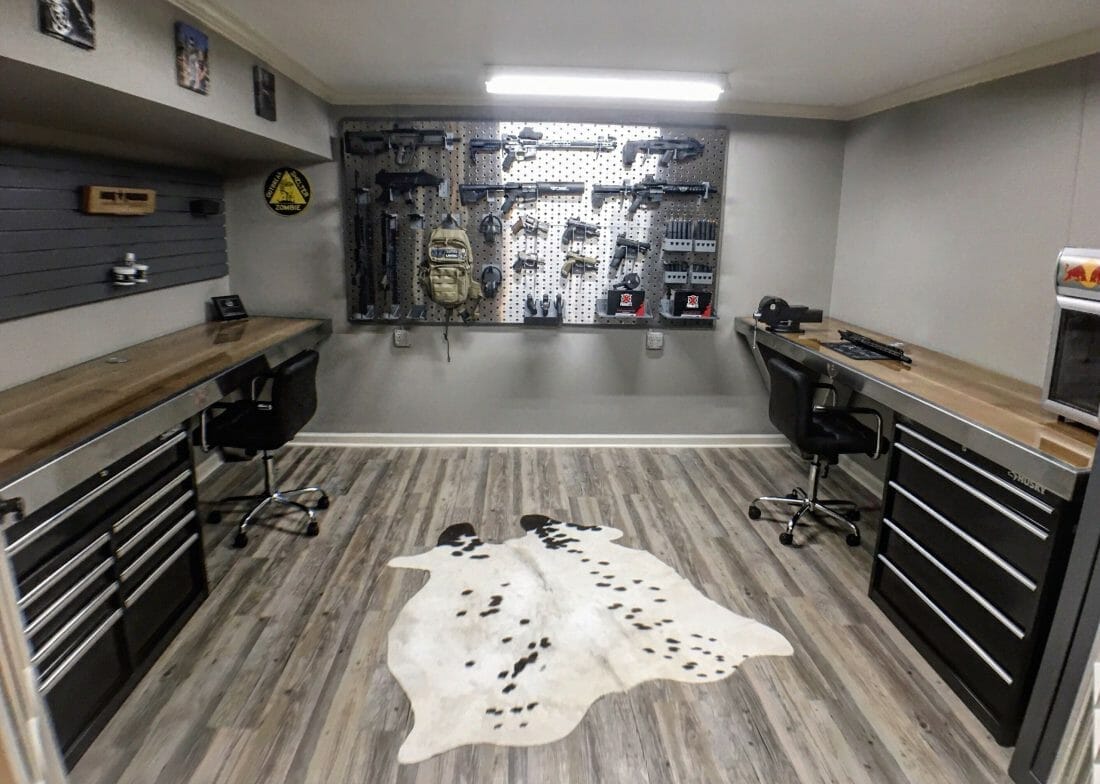 If you need gun room ideas with desks, try out this look. The laminate flooring makes the neutral animal hide rug a focal point.
The LED panel light, soft white moldings, and gray walls speak of pure airiness. Moreover, the gray slat wall and metallic racks keep things organized. Wall ornaments elevate the gun room's look.
28. Gun Room with Track Lights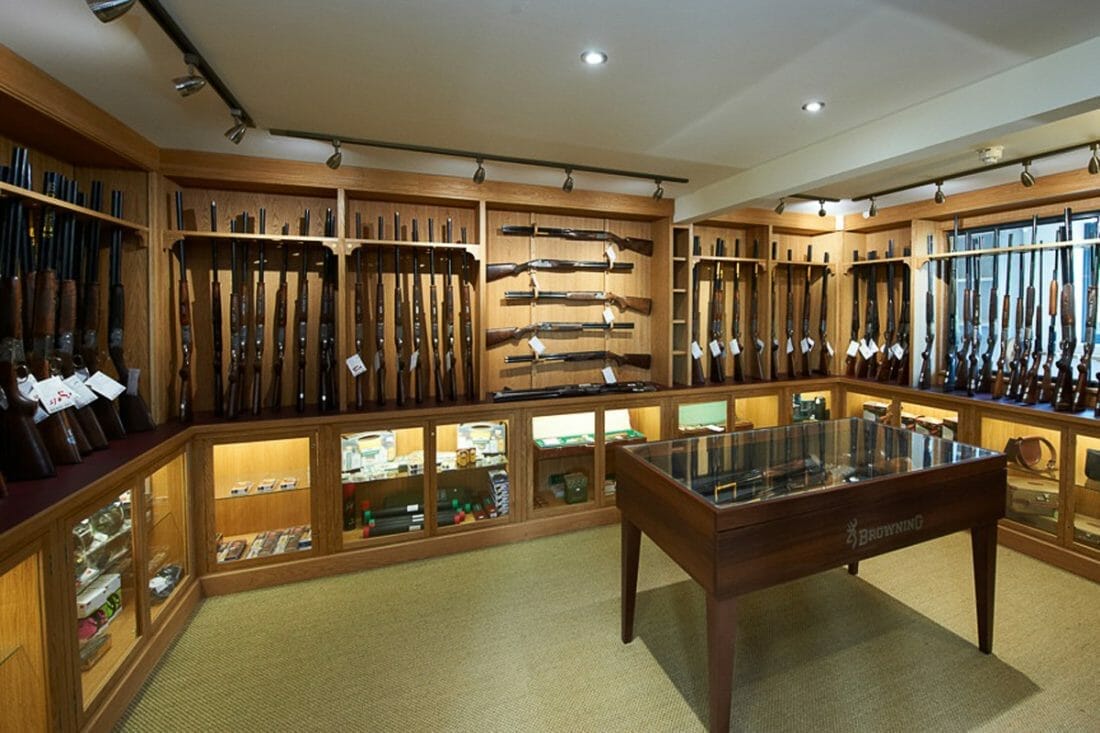 The pale taupe carpet highlights the glass-top storage table. Meanwhile, recessed and metallic track lights lend the gun room appropriate illumination.
Built-in oak gun cabinets employ glass-front bottom cabinets. Furthermore, racks offer elegant displays of the homeowner's firearm collection.
For hunters, guns aren't mere tools, but they're also such prized possessions. Moreover, home armories keep their firearm collections protected. Rely on those impressive gun room ideas when designing a hunting retreat.