Bamboo is not only gorgeous but also versatile, environmentally friendly, and durable. No surprise many dwellers integrate this material into their spaces. If you are into it, read up on 21 enchanting bamboo decorations ideas I've collected below.
Apart from being a sustainable wood, bamboo comes in various stunning colors, from orangish-brown to beigey blonde. Furthermore, bamboo decorations adorn any living space. Without further ado, let's check my superb collection out!
1. Bamboo Hammock Swing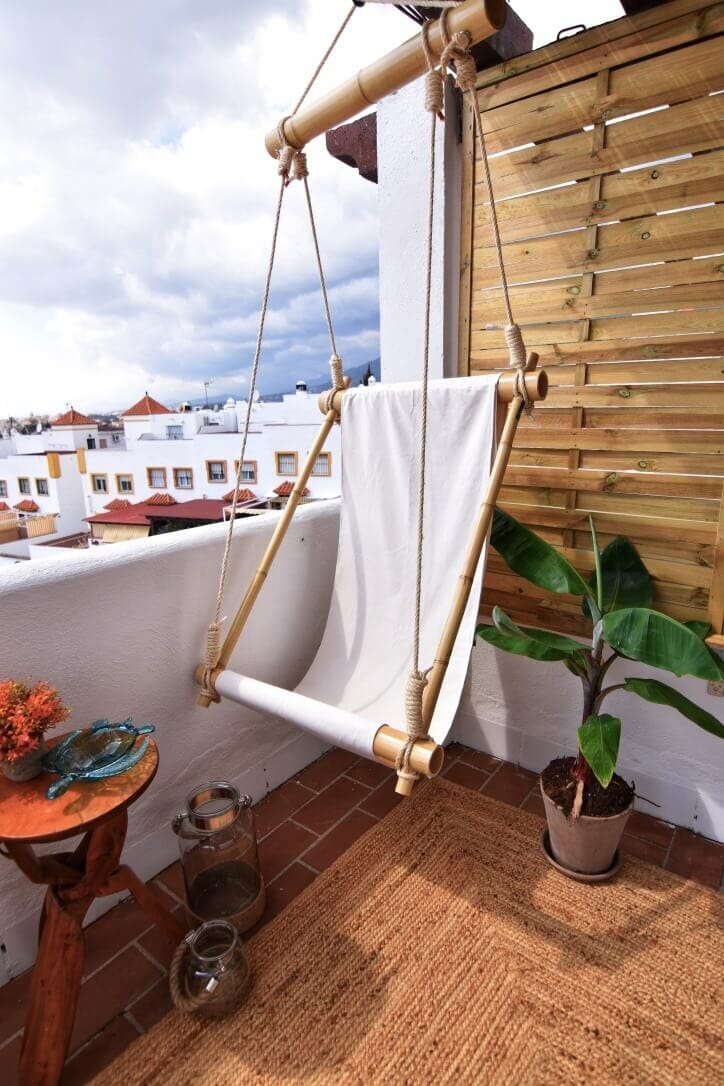 Need bamboo decorations ideas for balconies? If so, give this piece a chance. Here, the bamboo hammock swing is a wonderful complement to a pint-sized balcony.
The bamboo hammock swing generates a relaxed vibe and a fun atmosphere at once. Also, it converts any tiny balcony into a personal retreat.
Without a doubt, this bamboo hammock swing lets the dweller indulge in a fantastic book comfortably. Moreover, it's such a cozy spot to sip morning tea or get fresh air.
The bamboo hammock swing evokes pure tranquility. Meanwhile, the small table accommodates a vase and a blue glass tray.
2. Bamboo Decoration in Living Rooms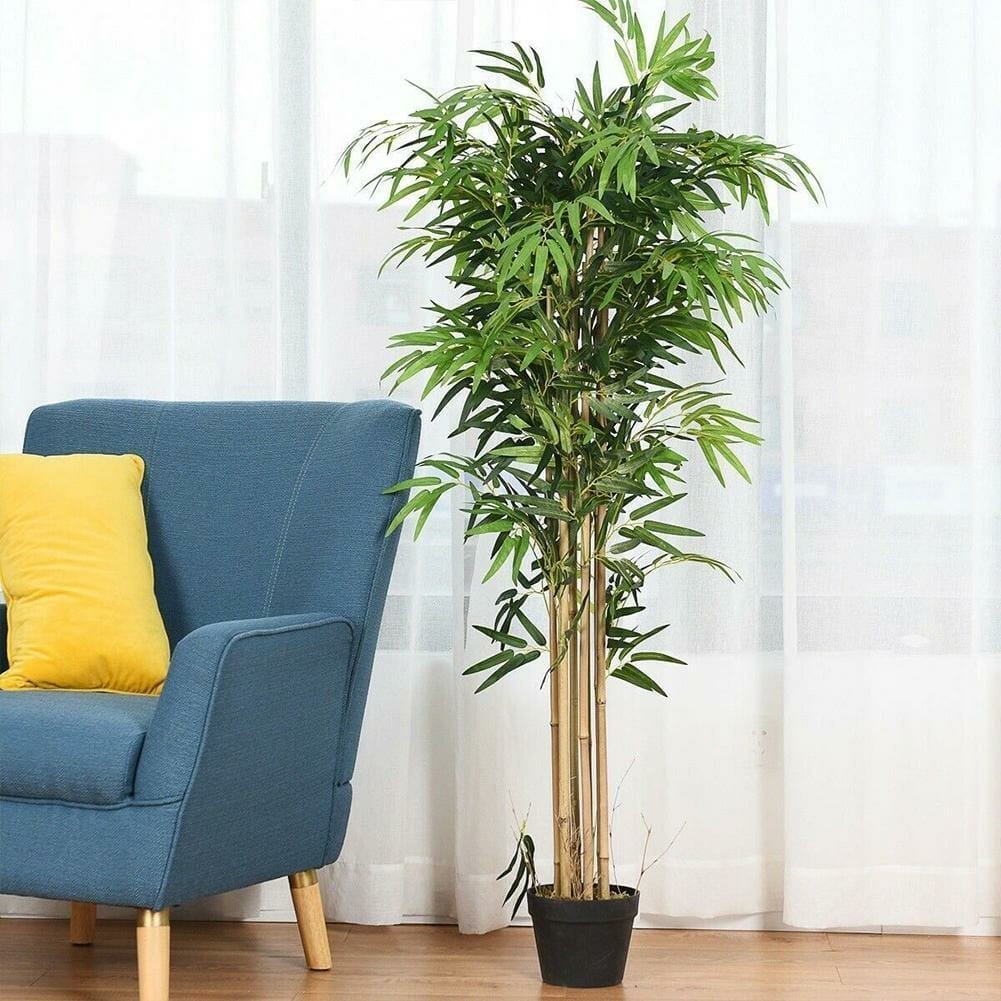 If you can't keep your bamboo plants alive, this idea is worth borrowing. Here, the living room employs an artificial bamboo tree. Furthermore, it instantly infuses the sitting area with texture and color.
The black pot does not only hold the artificial bamboo plant but also exudes drama. Moreover, the white sheer curtain highlights the fake bamboo tree.
Blonde bamboo stalks match wooden furniture legs. In addition, the muted blue armchair accompanies the artificial indoor plant. The unit enables the yellow rectangular throw pillow to shine, too.
3. Bamboo Decorations Ideas for Bedrooms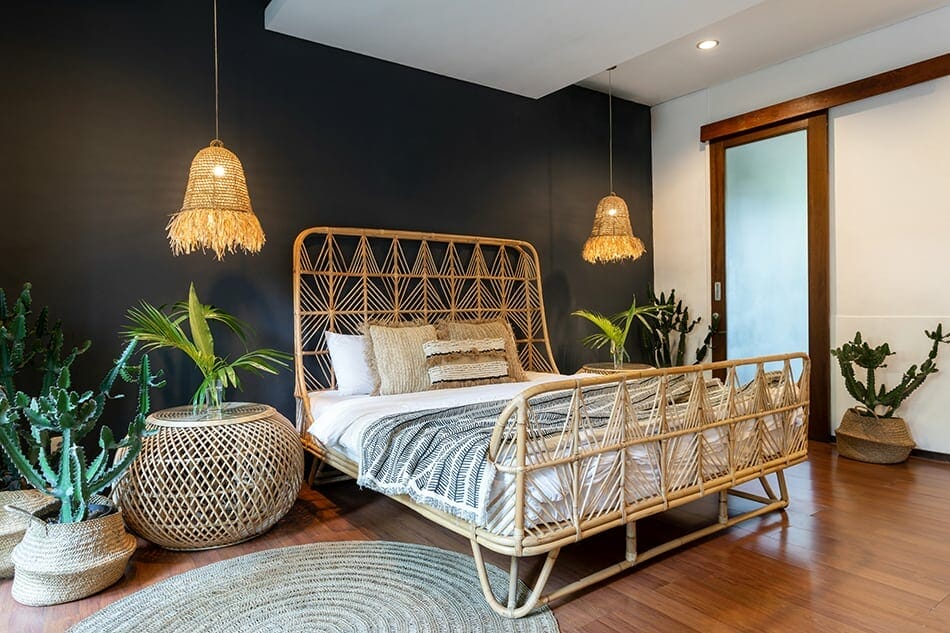 Bamboo can accessorize any space. Moreover, it's a remarkable material for use in numerous furniture items.
This bedroom, for example, has a bamboo bed frame with a matching headboard. Apart from developing a cozy atmosphere, it offers a visual appeal.
The bamboo headboard and bed frame are somewhat lightweight as well as durable. In addition, palm leaves and bamboo side tables heighten the tropical vibes. They inject an earthy element, too.
Wicker pendant lamps and planters give the bedroom an extra touch of natural texture. Furthermore, the black accent wall acts as a dramatic backdrop. Lastly, cacti quickly introduce a bohemian atmosphere.
4. Bamboo Tower Planter Turned Decoration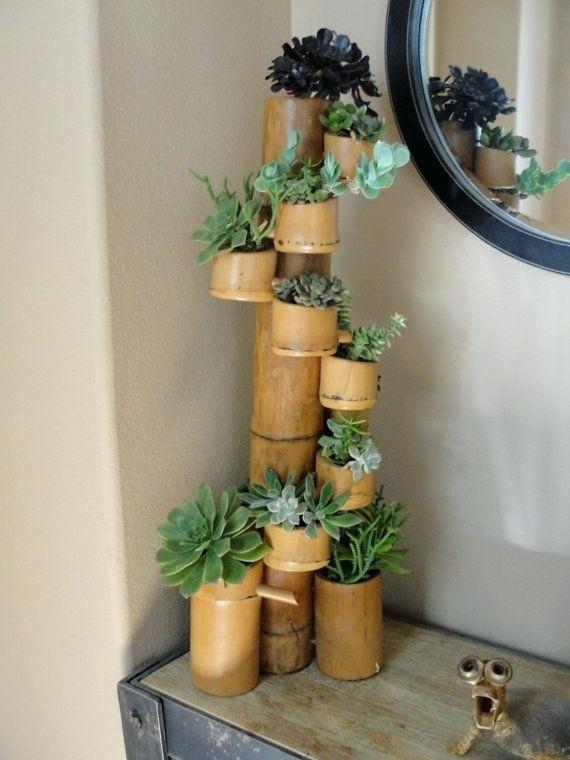 This is one of the incredible bamboo decorations ideas. As the image shows, the bamboo tower planter imbues the room with texture and color. Furthermore, it inspires zen as well as harmony instantly.
The bamboo tower planter on the weathered wood surface produces an inviting look while warming things up. In addition, it becomes a rustic but ravishing decoration.
Here, the blonde bamboo tower planter magnificently holds succulents. Also, it teams up with the mirror to brighten the room up. Moreover, the white-painted backdrop lets the unit take center stage.
The bamboo tower planter and succulents infuse outdoorsy vibes. Meanwhile, the turtle ornament atop the vanity provides a whimsical touch.
5. Bamboo Decoration In Houses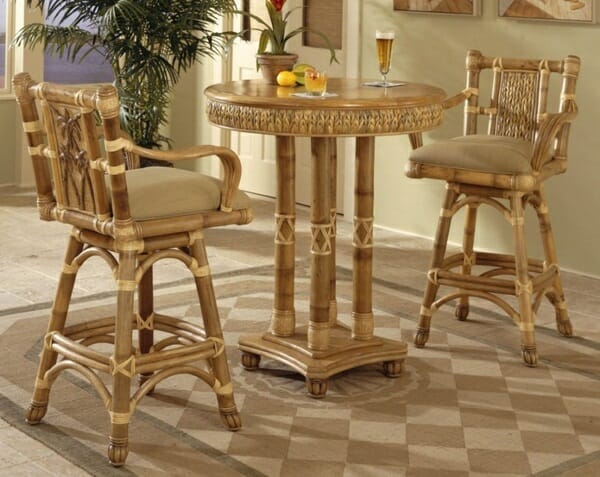 With many bamboo decorations ideas, your choices are limitless. Bamboo makes for outstanding decorations. Furthermore, this material is fabulous for use in lots of furniture items.
Nowadays, you can spot a flood of bamboo furniture units such as bed frames, tables, and chairs with ease. Additionally, many homeowners admire such pieces since they're lightweight yet durable.
This room, for example, features a bamboo table and high armchairs with tan seat cushions. They suddenly generate a serene feeling and tropical vibe. Moreover, houseplants bring the tiny dining area to life, while the rug exudes cohesion and comfort.
6. Bamboo Decorations Ideas for Bathrooms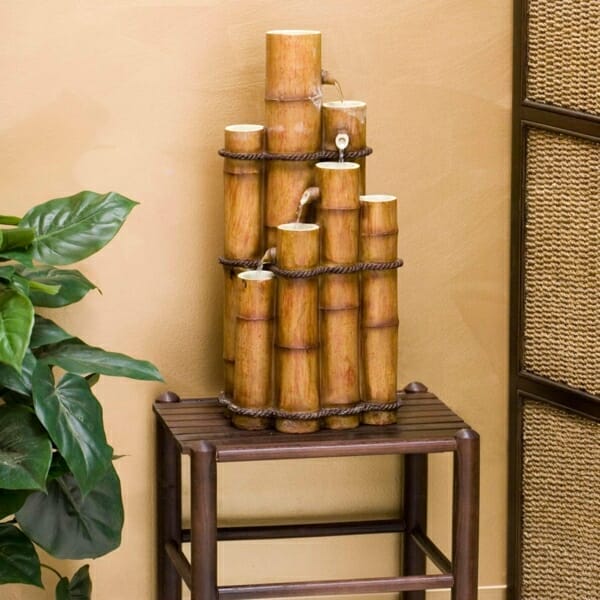 Bamboo comes in numerous colors. This bathroom, for example, has an orangish-brown bamboo water fountain. As you see, its rich tone makes the space more welcoming. Here, the unit blends with the beige backdrop marvelously, too.
The freestanding bamboo fountain does not only lend the bathroom natural texture but also color. Moreover, it provides flows of good energy. In addition, the item suddenly invites a peaceful atmosphere into the area.
Jute rope accents carve a comfortable feel. Furthermore, the statement houseplant next to the bamboo fountain rejuvenates the bathroom.
7. Bamboo Headboard for Bedrooms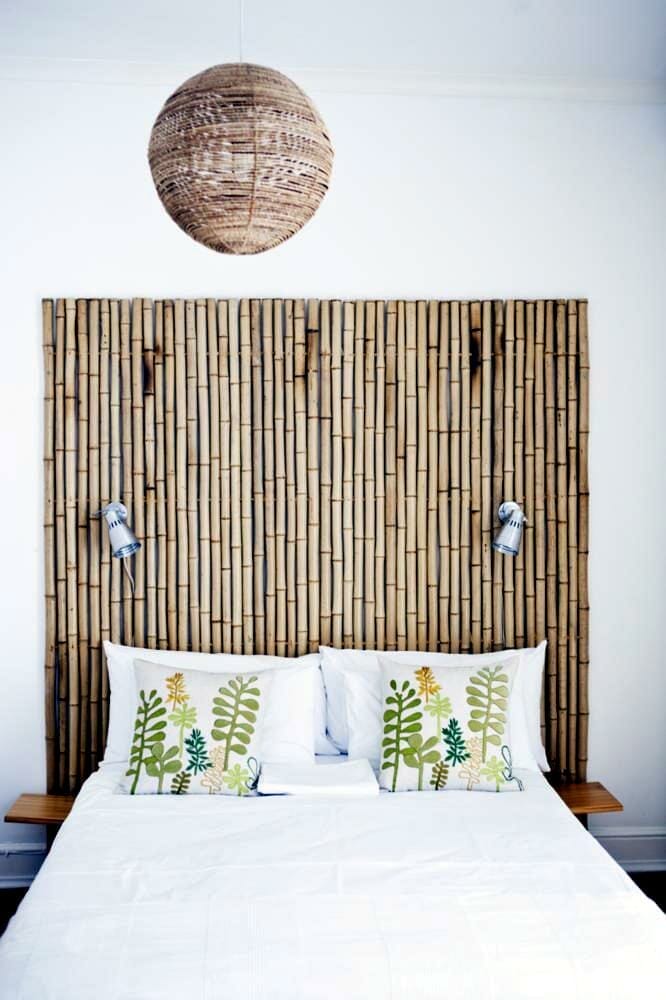 Speaking of bamboo wall decoration ideas, consider painting the backdrop white first. It allows the bamboo ornament to become a centerpiece.
In this bedroom, crisp white dominates the scene, from base molding to ceiling. Moreover, the color develops a clean and open ambiance.
Bamboo sticks become a rustic but graceful headboard. Apart from offering some beauty, it also exudes a sense of welcome.
The woven bamboo pendant light and headboard balance out silver light fixtures. Lastly, pure white throw pillows display colorful botanical prints that perk the bedroom up.
8. Bamboo Decorations Ideas for Living Rooms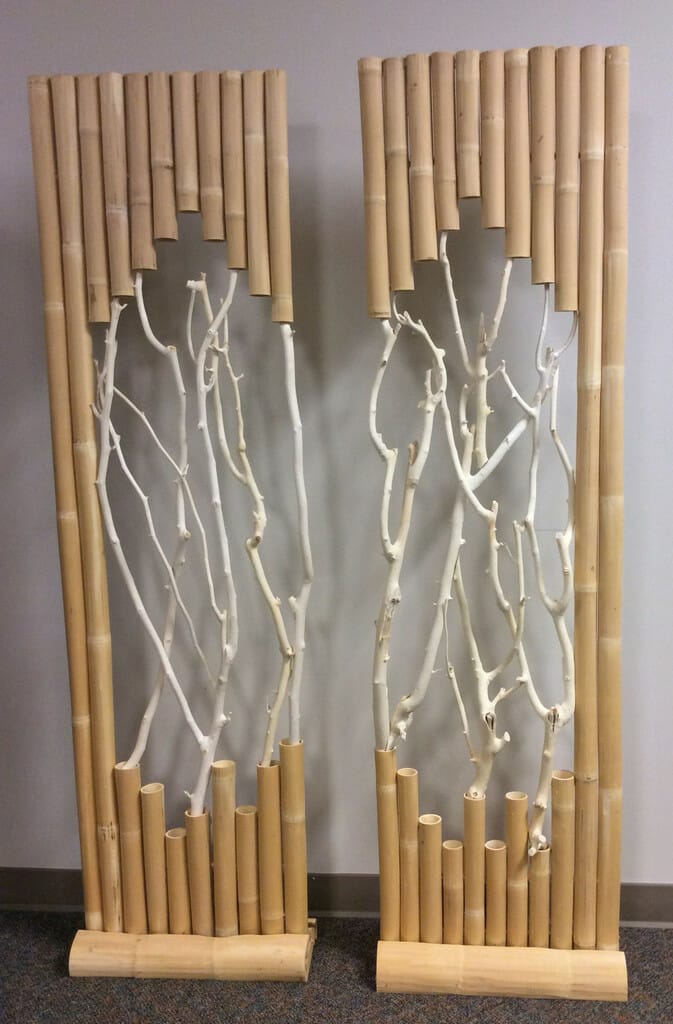 As the photo shows, the decoration features pale blonde bamboo poles. In addition to carving a zen atmosphere, they inject a natural element.
This bamboo ornament lends the interior dimension as well as visual depth due to its stair-step columns. Moreover, it quickly injects the living room with a woody vibe.
Blonde bamboo poles offer visual symmetry and style. The white backdrop accentuates them fabulously while exuding airiness. Furthermore, the deep gray floor and base molding inspire sophistication.
Warm and crisp white tree branches subtly clash with blonde bamboo poles. They give off an outdoorsy feel while providing astonishing asymmetry.
9. IKEA Bamboo Lamps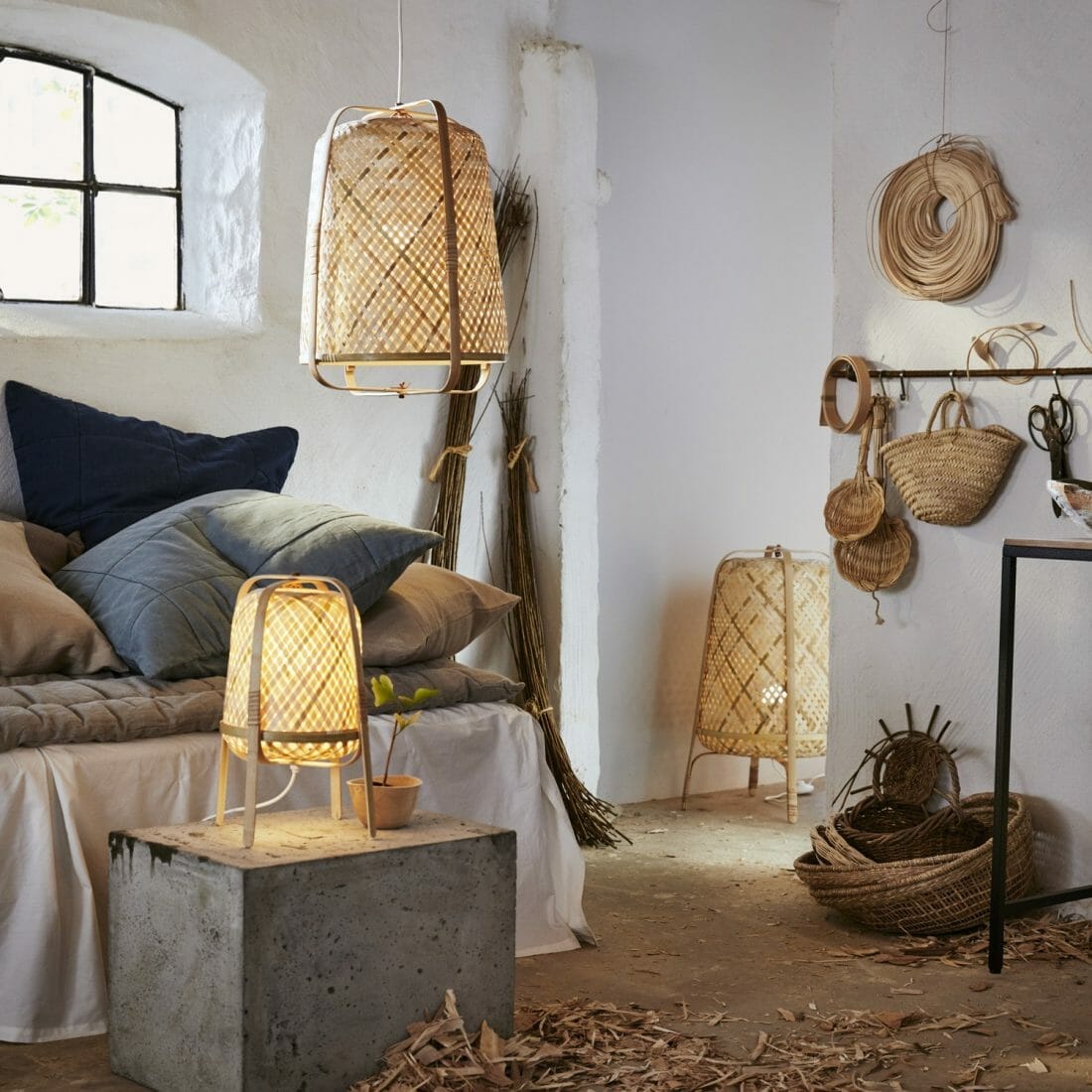 There are lots of bamboo decorations ideas, and these ornaments wow me instantly. Since the units sport light-toned woven bamboo pieces, they add loads of texture.
These bamboo pendant lamps produce a natural atmosphere. In addition, they develop interest. Moreover, the pieces are environmentally friendly and aesthetically pleasing.
Because of white textured walls, hanging and freestanding bamboo lampshades become centerpieces. Furthermore, they channel the artificial light into the area while infusing an earthy element.
Tan, gray, and black throw pillows evoke pure coziness. Lastly, bamboo platters and trays instantly send out a creative feel.
10. Bamboo Decorations Ideas for Patios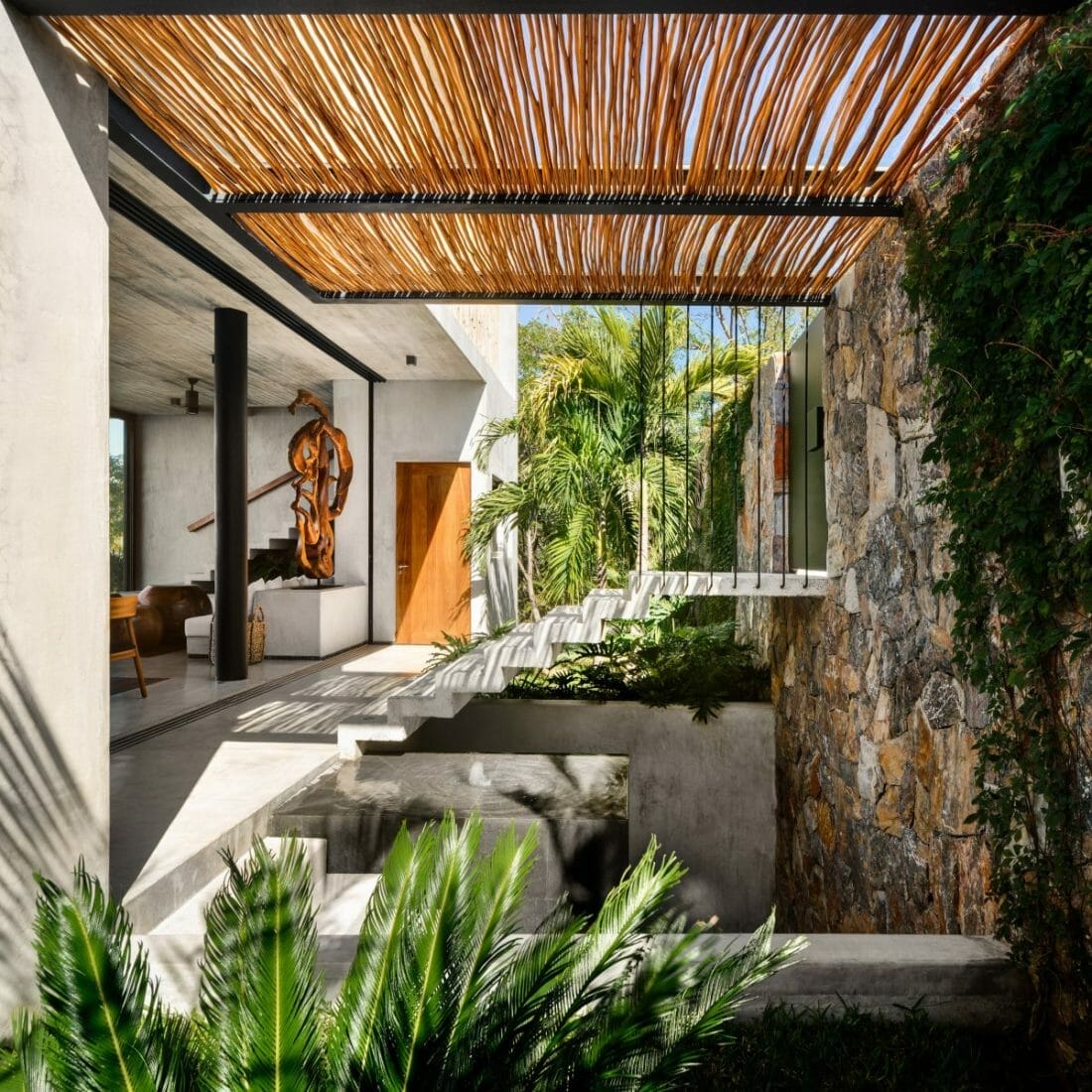 With loads of bamboo decorations ideas, you have numerous choices. This patio, for example, features a white ceiling, steps, and walls. Apart from emanating a modern feel, they develop a brighter atmosphere.
The bamboo rod screen accompanies modern furnishings. Moreover, it lends the patio a rustic accent while keeping the area minimalist as well as simple.
The black metal frame and white ceiling allow the earthy tone of the bamboo rod screen to pop. Furthermore, the abstract wooden decor offers a pleasing aesthetic. In addition, palm trees harmonize with other natural elements.
11. Green Bamboo Candleholders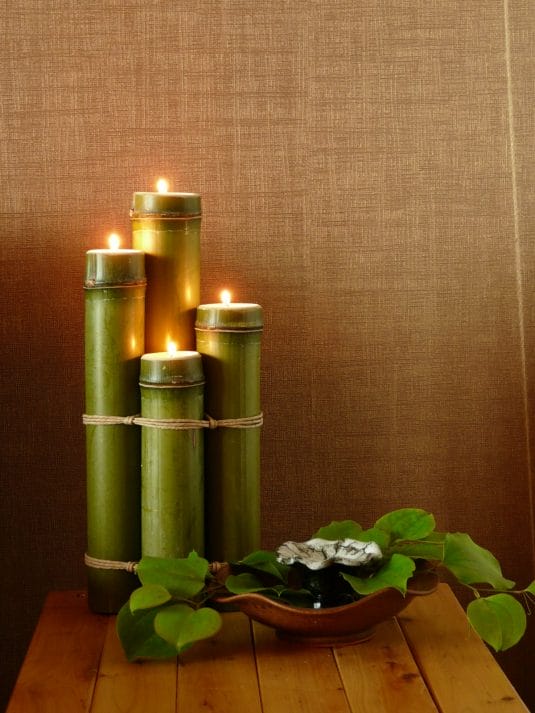 Need bamboo decorations ideas? If yes, apply this mesmerizing design. The bamboo ornament generates a stunning silhouette. However, the blonde color can feel slightly stark. That's why I recommend opting for the item that matches the room's palette.
These green bamboo candleholders lend the bathroom fantastic color accents. In addition to evoking a romantic ambiance, they develop a serene feeling. The tan textured wall becomes an ideal backdrop for them.
Jute ropes around the green bamboo poles give the bathroom cozy textures. Moreover, the curvy tray softens the look. Meanwhile, the wooden small table and greenery bring outdoor elements in. Lastly, candles offer decent illumination.
12. Modern Bamboo Decorations Ideas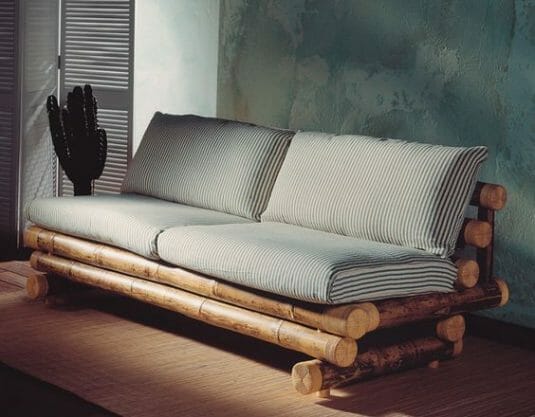 Bamboo furniture pieces are your friends. Apart from being naturally gorgeous, they are also lightweight and long-lasting. Furthermore, the pieces blend effortlessly with any color scheme.
This bamboo sofa infuses tropical vibes. In addition to offering cozy seating, it lends the living room a minimalist style too.
Monochromatic striped seat cushions adorn the unpainted bamboo sofa. Moreover, the potted tall, green cactus quickly punches the living room up.
The gray concrete wall lets the bamboo sofa become a focal point. Meanwhile, the white wooden shutter room divider adds interest.
13. Bamboo Decoration Wall Shelf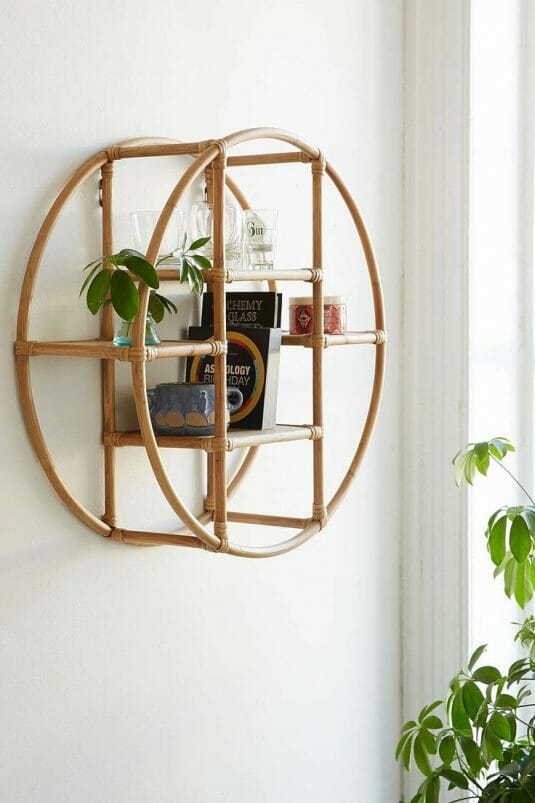 Need storage solutions? If so, this is one of the bamboo decorations ideas you should borrow. Here, the bamboo wall shelf lends the living room a stylish touch. Although the item is small, it offers ample space to display ornaments.
As you see, the round bamboo shelf clashes with a pure white background. Moreover, it houses books, decorative glasses, and colorful pieces.
The bamboo wall shelf exudes serenity and organized comfort. Furthermore, it displays living room essentials in a super fabulous manner. Lastly, tropical plants in the blue glass vase and pot invigorate the area.
14. Bamboo Decorations Ideas for Mudrooms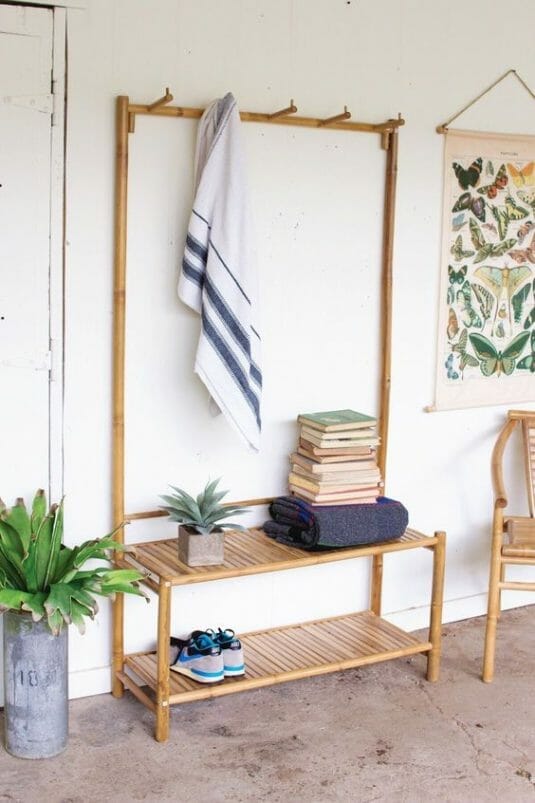 Can't get enough of the bamboo furniture? Instead of adding one, I suggest you integrate two units into your mudroom.
The freestanding shelving unit boasts two open shelves. Apart from acting as a decoration, it houses a potted plant, a pair of shoes, a navy towel, and stacked books.
As you see, the shelving unit includes five towel holders. The bamboo armchair heightens the tranquil atmosphere.
Next to the blonde bamboo shelving unit is a potted houseplant. Furthermore, behind the armchair is a wall hanging with breathtaking butterfly prints.
15. Bamboo Wall Design Images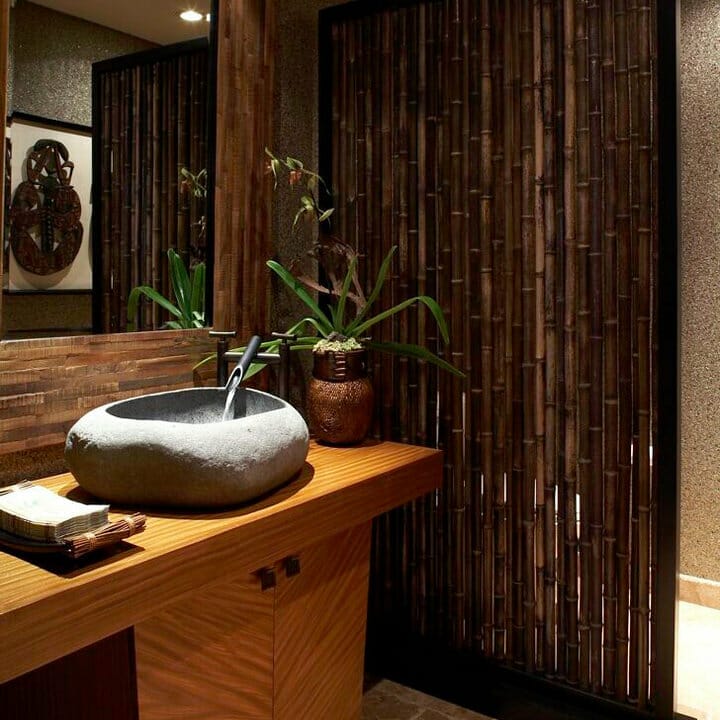 Speaking of bamboo stick decoration ideas, take cues from this bathroom picture. The dark brown bamboo poles make for a remarkable wall that poses as a room divider.
Here, rich tones of bamboo poles develop an inviting look and a minimalist appeal. In addition, downlights brighten the otherwise gloomy bathroom up. Moreover, the light-toned wooden vanity showcases striking grains.
The wooden backsplash and gray stone sink create visual balance. Furthermore, they complement the tree branch tray and indoor plant. Lastly, the water feature quickly inspires mental tranquility.
16. Two-Tone Bamboo Decorations Ideas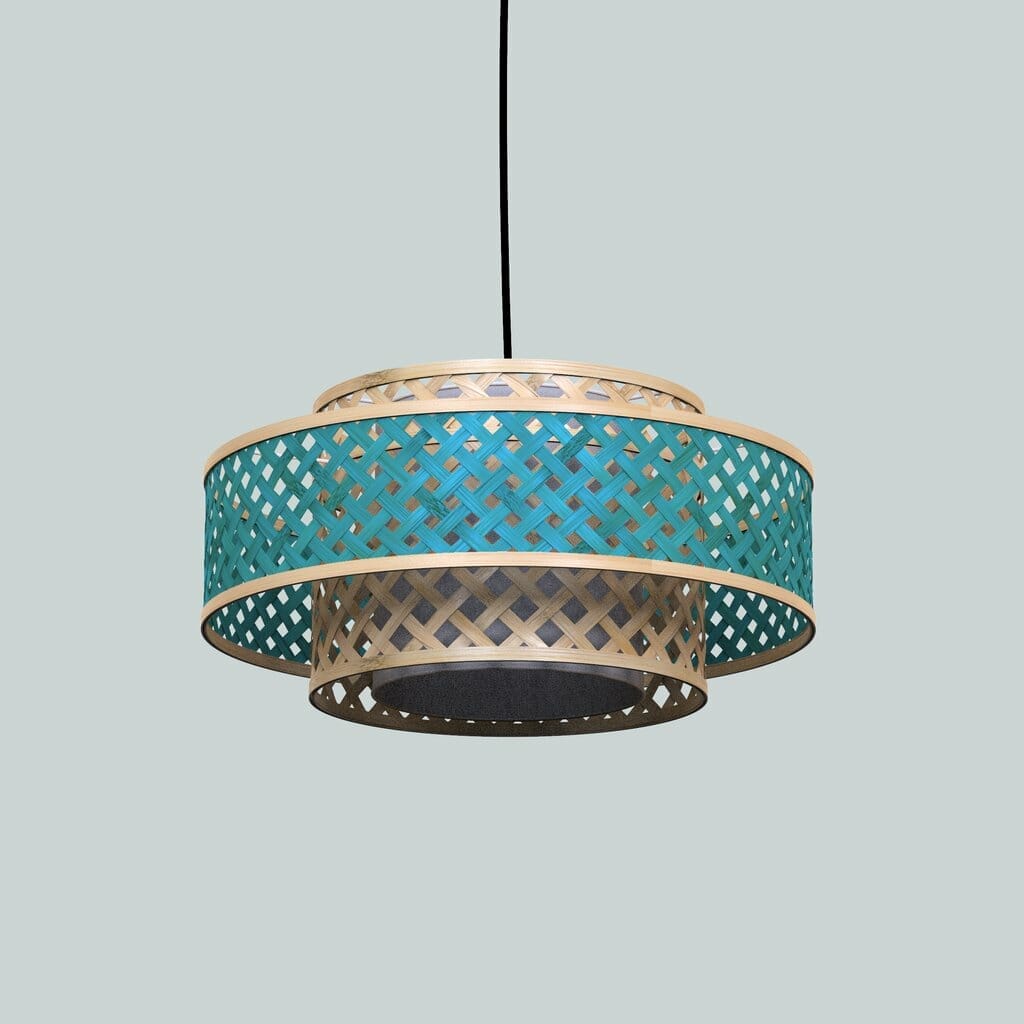 Without a doubt, bamboo ornaments are versatile. Furthermore, they can work in any color scheme. Additionally, the pieces lend the room texture, style, and functionality.
This woven bamboo pendant lamp produces a welcoming vibe. Not only does it seem spectacular but also carves a visual interest.
Blonde woven bamboo pieces give the lampshade a bright look. They inject a rustic atmosphere while generating a fantastic silhouette. Moreover, blue-painted ones spruce the interior up. Due to the pale gray backdrop, the lampshade becomes a focal point.
17. Bamboo Decorations Ideas for Outdoor Bathrooms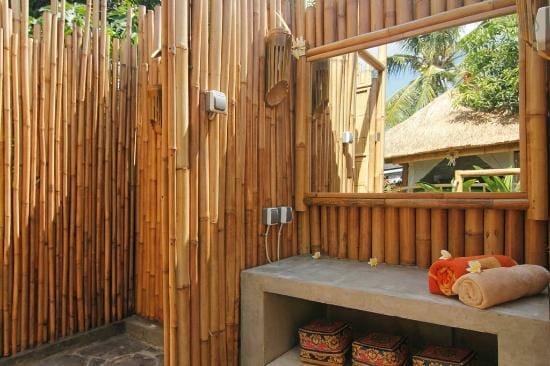 Talking about bamboo stick decor ideas, implement this design. The outdoor bathroom backsplash and walls feature blonde-colored bamboo poles. Moreover, they produce a rustic feel while exuding peacefulness.
The bamboo window frame keeps the outdoor bathroom simple. Additionally, it shows off nature's true beauty. Furthermore, the gray flagstone floor amplifies the rustic feeling.
The concrete vanity boasts straight lines for a minimalist flair. Frangipani flowers and rolled towels exude spalike vibes. Patterned storage boxes draw the eye, while touches of orange jazz the outdoor bathroom up.
18. Bamboo Table Lamp for Studios
When it comes to bamboo decorations ideas, apply this design. As the picture shows, this woven bamboo lampshade is both unique and visually pleasing.
Apart from becoming environmentally friendly, the bamboo table lamp makes the studio pretty. Furthermore, it lends the interior a sense of stylishness while offering a pleasing, modern aesthetic.
The gray concrete wall enables the lampshade's earthy tone to shine. In addition to being an awesome backdrop, it lends the studio an urban ambiance.
19. Bamboo Dining Room Set
What could go wrong with bamboo furniture pieces? They're famous for their durability. Moreover, the units give an organic aesthetic to any area, be it outdoors or indoors.
The bamboo dining chairs magnificently surround the table. Furthermore, taupe seat cushions go with them. Due to them, the furniture items become super cozy.
The statement indoor palm tree heightens the tropical vibes. Additionally, the muted green backdrop harmonizes with it. Lastly, the colorful striped area rug sits underneath bamboo furniture pieces while carving a cheerful air.
20. Bamboo Decorations Ideas for Asian-Style Bathrooms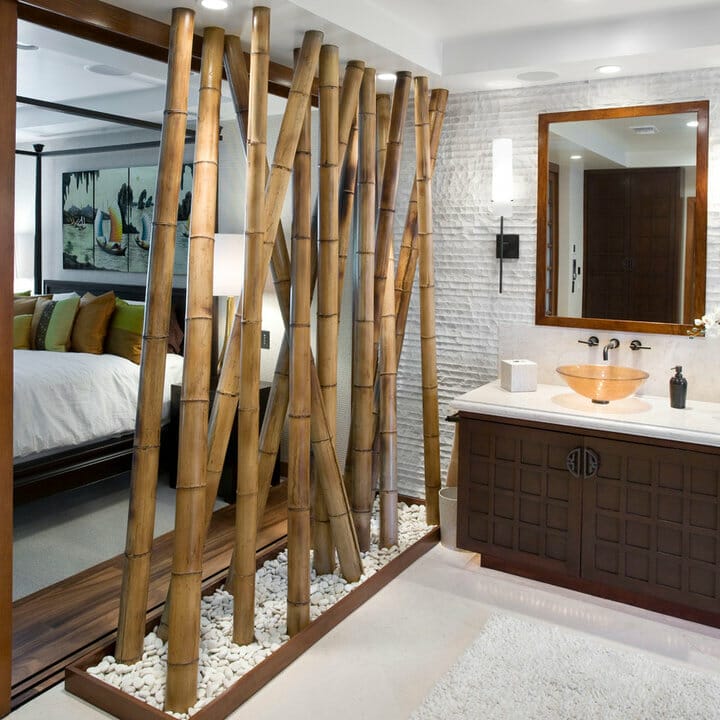 This bathroom is nothing short of graceful and stylish. Bamboo poles serve as a space divider. Apart from representing organic warmth, they evoke serenity and elegance.
Bamboo poles clash with the crisp white textured wall, ceiling, and pebbles. Furthermore, they open up the bedroom as well as the bathroom. The items produce a minimalist flair, too.
The rich-toned wooden vanity and handles develop Asian vibes. Moreover, the painting and throw pillows beautify the space, but they don't go overboard on color.
In short, bamboo offers both beauty and sustainability. Without a doubt, integrating this material into your space is always a brilliant decision. It's time to inject yours with touches of nature. Just borrow any of my bamboo decorations ideas above.