The home's exterior deserves your attention for sure. Moreover, an attractive landscape can accentuate the house's architectural features. Additionally, it enhances the value of the building. If yours isn't expansive, scroll through small front yard landscaping ideas below.
Almost every front garden looks divine with seasonal blooms and evergreens. They let you enjoy year-round greenery while having the freedom to change the flowers up.
Speaking of planning a front garden, you should consider your climate and commitment level. Of course, every plant requires certain sunlight and watering needs. Here are stunning front yards to replicate.
1. Small Front Yard Garden Ideas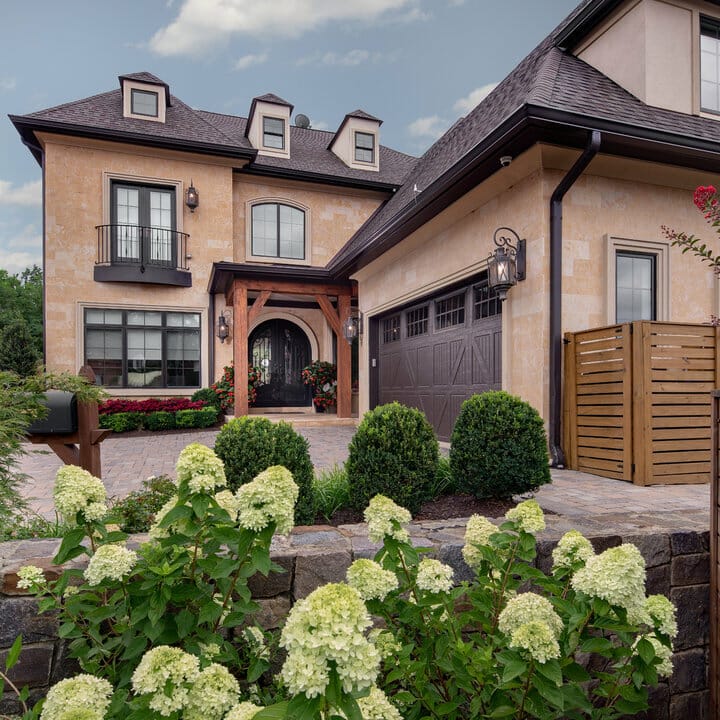 This front yard boasts a stone driveway. It complements wooden screens and pillars perfectly. Meanwhile, vibrant plants spice the entryway up.
Round and rectangular boxwood shrubs lend the area a tidy look. Moreover, they guide the eye to garage doors while adding greenery.
Talking about front yard landscaping plants, you never go wrong with hydrangeas. They titivate the garden instantly. Lastly, rough rocks carve a rustic look.
2. Japanese-Inspired Front Yard Ideas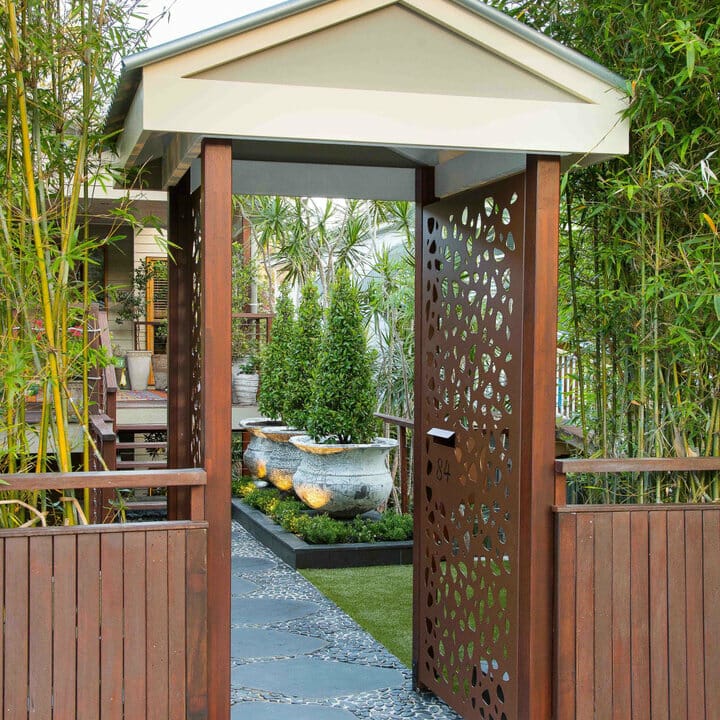 This is one of the beautiful small front yards. As you see, vertical plank fences marvelously flank the striking entry gate.
Bamboo trees are adjacent to the entry gate here. Not only do they lend the garden interest, but also produce serene vibes.
The pathway employs flagstones and river rocks for a cohesive feel. Meanwhile, potted conical shrubs give the front yard height.
Groundcovers surround pots of conical shrubs excellently. Furthermore, they make for a mesmerizing walkway border.
3. Modern Front Yard Landscaping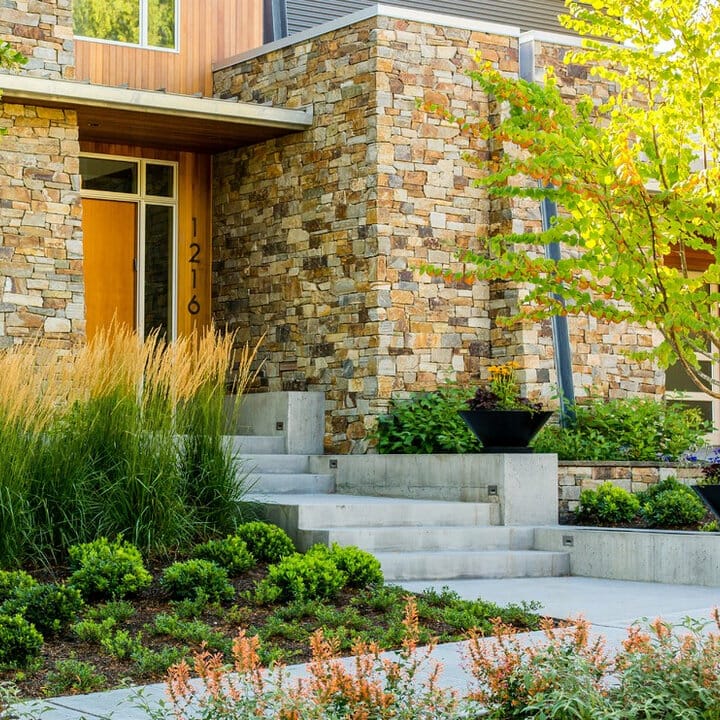 With various small front yard landscaping ideas, you have plenty of choices. This option features clean lines on the concrete walkway and steps. Moreover, they lend the garden a modern appeal.
The tiered front garden beds accommodate shrubs and flowering plants. Meanwhile, the pathway border seems ravishing due to the ornamental grass as well as evergreens.
Bright orange flowering plants effortlessly inject a pop of color. In addition, they direct the eye to the wooden front door.
4. Contemporary Front Yard Garden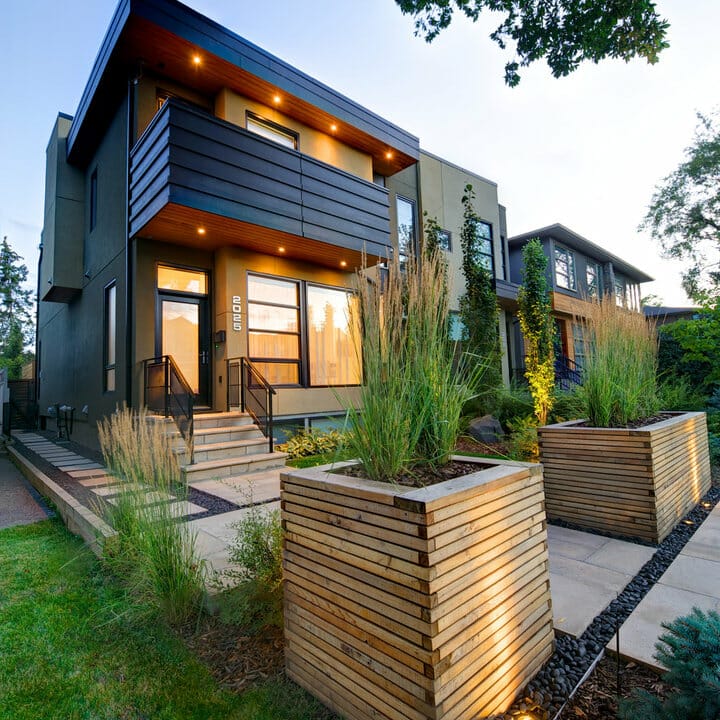 Need small front yard landscaping ideas? If so, this low-maintenance option is for you. Here, the homeowner added mulches to her stylish wooden raised beds. That way, she doesn't have to deal with bothersome weeds.
The ornamental grass and climbing vines offer the front yard lots of visual interest. You can spot shrubs and conifers, too. Moreover, concrete walkways introduce a contemporary look.
In addition, the lighting highlights plants in the front garden. Meanwhile, gray river rocks complement the concrete pathway.
5. Tranquil Small Front Yard Landscaping Ideas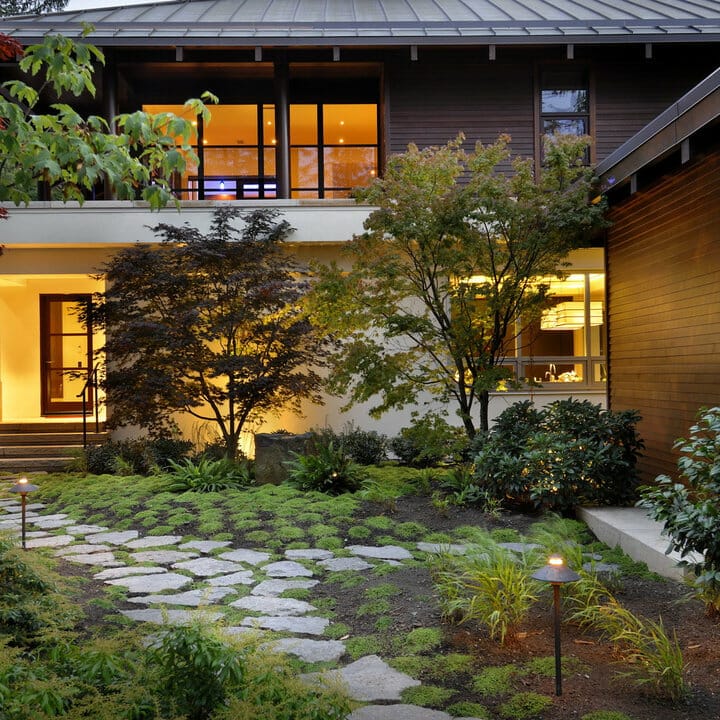 Speaking of small front yard landscaping, try focusing on simplicity. This Asian-inspired garden is surely worth duplicating.
The walkway in the front garden features flagstones. Furthermore, they will bring out visitors' inner zen sides for sure. Also, the homeowner interspersed them with short groundcovers.
Evergreen plants enliven the front yard. Moreover, the ornamental grass and trees introduce more height variety. Lastly, garden lamps illuminate the flagstone pathway at night.
6. Front Yard with Cheerful Floral Borders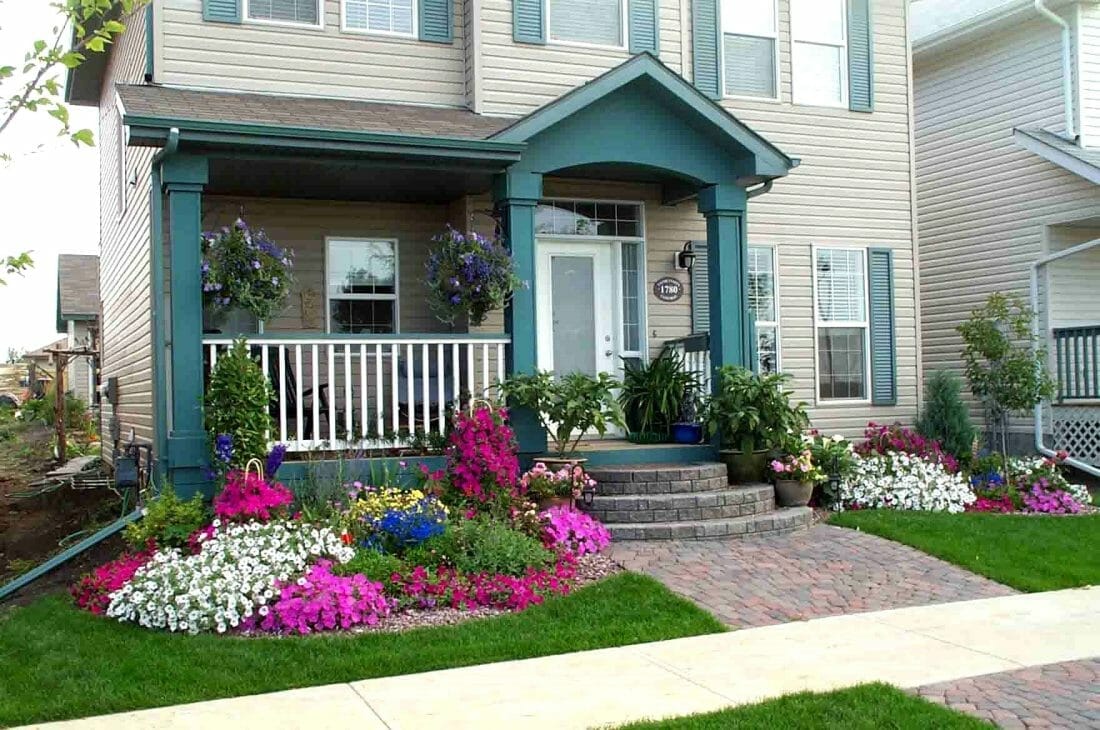 Need small front yard landscaping ideas? If yes, duplicate this cottage garden with multi-season floral borders. As you see, flowering plants create some visual interest.
Here, there's a mix of perennial and annual blooms. Due to different flower varieties, the front yard has a year-round display of colors.
Bursts of blue, green, white, yellow, and pink make the house more impressive. Meanwhile, evergreens provide a touch of greenery. I also admire the splendid contrast between the lawn and floral borders.
7. Small Front Yard Landscaping Ideas with a Bit of Color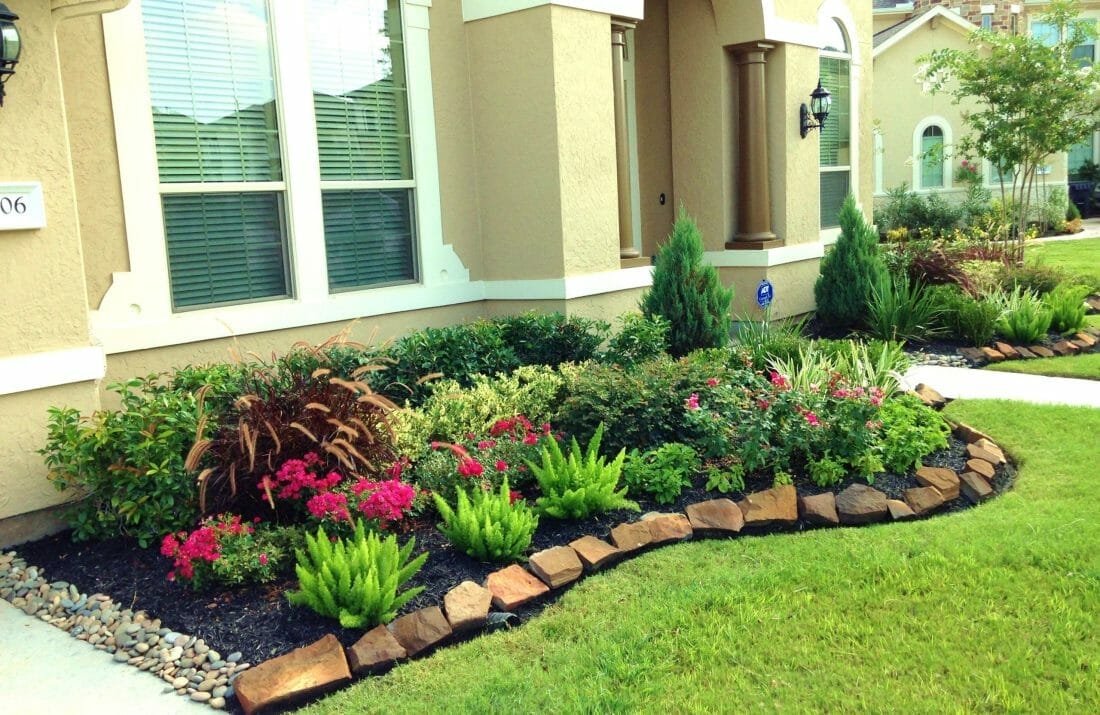 Here, the front yard looks remarkable because of evergreen borders. In addition to enlivening the garden, they keep the area from feeling bare during the wintertime.
Vibrant flowering plants mingle with evergreens perfectly. Furthermore, they give the front yard a splash of color in the summer and spring.
Natural stones delineate evergreen borders while carving a rustic vibe. Moreover, river rocks in multiple earth tones develop a serene ambiance.
8. Front Yard Flower Bed Ideas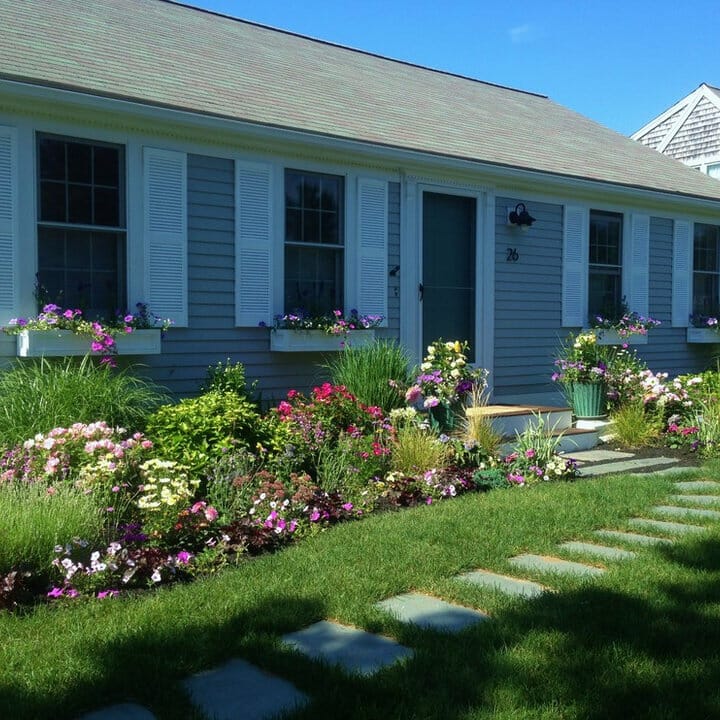 I admire the colorful flower beds in this front garden. You can spot perennial and annual blooms like petunias and roses. They deliver some interest to the yard instantly.
The grass and evergreen bushes offer a touch of greenery. Moreover, the concrete pathway guides visitors to the homeowner's front door.
Window boxes make the front yard more appealing. Apart from drawing guests' eyes to the house, they infuse instant beauty and produce a unified look.
9. Small Front Yard Landscaping Ideas with Rocks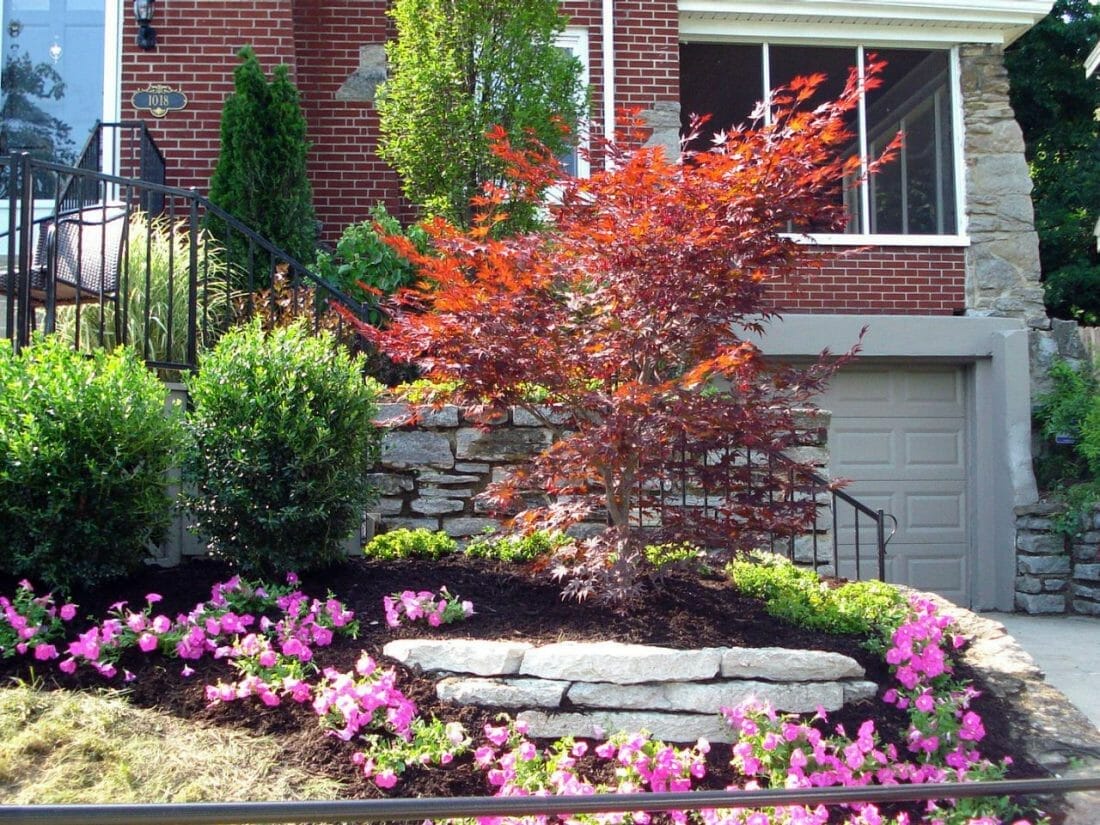 In this front garden, the raised bed doesn't seem lackluster, thanks to pink flowers. They infuse the yard with some cheer.
The raised bed features a maple tree and evergreen shrubs, besides flowering plants. Furthermore, they deliver extra pops of color to the front yard.
All the plants in the raised bed guide visitors' eyes to gray garage doors. Meanwhile, rugged rocks send out a rustic vibe and complement the surrounding wall.
10. Front Yard with a Water Feature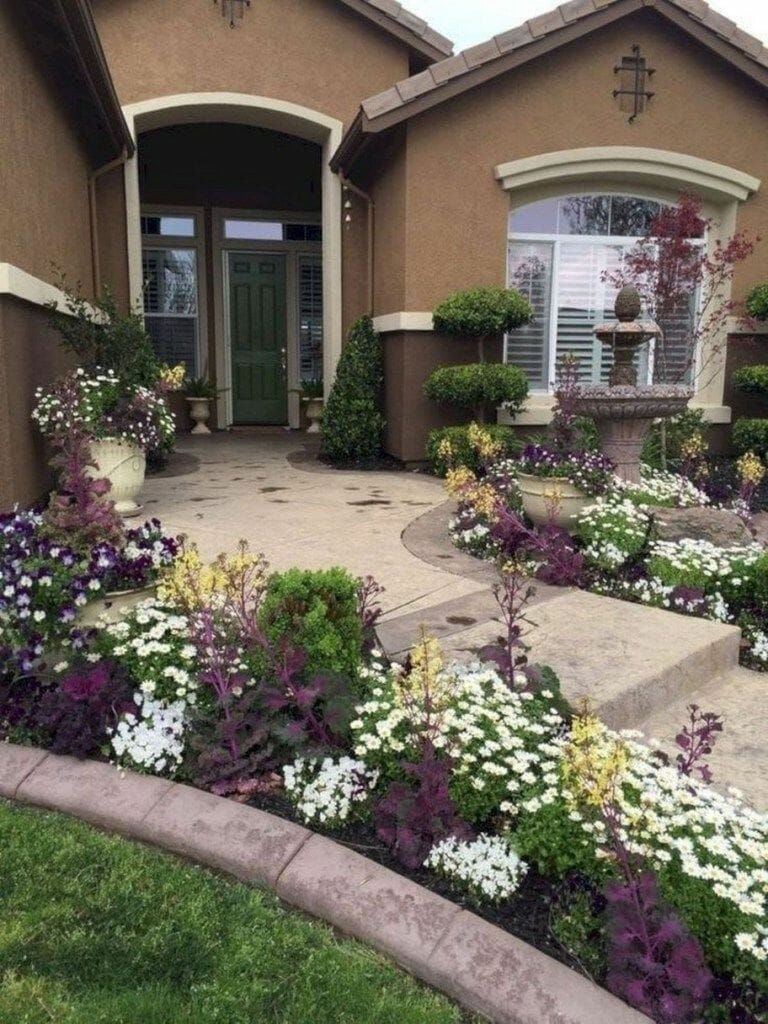 I can't stop adoring breathtaking borders of flowering plants here. Not only do they inject textures but also titivate the front garden.
In addition to blooms, there are also topiary plants and evergreens. Moreover, they make the curved walkway more exciting.
Despite its small space, the front yard still has room for a mini pondless fountain. The water feature is quite low-maintenance. Furthermore, it adds timeless elegance while offering a tranquil ambiance.
11. Small Front Yard Landscaping Ideas with Hostas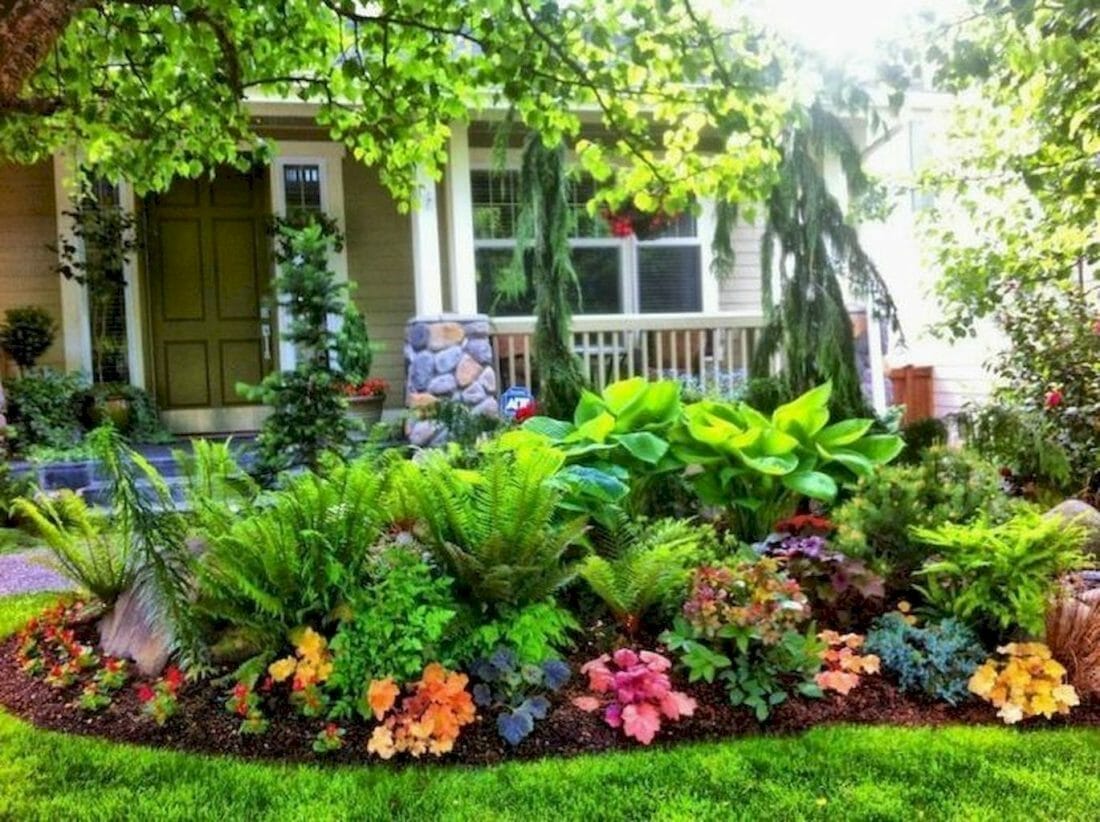 Searching for very small front garden ideas? This fabulous option is worth replicating. The design combines cottage charm with Southern beauty. As the image shows, it boasts hostas and ferns.
The evergreen plants give the tiny front yard year-round interest. Since hostas prefer some shade, I recommend growing them under mature trees.
Flowering plants provide a riot of oranges, blues, yellows, and pinks. Lastly, the green grass makes the front garden more welcoming.
12. Front Garden with Pavers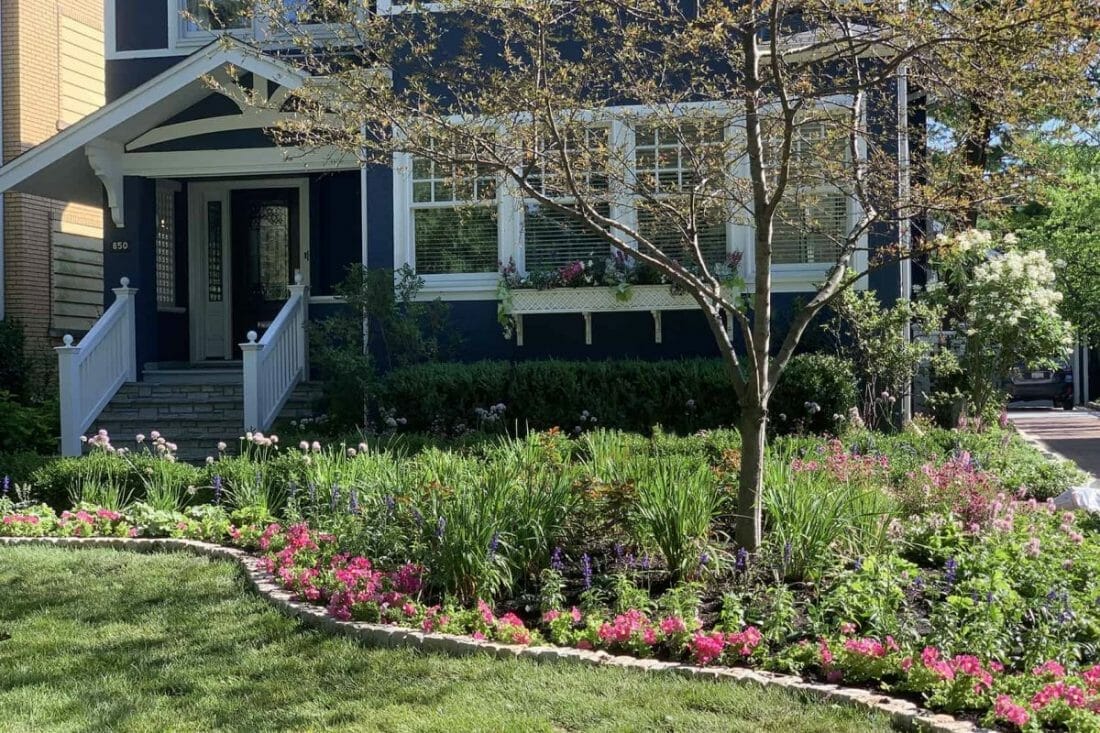 This is one of the superb small front yard landscaping ideas. The flower bed livens up the whole entryway. Also, it displays a mix of cheerful blooms.
The front yard won't look dull during the winter months due to the ornamental tree and various flower varieties. Moreover, the homeowner edged the flower bed with pavers for a tidy look.
Because of pavers, the front yard becomes a low-maintenance space. They keep the homeowner from dealing with stubborn weeds.
13. Sloped Small Front Yard Landscaping Ideas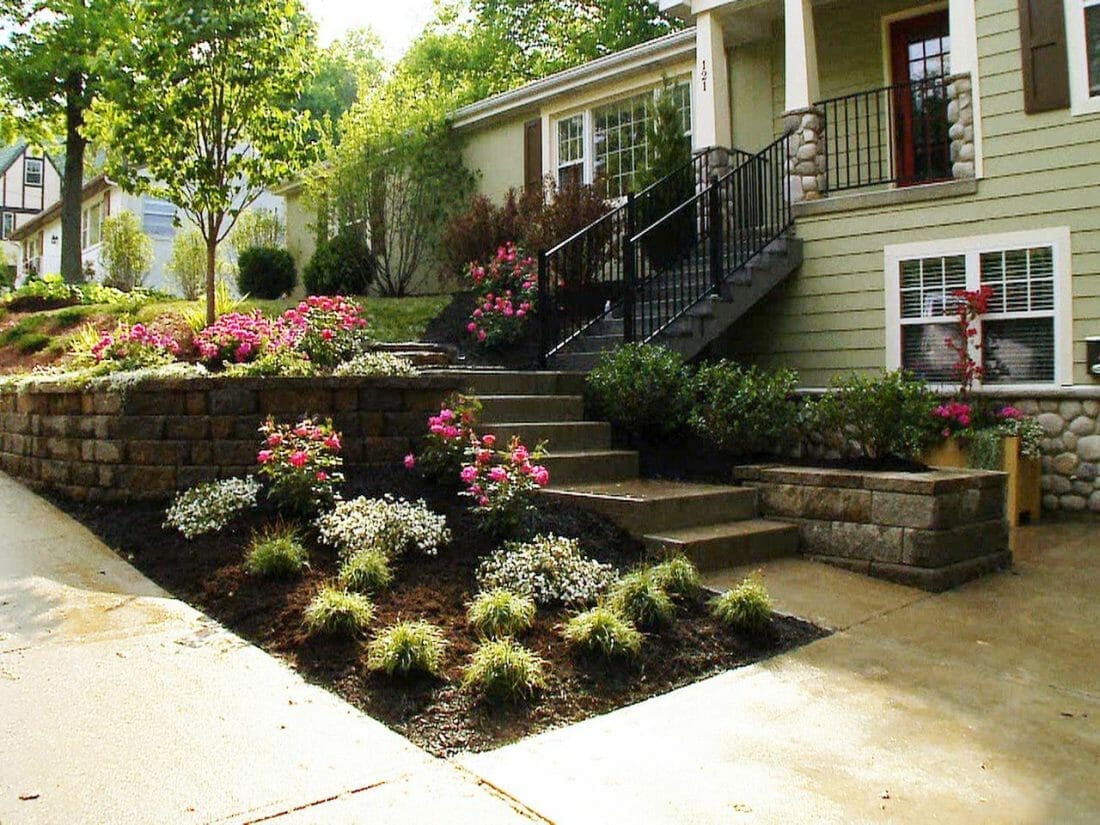 If your house has a sloped front yard, no worries. Here, the lush cottage garden employs a rough stone retaining wall. In addition to embracing a rustic feel, it holds flowering plants.
Pink blooms infuse a bit of color. Meanwhile, evergreen bushes keep the front yard from becoming lackluster in the winter.
Trees and boxwood shrubs accompany flowering plants beautifully. Moreover, the concrete walkway and steps create a more modern look.
14. Front Yard with a Circular Flower Bed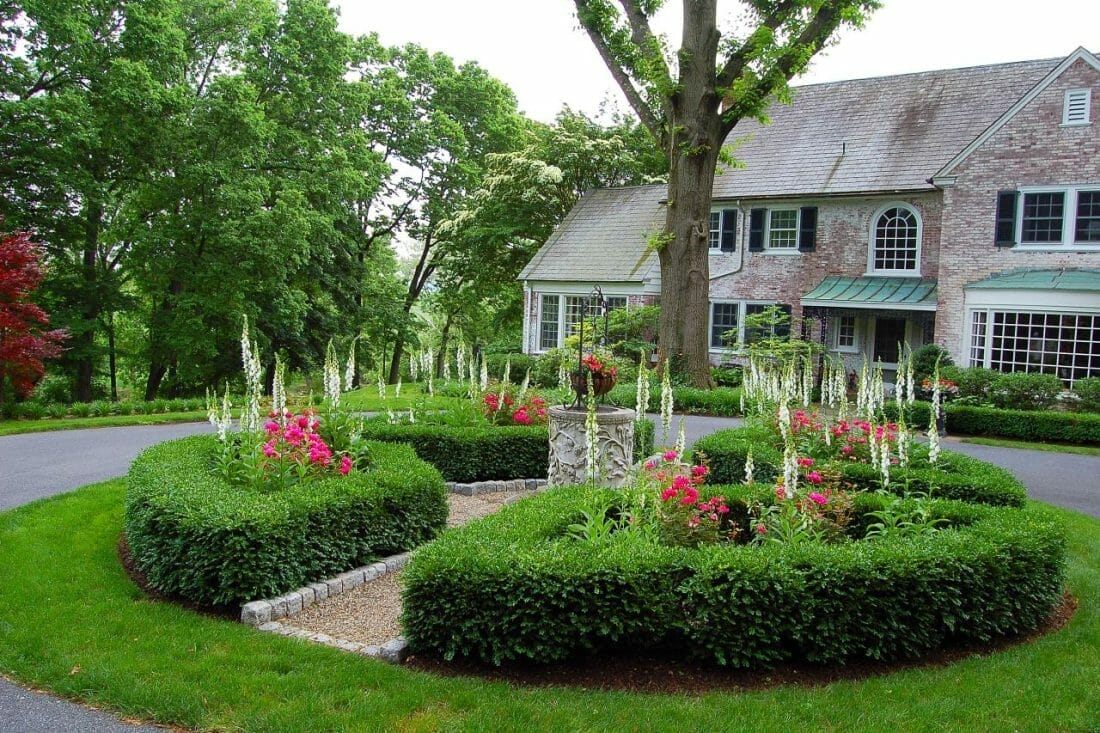 Talking about small front yard landscaping ideas, consider installing a circular flower bed. Here, the green grass rings outstandingly.
Boxwood shrubs are both classy and classic. They accentuate the intricate concrete cylinder and driveway.
Furthermore, you can shape them into various designs, from rectangular to round.
Pink blooms brighten the front yard up. Meanwhile, pavers ensure that the circular flower bed looks tidy. Also, they contribute to the garden's rustic feel.
15. Small Front Yard Landscaping Ideas with a Geometric Walkway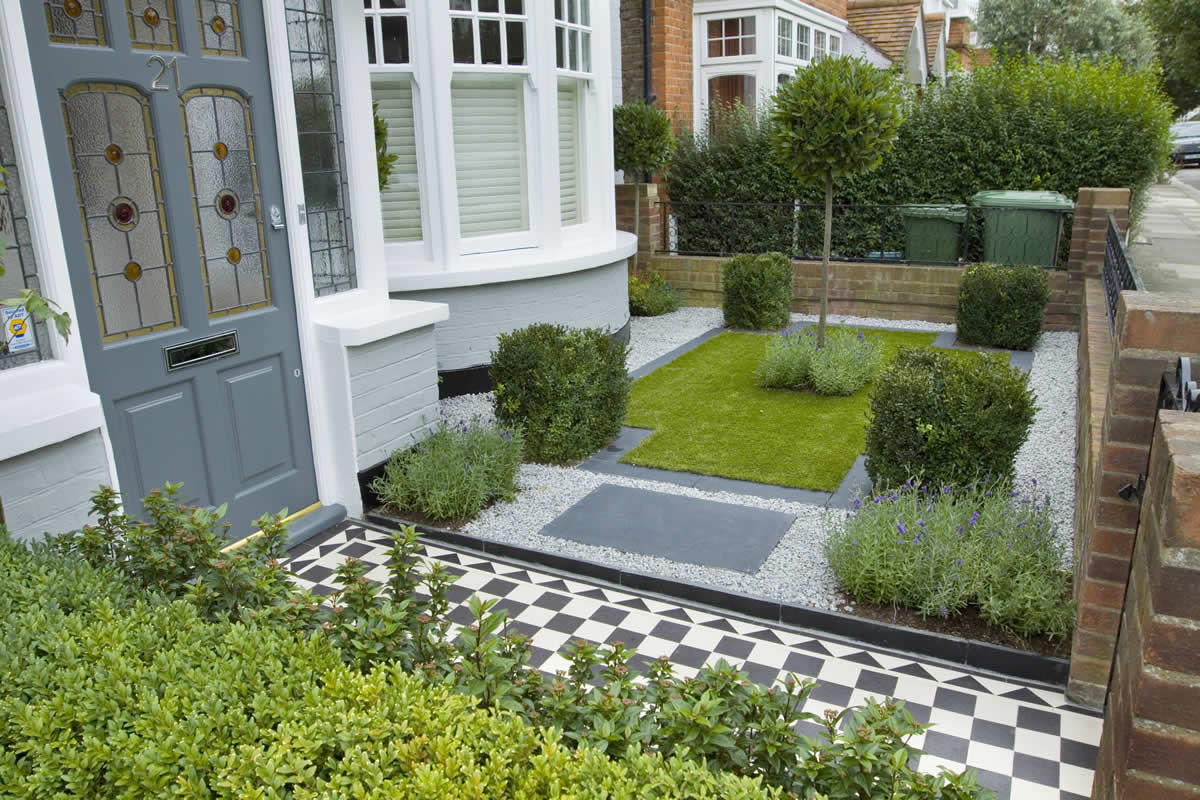 As you see, the front yard employs an exposed brick fence. It makes the garden seem more inviting in no time. Meanwhile, the geometric walkway catches the eye.
The tall topiary plant and square boxwood shrubs create a visual balance. Moreover, white pebbles highlight them excellently while keeping things stylish.
There are evergreens along the entry path. Furthermore, they encourage the homeowner's guests to use the walkway. Lastly, flowering plants round out the front yard.
16. Front Yard with a Mini Fountain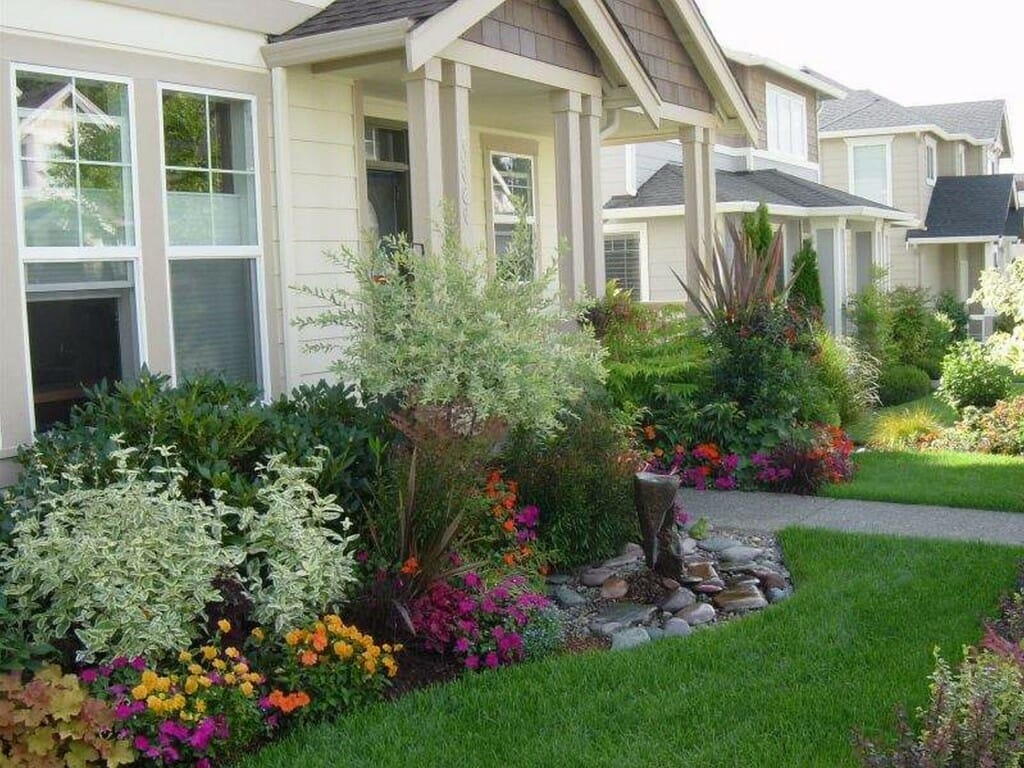 Who says tiny yards don't deserve cool water features? This is one of the creative small front yard landscaping ideas for certain.
The small fountain sends out a calm atmosphere. Moreover, it doesn't require the homeowner to maintain the pond.
Flower beds flank the narrow walkway impressively. In addition, the front garden displays different flower varieties. Due to them, the yard is nothing short of remarkable throughout the year.
17. Easy Landscaping Ideas for Front Yards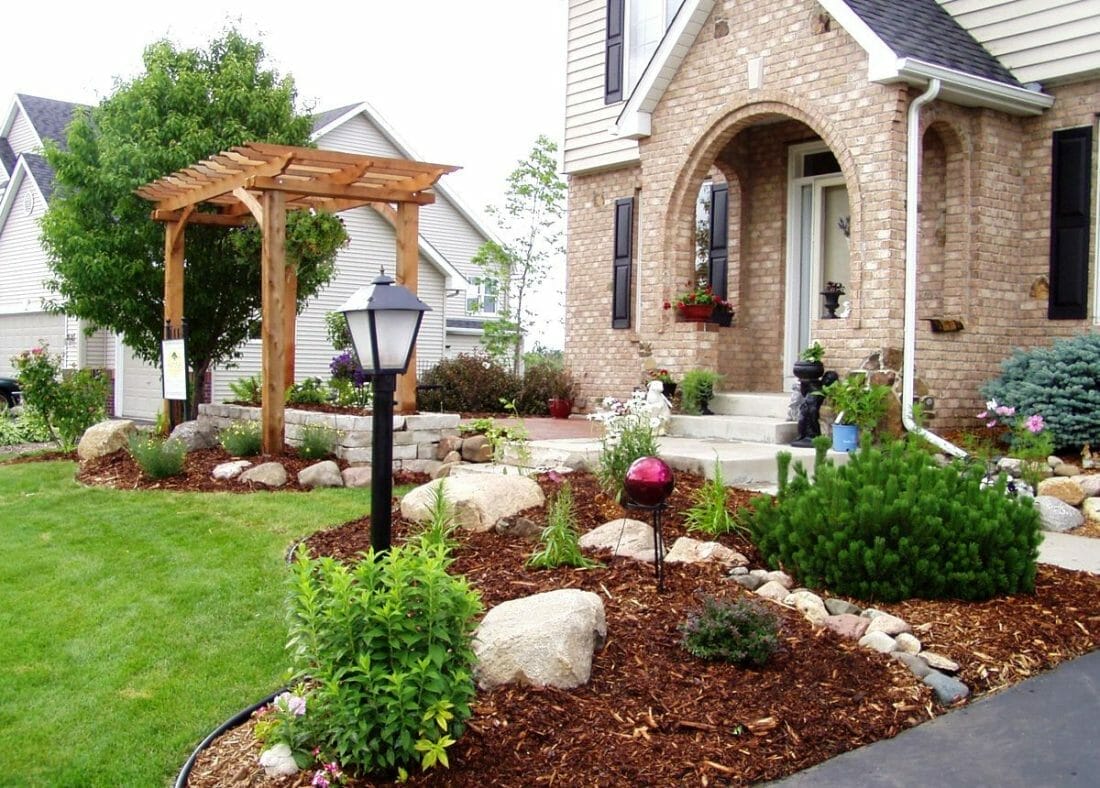 Speaking of small front yard landscaping ideas, try integrating flower beds. They'll lend the garden some interest. Here, evergreens and blooming plants live together harmoniously.
The wooden pergola gives flowering plants some shade. Meanwhile, natural stone boulders send out a rustic feel in no time.
For a neat look, consider adding metal edging. As you see, flower beds feature thick mulches. Lastly, the garden lamp ensures proper illumination.
18. Front Yard Landscaping Ideas on a Budget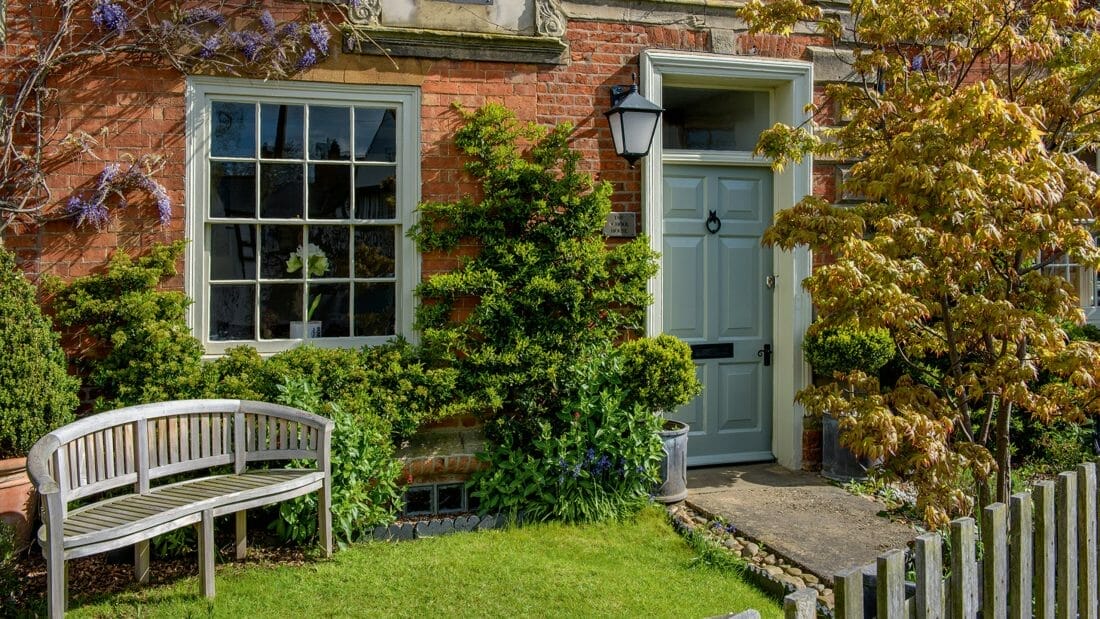 The front garden has a distressed wooden entry gate. Moreover, the curved back bench makes a welcoming seating area while complementing it.
Rocks on the walkway's sides blend with the surroundings. Additionally, evergreen bushes call attention to the pastel gray front door.
Pavers create an incredible edging in this yard. Furthermore, they do not only ensure that flower beds look tidy but also keep the homeowner from disturbing plants' roots.
19. Trendy Front Yard Design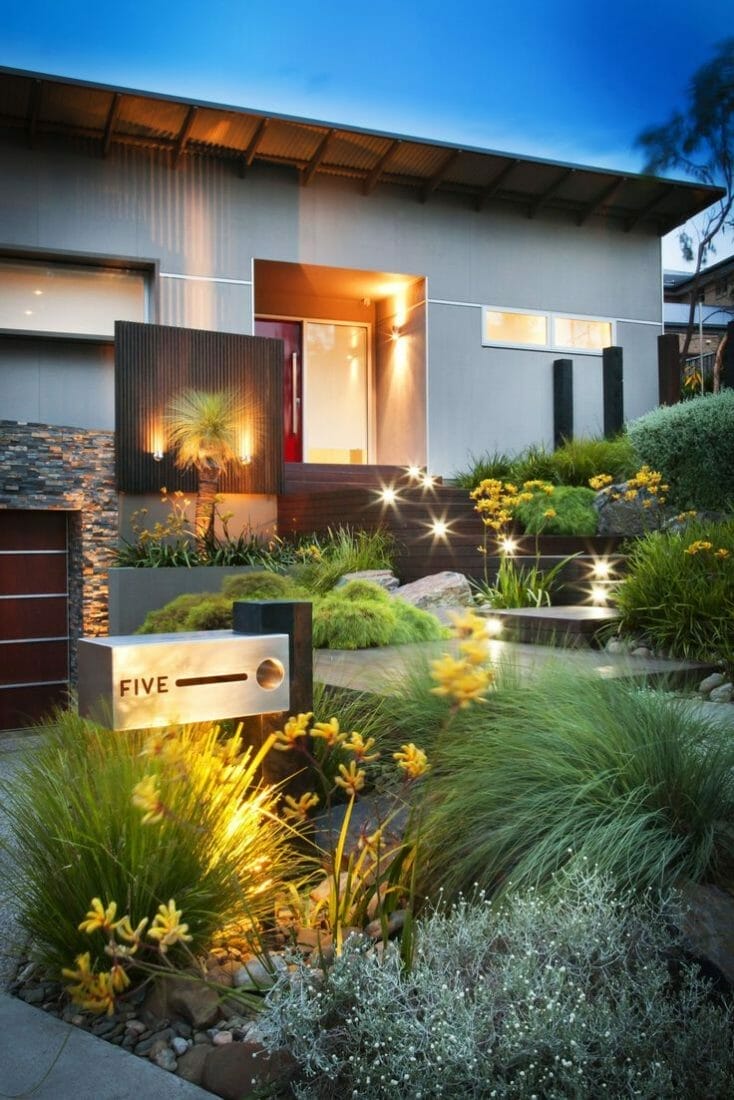 Looking for small front yard landscaping ideas? Try out this option. The concrete driveway and steps contribute to the house's clean and simple appearance.
The warm lighting is both practical and calming. Moreover, rocks and boulders infuse nature-inspired textures. Meanwhile, the ornamental grass and yellow blooms adorn the front yard.
20. Sloped Front Yard with Trellises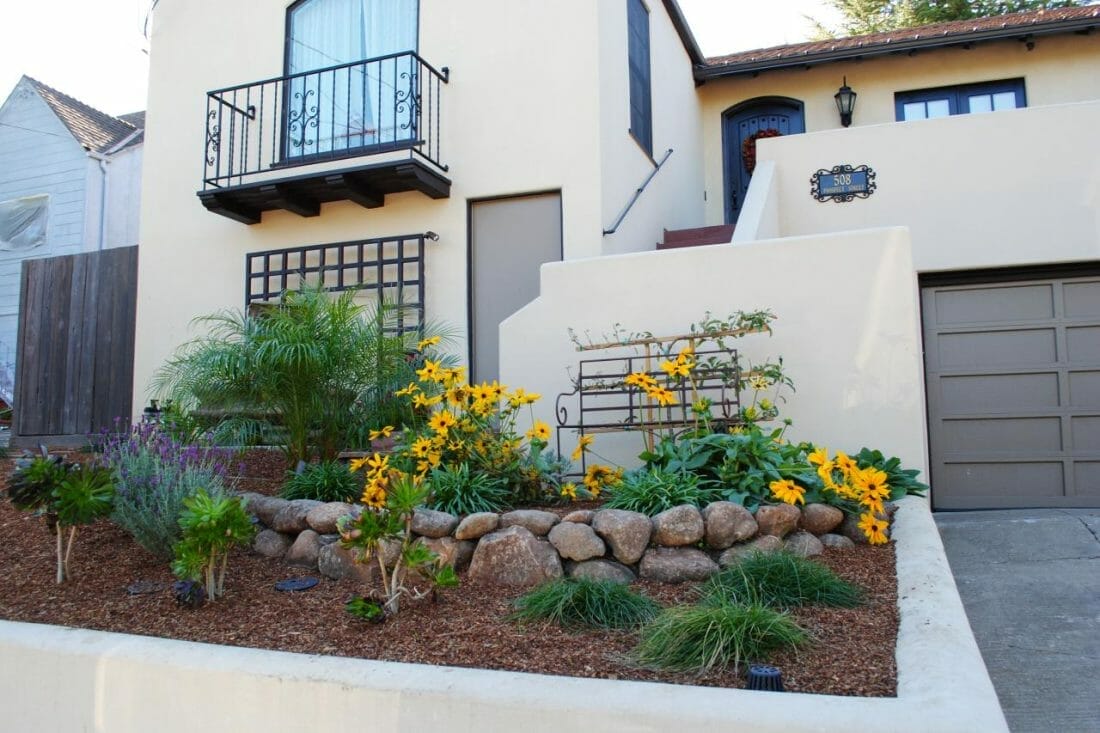 Here, the sloped front yard boasts a concrete retaining wall with a mulch-filled flower bed. Moreover, mulches keep it low maintenance. Meanwhile, rocks develop a rustic look.
Purple and yellow blooms lend the yard flashy bursts of color. Also, there are palm trees for some greenery. Lastly, the homeowner added trellises for climbing vines.
21. Front Yard with an Evergreen Border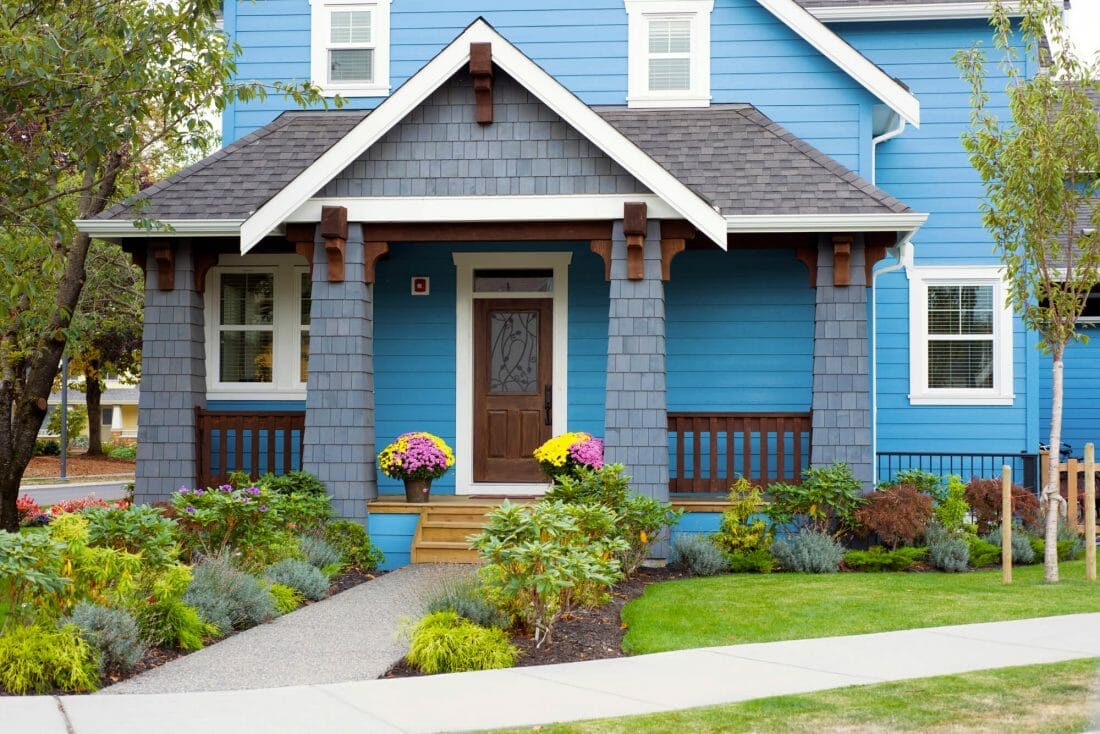 Talking about small front yard landscaping ideas, consider establishing an evergreen border. It keeps the garden looking lively during the colder months.
In addition to evergreens, this front yard has marvelous floral displays. Furthermore, potted flowering plants flank wooden steps, while trees add height to the area.
22. Tiny Front Yard with Potted Plants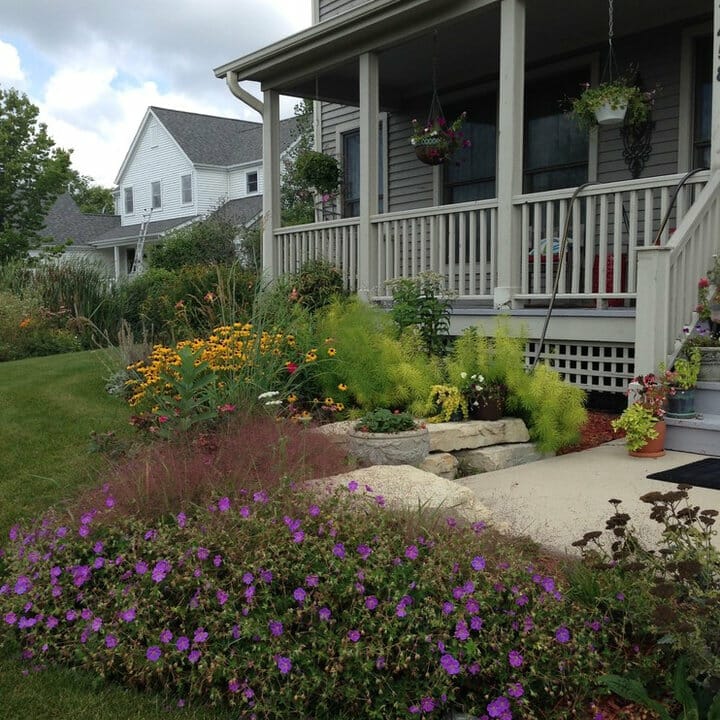 Although the front yard is small, it looks super inviting. As you see, there's a garden featuring showy perennial and annual flowers.
Evergreens produce extra curb appeal, while stone slabs create rustic vibes. Moreover, potted and hanging plants complete the front yard's look.
23. Rustic Small Front Yard Landscaping Ideas
This rustic, low-maintenance front yard employs evergreen walkway borders. Moreover, short yet cheerful groundcovers complement them excellently.
The gravel-and-concrete walkway allows invigorating plants to shine. Lastly, natural stone bricks keep the borders tidy.
24. Front Yard with a Clematis Climbing Wall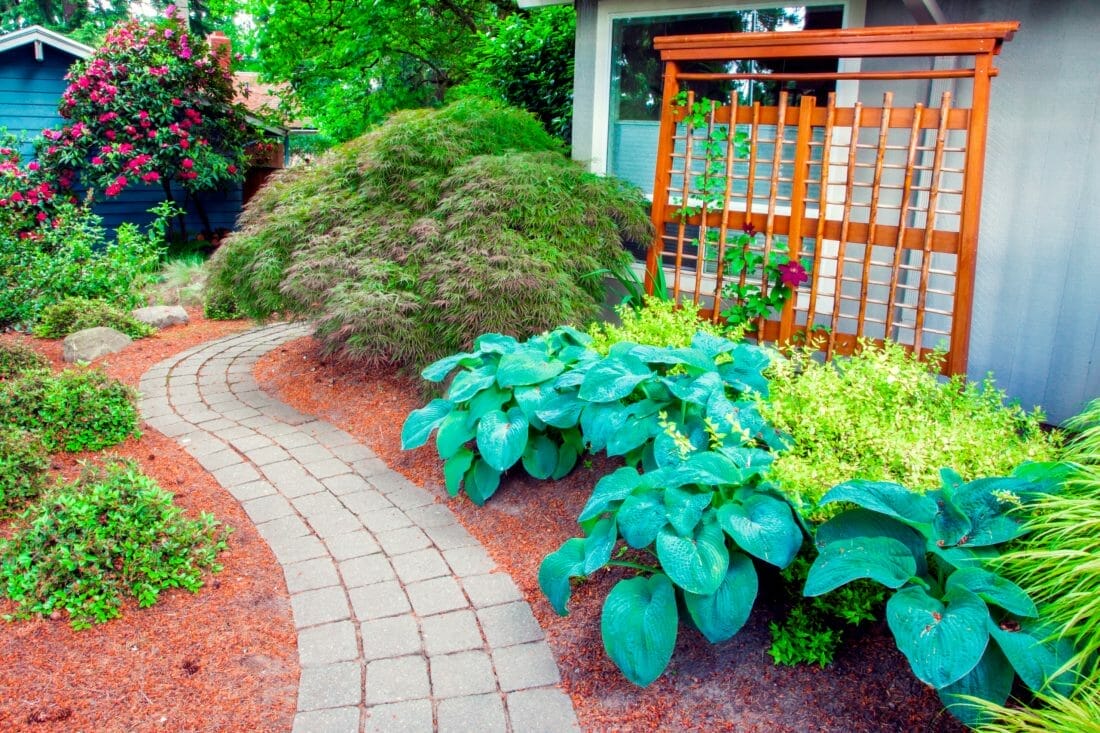 The curved concrete block walkway guides visitors to the front door. Furthermore, the ornamental grass and evergreen bushes spruce the yard up.
There's a wooden climbing wall for clematis. In addition to supporting the plant, it rounds out the front yard well.
25. Urban Front Yard Landscaping Ideas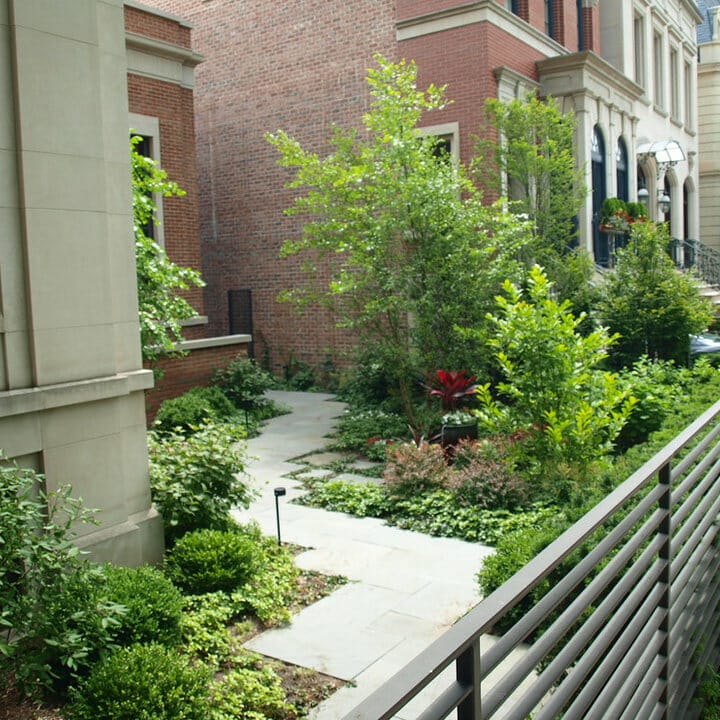 In this front yard garden, the concrete pathway evokes an urban vibe. Since it displays clean lines, the area seems neat and stylish.
Evergreen borders feature plants of different heights for some interest. Lastly, a pop of red from cordyline warms things up.
26. Front Yard with a Bench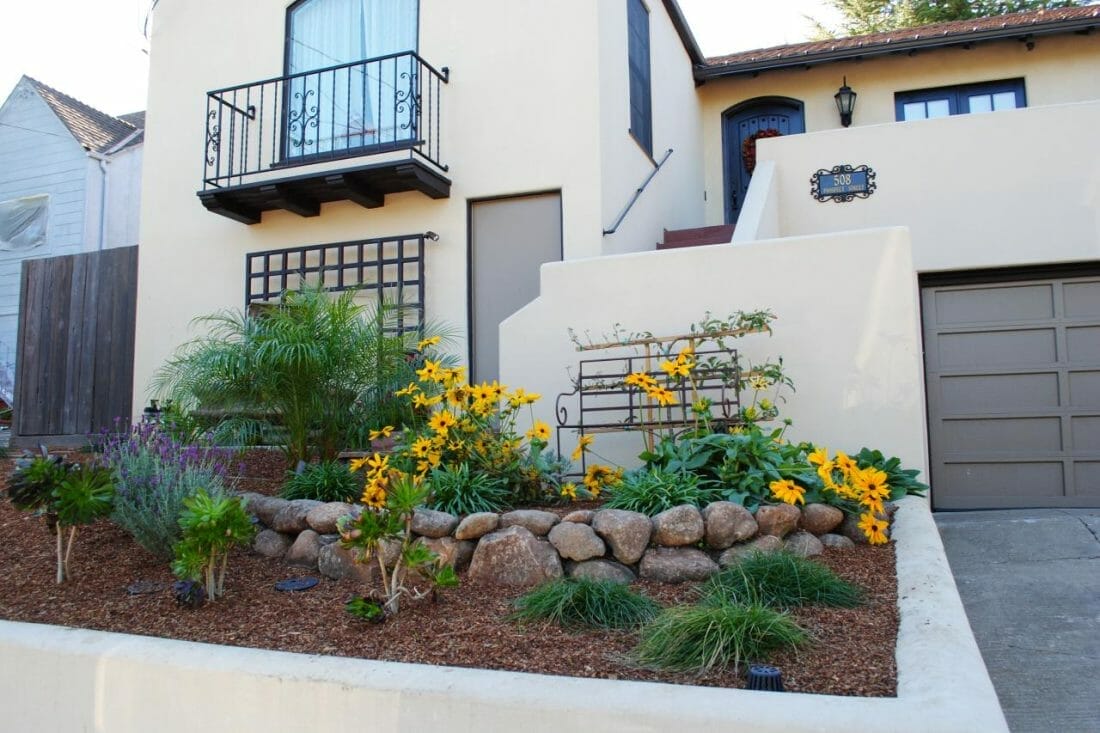 Need small front yard landscaping ideas? Try this option. The retaining wall accommodates a raised flower bed, while the bench lets you relax after tending the garden.
Black-eyed Susans inject the front garden with some cheer. Meanwhile, stones and mulches complete the retaining wall's look.
27. Elegant Front Yard Landscaping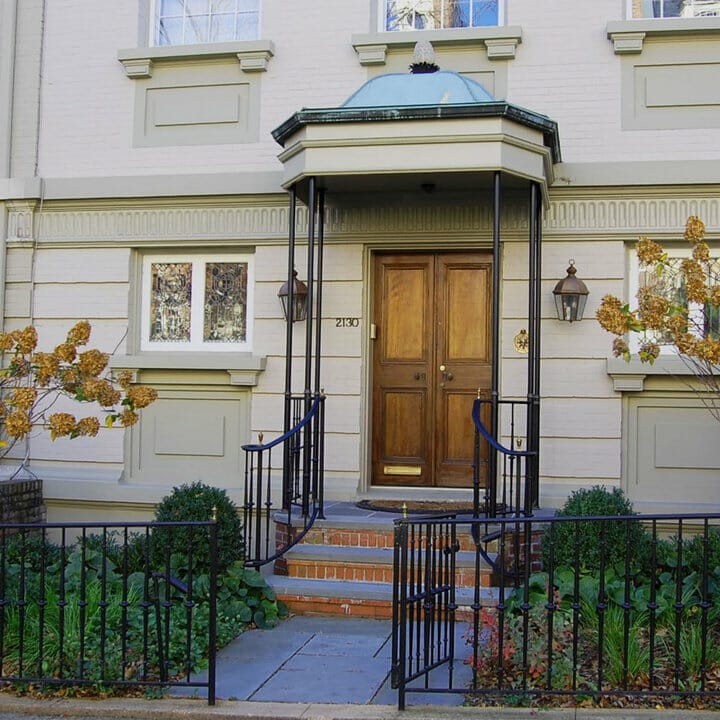 This front yard looks graceful due to the decorative entry gate and balustrades. Moreover, the concrete walkway and steps tie the space together.
The ornamental grass, groundcovers, and hostas liven up the yard. Lastly, small round evergreen shrubs create visual symmetry.
28. Front Yard with an Entrance Trellis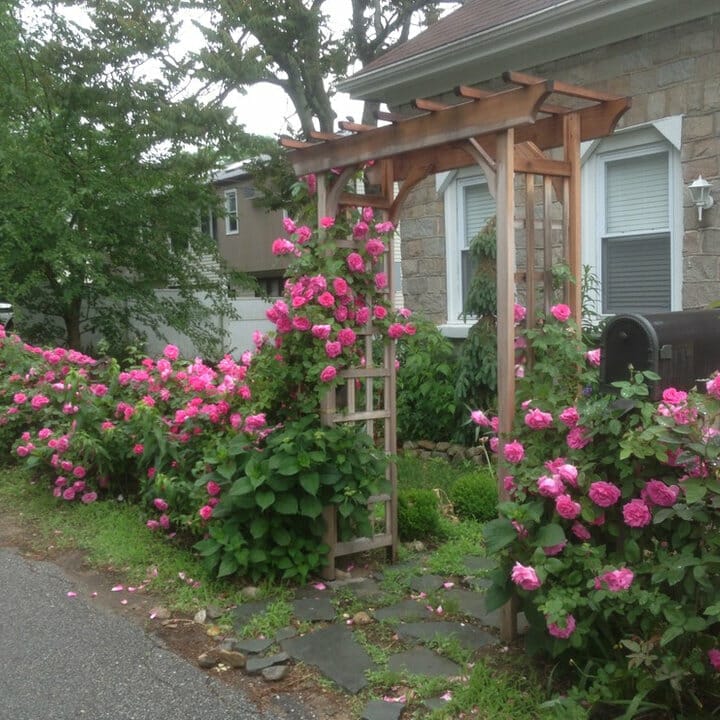 As you see, the front yard employs a wooden entrance trellis for pink climbing roses. Those showy blooms offer delightful displays.
Shrubs, evergreens, and tall trees bring height and color to the yard. Meanwhile, the flagstone pathway and rocks blend with the trellis.
Do not hesitate to replicate those small front yard landscaping ideas. Surely, they will amaze visitors and raise the house's value. Pick plants that thrive in your climate. Last but not least, consider the yard's certain conditions.