Throwing a barbeque party is one of the most fascinating things that you can do to spend your weekend. Make sure you include these backyard grill patio ideas in your list because they will jazz up the festive mood.
1. Modern Backyard Patio Grill Ideas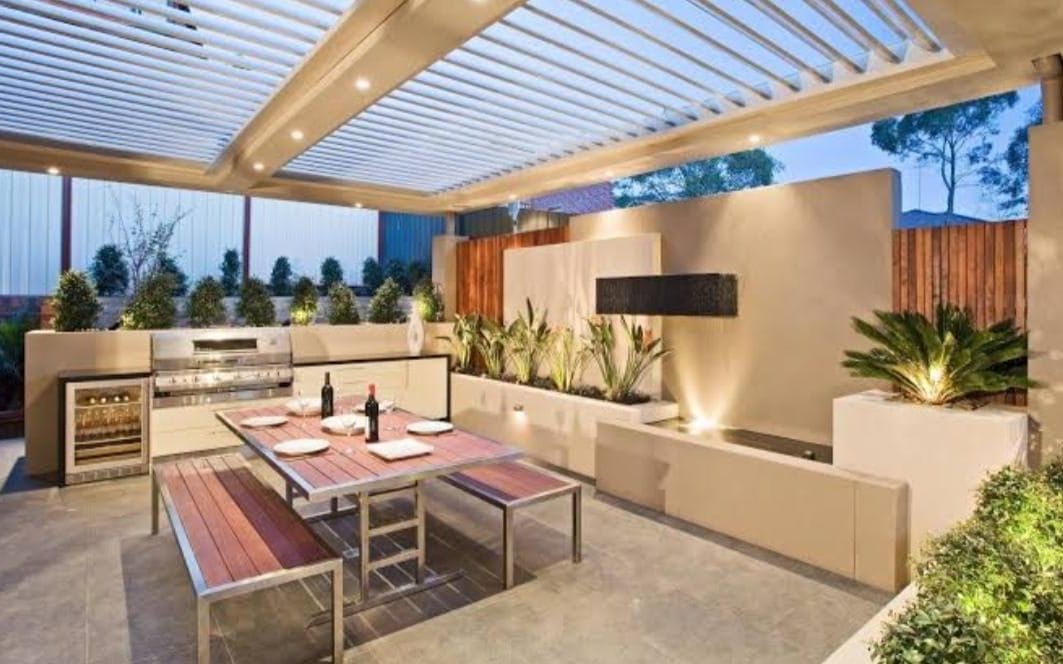 If you are a big fan of the minimalism of modern flair, you surely do not want to miss this.
This patio features brick walls and a wood fence that provides you the ultimate privacy. They come in neutral color hues, which is prevalent in this kind of style.
The beige walls not only host a grill but also some shrubs and a small pond, which incorporates soothing ambiance into space. This patio also has a dining table that features a sleek design, accentuating the modern look.
2. DIY Backyard Grill Patio Ideas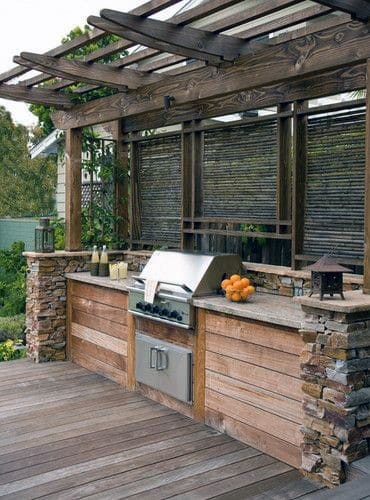 A fantastic backyard grill is not always pricey. If you are short on budget but you want to get a remarkable outdoor kitchen, you can try to make it yourself.
Begin with building the frame. You can also make it from various kinds of materials, such as brick, concrete, stainless steel, or wood.
A wooden frame is the most cost-effective option that you can think of. It can help you get a stunning backyard grill patio without making you broke. For a more durable and sturdier structure, opt for pressure-treated pine.
However, do not ever forget that wood is inflammable material. Therefore, apply several coats of fire retardant varnish for peace of mind.
Once the frame is done, install the siding and the grill. Top the frame with a granite countertop. Finally, build the pergola for shade.
3. Sleek Backyard Grill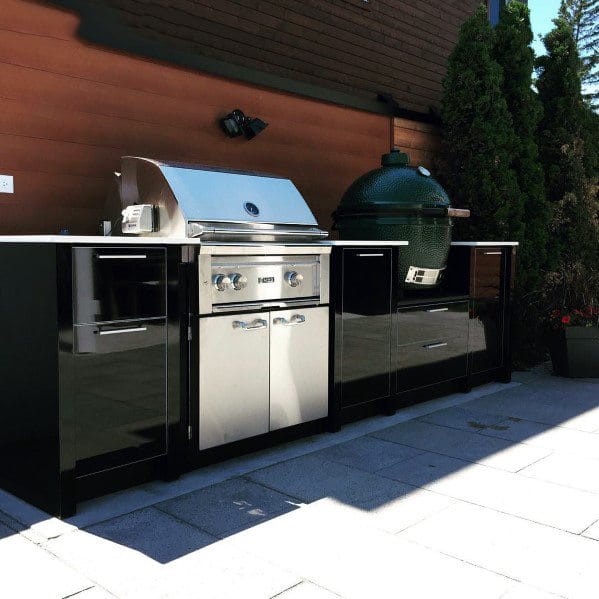 This backyard grill patio idea will round out your modern or contemporary exterior design immensely.
The grill station features a sleek design with clean-lined edges that matches the wooden fence well. The shiny black finish denotes futuristic style nicely.
Do not forget to add lighting to illuminate the space when you throw a barbeque party in the evening. A black sconce hanging over the grill unit will be a perfect choice as it matches the outdoor kitchen well.
4. Small Backyard Grill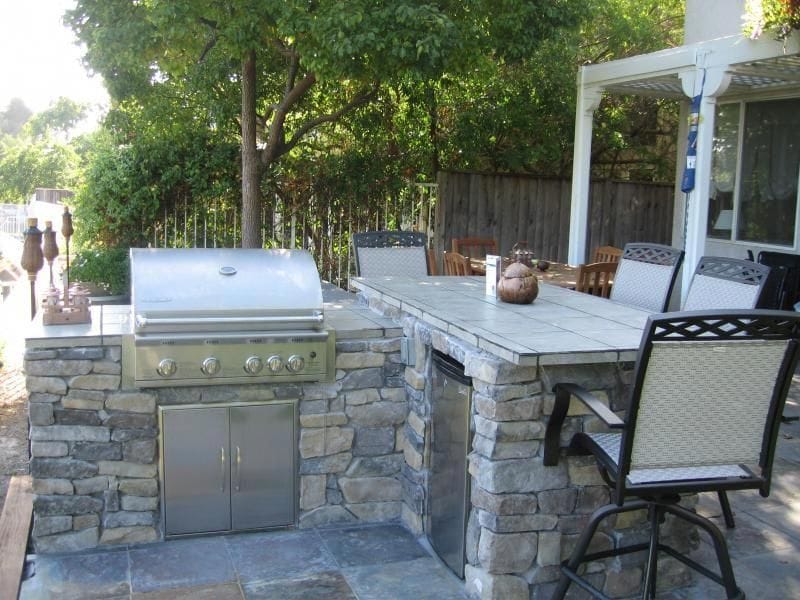 You do not need a spacious backyard to make a grill station. A small space would do in a pinch as long as you can use it properly.
This backyard grill patio idea has proven that a small space is not a big deal. The grill station is made of natural stones that come in various kinds of shapes, sizes, and hues, bringing in a little bit of rustic look.
Additionally, the concrete top makes a sturdy counter space for you to work on. To make it better, cover the surface with white tiles.
Moreover, the tiles also provide a sleek and clean look. For the final touch, place four chairs around the kitchen island to form an outdoor dining table.
5. Backyard Grill with Quartzite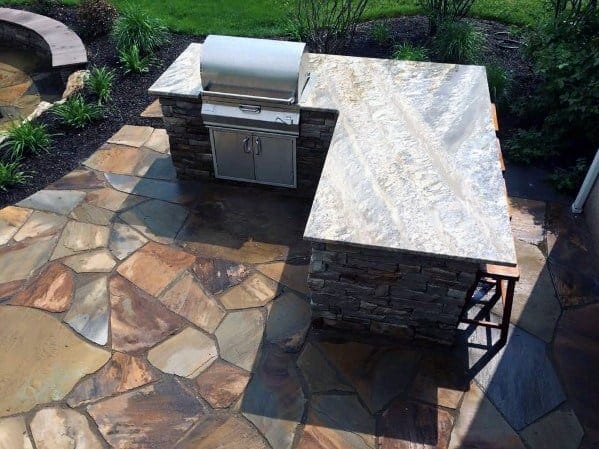 Nothing can beat the luxurious look of a natural stone countertop, especially marble. However, this material can cost an arm and a leg.
Well, if you are dying for the elegance of the marble countertop but cannot afford it, you can opt for quartzite.
Quartzite looks like marble but it is as durable as granite. It is also resistant to heat, water, and UV, which makes a great countertop for your outdoor kitchen.
However, quartzite is porous. Therefore, you need to seal it properly. Otherwise, spills and stains will remain there and bacteria will proliferate.
6. Stone Backyard Grill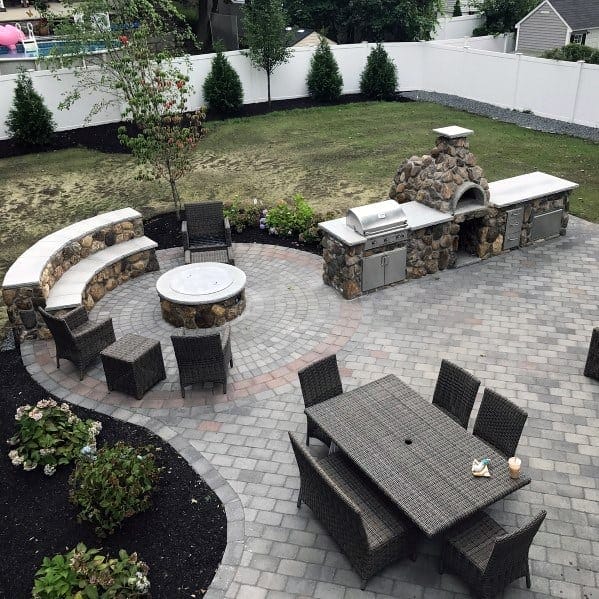 This spacious patio is a perfect place for all of your veritable family. It has a dining area with a rattan table and chairs, a built-in fire pit to keep you warm during the chilling night, and a grill station.
The grill is covered with some boulders to match the fire pit and the built-in bench as well as embracing a more natural look. It also has a traditional oven that allows you to make a delectable and authentic pizza.
7. Simple Backyard Grill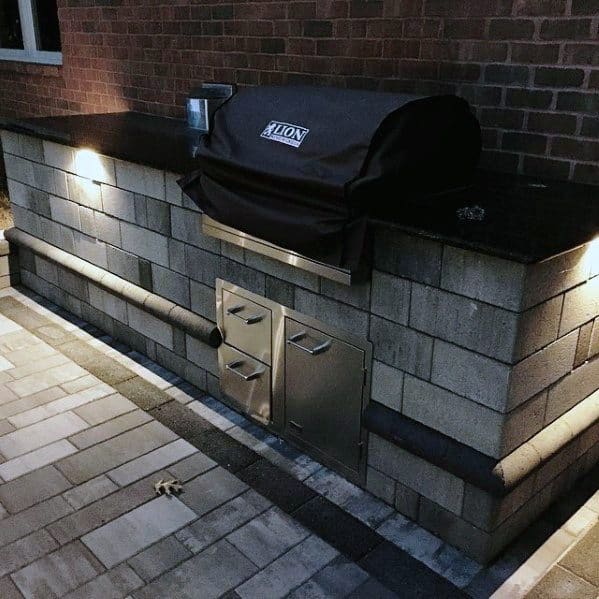 Sophisticated backyard grill patio ideas may require a lot of money. If you cannot afford it, try to make this simple outdoor kitchen.
To make this grill station, you just need to stack some cinder blocks that act as the frame. Insert the grill and hardware and add a black laminate countertop.
8. Backyard Grill on the Deck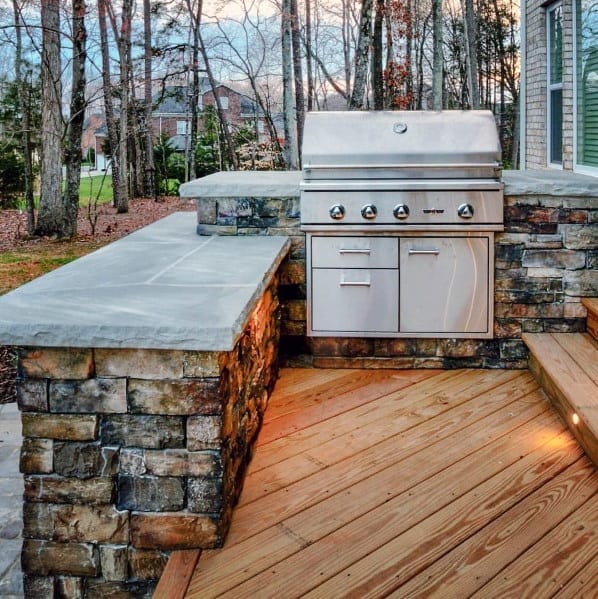 If you do not have much space to make a backyard grill on your patio, you can build one on your deck.
The natural stones of this grill add a touch of a rustic look. They also incorporate a textural element epically. Concrete tops the frame of this cooking station, which offers durability and sturdiness.
A stainless steel grill balances the look with its sleek design. For a more modern flair, each step has recessed LED lights to illuminate the space.
9. Spruce Up with A Lot of Greenery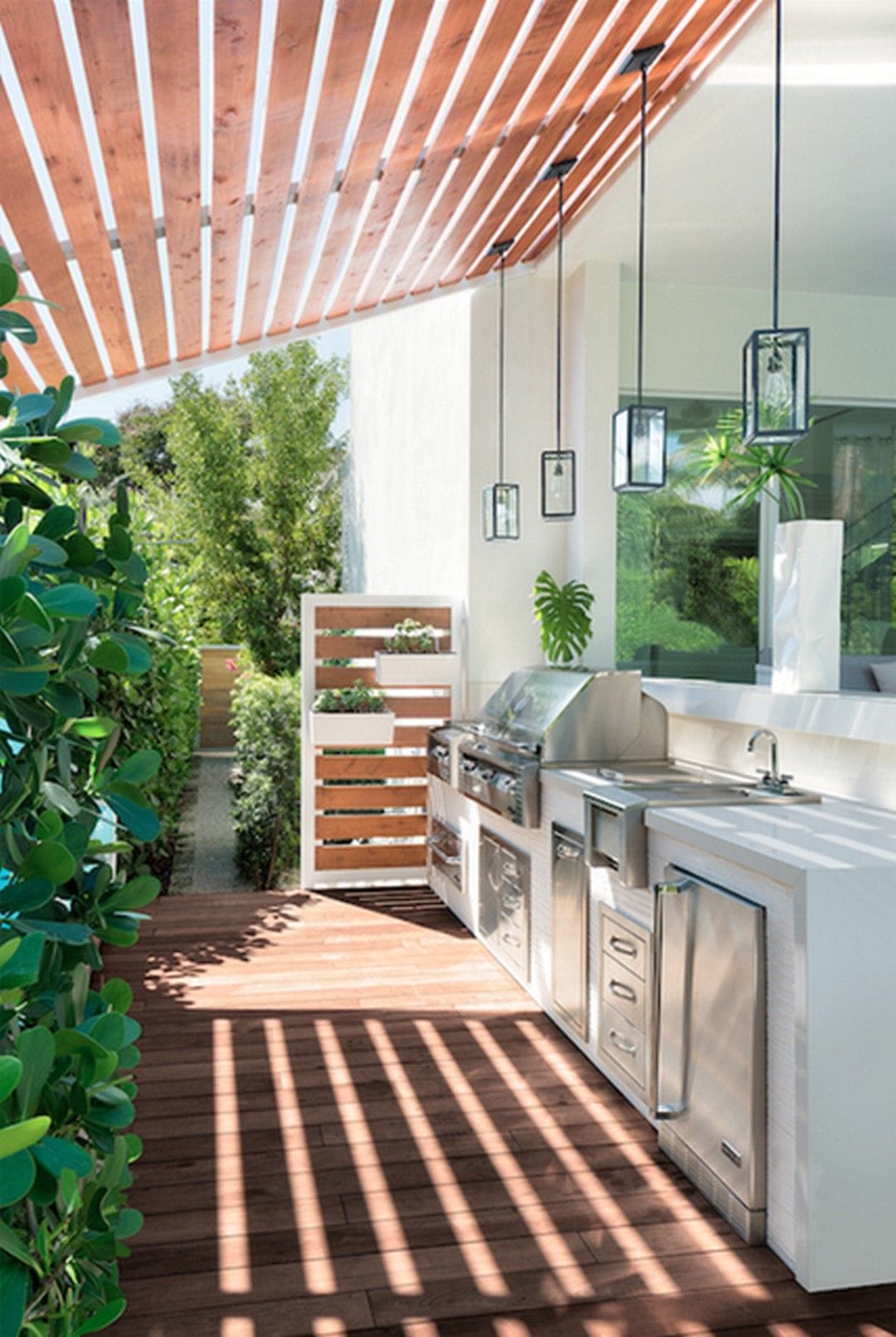 Cooking can be a daunting and boring task even if you are throwing a barbeque party. What makes it worse is when slaving over a hot stove is not your favorite thing to do.
Therefore, you can alleviate the boredom by pleasing your eyes with greenery. This is a thrilling backyard grill patio idea.
The grilling station is on one side of the deck, and you can see a green privacy screen across from it. You can also find four geometric pendant lights over the countertop that will illuminate your cooking area.
10. Backyard Grill with Sink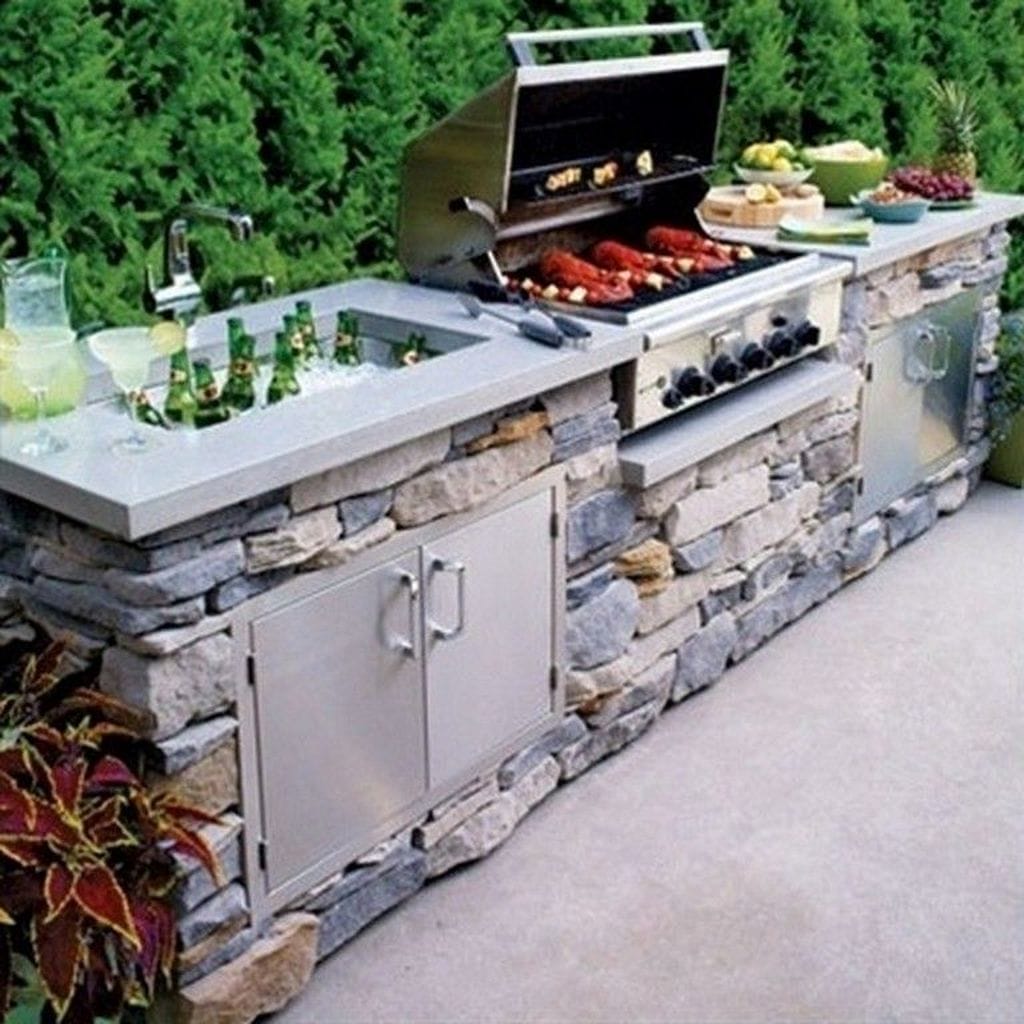 Some people exclude a kitchen sink from their backyard grill patio ideas. If you have sufficient space and budget, you need to try to include it in your list.
A kitchen sink may seem trivial. The truth is it can save you time and energy. You do not need to commute from the patio to the kitchen inside the house or vice versa just to do the dishes.
Another benefit that you can get from an outdoor kitchen sink is you can fill it with ice and put your favorite beverages there. By doing this, your drink will stay cold and refreshing.
11. Multilevel Backyard Grill Patio Ideas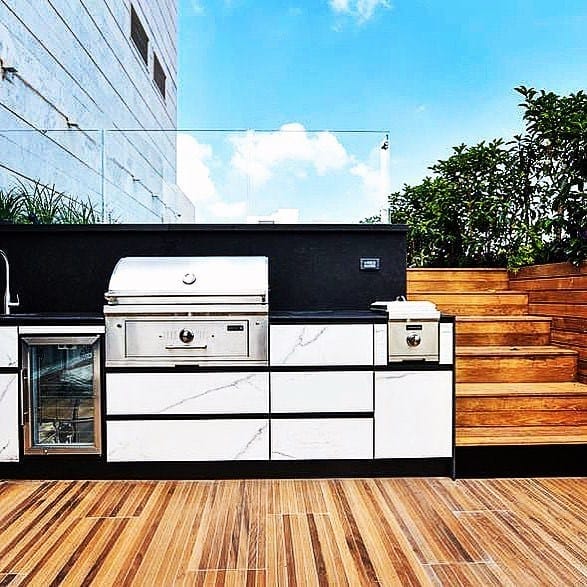 This cooking station looks elegant with monochromatic color. The cabinets and drawers come in crisp white with some grayish veins that make them look quite similar to marble.
The simple and sleek design matches the mid-century modern exterior immensely.
12. Backyard Grill Lighting Ideas
Lighting also plays an important role when it comes to throwing a fun barbeque party. Besides, some lamps not only light up space but also make the patio look striking.
The lights you choose will depend on the ambiance that you want to bring to your backyard grill patio.
If you want to add a romantic mood to it, you can opt for string lights that wrap around the pergola, like the one you see in this picture.
Consider installing task lighting for the busiest spot, like the countertop, grill, and stove, so you can work better.
13. Backyard Grill with Faux Stone Tiles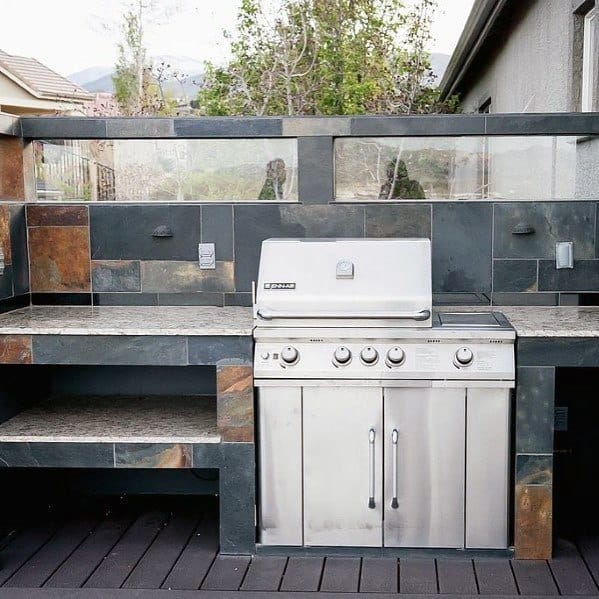 Natural stone always creates an impressive look. However, they tend to be costly.
Now, you do not have to splurge out on real stones because you can invest in faux stone tiles, which are way cheaper than their natural counterpart.
This cooking space has proven that faux stone tiles can be as elegant as the natural ones if you can lay them properly.
The tiles that cover this grill station come in different hues, which enriches the outdoor kitchen appearance.
LED lamps camouflage over the countertop as perfect task lighting. They will help you see things clearly when you are preparing the meal.
14. Rustic Backyard Grill Patio Ideas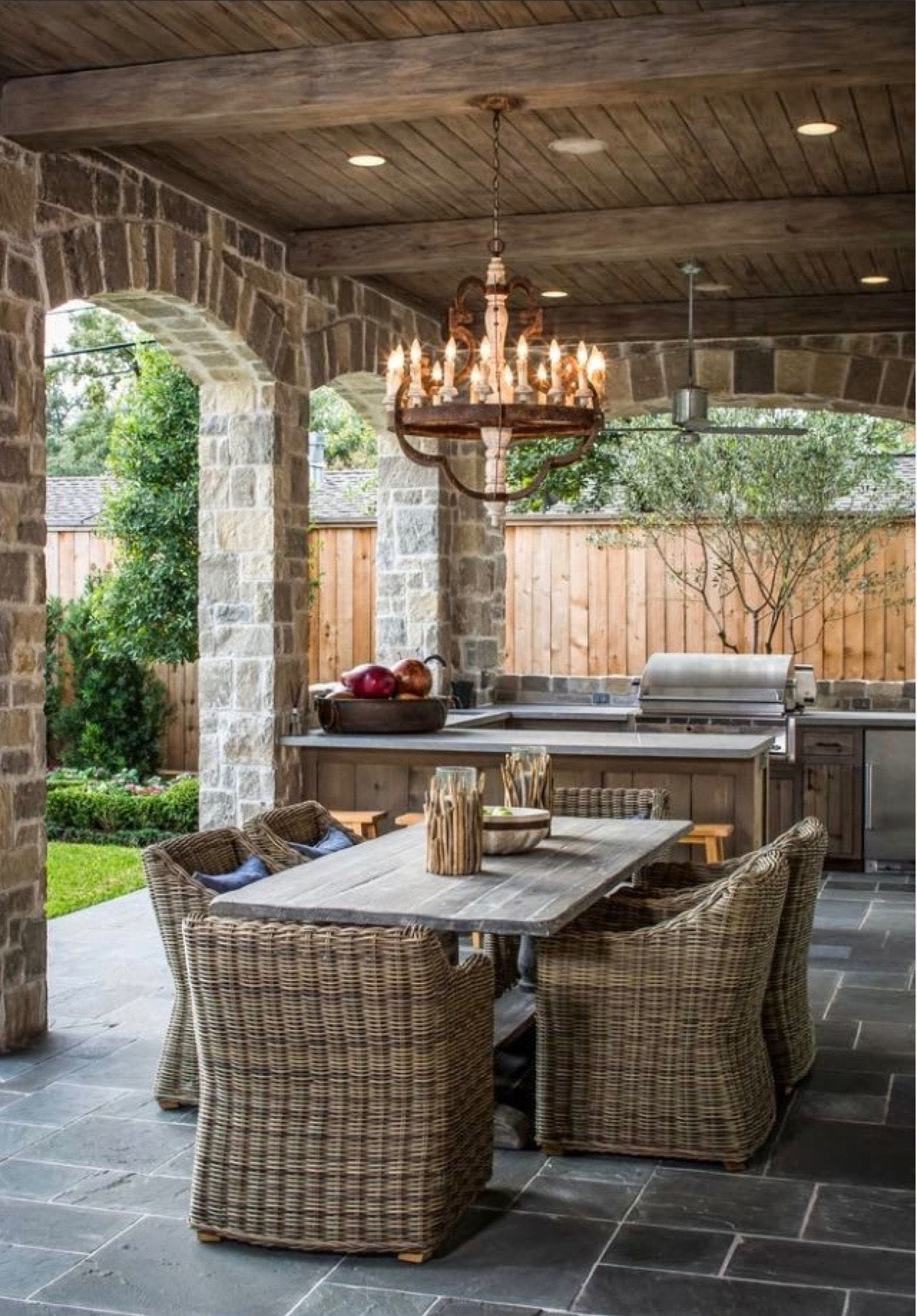 Rustic style has never failed to impress everyone who sees it. This patio offers that impressive appearance through the classic flair.
As you can see, this patio features brick arches that look quite old. You can also see an exposed beamed roof that is made of weathered wood, accentuating the rustic flair.
To enhance the classic style, try adding a well-worn dining table along with wooden or rattan chairs. Hang antique chandeliers over the table to perfect the look.
15. Exotic Backyard Grill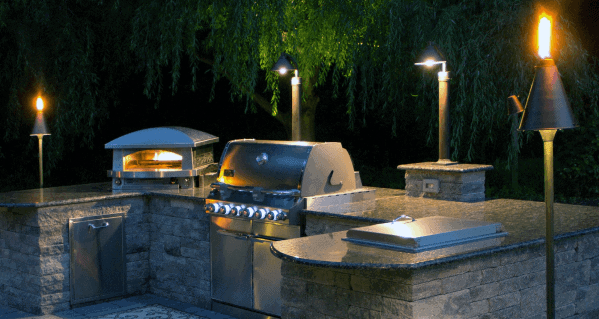 You have learned that lighting can make a big impact on your backyard. Therefore, you have to choose it meticulously.
This backyard grill patio idea is suitable for those who want to bring exotic nuance to space.
You just need to install some LED torches around the cooking area. Soon after that, you will feel like you are staying in an indigenous tribe.
16. Contemporary Backyard Grill Patio Ideas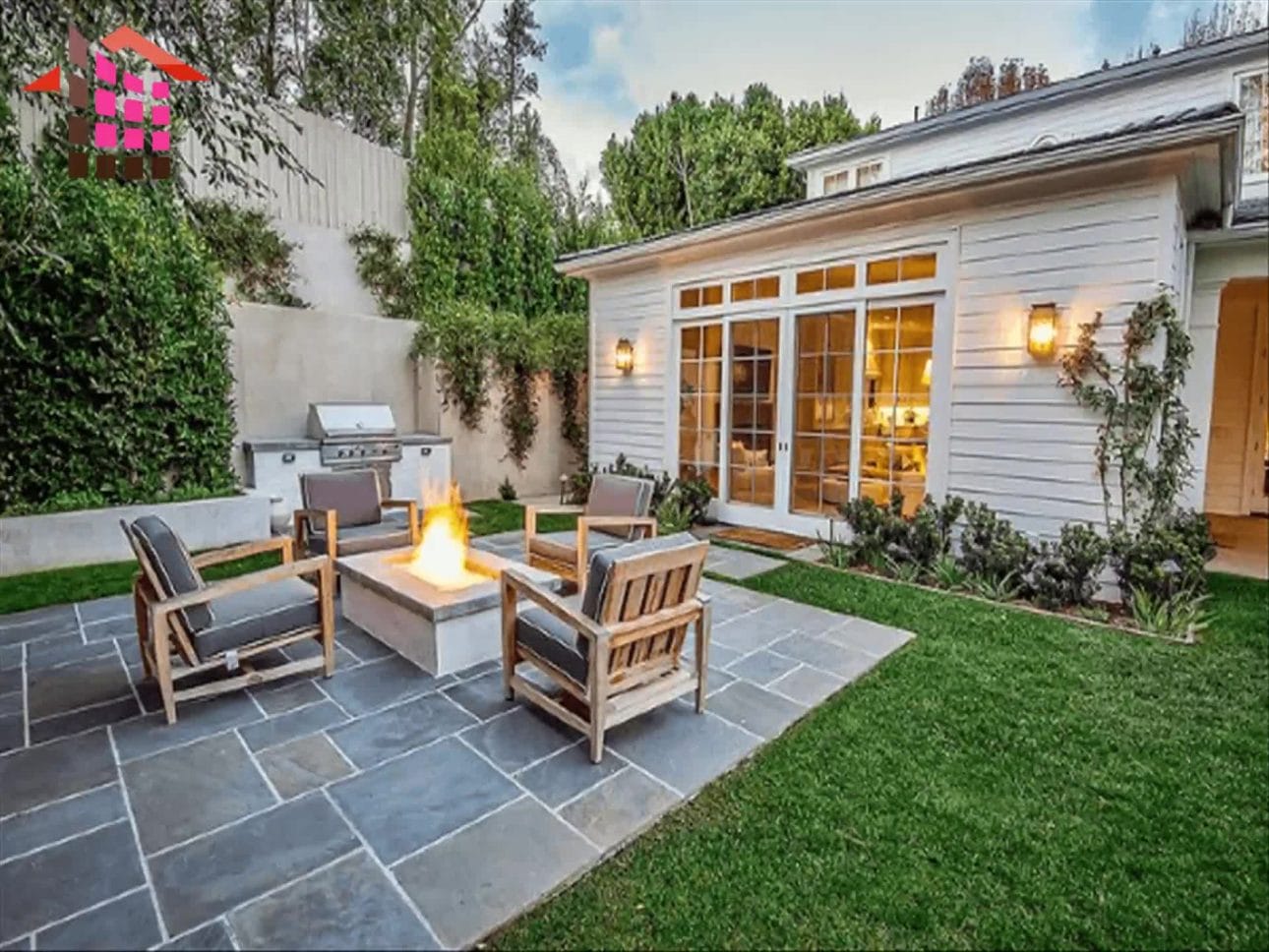 Many people mistake contemporary for modern style. Well, they are similar in several things. However, they also have some significant differences.
Modern flair tends to feature a sleek and simple design with strong lines. On the other hand, contemporary style tolerates curves, just like this backyard patio.
This patio is a great place to spend leisure time. It has a grill station that stands by the fence. It also has a built-in fire pit, which is perfect to accompany you to maintain an intimate conversation.
17. Romantic Backyard Grill Patio Ideas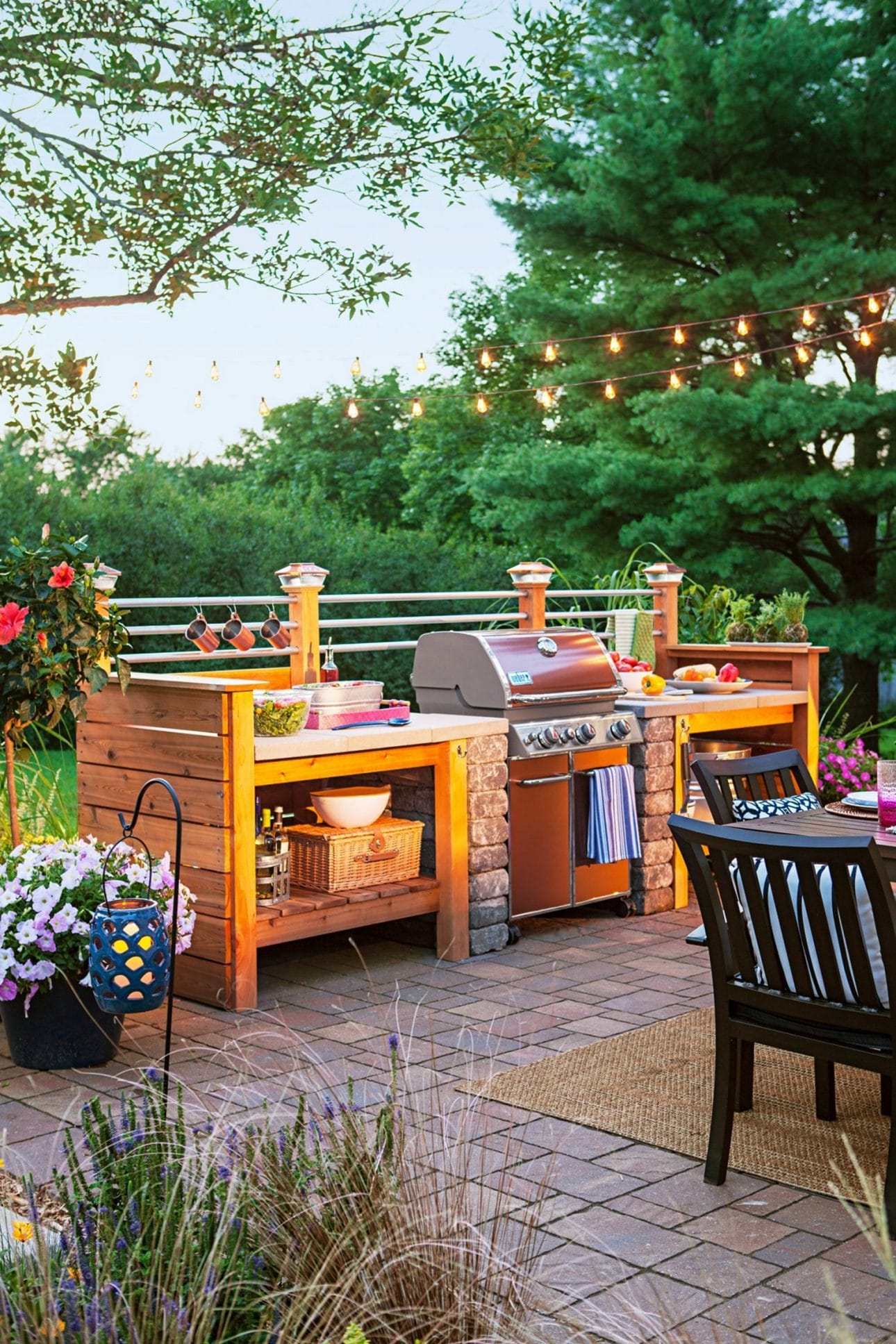 Are you celebrating your wedding anniversary next month? Instead of taking your spouse to eat out in a fancy restaurant, why don't you cook a special meal yourself in your backyard?
This backyard grill patio idea is perfect for this special occasion. First, you need to make the frames for the countertop. Add railing to decorate it. Besides, it also incorporates more storage solutions.
To add romantic nuance, decorate the patio with some beautiful flowers. Adding some mason jar lights can be a terrific idea.
18. Wooden Backyard Grill with Concrete Countertop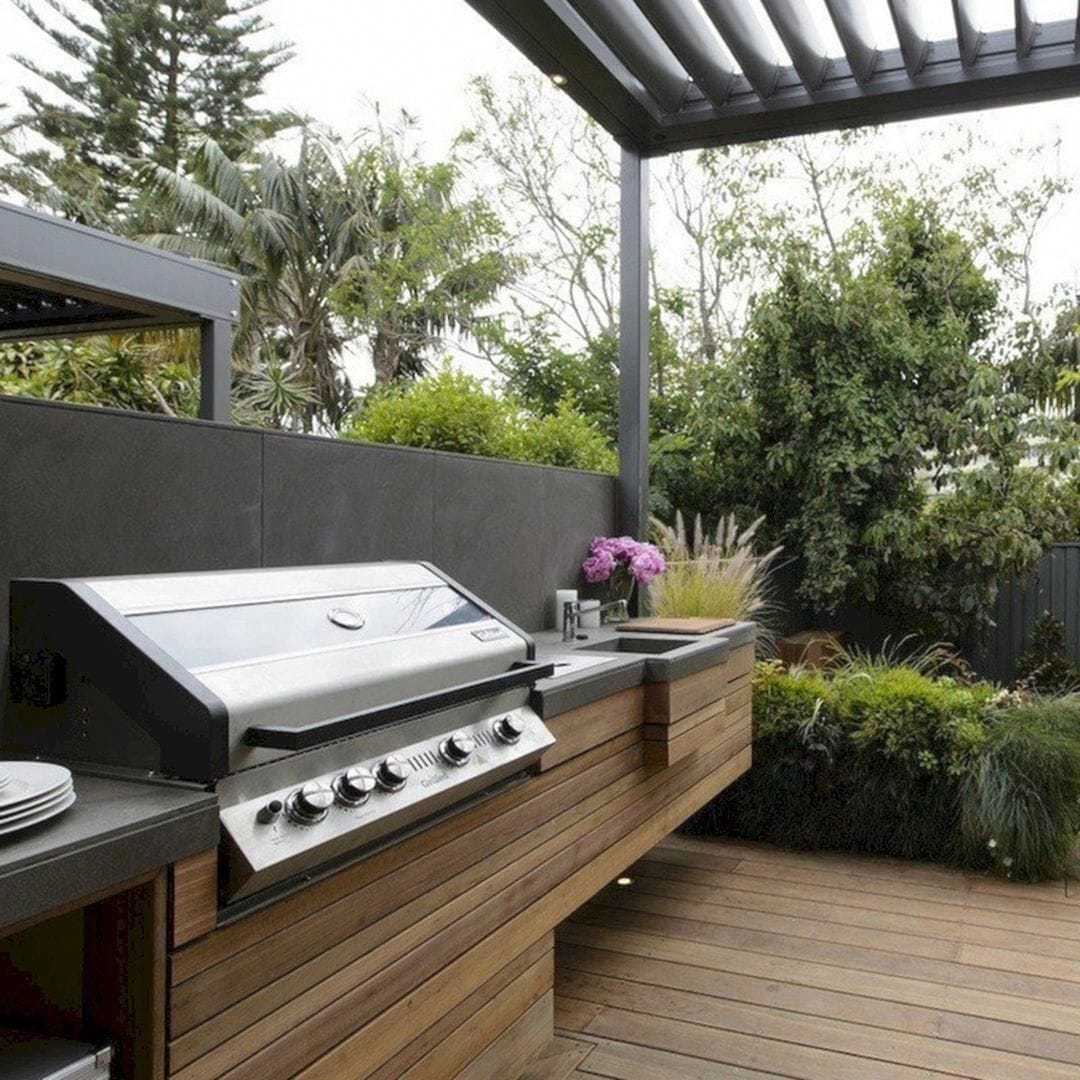 This backyard grill will be suitable for any modern house. The clear-cut design denotes simplicity immensely. Besides, the flooring and the grill frame show their natural color, which is typical in this kind of style.
The concrete countertop perfects the grill nicely. Not only it has a sleek design but also becomes a durable and sturdy counter space that you can rely on.
19. Outdoor Entertaining Area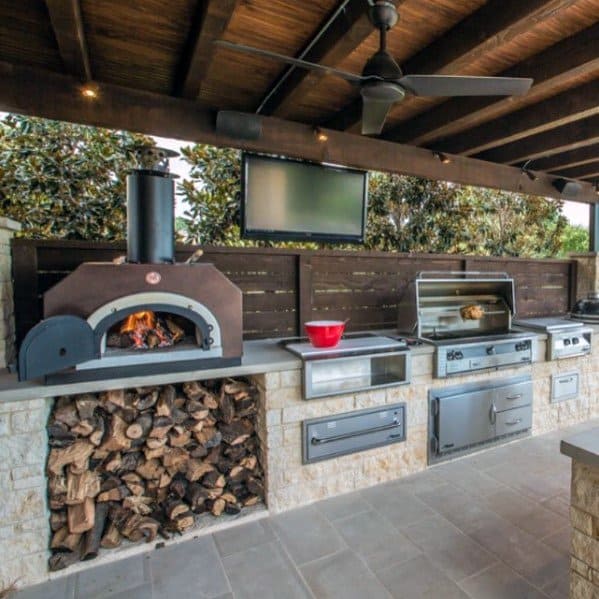 Spending time outdoors is worth a try. Go to your backyard, get some fresh air, and feel the warmth of the sun.
If you worry about missing your favorite show, you can include a TV set in your backyard grill patio ideas.
20. Stone Backyard Grill Faux Marble Countertop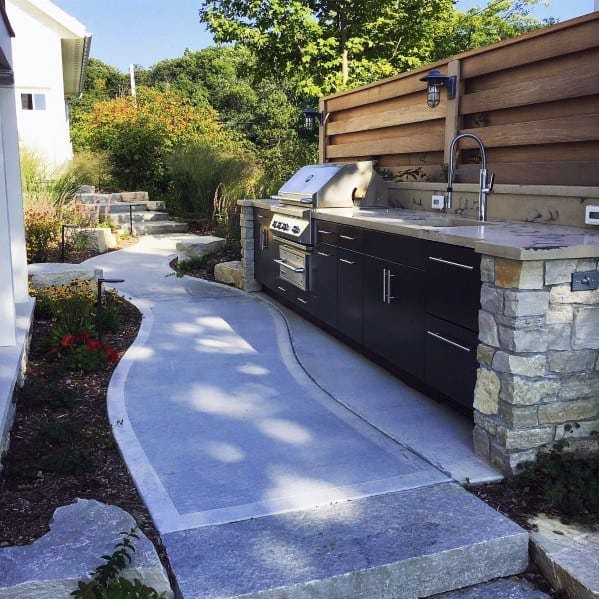 This backyard grill patio idea might be what you have been looking for. It is about making a faux marble countertop.
Yes. Everybody loves marble countertops due to the luxurious look. However, it can cost you the earth. Therefore, your best bet is to DIY it.
You only need to apply primer onto your laminate countertop. Draw the veins with a small brush and marble countertop paint kit.
Make sure you go in the same direction. Spray a little water over the line and begin to feather it out.
21. DIY Concrete Backyard Grill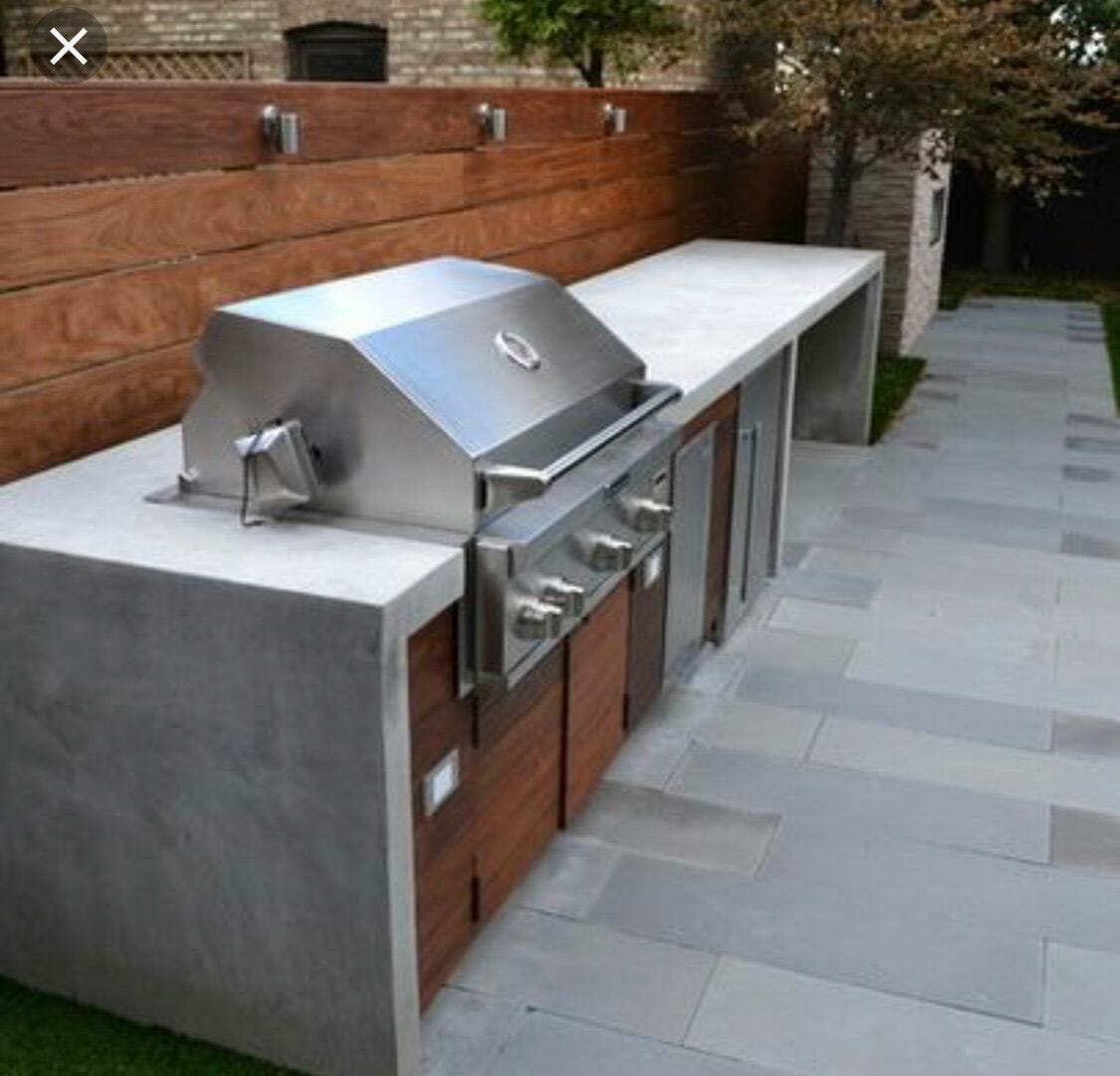 Concrete is renowned for its durability and sturdiness. If you want to have a long-lasting outdoor kitchen, try building the frame with this material.
22. Blend with Nature
This backyard grill patio has a spectacular backdrop that can awe everyone. To make it look more outstanding, cover the frame of the outdoor kitchen with some boulders and a concrete countertop.
Boulders will lend a natural look that matches the scenery immensely as if they blend with nature.
23. DIY Stone Backyard Grill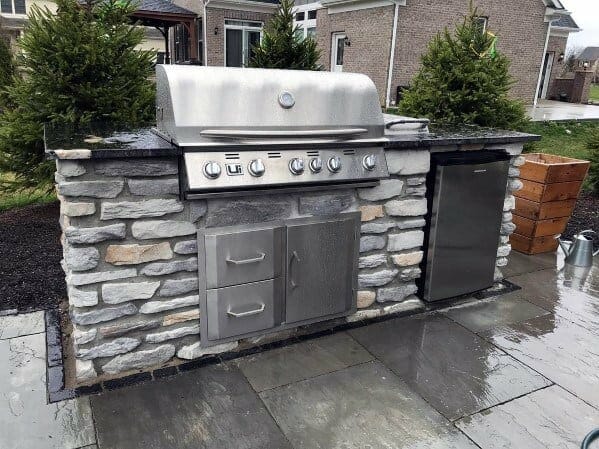 Making a backyard grill yourself can save a lot of money. It is not necessary to be complicated, though. With some stones, cement, and a little bit of elbow grease, you can build an impressive one.
Top your stone outdoor grill with a black laminate countertop. The sleek design will lend a little bit of modern touch while maintaining the natural look.
24. Backyard Grill Patio Ideas with Shade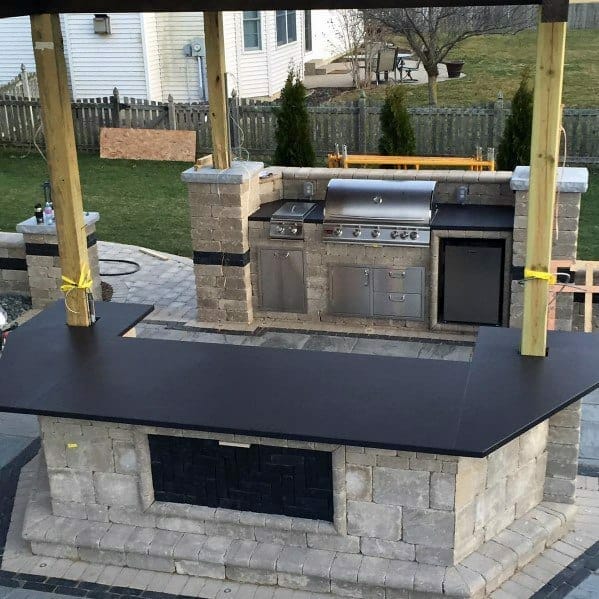 Many people overlook the importance of shade when building a backyard grill. In fact, it plays a crucial role in ensuring your ultimate comfort.
If you want to enjoy the sunlight, you can opt for pergola. However, polycarbonate or fiberglass can be a better option as it will protect you from rain and snow while allowing you to get sufficient natural light.
Carving out unforgettable moments with family does not mean you have to eat out in a fancy restaurant.
With these backyard grill patio ideas, you can make a fun outdoor entertaining area where you can cook and eat while laughing together.