Generally, the homeowners think of living room lighting last. That's indeed the wrong route. You should design your social space with proper illumination in mind as it impacts the room's overall look and mood.
Every living room basically needs three kinds of lighting: ambient, accent, and task. Within those types, there are almost unlimited options. Here, I have compiled some divine sitting room lighting ideas to inspire you.
1. How Many Lamps in Living Room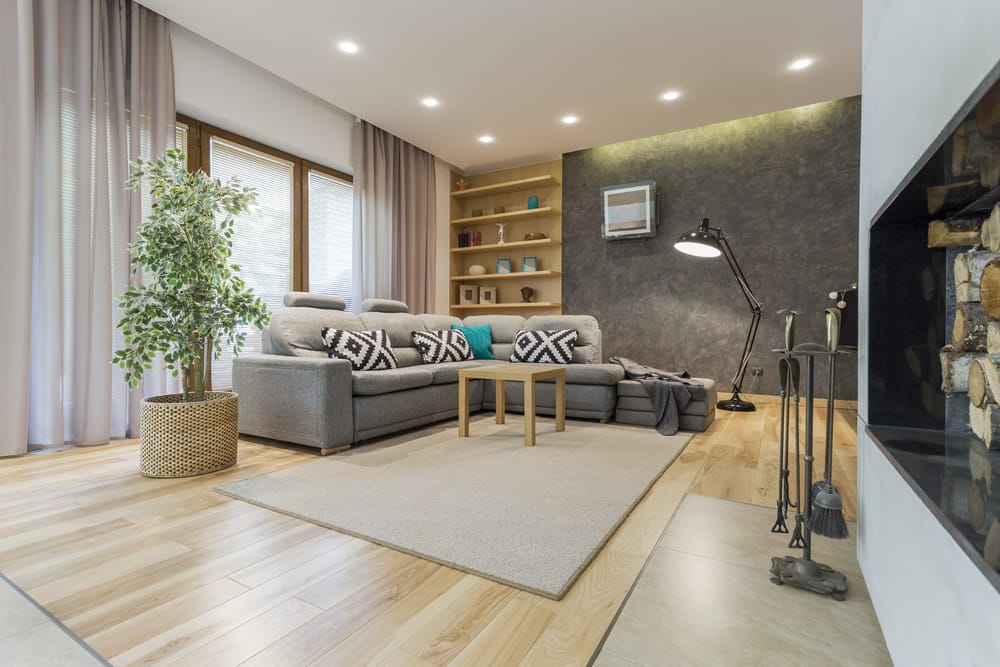 As you can see, the dweller installed six downlights to brighten the seating area. They call the attention to blue and patterned throws.
Gray square ottoman and blanket make for a cozy reading nook. A metal floor lamp delivers an industrial feel.
2. Living Room Ceiling Lighting Ideas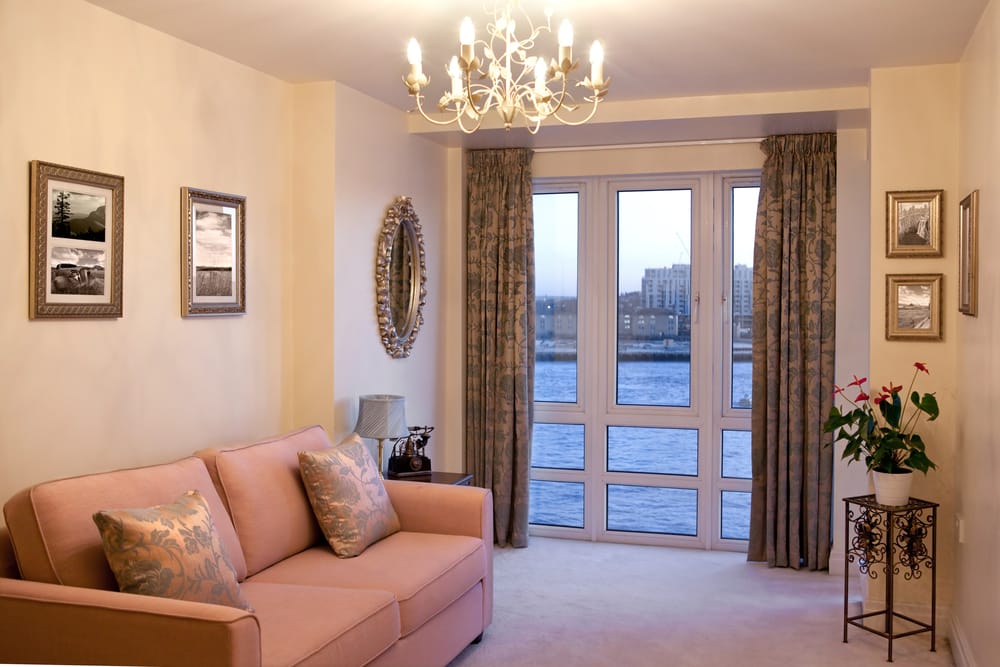 This sitting room is unarguably a classic. Not to mention, it overlooks the enticing river. Pastel pink sofa soothes the area.
Vintage mirror, intricate metal side table, floral throw pillows, framed photographs embellish the space. French country chandelier casts a soft glow.
3. How to Light a Living Room with No Overhead Lighting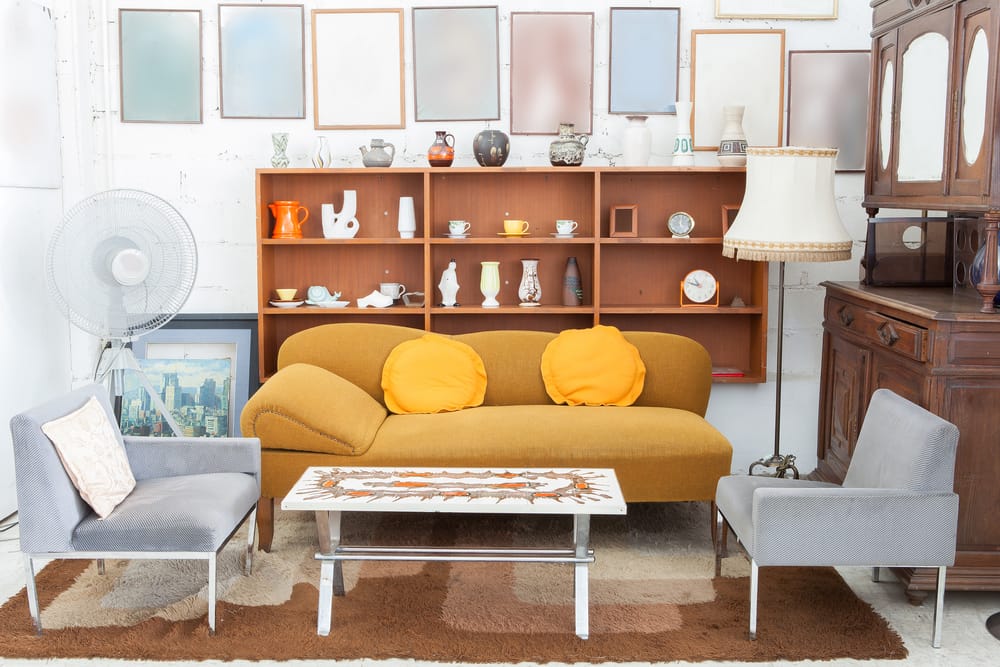 No ambient lighting? No problem. You could integrate a traditional floor lamp into your indoor space and place it near the relaxing sofa.
Furthermore, pair the lamp with a floor fan. Use wooden furniture to create a homey ambiance. Lastly, display your antiques on shelving units.
4. Living Room Lighting Layout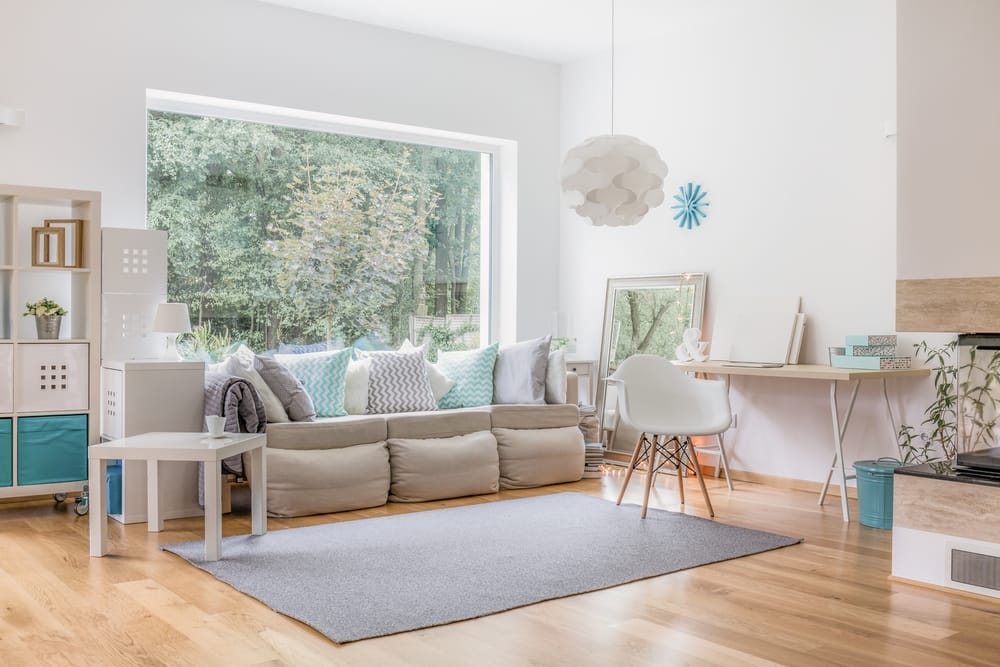 White ceiling, furniture, and walls open up space. Big glass window lets plenty of sunlight in. Wooden floor evokes a sense of warmth.
White paper pendant light is directed to conversation area and home office. Pops of blue lend the space a cheery atmosphere.
5. Lights for Living Room Ceiling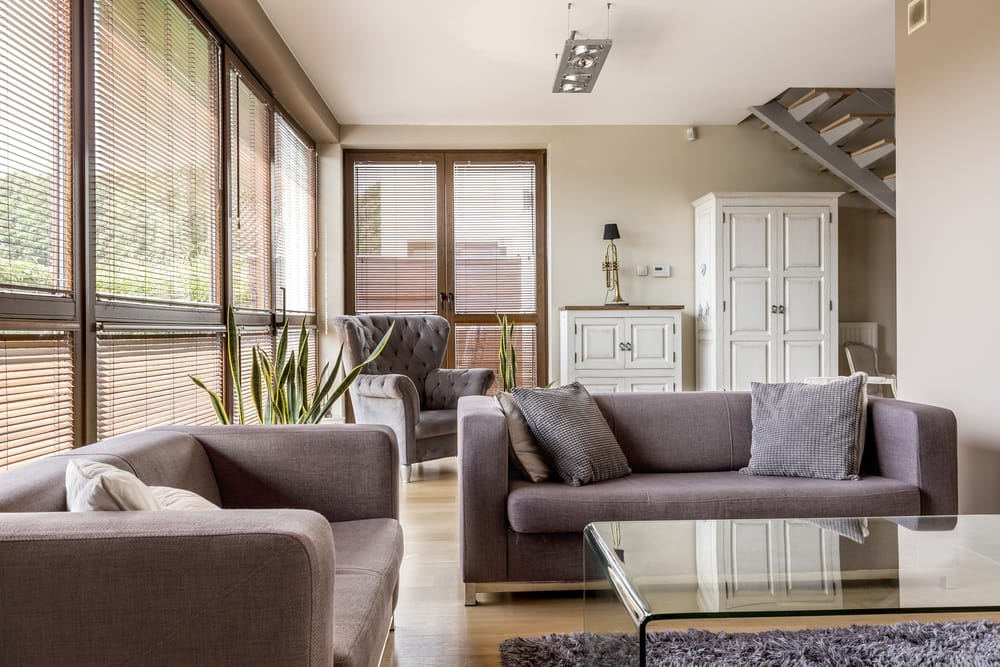 The curved high back chair and table lamp generate a classic appeal. On the other hand, rectangular ceiling light embraces modernism.
A combination of old and new items offers the living room a unique personality. Large windows with blinds provide ample lighting and privacy at once.
6. No Overhead Lighting Solutions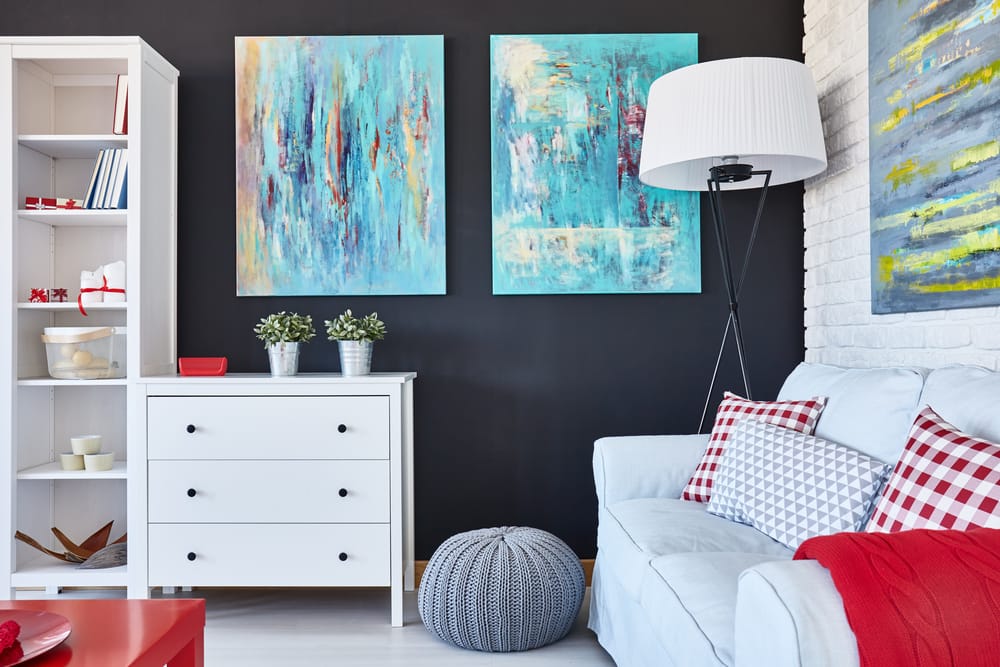 Matte black and white brick walls lead to a delightful contrast. They allow abstract paintings to be the centerpieces.
An oversized industrial floor lamp illuminates the reading sofa. Bursts of red energize the room, while plants in galvanized metal planters spice up space.
7. Best Floor Lamp for Dark Room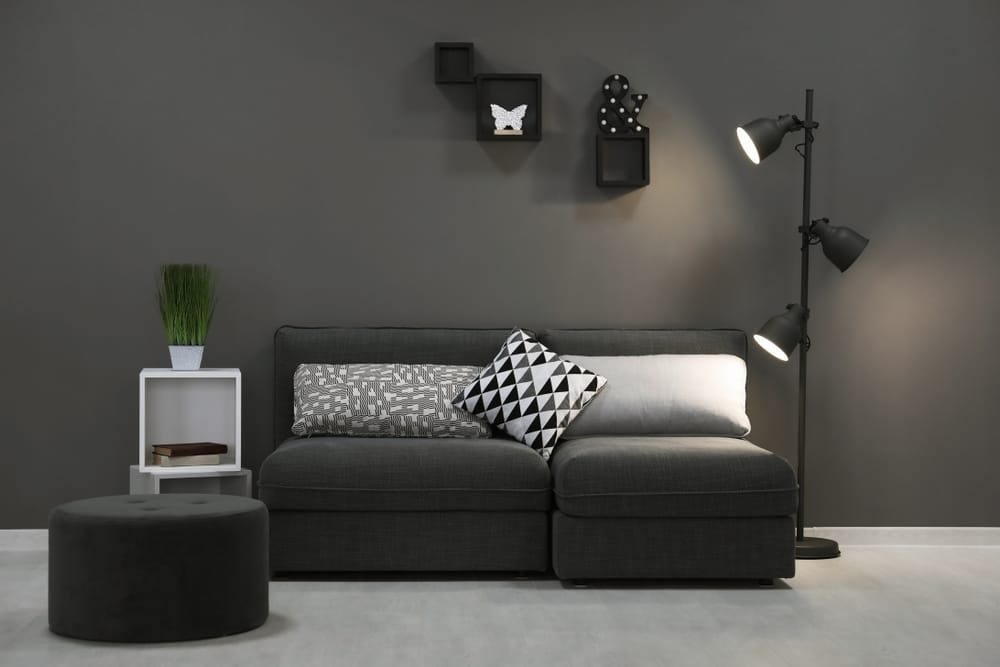 As seen in the photo above, black wall, furniture, and ornaments result in a sophisticated living room. Patterned throw pillows add visual interest to the interior.
Tree floor lamp lights up the entire room and exhibits a masculine vibe. The greenery revives the area.
8. Lighting Solutions for Dark Apartments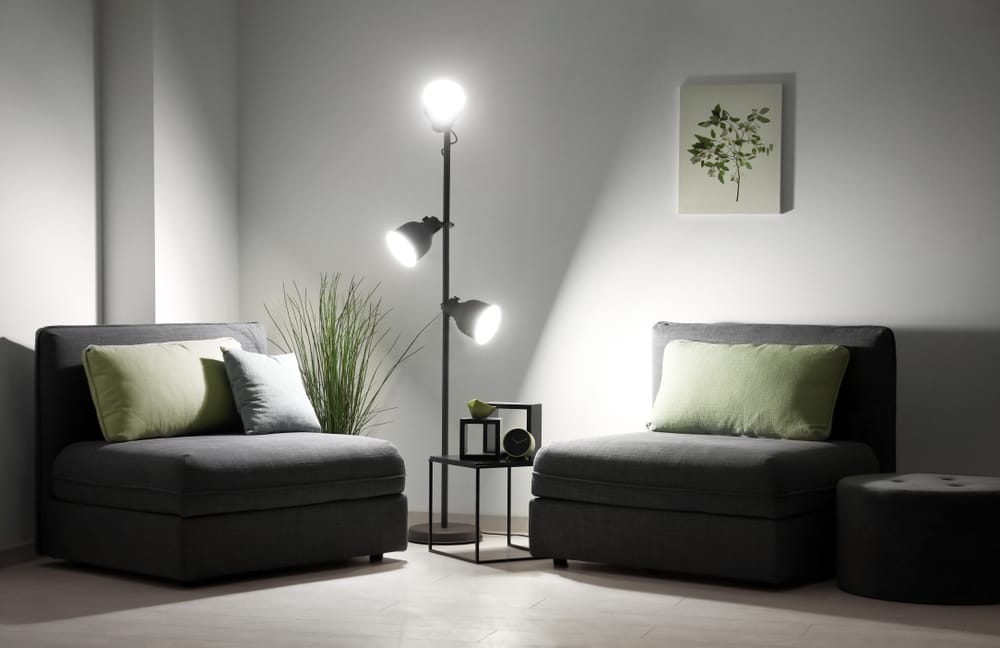 This apartment sitting room boasts a black and white color scheme. It makes the indoor space stylish and utterly elegant.
The industrial-style tree task lamp is directed to two chairs. Wall decor, potted plant, and green throw pillows unify the space.
9. Living Room Lighting Fixtures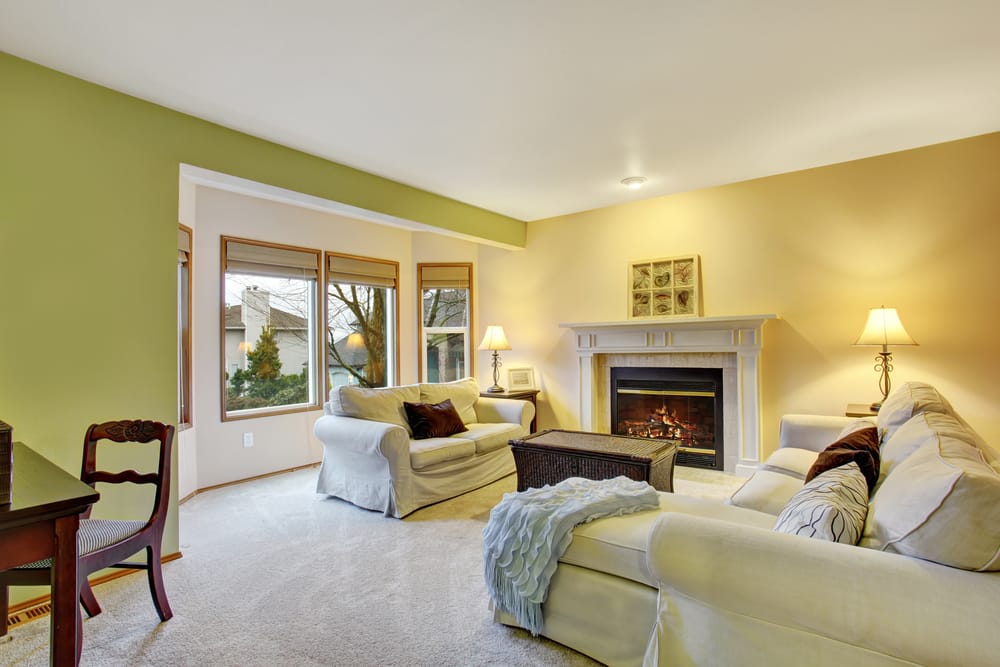 Lime green and white walls promote a fresh welcoming living room. Fireplace, wood furniture, and dark brown throws warm up the scene.
Pot light awesomely highlights the fireplace. Two table lamps on the end tables give your guests an equal amount of brightness.
10. How to Choose Lighting for Living Room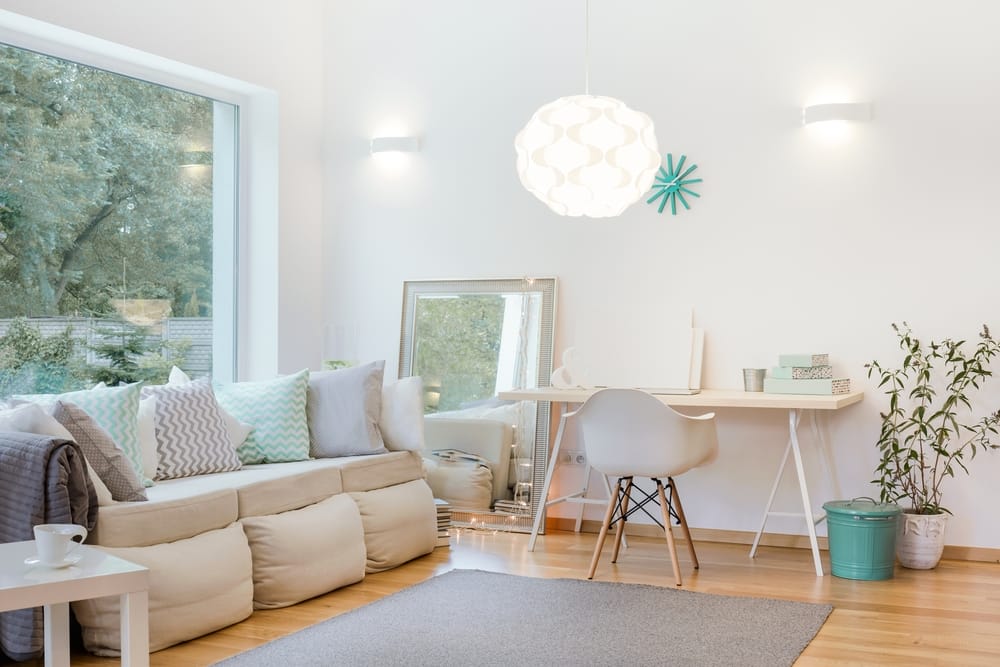 When it comes to illuminating living room, install light fixtures that come in the matching color. Here, white pendant and wall lights complete the space.
Chevron throw pillows subtly pop on white sofa. Mirror leans against the white wall. It adds depth and dimension to the area.
11. Modern Living Room Lighting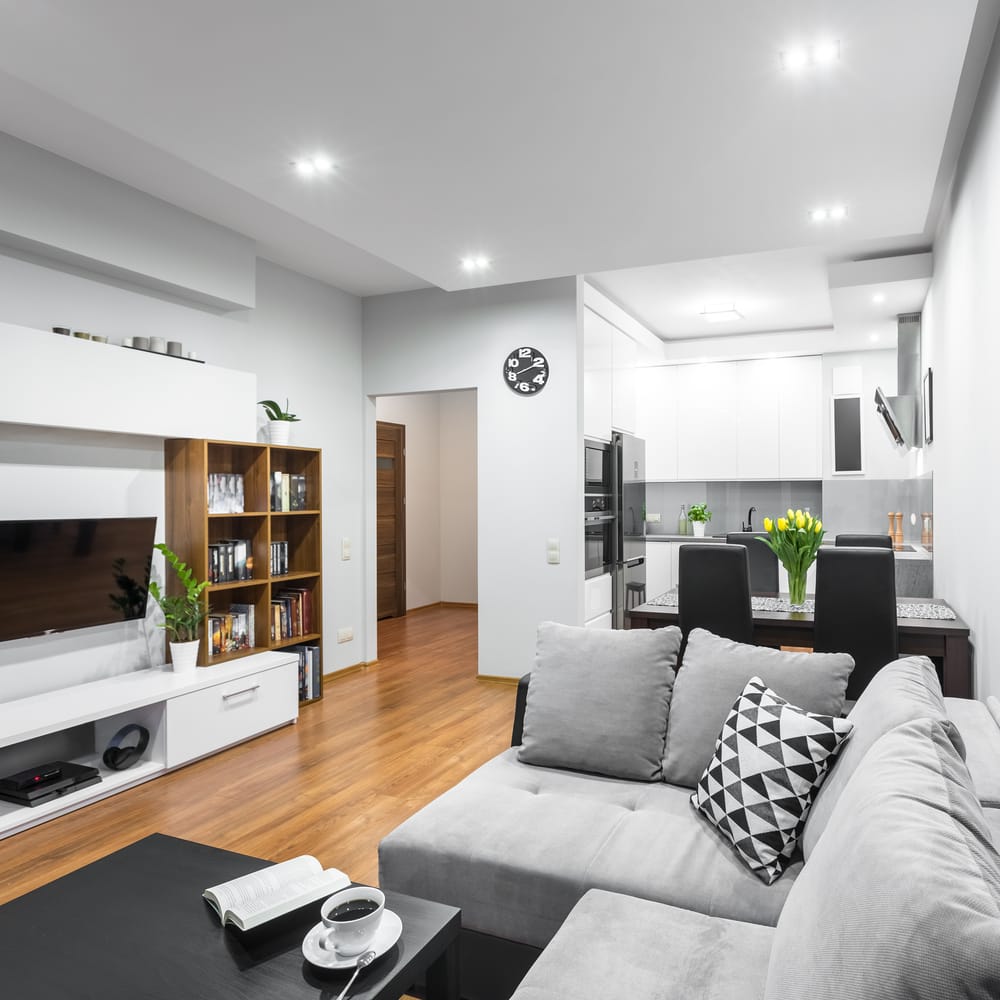 This flat is spacious and adequately-lit. White ceiling and walls expand the living room.
Recessed lights contribute to the room's modern look. Natural and organic materials liven up the flat in a split second.
12. Living Room Lighting Tips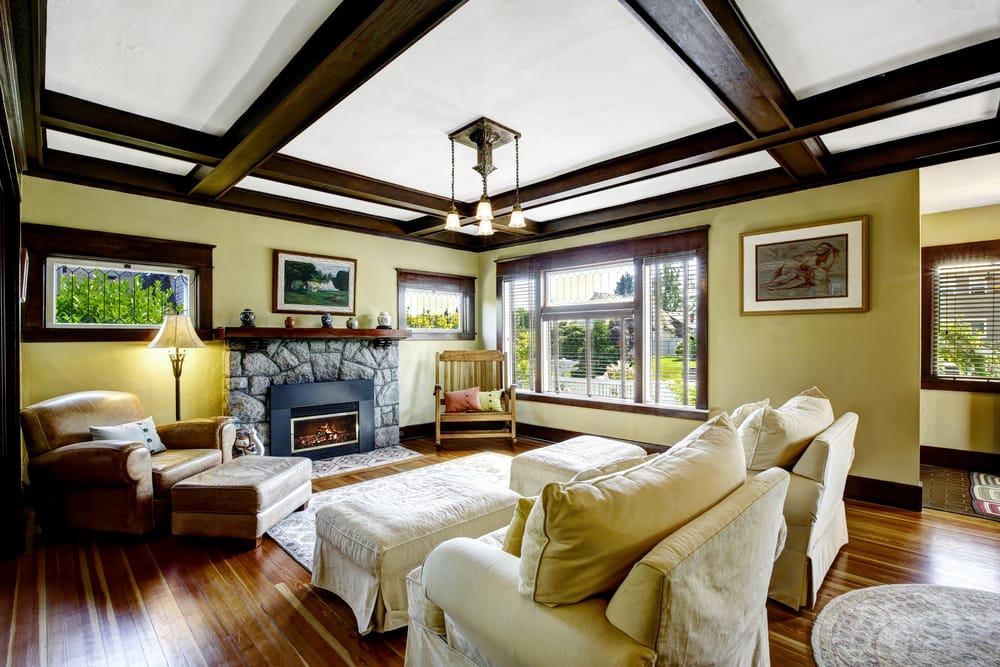 Here, the lounge area features a vintage industrial ceiling light. It is hung in the middle of coffered ceiling.
Traditional floor lamp accompanies the overhead light fixture. Stone fireplace and unfinished wood armchair unfold nature's beauty.
13. Living Room Lighting Ideas Low Ceiling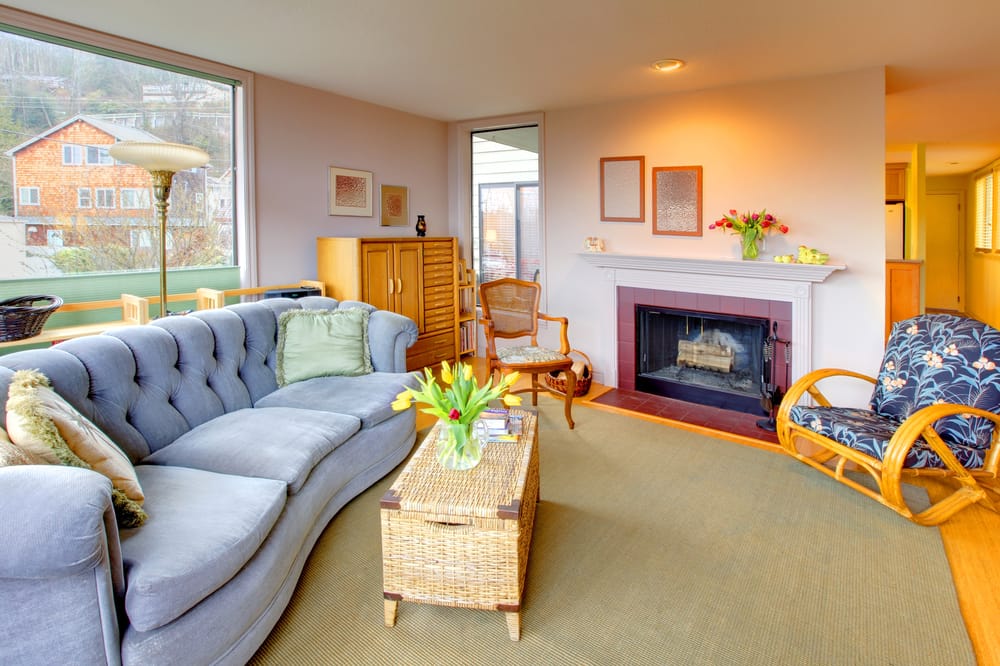 Working with low ceiling? Fear not. Paint the ceiling white. Then install a recessed light in the ceiling and place standing uplight behind the sofa.
Wicker coffee table, blue tufted sofa, floral rattan and wood armchairs around fireplace encourage an intimate conversation. Flowers titivate the room.
14. Industrial Ceiling Lighting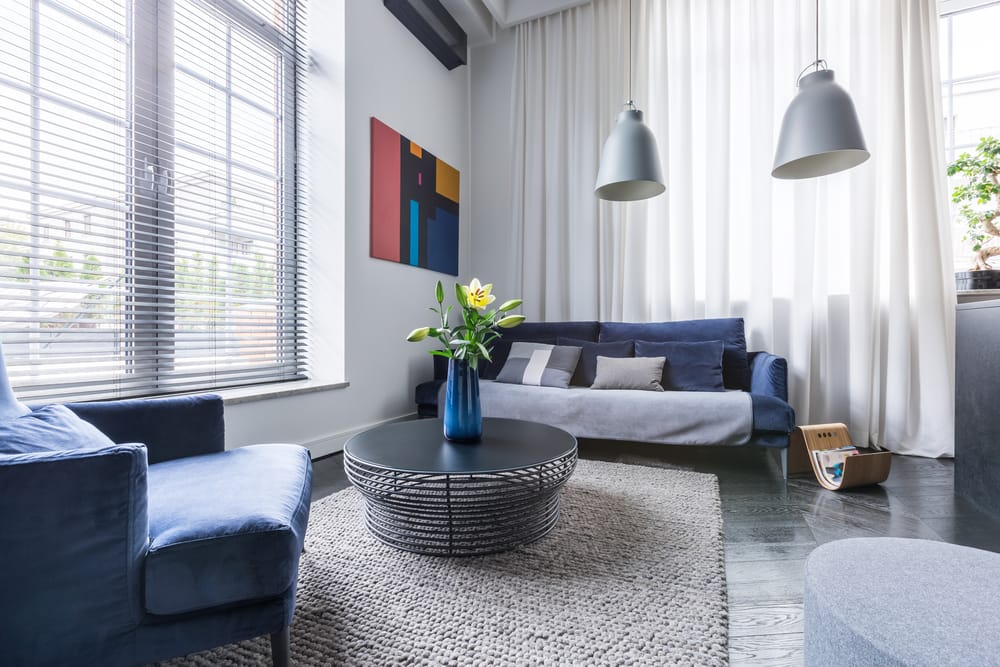 Are you crazy about industrial interior? This idea is obviously for you. Two gray pendant lights are hung from ceiling to get a tailored and masculine living room.
Round coffee table, flower, and greenery soften the look. Plus, sofa and chair pick up the dark blue shade in the artwork.
15. Flush Ceiling Lights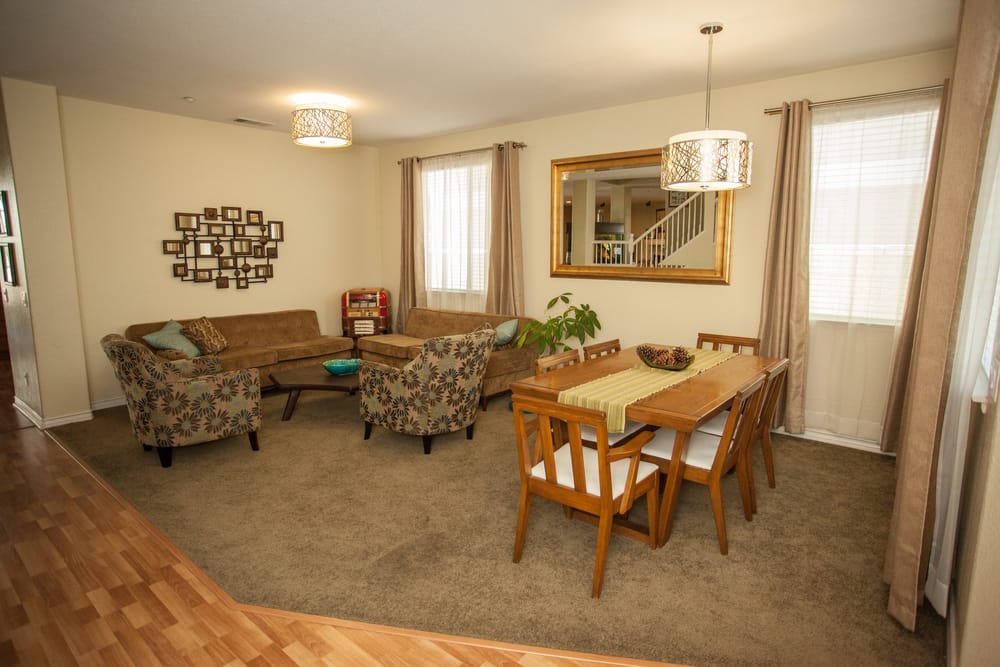 Dark wood coffee table is surrounded by floral armchairs and brown sofas. This furniture configuration lets you and your guests have a great conversation.
This indoor space also features two kinds of lighting. Flush ceiling light brightens the sitting area. Meanwhile, the semi-flush one lights up the dining space.
16. Living Room Lighting Ideas Apartment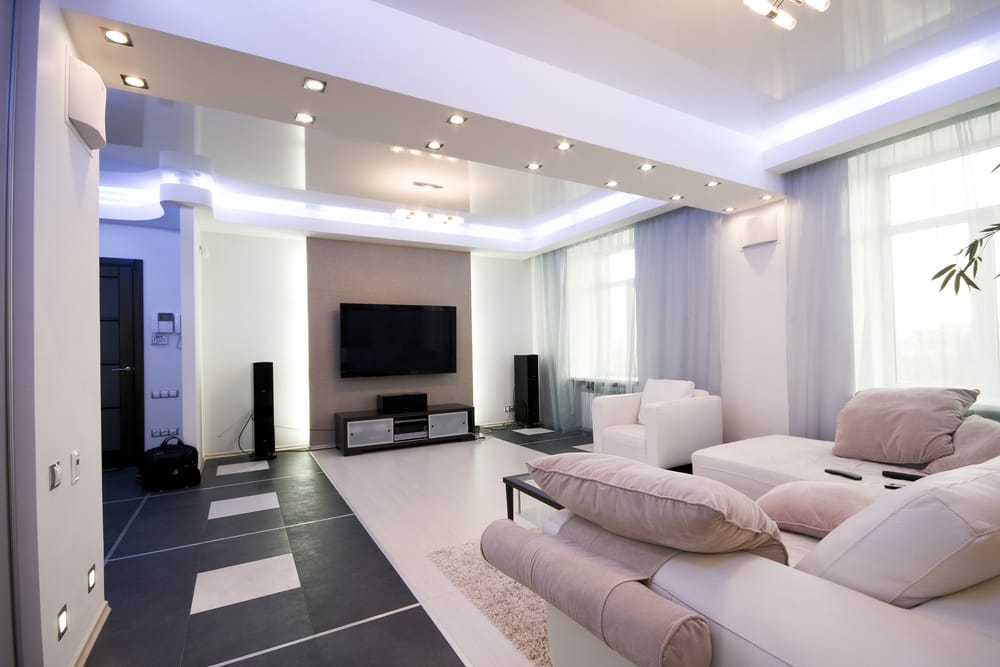 This apartment living room features LED accent light, recessed downlights, and pendant light. They inject a modern feel into the space.
Black floor tiles contrast splendidly with white walls. Sheer curtains and light taupe throw pillows cozy up the area.
17. Living Room Floor Lamps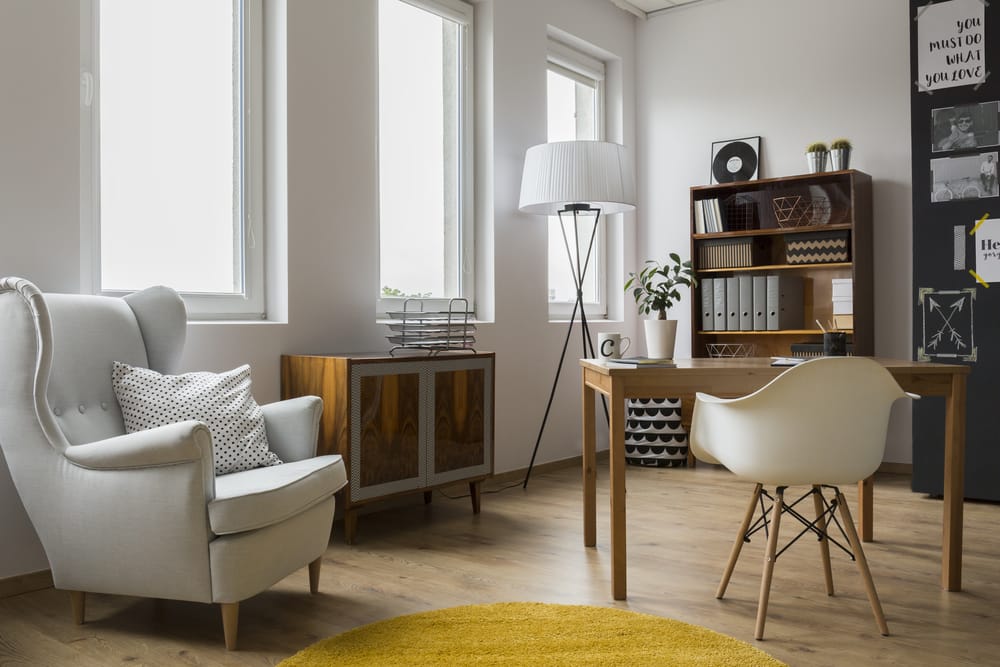 White ceiling, walls, wingback and minimalist chairs create a visually bigger living area. Potted greenery revitalizes the room.
The reading nook and home office are lit by a nearby industrial floor lamp. Yellow rug and wooden floor marry together.
18. Small Living Room Lighting Ideas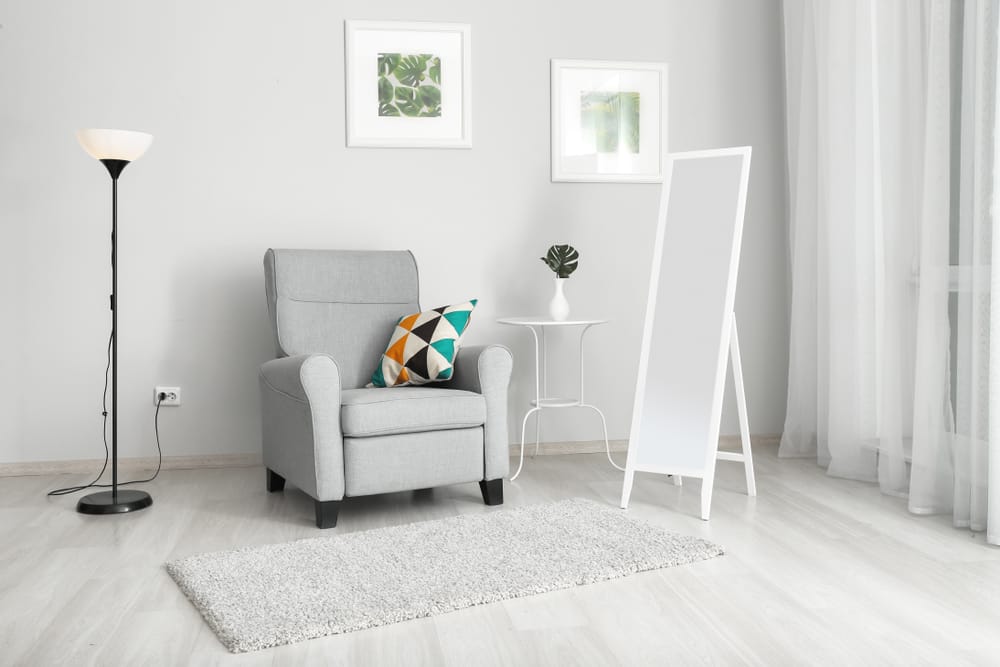 Although this sitting room is tiny in size, it does not feel cramped, thanks to neutral space scheme and standing uplight.
Geometric throw pillow on gray sofa chair draws the attention. Framed leaf prints add a naturalistic touch to the interior.
19. Modern Lighting Ideas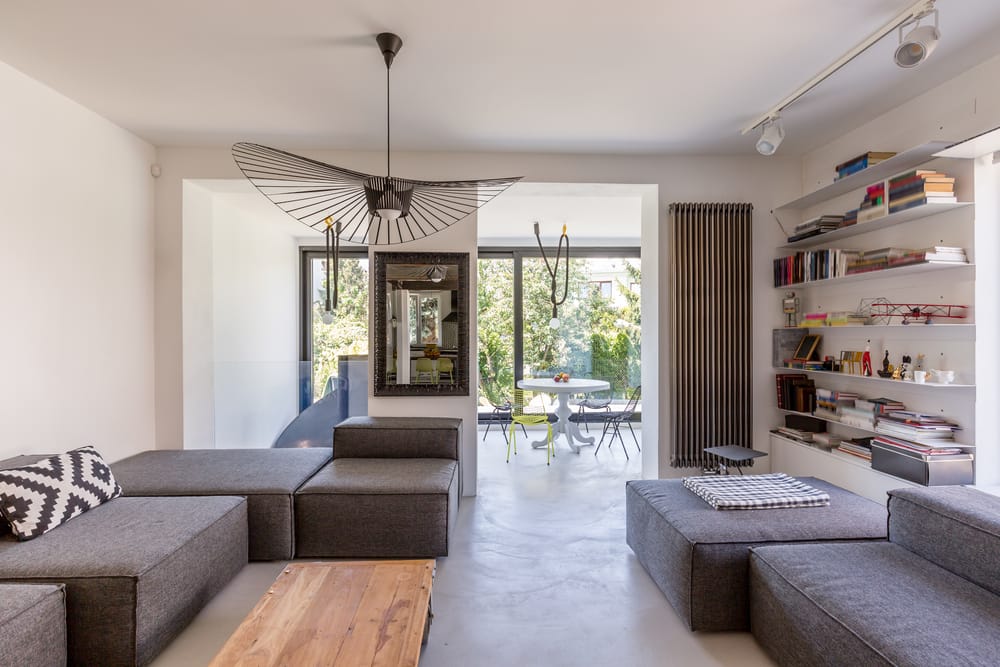 The glass walls promote a sunny atmosphere. White ceiling and walls offer an open and clean setting.
Eclectic pendant light illuminates the seating area. Meanwhile, track task light prevents the reading corner from looking dark.
20. Living Room Lighting Lamps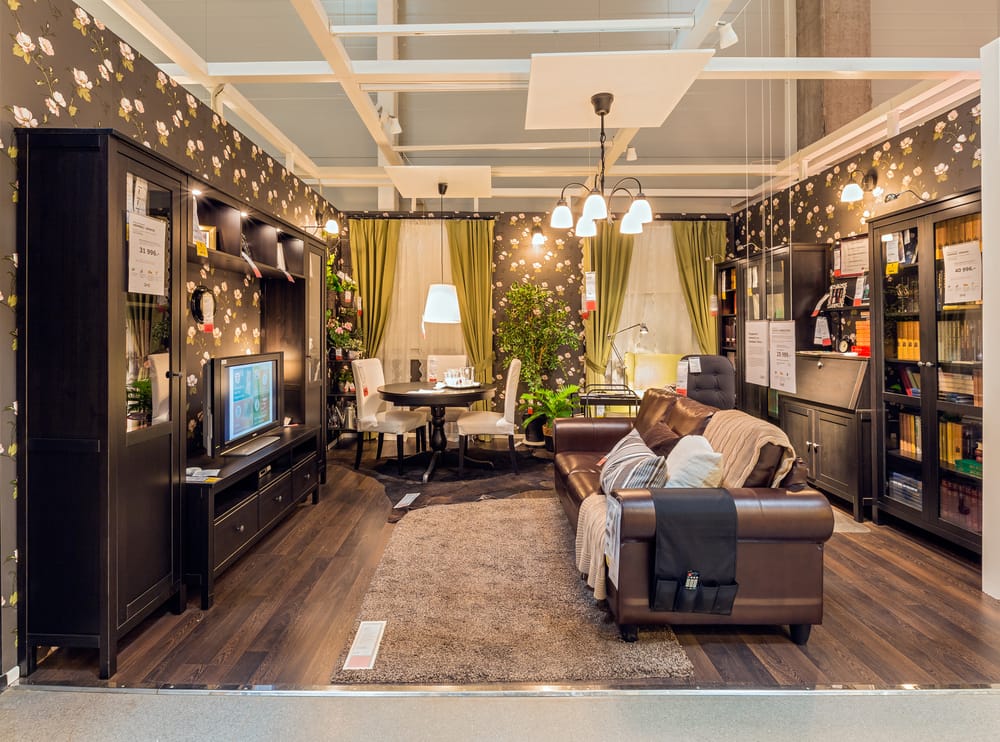 Brown leather sofa and wooden floor offer an intimate ambiance as well as a luxurious air. Black cabinet, floral wallpaper and bookshelves add drama.
Wall and suspended lamps along with ceiling light emit a romantic glow. Green curtains and houseplants enliven the zone.
I hope you truly benefit from reading my living room lighting ideas. Opt for the lighting that fits your personal taste and budget. Let's light up your sanctuary!